Rare Pennies That Are Worth A Fortune
Over the years, the U.S Penny has witnessed and adopted multiple designs and make-up. Now when some of those old pennies are discovered, it costs way more than its face value. Have you ever thought that the pennies in your pocket could be worth more than its face value? Get ready as we explore the world of rare pennies which costs way more than you think.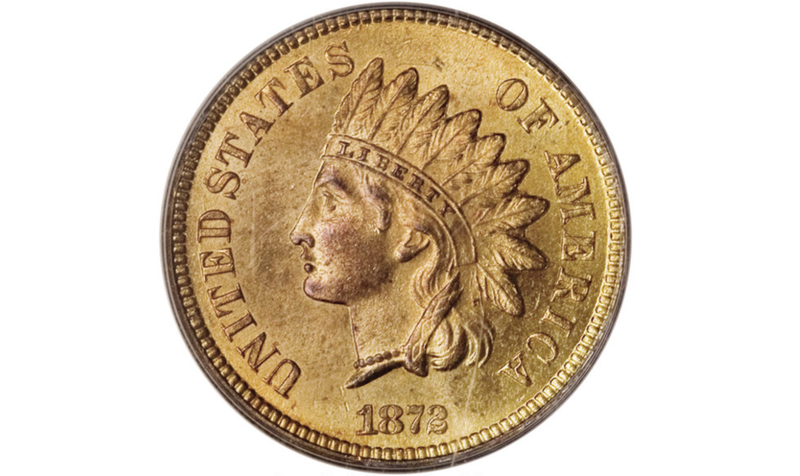 1873 Doubled "Closed 3" Indian Head Penny
Amount Sold at Auction: $12,650
1873 Doubled "Closed 3" penny is of great value due to its doubling. There were over one million of these "closed 3" coins and close to 11 million "open 3" coins. The closing and opening mark refer to the quantity of space in the number "3" on the coin. One of the coins with red or brown coloration and in pristine condition was purchased at a Heritage Auction in Pittsburgh in October 2011.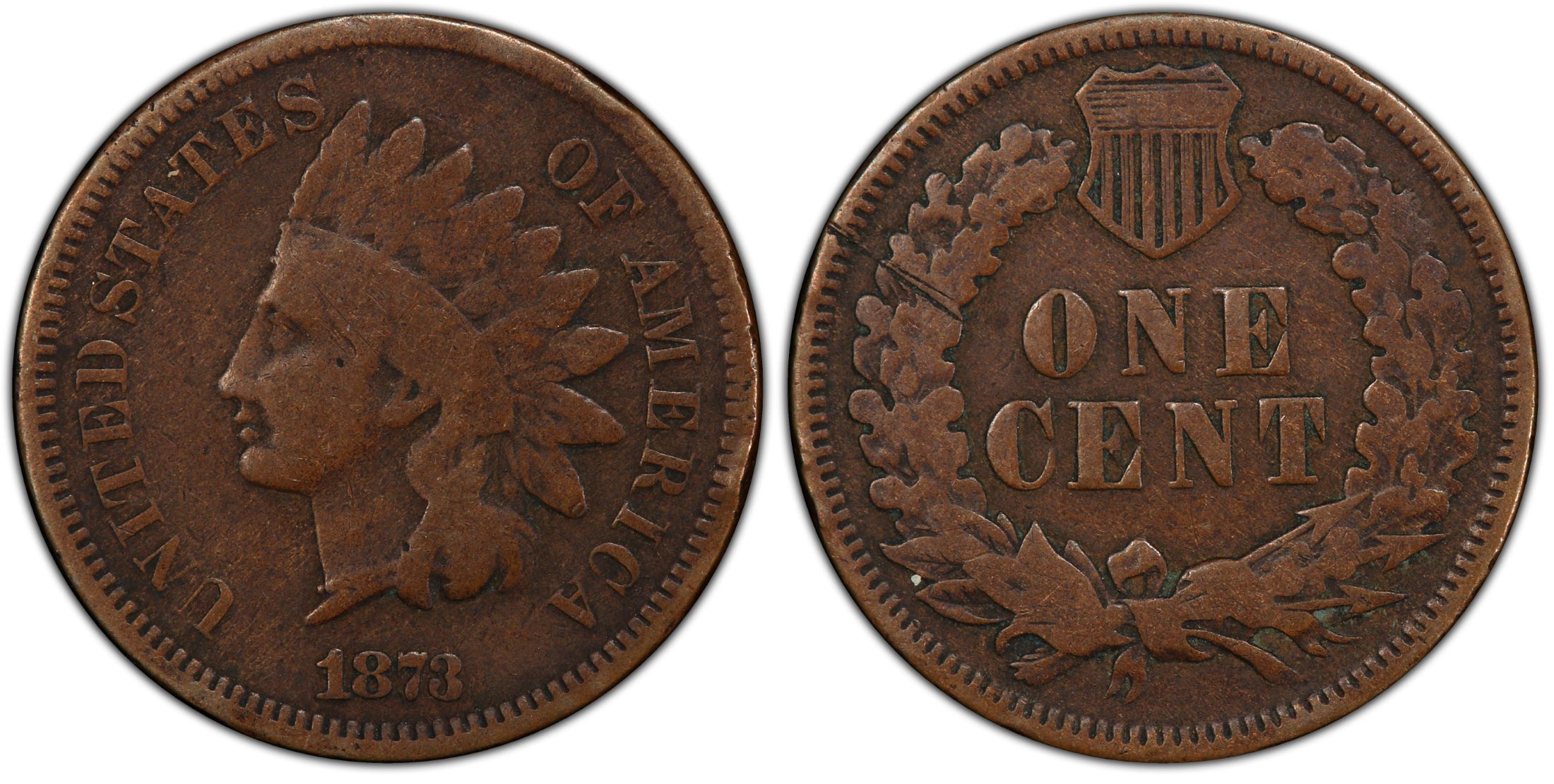 As stated above, it was sold at $12,650. The 1873 Indian Head Penny had two major factors affiliated to leading "3" in 1873. The image shown above is the 1873 "Closed 3" variety. By noticing the width, between the central area of the number "3" in both Open "3" and "Closed "3," you would see that there is a difference. The Open "3" penny's width is wider than Closed "3." 
1793 Flowing Hair Liberty Cap Large Cent Penny
Amount Sold on eBay: $19,950
The Flowing Hair large cent was built in 1793. The Liberty Cap style was the third version of the Flowing Hair coins. It was in production until in 1796, where the production of Draped Bust replaced it. The coin was sold for a good amount of money on eBay in January 2019 because of its scarcity and well-smoothed features. It is widely known that the Liberty Cap Large cent was designed by Joseph Wright. However, it has been discovered that Chief Engraver of the United States Mint, Robert Scot was the original and actual designer.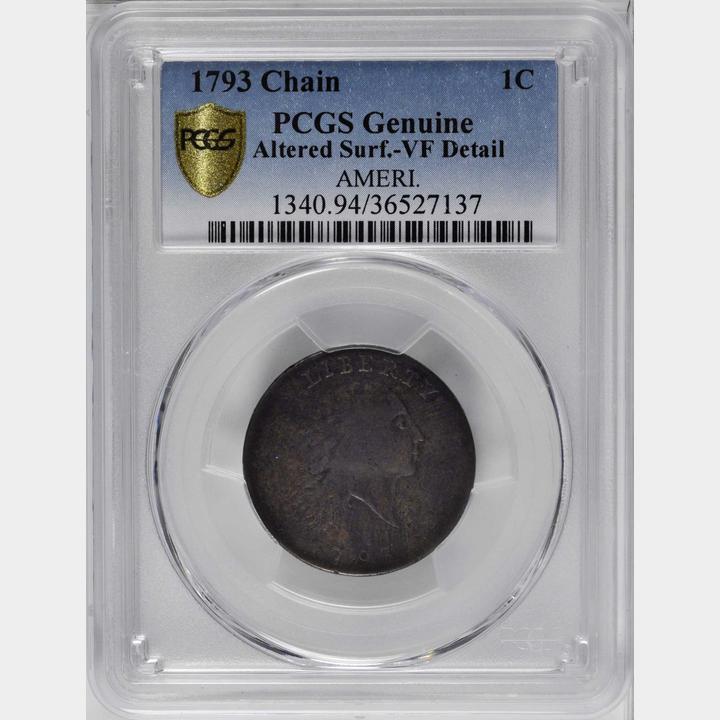 The Mint produced this model of a cent to pacify public objections to the Wreath and Chain cent. This type of coin seems to have had a successful run than its counterparts because its production continued till 1796. In 1795, the planchets became very thin, so it couldn't be used to edge lettering on the coins. Hence coins from the later period of 1795 and above do not have edge lettering.
1922 Lincoln No D Strong Reverse & Weak Obverse Wheat Penny
Amount Sold at Auction: $48,000
Similar to some other pennies, this coin doesn't have mink designation on its face. However, you should take note that the reverse portrait on this coin is not very bright. A model of the coin in good condition was brought from Heritage Auctions in March 2018. This type of coin is not as popular as some others, however, its a variable collectible. Its obverse is effortlessly differentiated from the Strong Reverse variety by its other type being less stronger.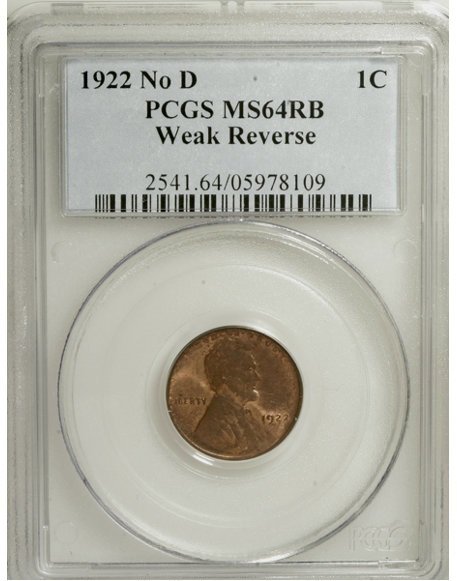 In "The Complete Guide to Lincoln Cents," David W. Lange noted:  "The significance and great value attached to the 1922 cent without mintmark D is based entirely on the curious coincidence of no cents being coined at the Philadelphia Mint during 1922. There's no telling how many other times that cents were issued from the branch mints without a visible mintmark; such pieces are automatically branded as P-Mint coins, though the generally poor state of the dies would be a clue to their real status."
1922-D Lincoln, No D, Strong Reverse, Die Pair 2
Amount Sold at Auction: $63,000
Due to a few damaged die at Denver Mint, some coins were struck without a mark mint. Although most of the coins that do not have a mark were produced from Philadelphia Mint -Denver was the sole Mint to strike pennies in that year -1992. It is presumed that about 15,000 to 20,000 were created this way. The image on the reverse is more prominent than that of the face. This is because the die used for the other side was fresh.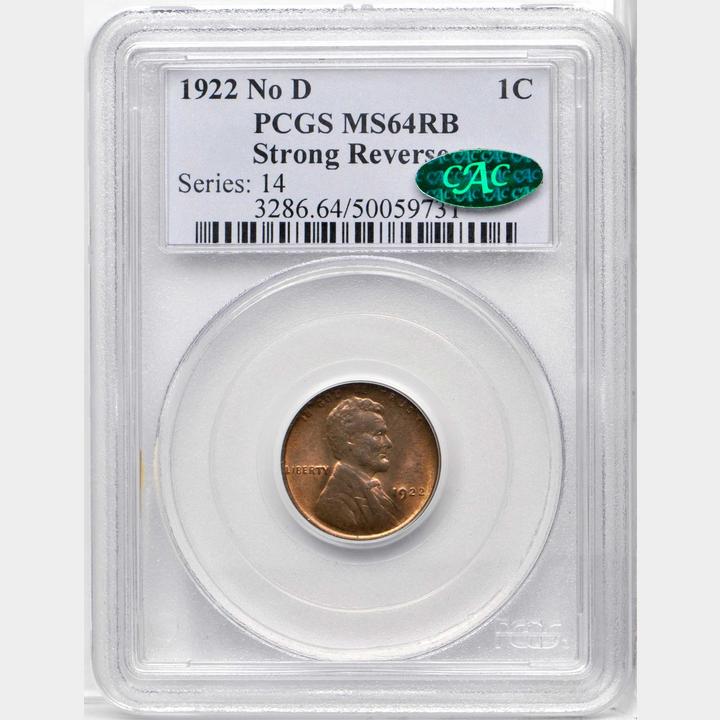 The obverse is quite soft in the strike, even though all significant design elements are largely detectable in a case where wearing does not take place. It has a considerable luster on both sides, and carefully defined across the reverse. Furthermore, with its toned features, and red color, the coin stands as an outstanding Lincoln cent. In March 2018, a red coin was sold in Baltimore. The coin is a remarkable uncirculated model of the famous 1922 No D cent.
1914-S Lincoln Penny
Amount Sold: $105,800
There are more than 4 million of these 1914-S Lincoln Penny models that were forged at the San Francisco Mint -they are distinguished by the S designation. However, this one, in particular, seems to be in excellent condition, as it fully retained its copper-red color. The coin was bought from Bowers and Merena in August 2006.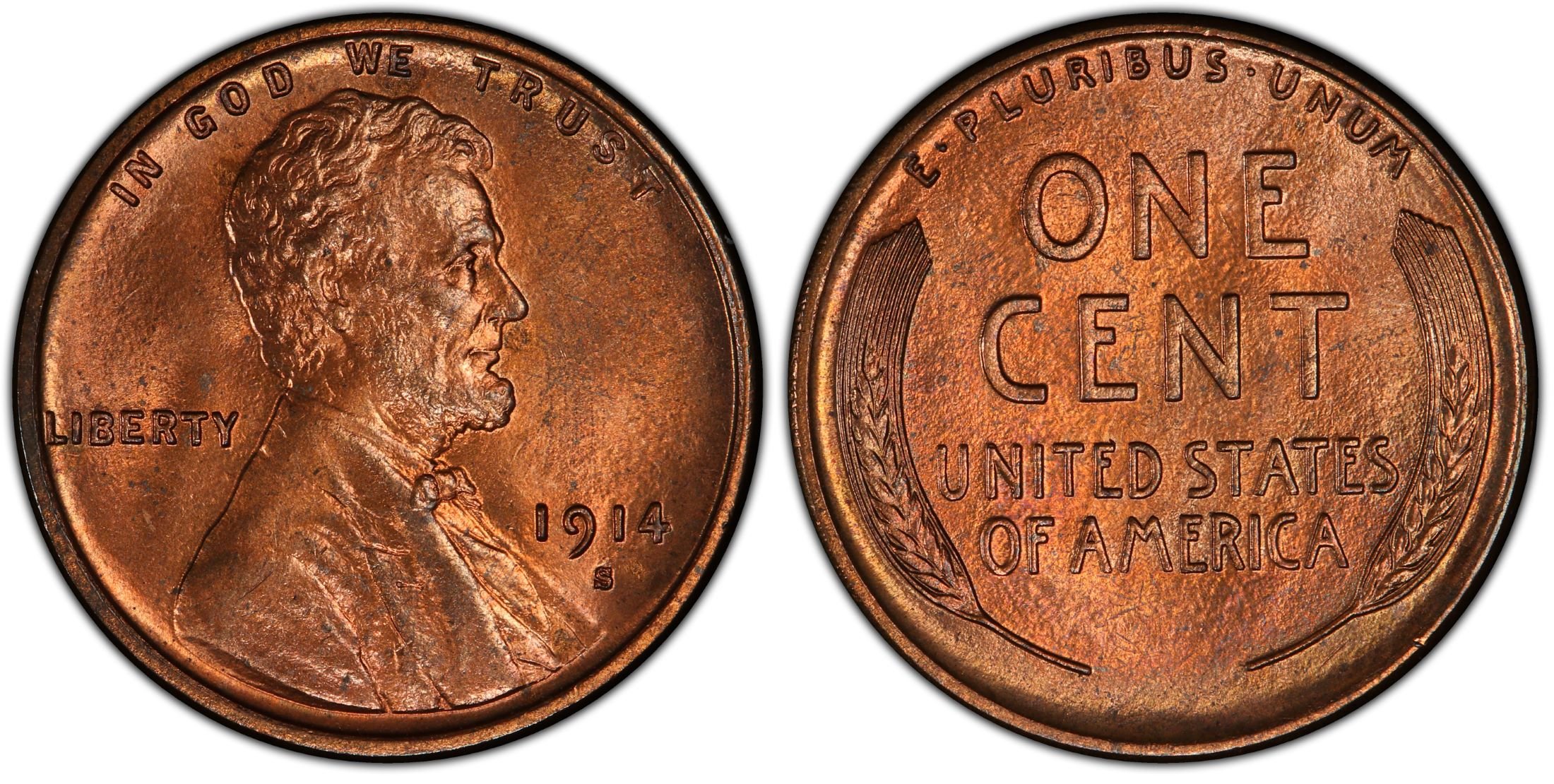 Generally, the 1914-S cents are rare across all grades, coupled with the fact that many circulated ones have been already defaced by corrosion. Even though mint state examples are rare, the entirely red ones seem to be more limited. This is not a surprise as the properly struck coins are toned, while many red coins are considerably soft. The 1914-S Lincoln Cent coins comprise 95 percent copper, 5 percent Zinc and tin. The majority of the coin models have a diameter of 19 milimeters. It is no wonder that this particular coin was sold for a high amount of money. 
1944-D Lincoln Penny
Amount Sold at Auction: $115,000
This penny was mistakenly struck on a zinc-coated steel planchet or coin blank which had been utilized in 1943. The mint decided to start using copper planchets in 1943. Even though there are models of this coin in zinc from Denver and Philadelphia Mints, it has been speculated that there are just about 10 from Denver Mints. Heritage Auctions sold a rare one in August 2007.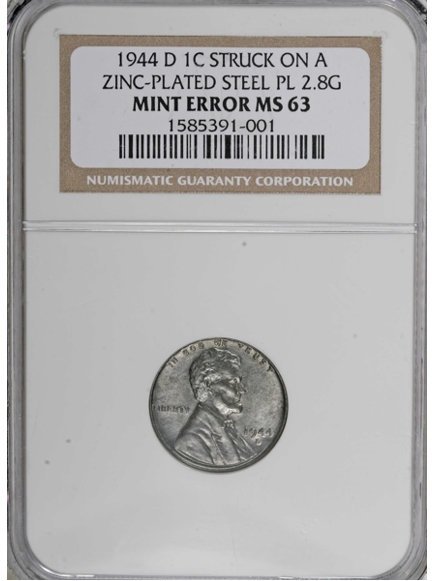 The coin models were struck at the Denver Mint in 1944. 1944-D cents were properly made, with the larger population exhibiting a modest die erosion. Entirely red-colored gems are quite high in quantity from this particularly large mintage. Due to this, collectors would often only show interest in pristine conditions and stay away from others with lesser details. The population of 1944-D cents has reasonably reduced over the years due to many forms of alterations on it. However, an unaltered one can easily be spotted by the presence of the initial -V.D.B and the obvious space between 9 and 4.
1969-S Lincoln Penny Doubled Die Obverse
Amount Sold at Auction: $126,500
Some Lincoln pennies are nearly made of 100 percent copper. These are coins minted within the period of 1959 and 1982. Due to its high percentage of copper, the coins are considered as being very valuable. Dies that are not well prepared can lead to the production of double image. The most prominent one was in 1955. However, it also happened in 1917, 1939, 1958, 1969-S, 1971, 1971-S, 1972, and 1995.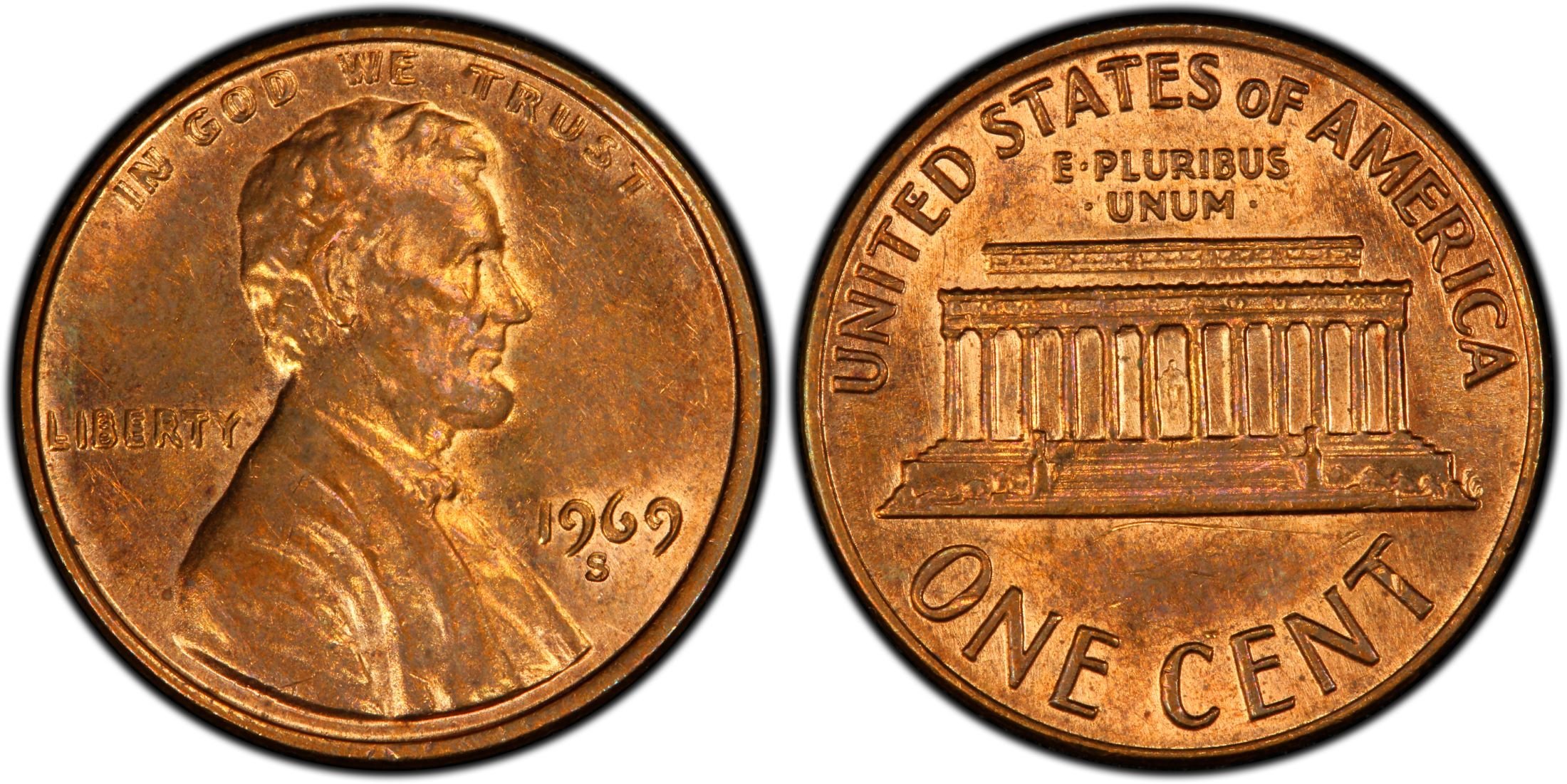 The US government destroyed five of these coin's specimens because they believed they were fake before they found out the truth. A doubled die obverse precious penny which is red-brown in color was sold at Heritage Auctions in Orlando. The obverse of the 1969-S Lincoln cent was made about 60 years ago by sculptor Victor David Brenner. His initials V.D.B appear in little print under the shoulder area of Abraham Lincoln's portrait. 
1872 Indian Head Penny
Amount Sold at auction: $126,500
Finding a model of 1872 Indian Head Penny free of flaws is a herculean task. This is because over 4 million of these coins were minted, and the majority of them had one problem or the other. The coin in the above picture was struck from a new set of coin dies and was in good condition. It was sold by Heritage Auctions in Milwaukee in 2007.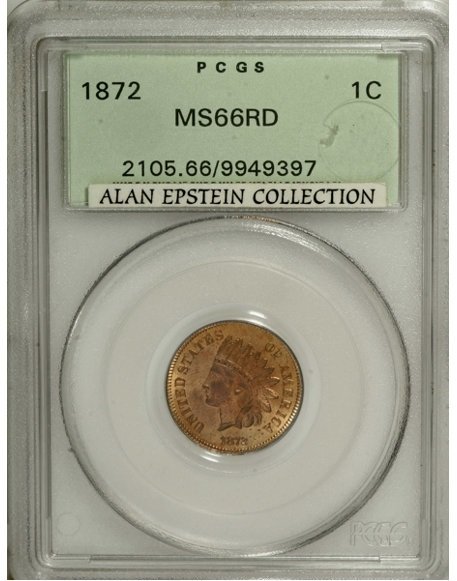 Furthermore, the majority of 1872 pennies have undergone corrosion, and they have fewer details intact. Selling an excellent quality increases its market value; this is evident considering the purchase price of a good model of 1872 Indian Head Penny coin written above. Most of the almost flawless coin models are uncirculated. This implies that the coin was never pushed out and was kept safe instantly after its production. This helps preserve the texture, image, and details intact.
1926-S Lincoln Penny
Amount Sold at auction: $149,500
The 1926-S Lincoln Penny was sold by Heritage Auctions in Orlando in January 2006. While it's fine condition makes it extremely valuable, it would remain the same way even in bad condition. This is because there are solely nine other wheat pennies created in lower measure.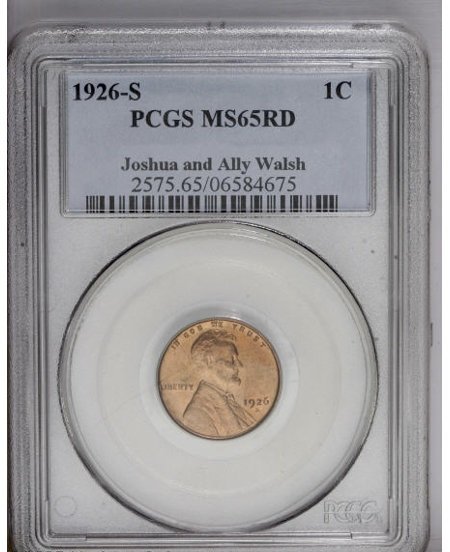 The San Francisco Mint accounted for small mintage numbers for many denominations in 1926, and strangely the reason was not revealed. Perhaps the mint was undergoing renovations, and restructuring at the time. The average 1926-S coin portrays poor details from mild to strongly worn dies on one of both sides. This coin is quite unique because it was created with fresh dies. Completely red samples are very scarce regardless of its strike or grade. Most coins have a less bright shade of red. Even with the low mintage, common less-marred models of the coins have been discovered. And many collectors were attracted to it when pieces of the coins were found in the mid-1930s to 1950s.
1877 Indian Head Penny
Amount Sold at Auction: $149,500
This is a well-known fact; this coin is the scarcest of the Indian Head pennies. As a result of the economic recession that started in 1873, only about 852,500 were produced during the period. The coins are extremely difficult to find, and it is even more challenging to find one in pristine condition. Due to this, the coins are incredibly valuable with a huge price tag.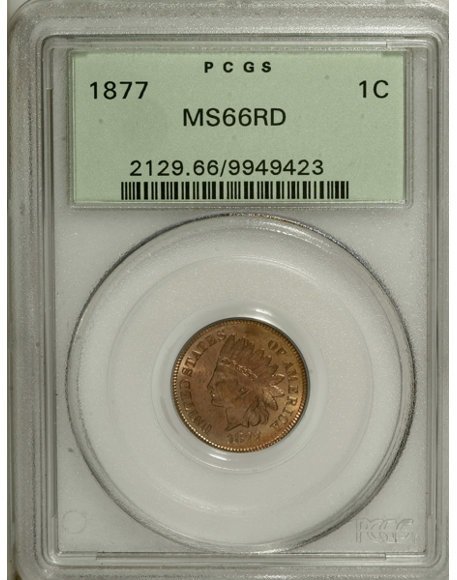 There is nothing quite exceptional about the coin except for the fact that it is very rare. As the years go by, it is most likely possible that the 1877 edition of Indian Head Penny will be harder to find as collectors are quickly buying the available ones to add to their collections. Particularly, in August 2007, one of the coins which had a copper-red color was purchased from Heritage Auctions in Milwaukee.
1914-D Lincoln Penny
Amount Sold at Auction: $158,625
These coins had a mintage of more than one million -which is quite low for the overall production unit of pennies. Many of the coins were distributed and circulated. Therefore, a mint-condition model is scarce. So, even though the coin isn't exactly outstanding as the 1909-S VDB Lincoln Cent, it is well-sought for by collectors because it is hard to find a model of high grade. The rarity of the coin increases its overall essence and value.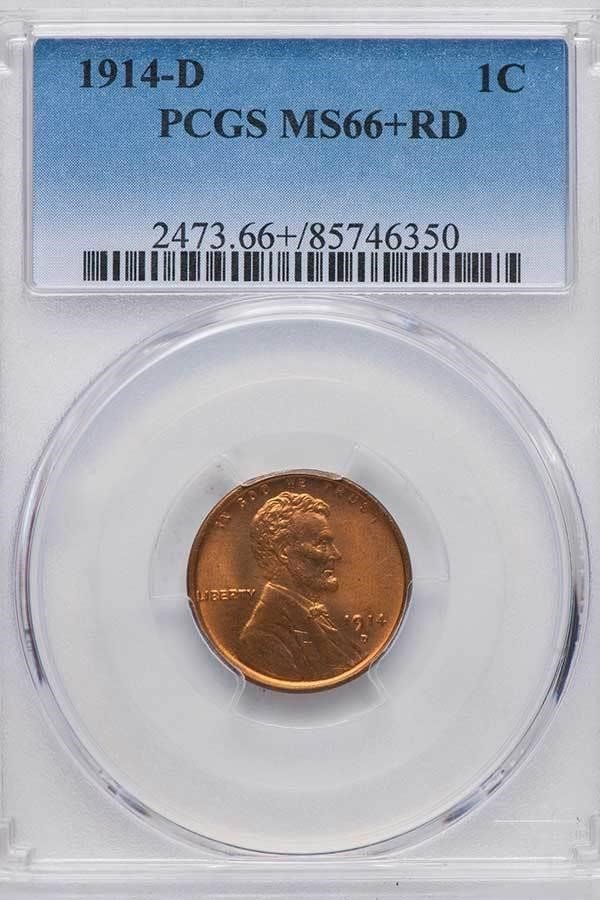 Typically, the coin designed by Victor D. Brenner has a composition of 95% copper, and 5% Tin and Zinc. The coin weighs 3.11 grams and has a diameter of 19mm with a plain edge. Till date, the 1914-D is still in high demand due to its position as an important date of one of the most largely collected series. Even those in not-so-good condition may be sold for about $125 or more. A rare red Denver Mint Penny was purchased online from Legend Rare Coin Auctions.
1864 Indian Head Penny With 'L' on the Ribbon
Amount Sold at Auction: $161,000
The Indian Head penny design could be traced to 1859. At the time of the Civil War, the government faced challenges while gathering metal for coins. So, in the middle of production, they opted for a bronze alloy and ditched the copper/nickel combination. Furthermore, during the year, an "L" was attached to the lower part of the ribbon in Liberty's war bonnet.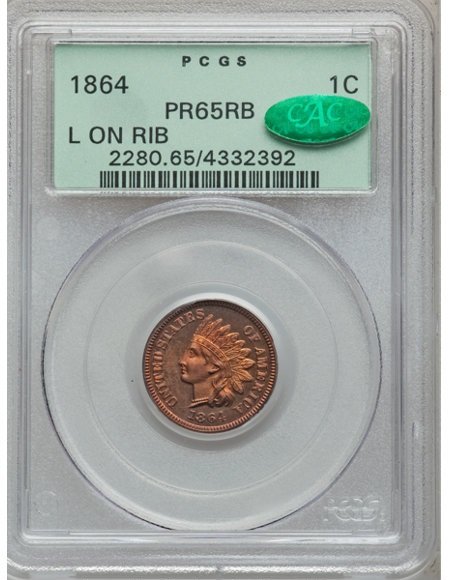 About 5 million of these coins were produced, and just a couple remains in pristine condition. The coin which was designed by James Barton Longarce was minted in Philadelphia mint. It has a plain edge, with a weight of 3.11 grams and a diameter of 19.00 millimeters. The composition is 95 percent copper, and 5 percent Tin and Zinc. One of 1864 Indian Head Penny With 'L' on the Ribbon model was purchased from Heritage Auctions in Pittsburgh in October 2011.
1856 Flying Eagle Penny
Amount Sold at Auction: $172,500
The price of copper in1856 caused the cost of a penny to be over one cent for production. Due to this, the U.S Mint opted to reduce the size you can see in the above picture. Before this period, the coin was 19mm in diameter. This size is almost the same as the present nickel. From 1856-1858, the Flying Eagle design was in production. Only 2,000 were produced in 1856.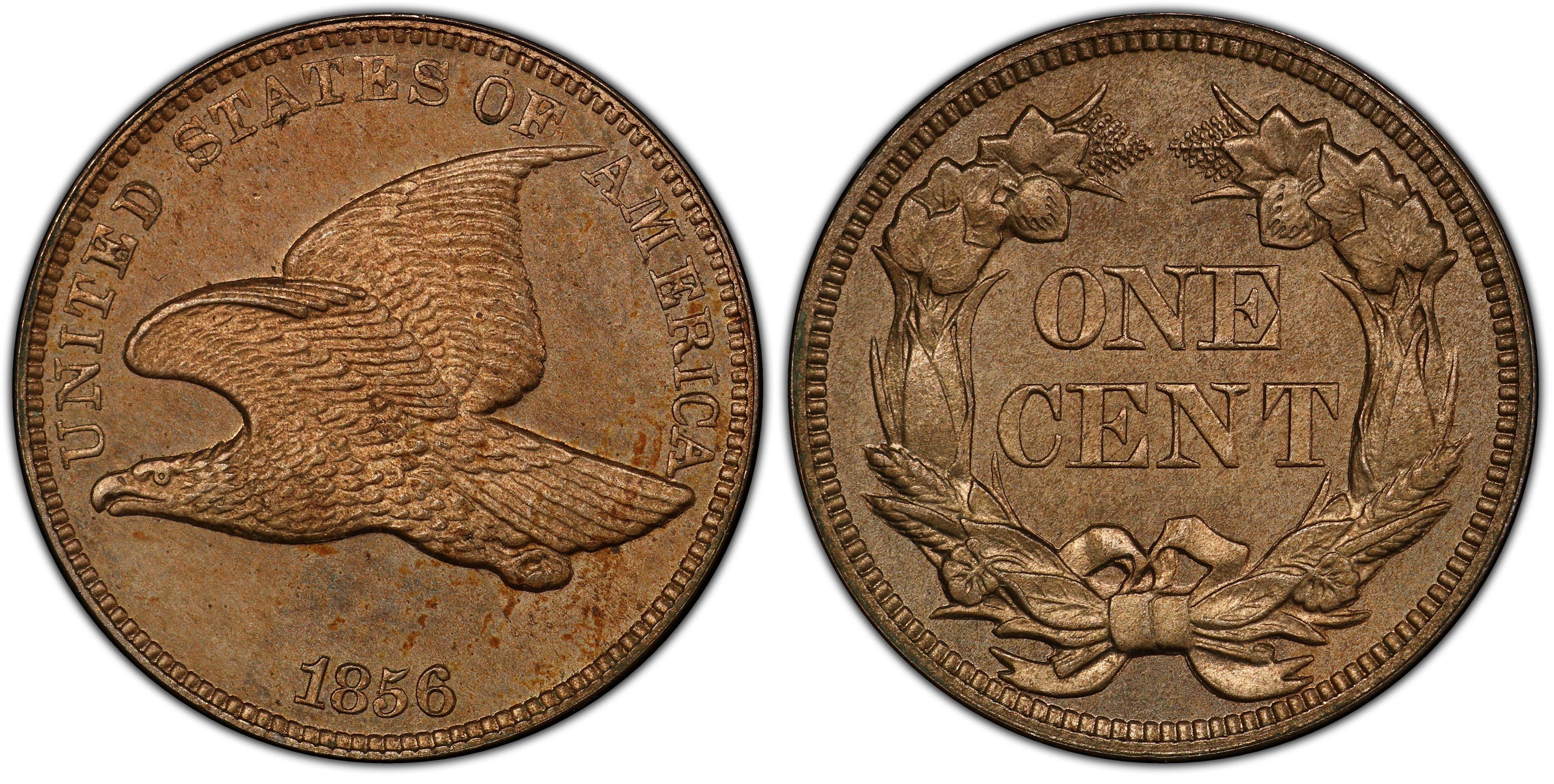 The 1856 Flying Eagle Penny has been considered as a key date because of its limited models, and a Flying Eagles collection is believed not to be complete without an 1856 model. Due to its rarity, the coins attract a big value on all grade levels -either high or low. Interestingly, the 1856 Flying Eagle cent's value has increased massively over the years. A privilege collector purchases a good model of the coin from Heritage Auctions in Orlando in January 2004.
1943 Bronze Lincoln Penny
Amount Sold at Auction: $204,000
The condition of 1943 Bronze Lincoln Penny is quite different. The coin is not mint. Regardless of this, the coin is regarded as the subject of a case study which alerted the U.S. Mint and made them conclude that some pennies were accidentally forged in bronze at the time. A teenager discovered the coin in the above picture in his pocket change from his high school cafeteria in 1947.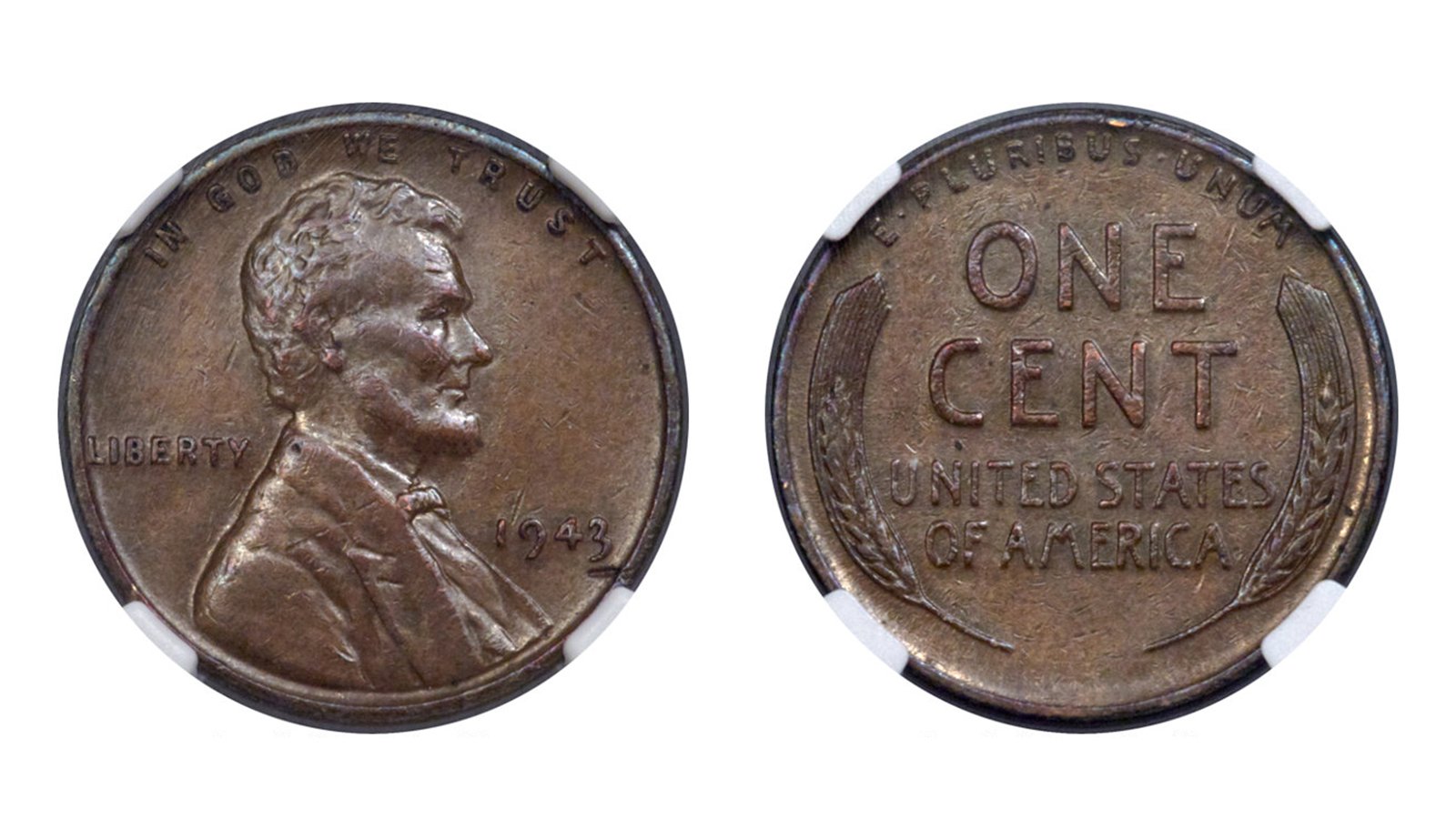 This is one of the only available 10 to 15 models of these pennies in existence. The mass of the coin is 2.8g, with a diameter of 19.05 mm, and a thickness of 1.55mm. The plain edged coin is made of 99 percent steel and a fine layer of zinc. For the first time, this exact coin was sold in January 2019. Back in January 2013, a 1943 bronze penny with original copper-red color, was purchased for $164,500 from Stacks Bowers Galleries.
1909 V.D.B. Matte Proof Lincoln Penny
Amount Sold at Auction: $258,500
The original Lincoln pennies were created in 1909. Initially, the coins had the initials of the coin designer "V.D.B" on the lower and rare side of the coin. Following some reports about their popularity, the initials were gotten rid of for coins that would be made in the future. You should know that there are over a half a million pennies which have the initial V.D.B, but this actual penny was made by matte proof die. About 1,194 of these were struck right before they are removed.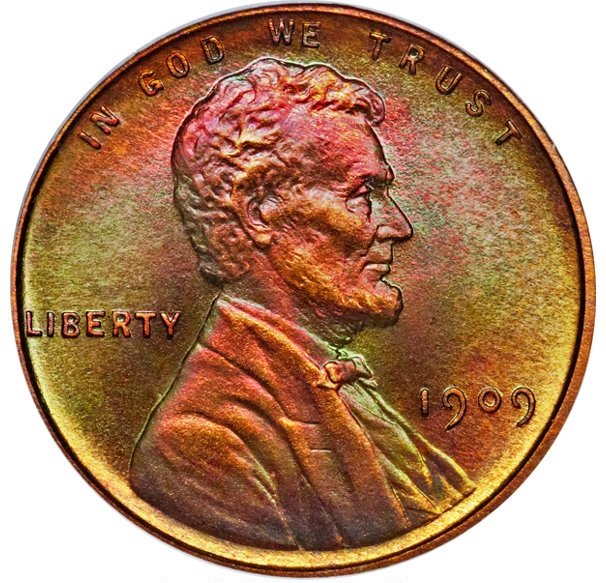 While the cent is rarest of all the Matte Proof Lincoln cents created between 1909 -1916, it is not the smallest mintage coin in the Lincoln Matte Proof set as perceived for many years. Rather, it's the 1916 model that has the lowest mintage coin in the series. Then, the 1915 Matte Proof follows which then makes the 1909 V.D.B the third smallest mintage in the set. One of them in good condition in August 2014, was sold at Heritage Auctions, Chicago.
1943 Bronze Lincoln Penny
Amount Sold at Private Sale: $1 million
The bronze 1943 Lincoln Cent was accidentally minted in bronze. At the time, a couple of other bronze coins were minted, however, 1943 Bronze Lincoln Penny is an exceptional one. It is the only one of the bronze certified with a grade of PCGS Mint State 63 Red (MS63RD) found at the Philadelphia Mint. Notably, coins forged in Philadelphia Mint do not have a mintmark. It was sold in Tampa, Florida in a private sale in 2018.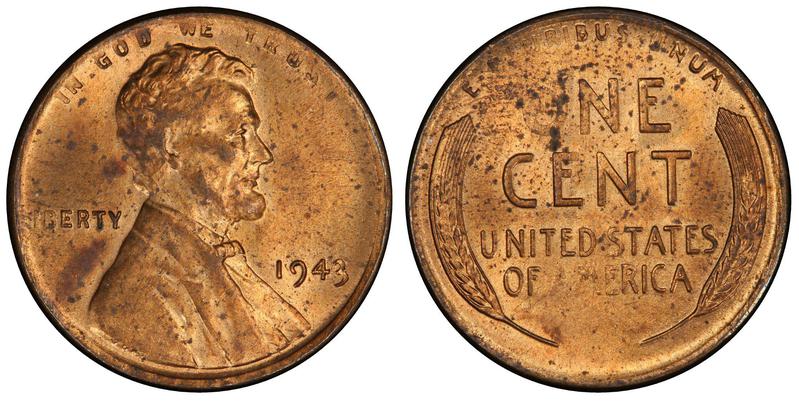 The composition of the 1943 bronze Lincoln cent is determined to be 91.7 percent copper, 7.5 percent zinc, and 0.8 percent silver. This analysis was carried out by the Professional Coin Grading Service (PCGS). A model of the coin weighs 3.08 grams -this is a bit lower than the 3.11-gram weight of a 1942 cent. The 1943 zinc-coated steel cents either weighed 2.69 grams or 2.75 grams, depending on the period it was struck in 1943.
1943-D Lincoln Bronze Penny
Amount Sold at Private Sale: $1.7 million 
This coin you are looking at is one of its kinds and the most valuable cent in the world. It is the only known sample of 1943-dated Lincoln cent. It was erroneously struck at the Denver Mint right on a bronze planchet rather than in the expected zinc plated steel. (Bronze and copper were stored during World War II to take the place of metal as were metal shortages at the time).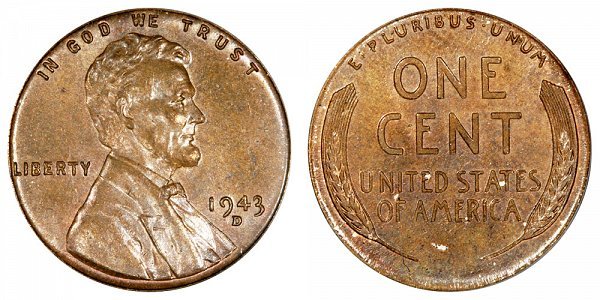 There have been about 20 samples battered on the bronze alloy both at the Philadelphia and San Francisco Mints in 1943. However, none has been found which is minted in Denver -the symbol D and the year 1943 except 1943-D Lincoln Bronze Penny. A piece was sold by Legend Numismatics of Lincroft, New Jersey on September 2010.  The coin was discovered in 1979, and it is certified by PCGS MS64BN.
1927 Wheat Penny
Value: Up to $1,000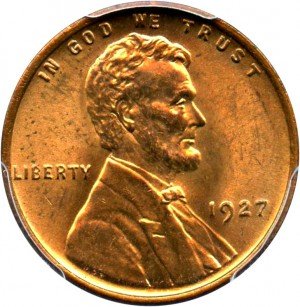 The 1927 1 cent dollar coin "Wheat Penny" has been produced a total of 144,440,000 times. So, those still in circulation have no real value. However, those in Brilliant Uncirculated, which means it has never been circulated and still has all its mint luster, are estimated at around €900 . 
1923 Wheat Penny
Value: Up to $1,000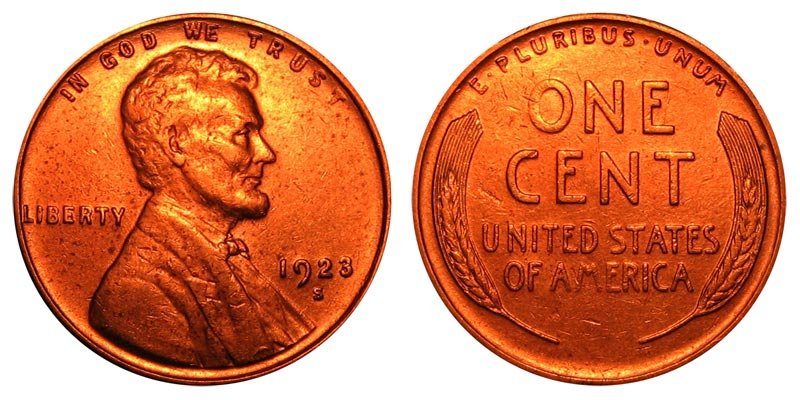 The 1923 "Wheat Penny" coin was produced 74,723,000 times, and those in circulation are not worth more than 50 cents. However, those in excellent condition are worth around 900€. As the design is different from what you find on a penny today, it is desirable to collectors all around the world. 
1870 Indian Head Penny
Value: Up to $500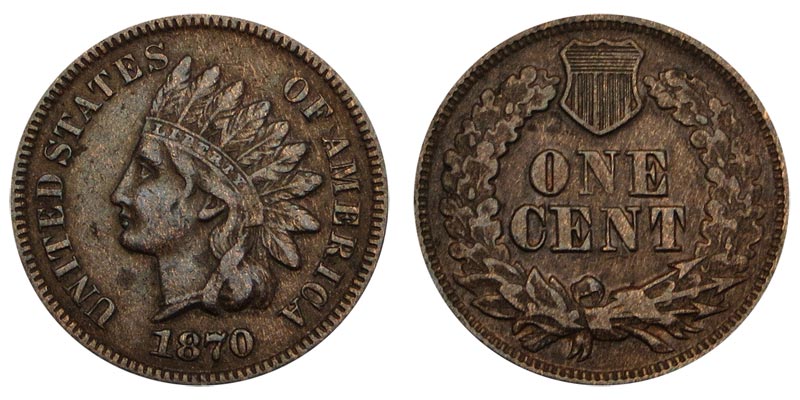 The 1870 Indian Head is part of an older series of coins that use 95% copper alloy. As these have been in circulation for many years, not many are still around. Therefore, regardless of quality, it is more valuable than most other editions. Throughout the years, most of them have worn out, making it impossible to see the design. It can go from $80 to $500, depending on its condition.
It's both overwhelming and amazing how much these old 20 pennies are worth --especially the red ones! Furthermore, it's mind-boggling that some of the pennies that were accidentally minted cost a whole lot more now. What do you think about these 20 pennies? Do you know anyone who has them in their collections?  Let us know in the comment section! If you found this interesting, share it with everyone you love.
Sources: WorkandMoney  JMBullion TheSpruceCrafts, TheSpruceCrafts