Proofs That Librarians Are Cooler Than Others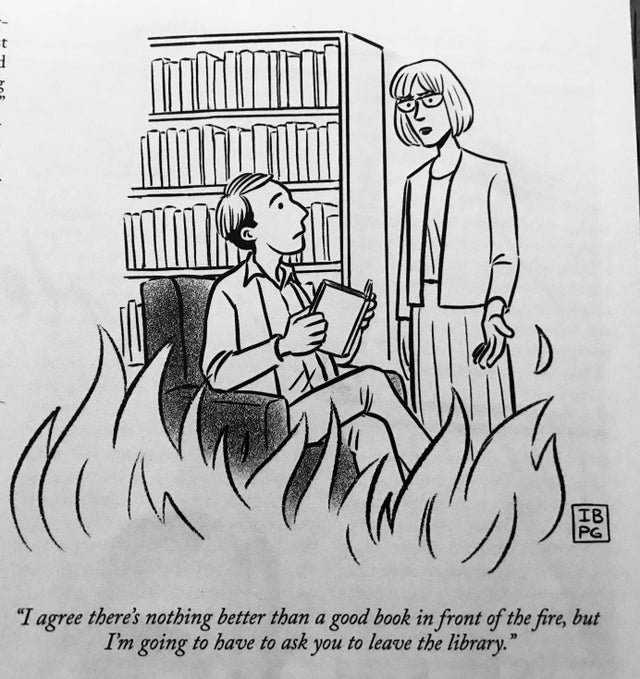 I don't know about you, but I did spend hours after hours in the library during college, trying to score a good enough GPA so I wouldn't be disowned by my own family. Despite the long hours I spent there, I seldom interact with the librarians - which proved to be a great mistake, as years go by I found out that they are actually great fun. Here are the proofs.
Do you want to build a snowman?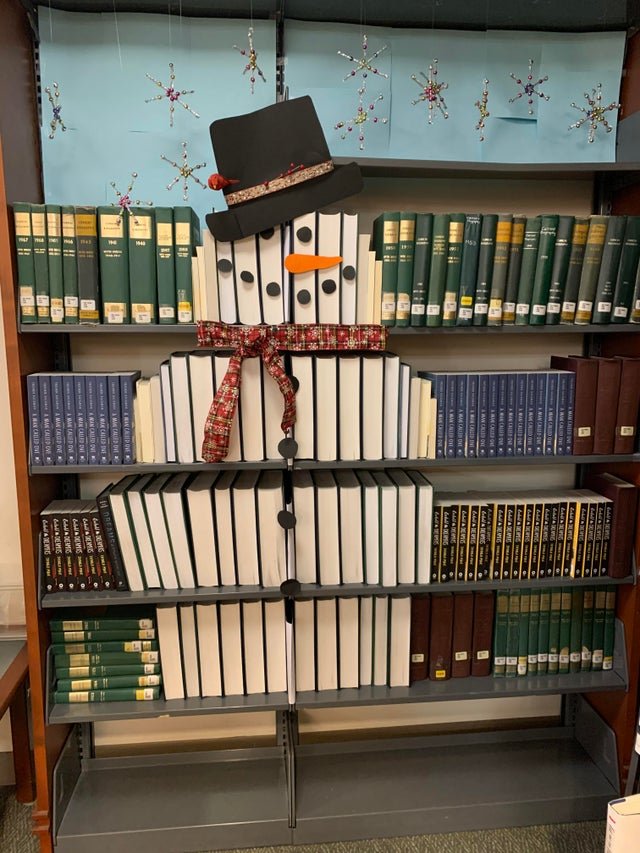 Do you want to build a snowman? Well, this librarian certainly did. But how are you going to build a snowman if you work in the library? Well, it's simple - with books! Not sure if the librarian who built this is also called Anna...wait...the song from Frozen is playing in my head again...
Dungeons and Dragons! Nuff said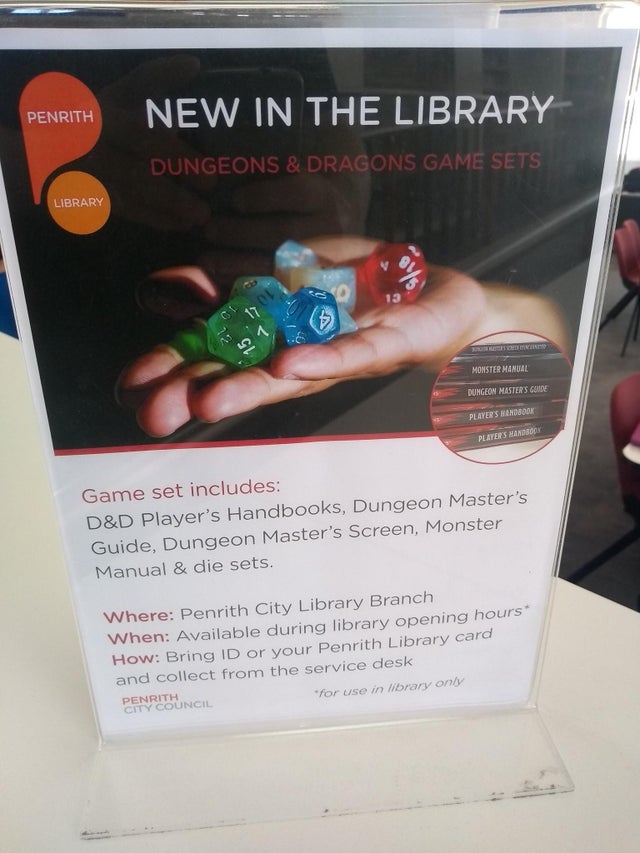 What's geekier than spending 10 hours a day in the library? Voila! Playing D&D in the library! If you have never played it before, please do - it is fantastic, I can assure you. And playing Dungeons and Dragons can also be cool - look at James Franco playing Dungeons and Dragons. And whoever decided this is a good idea - props to you my friend.
Book of the month...what's the title again?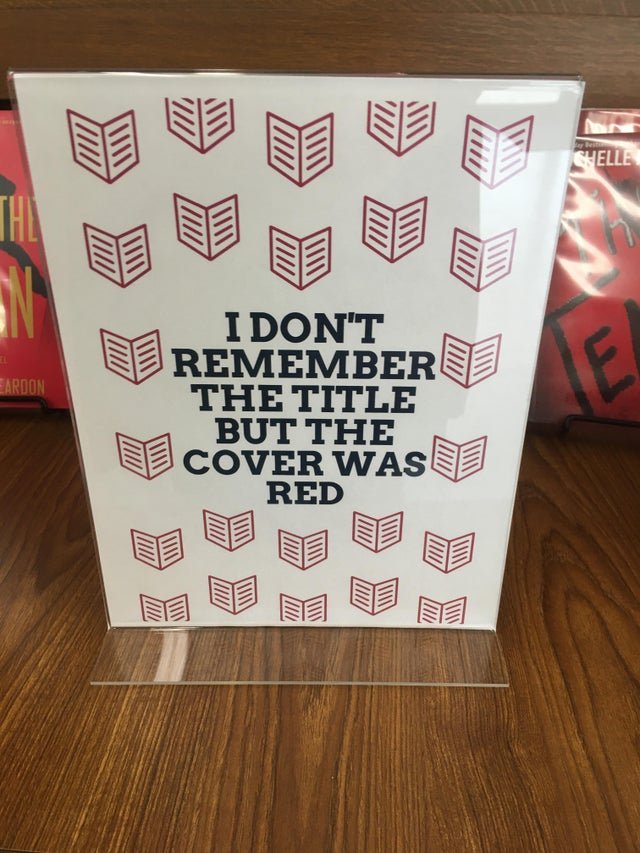 Normally when you visit a library, there is this section called Books of the Month, where the librarians will handpick a selection of books that are good. But this time, Reddit user u/Ratherdisappointing decided to have a little fun with it… and I am sure others will remember this title. Irony, eh?
Celebrity Carts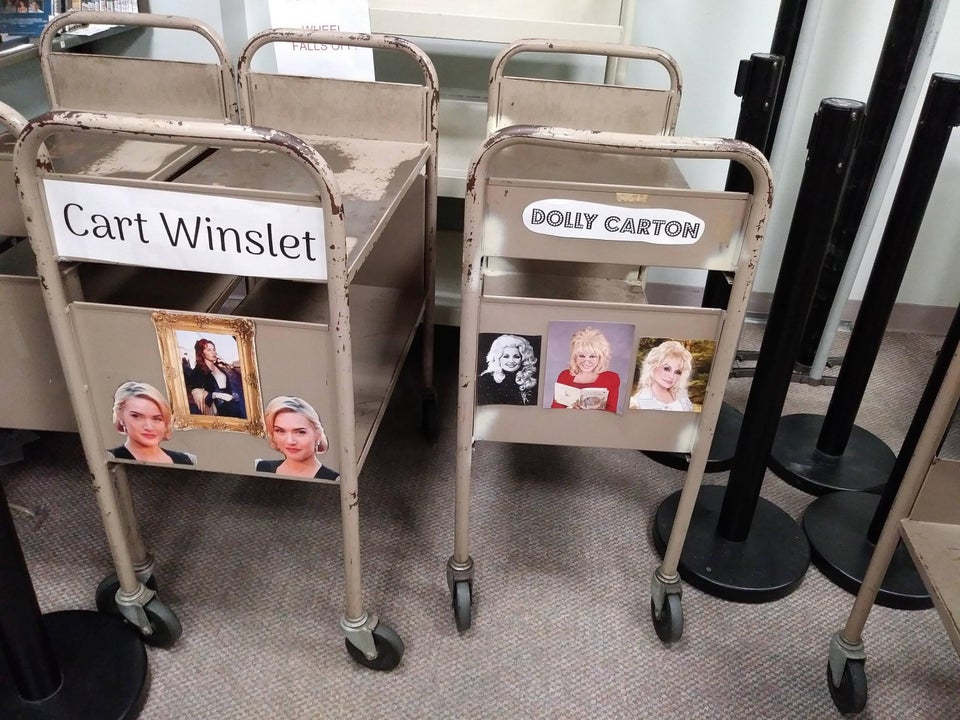 I believe that if there is anyone who is good at making puns, it would be the librarians - and I am not disappointed. What's more - apart from naming the carts after celebrities with gag names, they even put photos on. A lot of effort has been put into it.
What's the name of the book again?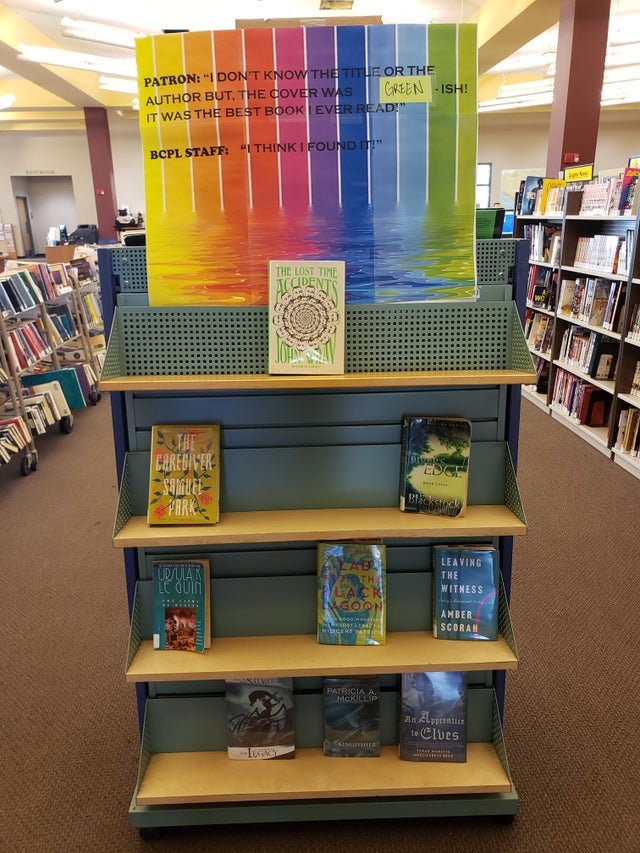 Apparently, a lot of people do walk into a library and ask the library for help, searching for specific books - however, their descriptions are often...not so specific. I mean, seriously, a book with a green cover? And the librarians here certainly nailed it.
Beyond three dimensions...through time and space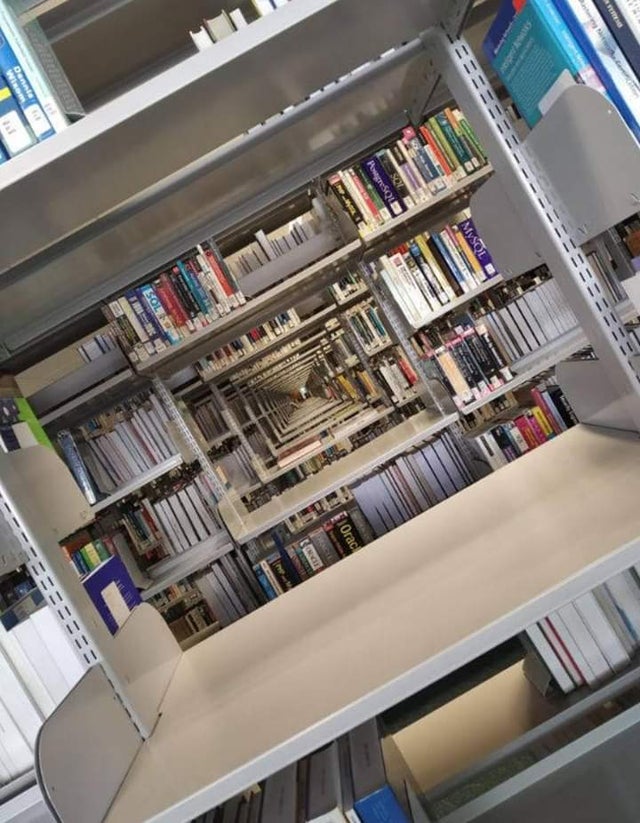 Even watched Interstellar directed by Christopher Nolan? If you haven't, you should. For those who have seen it (no spoilers here) - you might remember the scene with the bookshelves. I am not sure if the librarian is making the same reference here, but it sure looks amazing. A bit of a metaphor as well - books and knowledge do transcend through time and space.
Promotion with modern art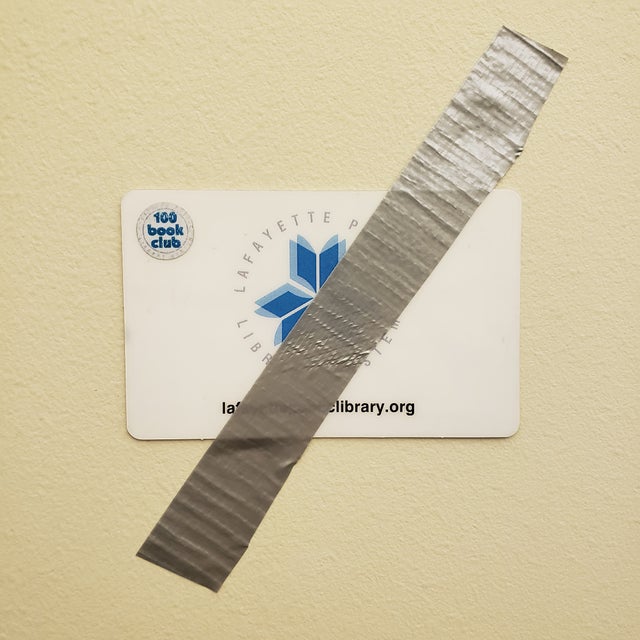 Do you remember the banana 'art' that was sold for $150000? Honestly, sometimes I don't understand how art works. I am not sure if the librarian is making a reference here, or if he/she is really trying to sell the membership by mimicking the famous/ infamous art piece. If it is, this is a stroke of genius.
A Red Christmas tree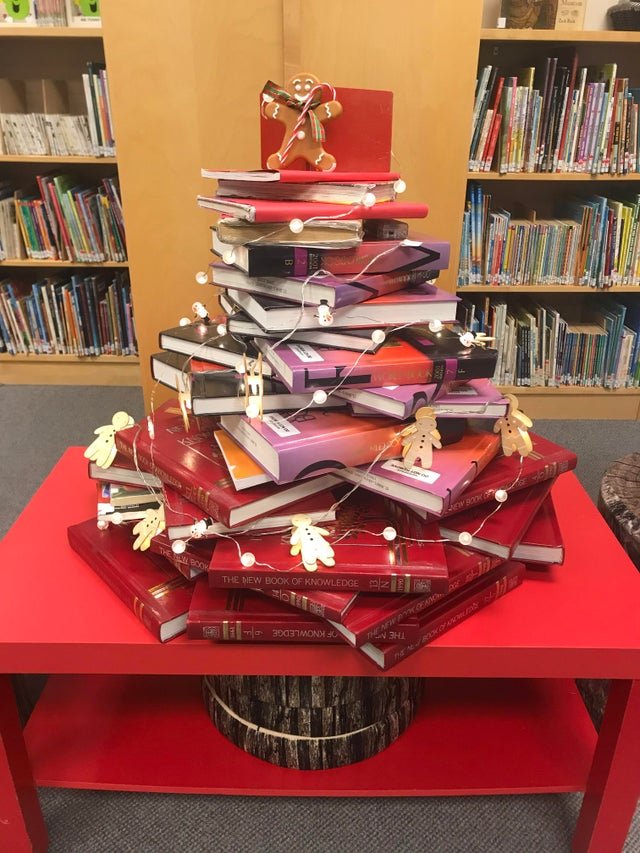 It is sort of an unspoken tradition in libraries to have a book tree for Christmas - that is, to stack up books and pretend it is a Christmas tree. But if you think about it...papers come from trees...so it is a tree after all. However, this librarian stacked up books as usual, but also spent some time and effort matching the colors, which is tinted towards red. I gotta say, this is actually beautiful.
Gift for a librarian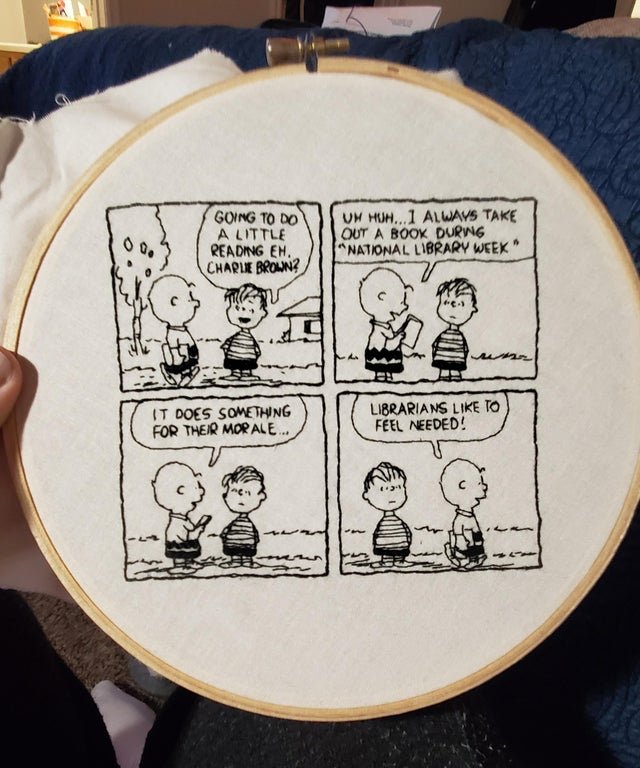 Okay. This one is not exactly from the librarians themselves - but rather, a gift from a kid of one. Reddit user u/itallchecksout99 made this for his/ her mother for Christmas, who is a librarian. I don't know about you, but this warms me up. And if you have not been to a library for a while - go and borrow a book.
Once upon a time in America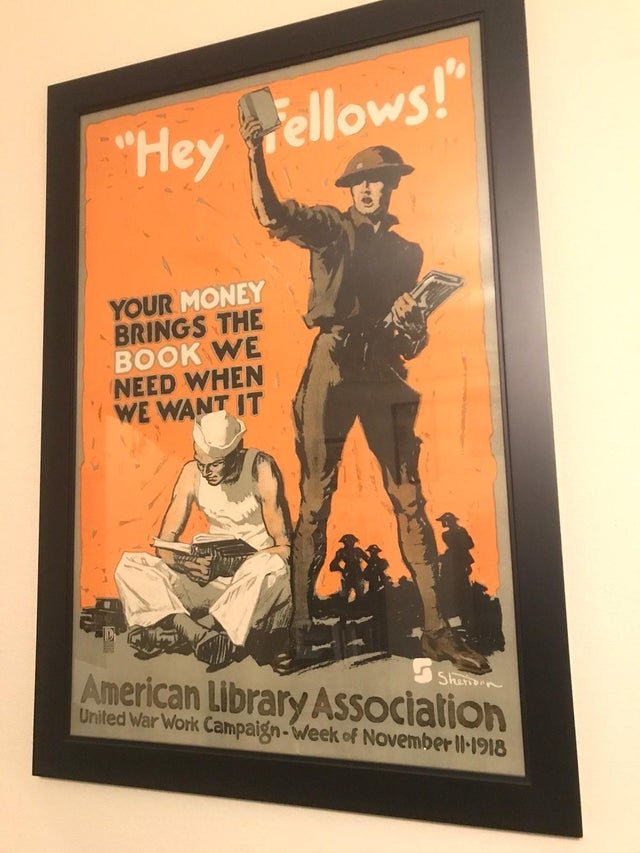 This is a poster from the early 20th century - though it might not be created by a librarian, it was created by the American Library Association, so I would say close enough. It is interesting to look at a piece of history like this - after all, before TVs and internet, books are the medium of knowledge. Fun fact: WWI Armistice took place on that very day listed on the poster. Guess no expected the war to end when they made it?
A decade later, behind the iron curtain…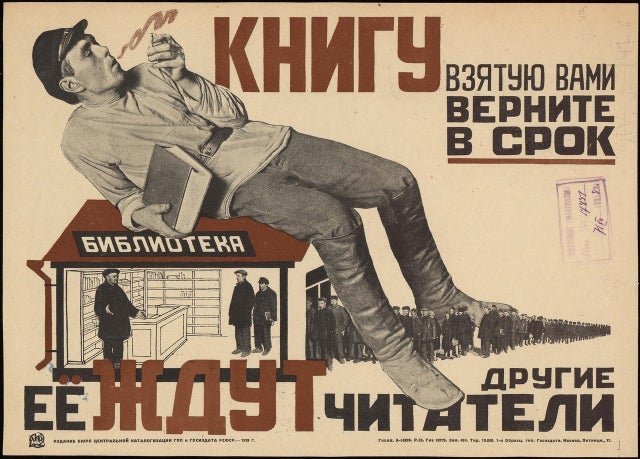 Again, this might not be created by a librarian - but it is of similar nature as the last one. This time from the other side of the world, behind the Iron Curtain, in the Soviet Union. It is written in Russian, "Return the book you borrowed on time - other readers are waiting for it". It is also interesting to see how books are universally valuable to people, just shy of a century ago, perhaps today as well.
The times they're a-changin'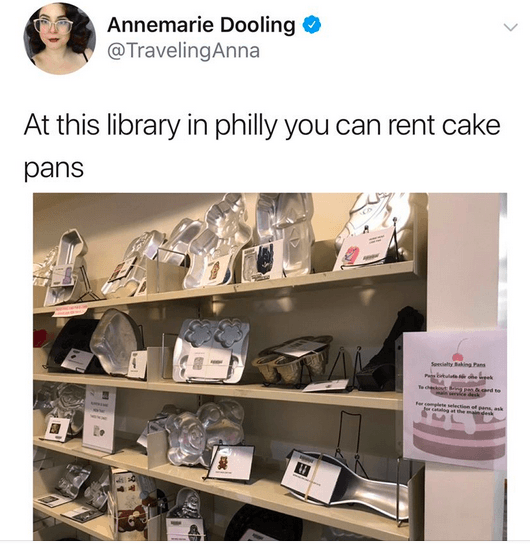 For a lot of people and places, visiting libraries is a dying culture - with the advance of technology and especially internet, a lot of things are just a click away...and a trip to the library, picking up a book seems too much of a hassle - so perhaps the librarians here are trying to attract patrons by having a wider selection of things people can borrow. We all have to adapt to changes, I guess.
Dedication...dedication man
Reddit user u/Bl00dorange3000 said that due to a system down in the library, he/she decided to sort out all the books on the shelf. It might not last - but this is gorgeous.
The Zine Machine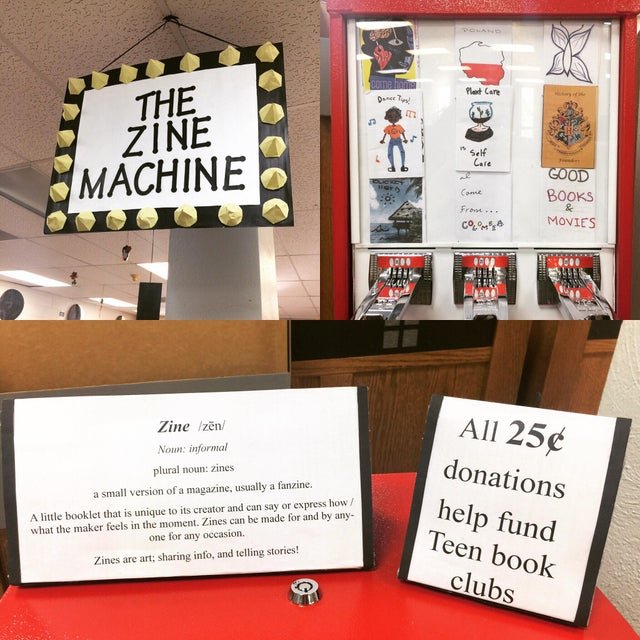 Ever heard of a zine? It is usually a small magazine, created by a person/ a small group as a creative form of media. Unlike books or normal magazines that are published by big publishers, zines are of a more indie nature. We are so glad to see a dedicated section on zines in a library - thanks, librarian! Wherever you are.
Here it is - you see, librarians are actually very cool people. When was the last time you went to a library? If you haven't, maybe you can consider making a visit to your local library and take up a book, even saying hi to the librarian there perhaps. If you have some friends who work in the library, why not share this with them? Until next time - have a great day!
Source: Reddit, Art & Object, Geeks & Sundry