15+ Clever Life Hacks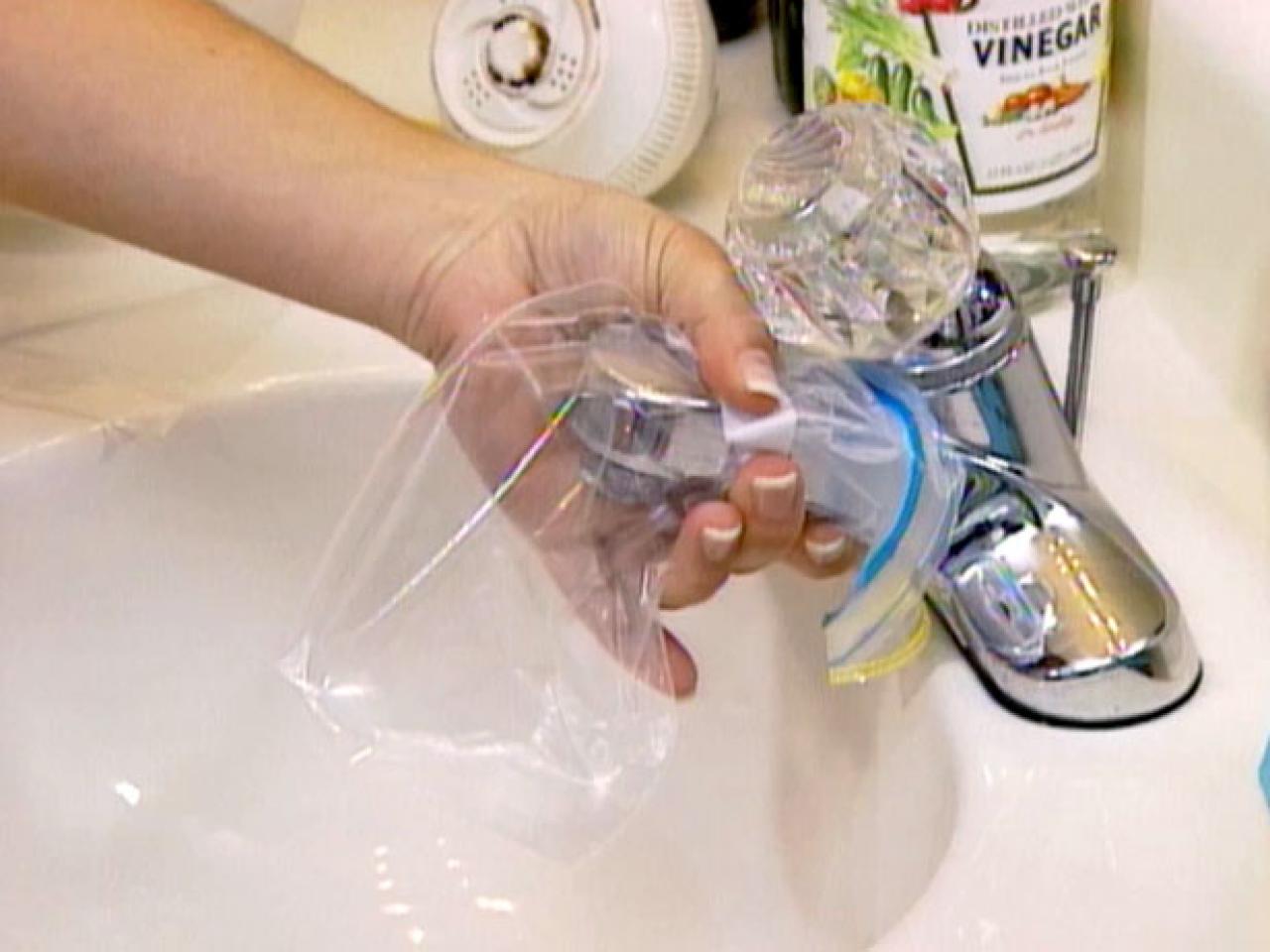 It may sound a bit negative, but life can be difficult at times and change for the worse when we least expect it. This isn't too bad though, as it presents opportunities for us to make an effort and resolve those situations with our creativity and ingenuity. Overcoming difficulties through our ideas is an enriching activity, and allows us to learn a lot from ourselves. The following list of items presents lifehacks that can be used to make our lives a bit easier, and give us more time to focus on things that are more important. 
MAKE SURE NOTHING SPILLS AGAIN WITH A SPOON
Every pasta lover has heard that hissing sound when the water started boiling and overflows, and even if we sprint to the kitchen, the chances of it spilling are still really high. When we cook, we must take care of all the details, but sometimes we forget some of them, and that is why we must anticipate and solve them with creativity. Placing a wooden spoon on the top of the pot where we are cooking the pasta will prevent the bubbles from rising too high and overflowing the entire stove.
---
HOW TO REMOVE THE DIRT FROM YOUR HEADLIGHTS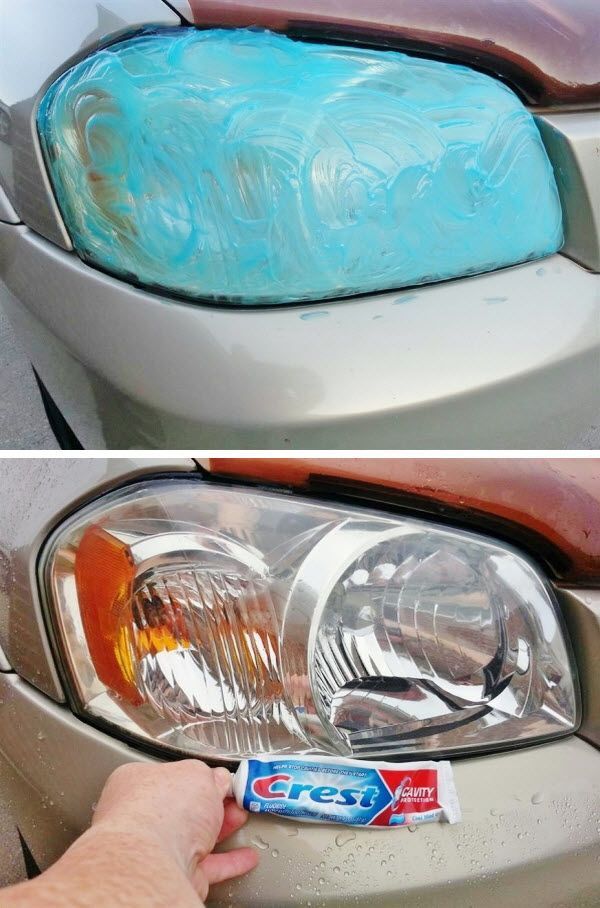 Driving at night is complicated for many people because they begin to lose some vision over the years, so having good lighting, on the street and in our car, becomes crucial for safe driving. Unfortunately, the front lights of our vehicles accumulate dirt over time, and this disrupts the light. Applying a layer of toothpaste, polishing firmly for a while, and then wiping them with a rag, your headlights will shine nicely, good as new, allowing us to see correctly in the dark and facilitating driving on the road late at night.
---
HEAT MORE THINGS IN ONE GO IN THE MICROWAVE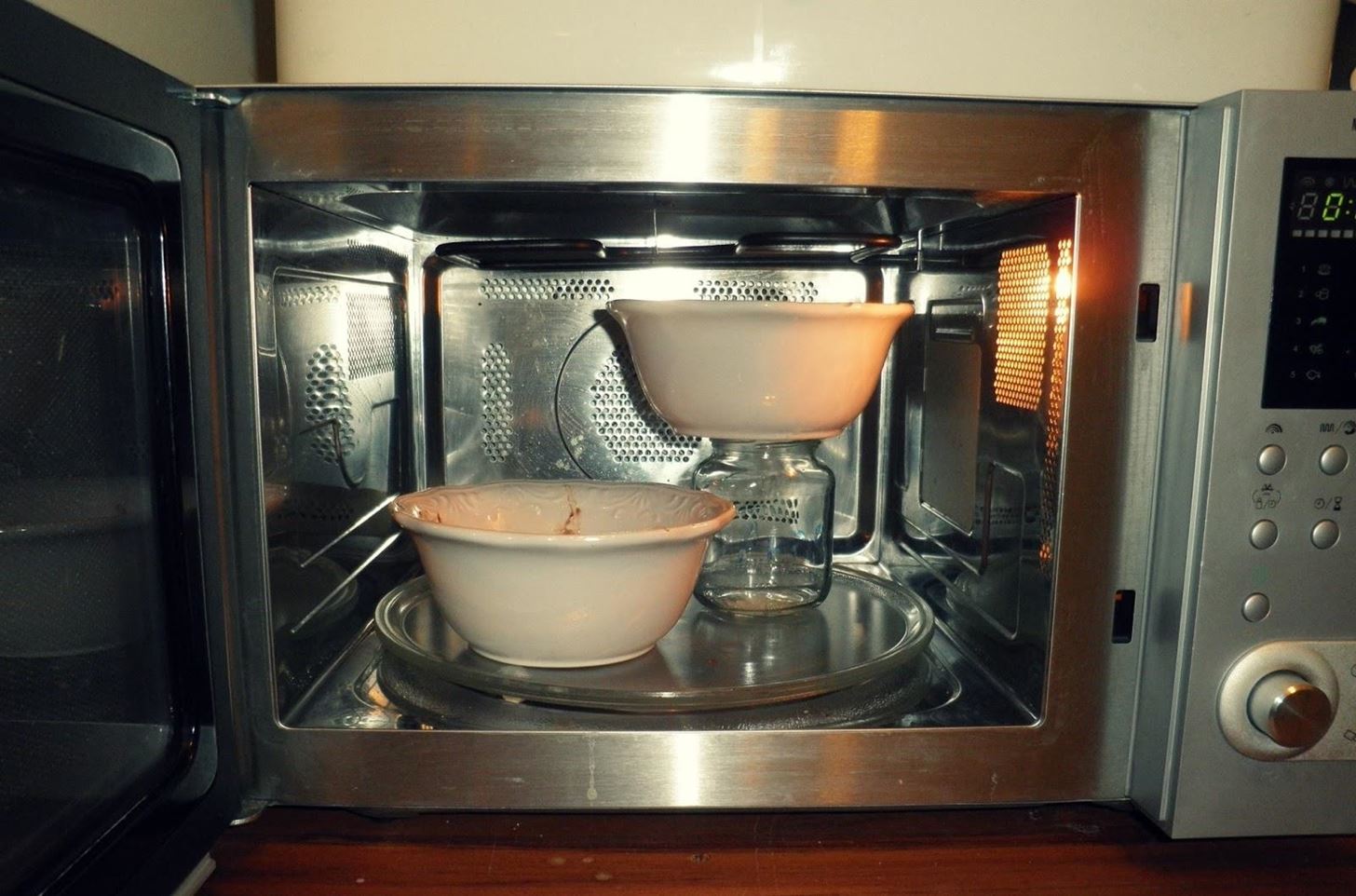 Sometimes we need to heat our food quickly to serve it for our family or take advantage of commercial ads to warm up a quick snack before the Super Bowl game we've been waiting for. This is a problem very similar to that of the pizza of point 4, and that we can take advantage of the space that we have in our microwave. By placing one of the plates with the food on top of a cup, we will take full advantage of the space of the microwave, and we can heat more food at the same time without making a mess. 
---
A CUTTING BOARD DRAWER IS SUPER PRACTICAL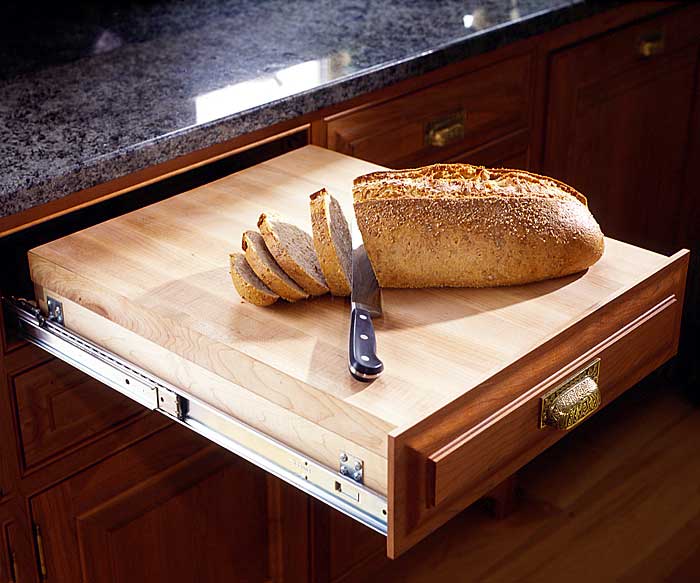 Many of us love to cook, but our kitchens sometimes can be too small for us to cook comfortably and pleasantly. A cutting board is an essential part for us to prepare all the ingredients properly, so we can adapt one to our needs without taking up too much space by hiding the cutting board in one of the cabinets of our kitchen, we can make it retractable and use it only when we need it without having to occupy too much space.
---
USE NUTS TO REMOVE SCRATCHES FROM FURNITURE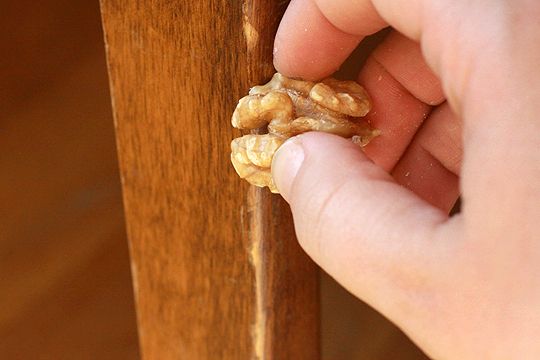 Many people have at least a couple of beautiful wooden furniture at home that has been in their family for many years and will always remind them of their family members for all the memories associated. They likely have several scratches that they have not been able to eliminate despite the passing of years, so the next hack is used to get rid of those flaws. When you rub a nut for a few minutes on the scratch you want to eliminate; it will slowly disappear because the oil contained in the nut will repair the damage and leave the wood almost as good as new.
---
OPEN JARS WITHOUT MUCH PROBLEMS NEXT TIME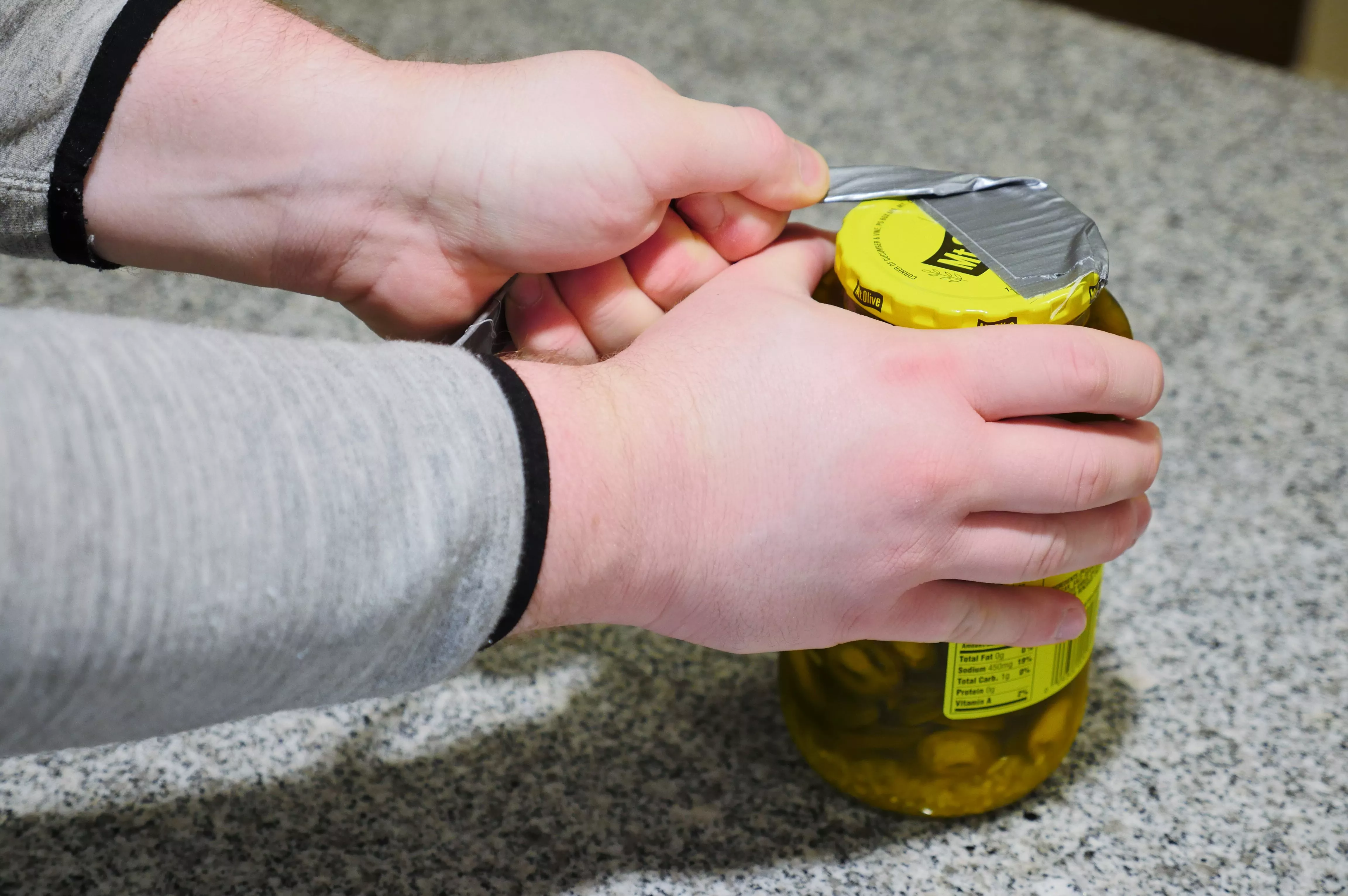 Depending on the contents inside the jars, some of them generate a lot of residue in the lid that, when solidified, makes it extremely difficult to open them without resorting to brute force and risk hurting our wrist. In those situations, use some adhesive tape on the lid of the jar, we can generate the necessary torque to open the lid because the tape will stick firmly and make it turn more easily without having to ask Hercules, or your bodybuilder neighbor, for help.
---
FUNNEL OIL WITH A SCREWDRIVER TO AVOID SPILLS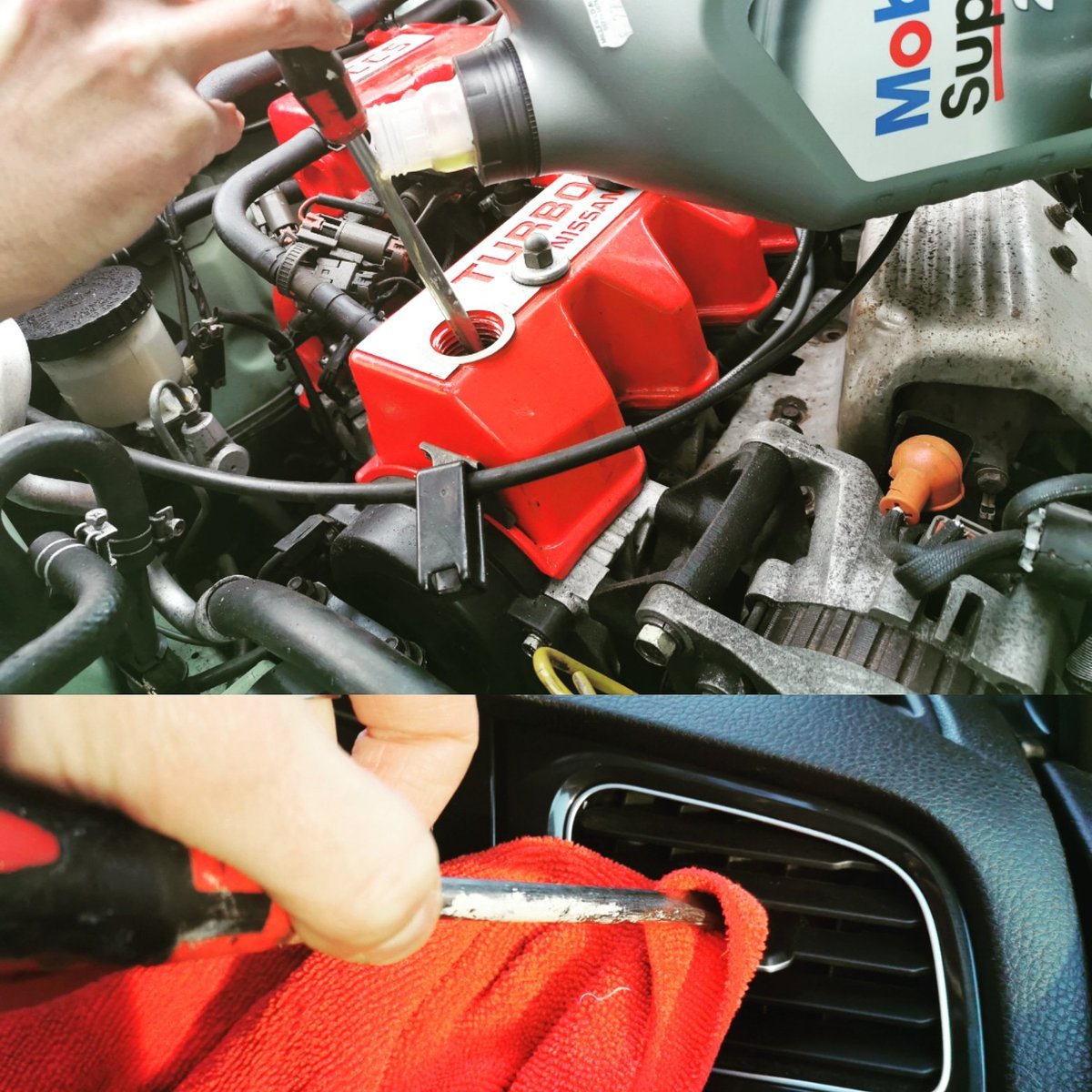 Have you ever needed to change the oil in your car, but do not have a funnel lying around? There are ways to minimize the risk of pouring oil all over the engine bay while in a hurry. One of them is to use a screwdriver. Fulfilling the same function as a funnel, the idea is to insert the tool slightly and slowly pour the oil on it, allowing it to go directly to the engine due to its viscosity. It is something that must be done very carefully to prevent the screwdriver from falling or dripping. However, it is a very practical solution to this problem.
---
HIDE AN ALCOHOL CAN WITH A SODA CAN
We all love a refreshing beer during a hot sunny day, but it might be difficult to obtain sometimes. Many parks and swimming pools prohibit the consumption of alcohol within their facilities, and it is simply not the same to cool off with a glass of juice. This hack is designed for those occasions, but you should bear in mind the possible legal consequences. Cutting out a can of soda in the following way, we can make a very convincing disguise for our favorite brew and enjoy it at any time, any place.
---
NEVER INJURE YOURSELF USING A HAMMER AGAIN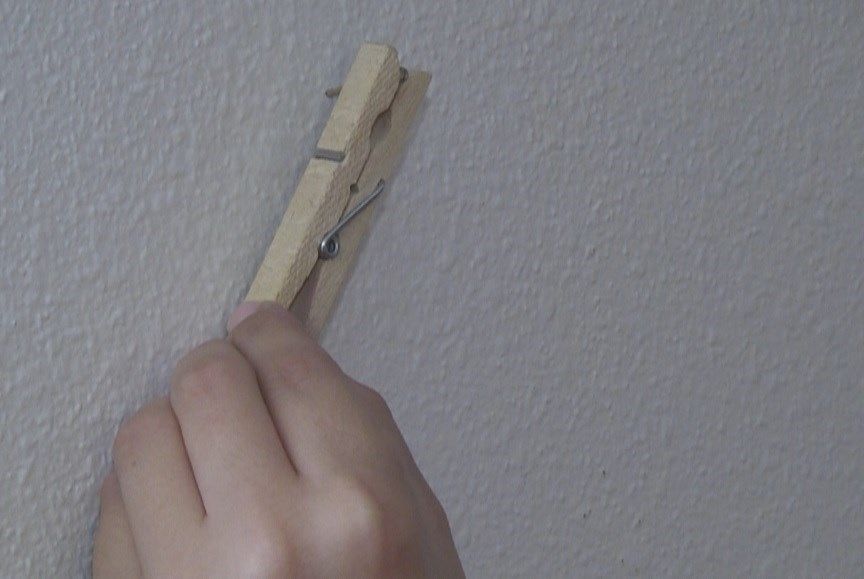 If you are a person prone to accidents because you are somewhat clumsy in crafts, and have hit your fingers before with a hammer. When you try to nail something or mount a new photograph on the wall, you must find a way to protect your hands to avoid a severe accident or an injury that requires a doctor's attention. Using a clothespin to hold the nails when you are about to use the hammer is an ingenious and intelligent solution that moves your fingers away from the danger and assures you that you can do the job without risking your health. At first, it is difficult to get used to it, but once you do it, you will not be afraid of hammering your own fingers again.
---
NEVER FORGET WHERE THE TANK IS AGAIN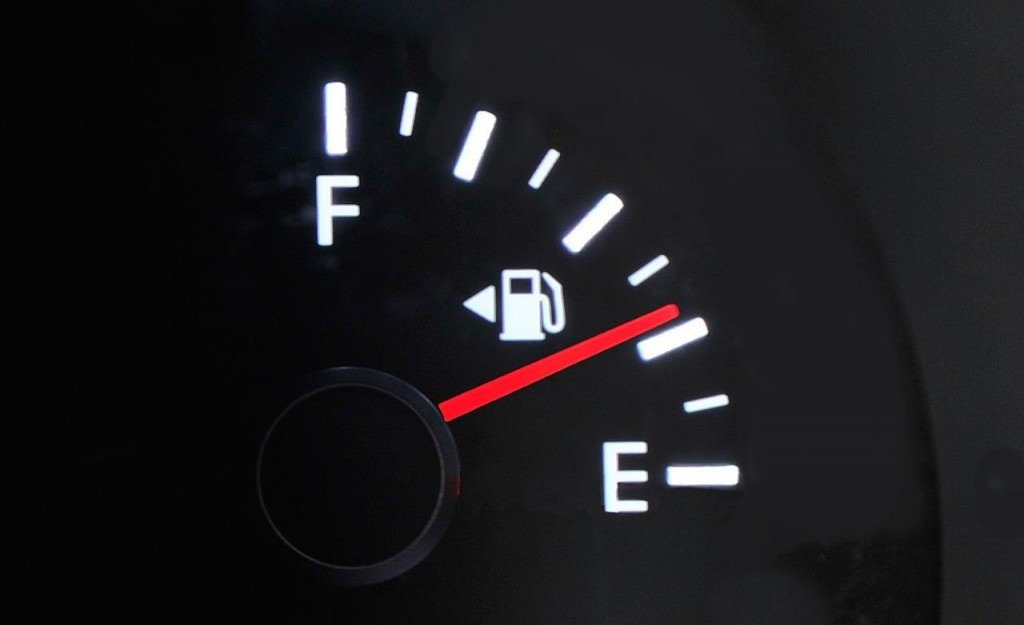 This hack is a reminder that many people should know. But, sometimes it can be difficult to remember when we are in a hurry, or we just bought this new car to which we are not yet fully accustomed to. When we look at the dashboard of our car, we can quickly remember which side of the vehicle the gas tank is located by looking at the fuel gauge and where the arrow points. Now you can make sure you park next to the correct gas pump when you have to fill it up.
---
USE A SHOE A AS A CUP HOLDER IN THE CAR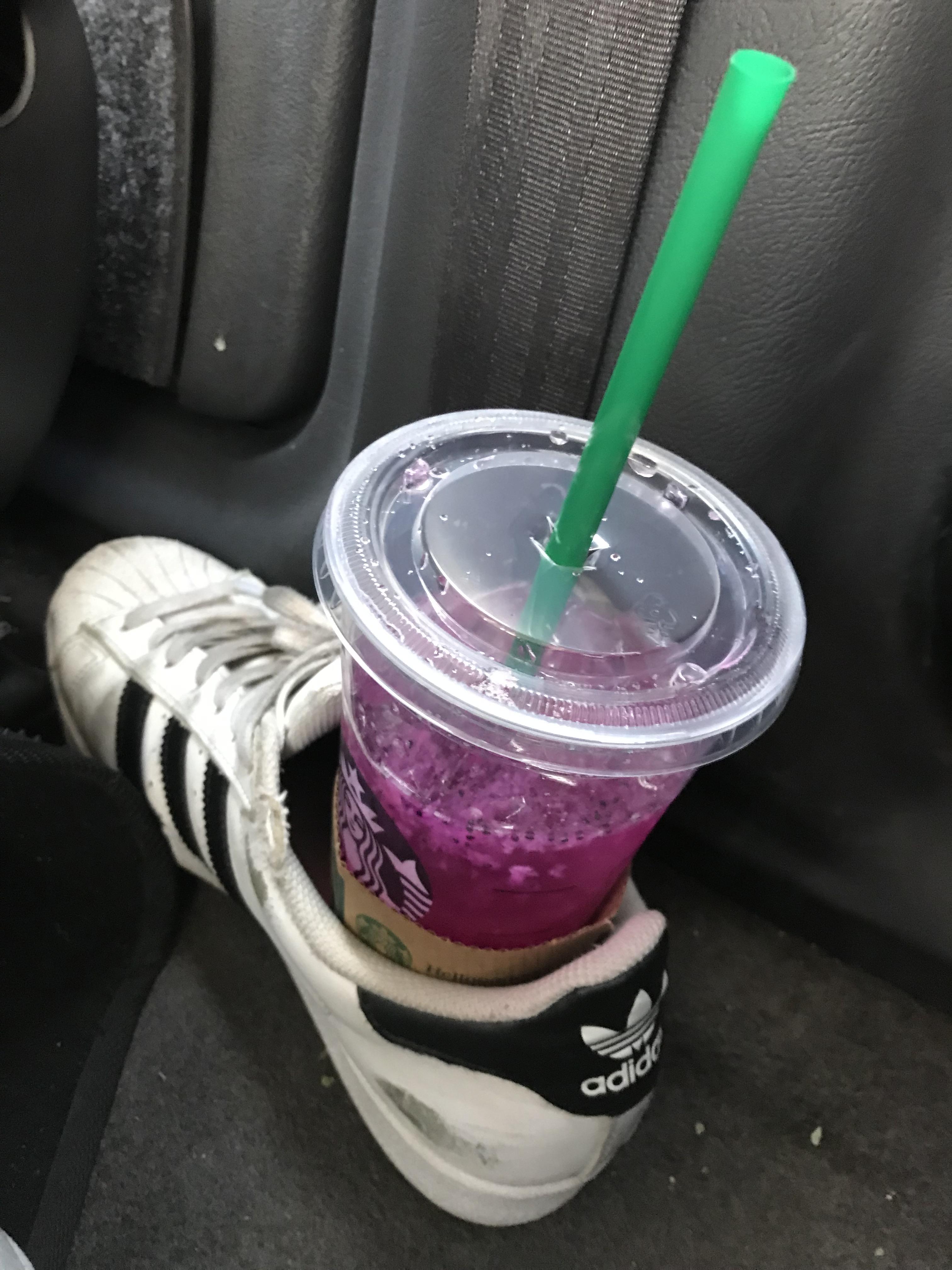 Spilling our drink is really sad, much more so when it happens inside our car or in our house because it means having to clean everything thoroughly to avoid leaving stains or ruining our furniture or seats permanently, depending on what we are drinking. But improvising a cup holder is very simple when you realize all the elements are at your disposal, and the simplest object can solve your problems. When you are in a hurry and want to avoid spilling your drink, you can use a sports shoe to hold your bottle and avoid accidents. Just make sure you do not have a bad smell on your feet!
---
USE A STOCKING AS FILTER FOR YOUR VACUUM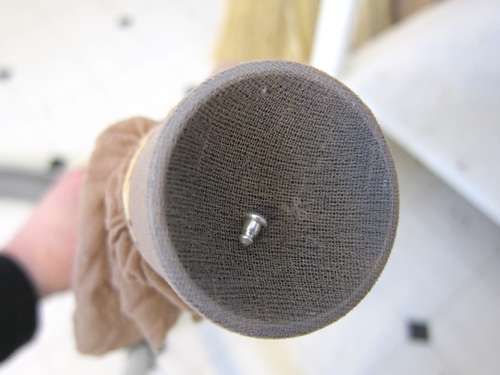 The jewels, the screws, and some other tiny objects, they have the characteristic of getting lost easily between the cracks of our furniture or the narrow spaces of our home. Sometimes we must resort to more creative and advanced solutions to be able to recover that earring that fell under our sofa. By placing a nylon stocking over the vacuum cleaner's nozzle and turning it on at moderate power, we can retrieve what we lost without the fear of it being sucked into the machine and end up damaging the internal mechanism.
---
NEVER DISCARD THAT LAST BIT OF SOAP
How many times have you been using that small piece of soap until the end, not to waste anything, and yet it keeps slipping away from your hands due to its small size? To use it till the end - simply take a new soap and wet it along with that little piece, and they will merge into one, allowing you to start using a brand new soap along with the old one, which will not slip from your hand so easily anymore.
---
NO MORE LINT FROM YOUR SCREENS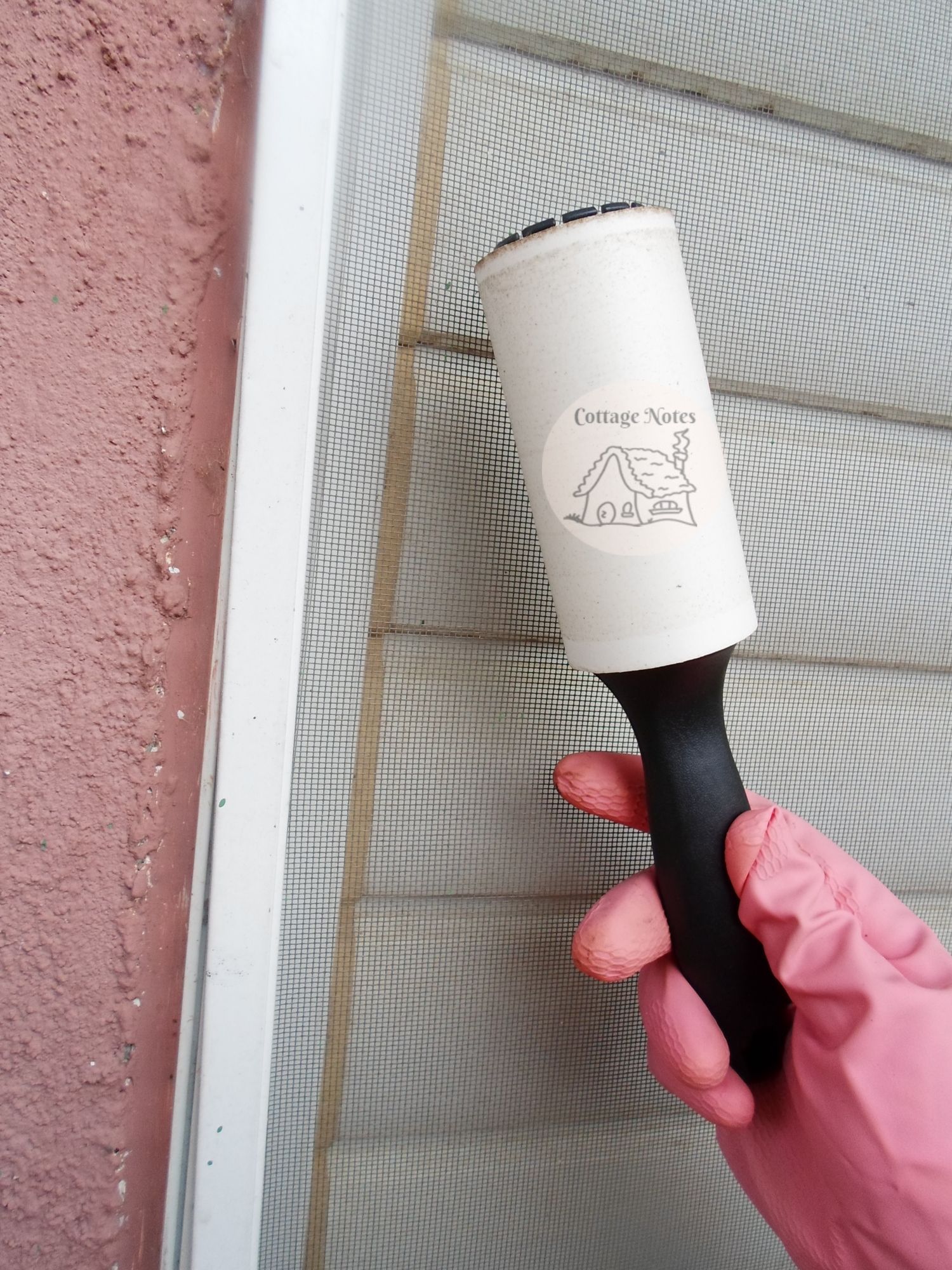 The fly screens usually collect large amounts of dirt and dust, so it is necessary to clean them often so they do not contaminate the air. And although there are other ways to clean them, a simple and effective way to do it is to use a regular lint remover and gently rotate it on the screen so that it catches all the dust. Repeat the procedure as many times as necessary to remove even the smallest speck of dust!
---
CLEAN THE MICROWAVE WITHOUT PROBLEMS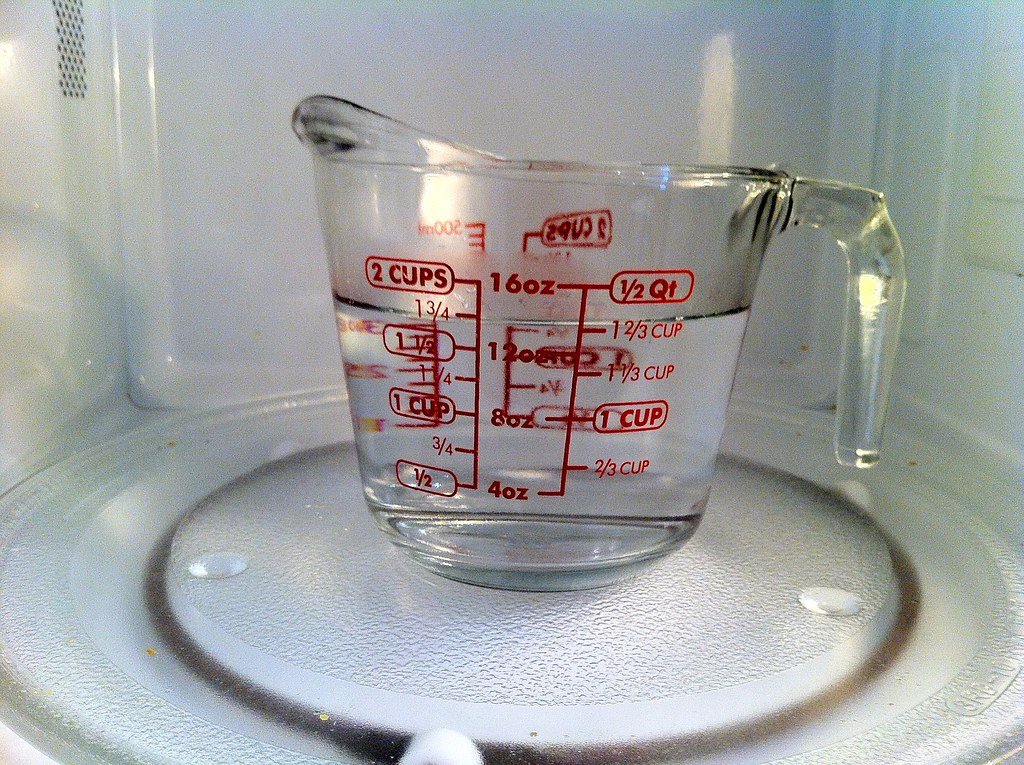 Cleaning our microwave after several days or weeks of use can be a big problem, much more so if an accident occurred and you have traces of food stuck on all its internal walls. The food remains might be dried up, which makes it much more complicated to remove, wasting hours scrubbing them off with a sponge. This trick can facilitate the work of cleaning this kitchen utensil and save you hours of effort. Just place a glass of water inside the microwave and turn it on for a while. The steam that is generated will soften the stains, and they will be much easier to remove.
---
FIXING A SHORT SHOWER CURTAIN INSTEAD OF BUYING A NEW ONE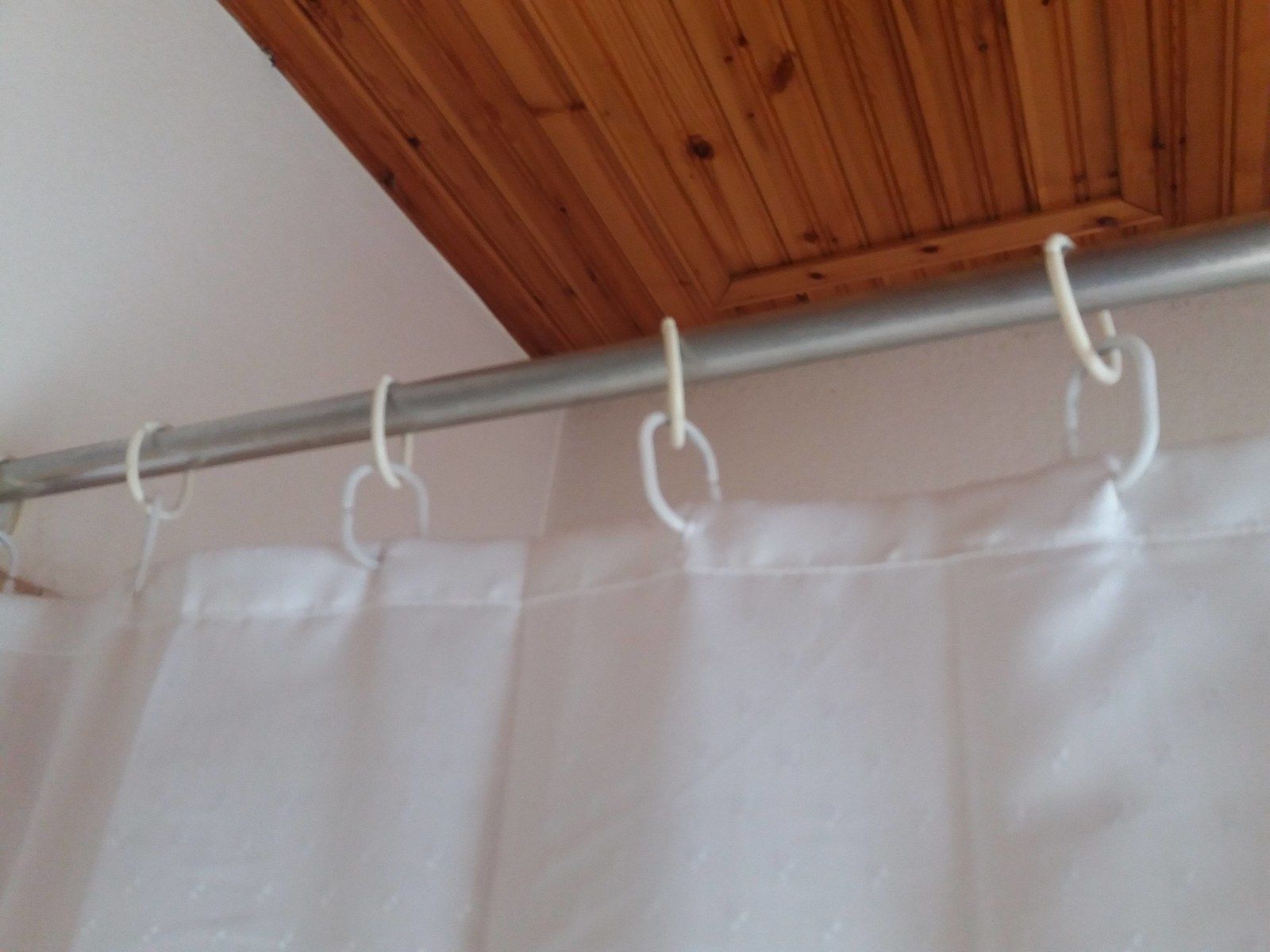 If after buying a new shower curtain we realize that it is too short, we must find a way to solve it before taking our first shower and leaving the bathroom floor flooded with water. Although we could go to the store and change it for a longer one, given that the store where you bought it from allows you to return them, what we can also do is to add several additional curtain rings to extend the length of the curtain and prevent spilling all the water while you take a refreshing shower.
---
MAKING A QUICK AND PRACTICAL ICE BAG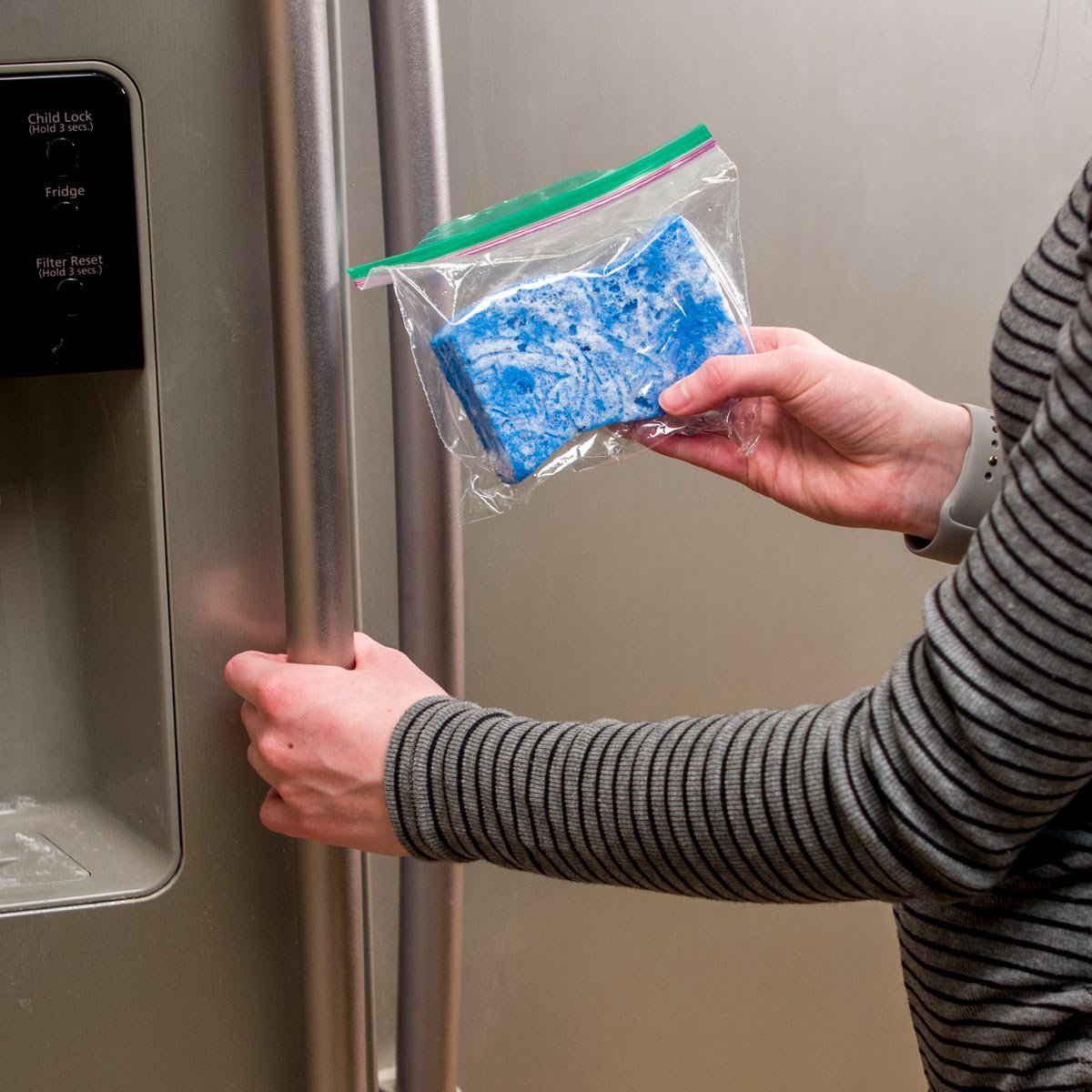 We all know how expensive store-bought ice packs can be, but we need them to keep our food at the right temperature when we go on a trip to the mountains or to the beach. Our children may go astray or leave them somewhere, so the best option is to make them ourselves by using everyday objects that we have at home. Wetting a sponge and freezing it inside a plastic bag can serve as a substitute and keep our food cold no matter where we take it. A perfect solution indeed!
---
COOL THINGS MUCH FASTER THAN THE FREEZER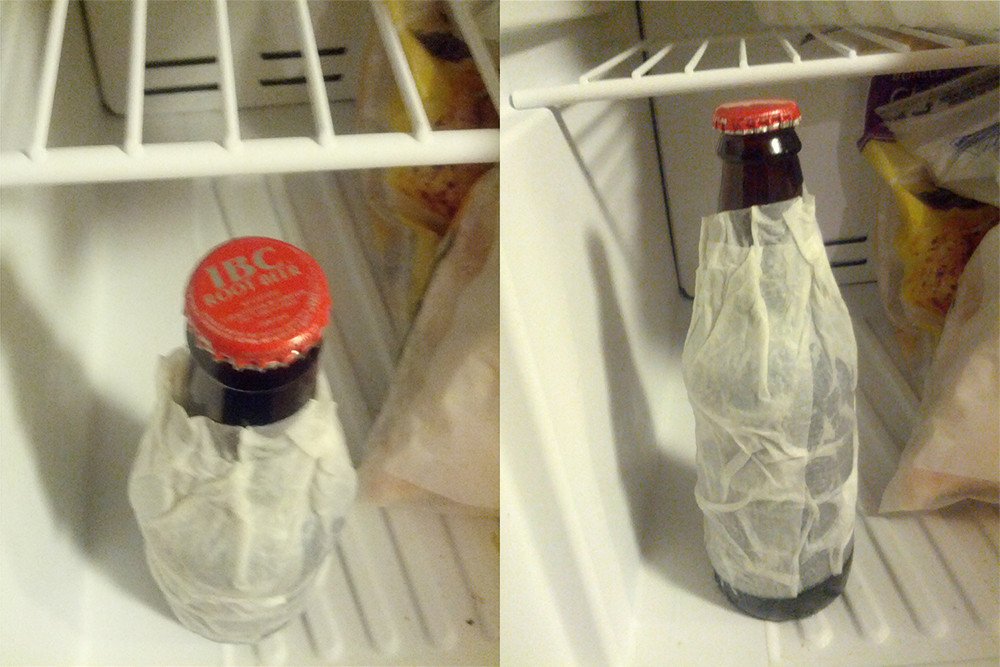 We have all gone through this situation in which we need a cold drink, but we do not have time to wait for our refrigerator to finish cooling it to the correct temperature to enjoy it on a hot summer afternoon, and it is in these situations that we must resort to our creativity and ingenuity to achieve our mission. Using a wet paper napkin and wrapping our beer with it, we can make sure it cools down much faster while it is inside the fridge, saving us time and making our life more comfortable with a simple trick. You'll have a cold, refreshing beer in your hand in about 15 minutes!
---
USE A CLOTHES HANGER FOR OTHER THINGS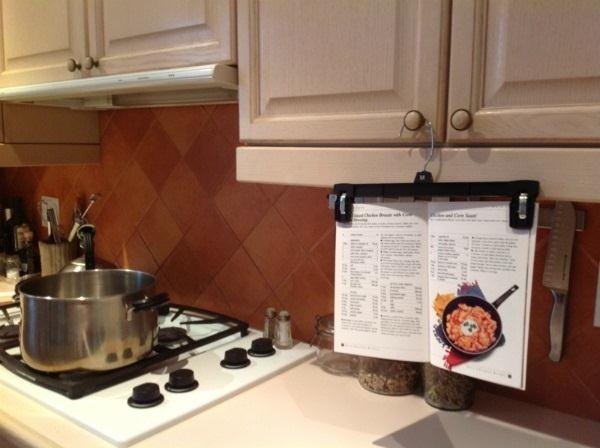 Many people love taking notes because this allows them to learn more quickly about the subject they are studying. What is more, they always have those annotations at hand as a way to consult this information if they need it. In such cases, you should be creative! A pants hanger is an efficient and convenient way to hang your notes somewhere more accessible and to verify the information while continuing your activities. You can even use it to attach a cookbook to some cabinet and follow that recipe of macaroni and cheese that your grandmother used to cook for you when you were a kid. 
---
HIDE YOUR MONEY IN THE BEST PLACE EVER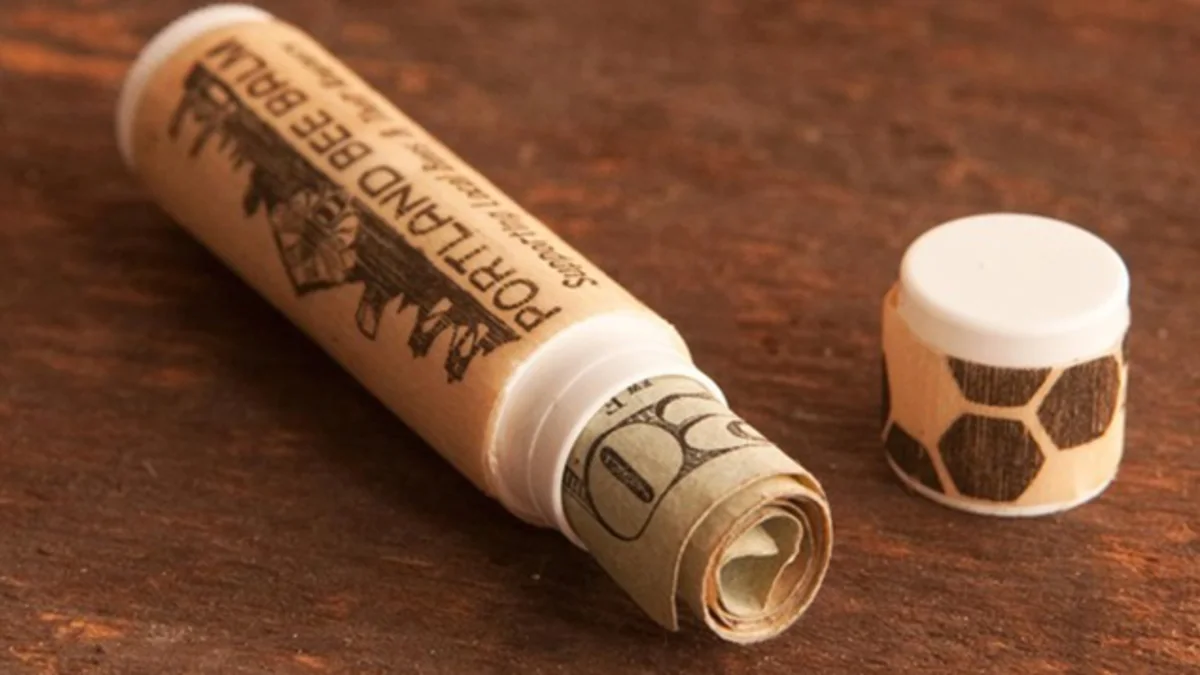 Going on a trip to the beach or some remote places is an activity that can become a bit dangerous if we are not careful. For example, someone could steal our belongings or our purse and left us in despair and without money. Many people go to the pool or the beach and hide some money on the tops of their shoes as a precaution, but our boots could not be a safe place, and that is why, instead, you could use an old chapstick tube to store some emergency money. No one is going to want to steal a used lip gloss!
---
OPEN PLASTIC CONTAINERS WITH A CAN OPENER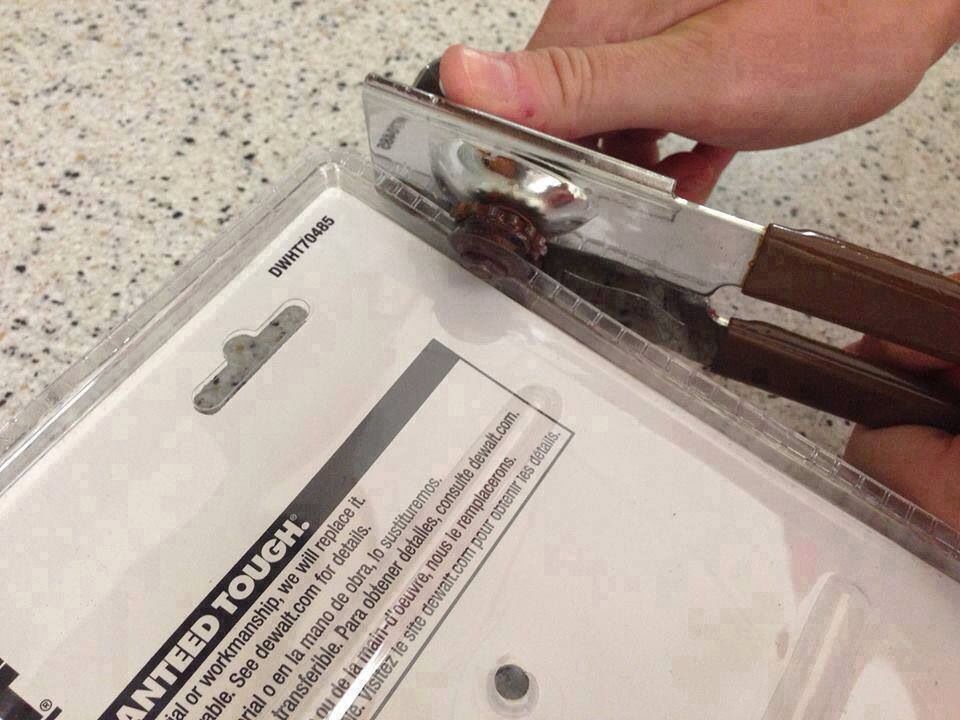 On many occasions, we have had those plastic packages that seem to be made to prevent people from using the product they bought, that we take hours looking for ways to open them before surrendering and destroying the packaging with an electric saw. Using a common kitchen utensil, we can easily open these packages without the danger of cutting yourself or damaging the product we are trying to access. The shape and purpose of can openers allow us to use them to cut along the thinnest edge of the plastics to separate them easily and open the package without resorting to excessive violence.
---
USE NAIL POLISH FOR YOUR KEYS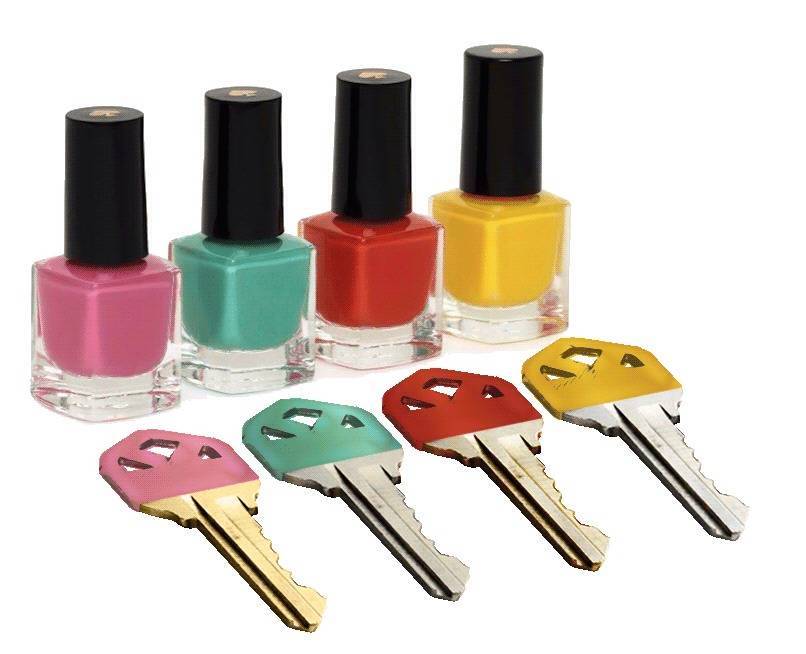 We all need to feel safe in our home or work, so the need to have locks on the doors that help us make sure that nothing and nobody can break into places where they are not supposed to go, but the excess of keys brings another problem to our life which we can solve with a little creativity and nail paint. Using nail polish of different colors, we can mark our keys with a code designed by ourselves to differentiate them and know precisely which key belongs to which lock. This will allow us to avoid wasting time trying to open the door of our house with the wrong key or confusing the keys from home with those at work and having to go back for them.
---
USING THE TELEVISION TO CHARGE A PHONE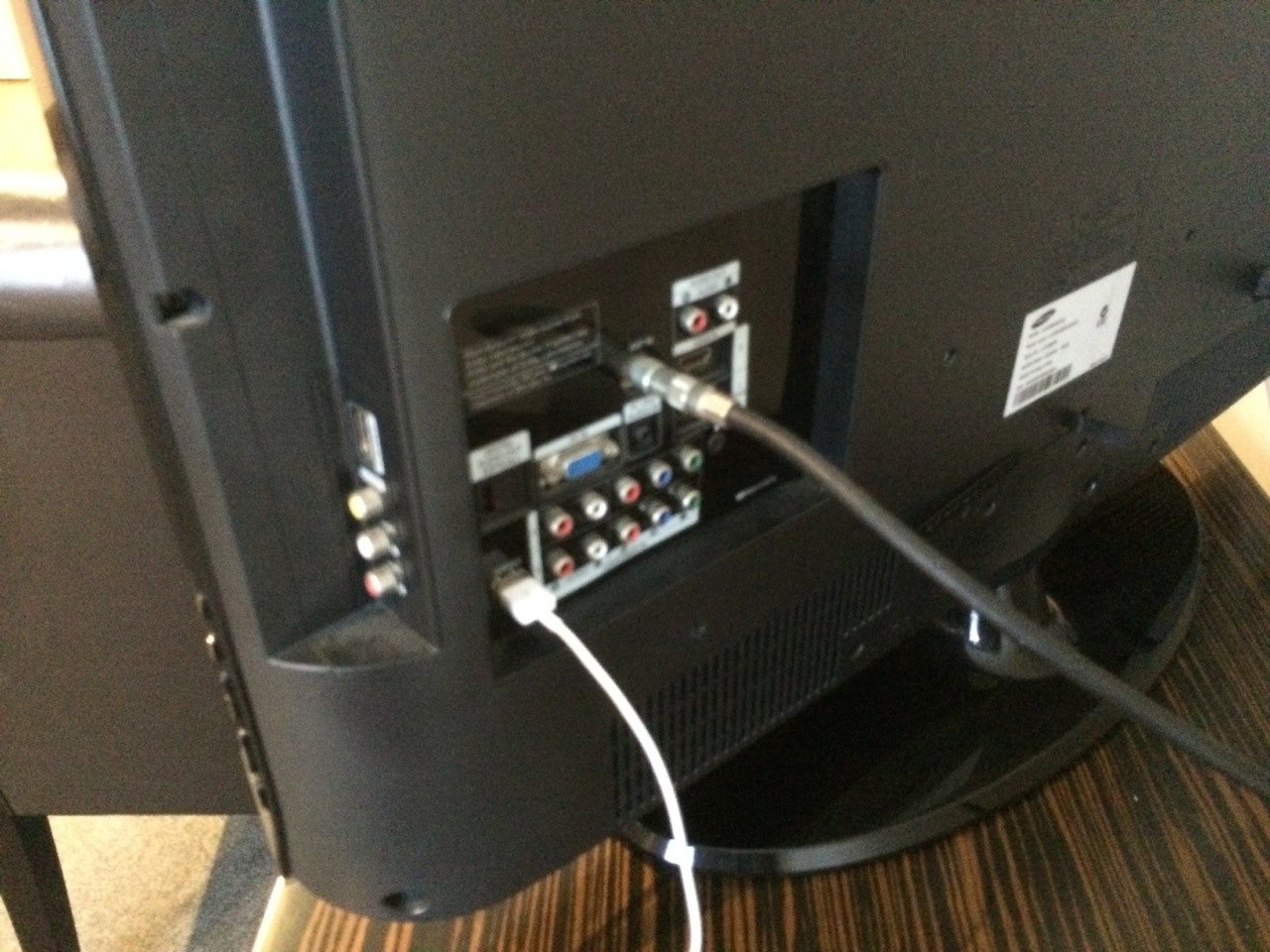 Our phones have become one of the most indispensable objects because so much of our lives revolve around them, they allow us to communicate, entertain, work, among many other things, so running out of battery is something unthinkable for the vast majority of us. When you arrive at a hotel at night after a long day of relaxation on the beach or wherever you are, and can not find a free outlet to charge your phone, this hack can help you out. If you have a USB cable, you can use any of the USB ports on the TVs to charge your smartphone without any problems.
---
KEEP YOUR CHARGERS SAFE IN ONE PLACE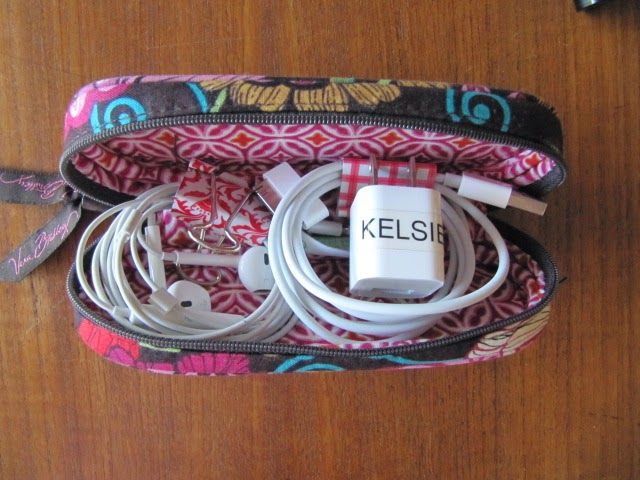 The charger and wires for our cell phone, tablet, or laptop have become something too essential for us when we go somewhere, and the problem is that with time and movement, they can be entangled or twisted and this can cause damage to them, and for this, we have a straightforward solution. Reusing a glasses case that we no longer need, we can store the charger inside it to know at all times where it is and without having them tangled up with the rest of the objects that we have in the bag.
---
HOW TO UNCLOG YOUR SINK WITHOUT ISSUES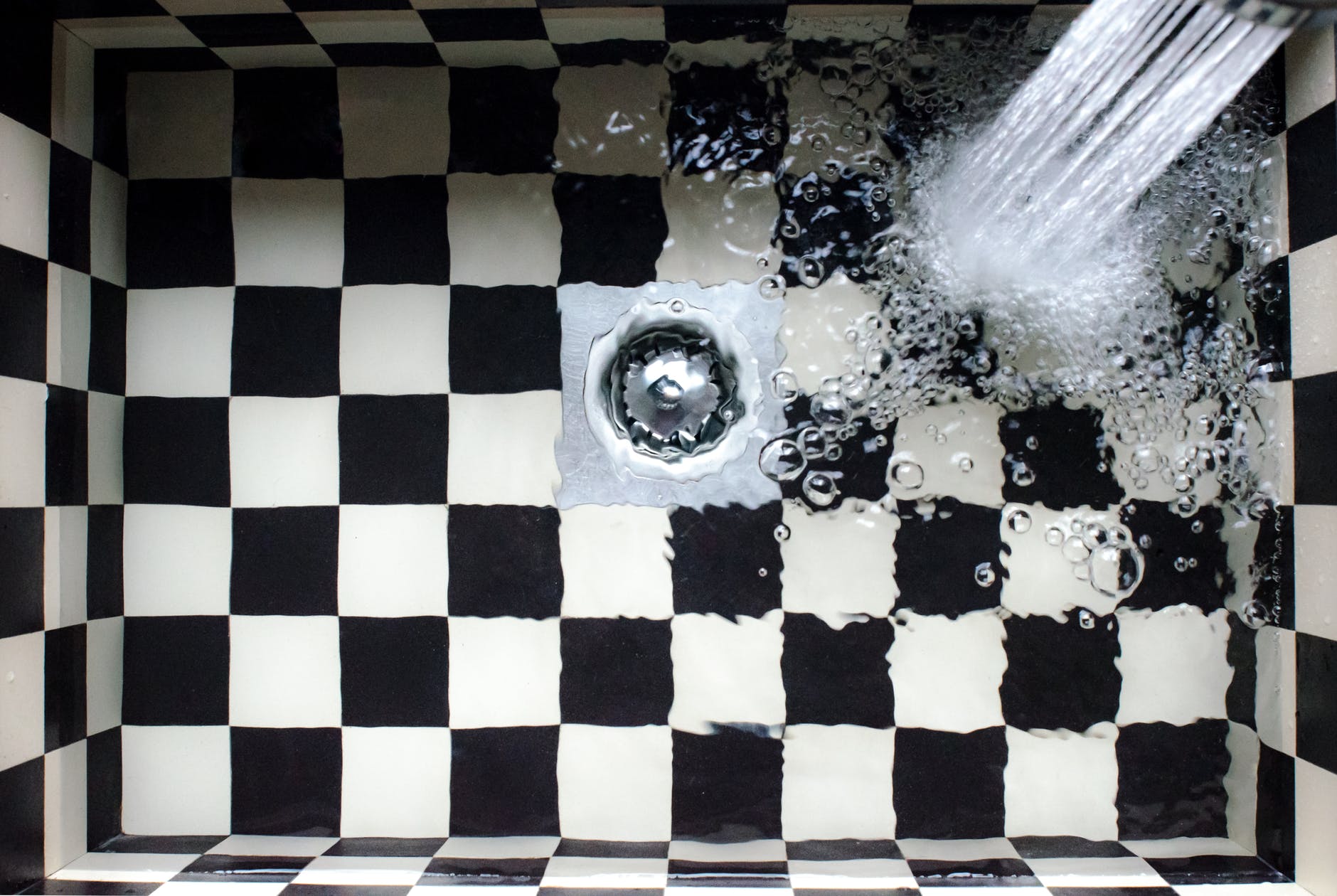 The kitchen sink has the tendency to clog due to the excesses and remains of food from the dirty dishes. These elements accumulate and cause obstructions, and disrupt the flow of water, but it is something that can be solved easily with a regular dishwasher tablet. Place it by the drain of the sink and let it dissolve with some hot water, then rinse off the excess that may remain in the sink and clean it very carefully. You will get rid of any residue that may have clogged the drain.
---
ASK FOR UMBRELLAS IN PUBLIC PLACES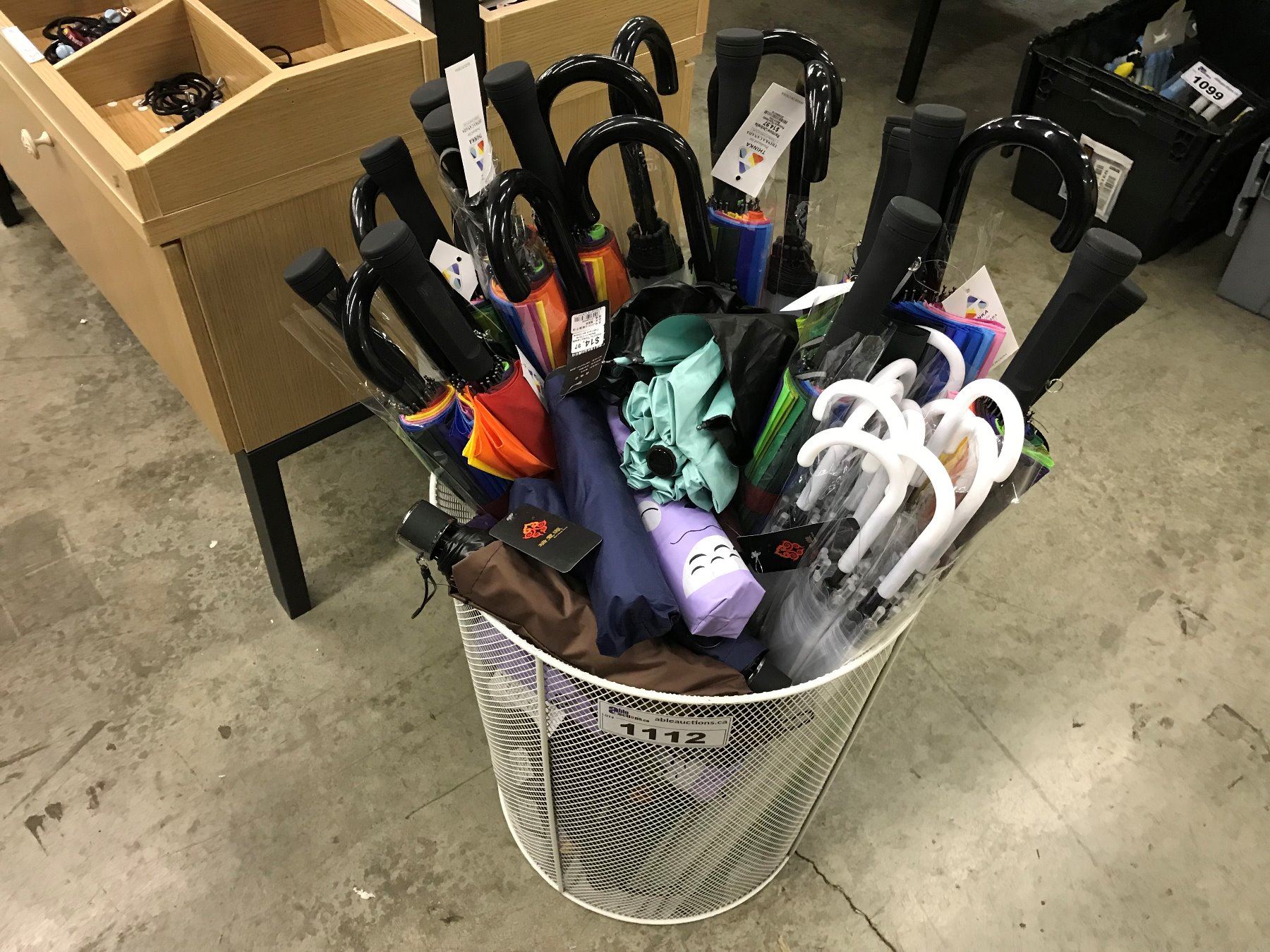 Bars and restaurants are places frequented by people every day, so it is ubiquitous for these places to keep some personal items such as keys, hats, and even umbrellas because people can get distracted and leave the place quickly without paying enough attention. If it starts to rain while you're on the street and you do not have an umbrella to help you get home, go to the nearest pub and asks the bartender if they have an umbrella available that you can use. Just remember to return it the next day in case its real owner returns to look for it.
---
HOW TO LIGHT THE TINIEST REMAINING CANDLE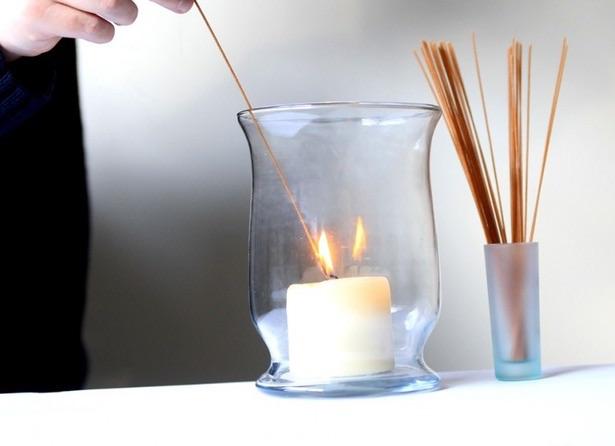 When there is a problem with the electricity in your house, and you need to light it using candles, yet you only have tiny candles that you have difficulty accessing, you will likely end up having your fingertips burned by trying to reach the wick. Using a longer candle to reach the small ones is an option, but we do not always have something like this in our homes in case of an emergency, and that is why we must resort to creativity to solve the problem. Uncooked spaghetti can be your ideal ally in these situations because it is consumed slowly and allows you to get close enough without putting your fingers at risk.
---
LOOKING FOR YOUR CAR IN A PARKING LOT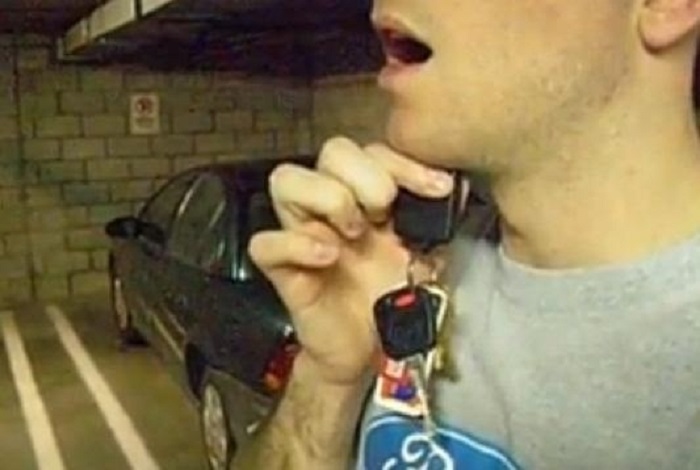 How many times have you parked in a massive mall with a vast parking lot and you are unable to find your vehicle among so many cars? Looking for it can take a long time if you can not remember exactly in what section you parked it, so using a trick like this will help you get home quickly. By placing the alarm control of our car in the lower part of our jaw, we can increase its range up to 15 feet and find it more quickly by following the sound it emits. It may seem incredible, but it actually works because of the way our skull is made.
---
LEARN HOW TO STORE MEAT IN THE FREEZER EASILY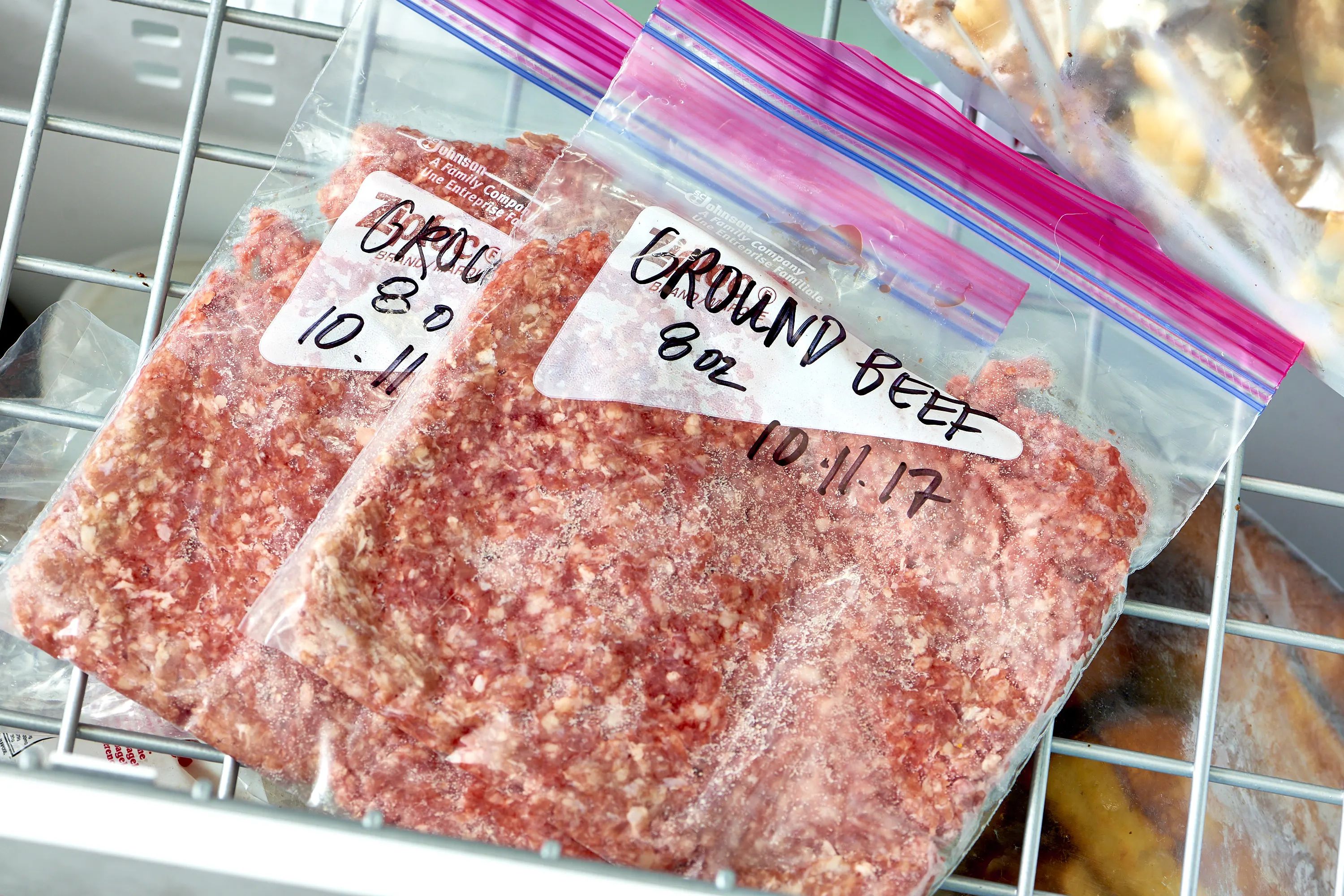 Storing meat in our refrigerator is a need we all have to keep a fresh supply of protein for our meals. Sometimes we do not have enough space to store everything, and it is challenging to keep it properly, so we must find ways to keep it without occupying all the areas of the refrigerator or taking space from other essential foods for our diet. One of the most efficient ways to do it is to divide the meat into different plastic bags to store them separately, and in this way, we avoid having to thaw all the meat each time we are going to use only a portion of it.
---
NEVER LEAVE THE HOUSE WITHOUT AN ADAPTER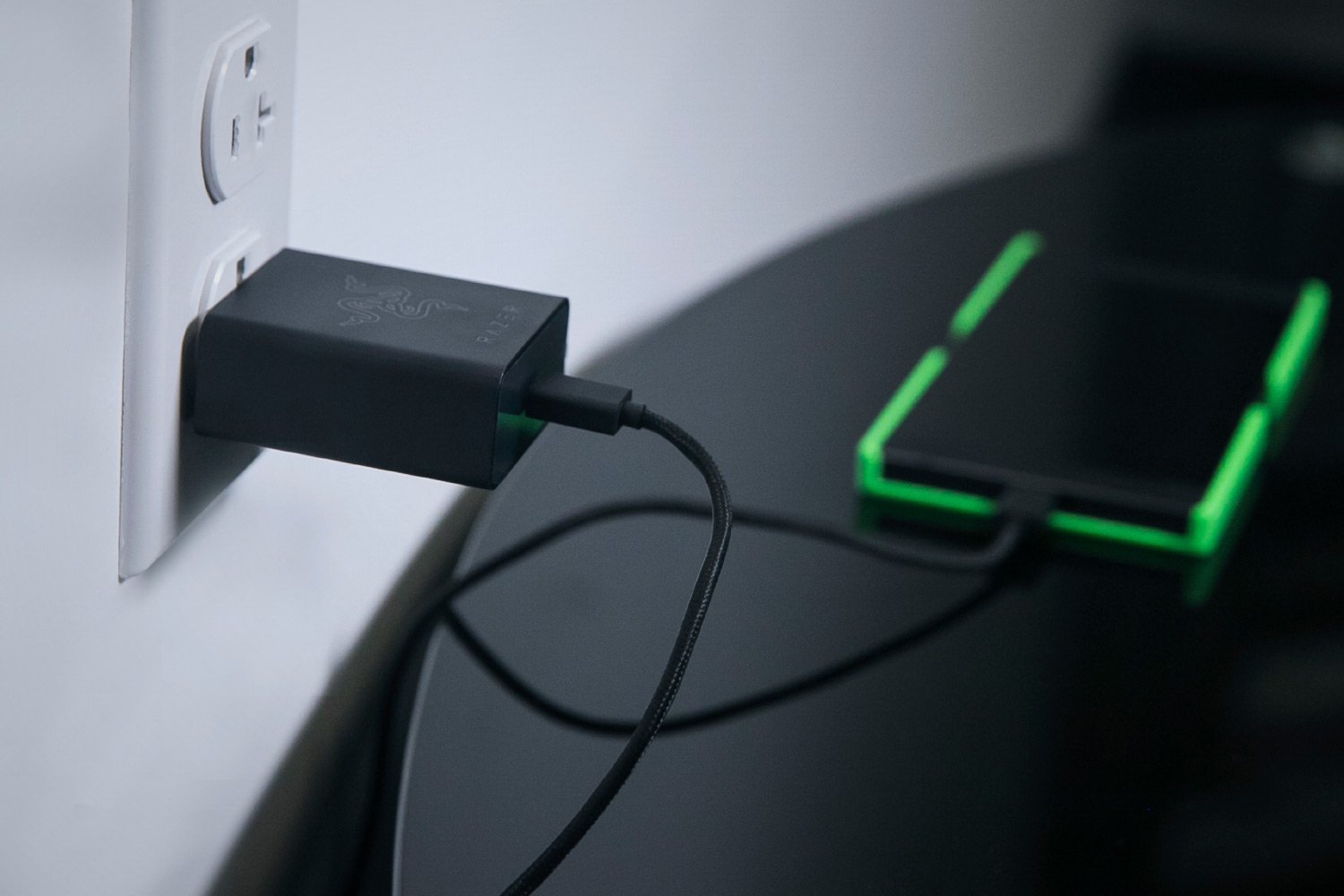 Traveling is one of the best things in the world because it allows us to explore new places and cultures, as well as learning about new people and distance ourselves from the problems we have at home. Although we seek to get away from all issues, sometimes being in another country brings us problems that we do not anticipate, and sometimes, charging our devices is one of them. One way to solve one of these problems is to buy an adapter and a power strip to charge your cell phone and laptop without having to spend additional money on multiple adapters or chargers that will only take up space in your suitcase.
---
HOW TO REMOVE CHERRY PITS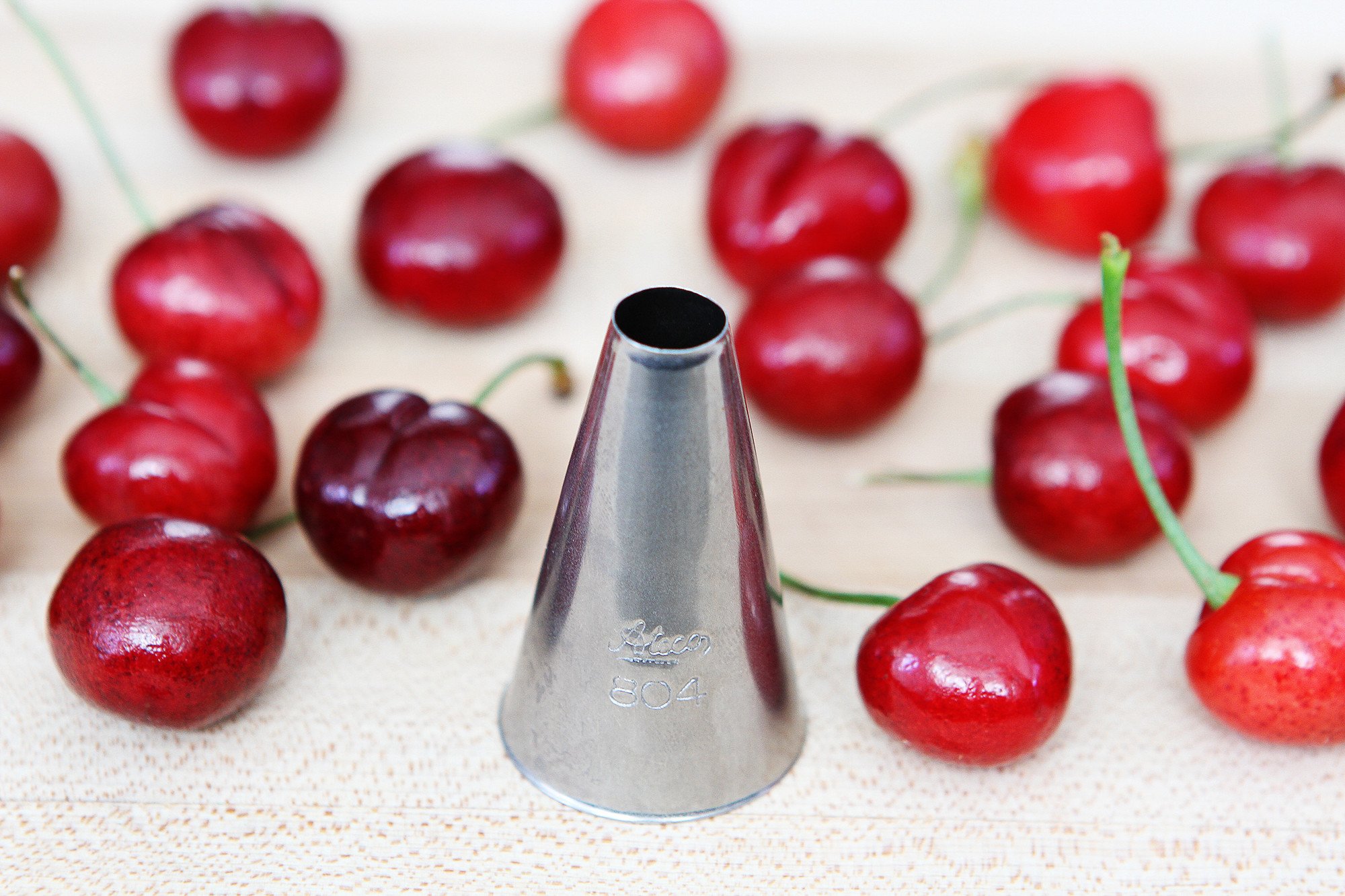 People who love cherries are aware that, despite how delicious they are, it is really tedious to remove the seeds of each of the cherries that we are going to eat. When we are going to prepare a dessert like a cake or a jam with some nice cherries, we can waste hours just on the preparation, so with this trick, we can facilitate this process. Using a funnel to push it through the fruit, we can quickly remove the cherry seed and finish the process quickly before preparing that delicious cherry cake that our children love so much.
---
MAKE GRILLED CHEESE IN THE TOASTER WITHOUT RUINING IT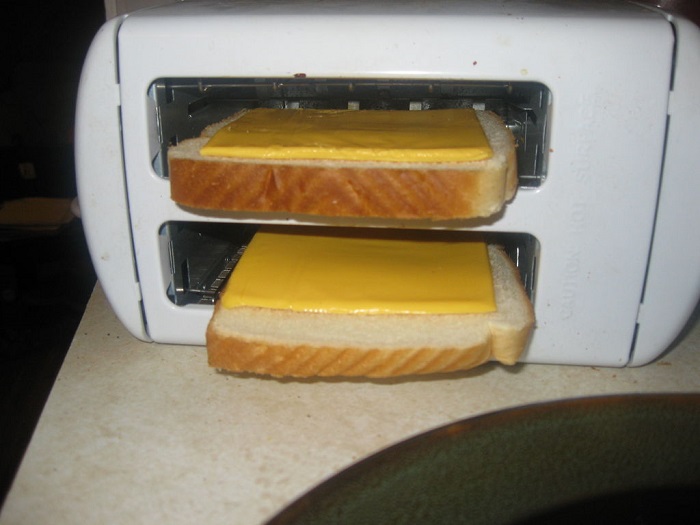 One of the main problems is that we do not have time to prepare our sandwiches due to how busy we are, and we cannot enjoy them properly. For those who love grilled cheese, but hate having to clean the utensils afterward, this trick allows them to prepare it quickly using only the bread toaster we have at home. Just place the toaster on its side and observe while it is cooking to prevent the loaves from flying to the other side of the kitchen because of its spring mechanism. Remember to clean it after cooking to avoid a fire.
---
USE SOME TAPES TO DECORATE BETTER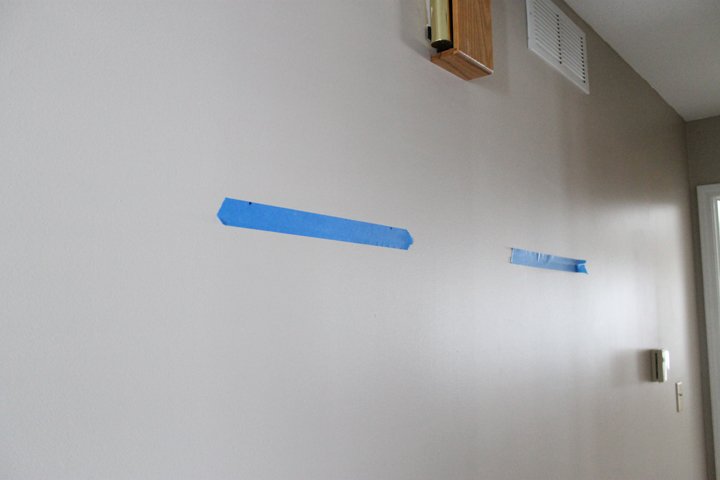 When we start decorating our home and deciding what kind of things we want to hang on the walls, we might make the wrong decision sometimes. Using a piece of tape on the wall, we can make sure we have a base with which to compare everything we have on the wall and make sure that the objects are completely straight. Having the tape in the correct position, all we have to do is to align the pictures with the tape, and in this way, we will be 100% sure that each element of the decoration is right.
---
USING MONEY TO FIX SOME STUFF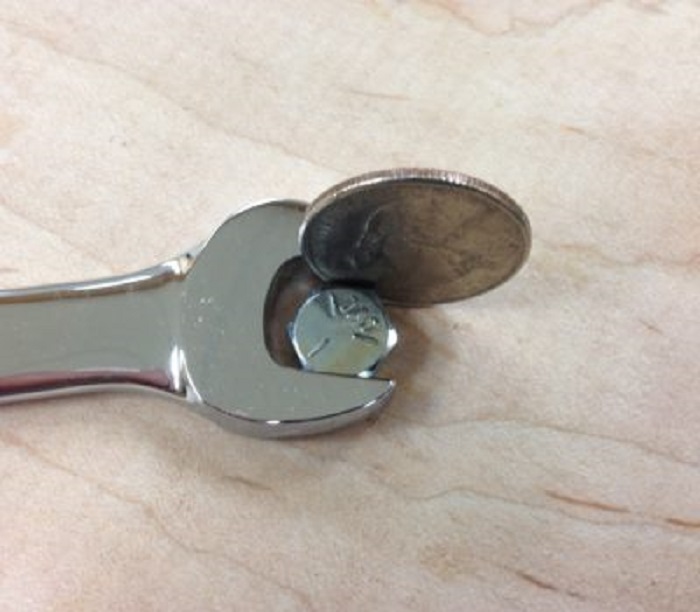 When you are doing a significant repair at home, but you do not have the right tools for the job, you must find a way to solve the situation either by looking for another device or trying to adapt to the tools on hand. How many times have you needed a specific wrench, but you can not find it in your toolbox or do not have it at your disposal? This solution is temporary but will allow you to momentarily "adjust" the size of your wrench using a coin that takes up the necessary space so that you can finish adjusting those cabinets that you promised your wife weeks ago that you are going to place.
---
HOW TO REMOVE A RUINED SCREW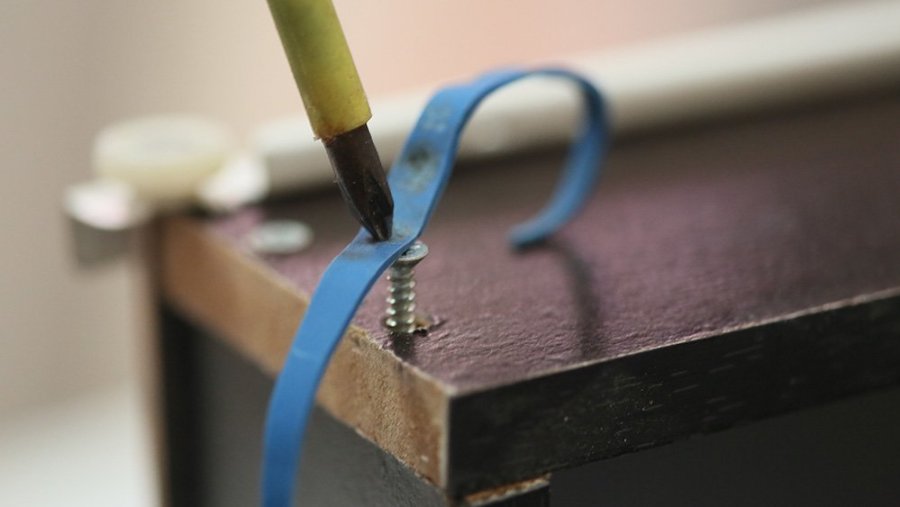 Have you ever had the problem of trying to remove a stripped screw? This usually happens when the heads are damaged and it is no longer possible to remove with a screwdriver. An efficient solution for this is to use a rubber band between the screw and the screwdriver. The rubber adapts to the shape of the screw and provides the necessary torque and friction to turn it, making it way easier to remove that old wood cabinet you have at home.
---
LEARN HOW TO PARK EASILY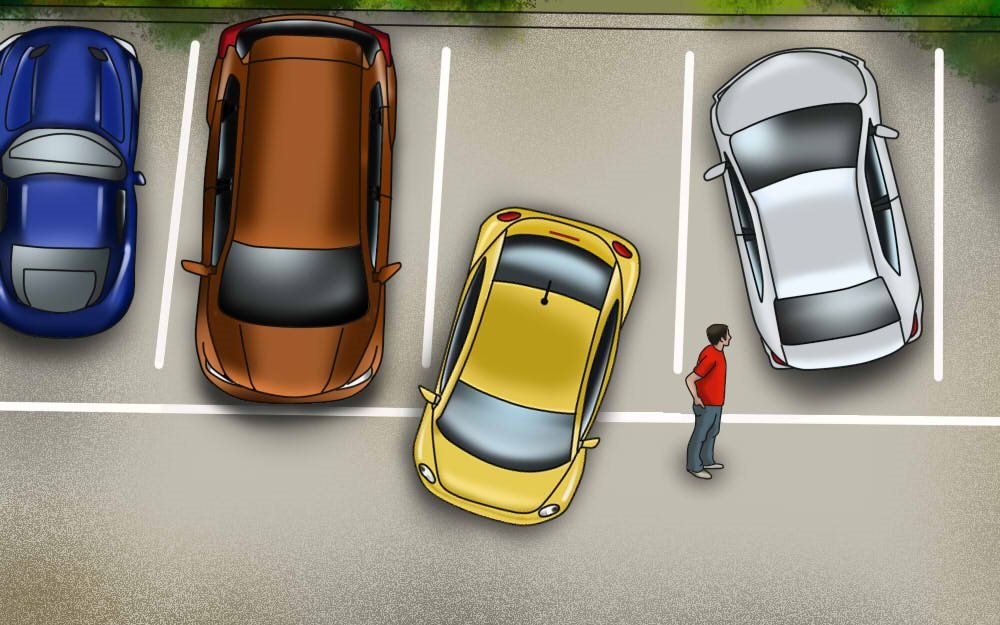 When we are parking in a confined space, we must find a way to use our creativity to achieve it without spending hours trying in a thousand ways to avoid hitting other things and park it correctly. Although this is not totally a hack, it is good advice to save us time in this kind of situation in which we have other things to do, or we must get to the office quickly. Parking in reverse is much more comfortable when we have very little space because we can see more clearly in what moments we should move the wheel to adapt to the small space we have.
---
FILL BUCKETS OF WATER EASILY WITH THIS HACK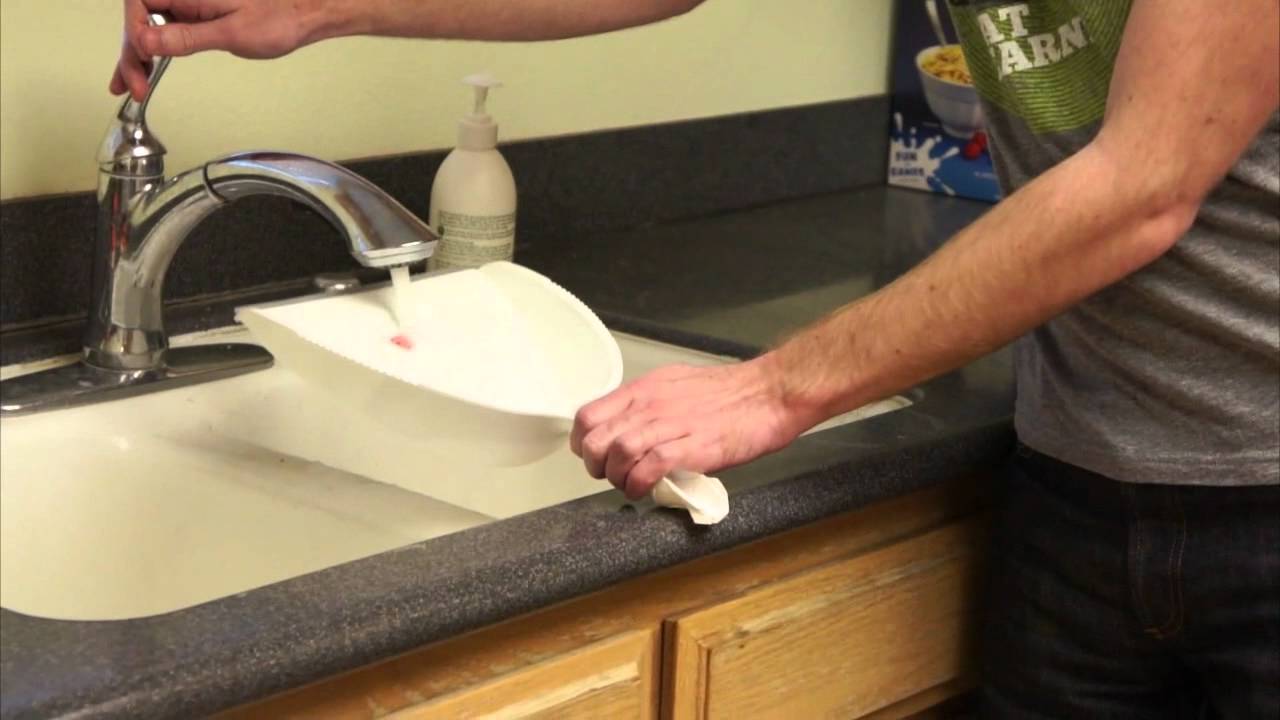 Many times we need to fill a bucket of water to continue with the cleaning of our home, and we realize that the container does not fit under the tap, so we must figure out how to solve the situation and avoid having to fill it slowly by using other containers. This trick uses a common garbage collector to direct the water from the sink to the bucket of water, facilitating its filling and reducing the time you will lose trying to solve this dilemma. We place the bucket on the floor, and the garbage collector with the handle directed out of the sink so that the water will use it as a platform to get where it should go.
---
PREVENT THE GARBAGE FROM STINKING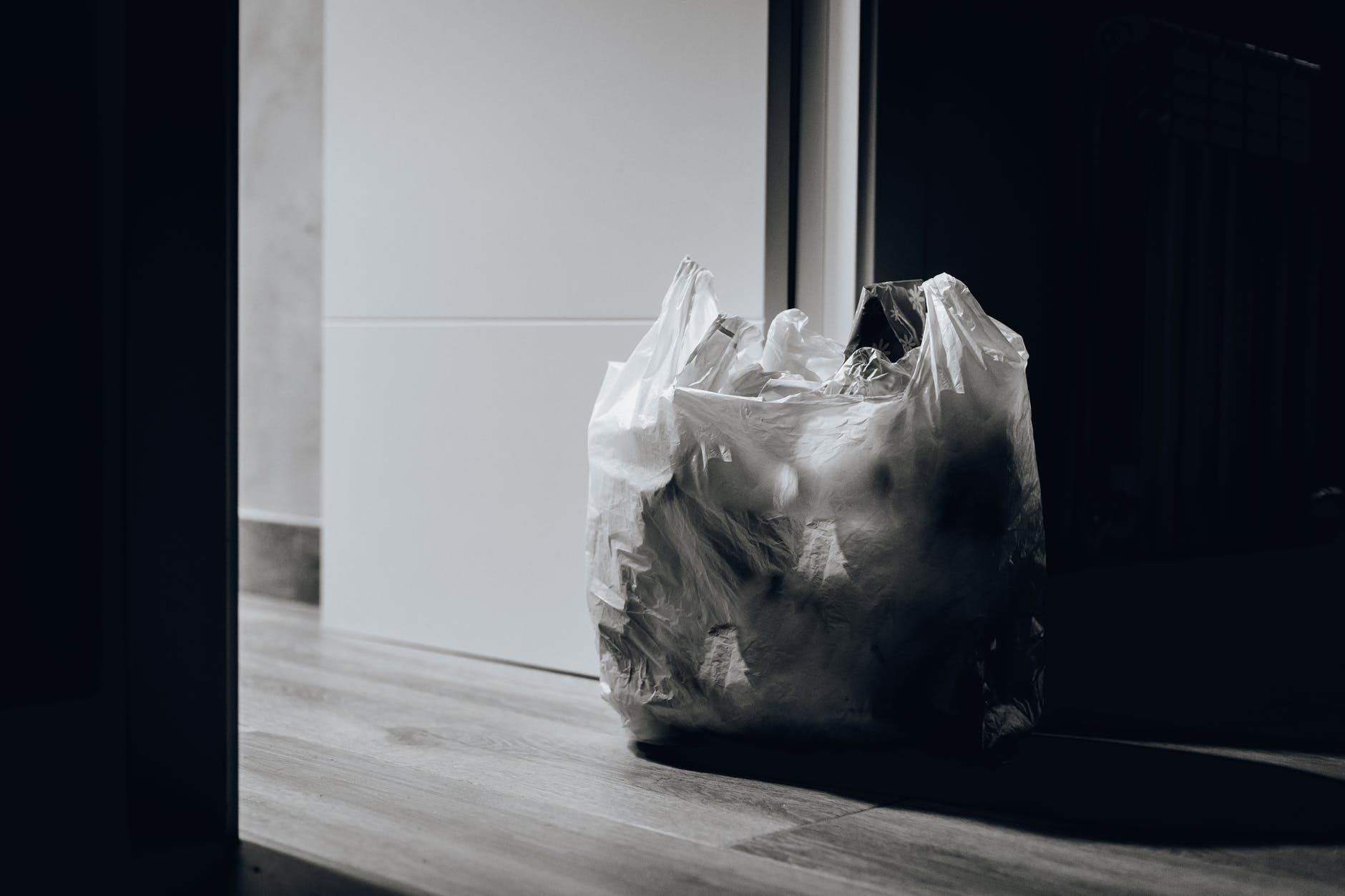 If your garbage smells really bad after a couple of days and you can not find a way to cover the smell that comes from your kitchen, there is no need to take it out of your house before the bag is completely full. You just have to find a creative and intelligent way to solve the problem and prevent the smell from spreading throughout your house, like with the next hack that uses a common element in kitchens like coffee grounds to adequately disguise the odor of your garbage. You have to place it on top of the trash to cover it completely and allow it to absorb the odors, replacing them with the smell of coffee until it is time to get rid of it.
---
POTATO CHIPS CAN WORK AS FIREWOOD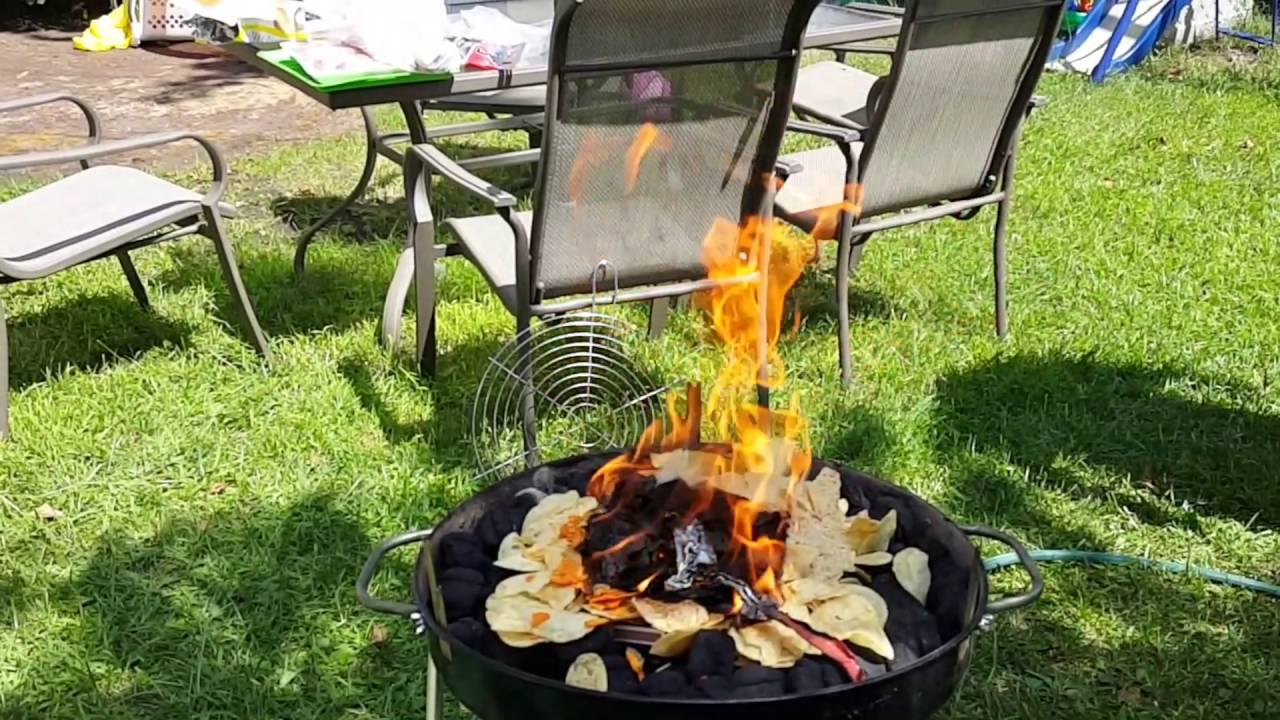 Camping is an entertaining recreational activity in which people move away from the city and go into nature in pursuit of adventures, but we have to know how to adapt to situations with the things we have on hand. Lighting a fire is simple for an experienced camper, but most of us are not used to it, so we must resort to tricks like this to help us. The potato chips serve as perfect fire starters due to their combination of starch and oil, and you can use them as the basis of your next campfire.
---
USE FROZEN GRAPES TO COOL WINE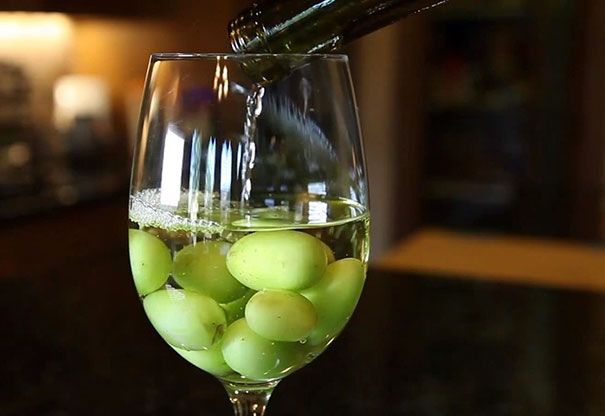 There is nothing more pleasant and delicious than a glass of cold wine with your meal. That's also the perfect drink after a nice romantic dinner with your partner in which you need everything to go perfectly. Putting ice in wine is a grave mistake, not only because it looks hideous, but because the ice melts and this affects the quality and taste of the wine over time, so we must resort to our ingenuity. Depending on the type of wine we are drinking, we can place grapes in the freezer and put them in our glass to make sure they help maintain the temperature without altering our drinks. Also, one must admit that they add an exquisite touch.
---
NO MORE SPILLS FROM THE TRASH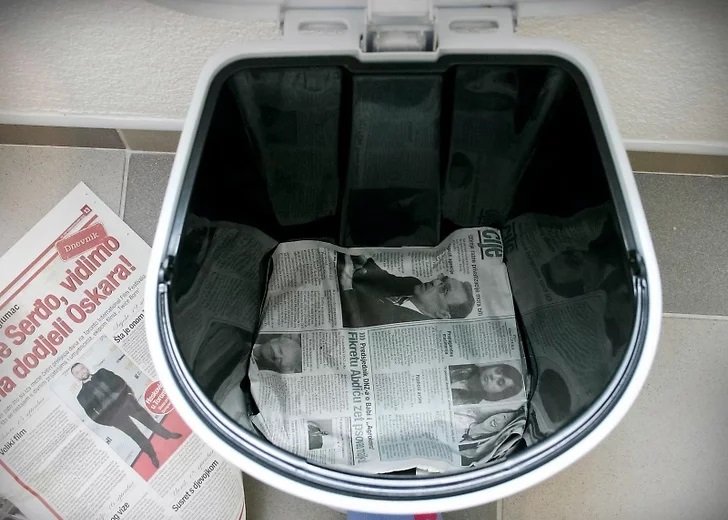 Some food remains can leak and drip out of the bag we put in our garbage bins, so we have to deal with the mold and stains that it generates because we have to clean them properly to avoid odors or some kind of unwanted surprise when we need to use them to store more garbage. Even if we place a double-bag, a trick we can use is to line the bottom of the trash can with paper that absorbs these liquids, avoid the possibility of mold, and make the container much easier to clean to keep our home free of bad smells.
---
PEEL HARD-BOILED EGGS EASILY WITH A BIT OF ICE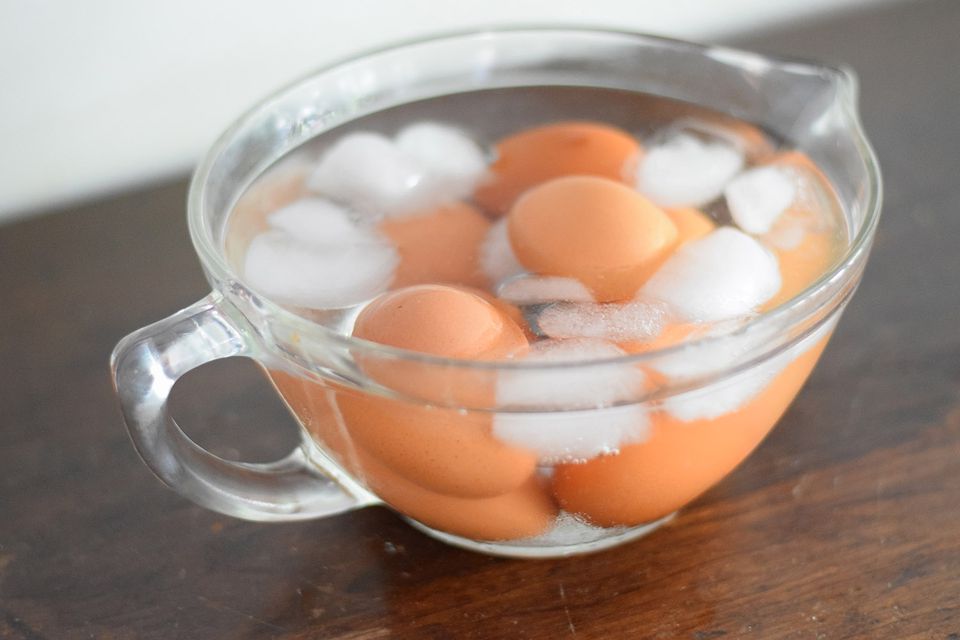 If you are going to prepare a delicious salad for that lunch you planned with your friends, yet you are wasting too much time peeling the eggs because the shell breaks into hundred small pieces, here is a trick for you to remove the shell from the eggs quickly without damaging them. Just place the eggs in a quick ice bath before peeling them, the cold will make it slide easily and save a lot of time when preparing your next delicious meal.
---
MAKE A DIY CORKSCREW AT HOME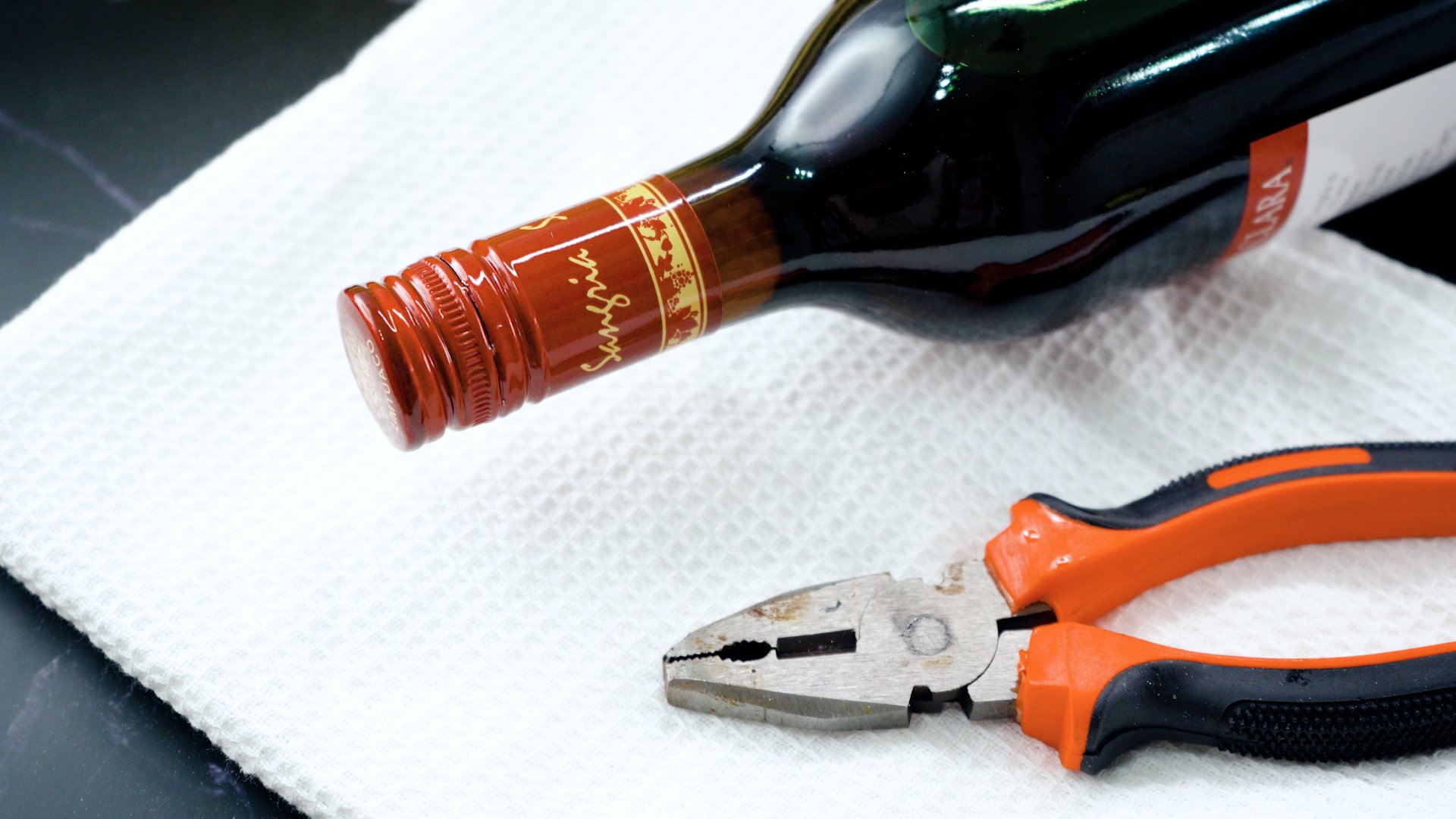 No one can say no to wine. However, the indispensable corkscrew has a tendency of getting lost among all our kitchen utensils when we need it the most. Through the next hack, we can improvise a homemade corkscrew using only basic things to get us out of that predicament during a romantic dinner. Just find a screw and some pliers to hold it, and use them to pierce the wine cork. Remove it easily without wasting valuable time with your true love. 
---
MAKE TWO PIZZAS IN ONE PAN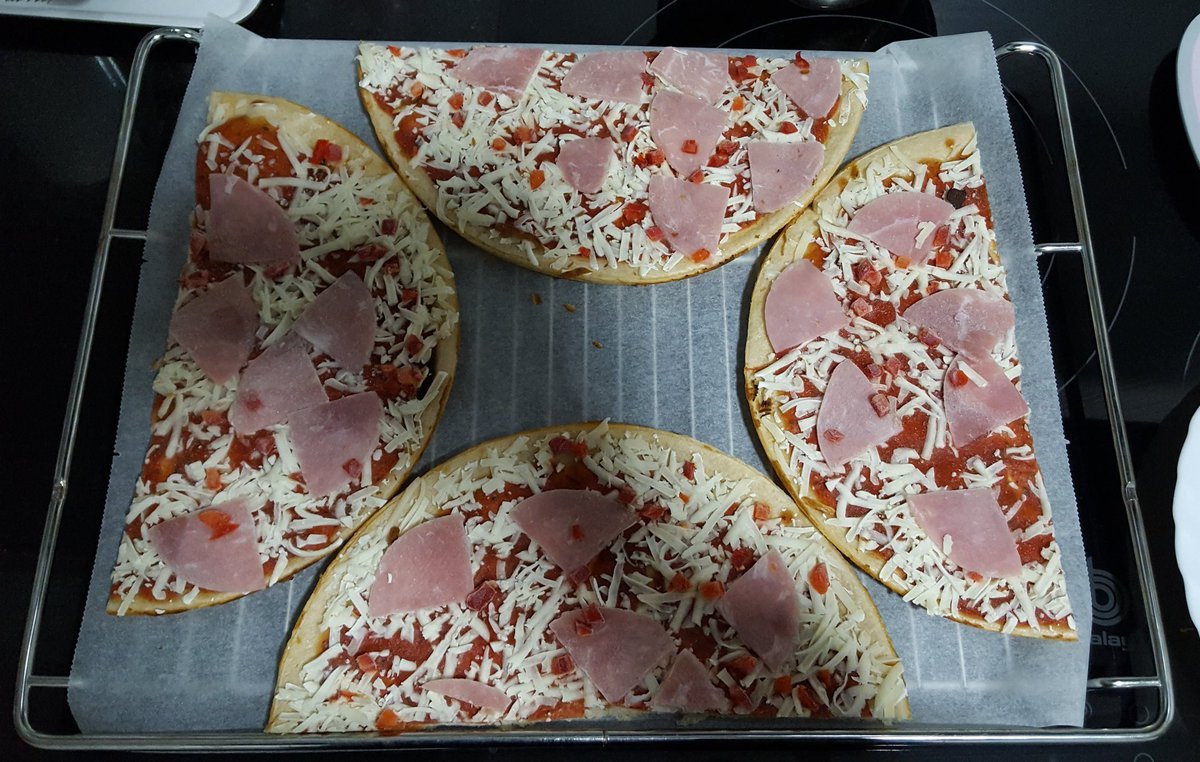 Sometimes we are too hungry, or we invite too many friends to a meeting, that we do not have the time to wait for each pizza to cook separately because we only have one oven. In such cases, we must find a way to save space and prepare food as quickly as possible so we don't keep our guests hungry. The trick, in this case, is to cut the pizzas in half and place them side by side (as depicted above) so they all fit nicely on a single pan, taking advantage of the space in the oven and allowing us to cook both of them at the same time. In a conventional oven, we could place at least four pizzas at a time and have fresh pizzas for everyone.
---
HOW TO TELL IF YOUR EGGS ARE FRESHER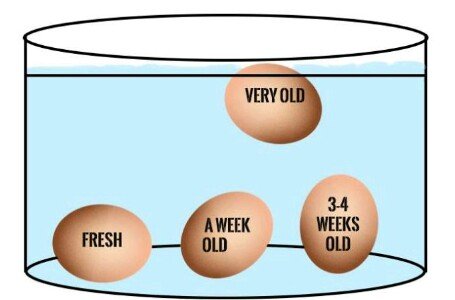 Eggs are a staple in the kitchen of all people because we can use them in various dishes, giving them that special touch that we love so much and turning a simple breakfast into something remarkable. Unfortunately, it is easy for people to lose track of the expiration date, and in the midst of a hurry, we could end up pouring a spoiled egg into the mix of that tasty birthday cake we need to prepare. Using a container of water, we can verify the freshness of the eggs quickly: If the egg floats, it is an indication that it is damaged and we should not use it.
---
GIVE YOUR CHILDREN A CREATIVE SPACE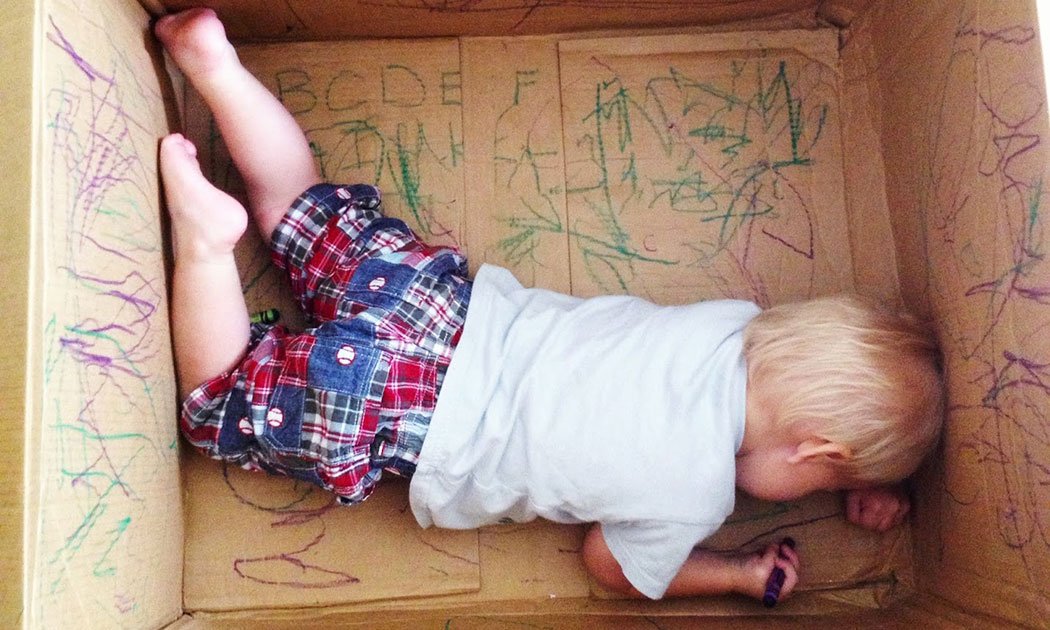 Being a parent is a really complicated task that, on some occasions, can use up our patience due to how restless and imaginative children can be. One of the worst nightmares for parents is to realize that his son or daughter took advantage of the crayons that were in his toy box to demonstrate artistic vein on the walls of the house. And although scolding them might be a possible way to avoid such issues, there are better ways to ensure it. A large box is an ideal space for them because they can paint it and draw what they want without damaging anything in the home.
---
LEARN THE BEST WAY TO CLEAN THE FAUCET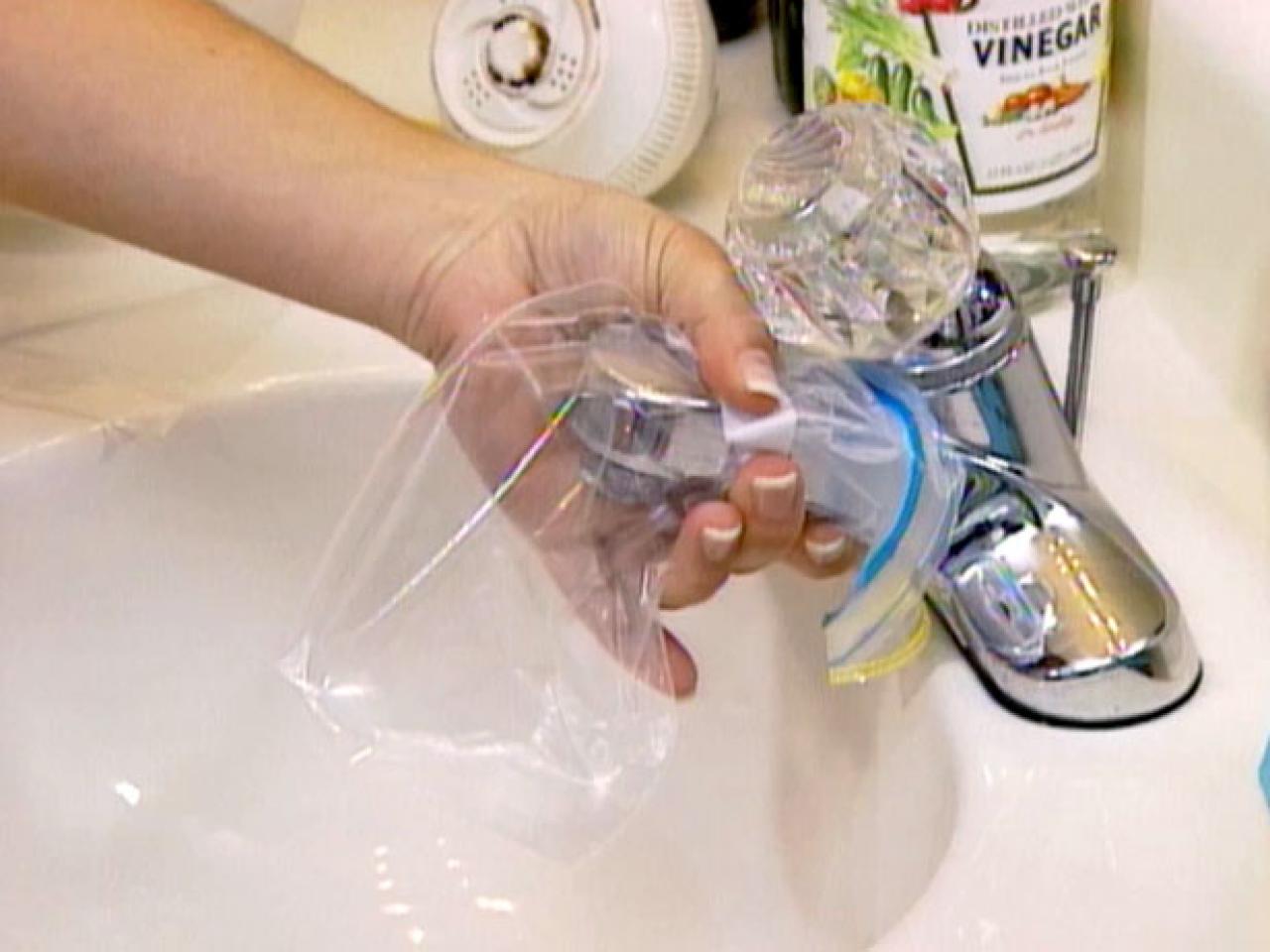 The faucets in your house or the shower are ideal places for dirt or mold to accumulate, and cleaning them properly can be a challenging job that takes a lot of time and effort, so searching on the internet for a more straightforward solution is reasonable for all of us. When you notice that these parts of your house have accumulated too much sediment or dirt, you can apply this hack that consists of filling a plastic bag with vinegar, attach it with an elastic band to the object you want to clean and leave it overnight doing its job. When you remove it the next morning, you will notice a beautiful shiny surface, free of any kind of dirt.
---
IRON YOUR SHIRT COLLARS EASILY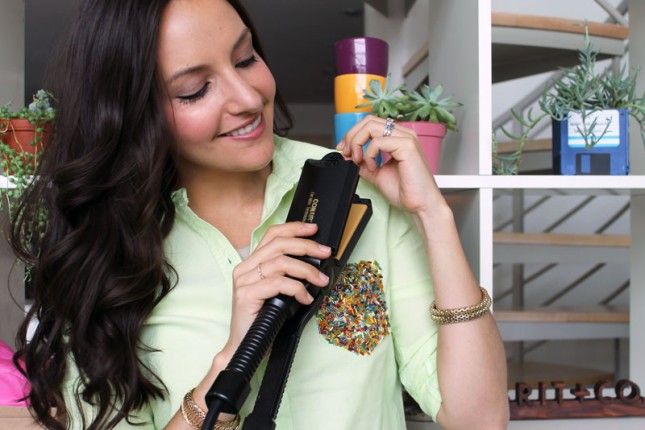 Adult life is stressful. Especially when we work for a company with a dress code policy, we must take good care of our clothes and dress sharp. How many times have you run out for a meeting only to realize that you have a wrinkled shirt collar? Normally, this involves taking off our shirt and ironing the neck again to eliminate all the wrinkles. However, by using a hair straightener, you can give it those final touches quickly without wasting too much time or even risk being late for work. Be careful not to burn your neck!
---
CHOOSE THE BEST PASSWORD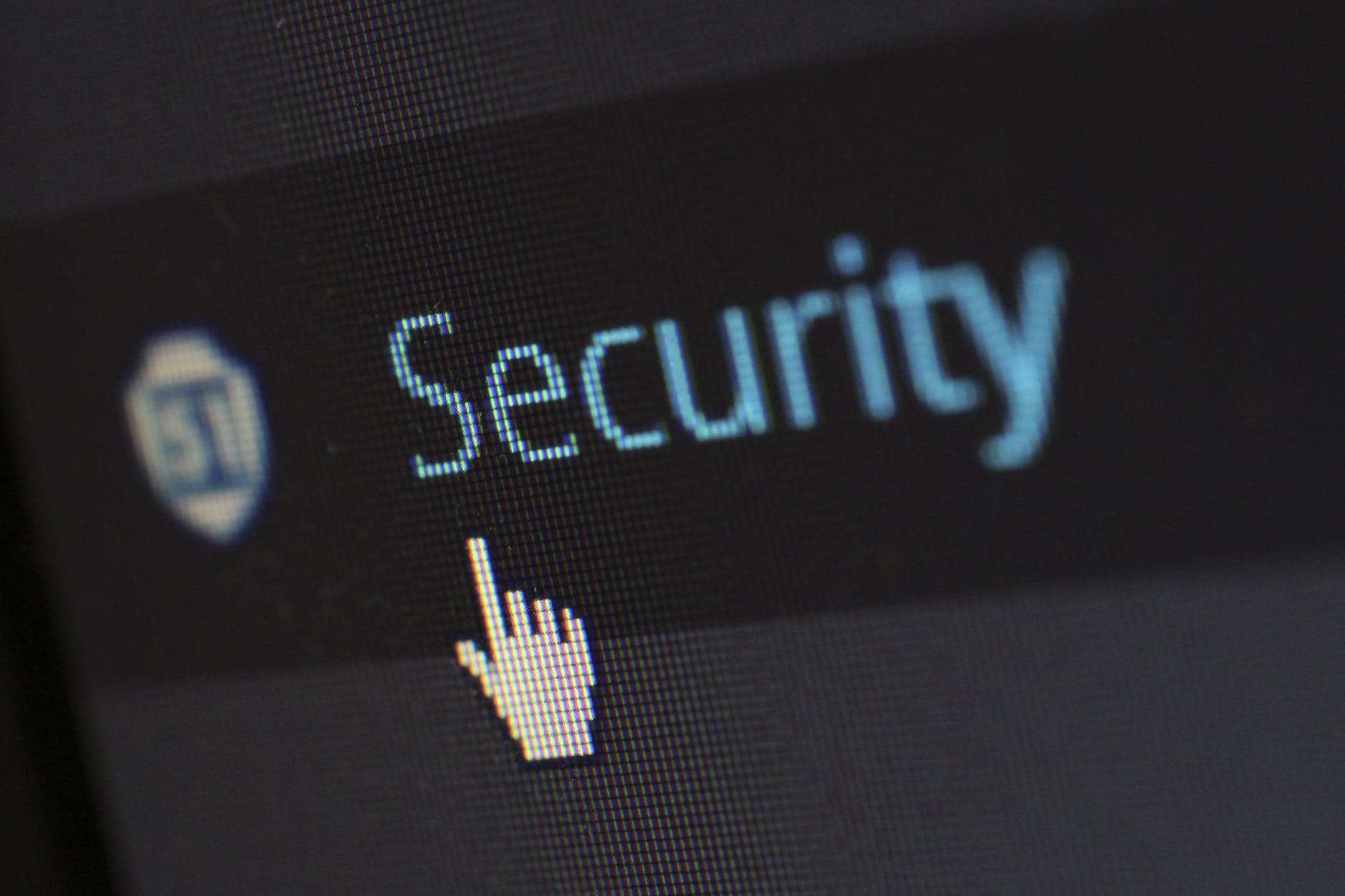 Creating a new password is usually a headache as there are always strange requirements on the webpages to make them more secure and reliable. Very often, this is not enough, and you have to be ingenious to ensure that even the most intelligent thief in the world can't figure out the password to your bank account. Most of the pages ask you to put a special character, but the characters are still commonly used, so you can try and put one that is not used much in the English language, as ñ or ß. This way, you will make sure that no one can find out, but do not forget it!
---
HOW TO PEEL A KIWI EASILY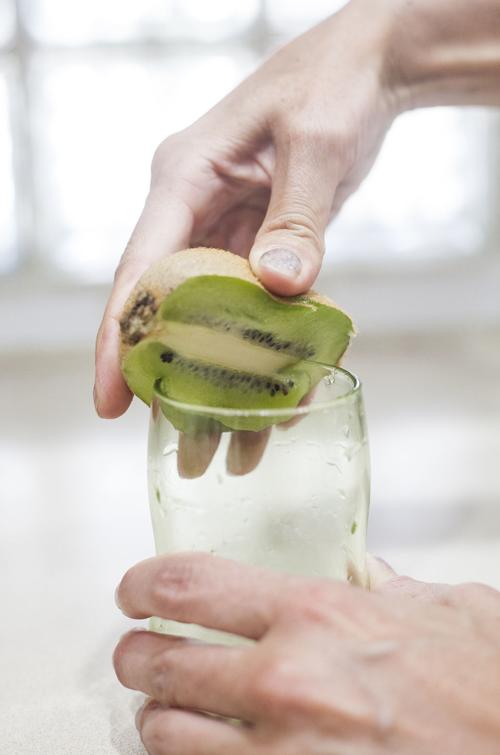 Peeling some fruits can be really tedious due to how careful we must be to avoid cutting or damaging the pulp. This trick can be used with any soft and round fruit because it allows us to peel it and take advantage of all its contents quickly. All we need is a knife and a shot glass. We make an initial cut to remove part of the skin and use the edge of the class to remove the rest of it following the curved edge gently.
---
EAT AN APPLE FOR BREAKFAST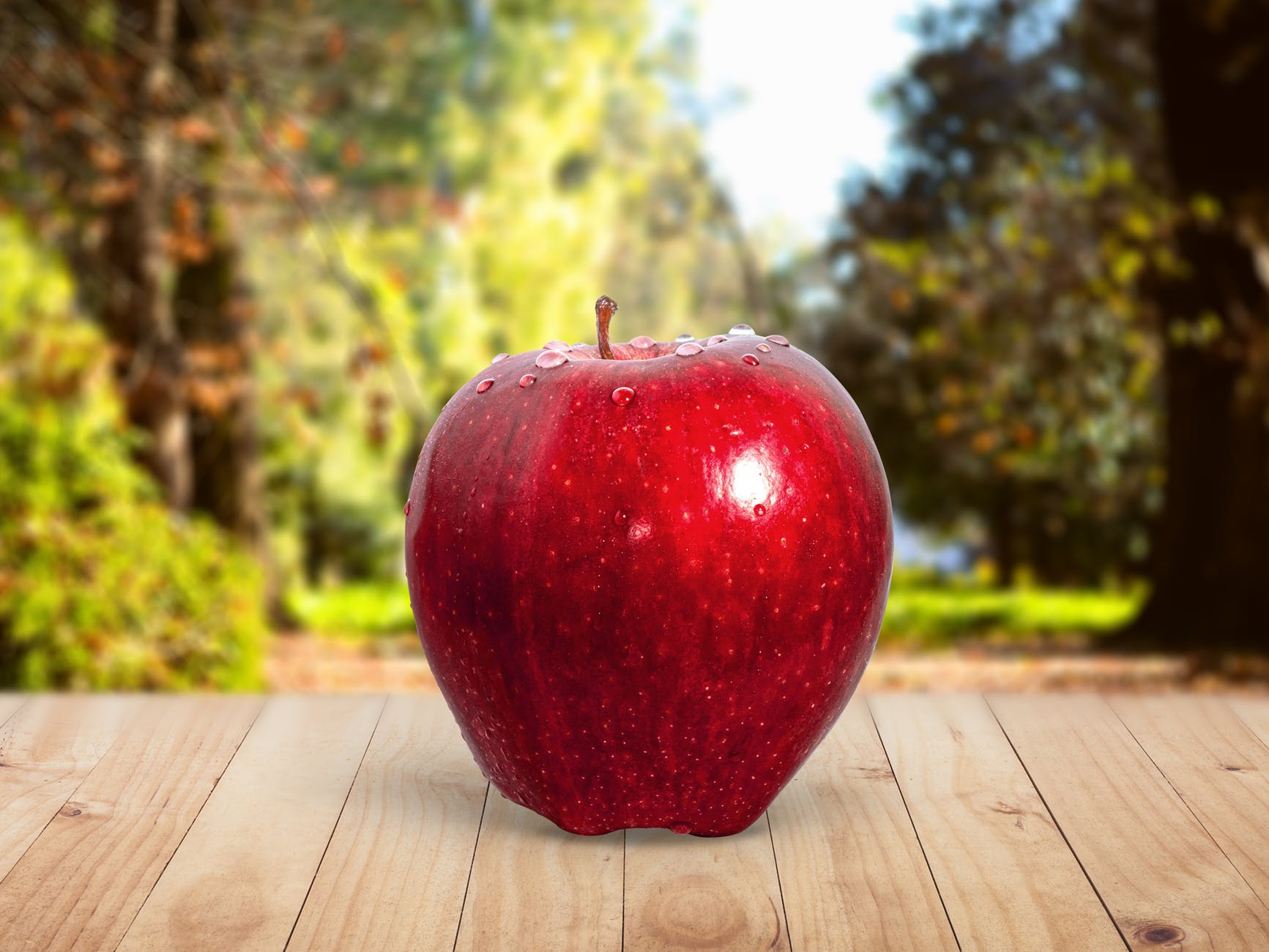 Many times we have run from home to work and forget to brush our teeth because we're in a hurry, a bit of mouthwash could help, but sometimes we do not have time to go home, so we must find a way to rid of a stinky breath quickly. Although it is not a substitute recommended by any dentist in the world, it is a quick and effective way to "brush your teeth" and eliminate all the bacteria present in them, reducing bad breath. The apple is known as a "natural toothbrush," so eating an apple is a way to solve our dilemma on the way to work.
---
USE NAIL POLISH FOR BOTTOMS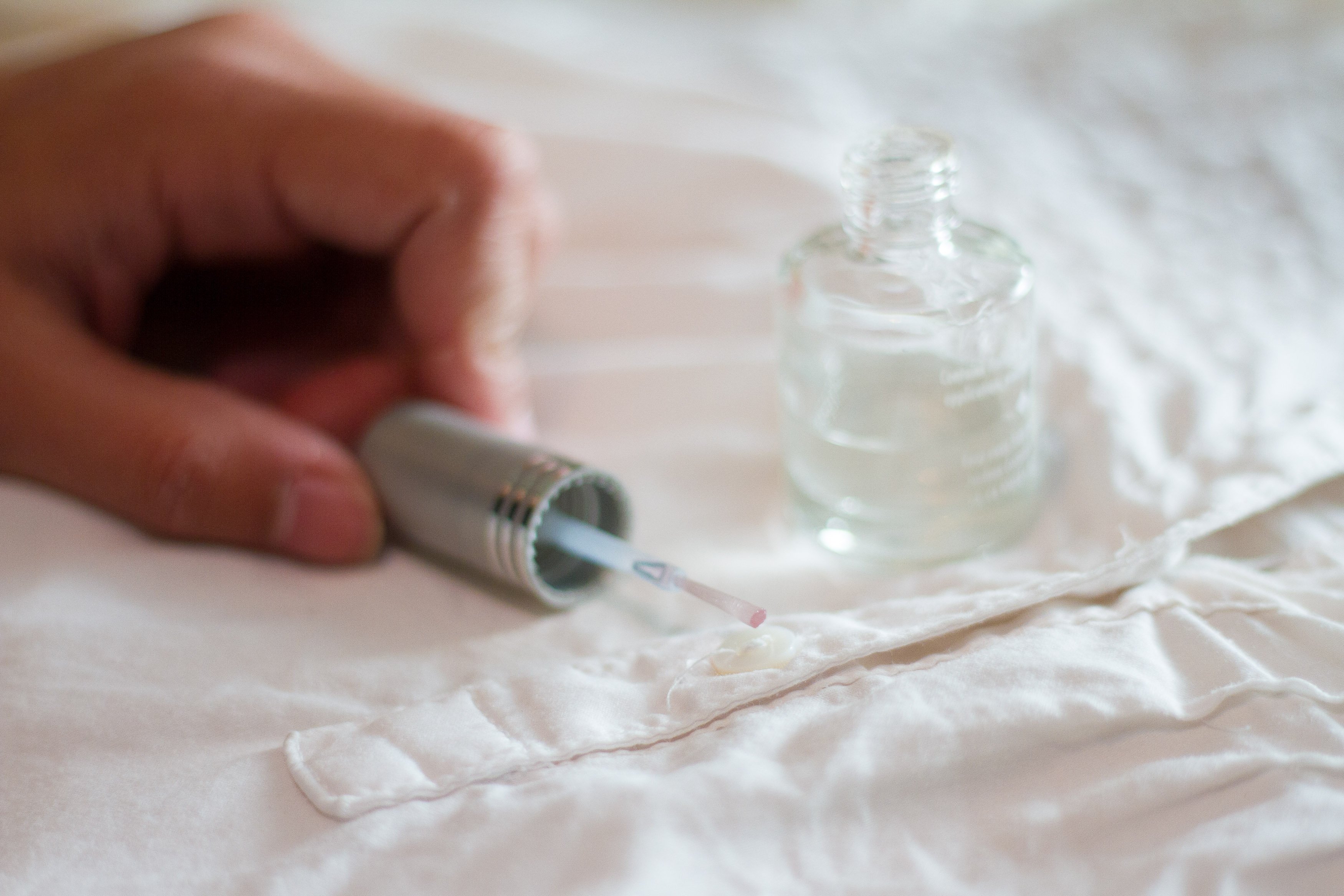 Most of the time, we are so busy thinking about work and our responsibilities that we do not pay enough attention to the little details, like the buttons on our clothes. Losing a button can mean a lot of embarrassment for some people because it makes them look messy, and they can end up showing much more than necessary to the people around them, so we find a simple solution to this problem. Applying only a bit of nail polish on the threads of our buttons will protect the fibers from damage by use, and this will make the buttons last much longer in place, avoiding unwanted surprises.
---
ORGANIZE ALL YOUR IMPORTANT WIRES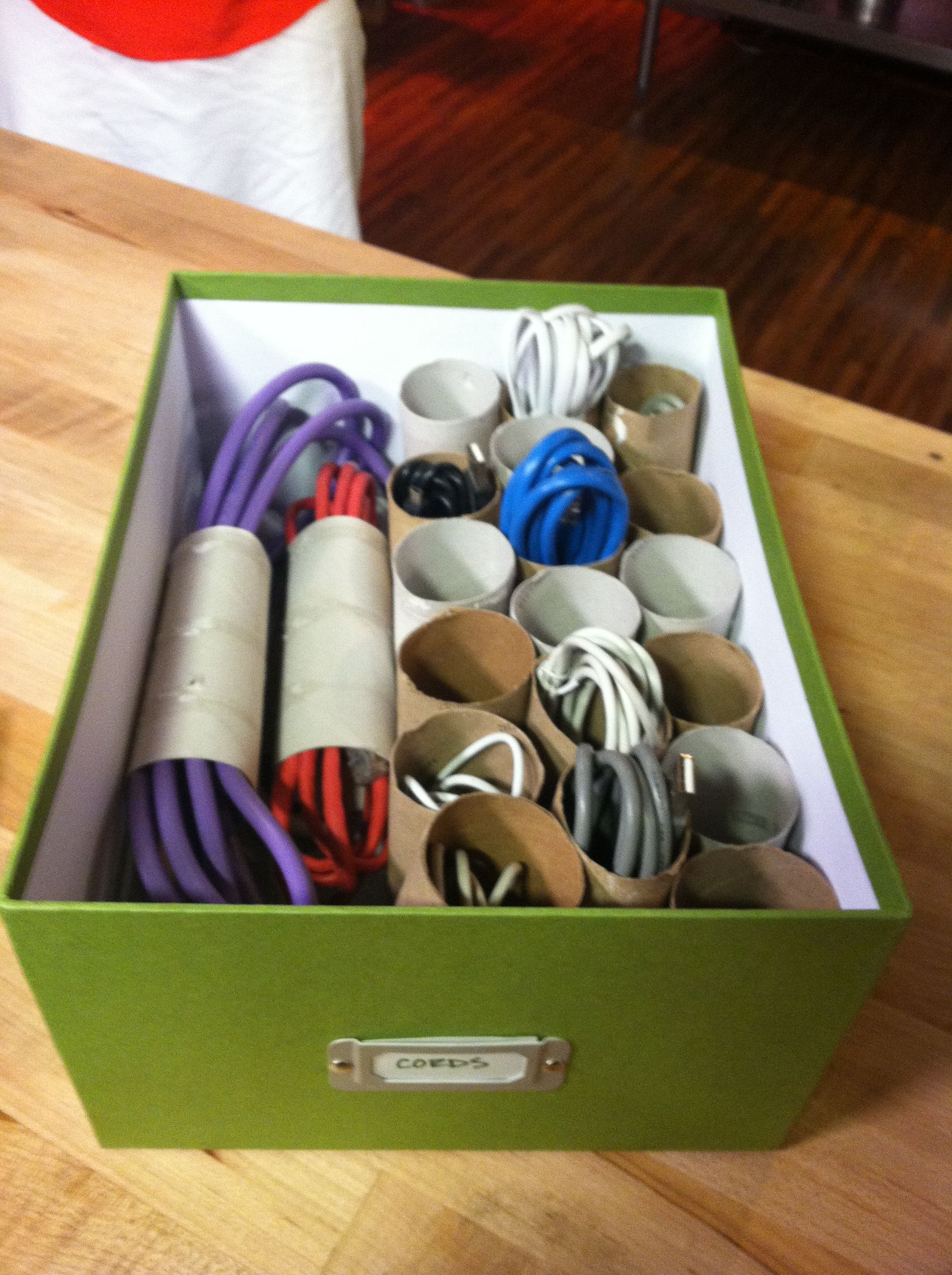 Nowadays, almost all of our homes are full of wires that feed the multiple devices that we have in our house, but these cables quickly become a potential risk tripping us over if we do not store and organize them properly. This hack is designed to use an object that many people usually discard to give a new life and accurately organize all the cables that we have lying on the floor. Using some toilet paper rolls, we can organize the wires properly and put them in one place, store them when they are not in use, or simply remove them from everyone's sight.
---
MAKE SURE NO ONE MESSES WITH YOUR DRINK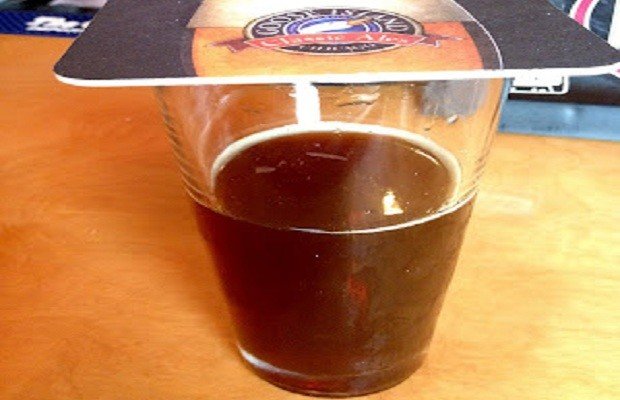 How many times have you gone to the bathroom during a meeting with friends in a restaurant only to realize that the waiter thought you had retired and took your unfinished drink along with the rest of the dirty dishes? It is a real pity to have your drink taken before it's finished so you must find a practical and straightforward way to let them know that you did not finish your drinks yet. Placing a coaster on top of your drink, you inform the workers of the restaurant that you only walked away for a moment and that you will return, so they should not remove your drink yet.
---
USE COMMAND HOOKS TO HOLD THE BAG IN THE TRASH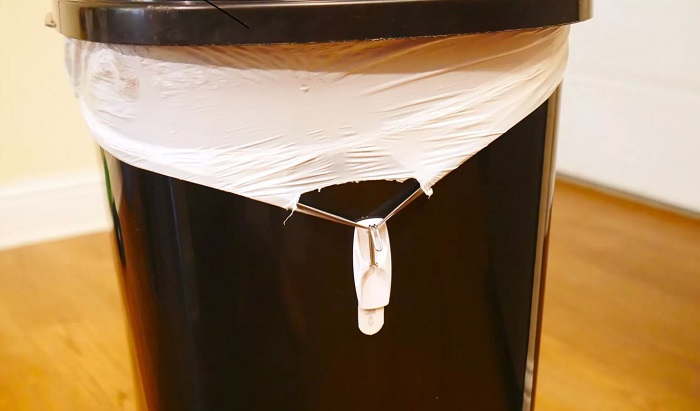 Placing a new garbage bag in garbage bins can be tricky. Sometimes they can slip or fall off quickly because they are not the right size, or perhaps there is simply too much garbage. Hence, we have to find a way to make sure they remain in their place and fulfill their purpose. Using a pair of command hooks on each side of the trash, we can secure them in position, preventing them from moving and helping us to remove them later when it is time to change them. This hack is mainly useful for small trash cans, but it can be adapted to multiple situations in which we need to keep a bag in the right position.
---
MAKE THE BEST PANCAKES OF YOUR LIFE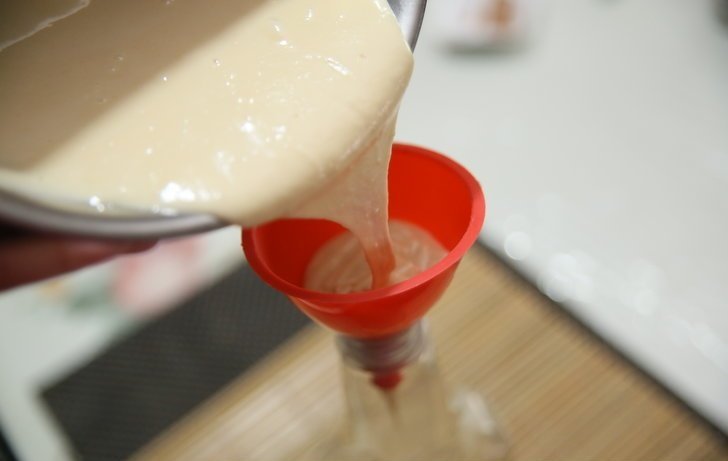 There is no better way to start a day than a delicious breakfast that includes a few pancakes bathed in syrup or honey, but the process of preparing them can be troublesome and sometimes disastrous due to the consistency of the mixture and the number of ingredients required. One way to avert disaster is preparing the mix for pancakes and pour it into a squeeze bottle that will allow you to place the amount of dough needed in the pan accurately and quickly to prepare them with the same size so everyone can enjoy them next to a tasty glass of orange juice before leaving for work.
---
HOW TO REHEAT THINGS PROPERLY IN THE MICROWAVE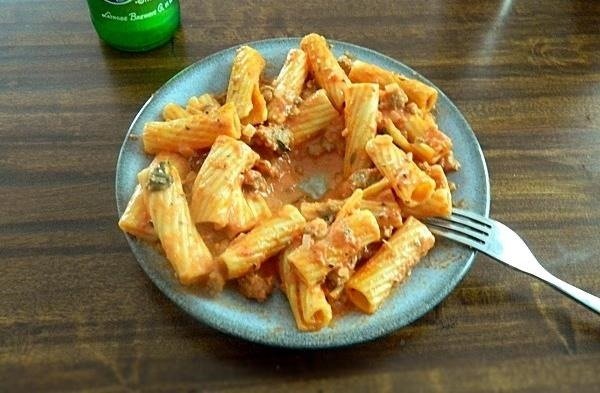 How many times have you heated your food in the microwave for a long time, but without making it completely hot? It is really unpleasant to eat that delicious pasta dish and realize that some parts are cold and others too hot to eat and enjoy. This hack takes advantage of the characteristics of the waves used by this artifact to ensure that all your food will have a pleasant temperature when you eat it. Making a small hole in the center of our food, the microwaves can reach everywhere and evenly heat our delicious lunch, but you must be careful not to spill anything to avoid resorting to the trick of point 31 of our list.
---
PANT HANGERS ARE GREAT FOR OTHER THINGS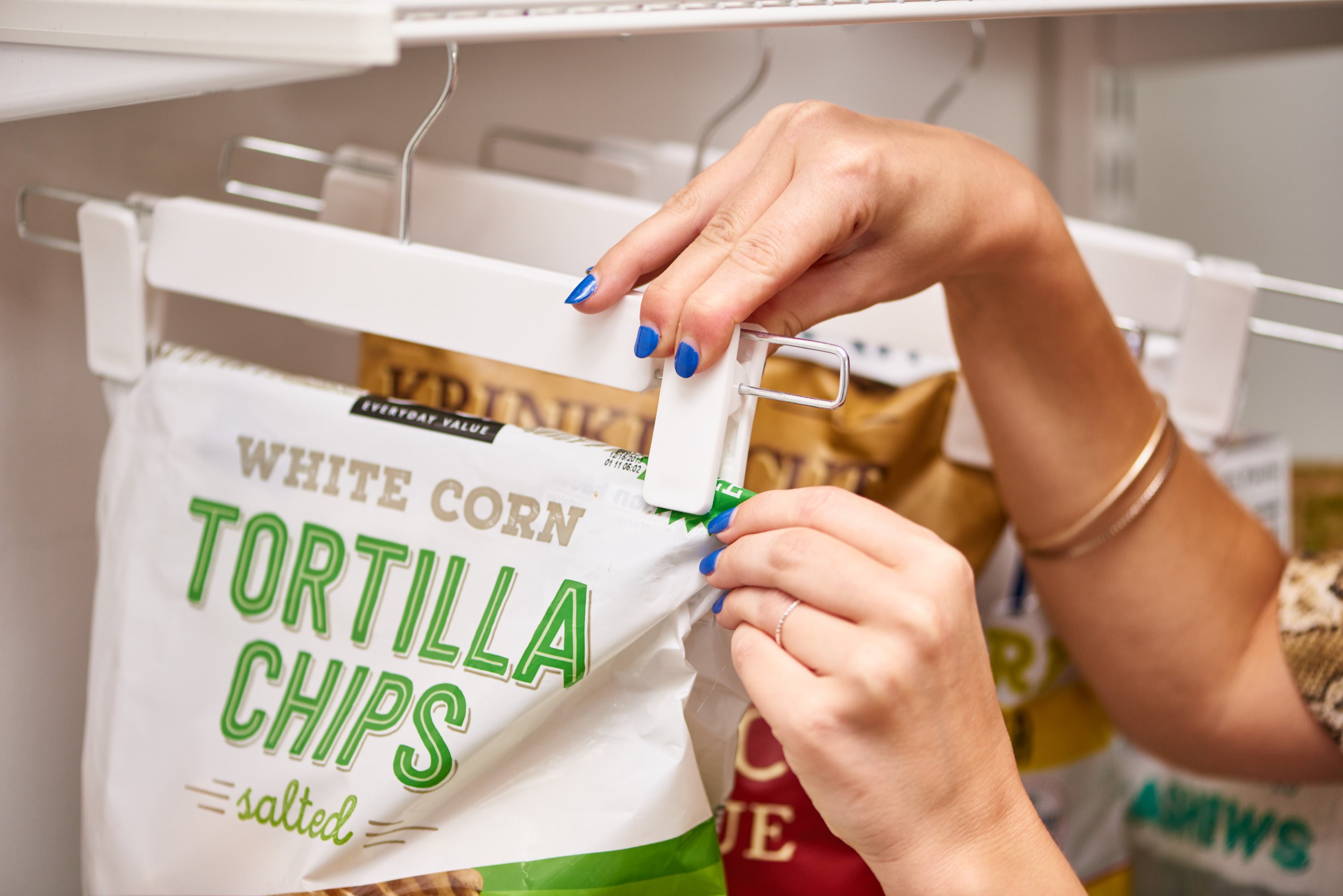 Over the years, you might accumulate an incredible amount of pants hangers in your home. Although there are ways to use them to hang other garments, if they break, or you cannot fit them correctly, most people throw them away without knowing that its tweezers can have another beneficial use within the kitchen. By separating the tweezers from those hangers, we can use them as bag clips to properly seal the food packages or any other bag that we need to keep sealed to prevent food from being spoiled or attracting unwanted insects such as cockroaches or ants.
---
NEVER SCRATCH OR DENT YOUR DOORS AGAIN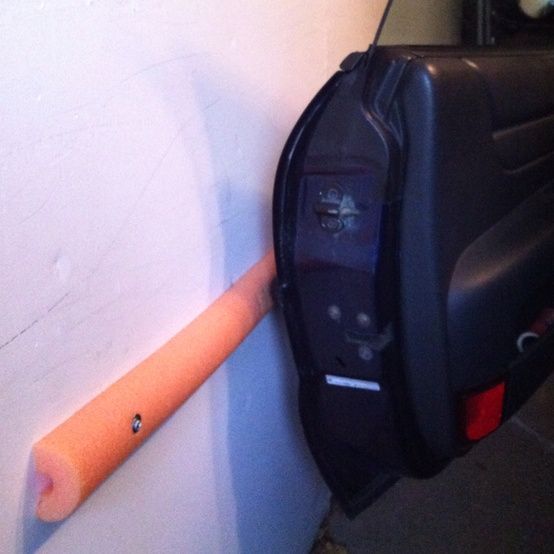 It comes as a horror to many, be it an error made by another person, or a mistake of your own, that while entering the garage of our home, the body of the car is damaged or filled with scratches that look very unaesthetic. Also, getting rid of them can mean a lot of money that we do not have, and we must find a way to avoid them. Using the material of the pool noodles, we can mount them on the walls or at the points where our car is most likely to touch when we are entering our garage after a long day of work.
---
HOW TO CHARGE YOUR PHONE QUICKER THAN NORMAL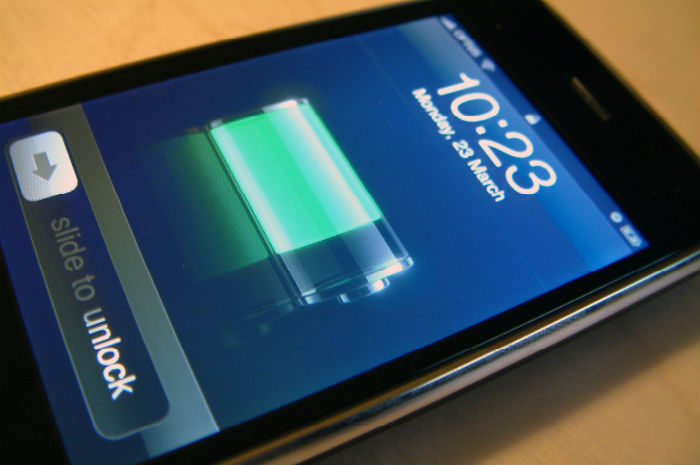 As we have already said, cell phones have become a necessity for many people who use them for multiple purposes, so running out of battery is one of the worst things that can happen to them because they feel they lose all connection with the world and start going crazy. If you do not have a fast charger and you need your phone to charge quickly, the best thing you can do is to place your phone in airplane mode so that it consumes the least amount of energy possible. This way, it will charge much faster than average, and you will lose less time waiting, but remember, you should not use your smartphone while it's connected to avoid damaging the battery.
---
NO MORE SMELLY SHOES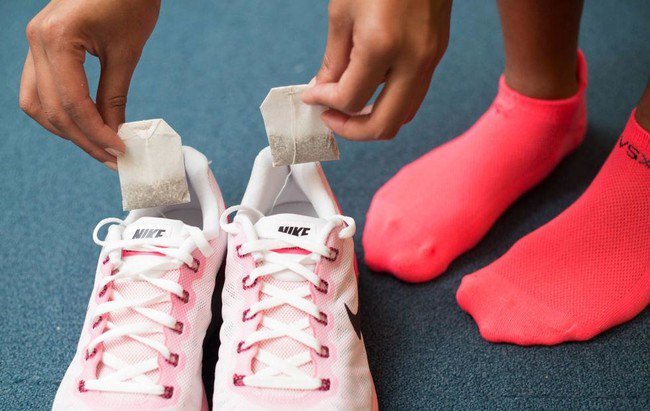 Shoes have the characteristic of acquiring unpleasant odors very quickly because we use them every day, and our feet do not breathe adequately at all times, so sweat and lousy smell soon develop, especially if we use them to exercises or perform some strenuous task. With this trick, we can eliminate the bad odor quickly without having to spend too much money - simply put a small bag of tea in each of our shoes and let it rest throughout the night so that they absorb the bad smell.
---
DON'T WASTE TIME WAITING FOR COLD BUTTER TO WARM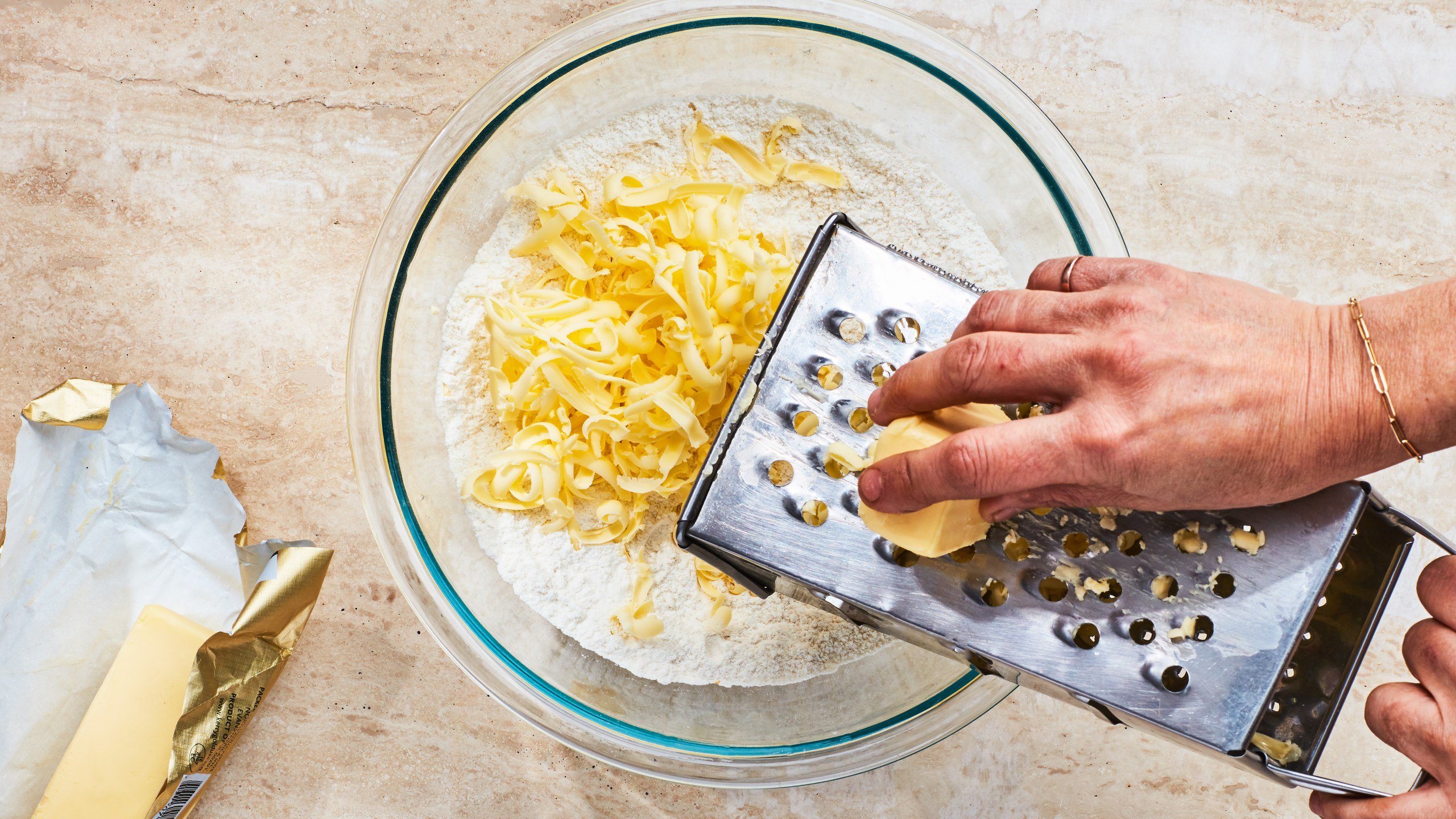 Have you ever tried to spread butter on your toast, only to realize that it is merely impossible when the butter is hard and frozen? One of the ways to solve this problem is to use a cheese grater to grate the butter, making it more malleable and allowing it to adapt more quickly to room temperature. Also, that makes it easier to spread throughout the meal.
---
NEVER LOSE SIGHT OF YOUR REMOTE CONTROLS AGAIN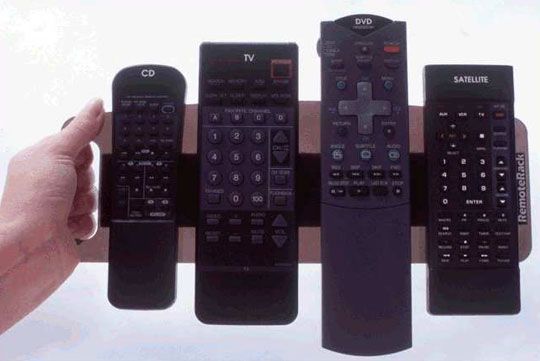 Losing a remote control is something widespread nowadays due to the number of devices that need to be controlled remotely to save us the work of approaching them to activate them. Televisions, sound equipment, air conditioners, and a lot of other things may need a remote control, and that is why we must develop a way to avoid losing them somewhere in the house. Adding some Velcro to the back of the remote control and some to a part of your coffee table, you can have all of them organized and within your reach at all times if you remember to stick them back where they were after using them.
---
HOW TO MAKE AN ANTI-OIL SHIELD EASILY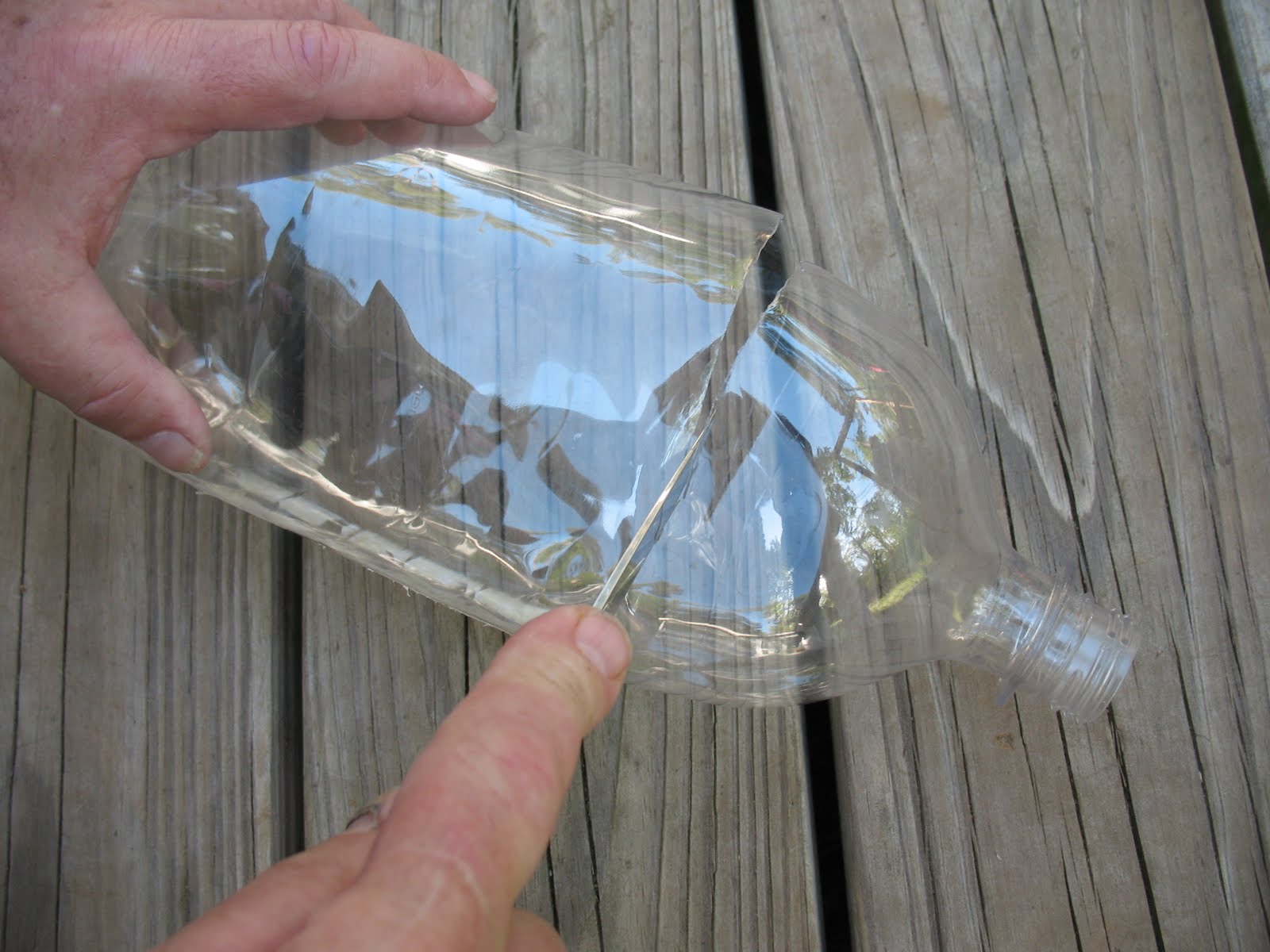 We all love fried food regardless of the time of year or the time of day, but cooking these kinds of foods can become disastrous and dangerous due to the hot oil, even causing a severe burn to the person who is preparing it if he puts his hand too close to the pan. One way to protect your hand while you are cooking something like a delicious piece of bacon for breakfast is cutting a plastic bottle of soda to use the top as a shield that prevents our skin from coming in contact with the oil.
---
NEVER WASTE MORE TIME LOOKING FOR THE EDGE OF THE TAPE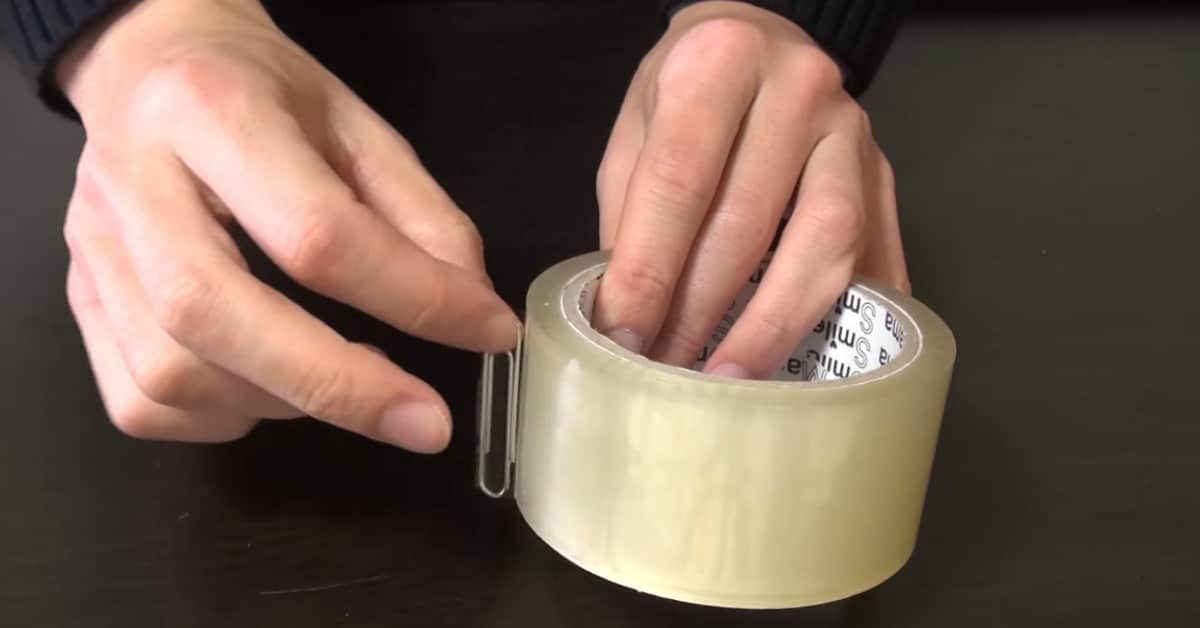 Trying to find the edge of the tape when you need to pack a box or paste something, in particular, can be a pain because it sticks back to the roll and it can be difficult to find when it comes to a transparent tape. But there is a way to make sure that you will not waste time on this. Using an ordinary paper clip, you can paste it where the final edge of the tape is located so you can find it quickly when you need it. Remember that this part will lose a bit of glue due to the exposure to air and you will have to cut it out and use the rest of the tape instead.
---
LEARN HOW TO ORGANIZE CLEANING PRODUCTS BETTER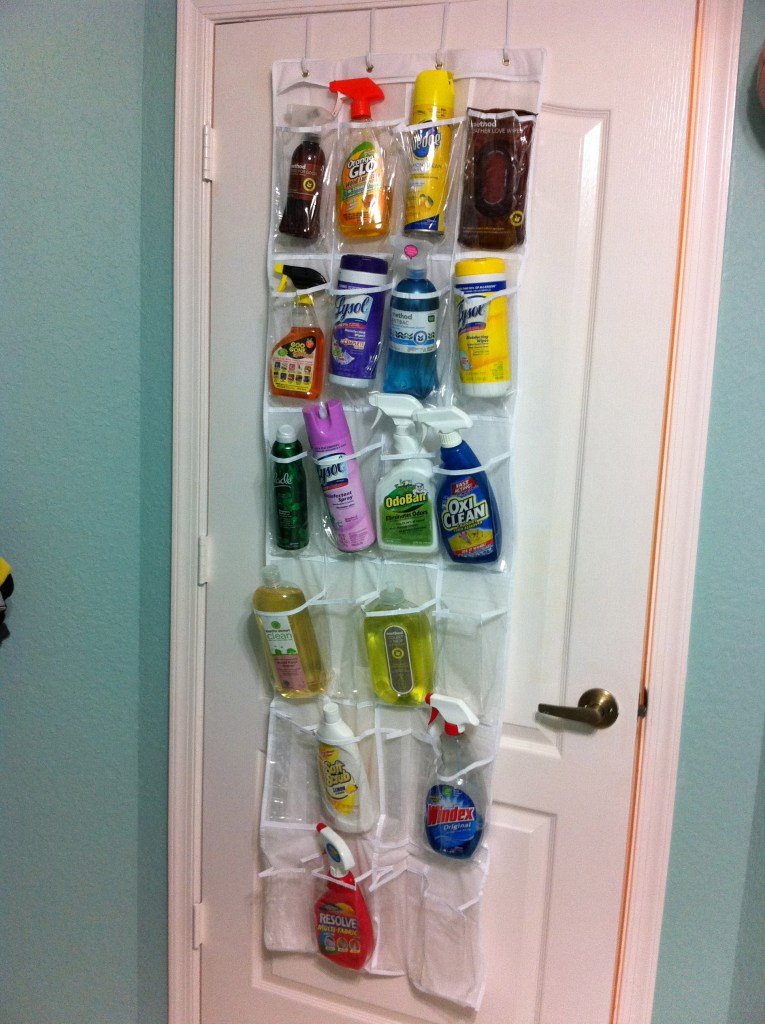 When it's time to clean up our home, the last thing we need is to waste time rummaging through our kitchen cupboards to find all the cleaning supplies we need for that deep summer clean up that we've been delaying for so long. Although we have everything in one cabinet, it is complicated to move one bottle after another in search of the floor wax or window cleaner, and that is why through the following trick we can organize ourselves in a better way. By using a shoe organizer on top of your closet door, you can keep supplies organized and accessible at all times.
---
LEARN HOW TO CUT A CAKE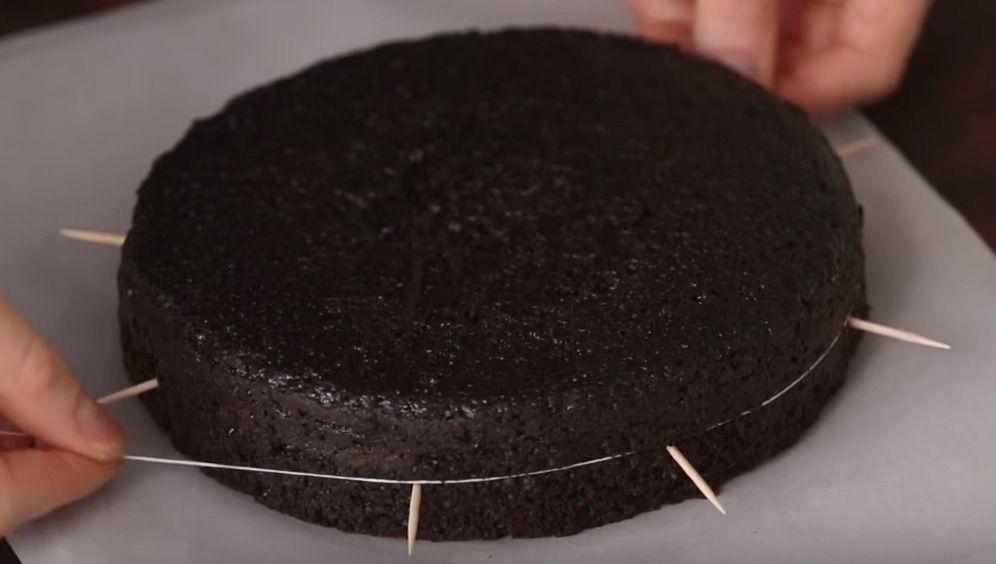 Birthday celebrations are magical and fun moments in which we are happy because we celebrate one more year of life, we have achieved many goals, and we will continue fighting to obtain better memories and enriching experiences in the following year. But it also means a massive pile of dirty dishes and utensils that you must wash after all the guests leave. To avoid soiling another tool, you can use dental floss to make a cleaner and more exact cuts in the cake, avoiding dirtying a knife and facilitating the work of distributing the dessert and any other soft food like this to all your guests.
---
HOW TO ORGANIZE YOUR POT LIDS BETTER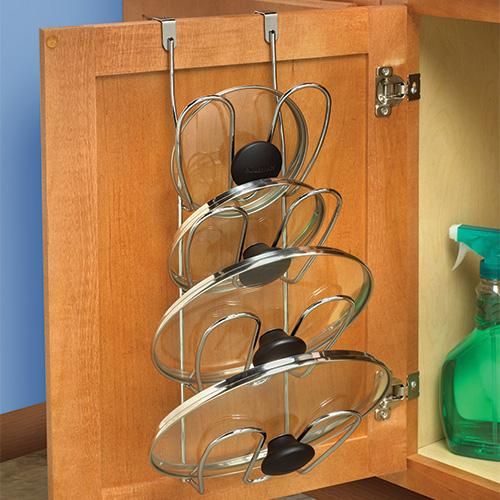 The more our kitchen and our family grow, it becomes necessary to have more utensils and pots to prepare delicious lunches for everyone to enjoy.  However, the pot lids have proven to be one of the most complicated items to store because they take away much space that we could take advantage of for other things. By using a towel rack on the inside of the doors of our cabinets, we can organize the lids in a more orderly and efficient way. This allows us to place the pots one inside another and save a lot of space that we can use for other utensils, or that fabulous silverware set that we saw in the store last week.
---
USE SOME STEAM FOR SHIRTS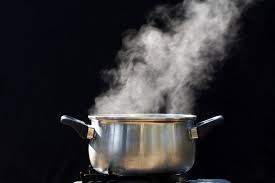 Ironing your clothes with steam is the most common way to eliminate wrinkles. However, it is not necessary to have a steam iron if you have some ingenuity and use the common elements that you have at home. Since what we need is steam, you can hang your clothes on the stove with a boiling pot of water. This will allow the steam to rise and take care of those horrible wrinkles. Another option is to put them in the bathroom during a hot shower, allowing the steam to do its job.
---
ANOTHER AMAZING WAY TO ORGANIZE THE LIDS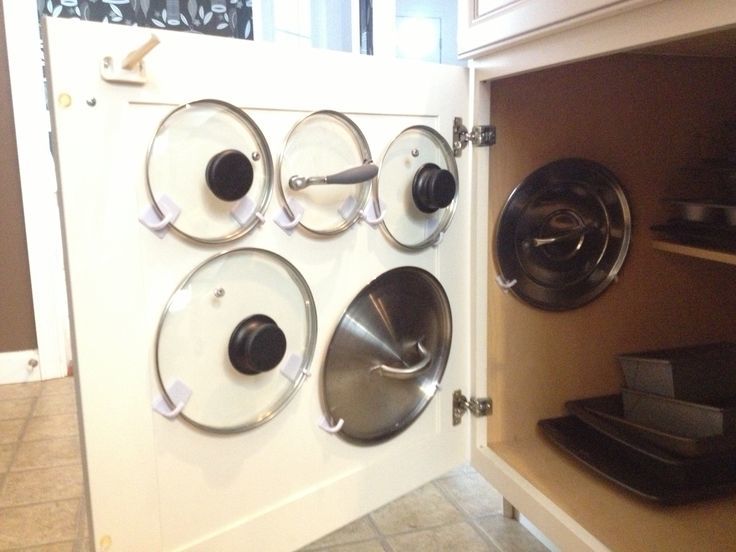 Another solution that we can use to organize the pot lids accurately is to use command hooks to keep them in position, taking advantage of the space behind the door of our cabinets to hold them and using the area we saved inside them to store other pots or utensils that we need for our meals. This hack looks a lot like the one on point 10 on our list where we used a towel rack to keep them in place, but the command hooks can give you a little more security when it comes to keeping them from moving around, and it could work better in cabinets that we usually open a lot.
---
USE VINEGAR TO PREVENT PESTS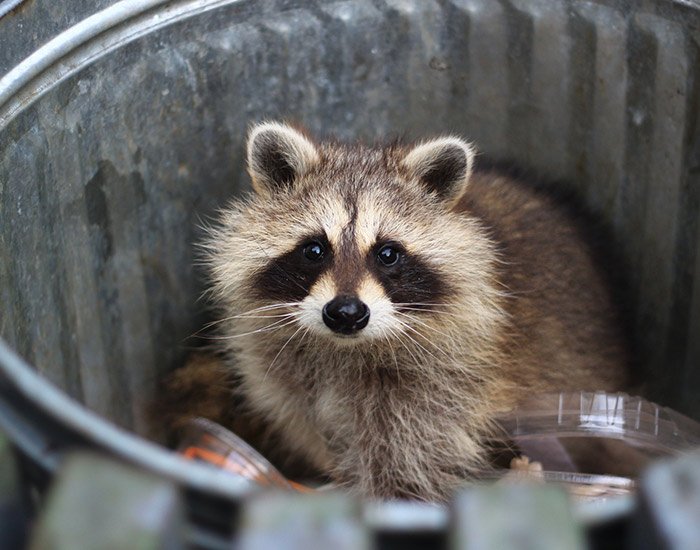 Our trash cans can store many of our waste, and although everything goes to the garbage truck at some point, we must avoid the visit of animals such as opossums and raccoons that want to take advantage of our garbage to feed themselves, leaving an incredible disaster around them after they satisfy their appetite. Although there are ways to prevent them from accessing our garbage containers such as placing specially designed lids or placing them inside some kind of protective box, a practical and easy solution is to use vinegar. You can use it around the container, in a cup, or on the lid, so that the smell will drive the animals away and avoid having to clean everything again.
All these lifehacks were thought by people who needed to solve their problems quickly, efficiently, and without having to use complicated objects or artifacts, so most of them use everyday objects that we can find at home to solve our dilemmas while we facilitate our life. Which of these hacks do you find most useful? Tell us what other ideas we could apply to our lives and do not forget to share this article with all your friends.
Sources: HomeHacks, Quick and Dirty Tips, Medium