Teachers Are Funny: Our Collection Is A Proof
Teachers might not be regarded as the funniest professionals out there, but on a closer look, we think this notion should be reconsidered. Students keep revealing more and more teacher pranks and hilarious notes all the time, and we just can't get enough. After all, teachers are humans too, and even though their humor may be cringeworthy, it sometimes is truly remarkable.
Drake For The Win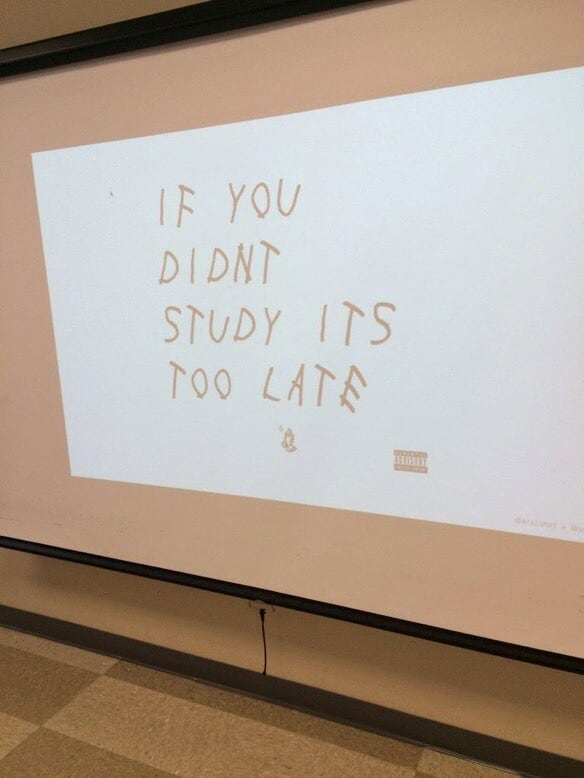 As a teacher, you need to know what your students' soft spots are. Whether you use them for your benefit, or for light humor that will score you some bonus points, is up to you, but this teacher opted for the second option. That iconic Drake album cover just can't be reinterpreted enough!
Teacher Fashion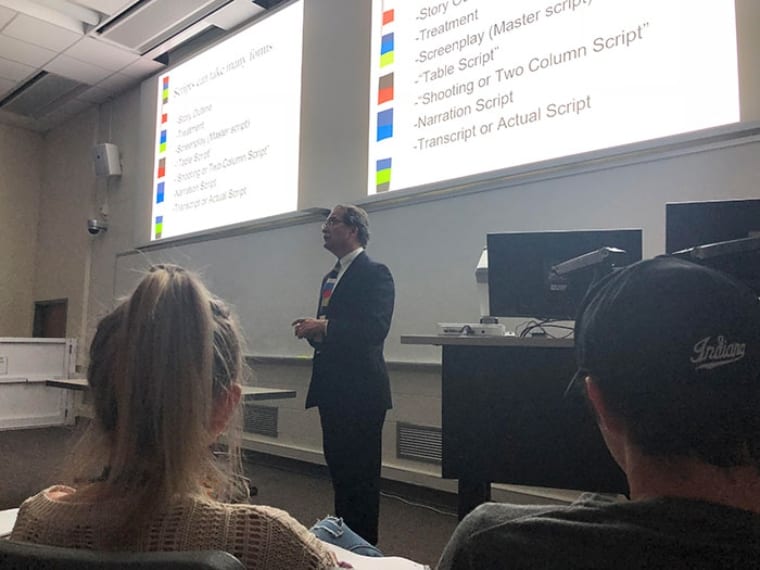 Some teachers take their fashion seriously, and we are glad they do. One professor decided to go the extra mile and color coordinate his tie with his PowerPoint presentation. This is definitely the most commitment we have seen anyone make to a few slides, and we have to say we are impressed!
Endgame Fandom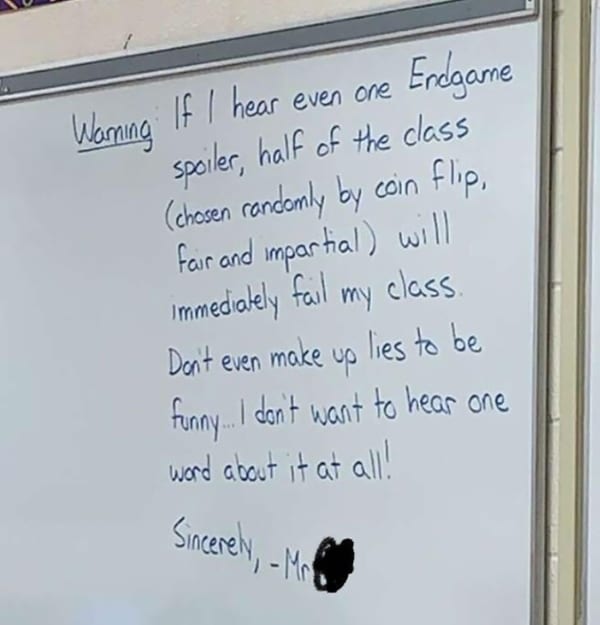 The Avengers are serious business, and even teachers don't mess around! One teacher, in particular, seemed to have been quite the fan and refused to accept any possibility of spoilers, threatening to fail his students if they revealed anything. This is definitely the way we would go about this, so kudos!
Extra Credit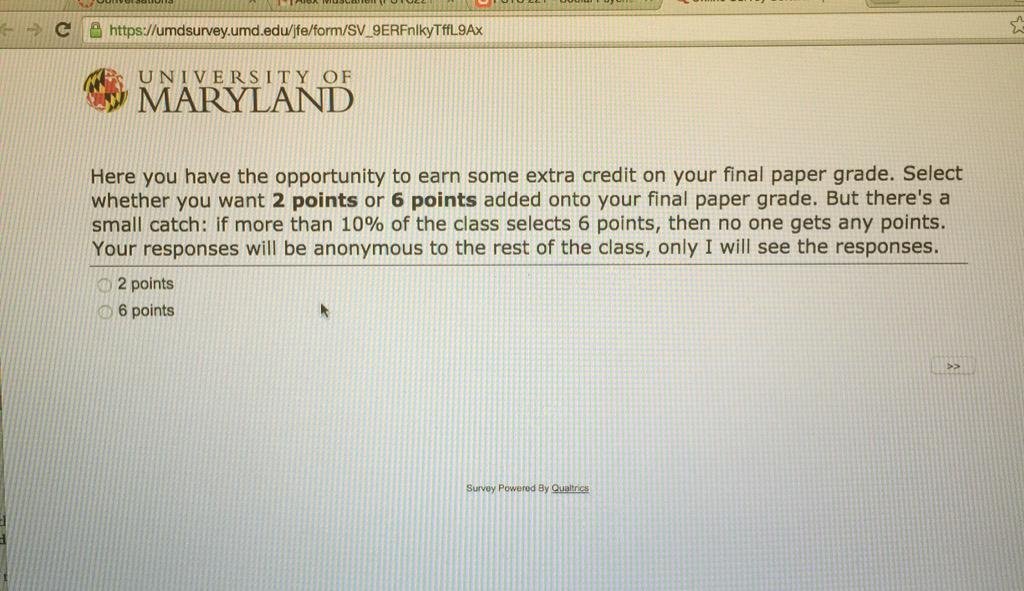 Leave it to professors to outsmart you in any way. This one thought of an evil, but extremely interesting, plan to give his students extra credit, and we are in awe of this move that seems more like a social behavioral study than anything else. What would you choose from the two options?
Lady Gaga And Chemistry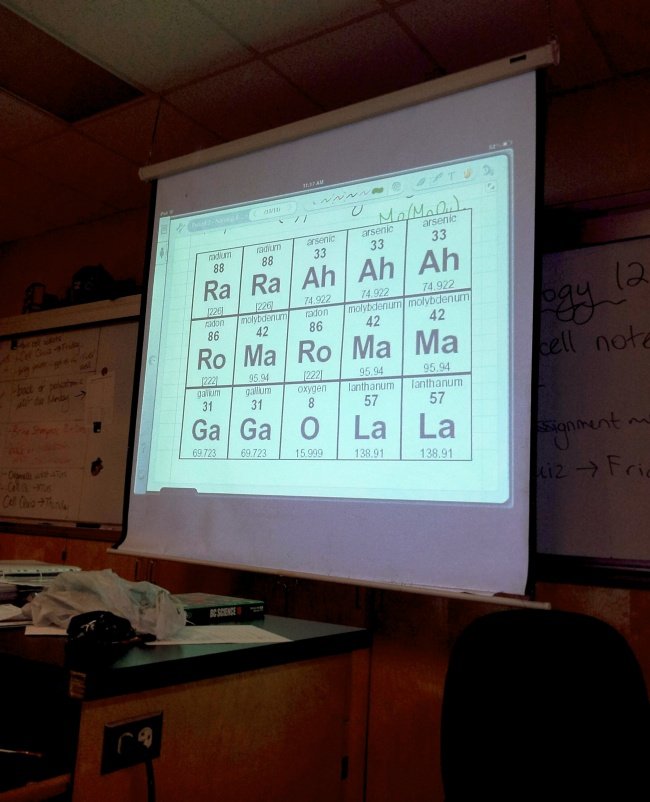 Teachers these days need to be plugged into the kids' world. This chemistry professor thought the best way to teach his students some science was if he arranged the elements to fit a Lady Gaga song, and it might just be the most genius way to make anyone remember chemistry concepts. 
Open House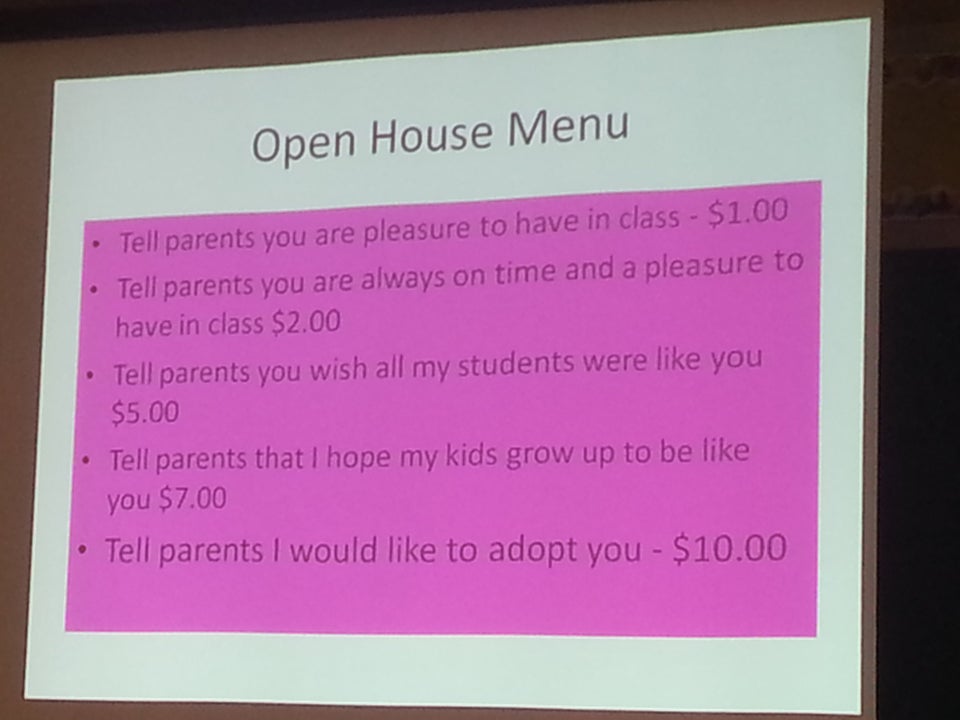 Students are scared of open houses at school for a reason, and one teacher made sure he got the best of their fear. Setting up a paid open house menu, he offered his students the option to be praised in front of their parents for a certain price. Definitely a genius idea for some extra income. Which option would you choose? 
Picture Of the Day
Some teachers have amazing hidden talents, and naturally, they should be able to showcase them in some way. This teacher, for example, draws an elaborate and beautiful picture of the day every morning, and we can't help but wonder if his artistic talent gets even the slightest bit of appreciation from the students.
Planetary Update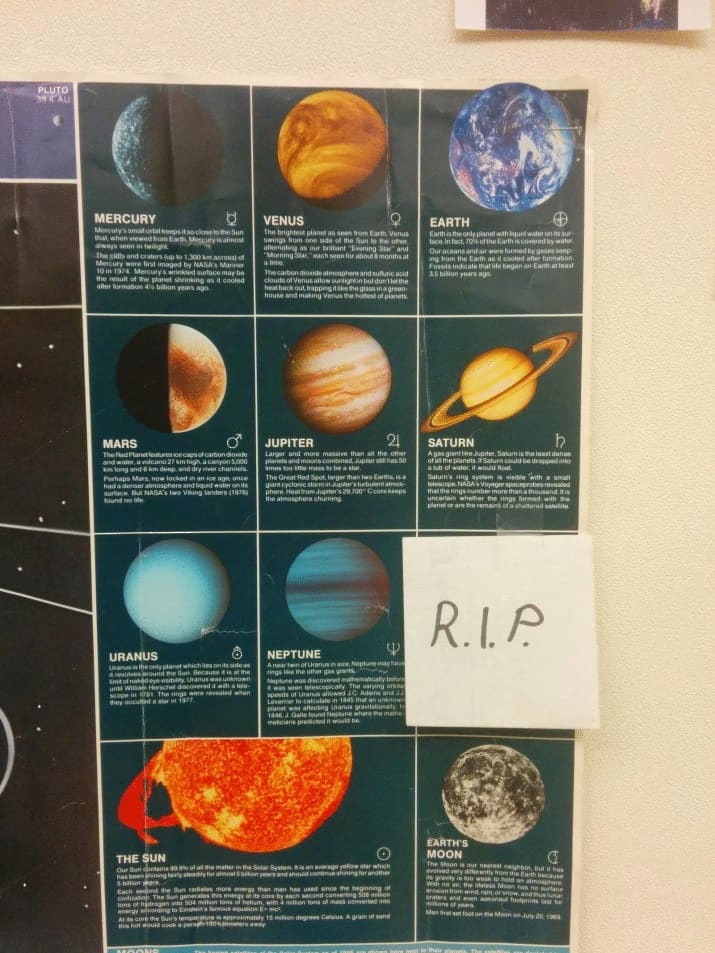 While teachers and schools might be accused of not keeping up with the times, and being too archaic, one teacher proved this wrong. He updated the astronomy poster in his classroom as soon as news broke that Pluto was no longer considered a planet, and we salute him for his progressive ways! All for science!
Cat Of The Day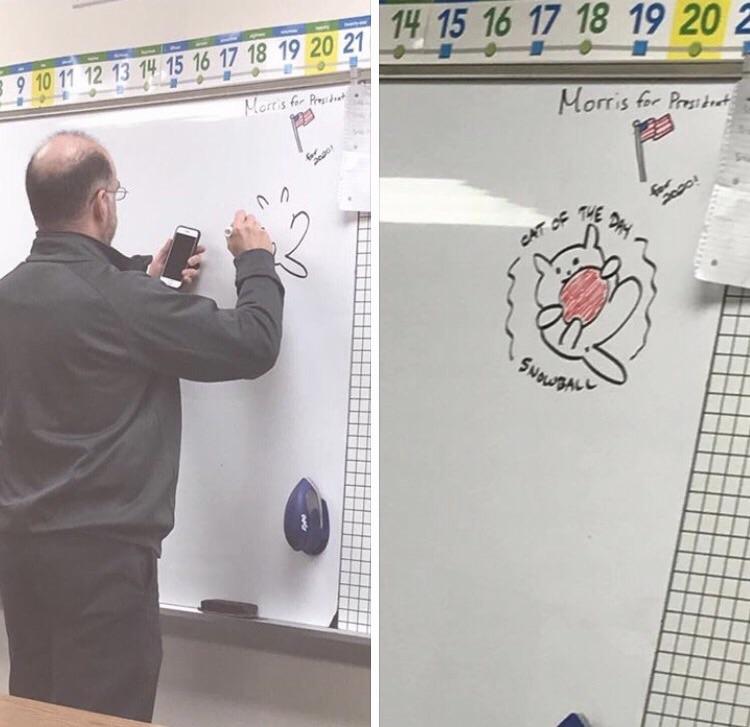 Teachers can sometimes be pretty unrelatable, but one teacher found a way to the hearts of all his students. Cat of the day drawings on the whiteboard seems like the best idea ever, especially if they are as cute as Snowball. We wish someone did this at our job every morning!
Mysterious Testing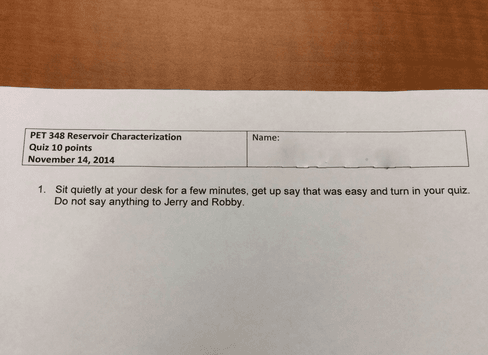 If you were to get a test with these instructions on it, you might be a little bit concerned. However, it does seem like there is a great adventure ahead, so we would definitely take this kind of test over a regular one any day. We are extremely curious as to what went on in that class!
Organic Chemistry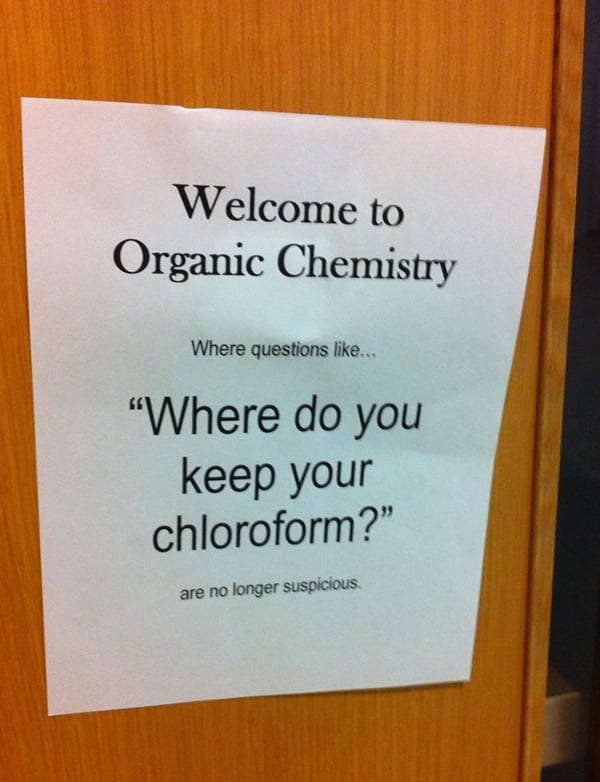 Chemists are known for their specific humor, so we just have to accept signs like these. They definitely know how to lure the students into their classes, because who wouldn't want to be free to ask where the chloroform is, without being questioned by the police after? 
Play On Words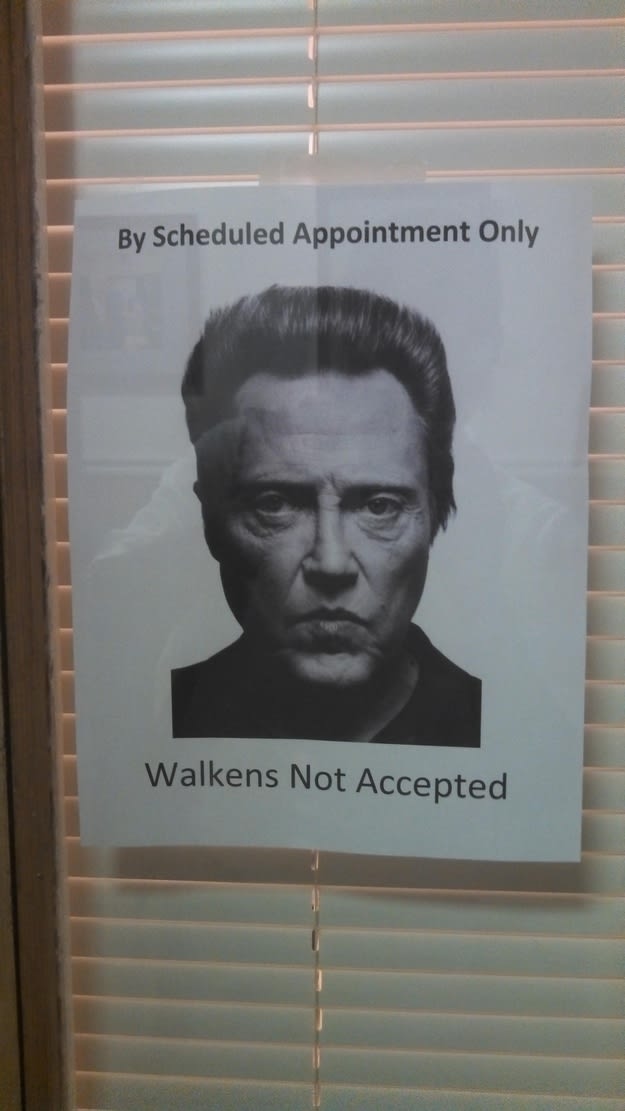 We have to admit, word plays have never been very funny in most cases, but this one is an exception. If you, as a teacher, can squeeze in any Christopher Walken reference into your school life, we salute you! We are also sure the students appreciated the effort, and always made sure to make an appointment!
Caught Sleeping In Class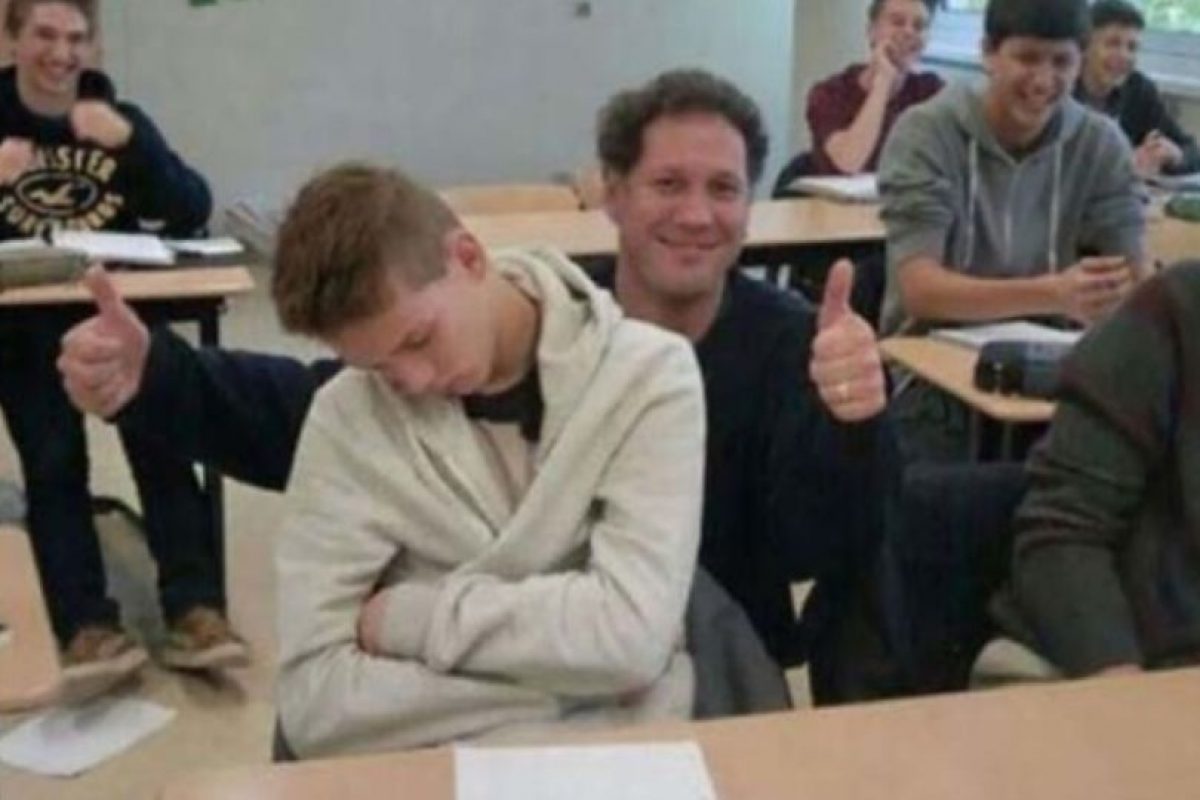 We have all fallen asleep in one class or another. The life of a student is very hard, and some subjects might not be our favorite. Teachers normally get incredibly mad about that. However, this professor decided that a picture was in order. The remarkable thing is that the kid was so asleep that he didn't even notice.
There's No Cheating In This Class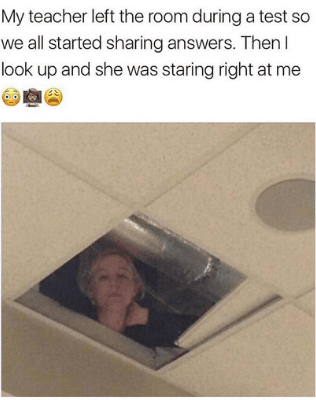 These students should have realized that their teacher was not being careless. If they normally watch you like a hawk during a test, then something is going that they decided to just leave the room. However, this teacher went way beyond the call of duty to check which students would start copying their answers.
Teachers deserve much more credit than they are given, especially when it comes to how funny they can be. Our list of these hilarious teacher notes is just proof that classrooms are sometimes where the best humor is born, and we hope students keep revealing more of these small fragments of the school life to us.
Sources: Daily Choices, Livestly, The Stir, VT