Vintage Wedding Trends That Are Still Awesome
Weddings are one of the most important days for many people, and the stream of inspirational pictures and ideas flooding the internet is just proof that brides will forever be enchanted by the topic. When looking for wedding inspirations, we do sometimes look beyond the latest trends and take a step back to peek into the times of old, when trends came and went, and style was vital. History surely has some great wedding pictures to show us!
Demure '20s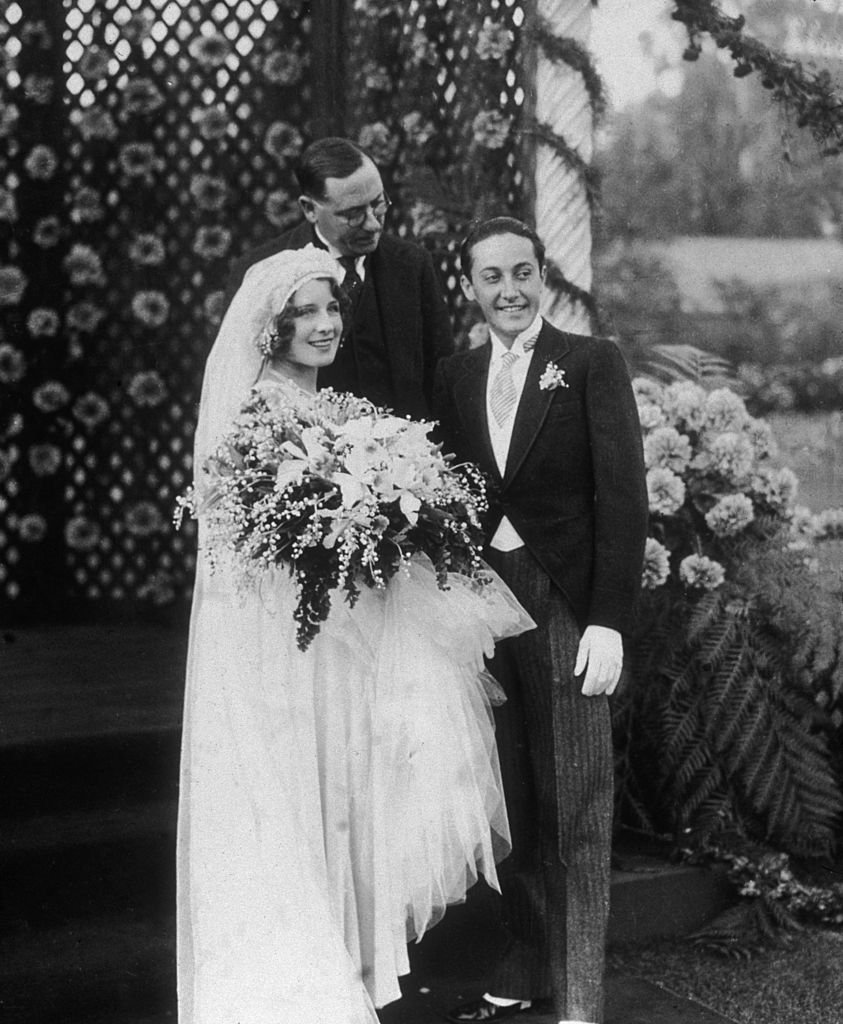 The '20s were a decade of elegance, and women took care so as not to reveal too much skin, but at the same time, appear stylish. Wedding dresses reflected this concept, and brides often wore beautifully crafted gowns, including the veils to match. This trend would still work perfectly even today, so if you need inspiration, look to the '20s!
Elegant '50s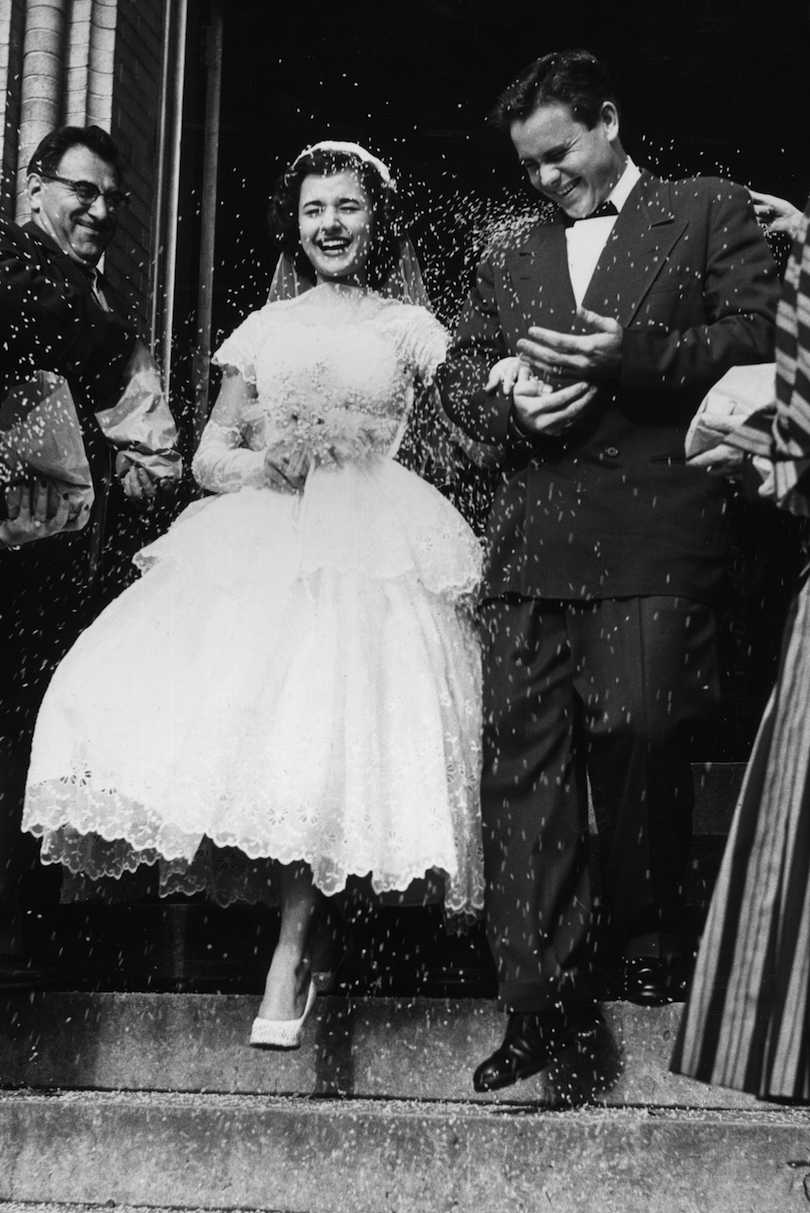 The '50s were beginning to see a bit more freedom when it came to how women dressed, and it also showed in wedding ceremonies. Higher hemlines revealed ankles, and a lot of emphasis on the female curves. This look would have been unthinkable even a few years back, so women were finally getting some well deserved freedom!
'70s Elegance Trends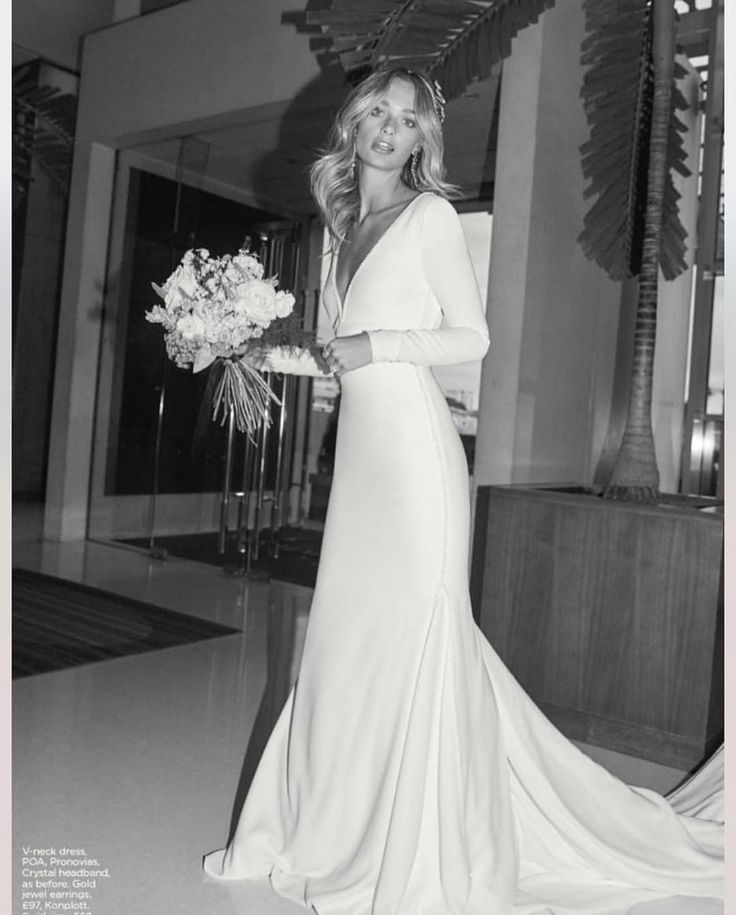 This trend has never even left the weeding dresses fashion. Mainly chiffon rather humble maxi dresses were in vogue that times as well as today. The '70s elegant shape has inspired many brides throughout the decades, and it will continue to do so for many years to come!
Rockstar '80s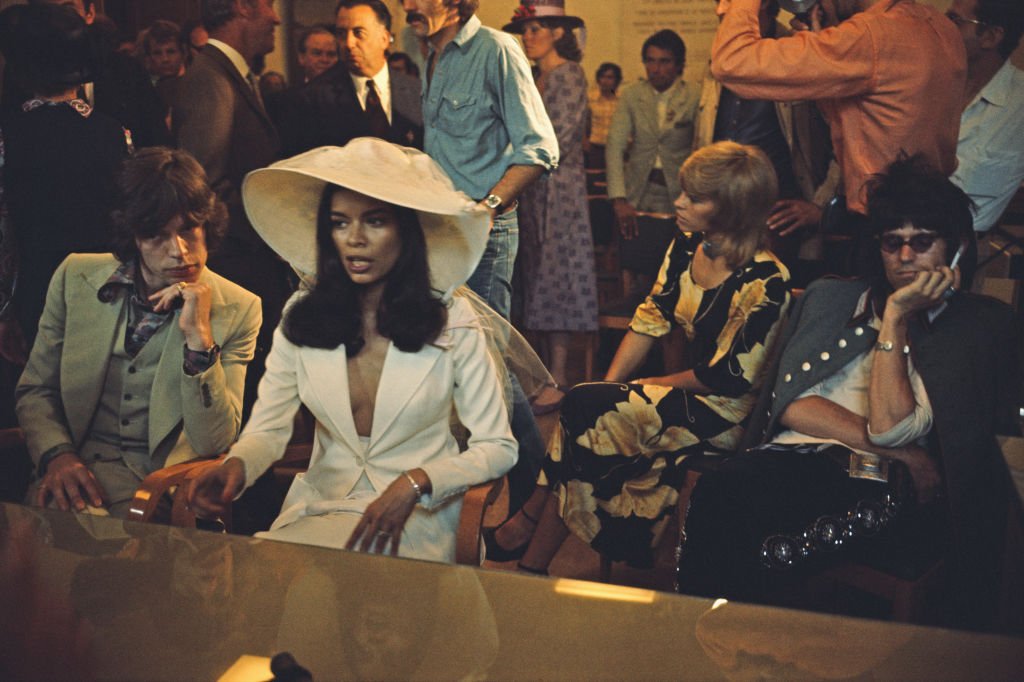 There is perhaps nothing more iconic than rockstar weddings. And one of those was definitely the wedding between Mick Jagger and Bianca. She opted for an elegant white suit with a stunning hat to match, and a new trend in wedding attire took over the world! Many brides go for this masculine but elegant look even today!
Puffy '80s
The '80s were known for some questionable trends, and puff sleeves were one of them. Women loved them though, and they frequently appeared on gowns and wedding dresses back in that period. This frilly detailing was a bit over the top, but we guess it worked for the time! If you are feeling a bit retro at your wedding, go for puff!
Gothic Look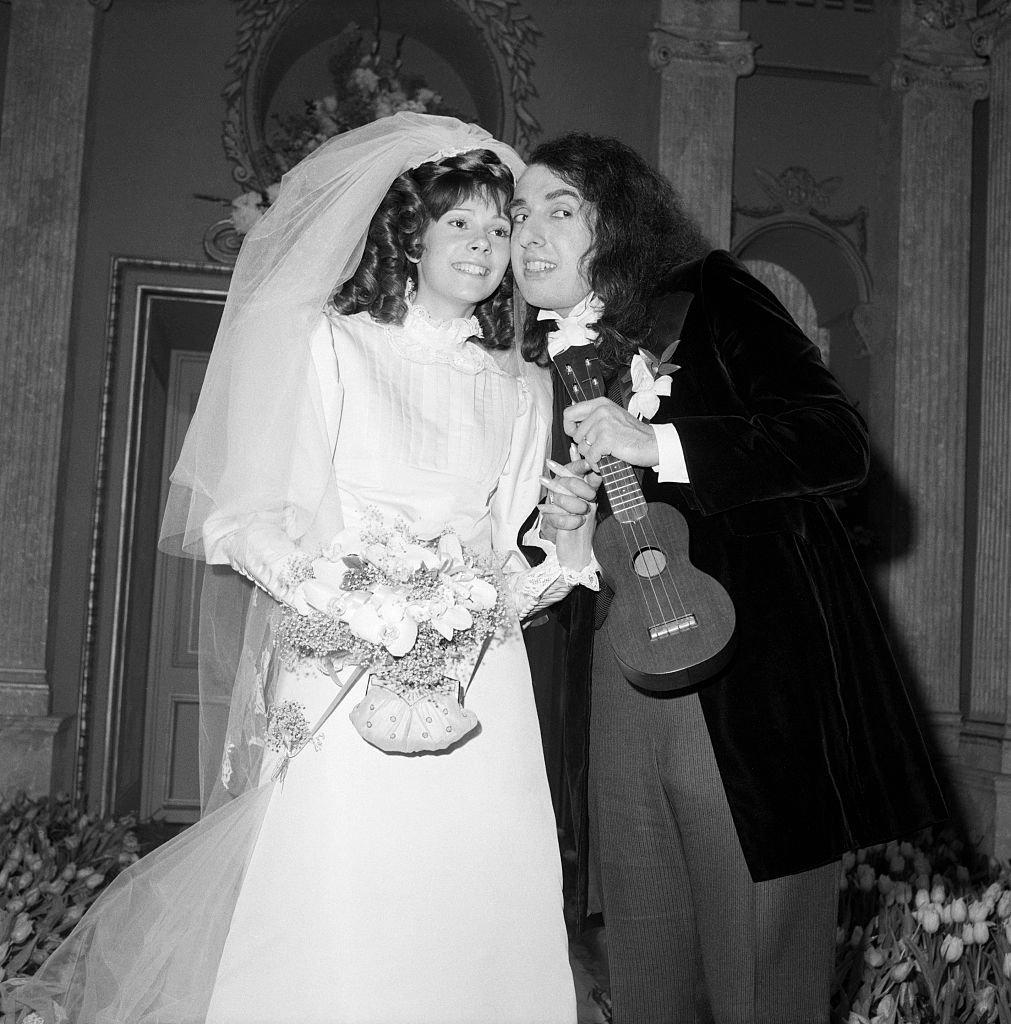 The gothic look was bound to come up in some wedding or another, and this usually meant longer suits for the men and frilly detailed gowns for the women. The inspiration for this might have been the Adams Family movies, and we are not surprised! Quirky musical instruments such as the ukulele were an optional accessory!
Haute-Couture'70s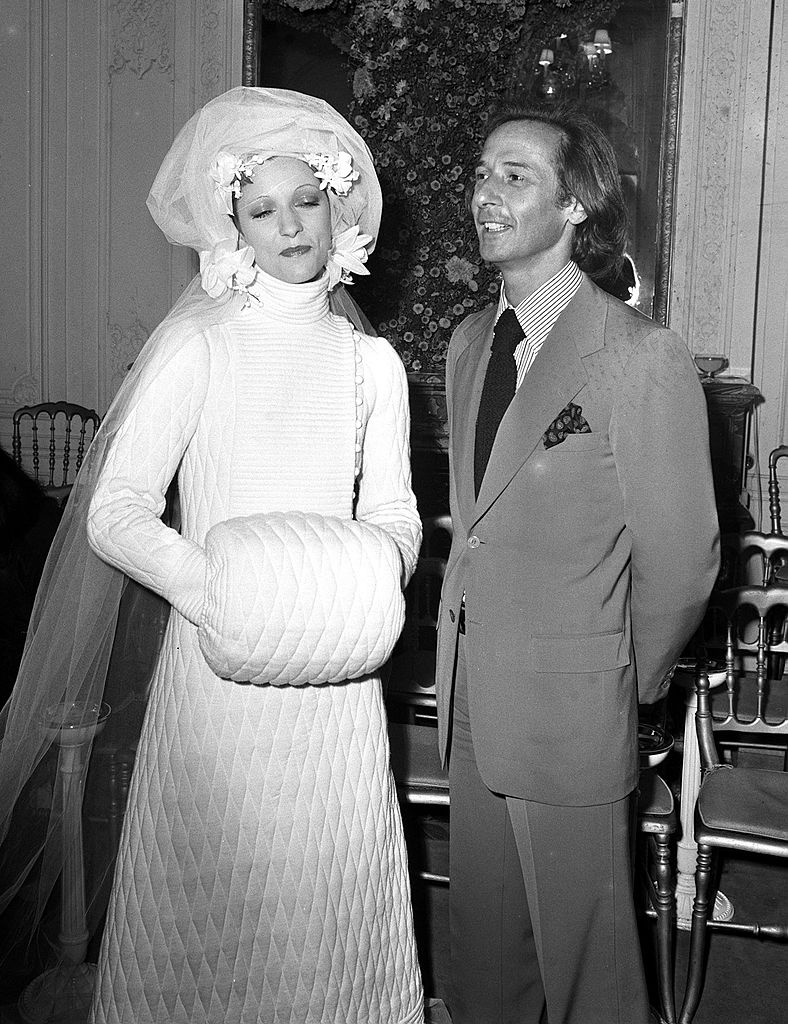 Oh, Paris and its fashion! The '70s specifically started marking the age of haute-couture in the world, which brought us such gems of wedding gowns like this one. Especially Europen women were embracing the extraordinary designs of the time. They were perfect for a cold winter wedding in absolute style!
High Concept '90s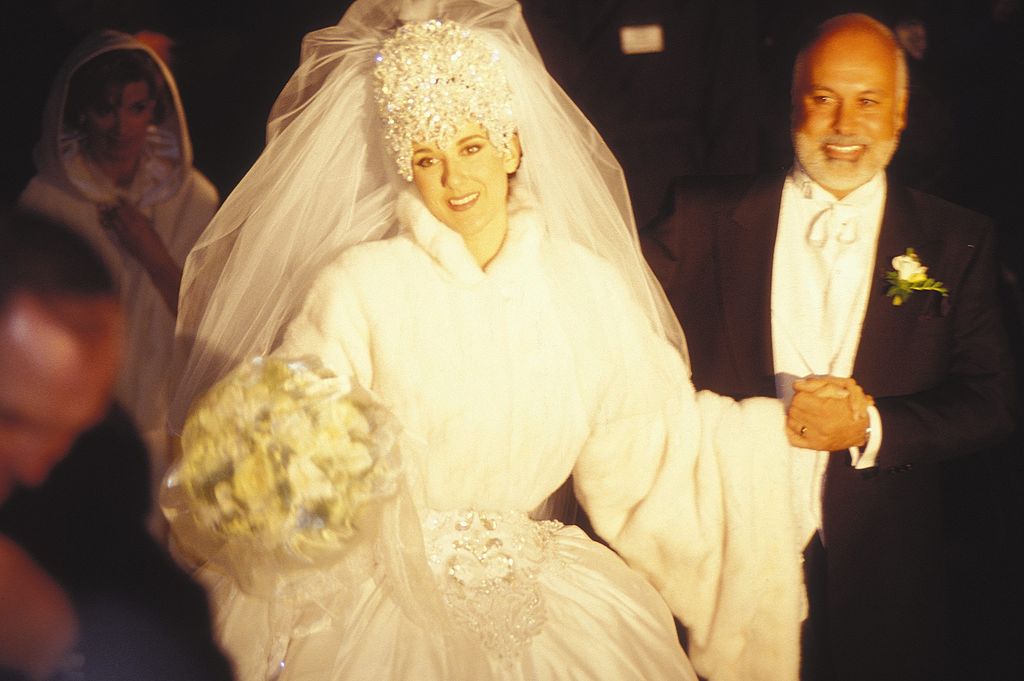 Noone epitomized high fashion in the '90s better than Celine Dion. The style icon married in a costume-like gown, making her look like something straight out of the movies. Dion was proof that you can, indeed, be a real life snow queen. And what better place for that than Canada?
Ruffled Wedding Shirt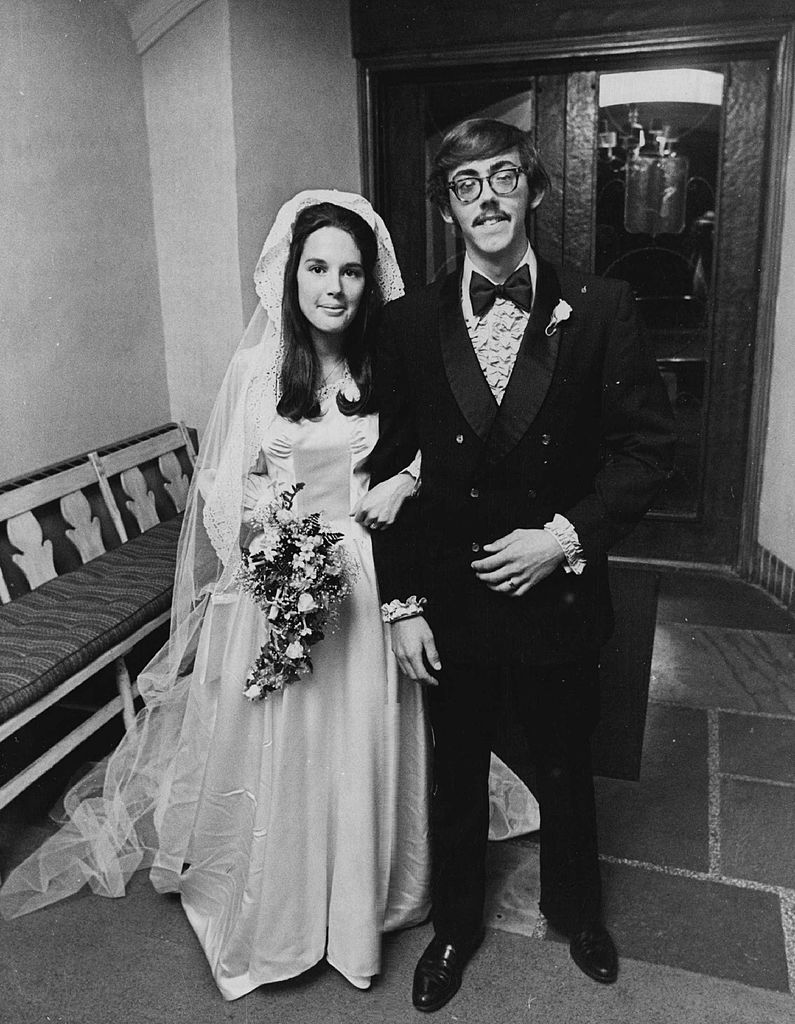 The '70s brought many changes to the fashion of men as well, and grooms were often seen choosing ruffled renaissance style shirts to accompany their otherwise boring wedding suits. You would be able to spot a '70s groom from a mile, we are quite sure. It definitely stood out as a fashion statement!
Wedding Cake Layers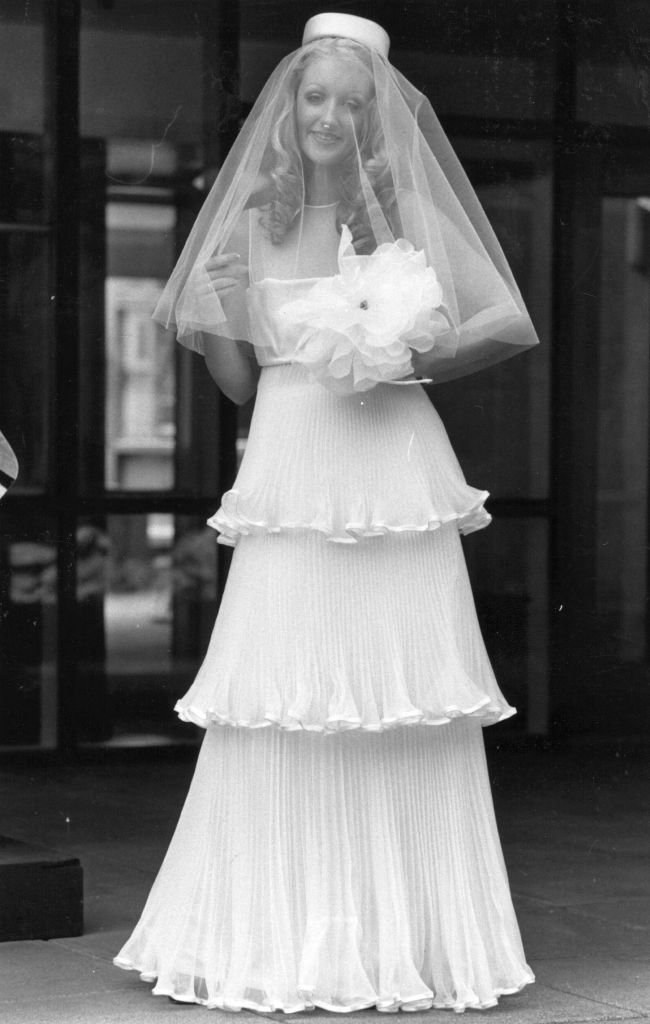 Some wedding style trends are more fleeting than others, and dressing up like a wedding cake is one of them. Layering up a wedding dress like that is surely something no bride would go for these days! But times were different, and women still wanted to follow the freshest trends even on their wedding day!
The Country Look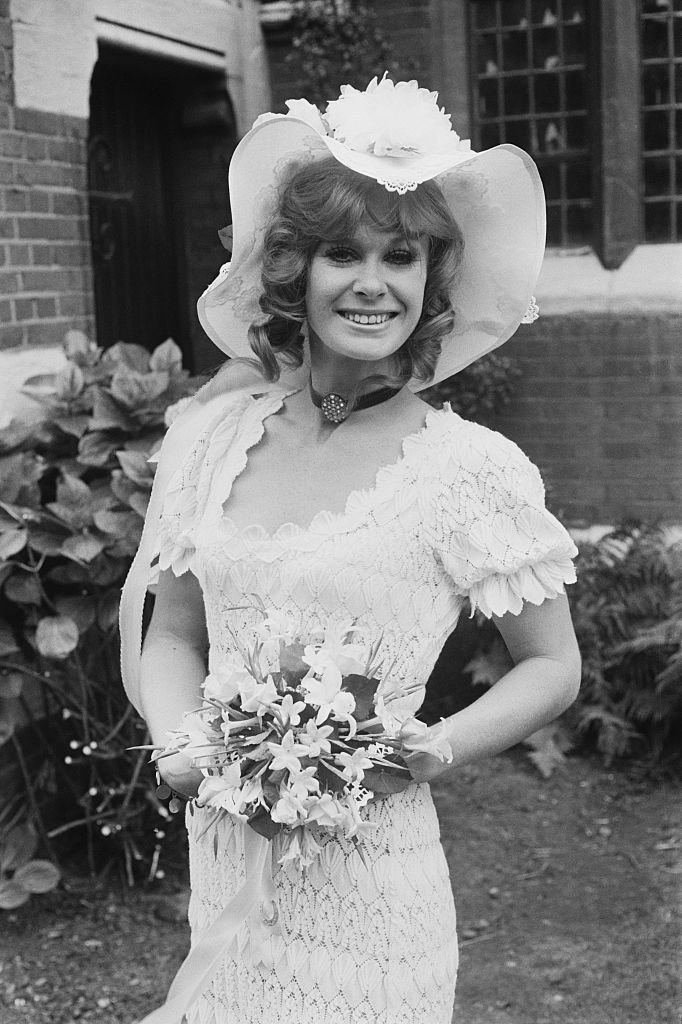 If you live and breathe country, there is no reason you would hide that at your wedding. Some brides went all out, and outfitted themselves in true country fashion, complete with a cowboy hat and all. If you are feeling inspired to host a themed wedding, this might be something for you. Definitely one for the photo albums!
Bridesmaid's Statement Dress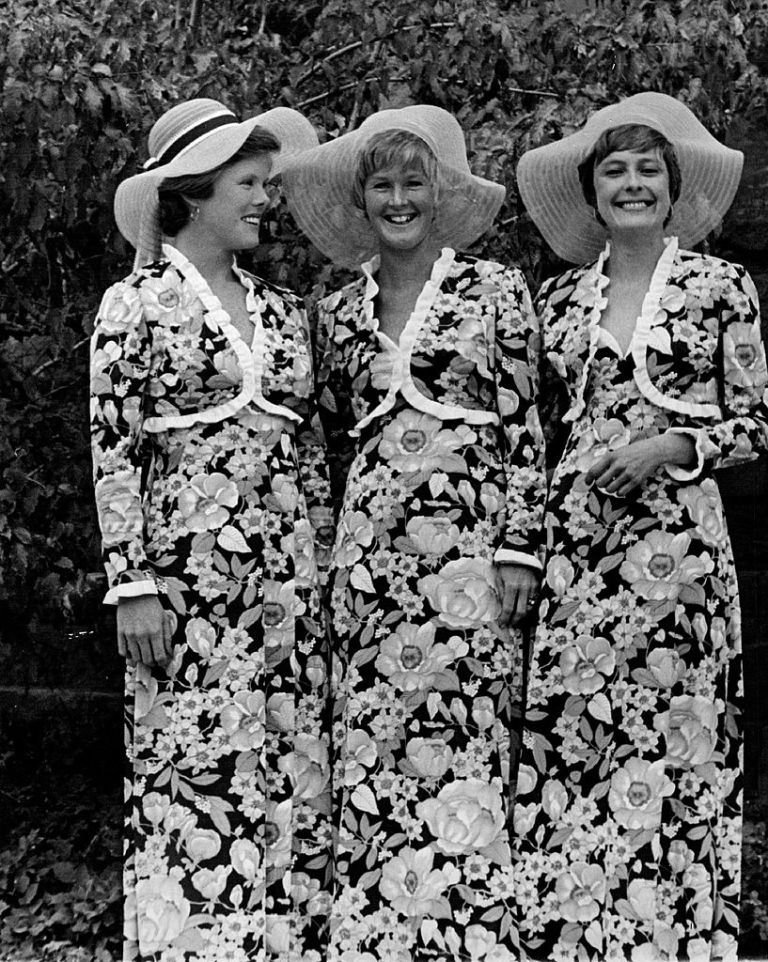 Bridesmaids are often forced into some pretty strange dresses, but this look from the '70s just puts a smile on our face. All floral and matching, the bridesmaids must really have been the stars of the whole ceremony! Makes us feel like the bridesmaids dresses these days are quite a step down from the outrageous costumes of old!
Velvet Suit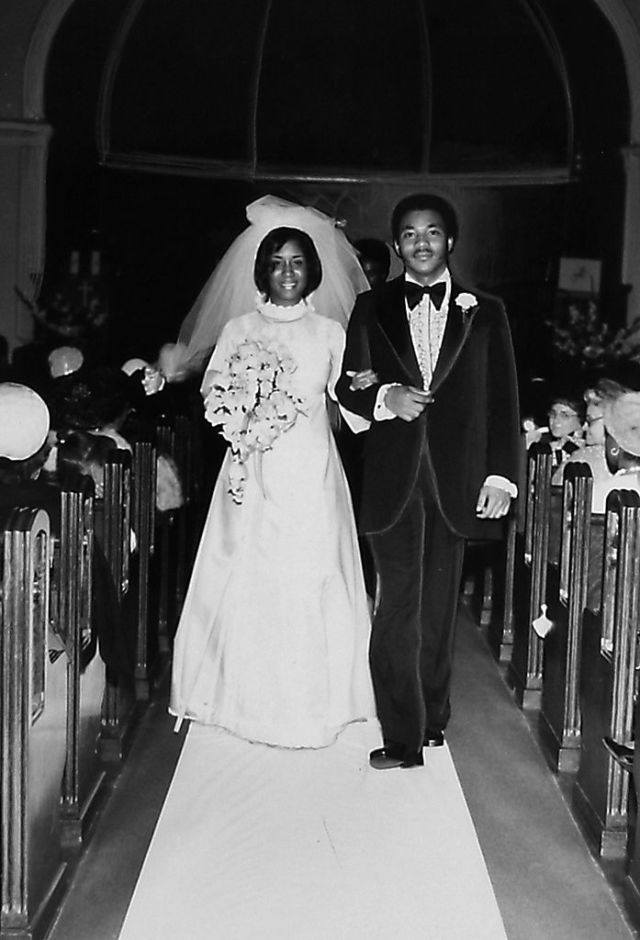 Men don't have much creative choice when it comes to wedding suits, but some of them do end up looking more stylish than others. Velvet materials definitely do add that touch of extra to any boring wedding suit.  Nothing better than feeling like the man everyone is looking at on your big wedding day!
The Pink Bridesmaids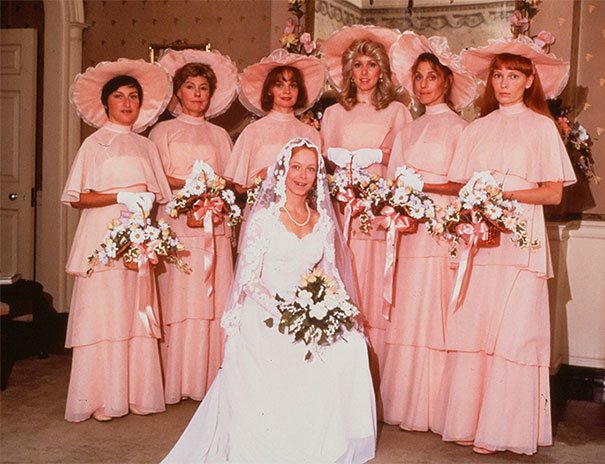 Pink is one of the most used colors for bridesmaids dresses, but when you combine it with matching hats and strange dress cuts, you get something that looks just like out of an iconic '80s teenage movie. If you want your wedding to have a very special sense of humor, this might be the way to do it!
Sunshine Wedding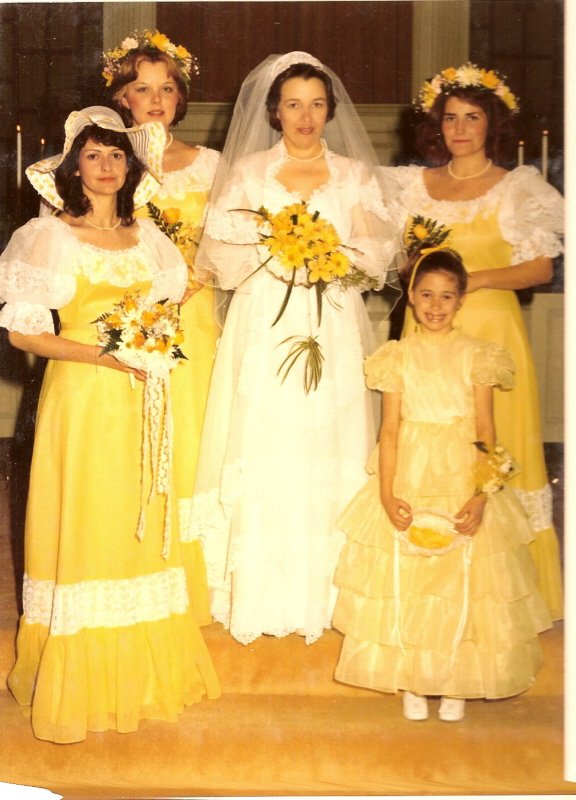 Whenever weddings get color-coordinated, things are about to get fun. Take this yellow themed wedding. We just can't look away from the brightness and happiness of the whole group. Nothing quite like the extra mile some weddings go to. We wish more people were as dedicated for such spectacular shows!
'70s Alternative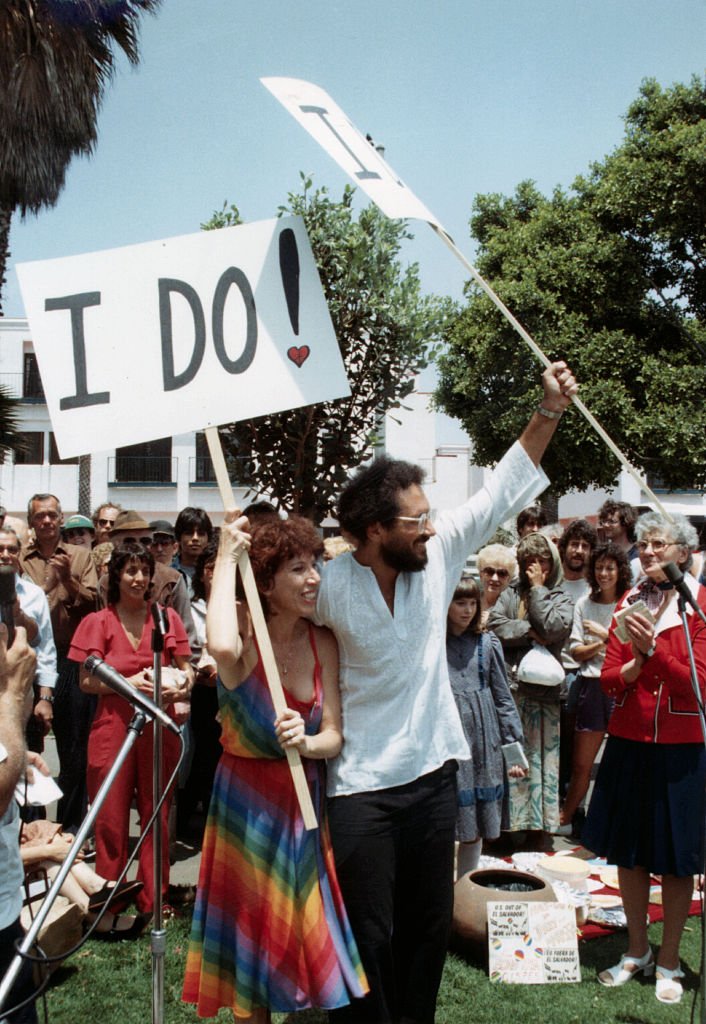 If the '70s were known for something, it was the alternative scene. The hippies of that time naturally couldn't wear any old white wedding dress. Instead, they made a rainbow garden party for their ceremony. We bet anyone passing by was also invited to eat the wedding cake and dance to the live music!
Just like today, weddings decades ago were a big deal, and people really made sure to dress up for them. Styles were constantly changing, and so were the dresses and suits that the brides and grooms wore. Even if we may find some of them hilarious, plenty of them can still be found in use even today!
Sources: Good Housekeeping, Essence, Bored Panda, Country Living