People Who Clearly Need To Practice Their Parking Skills
Everyone looks forward to being old enough to drive, but there's a reason why it's still considered a privilege and not a right. It is not easy to drive at all, and parking is one of the hardest parts to master. Unfortunately, the following people got distracted and a little careless while doing this task. You won't believe where some decided to park. Let's find out more!
WHAT HAPPENED HERE?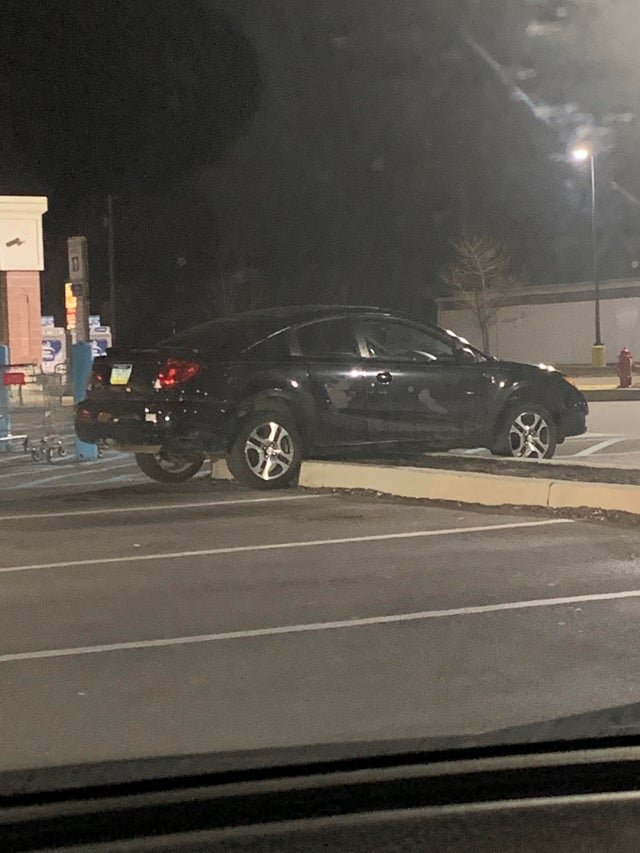 It's hard to tell what exactly occurred in this situation. Normally, people who skip over those things have huge trucks, but this is a regular sedan. Maybe, they were trying to make sure no one would steal the car? Or make it harder for the thieves? It's even more confusing because the parking lot is completely empty.
DID NOT SEE THE SIGN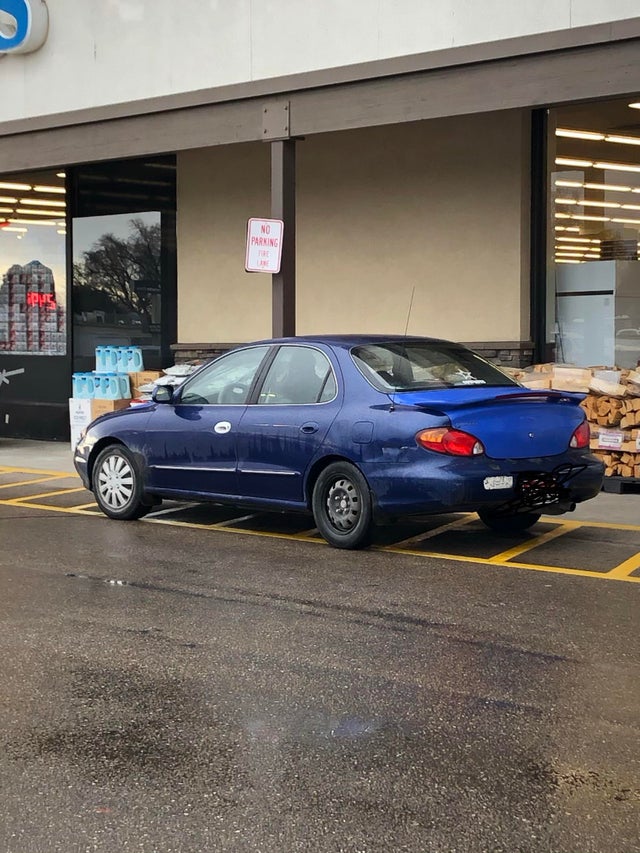 In this situation, it's hard to excuse this person's behavior. Those lines indicate that parking there is not allowed, and there's also a sign, which means that it has probably happened before many times. Sadly, some people don't respect laws in any way. We just hope that he wasn't there too long, and the authorities could be called.
THE FANCY CAR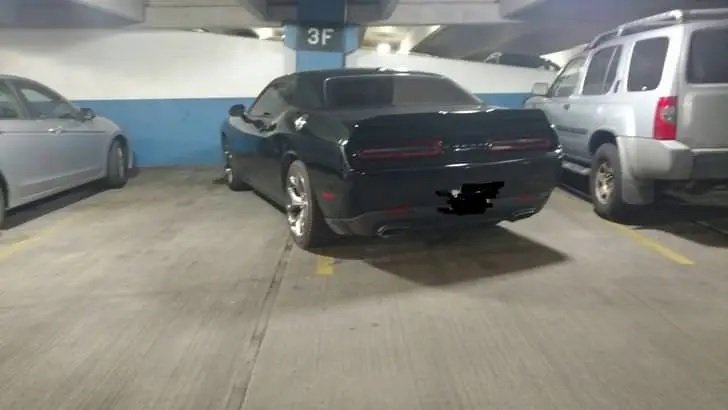 It might seem bad, but there are many people out there with expensive cars that prefer to take up two parking spots. This way, they avoid any risks of someone else scratching or dinging their vehicle. However, it's not alright to do this at all. You have to think about others in public spaces. Someone could have used that spot.
EMPTY SPOT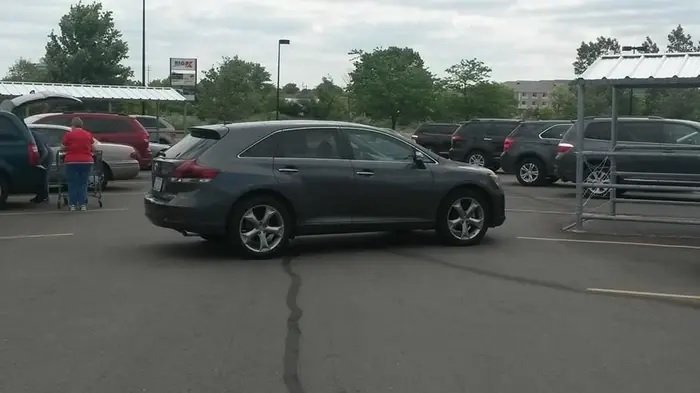 It's hard to understand what happened here. We can only guess that this customer had something really urgent to buy at the store – or maybe they needed the bathroom really bad – and that's the only place they could leave their car. Technically, it doesn't seem like they are blocking anybody, but it's not a spot. Also, they could get fined for it.
PARALLEL PARKING
While parking on a public lot can be hard sometimes, one of the trickiest things is to park parallel to a street. It helps when there are no other cars around. But if you have a tiny spot, you have to maneuver correctly to fit your vehicle in. Sadly, not many people can do this, even if they passed their driver's test.
THE SHOPPING CART SPOT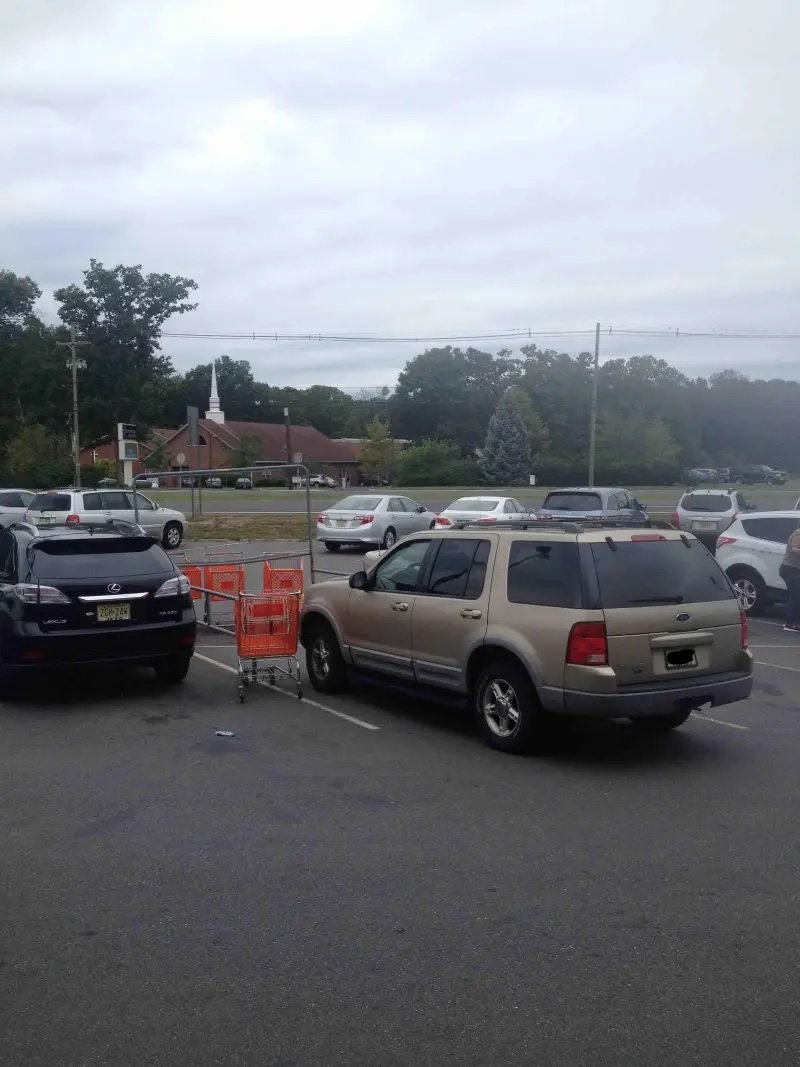 Some supermarket parking lots have a special spot for people to leave their carts. Otherwise, most people would leave them everywhere outside, and it's a huge hassle to round them up. The place looks like a normal parking spot, which is why this person might have been confused. However, there are other free spaces in the area. What happened?
ALL OF THEM FOLLOWED ALONG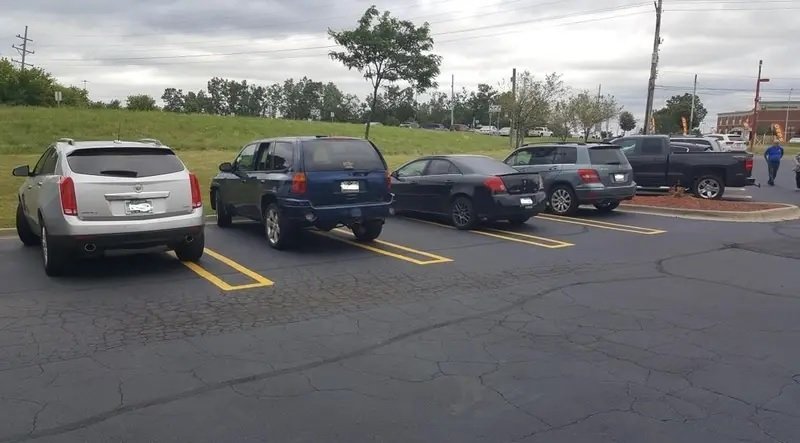 Well, technically if one person does a bad parking job, others should not really follow that. However, in this case, it seemed that every car went along with the practice. It's hard to tell why exactly. The spaces are pretty big. They didn't need to adapt so that other cars would not be affected. Maybe that's how it has always been done.
BLOCKING THE DRIVEWAY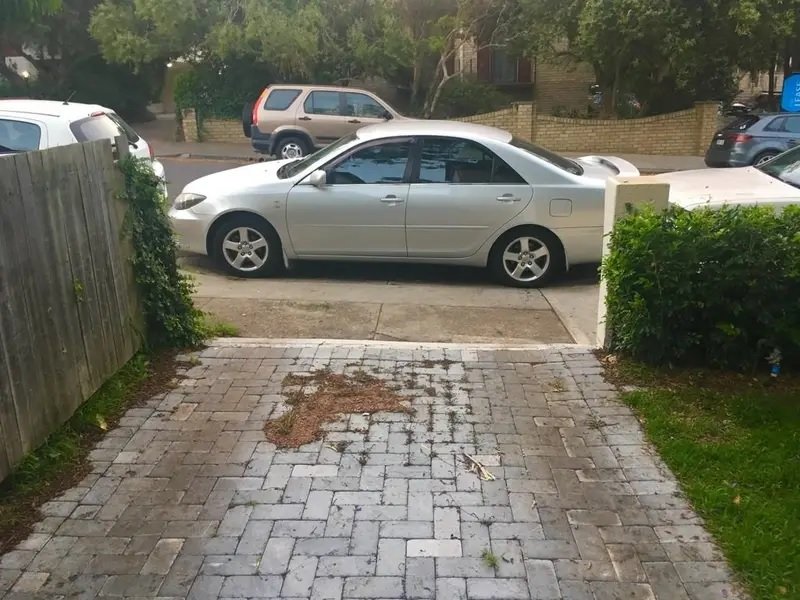 We have all experienced the trouble of going to a friend's house, and all the spots in the neighborhood are taken. It's a huge pain because you have to find a space somewhere else and walk to the house. Additionally, you have to make sure that you don't block anybody. It looks like this person got really confused. Maybe, this family's cars were in the garage, and they didn't notice.
NOT REALLY A GREEN VEHICLE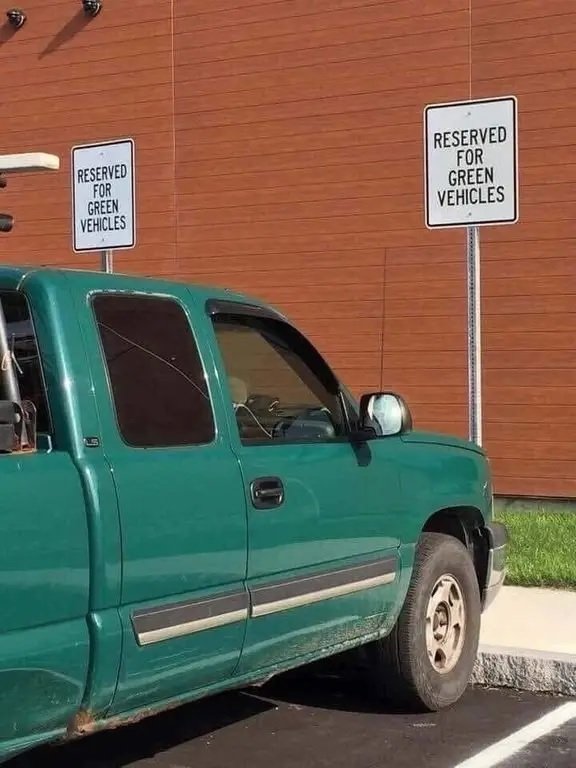 The concept of going green is something that is taking the world by storm. More people have become more conscious about the effect on climate and want to do their part. However, let's remember that a few years ago, it wasn't a ubiquitous term. This person might obviously have gotten confused by the sign because that truck is not environmentally friendly.
CREATIVITY IS A KEY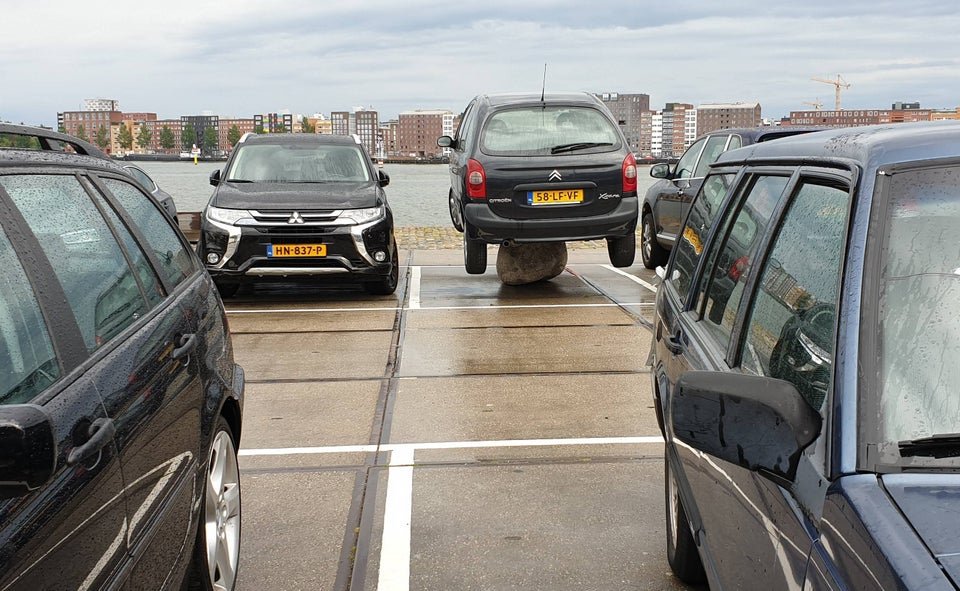 Well, that doesn't look comfortable BUT looks pretty creative, huh? In the modern world, it might be a great idea to be at least somehow different from the other. We may also agree that was a bit too much though... 
TWO HANDICAP SPOTS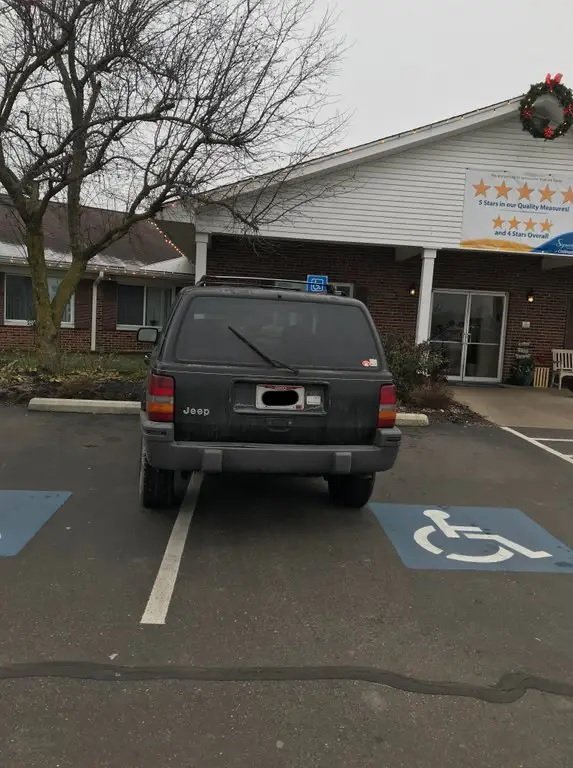 While it's completely possible that this person was entitled to use the special spots reserved for people with disabilities, it's not alright to take over two of them. Hopefully, their trip to the market was not long, and they just wanted to get something quickly. Otherwise, it's frowned upon to do something like this.
THREE SPACES FOR THE SPORTS CAR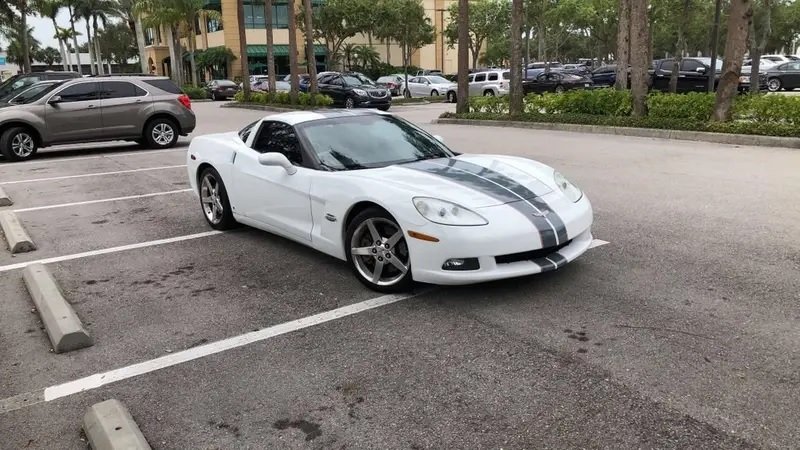 Here is another example of someone who just wanted to avoid parking next to others. However, this person took over three parking spaces, which is not okay at all. Luckily, the lot was not particularly full, but if there are guards or police around, this action could warrant a serious fine. Let's all respect the rules!
RIGHT OVER THE LINE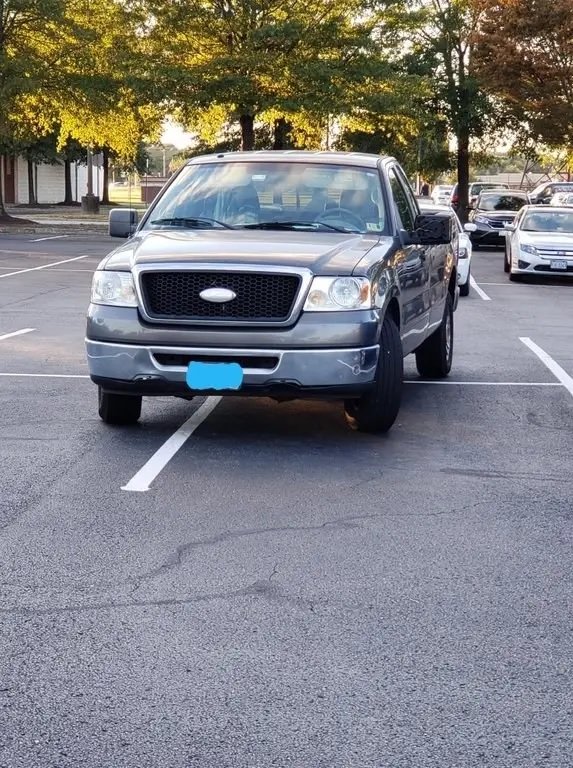 This is another pretty empty parking lot, and this person lives in a small town with few people, it's generally normal to do this. However, we still don't recommend it. Someone could take a picture of it and post it online to make fun of the parking job. The car might be huge, but the spaces were big enough to do a better job.
THE NUMBERED LOTS
It's hard to where exactly this person, but generally, when the spots have numbered, it's an apartment complex. Unless those two spots belong to the same apartment, and they don't have any cars, this could be a huge issue. We have to be respectful to our neighbors because you never know what could happen in an emergency.
MAKING A QUICK STOP?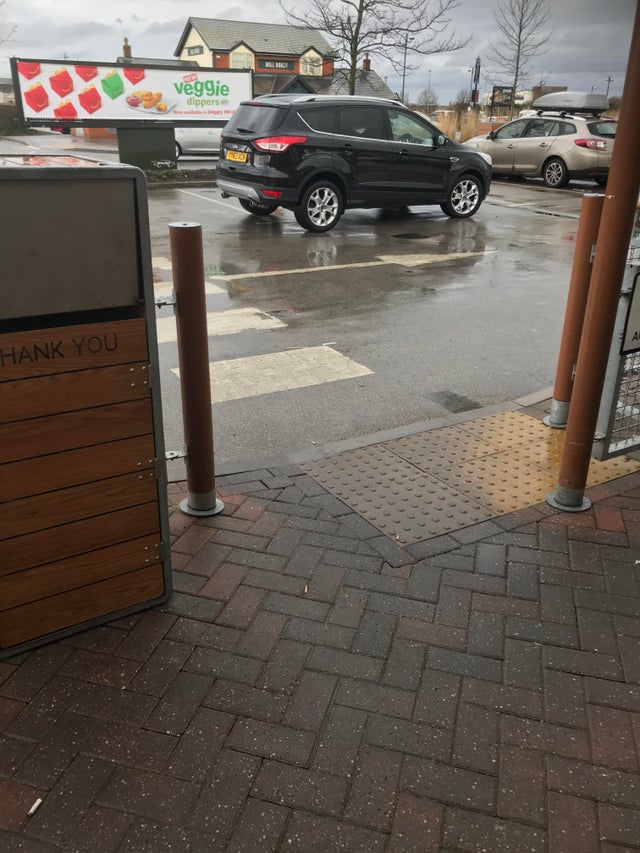 Here is another situation where we think that this person that place would be empty for a while. It looks like they parked in a McDonald's, and hopefully, they are having a quick meal. It's not a big deal when you do it in an empty parking lot, but you don't know what could happen. Some other people could leave a bad message on your windshield.
RIGHT AT THE ENTRANCE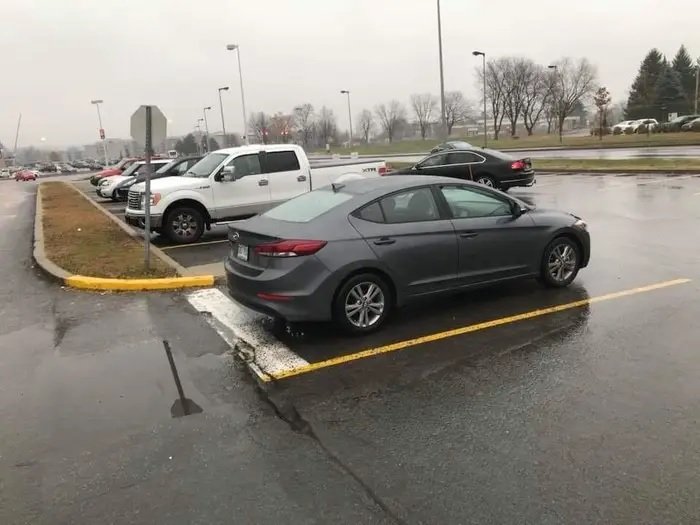 The truth is that there is nothing wrong with this person's parking job. In fact, the car is correctly seated in that spot. However, it's not actually a parking spot at all. Unfortunately, he parked right through the entrance/exit, which will make it hard for other people to get into that establishment. This might have been a case of getting confused.
Have you ever spotted someone that could park at all? Some people only use valets for this exact reason. Let us know which one of these images was the funniest. If you liked this article, share it with your friends who love weird situations. See you next time!
Source: Buzzfeed, The Clever, Reddit