Hilarious Animal Photobombs
We love animals and all the funny things they do! But has one ever tried to steal your thunder by completely photobombing you? Well, if that never happened to you, you're lucky, because clearly, as you will see in this list, it happens a lot! Don't forget to check out the creature with the body of a man but the head of a fish! We promise it's in there!
Dogs Can Also Photograph Others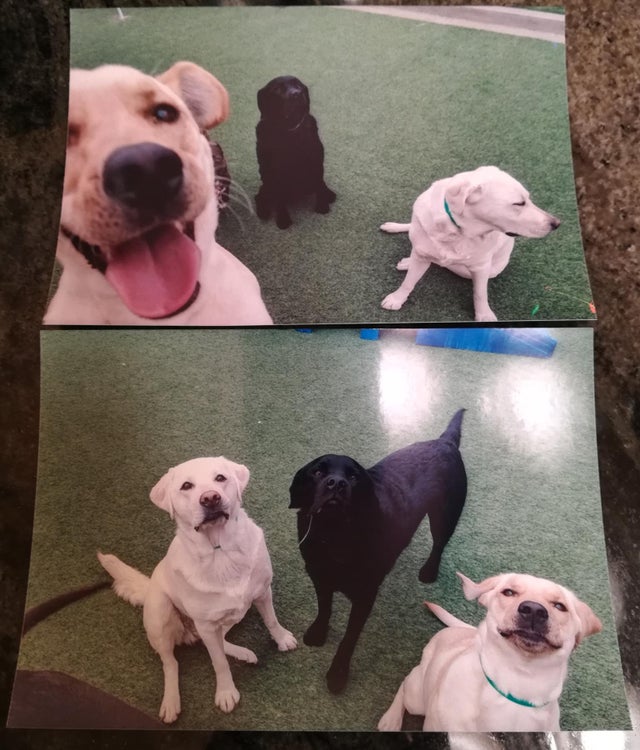 A
Reddit user
uploaded a picture of her dog, who decided to photobomb the picture of other dogs on their first at the daycare. The Redditor wrote, "My co-worker was in the yard with them trying to get good pictures of them and my derp of a dog kept photobombing. I just had to share her silly faces!" That's one of the reasons why we love them!
The Biggest Antlers on a Squirrel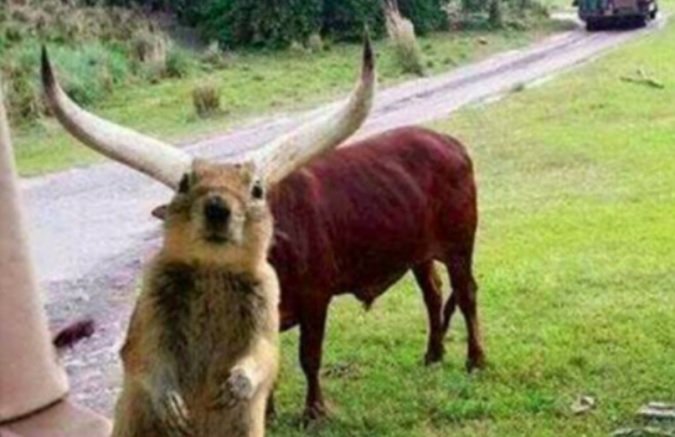 It seems that squirrels are some of the best photobombers in the world, and this one is no exception. Is it possible that they see the camera and get curious? Either way, this one had the best timing as it covered that cow's face so that it looks like the horns belong to him. We just love that these creatures are so whimsical.
When You Just Wanted A Cute Picture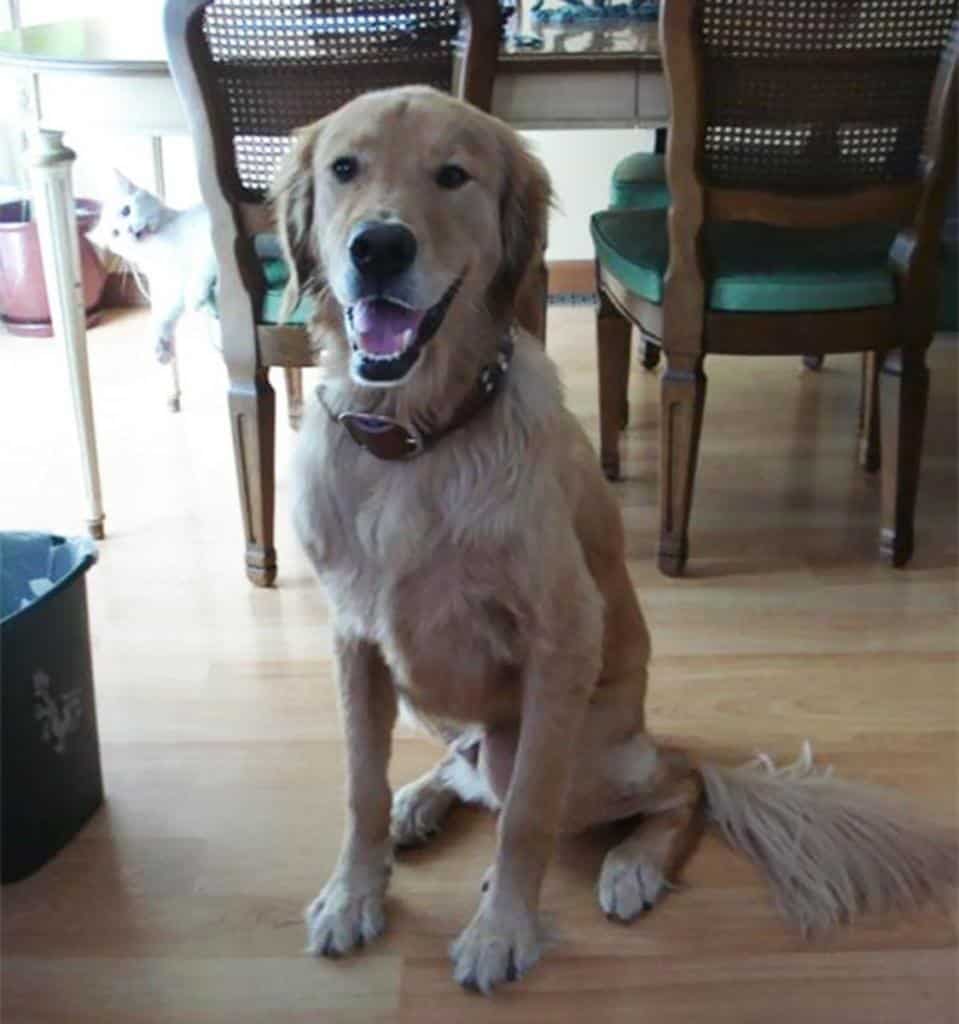 As you can tell from this photo, dogs are often quite photogenic! He looks like he is posing for the photo, and he's doing a great job at it. However, if you look closely, you will realize that he's not the only animal in the photo. Look at the cat doing his best to photobomb his doggie friend at the back, behind the chair!
Who Photobombed Who?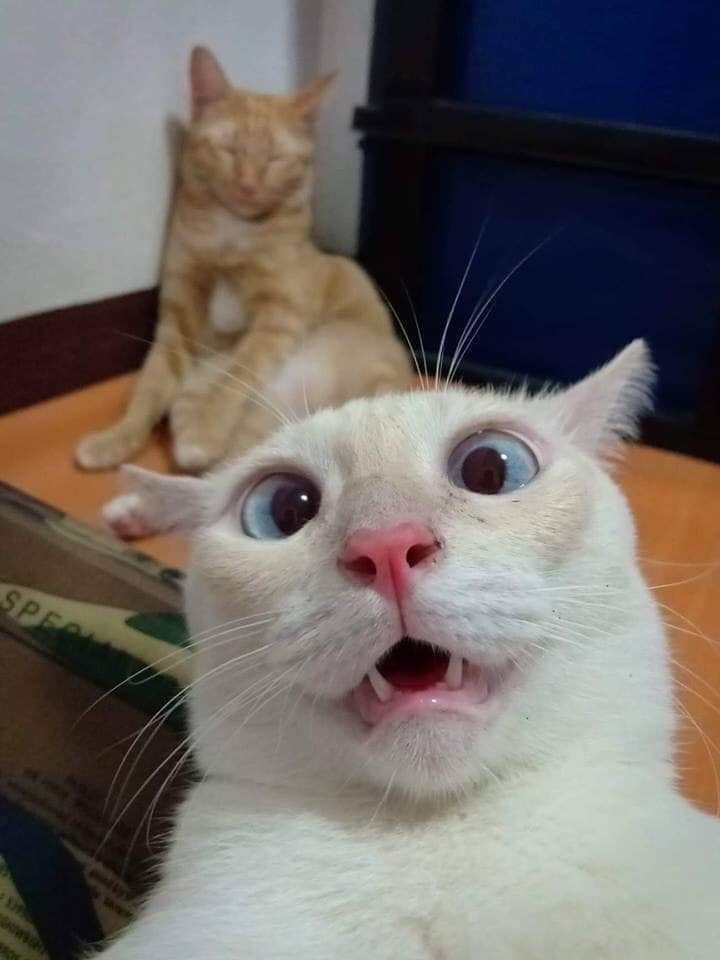 It seems that one cat was just trying to sleep while another decided to take a surprise selfie. However, it could be the other way around. Someone was taking a picture of the sleeping cat, but the other one wanted to appear in the photo as well. Either way, cats never cease to amaze, and their expressions prove how smart they are.
A new species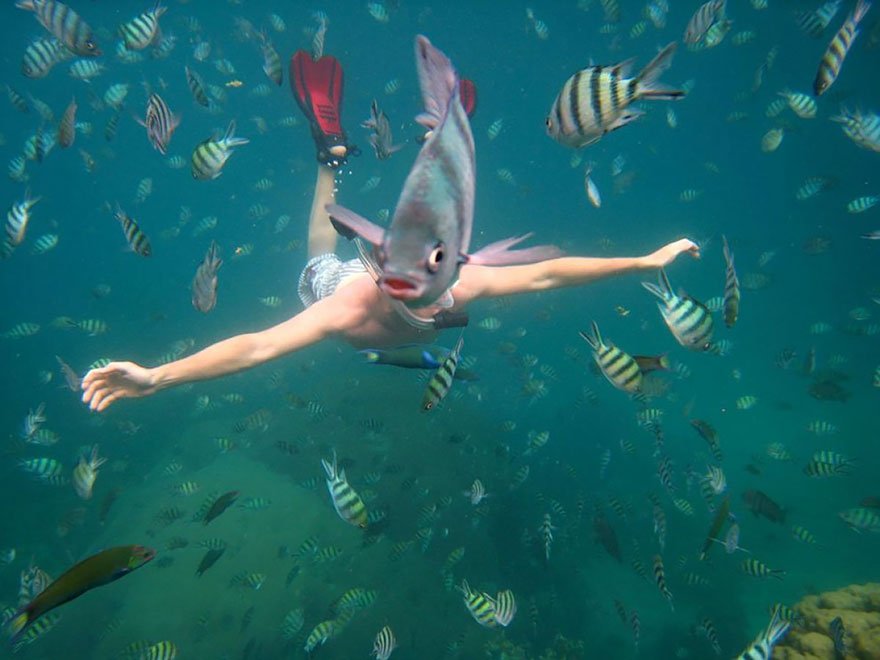 This is clearly a fortuitous event, but it seems to be the irrefutable proof of a new living being. It's a mixture between a human being and a fish that could be the next step in evolution. We just hope they don't decide to conquer the world at some point.
Blowfish face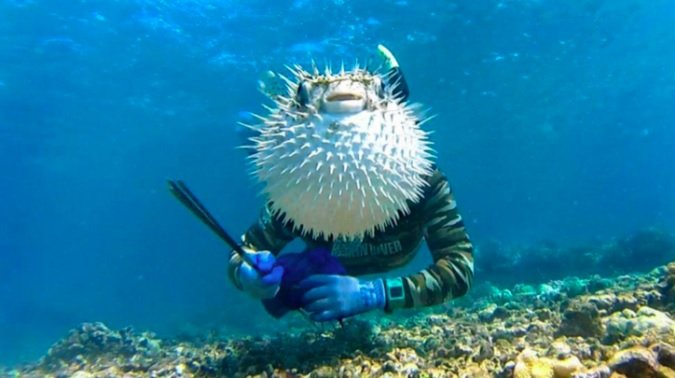 Some of the best pictures on this list show scuba divers and their photobombing fish. However, this might be our favorite because this blowfish got big and covered that person's entire face. Unfortunately, it has been said that they do that when they feel threaten and maybe the camera scared him. We hope everyone was alright.
Danger is Coming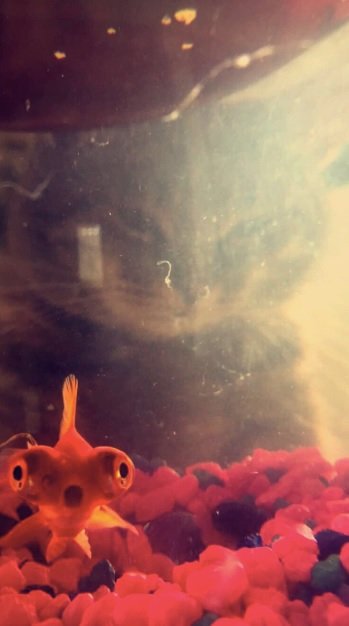 We must admit that this might be the best picture of a fish in a tank ever taken, and it's almost hard to tell what's happening because of the light. However, you can see a cat reflected in the glass, and it's like a horror movie for fishes. Luckily, someone was right there to take a picture at the best moment because it's fantastic!
I'm Just So Tired Of You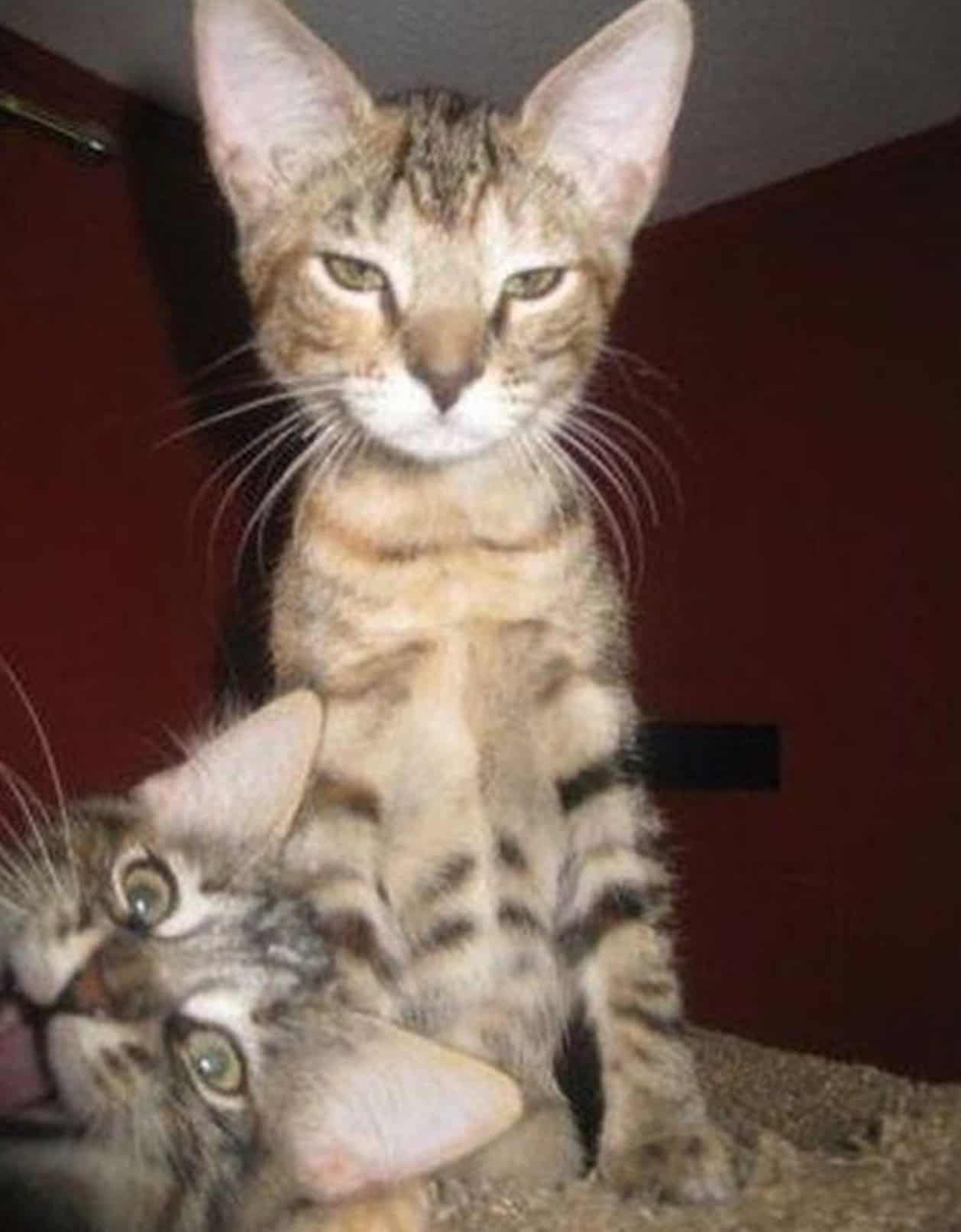 We all have bad days, and sometimes, some like to make it even worse by teazing you! We're sure you know how that feels. Well, that's exactly what's going on here, except with cats rather than humans. The cat on the right seems to be completely fed up with the other one, who doesn't seem to really care.
Really, Dude!?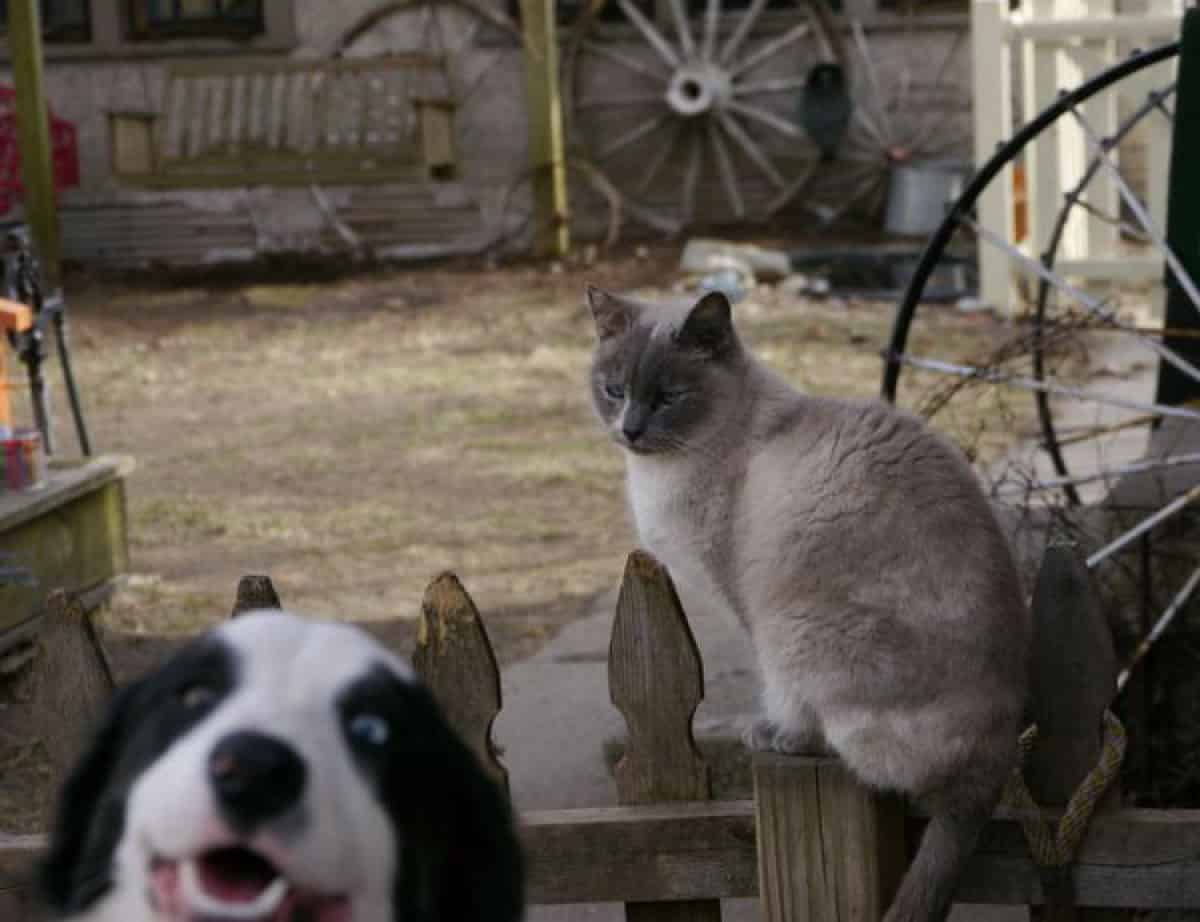 Do you have any younger siblings that you love deep down, but can't stand? Well, this is what's going on here, except that rather than it being siblings, it's a dog and a cat! Perhaps, they've been raised together, which does make them siblings (kind of). We hope the cat got in a better mood later.
Betrayal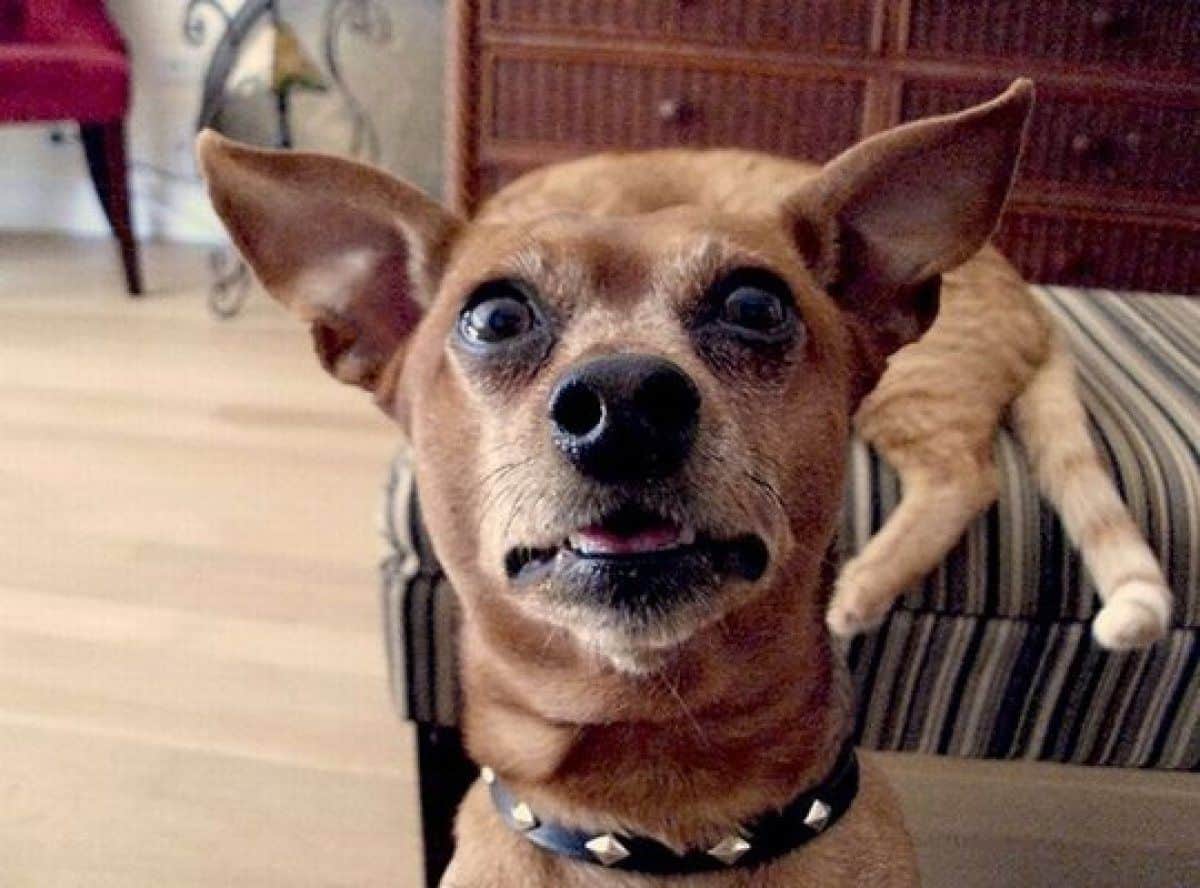 We believe that whoever took this photo was trying to capture the cat lying on the mattress, behind the dog, but this little guy did a great job of spoiling the moment. As usual, he wants to be the center of attention. His expression is confusing - it's hard to tell whether he's scared or in disbelief!
There is always a dog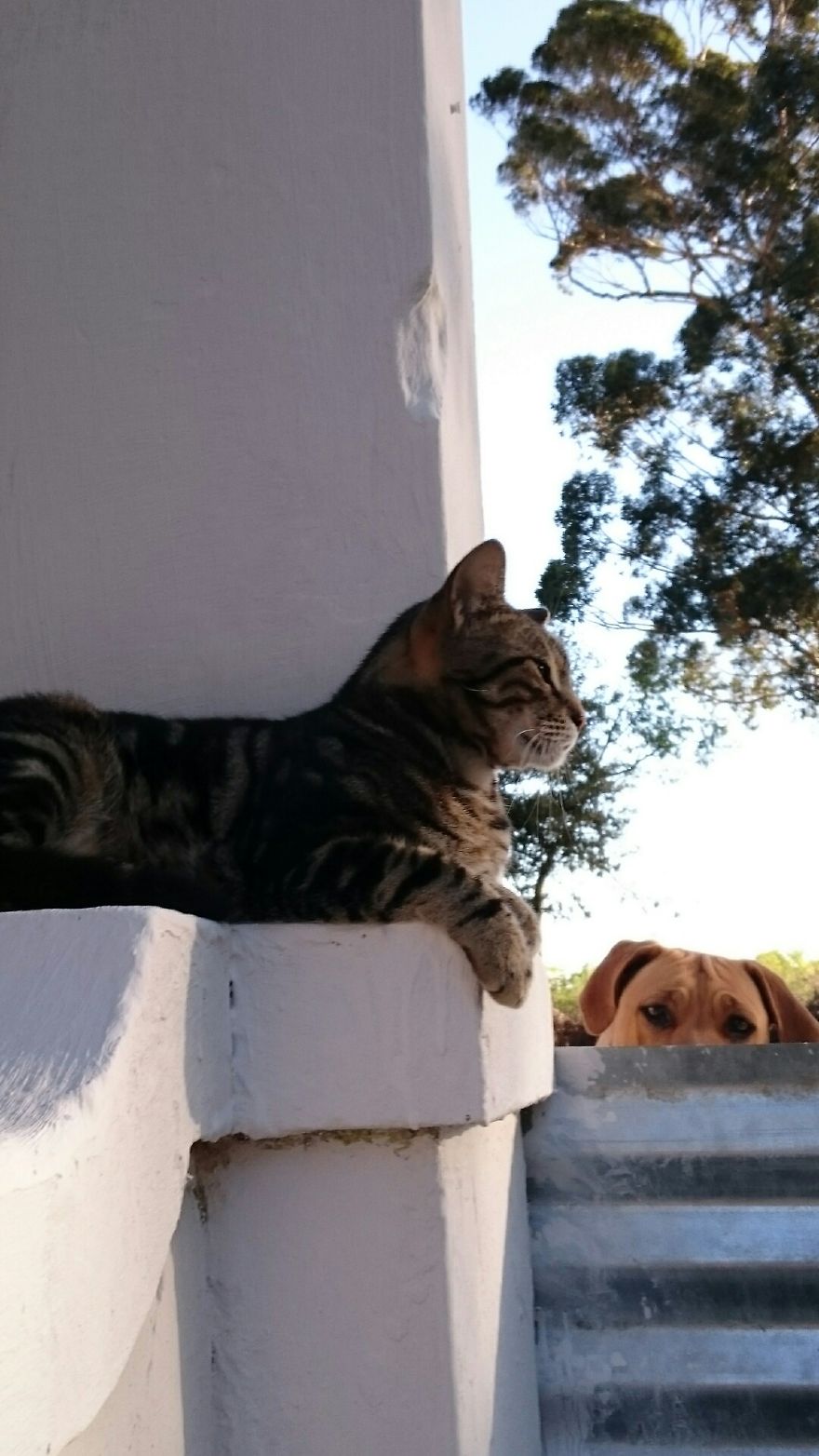 If you are a cat, it doesn't matter how quiet you are enjoying the afternoon because there will always be a dog nearby that wants to disturb you. This dog just wanted to be in the picture, but the cat is not happy that he just wants to be able to rest in peace without being chased all day.
The mocking cow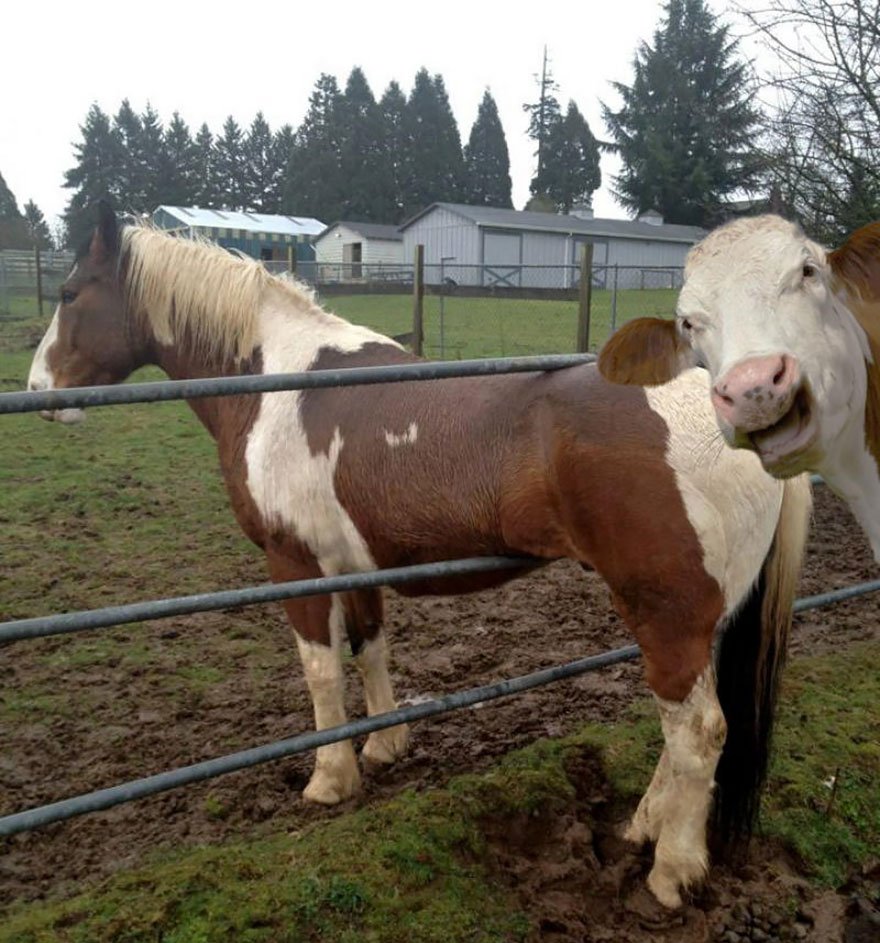 Several things are happening in this picture at the same time. Somehow, that horse got stuck in that fence. And his friend, the cow, could do nothing more than make fun of him while laughing in a photograph. They look like a couple of college students!
Animal owners love taking photos with their pets, and oftentimes, this makes for really cute photos. However, sometimes, mischievous animals decide that they're going to do their best to ruin the photo! We're sure that they don't always do it on purpose, but many times, it really feels like they are! Does your pet also pull weird faces when you picture them? We hope you enjoyed this article! If you did, why not share it with your family and friends?
Source: Bukisa, Bored Panda, Twenty Two Words