Kids' Silly Answers To Test Questions
It's pretty universal that kids don't like to take tests in school. It's also pretty universal that a lot of kids love to be smart alecs. When you combine the two things together, you get answers like you're about to see on these tests. There isn't a single answer on any of these tests that is untrue. They also probably don't represent what the teacher had in mind. While most of these are funny, there are even a few that are a little heartbreaking. Let's get right into it though! Here are some silly answers on tests from kids!
Frankie The Freeloader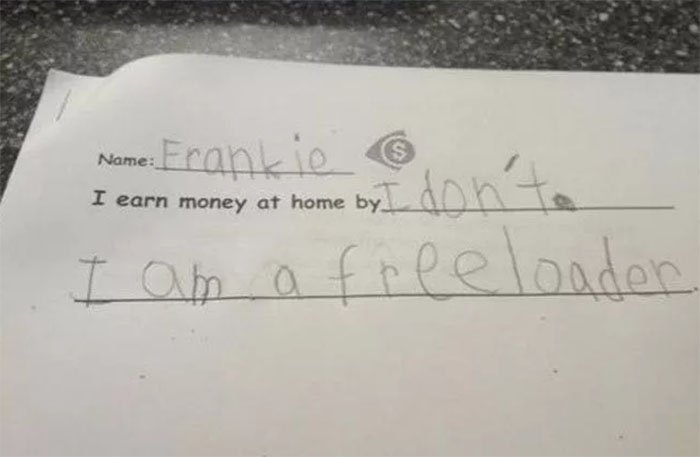 Well, at least he's honest. You have to wonder though, did his parents put him up to this? Poor kid, sounds like they'd have him working in the coal mines or something. Maybe they refer to his allowance as "unemployment". It's a good thing that he doesn't have to file a return with the IRS or anything.
Perfect Example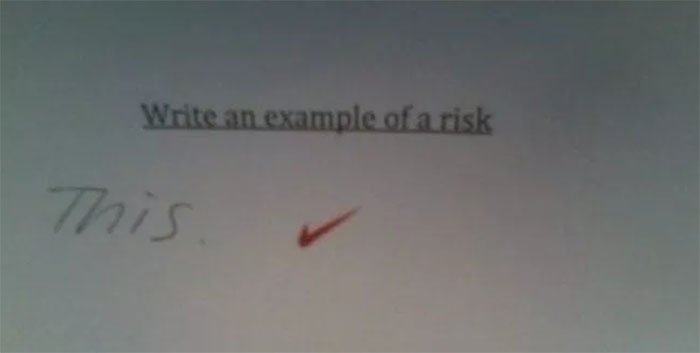 Two things about this picture. One, we'd like to know if that checkmark is for a right or a wrong answer. If that answer isn't a perfect example, we don't know what is. Two, this is not a kids' test. It's from a very specific type of insurance licensing test, so this was an adult writing this answer. That makes it an even better example. Imagine that your professional license was on the line and you wrote this answer. Not so funny now?
Math is Always The Answer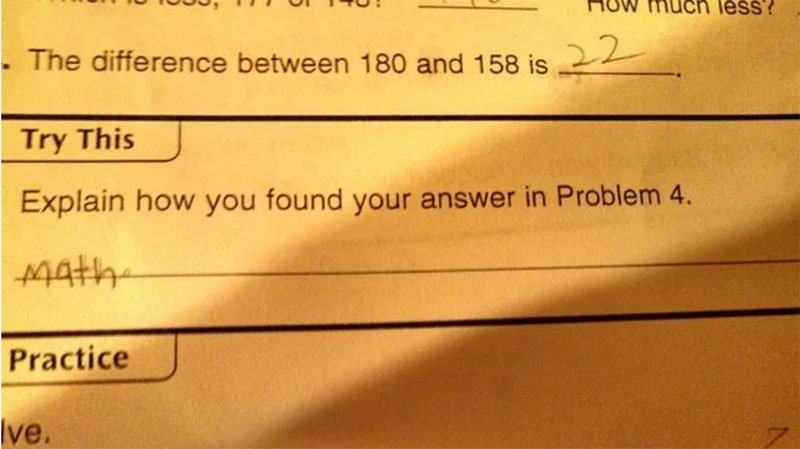 The worst words to hear in the English language if you're in a math class are "Show your work". We think this particular student found a clever solution to the problem. The only thing that really could have driven this point home better is if they had used an exclamation point. MATH!
There Is No Chair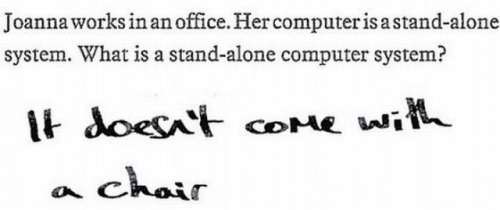 While we would like to think that this is the correct answer, it's unfortunately not. It has the word "stand"; so that might be most people's first thought. However, a stand-alone computer system is a laptop or computer that can run its own programs without having to log in to a wide area network or local area network. Read more about it here.
No Tengo Una Hermana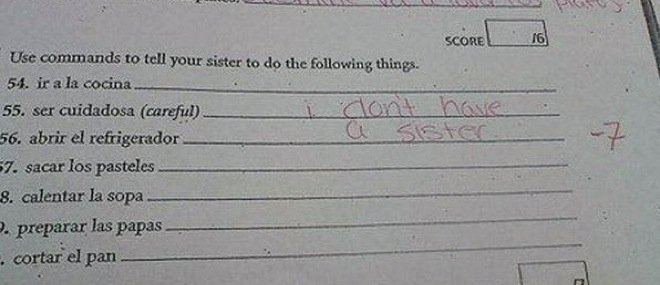 First of all, it seems like the wrong way to pose this question. Second, the kid in question has a good point. Even if she did have a sister, should she really be ordering her around? And why is she telling her to prepare the potatoes? What kind of weird household is this?
Jails For Junipers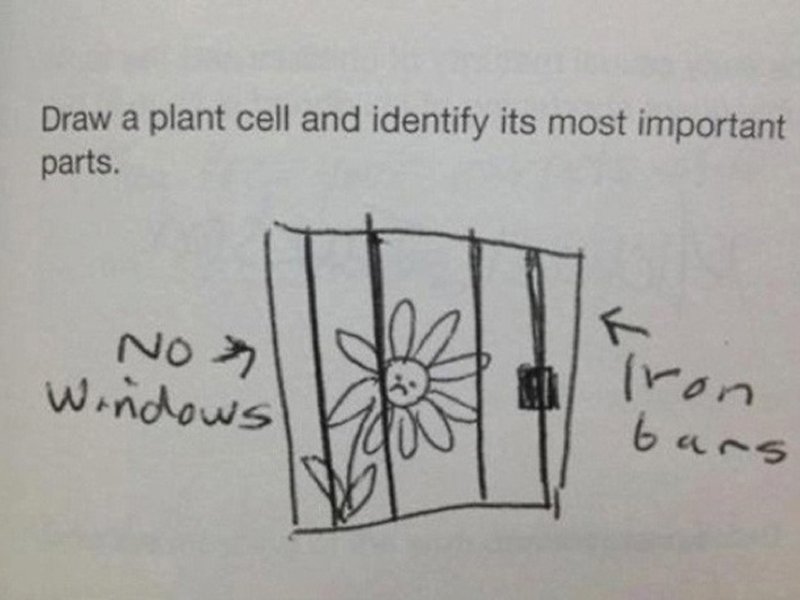 Look at that sad flower. What could such a sad flower do to wind up in a jail cell like this one? Smell too good? Attract too many bees? It's a daisy, so maybe it just grew too much. Whatever it is, she could have offered it amnesty. Maybe it would snitch on all of the other flowers.
How Did Dinosaurs Become Extinct?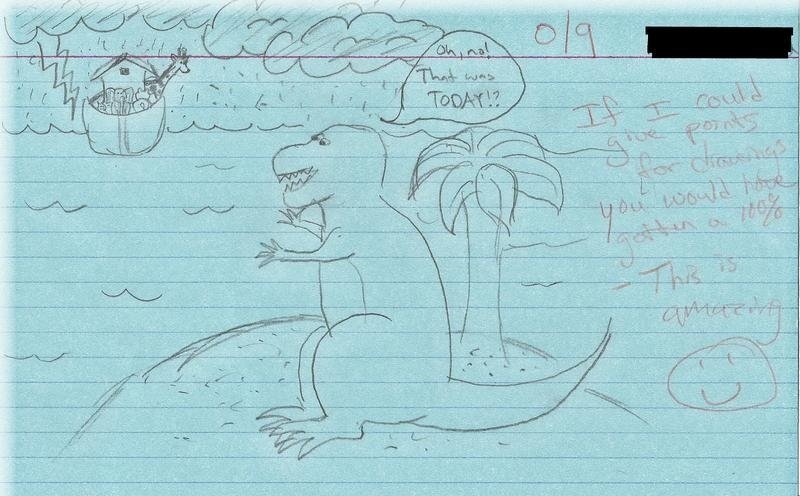 Well, the teacher was trying to make that creative child feel better. It's not clear what the original assignment was, though. Maybe, the kid had to explain how dinosaurs became extinct, and it was better to draw it. Of course, some religious folks don't believe in evolution, while other people don't believe in Noah's ark. It's nice mixing those two things to make something funny and innocent.
Match the answers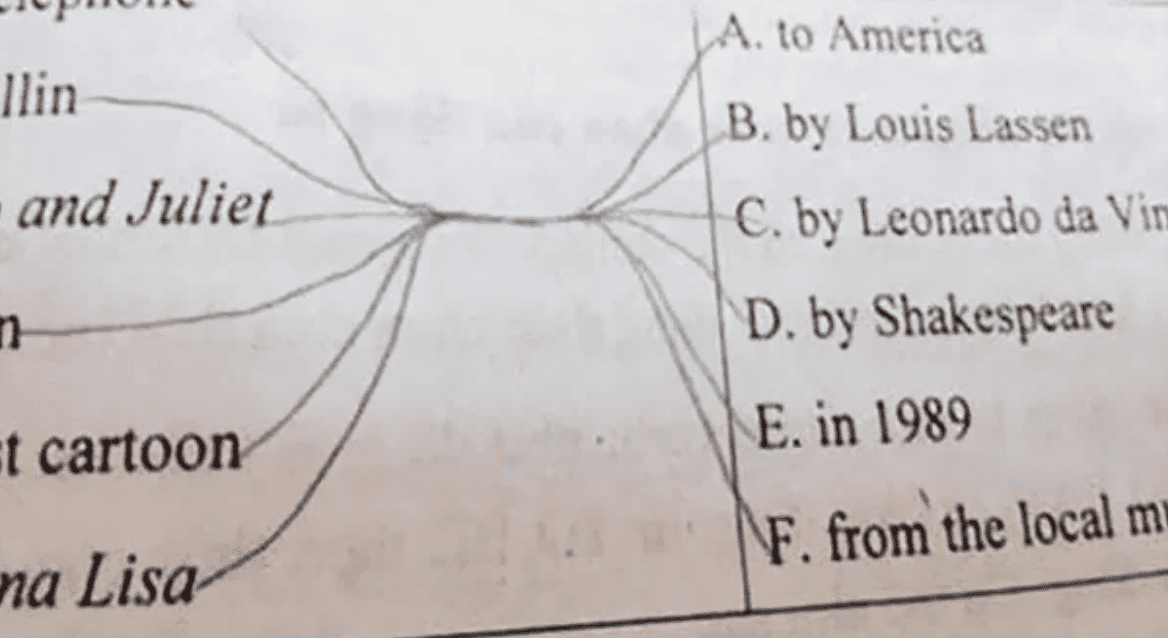 Everything in this life leads to everything else, at least according to the boy who answered this question so interestingly. If you find yourself in a situation where you don't know which answer to choose, the best thing you can do is pick them all at the same time. You can fight your teacher to defend how you answered that question, but you will likely lose that battle. Teachers are brilliant when it comes to refuting an answer
What kind of club is this?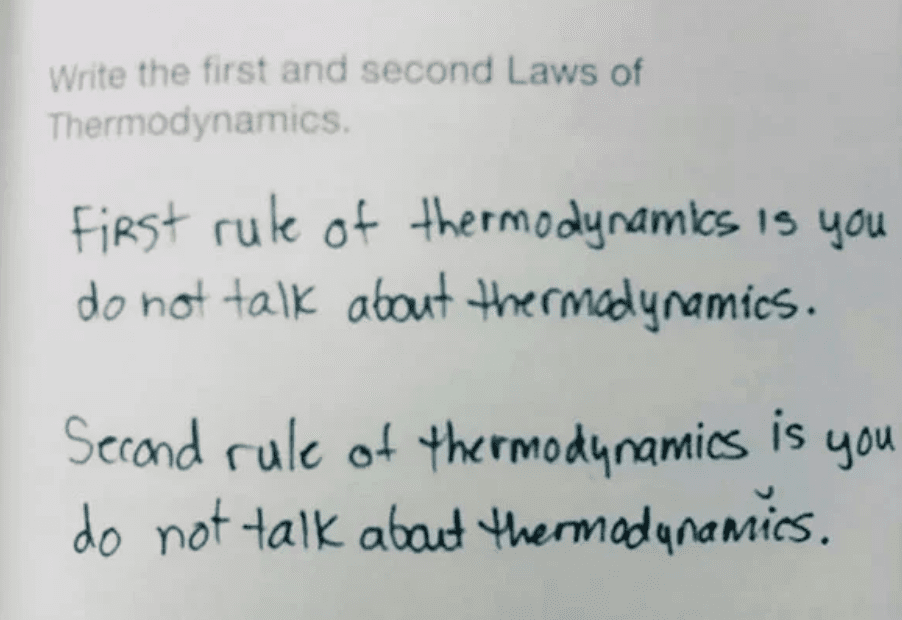 It is very likely that the teacher of this class will not have fun with this answer, no matter how passionate he is of the movie "Fight Club." Students were supposed to remember what they had learned in class about the laws of thermodynamics and their effects. Instead, they were only able to resort to the two primary rules of this movie and forgot that they were breaking them while commenting on them. Hopefully, they don't have too severe consequences for this.
X-Men Fan?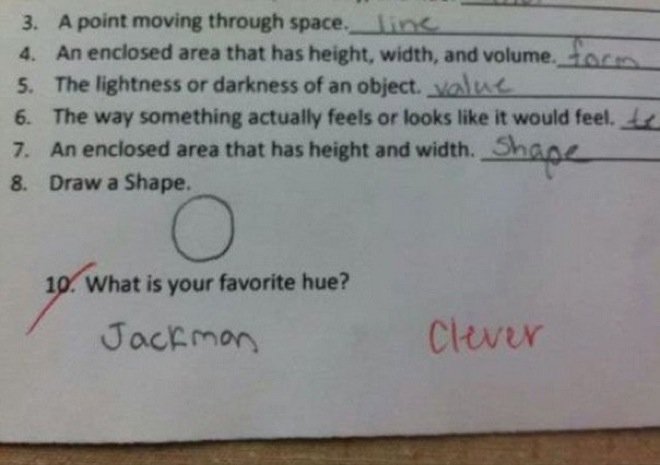 Seriously, what other Hugh is there? It looks like this student got all of her other answers right, so why not go for the gold star on the last answer of the test. No risk, no reward! It looks like it worked out for her too. She still got a point taken away, but the teacher thought it was "clever".
Hard water?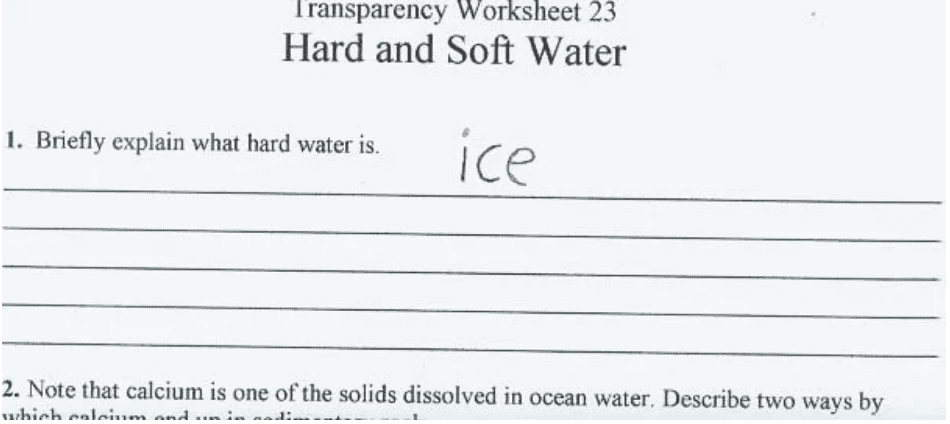 Although this boy's answer is technically correct, it is not exactly what this teacher would expect because it is not the subject of the exam. We are not very clear about the right answer, or how the two types of water differ, but neither does this boy. This boy was clearly not paying attention to the class and tried to be smarter than his teacher by responding logically. Hard water is ice, and soft water is steam?
Take It Literally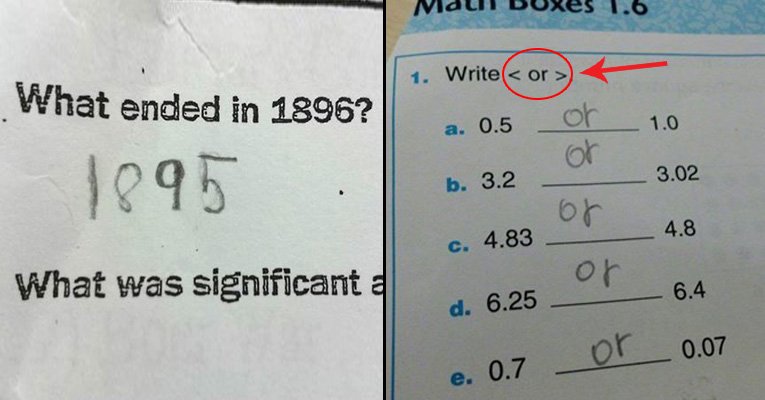 Again, this falls into the "It's not wrong" category. If you're a teacher and you're writing tests, it's probably best to be more specific in your questions. Otherwise, you get answers like these. You can't exactly mark them down for using a loophole. What do they learn by you punishing them for your mistake?
Getting it faster

Well, this is another situation where the student was not exactly wrong here. Power travels through wires similarly to water. So, technically, people closer to power lines get their electricity faster, but that's not really the point. We believe that it's more about stability, but there have been studies that suggest that living near them has health drawbacks.
It is not completely wrong

Although the answer this teacher was looking for was likely different, the student who answered this question is not totally wrong. Mariah Carey is a singer capable of reaching octaves that seem almost impossible and delight us with her vocal ability. It is a great answer, but unfortunately, it is not enough for the teacher to approve it. Maybe the teacher needs to hear a little more from Carey to realize his mistake.
Jesus is always the answer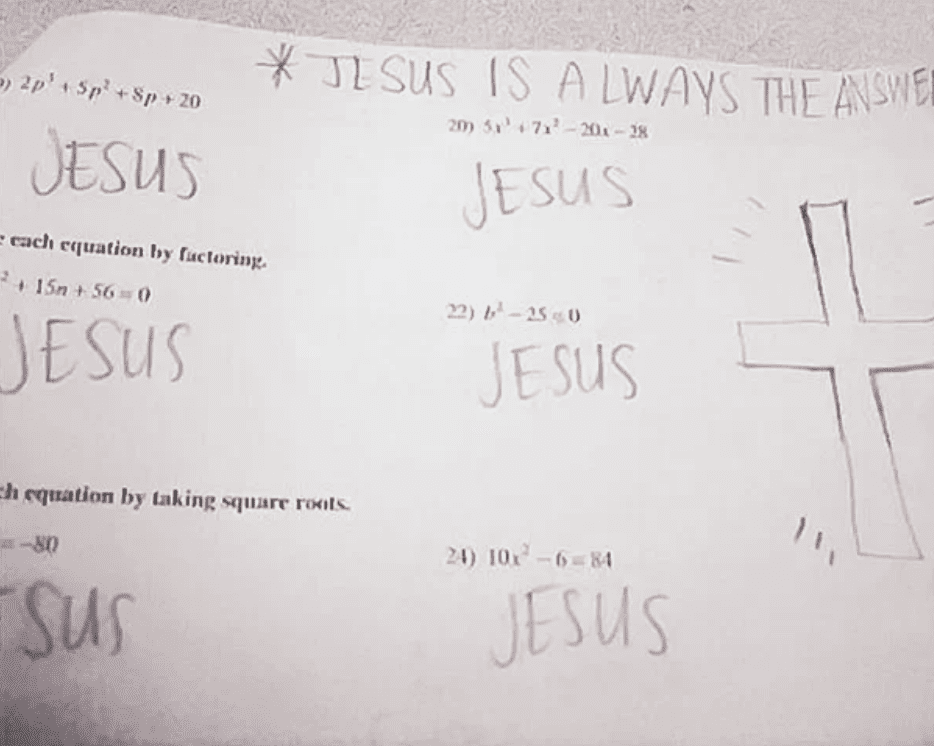 Some people are very devoted to their faith, and it is admirable that they can believe so fervently in that, but their faith will not solve everything. Even if you study in the most Catholic school in the world and your teacher is a fanatic, Jesus is not the answer to everything. The boy on this test decided to entrust himself to his faith and resolve everything through his belief, but his teacher did not see it as funny. Faith moves mountains but does not solve math tests.
The Name Game
Hope obviously wants a pet. We don't think quadrilaterals make good pets. They don't want to play, they don't have tails to wag, and they aren't very friendly. They just sit there, being all four-sided and stuff. She should save the name "Tedison" though. That's a good one if she ever does get a dog!
Is it correct?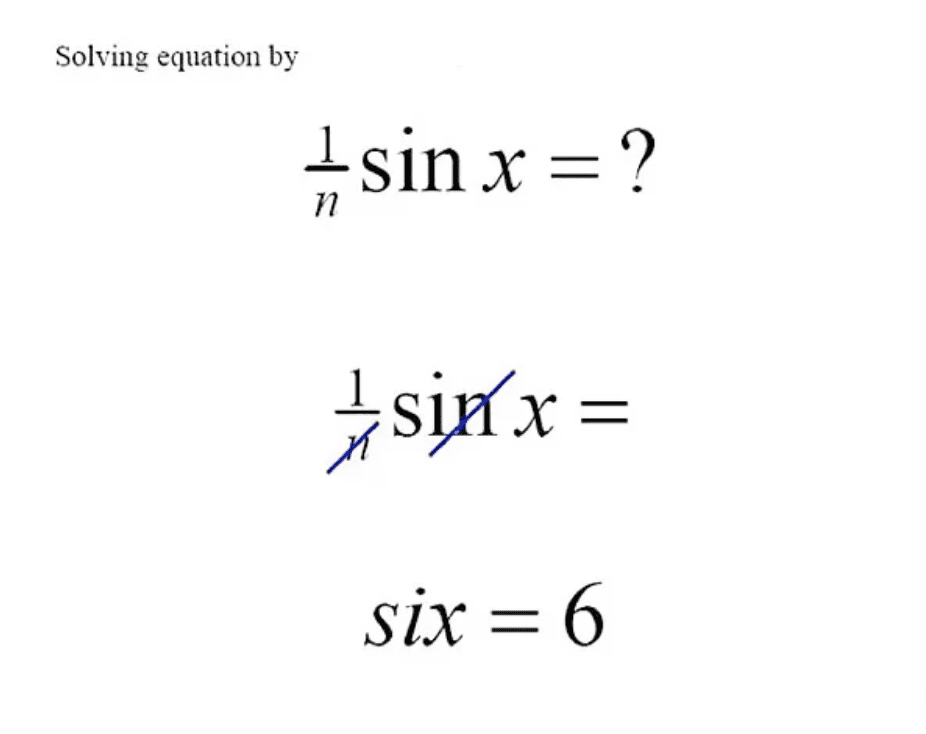 We don't know too much about math, but it seems that this boy's answer is correct because we don't see the teacher crossing it out. It is effortless to doubt the method he used to arrive at the right solution, but it seems that he accomplished his task. When mathematics reaches that point where letters and numbers mix, it is difficult to know precisely what is happening. Let's just hope that this guy's teacher doesn't evaluate the procedure.
A strong child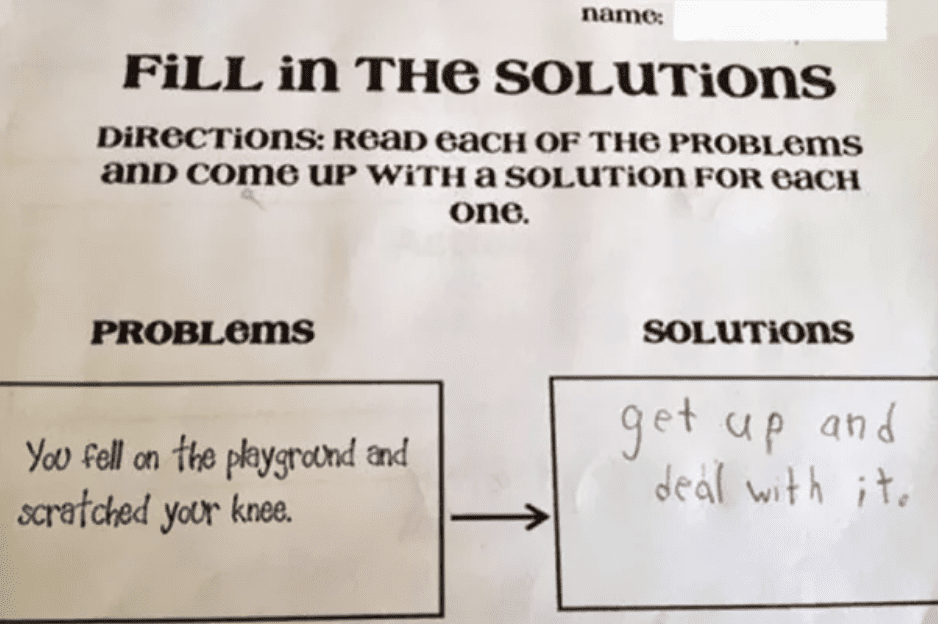 A child's responses will always have the potential to surprise us or make us laugh because their way of thinking differs significantly from ours. When children face a problem, they tend to be very creative in finding the ideal solution. Many children would cry and run to their parents or teachers to heal their wound. But the child of this answer does not waste time with those things and takes care of his problems. He gets up and moves on like an adult.
Expansion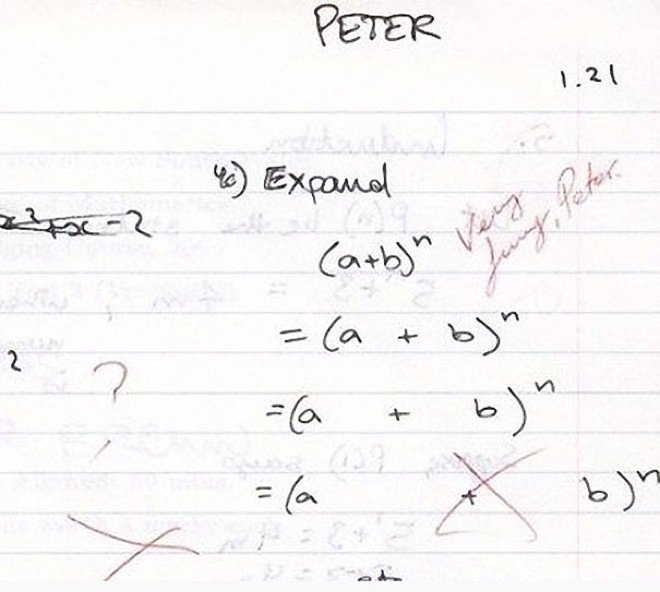 Peter is a very funny person. In this case though, he's right, there really isn't a good way to expand that particular equation anyway. So, he clearly did the best he could. It doesn't look like the teacher agreed though. Too bad, because once again, that "show your work" stuff can be a real pain.
Art can reward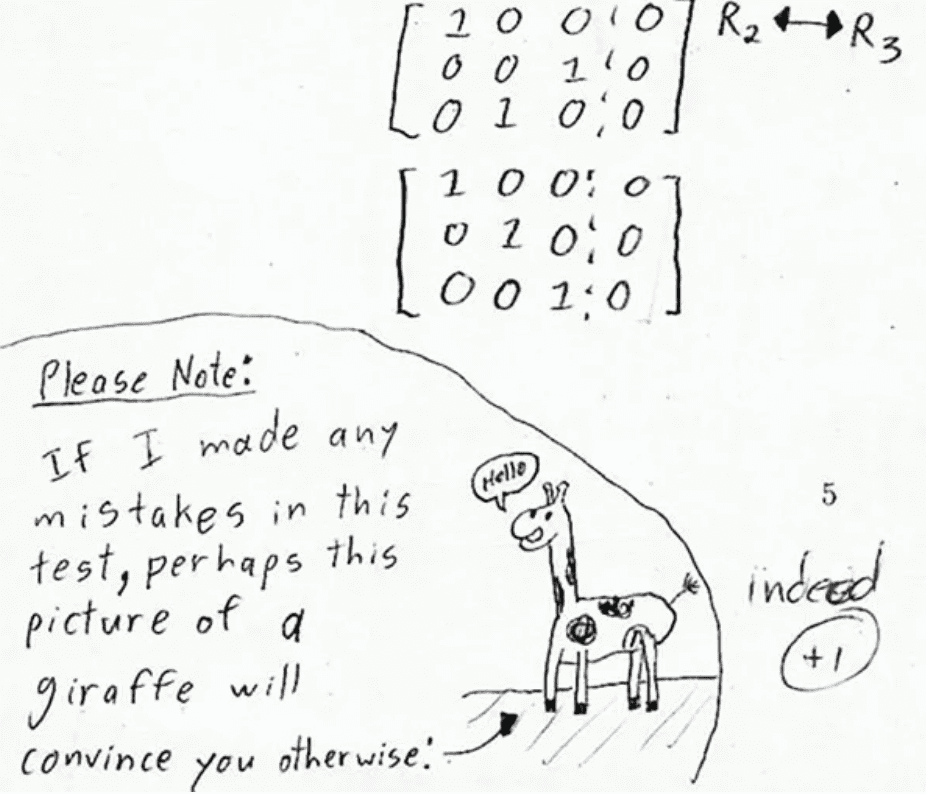 It's nice to see that some schools still value creativity and appreciate the artistic abilities of their students enough to celebrate them for them. Since it is not an art school, we cannot ask for a work of art, but his initial efforts are reasonable enough to earn some merit. This boy was aware that he could have failed the exam, so he included a magnificent giraffe to earn extra points with his teacher.
"Freedom of Press."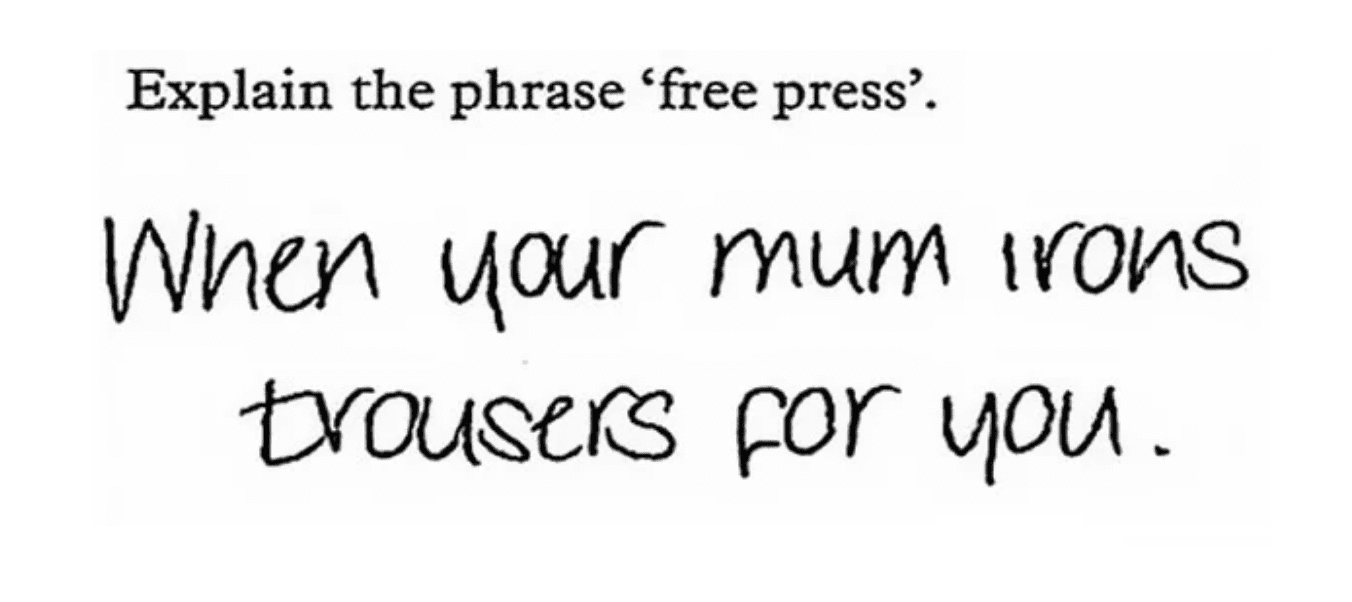 Having Freedom of Press is essential for our current society because it allows us to express ourselves freely about what we think or feel. Peoples' opinions are critical, so they must have the possibility of communicating it to others, even if they are wrong. This boy seems to have misunderstood the question and associated the phrase with his mother. He thought of every occasion in which he needed an ironed shirt for a party.
It's a roll!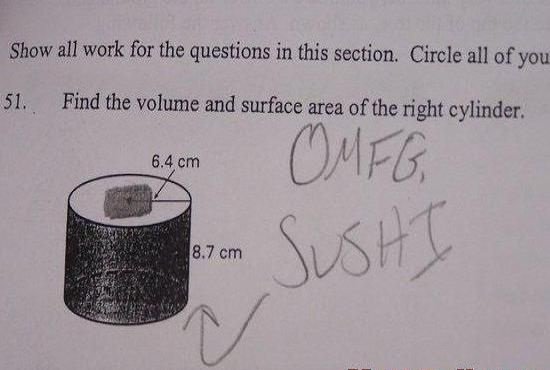 Have you ever been so lost during a test that you just doodle around to kill time because you don't want to hand it in right away? Well, that might be what happened here. This kid had no idea how to calculate the area of the cylinder. If anyone is curious, you just have to use this formula: A=2πrh+2πr2. So, the answer is approximately 607.21 cm.
Those are all of our answers for today. We hope you enjoyed them. The kids in them all grew up to be productive members of society. If you liked this story, please share it with your friends. Thanks for reading!
Source: Give It Love, Funnyexam, GoConqr, Pinterest