The Cutest Animal Couples
The animal kingdom never fails to surprise us, and never more when it reveals to us the relationships that form in it. Animals can form long-lasting bonds with their partners, as well as their friends, and the results are absolutely adorable. Ever wondered what it looks like when two piggy buddies go out for a beach day? Read on to find out!
Unusual Friends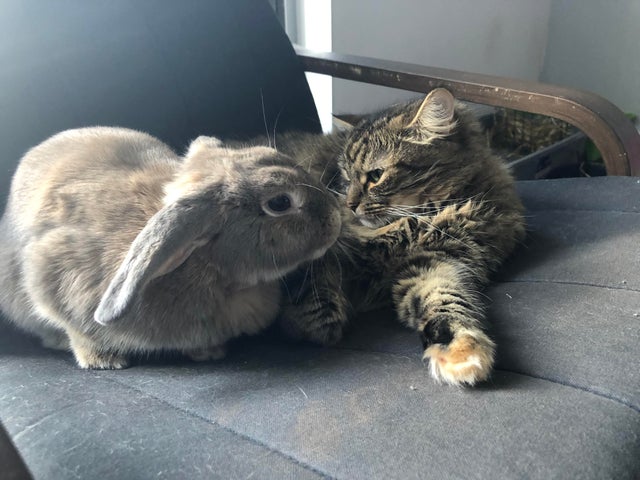 The fact that we even have TV programs on networks like the BBC, all about animal couples and friends, just goes to show that it is a phenomenon worth documenting. Animals can make unusual acquaintances with different species, and the result of such friendships is absolutely adorable, to say the least!
Hitching A Ride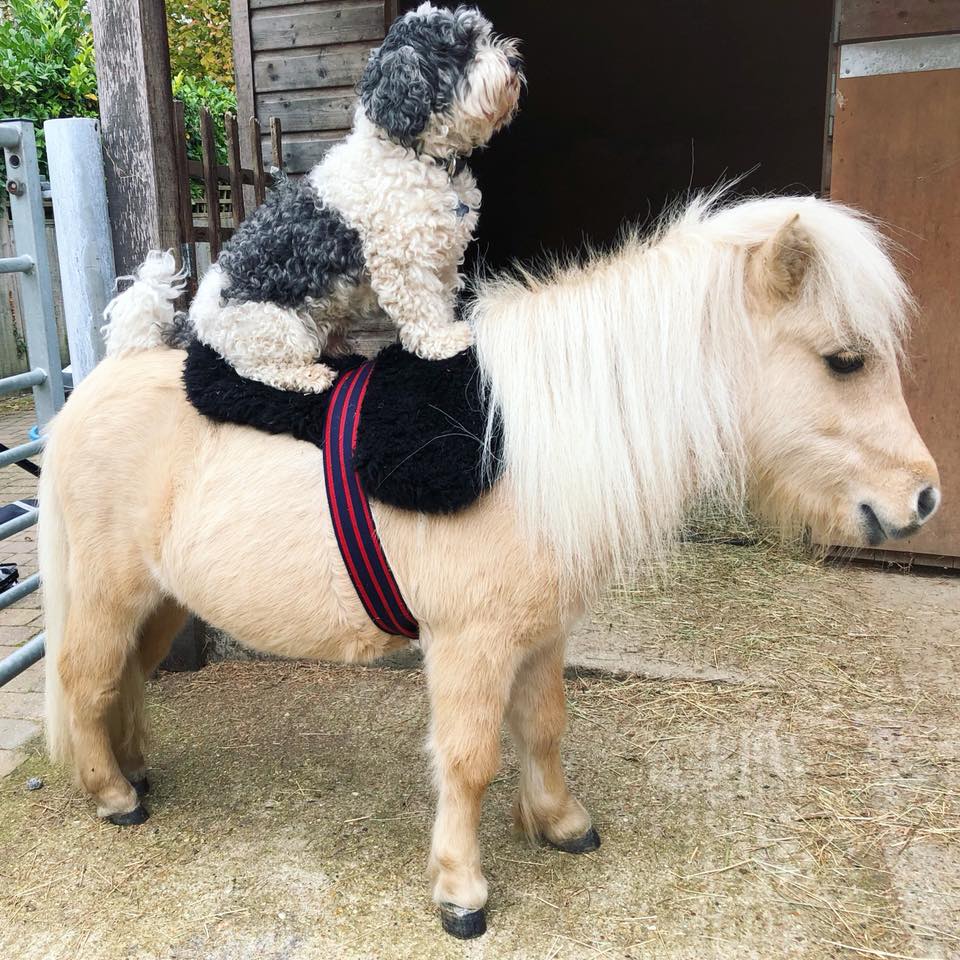 Ponies are among the cutest creatures we know of, but did you know they are also always up for giving their friends a ride? This beautiful pony has no problem saddling up to bring his furry friend to wherever he needs to go, and if that isn't a dedicated friendship, we don't know what is.
Netflix Together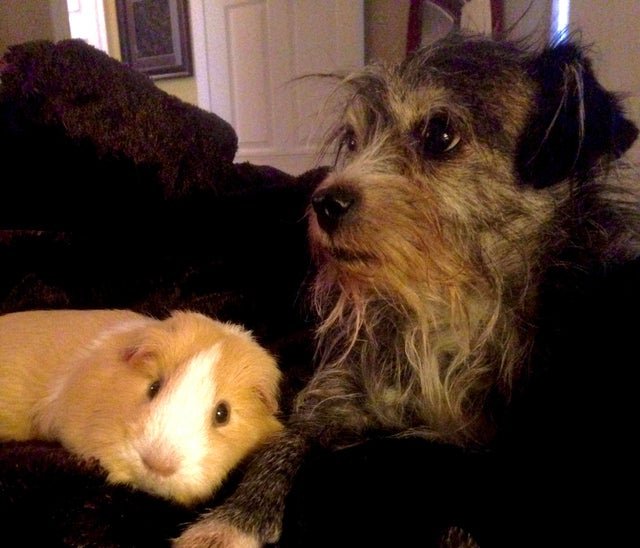 Animals want to relax too, and chilling to the sound of the TV in the background is one of the best ways to do so. Even though they probably can't understand what is going on, they sure do like to cuddle on the couch, just like us humans do. These two besties seem like they have the whole evening relaxation session thing down.
Wildlife Friendships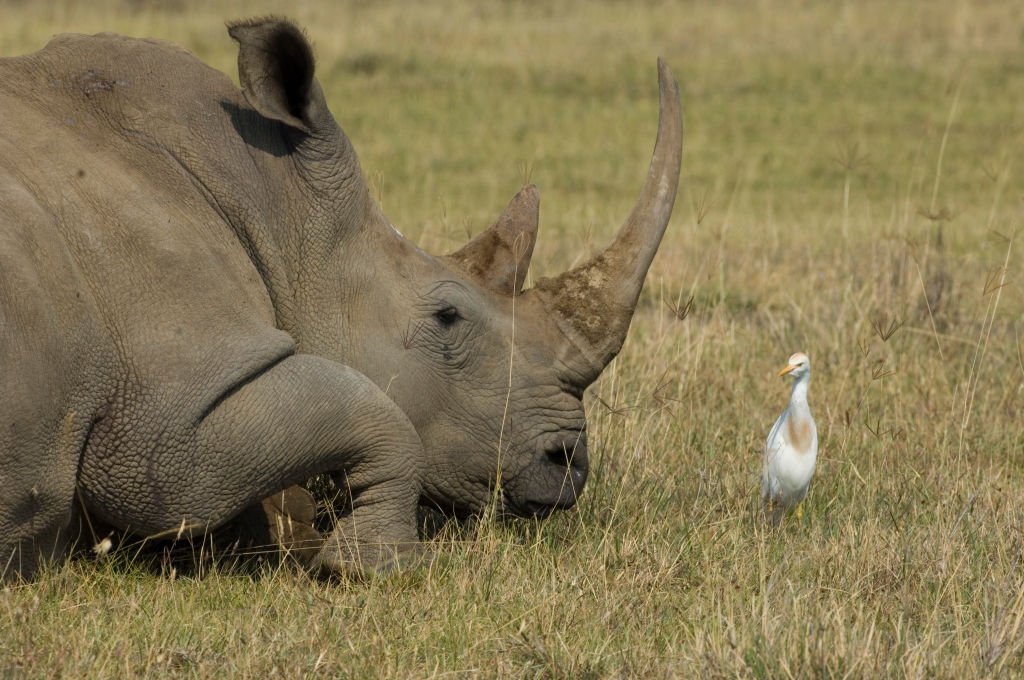 In the wild, interspecies friendships are extremely common. Animals help each other in various ways which end up as a benefit for each side, but we bet they also form some friendships along the way. Just look at this pair!
Braving The Winter
Nothing like having your best buddy to spend the cold winter months with! These two are quite the team, as they bundle up in a warm blanket while in the snow. Dog friendships seem to be strong as iron, and the tenderness and affection they show for each other are mindblowing!
Minds Connected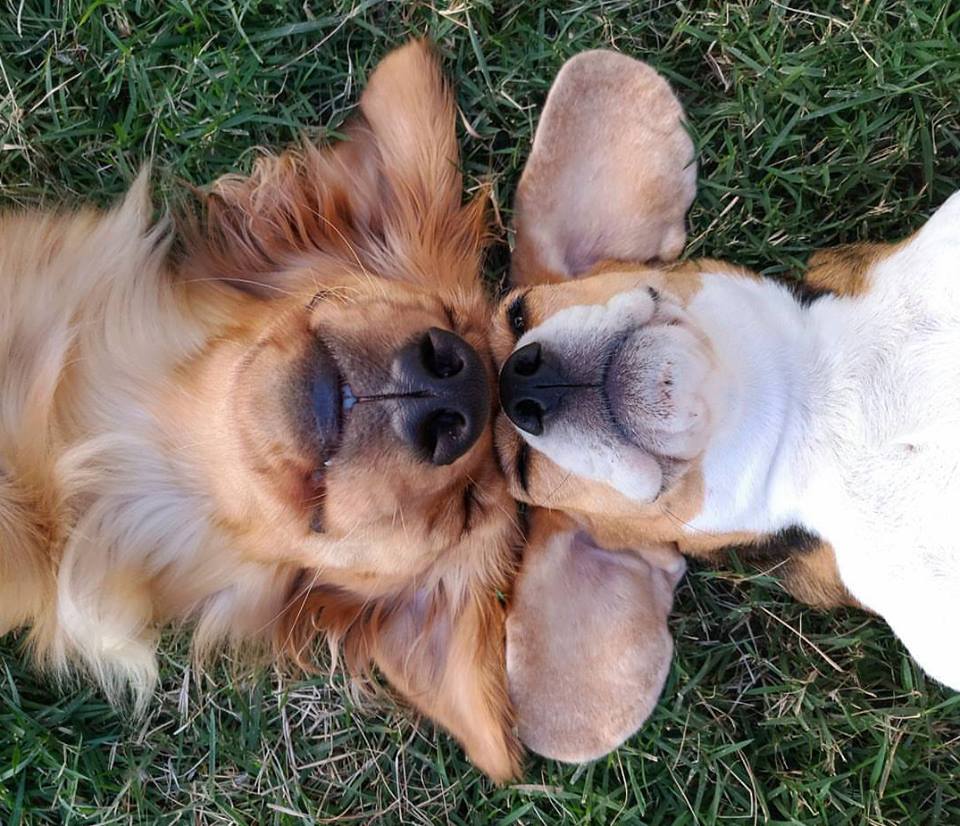 Dogs are incredibly intelligent creatures, and their entire world of communication is rich, even though we can't understand it. They show affection for each other in the most loving ways and surely share an intellectual bond as well. We bet dogs pick their friends much as humans would!
The Power Of Tenderness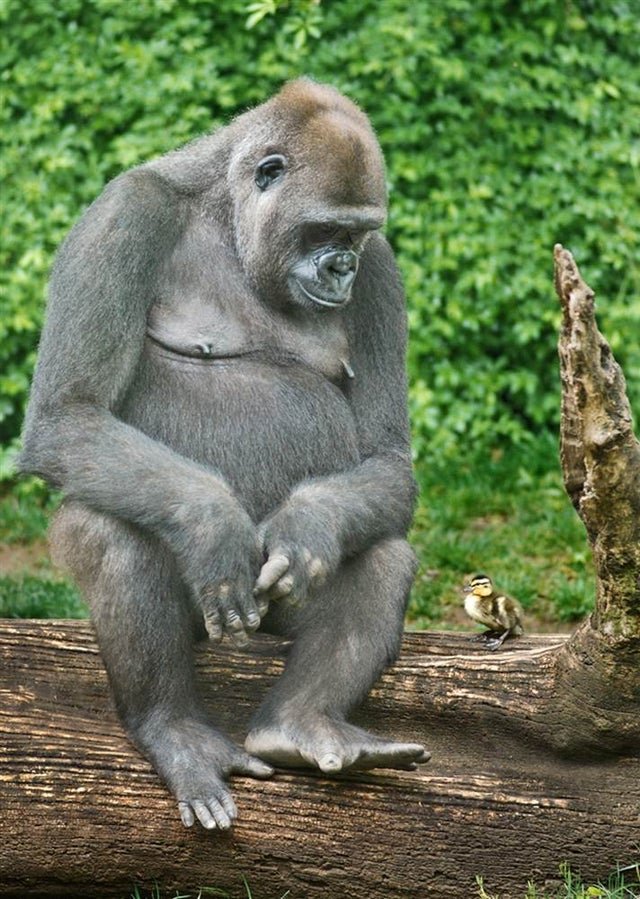 You wouldn't expect a gorilla to appear this tender. This giant and beautiful specimen seems to have befriended a duckling, and it looks at the little bird with such love and care that it makes our heart wrench. What a beautiful example of powerful animals showing their soft side!
Cross-Habitat Friends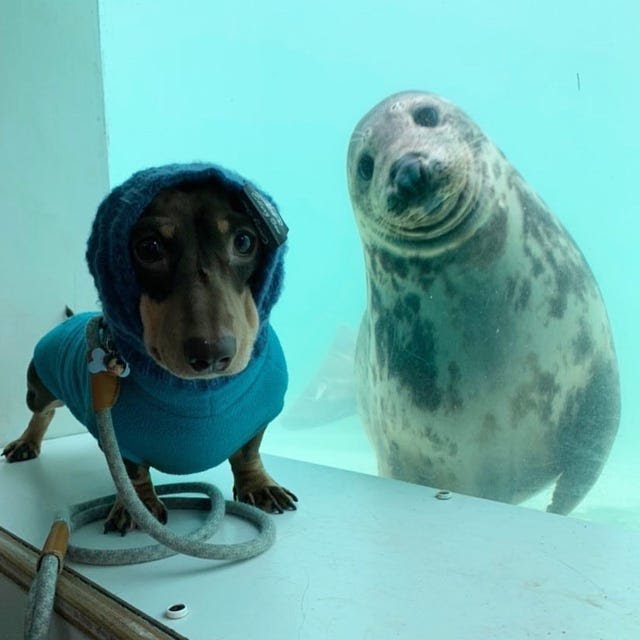 If you live on land, and your best friend in the water, things might get a bit tricky for you, but these two certainly don't let their different habitats deter them from having a lasting bond. It's the perfect example of how aquatic and terrestrial life unites in mutual love, and we wish more animals explored the unknown in search of a buddy!
Beach Day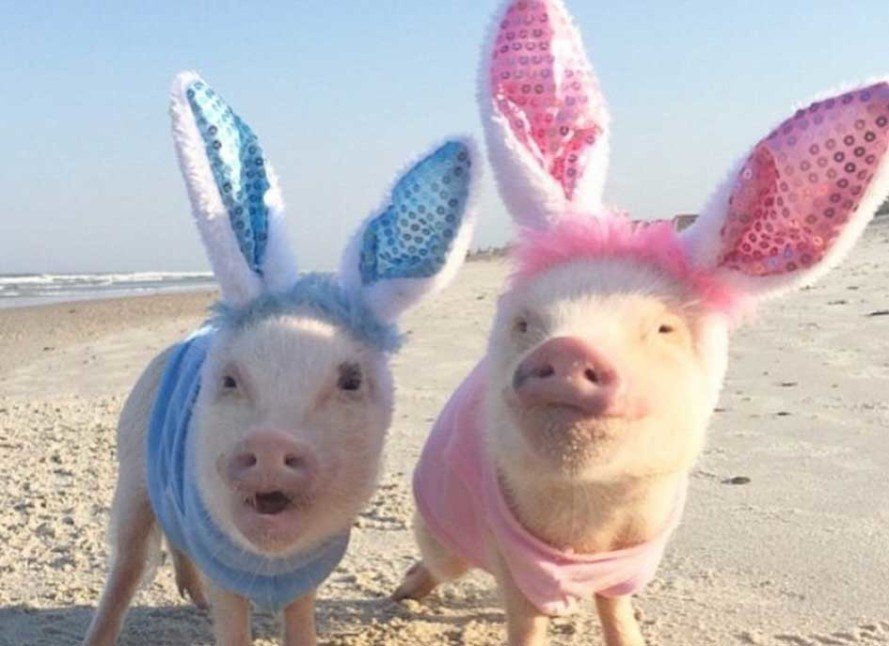 As if spending a day at the beach wasn't exciting enough, these two brought it all up a notch and made the trip downright adorable. Putting on matching costumes and looking like they are having the absolute time of their lives, these two piggies are who we want to be when we grow up, and we mean it!
Classy Tea Time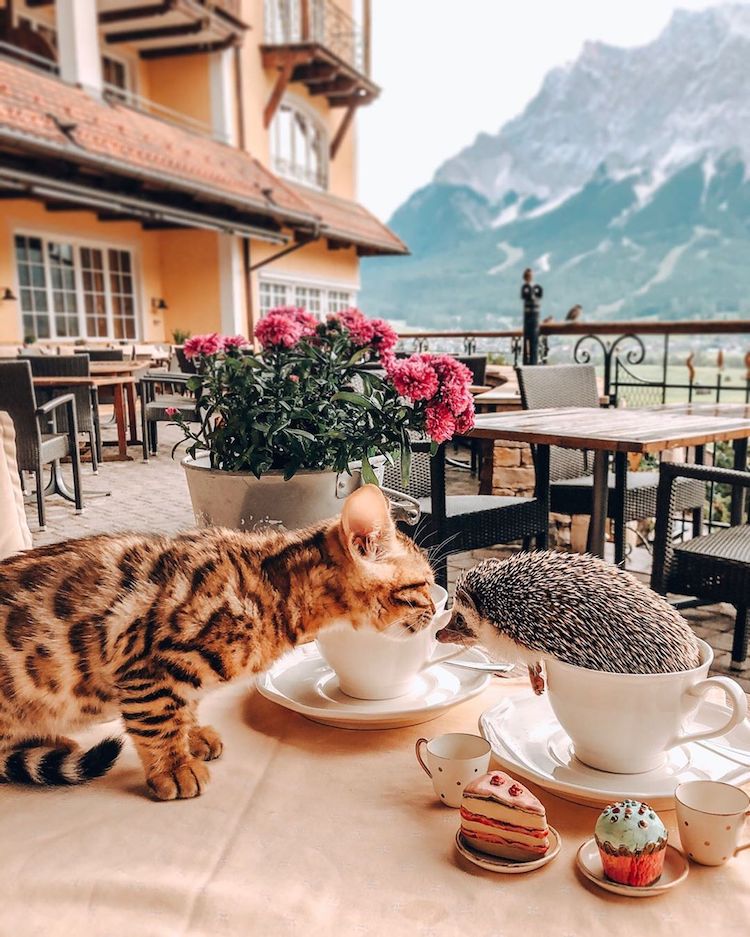 Animals, too, like to go out for some high-end tea when in on holiday, and this adorable hedgehog and cat couple is making the best of it. Not prepared to waste any minute from their romantic getaway, they share unforgettable moments that their friends back home will listen to for months to come!
Enjoying Nature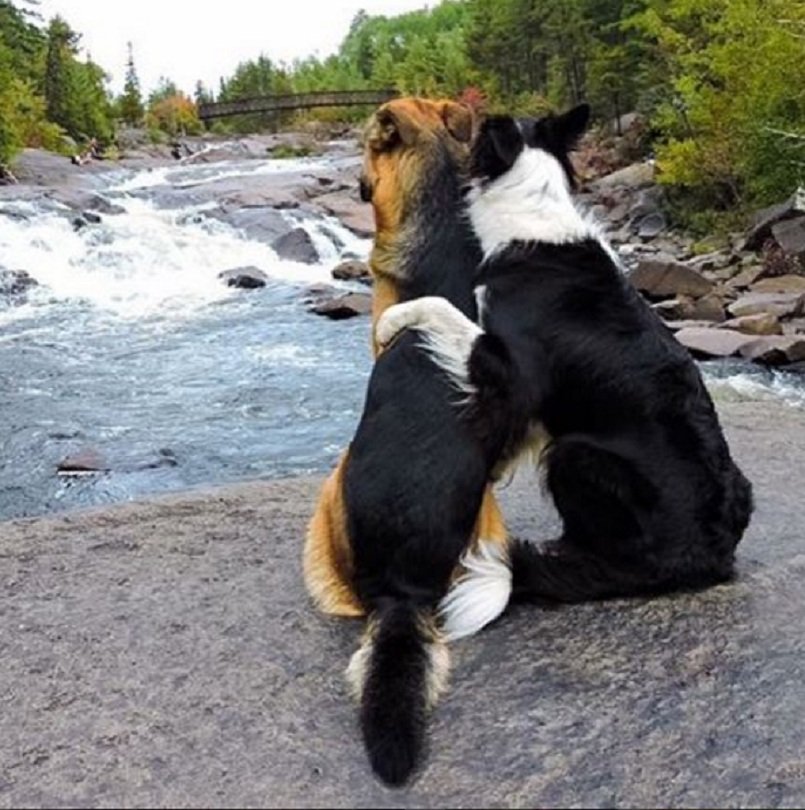 Dogs love the outdoors, and by the looks of it, they can also enjoy serenely basking at the moment. These two found themselves a beautiful spot overlooking a wild riverbed, and they decided to take a minute to take it all in. It's very likely they were planning their next adventure together!
Mating For Life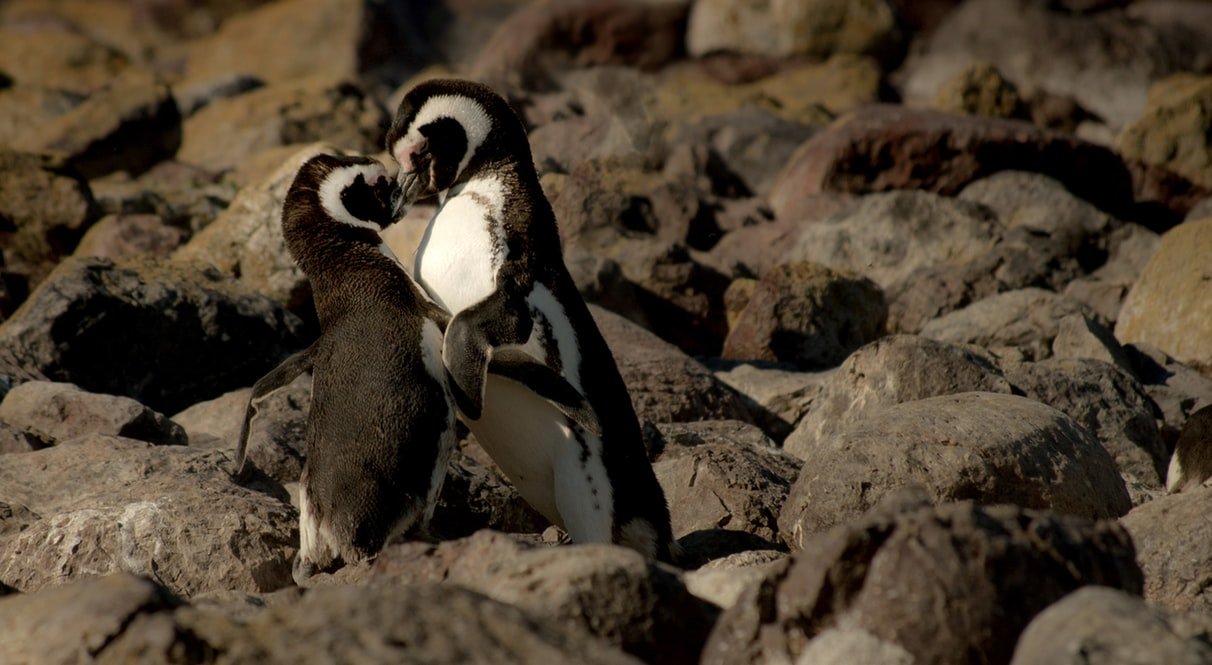 Many animals in the wild mate for life and that means they get to develop deep bonds with their partners. They tend to show affection for one another pretty often, and luckily, wildlife photographers are there to capture the touching moments. Penguins are among the monogamous animals, and we have plenty of proof of their loving natures!
Hand In Hand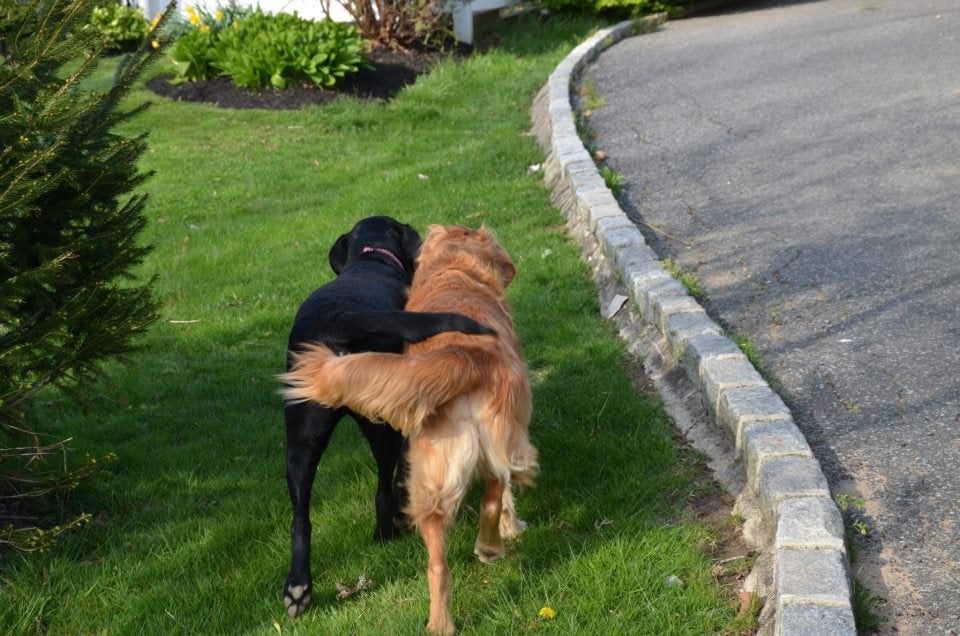 When you are a dog, and you want to take your other half for a walk, you do it as romantically as possible. If hand in hand in dog terms means this, we think it's even cuter than what we humans do. Walking away into the sunset has never seemed so utterly touching!
Farm Friends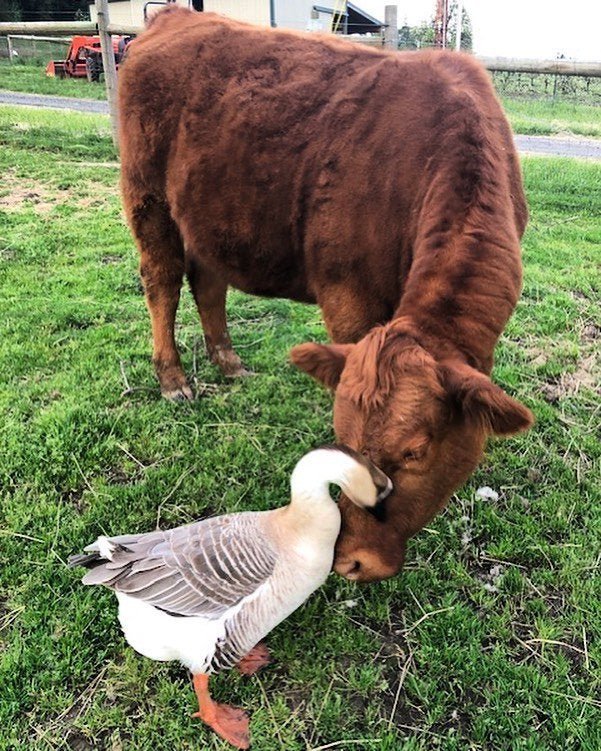 Life on the farm isn't always easy, but the animals there sure know how to make it more pleasant for themselves. Making friends is one of the best ways to assure you are never having a bad time, and this cow and goose know it better than anyone. In case they are in need of some cuddle time, they are there for each other!
Raccoon Love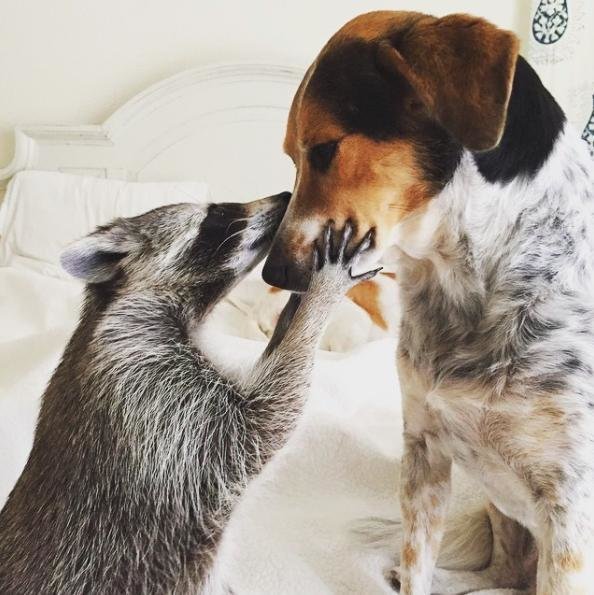 Animals are so human-like in how they show their affection, that it just proves how close to each other as species we are. This raccoon is having some quality personal time with his friend, and it is one of the cutest expressions of love we have seen in the animal kingdom. We can even feel the sweetness of the moment!
Animal relationships are astounding, as they keep reminding us of how human animals actually are. Not only do some of them form lifetime bonds with their partners, but they can also have friendships that cross-species and habitats. There is no limit to the love they can express, and we find it incredibly touching!
Sources: BBC, Reader's Digest, The Spruce Pets