People That Sleep in Hilarious Positions
Everyone has that one relative that can sleep in the oddest position imaginable. Similarly, you probably have seen people sleeping soundly during long-hour flights or train rides but in the strangest ways. Online users decided to share these encounters with the world, and you will be surprised by these heavy sleepers. Let's discover more!
ARE THEY EVEN BREATHING?
There are two people taking a nap during a long-hour flight, and it's hard to tell how they are even breathing at all. Redditor zeeba27 posted about them. One man is sleeping with his face directly pressed to the pillow, which rests on the seat in front of him. Meanwhile, the other person is completely covered with a comforter. Some people do that with their comforters, but it's hilarious in public.
THE BANISTER BED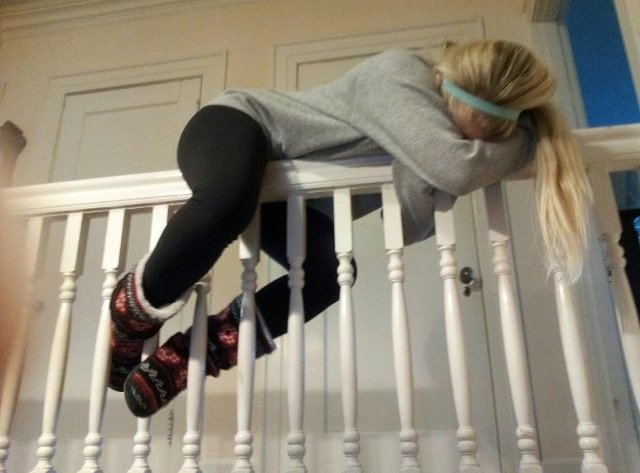 It's hard to tell if this picture was staged or if it was real. However, Reddit user brndnhs, decided to post a picture of his girlfriend sleeping right on the banister. People who suffer from vertigo will probably cringe at this picture. Also, folks who move around a lot in their beds would never be able to stomach this position. It's just plain dangerous!
THE RECLINING CHAIR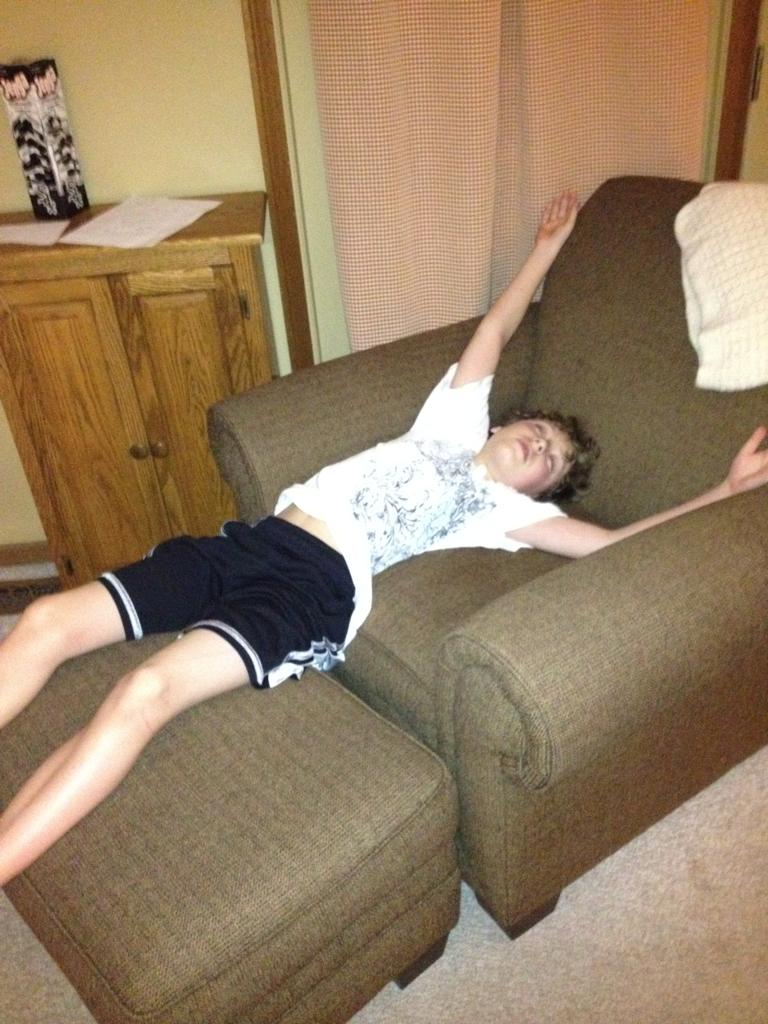 A lot of people will tell you that there's nothing like a good nap on the couch or a reclining chair. They can be just a comfortable as a bed, and this kid is Redditor brennangallagher's brother, who looks awfully comfortable. However, he is splayed all over the sofa. Some people sleep tucked into their bodies while others take over the bed completely. He'll probably grow up to be the latter.
A CONFUSED PARENT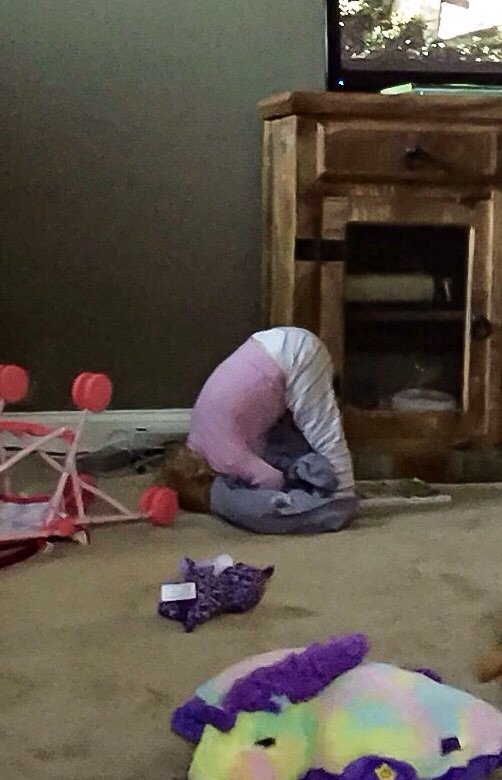 Now, most people would think that this picture was taken while the kid was rolling around or playing. At first, the parent, Redditor Sharronstaint, thought that the toddler was playing around too. However, it seems that the kid really fell asleep like that, and the mom online realized when the little girl started snoring.
THE TRAIN SLEEPER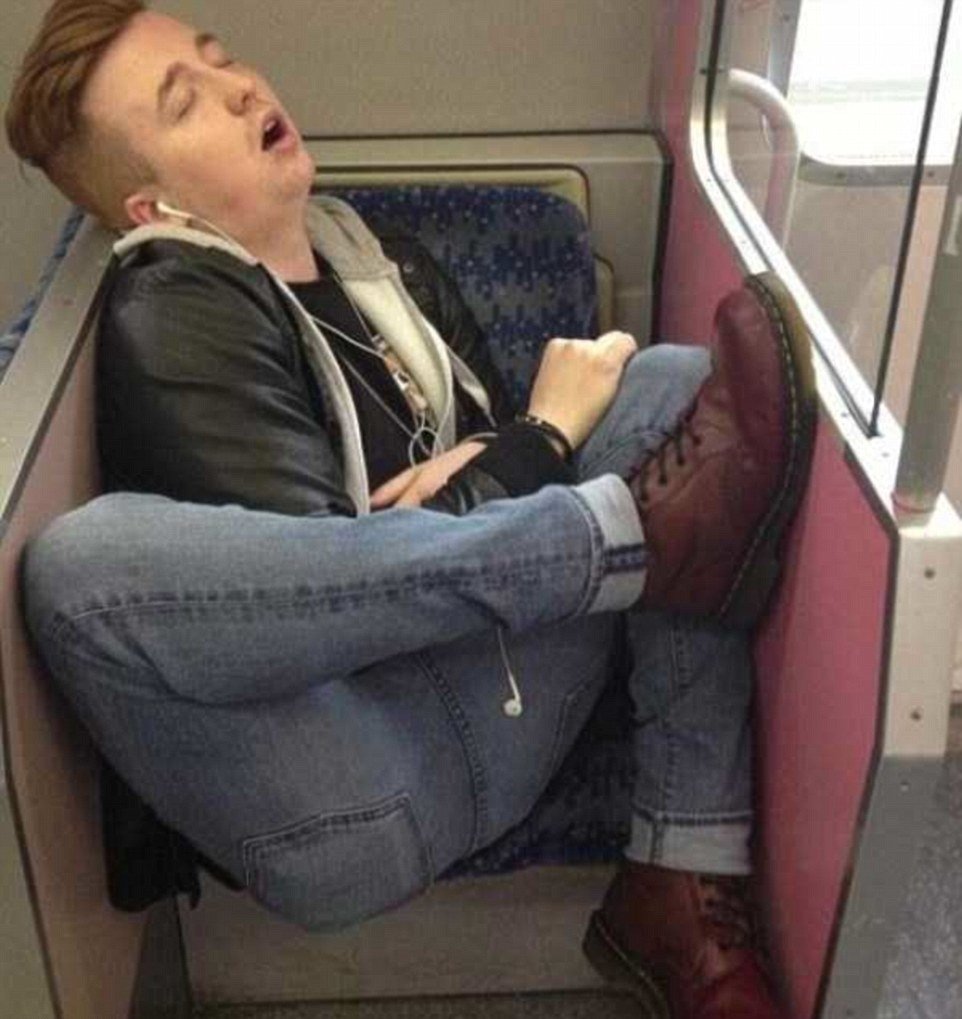 Some people find it hard to sleep on a train because the seats are so small sometimes. However, this young man has no problem at all. He is also extremely flexible because not everyone can do that with their legs, and not for a long amount of time. On the other hand, he is on the edge of the seat. One bump from the train and he could fall to the floor.
COINCIDENCE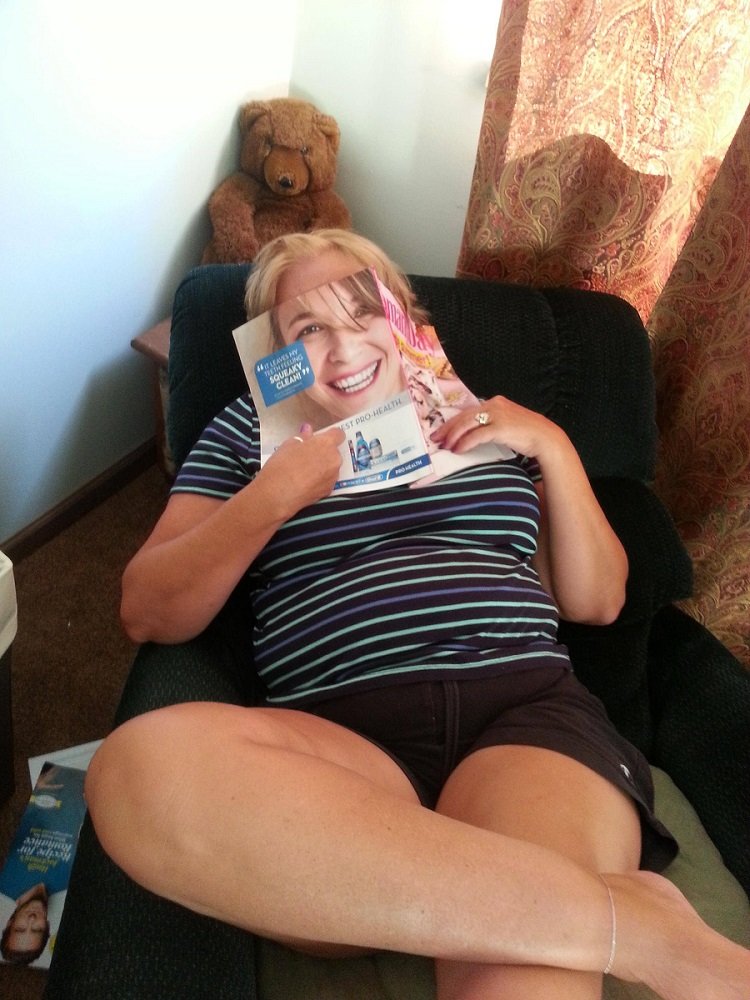 It seems that this woman, Redditor magictoenail's mother, fell asleep with the magazine right on her face. Some people cannot possibly sleep with anything on their faces. However, the funniest part is that the face on the cover matches the body in an odd but cool way. Also, she is sleeping as if she were normally sitting outside.
RIGHT ON HIS KNEE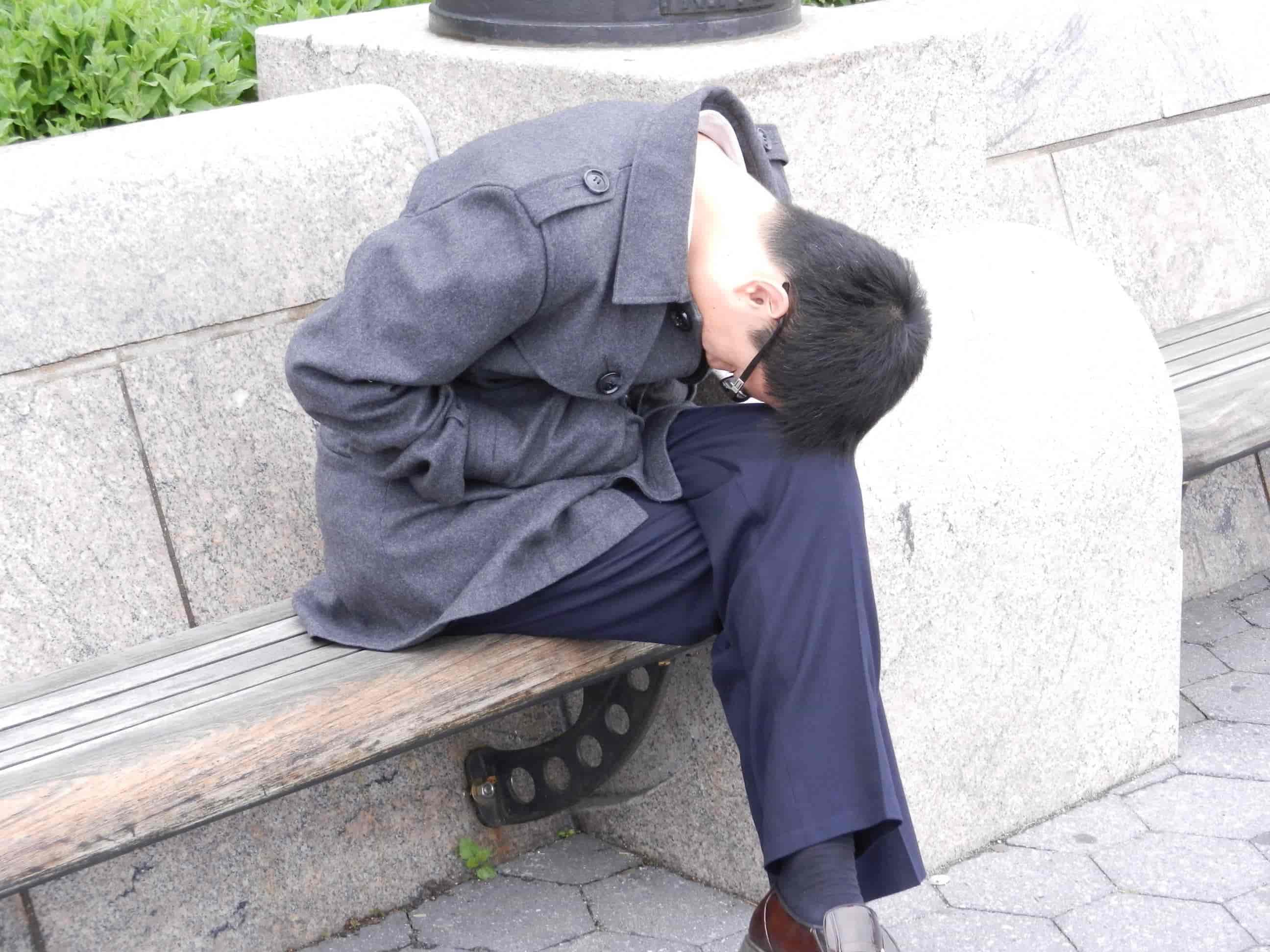 Have you ever tried to sleep on a bench outside? Sometimes, you have to, but it's hard to imagine being any kind of comfortable in this position. People sleep on their knees, but they normally use their arms as pillows. Meanwhile, this man prefers to sleep with his forehead right on his knee. It might hurt his back.
WITH HER CAT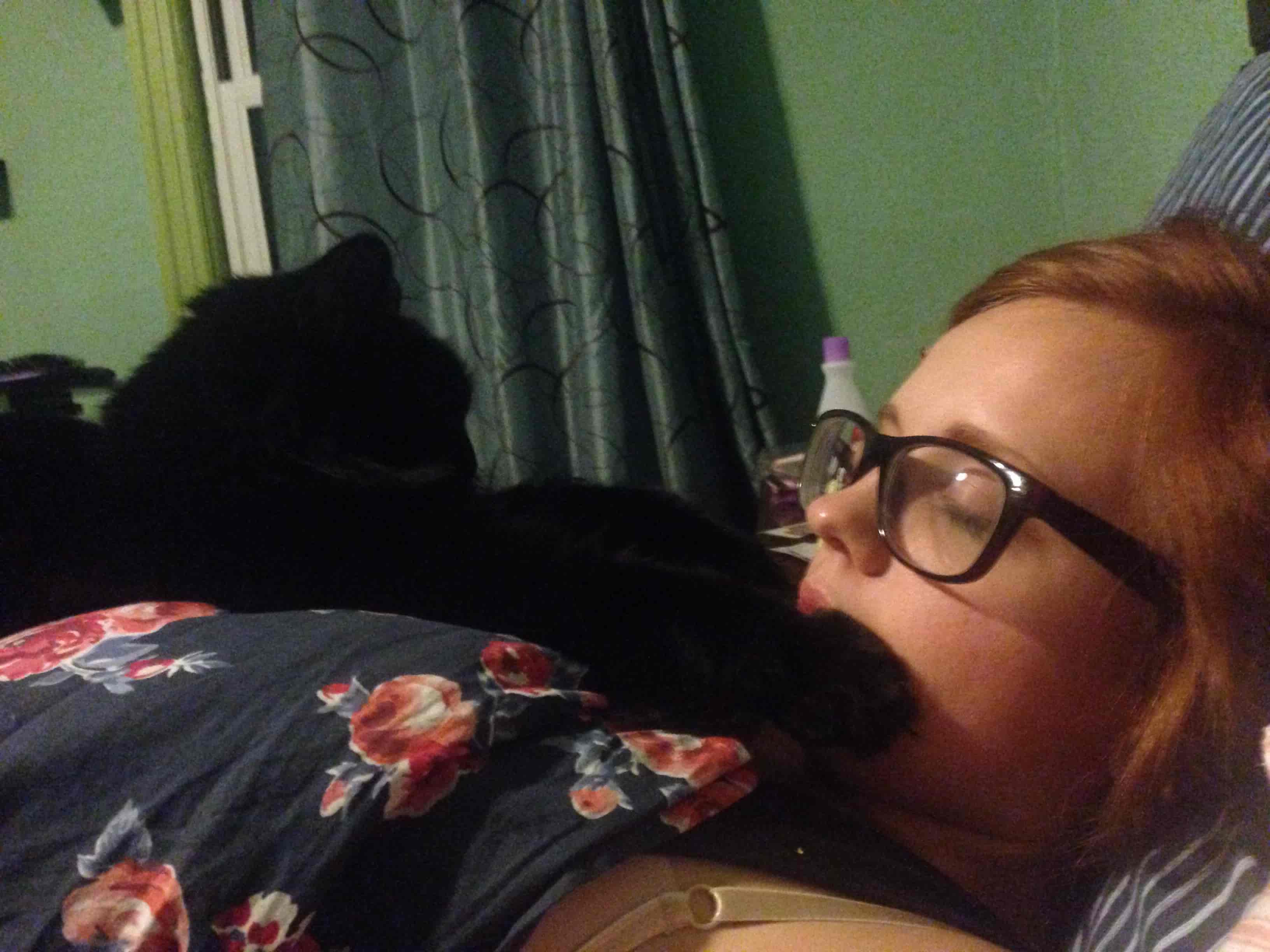 While the girl's sleeping position is not exactly odd, it's hard to tell why she doesn't feel her cat on top of her anymore. Redditor Iamdickburns said that his girlfriend sleeps like this every night. Many people sleep with their pets, but not everyone can do it with a furry weight on top of them that might put their paws on your face.
THE REVERSE SEATING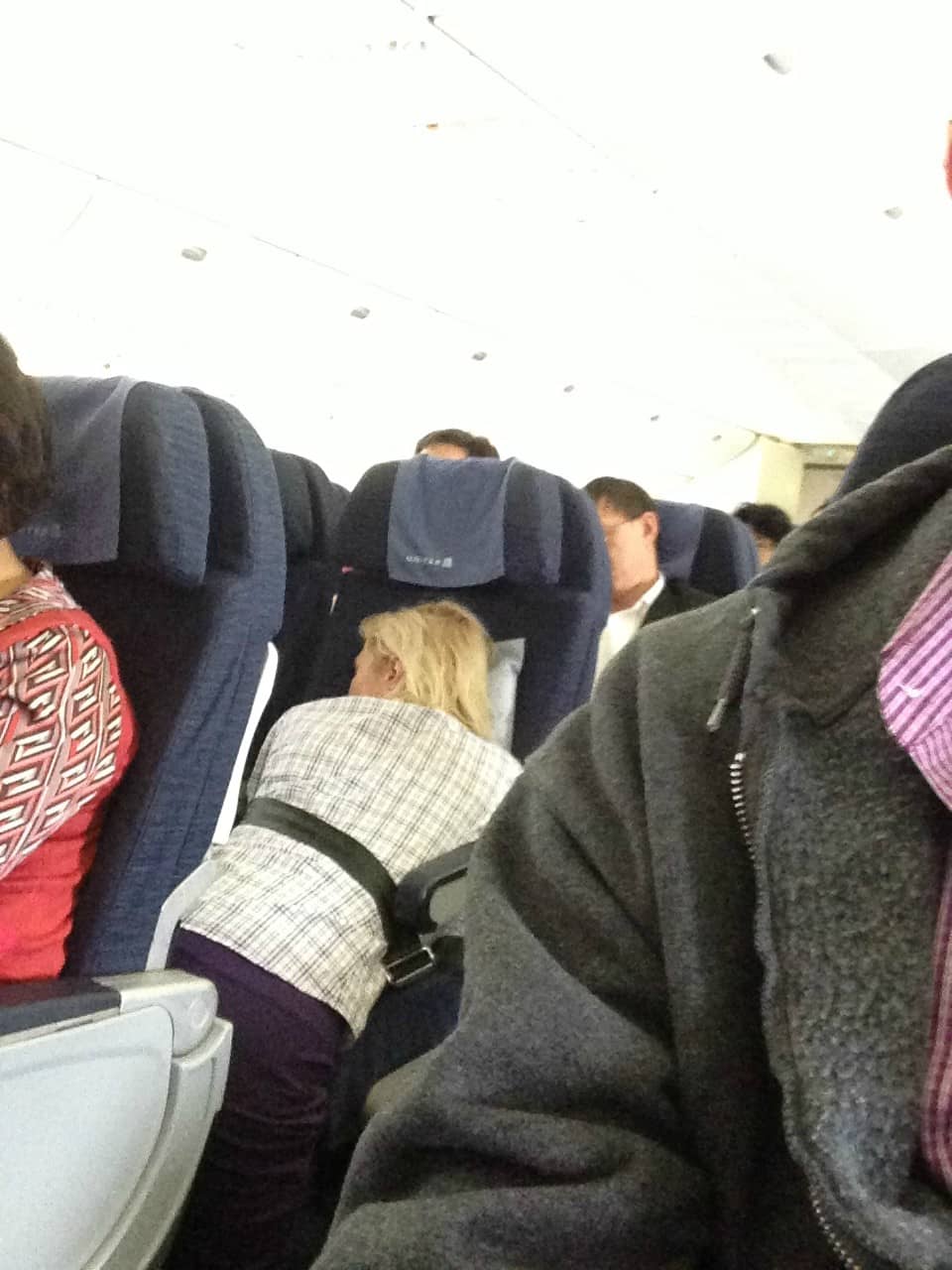 Sleeping on a train should not be that odd, although people can look funny when they try to sleep in small spaces. However, this woman takes it to a whole other level because this position is completely insane. She is basically on her knees with the top of her body on the seat. She might as well have sat on the floor.
THE COOLEST SLEEPER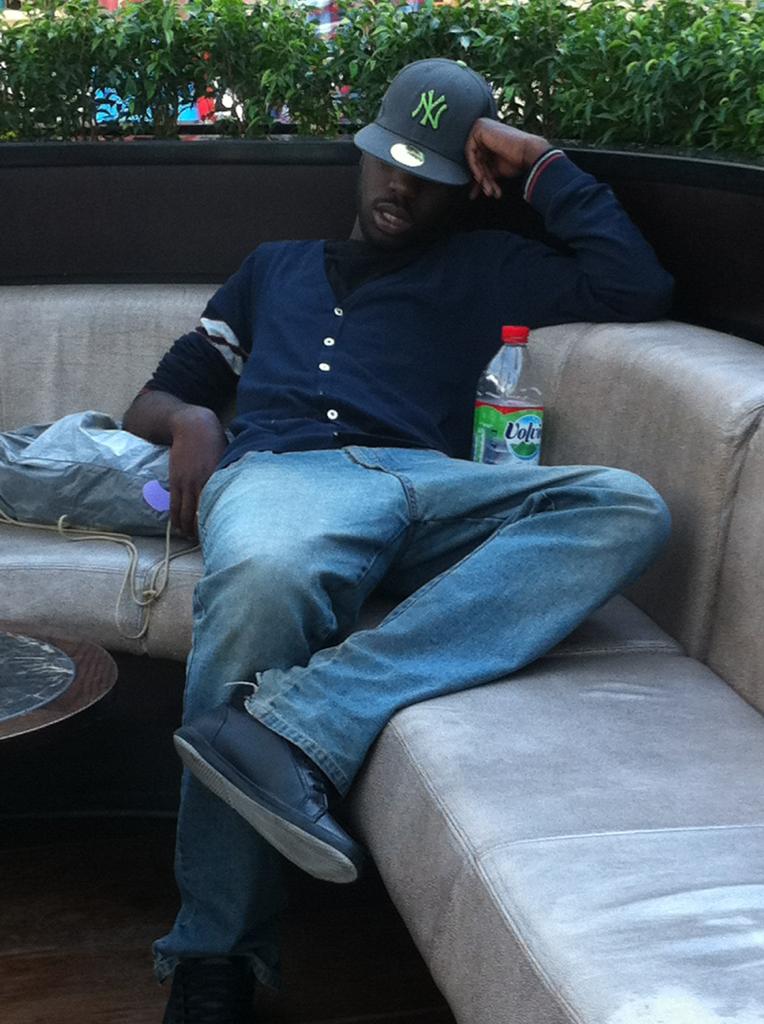 Sleeping on a chair is not odd at all, but it's hard to look cool while doing it. However, this man really manages to appear like someone with a lot of style with his clothes and his sleeping position. It looks like he might have been waiting for his girlfriend at the mall, and he fell asleep. Either way, he looks awesome!
SLEEPING WHILE SHOPPING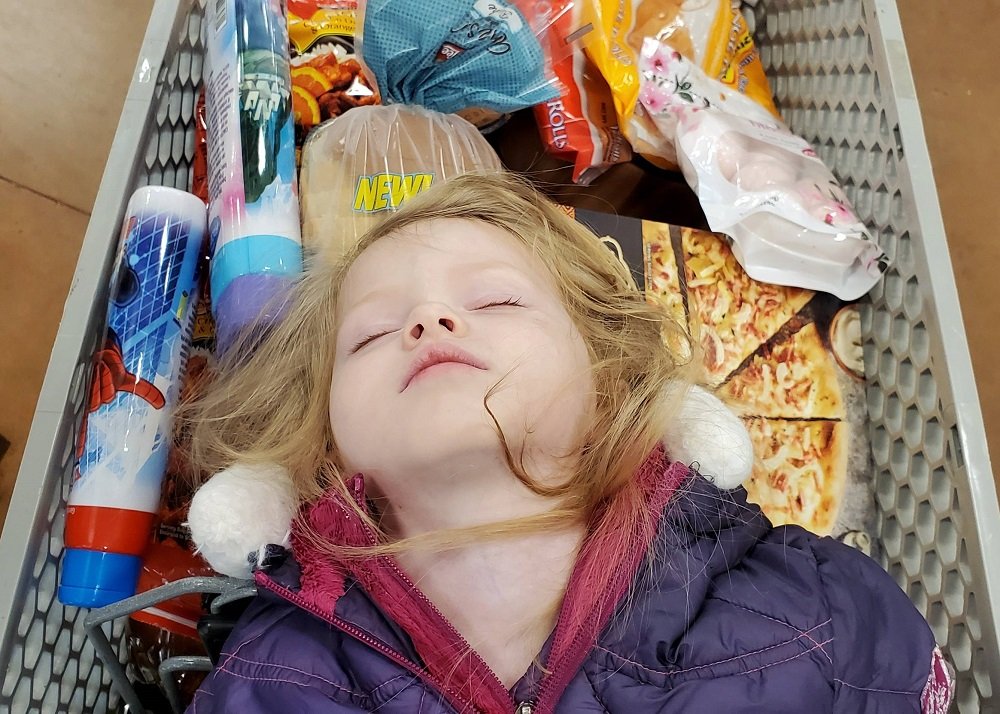 A lot of parents place their kids on the stroller because it's much easier to shop that way. However, Redditor JephriB's daughter fell asleep while shopping. That means that she was stretching all the way back to lay her back down. It's just more evidence that children can sleep everywhere!
THE CABLE MAN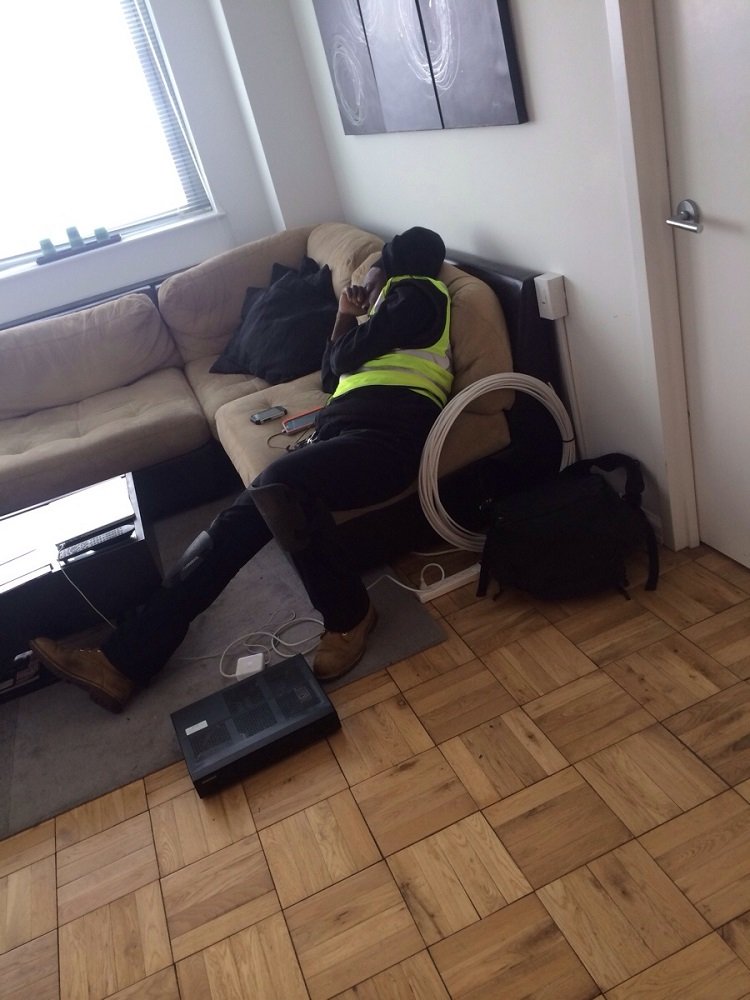 Redditor DrinkingWhiteRussian revealed that the employee from Warner Time cable fell asleep in his house. While everyone can understand that he was tired, his position is just a bit odd. He is right on the edge of the couch, but his legs seem to be supporting him even during a nap. It's pretty funny!
TOO TIRED FROM FINALS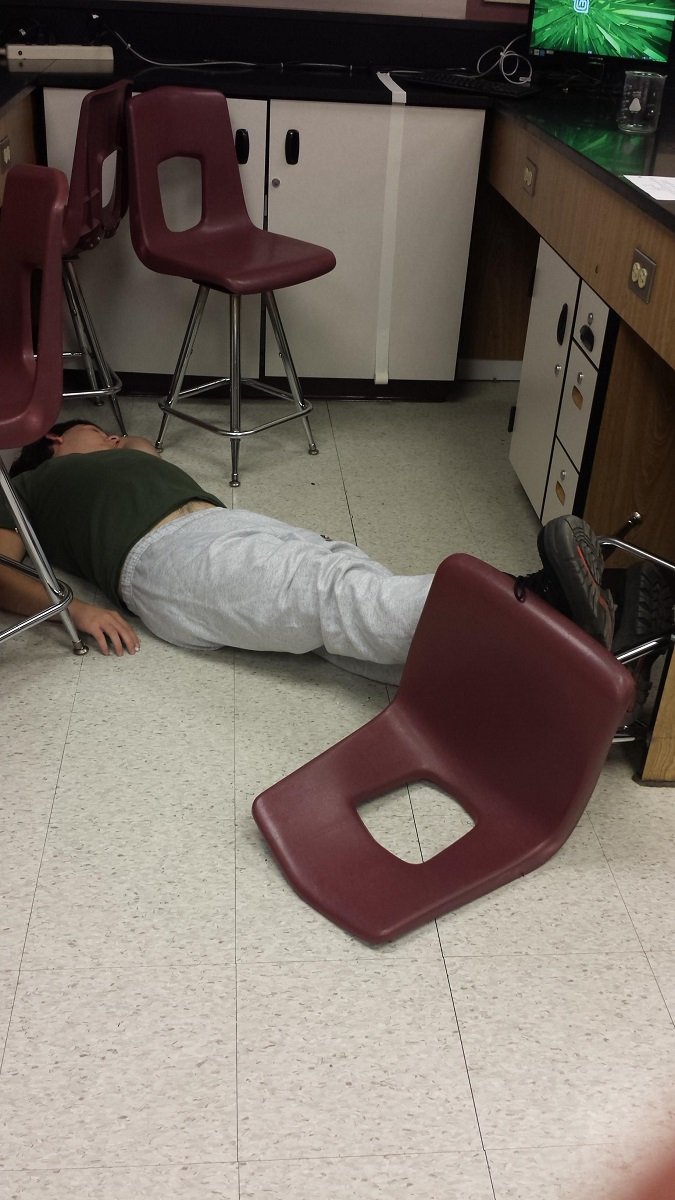 Everyone has suffered through a rough time of many exams at some point in their life. Reddit user, Th3DoughB0y, revealed that his fellow classmate fell from the chair after finals, laughed, and decided to take a nap right there. It's great that you can laugh at yourself, but sleeping on a cold floor with your foot stuck to the chair cannot be that comfortable.
BEHIND THE BOOKSHELF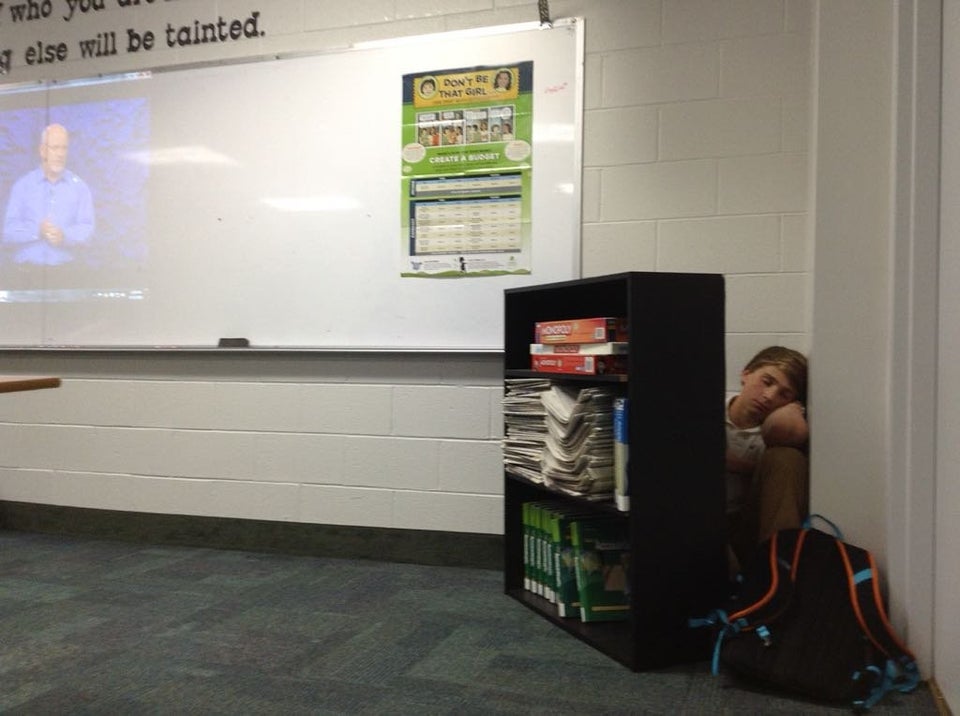 Sometimes, it's not about the crazy position is about the crazy location. Although it's hard to imagine how this kid can sleep in such a cramped space. This kid decided to take a nap during a personal finance class, and it's understandable. They were showing a video, and that can be boring for many young kids.
THE GIRLFRIEND THAT DOESN'T FEEL ANYTHING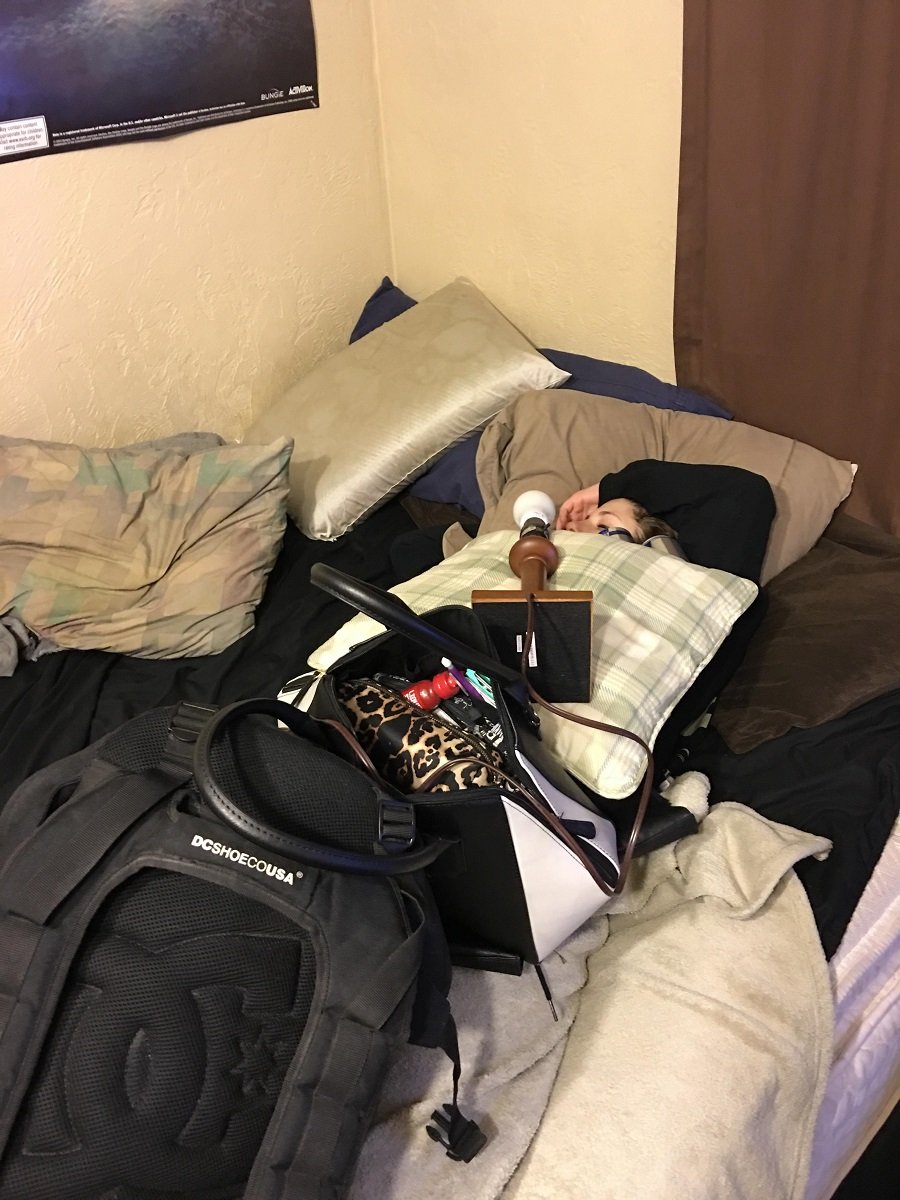 Here is another girlfriend that seems to be able to sleep in the weirdest way. Her boyfriend, Imgur user xPARAx, decided to play around. Unbelievably, she wouldn't wake up. Very few people are able to sleep that soundly. One tiny thing might be undetectable, but that was just too much weight to keep sleeping.
Can you imagine sleeping in these positions? Are they actually comfortable? Let us know what you think about these weird contortionists. If you liked this article, share it with your friends who love funny pictures from the World Wide Web. See you next time!
Source: Reddit, Imgur, Reddit, Sleep Number