Foods That Don't Need Refrigeration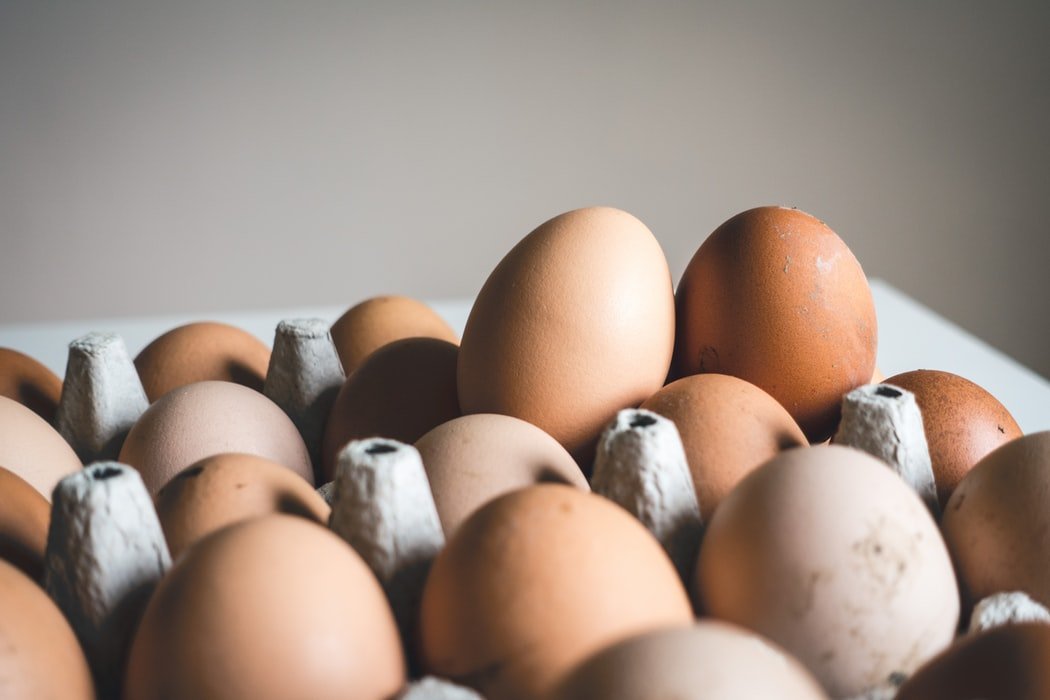 The fridge is a fairly modern invention, but it seems like people can not imagine a time when humanity didn't have this genius cooling system in every household. What you might be surprised to know is that many foods are perfectly fine being kept at room temperature, and refrigerating might even make them spoil faster. Here are a few foods which do not belong to the fridge!
---
Salami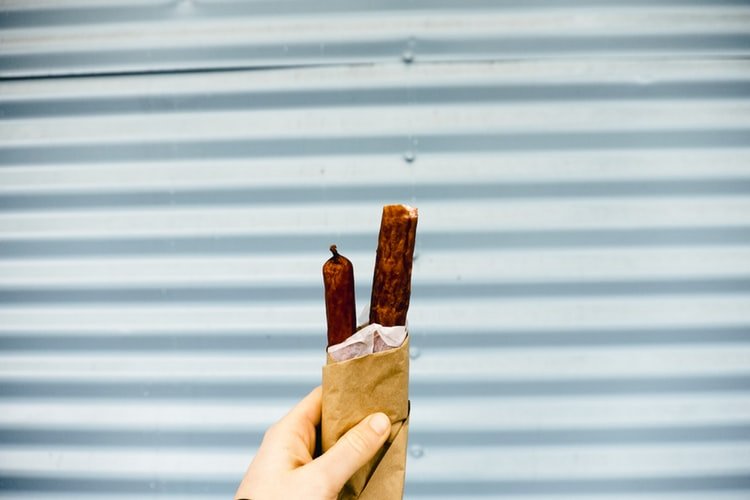 Cured meats are geared for being stored outside the fridge. As long as you don't cut into them to break the protective seal, you should be able to store a product like salami for quite a long time, and it will even cure further. However, once you begin eating it, it will need to be kept in the fridge. 
---
Butter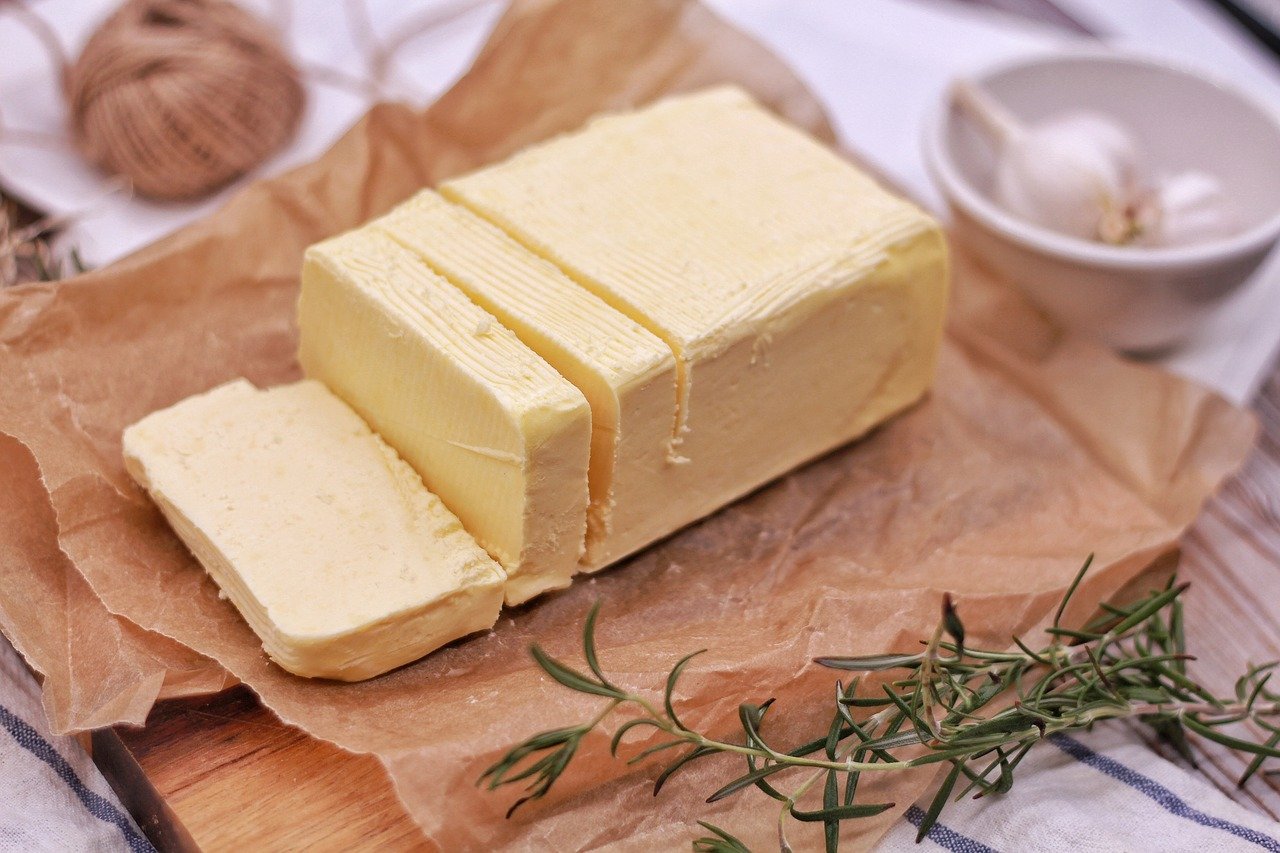 We are not suggesting you keep your butter outside the fridge at all times, but should you need to, it will last there for a day or two. Naturally, if you live in a hot climate, you might have to deal with it melting, so store it in a deep container, and always make sure you return it back to the fridge as soon as you can.
---
Grapes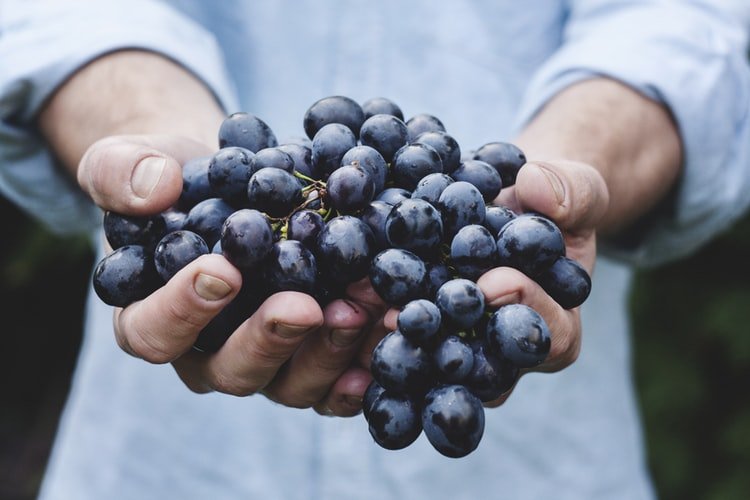 Grapes are a tricky fruit, as they do tend to spoil relatively quickly. However, refrigerating them will do no good, as they will only experience a temperature shock and likely lose a lot of their flavor. Best store them at room temperature and eat while ripe. After that, they should be good for jam or cake.
---
Olive Oil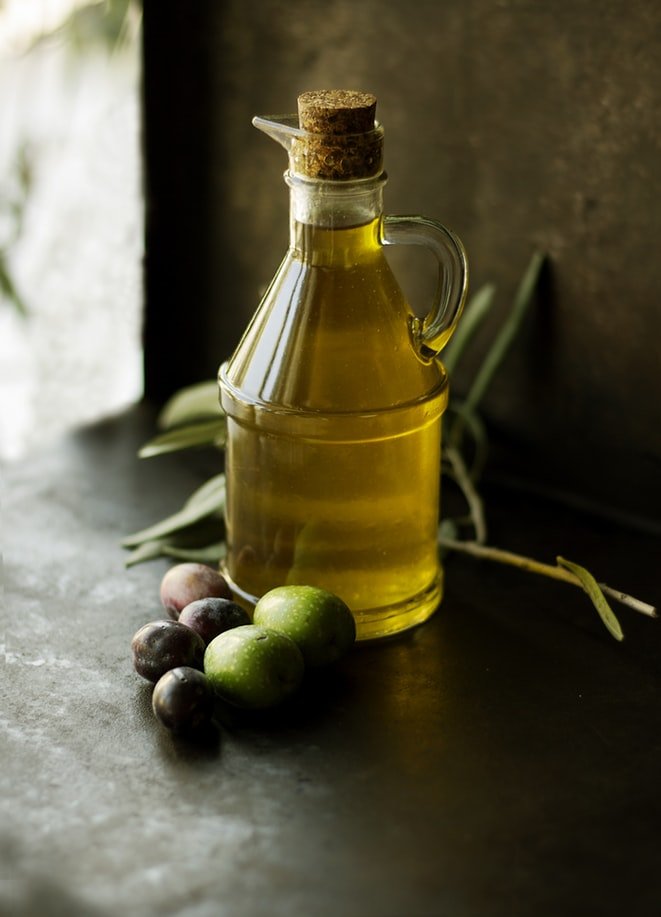 Like any other oil, olive oil too can be kept at room temperature for months. It is self-preserving, so no amount of cold can make it last longer. The only thing which olive oil is reactive to is sunlight, so keep it away from it. The green bottles it is sold in often help you with that a lot too. 
---
Apricots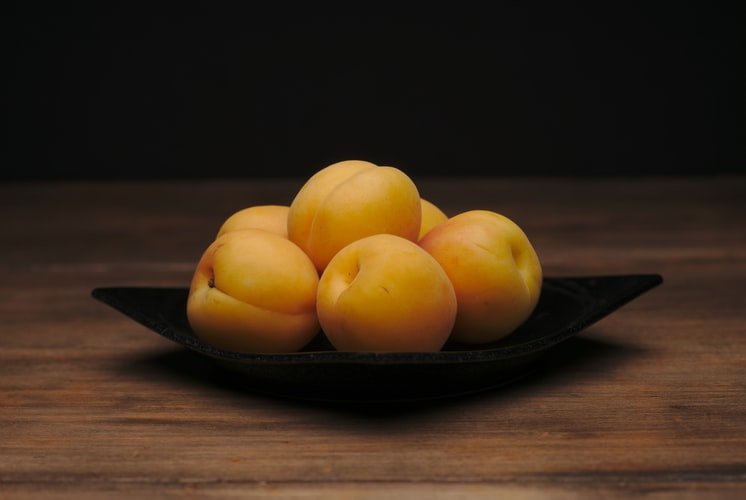 Much like peaches, apricots are not great friends with the fridge. They are even more sensitive to changing temperatures and environments, and they do tend to ripen very fast, but refrigerating them might just turn them brown and watery. The best way to store apricots is at room temperature and out of the sun. 
---
Plums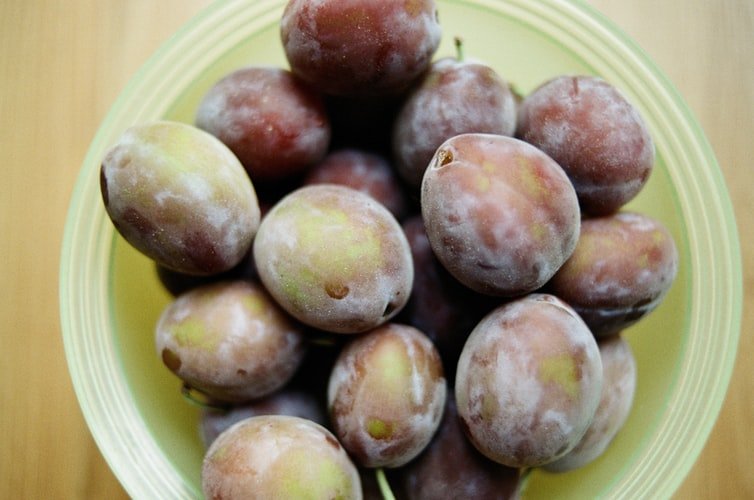 Plums lose a lot of their flavor when refrigerated, so if possible, always store them in a basket in a cooler spot in your kitchen. They will ripen slowly, but once they start getting soft, you will need to use them pretty fast. Turning them into a cake or some other type of dessert is your best option. 
---
Vinegar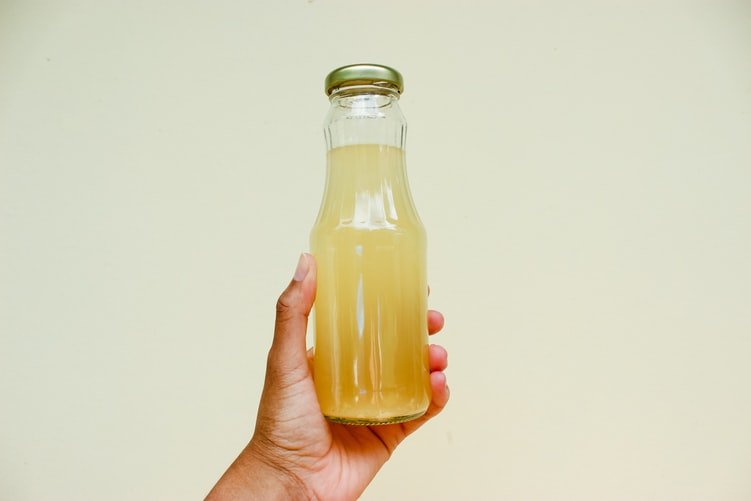 Vinegar is one of the most acidic foods out there, and that acts as its natural conservant. No need to store vinegar in your fridge, as it will best retain its flavor and freshness at room temperature. Some people prefer to store their vinegar, especially apple cider, in the fridge, as it gives more tang, but it is definitely not necessary.
---
Avocados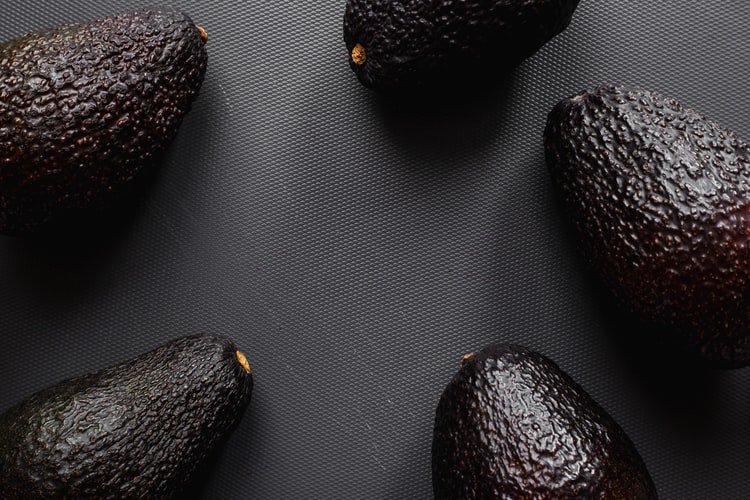 Avocados are notoriously difficult to store, as they tend to ripen overnight and turn bad almost instantly. To make sure you cut them open just at the right time, keep them stored at room temperature, and check them daily for ripeness. This way, you will be letting the avocado go through its natural ripening process.
---
Peaches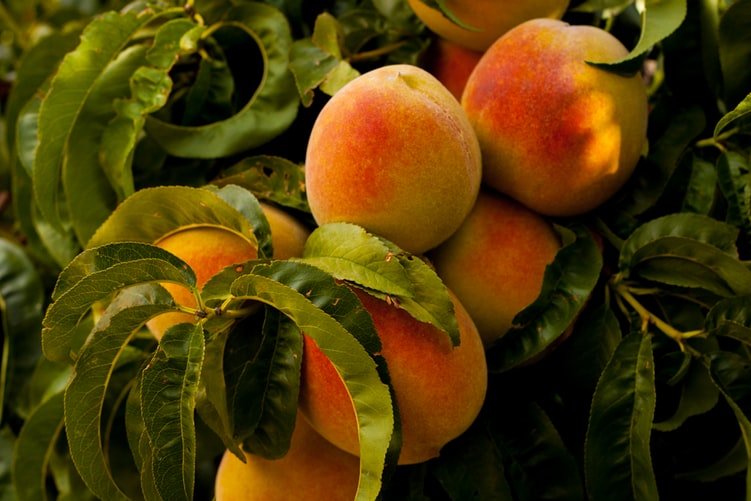 A lot of fruits simply don't need refrigeration, and they retain their taste and juiciness much better if kept at room temperature. Peaches are one of these fruits, and you should always store them outside the fridge, keeping an eye on when they start turning too soft or brown.
---
Peppers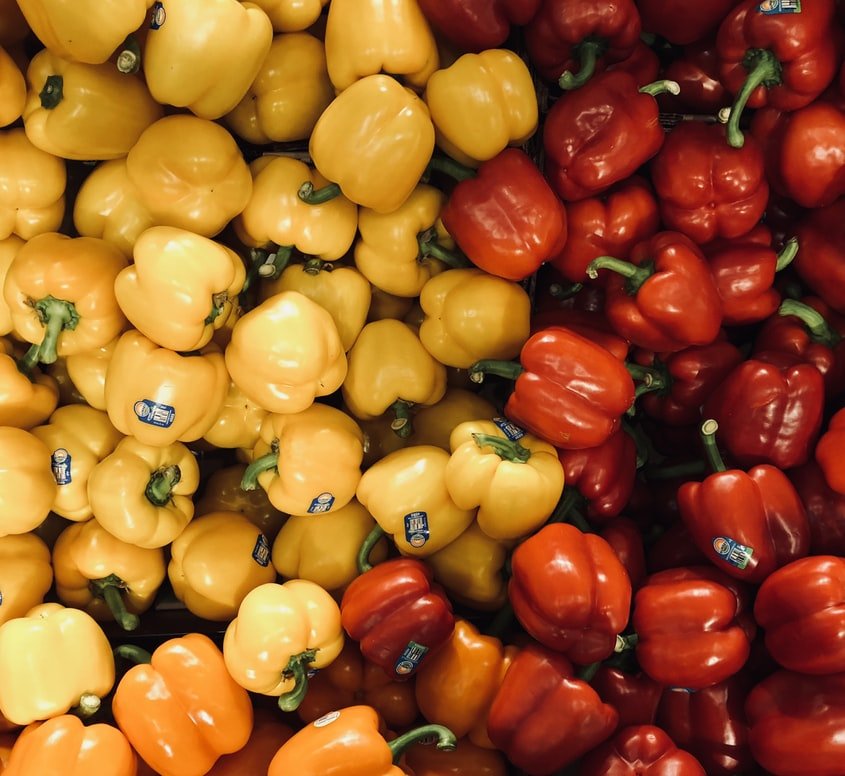 Peppers are more resilient than you would think. They last better when kept in a basket on your countertop, but out of the way of direct sunlight. Just keep checking for when they begin to go soft, which is your cue to use them. No need for refrigeration and your peppers will even taste better!
---
Pickles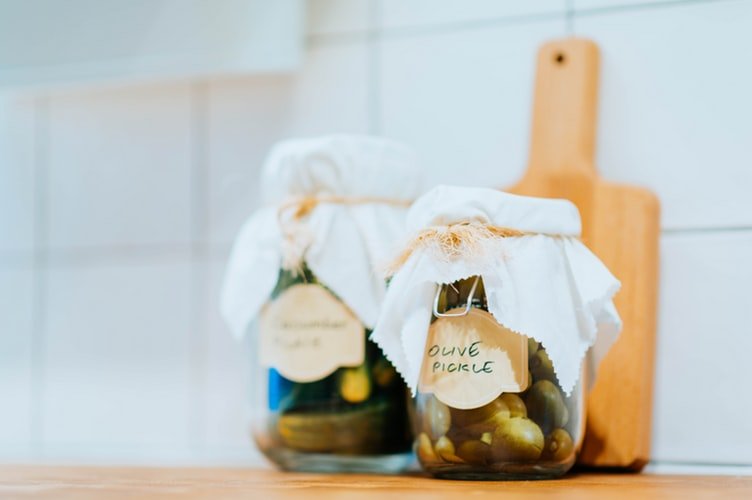 Pickles are among our favorite snacks, and we always keep a jar at the countertop. No need to refrigerate them, as they have already been fermented and preserved in vinegar. They will last outside the fridge for a long time, as long as you keep them in their liquid. 
---
Cake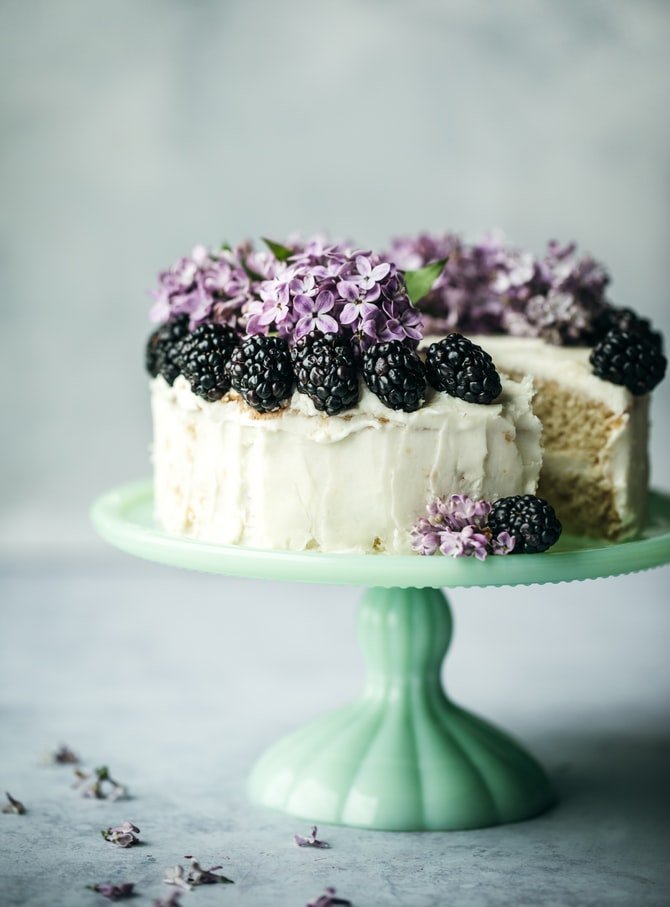 Cake is often covered with icing or cream, which makes it necessary to refrigerate, but if the cake you have at home is pretty simple, and doesn't contain any unbaked dairy, you can easily store it at room temperature. The best way to do this is to keep it in an air-tight container made specifically for cakes.
---
Coconut Oil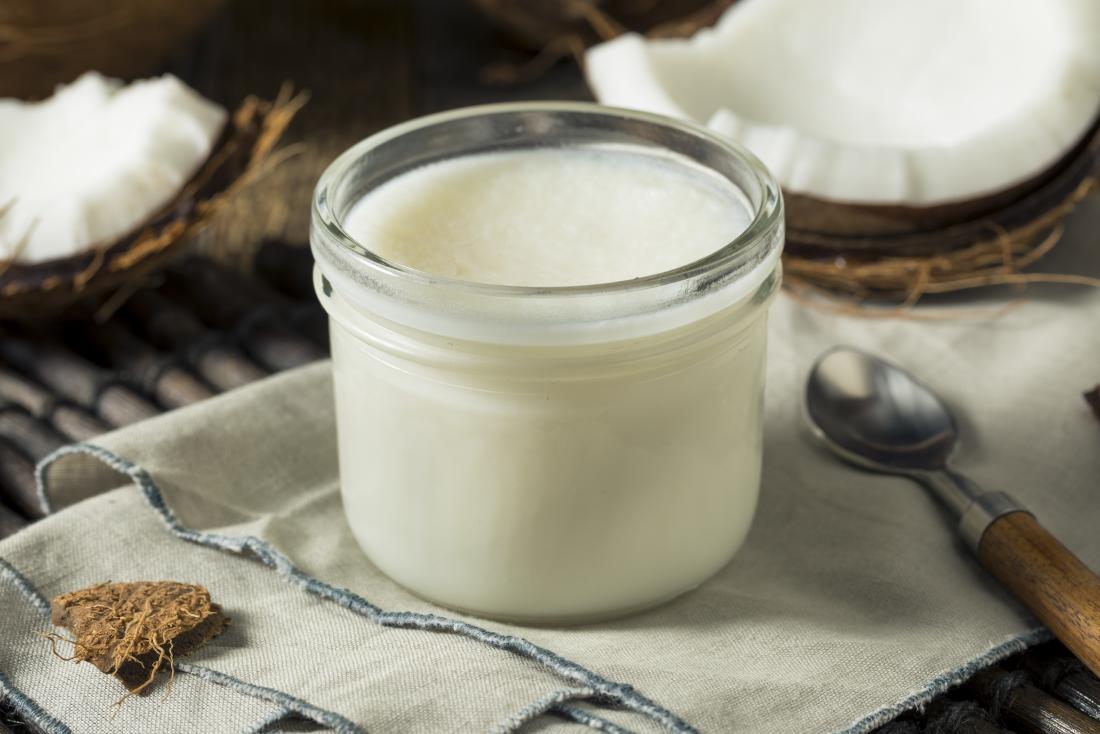 Much like other oils, coconut oil does not need the fridge to stay fresh and edible. In fact, coconut oil tends to get solid and very hard once the temperature drops, so make sure to keep it in a warm place to avoid that. The high saturation of fat will keep the oil good for consumption for years.
---
Canned Beans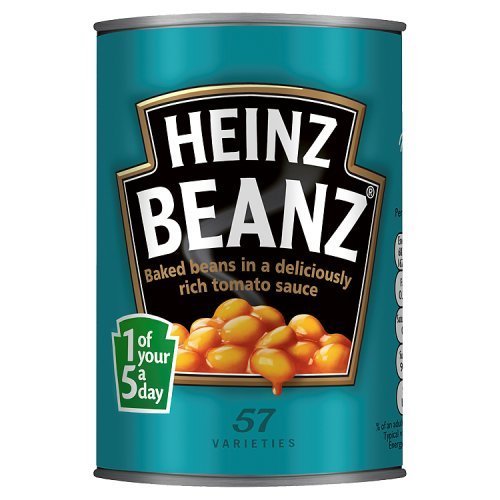 It should go without saying that canned foods do not need to be stored in the fridge, but we are going to remind you anyway. Unless you opened the can, it can sit at room temperature for years, and when you open it, it will taste exactly the same. The magic of canned foods should not be underestimated.
---
Jerky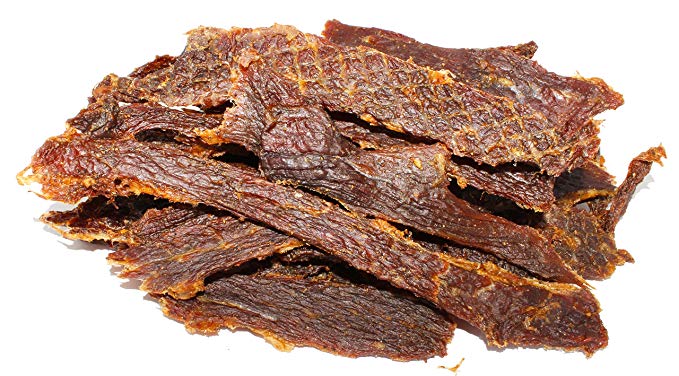 Jerky might be the best trail snack or emergency food as it can be kept outside the fridge for months without spoiling, and it will still taste amazing. It has been cured enough so it doesn't require cold temperatures, and you should really try to keep it away from humid environments, such as the refrigerator.
---
Canned Evaporated Milk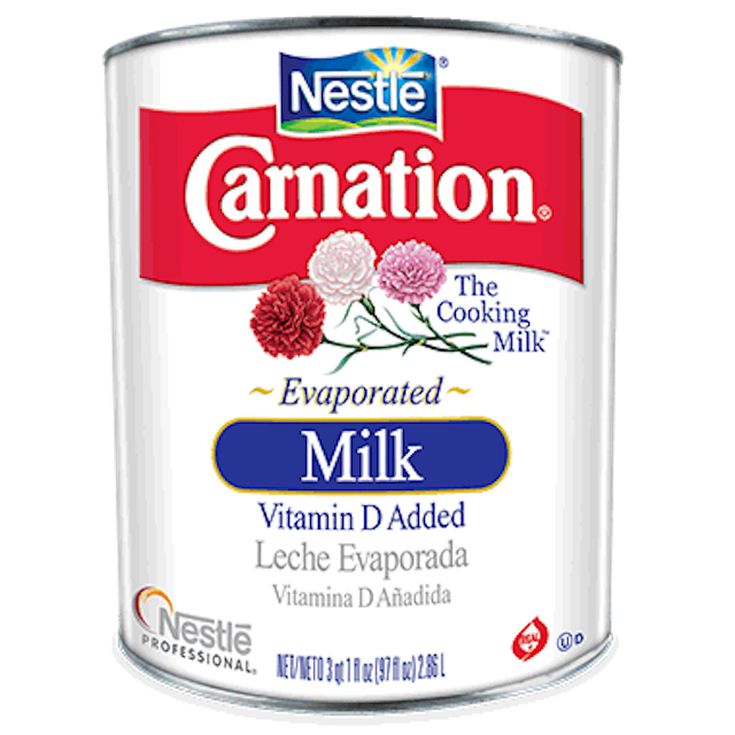 Canned evaporated milk is a great alternative to add to your coffee, or even to baking or cooking. It has had over half of the water in the milk removed, which leaves you with a more concentrated dairy product, but unlike condensed milk, it doesn't have added sugar. It's healthier, and lasts longer outside the fridge!
---
Green Beans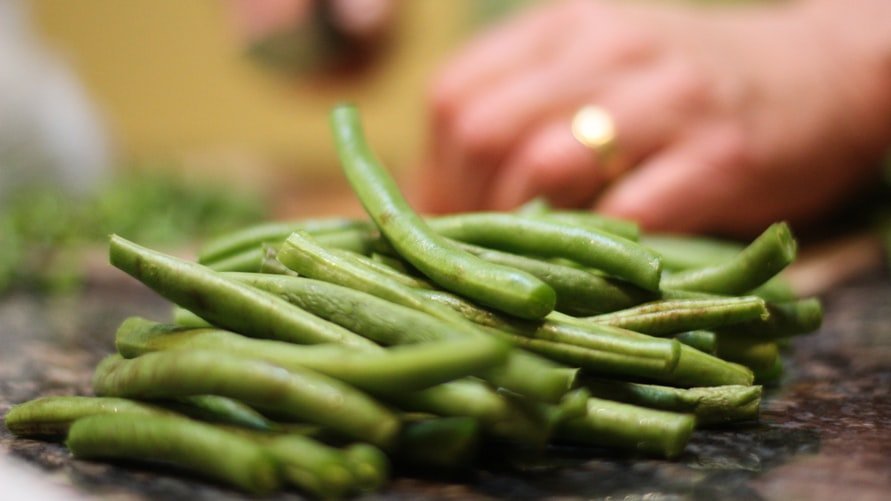 Green beans are delicate vegetables, even though they seem to have a very protective shell on them. They don't like to be cold and they will get damaged in the fridge. Green beans should be kept in a cool place in your kitchen, out of the sun, and you should regularly check on them.
---
Instant Noodles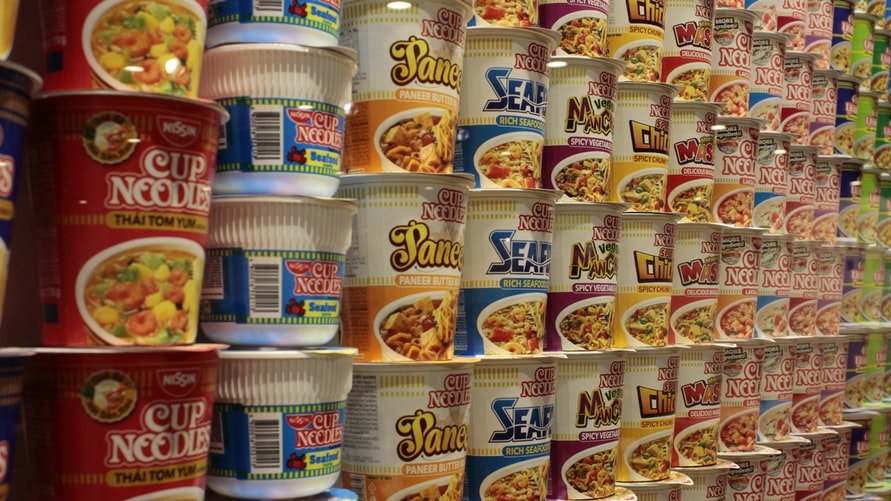 We shouldn't even be saying this, but instant noodles really have nothing to do in the fridge. They have been prepared for a long life on the shelf, and are one of the best long-lasting foods out there. Once you pour boiling water over them, they do become perishable, but until then, store them out of the fridge for as long as you like. 
---
Tomatillos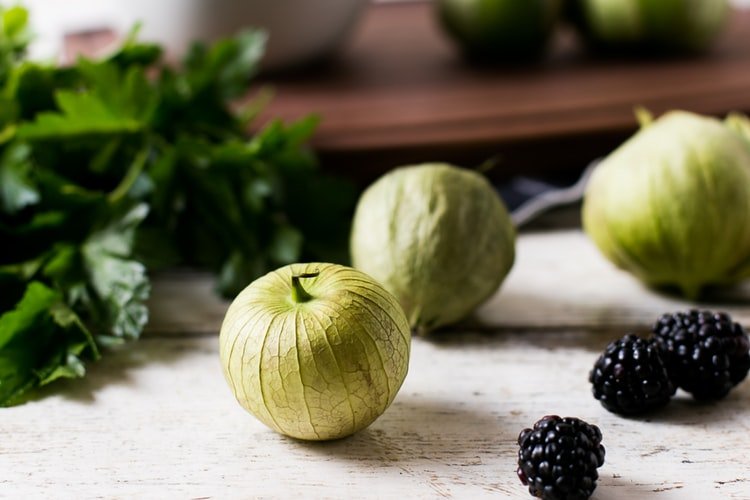 Tomatoes, in general, do very bad when kept in the fridge, and their little cousin- the tomatillo, is the same. You should always store tomatillos in a cool and dry place, out of the reach of the sun, and in a well-ventilated area. Of course, make sure you keep checking on how ripe they get and eat them once they start getting quite soft.
---
Salt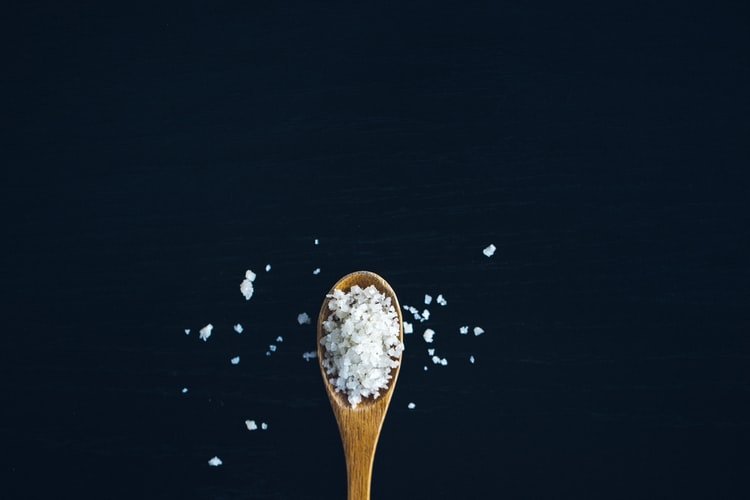 We don't know why anyone would even consider storing salt in the fridge. Salt is highly sensitive to humidity, and will likely clump up if in a too cold and too moist of an environment. Salt doesn't spoil, so keep it in your pantry in an airtight container where it belongs and you will be fine to use it for years.
---
Applesauce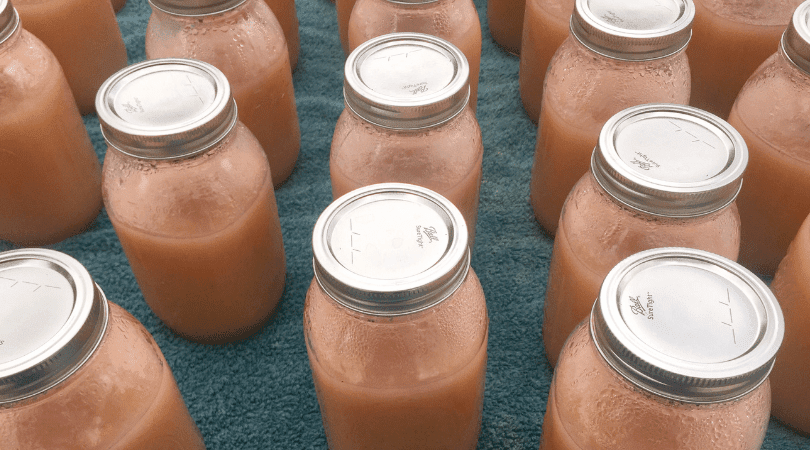 Applesauce is one of the best-conserved foods out there, as you can keep it in your pantry for years on end, before deciding to eat it. It won't spoil, and it will taste great, so don't be tempted to fill your fridge with it. However, once opened, applesauce does need to be refrigerated!
---
Fruit Leather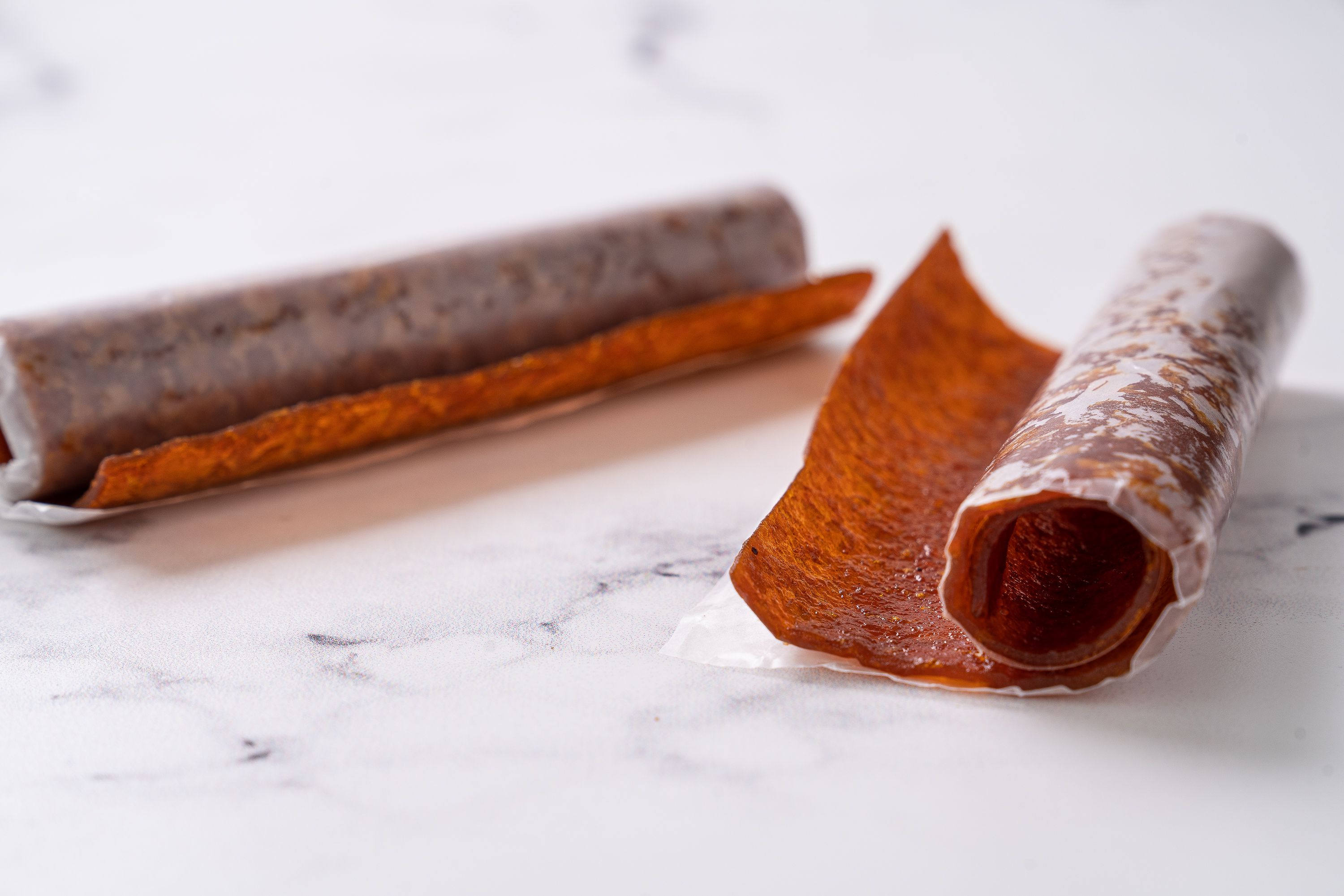 Fruit leather is a fun little snack to have at home. You can either buy it in the store or attempt to make your own from surplus summer fruits. The big bonus of fruit leather is that it will last long, without the need to be refrigerated. Just keep it in a shaded and cool place, and check for freshness from time to time.
---
Quinces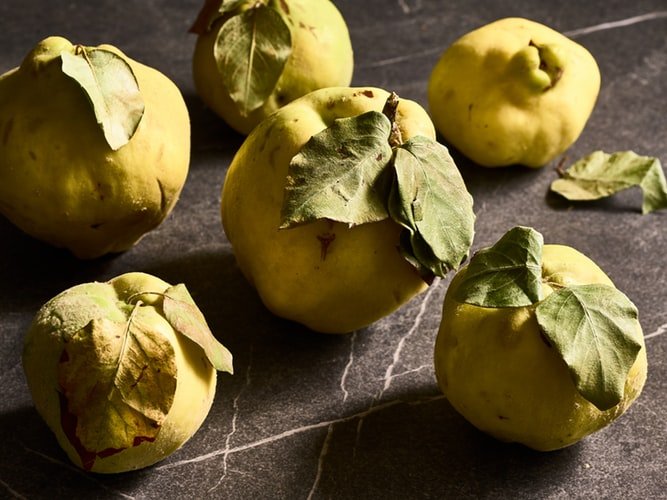 Just like apples and pears, quinces too, are used to room temperatures. No need to cool them in the fridge, as they will easily last a few weeks in your pantry on your table as a pretty fruit display. Just make sure they stay out of the sun, as this will make them ripen faster.
---
Canned Soup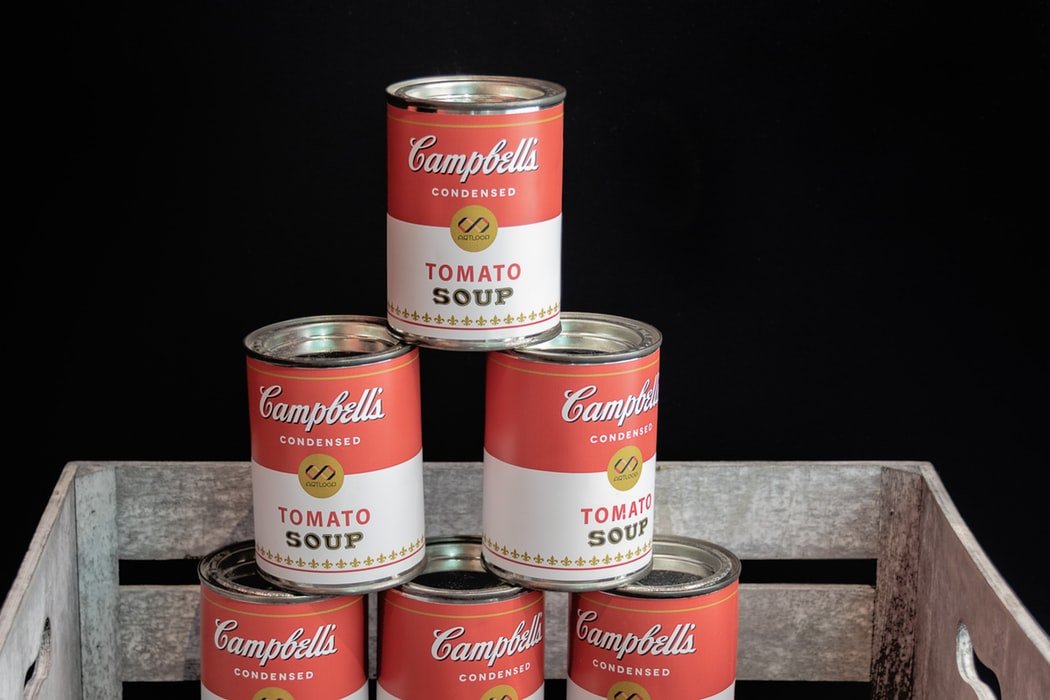 Another canned food on our list that does not need refrigeration for the simple reason that it is canned. However, people do get confused with canned soups, as they are liquid after all. It doesn't matter if the soup is a broth or a creamy pasta one, you can store it outside the fridge as long as you like. Once opened, it needs to be eaten or put in the fridge!
---
Ghee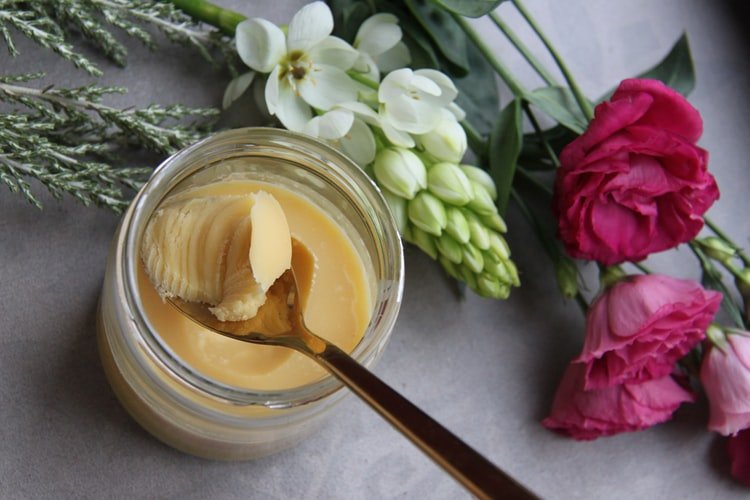 Ghee is clarified butter often used in Indian cuisine. It has a wonderful flavor that comes from removing all its non-fat dairy components, and this is also the reason it can be stored at room temperature. It acts as any other oil, and it tends to get quite hard when exposed to the cold, so just keep it next to your cooking station and you will be fine. 
---
Quinoa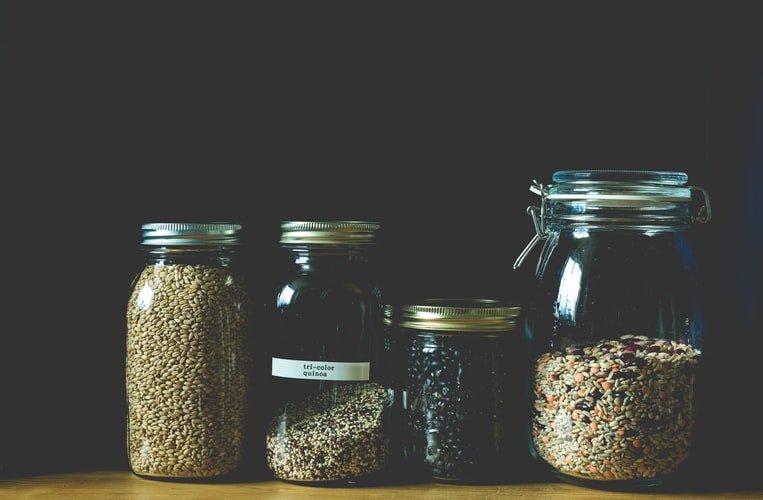 Quinoa has become a trendy food lately, but people still struggle with figuring out how to store it. Quinoa is not a grain, as many would think, but rather a seed, and it should always be stored in a cool dry place in your pantry. The humid environment of the fridge might begin its sprouting process!
---
Bouillon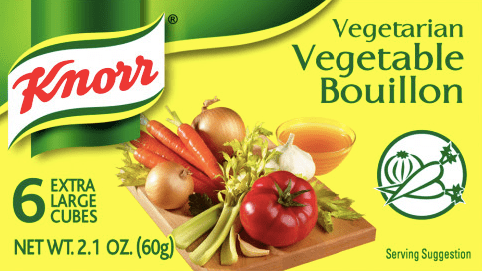 Bouillon is a great addition to many meals, as it is a concentrated flavor cube. There is no need to keep it in the fridge, as it consists mostly of herbs, salt, and other dehydrated foods. The best place for it is on your cooking counter, but out of direct sunlight. It will last you for years but do make sure to check for freshness every few months.
---
Okra
Okra should never be kept in the fridge, as it is a vegetable that is highly sensitive to the humidity and cold. It will get brown spots all over it if you refrigerate it, so you better try and keep it at room temperature instead. Store it in a cool place, out of the sun, and with a lot of ventilation. 
---
Couscous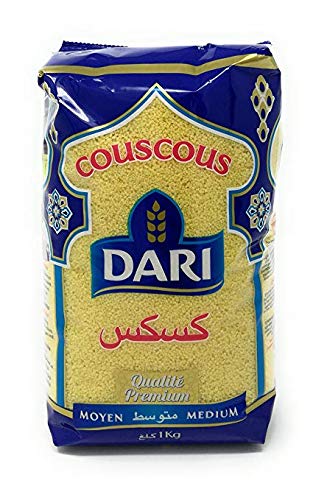 Couscous, much like other grains, doesn't require the fridge in order to keep fresh. As long as you store it in your pantry, out of the sunlight, and not in extremely warm temperatures, it will be ok. The only thing that can happen to couscous is that it will go stale, so eat it within a few months of buying.
---
Donuts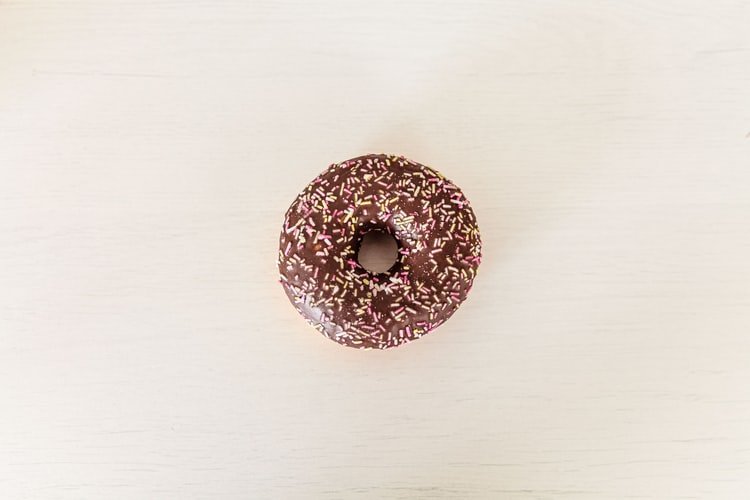 Donuts should be eaten as soon as possible after purchase. They will be the freshest and tastiest, and no amount of refrigeration will make them stay that way for more than a day. Most baked products don't do well with the humidity of the fridge, and donuts especially will get very soggy and soft. 
---
Hard Cheese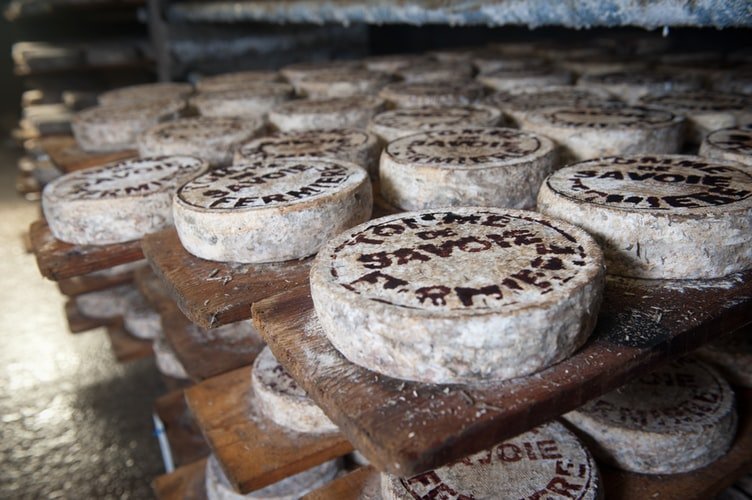 Whenever you buy hard cheese sealed in a waxy coating, you can store it at room temperature. If kept in a cool, dry, and well-ventilated place, the cheese will keep maturing for years, but once you cut into it, you will need to put it in the fridge and the maturing process is over. 
---
Tortillas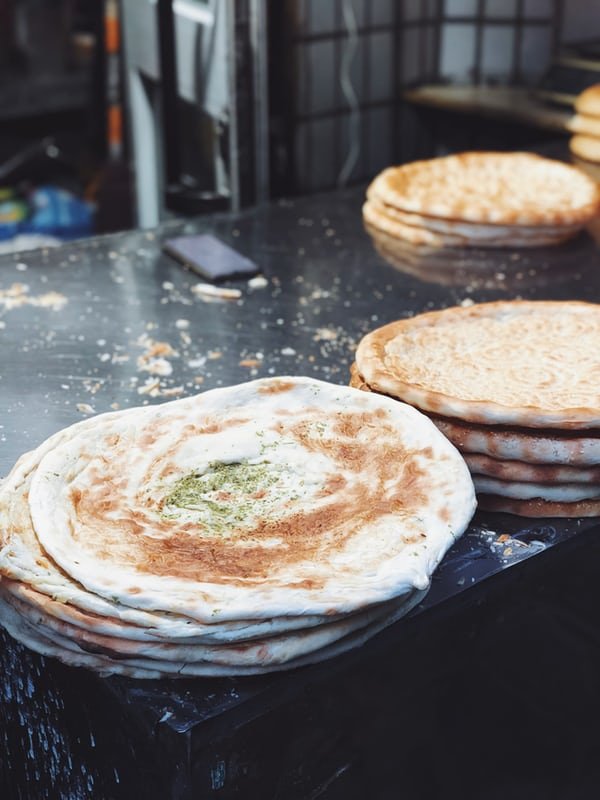 Tortillas are made up of very simple ingredients of flour and water, and that makes them last long even if kept outside of the fridge. If refrigerated, the tortilla can begin to mold quite fast, so if you need to store your tortillas for longer, try to find a cool and dry place for them somewhere in your pantry.
---
Dry Lentils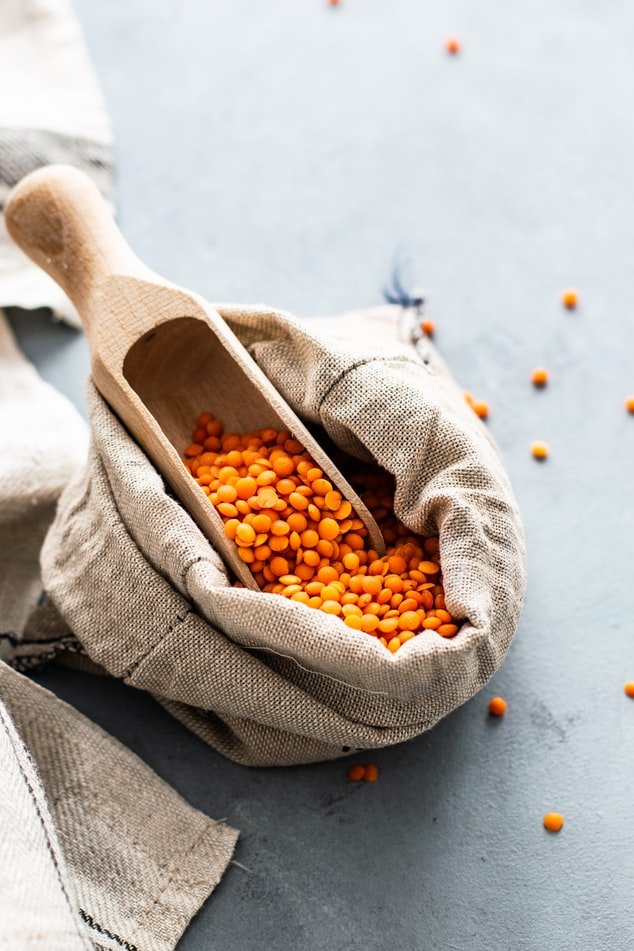 Because they are dried, lentils can last forever. They are one of the most durable foods out there, and they require no refrigeration whatsoever. Just keep them in your pantry, and use them whenever you are ready. Due to their level of dehydration, it will take quite a while to cook them though!
---
Rice Cakes
Rice cakes are a great and healthy snack to keep in your pantry. Definitely don't put them in the fridge, as the humidity will make them soggy and soft. To keep them crunchy, make sure you consume them within a few days of opening the package. Otherwise, unopened, they can last for years.
---
Coconut Milk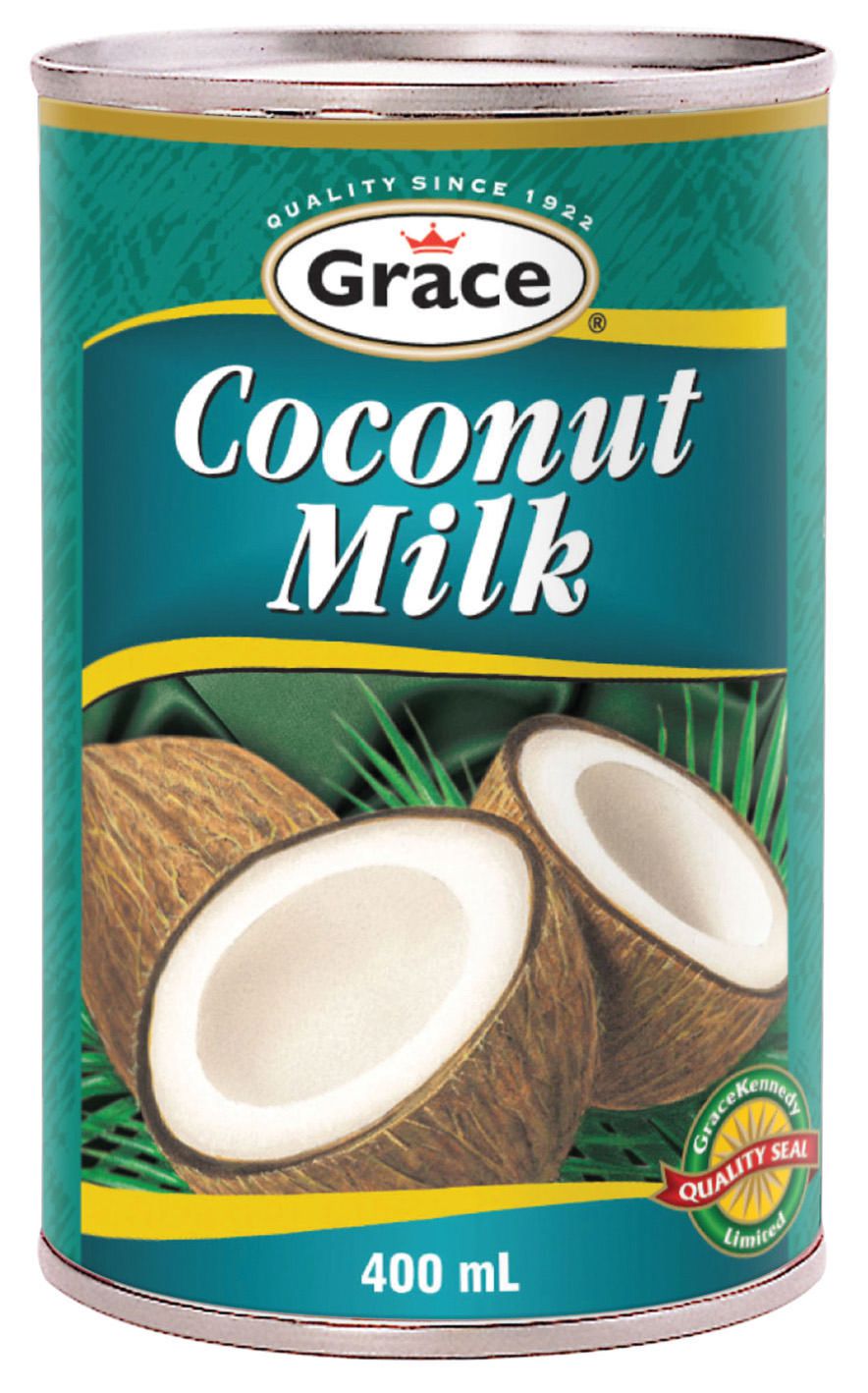 In most forms, coconut milk can easily be kept in your pantry for months on end. Unless you buy some fresh version that has not been treated to last, you can store coconut milk outside the fridge for a truly long time. Once opened, it will need to be either consumed or refrigerated, however. 
---
Oatmeal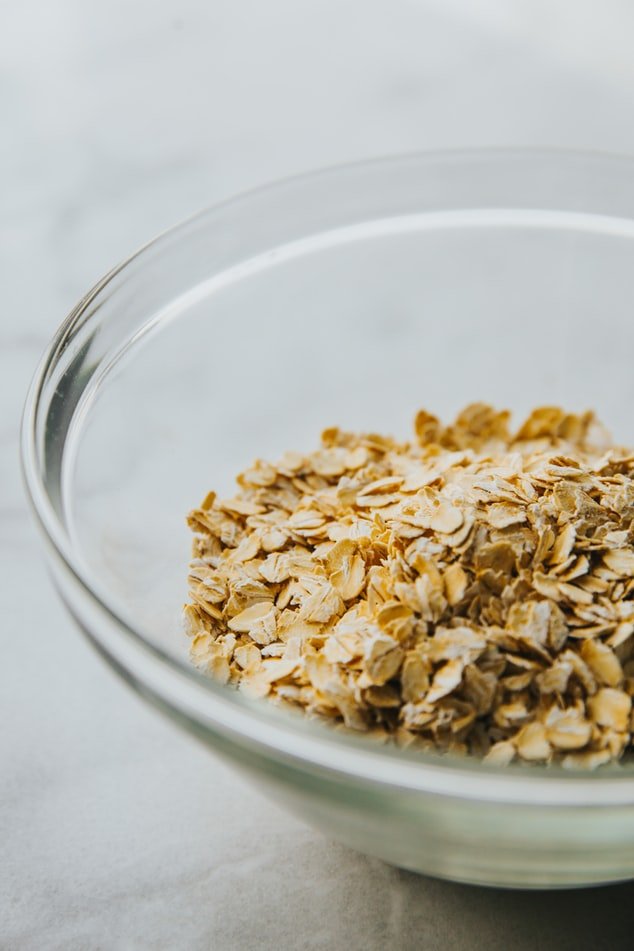 Oatmeal will do quite badly in the fridge, as the humidity will likely make it begin molding. If stored outside the fridge, however, it will last you for months. The best way to keep oatmeal fresh is in a glass jar that is sealed properly, and out of the direct sunlight. Oatmeal can get stale after a few months, so just check for freshness from time to time. 
---
Protein Powder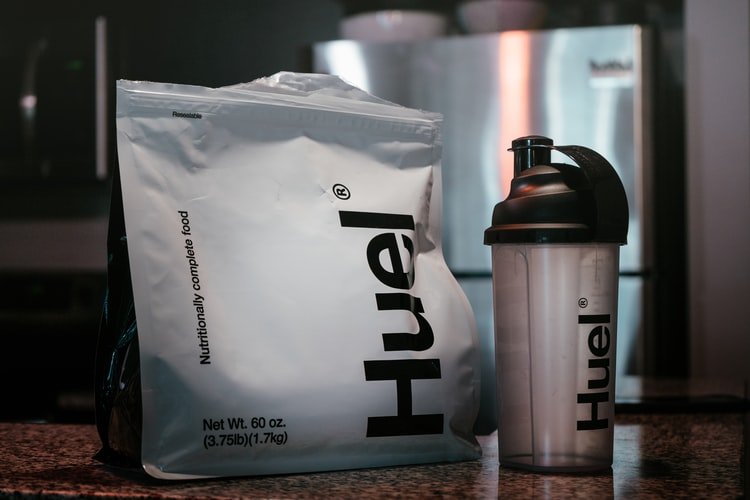 Protein powders have been so dehydrated that there is absolutely nothing in them that can turn bad. Stored properly outside the fridge, and kept in a shaded and cool place, protein powders will last you months, but don't be tempted to put them in the fridge. Once again, the humidity is the culprit here, as it will make the powder clump up.
---
Eggs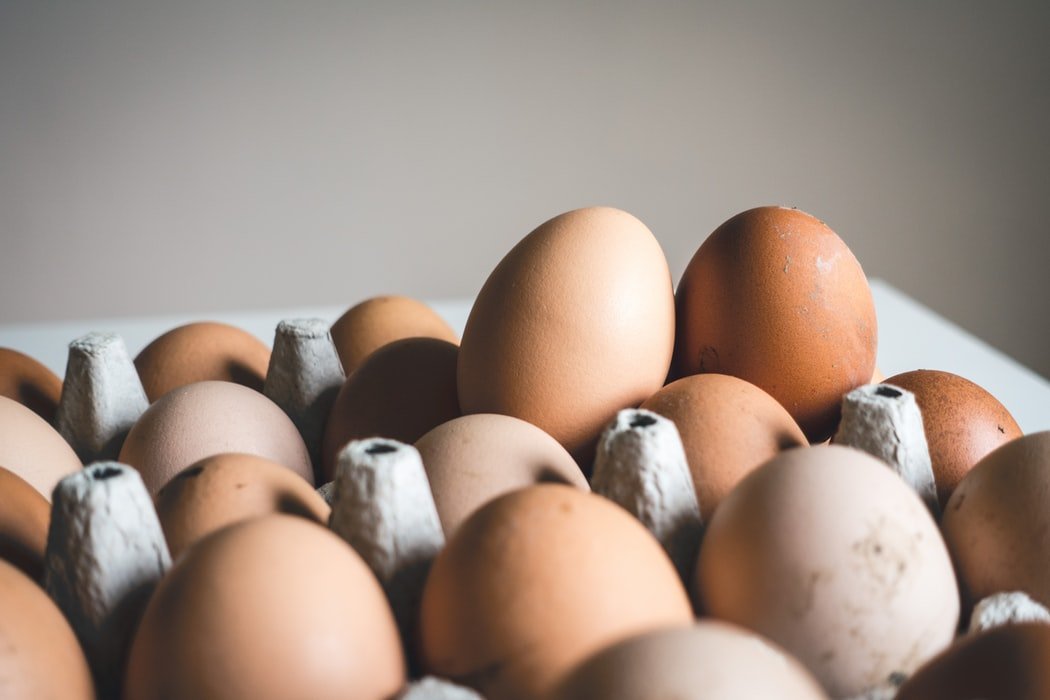 Contrary to popular belief, eggs don't require refrigeration. Their protective shells keep them fresh for weeks, so you don't have to worry about spoilt eggs, even if you keep them out for a longer time. Don't let anyone tell you differently, but if you are worried if your eggs are still good, just do a freshness test!
---
Cucumber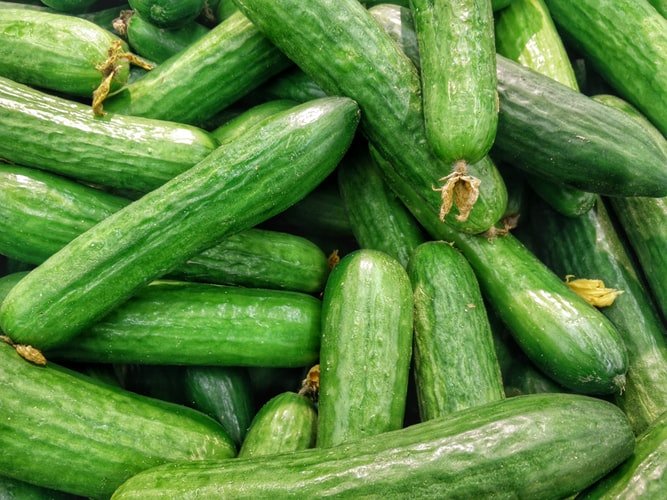 Cucumbers do not need to be kept in the fridge, in fact, they fare much better if stored at room temperature. If you want to keep this salad ingredient always fresh and crispy, avoid placing it in the fridge, where it can get too cold or frozen, which will make it turn mushy and tasteless.
---
Syrup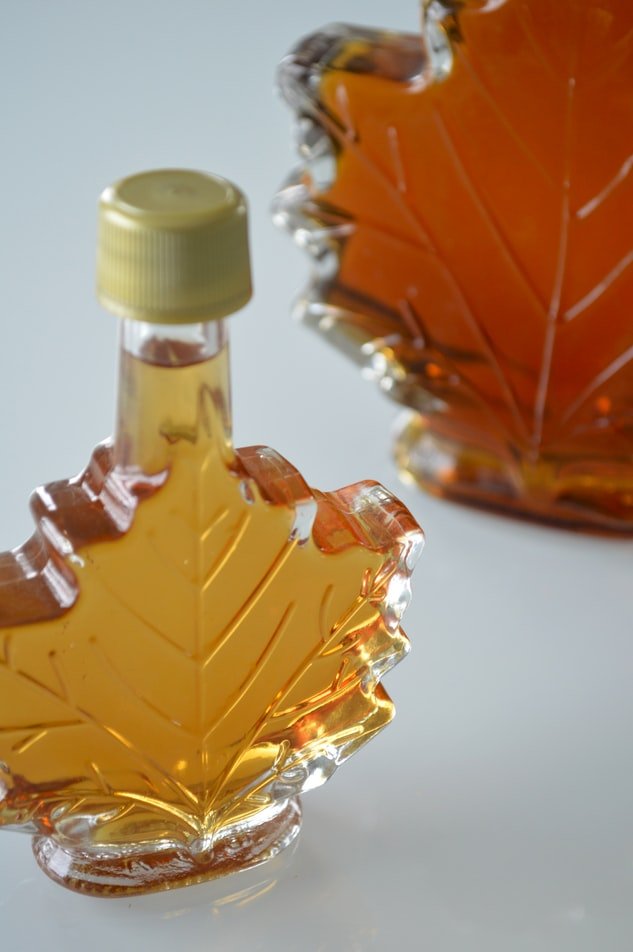 If you like your pancakes in the morning, it's likely you also have a few jars of syrup laying around for those special sweet breakfast occasions. But much like honey, syrup doesn't need to be kept in the fridge. It is super concentrated and high in sugar, which is its own preservative. 
---
Rice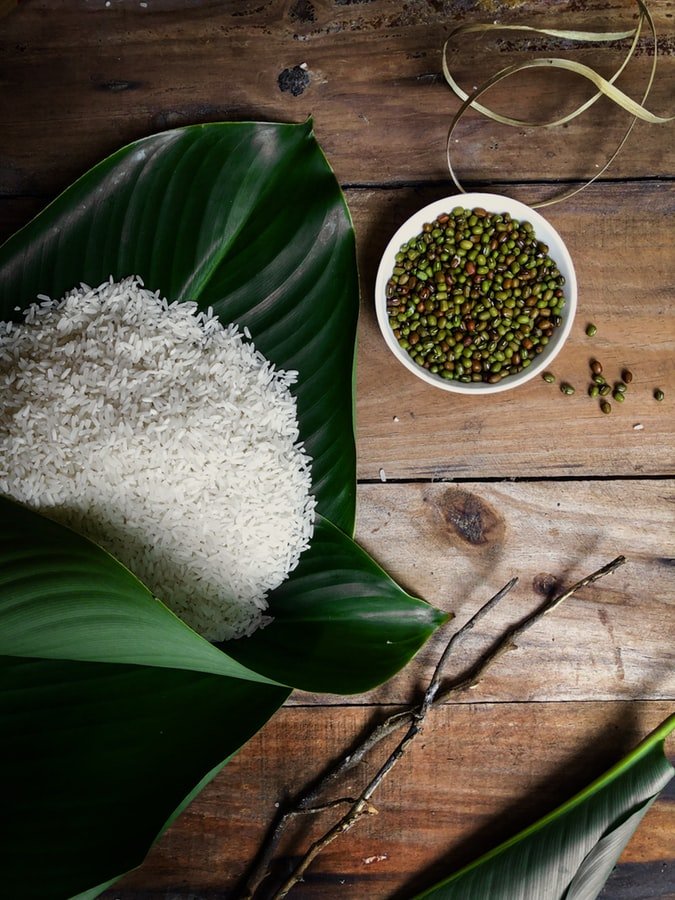 Rice definitely does not require refrigeration, unless it's cooked. Dry rice is perfectly fine in your pantry, and if you keep it in an air-tight container, it will last you even a decade. Some foods have natural preservation properties, so you don't have to worry about keeping them fresh yourselves.
---
Chocolate Spread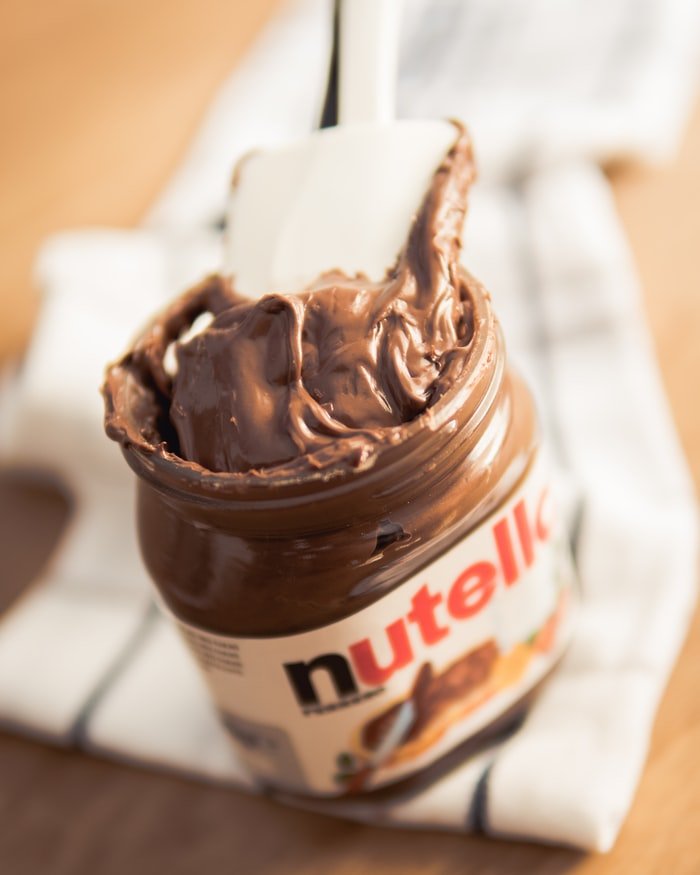 Your chocolate spread belongs next to your peanut butter. They should both stay in your pantry, as the coldness of the fridge will make them turn solid. As chocolate spread contains a lot of sugar and fat, it can preserve itself, and it will even taste better if stored at room temperature.
---
Pastries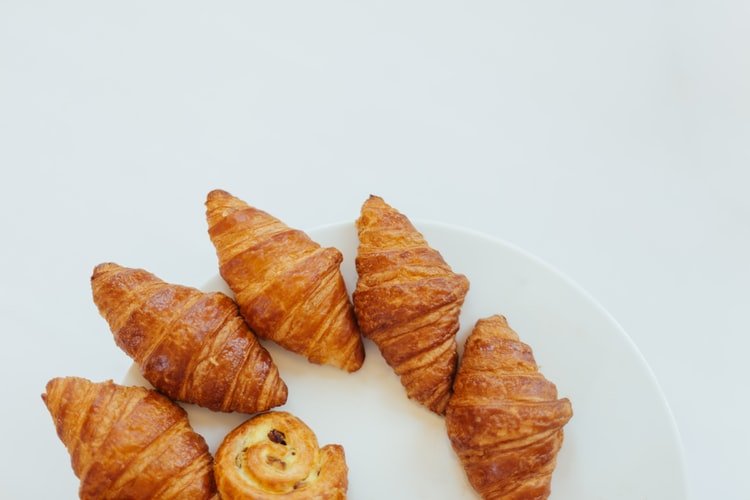 Pastries, much like bread, tend to go stale pretty soon, and putting them in the fridge is not gonna reverse that process one bit. What's more, they will most likely start molding from the condensation in the fridge, so instead, store your pastries in a paper bag or cotton cloth on your countertop.
---
Peanut Butter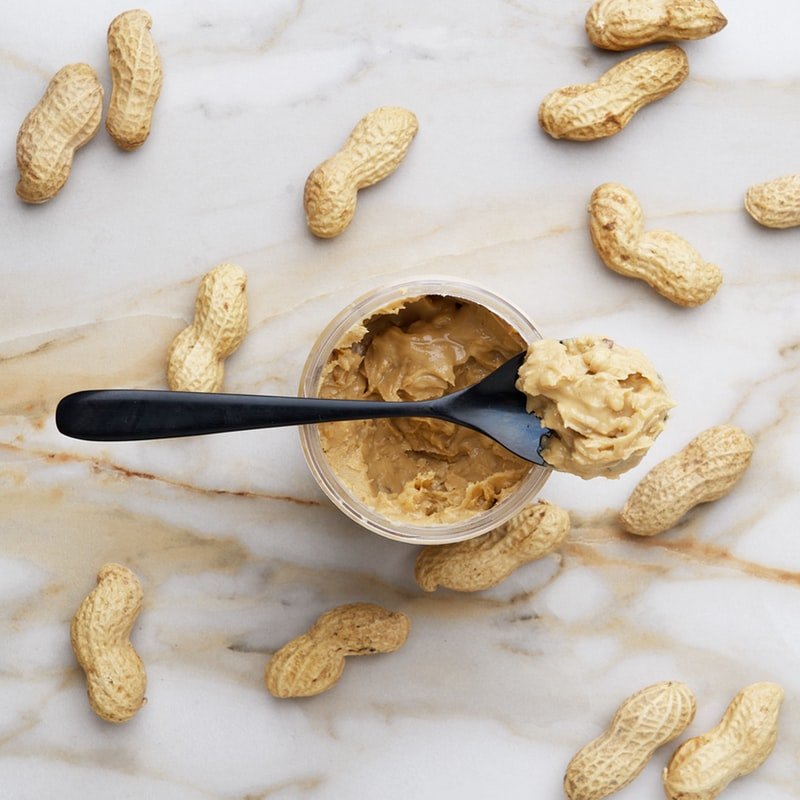 Peanut butter should never be put in the fridge! Because of the high amount of plant fat it contains, it will go completely hard, and you will not be able to eat it so easily. Peanut butter should be stored at room temperature, and stirred frequently to assure it is smooth and spreadable at all times.
---
Herbs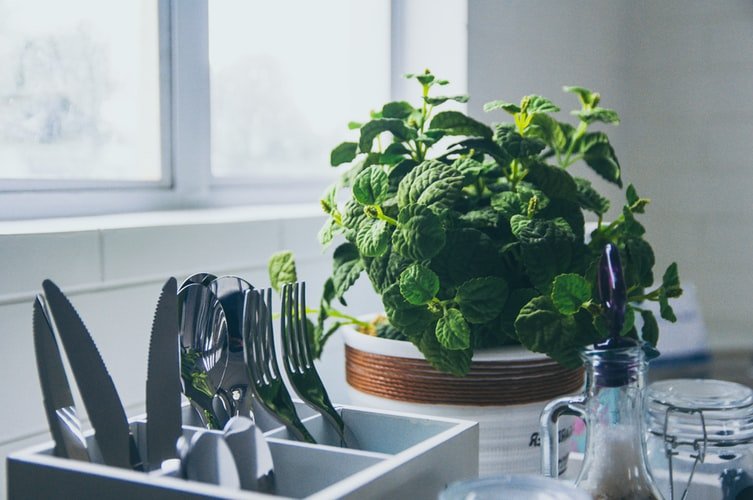 The best way to keep herbs alive is to plant them on your windowsill, but if you prefer to use cuttings, the fridge is the last place for them. You just need a glass of water into which to put them to keep them alive for longer. Make sure to change the water every day, and your herbs should be good to eat for a while.
---
Nuts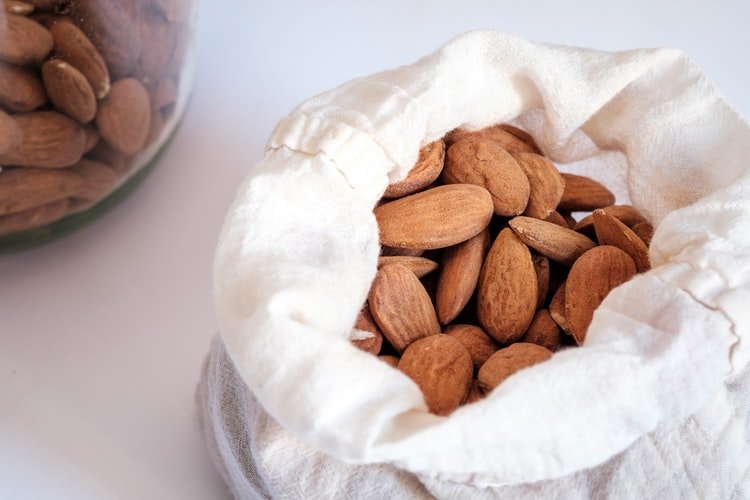 Nuts are simply not made for cold temperatures. Fridges tend to not only be cold but also humid, an environment not suitable for nuts in any way. What you want to do is keep your nuts wrapped in a cotton cloth, which will keep them dry and crispy for months, ready to be consumed.
---
Dried Fruits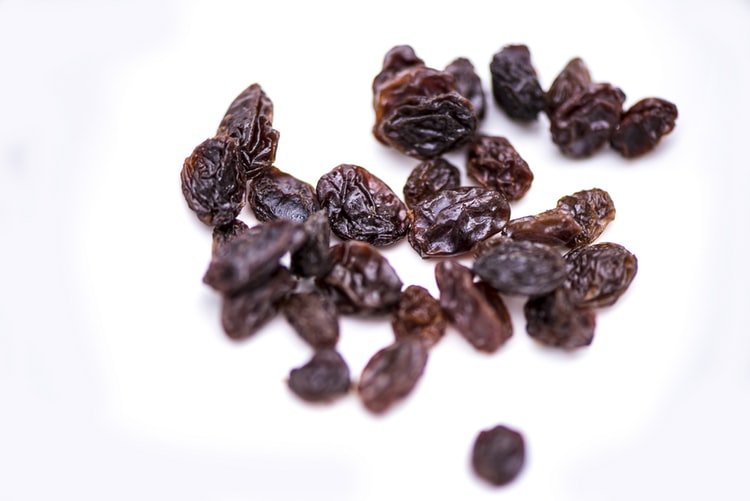 Dried fruits, unlike fresh ones, can stay out of the fridge for months without going bad. Even then, the only thing you might notice is a slight dustiness to them, which simply means they are not so fresh anymore, but still perfectly fine to eat. You might want to consider refrigerating them in case you like them to stay juicier.
Refrigeration may be great for some foods, but it may harm others. Some foods can stay edible and fresh for days and weeks without any cooling, and as long as you know what the specific food item needs in terms of air circulation and light, you can manage to store most of your groceries outside of the fridge. 
Sources: Good Housekeeping, Huffington Post, The Street, Women's Health Magazine, How Stuff Works, Love Food, Editor Choice, The Spruce Eats, Farmers Almanac, Thrillist, Eat This, Mirror, Delish, Food.NDTV, C Net, LA Times, Cool Mom Eats, Delishably, Martha Stewart, CBS News, The Journal, Mashed, The Kitchn, Jerky Holic, Still Tasty, Perfect Daily Grind, Beyond The Net, Prevention, The Provident Pepper, Mother Earth News, Pleasant Hill Grain, Live Strong, Eat By Date, The Produce Moms, Extension, Foodie With Family, Unlock Food, Our Everyday Life, Scielo, Waitrose, My Recipes, Preparedness Pro, Leaf, USA Emergency Supply, Fruit Guys, Glad, Does It Go Bad, High Valley Grains, Epicurious, Listonic, Territory Supply, Healthline, Techie Camper