Funny Texts With Teachers
Ah… the digital age. Not only does it give us the convenience of texting anyone, anytime, it also gives us a lot of laughing materials so we here are out of a job. Everyone must have sent the wrong texts by mistake, but when it involves teachers and students, it adds to the extra hilariousness. Feel like having a good laugh? We have compiled a list of cringy failed texts between teachers and students - disclaimer: it's the internet, and we can never say if they actually happened...regardless, why not just have a good laugh about it? 
Twilight Roast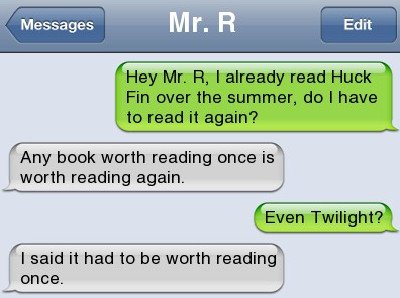 There are a lot of good things about the 2000s, but probably not the whole Twilight craze. For those born in the 80s and 90s, you should still remember the times when the movie came out and every teenage girl went nuts about it. It first came out as a book, but somehow it got to the silver screen. If the book has any meaning, it probably means a lot of money for Stephenie Meyer.
Look At Whom You Are Texting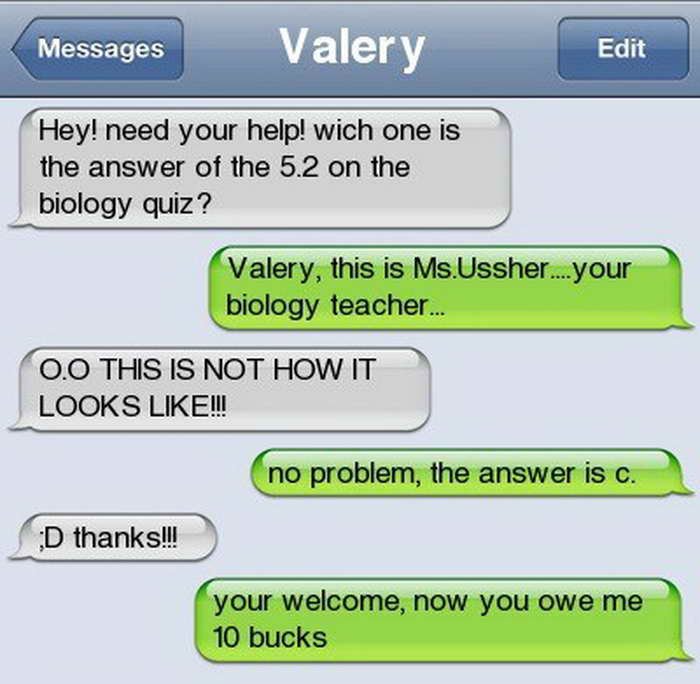 Seriously though, we cannot stress this enough - look at whom you are texting! Sometimes, the message didn't go to the person intended, and in this case, it seems to be a $10 mistake. However, we are not sure of the authenticity of this message - I mean, a teacher who misspelled "you're"?
Did Not Work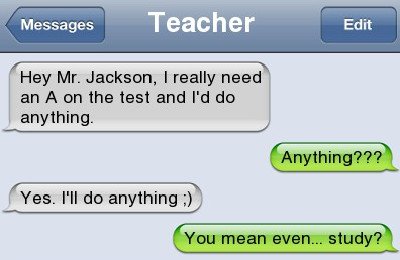 We simply do not understand the notion of bribing teachers - not that we were good students, but we suppose it is just responsible for our own mistakes. The roast from this teacher is just right - not too raw, not too burnt, just the right amount of roast to tell the student to own up to her own mistake, and study harder.
Natural Selection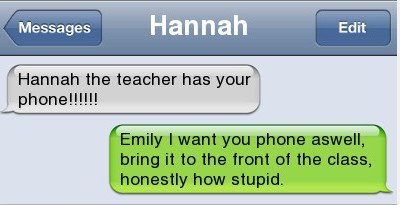 Alright, a piece of advice here - when you send a message to someone, the message will get to whoever is using the phone, not necessarily the owner themselves. It seems obvious enough, but it isn't so obvious for some people. Also, if you are still studying - be a good boy/ girl and pay attention in class.
Be A Good Teacher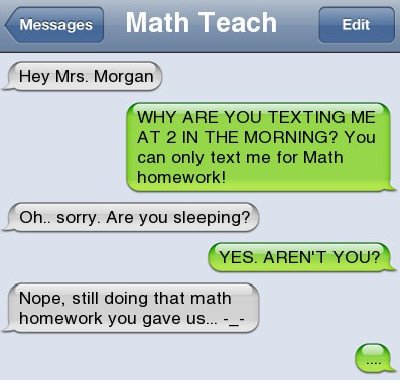 As much as we hate text messages early in the morning, we are standing behind the student in this case… if there's anything more frustrating than getting a text message while asleep, it's probably doing math homework past midnight...oh…those traumatic years are coming back… If you are reading this as a teacher, for the love of God, don't make the homework so difficult.
Turn of the Tide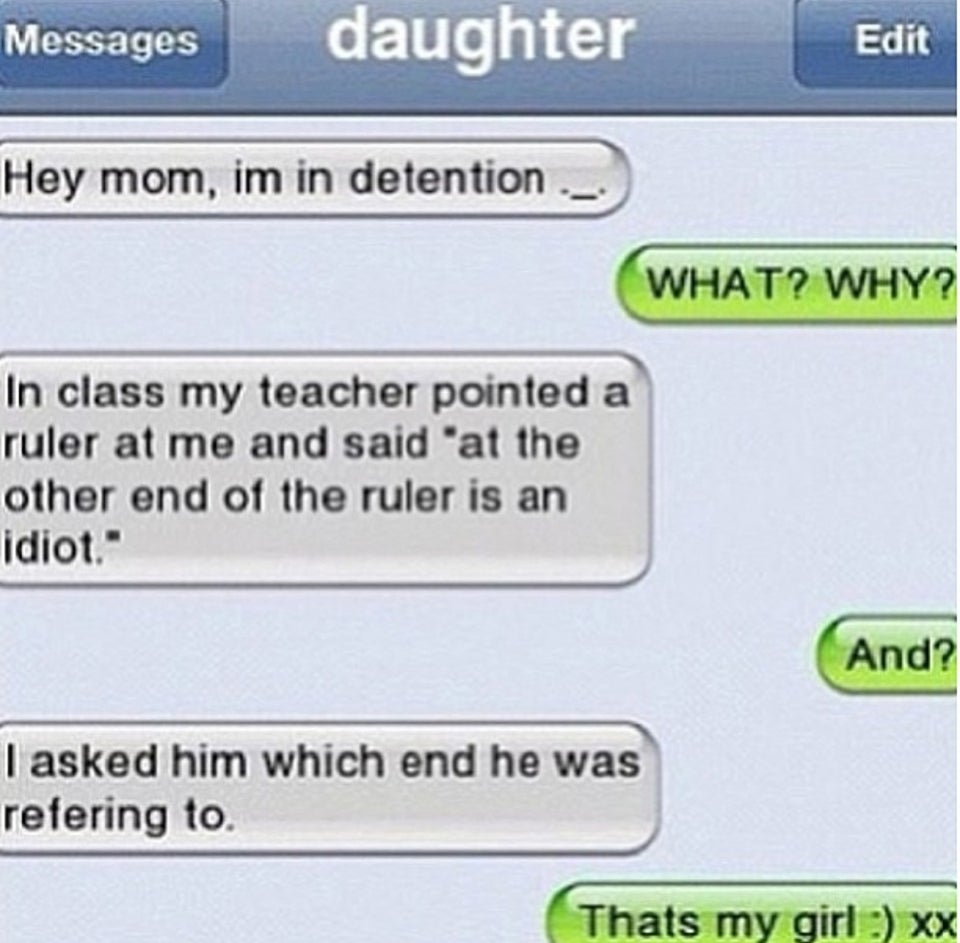 Another advice from us? Always be nice, cause you never know when the tide will be turning against you. We know we know...sometimes teaching can be annoying, but as in anything in life, all we need is just a little patience. Once you start to get angry, you cannot control what you say, and soon the tide will turn against you.
Common Sense is Not So Common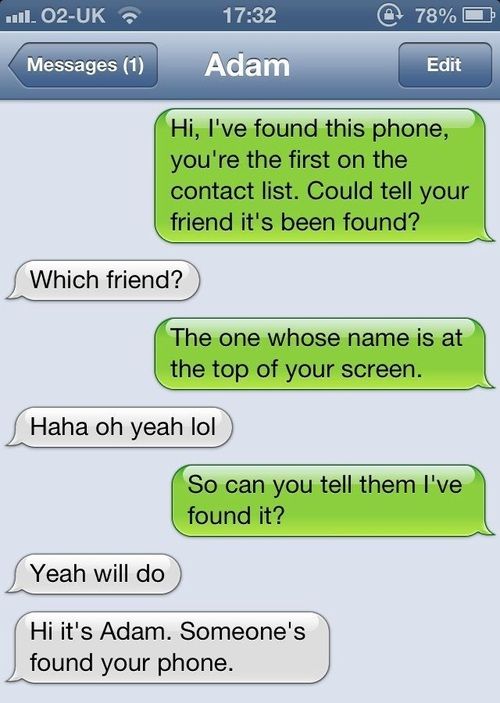 Again… it seems that common sense is not so common for some people. Remember how we said that the one using the phone might not be the owner themselves? This is another scenario where this happens - and it happens more often than you might think. The fact that the dude sent a message even though he is looking right at the chat history just baffled us.
Dentist Trip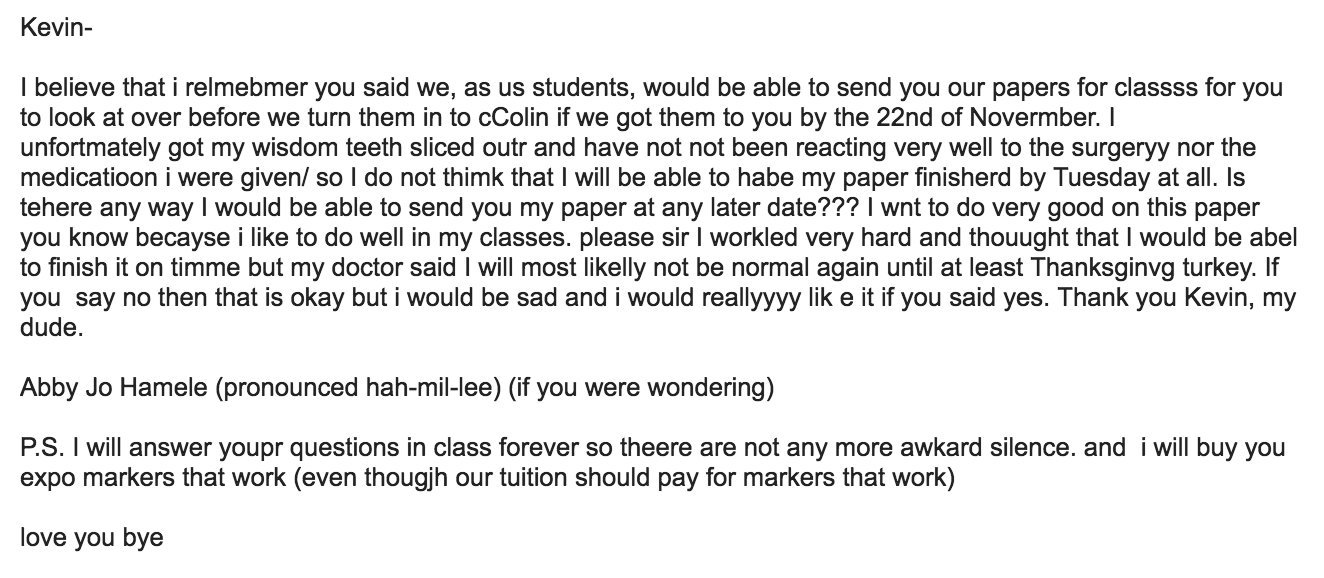 America is a land of wonder, full of mysteries. One of those mysteries is the choice of painkillers to relieve dental pains, and because of that, we have a lot of funny stories of people making questionable choices after a trip to the dental clinic. This one here, for example, we gotta say that Abby really tried to be nice in her initial email though.
Wrong Picture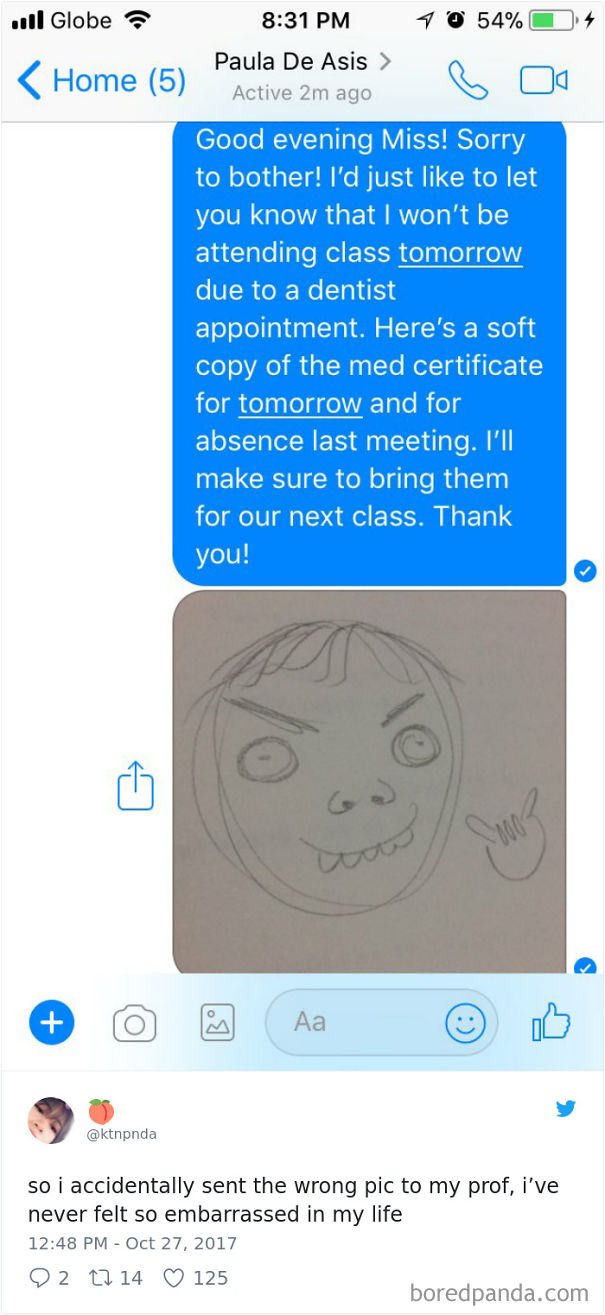 Apart from wrong texts, wrong pictures are also a thing - especially if you have a lot of them on your phone, clicking on a wrong picture happens on a regular basis. Unfortunately for Twitter user tinapahy, the recipient of the wrong picture happens to be her professor...and it was supposed to be a serious email. Better luck next time.
Removing Pants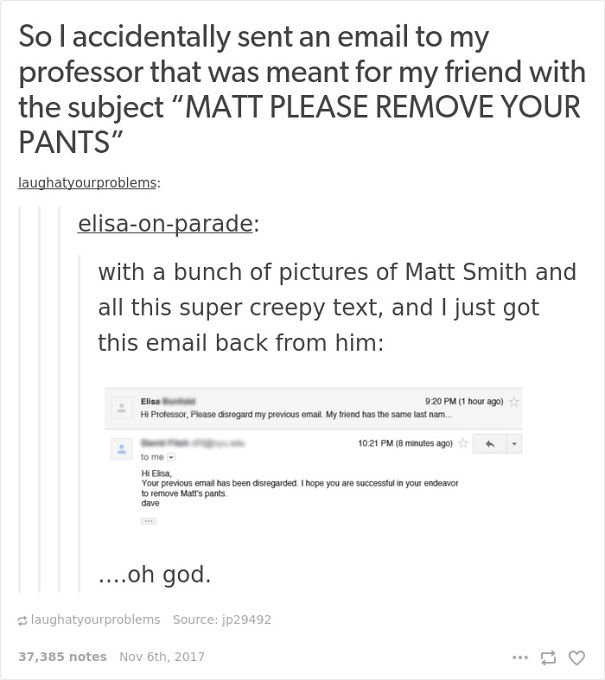 We are not entirely sure of the backstory behind this, and honestly, we don't really want to know. Lesson here? Double-check the recipient when you send an email - especially in countries when a lot of people share a common last name. Anyway, we hope Elisa did manage to remove Matt's pants.
But First, Let Me Take A Selfie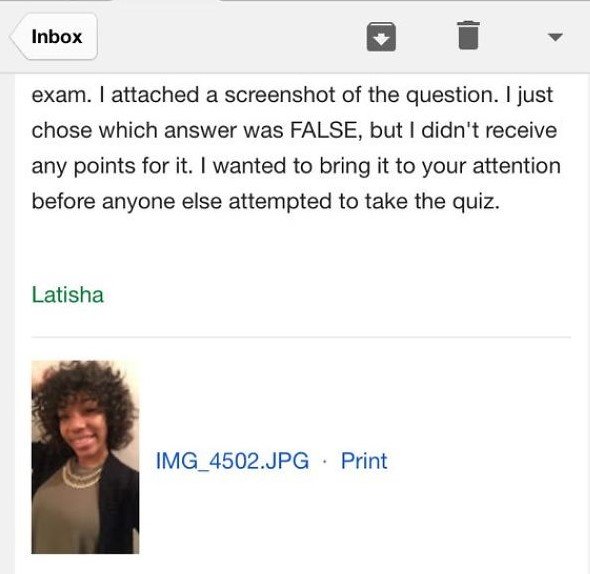 Normally, sending a selfie by mistake isn't that big of a deal - however, if the email was supposed to be serious, it would still be quite embarrassing. For example here, where Twitter user Latisha was trying to have her score reviewed, but ended up attaching a selfie instead. Again, the lesson here? Double-check your email before you send it.
We Are Worried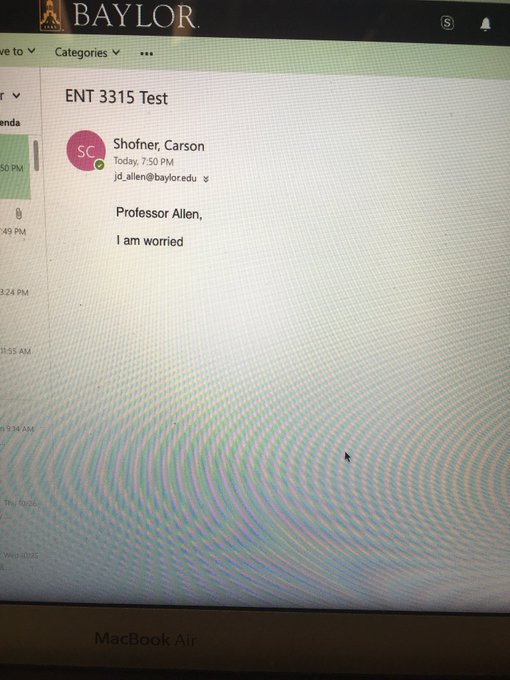 In literature, suspense is a technique that is often used to create tension, but that's probably not what you want in an email to the professor. Yes...it does happen often that we send out a message by mistake before finishing the message, but still, this is hilarious to look at. The professor is probably baffled by the email, trying to recall what he did exactly.
Sympathy For The Devil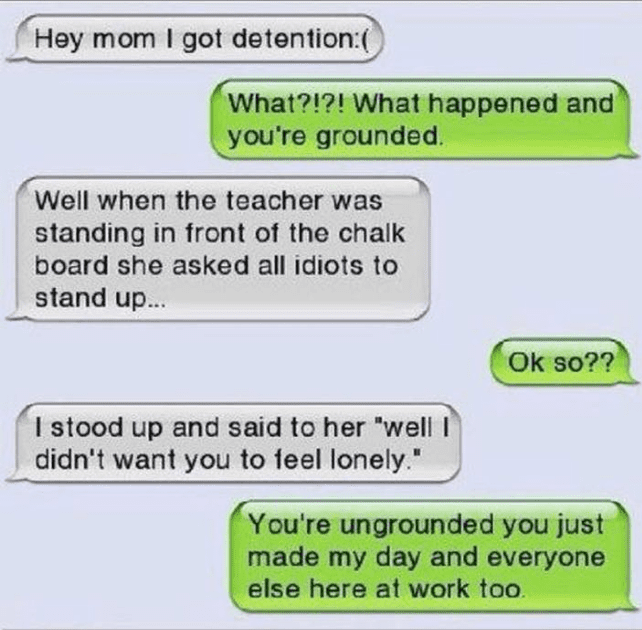 Empathy is a merit, and it is a good trait to see in a student - it's just that this was used in the wrong way. We gotta admit though, this is a pretty good roast - seriously, be careful of what you said, or as we mentioned already, it might just work against you in the end. Kudos to the witty kid here.
Poetry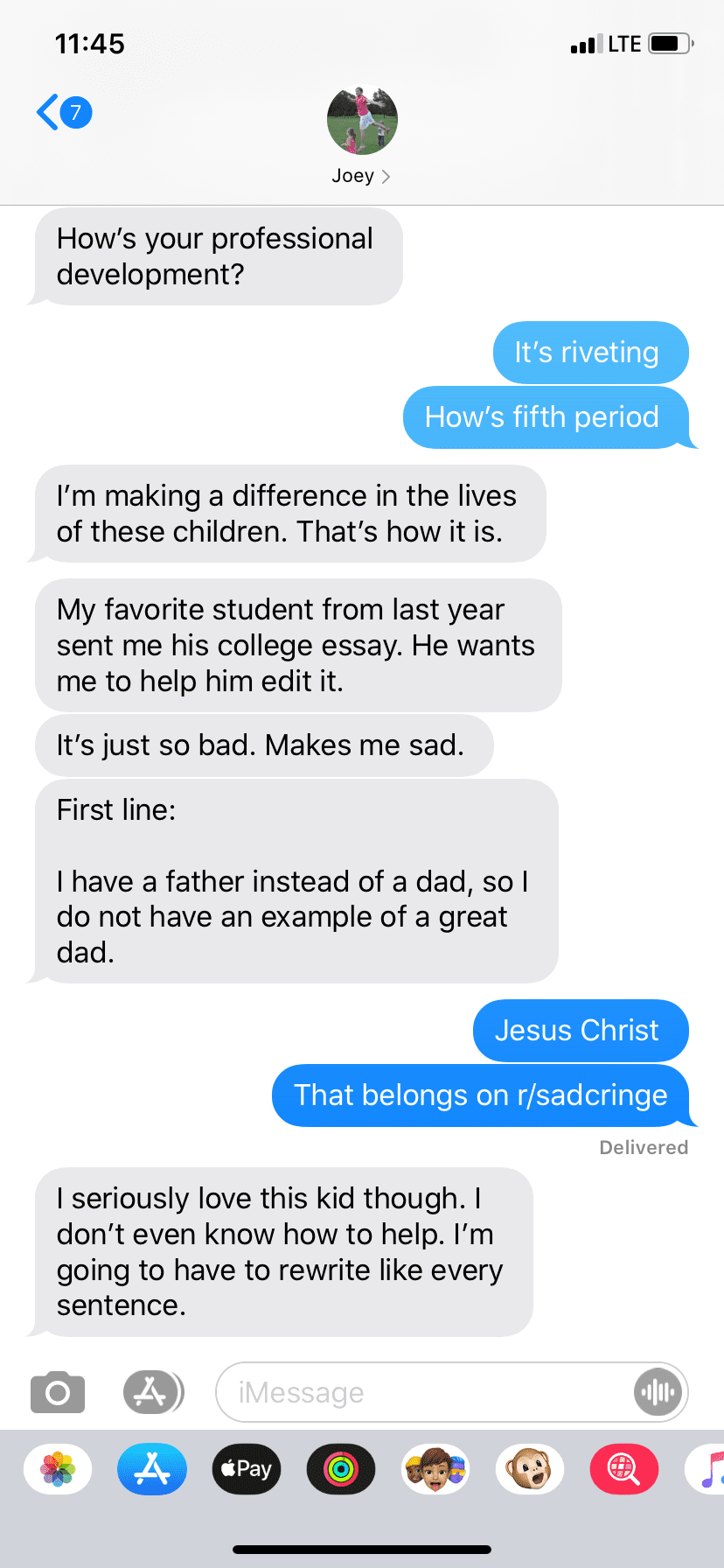 We are not entirely sure how this student actually made it to college...money perhaps? Seriously though, how bad does it have to be to actually put this down in an essay? It's funny as a joke of course, but if you start thinking about his future, and possible career options...it's not that funny anymore. We wish him the best of luck thought - the teacher said he's a good kid, so we hope everything will turn out fine.
From A Different Perspective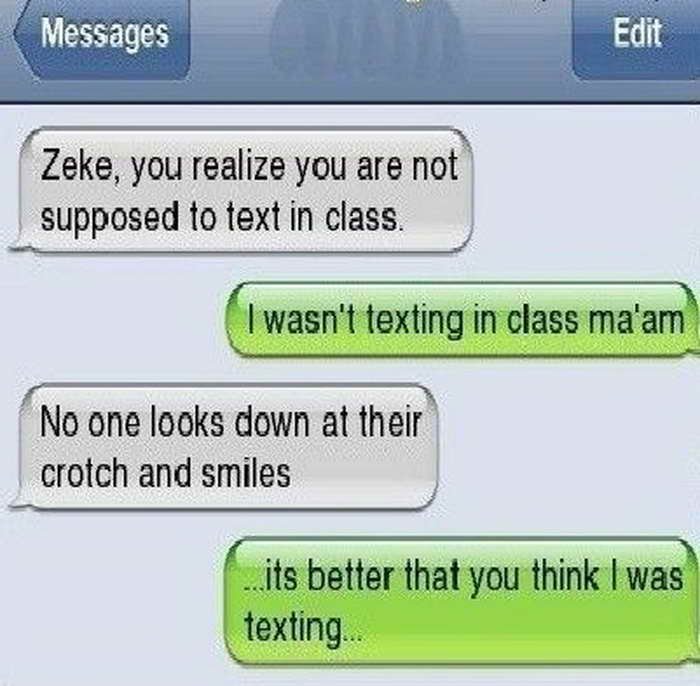 Ever wonder how does it look when you are texting in class in secret? This is the perfect explanation of what you look like when you text someone in class in private (no puns intended). Disclaimer: we are not sure if this conversation actually happened, but we will leave it here for a good laugh regardless. 
Once a Teacher, Always a Techer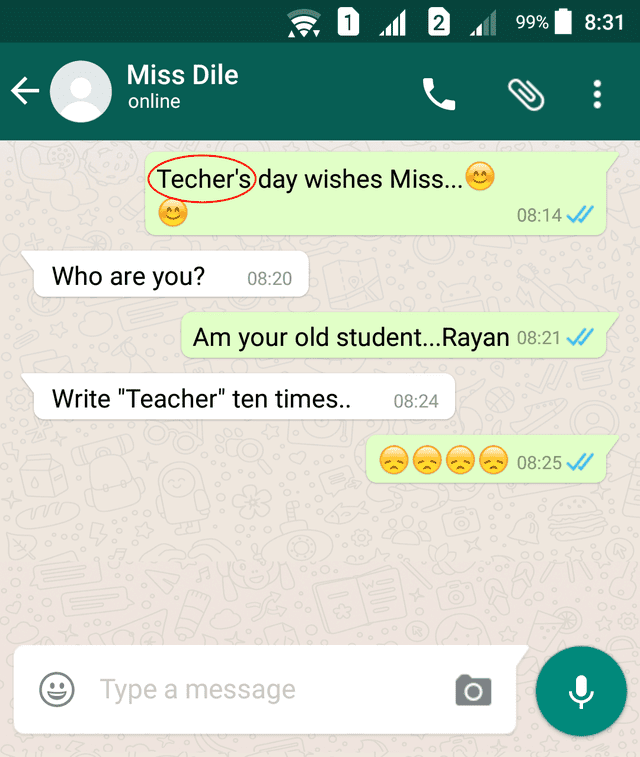 Once a teacher, always a techer. While we appreciate the heartwarming message from Rayan, we are surprised that the auto-correct didn't even work this time. And the response from Miss Dile... isn't it a bit too harsh? Come on, a student who remembers you even graduation? That means a lot! 
Here they are? Feels like going back to school again? Not for us - but anyway, we hope you had a good laugh and be more careful next time you're sending a message. Do you know someone who is in need of a good laugh as well? Why not share it with them? 
Source: Bored Panda, Viral Nova, Reddit, Pinterest