Silly Google Searches
Google is, of course, the most indispensable tool on the internet. Whether you use it for searches, or photos, or maps, or whatever, chances are that you don't go a single day without using it. Google has it's quirks though. One of those is an algorithm that populates the top search results when you start typing what you'd like to search for. These are all a little different for everyone, but it gives you an idea as to what is popular. We decided to search for some random things to see what came up. Some of them are downright CRAZY! See if you've searched for any of these!
The Unwanted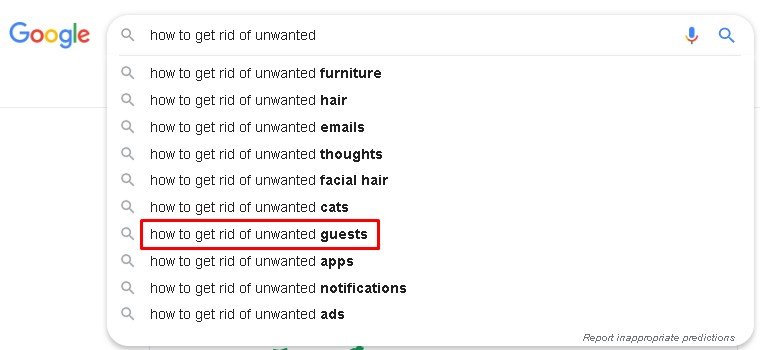 Google might be the best place in the world to learn how to get rid of something. That one about "unwanted guests" is a good one. It's always good to get ideas as to how to get rid of pesky guests in your house. If you feel guilty about it, it will also tell you how to get rid of unwanted thoughts, such as "how do I get rid of unwanted guests".
That Might Be A Problem...
There are all kinds of wrong going on in this picture. Having two heads? That would be a tough problem, and apparently it's pretty common. It's funny since you never see anyone with two heads, maybe the search yields an effective result. As a side note...who is Perry's wife? Does she have two heads?
Why Siri? Why?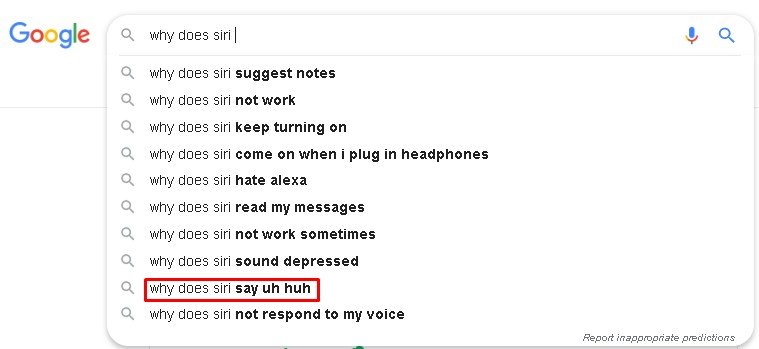 Siri is a helpful assistant, most of the time, but she does have her quirks. Does she/it really say "uh huh" that much though? As it turns out, there is a reason for it but some people just think she's being rude. Siri can't be rude, she's not even a "she"! Natural language processing is a marvelous thing!
Dare to Eat What?
There are a lot of weird ones in the "dare to eat" search. That first one that says "dare to eat regnskab" might be the weirdest one. Regnskab is the Danish word for accountant. Are people really trying to eat their accountants? It is tax season, but why would you try and eat them?
Who Googles Google?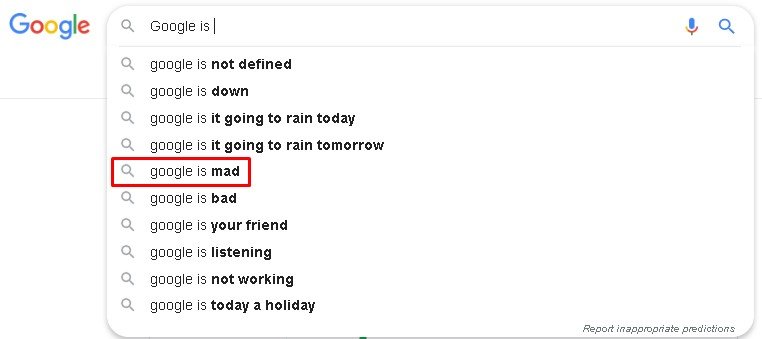 Someone just had to try this. Googling "Google is" produced some interesting results. Apparently the idea that "Google is mad" is a thing for some people. If Google is mad at you, you probably have a HUGE problem on your hands. They seem to be everywhere these days.
Pets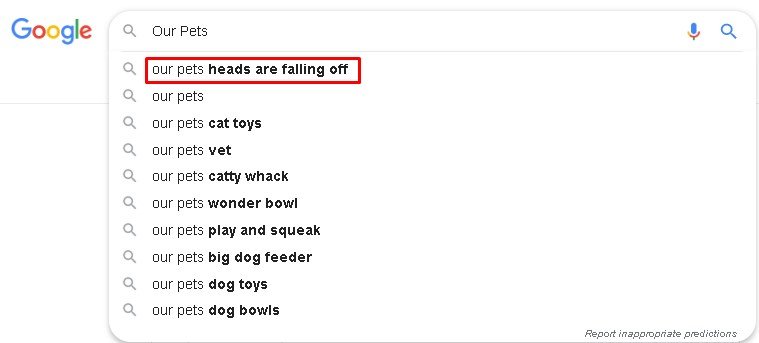 Um...look at the first result? Is that a really big problem somewhere? If it is, it's a much bigger problem than something you should be searching for on Google. Also, you might want to find a vet. Or a horror novelist. Something that can help you with this problem, because it seems like a big one.
Funny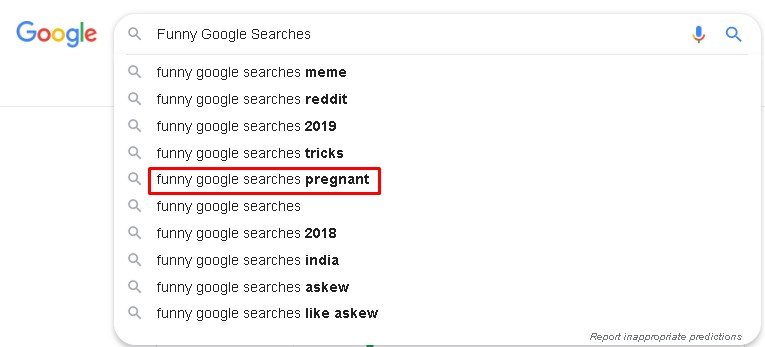 Just to show you so you don't have to go searching for yourself, this is what happens when you start typing "funny Google searches". Most of them are pretty normal, but Google didn't let us down here either. Why does Google populate "funny google searches PREGNANT"? That's just weird.
Cats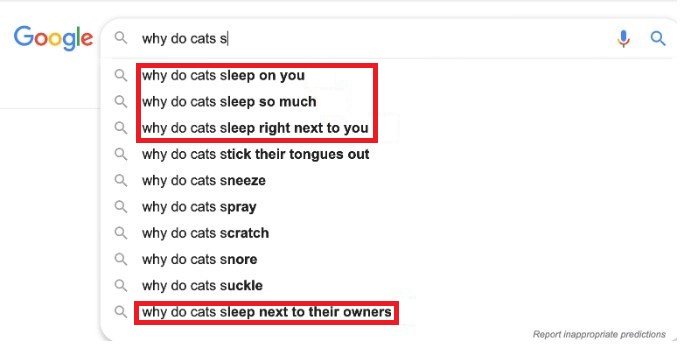 Everyone on the internet loves cats, and so this just seemed appropriate. It's pretty funny that almost all of these have something to do with cats sleeping though. It really could have been anything. Swim. Swish their tails. Stick their feet in water and shake. But no. Half of the list has something to do with sleeping.
Kids

Kids who can't read good? How about "adults who use poor grammar"? The other ones are very nice. "Kids who code" is nice, "kids who care" is nice, and "kids who changed the world" is very nice. That last one is just out of nowhere and it's strange. Poorly written too. No wonder the kids can't read WELL.
Who Would Win?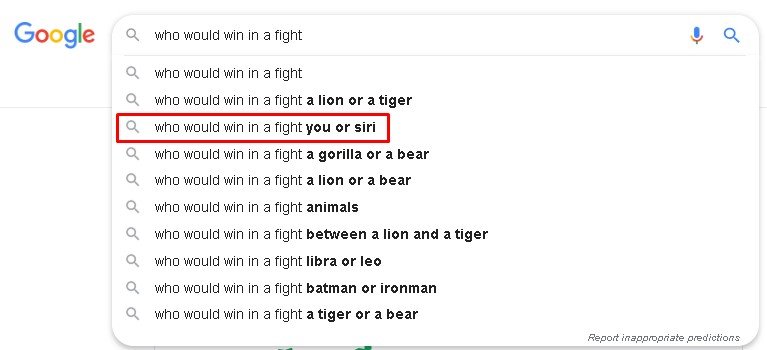 It's a classic thing to ask: who wins in a fight? Most of these are what you would expect. (Spoiler: Goku beats Superman by using his Ultra Instinct). Why would you fight Siri though? As mentioned earlier, she is kind of a pain, but fighting her seems pretty tough. Do you smash your phone or something?
Accidents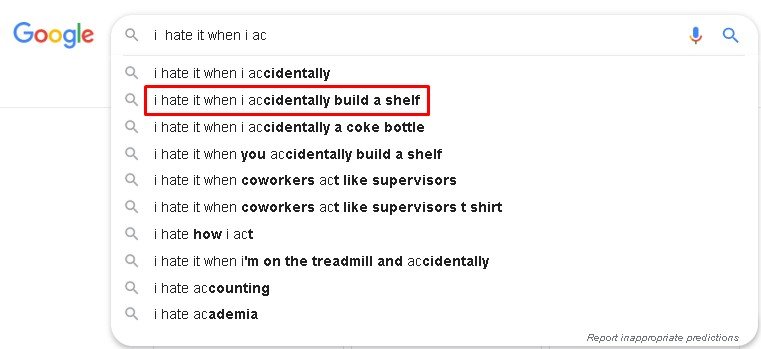 Who are these people who are all accidentally building shelves? Can they come over to our place? Also, what could "I hate accidents except" mean? Is there some situation in which an accident can be a good thing? Just really weird results here.
Yahoo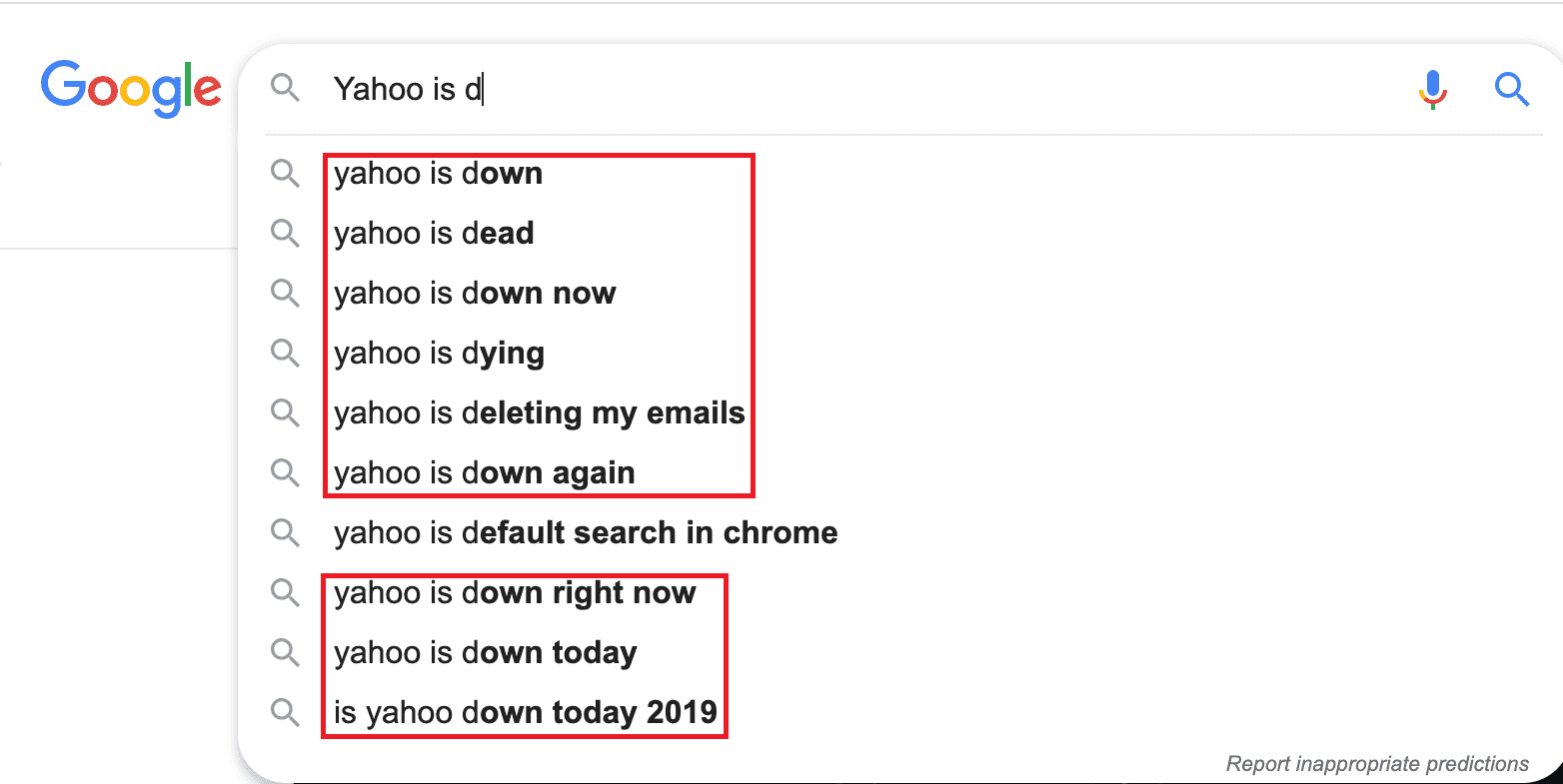 If Google is being difficult, maybe you could try an alternative search engine instead. Yahoo is probably the most popular one, with a whole 1.64% of the market. (Bing is technically more popular, but that probably comes from people messing up in Windows and not setting the search engine to Google.) Well, this is why you don't use Yahoo. Just look at the complaints! Or maybe it's Google sabotaging their biggest rival...hmmm...
Bing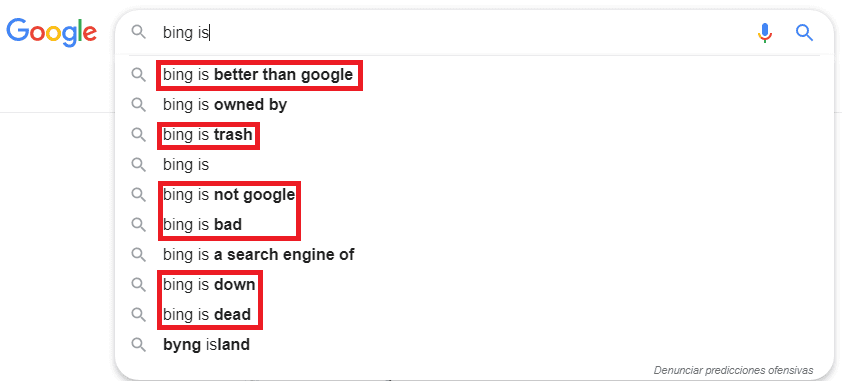 Since we took a look at Yahoo, we might as well take a look at what Google has to say about Bing, too. As it turns out, the reports about Bing aren't all that bad. It seems like people like Bing! There's even a whole subreddit about it. It's pretty surprising, but Google isn't really downing their rivals. Well, if they had rivals, anyway.
Thor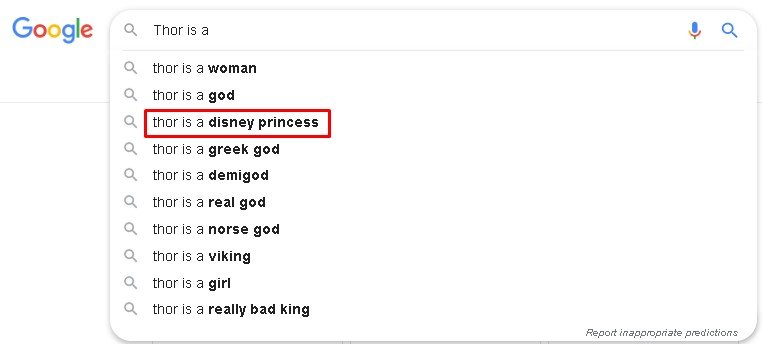 It's interesting to look up things about superheroes on Google. Thor has been a woman in the comic books, so that isn't that weird. Thor is a Disney Princess though? Sure, Marvel is owned by Disney, and Thor is a Marvel Character, but making Thor a Disney Princess? That's just weird. 
Relationship Problems

As it turns out, a lot of people do reach out to Google for consultation - especially those who are married. While a lot of things here make sense for a married couple - like why does her husband ignore her. We don't really understand how Google can tell her why does her husband snore.
A Wild Boss Appeared!
This is what happens when you play too many video games - it blends into reality. At least this is the only plausible explanation we have for the reason why people search for this on Google. We wonder what kind of boss music do they hear though? The ones from Pokemon?
Dinosaur Tasting

Sometimes there are just things you cannot eat. While we baffled as to why someone would ask what a time machine looks like, we are more baffled by those who actually asked what would a T-Rex tastes like. Why would you want to try that? Who came up with this? 
Somewhere. Nowhere. Everywhere.

When you search for something on Google, you have to be specific. Where do you mean by there? Cuba? China? Russia? Your friend's house? Mars? Google is not your boyfriend or girlfriend - this here is the equivalent of someone asking you where would you like to go for dinner, and you said "somewhere". Don't be that person. 
Animal Lovers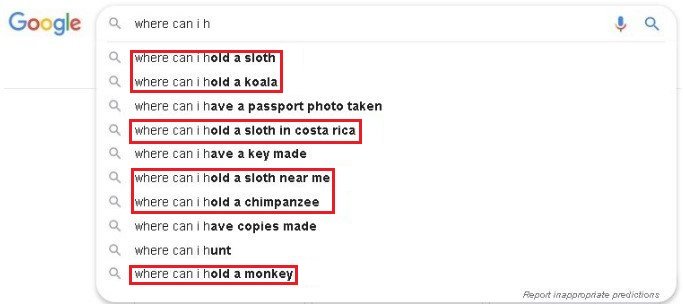 Some of them here makes sense, but we can't help but wonder - why would someone actually google for a place where they can hold a sloth? What's so special about it; also, holding a koala...Australia? That's common sense probably. And holding a chimpanzee... why would someone want to do that? 
Lonesome Times

Technology brought us closer, yet also further away from each other at the same time. Loneliness spread like a plague among us, so it is not difficult to understand why someone would like to look for a companion. But why would someone ask Google to be his girlfriend though? 
These are some of the oddest Google searches you'll see online. We hope that you found them amusing and maybe you'll try and find some on your own! Before you step into that rabbit hole though, would you share this with your friends? Thanks for reading!
Sources: Google, Bing, Reddit, Cinema Blend, Apple