Vintage Photos Of School Life From The Year You Were Born
You might have stumbled upon your parent's yearbook while looking through their old stuff and been amazed at how different their school years were. Do you remember your first day of school? What about your senior year? You might be surprised by the old uniforms and the kinds of computers some students had to use. Let's take a trip down memory lane to see the school life of past years!
2000: THE NEW MILLENIUM
This is a special Saturday class at Escuela Argentina. They are dedicated to teaching Spanish and Latin American culture to children of all ages. The image was taken in November 2000 and shows teacher Silvina Paykovzki with students Danae Ellison as well as Victoria Calix. They have students from all kinds of backgrounds.
1999: LEARNING HOW TO TYPE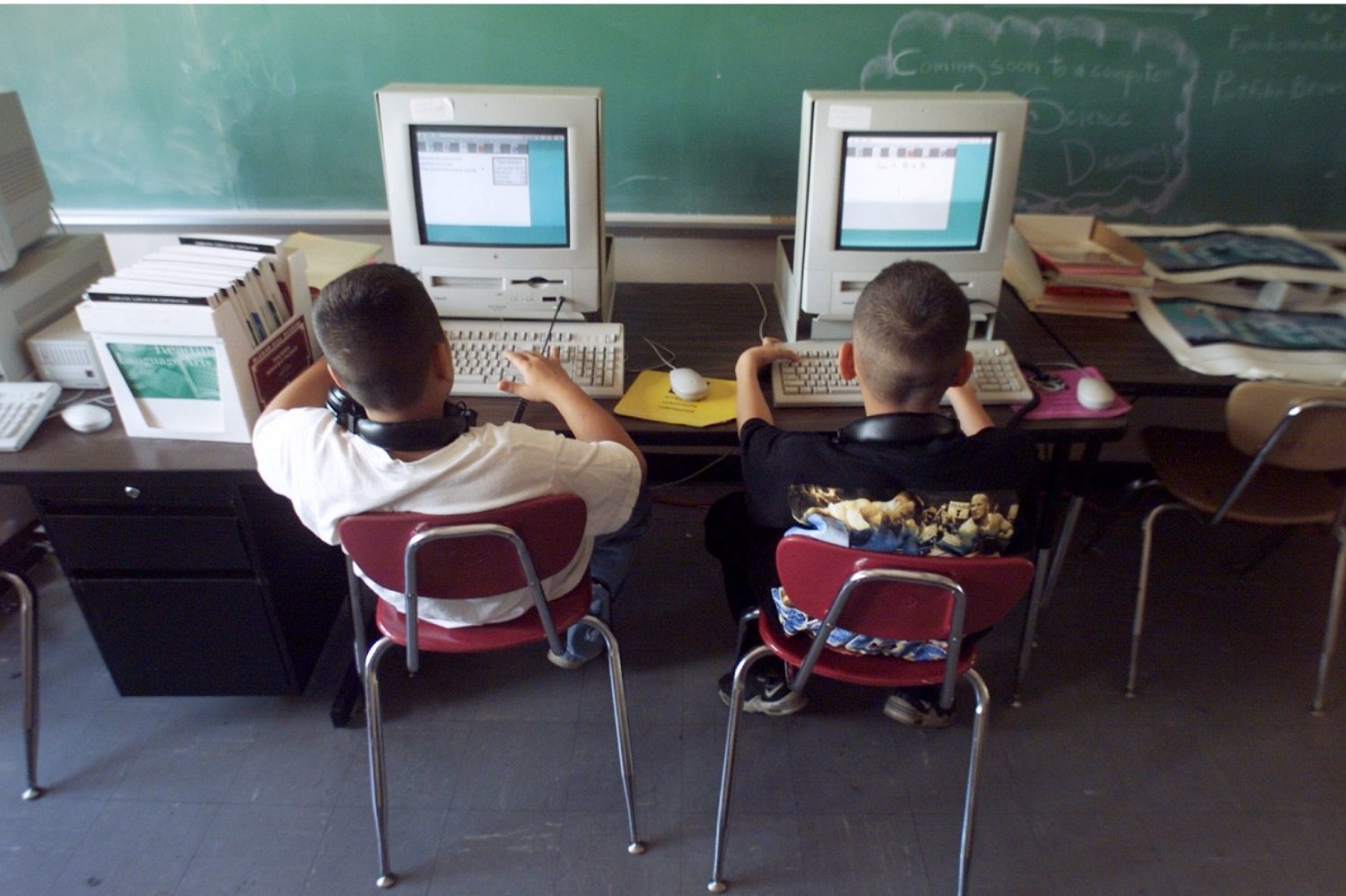 The final year of the decade came with many changes and computers were almost ubiquitous around the world by then. However, do you remember using those old, wide monitors? Did you ever practice typing correctly in class? The fifth-graders at school in Brooklyn were taking computer classes. Where you in school in 1999?
1998: LEARNING ABOUT SCIENCE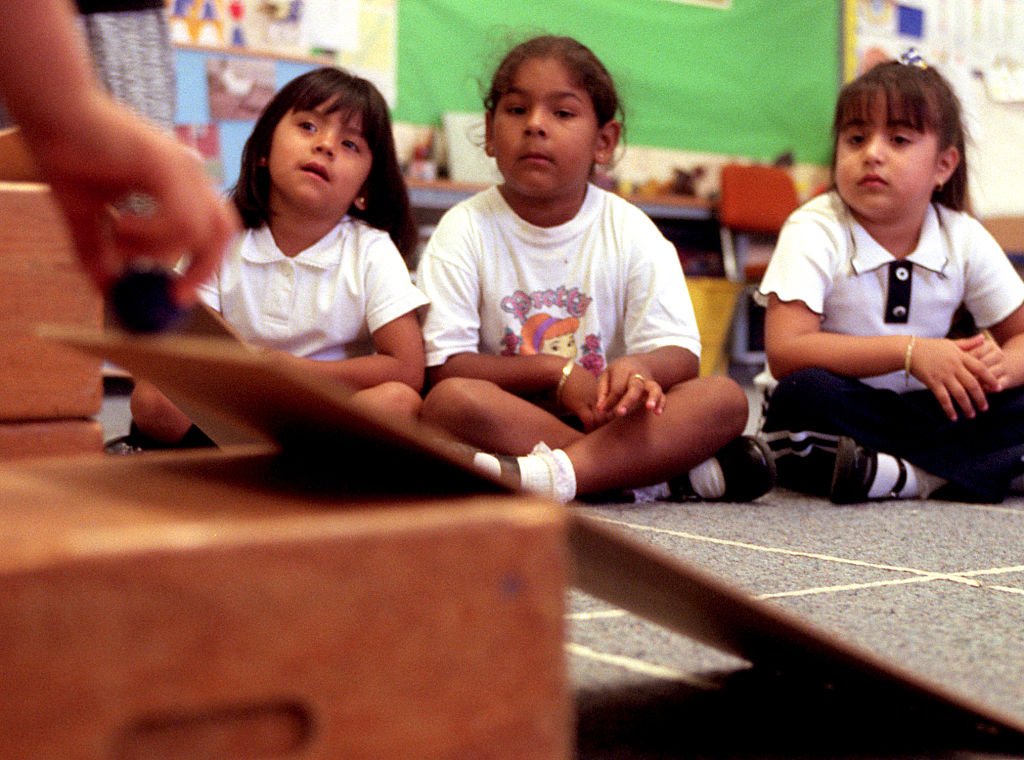 While our schools today have all kinds of advanced materials, we have to remember that more than 20 years have gone by. Luckily, the importance of science has never wavered. These 5-year-old girls were watching an experiment at their school in Santa Ana, California. It apparently involved a bell and a ramp.
1997: SCIENCE LESSONS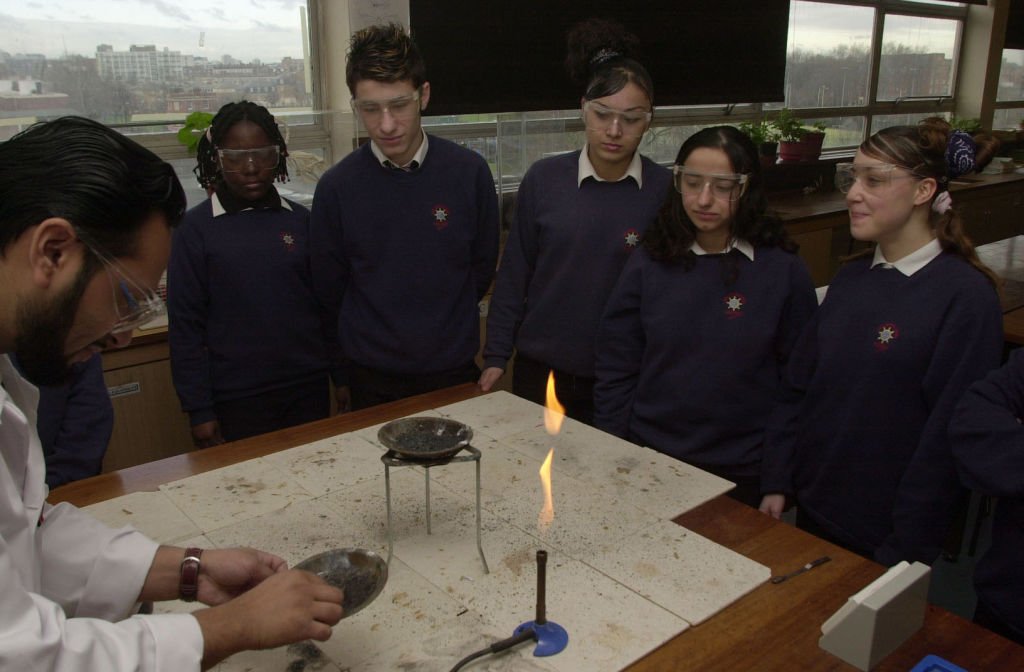 Some things just remain unchanged. Science classes are still boring and thrilling at the same time. Well, the good part is that the equipment nowadays is much more sophisticated. The bad part is that homework and tests are still way too complicated. Teacher Abdul Alim is showing his Year 10 how to work with the Bunsen burner.
1996: STRETCHING FOR GYM CLASS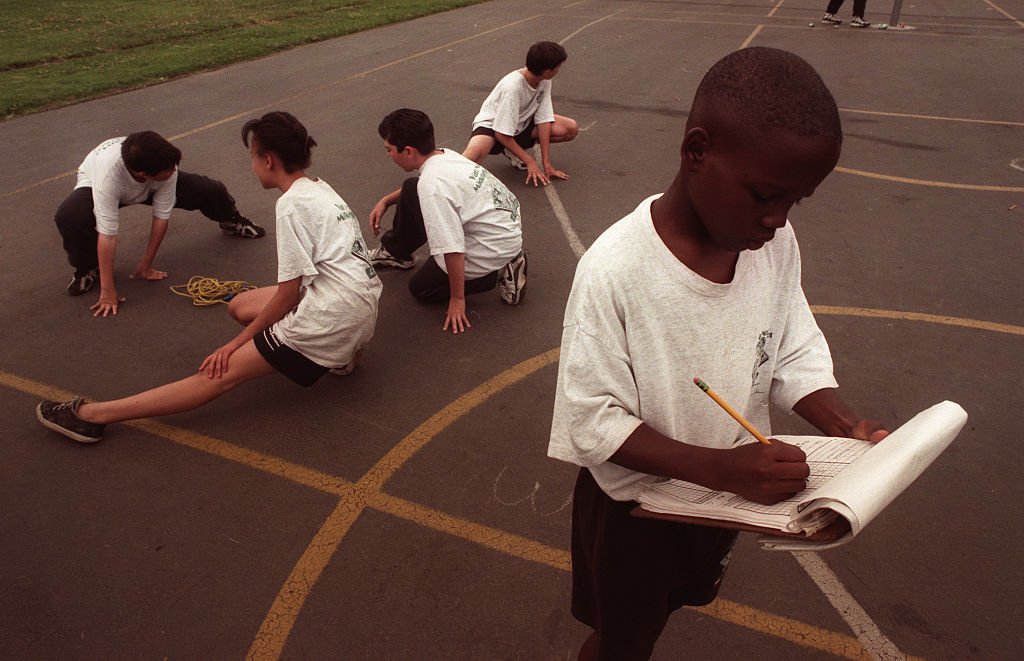 These kids are about to have their regular gym class, and you can tell because they have the same uniform. That might be the only time children in a public school wear the same thing. This truly reminds us of the simpler times, even if some of us did not enjoy having to climb the rope or running around the field for ten minutes.
1995: CLASS FOR SPECIAL STUDENTS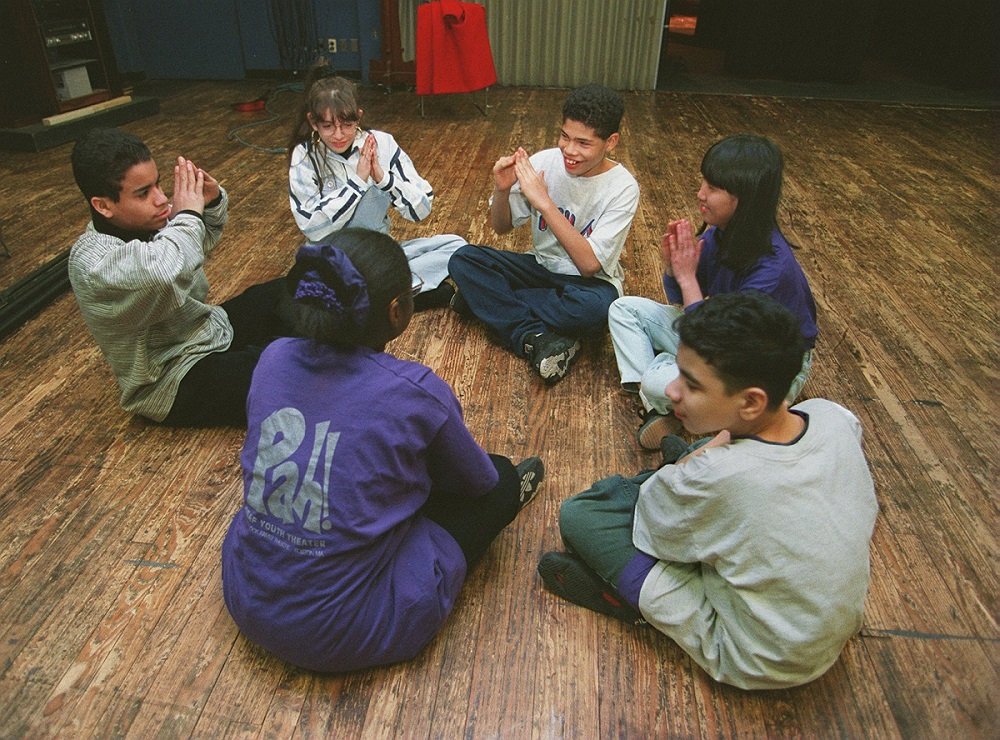 Some of the best teachers in the world work with special-needs students. The way they help their students overcome some disabilities to learn new skills is remarkable. These kids from Horace Mann School in Brighton are learning movement techniques at Wheelock College. They are also proving that learning has all kinds of fascets. 
1994: A REGULAR SCHOOL CAFETERIA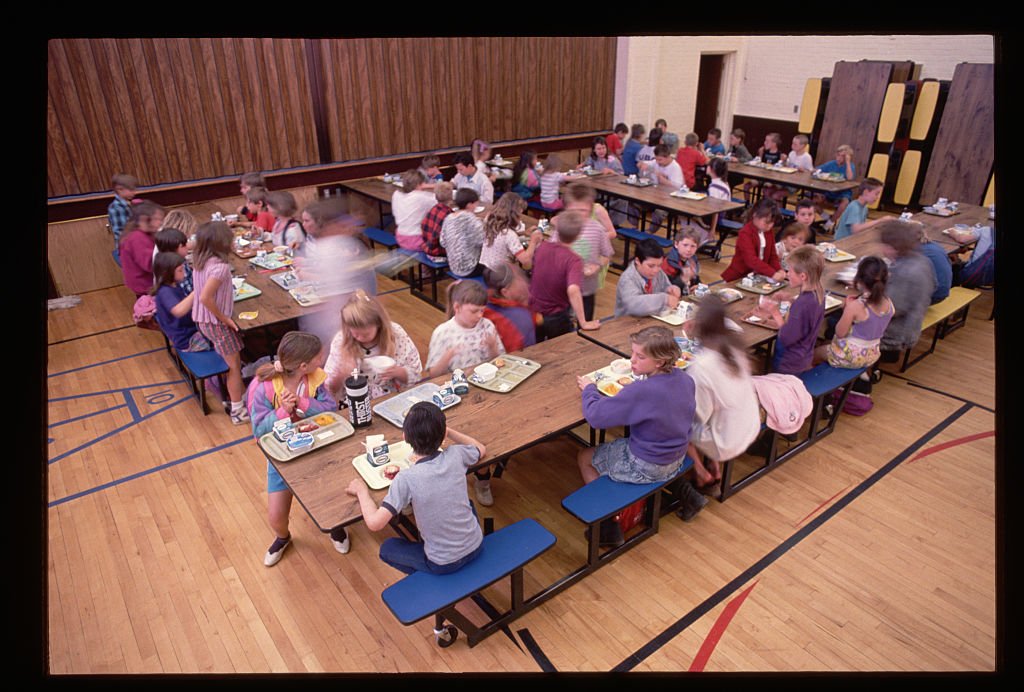 It's safe to say that most kids spend a lot of time at the school cafeteria. Sometimes, even more than in their own classrooms. This is the typical setup of an American school lunchroom. Sustenance is extremely important for learning, and people are fighting every day so that cafeterias are always available.
1993: THE MOST DREADED CLASS OF ALL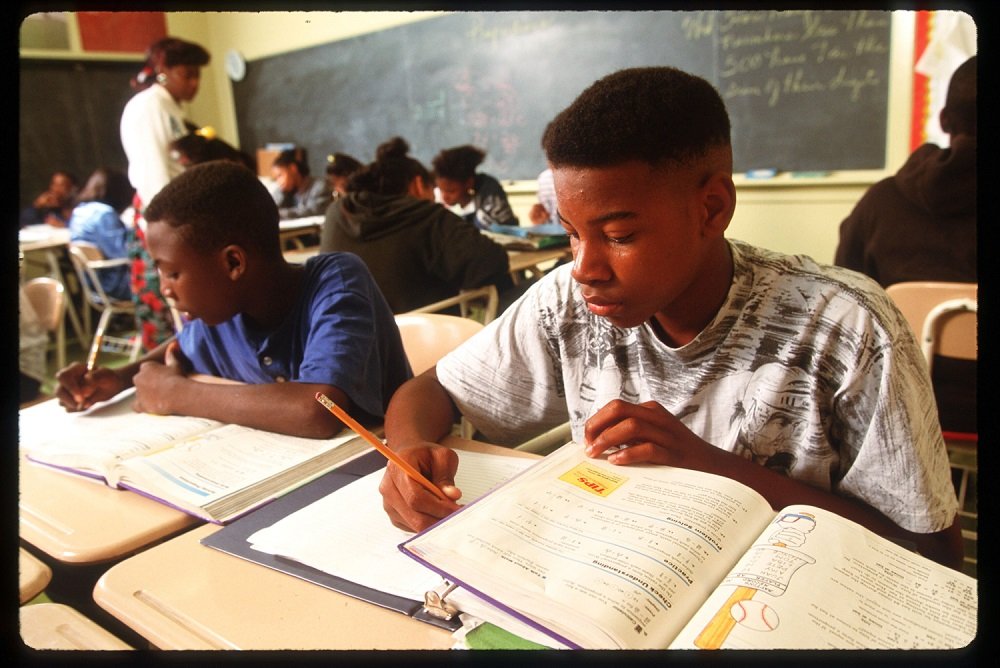 Although not every kid hated Math, most people would say that it was one of the hardest subjects taught at every school. Some students were natural, while others struggled a bit more. These kids from James D. Ryan Middle School in Houston, Texas are learning that math is used in everyday life, and that's why it's so important.  
1992: THE CLASSIC COLLEGE DORM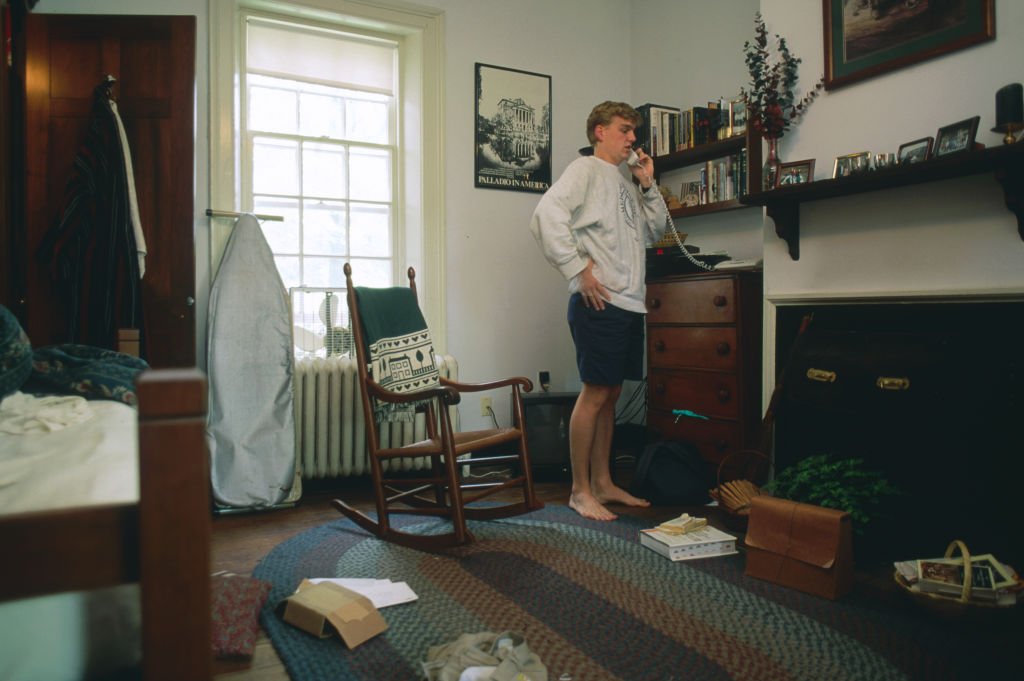 A big part of college-life is your dorm room. You might be pleased to know that they really haven't changed much in the past several decades. Although, we will probably guess that most students don't have a rocking chair, and you should also note the lack of technology. Computers were still not that accessible.
1991: ENJOYING SCIENCE CLASS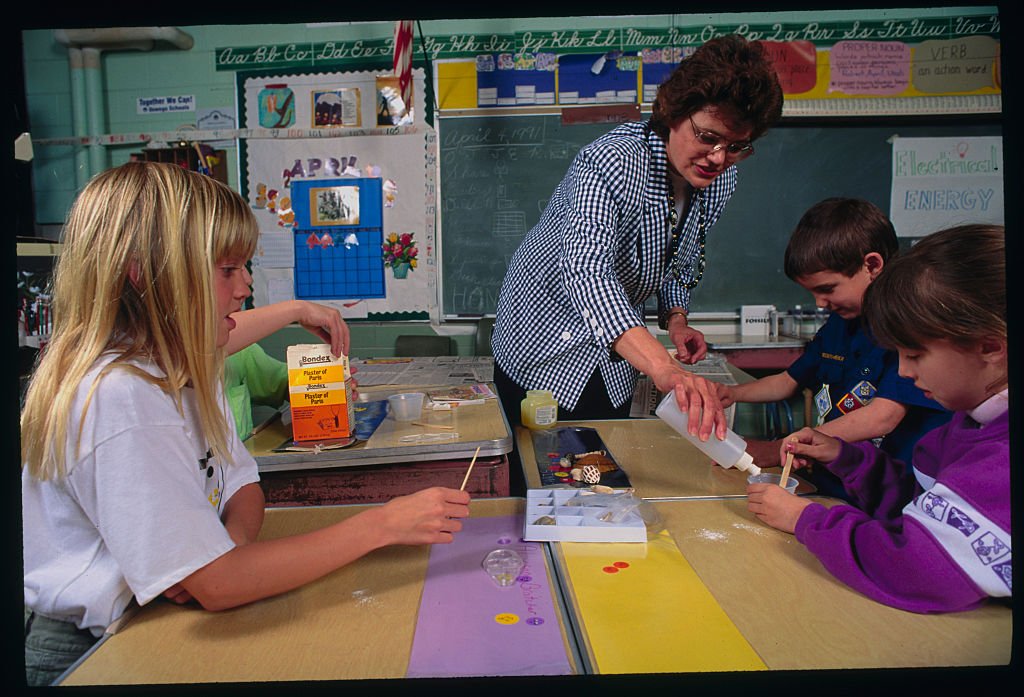 There's no reason why Science Class has to be boring. When you have a good teacher, anything can be interesting. Here is a professor from Boulder Hill Elementary School in Illinois. The best part is that students can learn about important scientific principles while being creative with their hands 
1990: GOOFING IN THE SCHOOL BUS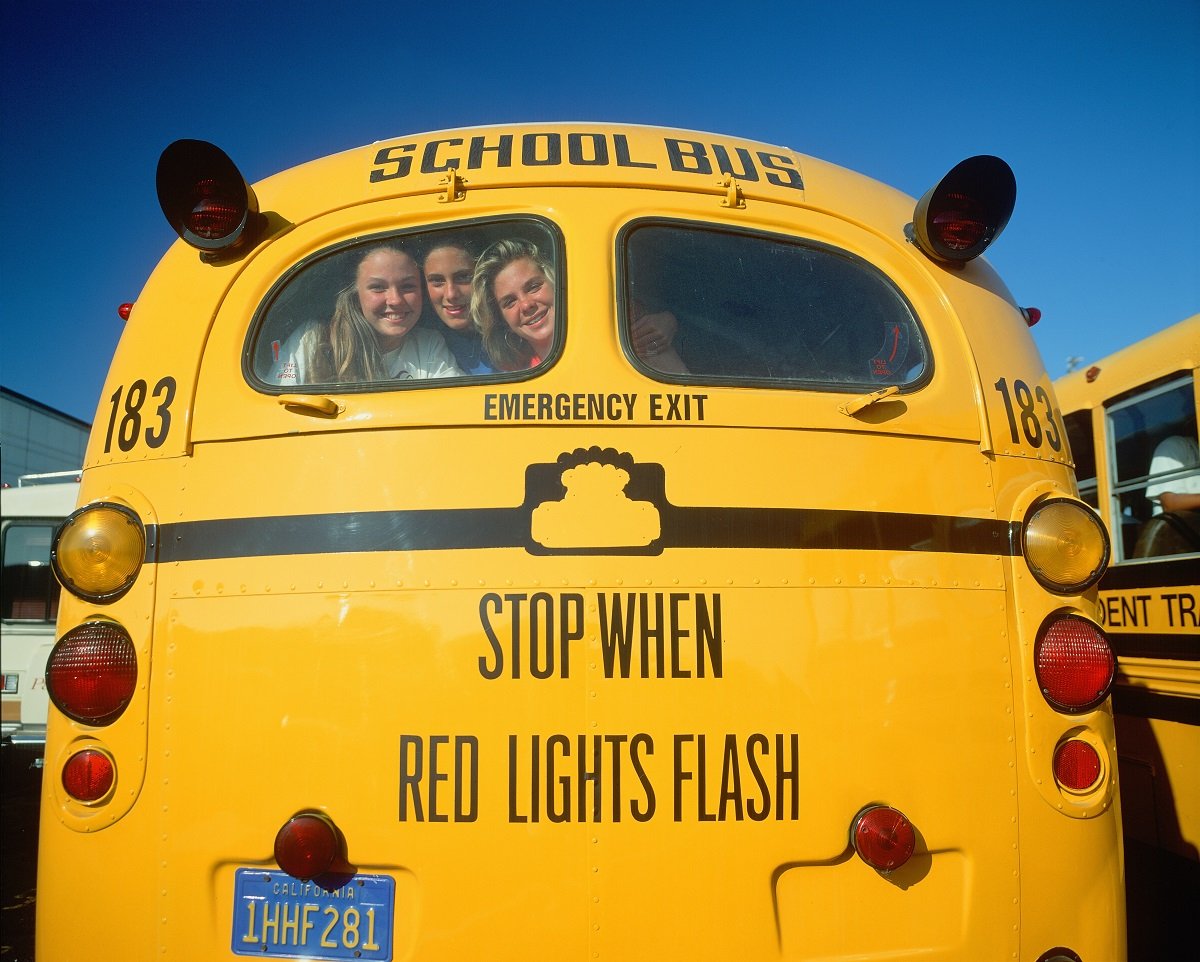 While not all students liked taking the bus, it was almost mandatory when you were in middle school. It was a great time to play around with your friends or to read a book. These girls are posing for the camera from the back seats of the bus. Seeing this image is a great way to remember the best days of high school. 
1989: SOME OF THE FIRST LAPTOPS
Believe it or not, there were laptops are far back as 1989. However, you can tell that these are some of the first versions of them. Isn't it amazing how far our technology has come is just around 30 years? Think of what could happen in the future! These students from Ravenswood School for Girls had been using them for a few months, and their homework was so much better. 
1988: THE STRICTEST PRINCIPAL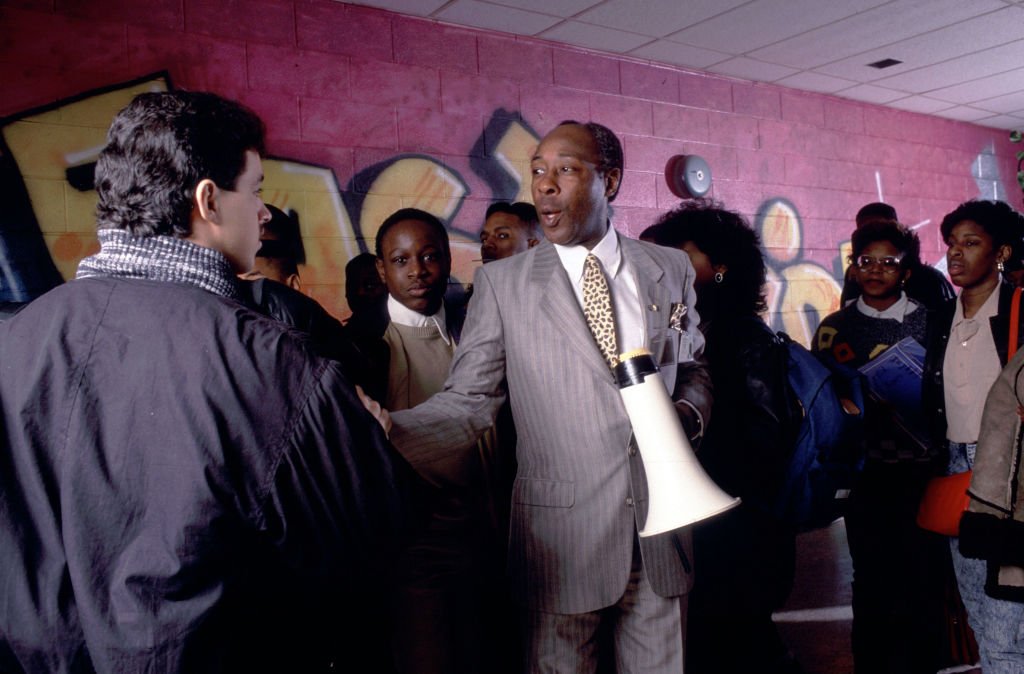 This would definitely be frowned upon today, but teachers had some questionable methods back in the day. This is Joe Clark who was the principal of Eastside High School in Patterson, New Jersey. This school had only minorities as well as low-income families. Unfortunately, it had many problematic kids, and this teacher tried to keep them in line.
1987: THE VISIT FROM AN OFFICER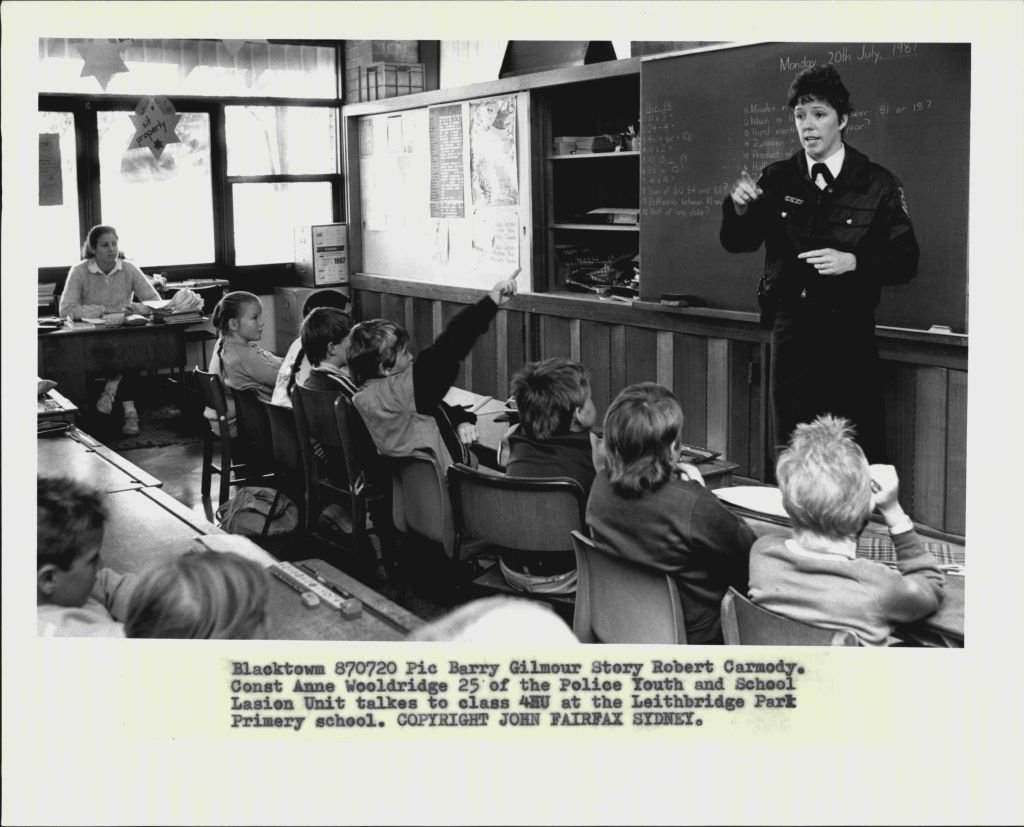 The kids of Lethbridge Park Primary received a special visit from Officer Anne Wooldridge. She belonged to the Police youth and School Liaison. It's always a good idea to have a special guest at school. That way, students can learn about the real world from someone other than their teacher. Sometimes, they remember these moments better than most classes. 
1986: CELEBRATING BASTILLE DAY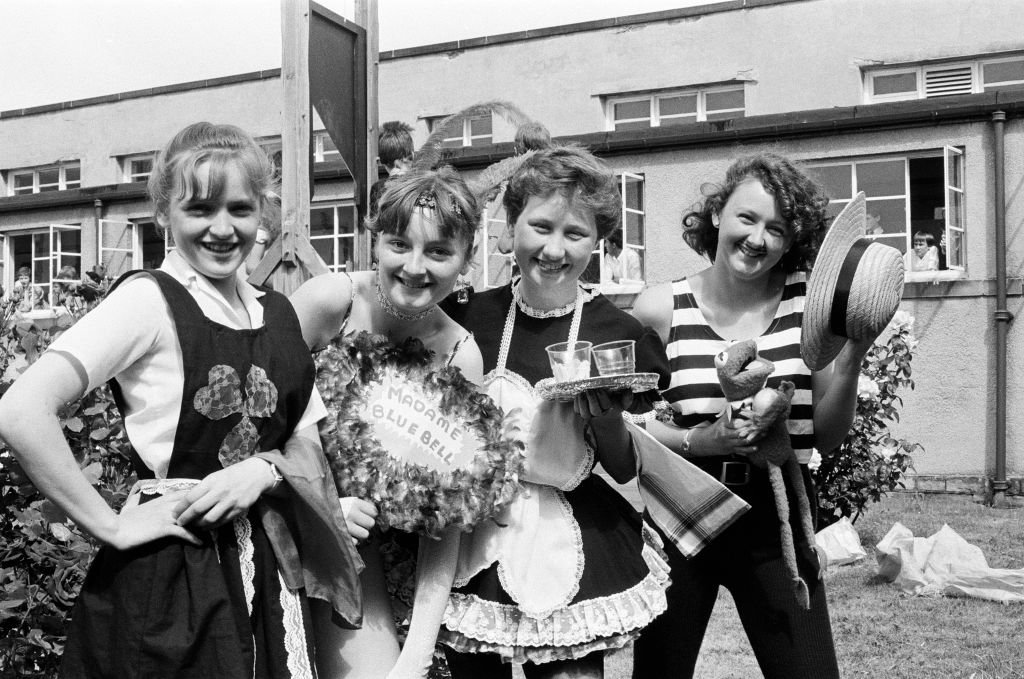 Another important part of school is learning all about History and world culture. This image shows students Paula Hardcastle, Sharon Senior, Clare Hardy, and Michelle Lee dressed in French attire to recreate the storming of Bastille from 1789 for a special school event. Do you remember what was the most important event at your school?
1985: AN OPEN CLASSROOM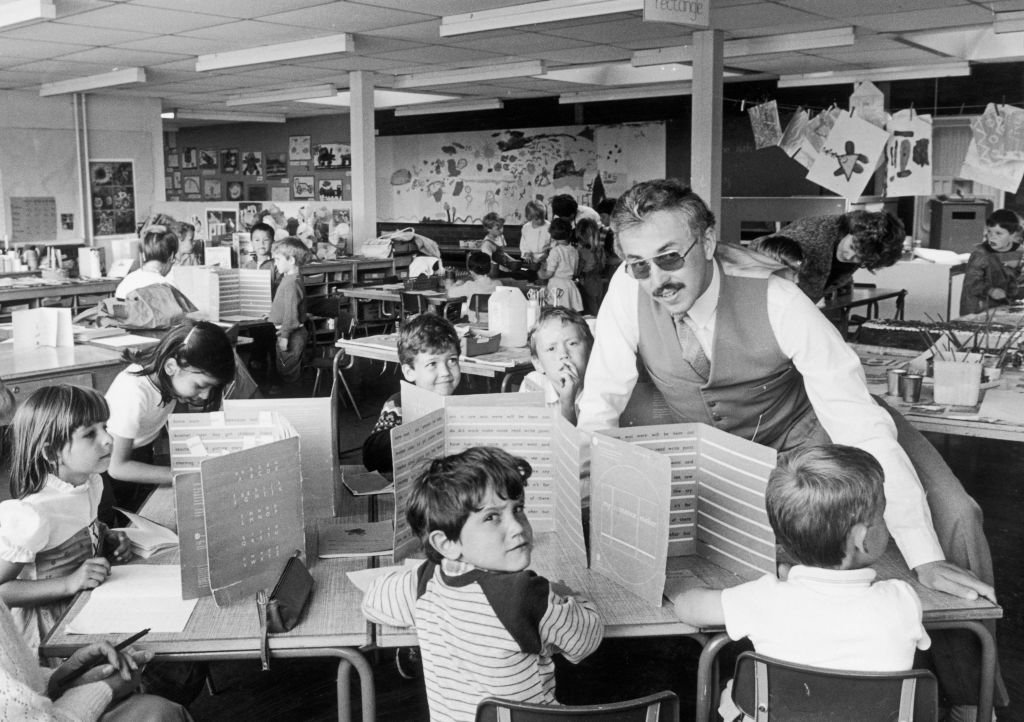 This picture shows the Headmaster of Clifford Bridge Primary School, Tony Thistlewood, in an open classroom. At the time, the idea of the open space around the school was worrying for parents. Nobody thought that children could truly learn that way as they would be too distracted. Since many schools changed to a regular structure, it seems that it failed.
1984: STANDING IN LINE FOR THE CAFETERIA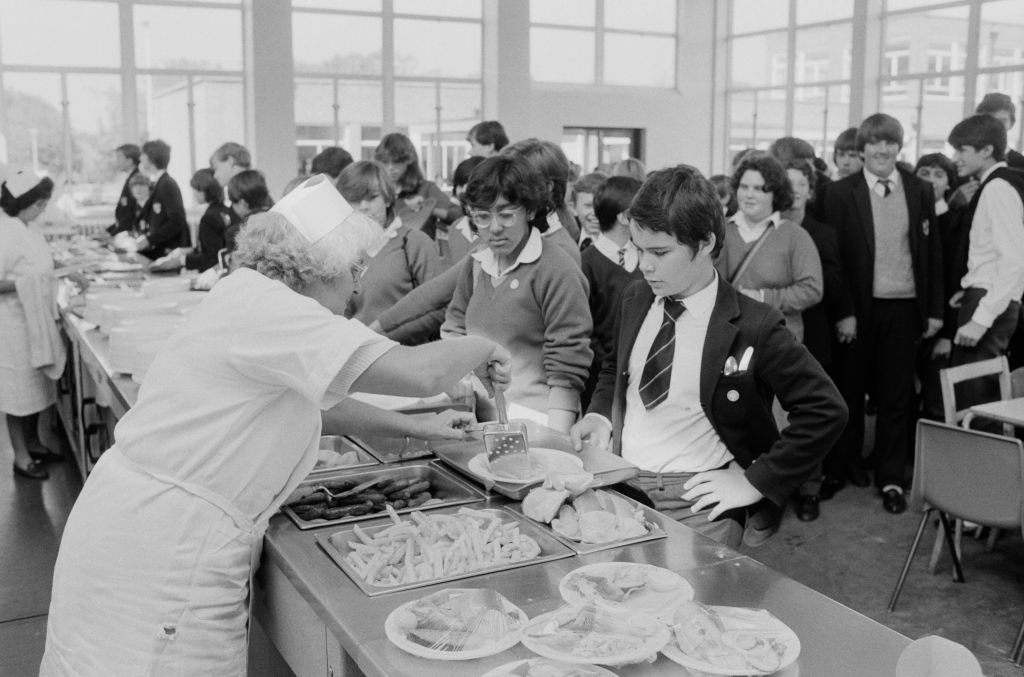 Here we see another shot of a school cafeteria, and it really evokes memories of our times at recess. It was taken somewhere in the United Kingdom back on September 28, 1984. It seems that kids had a bunch of different choices, including French fries, sausages, and pieces of bread. Of course, we know that cafeteria food was not the best.
1983: A TOURNAMENT AT SCHOOL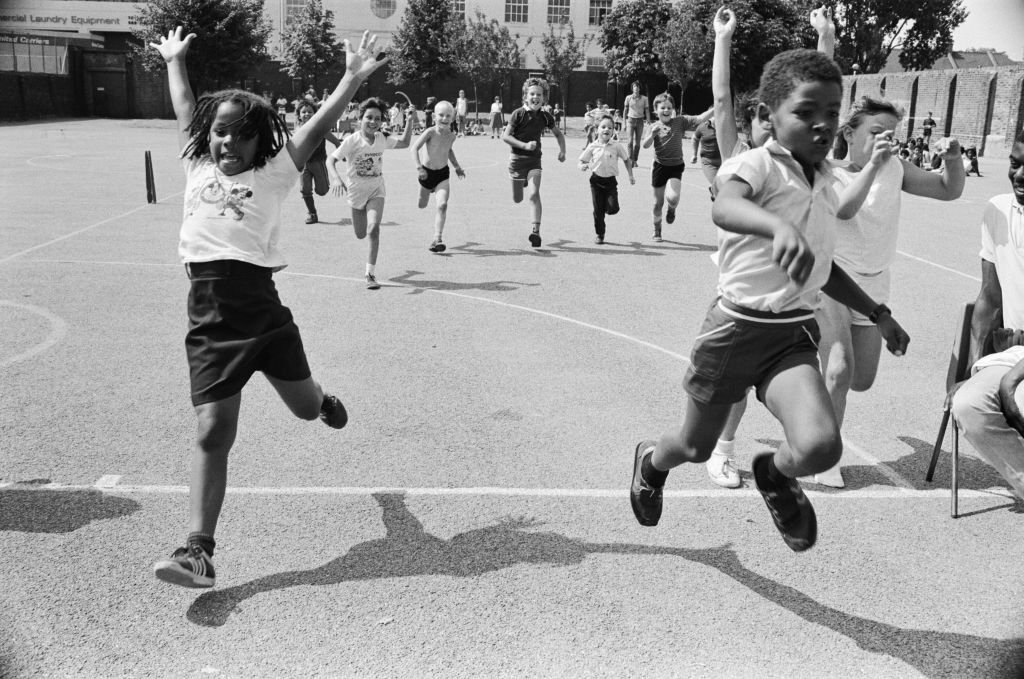 Exercise and gym class were also a vital part of going to school. Here are the kids of Bardley School located in Ladbrooke Grove. They were training for a tournament that took place at West London Stadium later that year. The children were between the ages of five and 11, and it looks like they really had a lot of fun.
1982: A LITTLE BAND AT SCHOOL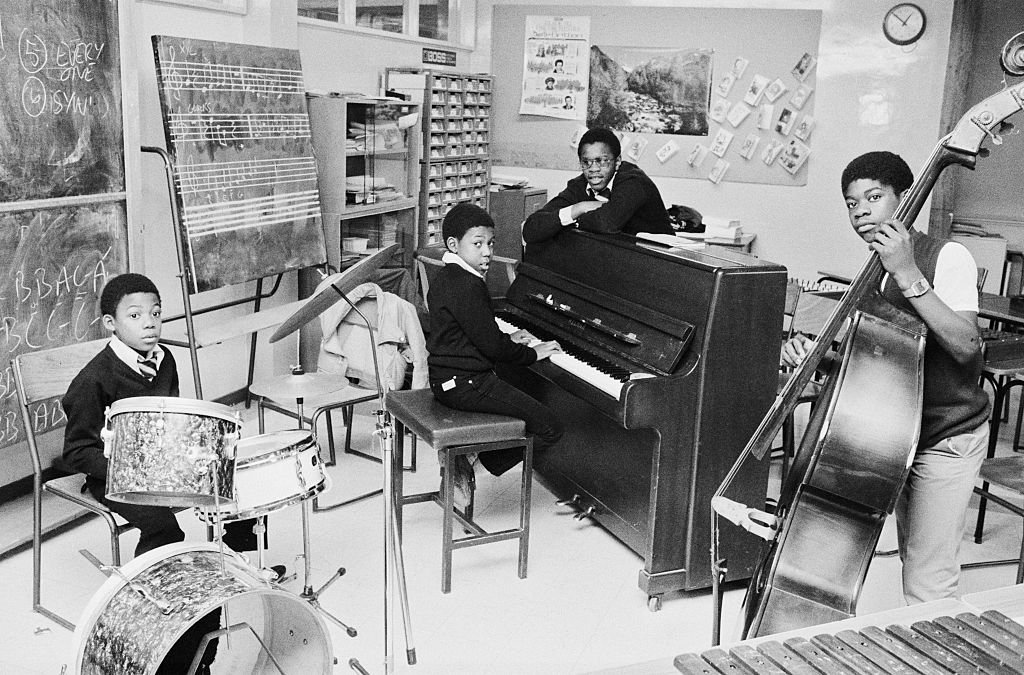 Music is another great part about school, although some places don't fund those kinds of studies. Luckily, the Duddeston Manor School in Birmingham, United Kingdom did. This is a reggae group called Musical Youth formed by bassist Patrick Waite, keyboardist Michael Grant, vocalist Dennis Seaton, and guitarist Kelvin Grant.
1981: A VISIT FROM JIM THE SHEEPDOG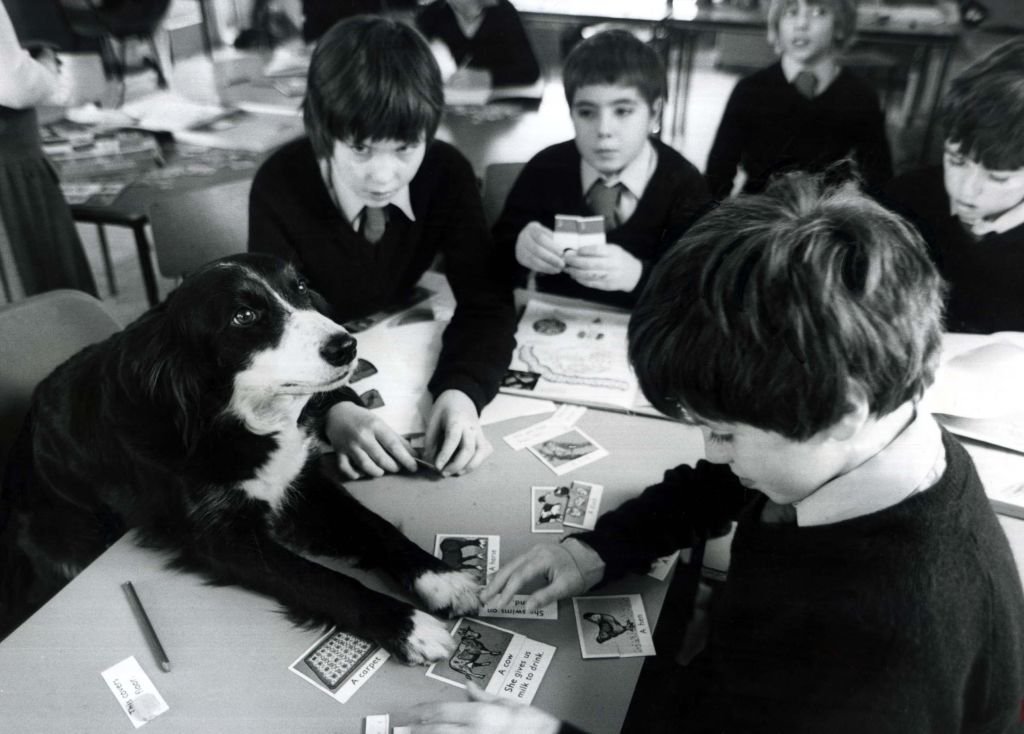 Special visits to the school were some of the most memorable moments of our childhood, and these kids from the 80s were unlikely to forget Jim, the sheepdog. Jim was visiting the David Lewes School in Alderley Edge, Cheshire. It seems like he is playing with the children, and that way, the children learned the importance of animals.
1980: ANOTHER ONE WITH COMPUTERS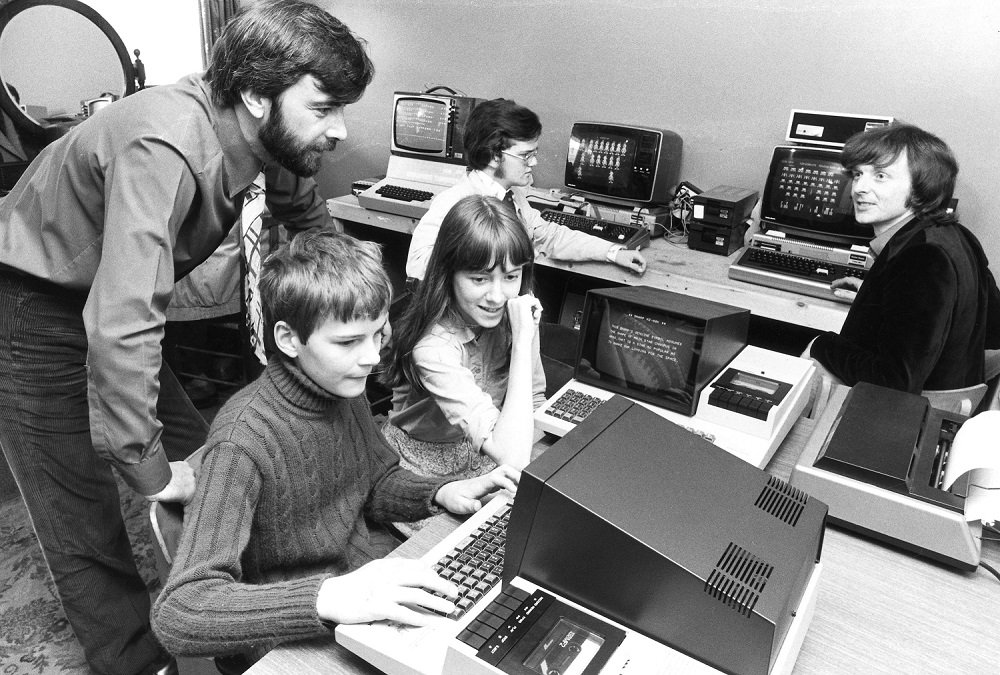 You probably thought that we had already the earliest computers, but that's not the case. The most common early processors used were 8-bit MOS Technology 6502. In this picture from July 1980, you can see the kids playing 'Space Invaders', a game created by Tomohiro Nishikado and released in 1978. It was inspired by pop culture things like 'Star Wars' and 'War of the Worlds'.
1979: LISTING THE FACTORS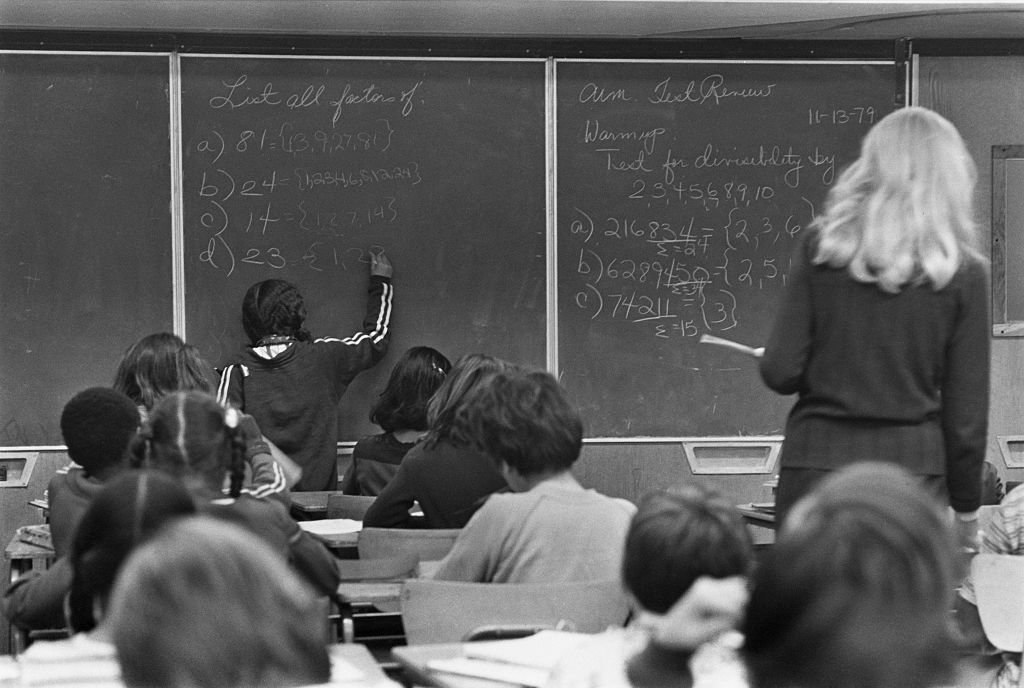 Here is another image of students practicing math in class. The image is from a 6th grade class in Staten Island, New York. As you can see, the girl at the chalkboard had to list the factors, which are numbers that divide into others exactly. A prime number like 23 (which is the one she is solving) can only be divided by 1 and itself.
1978: WORKING ON CARPENTRY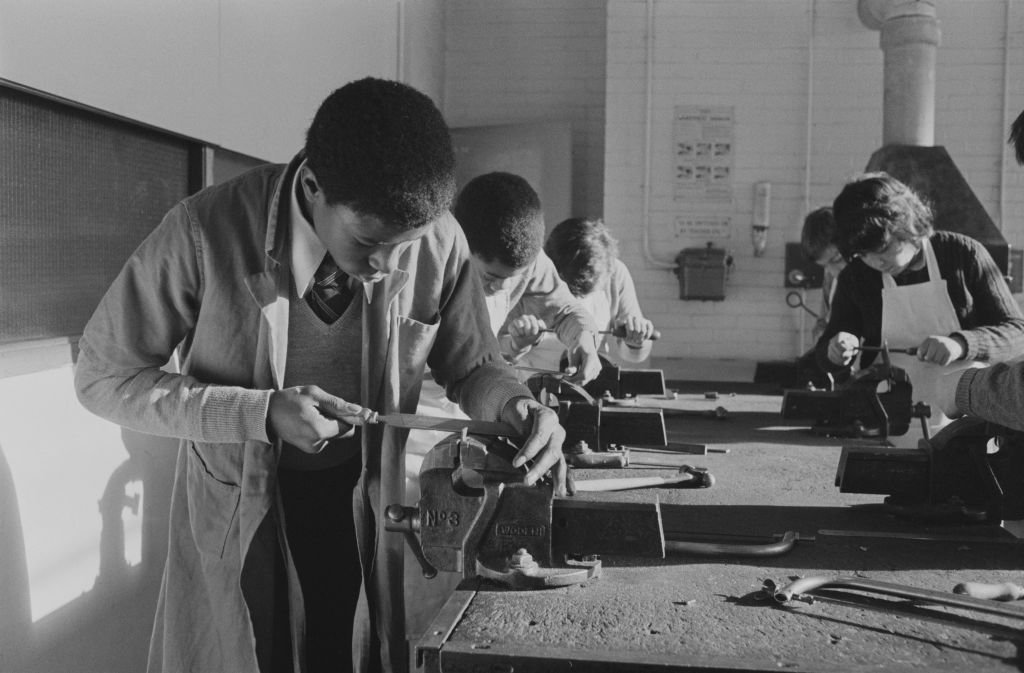 Woodshop is another important class, although it was a sort of elective for people that really wanted it. Some schools have stopped teaching it, sadly. However, in the 70s, it was probably more important to have this skill. The image was taken in Highbury School in London, United Kingdom. Do you take Woodshop at some point?
1977: FOCUSED TEACHING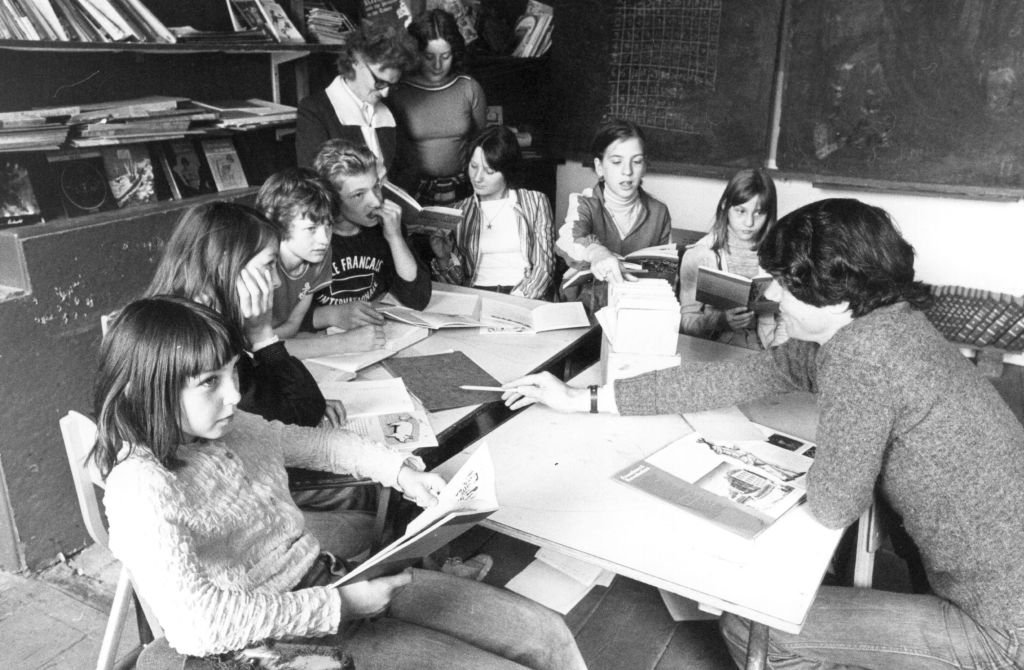 For some reason, it really looks like these kids are worried about something. They have several teachers helping around, but they are looking at something that concerns them. Of course, we know that these elementary school students had nothing to worry about because the professor was there to answer all their questions. The image was taken in White Lion School, Islington.
1976: LEARNING ABOUT AUDIO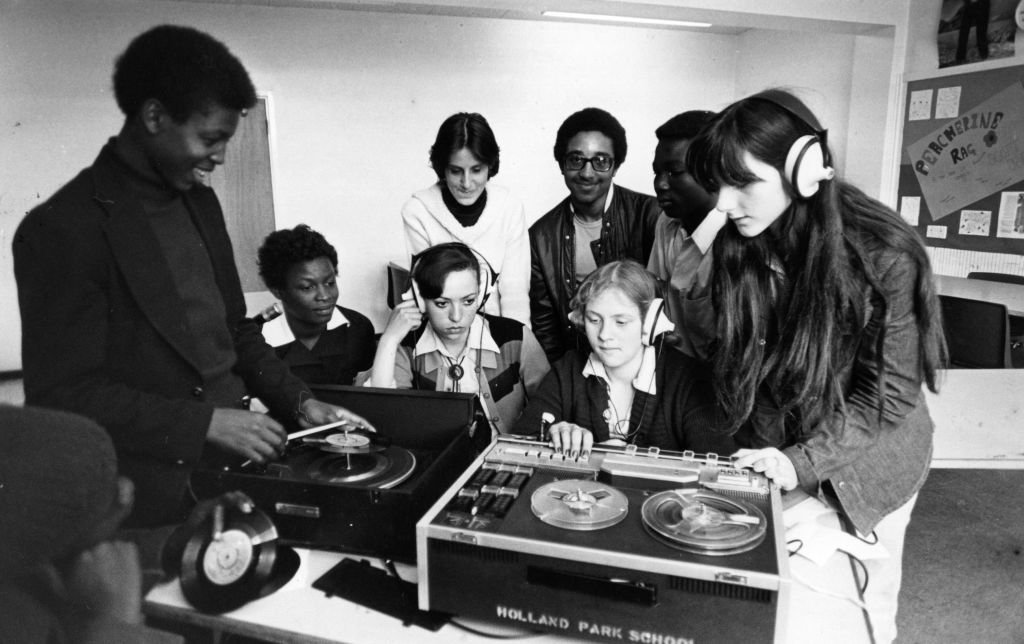 You have to remember that this was the 70s. Nowadays, it's so much easier to have access to music and recordings, but back then, it was challenging. You needed to have the proper equipment that could be expensive. These teens from Fourth Form at Holland Park School were learning all about using record players.
1975: RELIGIOUS SCHOOL
Many past generations were taught in Catholic or other religious schools, and their teachers were mostly nuns. It's probably a familiar picture for many of our readers, although many of these institutions were private. The kids seem to be learning vocabulary here, and they probably had a spelling test soon.
1974: LITTLE KIDS ON THE SEESAW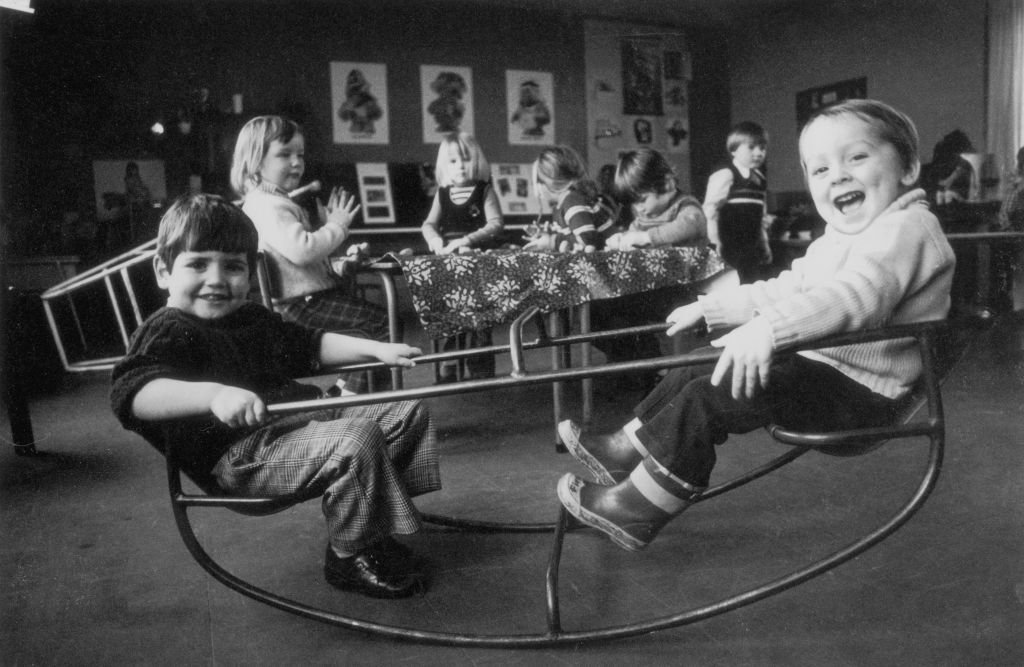 These smiling children were having some fun on the indoor seesaw. There were students of the Tullygally Primary School in Ulster, where Catholic and Protestant kids took classes together. It's important to meet different people throughout your life, from different backgrounds, ethnicities, and more. Luckily, they might be a little too young to understand what made them different, and they were just happy.
1973: CHILDREN LISTENING TO BROTHER BLUE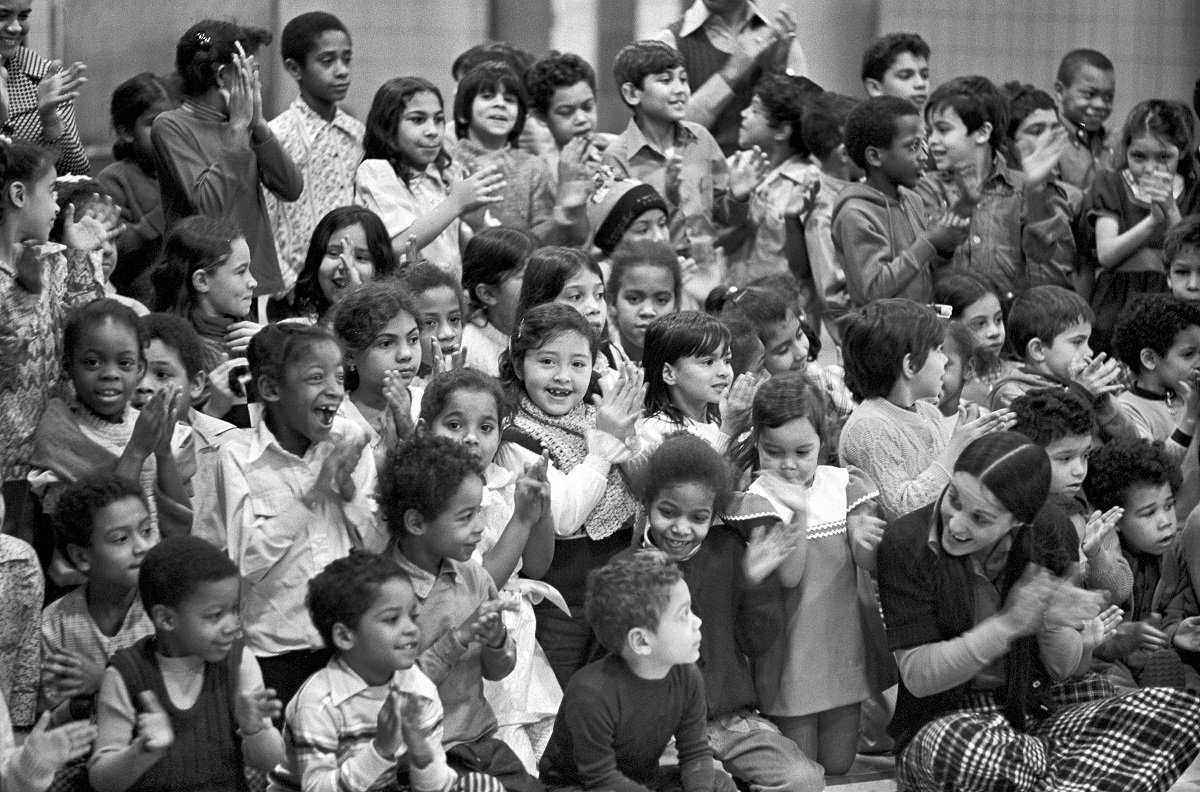 These kids from a school in Boston, Massachusetts were enjoying a show from "Brother Blue", a famous teacher and storyteller from that area. He was also a musician who used all kinds of influences to tell his tales. The children obviously love that way he spoke, and again, having a special guest at school was always wonderful.
1972: PROTESTING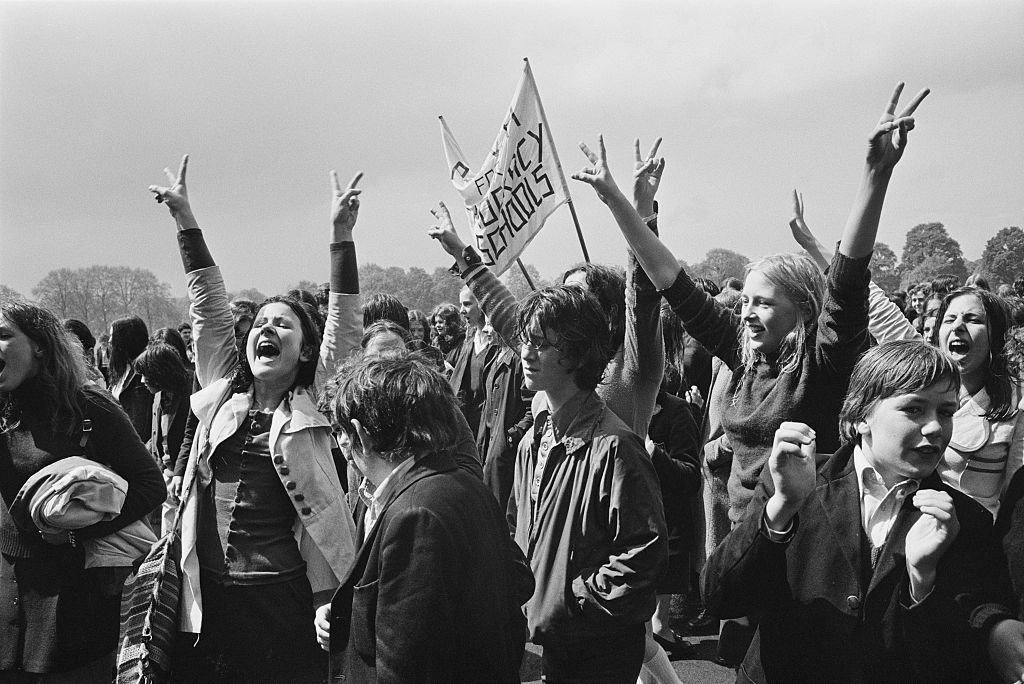 An important part of learning is figuring out what issues are vital to each individual. Marching and protesting for what students think is right is the only way to keep democracy alive. These teens were going to County Hall in London to stop some of the problems at their school like caning and school uniforms.
1971: PLAYING AROUND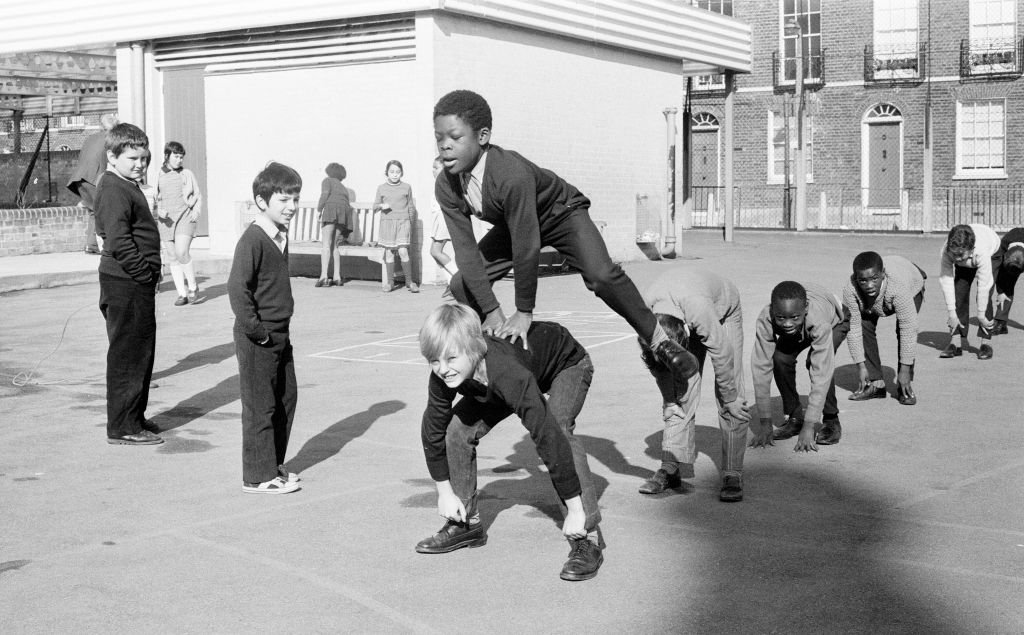 Can you remember all the times that you played with your friends at school? These kids from Penton Junior School in Islington, North London are all having fun at school. You can also see that children from different races are all having a bunch of fun together, but of course, it's happening in London. In America, it might have been a little different.
1970: ALL RACES TOGETHER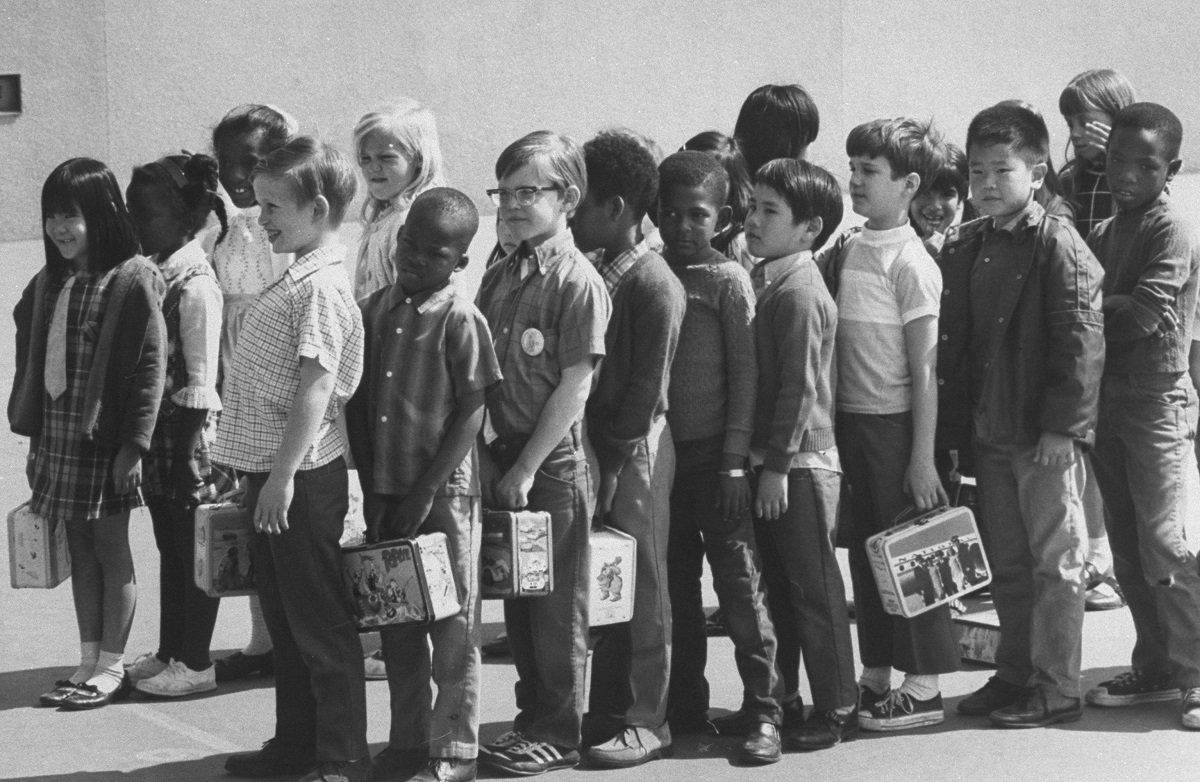 Continuing the previous thought, here we see another completing interracial school with children from all kinds of ethnicities. They go to Leadwood Avenue Elementary School. The picture is remarkable because it's from an institution in California. Although California has always been a liberal, as we go back in time, some places in America were not so open to interracial interactions.
1969: CLASSES DURING THE HOLIDAYS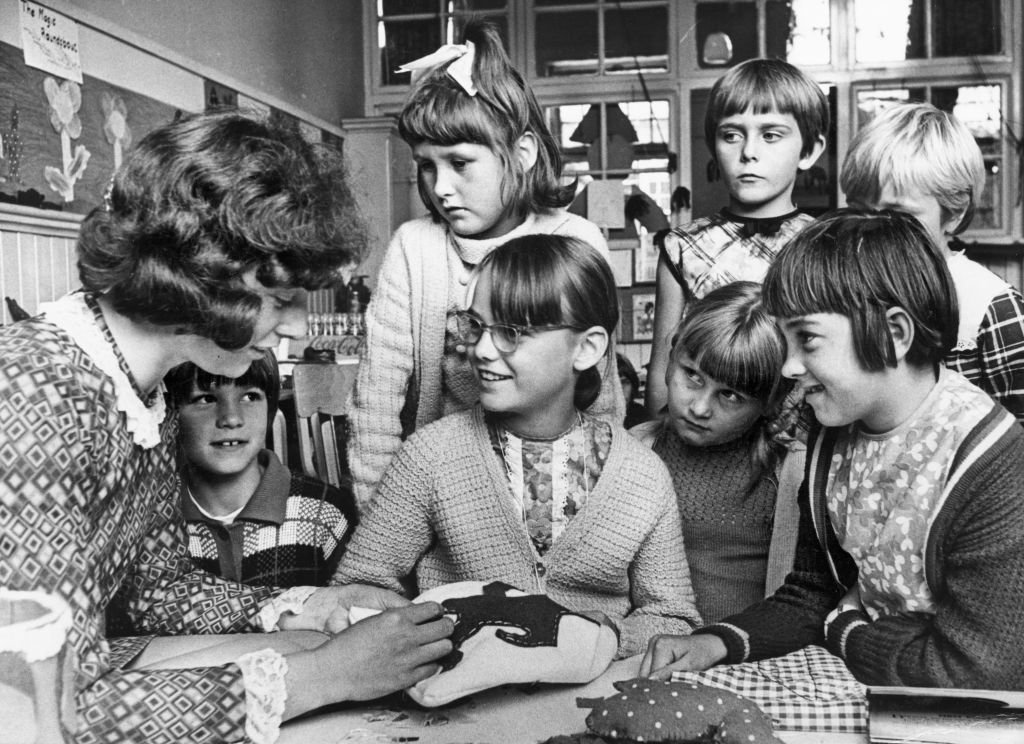 Interestingly, this image is from a class at Hawthorn County Secondary School, but it was paid for by the Steinberg Factory. It was the holidays, and these kids' mothers worked at the company. They paid for special needlework classes in hopes that no employee would miss work to take care of their children. Learning different skills and trades is also important at school!
1968: RAISING HER HAND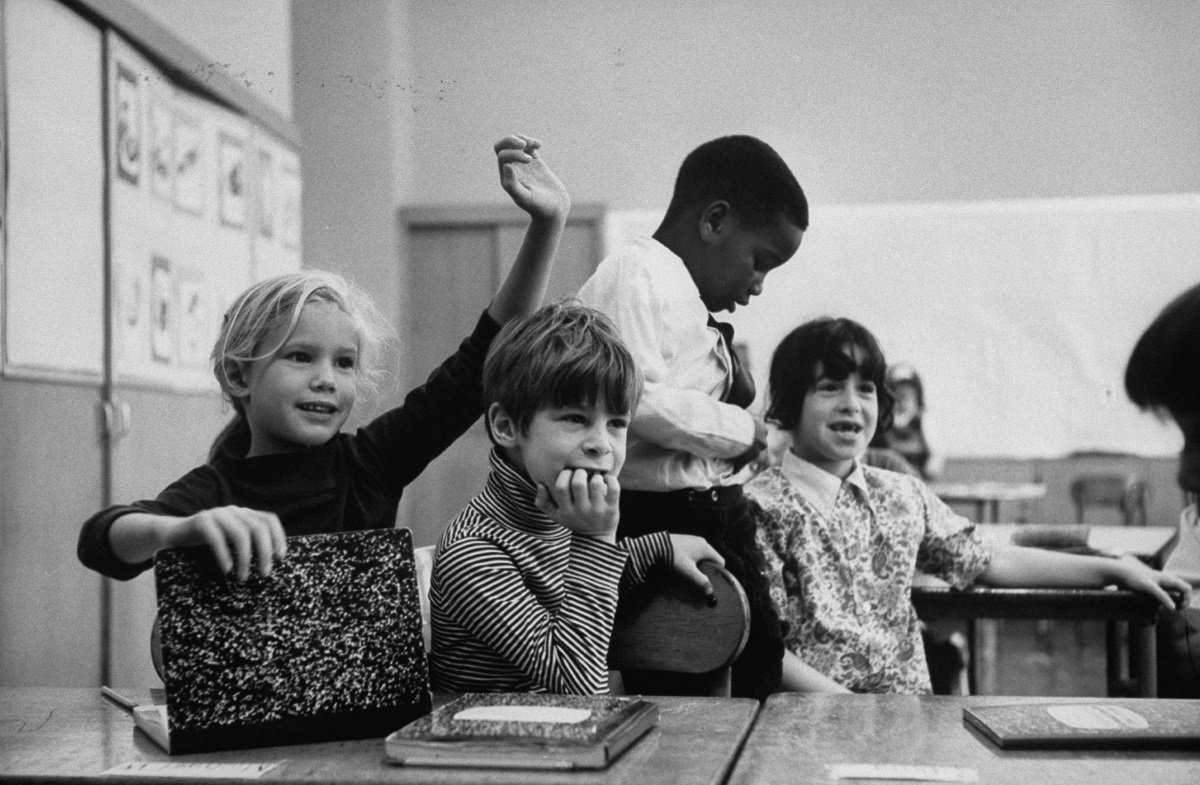 This picture might seem like another day at a school in New York City, but at the time, many teachers were striking. In this case, the children were taught by an anti-strike professor. At the end of the day, not paying decent salaries to our teachers hurts the kids. Teaching is one of the most important professions in the world.
1967: LANGUAGE CLASS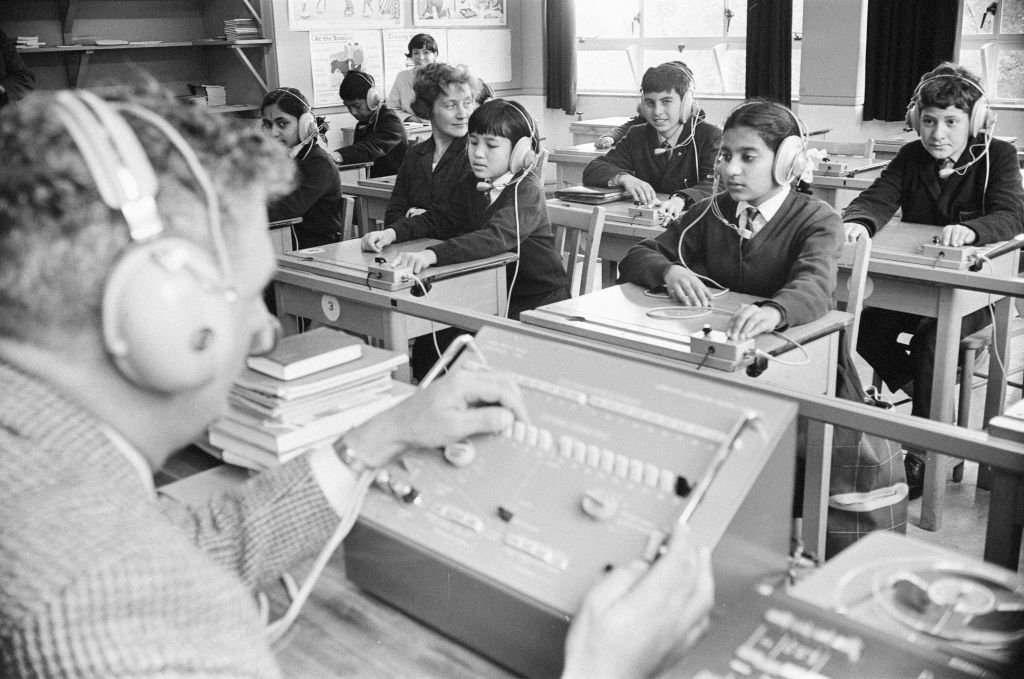 These kids from the Pestalozzi Village for Children in East Sussex were studying another language. Their community was named after Johann Heinrich Pestalozzi, who educated people in hopes of ends the divides because of differences. Do you remember learning a new language using recordings like they are doing?
1966: WOMEN IN SCIENCE CLASS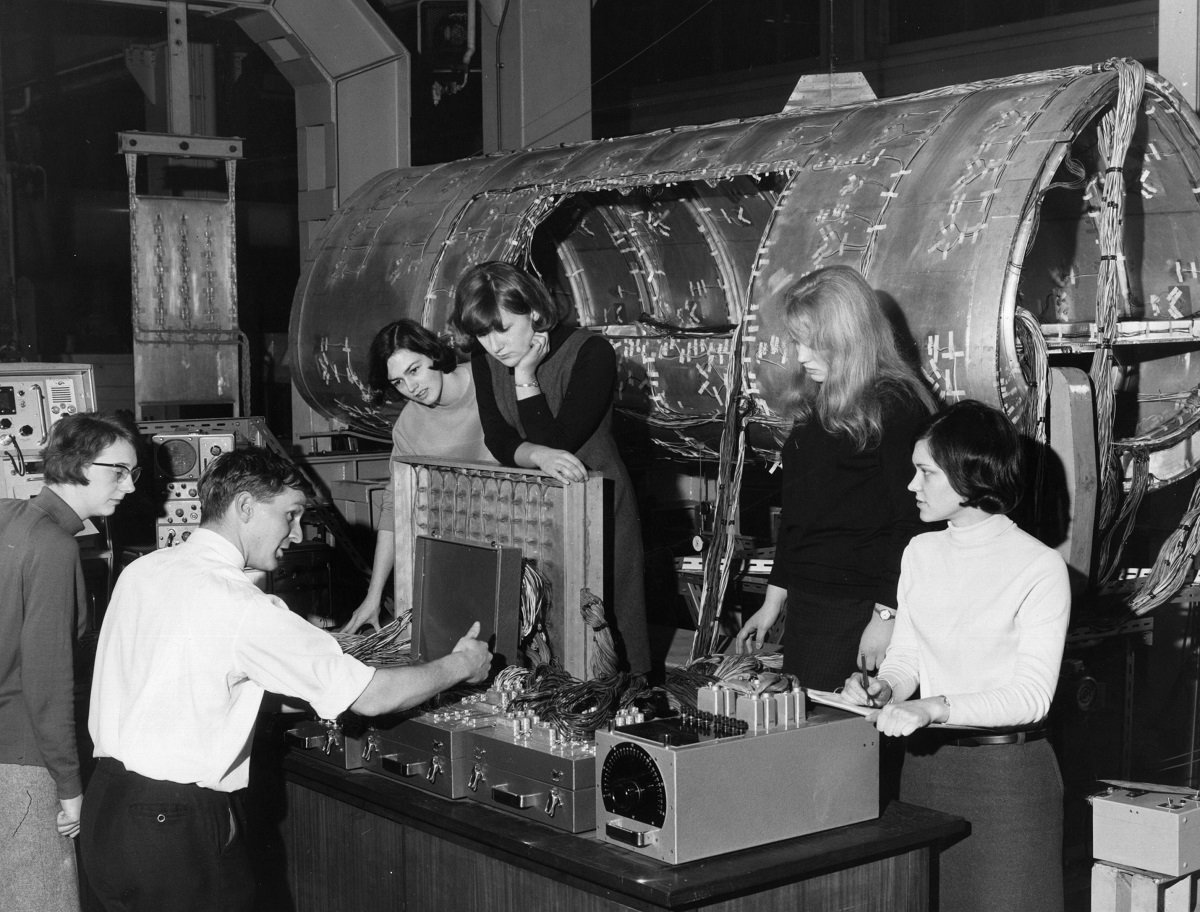 The women in this class are more remarkable than you think. They are in the last year of university at the Imperial College of Science and Technology in London. All of them would become aeronautical engineers, and here you can see them hard at work. We have to remember that generations of women have changed the world for the better.
1965: LEARNING HOW TO MAKE PANCAKES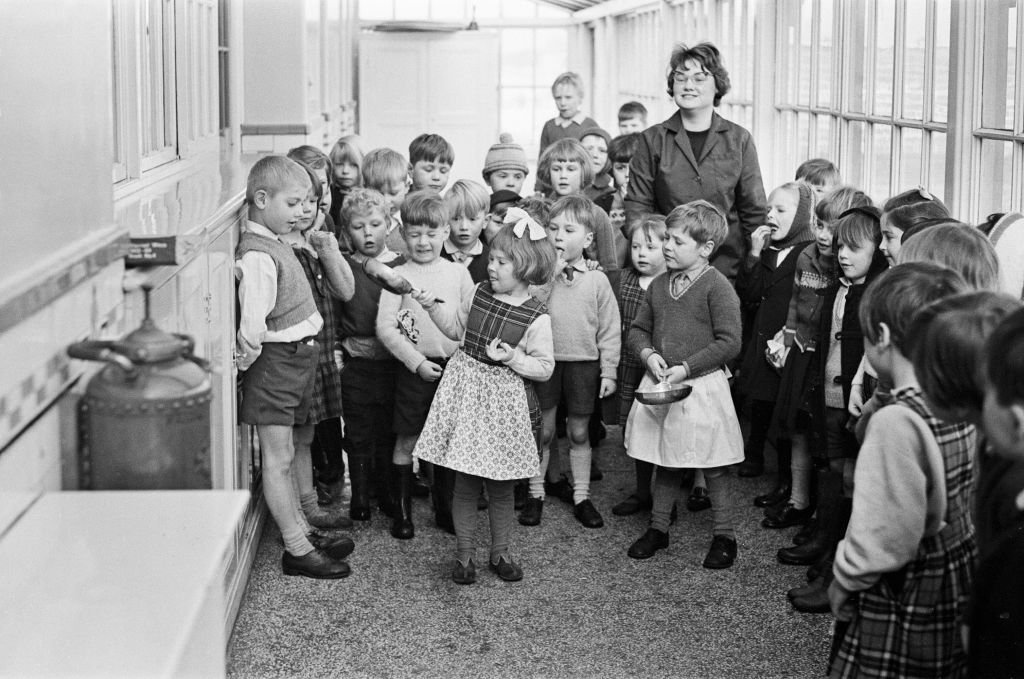 Now, cooking might not seem like the kind of thing you learn in school, but it really should become an important part of education. At the very least, nutrition should be examined more at schools. These five-year-olds from Gawthorpe Infants School in West Yorkshire were learning how to make pancakes. The idea was designed by headmistress Margaret Craighan.
1964: PLAYING THE ETON WALL GAME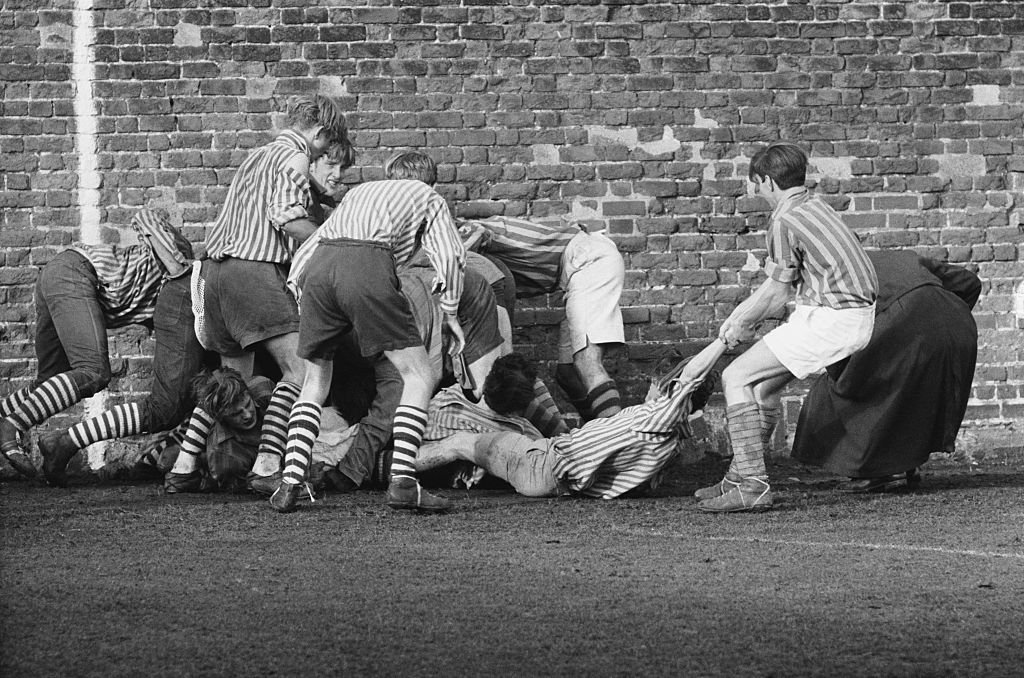 This might not be that relatable for all our readers out there, but it definitely evokes memories of playing rough games like football or other sports at school. The teens from Eton are playing a game, which looks a bit like rugby at the St. Andrew's Day match. Can you remember your days playing soccer or football with the school's team?
1963: LEARNING BALLET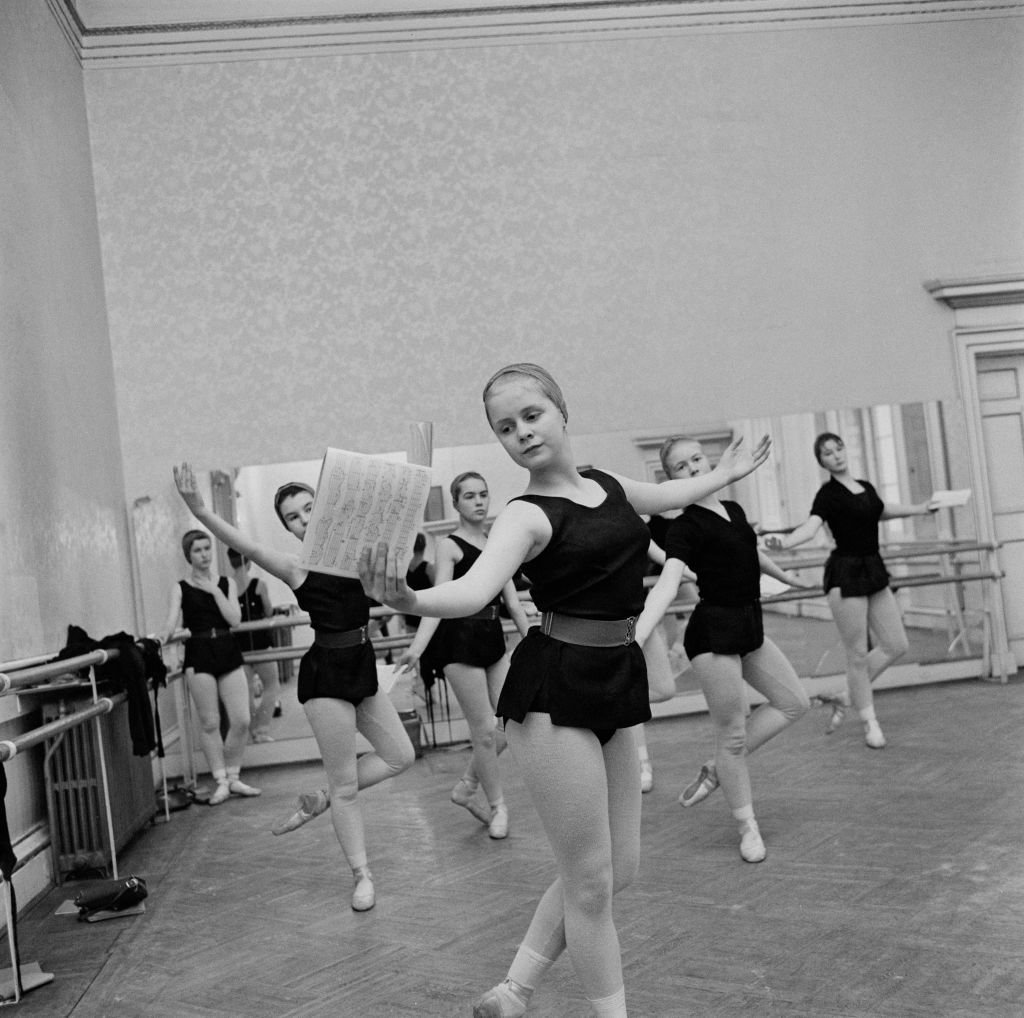 We have already stressed that education has different aspects, and it doesn't happen in a regular classroom with books all the time. These students from the Royal Ballet Junior School in London are learning their movements. If any of our readers took dance classes in their youth, they will definitely be able to relate.
1962: DISASTER DRILLS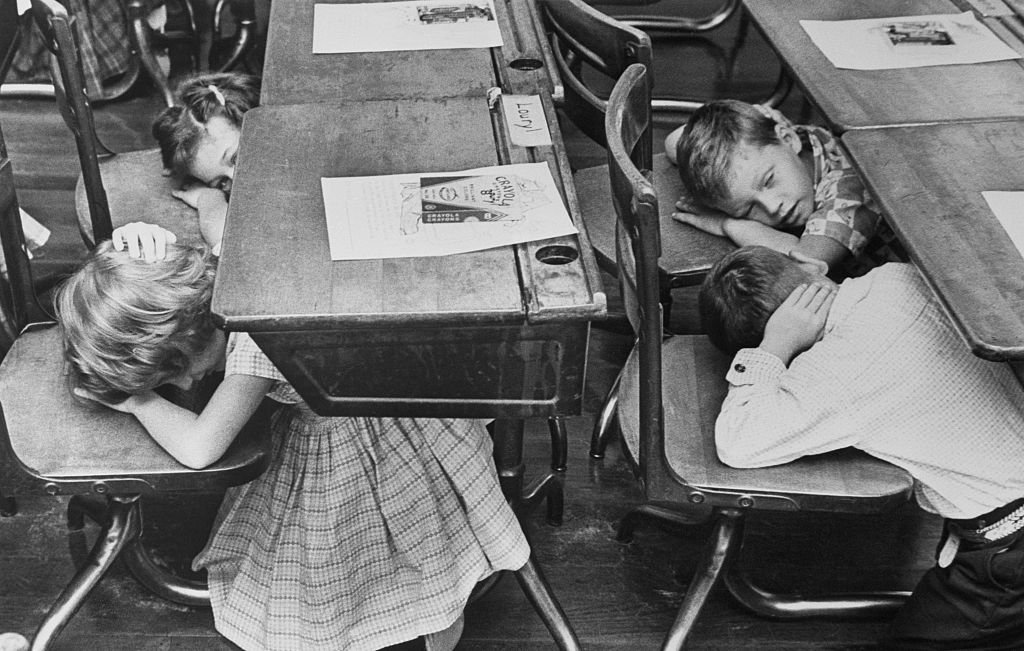 You probably experienced all kinds of drills during school, and this is the famous "duck and cover". The kids from a school in St. Petersburg, Florida were practicing this method, which is used when there is no warning of attack. It's important to remember that the U.S. was in the middle of the Cold War, and they always had to prepare for an attack.
1961: THE SENIOR PROM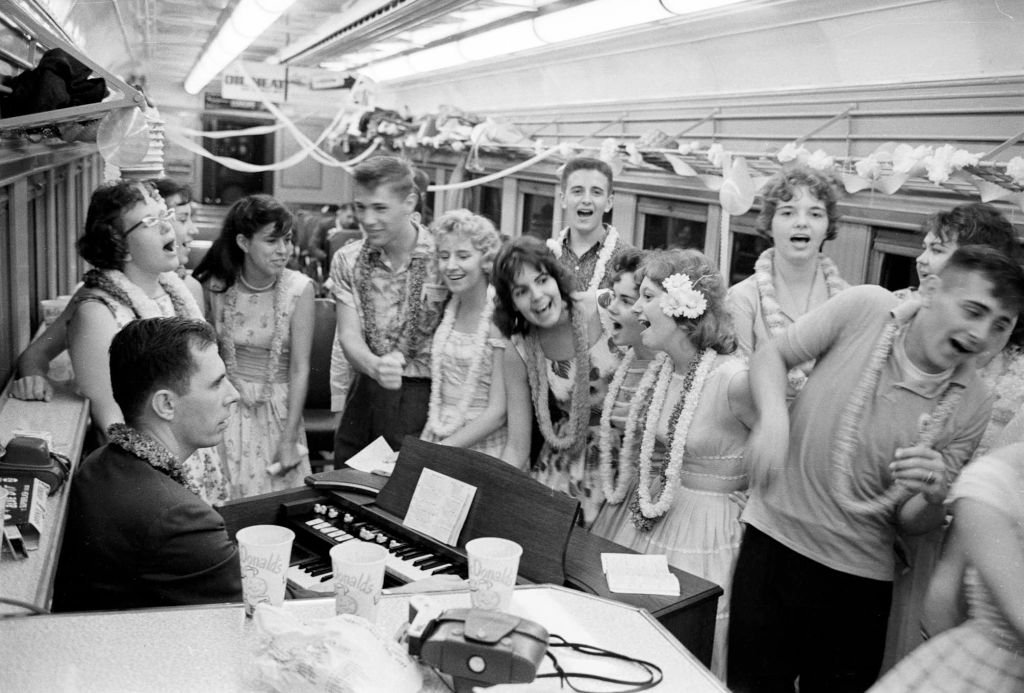 One of the most important staples of high school is the senior prom, especially in America. These teens from Islip High School in Long Island took a train to Montauk, New York for their prom. Who would imagine having a prom during a train ride? Luckily, it was slow enough that they could dance and sing while having fun.
1960: SCHOOL FOR AFRICAN-AMERICANS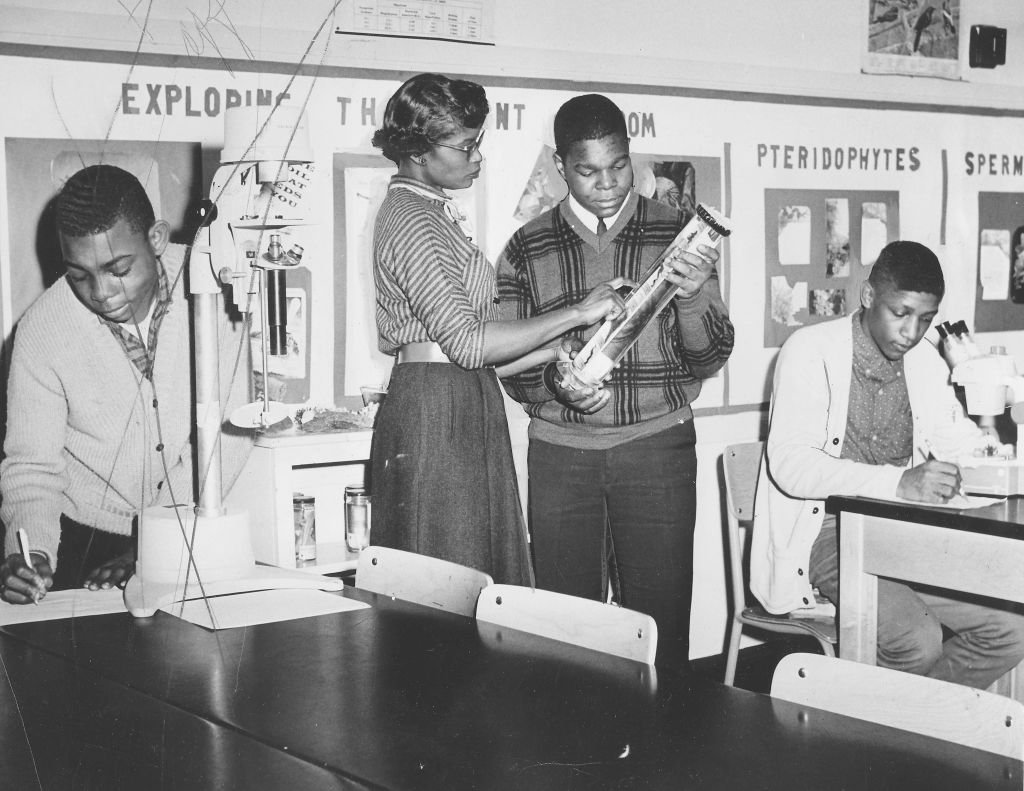 We have reached the beginning of the 60s, an important time in the fight against segregation. Sadly, in many places all over America, people of color still had to attend different schools. These are the high school students from Bates High School in Maryland. It looks like they were learning about geology. It's still crazy to imagine those times.
1959: INTEGRATION IS BEAUTIFUL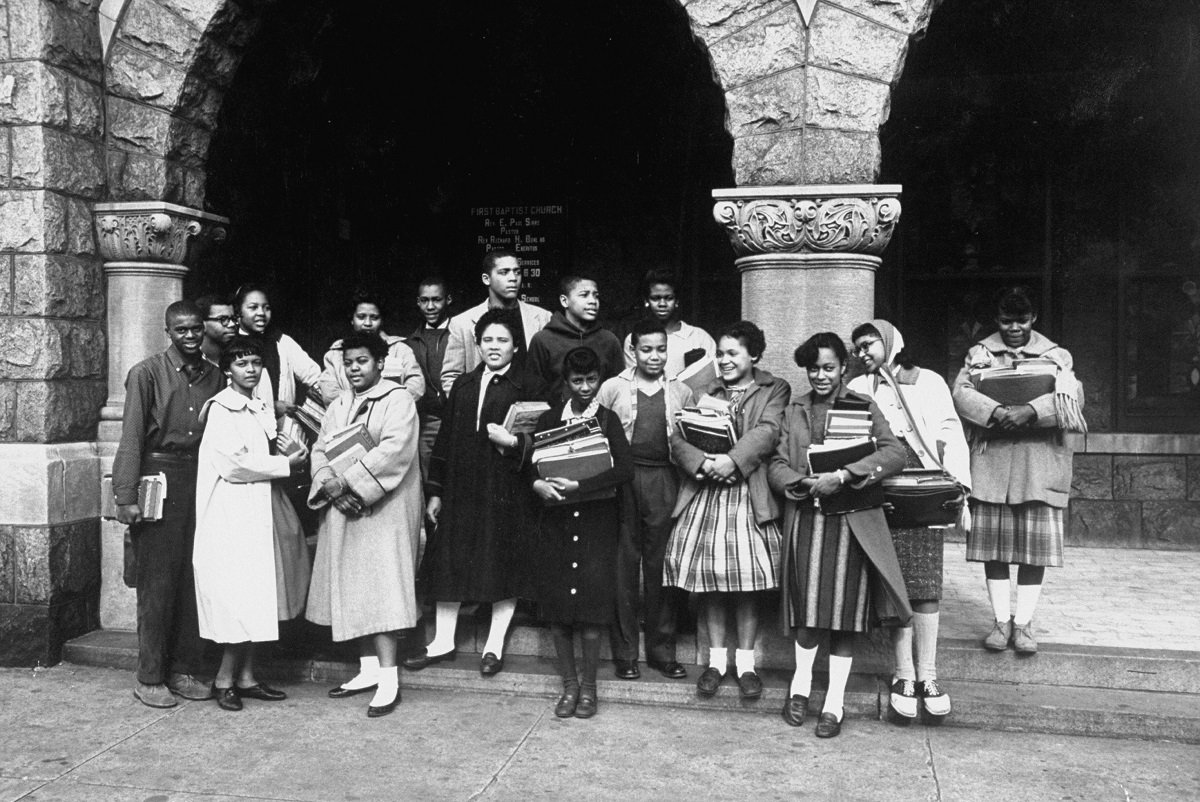 These are 17 new students that were finally able to enroll at this school. It had recently been integrated. Integration happened because of Brown v. Board of Education, an almost two-year fight the ended in 1954 with a declaration that segregation in public schools was unconstitutional. However, not many states took it immediately.
1958: SEGREGATED SCHOOL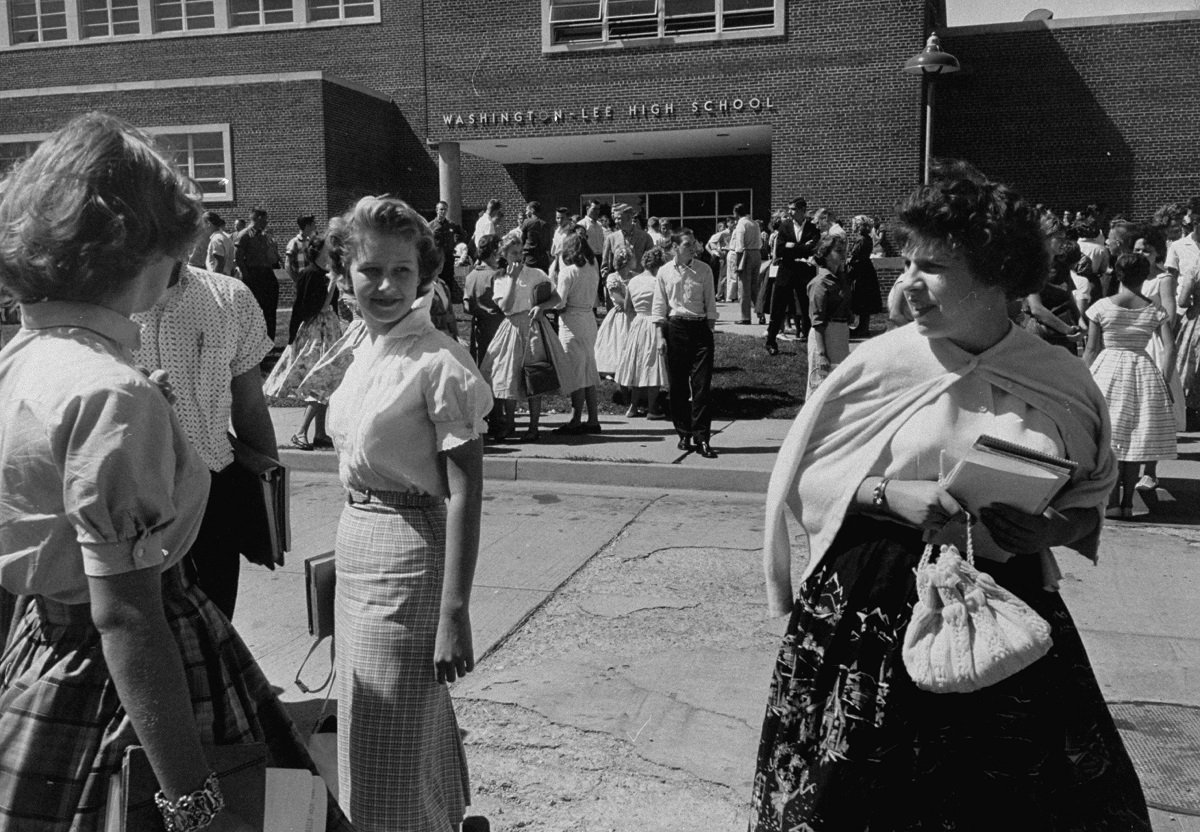 This is an image from Washington-Lee High School, which opened as a segregated school, despite the ruling of Brown v. Board of Education. This school was later renamed as Washington-Liberty High School and is located in Virginia was one of the 17 Southern states, and they had so many problems with integration.
1957: DANCING IN THE COURTYARD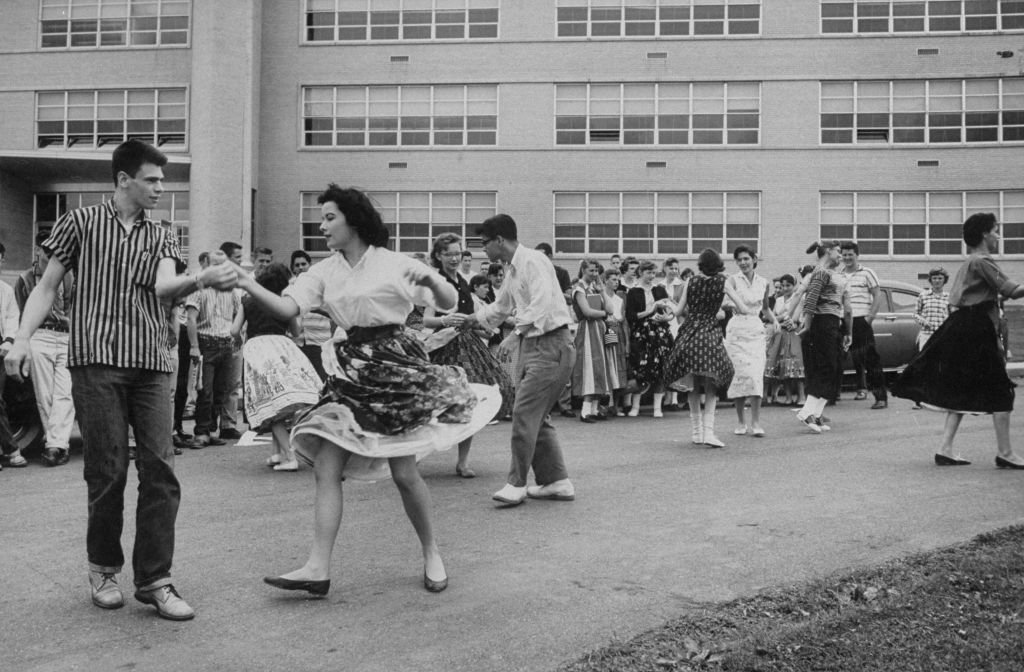 On a cheerier note, here we see a bunch of teenagers enjoying their high school with an improvised dance right outside the school. They were dancing to the tunes on the radio, which was probably blasted from their cars. It really makes us nostalgic for those carefree days. Now, we know why adults always told us to enjoy those moments.
1956: THE SOX HOP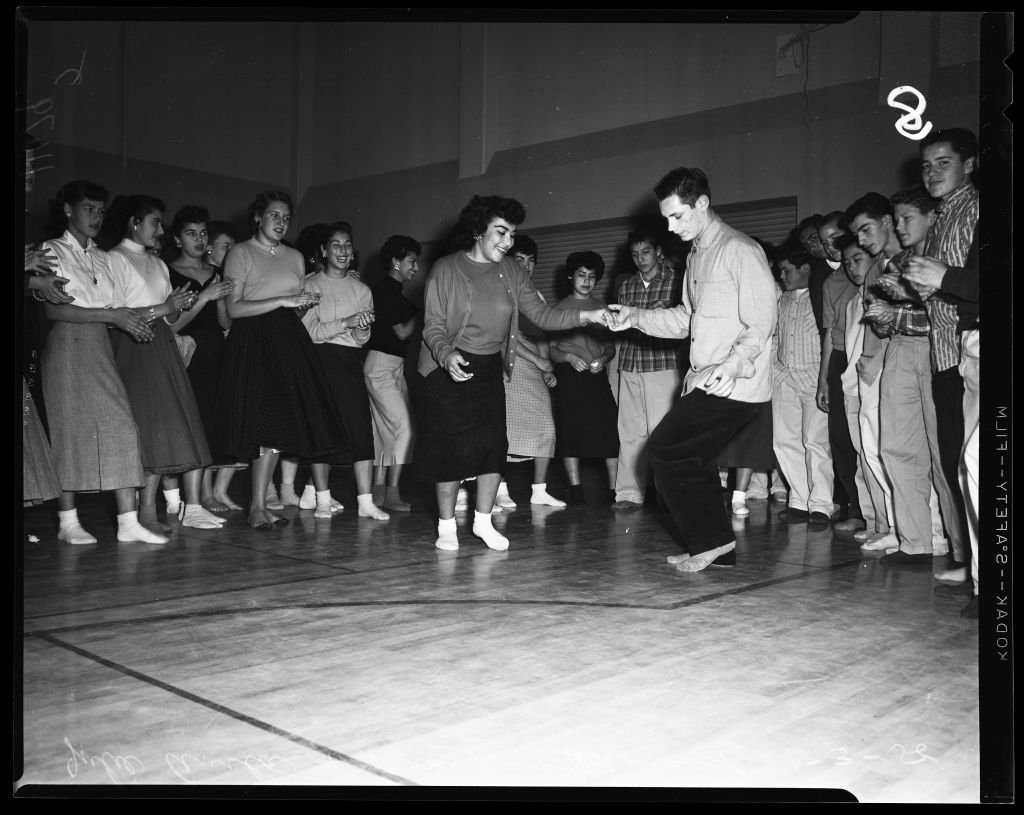 Here we see a funny moment at the "Sox Hop", or sock hop, at Dana Junior High School in San Pedro, Los Angeles. The teenagers had to remove their shoes to avoid ruining the new gym floor. They held this event weekly during recess, but it's a tradition that goes back to World War II. American schools have kept up this dancing event for years.
These pictures definitely made us nostalgic! Did you find the one from your birth year exciting? Let us know what you think of these images. If you liked this article, share it with your friends who love seeing things from the past. See you next time!
Source: Insider, Getty Images, MSN, Insider, Bob's Hideout