Interesting Photos From Outer Space
We have always wondered what goes beyond the cloud above us - and for centuries, we have been trying to break that barrier, to go above and beyond. In 1961, Yuri Gagarin, a Soviet cosmonaut, finally made it through the atmosphere and became the first man to journey into outer space. Since then, tremendous progress has been made in space exploration, and we are able to see things we never imagined we would. Wonder what Major Tom sees? Here we go
Strait Of Gibraltar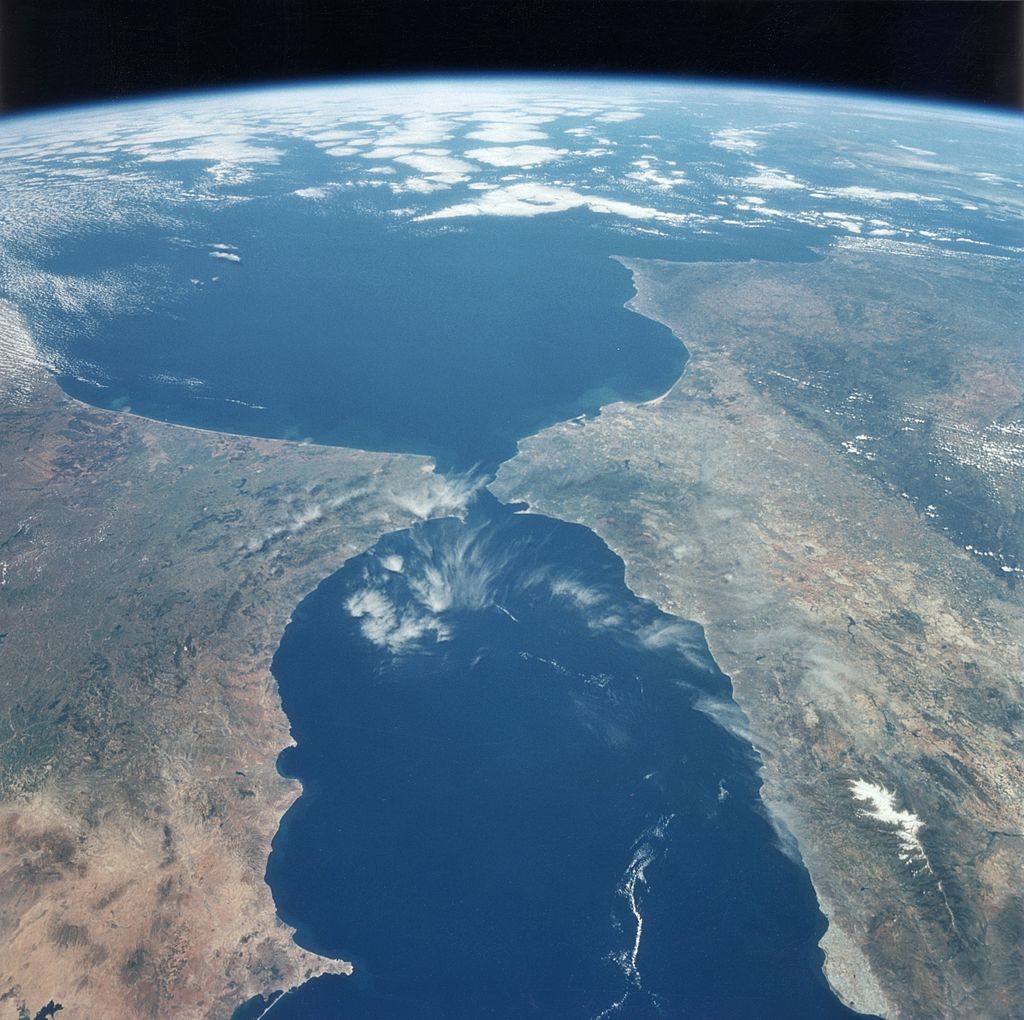 Now, moving westward for a bit, we get to the Strait of Gibraltar - the strait that separates Europe and Africa. To the left that's Africa (Morocco), and to the right that's Europe (Spain/ British Gibraltar). The closest gap between the two continents is a mere 8 miles. If you have a chance to go to Gibraltar, you should - on a clear day, you can see Africa across the strait at Europa Point.
Namib Sand Sea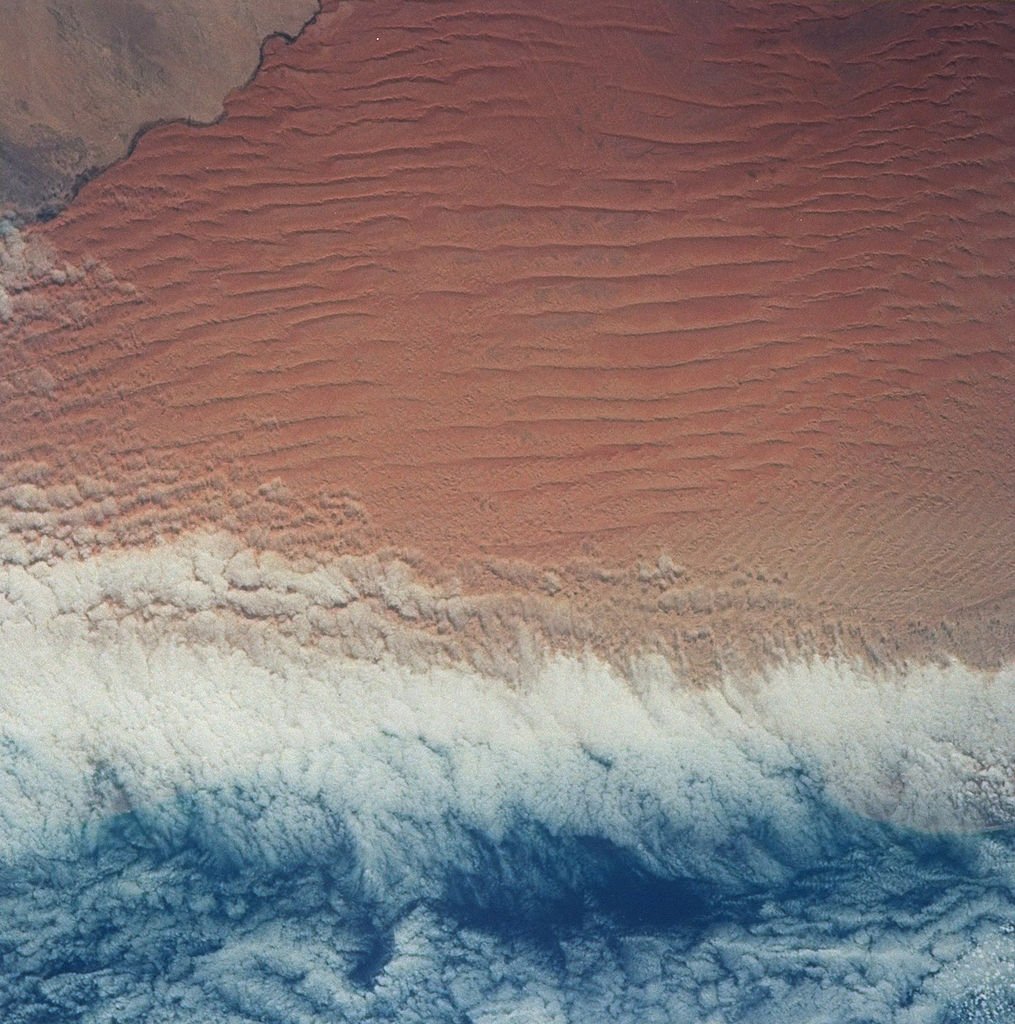 Another photo to put things into perspective - Namib sand sea is a mesmerizing sight, with sands stretching to the endless horizon, crests rising and falling after one another in the dune fields. Being a desert itself, water is sacred, and there's a heavy reliance on fog in the area as the water source. While local inhabitants rely on them for life and death matters, up in space it is nothing but a picture, of the fog high above.
Chile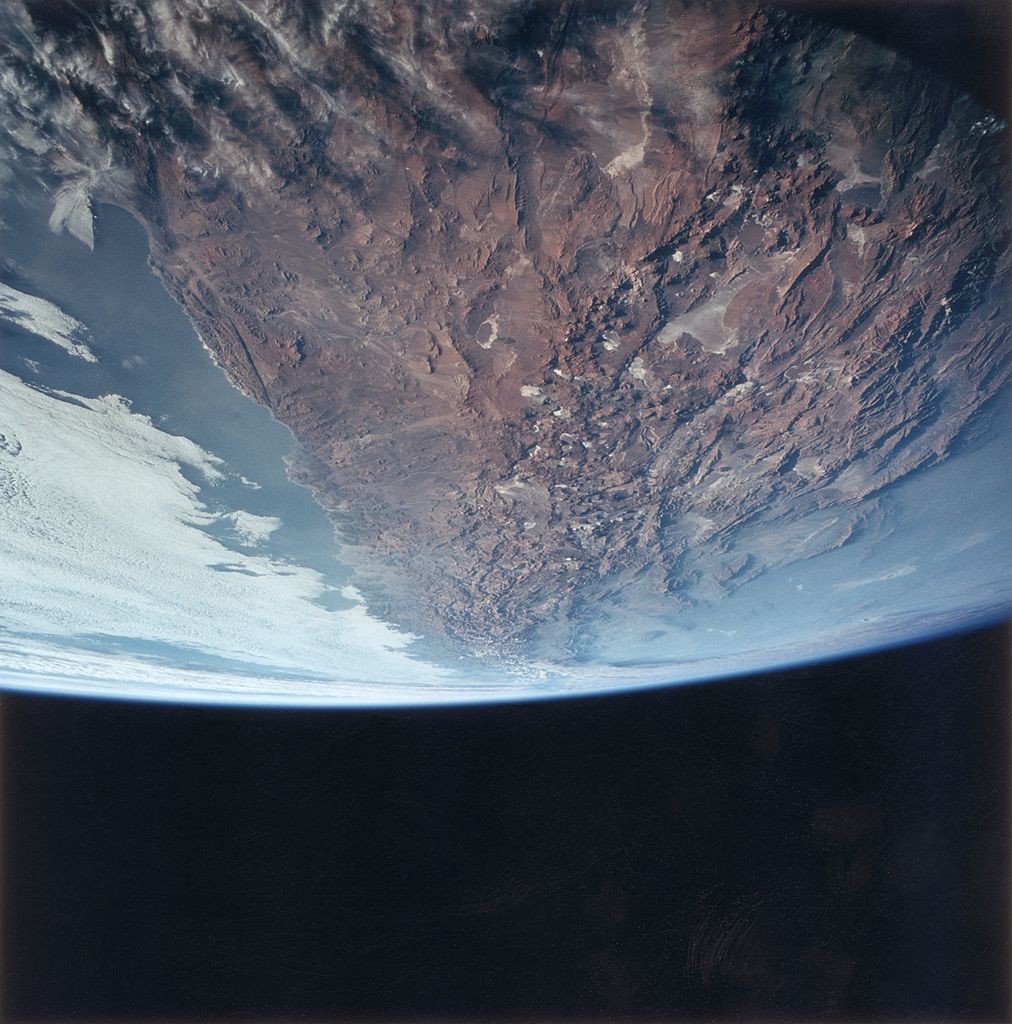 Chile is a beautiful country, with mountains stretching across the rugged landscape. Not to mention good wine. And like many other beautiful things, it is always a good idea to try and appreciate it from a different angle - this time from outer space. The photo was taken in July 1994, during NASA's STS-65 mission.
Storm Over Africa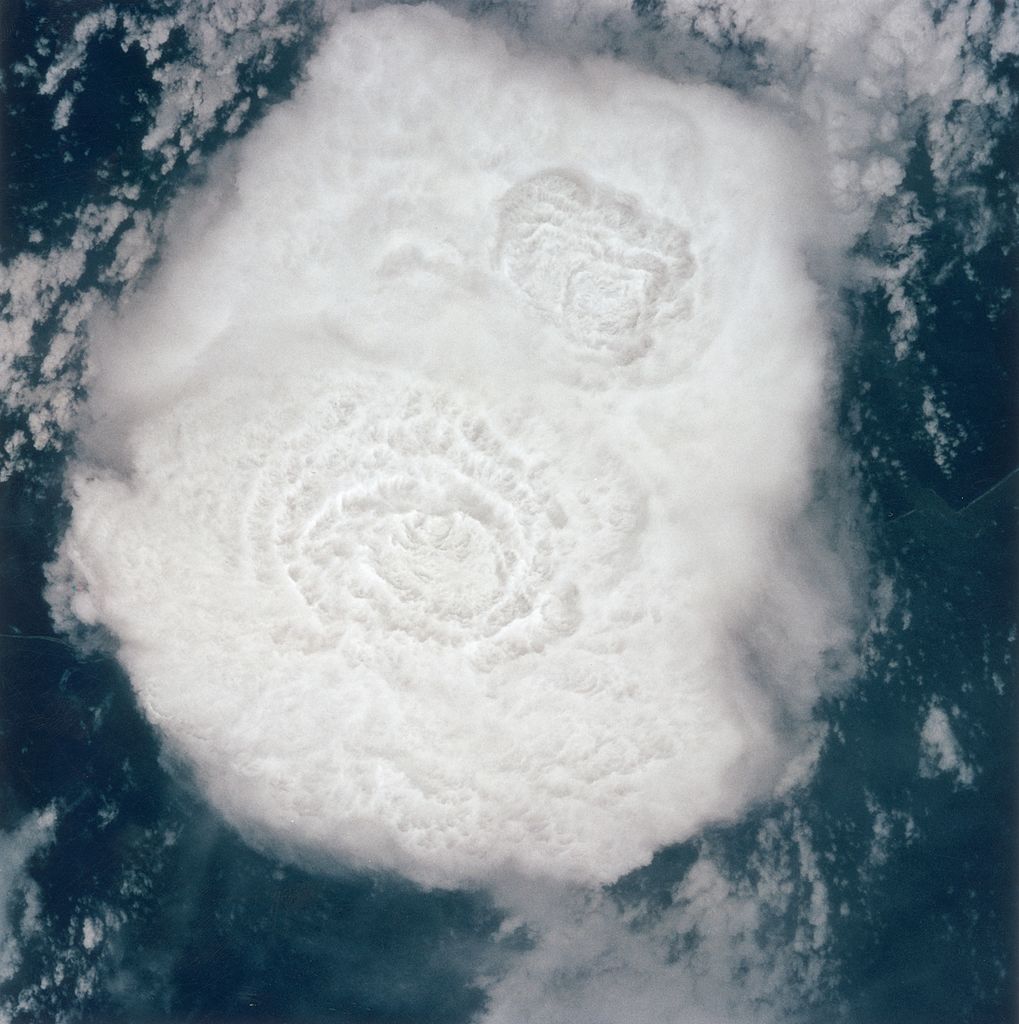 I bless the rains down in Africa… but probably not a storm. We have experienced storms on the ground - but ever wondered what it looks like up there? Pictured here is a 30-mile-wide stormcloud over the coast of Nigeria, from the space shuttle Columbia during NASA's STS-55 mission, 2nd May 1993. If you would like to go to Africa one day... Hurry boy, it's waiting there for you.
Mount Everest
To really put things into perspective - here is a picture of Mount Everest, the highest peak in the world. For years, mountaineers and adventurists alike have tried to conquer the peak, often meeting their untimely fate. A lot of people see the conquering of the peak as the ultimate goal, the triumph of men over nature, the pinnacle of true realization. However, does it really matter after all, in the grand scheme of things?
Sunrise In Space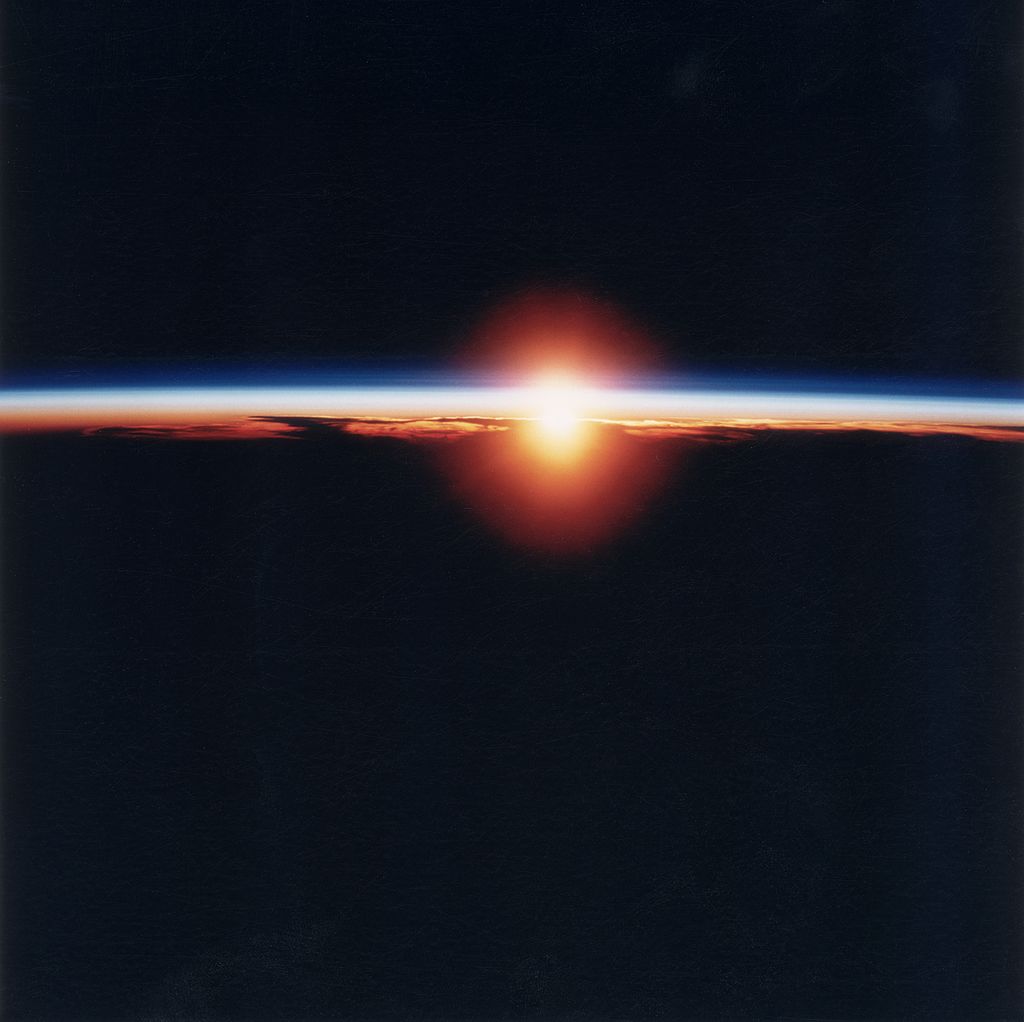 What is good about being alive? Sunrises, and sunsets. For me, to be able to see the sunrise is enough to be thankful for being alive. I remember the bus rides I've had, across the endless fields, where the land meets the sky and blend into one - then the sun came, parting the sky and the lonesome earth. It was mesmerizing...but seeing it in outer space? I can only fathom.
The Tibetan Plateau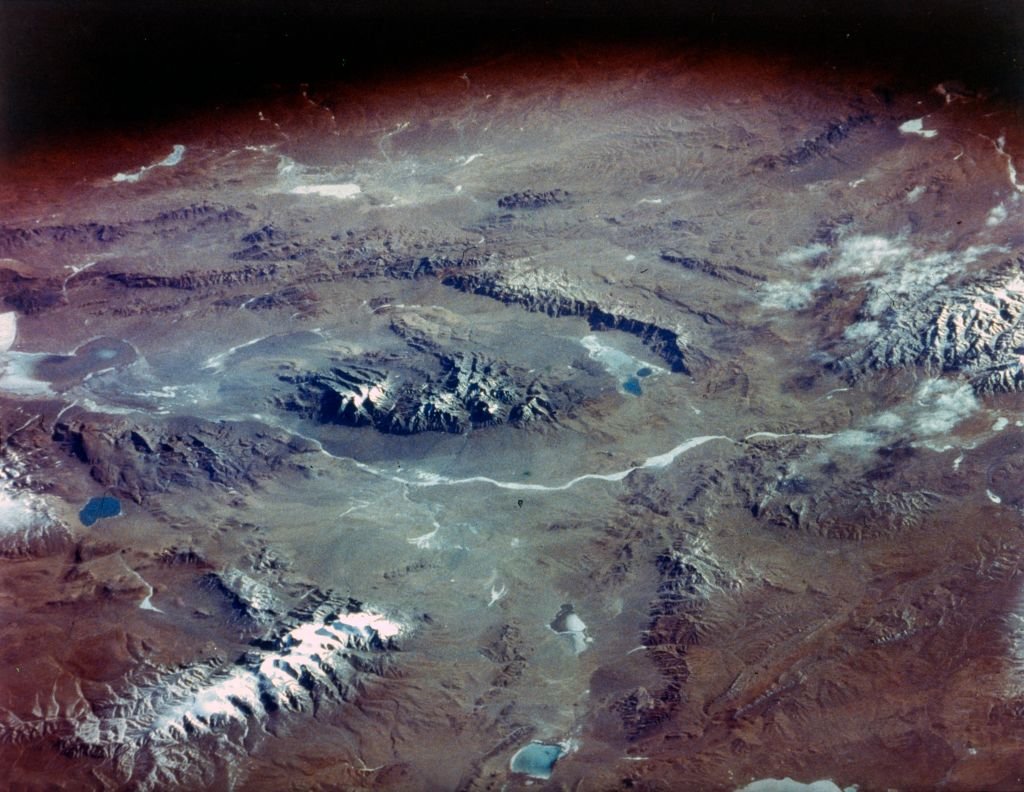 Tibet is one of the top dream destinations for travelers - the air (or the lack thereof), the lakes, the blue sky, the people...it always has a mysterious veil to it, and it comes with dreamy wonders. While it is impressive to get on top of the mountains and overlook the world below your foot, it might be arguably more so if you view it from high above - like this picture, that was taken during the first Space Shuttle flight in 1981.
The International Space Station
The International Space Station (ISS) is the largest single structure humans ever put into space - the size is even bigger than a football field! Throughout its history, representatives from 19 countries have visited the station. It is an international project, and politics do not play a role there...most of the time - since the Russian Soyuz is the only method to board the ISS at the moment, cosmonauts from all over the world go to Kazakhstan to get onboard the Russian Soyuz rocket to reach the ISS.
The USA From Space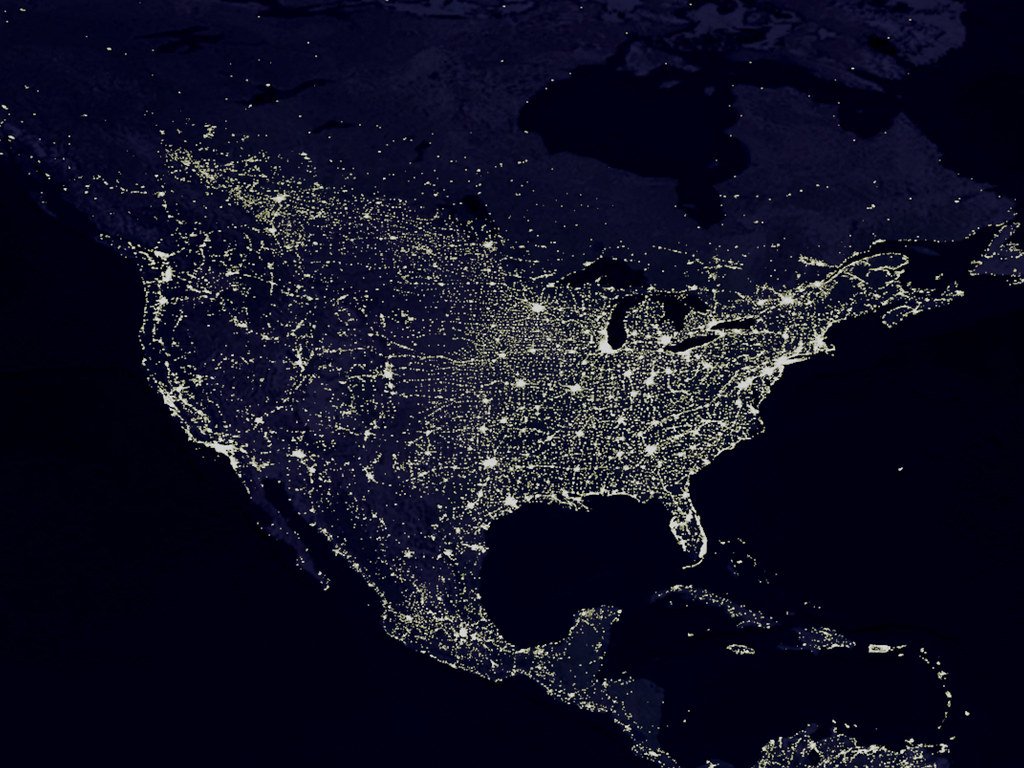 Ever wondered what the USA looks like from outer space? Here you go. When Apollo 9 was on its mission orbiting around the earth, it also took a lot of photos of us (or likely your parents/ grandparents), and the places. Take a look at how tiny those states are from the space, right? 
The Bright Side Of The Moon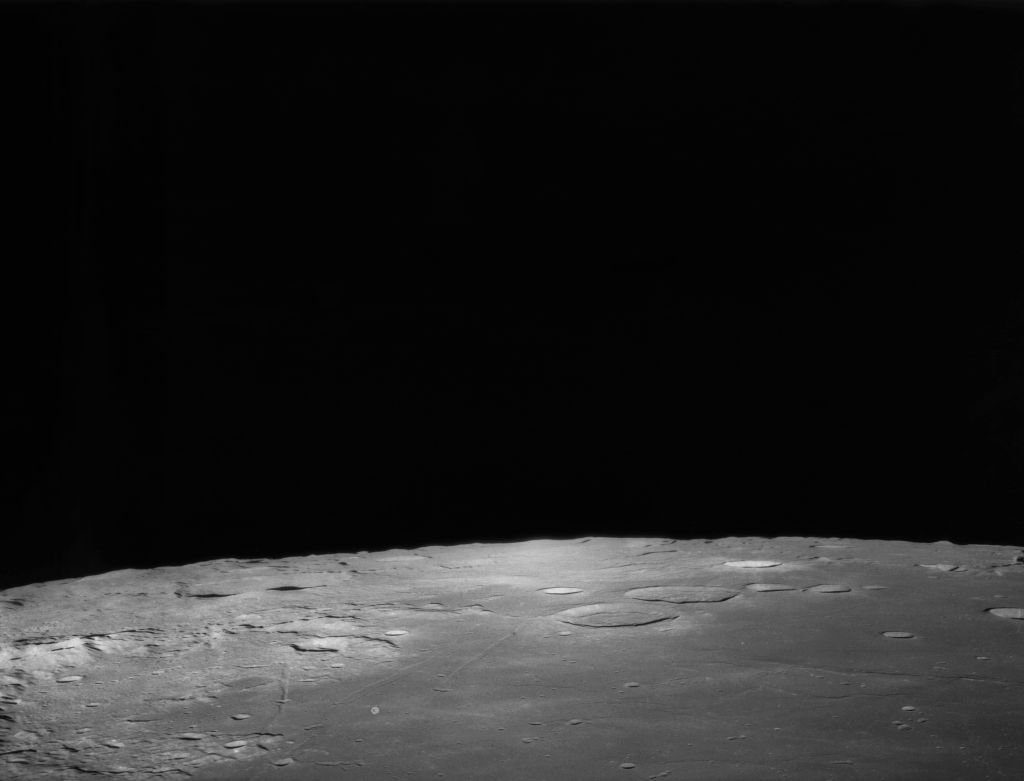 "That's one small step for man, one giant leap for mankind." a famous quote by Neil Armstrong, the first man to leave a footstep on the moon in 1969. While the moon seems to be far from our reach, after years of scientific research, we did make it there after all. Pictured here is the horizon of the moon, something that Armstrong saw when he was miles away from the Earth. You can also see the craters on the moon in this photo. 
Now It's Time To Leave The Capsule If You Dare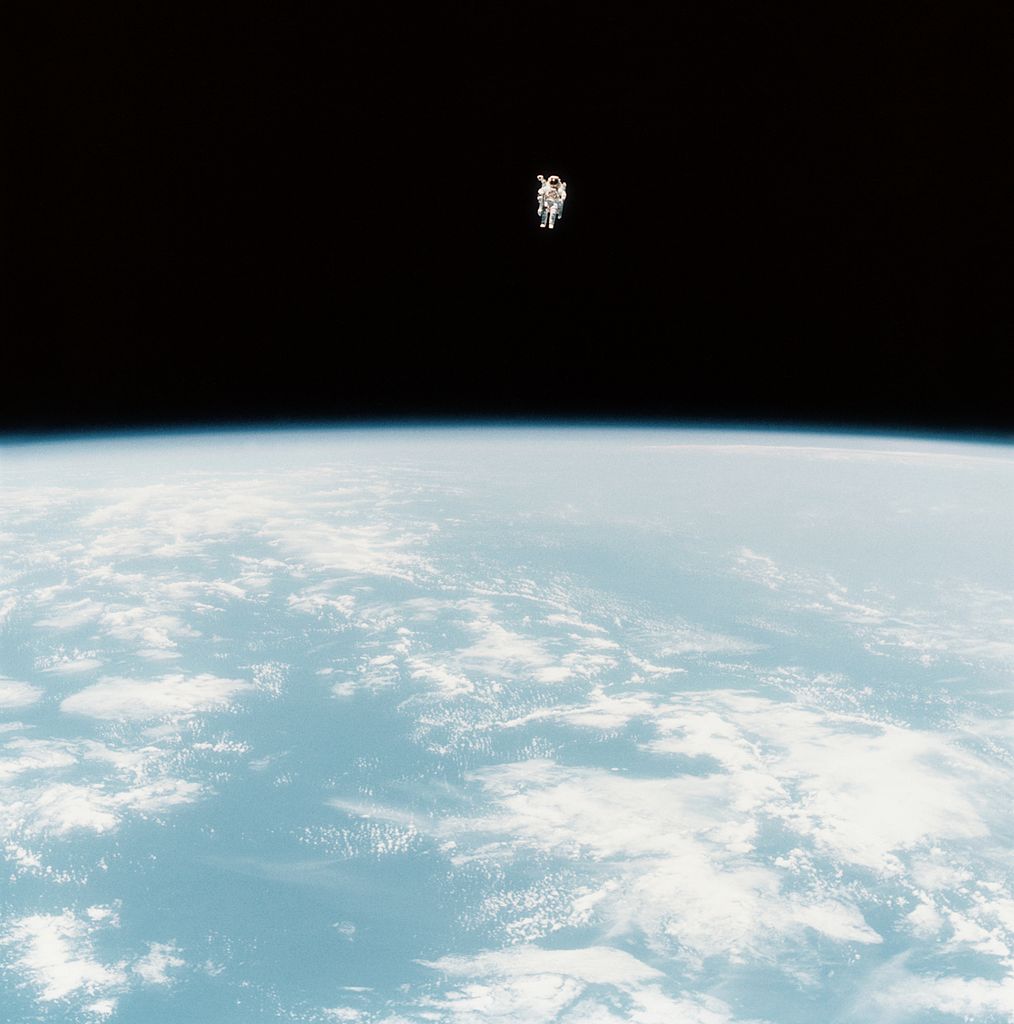 Okay, this is not really Major Tom - but astronaut Bruce McCandless II, pictured during the first untethered EVA, made possible by his nitrogen jet-propelled backpack. While doing his famous spacewalk, he decided to ease up the tension by referencing Neil Armstrong, he said 'It may have been a small step for Neil, but it's a heck of a big leap for me.'
Apollo 9 Lunar Module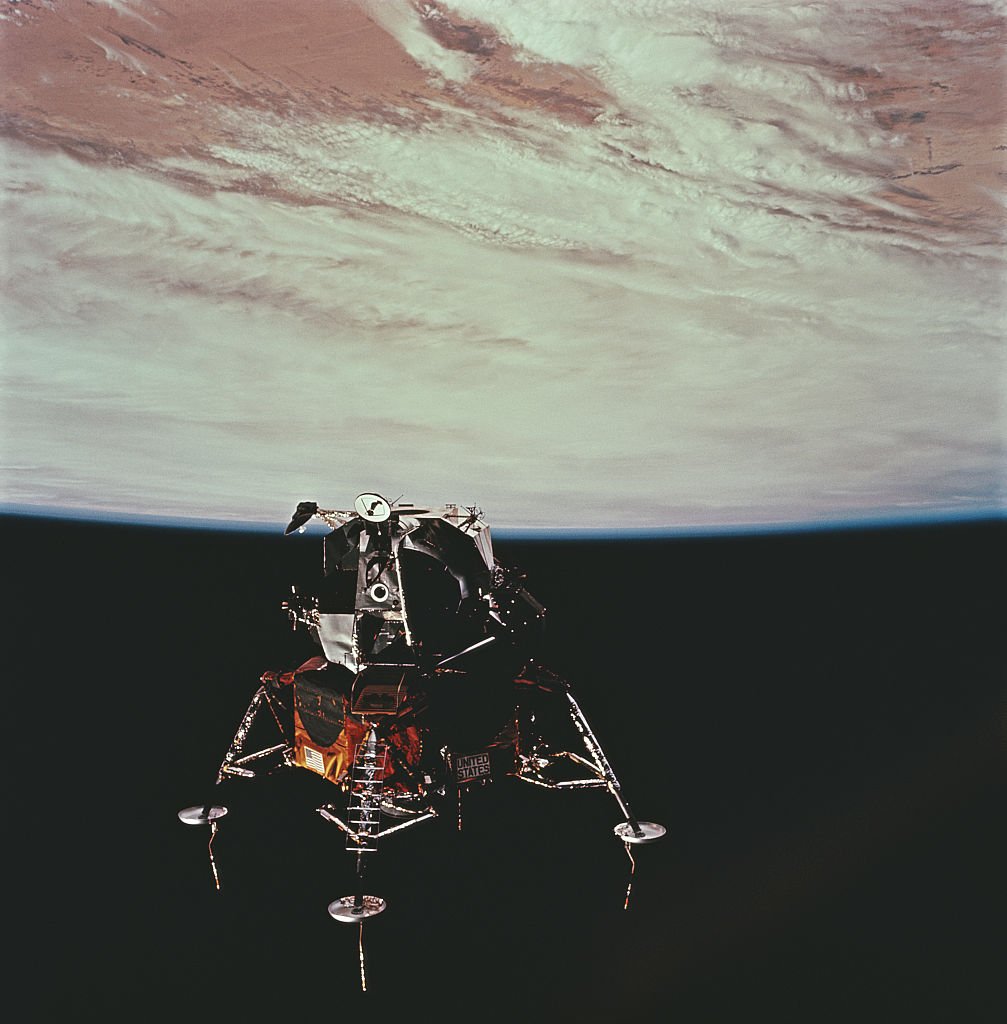 Launched from Kennedy Space center on March 3, 1969, Apollo 9's paved way for space exploration for years to come - including the moon landing that happened the same year. The technology was cutting-edge at the moment, and pictured here is the Apollo 9 lunar module, as it separates from the command/service module, beginning a rendezvous maneuver during the ten-day orbital testing mission, as part of the Apollo space program.
Life On Mars? 
You might have seen photos of Mars - rocky, gritty...red and hot, devoid of life forms. But here is another one for you - in the 1970s, NASA's Viking program consisted of a pair of American space probes sent to Mars, Viking 1 and Viking 2, and the picture was taken after it got to the surface. There's still a lot of things we don't know about Mars - however, Elon Musk seems to have a plan for Mars colonization. We will see how that goes.
Lunar Collection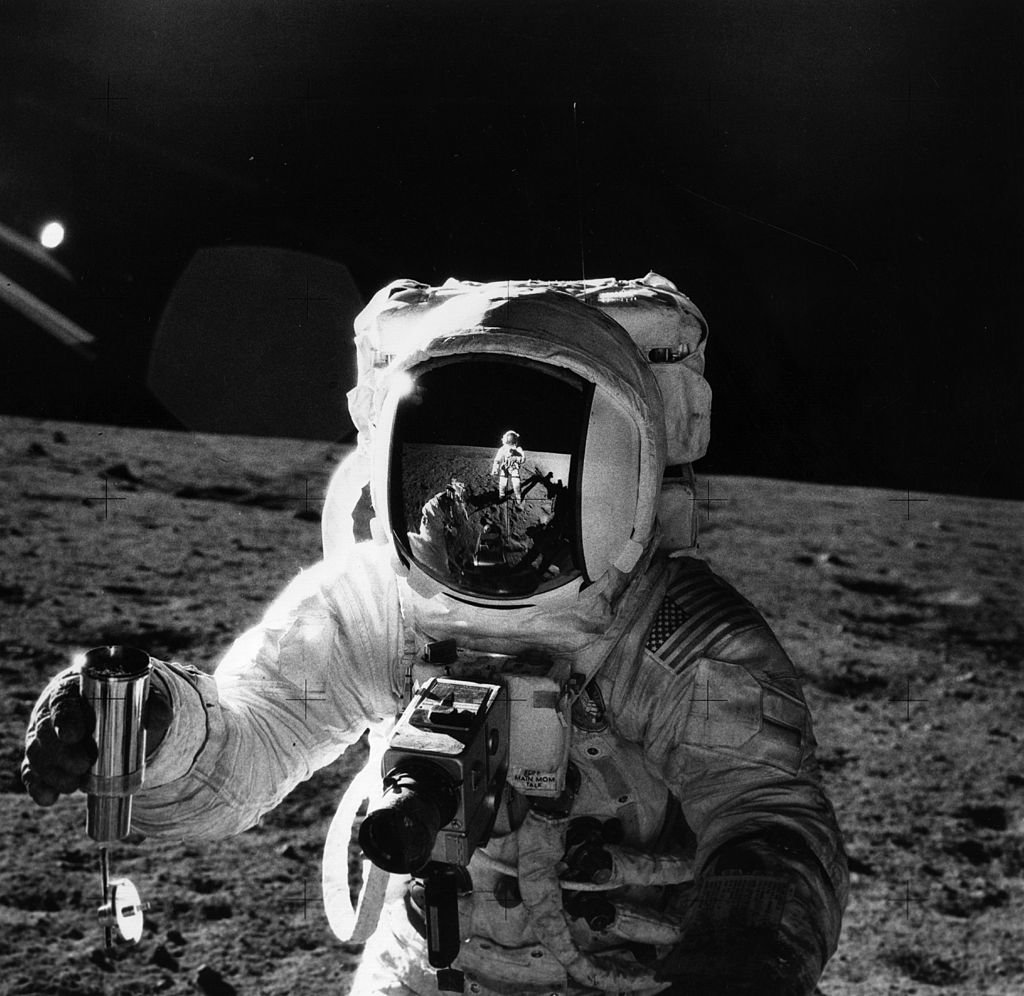 Pictured here is Astronaut Alan Bean, holding a container of the lunar soil sample he just collected. If you look at the left wrist carefully, you might notice a checklist there. On his chest is a Hasselblad medium format film camera. The fellow astronaut who took the picture is Charles Conrad, whom you can see on the reflection on the visor. This picture was taken during the Apollo 12 mission, in 1967.
First US Astronaut Spacewalk 
The US is the first country to have sent men to the moon - however, when it comes to spacewalk, the Soviets did it earlier, albeit marginally, by 3 months in March 1965...with some dramatic turn of events. Picture here though is the first American astronaut to perform a spacewalk, Edward H. White, during the Gemini 4 mission in June 1965.
Sun From Space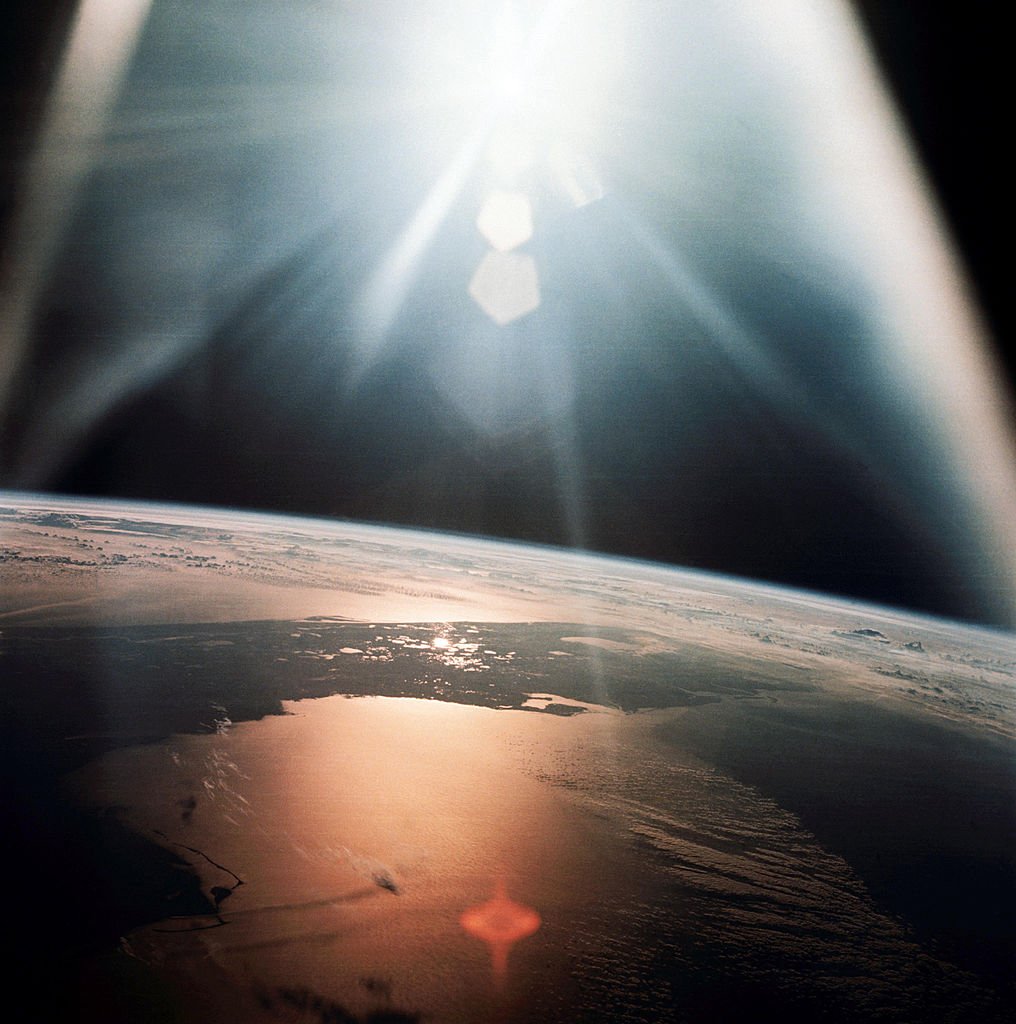 When we picture the sun seen in space, we always imagine a big fireball, engulfed in hellish flame. However, that is just the literal depiction of it, because there isn't that much of a difference seeing it from outer space - it is bright as it is, and to human eyes, it is just a very bright spot, just like what we see here on Earth. Pictured here is the sun reflection seen in outer space, where the Gulf of Mexico and the Atlantic Ocean is visible down below.
Eating in Space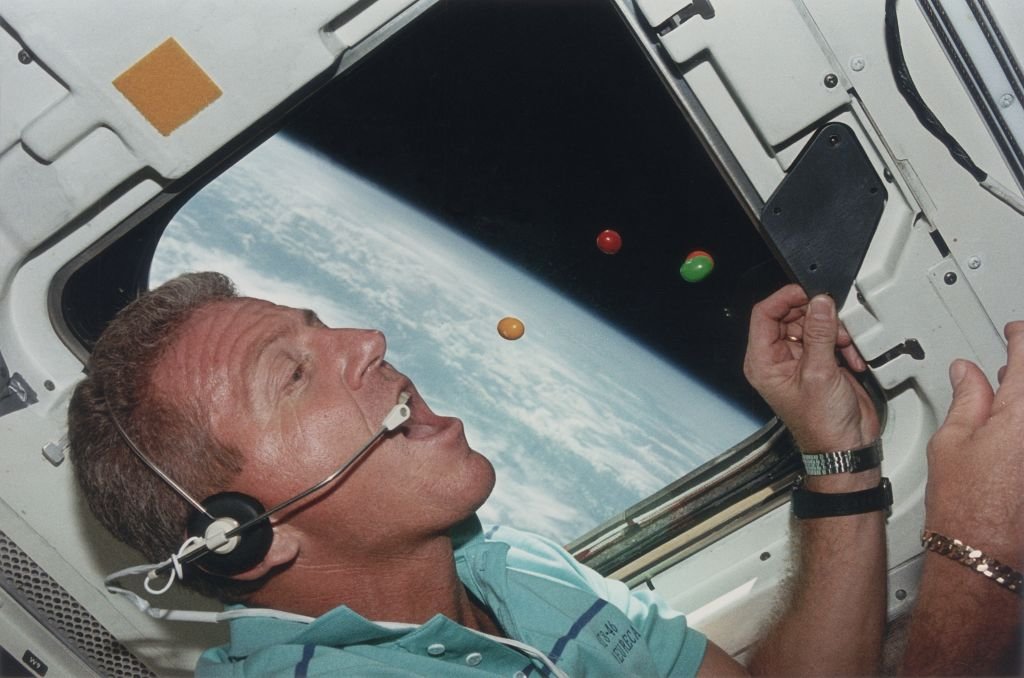 We know that there is no gravity in space, so how do people eat there? Well, here is an example of that. Pictured here is Astronaut Loren J. Shriver, commander of the STS-46 mission. What is he doing here? Eating. Or attempting to eat the candies to be precise. We hope he managed to catch the candies in the end.
East Africa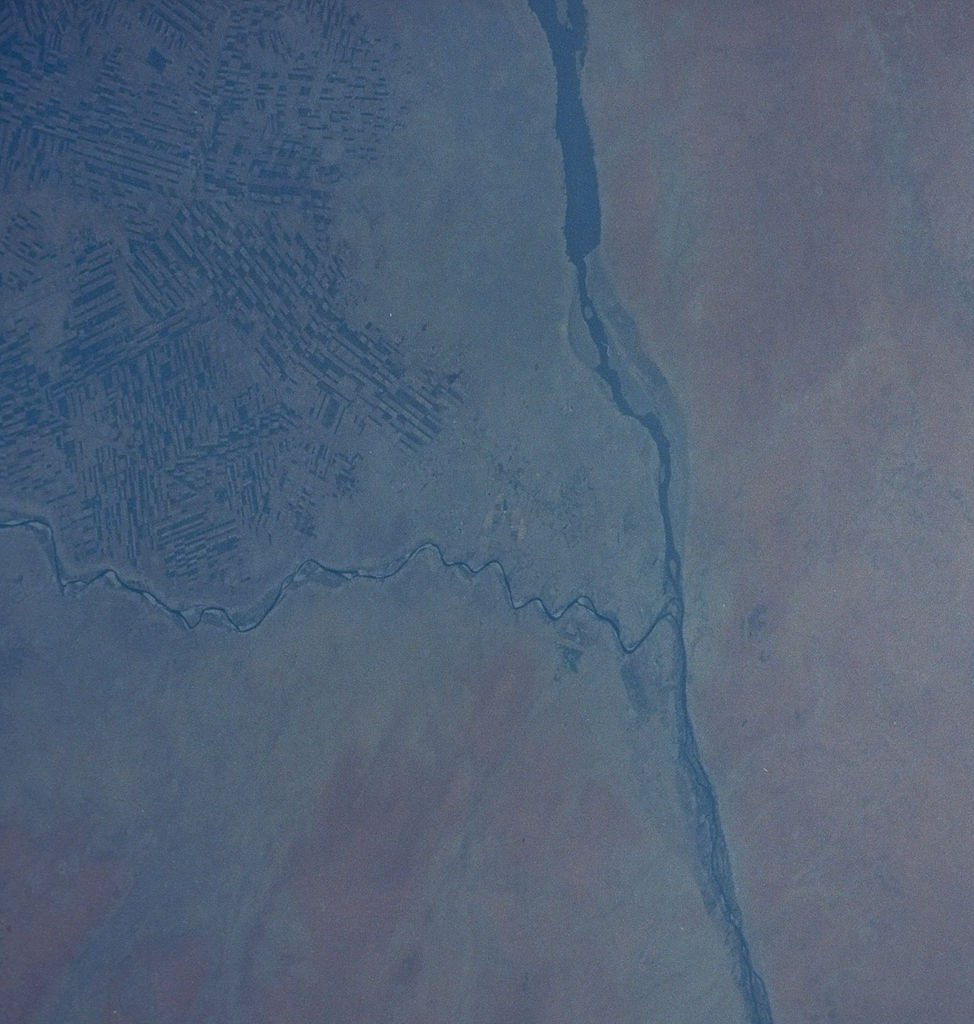 Again, it is only by putting things into perspective that we understand how insignificant we are in the grand scheme of things. Pictured here is part of East Africa, specifically Khartoum, Sudan & confluence of Blue & White Nile Rivers into the Nile w. El Gezira Irrigation Project area. The photo was taken from the Columbia space shuttle. Imagine the people living there, having their everyday life, generations to generations, and up there all these are just viewed as nothingness, in serenity.
Egypt From Space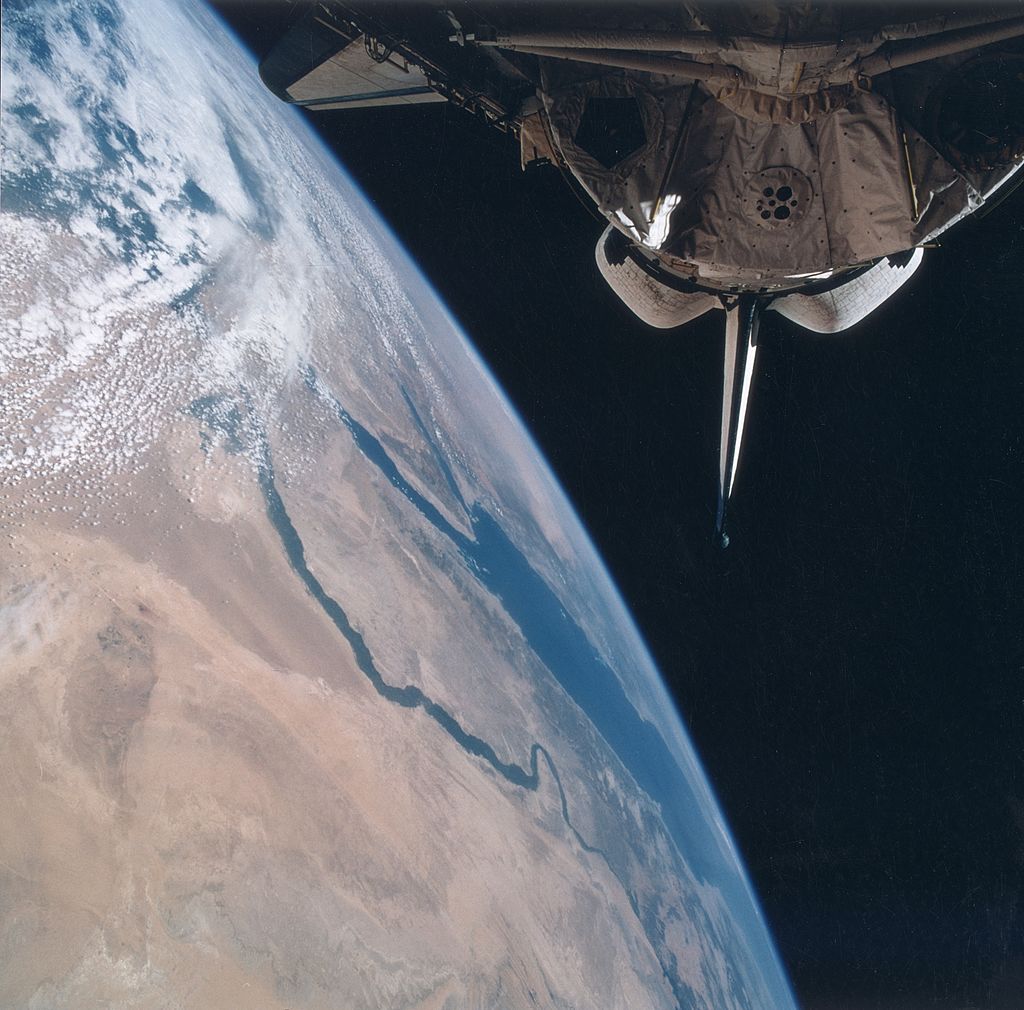 It's always interesting to see something we are familiar with from a different angle - while we might be picturing pyramids and hustling bazaars in Egypt, it looks nothing like that from outer space. In the grand scheme of things, what we know and believe is limited, and perhaps meaningless, and seeing things from outer space put that into perspective, literally. Pictured here are the River Nile, the Red Sea, and the Sinai Peninsula, from NASA's STS-83 mission.
The Space Secrets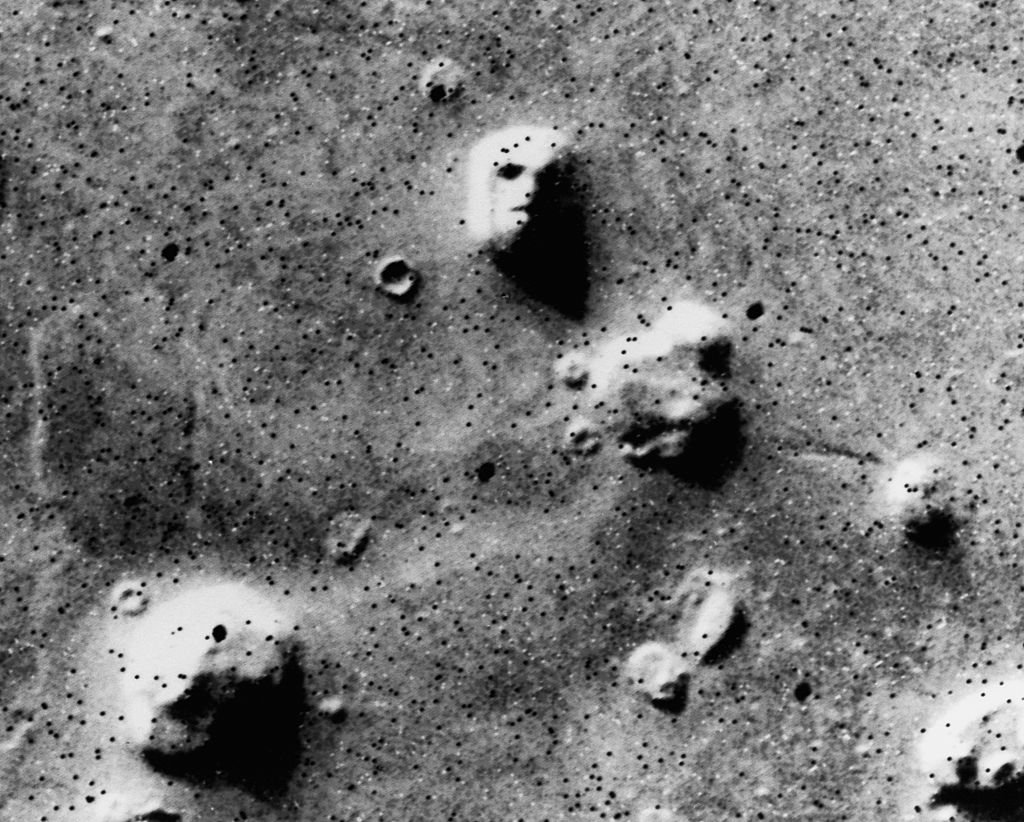 Is there life on Mars? Maybe - so far there is no solid evidence that there is. However, that does not exclude the possibility of the planet once having some sort of life forms. With the discovery of water on Mars, there could well be a chance that life forms could thrive there. What seems to be baffling though is the picture here, taken on Mars - a rock formation that resembles a human face. Possible coincidence, but we can never tell - perhaps there is life on Mars.
Bush Fires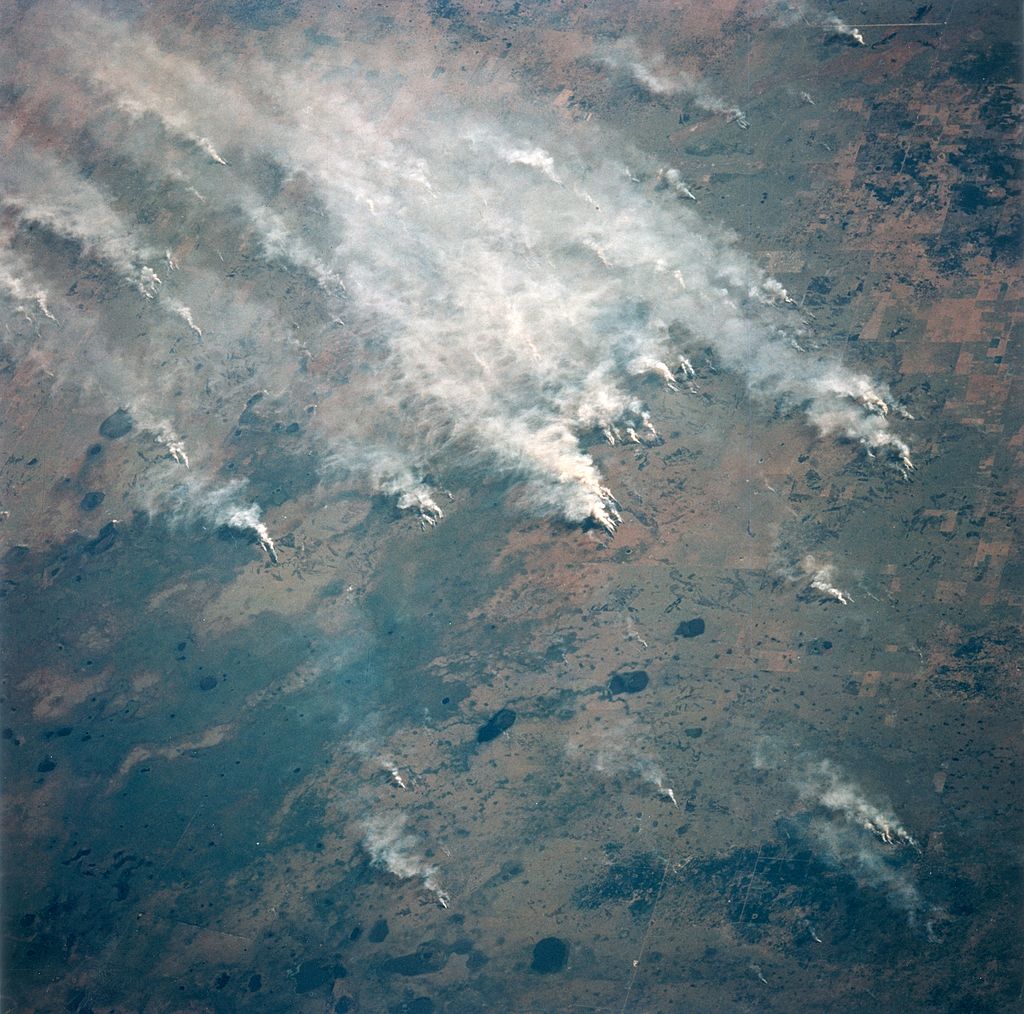 It is also possible to see things that are happening on the ground in outer space - pictured here are the bush fires in southern Mozambique, Africa. As we can see, the fires were scattered all over, as you can see from the smoke coming up from here and there. This photo was taken from the space shuttle Discovery, during NASA's STS-70 mission, July 1995.
Lake Baikal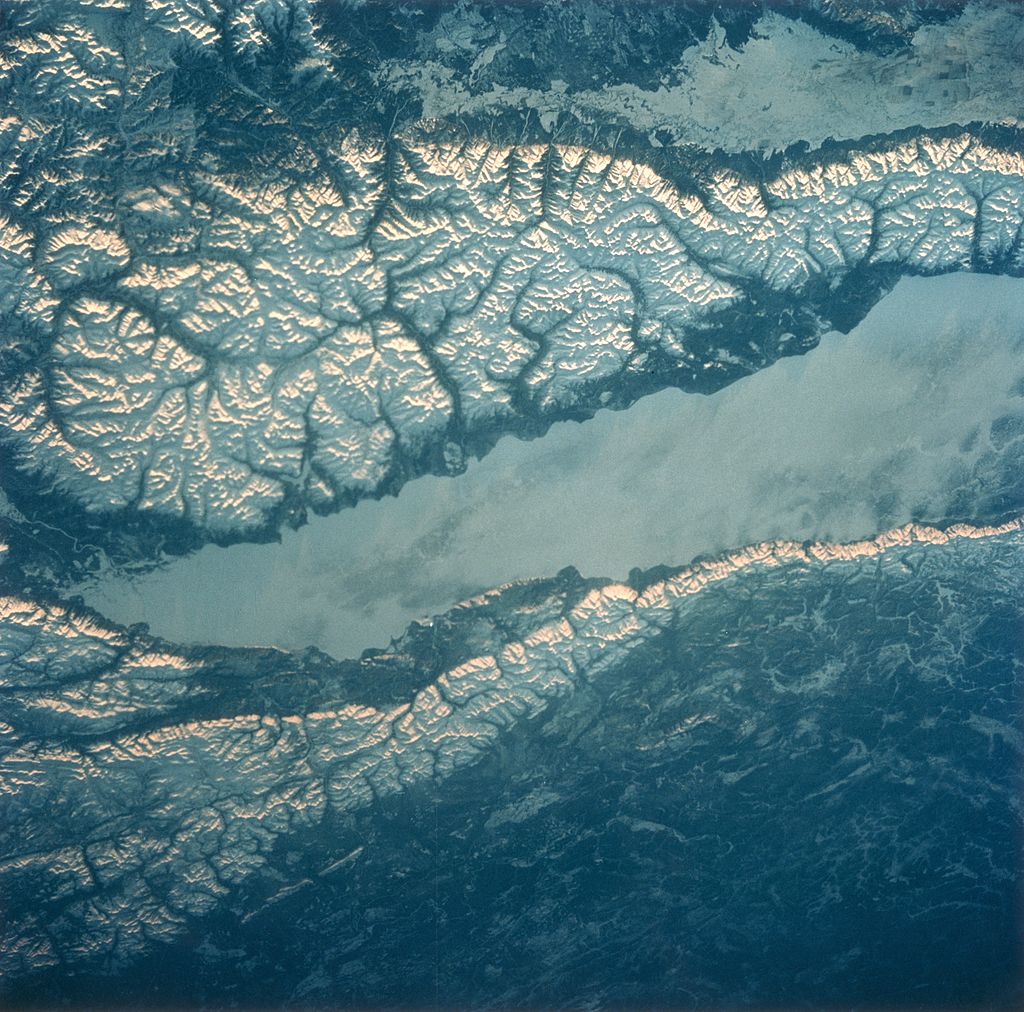 Located in Siberia, Lake Baikal is the largest and deepest lake in the world - how big? The lake itself is bigger than Taiwan, for example. So it wouldn't be a surprise to be able to see it from space - pictured here is the northern end of Lake Baikal in southern Siberia, as seen from the space shuttle Discovery during NASA's STS-60 mission, February 1994. If you have a chance, try going to a town called Severobaikalsk, located at the northern tip of the lake.
First Photo from Space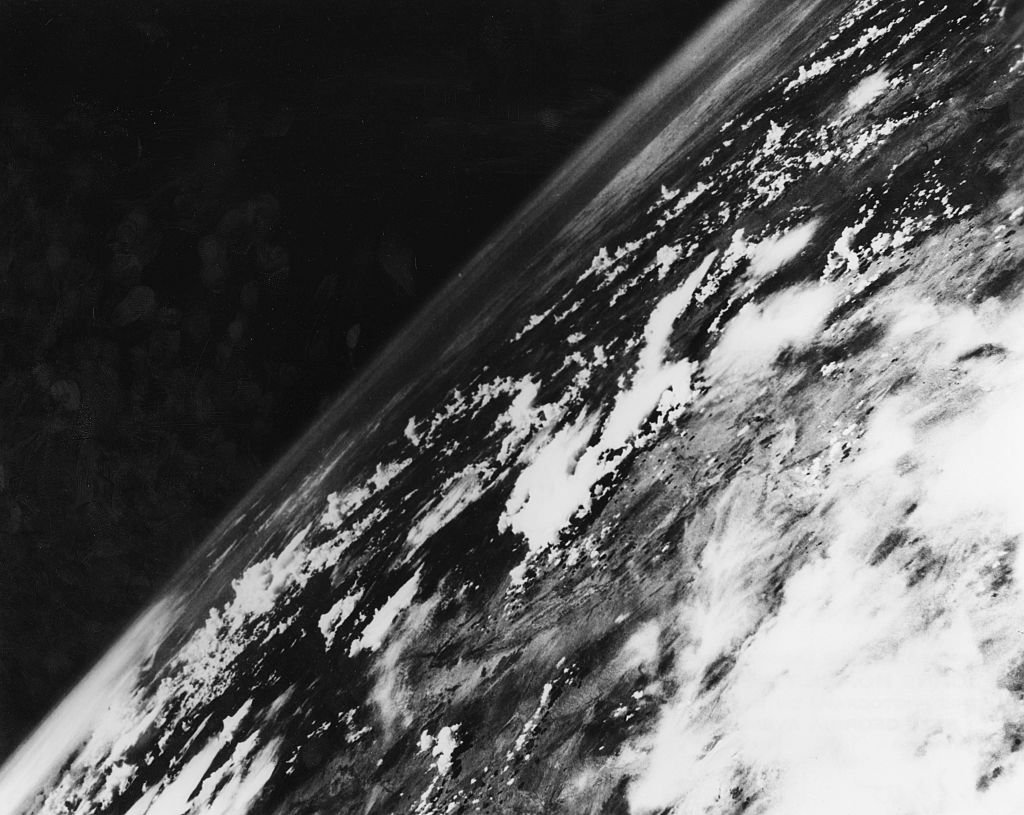 Ever wondered when did we start taking photos in outer space? We actually did so as early as the 1940s. The photo here is one of the very first photos taken in space, specifically, one of the first photos of earth from space. It was taken by Johns Hopkins' Applied Physics Laboratory, in 1946.
Lunar Crater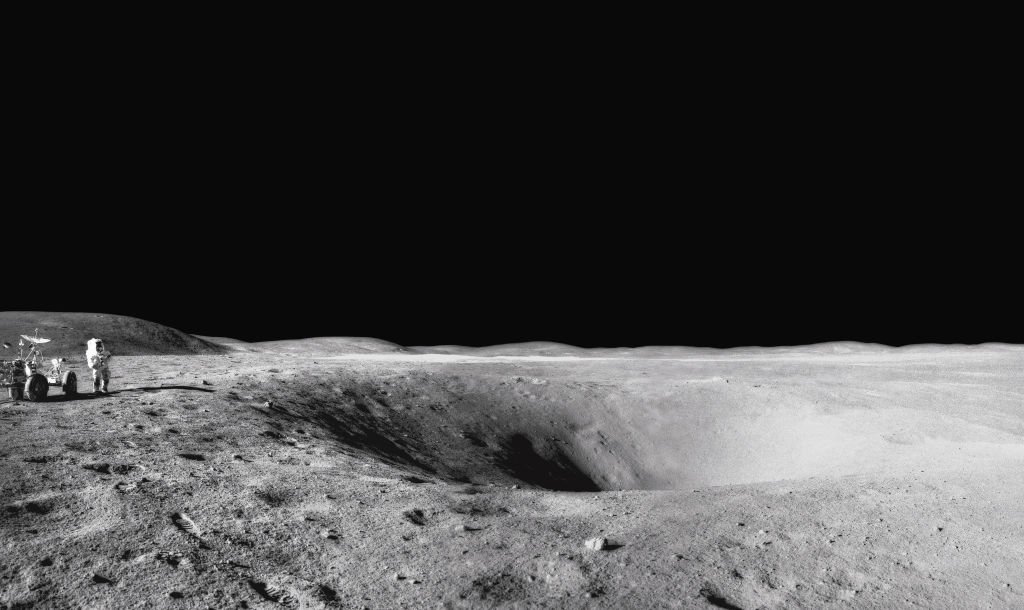 While we are stuck here on the ground, we can still see the moon from here, with a telescope. We will notice some dimples on the planet - which turns out to be the craters on the moon. And pictured here is a 140-ft. lunar crater, seen from the moon itself. The picture was taken during the Apollo 16 mission.
Venus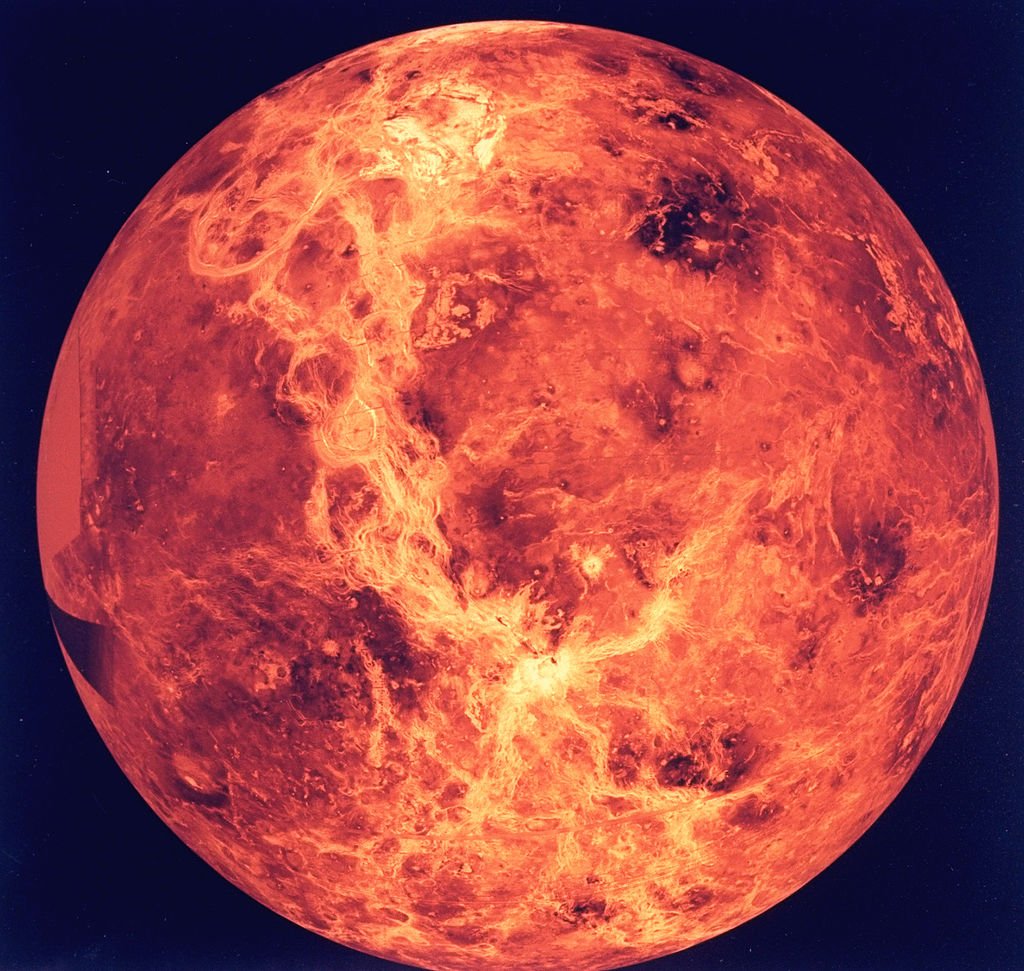 Okay. This one I am entirely sure if it can be considered a photo - part of it is at least. Here is a "photo" of Venus, photographed by NASA's Magellan satellite. However, the final picture you see here is generated by radar mosaics mapped onto a computer-simulated globe, with colors based on images of the planet made by Soviets. Doesn't quite resemble the goddess Venus herself isn't it?
Moon in a Distance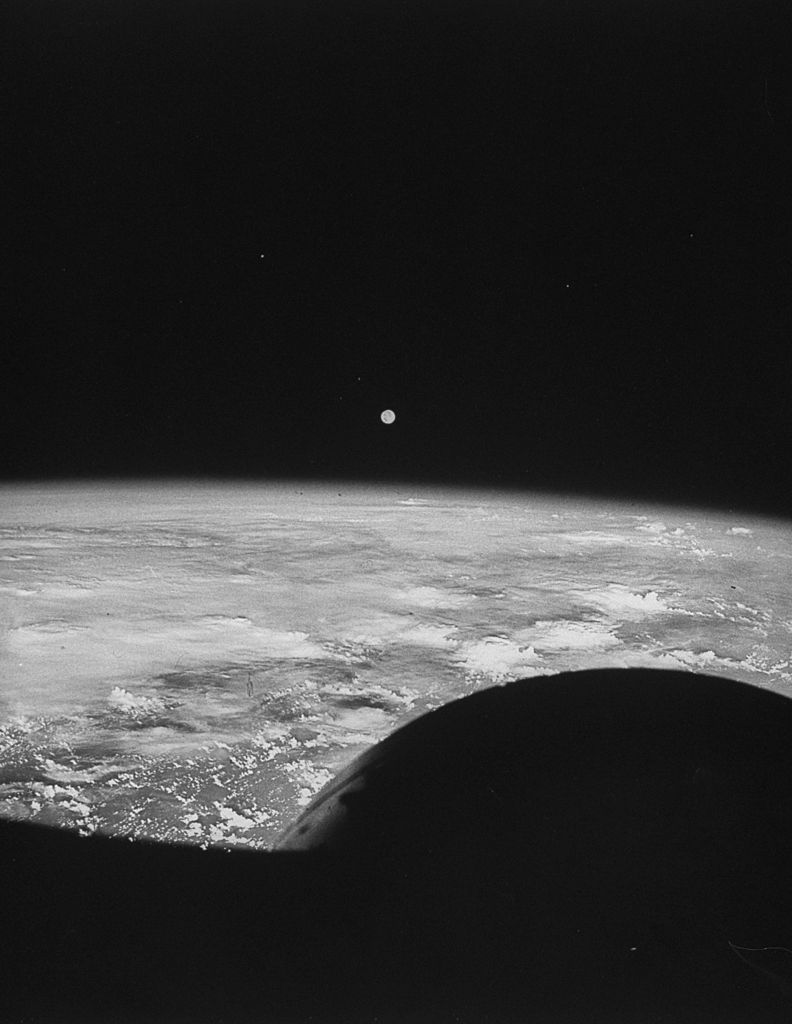 Ever wonder how the astronauts feel on the way to the moon? While this was not taken during one of the moon landing missions, it might be able to give you a perspective still. Pictured here is the moon in the distance, seen in outer space. We believe that this would be similar to what the astronauts see en route to the moon, just that for them, it gets closer day by day.
Buzz Aldrin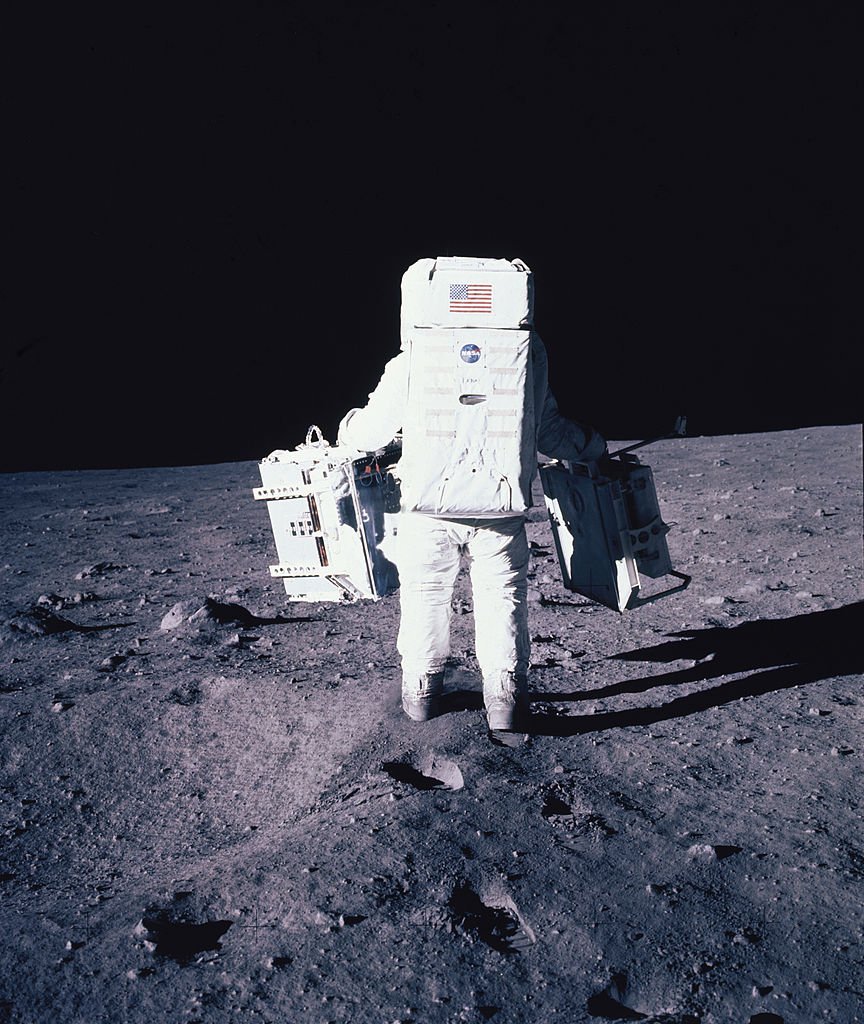 We all know Neil Armstrong, the first man on the moon. However, his companion, fellow astronaut Buzz Aldrin, is less heard of. While Armstrong's quote became one of the most important ones in modern history, what Aldrin said when he stepped on foot on the moon was a rather poetic one "Beautiful view. Magnificent desolation." Pictured here is Buzz Aldrin, during the Apollo 11 mission.
It's a God-awful Small Affair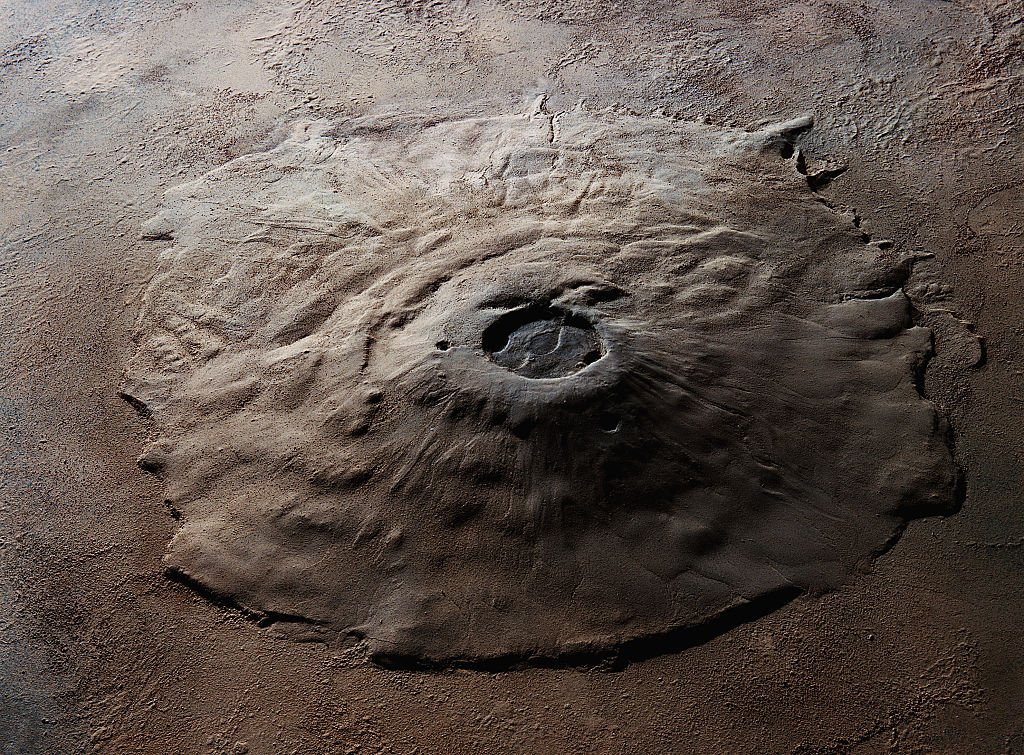 While we are not sure whether there's life on Mars, we do know that there's a volcano. Pictured here is an orbital view of the Olympus Mons volcano on Mars, measuring 375 miles across at its base, as the walls of the volcano tower 15 miles above the plains of Mars. To give you a perspective, that's approximately the distance between Pittsburgh and New York, by car.
Kyushu, Japan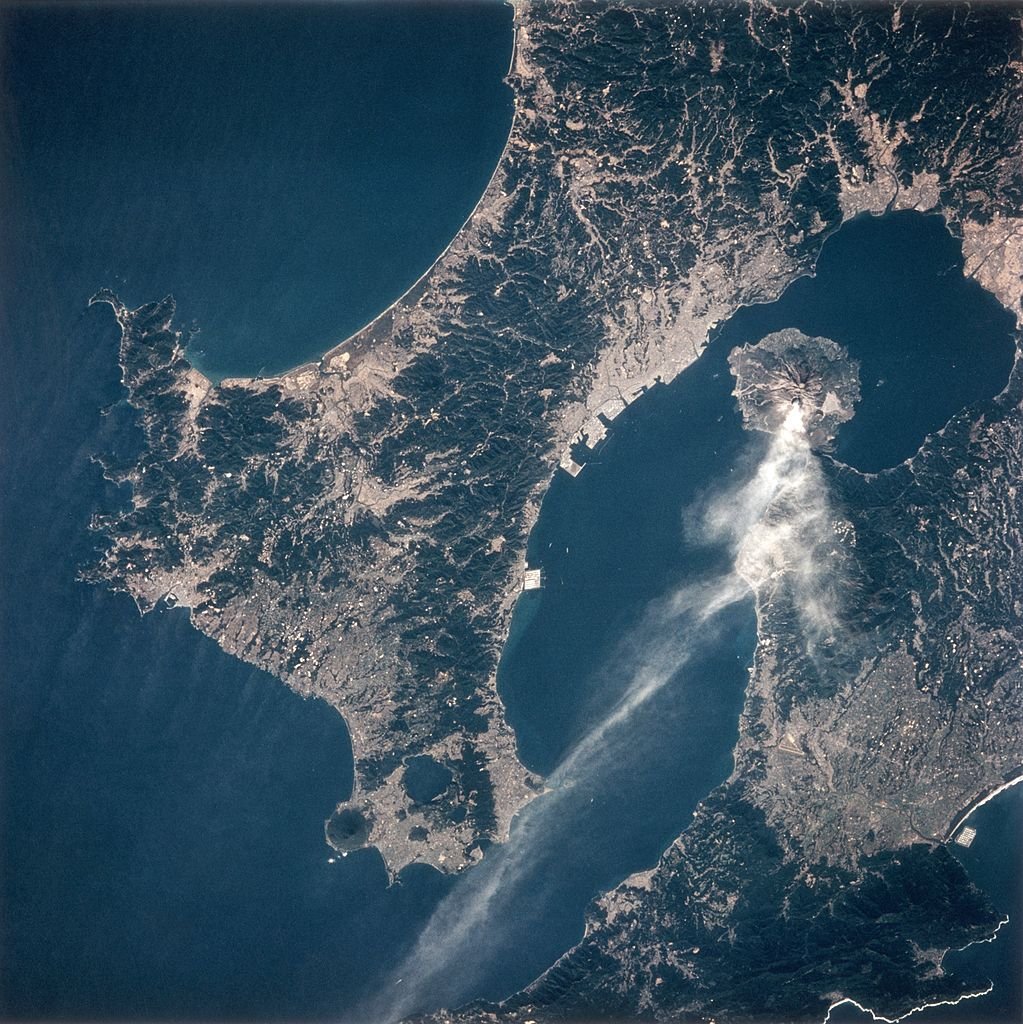 We already showed you a few photos of various places on Earth, taken from outer space. Now here is a picture of Kyushu, Japan, taken during NASA's STS-66 mission, from the space shuttle Atlantis. If you look carefully, you might be able to see some smoke spitting out from a hilltop - that's Sakurajima, an active volcano.
Skylab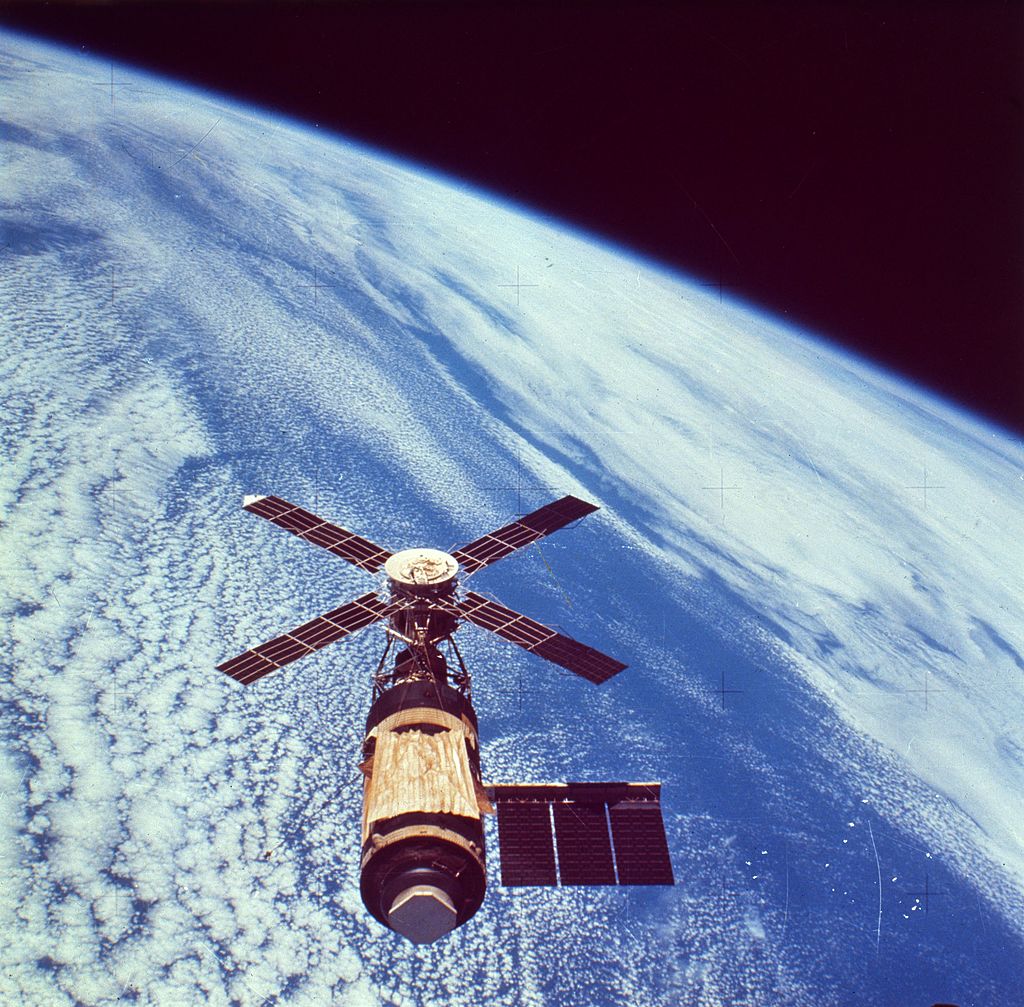 Pictured here is the first United States space station, Skylab. While the ISS is where all the work takes place these days, Skylab was some sort of a foundation for conducting experiments in space. Launched in 1973, Skylab was used as a solar observatory, including a microgravity lab, a medical lab, and an Earth-observing facility.
Storms Over The Ivory Coast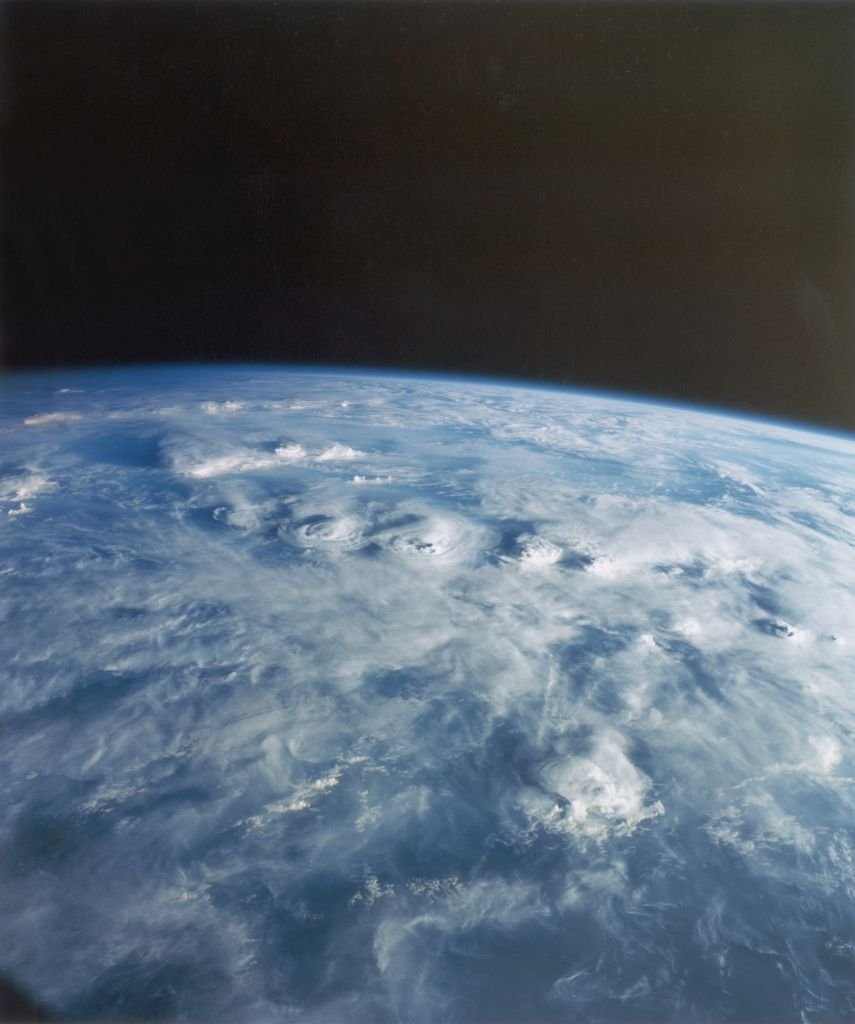 This is not the only photo of storms taken in outer space on this list - however, this photo really did capture the ferocity of a storm, so we would like to include it here. Pictured here are thunderstorms over the Ivory Coast of West Africa, during NASA's STS-30 mission, in May 1989. It's interesting and harrowing at the same time, to imagine a storm raging underneath on Earth, yet it is a perfect serenity in space, amidst all the actions.
Europa
No...not that Europa. This is not the Europe that we know of. Pictured here is Europa, one of the moons of Jupiter. Galileo discovered the planet in 1610, centuries ago from today - but it was only in 1979 that we managed to have a glimpse of what it is really like through the Voyagers mission. I am wondering how would Galileo react to this image, discovering that we managed to capture an image of Europa, centuries after his own discovery. He would be proud I hope.
Rings of Saturn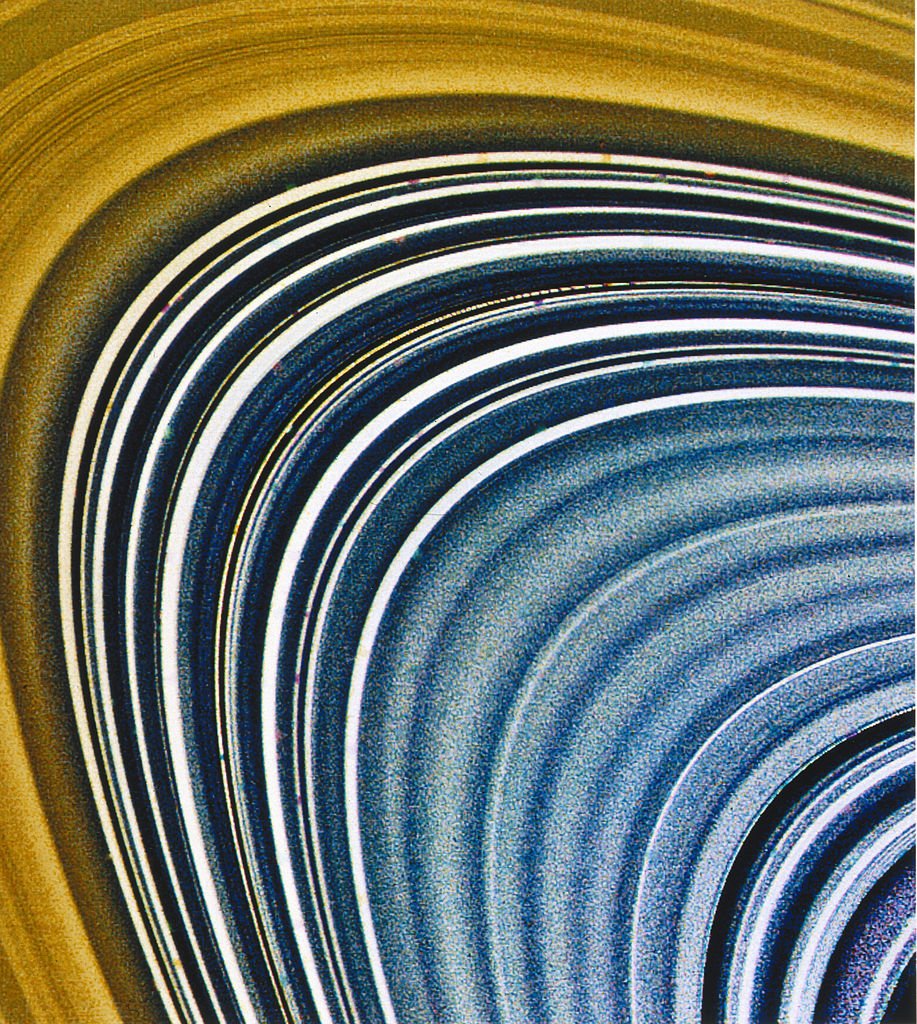 Saturn is a very unique planet partly due to its ring around the planet, who has a striking look to it. Someone probably liked it so much he put a ring on it… okay, jokes aside, the rings seen here are composed of ice and ice-coated dust and rock, where the ring itself is 250,000 kilometers in diameter, but less than 1 kilometer thick. This image was taken from the Voyager 2 spacecraft.
Russian Mir Space Station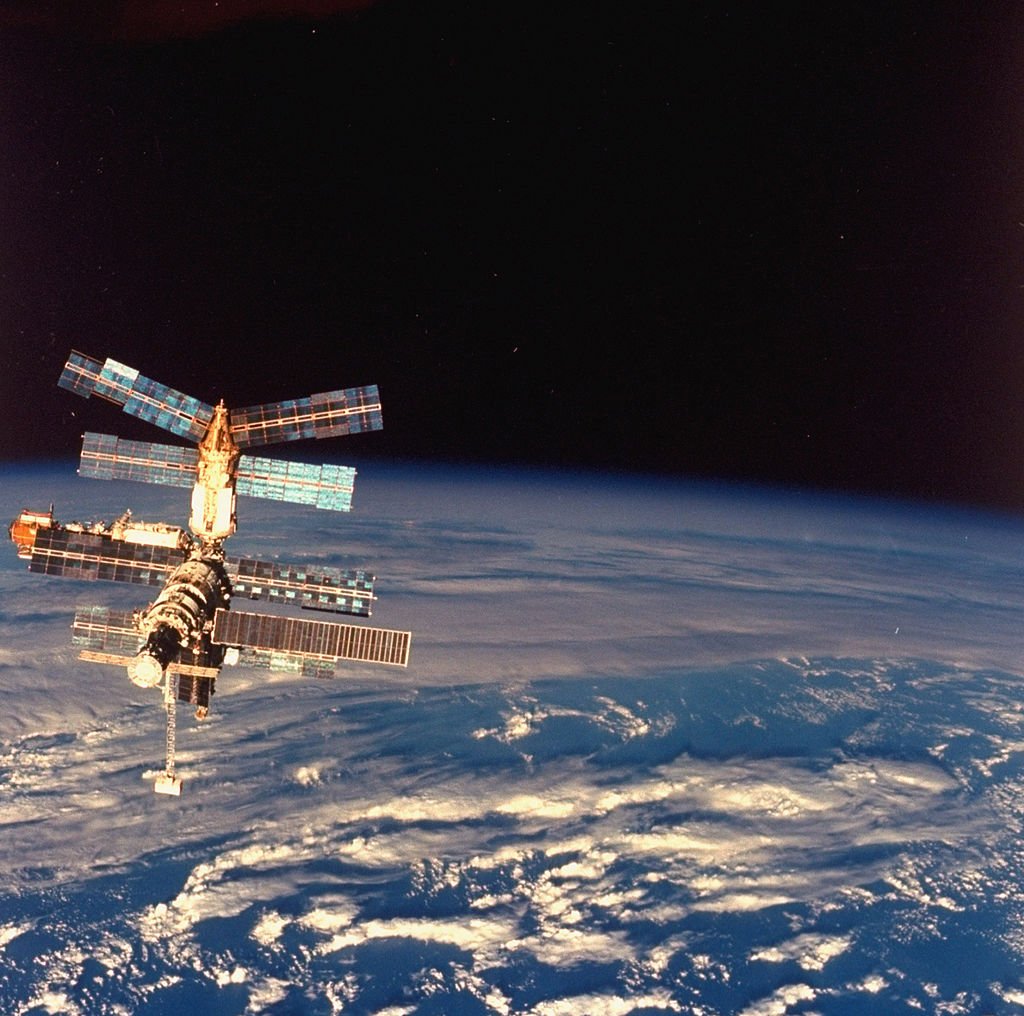 We mentioned the Skylab, the first American space lab. Well, sometime later the Russians also built theirs. Known as the Mir Space Station. It was launched in 1986, and orbited for 15 years, which was three times more than its planned lifetime - it even outlived the Soviet Union! The picture here was taken from US Space Shuttle Atlantis, while delivering US astronaut Shannon Lucid to Mir for her stint as cosmonaut guest researcher.
Planet Earth is Blue, And There's Nothing I Can Do…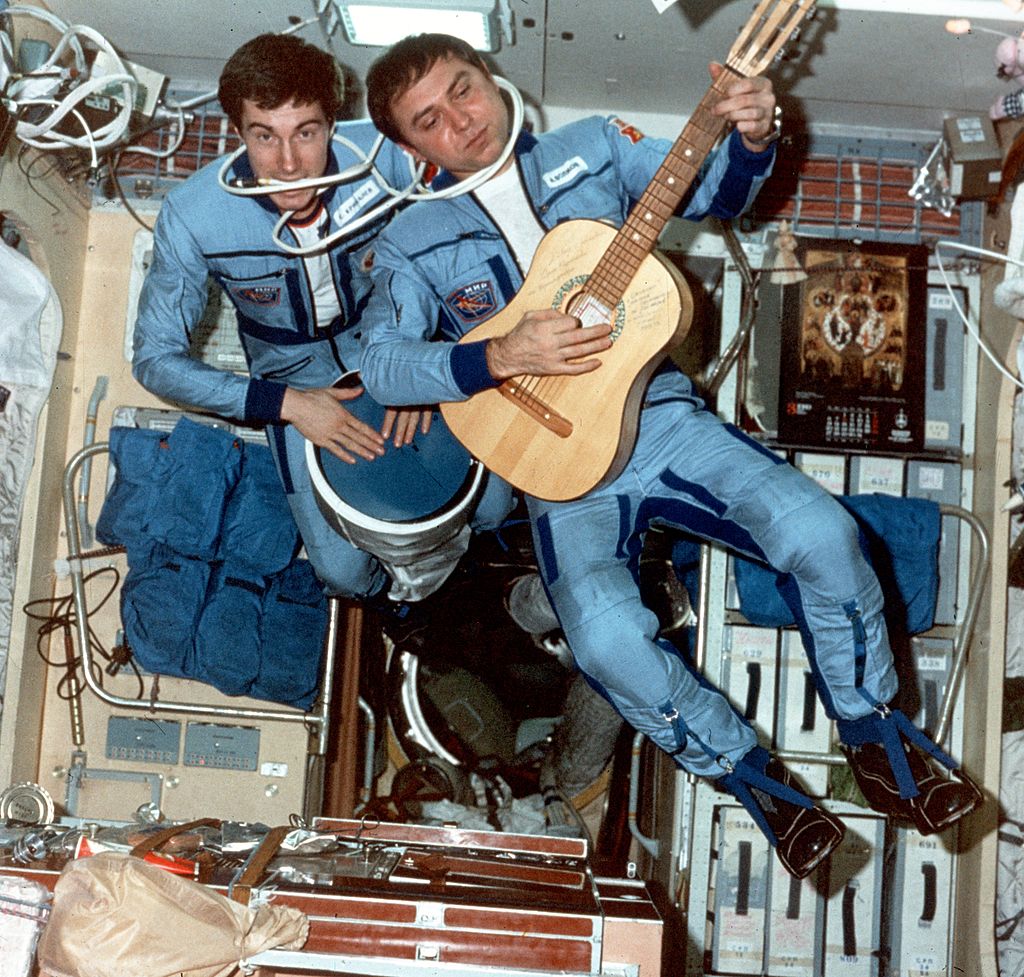 This is a happy picture of Soviet Astronaut Sergei Krikalev (left) and Alexander Volkov playing music together onboard the Mir Space Station - little did they know that it would be a different world when they return. During their space mission, their country crumbled into different republics, their presidents changed, and upon their return, Krikalev's hometown Leningrad would become St. Petersburg. A pinnacle of Russian melancholy, I suppose. 
Here they are. All these images show us a different perspective of our world and let us see the true nature of the place we live in. Which one do you like the most? Would you like to go to space one day? If you enjoyed these photos from outer space, why not share it with your friends?
Source: NASA, Life Science