The Most Bizarre Wedding Dresses For That Special Day!
Most brides want to look beautiful on their wedding day. Usually, they are the center of attention at the wedding and all eyes are on them, as it should be. There are some brides who want to make extra sure that everyone is looking at THEM. Not the cake. Not the gifts. Certainly not the groom. This article is dedicated to them. This one is for all of the brides out there that wear dresses to get ALL of the attention. Want to see them? Well, we're ready to show them to you!
Even With Practice, Some People Make Mistakes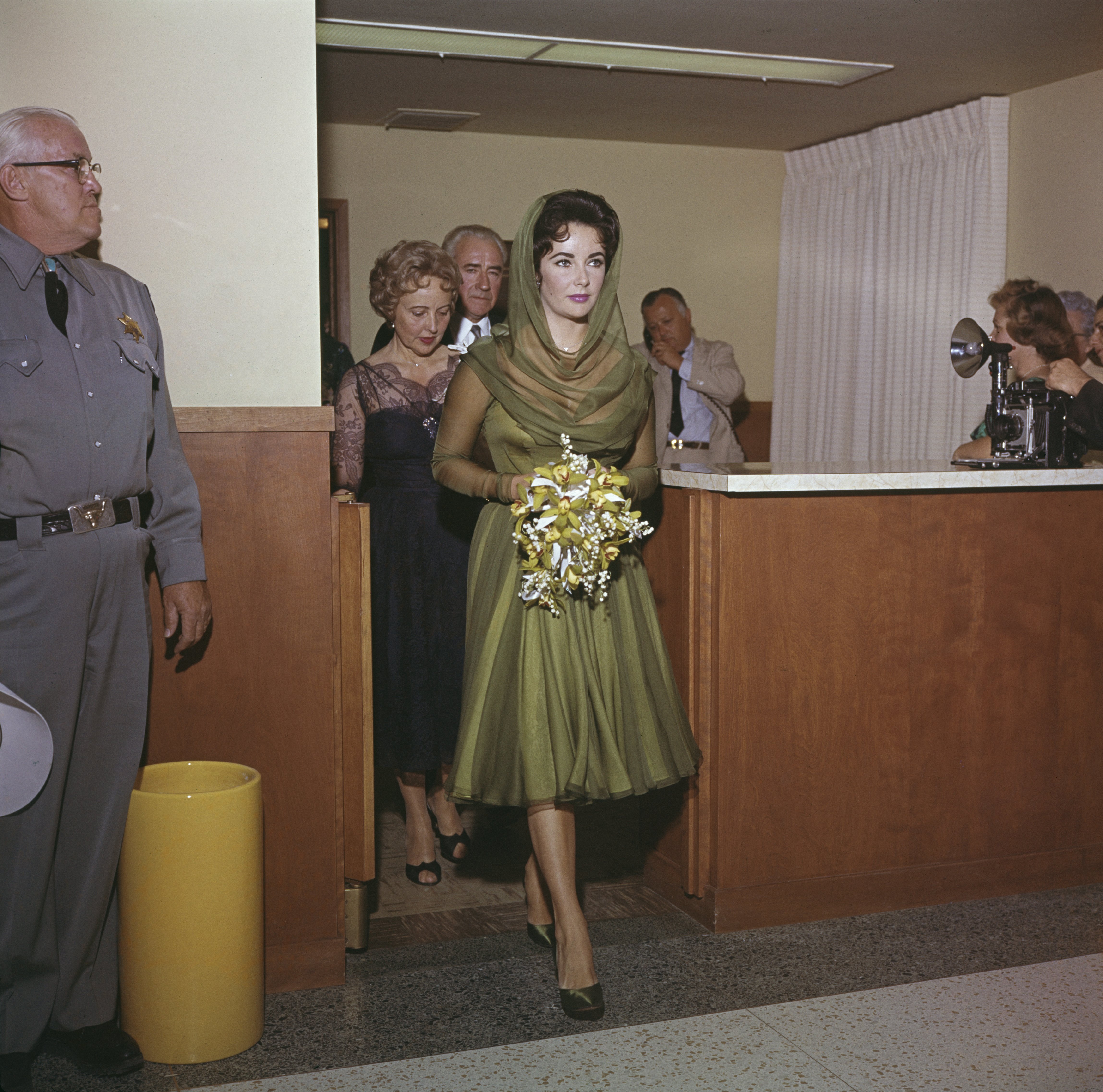 Yes, that is Elizabeth Taylor on her fourth marriage, this time to Eddie Fisher. So, she should really have known better than to wear this. It's a little ironic that Eddie Fisher is Carrie Fisher's father. Her stepmother (Liz) looks a lot like Yoda in this dress.
Another Celebrity, Another Odd Dress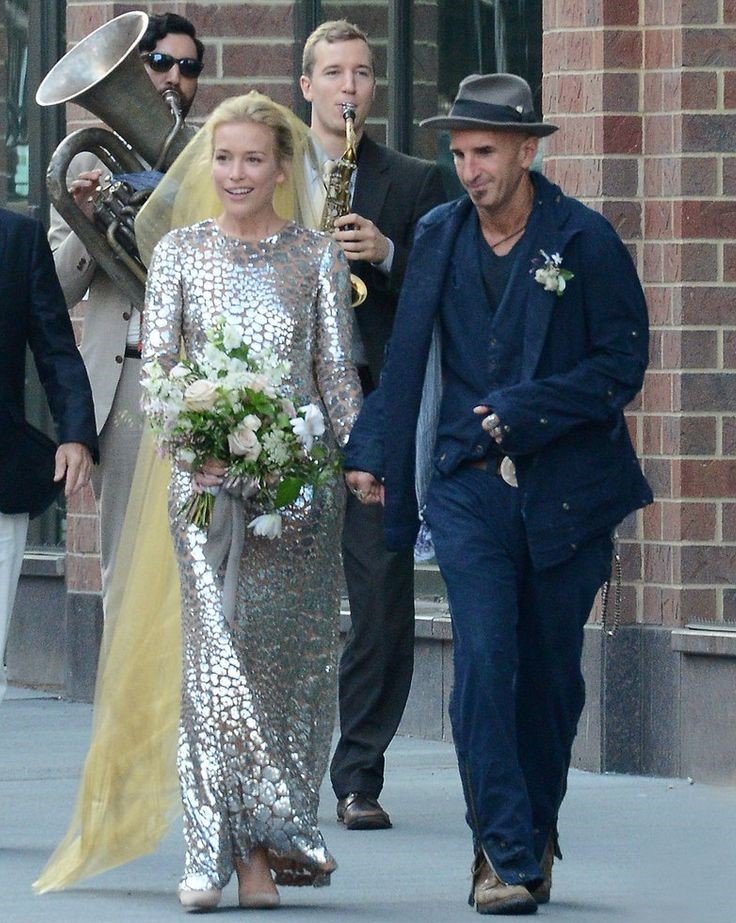 This picture is from Piper Perabo's 2014 wedding to her long-time boyfriend, Stephen Kay. Again, we have a bit of irony here because there's a live band in the background. If they had a DJ, she could be the ball. It's not exactly an original dress either. Lots of celebrities have worn this dress, but not on their wedding day.
You'll Need A Lot Of Help Wearing That Kind Of Dress...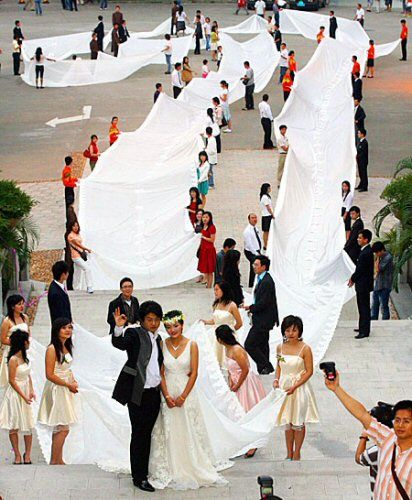 Well, that does look like a princess's dress - there's no doubt about that. Another question is whether it's actually comfortable? Well, it doesn't really look this way. Anyway, it's the bride's special day, and it's totally up to her which dress to wear. 
It's Like A Time Machine...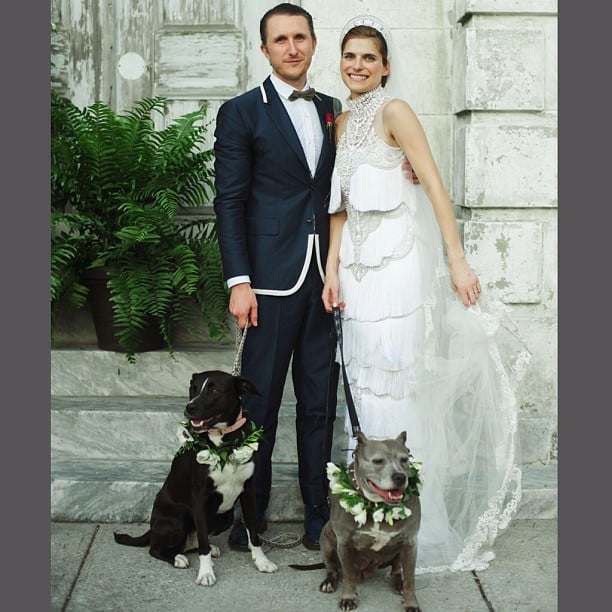 You might know actress Lake Bell from the TV shows Boston Legal or Children's Hospital. This dress is from her 2013 marriage to Scott Campbell. We'll forgive you if you thought this was a colorized version of a wedding from 1920 though. It's an odd choice with fringe in all of the wrong places.
Well, She Was Marrying Marilyn Manson...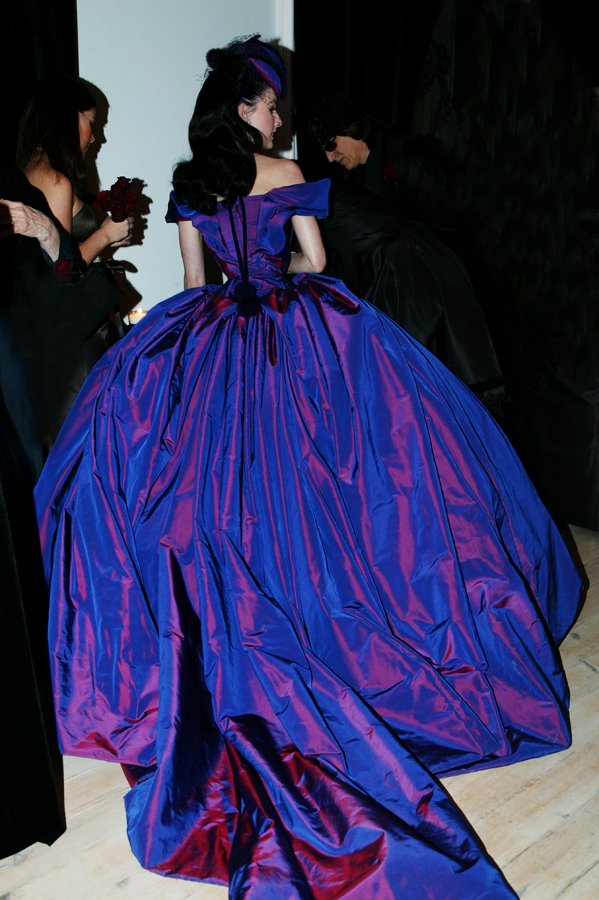 This dress is from Dita Von Teese's 2005 wedding to Marilyn Manson. You'd think that anyone marrying Marilyn Manson would have to wear something pretty crazy, and you'd be right. It looks like it was made from someone's blacklight curtains. She must have realized it was a mistake too because the marriage only lasted for about a year.
Yellow Is Not The New White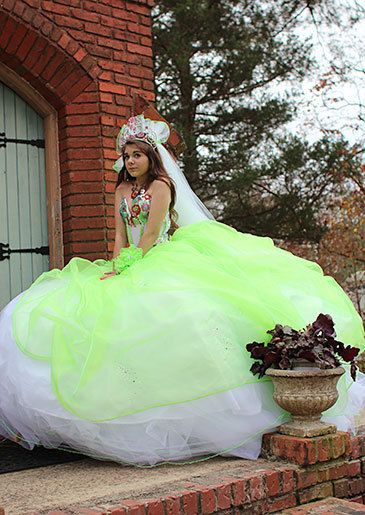 You might recognize this dress. It's from the TLC show My Big Fat American Gypsy Wedding. You'd think with a budget as big as they were afforded by TLC, they'd come up with something better. It looks like Courtney is pretty unhappy here. She has a good reason.
Well, It Was The 80s...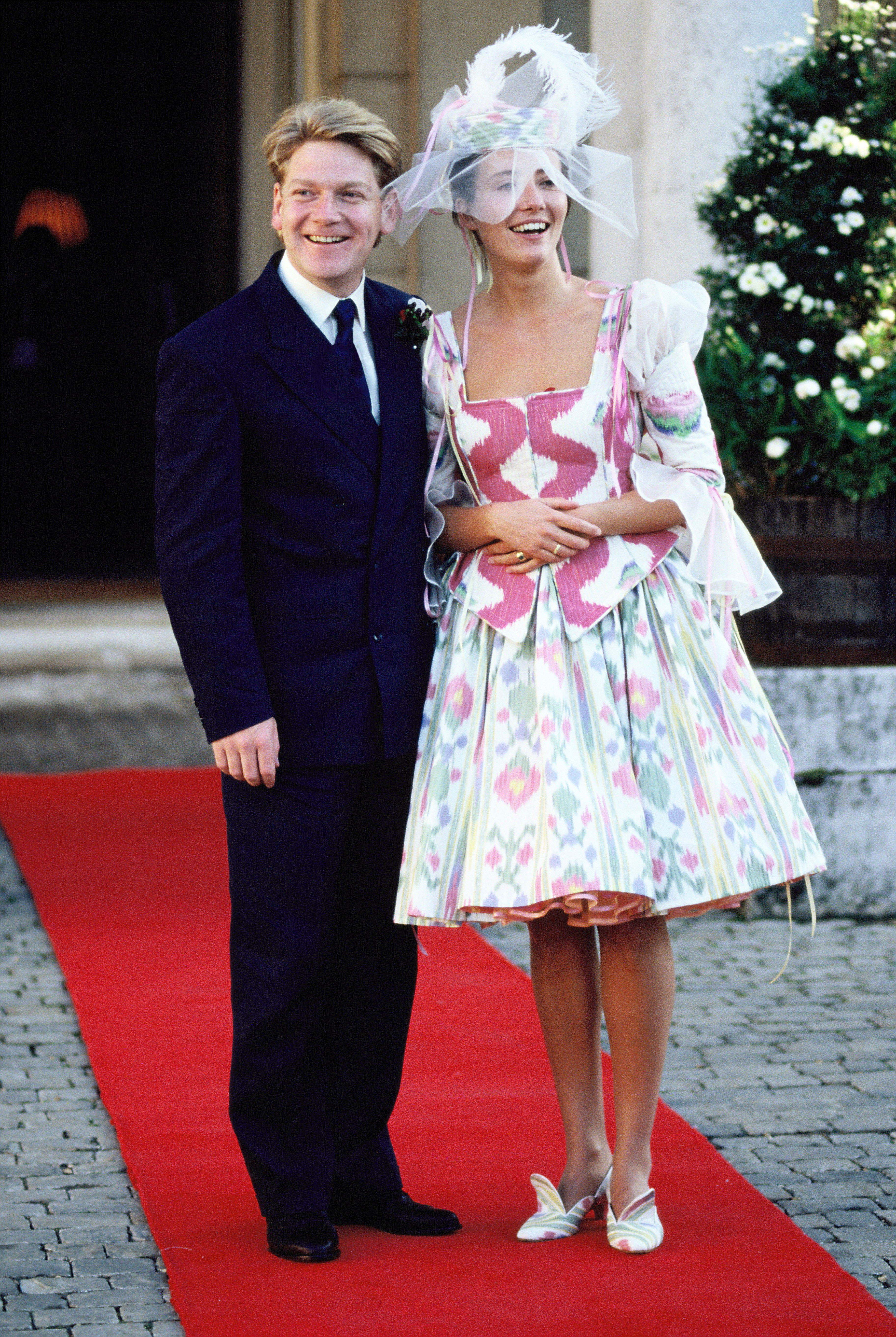 When Emma Thompson and Kenneth Brannagh were married in 1989, he wore a classic tuxedo. She wore this...thing...that looks like every 80s and 90s cliche wrapped into one dress. At least she looks happy...unfortunately, this ended in a pretty bitter divorce, which gave her two reasons to burn the wedding pictures.
Where's The Bride?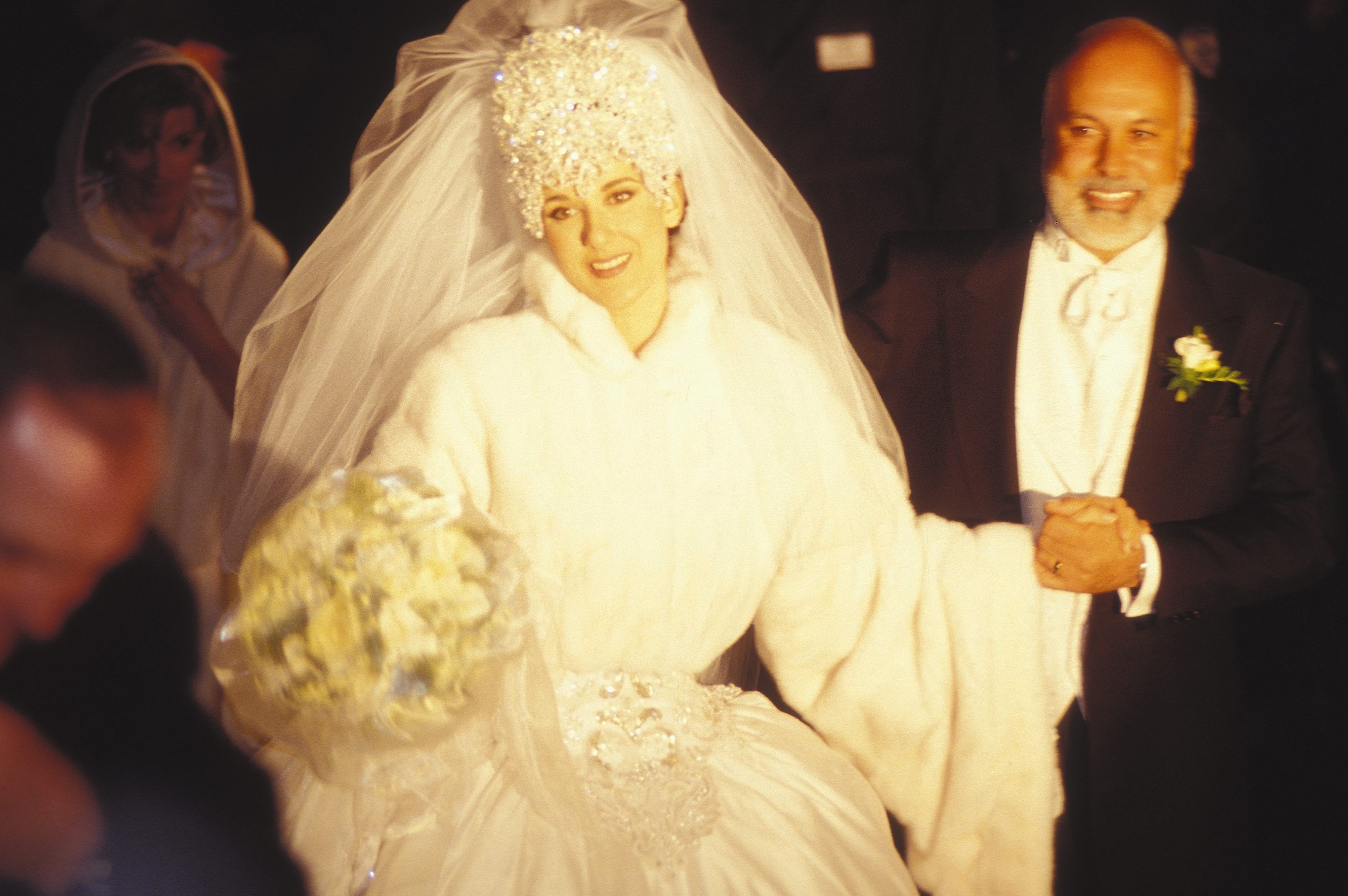 There's a reason Celine Dion always looks so unhappy in all of her wedding pictures. It wasn't her husband Rene. It was because her dress (minus the enormous skirt) weighed 7 pounds just on the top. A lot of brides try to lose weight before the wedding. Don't put it back on with the dress.
Burning Man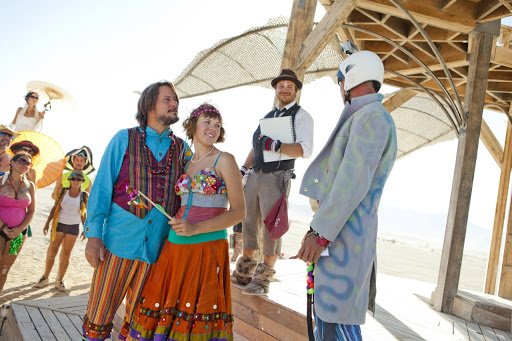 We suppose if you're going to buy and wear an ugly wedding dress, you should have your wedding at Burning Man. You'll fit right in, although this bride actually looks a little too happy and not post-apocalyptic enough. Good thing the officiant wore a helmet. We don't why that's a good thing, but it is.
Custom Embroidery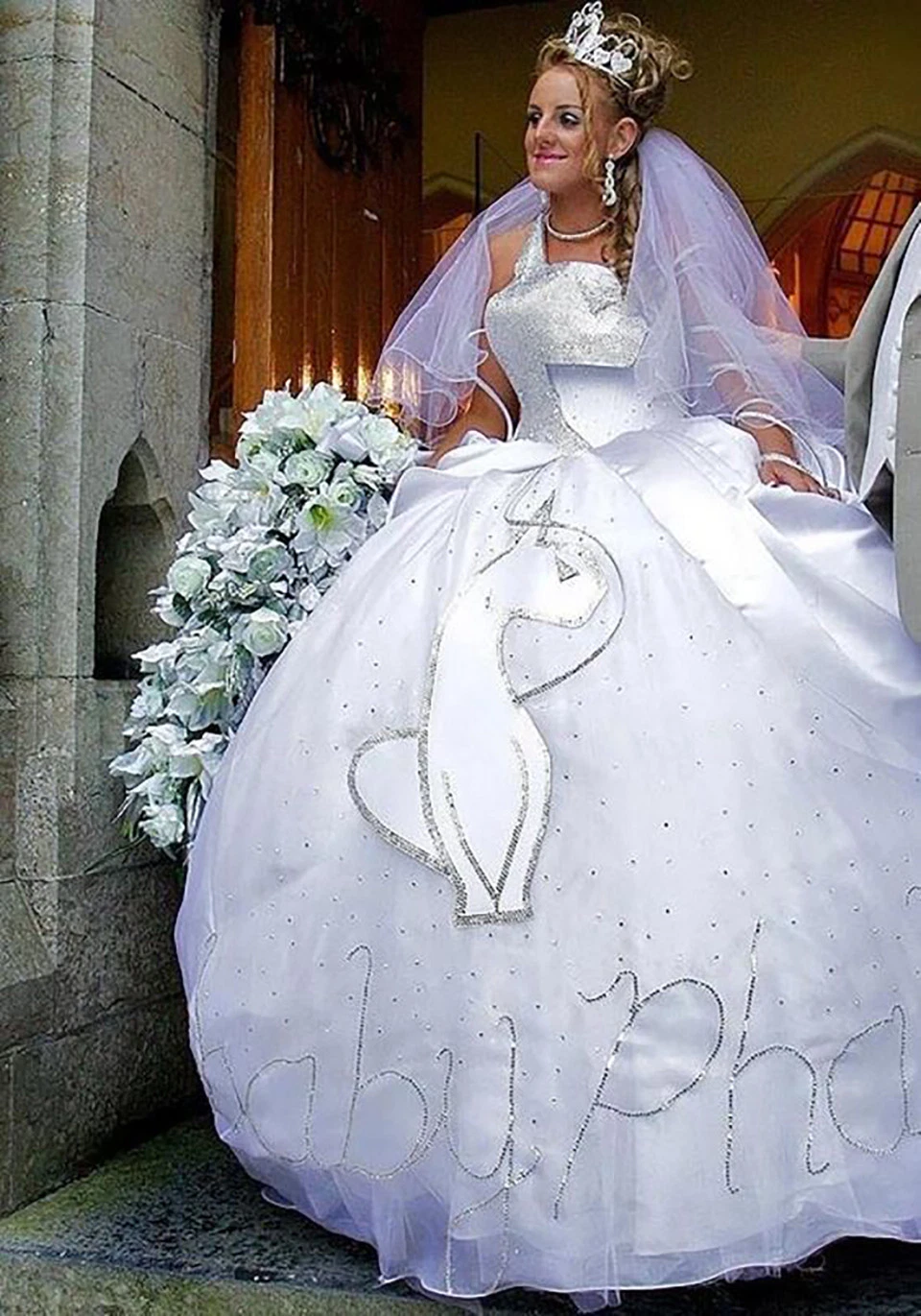 This bride thought to herself, "You know, a regular huge wedding dress isn't really enough. What I need is more crystals, a cat and the words 'Baby Phat' on it!" If you want to take an expensive dress and make it look like a high school fashion class project, go for it. Or something.
Don't Wear A Headpiece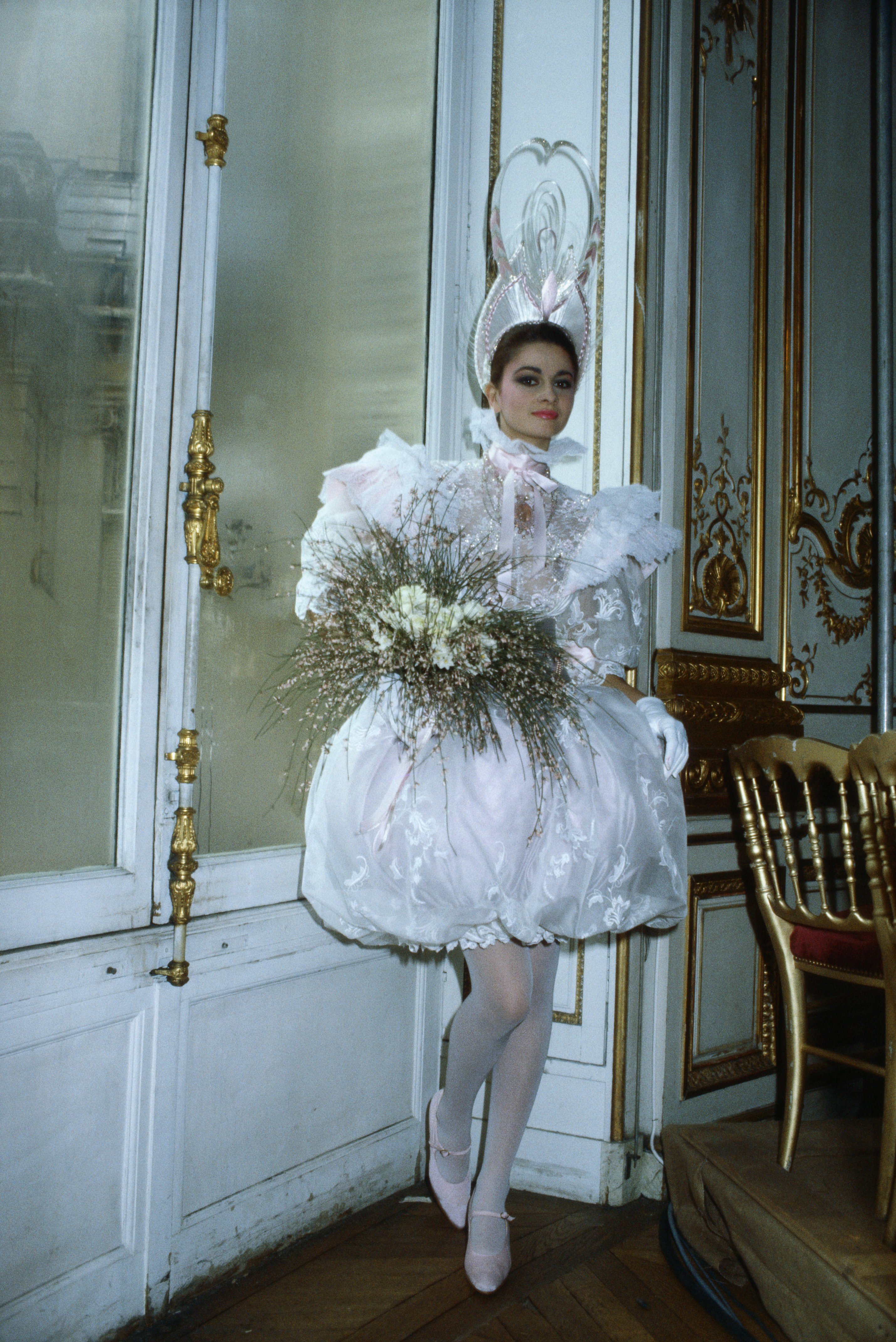 There's A LOT going on here. A LOT. First of all, it's a Bo Peep dress. Not a nice pastoral outfit though...this is more like an undead version of Bo Peep from Toy Story 4. Second of all, this is a good argument as to why no bride should ever wear a headpiece. A tiara is fine. But not something that looks like they dumped the wedding cake on your head like this one.
Do You Know How Much 10 Stone Is?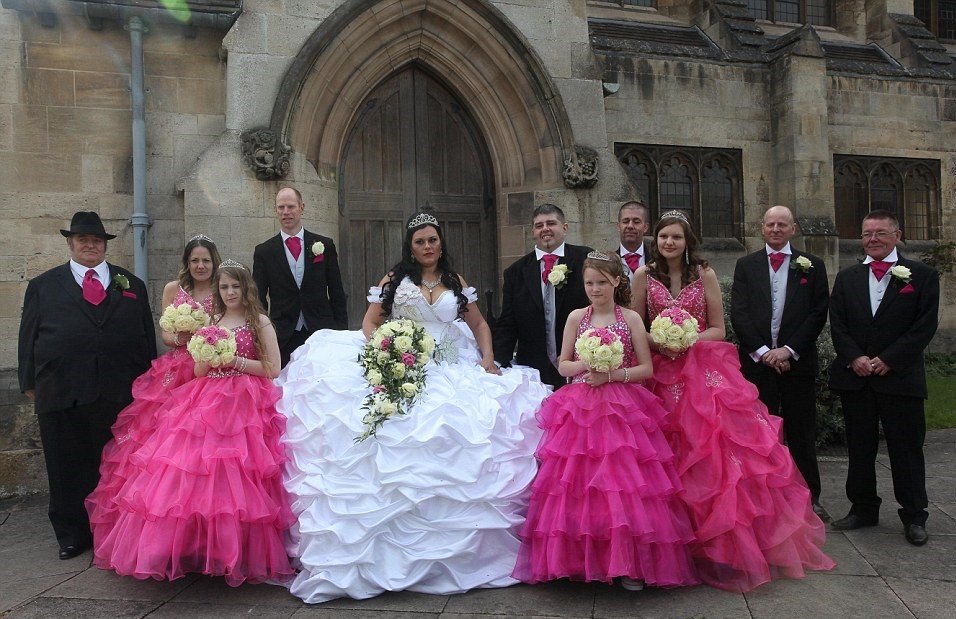 This is the dress of one Rebekah Markham who designed it herself. The dress cost 6000£, which is around $7700 in US money. That's crazy enough. Even crazier is that the dress takes 20 minutes to put on and it weighs 10 stone. How much are 10 stones? It's 140 lbs. When the dress is heavier than the bride, it's a silly dress.
Wedding Bells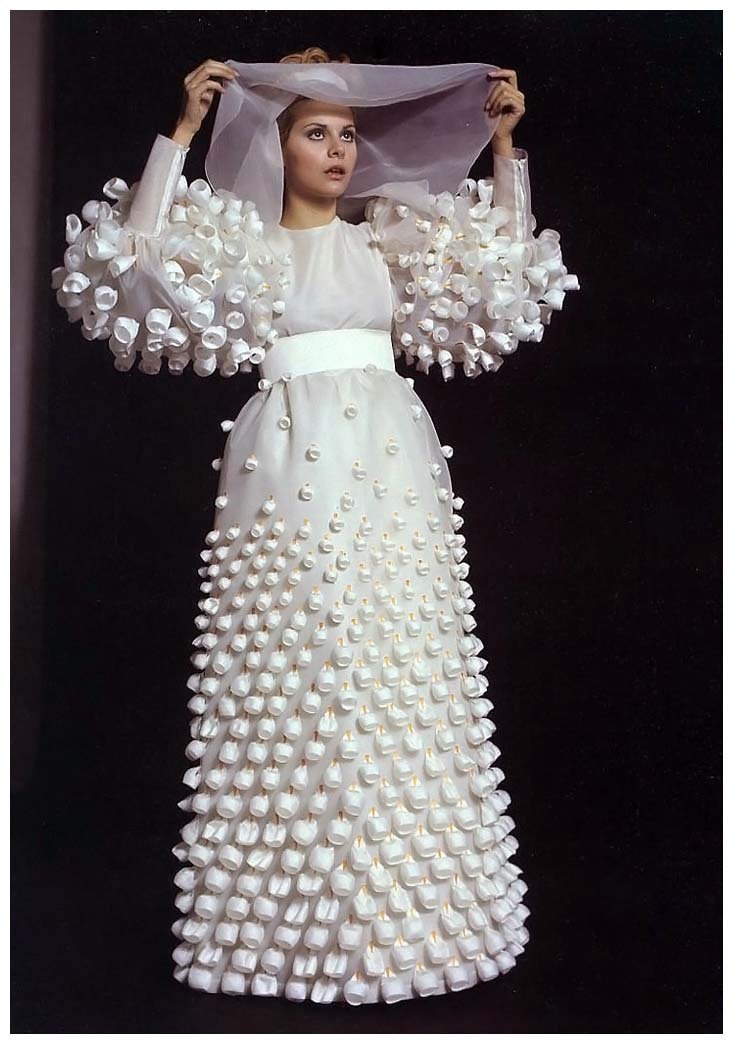 This might be the silliest dress of them all. It's a "pun" dress. Get it? There are bells all over it? We didn't think it was funny either. It's a picture of actress Silvia Dionisio from around 1975. You knew deep down that this had to be from the 70s, right? Oh, that's another pun! It's a 70s "bellbottom" dress! LOL!
That's Not A Good Bouquet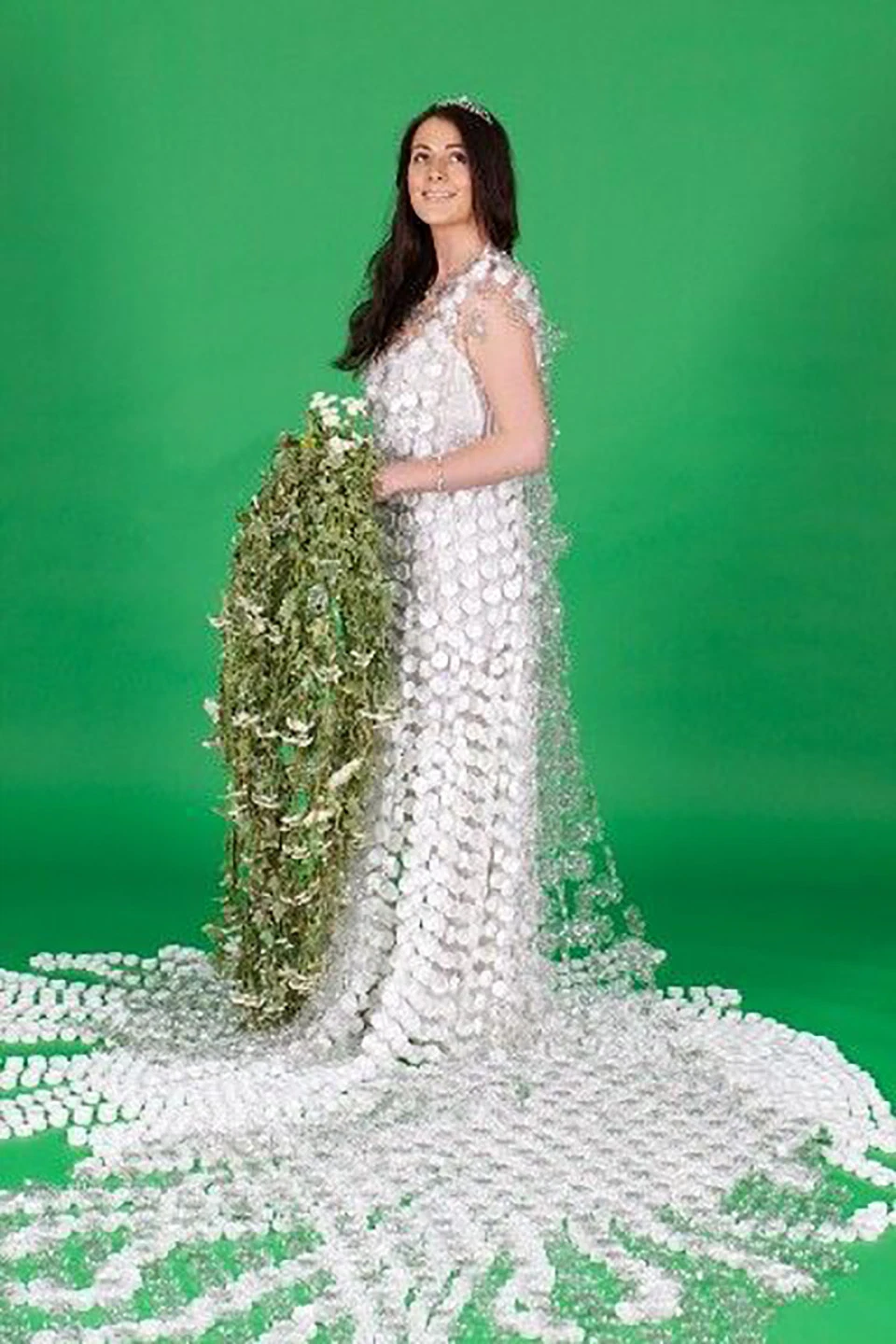 We don't know what is worse about this dress. Points for upcycling, but the bottle caps are the first thing that's wrong with it. The bouquet is TERRIFYING though. Imagine being a bridesmaid and seeing the Swamp Thing flying at you when you go to catch it. 
Did She Forget Something?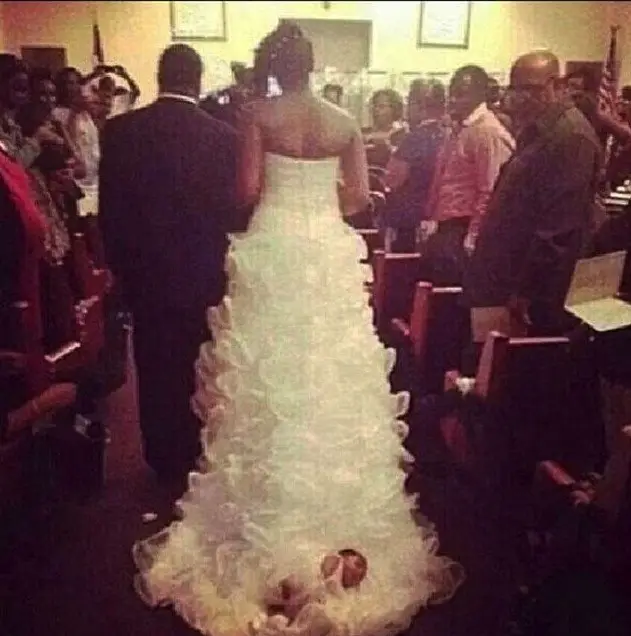 So...let's get this straight. It's your wedding day and you are surrounded by friends and family. You want to have your newborn baby involved in the wedding and this is the way you do it? Well, sure...at least you know that the baby can sleep well, so that's good.
These are the most bizarre and odd wedding dresses we've ever seen, and we've seen quite a few! We hope that we've at least give you some warnings here about what NOT to wear. If you are a prospective bride, we'd like to extend our best wishes to you. Please don't dress like these people. If you know a prospective bride, please share this article with them! Thanks for reading!
Sources: Reddit, The Guardian, The Sun, Daily Mail, Wedding Journal Online, Helnwein Castle Huff Post