Company Twitter Accounts Clapbacks
In the age of Twitter, every single company has an account. However, some accounts have taken things to a whole new level. They tweet at their competition with saucy messages and serious burns while their followers enjoy the laughs. Wendy's continues their ongoing rivalry with McDonald's, and some companies have surprising replies for angry clients. Let's discover these hilarious clapbacks!
YO' MOMMA JOKES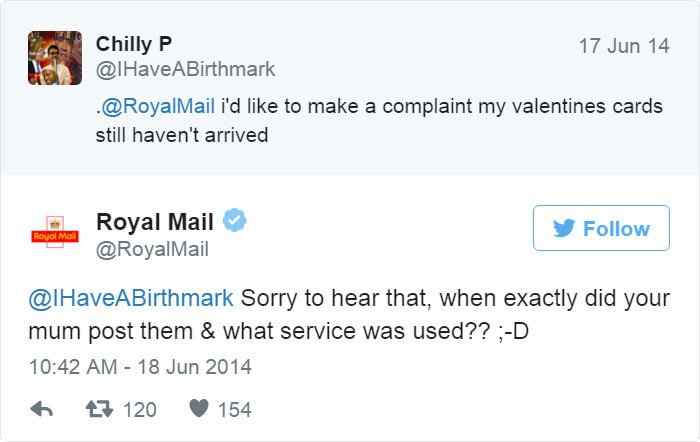 "Yo Mama" jokes have been around for a long time. People have had tons of laughs with them. However, the Royal Mail Twitter account took that to the next level with this reply to a customer that hadn't received his Valentine's Day card yet. It's seriously funny to see companies being so saucy online!
TRYING TO BE NICE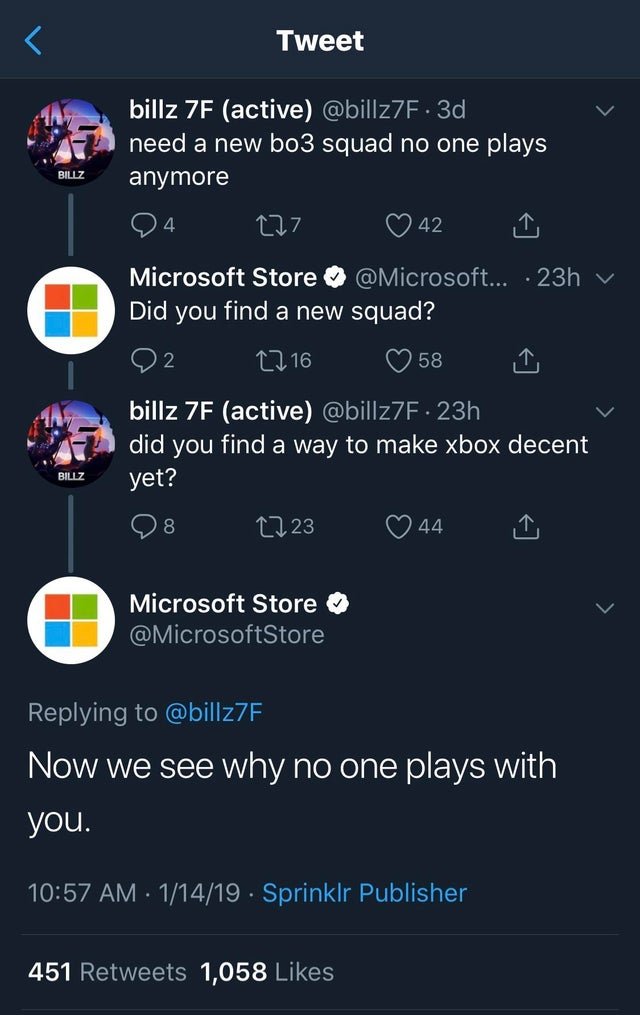 It seems that Microsoft was trying to be nice to one of their users, and they might have offered him something for being a loyal customer. However, the user decided to answer in a somewhat rude way. Microsoft was having none of it, and their response is hilarious! It definitely proves that you attract more bees with honey.
GOING TO VOICEMAIL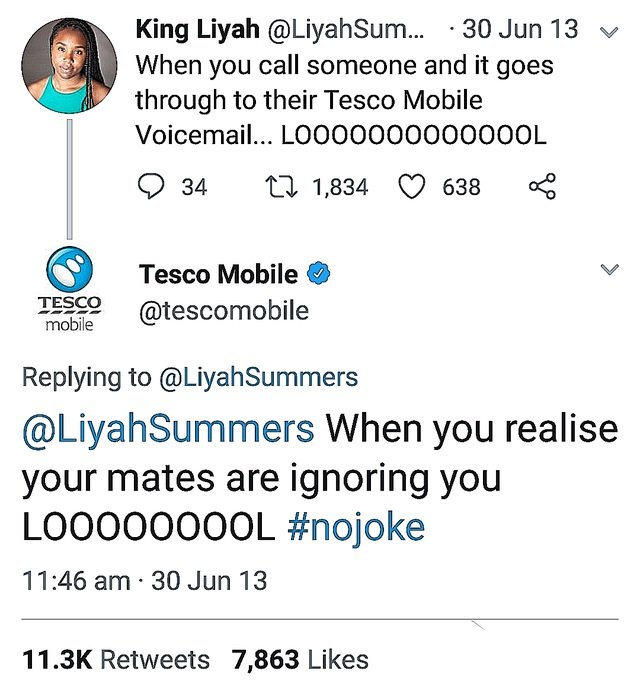 Well, no one wants to call someone only to hear the Tesco Mobile Voicemail message. In this case, the user was just commenting that it was funny. However, Tesco Mobile's account decided that they had a great response to her. Of course, everyone should understand that it's just some playful ribbing.
NO MORE HOMEMADE MOON PIES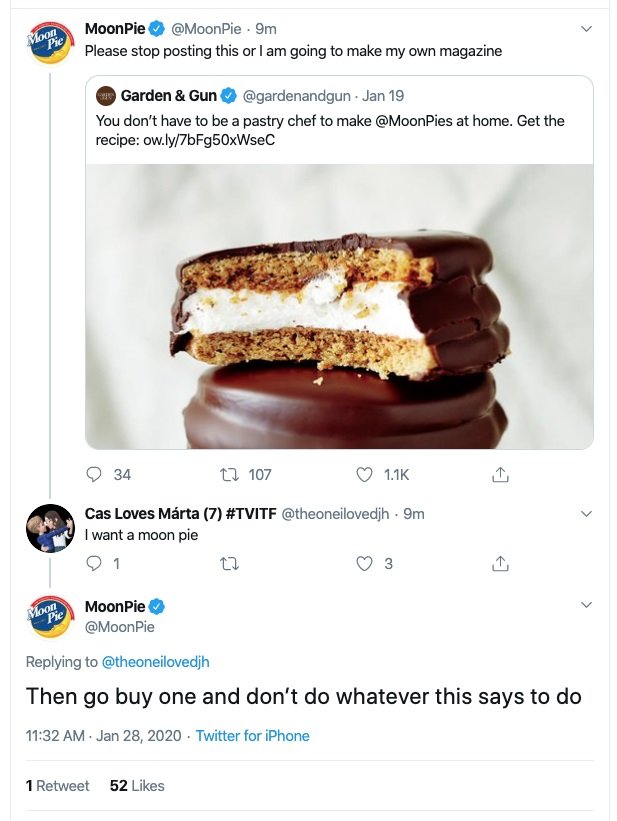 Of course, a company doesn't want people to make their products at home. They want them to buy them at the store. That's how they make money. However, there are tons of recipes online that "copycat" some of the most popular treats out there. Meanwhile, one customer wanted a Moon Pie, and they just told him straight up to "go buy it".
NOTHING TO DO ON A SATURDAY NIGHT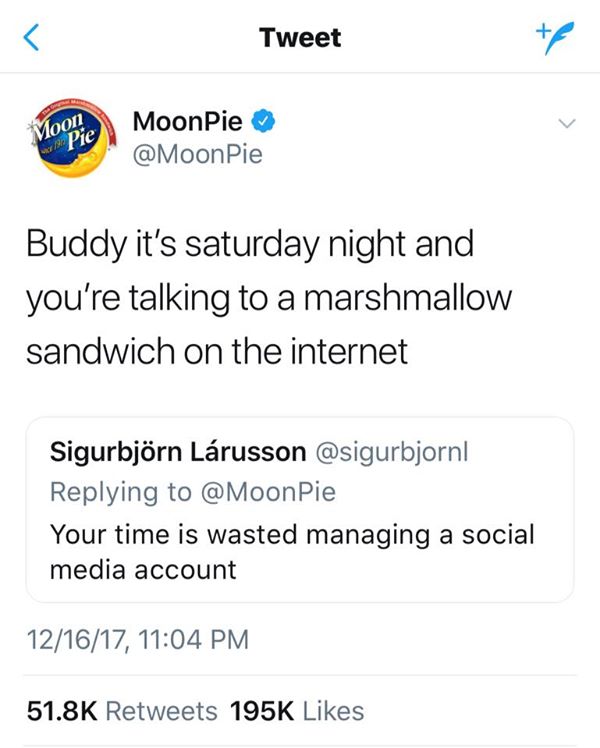 Well, not everyone goes out on a Saturday night, especially after you're over 30 and just tired from a long week of work. You could say that the random online user was complimenting that community manager of Moon Pie's account. But, they decided to respond with a funny message. It's hard not to love these kinds of tweets.
THE CAR NERDS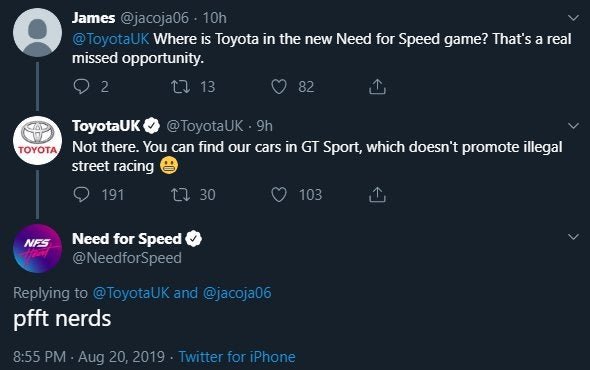 In this lucky tweet, two companies have some awesome responses. Of course, some users were angry that Toyota cars did not appear in the game 'Need for Speed', and Toyota added a cute little message. Gamers know that you can do all sorts of things that are not exactly correct in real life. However, Need For Speed's Twitter account had something to say.
CRISS ANGEL VERUS CIRQUE DU SOLEI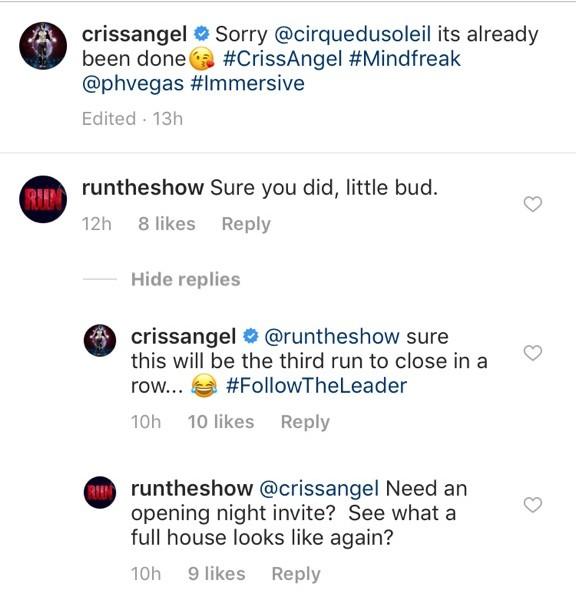 Anyone who has enjoyed a show from Cirque Du Solei will probably tell you that it's almost like magic. Meanwhile, Criss Angel is a popular magician with many shows in Las Vegas. It seems that they have taken their rivalry to Twitter for some good-natured ribbing of each other online. Their followers love it!
A CODE ERROR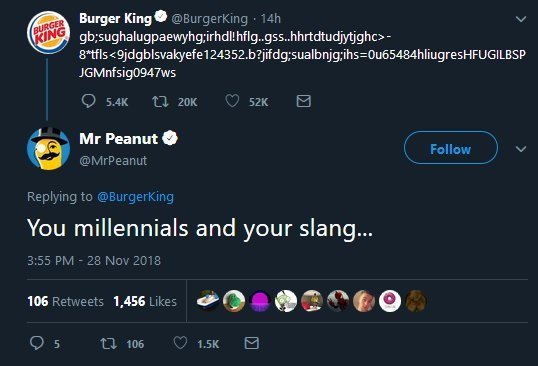 It seems that the community manager at Burger King made a bit of an error or maybe their app failed. It happens to almost everyone at some point with apps like Hootsuite and others. However, Mr. Peanut's account decided to play a little with that tweet, calling them "millennials". It was the best response possible.
NOT AFRAID OF THEIR BURGERS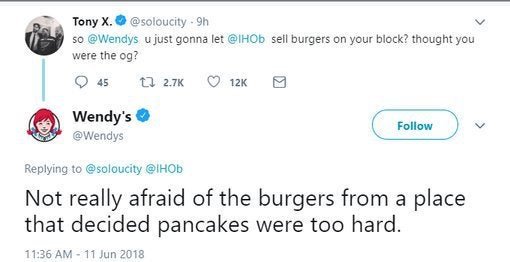 Wendy's Twitter account has developed a reputation for being more than a little saucy online. They often respond to their competition. That's probably why this user was waiting for a cool message from them about IHOP's decision to start making burgers. The reply from Wendy's was brilliant because pancakes are pretty easy to make.
RUIN IT FOR EVERYONE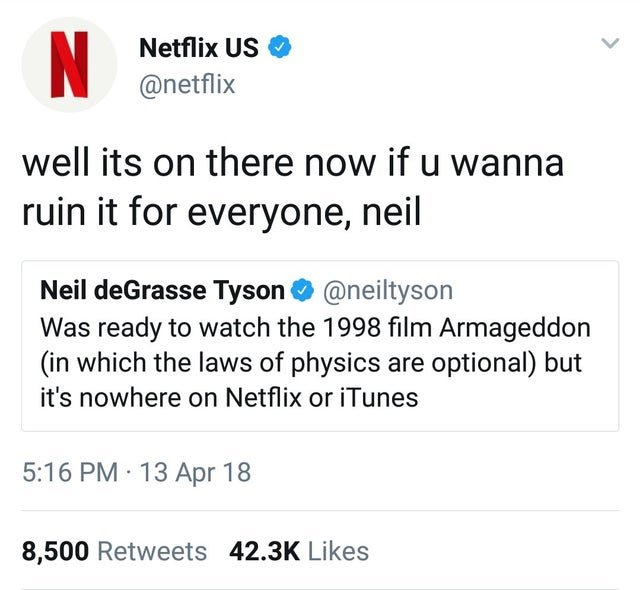 Neil deGrasse Tyson has a reputation for explaining why some scenes in Sci-Fi movies could never really happen. Therefore, when he complained that 'Armageddon' was not on Netflix, the streaming service's account decided to reply. Tyson can go ahead to explain everything about the film.
CORRECTING THEIR GRAMMAR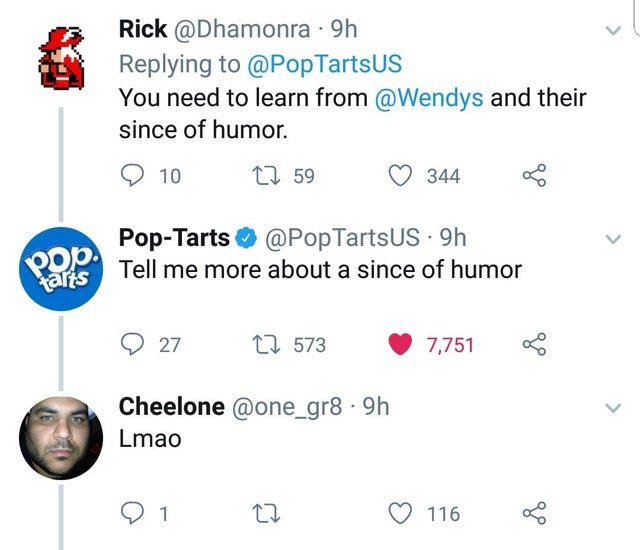 A lot of people don't pay attention to the way they write online, and some don't know the correct spelling of certain words. However, if you're trying to make a salacious tweet online, it's best to pay attention to that. Otherwise, someone will call you on your incorrect spelling. Of course, it's "sense of humor" and not "since of humor".
A DIRECT DIG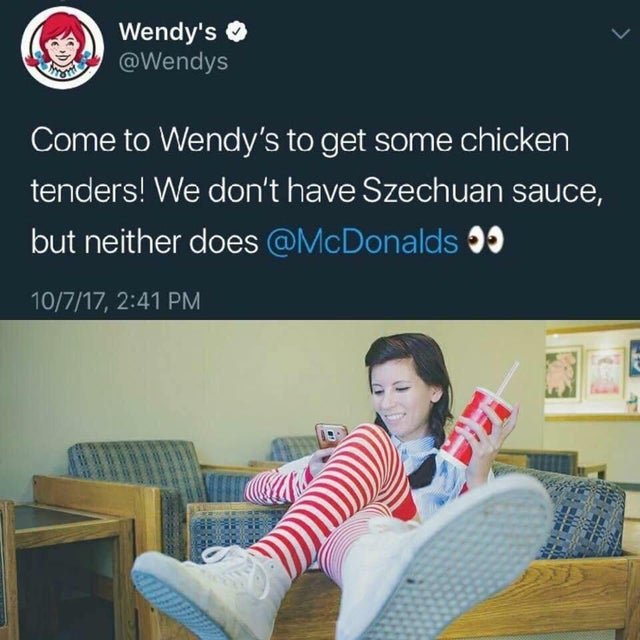 Wendy's has a huge rivalry against every other burger fast food establishment, at least, on Twitter. Here, they decided to start something with a direct mention of one of their competitors. It seems that some people love chicken nuggets with Szechuan sauce, which McDonald's apparently has. However, Wendy's was implying that they always run out of it.
PIZZA AGAINST SPORTS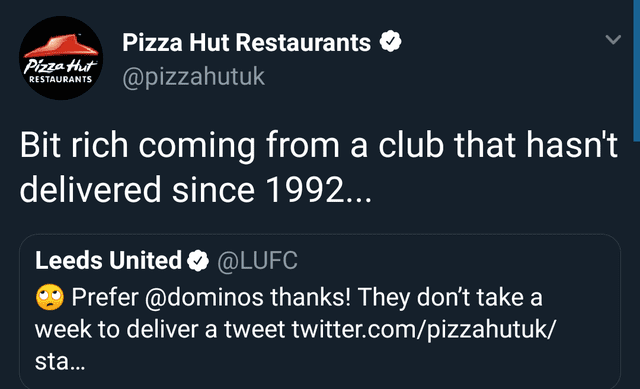 Well, apparently the Leeds United soccer club is not at all happy with the service of Pizza Hut, but they should not have taken their complaints to Twitter. They probably should have direct message them instead. But, they did it in public, which gives the perfect opportunity for a great comeback from the pizza joint.
THE BEST MESSENGER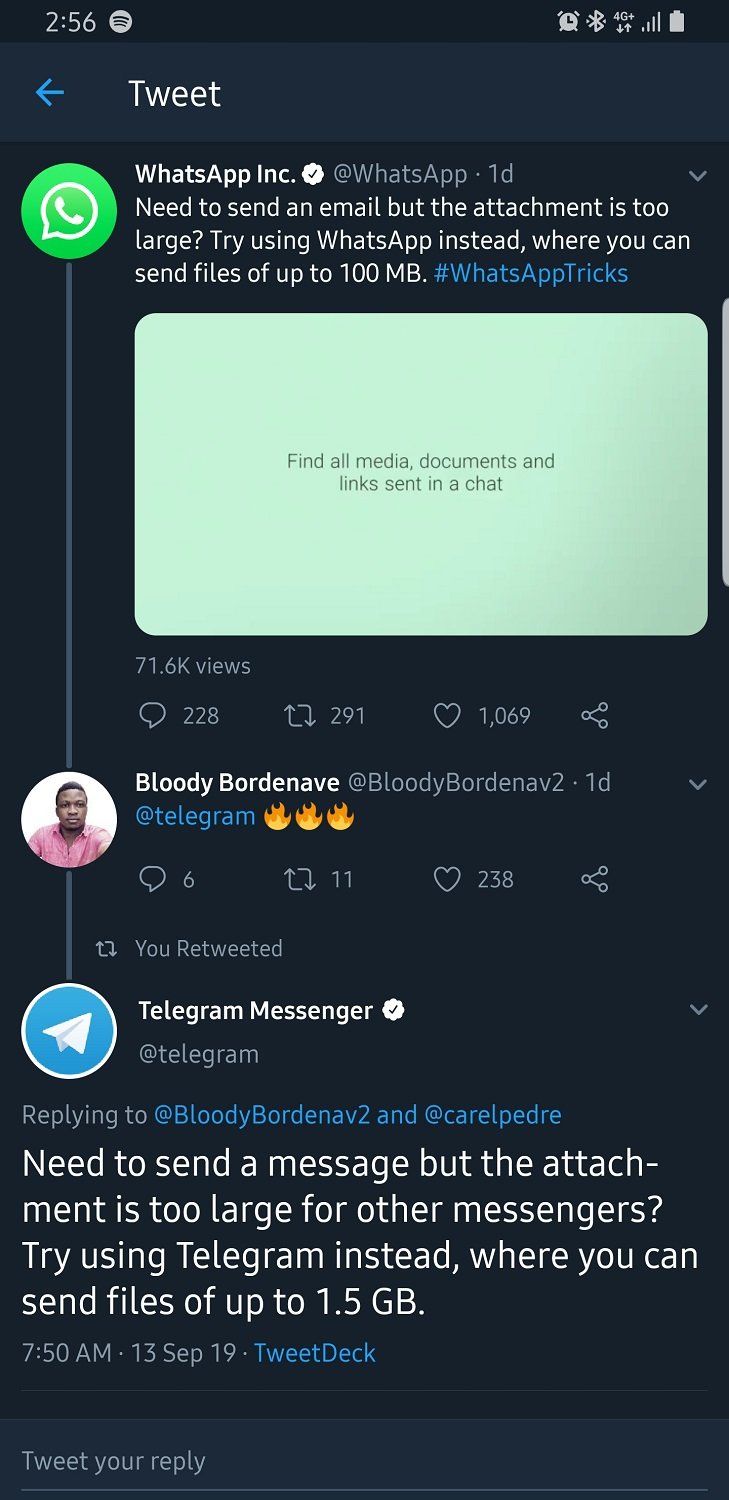 There tons of messenger apps out there, although one of the most popular ones is Whatsapp. It was even bought by Facebook. However, some people prefer Telegram because of their many uses. The popularity differs between regions, but it's true that some apps will have better features than others.
That was absolutely amazing! It's to follow some of these accounts for some silly laughs. Let us know which one was the smartest comeback. If you liked this article, share it with your friends who enjoy using Twitter. See you next time!
Source: Reddit, Hootsuite, Buzzfeed, Mashable