Hilarious Texts From Grandmas
Who doesn't love to receive a text message from their grandparents? They are cute, kind and always worried about their grandchildren. But they are not always very tech-savvy, which makes these messages super funny. Check out these grandmothers who are trying to be good with technology and making us laugh at the same time.
Presidential Age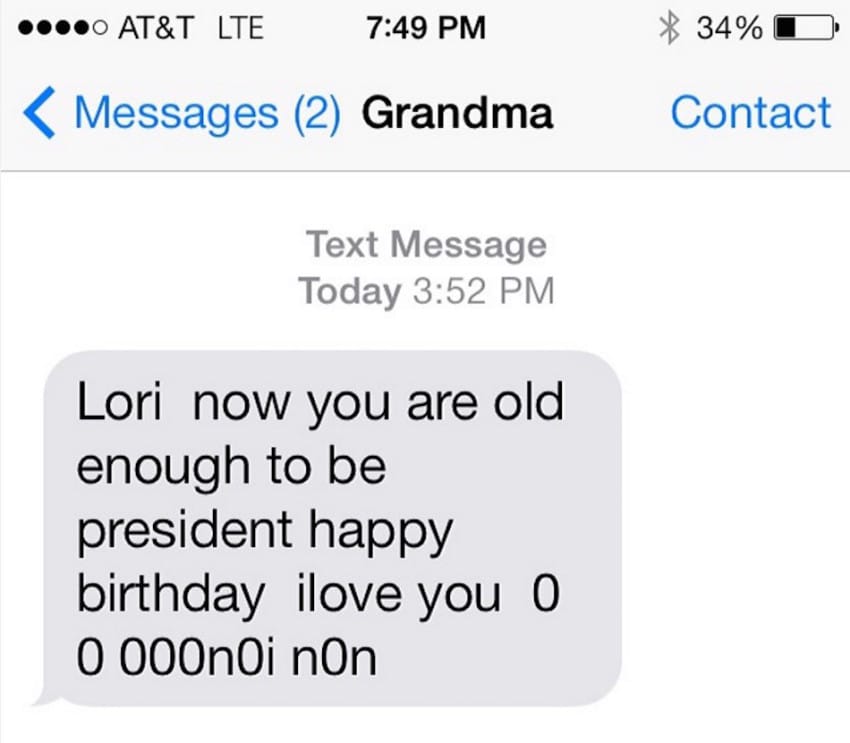 A funny way to think about your age is in presidential terms. But this is something that only grandparents would do, right? To top it off, this granny even mixed numbers and random letters with her message. It's too funny!
Single's Life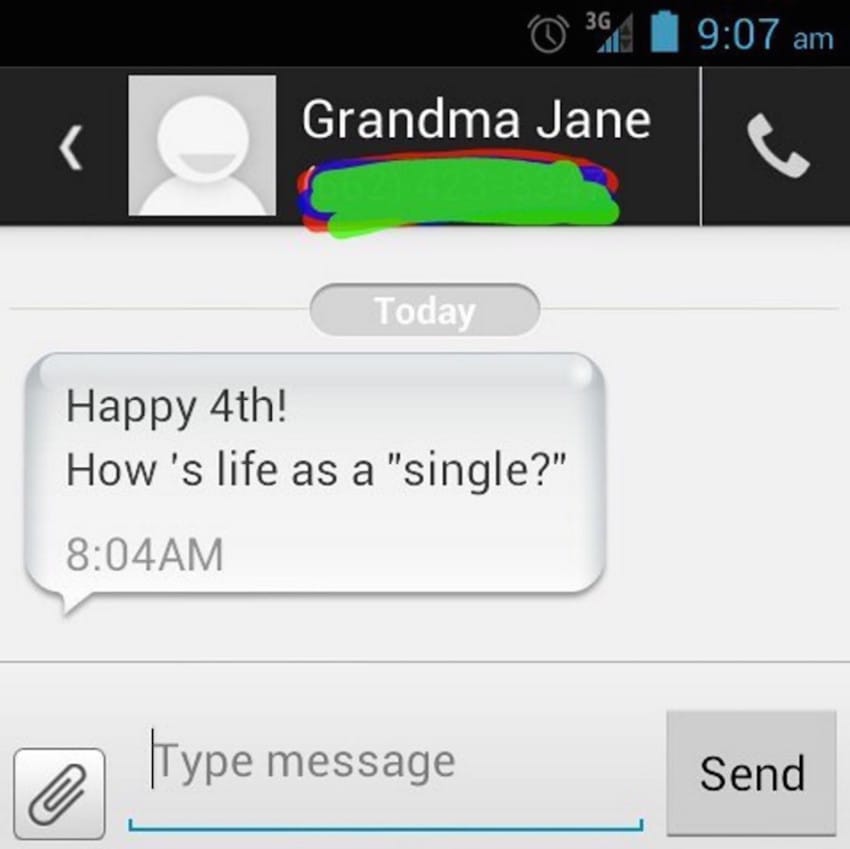 A grandmother using a phone to text her grandchildren may be news, but the subjects they talk about are always the same. This grandmother in question did not spare her granddaughter from this impolite, but very common, question. No mercy, grandma!
Cryptic Message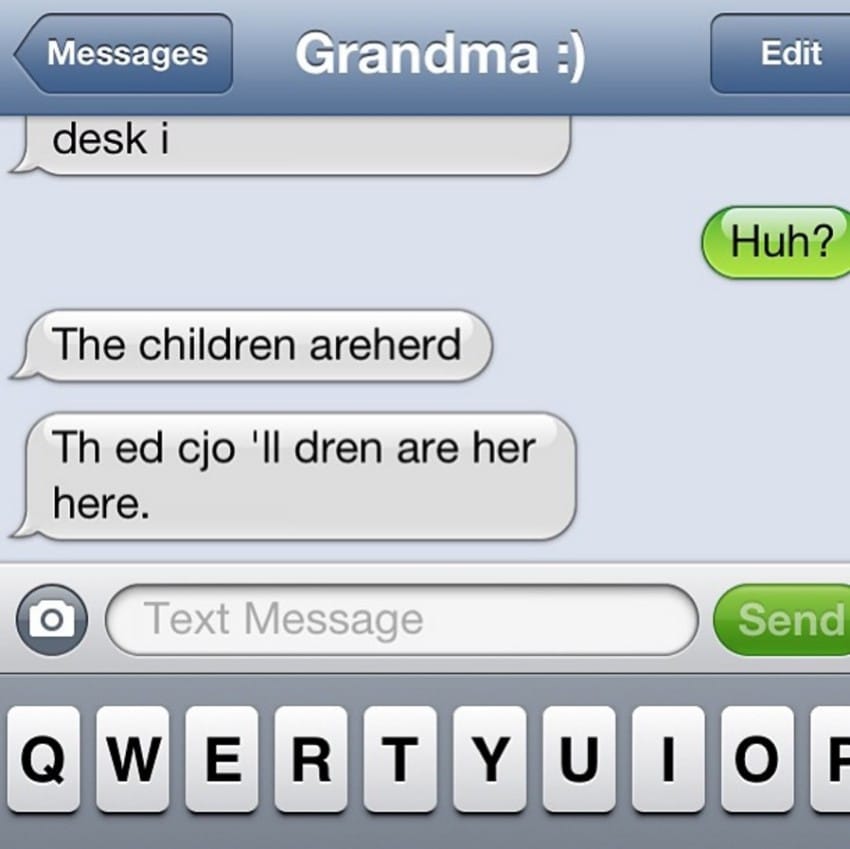 One thing that always happens to grandparents when they send text messages is to mix some letters while typing. But for this grandmother, things are worse. No matter how much she tries, she cannot make her messages understandable.
Understandable Typos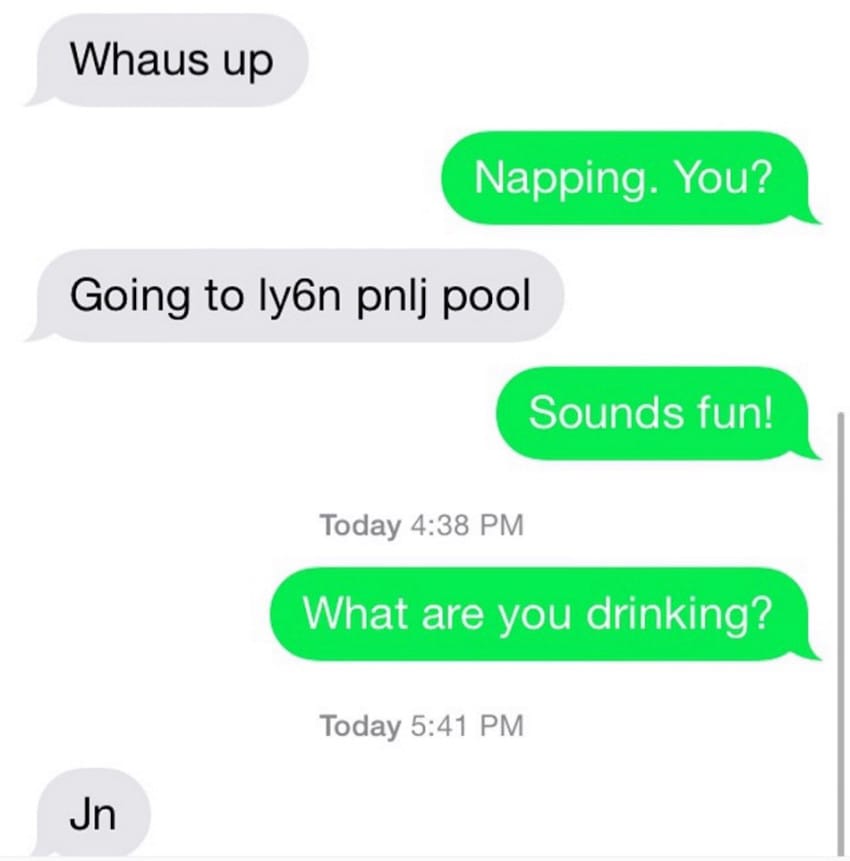 This other grandmother also has trouble typing her messages. However, at least it is possible to understand something of what she says. Not much, but something. We hope we are not missing out on essential elements of the conversation.
Too Old For You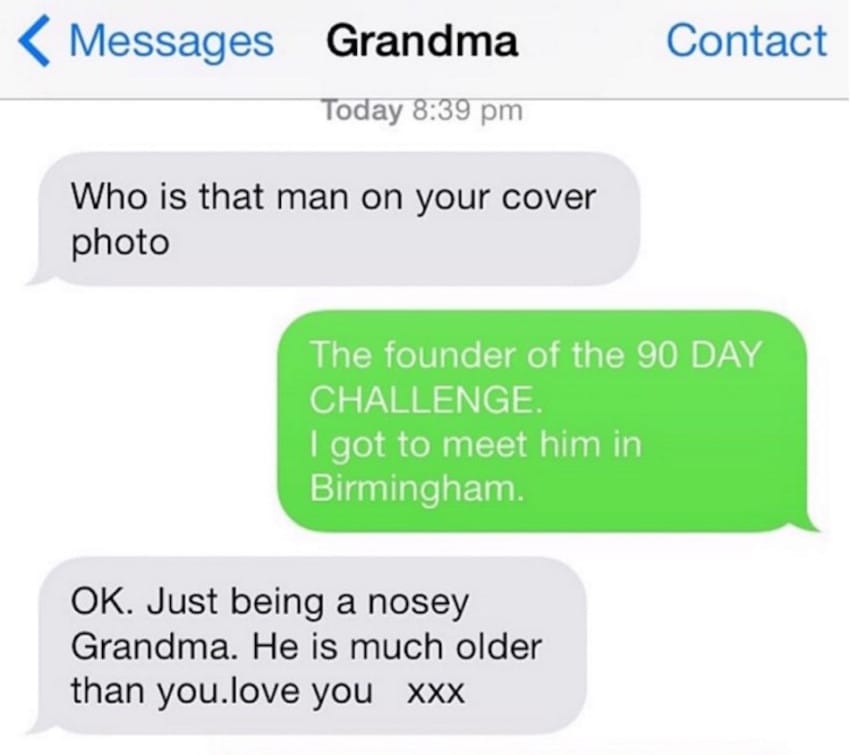 Some grandmothers don't understand how the internet works very well, nor how people use cover images, for example. This grandma was noisy enough to ask who was the man in the cover of her granddaughter page. Even after the explanation, she wasn't convincing that he wasn't her granddaughter's boyfriend. 
Loving Grandma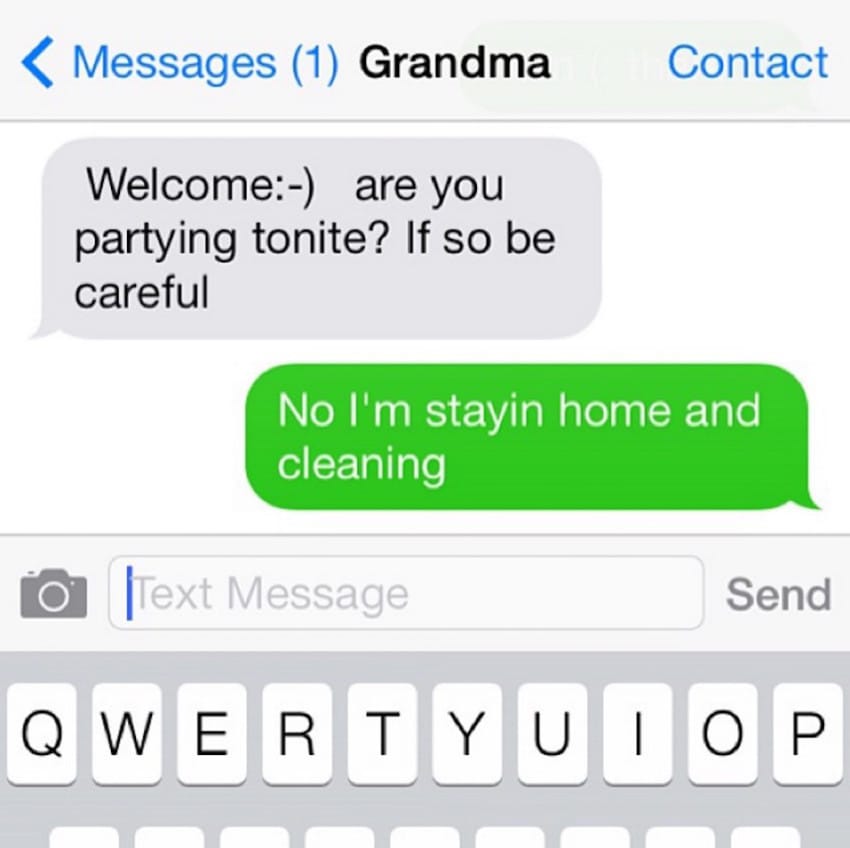 Grandparents are super loving, aren't they? This grandmother is worried about her granddaughter, especially if she is going out to party. Can you go out and not be too careful with a grandmother like that? certainly not.
Goodnight Messages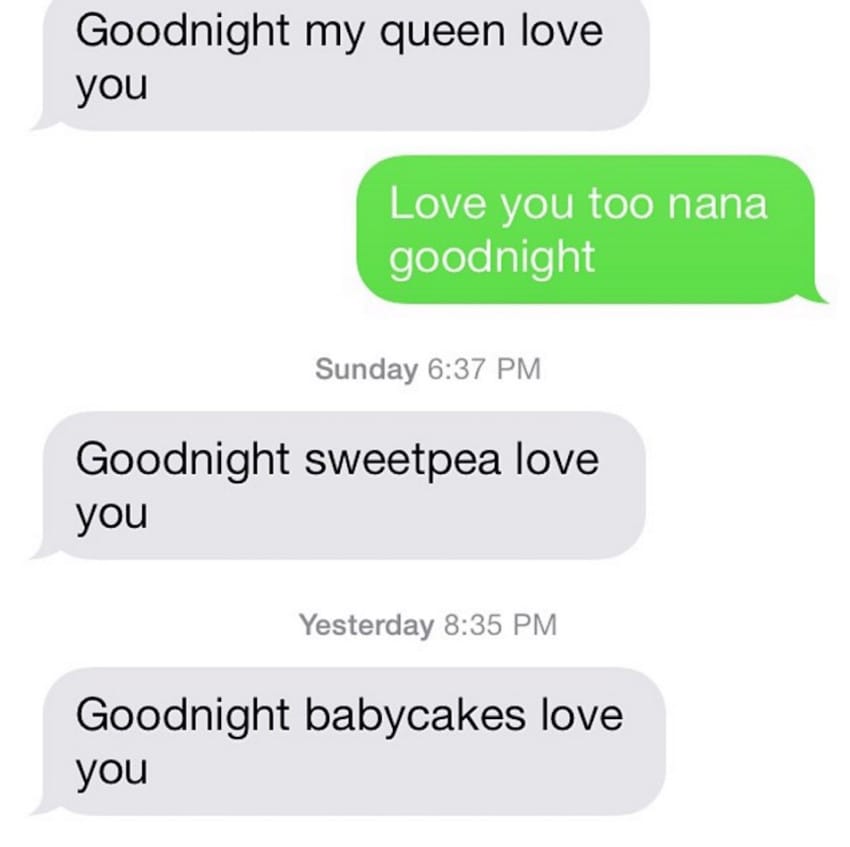 One thing that makes grandparents super cute and funny, especially through text messages is that they are always ready to give love to their grandchildren. This grandmother loves to send adorable goodnight messages. Aren't they lovely?
Cute Grandma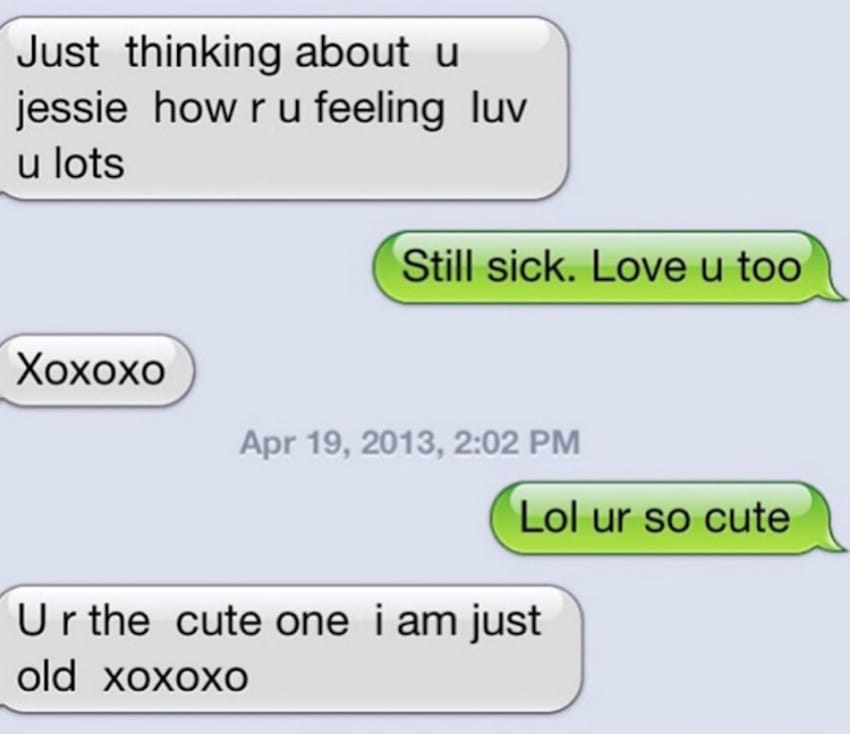 This adorable grandma doesn't believe she's cute. It's absurd, isn't it? Besides being very cute, she is hilarious. Your granddaughter is certainly lucky to have you as a grandmother. You can see that they care a lot for each other.
Wild and Wooly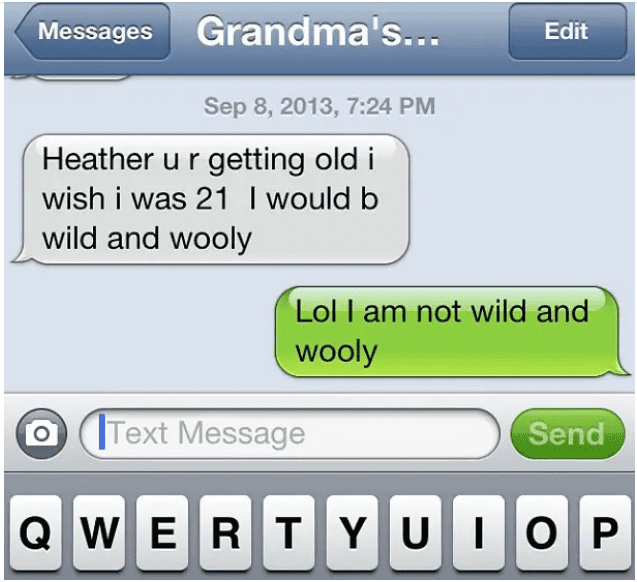 Well, we don't know if this grandmother is saying that her granddaughter is like that or just regretting that she herself can't do crazy things because of her age. Well, feel free to do what you want, grandma! Age is just a number!
Long Life Milk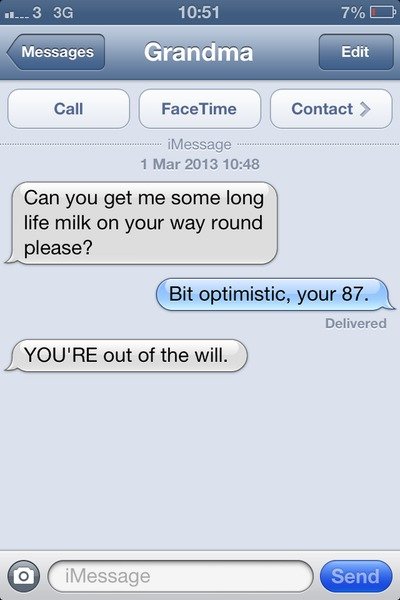 This grandson tried to make a joke out of his grandmother's age with her, but it seems that she did not take it very well. However, the exchange and messages between the two ended up being hilarious, right?
Box of Tomatoes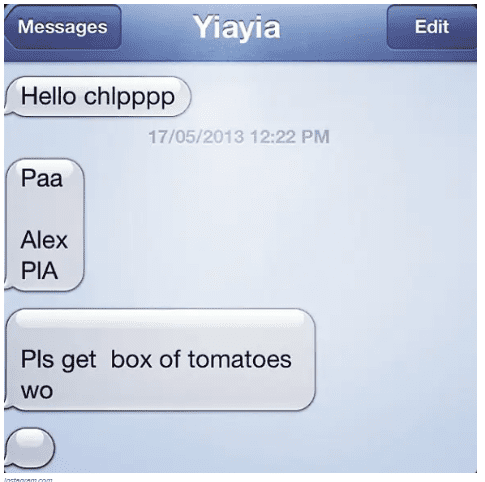 Well, there are times when you can't understand much of what grandparents try to say by text messages. But in this case, at least it was possible to understand that the grandmother was in desperate need of a box of tomatoes. 
Trivia Grandma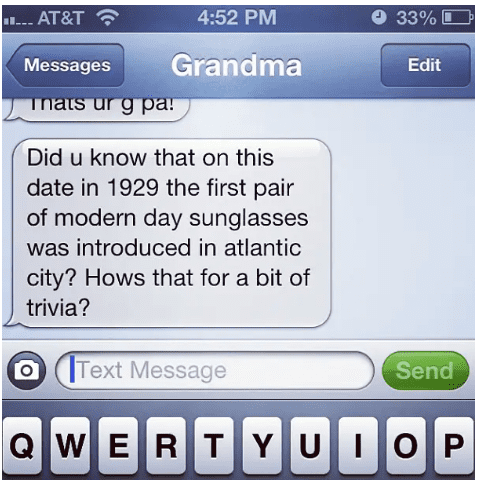 This grandmother likes to send daily trivia facts to her grandchildren. In addition to being super cute, she helps them get a bit smarter every day gaining knowledge. Well, a little bit of useless knowledge, but still, it's knowledge, isn't it?
Music Fan Grandma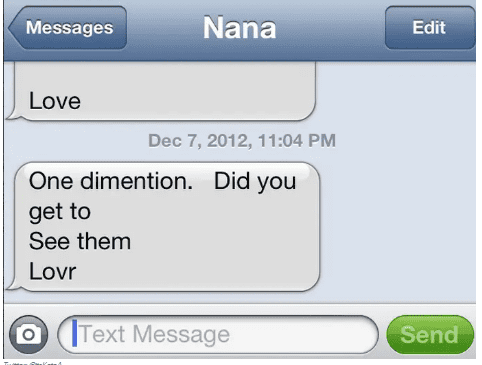 This grandmother is almost a music expert when it comes to teenage bands that their granddaughters love. Maybe she got the name a bit off, though. But her intentions to ask about it it's what matters, right?
Caps Lock Activated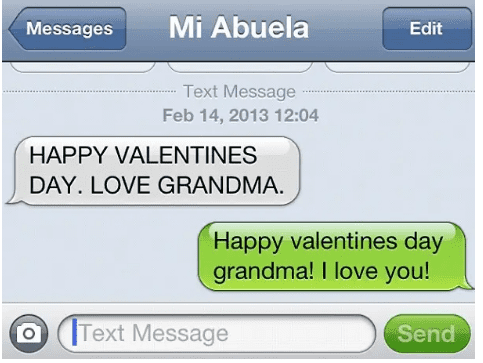 Grandparents love a caps lock so much that it looks like they're always yelling at you via text message. But there's no way you would think that of this adorable grandma sending lovely Valentine's Day messages, right?
Absolute Beginner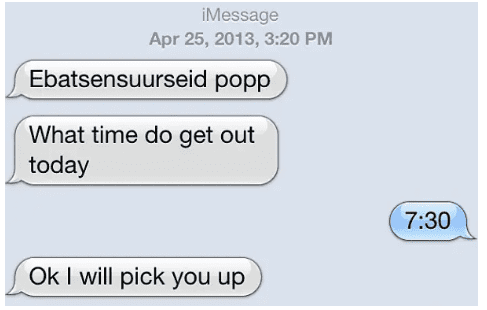 This grandmother is obviously a beginner in the art of texting. She's still not spelling words very well, but what counts is the intention of sending messages to her grandchildren, isn't it? But, really, what she is trying to say?
Can you not love these grandmothers who are trying everything to communicate more easily with their grandchildren? No way! We love them so much! And your grandparents, are they also super funny when they try to be tech-savvy? 
Source: Instagram, CNN, BBC, Ranker.