Famous Artworks Reenactments
Stuck at home? Well, that happens. But we just have to find a way to kill time. While some people might try and spend more time on reading or watching movies, Getty Museum had a great idea - why not try and recreate famous artworks at home, using some of the household items you have? On the other hand, other museums and artists also had a similar idea - and we are not disappointed by the results.
Portrait of a Halberdier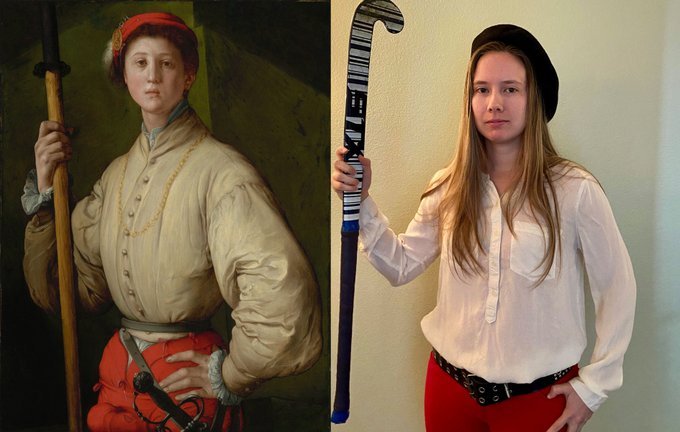 Portrait of a Halberdier is a, well, portrait, by Italian painter Francesco Guardi in the 16th century. We are no art experts so we won't go into the details. However, a girl decided to recreate this by finding some matching outfits and a hockey stick. Result? Perfection.
Still Life with Fish, Vegetables, Gougères, Pots, and Cruets on a Table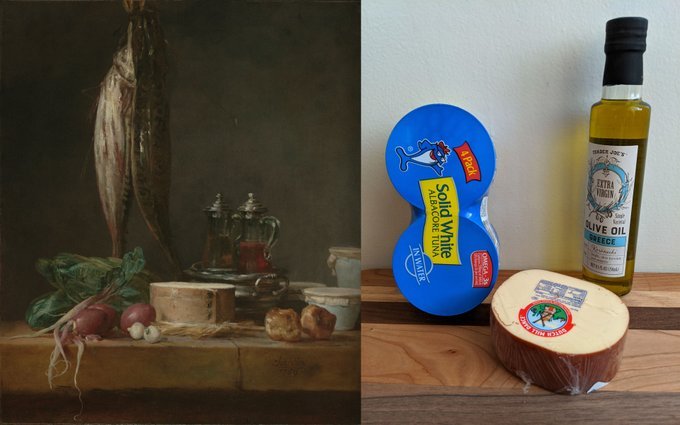 Yes, the name of the original artwork is pretty long indeed. It is a painting by French painter Jean-Siméon Chardin, dated 1769. However, a Twitter user decided to put a modern, minimalist spin to it, by replacing the food with modern ones found in the shop - even with all the labels.
Stag Beetle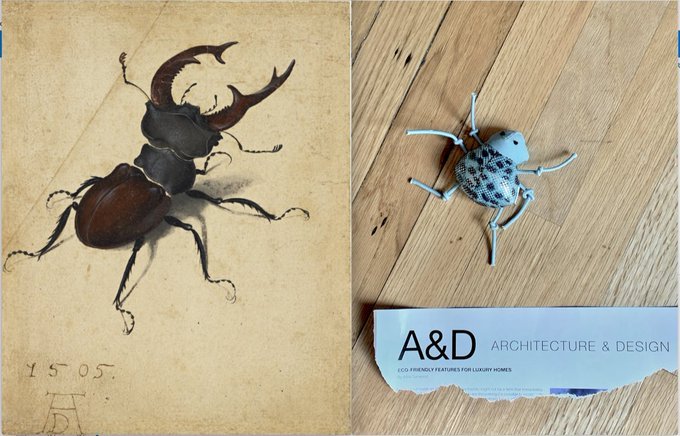 Stag Beetle is a watercolor painting by German artist Albrecht Dürer in 1505, more than five centuries ago. But one Twitter user decided to put a modern spin to it, by using a beetle toy instead - but it didn't stop there! To match the artist's 'AD' signature, he/she decided to tear a page from a magazine, which bears the same alphabets. A stroke of genius.
The Rue Mosnier with Flags
Life is all about perspective - and this is the perfect example of that. The original painting is called The Rue Mosnier with Flags, painted by French modernist painter Édouard Manet. And someone recreated the painting on a street by putting a box on the floor, mimicking the buildings, and the French flags were replaced by an American one. We are not sure how Édouard Manet would react to this.
The Reaper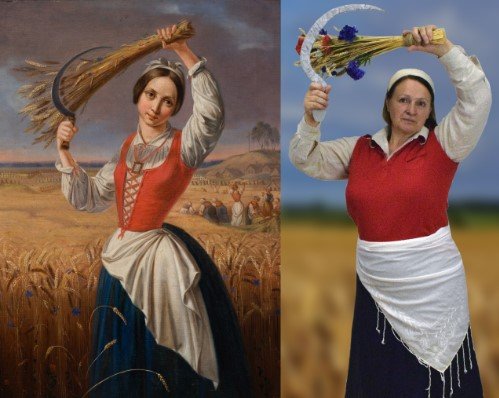 The Reaper is a painting by Polish-Lithuanian painter Kanuty Rusiecki (Kanutas Ruseckas), of a lady reaping the harvest while wearing a traditional costume. And here, a lady recreated the painting by holding a bunch of flowers and a sickle, with matching color outfit. This is pretty close, we gotta say.
Van Gogh 1887 Self Portrait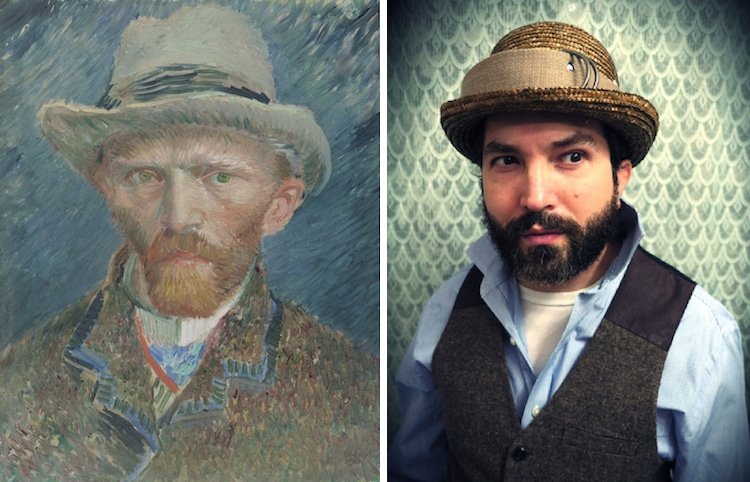 You must have seen this portrait somewhere before - Van Gogh is one of the most famous painters who gained popularity, sadly only after he passed away. And this is a self-portrait he painted of himself - where he had absolutely no idea it would be famous. Here internet user Optivion recreated this piece by presenting Van Gogh's raw emotion, and wondered if he ever thought that people would be admiring his paintings for years to come.
Madeleine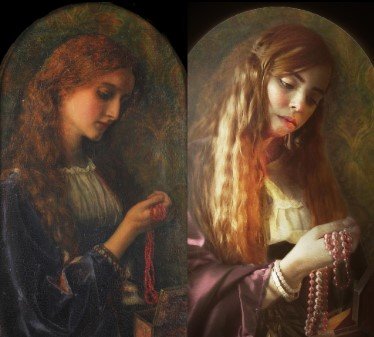 Madeleine is a painting by English painter Arthur Hughes, where he used his wife as a model for the beautiful lady depicted in the painting. And here, internet user Steffany Clicie recreated this piece fabulously, by following every detail in the painting - from the lighting to the background, this is a perfect match.
Madonna and Child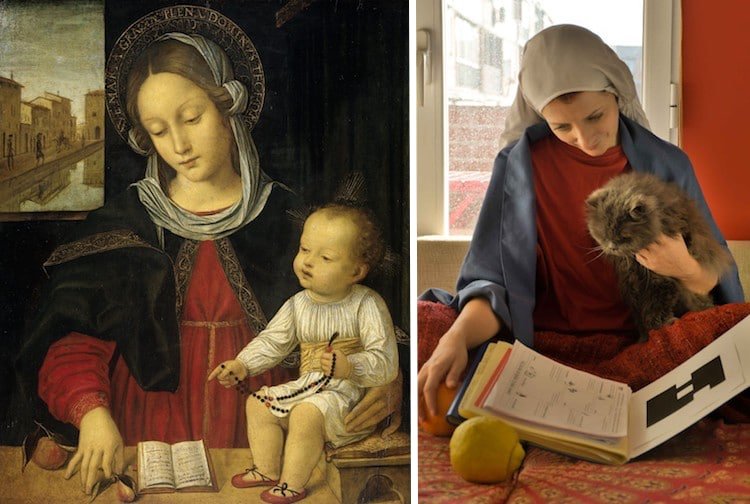 No, no that Madonna. Madonna and Child is a painting by Italian Renaissance painter Ambrogio Bergognone. He also painted different paintings with a similar theme. And here, internet user Ruzistori recreated this piece - but instead of an actual kid, she used a cat instead. Modern times require modern solutions, eh?
Dance On The Jetty
Dance on the Jetty is a painting by Finnish symbolist painter and graphic artist Hugo Simberg. His paintings are known to have imaginative expressions. And here, internet user Päivi recreated the painting - well, kind of. According to the caption, the people in the photo are staff from the Serlachius Museum. It would have been perfect if the photo was taken at sunset.
The Last Supper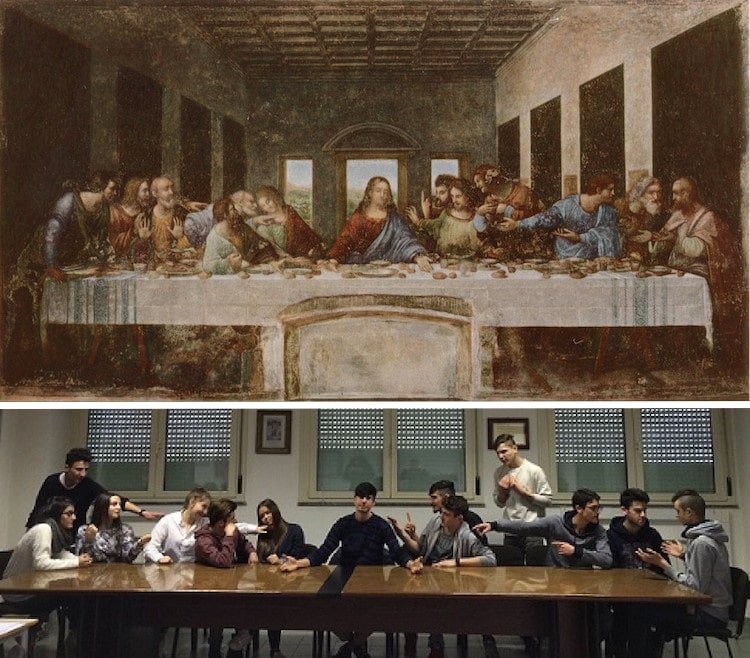 Everyone must have seen this painting at some point in their life. The Last Supper is yet another famous painting from the legendary Leonardo Da Vinci, depicting the last supper of Jesus in the bible. This was recreated by Mariella Brunazzi, likely in the school classroom - we can't help but wonder though: how did they decide who would be Judas?
Amerigo Vespucci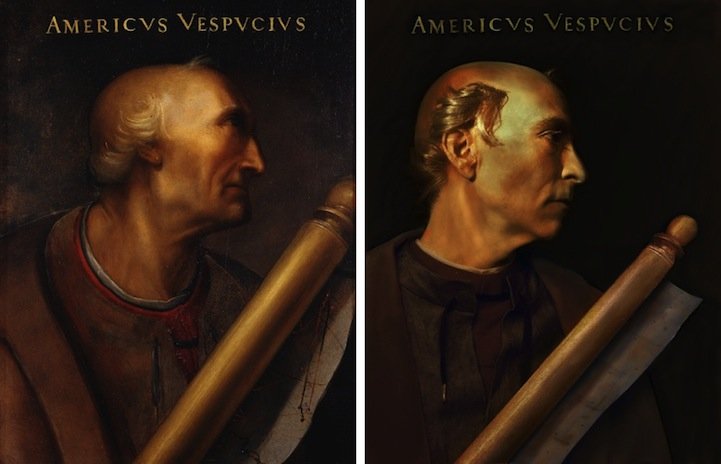 This is part of Italy-based photographer Mark Abouzeid's project called The New New World, where he tried to recreate the famous paintings through photography. The original painting here is a portrait of Amerigo Vespucci, an Italian merchant, explorer, and navigator. Being a skilled photographer, Mark Abouzeid managed to get it down to every single detail, including the lighting.
The Emperor Augustus Rebuking Cornelius Cinna for His Treachery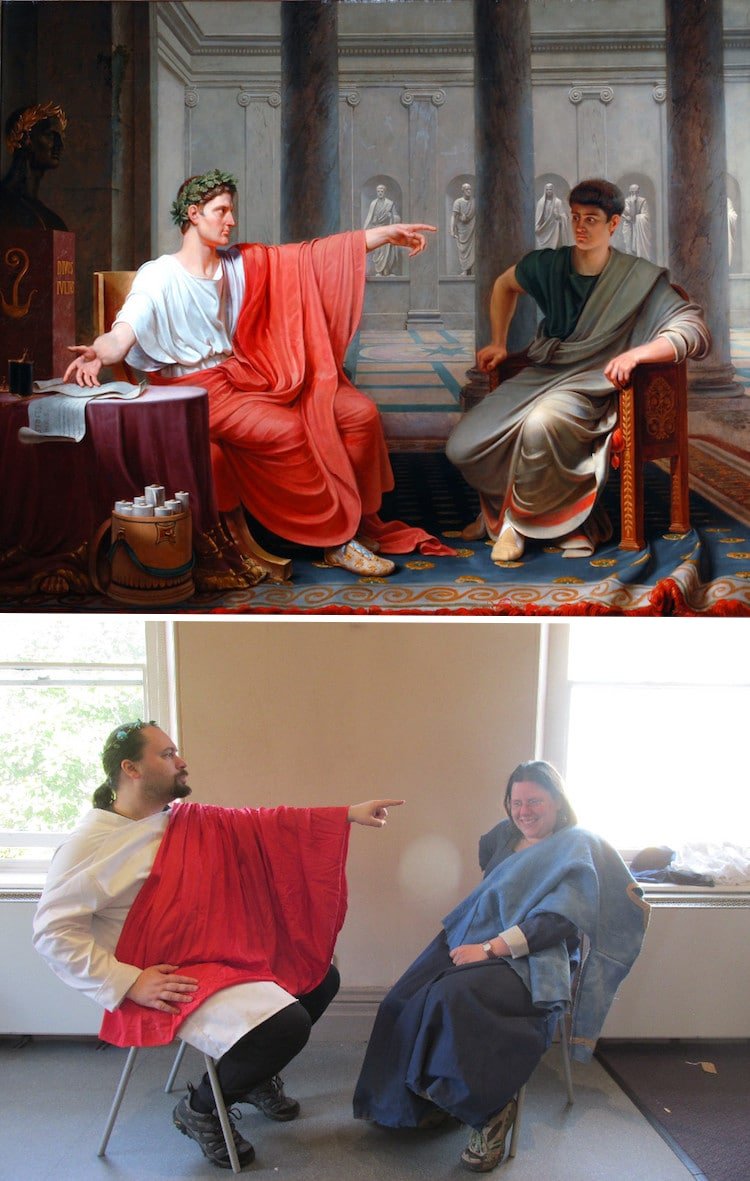 As the name implies, this is a painting depicting the scene from the play "Cinna", of Cornelius Cinna's treachery against Emperor Augustus. The painting was drawn by French painter and critic Étienne-Jean Delécluze. And here, internet user Leoht recreated the whole scene at the Chippenham Museum. Add a table and a few scrolls and it would be perfect.
Rage, Flower Thrower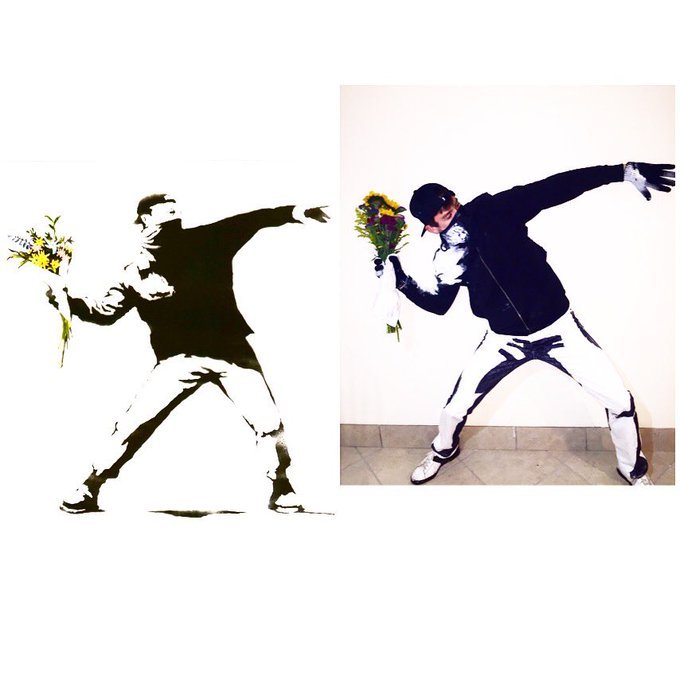 We have covered a lot of classic art pieces - why not something a bit more modern this time? "Rage, Flower Thrower" is a monumental graffiti, painted on the wall of Jerusalem, as a response to the violence and volatile politics that plagued many in the Middle East. This was recreated by Twitter user VivaLaSudani23, or specifically her boyfriend. Good job - the struggle carries on.
Self Portrait by Ferdinand Bol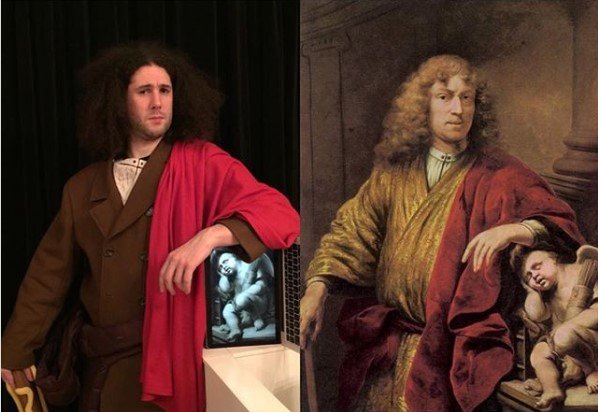 Bored in the office? Some chose to take a nap - but some decided they will have some fun instead. Such is the story of foolsdoart, where Francesco Fragomeni and Chris Limbrick decided to recreate some of the famous paintings by using office items. The painting here is a Self Portrait of Ferdinand Bol - and they even got the angel right, by using a tablet.
Jean-Baptiste Colbert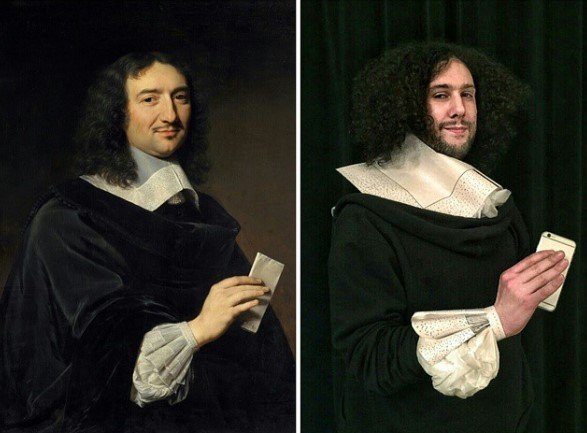 This is another recreation by foolsdoart. The portrait here is of Jean-Baptiste Colbert, painted by Philippe de Champaigne in the 17th century. We can't help but admire their skills and imagination in recreating this piece - like seriously, what did they use to recreate the cuffs and collars? This is perfection. 
What do you think of these? Would you like to try and do the same thing at home as well? Well yes you can! Which one here is your favorite? If you have a friend who might be down for this as well, why not share this with them?
Source: Twitter, Van Go Yourself, Instagram, Getty Museum