Pictures Where the Background Stole the Show
Have you ever heard about photobombing? Well, that's what happens when you take a picture and someone or something unexpected was captured in the shot. This has created some of the best moments on the internet. Has a stranger ever ruined your family photo at the beach? What about a person that looked way better than you and stole the show? Let's discover these funny images!
ANGRY GRANDMA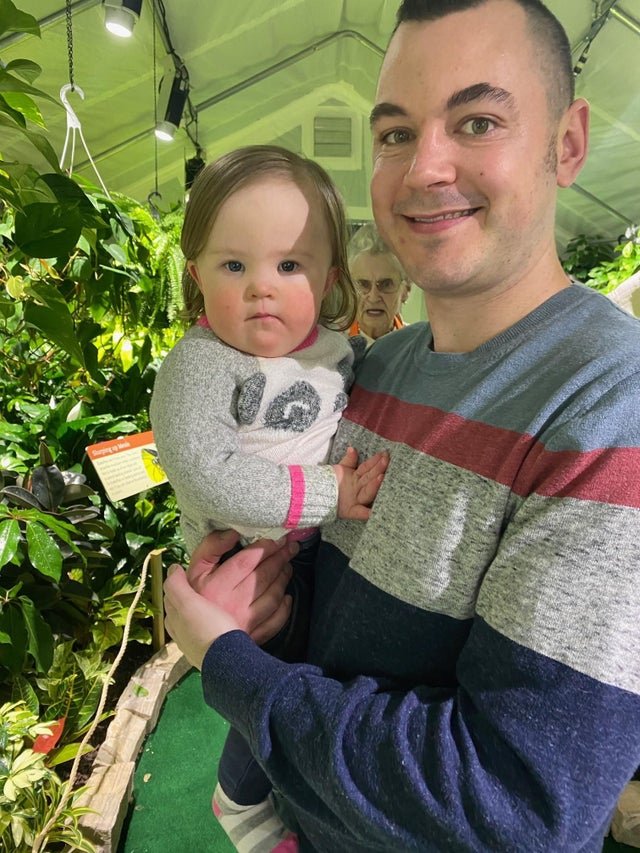 Redditor AgentElsewhere was at a museum with his daughter and wanted a nice picture. However, an older lady got in the shot, and it looks like she was not really happy about something. The baby is still adorable with her father, but the grandma really steals your eyes towards her. What do you think happened?
IN THE CLUB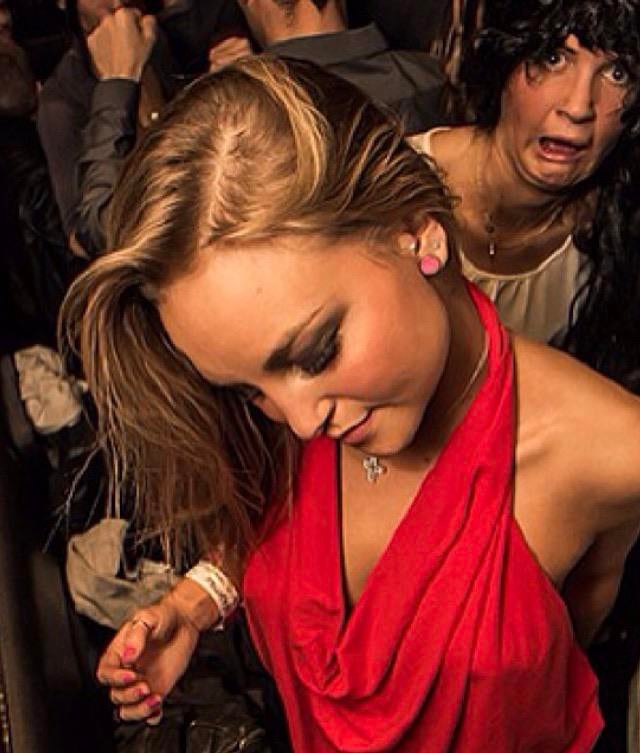 Redditor dafrisco was just trying to look pretty in a picture. It was probably meant to be uploaded on social media. However, someone decided to make an odd face, and it's really more interesting than the girl. She might be able to crop it, but honestly, it's better this way. However, it's strange that this guy made such a weird expression.
CHRIST THE REDEEMER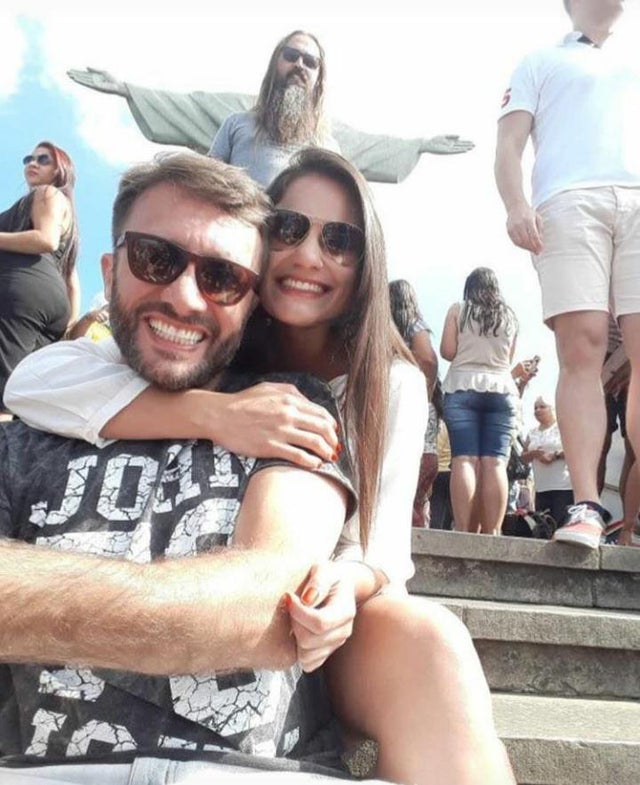 You might be familiar with the huge statue of Christ located in Brazil. Of course, this is a popular tourist place for all kinds of people. Therefore, it's not surprising that someone photobombed this couple's shot. However, it's insanely funny that he aligned so perfectly with the statue. He looks like a 3D realistic version of it.
JUMPING AROUND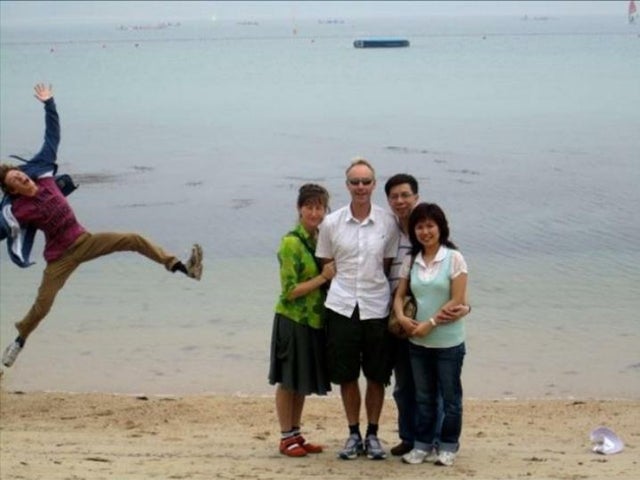 It's crazy how some photobombs can ruin the picture completely or make it even better. In this case, you would have to ask several people's opinions to see what they think. It's definitely funny, but it's easy to imagine that that family was not happy with the results of their nice day at the beach. Was this a stranger or a close family friend?
FOCUSED ON POPCORN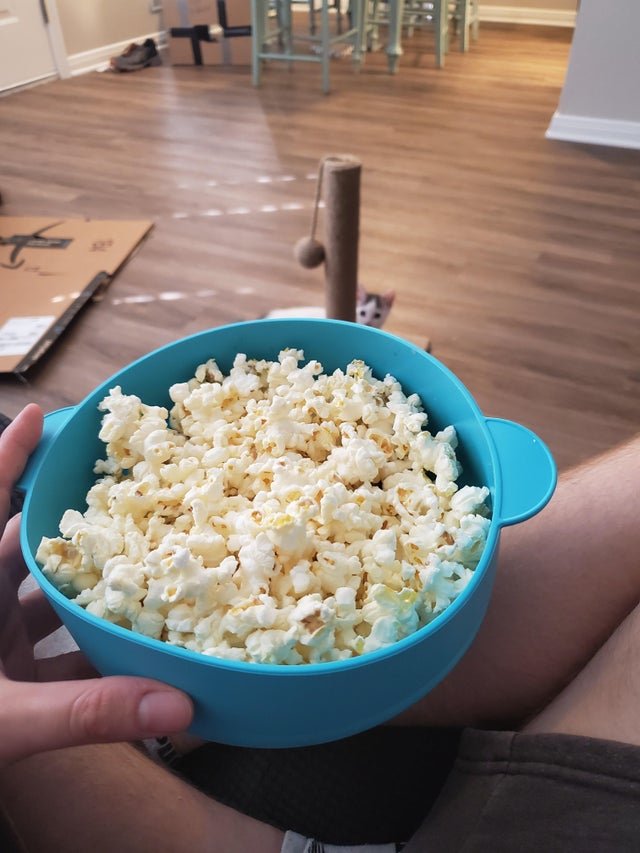 Redditor Vegan-Daddio just wanted to take a picture of the full bowl of popcorn they had just made. However, there's something else in the picture. It really looks like that kitty wants some popcorn too. Some animals love it, and it's not harmful to them. Of course, it's preferable if it doesn't have butter or flavoring.
ANOTHER KITTY WANTS A PICTURE TOO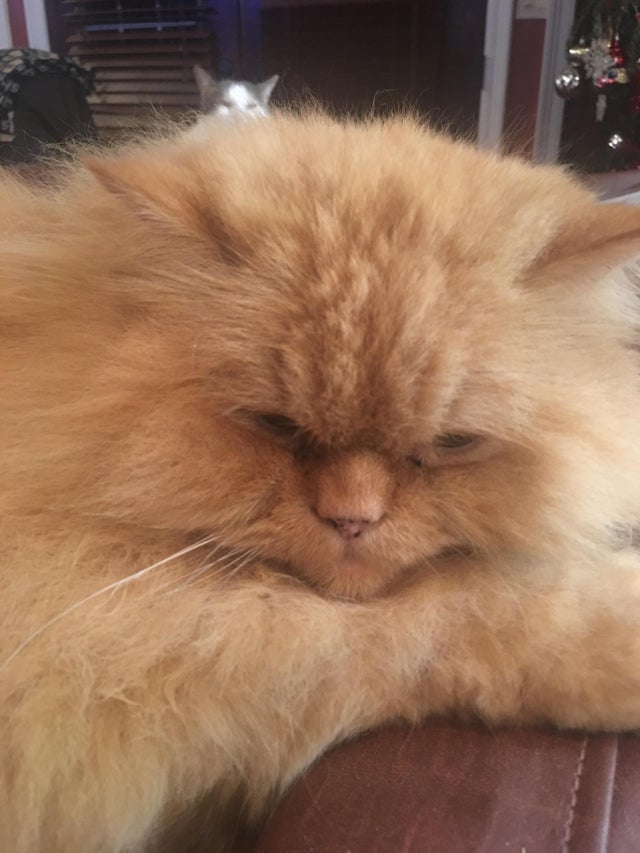 It looks like Redditor RotoDisk captured these two cats after they had fought. One has the grumpiest expression ever, while the other is oddly looking at him. Of course, it could also be that he wanted to be in the picture too. Either way, it's still funny that you can spot the lurker almost before seeing the entire image.
AT A WEDDING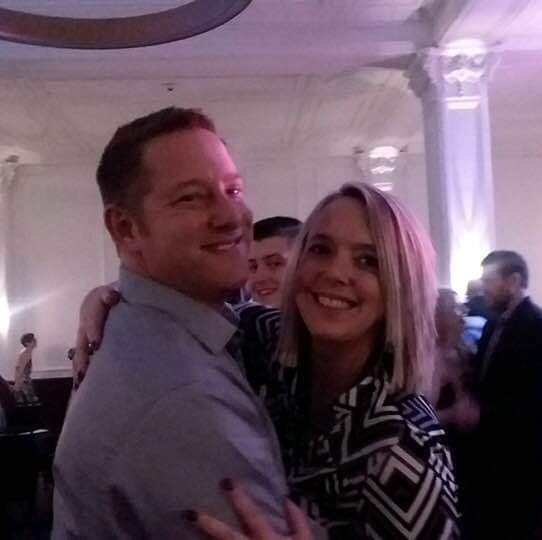 When you take pictures at a party, anything can happen. There are several people put together, and someone most likely will be in the background. However, Redditor bdrake0923 posted this image and wrote, "From my friend's wedding. No idea who the couple is, but the mother of the bride tagged me in this photo."
THE WINNER IS…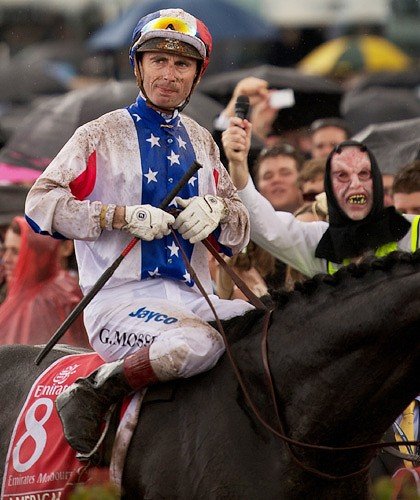 When it comes to professional sports competitions, most photographers want amazing shots of the athletes. It's even more important if the athlete wins. However, sometimes the fans get in the way and ruin the shot completely. Meanwhile, this fan took a Halloween mask to the horse race for some reason. But why?
SLUMBER PARTY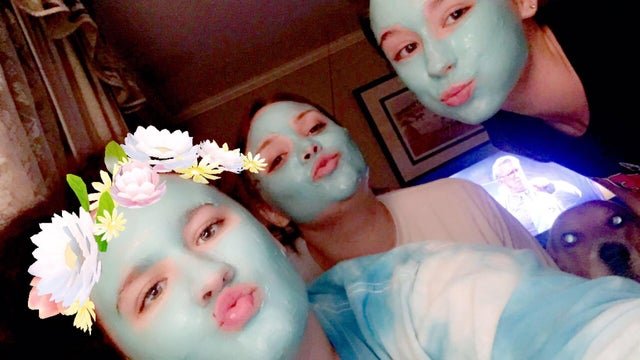 Slumber parties are some of the best moments of a girl's life. You get to hang out with your friends and do girly stuff. Redditor moorewj wanted to take this cute selfie with her girlfriends as they were wearing face scrubs. However, it looks like someone else wanted to be included in the picture. Honestly, it's ten times better like this.
THE SPOTLIGHT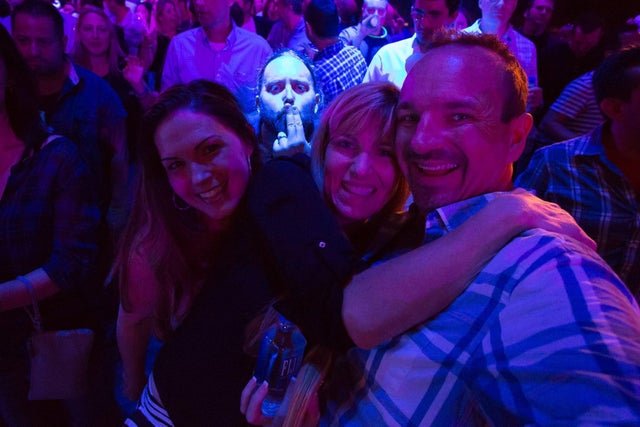 Taking pictures at a club is extremely tricky. People are all packed together, and sometimes, the light simply doesn't work. Well, that happened in this photobomb shot. Thanks to the spotlight in the picture, the main people are barely visible, while the partier in the back is the focus of the image. He was also aware of it.
SCARED KID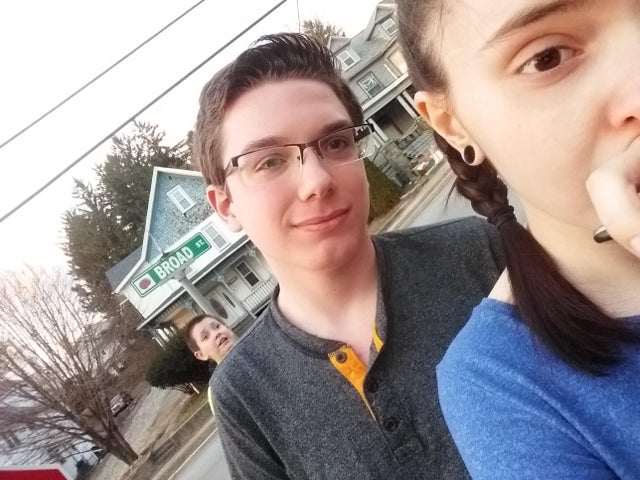 It's hard to imagine what that kid was looking at, but Redditor XxF**kingUsernamexX explained, "Me and my possible girlfriend getting a pic together and her brother is like a zit on my shoulder. Enjoy." Sometimes, little brothers just want to bother you all the time, even if you're with friends. It's a part of life.
THE CUTEST DANGEROUS PHOTOBOMB
The person taking this picture probably didn't imagine that two bears were going to pose for the photo in such an amazing way. Just capturing a bear waving his paw was fun enough. However, there's a second bear with his tongue out, and it's adorable! Of course, bears are really dangerous animals, but they are so cute too!
IS THAT MICHAEL JACKSON?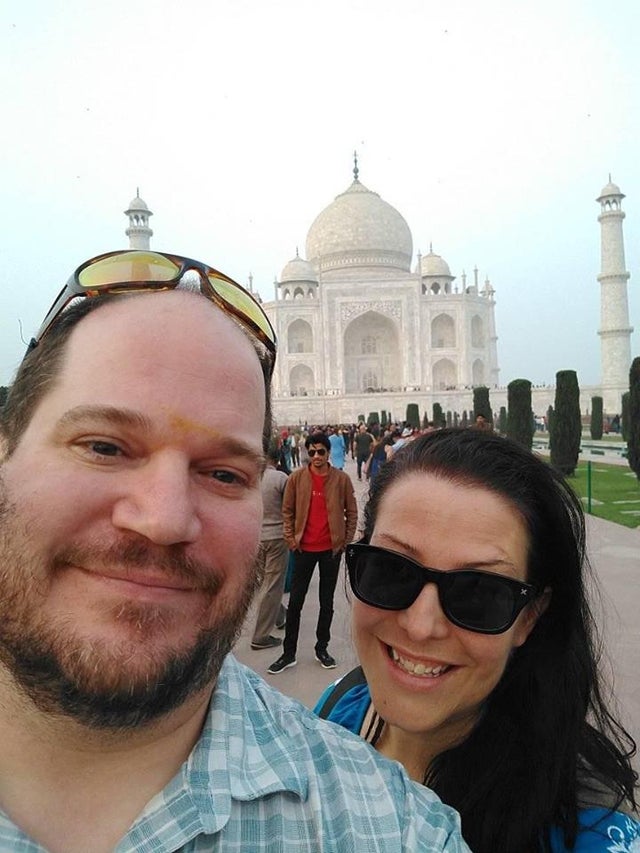 It looks like the couple in this picture went to the Taj Mahal and found a Michael Jackson impersonator. Are those the kinds of attractions you can expect in such a place? That's highly unlikely. Either way, would-be Michael spotted the camera and posed for the picture. He is even more noticeable than the famous structure in the back.
GOOFY SHOT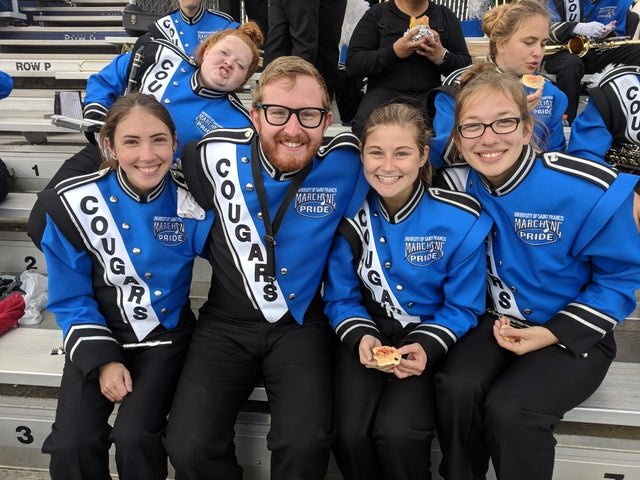 Sometimes, you just see some people taking a picture and want to get in the shot no matter what. It's a weird impulse that most had developed when cameras were invented. Redditor longswordsuperf**k posted this image and wrote, "It was the last game for us to all play together. Take cute photos they said."
THE BIG LITTLE SURPRISE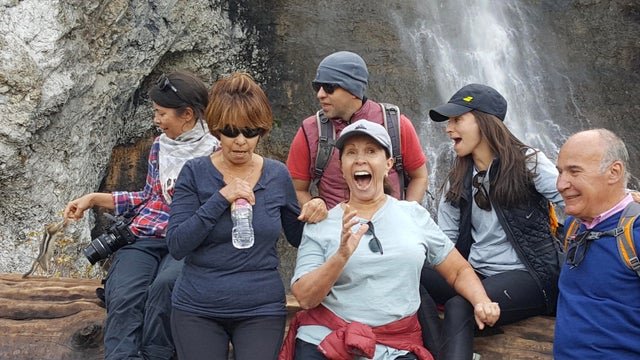 Of course, this family wanted to take pictures in front of the waterfall, and it was probably going to be a pretty cool shot. However, it's now ten times better because a chipmunk decided to appear. He was probably looking for treats, as some tourists might have nuts for them in this place. In any case, it's probably the best family picture there people ever took.
That was hilarious! Has that ever happened to you? Most of these people probably love those moments. Let us know which one was the funniest in your opinion. If you liked this article, share it with your friends who need a good laugh today. See you next time!
Source: Reddit, Reddit, Reddit