Pictures That Break The Laws Of Physics
Your mind can play tricks on you. Sometimes you see something and it just doesn't make sense. There are a lot of photos that show optical illusions, but not as many that seem to defy the laws of physics. This is a collection of photos that seem to defy the laws of physics. Some of them can easily be explained, and others can't be explained at all. Are you ready to have your mind blown? Check these out!
The Flatlands
Sometimes the way that certain things lay on the ground cause them to appear differently than they actually are. Take this piece of Colorado farmland for example. It should be completely flat, whether there's snow or not. Except that it isn't flat at all: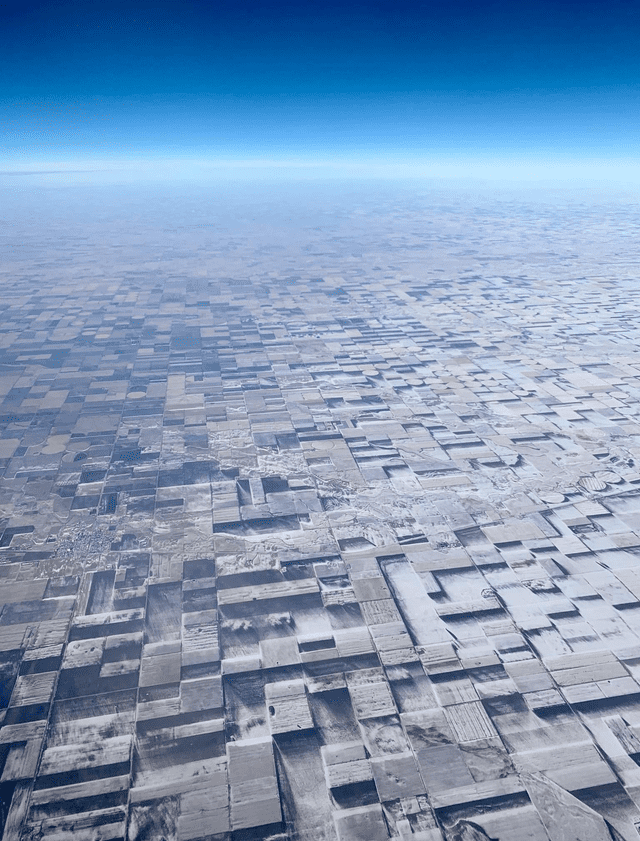 The snow seems like it's suspended in mid-air in "tiles" right? Well, it's actually on the ground. The tiles are where there were crops, and it's causing the snow to appear to be frozen in mid-air.
The Straw
This straw looks like it's suspended in the cup. Somehow, someway, it's just standing up. There should either be liquid in the cup, or it should have fallen over. Why does it look this way?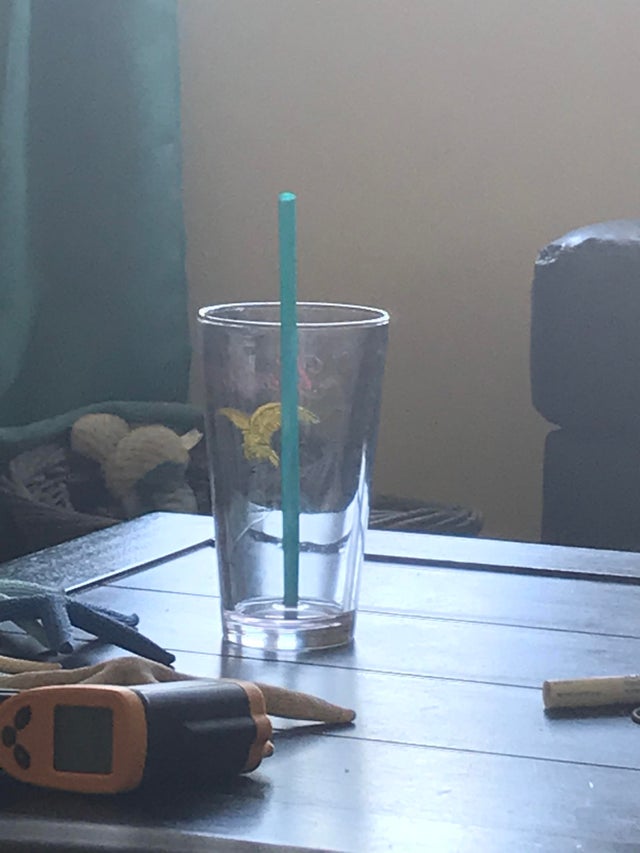 It gets more and more strange the more you look at it too. The bottom of the straw looks like it's in the glass, and the top of the straw looks like it's out of the glass. How did they do this? There's no lip to the glass right there so the straw looks like it's in both places.
Floating Dumpster
How much trash is in this garbage can? Well, it must not be very much. Maybe it's filled with helium balloons or something. It's just sitting there, floating in mid-air. At least it will be easy for the garbage man to come get it.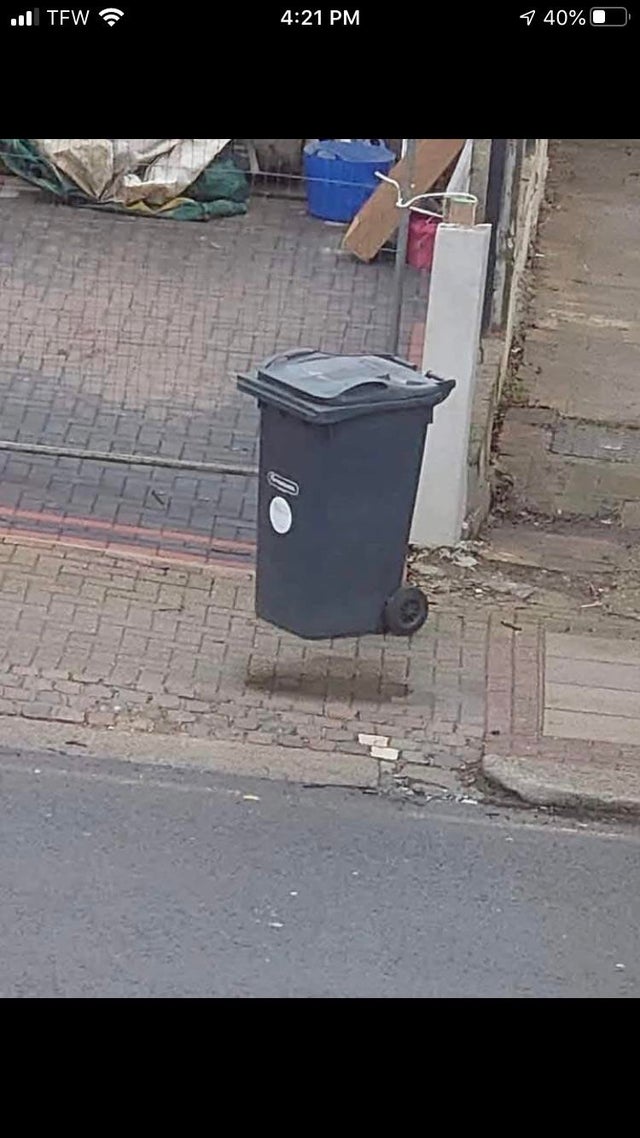 Just kidding. It's not really floating. That's a puddle right in front there that looks like a shadow. The garbage man must have been so disappointed when he came to pick it up. Too bad for him.
Floating In The Woods
It looks like this kid's parents have made the ultimate toy: a floating chair. He could go floating around the woods with it, and all it took was splitting a log, and possibly performing some sort of magic ritual on it. Is this one of the kids from Harry Potter?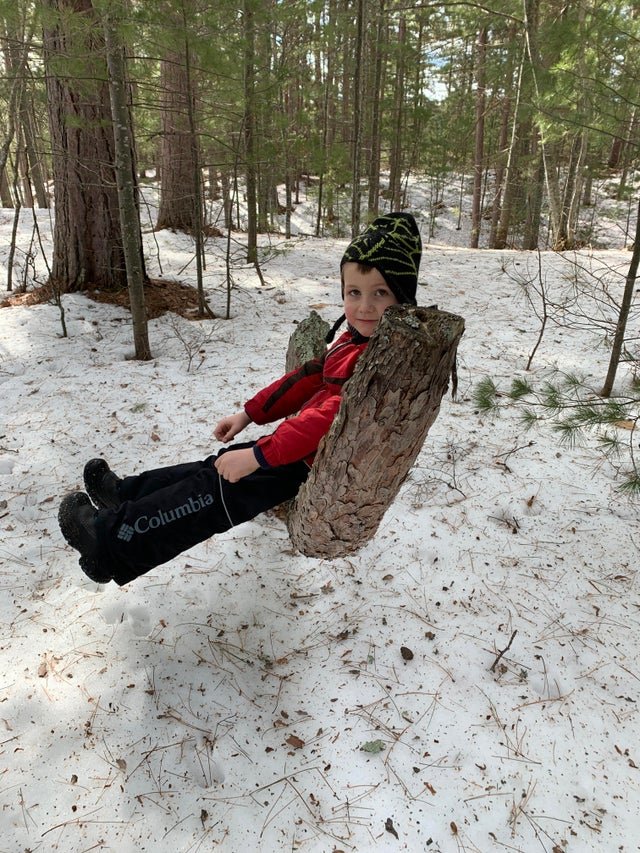 Nah, it's just shot at a funny angle. He's sitting on a log and sticking his feet out. The snow covers the base so it looks like the log is floating in mid-air. There's also a shadow that makes it look even more convincing.
The Second Tree
This one looks like a normal picture of two trees when you look at it at first. Look a little closer though...one of the trees seems to be missing its trunk? Is it yet another floating enchanted object?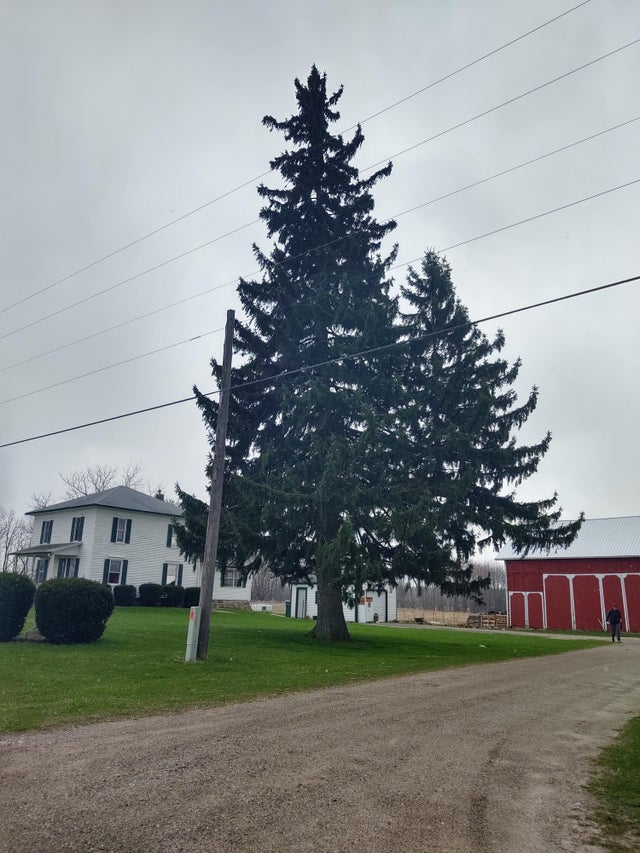 Not really. It's actually only one tree in the picture. The tree has been pruned in a funny way to make it look like there are two crests to it, but it's actually just a single tree. That's why the trunk is missing; it was never there to begin with!
Shoot The Moon
This must be a really, really high skydiving attempt. The skydiver is actually kicking the moon in and making a giant divot in the side. Gru from the movie Despicable Me would be proud! The moon has shrunk!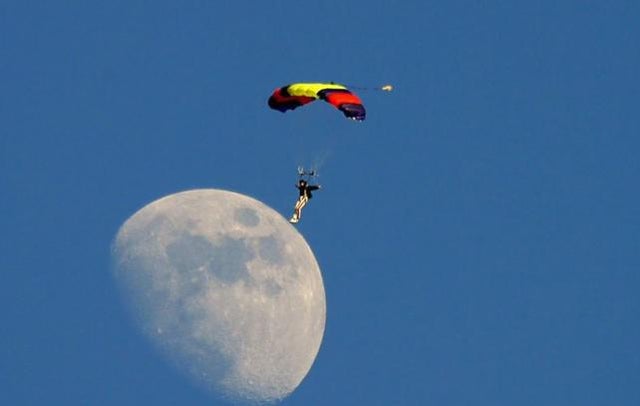 Except, of course, the skydiver is nowhere close to the moon. It's just a super well-timed camera shot of someone skydiving across a large full moon. Stealing the moon will have to wait for another time.
The Cloud In The Car
It looks like it's a nice day for a drive! It's a little cloudy but not too bad. Except, in this case, the phrase "a little cloudy" means that the clouds have somehow gone through the window in this car. What is going on here?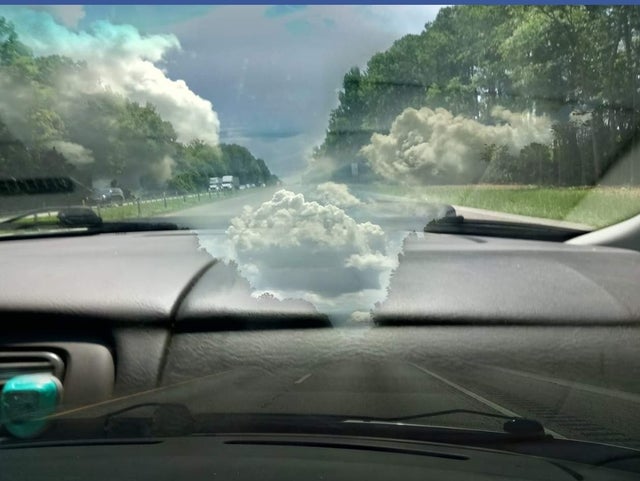 In this case, there's a combination of trick photography, a lens flare effect because of the way that the camera shot it, and a strong reflection. They all make it seem like clouds are inside the car.
A Hole In The Floor
If you look at this picture quickly, you'll see that there's a hole in the floor next to the couch. The only thing is that this type of floor is a thin laminate, so it isn't possible to drill a hole into the floor this deeply. Or is there some other magic going on here?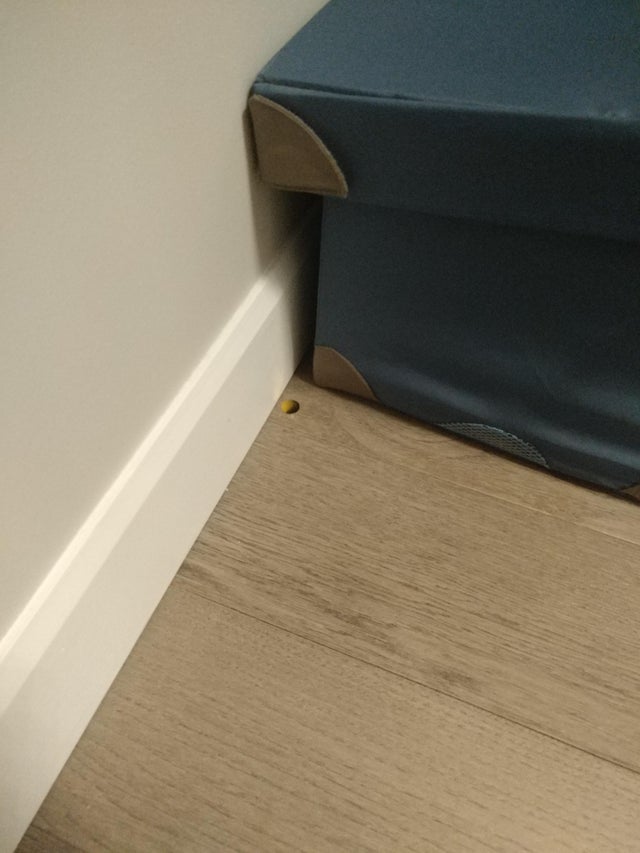 As it turns out, it's not a hole in the floor at all. It's a piece of round confetti that is stuck next to the couch. The light reflects off and so it looks like there's a big hole in the floor. It will still make someone trip though!
The Floating Scone
It's a magic scone! A lot of bakeries advertise that their pastries are lighter than air. So far, no one has ever actually made one though, and then this comes along. Is it actually floating like that?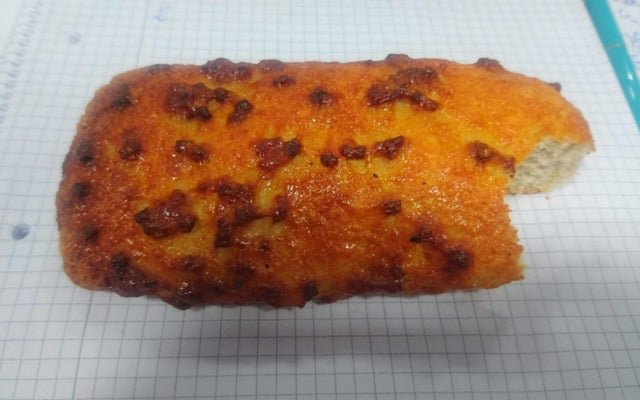 No, it's just a combination of some funny lighting, shadows, and a big grease spot. The grid paper is also part of the illusion because it makes it more difficult for your eyes to track. There are two patterns to follow, and that's harder to do.
The L-Shaped Bus
This bus looks like it may be picking up or dropping off some military service people. Only, it seems that they have developed some sort of new bus technology because the bus appears to have bent around the corner.
Of course, it's really just two buses that are parked at such an angle that they look like one bus. It also took a little work from the photographer to find exactly the right angle to grab this literally mind-bending shot.
The Massive Wind Turbine
Generally, wind turbines have three blades a piece. They spin and create electrical power. This wind turbine seems to have a lot more than three blades though. How does it spin without collapsing?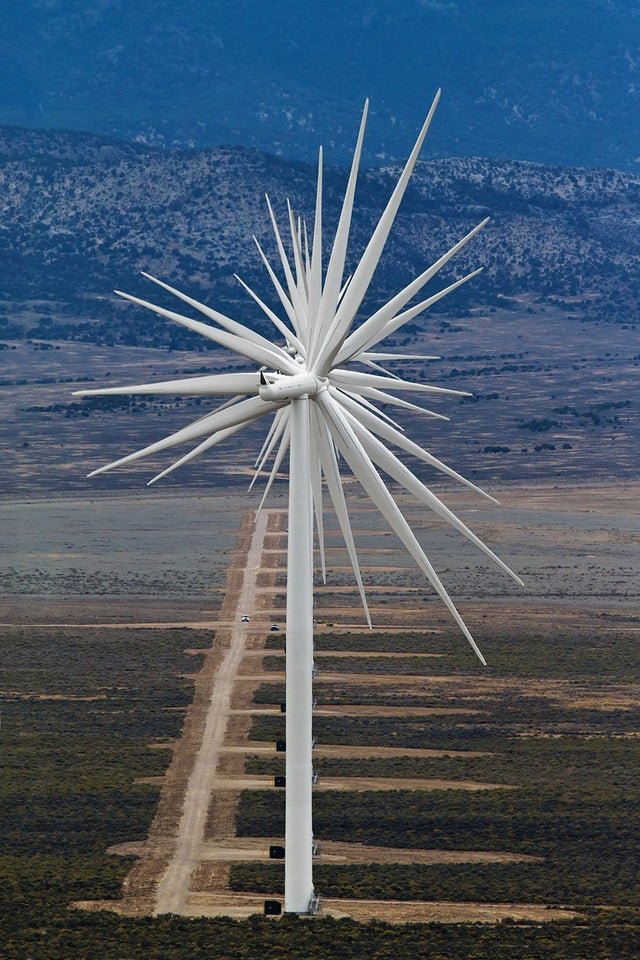 This is actually a picture of 14 separate wind turbines, all perfectly aligned so that it looks like they are on one post. Check the bottom of the picture See how there are a bunch of parking areas under them? Each one of those goes to a separate turbine.
Attack Of The Pigeons
If you're a commuter of any stripe, this is like something out a nightmare. Giant pigeons attacking! Why did it have to be pigeons? We've called them "rats of the sky" for too long and now they're going to take their revenge!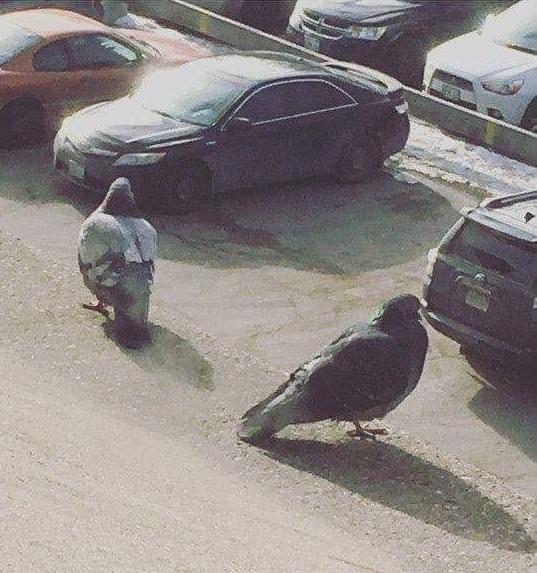 This is another example of forced perspective. It's a technique used to fool the mind into thinking that there's something bigger or smaller in a photo. In this picture, the pigeons are actually sitting on a ledge above the cars.
Two Heads Are Better Than One
It looks like this little girl has been working out while her mom is at Zumba or something. Except instead of growing big, strong muscles, she's grown a second head out the small of her back. That had to hurt.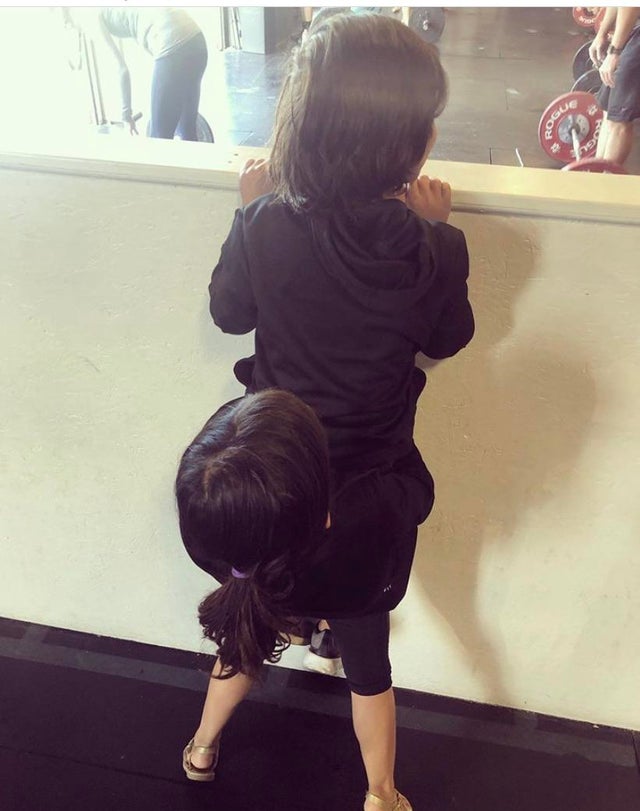 Her mom can rest easy because there are actually two little girls here. You can see that one is lifting up the other one, but she's leaning back so far that it looks like they are the same person with two heads.
The Floating Table
This small table appears to be floating just off the ground. Could it have something to do with the drums and piano behind it? Maybe they are playing a song like a snake charmer that is causing the table to rise up off the ground...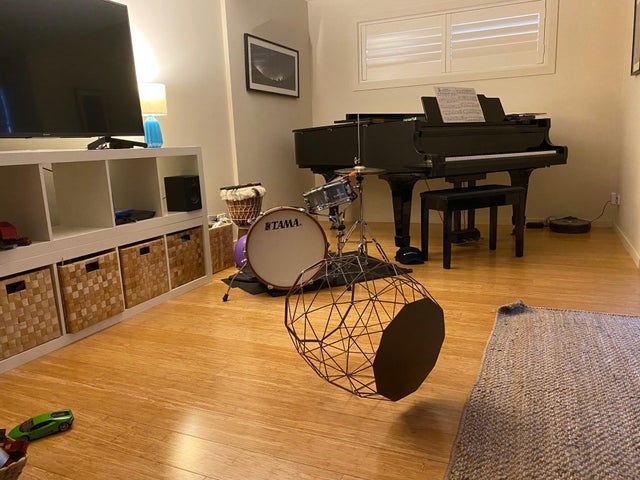 It's really just a picture that is shot at a funny angle. The coffee table has fallen onto its side and the wire triangles that make it up are touching the ground. The pattern they have is just a little tricky and makes your eyes think that it's off the ground.
Table Legs
All of the legs of this table appear to be the same length, and they are all touching the ground. That shouldn't be possible though because the table is positioned on a flat floor. So what is going on here?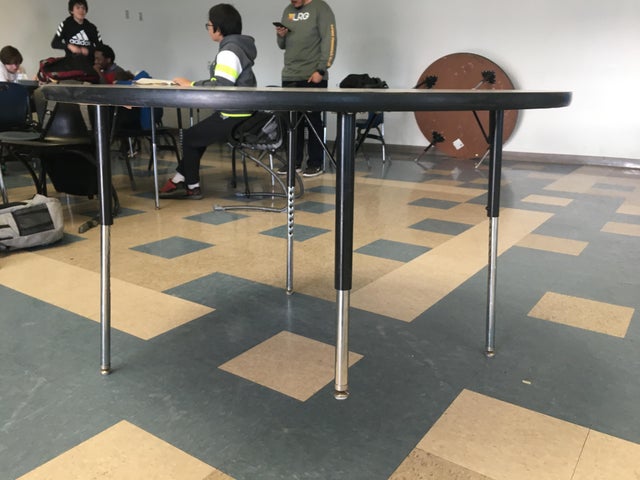 This is an easy one. The table has telescoping legs. The front one is just up and inside, so it makes it look like the floor is uneven. The pattern on the floor helps with the illusion too.
These are the best photos from around the web that seem to defy the laws of physics. They're all pretty cool and they can fool your mind into thinking something isn't there. If you liked this article, please share it with your friends! Thanks for reading!
Sources: Reddit/OpticalIllusions, MildlyInteresting, ConfusingPerspective, Digital Photography School