People Who Were Lying Online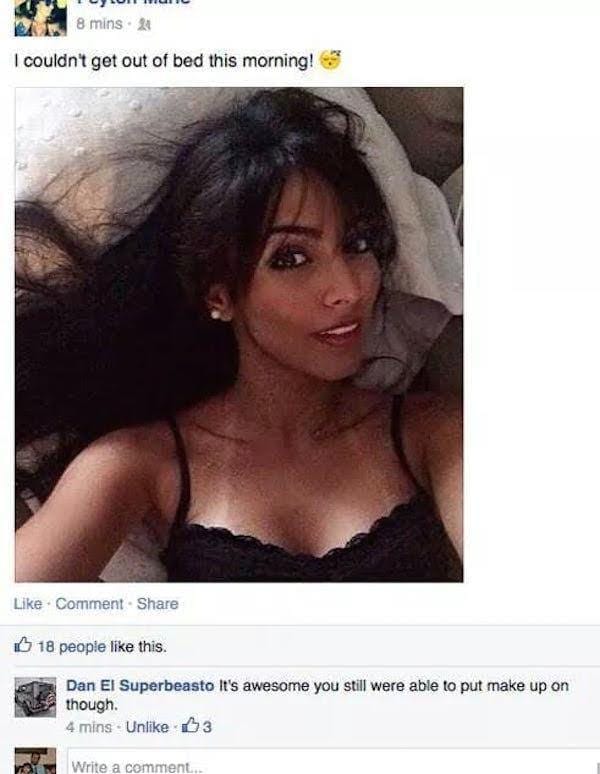 With the invention of social media, it seems that people will do anything for attention. Some even fib a little bit to impress others. The problem is that you probably have friends that know the truth. If you post on a public community, then many users might discover the lie. Some people pretend to have sneaked into airplanes and lie about an online quiz, but you won't believe what this person said happened to her cake. Let's find out!
THE BEAUTIFUL GIRLFRIEND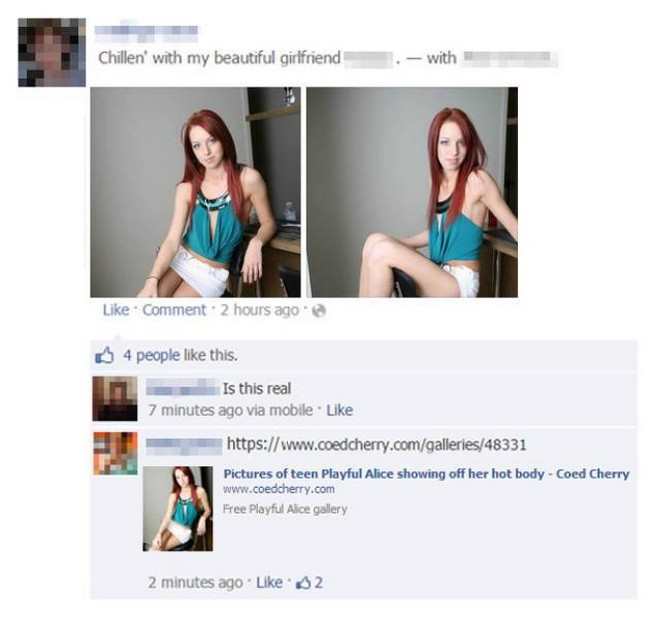 Since Facebook has a Relationship Status, people want to say that they are dating someone. However, if you fib about that and post a stock photo, you are taking the risk of someone discovering the truth. It's much better to be honest than to get caught in something like that for the world to see.
THE SUNNY DAY AT THE BEACH*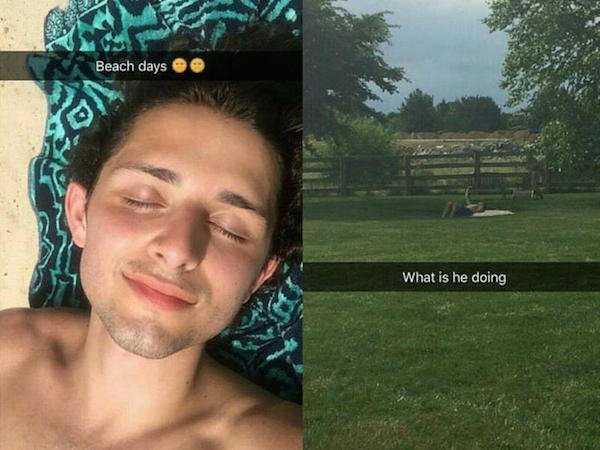 One of the things that people brag about on Instagram is their travels, and this guy clearly wanted to be on a beach. Maybe he was hoping that by posting online, it would project into the universe and make it happen soon. However, he was caught in the act of faking it, probably by his siblings, which is hilarious.
THE THINKING SMARTPHONE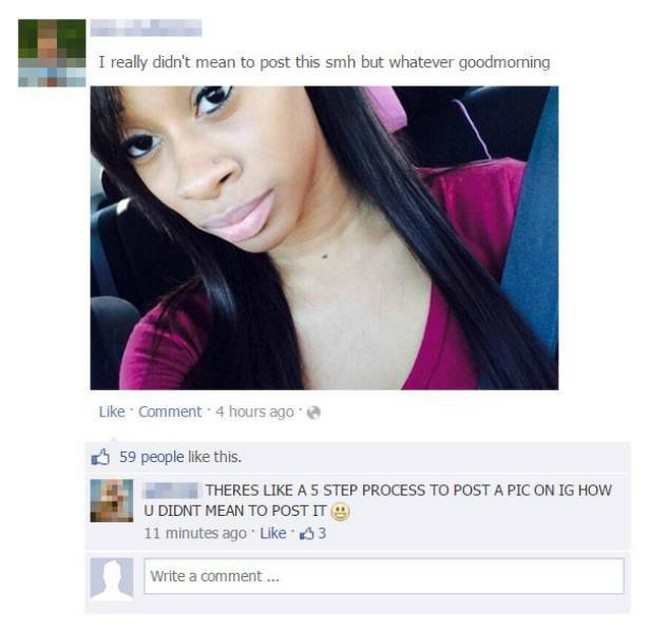 It seems that this girl has an even more advanced phone than the rest of us because it posted a picture of herself on several social media without her consent. It even wrote that she didn't want to post it. All kidding aside, she had to know that everyone would comment on that. In today's world, you don't accidentally post anything.
THE REFLECTION GAVE IT AWAY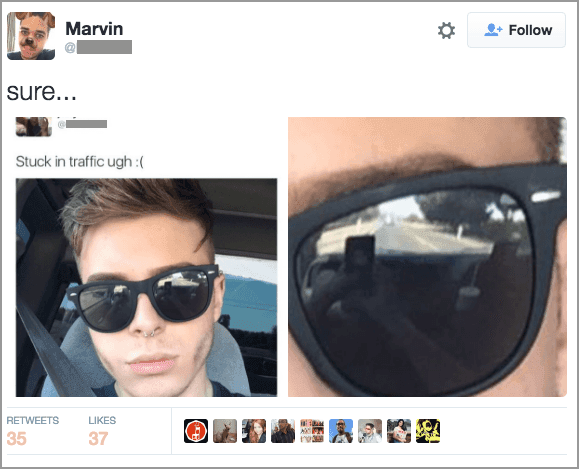 Sometimes, you can post something completely innocent and be figured out It might be a white lie, but there's still a chance that someone will discover the truth This guy really needed to take a closer look at his selfie because his "cool" shades gave him away. It's still pretty funny that someone took the time to notice the reflection.
ALIENS WERE PROBABLY AROUND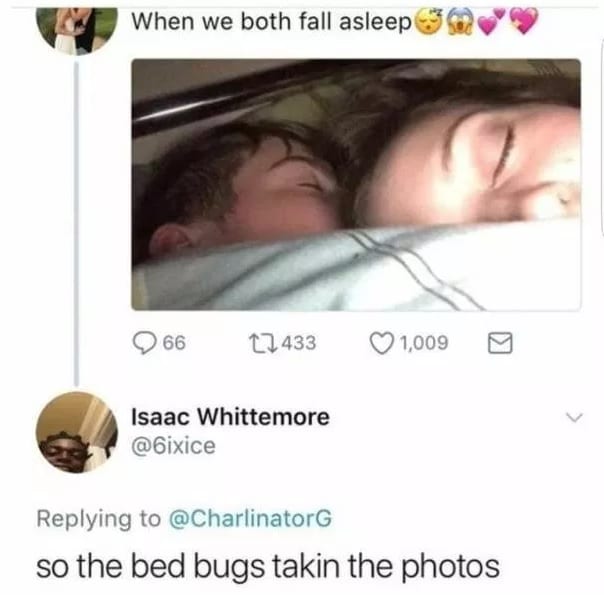 A lot of people post pictures of their sleeping significant other, but it's the first time we have seen a picture like this one. For that to REALLY happen, a third person had to have been in the room. Like the comment says, it's not like bed bugs are honestly taking that picture. It would be much better to post cute selfies.
BRINGING DOWN ANOTHER ANTI-VAXXER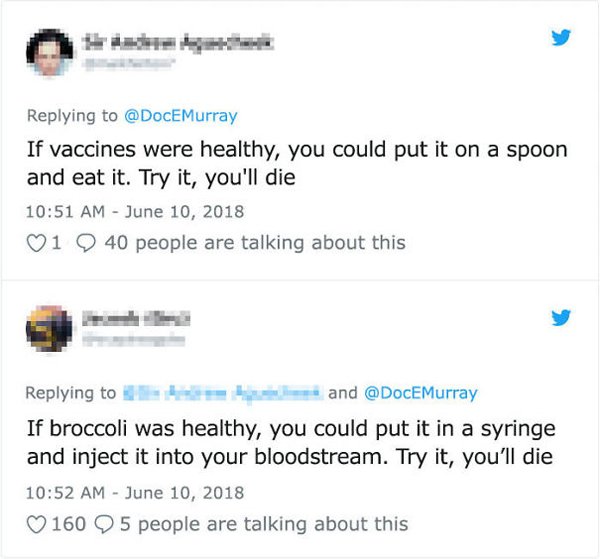 Unfortunately, the anti-vaccine movement has spread a lot. More people are choosing not to vaccinate their kids despite years of medical and scientific research. One of the main reasons why people believe this movement is because they repeat lies. We have to be vigilant and stop these fallacies from spreading further.
THE AIRPLANE STOWAWAY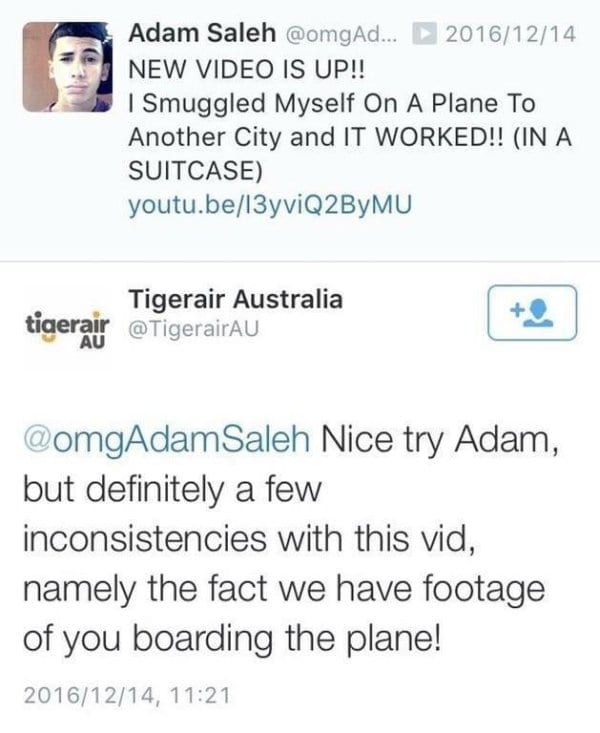 We live in a post-9/11 world, which means that airport security has never been tighter. The chances of this happening are almost zero. However, some people need views for their Youtube channel, and stories like this tend to attract attention. Meanwhile, the best part was that the airline itself outed the truth.
JOHN CARPENTER IS STILL ALIVE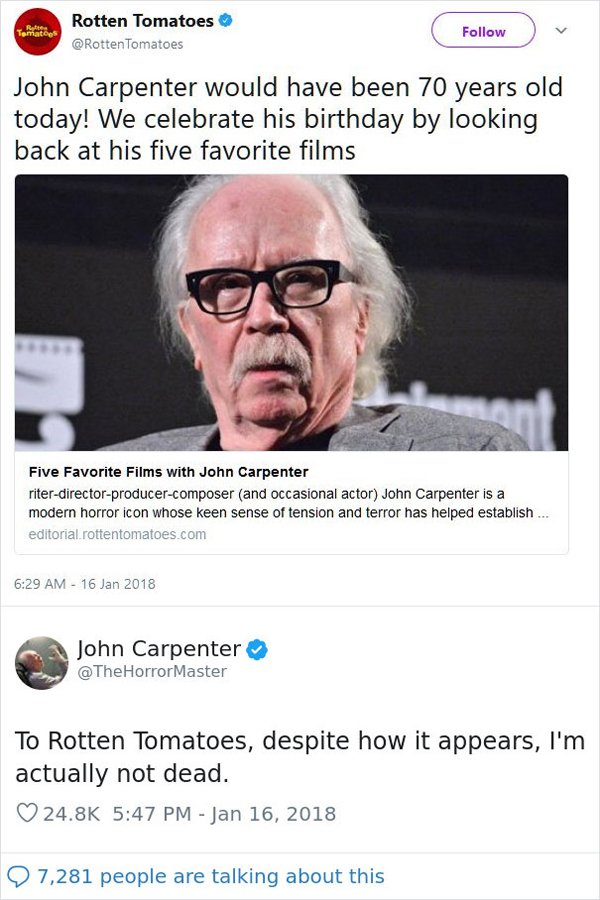 John Carpenter is one of the masters of horror cinema and a legend all around the world. However, it seems that Rotten Tomatoes' community manager might have gotten confused. Luckily, the director himself was there to set them straight. As of this writing, Carpenter is still very much alive.
LUCY, YOU'RE AT THE LIBRARY

We don't know exactly how old Lucy is, but it seems like she's a teenager. Almost every kid or teenager lies on the internet for a little bit of attention. We have to remember that we've only had social media for around 15 years. However, if you have friends added, they might call you out on your lies.
FROM THE COMPUTER'S LIBRARY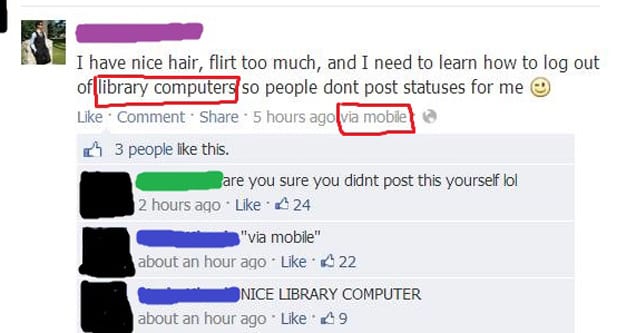 At some point, Facebook started revealing where you were posting from. It might have been to differentiate when you were posting from the app on your phone. However, not a lot of people knew about this distinction. We have all left a message on someone's social media if they left it open in a public, but that did not happen here.
NOT REALLY A VEGAN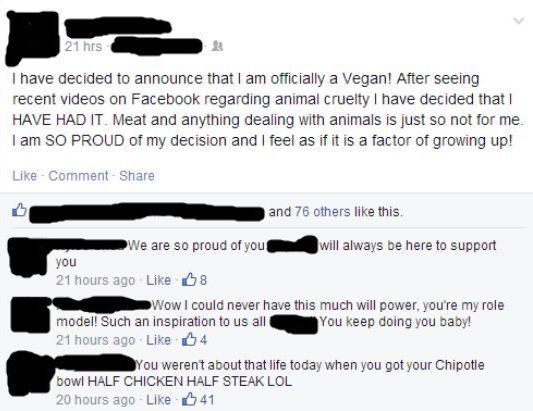 Becoming a vegan or a vegetarian is a huge decision that takes a lot of time and effort to accomplish. Not many people can do it, especially if they were raised to be meat-eaters. However, as we have mentioned before, you really cannot lie on social media because someone will always out you to the rest of your friends.
THE GLOBE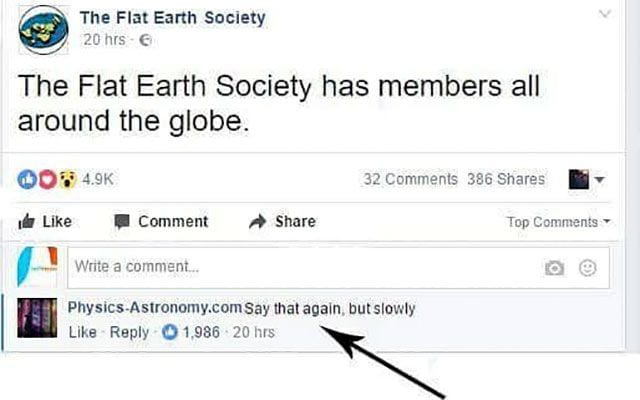 After so many years of advanced technology, we still cannot believe that something like the Flat Earth Society exists. However, it seems that even they don't understand their own beliefs. You cannot call the world a "globe" if you think it's flat, right? Well, it's confusing for everybody to say that least.
THE FAILED PHONE HACK

Since the beginning of smartphones, social media, and all this technology, people have tried to scam others. Sometimes it might work, but obviously, this phone owner did not believe one word of it. Even tricksters have to be a bit smarter if they want to accomplish their weird, illegal goals.
THE PRETTIEST GIRL AT STARBUCKS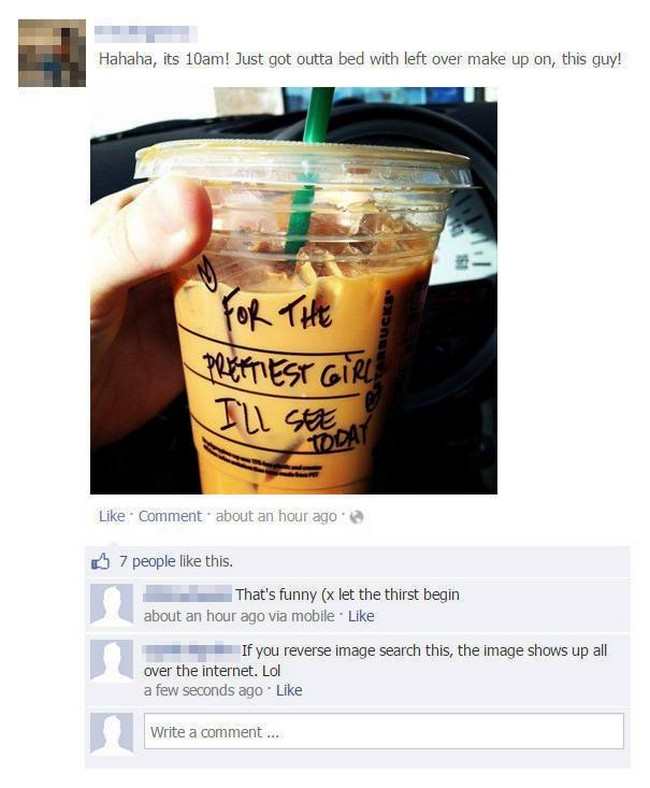 There's a massive amount of Starbucks cup pictures online because people love to post about them. However, there are also many stock images to find on the internet. Sadly, a simple search will reveal if that one was original or not. It's hilarious when their own friends call them out like this.
NO DMS FROM A CELEBRITY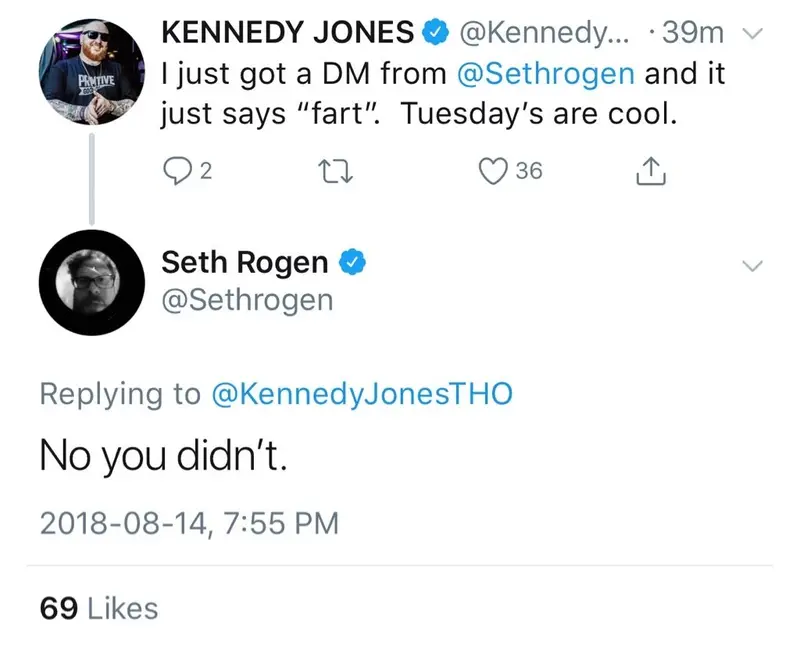 Obviously, Kennedy thought that it was ok to lie about an interaction with a celebrity. You never imagine that said celebrity is going to call you out for lying. However, he might have also done it to get Seth Rogan's attention, in which case, it totally worked! Either way, it was a lie that was discovered online.
ARE YOU SURE HE ATE THE FLASHLIGHT?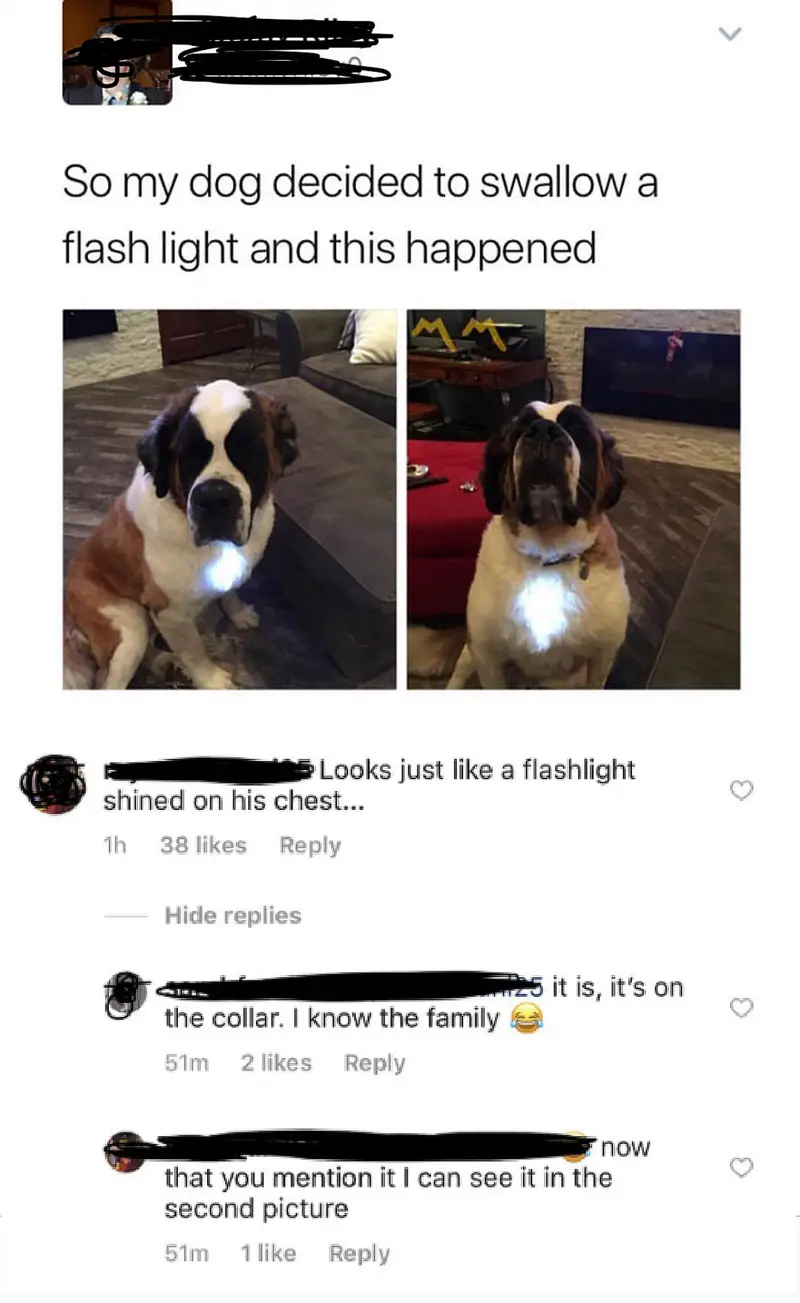 Unless it was some sort of industrial, magical light, it wouldn't be seen if it was inside that dog's body. It's hard to say why the owner thought that other people would believe such an odd lie, though. It's the kind of thing that would only happen in cartoons. Maybe, he was watching too many Looney Tunes lately.
WHAT HAPPEN TO THE CAKE?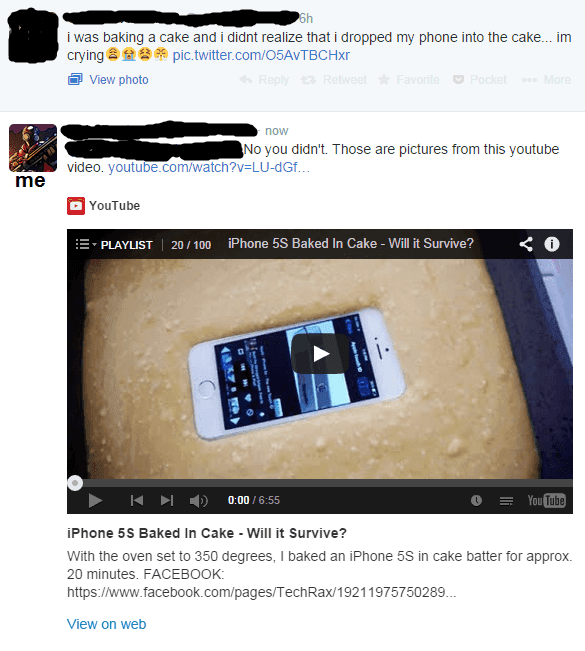 While we don't understand why anyone would spend money on a phone only to put it in an oven and ruin a perfectly good cake, it might be interesting to their followers. Meanwhile, someone tried to say that it had been a mistake, which is really doubtful. Sure, some people might have dropped a phone on the batter, but that's something you notice.
IKEA KNOWS THE RULES BETTER THAN YOU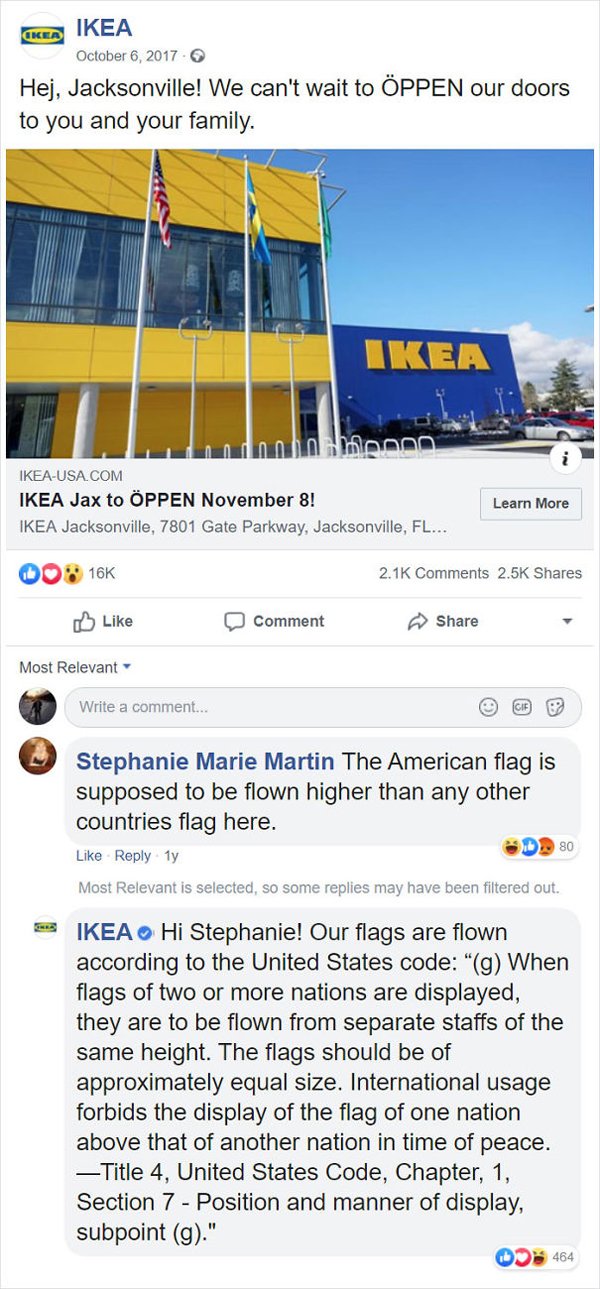 IKEA might be a Swedish company, but they have locations all over the world, and it's one of the best places to buy furniture. You can also buy some delicious meatballs while you're there. Their community manager decided to educate a random user on the correct placement of the flags. We hope everyone learned a lesson.
JUST LIKE BRAND NEW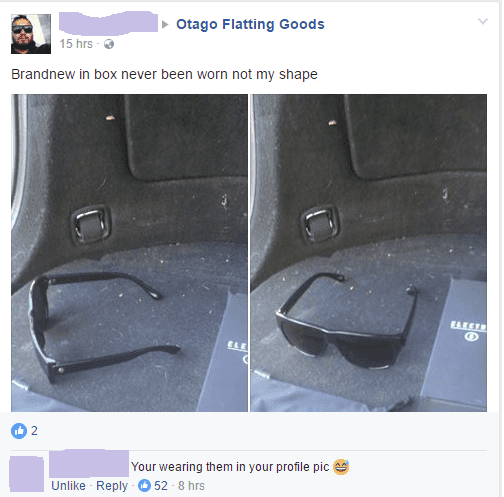 People tried to sell so many things on Facebook that the site actually has a Marketplace now. Although groups are still pretty popular for that. However, you always have to be careful when you buy from there. Luckily, someone here paid attention to the profile picture, which proved the lie.
THE REAL RESULTS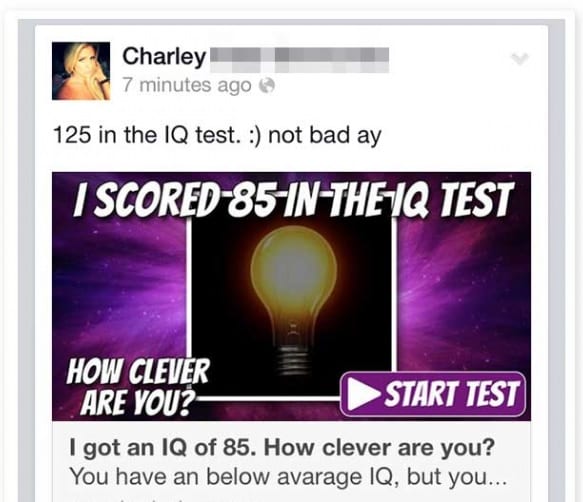 We have all taken Facebook or Buzzfeed quizzes before, and they are pretty harmless entertainment. If you don't get the outcome you wanted, you probably won't share it. Charley, however, thought she could fool her friends, not knowing that the test preview would show the real result.
THE WORLD RECORD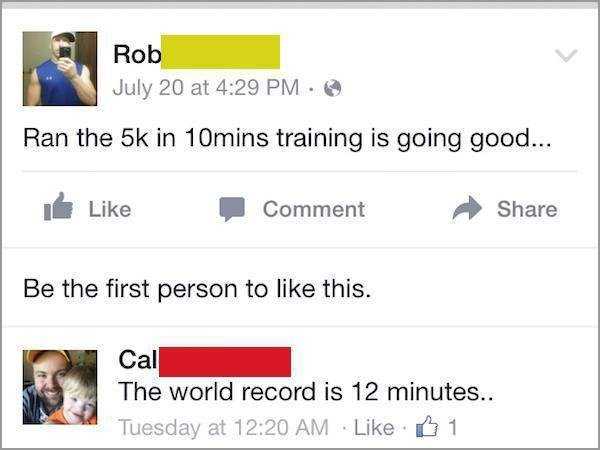 There is also a chance that this person accidentally wrote something else. Now, that can certainly happen. It's very hard to actually do this unless you're a great professional, and as the reply said, the world record was 12 minutes. We like to give people the benefit of the doubt, though. Mistakes happen.
THE PERFECT FACE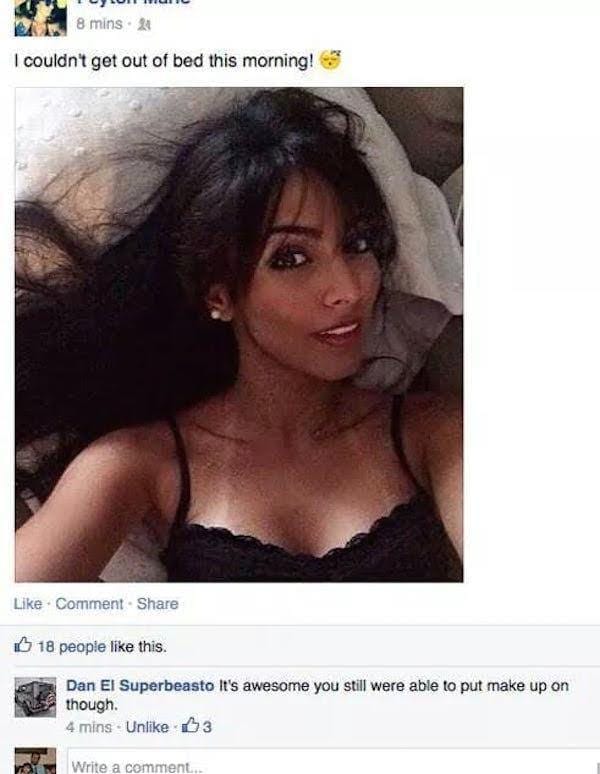 We know that girls like to look their best online, and some won't even post one picture unless they are in full makeup. However, you cannot say that you didn't want to get out of bed when you look that good. Her face is perfect, as well as her hair, and she has jewelry on. This was completely staged.
THE DOG SHAMER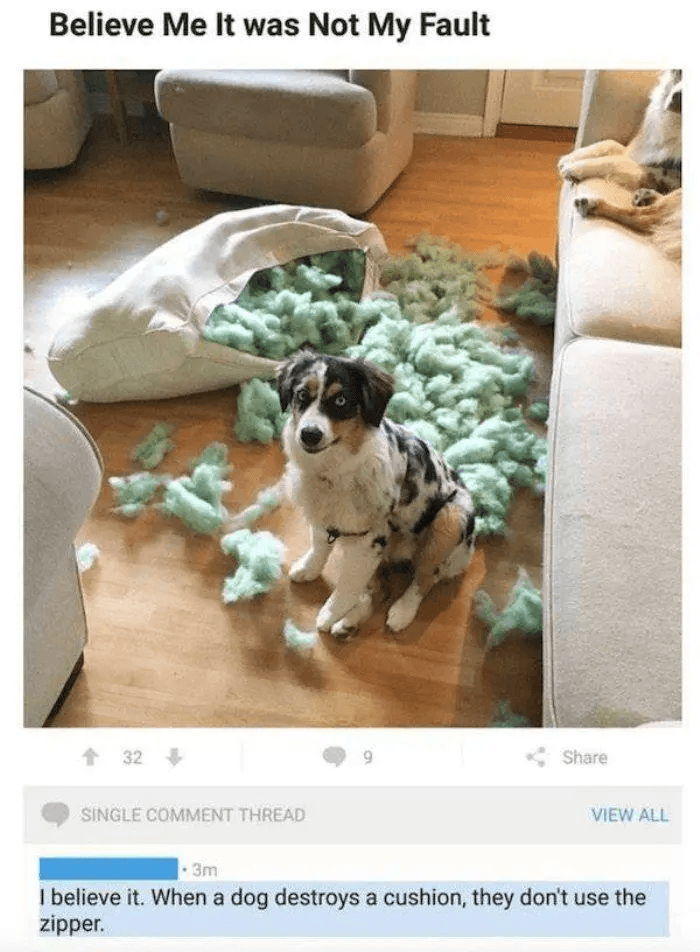 Dog shaming pictures are the best ones online. People love to see their cute, guilty faces in front of the mess they made. This person probably thought it was incredibly cute too but their puppy had never done something like. However, someone noticed that the zipper on the cushion was open. There are no signs of tears or bites. Also, the dog just looks confused, which is the best part.
Have you ever called out someone that does this online? It's a silly thing, but people should fib just for a bit of attention. Let us know which one of these images was your favorite. If you liked this article, share it with your friends who need a laugh. See you next time!
Source: Distractify, Twenty Two Words, Bored Panda, Awesome Inventions, The Things, Buzzfeed