Traditional Wedding Anniversary Gifts For Every Year
Over the years, people began to associate certain materials and symbols with each year of marriage. So, couples give each other presents based on that premise. Have you ever celebrated the Wood anniversary? Your parents might be nearing the Ruby anniversary, and you have to find out what to get them! Let's find out more!
THE FIRST YEAR - PAPER ANNIVERSARY
A married couple's first anniversary is truly important because a lot of people say that the first year of marriage is the toughest. Paper is the traditional present for this time, and it's meant to represent a "clean sheet," where loved ones write their future. However, it also means that their marriage is still fragile and needs a lot of tender loving care.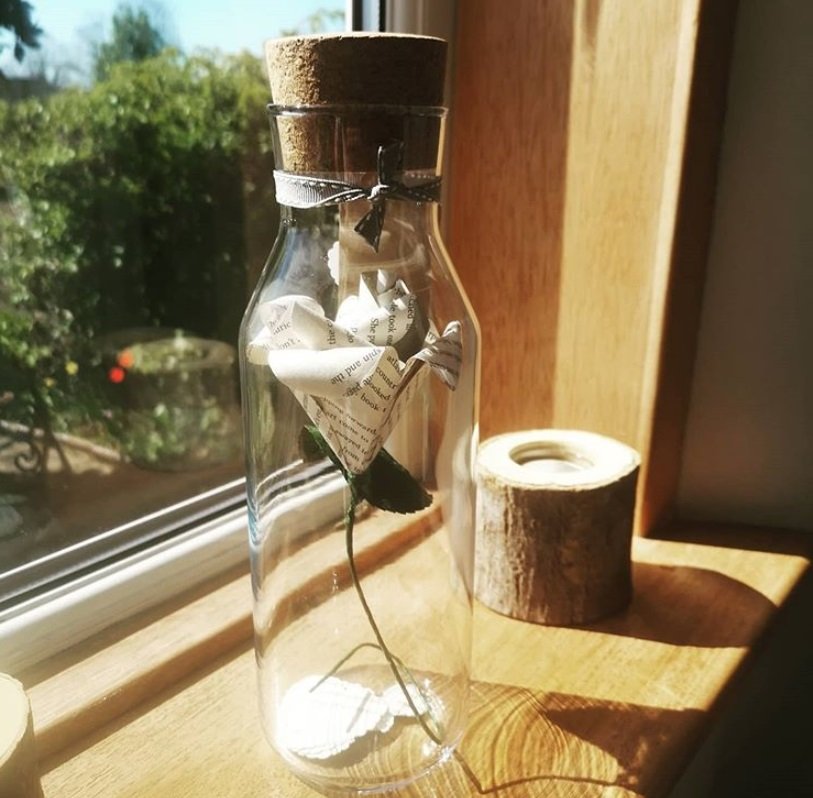 Naturally, a lot of people take the time to make special things with paper. Some buy gift cards, and Instagramer dizzle_bell shared this amazing idea. The user wrote, "A paper rose for our Paper Anniversary." It's perfect!
THE SECOND YEAR - COTTON ANNIVERSARY
To celebrate your 2nd wedding anniversary, cotton is the traditional option. It symbolizes durability but also the ability to adapt. So, couples who have already been together this long have to stay united in the face of adversities.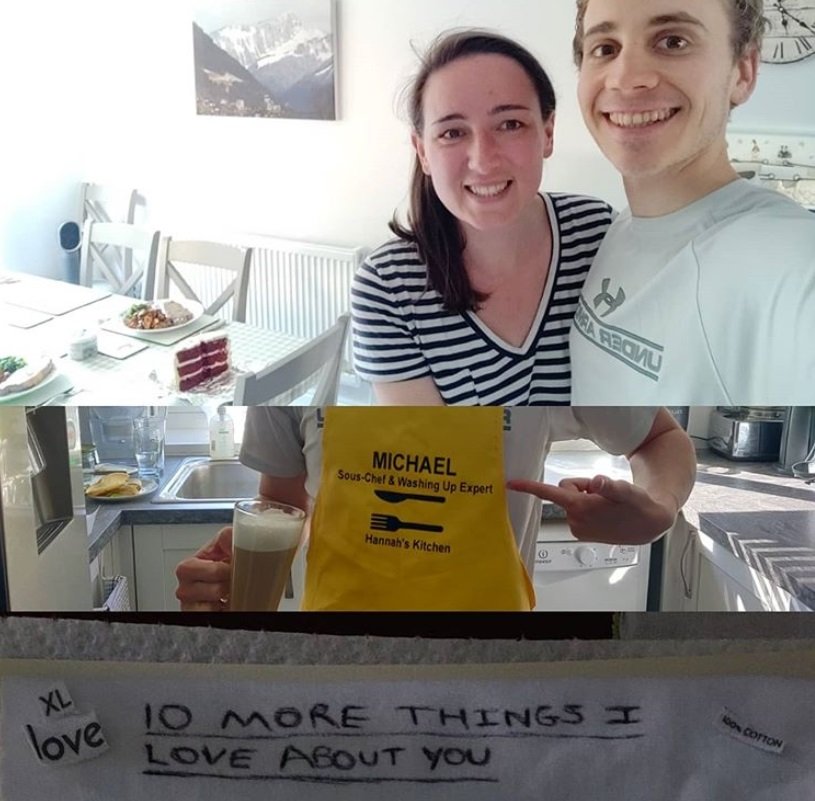 One cool idea is a set of "His and Her" robes made with cotton. However, Instagramer hmslondon went with something a little cooler and wrote, "Celebrating our 2nd anniversary with a nice steak dinner and some defrosted wedding cake!"
THE THIRD YEAR - LEATHER ANNIVERSARY
Although not a lot of people like this material, leather symbolizes home and safety. So, your household has to be steady, warm, and a haven by the time you reach your 3rd wedding anniversary. You can also use faux leather because it's the thought that counts!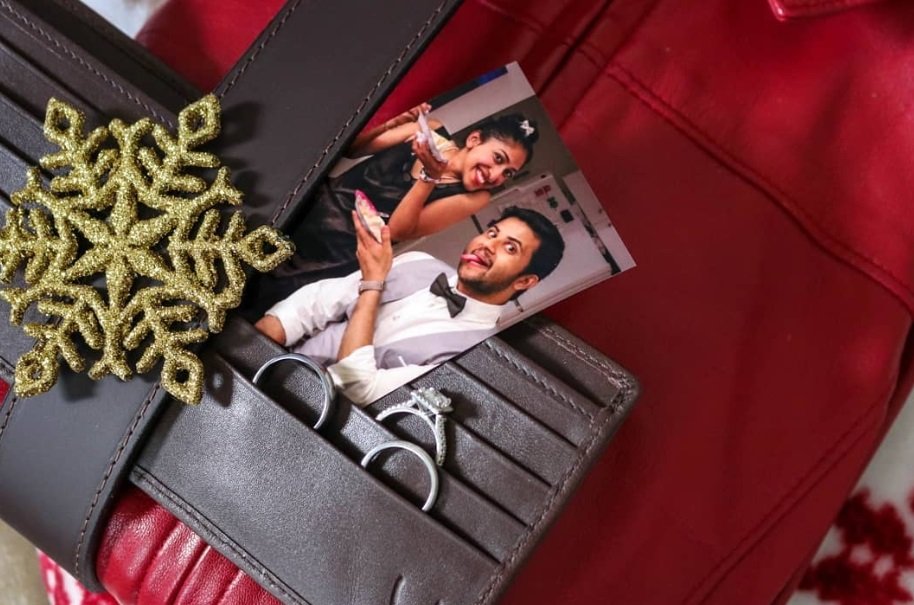 Luckily, this material has many presents available in stores such as purses, suitcases, belts, wallets, and more. That's why Instagramer roshnisshetty shared this gift and wrote, "Happy 3rd anniversary to us! The 3rd wedding anniversary is often when a couple is aware of the durability of their relationship… As a material, leather is durable, warm, strong, flexible, and has a sense of resiliency to it. Symbolically, these are the qualities that help marriages continue to thrive."
THE FOURTH YEAR  - FRUIT OR FLOWERS ANNIVERSARY
Flowers have always been seen as the most common gift for all couples, and fruits are not far behind as they are often included in many arrangements. On your 4th wedding anniversary, fruit and flowers symbolize blossoming and maturity. There are all kinds of options when it comes to gifts, but a cool idea would be a delicious tasting for couples.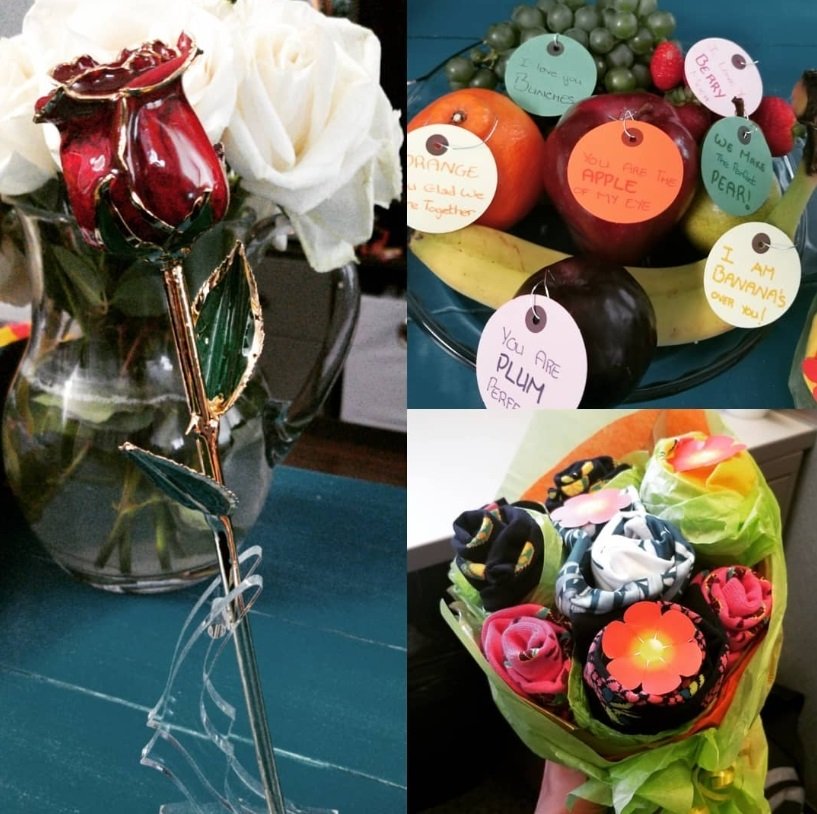 Meanwhile, Instagramer lillyfleure posted what they did and wrote, "It happened! #keilufer15 turned four. This year we went in very different directions. #fruitandfloweranniversary is the theme and he went with a real rose dipped in glass and gold! I was a little more homemade. A bouquet of socks and shirts with fruit and flower prints and a plate with the cheesiest notes I could think of. For those of you that know me, you know how incredibly lame my jokes are."
THE FIFTH YEAR - WOOD ANNIVERSARY
Spending five years with someone is an important milestone, and it means that your relationship has withstood many things already. That's why for your 5th anniversary, wood is the traditional option. Trees have always been seen as symbols of timelessness, knowledge, and strength. Moreover, it's steadily rooted to one spot.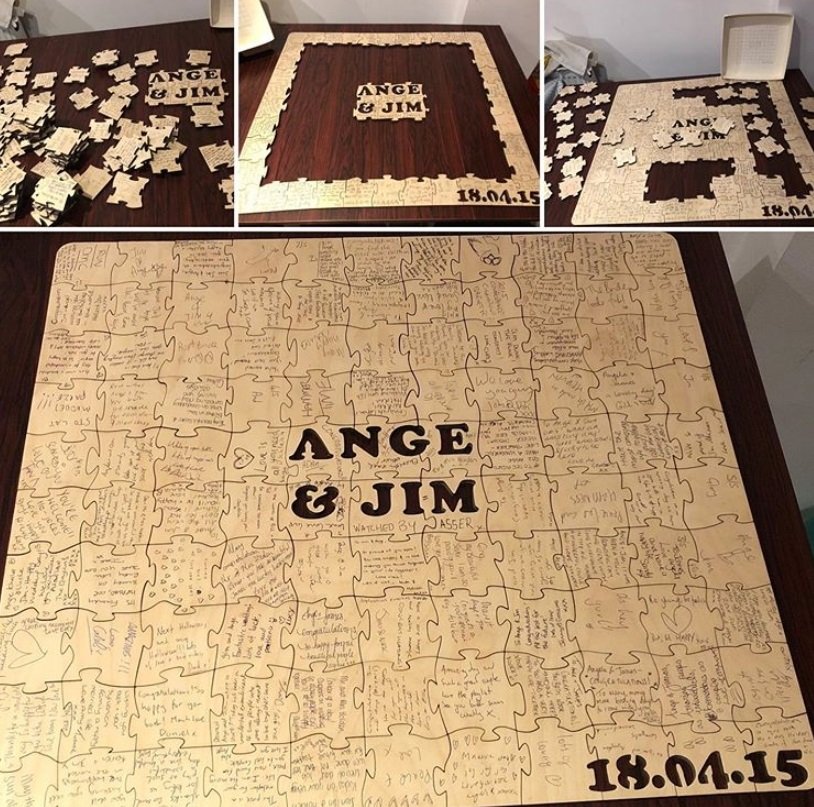 A pretty awesome idea for a wedding gift would be a wooden cutting board. Maybe, you can have a cheese tasting party with your spouse. Instagramer angeholden81 had a pretty cool idea and wrote, "Finally got around to putting together our wedding guestbook jigsaw, 5 years later! Although, perfect timing really considering it's the Wood anniversary!"
THE SIXTH YEAR - CANDY OR IRON ANNIVERSARY
For your 6th wedding anniversary, you get two gift options. Candy is supposed to remind couples that a relationship has to be sweet and playful sometimes. Meanwhile, Iron is another material that represents strength. You can be strong in a marriage without losing the wonder of love!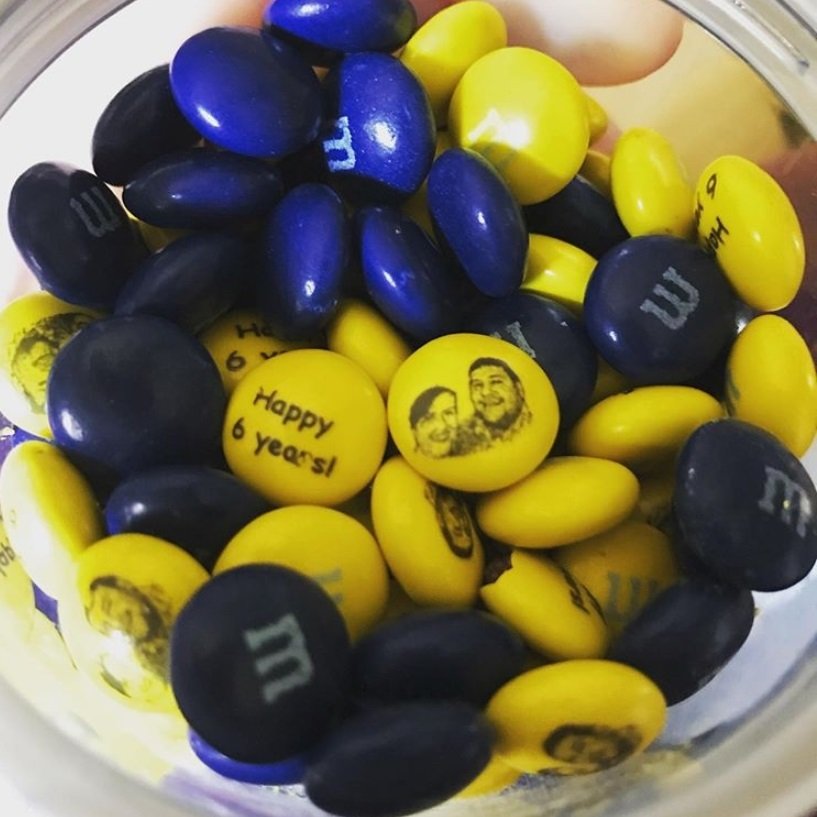 Naturally, a lot of people go with candy because it's easier and more delicious. However, if you choose iron, you can get an iron jewelry set or something for your homemade with wrought-iron. Meanwhile, Instagramer danceswithcorgis shared this awesome idea, "One of the traditional gifts for the 6th anniversary is candy - nicely done."
THE SEVENTH YEAR - COPPER OR WOOL ANNIVERSARY
You might know that copper is a heat conductor. So, it represents the warmth and solidity of being together for seven years of marriage. Meanwhile, wool also symbolizes warmth and safety, and that's why either of these things is perfect for your 7th anniversary.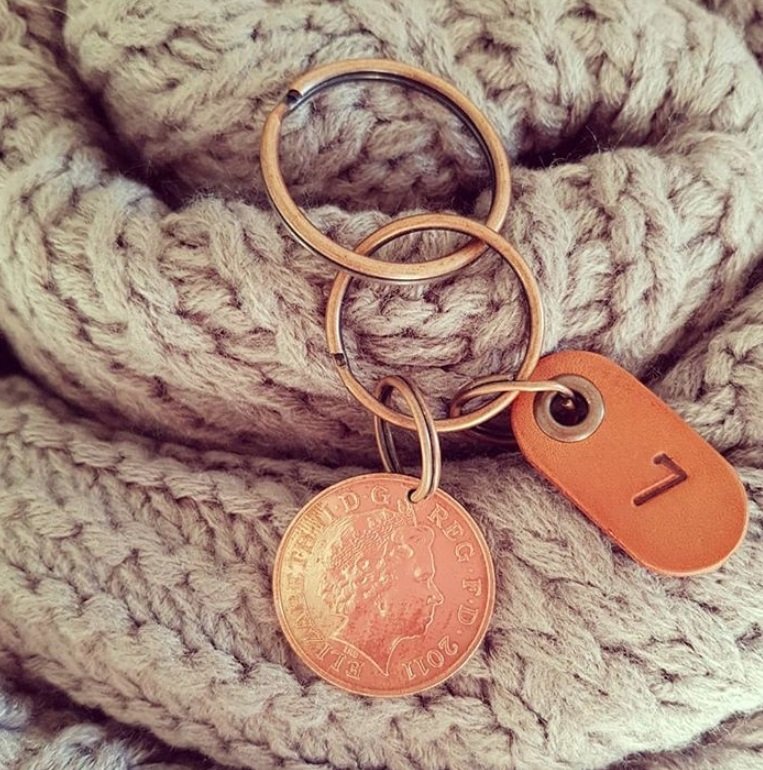 Copper pots and mugs are common presents, as well as blankets for the winter. However, Instagramer mamma_midwife shared this pretty cool and small idea that works for people who love simplicity. The user wrote, "7 years of marriage with this one."
THE EIGHT YEAR – BRONZE ANNIVERSARY
Interestingly, bronze is made from mixing copper and tin. As mentioned earlier, copper represents stability, while tin symbolizes longevity. By putting these two together, you get something a lot stronger, which is the same as when two people have loved each other for eight years.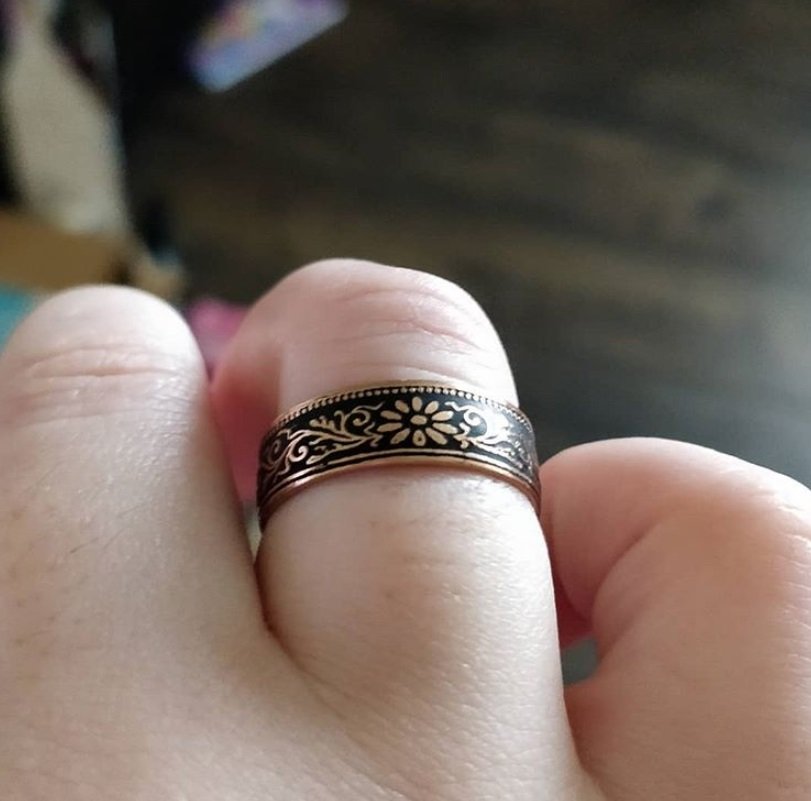 Popular gifts for this anniversary include mugs, cookware, candleholders, and more. However, Instagramer bethanyui received something a little cooler. The user wrote, "Eight wonderful years with my husband today. The time has gone by so fast, but I love him more than ever. Eight years is brass and he gave me this beautiful ring crafted from a Japanese coin."
THE NINTH YEAR: POTTERY ANNIVERSARY
Pottery is a great symbol because a clump of clay became a solid, durable, strong, and beautiful design after it went through some serious heat. After nine years together, you could say that a married couple has withstood the heat of a furnace.
Naturally, the best gift options are pots, plates, coffee mugs, and more. However, Instagramer jacmbenson went a little further and actually had a photo session while making pottery with her husband. She wrote, "So thankful for him."
THE TENTH YEAR – TIN OR ALUMINUM ANNIVERSARY
Before you know it, you and your spouse will be celebrating your 10th anniversary. It's a big milestone, which also explains why you have two options for presents. Tin represents longevity, and it's made from copper and bronze. Meanwhile, aluminum is a flexible but strong material that symbolizes compromise.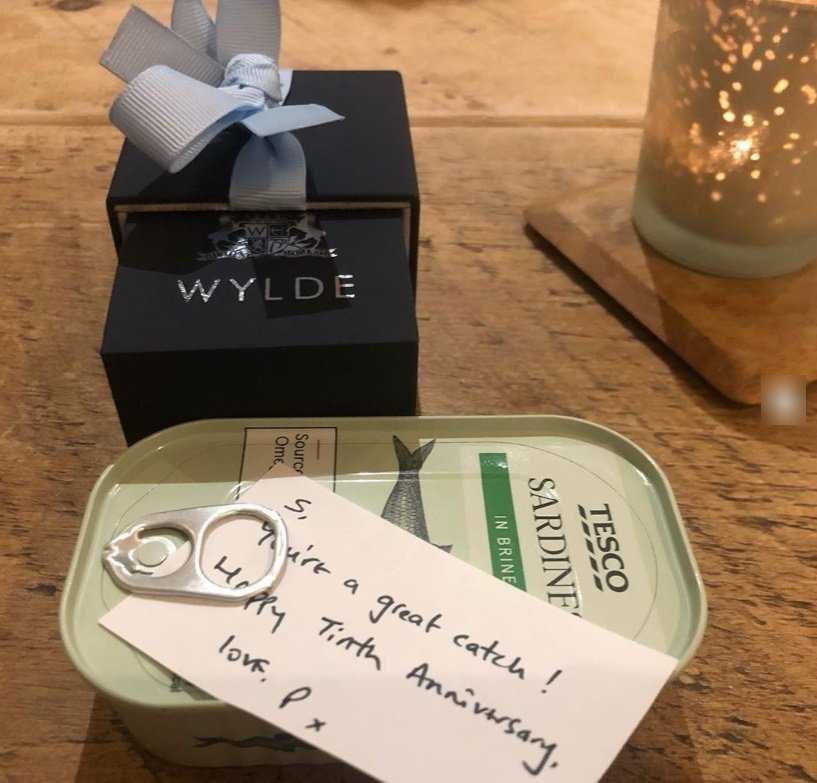 A great idea for a present is a customized tin or aluminum box. Perhaps, somewhere you can keep jewelry or special things from your life together. Instagramer sethinaw posted this ingenious idea and wrote, "Very good tenth anniversary. Delighted with this gorgeous eternity ring from @nicholaswyldegoldsmith. So happy with it & the brilliant work is done restoring my engagement ring. Thank you all #tinanniversary #10years #anniversary."
THE TWENTIETH YEAR – CHINA ANNIVERSARY
Now, it's for time for the even bigger milestones. The 20th anniversary is super important for couples, and that's why China is the traditional gift option. It symbolizes elegance and fragility. China can last for generations, but if you don't watch out, it can break easily.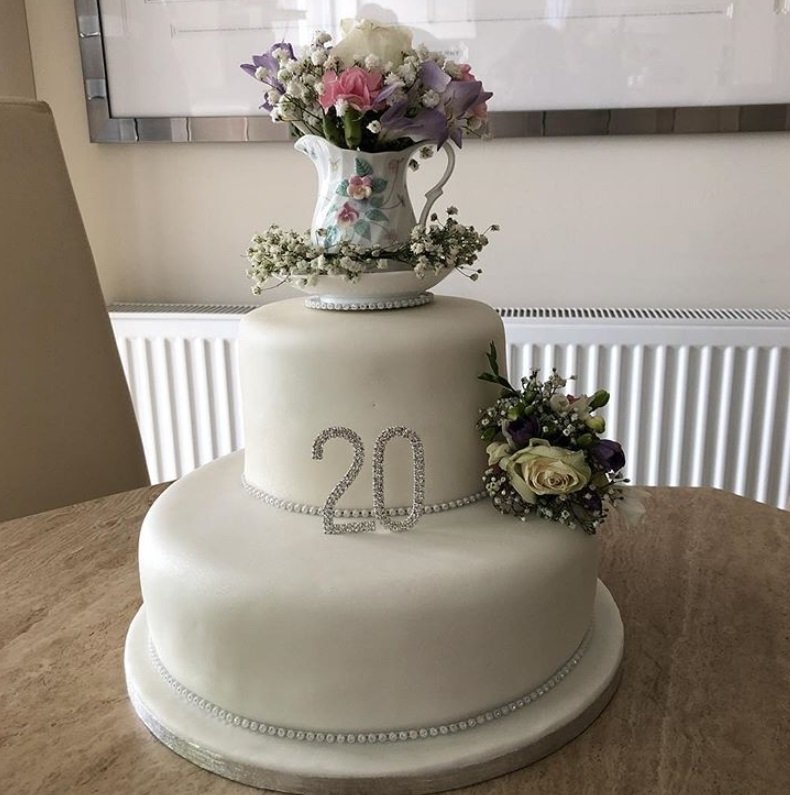 Naturally, China patterns are the most common presents. However, some couples have actually taken trips to China instead. Meanwhile, Instagramer littlegoldendaffodil posted a request she got from a couple and wrote, "This is what I've spent the last few days on. I'm so relieved that I've finally done it and traveled the 75miles from home with no problems. Top tier: lemon sponge bottom tier: the family fruit cake (recipe passed down three generations) as requested."
THE TWENTY-FIFTH YEAR – SILVER ANNIVERSARY
Not a lot of people reach this incredible anniversary. It's a quarter of a century, and that's why silver became the traditional gift option. It's a popular precious metal and represents the hope that your bond will keep shining through the years.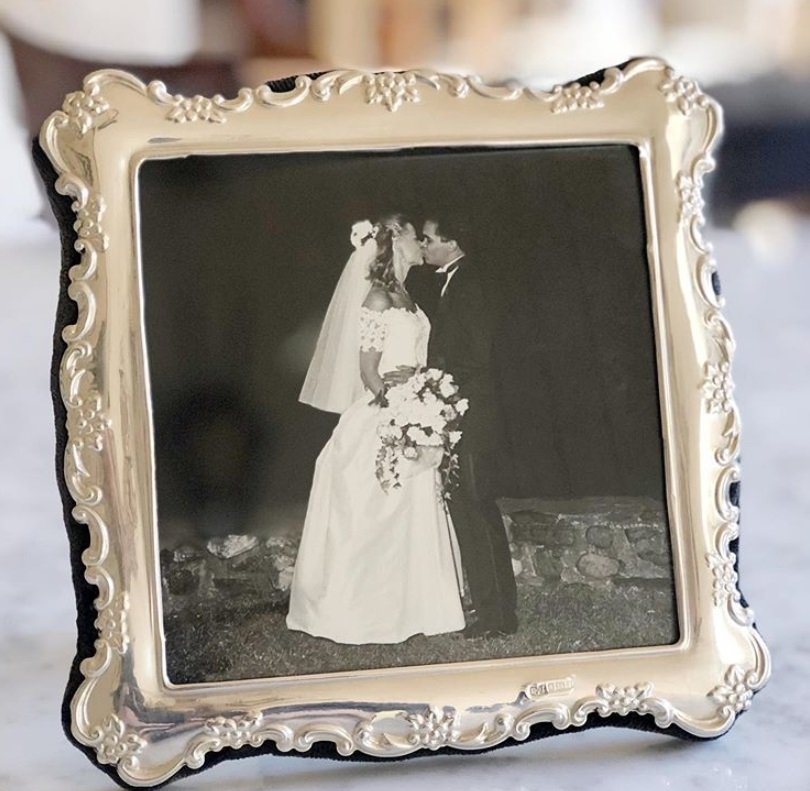 Jewelry is always a great option when it comes to silver, and there are all kinds of things out there for many different tastes. But Instagramer weddinglibrary thought that this was better and wrote, "Guess what today is? Our 25th wedding anniversary. That would be the silver one and I spent a few minutes polishing this silver frame (that may not have been cleaned in 25 years...)! I love you, Alvin, here's to the next 25."
THE THIRTIETH YEAR – PEARL ANNIVERSARY 
Pearls might not seem like a huge deal for younger generations, but they are some of the most incredible gemstones on Earth. An oyster takes years to create a single tiny one, and it's also one of the toughest materials ever. That's why for your 30th anniversary, pearl is the traditional gift.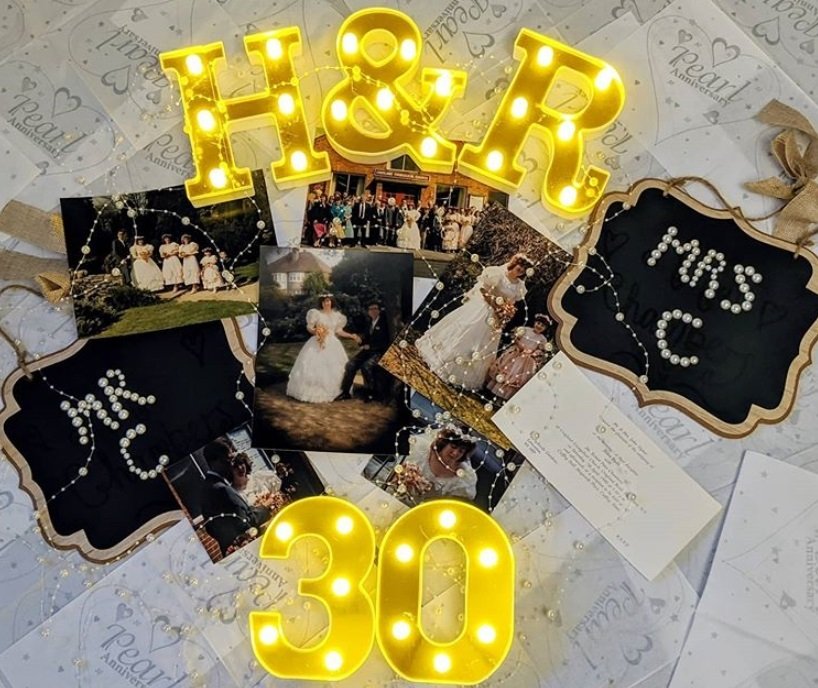 It represents beauty and longevity, just like a three-decade-long relationship. Of course, a set of pearls is a no-brainer for this occasion. There are even pearl cufflinks available. Meanwhile, Instagramer chloelouise1492 made this pearl-themed arrangement for their parents. The user wrote, "Happy 30th wedding anniversary to my parents."
THE THIRTY-FIFTH YEAR – CORAL ANNIVERSARY
Interestingly, coral is known as "the garden of the sea" or "treasure of the sea," and with good reason. Meanwhile, the stone represents peace and changes. Long ago, it was even thought to hold a little magic, which you need to reach your 35th anniversary.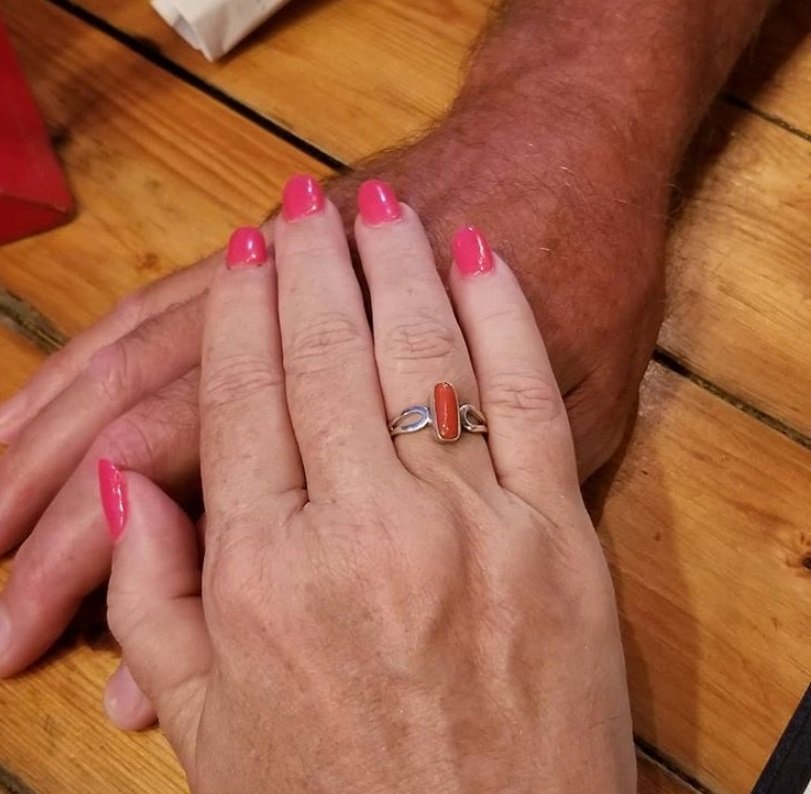 There are all kinds of coral gift ideas out there, from jewelry with the gemstone to even navy-themed parties. Meanwhile, Instagramer jujohnston wrote, "Anniversary present from Ray - Red Coral for our Coral Anniversary. #35AmazingYears #CoralAnniversary #TreasureOfTheSea"
THE FORTIETH YEAR – RUBY ANNIVERSARY
Can you imagine spending 40 years with the person you love? That's got to be a special bond. Naturally, this milestone requires an important gemstone to celebrate. Ruby symbolizes eternal love and passion, and that's something all couples have to remember at this point.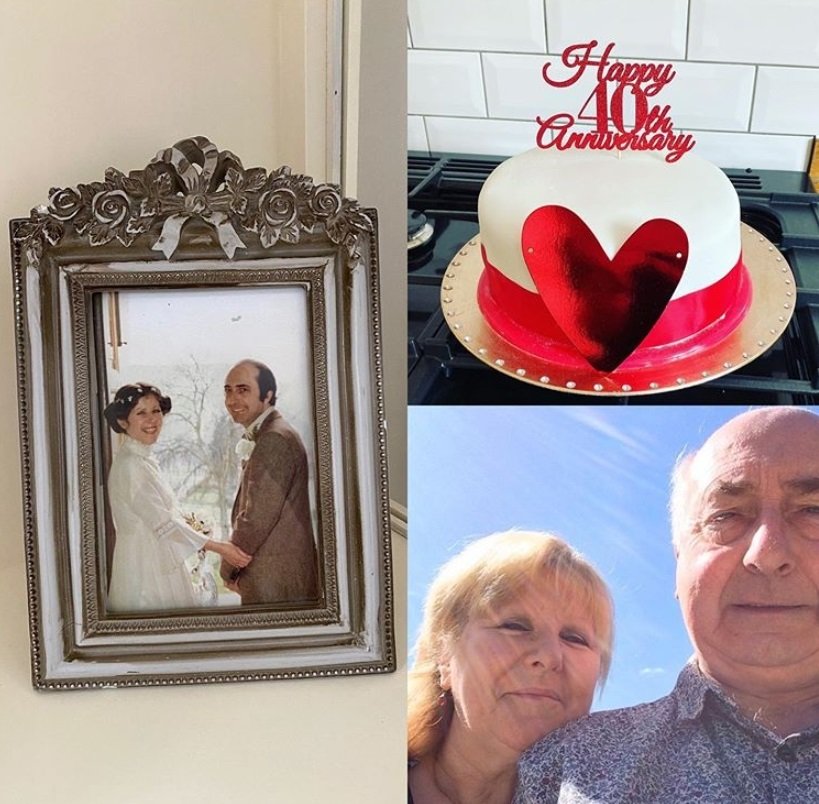 The most common gift for this occasion is jewelry, but many people just make ruby-red-themed parties and presents. Meanwhile, Instagramer emmavictoriaroberts showed how their parents celebrated and wrote, "Happy 40th Anniversary to my amazing mum & dad! #rubyanniversary."
It's incredible how fitting each material is for every single year of marriage. Let us know what you will be giving your spouse for your next wedding anniversary. If you liked this article, share it with your friends who never know what to give their loved one. See you next time!
Source: Hallmark, The Knot, NY Magazine, TIME