Hysterical Pickup Signs At The Airport
You have been tired of working the entire year and plan on taking a vacation. You grab the earliest flight to hurry back home. You arrive at the airport, and you get to see something that only leaves you embarrassed but also creates a rib-tickling effect. If you are guessing what is it, the wait is over. Yes, it is the weirdest pickup signs that might upset you for a moment but have surely come for you out of love from the near and dear ones! 
Becca! I'm Your Father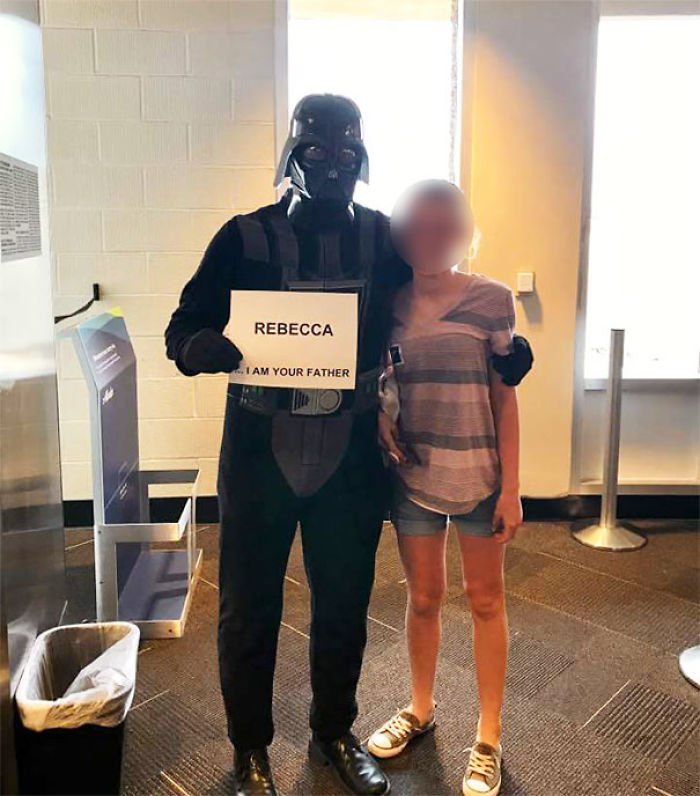 A daughter was left amazed to see her father waiting at the airport in completely different attire. She had fled alone for the first time and to her amusement, the arrival she received was also for the first time.
Only Her Grandparents Could Understand That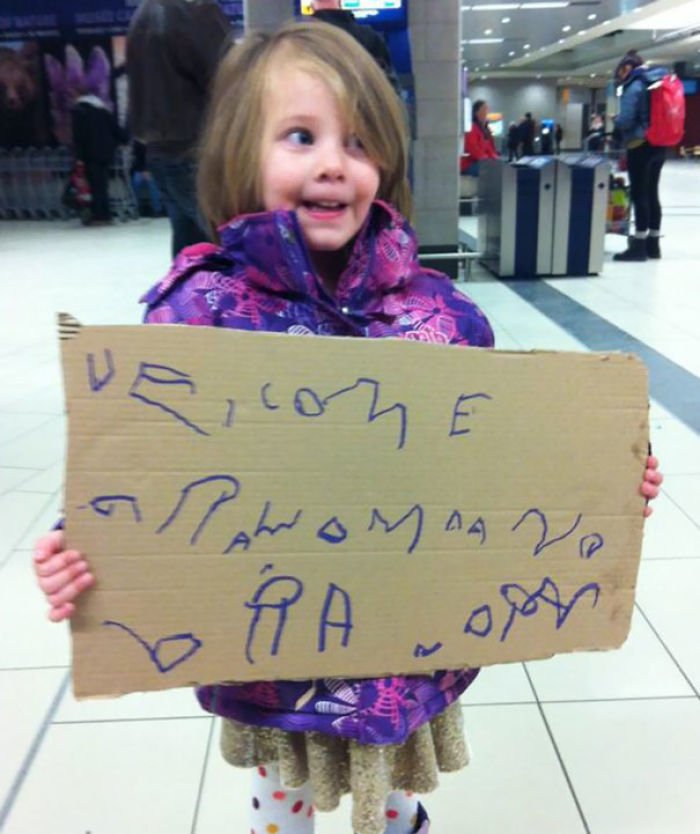 It was a pleasure for the grandparents to see their grandaughter wait at the airport with a cute little poster. Not only did it bring a smile on the face of the grandparents but also for the others waiting at the airport.
A Christmas' Welcome!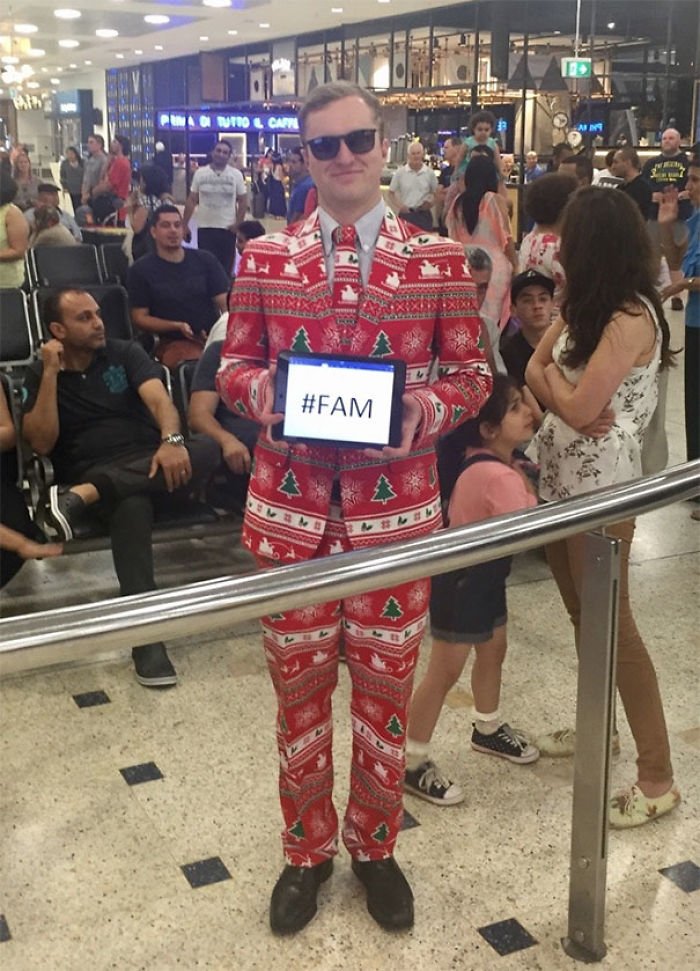 If you are wondering about the strange outfit of the gentleman, do not worry. You guess is right. He had come to receive his friend who had planned to visit him home for Christmas Eve in the most Christmassy way possible.
Good News, No?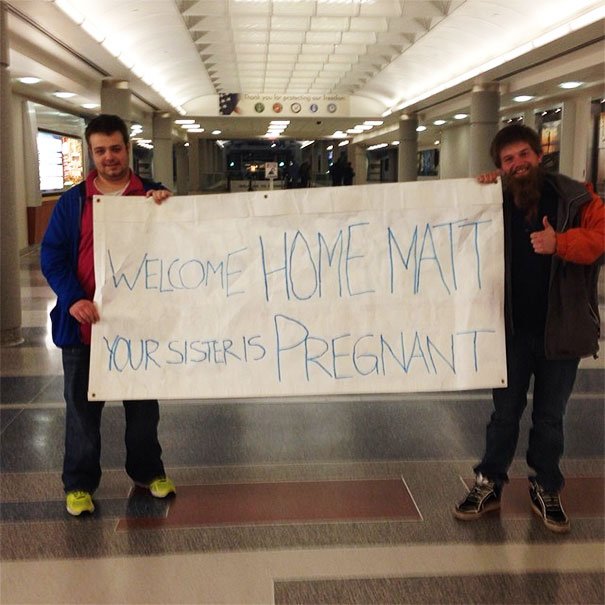 Some guy was amazed to be welcomed by his friends in a naughty way. After all, what would be the better way to irritate your friends for the sake of having fun?
Chocolate for a Chocolatier!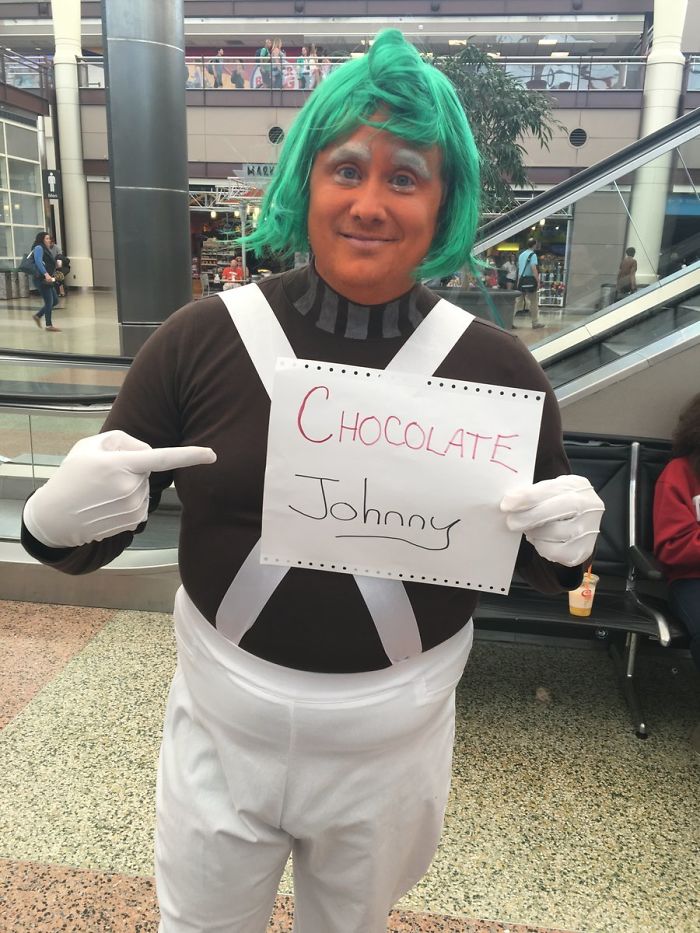 A man decided to welcome his friend by adding the term "chocolate" in front of his name just to indicate that he was waiting for his friend who owns a chocolate business in Australia. 
We Need Help Mom!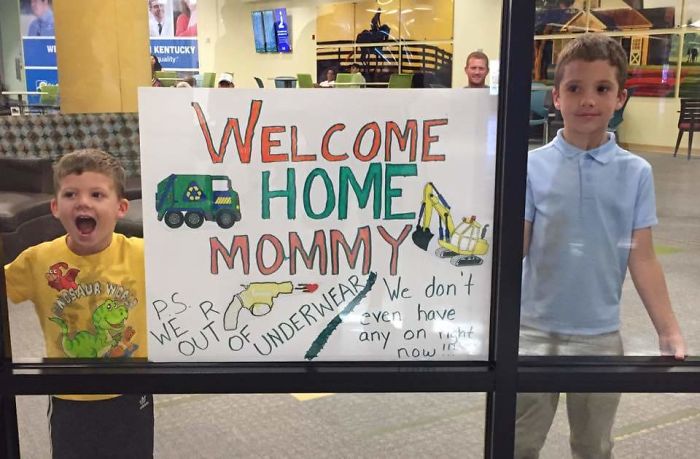 These kids at the airport left no stone unturned to express their excitement for their mother coming back home. Not only did it show their love towards her mother but also their humor which created a happy atmosphere for others at the airport.
She's Too Much Work!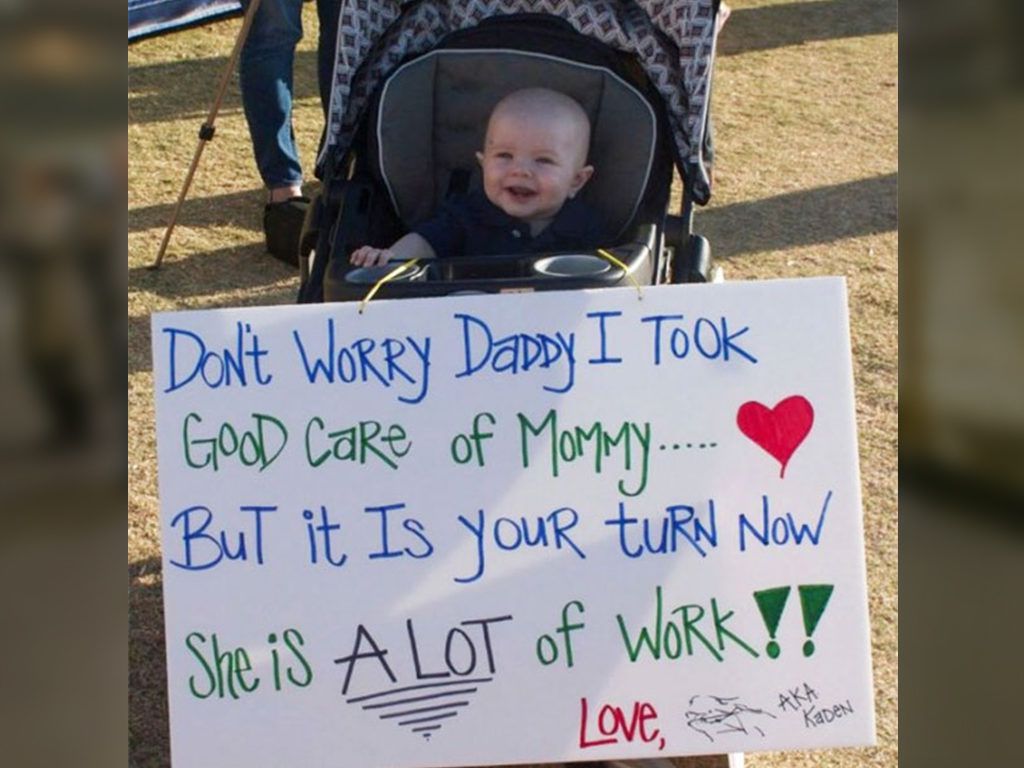 A father could not stop laughing when he saw his little one waiting for him at the airport with a cute poster made by his wife. It expressed how the small angel took good care of the mommy and also expressed the concerns of her mom being burdened with a lot of work.
Big Head Mokie!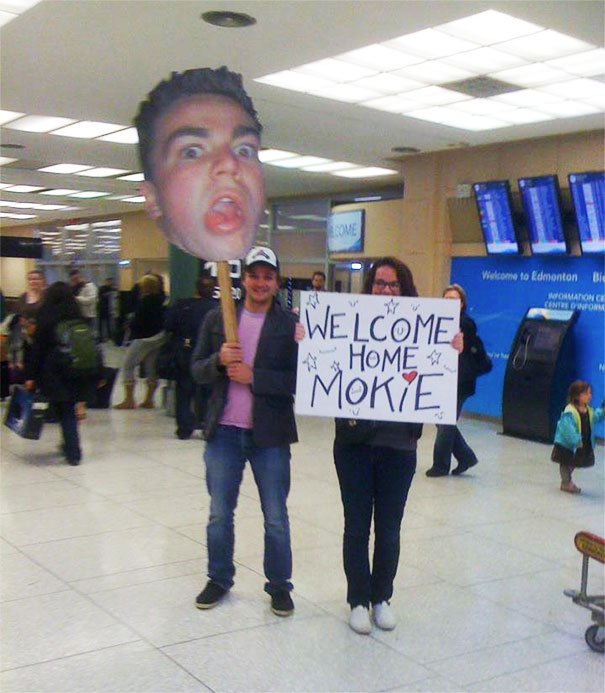 Having spent a year at the University, it was time to go home and meet the family. However, it was hilarious to see how one brother welcomed the other by taking his picture, cutting it out and it pasting on a sheet of cardboard. 
Welcome to Canada!
Sisterhood was seen in a unique poster that was made by this girl waiting for her sister to be home. She showed how nice a different country could be and that distance can not refrain them from being together.
The Dogs Were Too Excited!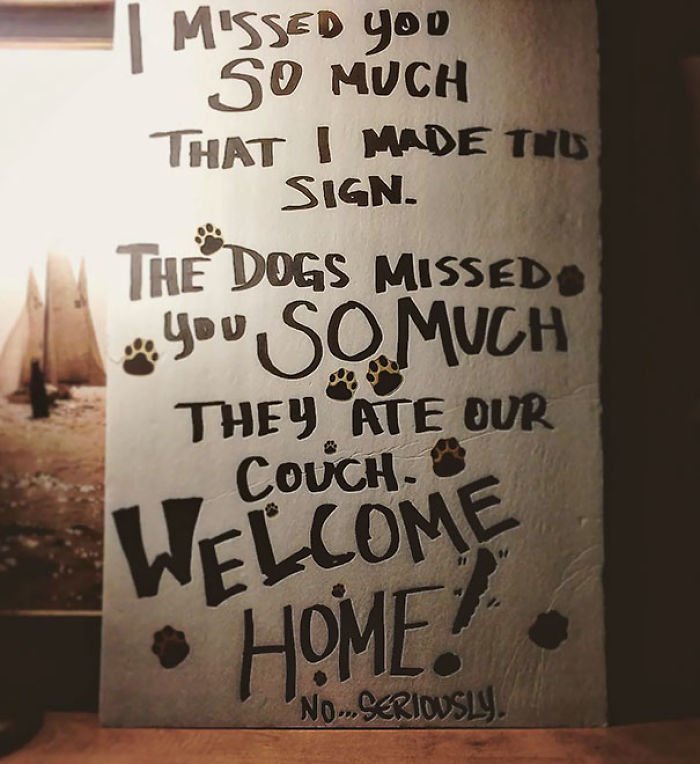 This poster brought a great deal of appreciation to Ebenezer by his fellow travelers on a trip back home from Cuba. It portrayed his love for his partner Lisa and the fact how much he missed home.
That's a Very Interesting Welcome...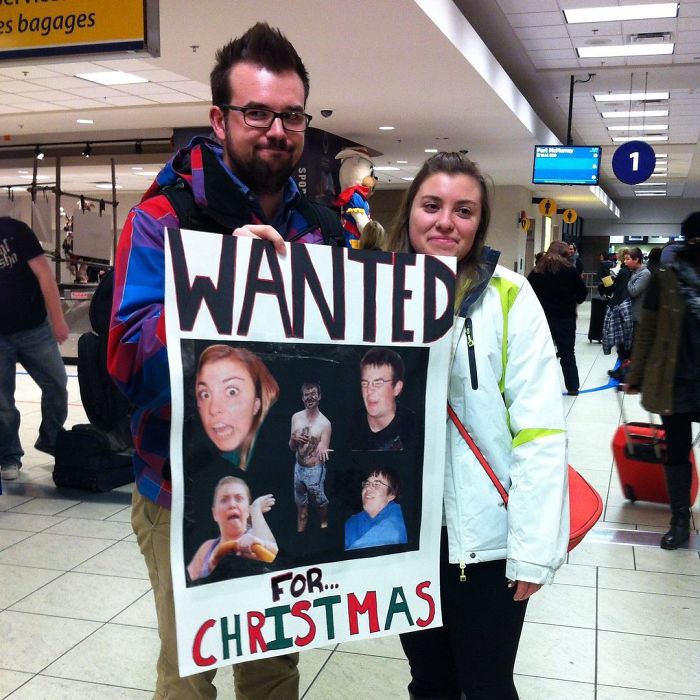 If you ever thought what could be the weirdest way to receive your sister and brother in law for Christmas eve, here it is! This couple made a poster with some of the funniest pictures to welcome them back home. 
Where's My Noisy Pale-Faced Lady?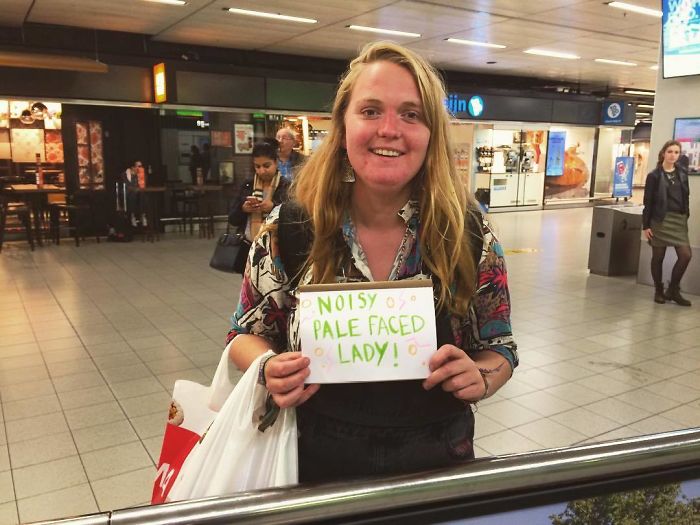 Maria Sofia made a poster that displayed a great sense of creativity while receiving her near and dear one at the airport. It highlighted the qualities of the person she was looking for and captioned it as: "Takes one to know one".
Random Citizen?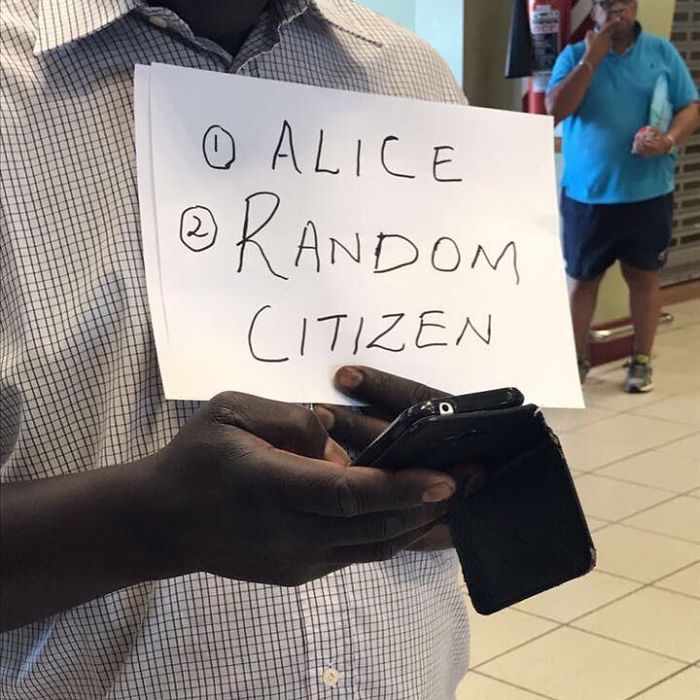 Do not get distracted by the plain and simple look of the sign. It is humorous in the way it lists the person's name and the "ordinary citizen" that accompany her on this trip. What a welcome!
We Really Need Mom and Dad!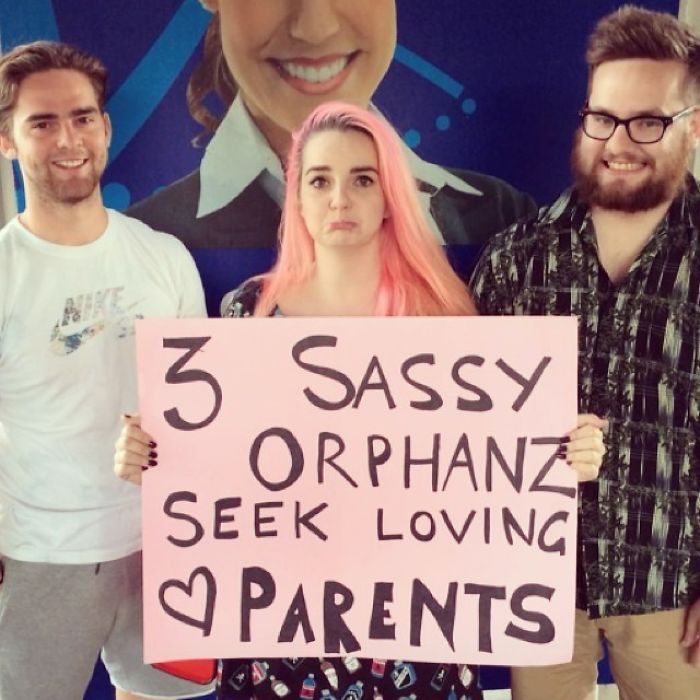 The family is incomplete without parents. This was evident from the poster made by the siblings waiting for their parents at the airport. They wrote they looking for love from their parents and they feel like orphans without it.
Looking for My Baby!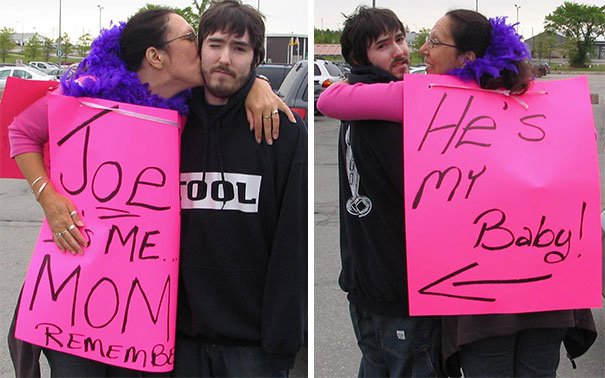 There is no surprise to the fact that she gained the title of "Best Mom" ever. It was different and cute of her at the same time to welcome her "lovely" son in the airport like this.
Receiving a friend or family member after a trip will always be fun, but it can be a bit of a stretch. The tradition of making a poster to receive them can get out of our hands and become hilarious. What did you think of these welcome signs? Have you ever done something like this? Do not forget to share this article with all your friends who deserve such a welcome.
Sources: Ranker, Demilked, Shareably, Pens and Patrons, Pinterest, Elite Readers