Wedding Pictures Where Something Went Wrong
People dream about their wedding from a young age, and they have big expectations for that special day. But sometimes, things don't go quite as planned. Has a giant hot dog ever photobombed your wedding pictures? Have you ever seen the groom dropping the bride? Let's see these hilarious moments!
GIRAFFE WANTS A HAT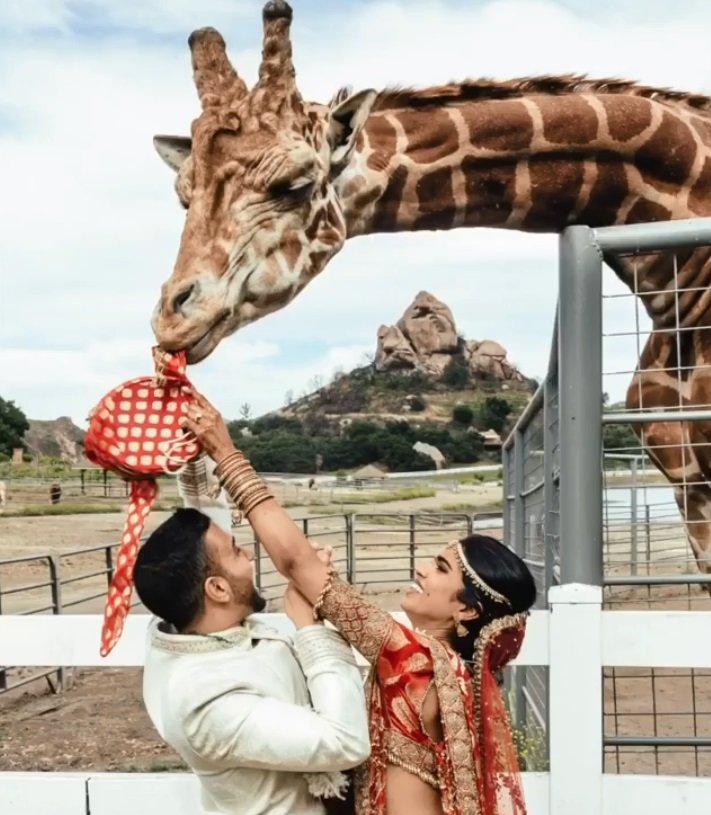 A lot of couples take pictures in exotic locations, and they even add some animals to the mix. However, working with animals means that there might be many surprising moments because you never know what they are going to do. Instagramer aperinastudios posted a video of this couple and how the giraffe wouldn't stop taking the groom's headpiece.
FALLING FROM THE BOAT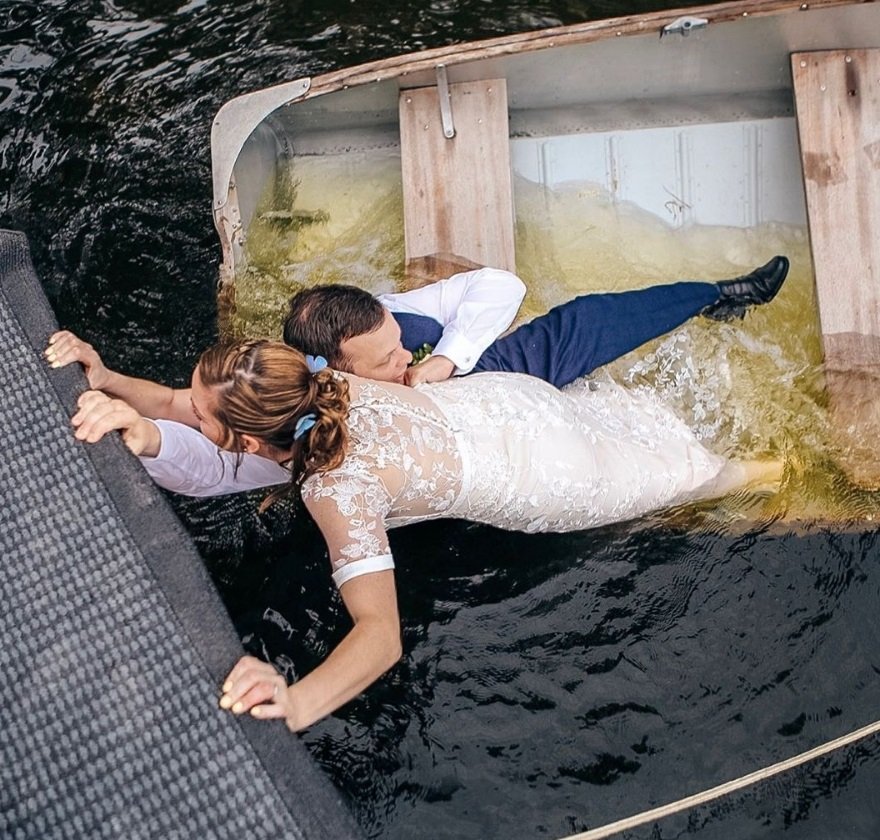 People try to get the most romantic wedding pictures, and they can be absolutely gorgeous. However, some things definitely don't go as planned. This couple was taking pictures on a boat, and they were probably pretty awesome until they accidentally fell off. Luckily Instagramer donaldsextonphotography captured that moment and wrote, "Everything was going well... and then this."
THE WEIRD FRIEND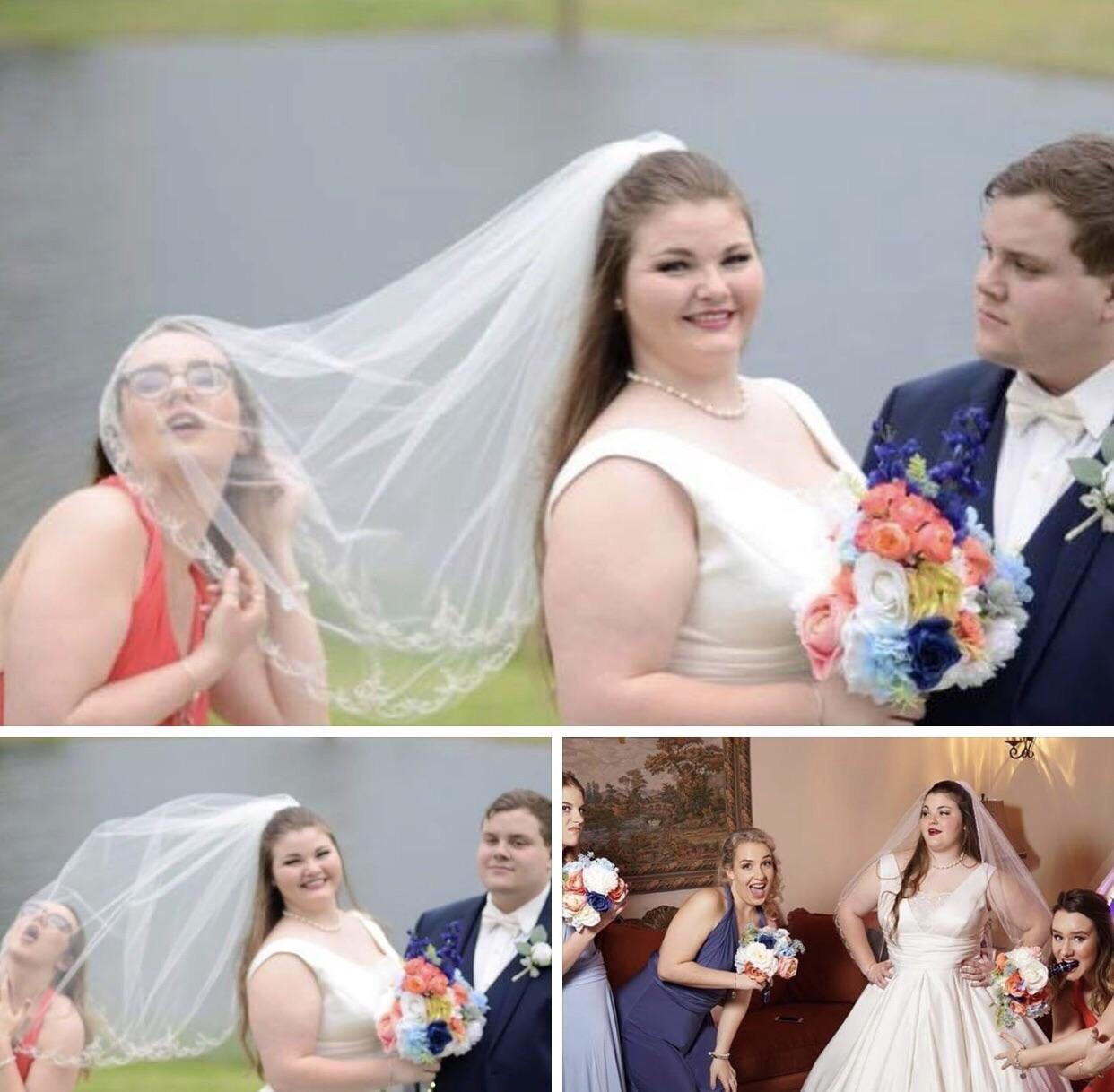 While it's not totally unexpected for some of your guests to act crazy during the reception, it's a little rude for them to ruin your wedding pictures. Redditor SisteroftheMoon16 said that this girl was one of the bride's friends from Junior High. You can even tell that the groom doesn't like this at all. But why did no one say anything?
DROPPING THE GROOM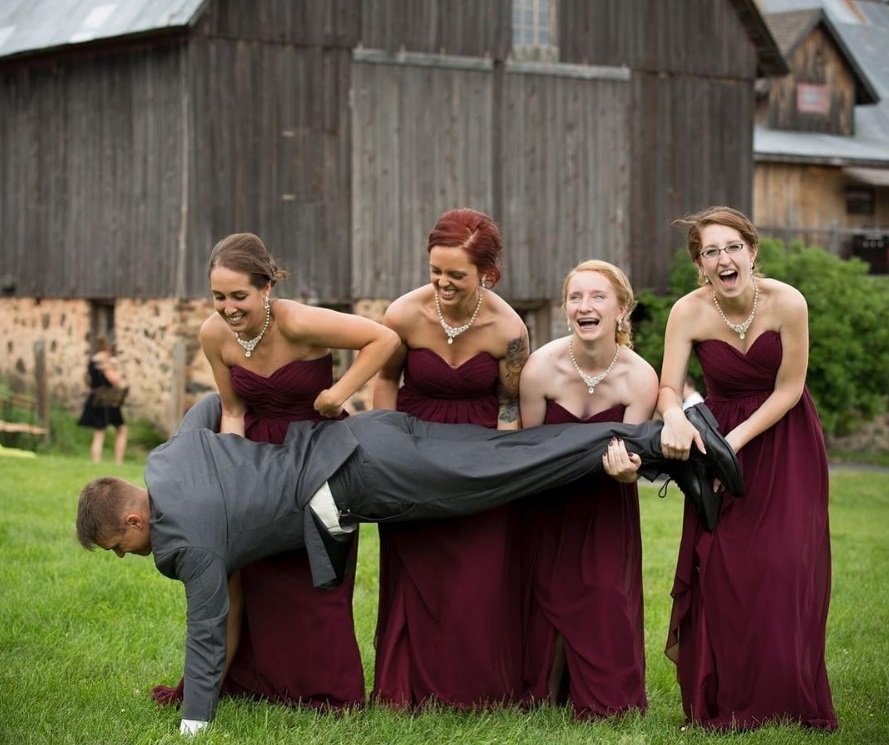 A common wedding photograph shows the groomsmen carrying the bride. So, people have actually flipped it to the bridesmaids holding the groom. However, most bridesmaids might not be able to hold him properly. This is exactly what happened here. Luckily, the groom was able to catch himself before dropping completely.
A VEIL MISHAP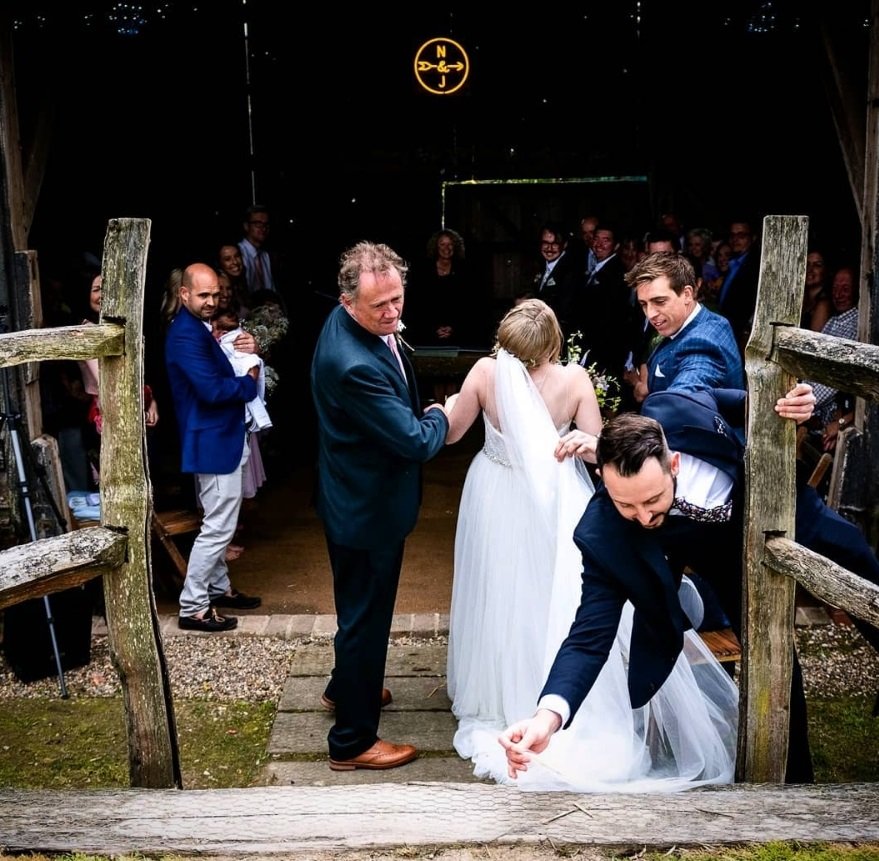 While not everyone loves long veils, some women want to feel angel-like with them. It's another romantic aspect of a wedding. However, a long veil comes with a few complications. You really need one of your bridesmaids to watch out that nothing ruins it and ensure that it doesn't get caught on something. This bride didn't have anyone watching out.
GOOFINESS ALL AROUND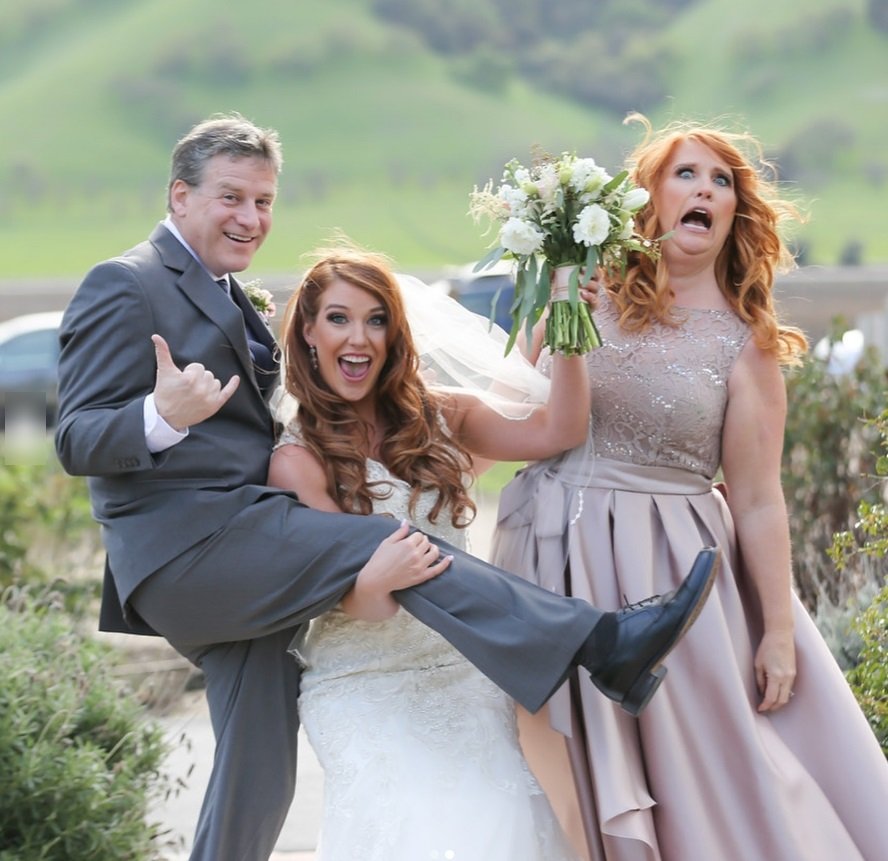 It's great that many couples take their wedding pictures with a little more humor. Some people love taking goofy pictures to accompany the more serious ones. However, you really have to watch out if you're holding a bouquet. It looks like this bride hit her mother with it. Luckily, it's one of the funniest wedding photos ever taken!
LOST BOUQUET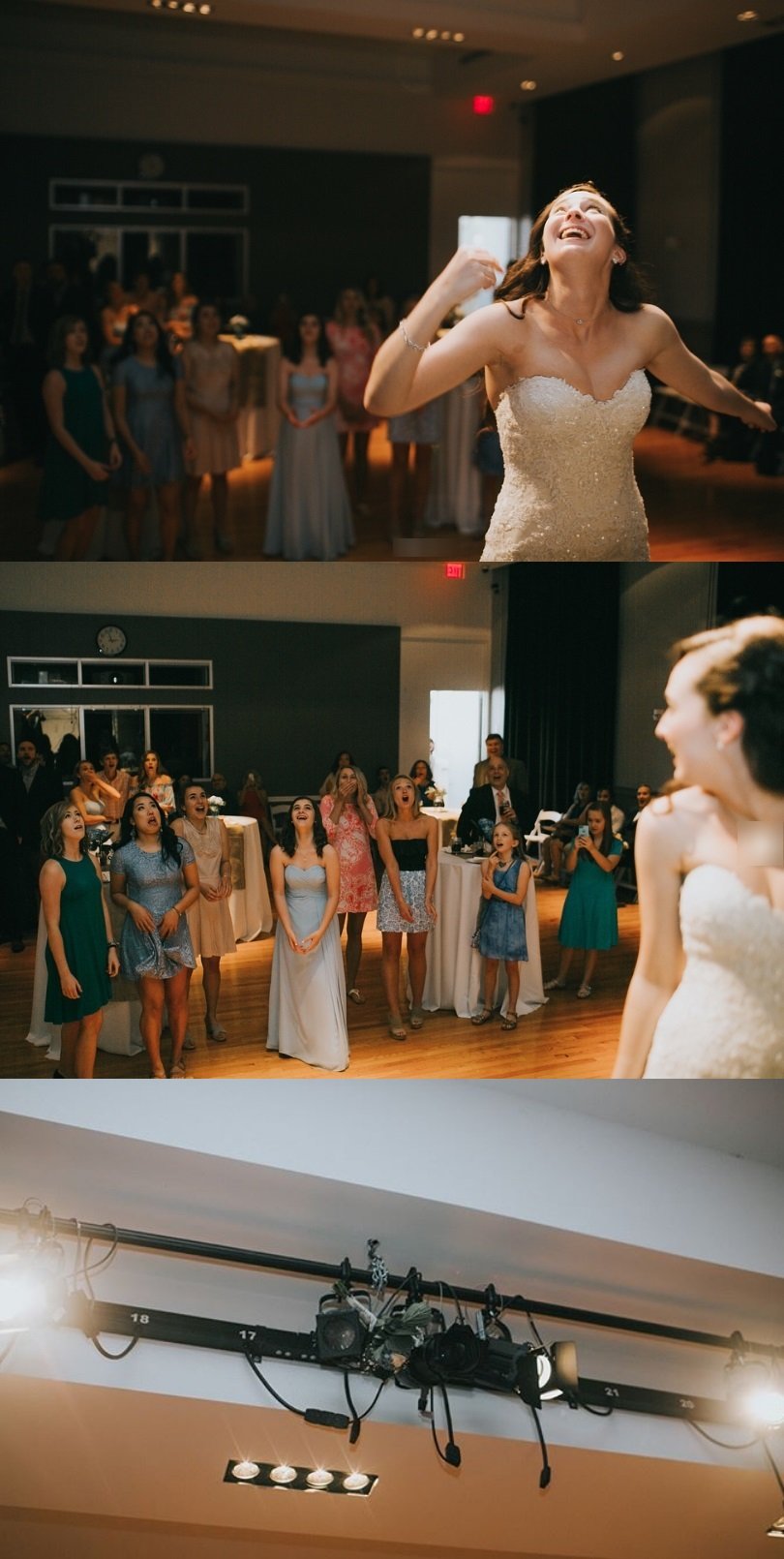 Obviously, none of the other women at this party will ever get married. The bride threw the bouquet, and it got caught on the ceiling. The best part is that it took a second for the bride to notice. Instagramer sierrafoss wrote, "Hey remember when everyone's facial expression was priceless when I tossed my bouquet and I didn't know why... #WeddingFails"
THE SNEAKY GUEST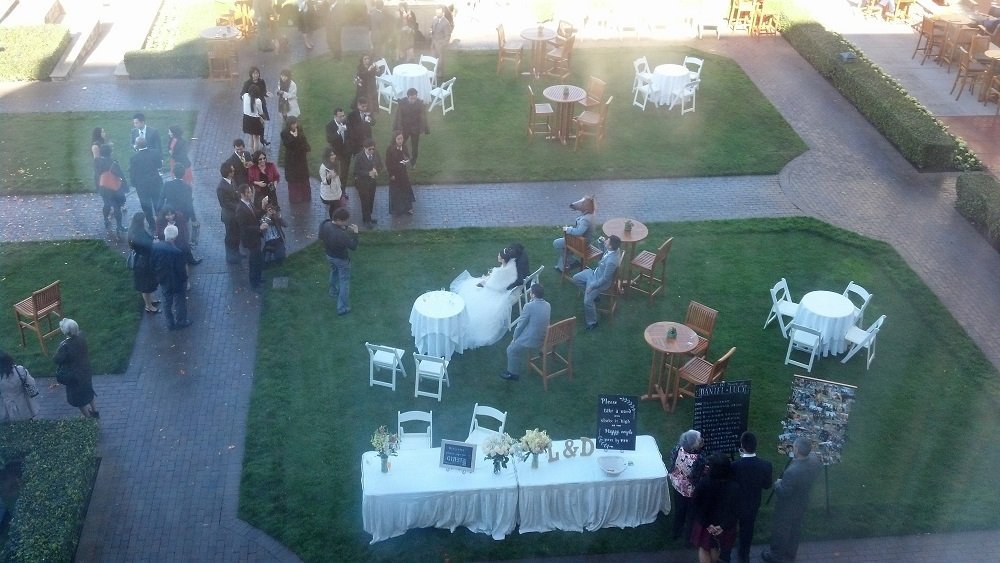 Of course, some people will try to photobomb pictures or make a silly expression. The fact is that the bride and groom cannot stop them from doing so. It's almost like a surprise for them to notice later. It's hard to tell here at first, but there's a groomsmen wearing something that was really not in the dress code.
DROPPING THE BRIDE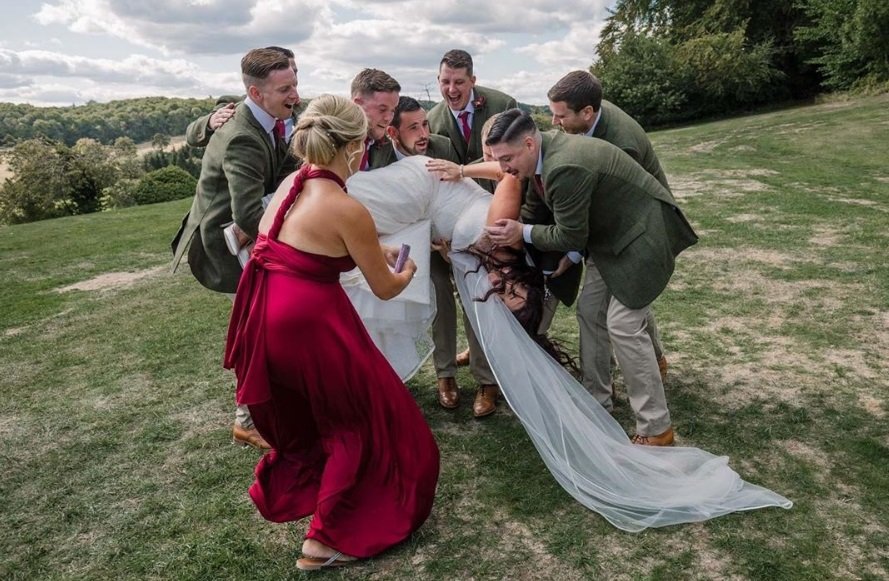 Here is one of those popular shots where the groomsmen are holding the bride for the picture. Instagramer fionaforwoodphotography wrote, "A little bit of Sunday laughs to put smiles on faces. This is why groomsmen picking the bride up is not advised! Bride Claire was completely fine and didn't hit the floor. I have also never seen a bridesmaid move so quickly."
YUMMY FLOWERS
This is another wedding photo session where the couple had animals in the background. However, they definitely did not expect that the horse would want a little snack. Luckily, this will probably end up as one of their favorite pictures in the long run. When it comes to weddings, you really don't remember the posed shots fondly.
WARDROBE ACCIDENT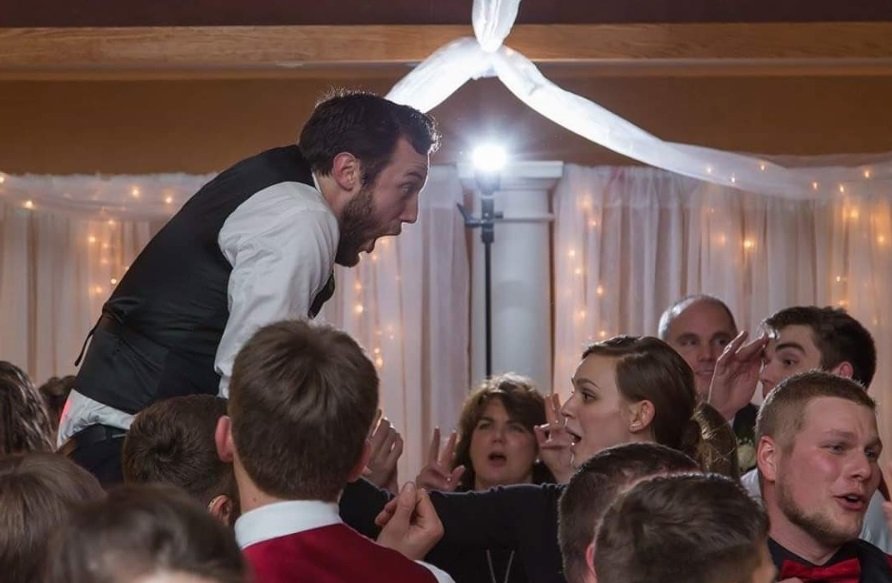 No one can say that the photographer was not paying attention. You definitely don't want wardrobe accidents like one at a wedding. Instagramer tommy_gunn.jpg posted this shot and explained, "The precise moment when my brother ripped his pants while being lifted in the air at a wedding. Beautifully captured by Brian Rehmann #wedding #weddingfails #embarrassing"
THIS TIME, IT WAS THE GROOM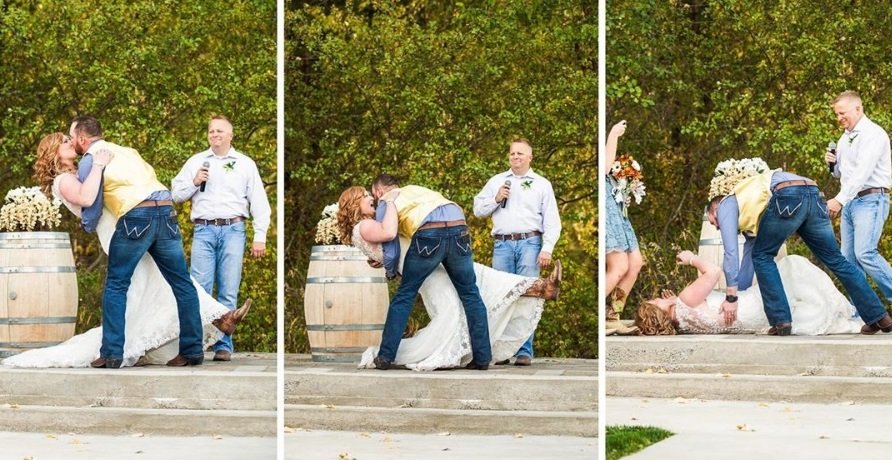 It looks like the groom might not have been holding his bride correctly, and off she fell. It could also be that he was not ready for her to lean back like that. Accidents happen, but luckily, everyone was fine and laughing! Instagramer livinserendipity even wrote, "While some people would have been MORTIFIED, these guys handled it like CHAMPS and even put these pictures on their thank you cards."
HOT DOG PHOTOBOMB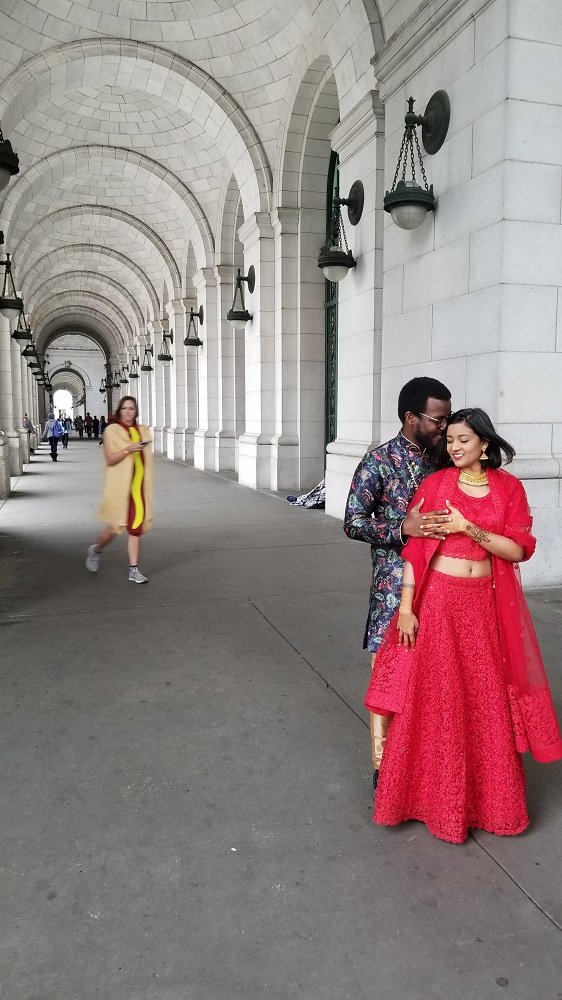 If you're taking pictures in a public area, there's always a chance that someone might accidentally get in the picture. However, you don't expect that person to be dressed like a hot dog. Instagramer r_dawson_25 wrote, "Attended a wedding yesterday. Tried to grab a picture of the Bride and Groom. The result was not disappointing."
BLOCKING BRIDE'S FACE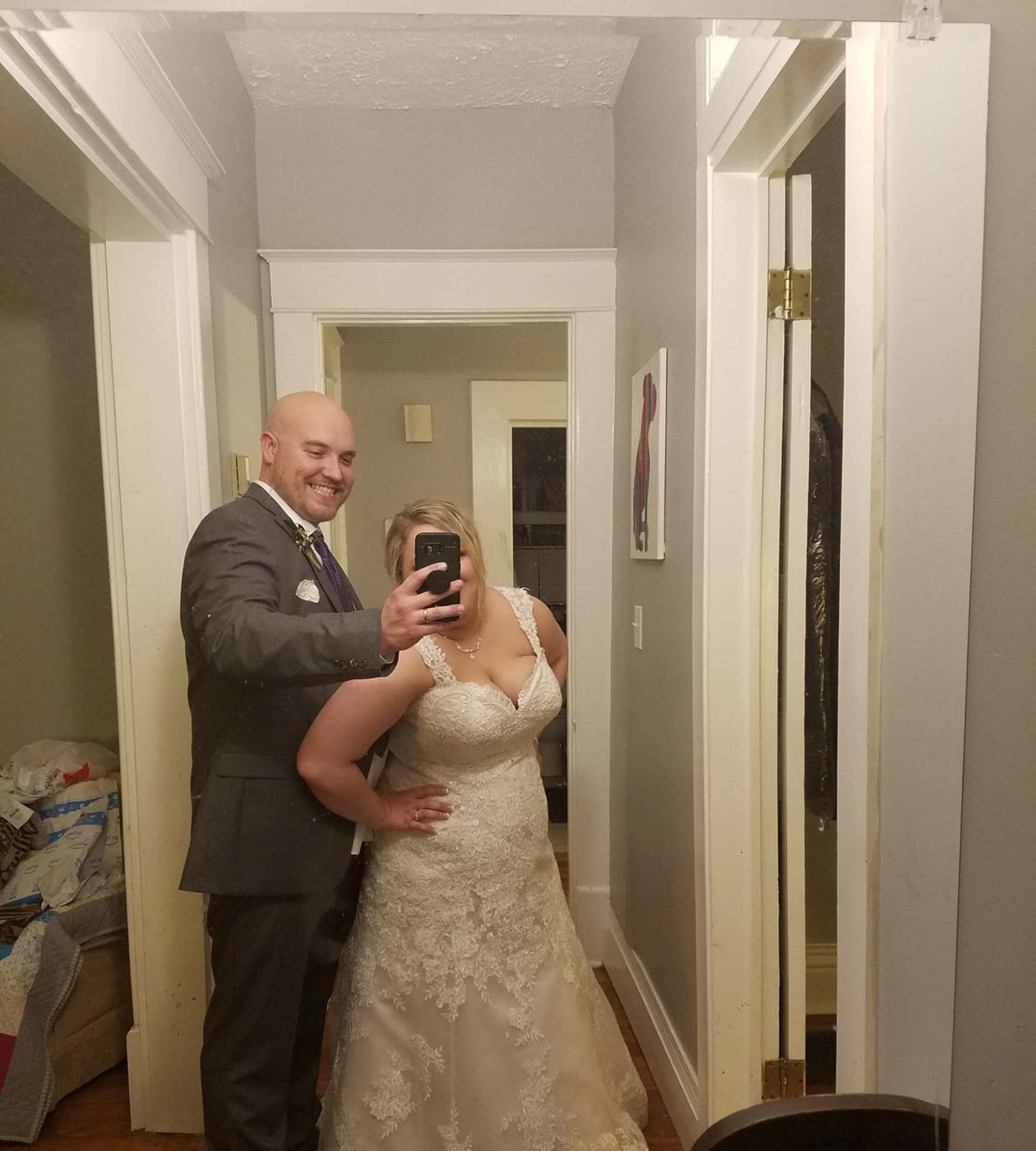 It looks like some grooms are really not thinking straight during their weddings. Redditor Smartyandfarty posted this image and wrote, "Asked my husband to take a picture of us on our wedding night. This was his only picture." Well, he might have been tired, but it's hilarious that he didn't even notice what was happening.
CATCHING THE DÉCOR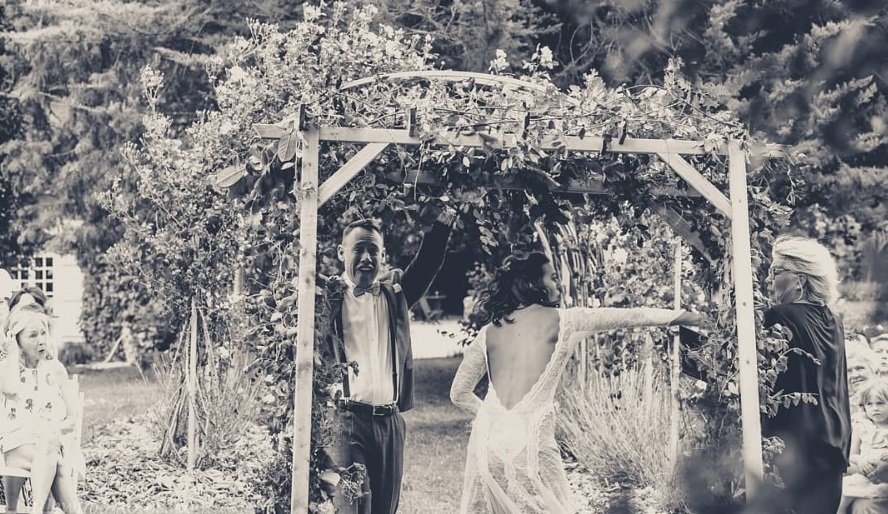 It looks like this groom, bride, and the officiant have fast reflexes because they were able to catch that flowery structure before it fell. It could have been ruined completely it. Instagramer franlittlewingphotos wrote, "Quick reaction of the bride and groom (and Celebrant) saved the greenery covered structure from falling during a strong gust of wind."
NO SKATEBOARDING IN WEDDING DRESSES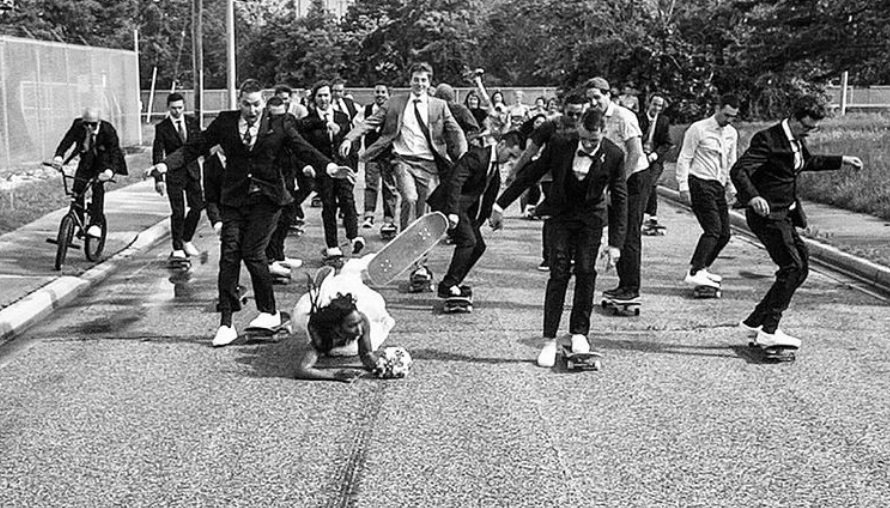 While some ideas might sound great in theory, they are not the best in execution. This couple probably loved skateboarding or thought it might be fun. However, wedding dresses are tricky, and you really shouldn't risk it during your special day. Instagramer cshuker wrote, "Still the most memorable day of my life still can't believe this happen still."
THE WRONG CHOICE OF CHAIRS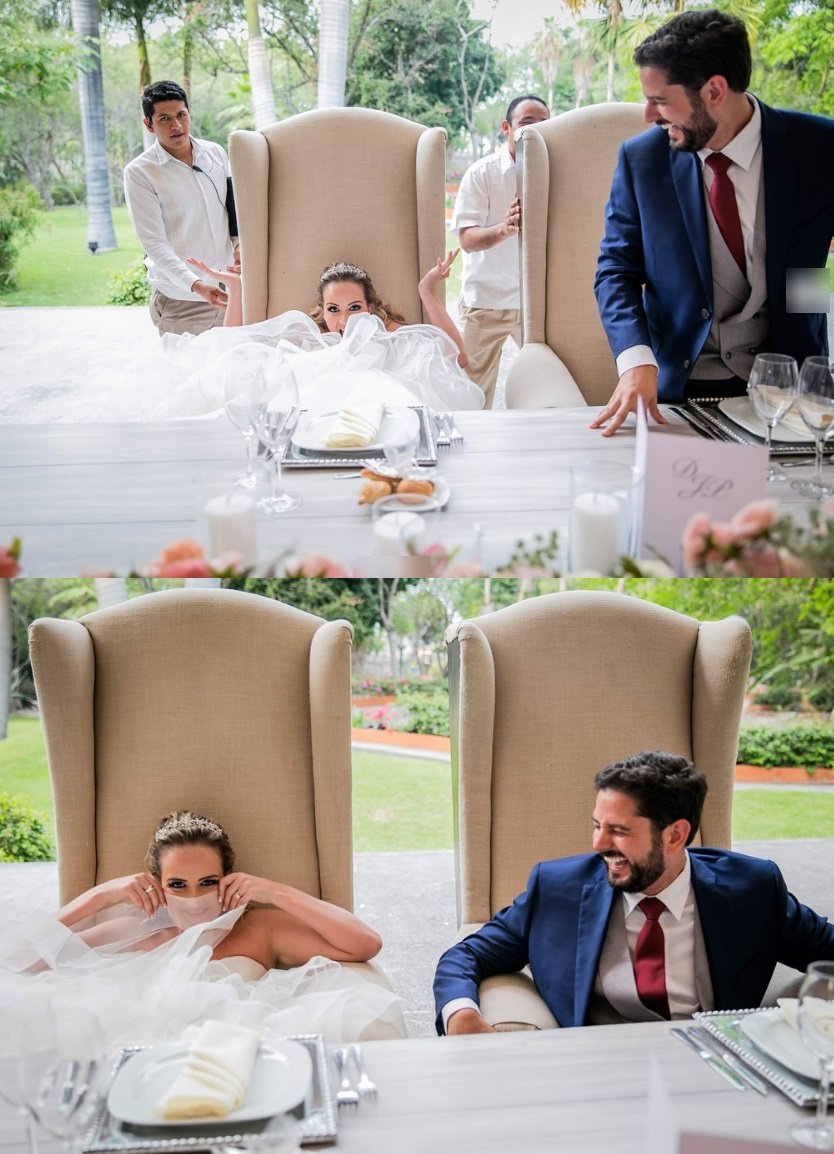 It seems like someone didn't notice how low those chairs were until this happened. They probably thought they were beautiful and picked them. However, they are insanely low for ordinary people. Maybe, they were custom-made, and someone got the measurements wrong. Luckily, it led to pretty awesome pictures and lots of laughs.
That was amazing and almost unbelievable at times. Let us know which wedding moment was your favorite and if you have witnessed something like this. If you liked this article, share it with your friends who need a laugh today. See you next time!
Source: Reddit, Instagram, Reddit