Famous Celebrities With Historical Lookalikes
Whether it is the famous figures who helped shape the world or common people whose name has faded with time, there's always something fascinating on the Internet. These lookalikes are a blast from the past! And if that weren't enough, they share some shocking similarities with the famous present-day figures. These photos might make you wonder if some of your favorite celebs and personalities are immortal time travelers!
Alec Baldwin and Millard Fillmore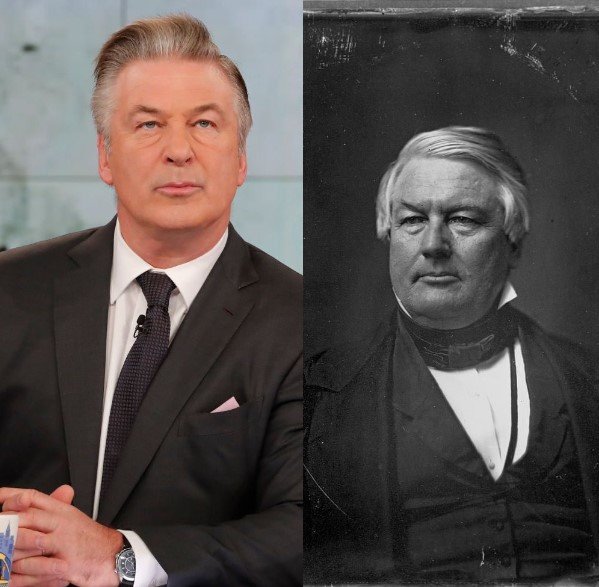 Beetlejuice star Alec Baldwin is the good old man of Hollywood who has got plenty more to boast in the limelight. The 62-year-old American actor is known for his performances in various blockbusters, and if that weren't enough, he's got another reason to add that extra light to his name! Yes, the Boss Baby icon shares an uncanny resemblance with Millard Fillmore, the 13th President of the United States. And shockingly, Millard was a native New Yorker just like Baldwin!
Orlando Bloom and Nicolae Grigorescu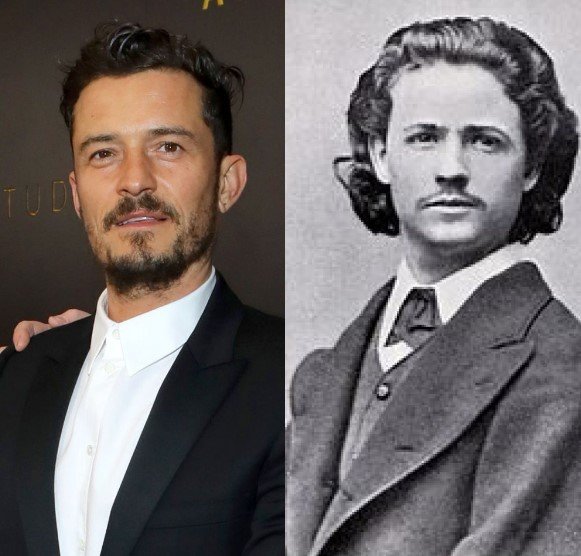 The world knows Orlando Bloom as Will Turner in Pirates of the Caribbean movie franchise. And not just Pirates, he's a famous face in The Lord of the Rings too! But the Carnival Row star is in the limelight for a reason apart from his Hollywood career—his doppelganger! Bloom is a physical reincarnation of Nicolae Grigorescu, the Romanian painter known for his artwork in the 1800s.
Hank Azaria and Rudolf Steiner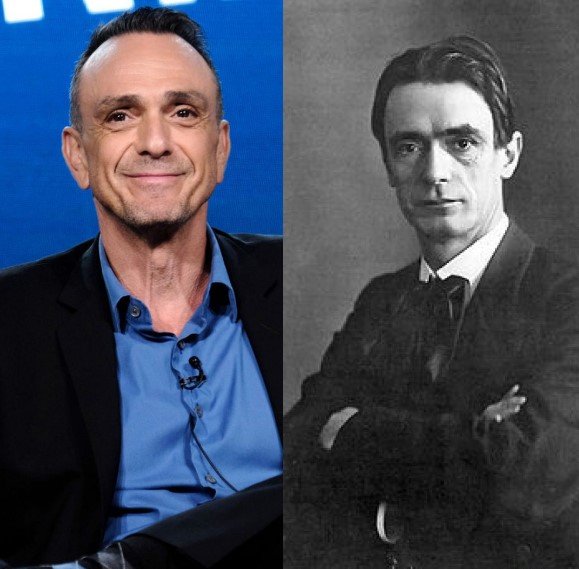 Whether it is The Smurfs or The Simpsons, American actor, Hank Azaria never forgets to leave his audience in splits. But the talented actor seems to have traveled through time and reached the modern world, straight from the 1860s! His striking resemblance with Austrian philosopher Rudolf Steiner is not just stunning but also makes people wonder about the artwork of fate!
Anne Hathaway and Francisco Goya's 'An Officer' Painting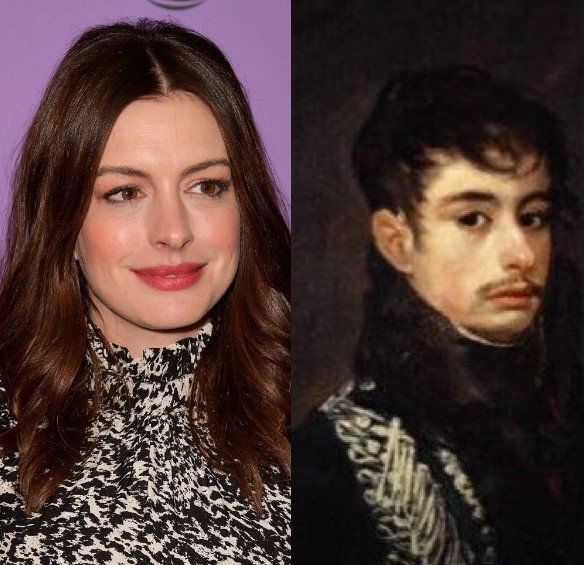 The Princess Diaries fame Anne Hathaway is nothing less than an epitome of brilliance. The Ocean's 8 starlet who's known for her on-screen elegance, might look like a colorful painting, but here, maybe her artist chose to think the other way. While Hathaway shares some similarities with Francisco Goya's 'An Officer' painting, perhaps she could've looked a bit better if the art were of a woman!
Mark Zuckerberg and Philip IV of Spain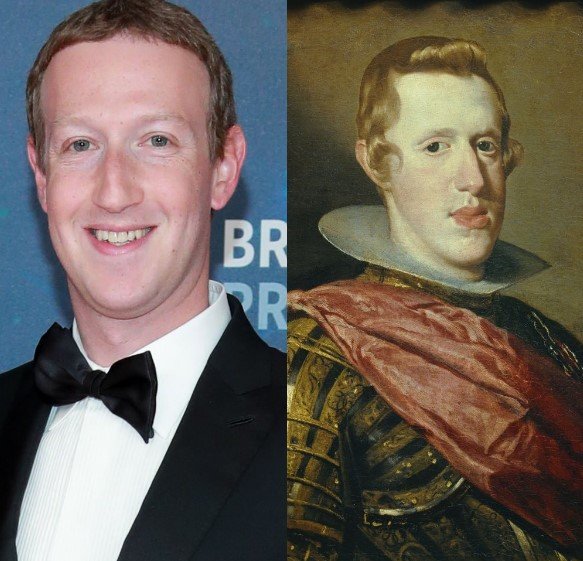 While cameras were unheard of, the royals around the globe didn't wait for one! They preferred a portrait of them instead and hired the best painters in the kingdom to get the colorful job done at ease. But the King of Portugal, Philip IV of Spain, wouldn't have imagined about his lookalike who would rule the social media world in the 21st century! Mark Zuckerberg's resemblance to the Spanish king is too picture-perfect to spot even a minor difference.
Tommy Lee Jones and Andrew Johnson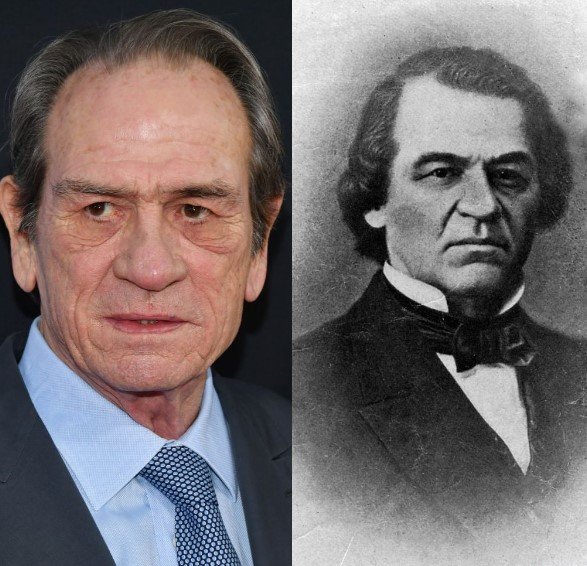 American actor Tommy Lee Jones is Hollywood's most famous legendary on-screen treasure. Though the icon donned his roles along with Will Smith in Men in Black, his popularity has leaped ahead with his striking resemblance with a historical personality. Sharing some stunning looks with Andrew Johnson, the 17th U.S. President, perhaps Lee Jones deserves every bit of the stardom he has earned!
Queen Latifah and Zora Neale Hurston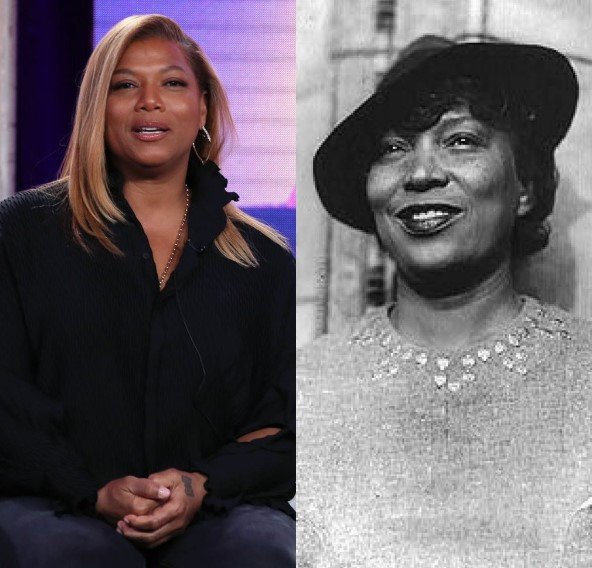 American rapper Queen Latifah has been doing a great job in both the television industry and silver screen. The Taxi star has come a long way in Hollywood and is determined to mark her name on the peaks of success. Maybe her desire to make it big under the limelight was sown before a hundred years. Latifah's stunning resemblance with the American author, Zora Neale Hurston, isn't just breathtaking but picture-perfect, too!
Jimmy Fallon and Turkish Revolutionist Mahir Cayan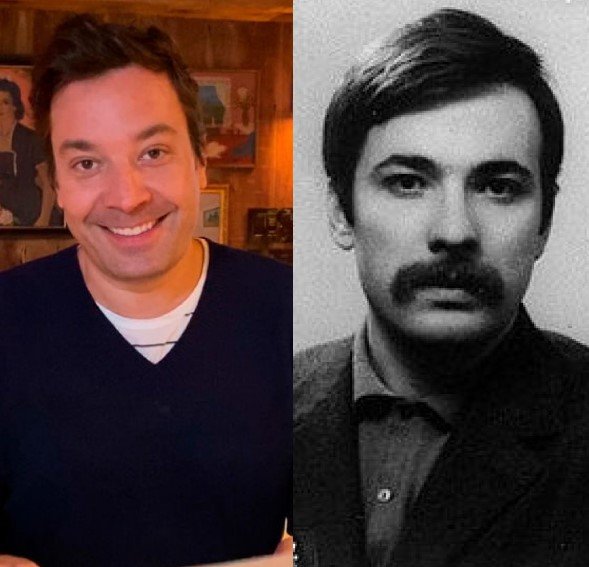 Jimmy Fallon isn't just an American comedian responsible for that loud laughter. He's a great host too. The Tonight Show host might make you get on the edge of your seat and leave you in splits, but he was into revolutionary movements! Not the real Jimmy Fallon, but his doppelganger, Mahir Cayan, was a well-known Turkish communist leader back in the 1970s.
Jennifer Lawrence and Zubaida Tharwat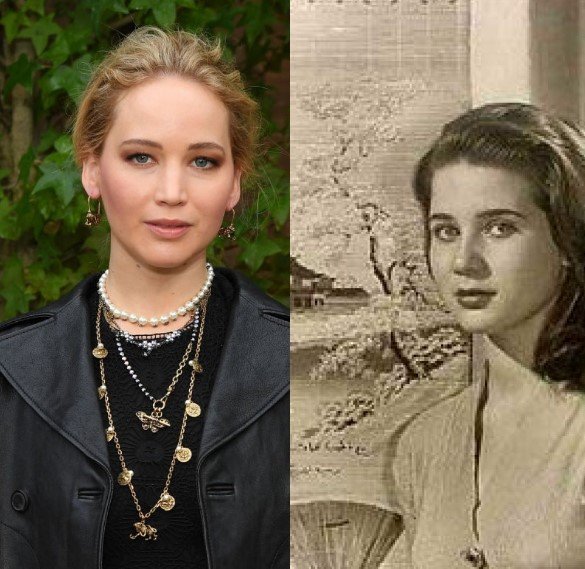 The Hunger Games fame Jennifer Lawrence is Hollywood's sweetheart and the heartthrob of many fans worldwide. But she seems to have traveled to Hollywood straight from Egypt, routing back to about 60 years! Lawrence's uncanny resemblance to Egyptian film actress Zubaida Tharwat is too gorgeous to get over. While Tharwat lived her life as a star, young Lawrence is seeing the best of her career through her line of blockbusters.
Zach Galifianakis and Louis Vuitton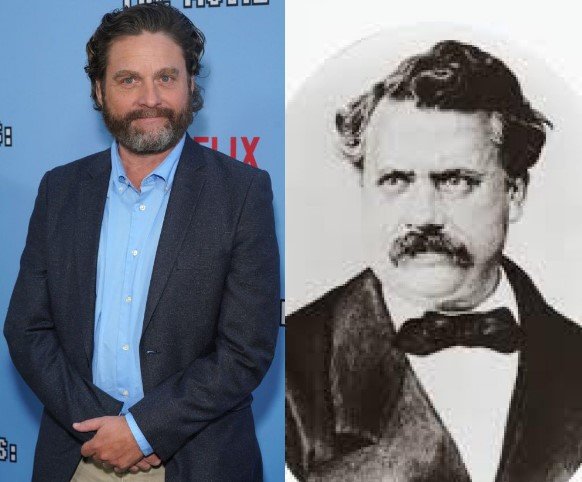 If you've watched The Hangover, you wouldn't ever miss the man in his signature beard, Zach Galifianakis! The Due Date star who is having a high-rise career in Hollywood might have fallen in love with fashion all of a sudden! If not now, maybe before a century! But 50-year-old Galifianakis might not have been born in the 1800s. Nevertheless, his doppelganger and French fashion designer, Lous Vuitton did! Though the two legends are famous in their respective professions, their resemblance unites them before anything else.
Adrian Brody and John Locke, the Philosopher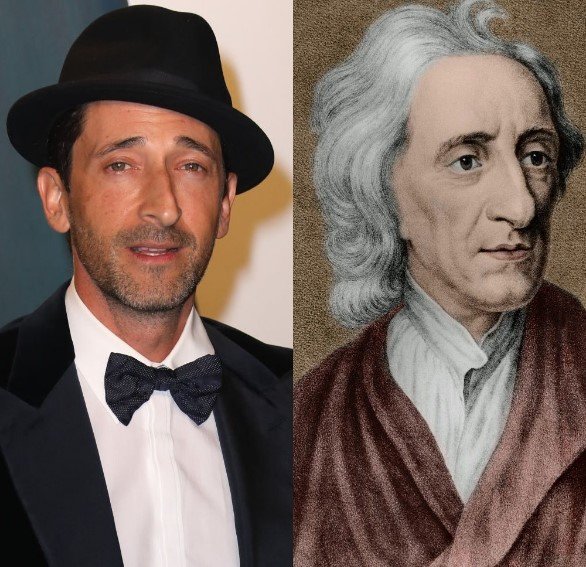 Adrien Brody is a legend! He's Hollywood's most-recognized stars of all time. Though stardom doesn't come easy for all, Brody seemed to have made an excellent name for himself in the world of successful stars. But have you ever imagined Brody as a historical philosopher who fosters enlightenment to all? Well, maybe he was an influential philosopher, after all! Perhaps not Brody himself, but his doppelganger and the "Father of Liberalism," John Locke managed to spread enlightenment during the 1600s.
Ellen DeGeneres and Henry David Thoreau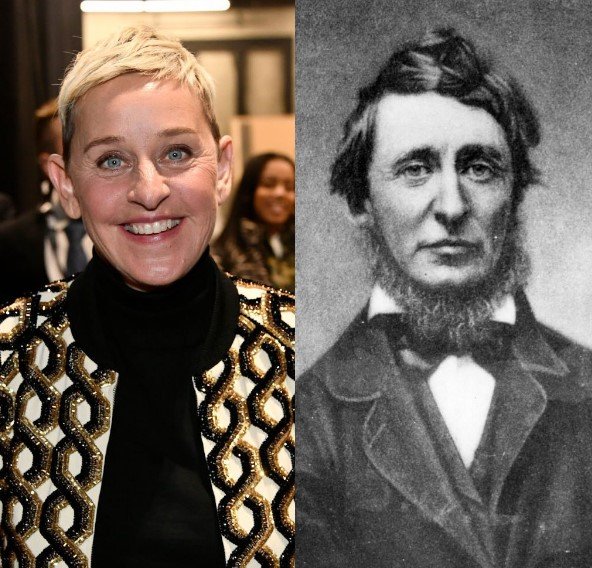 American comedian Ellen DeGeneres makes a perfect host and actress. Her bold mimics are always coated with humor elements, making every conversation lively and entertaining. DeGeneres is a writer too, and maybe this could be the reason why her doppelganger, Henry David Thoreau, was a famous essayist in the 1800s! Though the two of them differ in the gender category, their resemblance is an epitome of pure perfection.
Glenn Close and George Washington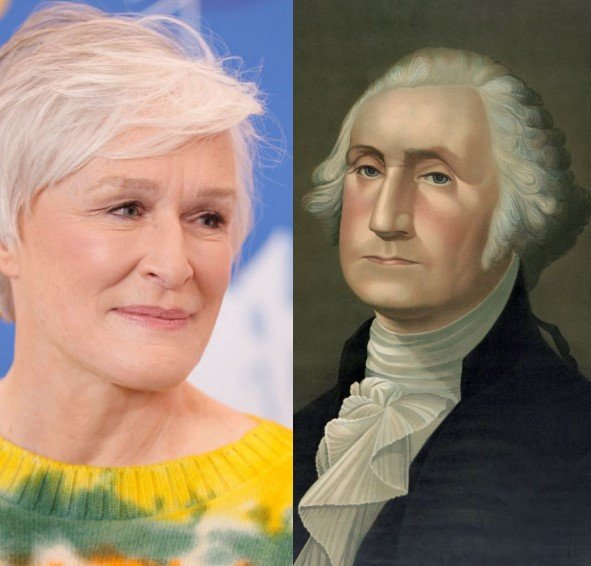 Some of Hollywood's big names seem to share their looks with famous political marvels. Glenn Close sure made her mark as the evil-minded Cruella de Vil in 101 Dalmatians. Still, her doppelganger seems to be an iconic political marvel of the U.S. Close's striking resemblance with George Washington's features might remind the old saying—History repeats itself!
Keanu Reeves and Portrait of Paul Mounet
Canadian actor Keanu Reeves might seem straight out of an action-adventure. But in reality, he's a famous star just like the other celebs known in and around Hollywood. While Reeves is a well-established star in the industry, his shocking resemblance with Louis-Maurice Boutet de Monvel's portrait of Paul Mounet appears as though the star broke free from the painting!
Eddie Murphy and "Eddie Murphy" in a Hat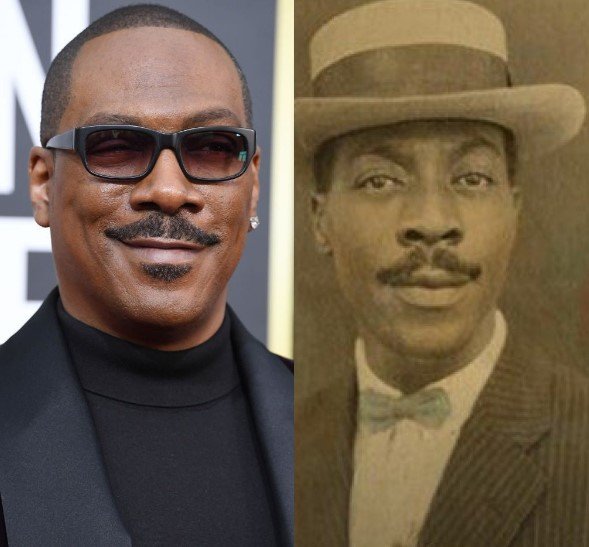 American actor Eddie Murphy is a popular name in Hollywood. The Beverley Hills Cop star might have journeyed through years of hard work and success in the industry, but it seems he has left something in the past! Perhaps, he needs to grab that hat from this mysterious man who looks nothing more than Eddie Murphy himself.
Leonardo DiCaprio and Judy Zipper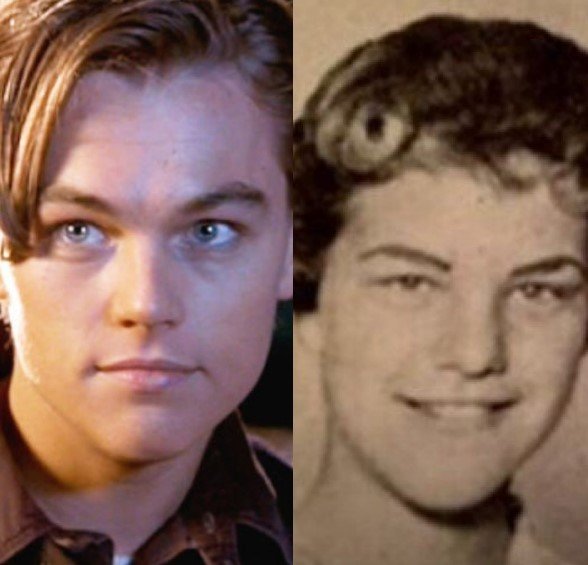 Titanic's Jack Dawson, aka Leonardo DiCaprio, didn't manage to win Rose's heart alone! He is an evergreen sensation that rules Hollywood with all his wit, wisdom, and acting. But what if his doppelganger was a cute maiden who shared strikingly similar features of DeCaprio? Well, Judy Zipper, a woman who lived in the 1960s, is nothing less than the American actor's past personality.
Maybe what they say is right—History does repeat itself! Though the present-day icons are famous in their respective fields, their doppelgangers seem to have carved their names in history altogether. It's a never-ending belief that seven similar faces exist on the planet, but when famous people have their lookalikes from past, a new chapter is ultimately reborn.
Sources: All That's Interesting, The Sun, YouTube, Express UK