Lunch Lady Helps A Student In Need?
When you were in school, you probably gave very little thought to the workers that helped to prepare your meals in the school cafeteria. What you probably didn't understand back then was that the lunch workers are just as essential to your school day as the administrators or secretaries.  Sometimes, that means having to make sacrifices to help students, which is what happened to one worker in New Hampshire. What sacrifice did she make? Let's find out!
Bonnie Kimball
The worker in this particular school was named Bonnie Kimball. She actually worked for Cafe Services, which is a company from New Hampshire that contracts out food workers to schools. She was working at Mascoma Valley Regional High School.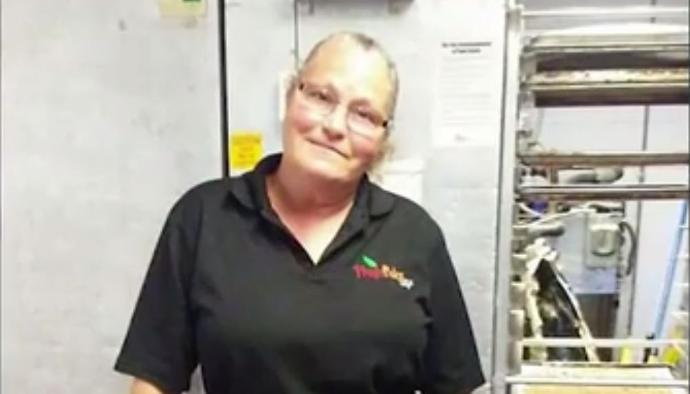 The school is in Canaan, NH, and isn't usually known as a district with a lot of poor students. In fact, in 2014, the school received a $21.5 million renovation to modernize. The incident with Bonnie Kimball happened in 2019. What exactly happened?
The Job
Bonnie had worked at the school for over four years. Unlike the stereotypical image you might have of a lunchroom worker, she was very happy in her job. In fact, she drove to school every day from her home in Canaan Village.
She told the local paper the Valley News that, "We didn't even call it work. We got up in the morning, we took care of our families and we went to take care of the kids." So, she enjoyed the job and enjoyed taking care of the kids. This would get her into some trouble though.
The Incident
Bonnie told CNN that one day, a student came through her line and he had $8 worth of food on his plate. He told her that he didn't have the money for it. So, she let him have the food anyway. This didn't seem like a big deal to her.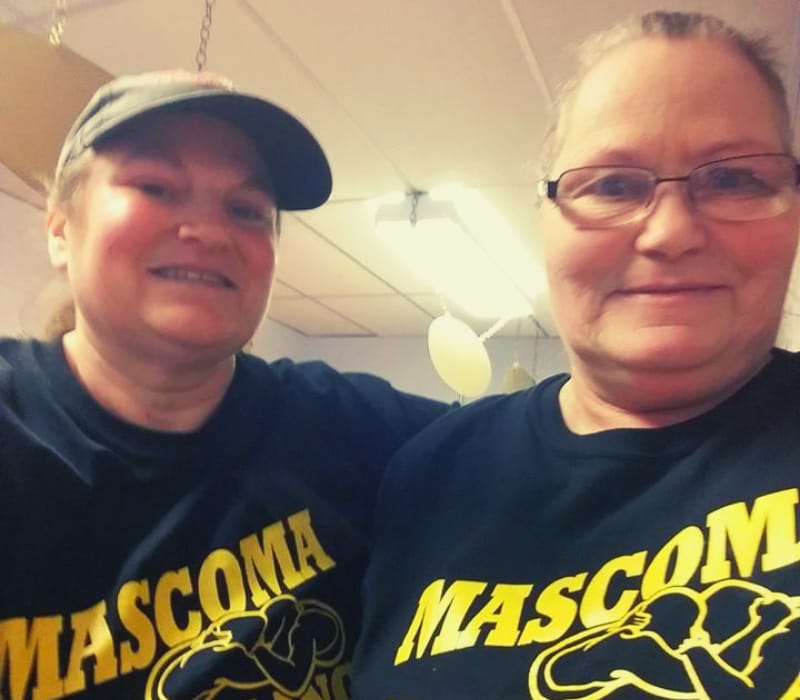 She also told CNN that she had known the boy's parents for a long time, and she knew that the $8 would be paid. He did pay the next morning according to her. This seems pretty simple, right? She let a poor student go through without paying. It led to a lot of problems for Bonnie and the school.
More To The Story
When talking about the incident with the Valley News, Bonnie said that the student, "When I rang him up, the student didn't have any money on their account. So, I have a district manager here, my boss has told me 'Don't cause any scenes with the contract' and I quietly said 'tell (your) mom you need money.' "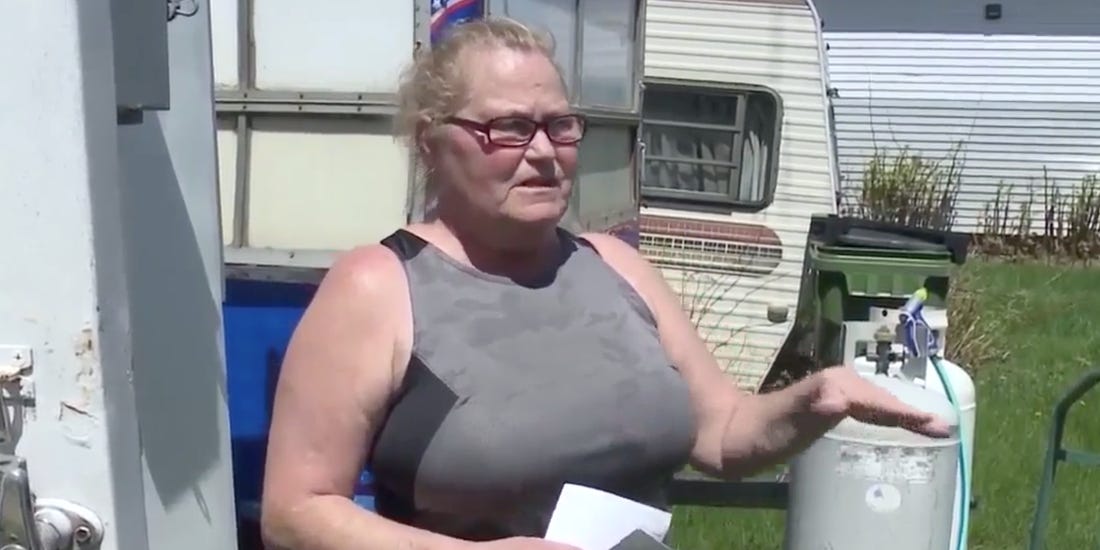 The student said "OK, will do" and went on with his lunch. A rival group to Cafe Services, Abbey Group, was observing that day, which was why she mentioned the contract. There was a lot of tension in the school that day. Also, there was someone else watching the register.
Aftermath
Bonnie didn't know it, but a supervisor from Cafe Services was actually watching her. This was NOT GOOD for Bonnie. About a week later, she was called into their office and summarily FIRED for giving the boy an $8 meal.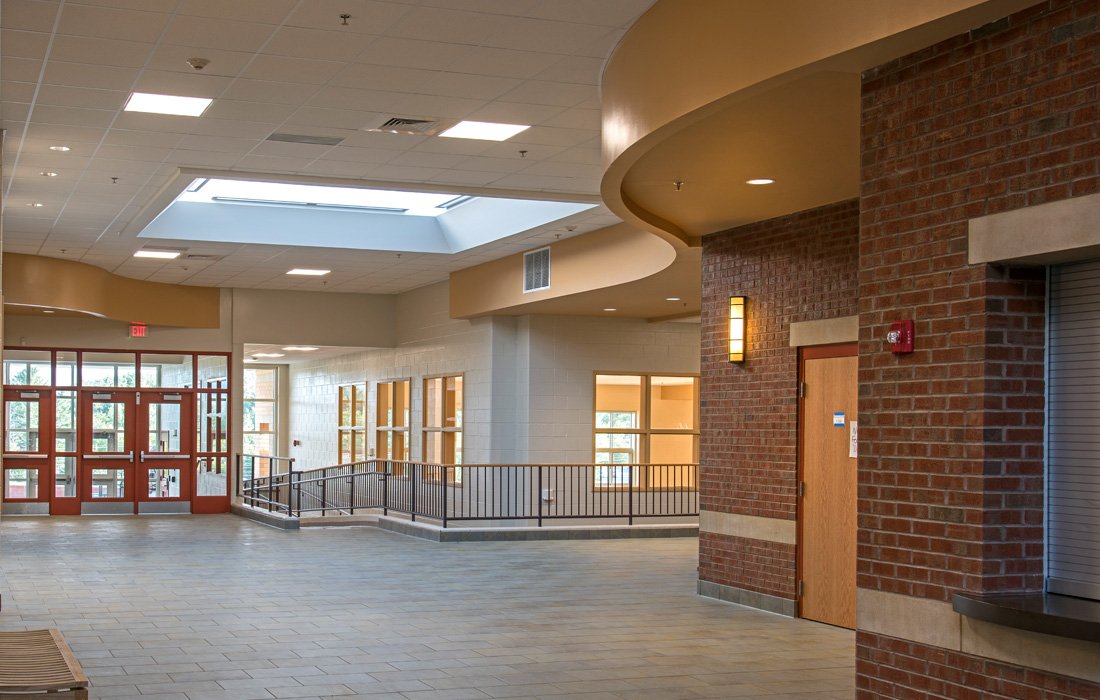 According to Bonnie, the district manager who fired her said "Do you understand what you did was wrong? That was theft." Her work status was terminated and she went home. What happened next was fascinating, to say the least.
The Company
For their part, Cafe Services sent her a termination letter and told CNN that the student would not have gone without a meal if he couldn't pay. This seemed pretty simple and they actually have a policy for kids that don't have lunch money.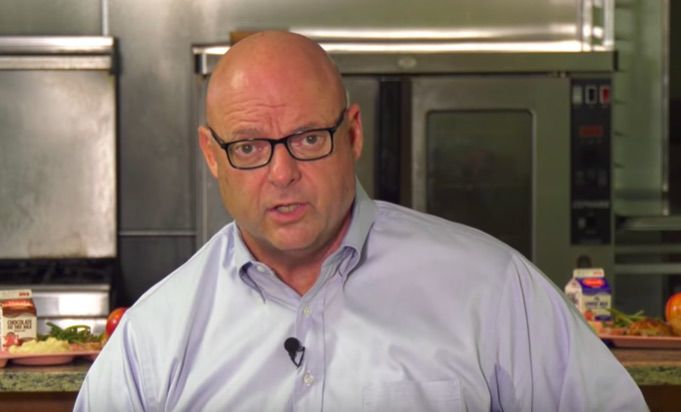 A spokesman for the company said "The student in question did receive a lunch. Students who come up to the lunch line without money receive a lunch of an entrée or sandwich plus side dishes or fresh fruit and milk. An employee of the company would not be let go because they provide this lunch to a student," The story started to pick up steam from here though...
The Termination
Now, according to Bonnie Kimball, the other workers in the lunchroom were outraged and two others quit too. According to the local newspaper The Union Leader, Bonnie was told that she should not pull a tray or make a scene over money.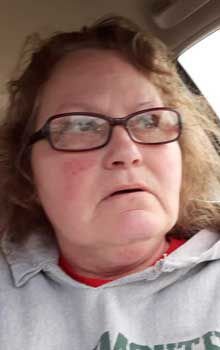 Since the contract was up, the district manager apparently told her in February of 2019 to not make a scene and to tell the kids to add money to their accounts. She said, "I was doing what I was told to do...We weren't supposed to pull trays." Why did they fire her?
Not Talking
Here's where the story gets interesting. The company wouldn't give specifics as to why Bonnie was fired. They have a policy of not discussing why employees were fired, nor do they usually speak to the press. They also weren't specific in her termination letter.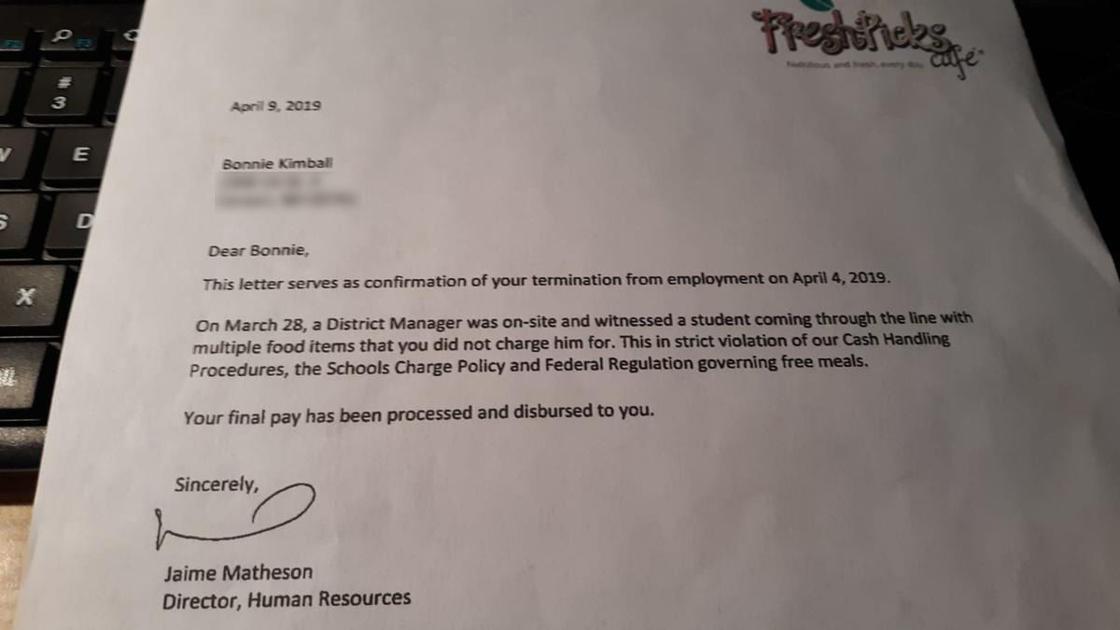 Parents were outraged at this treatment. Pretty soon the press picked this story up and it went viral all over the internet. Remember, there was a bigger problem with Cafe Services. They didn't want to lose their contract. Soon, everyone knew about Bonnie's termination.
The Viral Story
This story was picked up by the media and the press. It was all over the internet. Even national outlets, like the Guardian picked up the story. Most of them painted Bonnie Kimball in a very sympathetic light. She got a lot of support.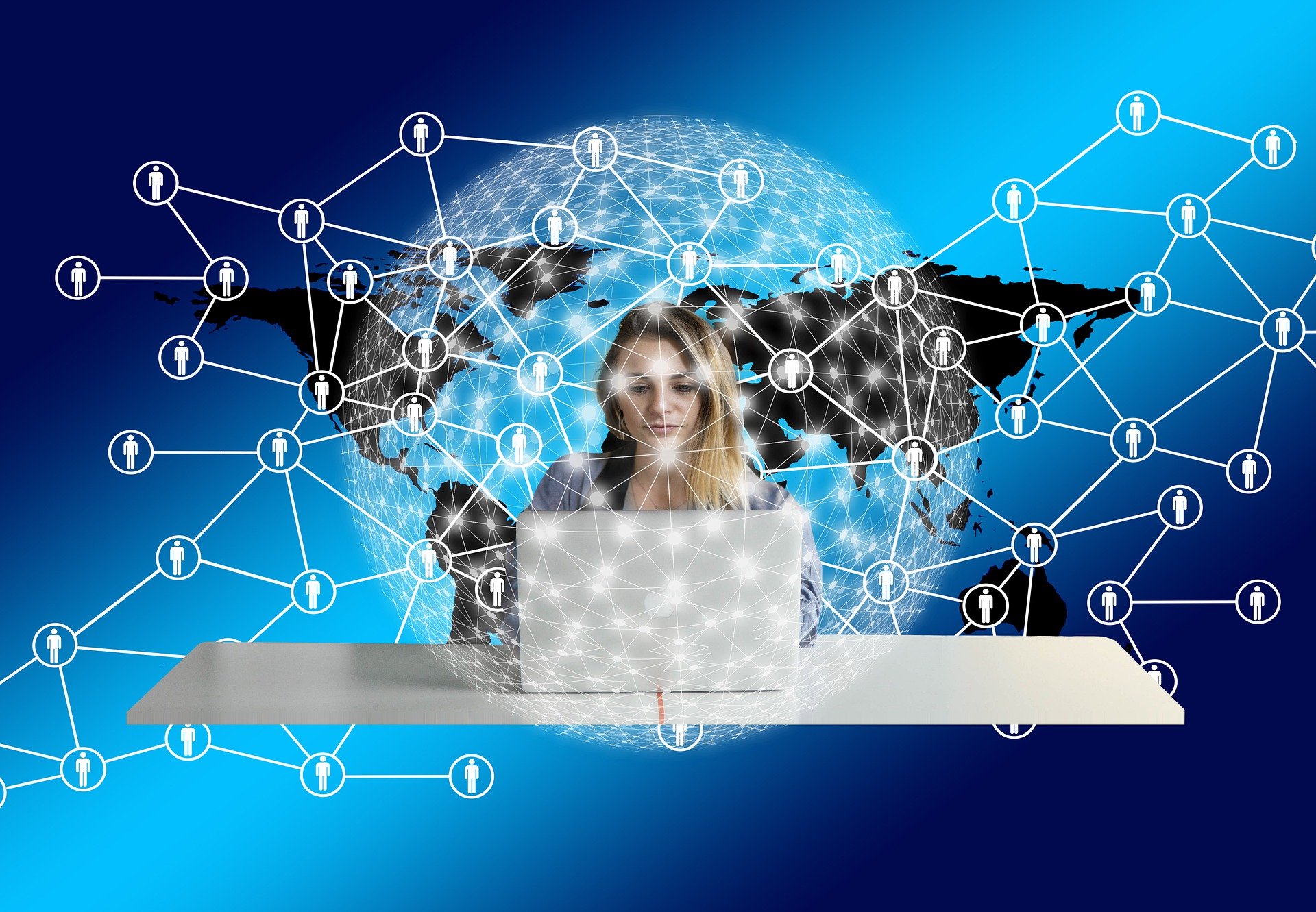 She told the Guardian that "When I walked out of the school the day that I got fired, all that was going through my head was that I wouldn't be able to show my face again. People would think I was a thief...(the support) makes me feel good". This put Cafe Services in a bind.
Sympathy
Some of these stories went a bit overboard with how they talked about this incident. Many of them implied that the student was too poor to pay. Pretty soon, there was a lot of outrage and parents spoke out about her termination.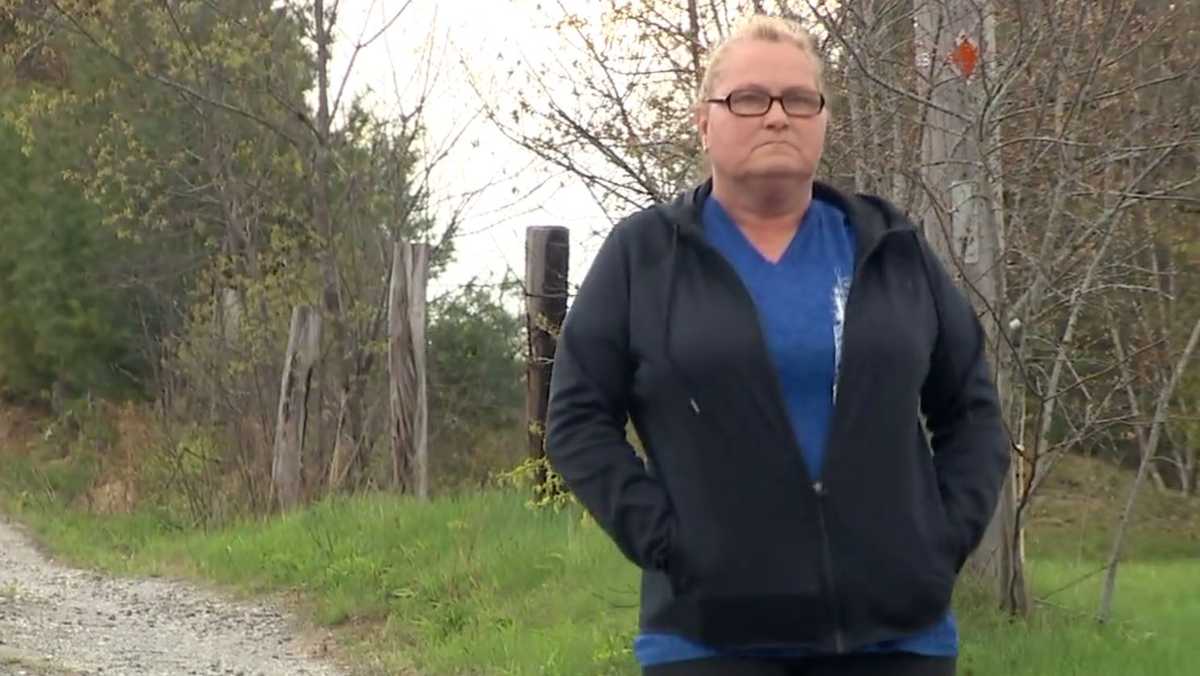 People were up in arms about her firing and the school board was about to make a decision about food service companies for the schools. Some parents started a GoFundMe, which received almost $9000. The superintendent of schools even backed her up and issued a statement.
Cafe Services
With all of that pressure, Cafe Services decided to offer Bonnie Kimball her job back. They were even going to give her back pay as a goodwill gesture. This sounded like a great outcome for Bonnie, and she had received so much support!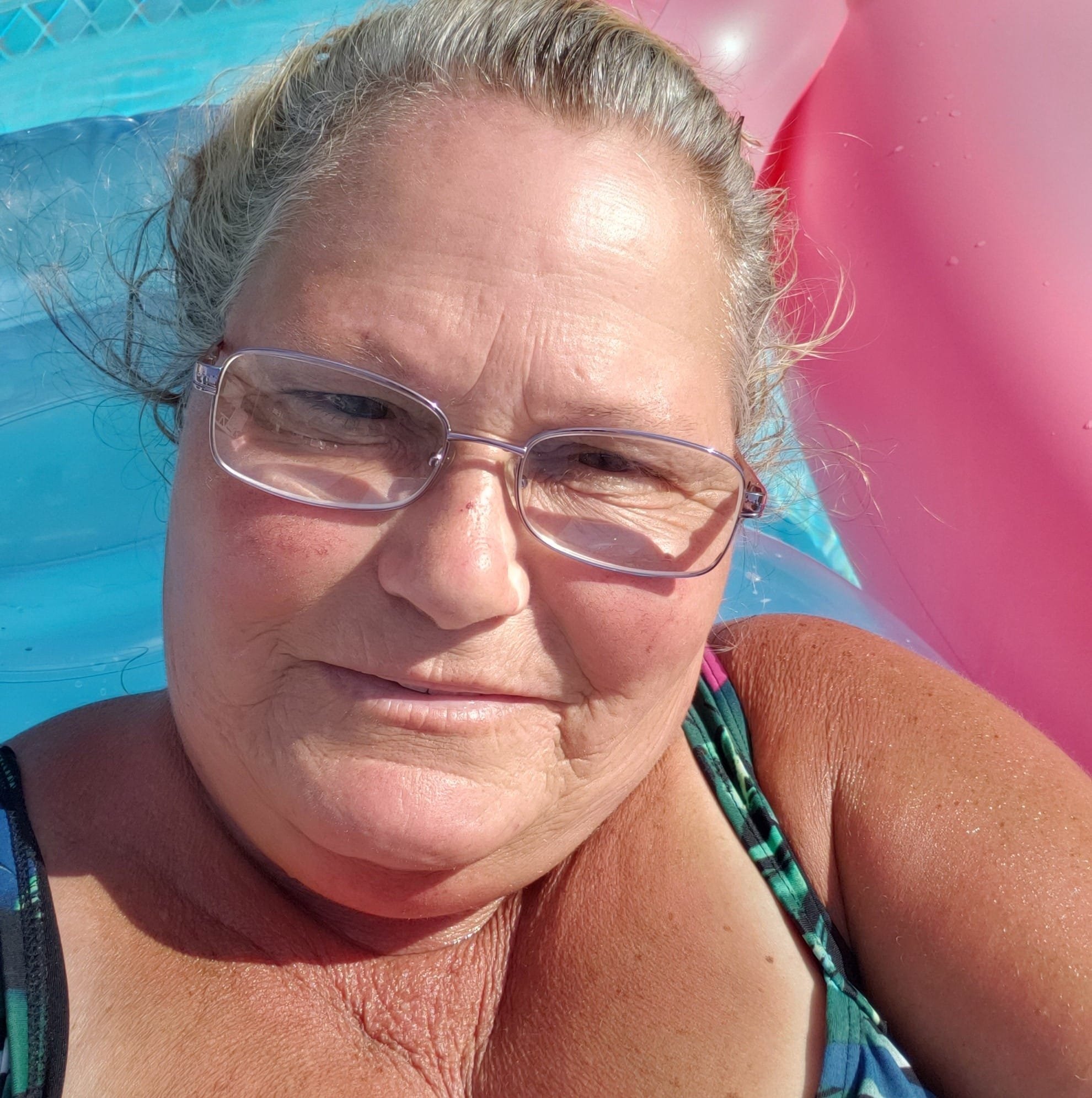 Bonnie refused to go back to work for them despite their offer. She said that she didn't want to work for them again. There was one person that hadn't spoken about Bonnie's actions though: the parents of the boy who she gave the food to. This would prove to be a very important piece of the puzzle.
The Mother
As it turns out, the one person who had said nothing during all of this was the boy's mother. As it turns out, this wasn't some poor kid who didn't have enough money to eat. In fact, he was a popular 17-year-old "jock" who had previously charged lunch items to his friends' accounts.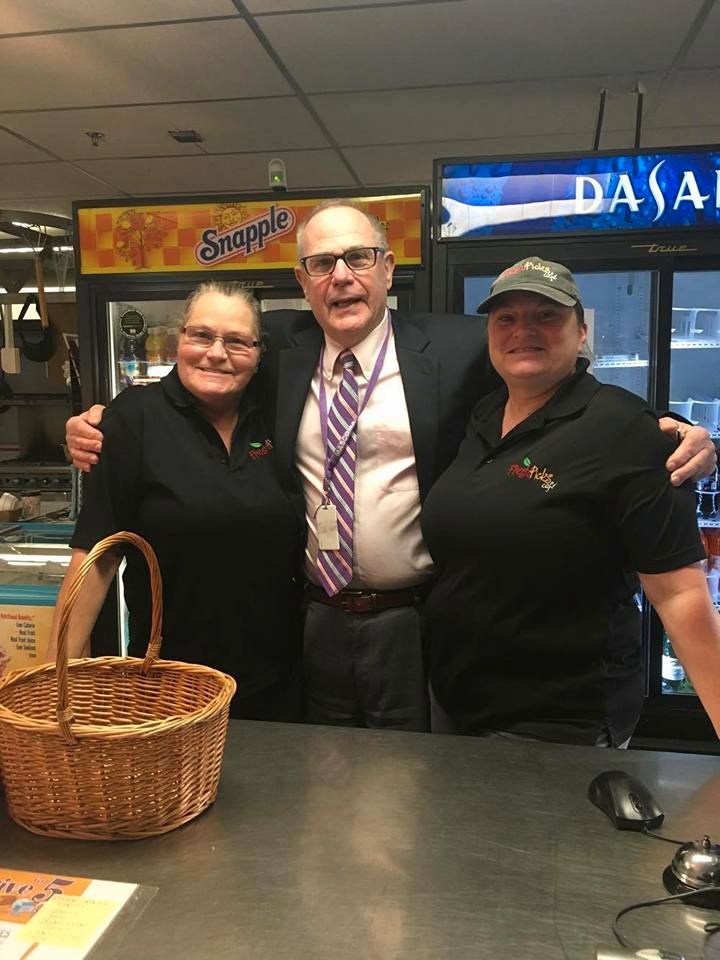 His mother told The Union Leader that he was supposed to pack his lunch that day. She said, "I have three children, and they are all well-cared for and well-fed...She did not get fired for feeding a hungry child." There was even more to this story...
Extra Items
It wasn't a lunch that Bonnie Kimball gave to him. The lunches were free for kids with no money. She gave him a bunch of extra stuff like sports drinks and cookies. The mother was also upset that they approached the boy about the money and not her.
Why did the mother finally speak out? Well, she told the Union Leader that "I feel like this whole thing has just gotten out of control." Unfortunately, this wasn't the end of the story either. They also found some interesting messages on his phone.
Messenger
The Union Leader also obtained messages from Bonnie Kimball to the student. Apparently, she had been giving him free food for months and knew exactly what she was doing. In the texts, she even tried to enlist the boy's help in finding classmates that would vouch for her.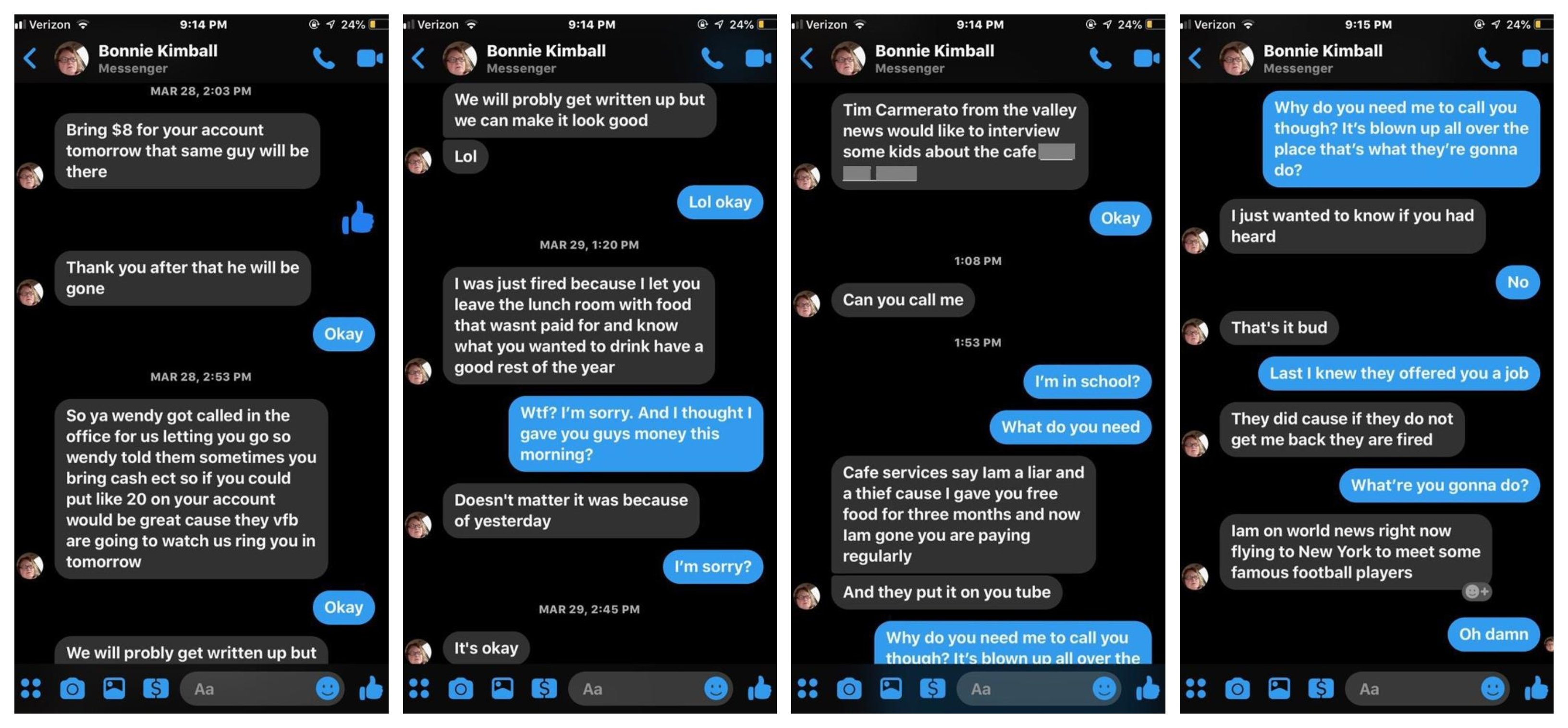 The part about knowing his parents since they were kids? Also not true. His mother told the Union Leader, "We have nothing to do with her outside of the school system." The boy had befriended her on Facebook, and she was giving him free food. What happened to Bonnie and the boy?
The End
The district pulled their support for Bonnie Kimball. They rescinded their letter of support. The GoFundMe was still there, but the money in it was redirected. She had in fact been dishonest, and despite her protests, all of the evidence was against her.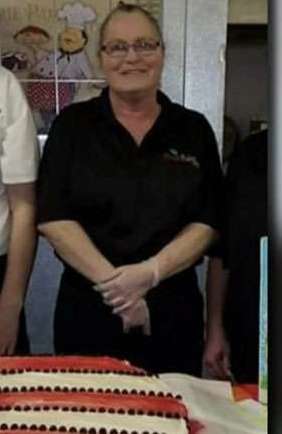 As far as Cafe Services goes, they kept their contract with the school. There is a lot of coverage of these viral stories, but this goes to show you that they aren't always what they seem. In this case, they were definitely not what they seemed to be.
That's it for the story of the lunch lady and the free food. This particular story kind of had a twist ending that you probably weren't expecting. If you enjoyed this story, please share it with your friends. Thanks for reading!
Sources: Washington Post, Union Leader, NBC News, ABC News, Valley News