Making Use of Cinder Blocks
Just finished your backyard renovation and got some cinder blocks lying around? Well, no need to toss them aside - you might find some use for them, even inside your house. From tables to stools, there're all sorts of possibilities. Imagination is the key to everything (and of course, some elbow grease). Here are some ideas of what you can do with cinder blocks. 
Fire Pit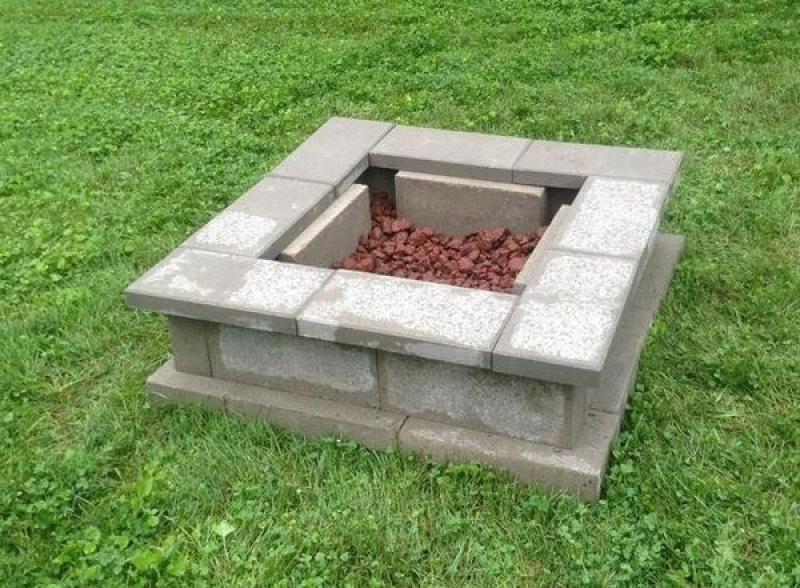 Fancy a warm autumn afternoon out in your backyard by the fire pit? If you got some cinder blocks lying around, now's the time to make use of them. Make sure the cinder blocks are fire-resistant. For this project, you'll need 24 cinder blocks, two bags of red lava rock, a small bag of mortar, and four cinder block caps. First, make sure the area you're working on is leveled, then you can start lying the blocks down and fix them up with mortars. For detailed instructions, take a look here. As usual - since you'll be working with fire, do so at your own risk. 
Cottage Bench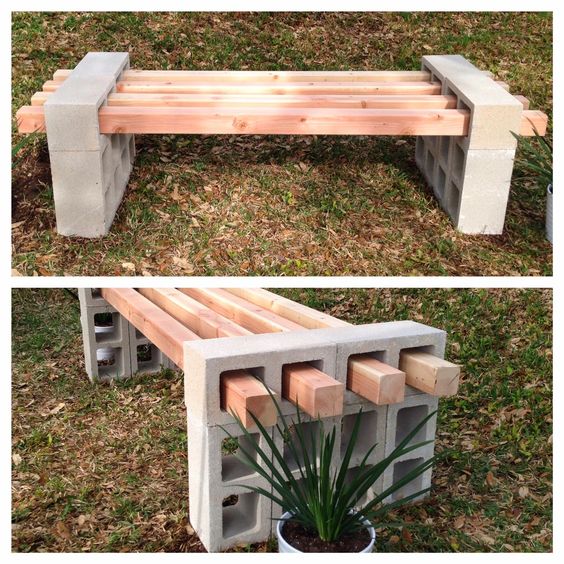 This one is a relatively simple project, which should take you a few hours tops. The items required are also readily available, especially if you own a dacha. Some cinder blocks, industrial adhesive, and some 4x4 wooden beams. As simple as that. Stack the blocks up, apply the adhesive between the blocks, then put the wooden beams through the holes, Voila! Easy peasy. You can also have a look here for the instructions on a similar design. 
Desk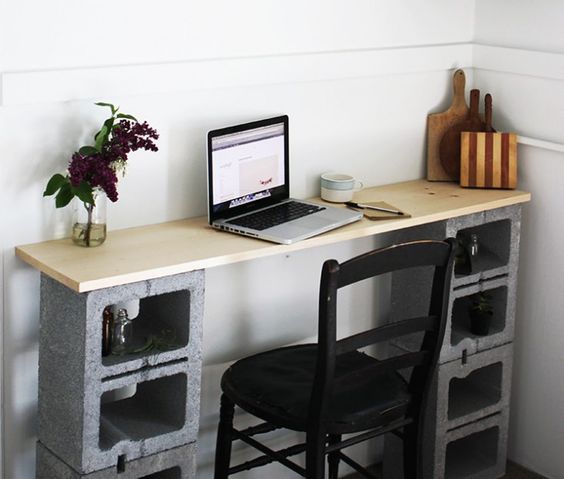 If you are into the whole brutalist movement, then this one may be for you. It should fit perfectly in a house with brutalist design - the bleak, grayish atmosphere and pronounced contours. But good news - it is very easy to make. Basically, what you do is simply stack up the blocks, make sure everything is leveled. Apply adhesive between the blocks to hold them in place. Then a piece of wooden board lying on top of it (put on some varnish if you want to). And that's basically it. 
Shelves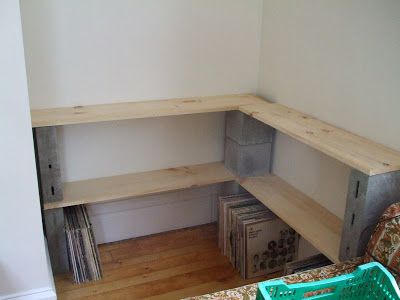 With cinder blocks, the possibility is endless. Just stack a few blocks up and put something on top, and you will come up with something. So this time - a shelf. The same principle applies as if you're making a simple desk - stack up the blocks, align them by the wall, then something flat and sturdy on top...done. You can also stack them up if you want to. 
Planters 
Live in a brutalist household but in need of some green? Cinder blocks got you covered. Due to their shape and material, it makes a pretty good planter for you to plant some green at home. Or flowers, if you want - growing roses from it might create an interesting contrast. You might even be able to build a garden out of it. 
Bed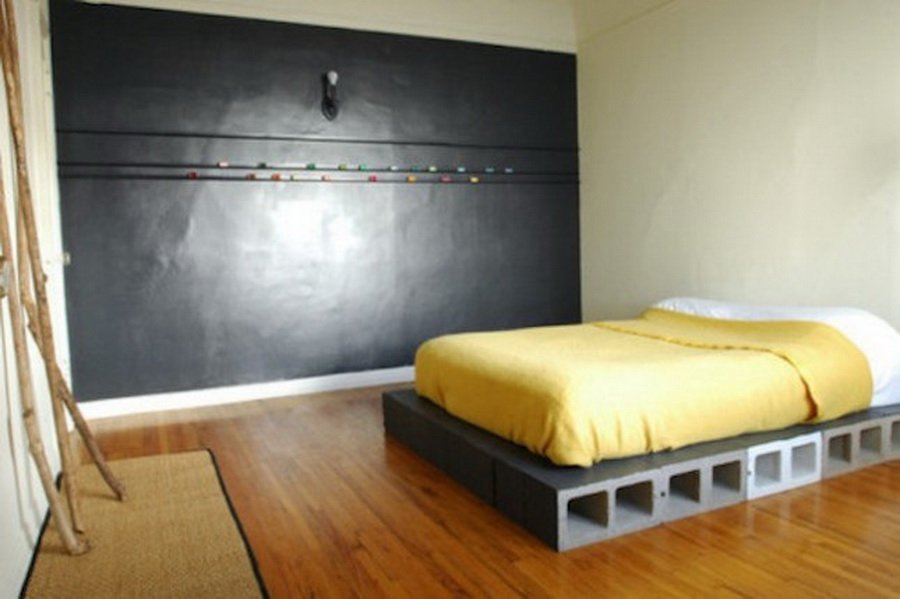 Didn't see that coming, do you? Using cinder blocks to build a bed. It doesn't mean you have to sleep directly on it, cause you can always put a mattress there. But the idea is to use cinder blocks as the support for the bed. Considering the material it's made out of; it should make a pretty sturdy bed. Extra points for having the little slots underneath for storage. 
Nightstands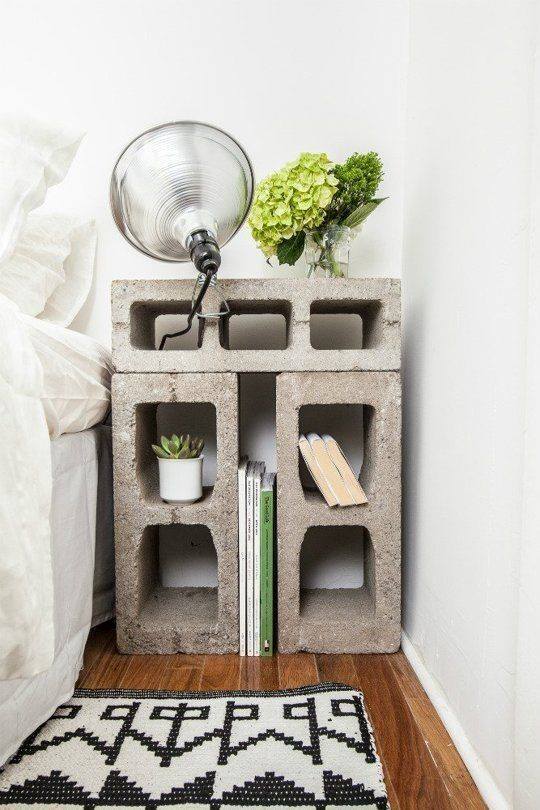 This one is too simple that we don't think it's appropriate to call it a project. Wanna go minimalist? You gotta live that life with minimal effort. Get some cinder blocks, stack them up by your bed, and done. The only work required is to carry the blocks and lay them down. However, if you don't want the top layer to come rolling down and destroy your floor, better use some adhesive to keep them in place. 
Lightstand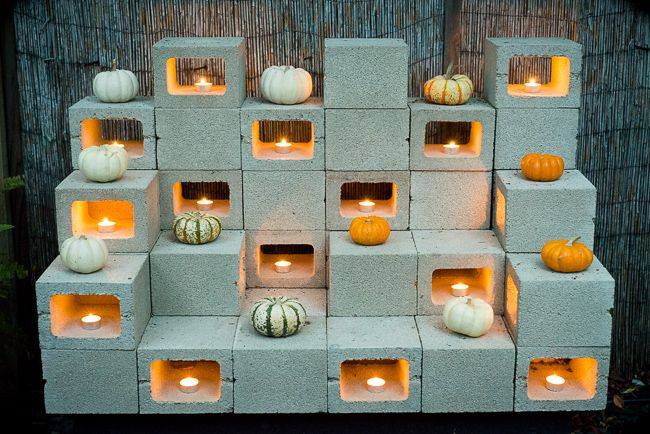 Honestly, we are not really sure how to call this - a nightstand is the closest word we can think of. Indoor or outdoor, it's entirely up to you, as we are pretty sure that it will look pretty neat inside as well...if you don't live in a tiny studio that is. Just get a bunch of cinder blocks and stack them up however you want. Just experiment with it - maybe you will find a pattern you really like. 
Grill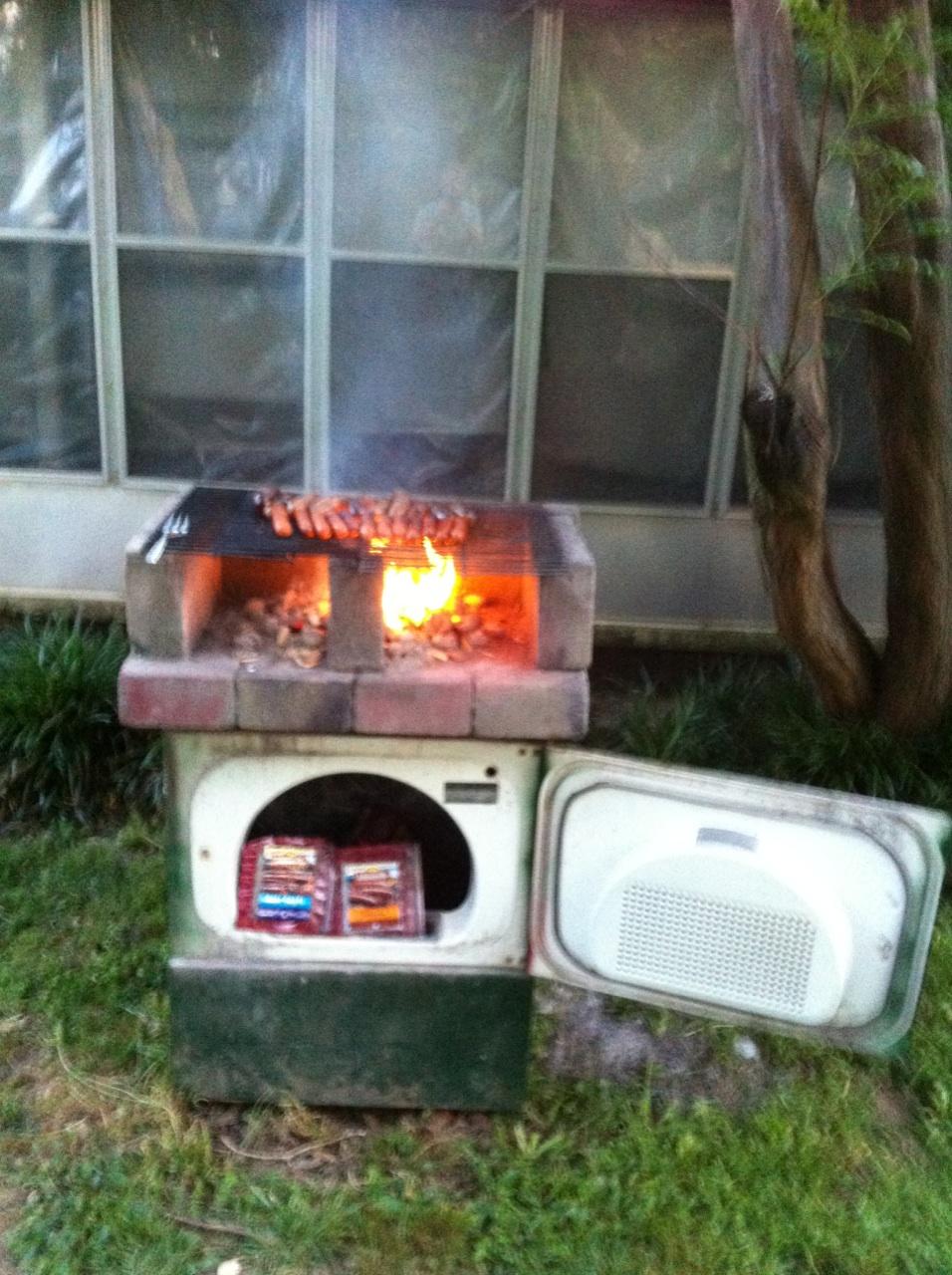 Nothing screams America louder than a good old grill in the backyard. However, maybe there's no need to get a new fancy grill if you just wanna have a quick bite. Fire-resistant cinder blocks make a pretty good and robust grill with minimal effort. Here Imgur user thaginjaninja's dad built this with an old dryer for storage. But you might be able to just stick to the grill and call it a day. 
Rocket Stove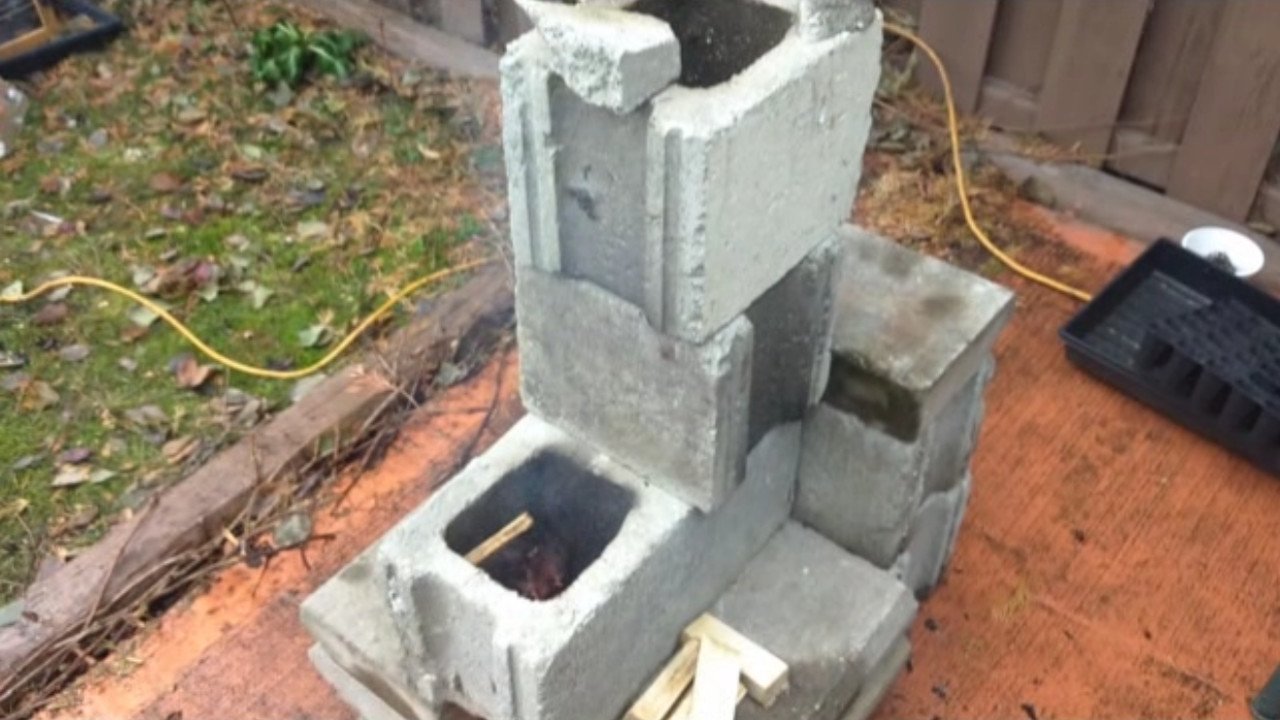 This should come in handy should things go awfully wrong, like a zombie apocalypse or something. Cinder blocks are always easy to come by in industrial areas, as well as suburbs when someone tosses out their unused cinder blocks. A rocket stove is basically a stove design that is created to maximize efficiency. Here Imgur user SolarGeo made use of only two cinder blocks and a few paving stones to create this rocket stove. 
Deadlift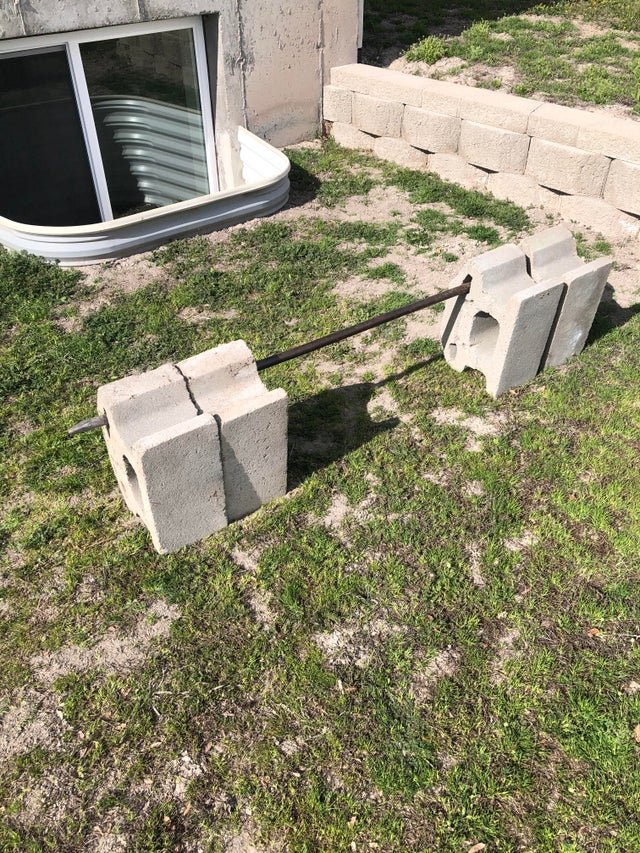 As Redditor Pickl3s4life put it - desperate time calls for desperate measure. If you find yourself stuck at home, but really want to (have to) work out after all the pizza deliveries in the last two months? You can work out in the backyard. No equipment? A strong steel bar and some good old cinder blocks will do. 
Cinderblock Bench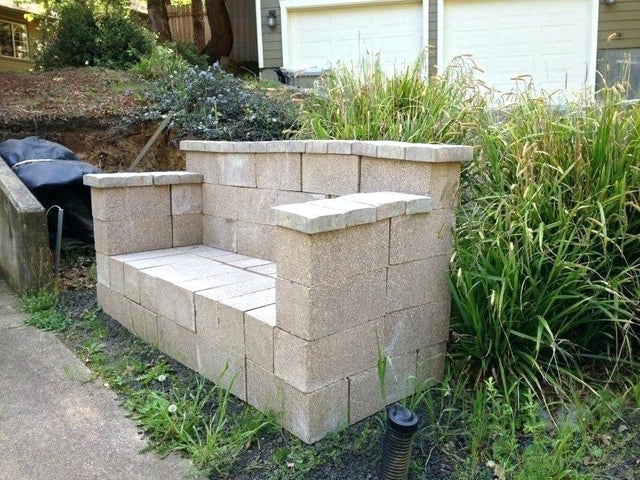 Now, let's say you wanna build a cinder block bench, but all you have is a bunch of cinder blocks with no wooden beam. What can you do? Well, guess what, you can still make a bench out of cinder blocks. Just stack them up into the shape of a bench. Maybe a few cushions so that you won't have a sore butt, and you're good to go. 
Bench Press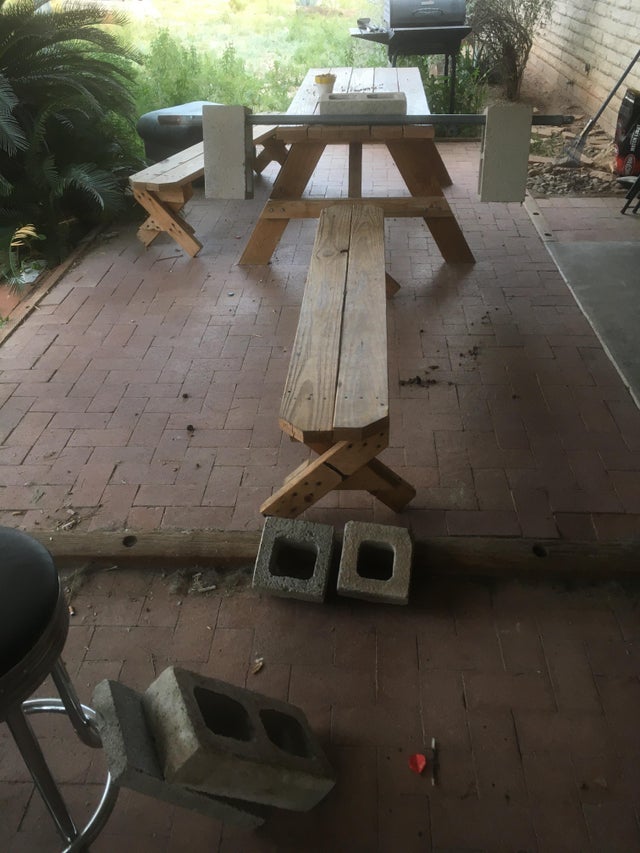 "Do you even lift bruh?" "No, I bench press." Well, if you don't lift, you might be able to have a bench press set up with some cinder blocks instead...or you know what? Why not both? You might be able to use the same setup to do bench press and deadlift. 
A Fence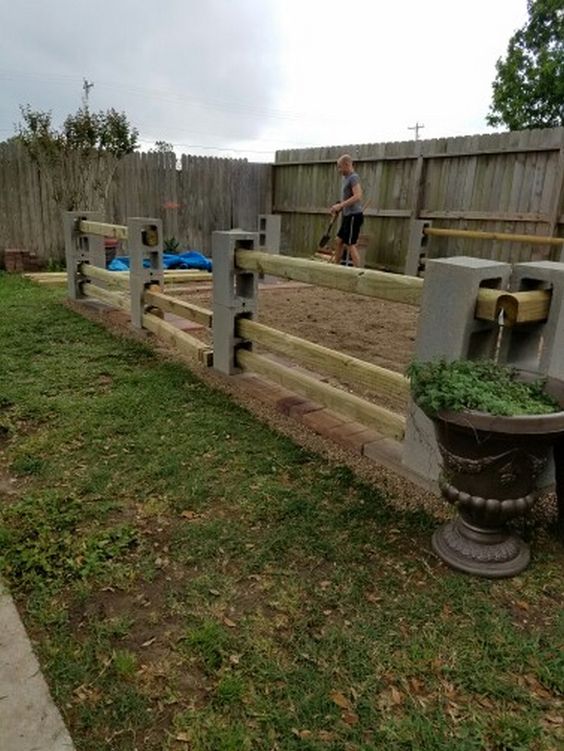 If you got some cinder blocks and wooden beams lying around, instead of making a bench, you could also try making a fence as well. Maybe you live in a farmhouse with livestock, perhaps you're looking for a way to spice up your backyard...either way, maybe you can try this. It's like making a bench, with instead of doing it horizontally, this time, you do it vertically. 
A Smoker
Smokers are not cheap at all, unless you happen to come across a good deal on craigslist. So if you want a smoker and got a bunch of cinder blocks lying around, maybe now's the time to put them in good use. You might need some more materials, as well as a larger surface area to build it, but the result is rewarding. Here's how to do it. 
We hope these gave you some ideas of what you can do with the cinder blocks. They're not expensive, and they're relatively easy to work with - might make a good weekend DIY project as well! If you enjoyed reading this, why not share it with your friends and family? Maybe they can join in together too! 
Source: Instructables, Reddit, Imgur