A Father & Son Cut Open A Wasp Nest
How ludicrous does it sound to hear a dad cut open a wasp nest inside his own home? Quite intense if you ask us. Even more insane is that the dad managed to drag his son into it, and they basically make a living off of cutting things open, but they're not even surgeons! This is, of course, all part of content-creation as a father and son elected to cut open a wasp nest to find out what's inside. Want to know what they found?
Like Father, Like Son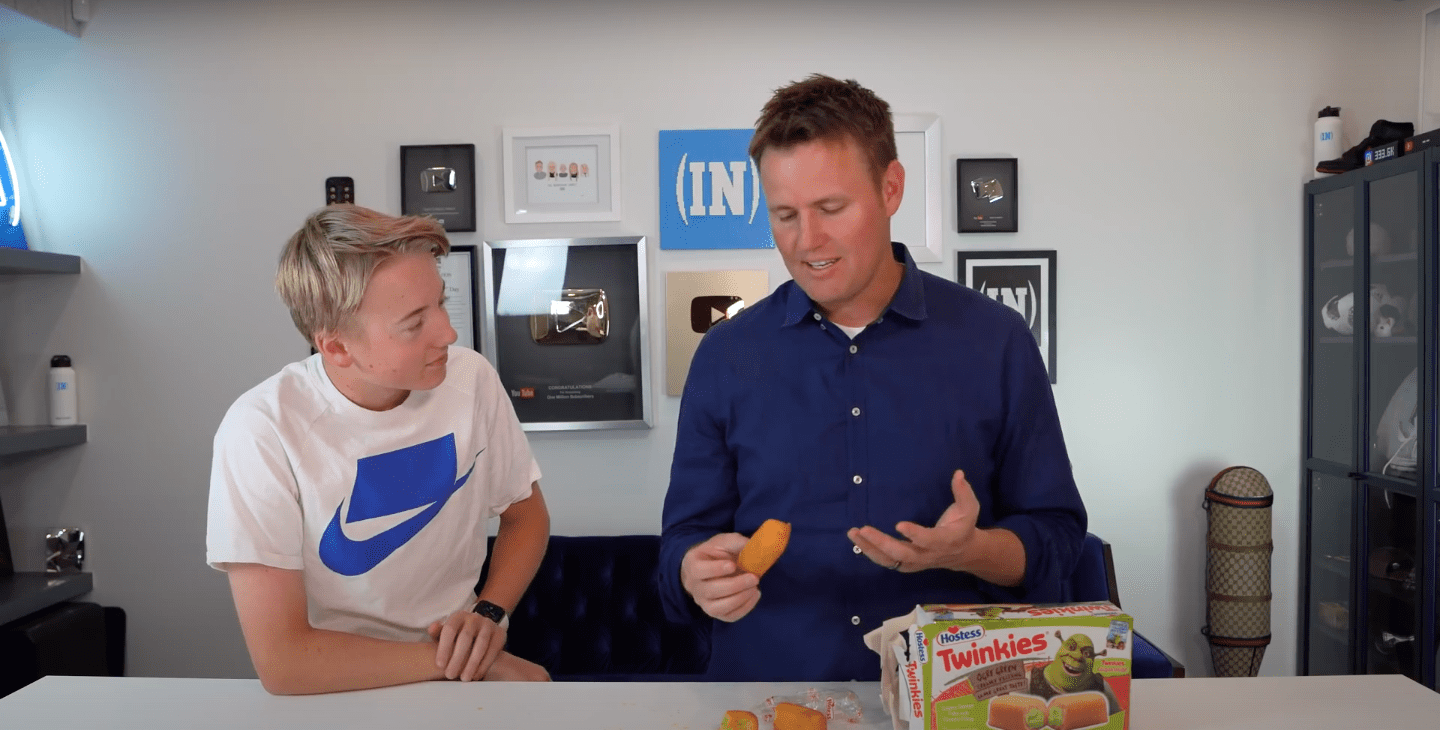 Dan and Lincoln, and his son's friend, Kai, had a curious itch that needed to be scratched. Having some credible experience on this subject (Dan and Lincoln have a YouTube page called "What's Inside" in which they upload clips where they carve open some of the most peculiar objects). So when they decided to inspect a wasp's nest, what did they find?
No Stone Left Unopened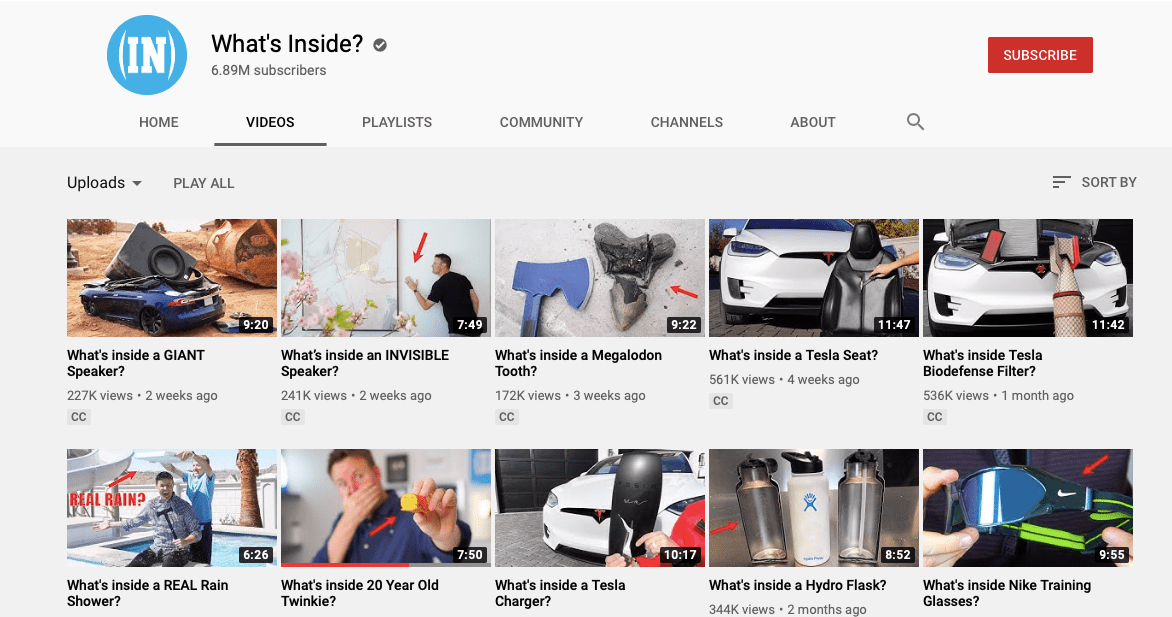 You can clearly see here that for some time they been carving everything and anything open. They've run the gamut and made a living and a thrilling from discovering exactly what things are made. So when it was time to open up a Hornet's nest, were the results as satisfying as all the other objects they opened up?
Hornet Storage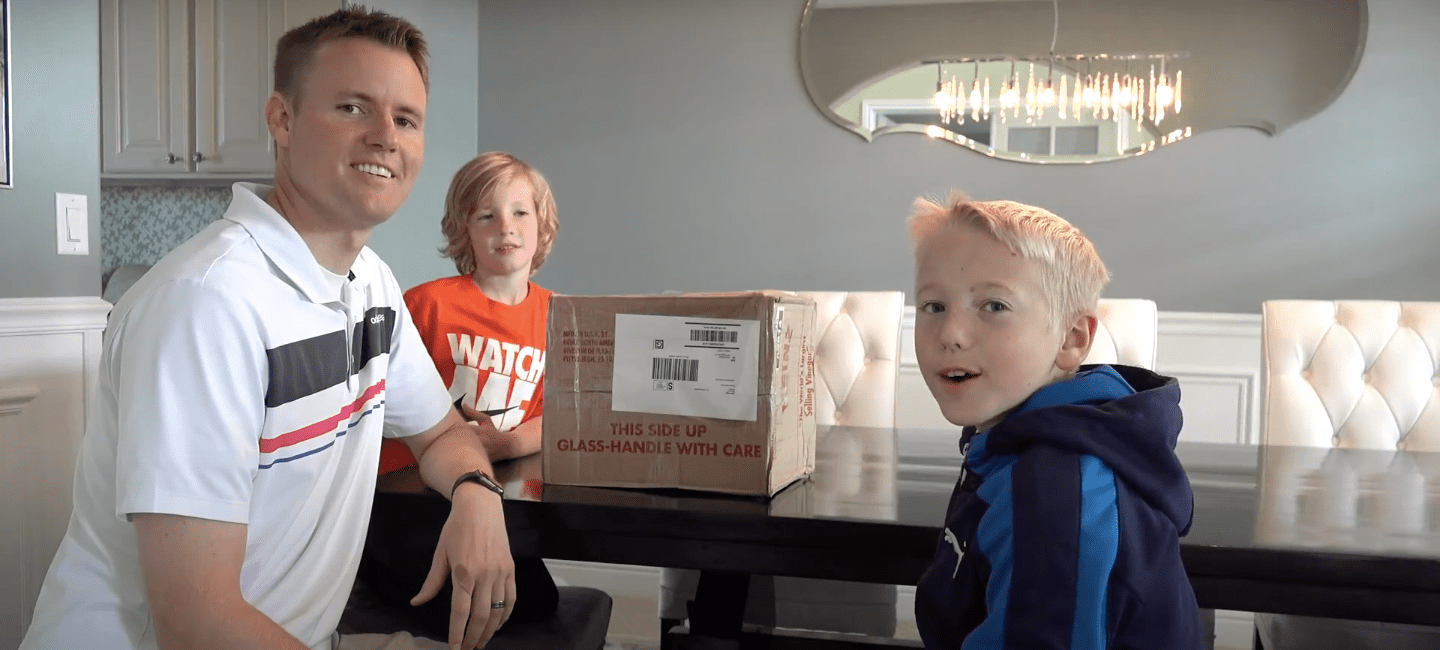 Having cut open things from training glasses, massage balls, and even 20-year old Twinkies, the pair have found considerable interesting underbellies of arbitrary objects. So, when it came down to switching from man man-made to natural objects, they decide to go big. What the two found was eye-opening, to say the least.
eBay For The Win!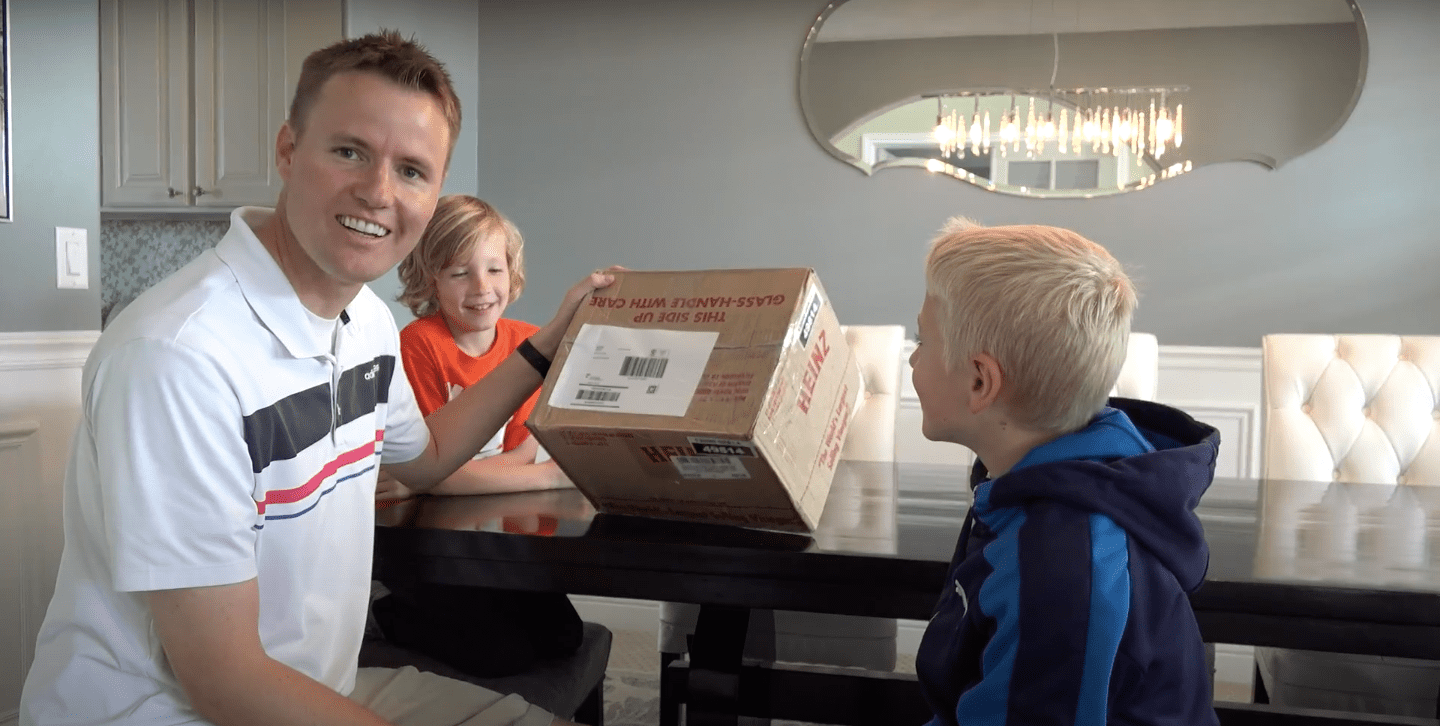 There are some truly strange things you can pick up online. So, of course, the best place to find a safe enough wasp nest to crack open would be on eBay. Opening a live nest would've made for some truly suspenseful content, but we'll have to settle for safety first on this one. This raises the age-old question: 'What does an eBay-purchased wasp nest look like, to be exact?
What's In The Box?!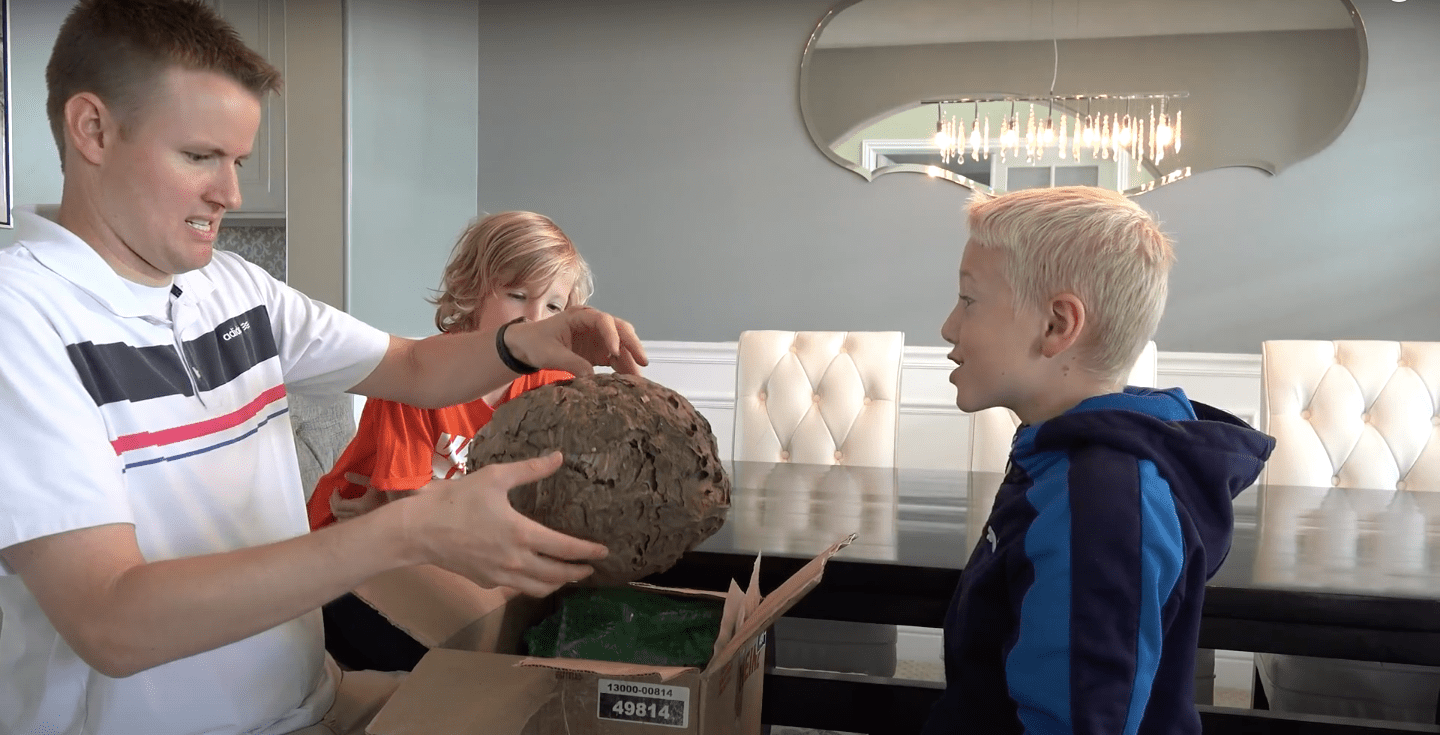 Basically made up of chewed wood designed by the buzzing architects themselves, the order seems to be the correct one. Dan and Lincoln, unfortunately, didn't have a big enough nest in their backyard. But this is a more than a decent substitute to really show the home these creatures build for themselves. If it isn't clear how big this is, what can we use to illustrate the actual size of this?
Ball is Life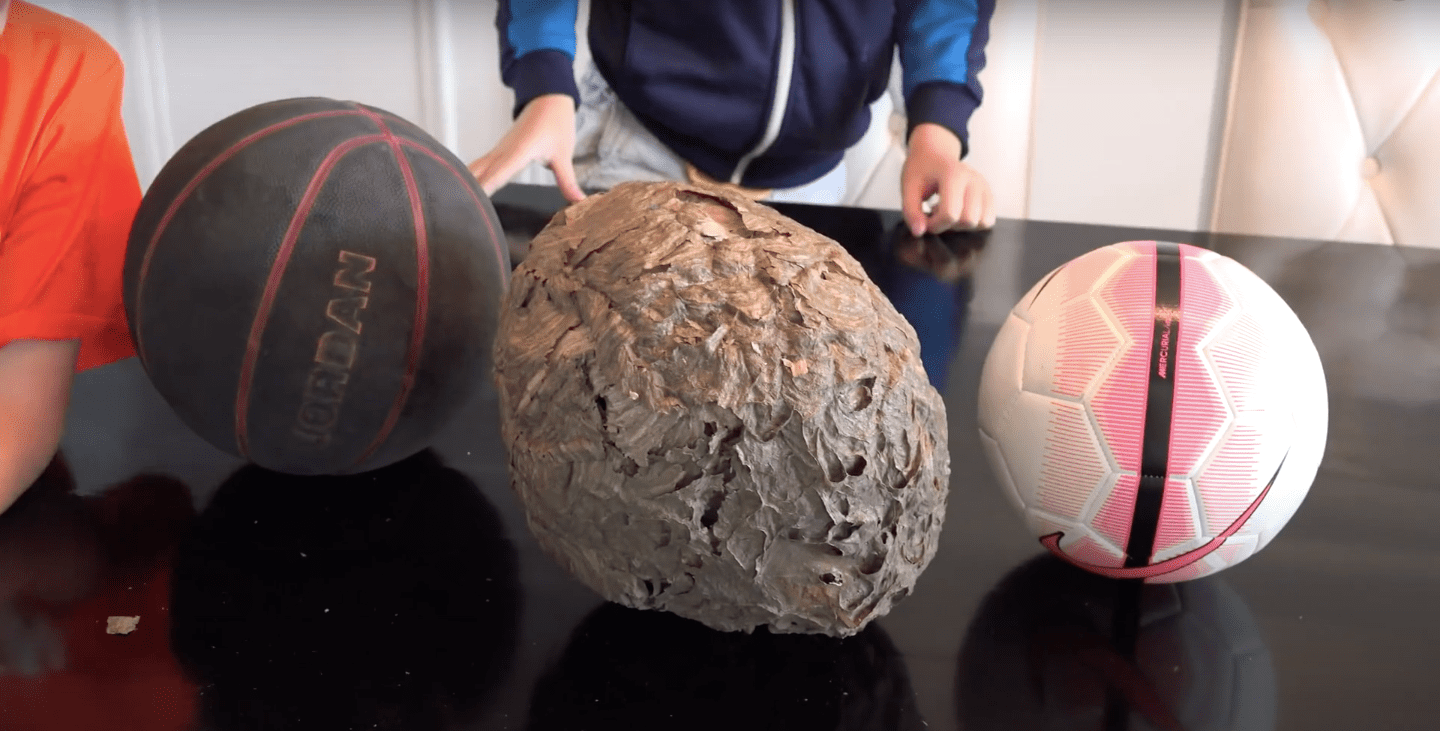 And this is why! In order to show just how fascinating this is. Some nests can be as big or maybe even slightly bigger than a basketball or a soccer ball. Another not-so-fun fact, these nests can often house up to a thousand wasps at a time. You can see why Dan and Lincoln opted for a dormant one instead. Since the material is different from plastic, how exactly would they carve this in half for us to take a look inside?
On The Cutting Edge
Dan had to be the one to do the elbow work here, of course. Dan even admits that "It's the biggest wasp nest I've ever seen" and we're sure the boys share the exact same sentiment. It required some serious handy work from, though. Dan had to cut around the entire structure the same way you would cut an enclosed hamburger bun. Let's hope nothing dangerous comes angrily flying out of there!
The Big Reveal...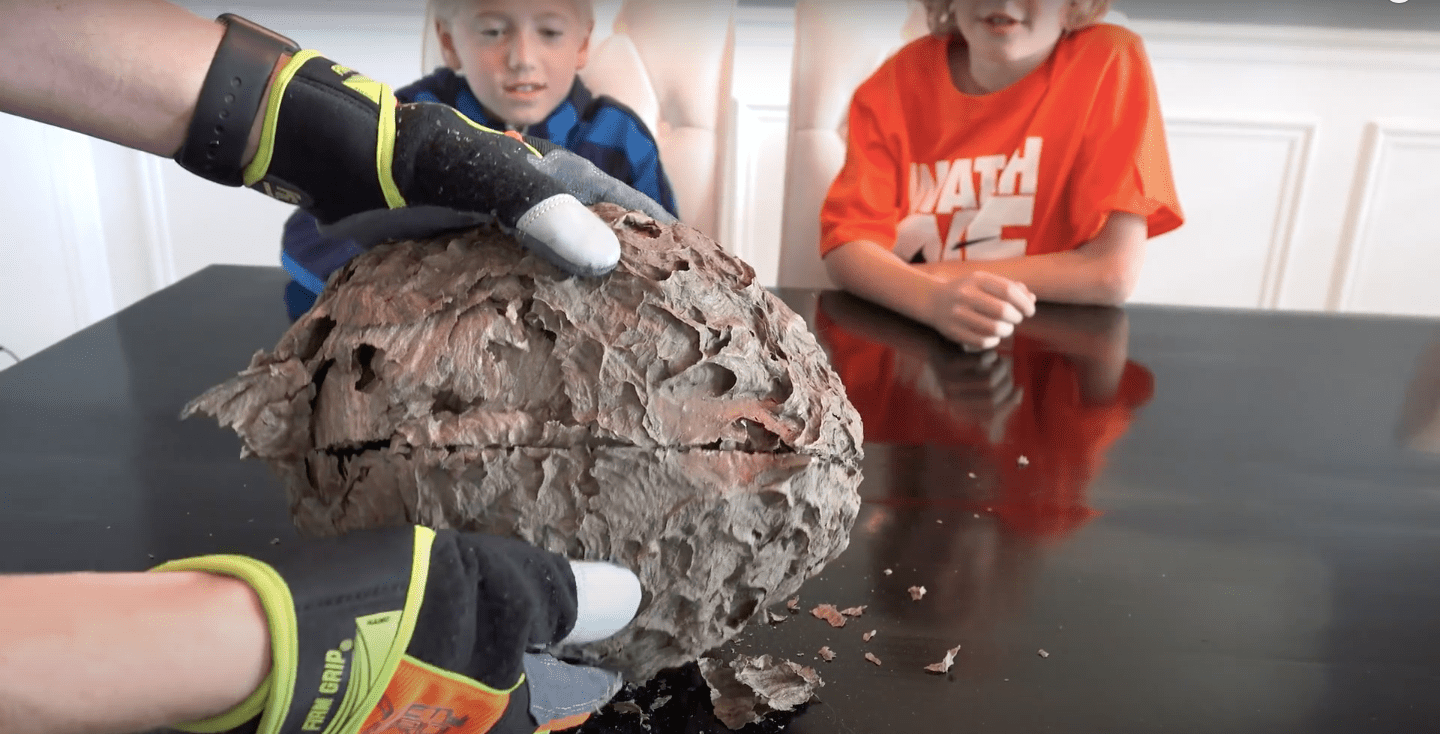 After some seriously impressive swordsmanship, Dan preps the kids in excitement over what they're about to see. Lincoln and Kai are on a knife's edge at this point. Who wouldn't be? A lifelong curiosity is about to unravel and Dan savors the seconds before he pulls both ends apart…
Open Sesame...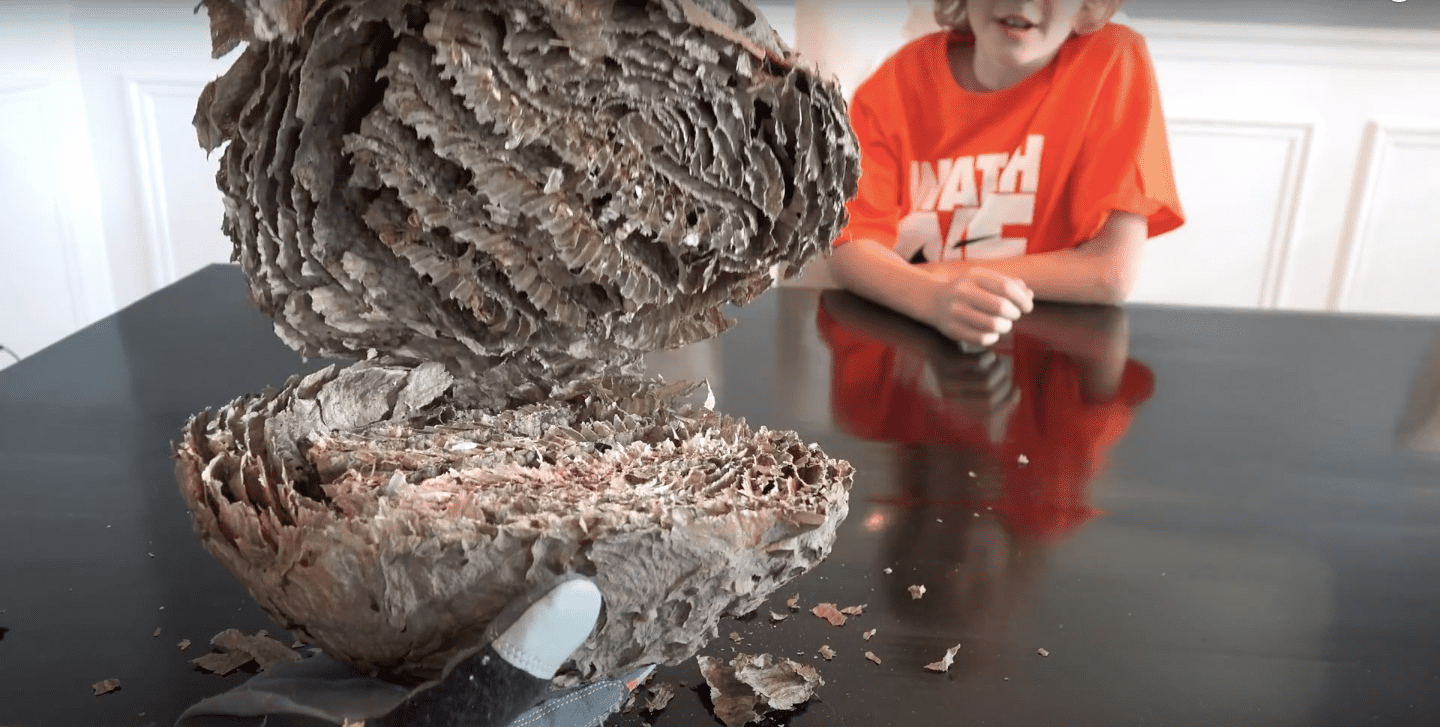 At this point in the video, you can hear young Lincoln's "Oh my gosh" repeated at least 3 times as his dad cracks open the nest. Inside, as you can above, is a finely architectured structure built for the legions of tiny insects. Is the big reveal what the boys hoped for, or is it an anticlimactic dud?
Honey, I'm Home!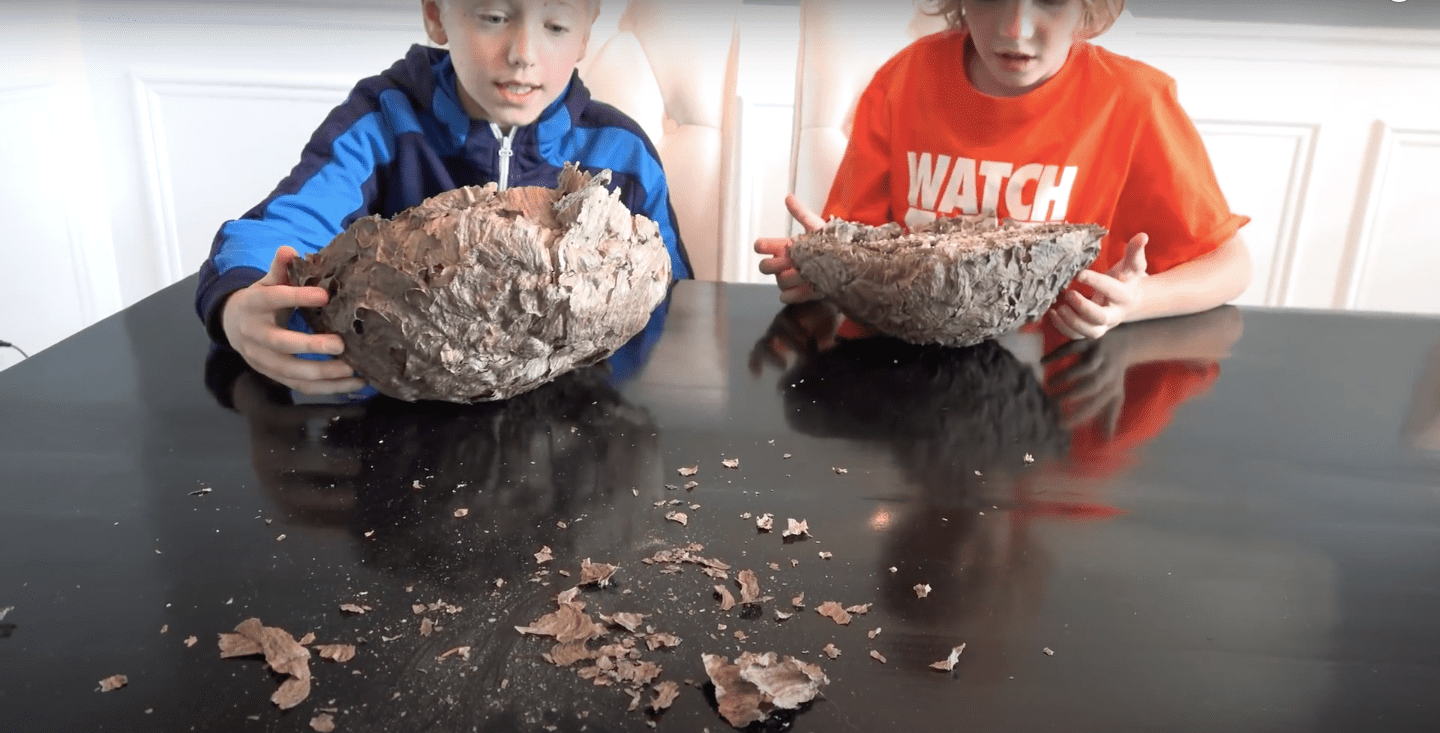 And there it is! Lincoln and Kai both gasp at the sight of it. And we can't blame them! Built like some kind of onion, wasp nests are clothed with paper-like protective layers that can be peeled off to expose the honeycomb structure. It's beautifully made but you may need a closer look to see what it looks like.
The Roommate Situation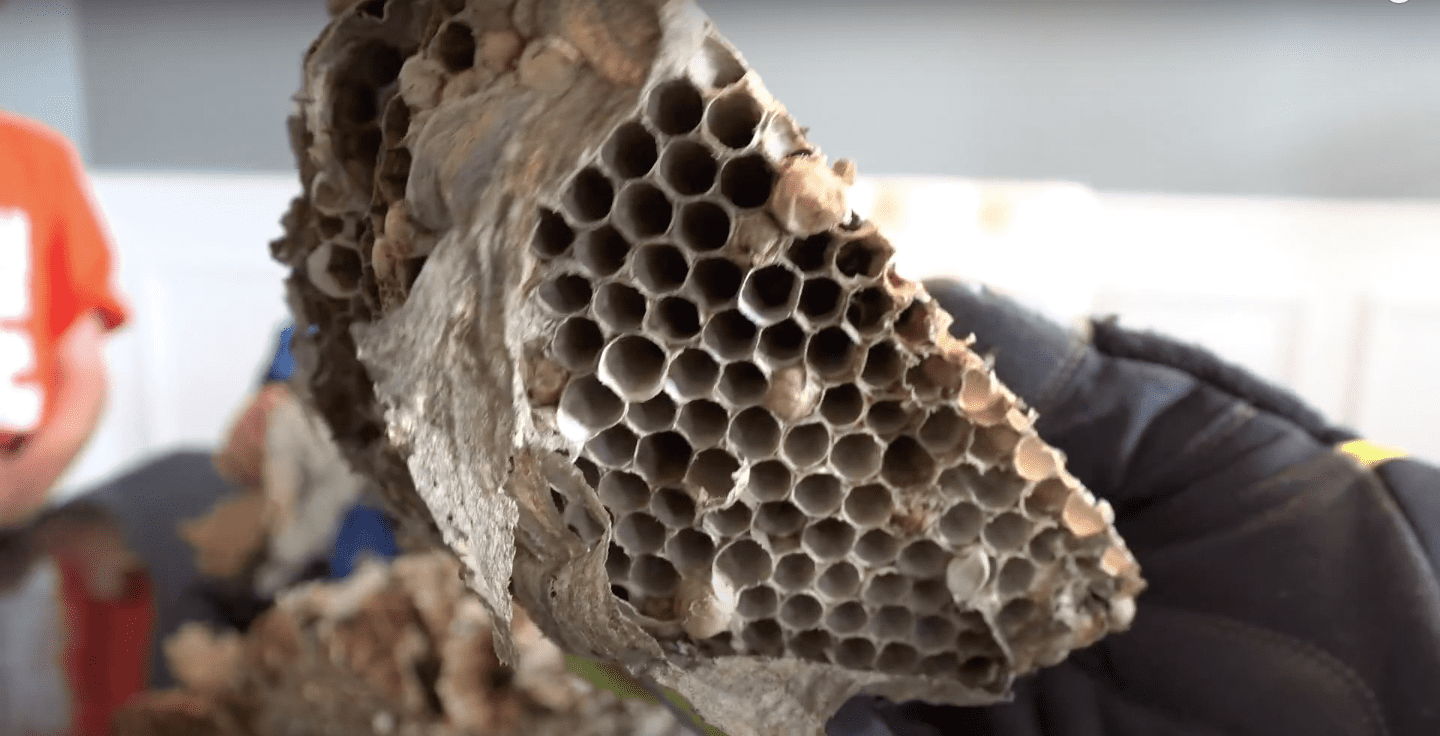 The boys have a ball inspecting the nest as if they're in a lab. That's the fun part of experiments like this. Dan refers to it as "Fascinating" as you can see the dozens of honeycomb homes wasps build and would reside in if this were a live nest filled with them. But how exactly do they manage to structure them in such a specific design? It takes some spit.
How The Make It Home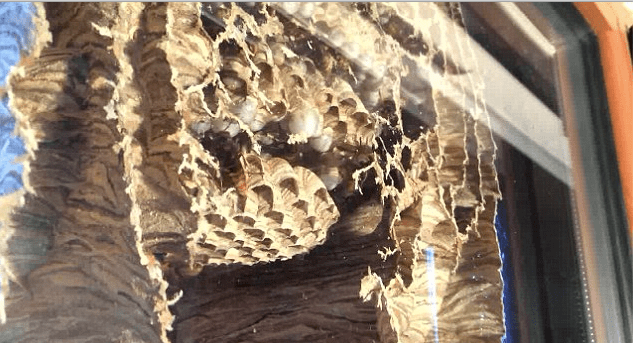 Do wasps build their homes with their own saliva? Yes. By chewing up tiny pieces of weathered wood to pulp and then spitting it out and sticking it together to form the structures that you see in your backyard. That's a pretty innovative system and a lot of spit. Exactly how much spit and how many wasps would you need to build one of those snazzy honeycombs, though? It's more than the number you're thinking of.
Sting Operation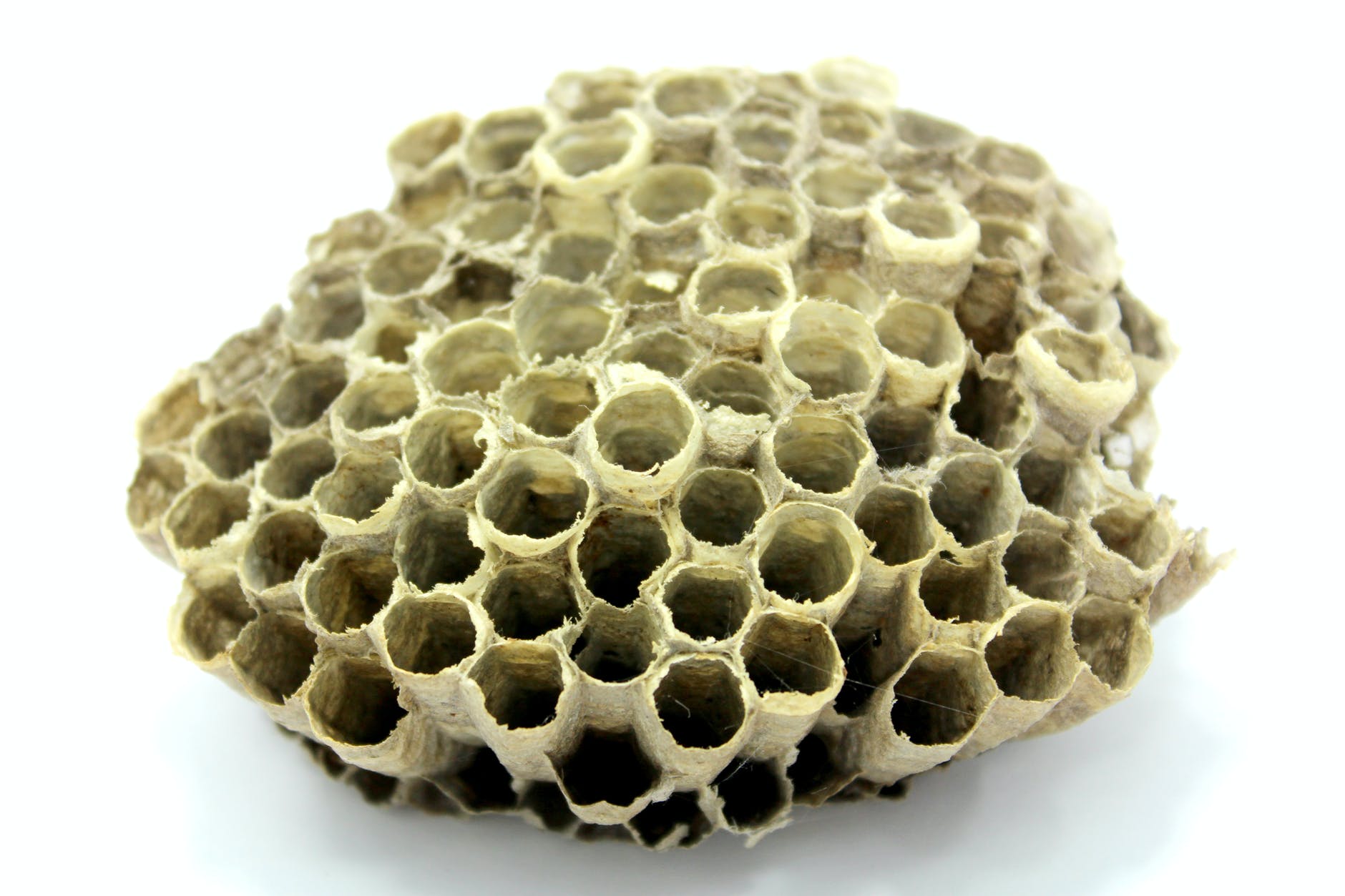 To build anything of the nature that Dan and Lincoln bought on eBay takes about 5000 wasps to work together. That's a mass amount of man-power needed. So you can forgive everyone on eBay for missing one live wasp in Dan's box which frightened him. Keep reading to see his priceless reaction to a live wasp in the nest!
Buzzing With Life!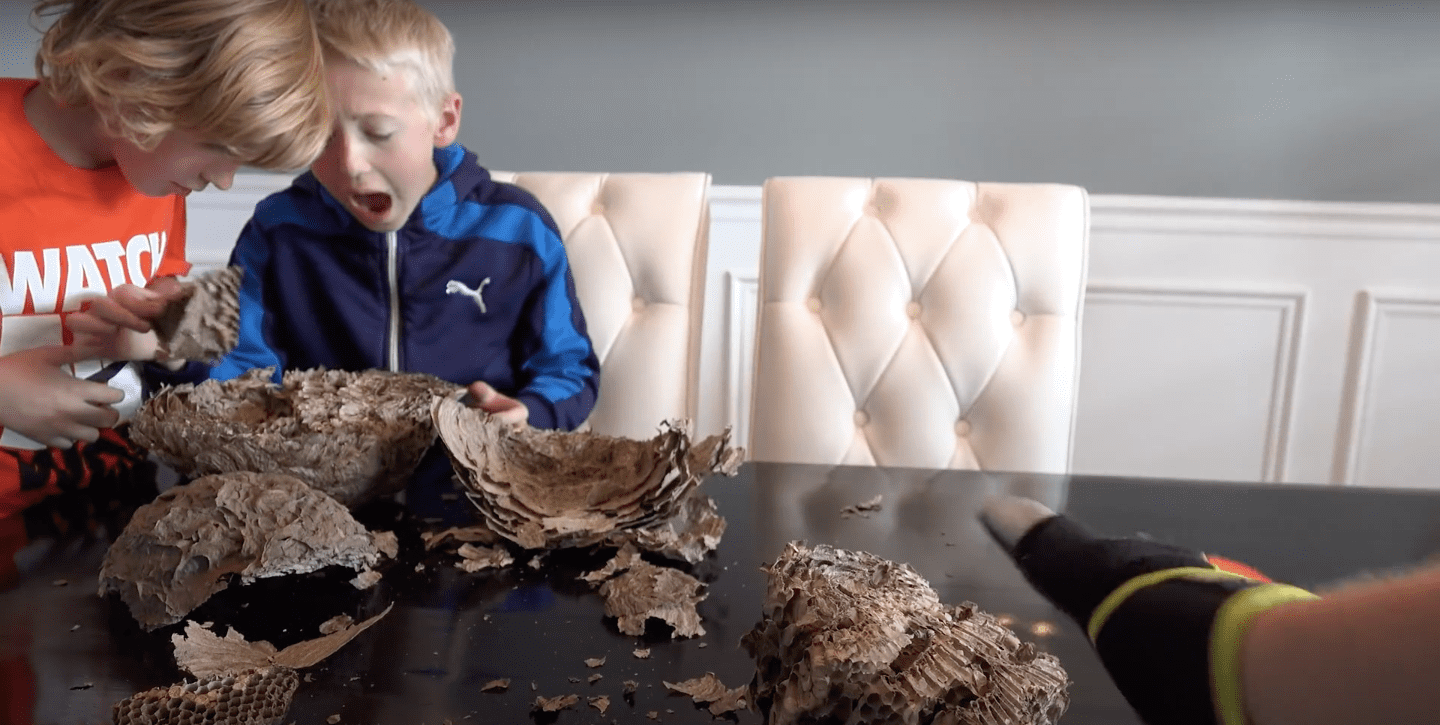 A surprise live wasp almost scares the life out of Lincoln! His hilarious reaction is actually warranted because in his words: "I got stung four times!". It's pretty ironic that despite his little fear it was still his idea to find out what's inside. That's what real investigators are made of, Lincoln! We're glad they do it so we don't have to, because how do you deal with a mess like that afterward?
Cleanin' House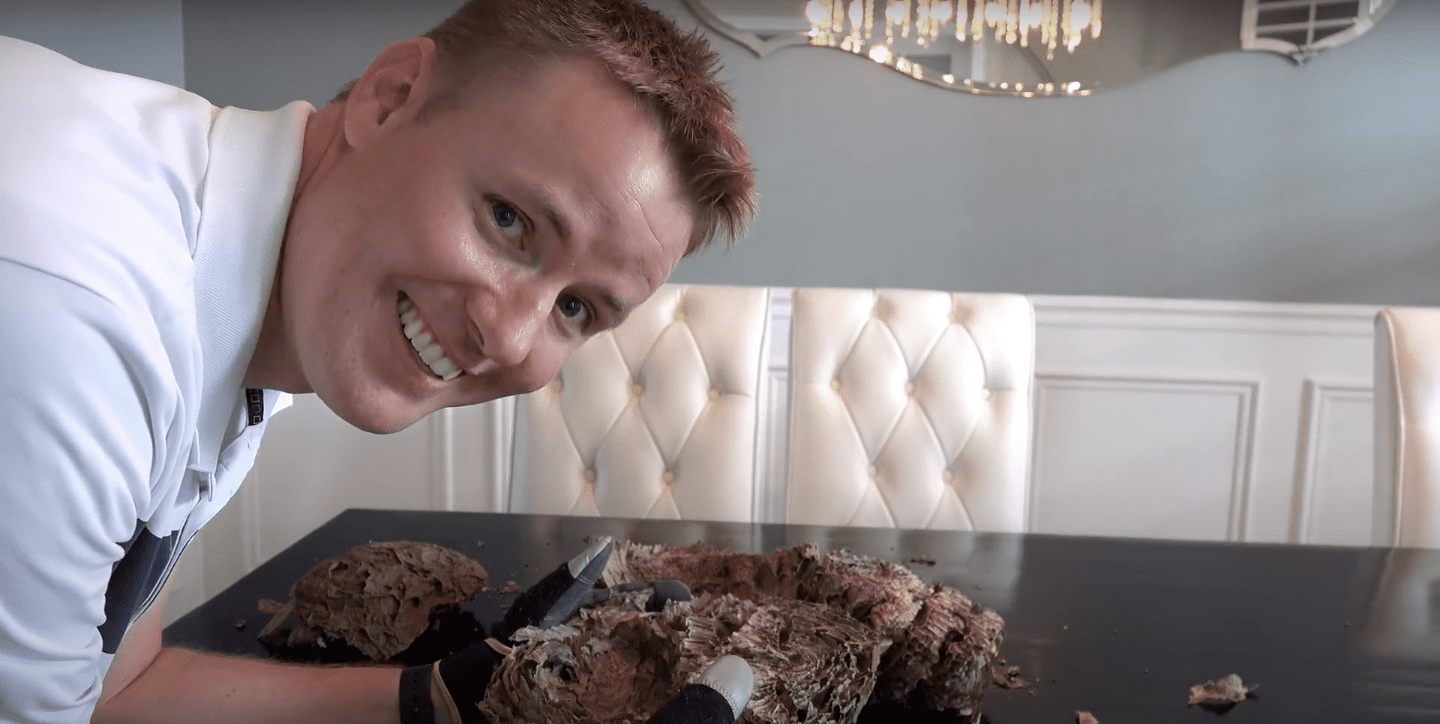 And Dan no has some serious cleaning up to do after this amazing experiment before his wife comes home and sees this mess. At least it was for a good cause, for his son and his friend, as well as for our entertainment.
This was a great investigation in to a very intriguing part of nature. What else do you think would be interesting for Dan and Lincoln to carve open next? And is there anything from your own childhood wonder that you would love to crack open just to see what's inside? Take a safe swing at it and find out. You never know was incredible things you might find.
Sources: The Daily Mail, What's Inside, Elrich, Reshareworth, YouTube