Toothpaste Hacks
Everyone uses toothpaste every single day for their oral hygiene, but you might be surprised to learn that there are many ways you can utilize this product around the house! One of its major components is baking soda, which can clean everything! Do you need to remove scratches from DVDs? What about whitening that old plastic patio furniture! Let's find out what else you can do with it!
BRIGHT HEADLIGHTS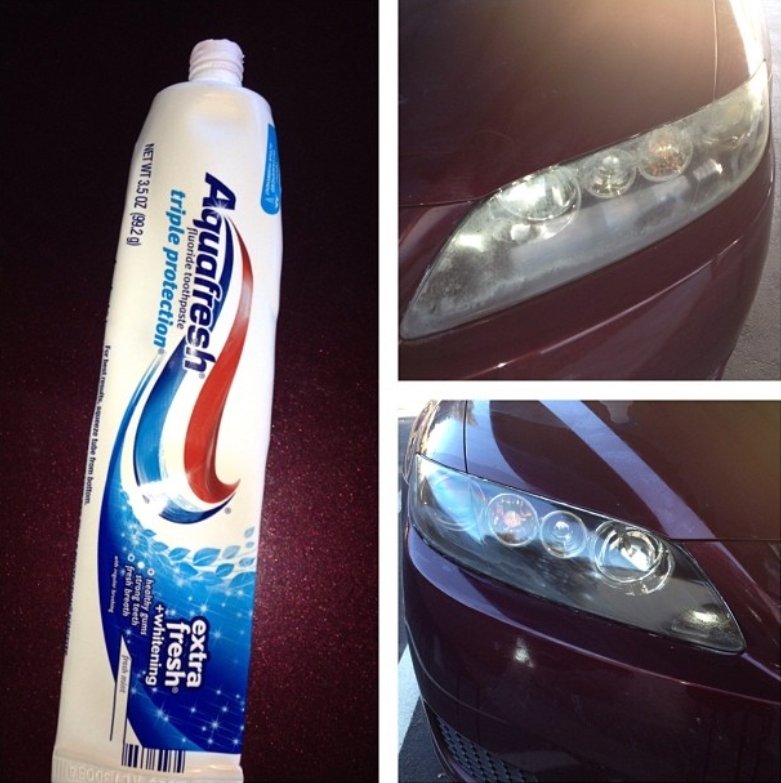 You might have noticed that after some time, your car's headlights are not as shiny as they were once. This can be a huge issue when driving at night. There are many products in stores that you can buy to make them shine again, but toothpaste works even better than most. Just take non-gel toothpaste and rub it all over the headlight with a clean cloth. You can buff them afterward with another dry rag.
REMOVING SCRATCHES FROM CDs AND DVDs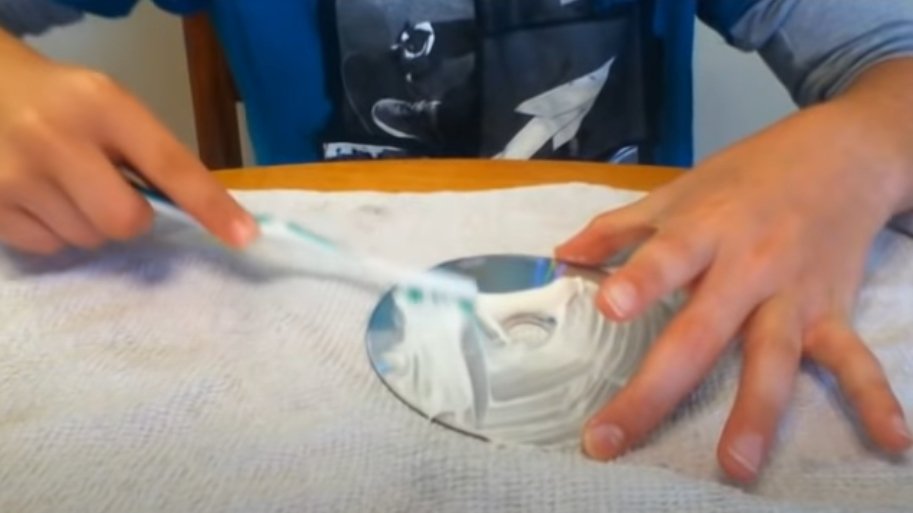 While the world is slowly forgetting the use of CDs and DVDs, some people might want to use their old scratched ones. You might have a favorite PC game in one that you cannot find online. Therefore, you can use toothpaste to remove all the scratches these things have accumulated. You just need a rag and a dab of toothpaste to make it look brand new.
REFRESHING TUPPERWARE
After a while and too much, Tupperware can get pretty smelly and ugly looking. It happens even if you always clean it properly after using it. However, you can remove all traces of funky smells with toothpaste, and the benefit is that it might remove any stains that the container has accumulated over time.
WHITENING SHOES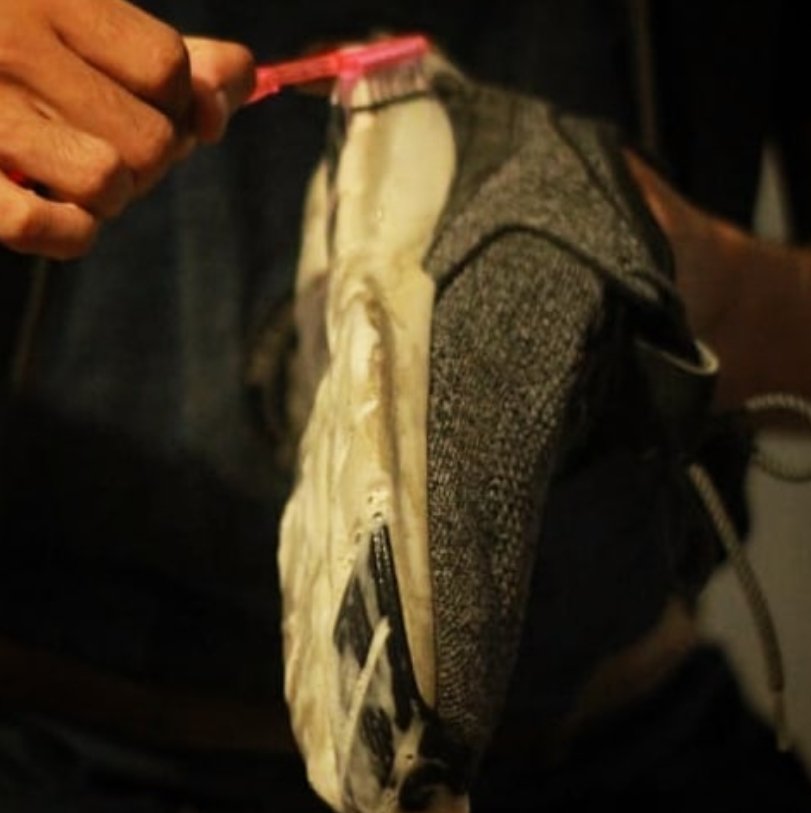 One of the most important aspects of toothpaste is that it helps keep your teeth looking white and shiny. Well, it works for the same purpose on other things. You just need to use the non-gel kind, add a dab on the soles of your sneakers, and use a toothbrush to scrub. Afterward, scrub and rinse. You will notice that now you have bright and shiny shoes!
NO FOGGY MIRRORS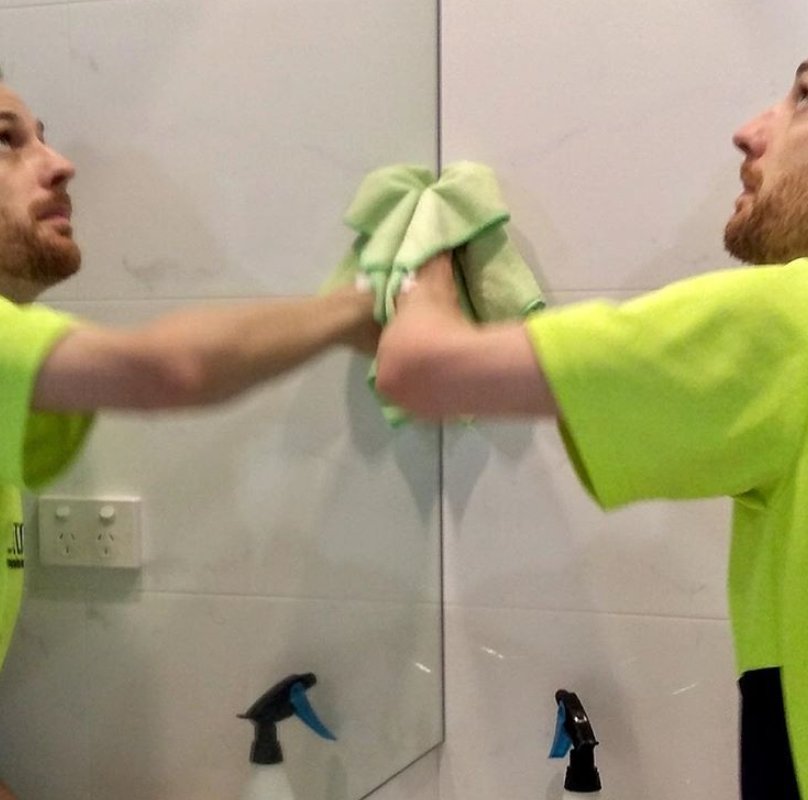 Toothpaste is not just good for cleaning almost every part of the bathroom. You can also prevent your mirrors from fogging with it. All you need to do is squeeze it on the mirror and rub it all over with a clean cloth. Afterward, rinse properly, and it should be ready. However, remember to use non-gel toothpaste!
CLEANING THE SINK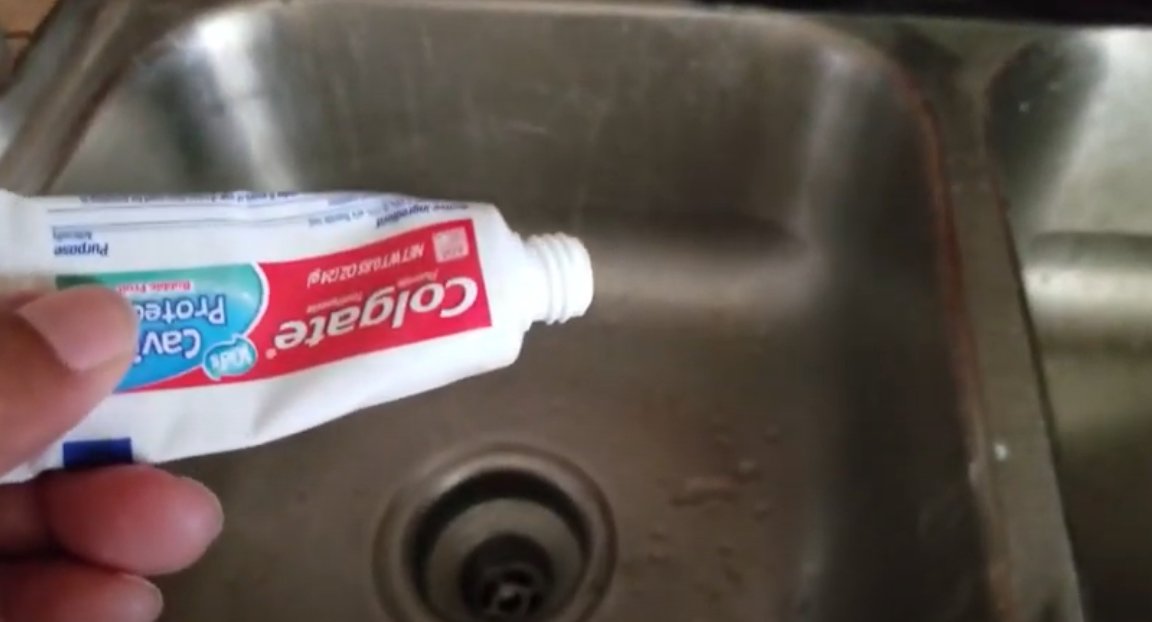 This might not seem surprising at all because everyone rinses toothpaste down the sink all the time. Of course, you know that toothpaste can stain sinks, but it's not the same when you use it to clean. Just drop a dollop of toothpaste on the basin and use a sponge or cloth to scrub away. It works just like any other cleaner and helps deodorize as well.
CLEANING JEWELRY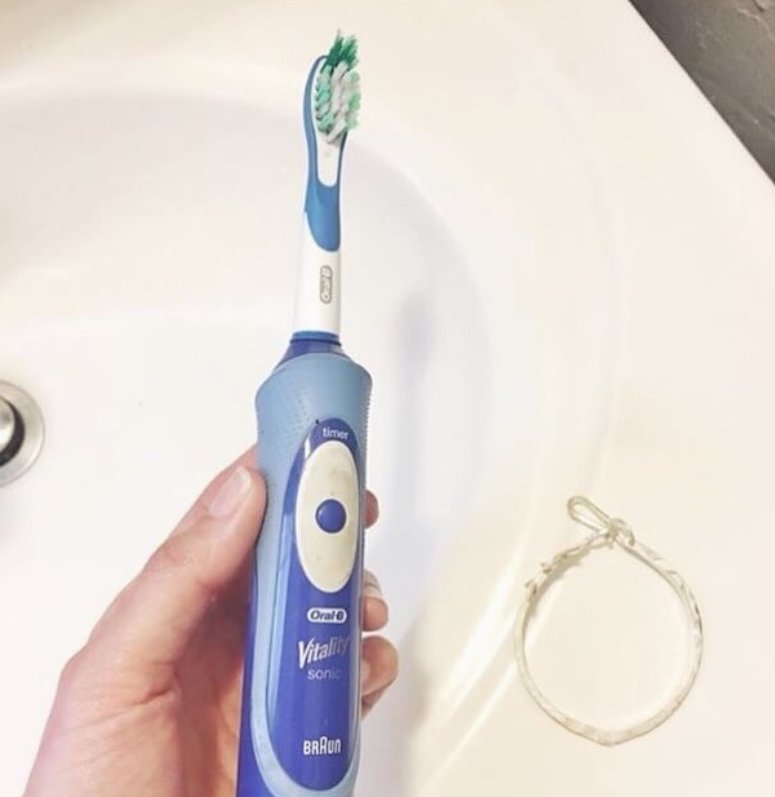 Another great use of toothpaste is cleaning jewelry, especially silver and gold. You just need to dab a little bit of toothpaste and start scrubbing with a toothbrush. If it's fantasy jewelry, you have to clean carefully to avoid damaging it. You can reach all the nooks and crannies in your pieces thanks to the toothbrush.
WHITENING THE COMPUTER KEYBOARD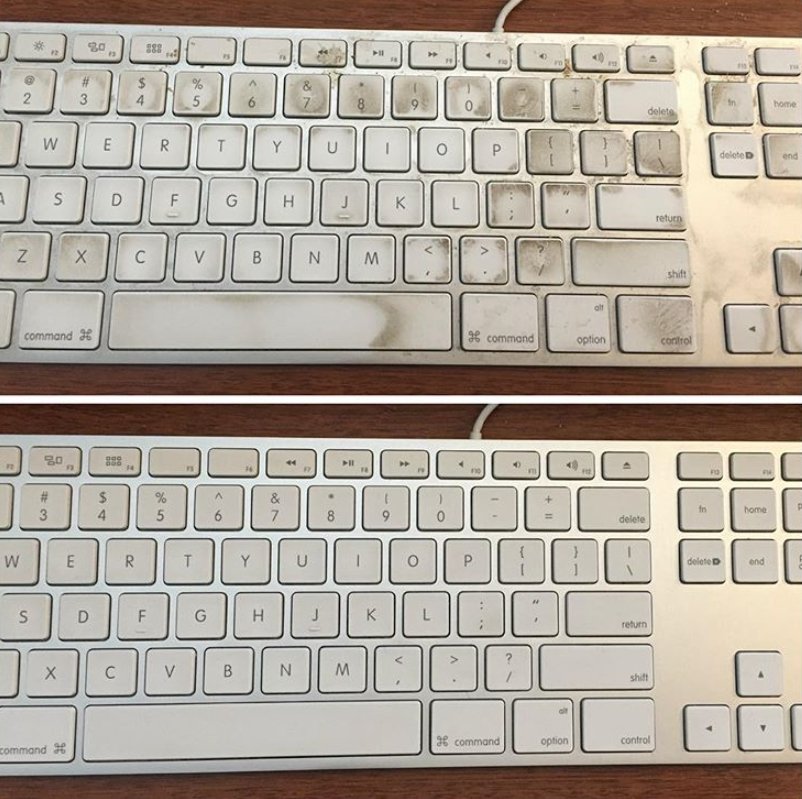 Most people prefer to buy a black keyboard for their computers these days because it does not show how much dirt it accumulates. Additionally, plastic white can turn brown after time. However, if you have an Apple system or other white keyboard, you can use toothpaste to clean it. You just need to disconnect it and get scrubbing. Some people take off each key to do it properly. Just be careful.
CLEANING HAIR APPLIANCES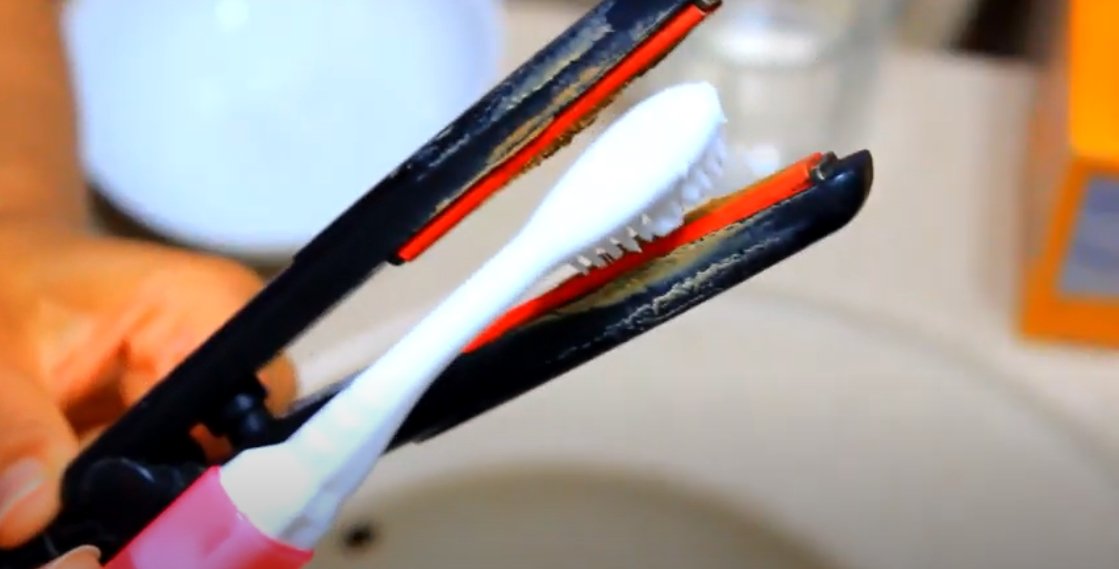 You might have noticed that your flat or curling iron accumulates some grease after several uses. You might be able to take some of it off with a simple cloth, but if it's too stuck, toothpaste does the trick. Just add a dab and use a damp rag to scrub around it. Afterward, wipe the excess away with a dry cloth.
NO MORE COFFEE RINGS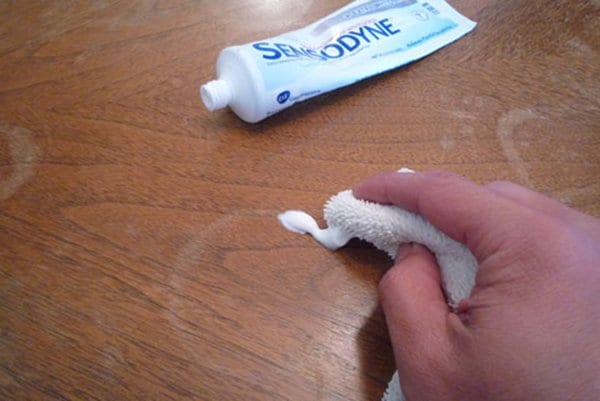 Sometimes, you just forget to use a coaster, or you might have entertained some guests that did not know any better. However, coffee rings on a table are so ugly and a pain to completely remove. Luckily, you just need a little bit of toothpaste as it works that same way when removing stains from teeth. Just add a dollop of it, scrub, and rinse. Your furniture will end up looking brand new!
THREADING A NEEDLE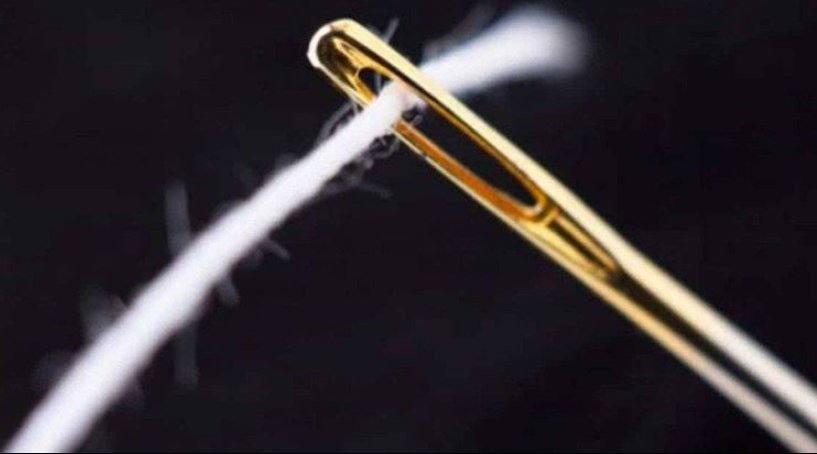 One of the reasons why it's so hard to thread a needle is that each thread is comprised of tiny ones that sometimes start separating from each other. That's why you normally have to lick the thread or use a needle thread. Another great idea is to use just a bit of toothpaste on the tip of threads to make those pesky filaments stay in place.
REMOVING SCRATCHES FROM WATCHES AND PHONES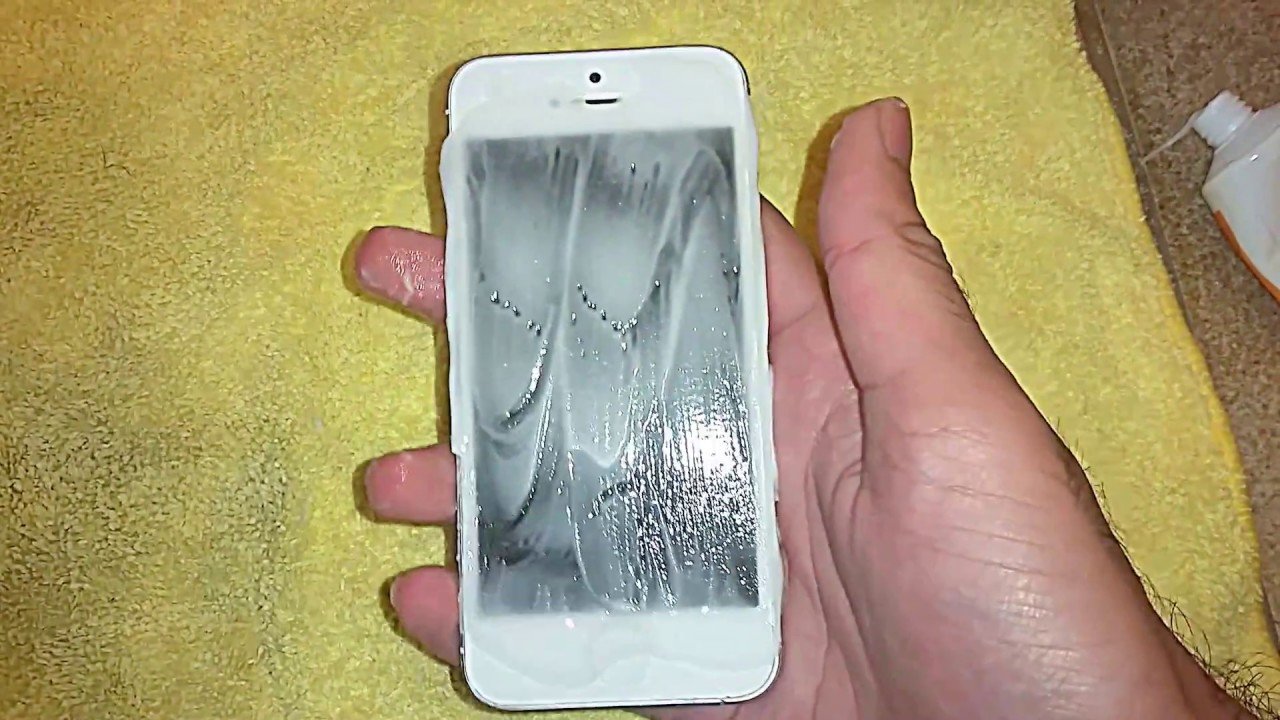 Naturally, if toothpaste can remove scratches from CDs, it should work for other surfaces. You can use it on the face of watches and even phones. You might have noticed a few tiny scratches over the glass, and they can easily be buffed away with a dollop of toothpaste and a clean rag. It should look much better. Of course, this hack is only for tiny scratches and not actually broken glass.
WHITENING FINGERNAILS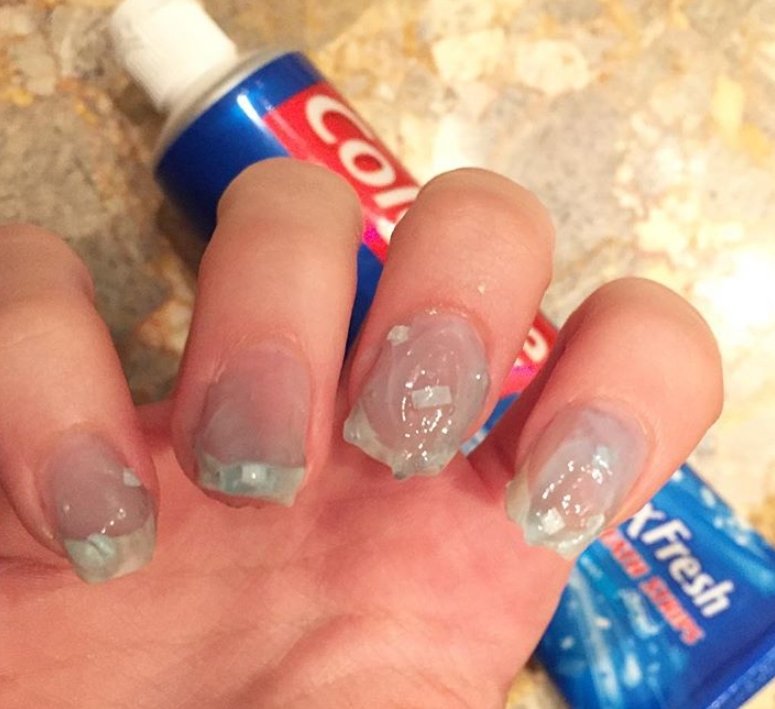 Whitening everything is one of the best uses of toothpaste due to how much baking soda it contains. Unfortunately, fingernails can start yellowing due to the use of cheap nail polish or nail polish remover. However, just a bit of whitening toothpaste can bring back their natural color. Just cover your nails with enough product. You can scrub them with a toothbrush and let them rest for a while before rinsing. Use it as many times as needed until the yellow is gone.
REFRESHING PLASTIC FURNITURE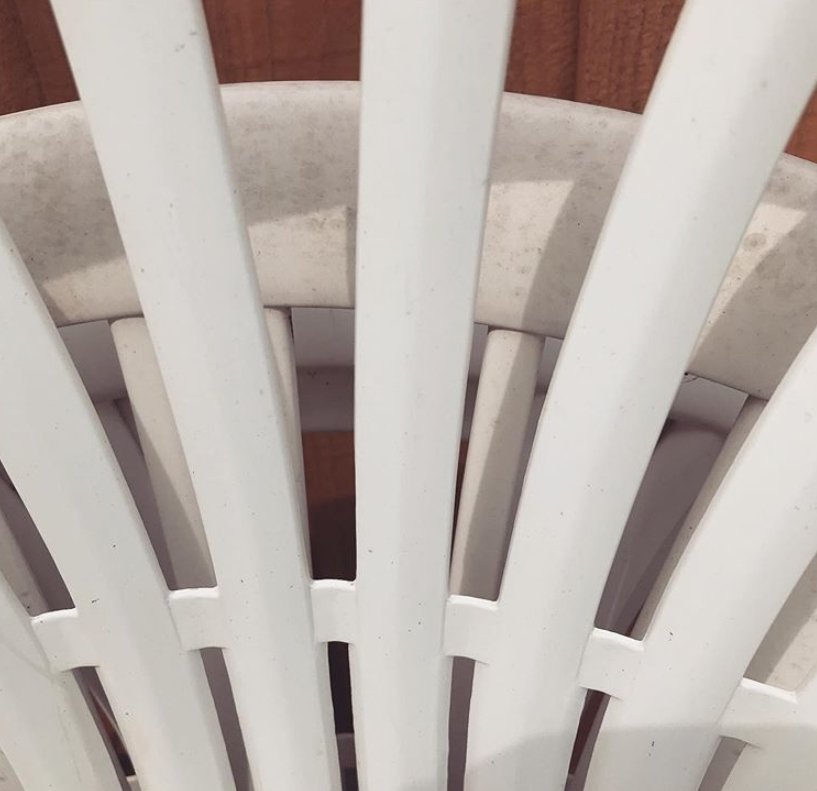 Over time, you will notice that plastic outdoor furniture will accumulate gunk, just like many products people use every day at home. Additionally, if your furniture is white, it might look opaque. Luckily, you just need a combination of toothpaste and water to refresh these items. They should look much better afterward.
HANGING A FRAME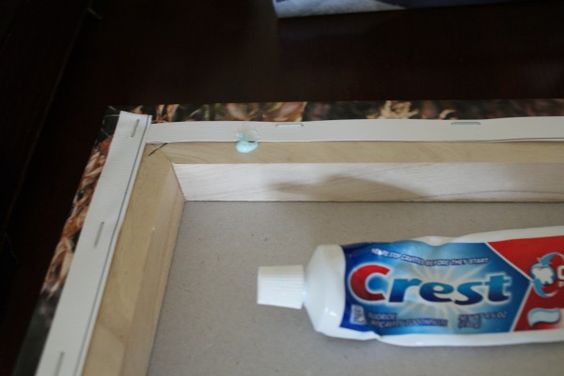 You might be surprised by this one, but it comes pretty handy around the house, especially if you're moving. Toothpaste can help mark the spot on the wall so that your frame is perfectly in place. Just place a drop on the hanger part, press to the wall, and you should know exactly where to put a nail.  
Now, you don't need to buy expensive products because toothpaste is there to help. Let us know which one of these hacks worked best. If you liked this article, share it with your friends that might need some cool cleaning tips. See you next time!
Source: Instructables, One Good Thing by Jillee, Family Handyman