Incredible Uses of Hairspray
Gone are the days when hairsprays were just a beauty material! The real fact is—these miraculous spray cans can be impeccably used to make life less messy and more hassle-free. Whether it is removing pet hair off your clothes or effortlessly getting rid of marker stains, hairspray comes to the rescue! Check out some of the most helpful and easiest ways to help combat bizarre situations at home using nothing more than a can of hairspray!
Thread a Needle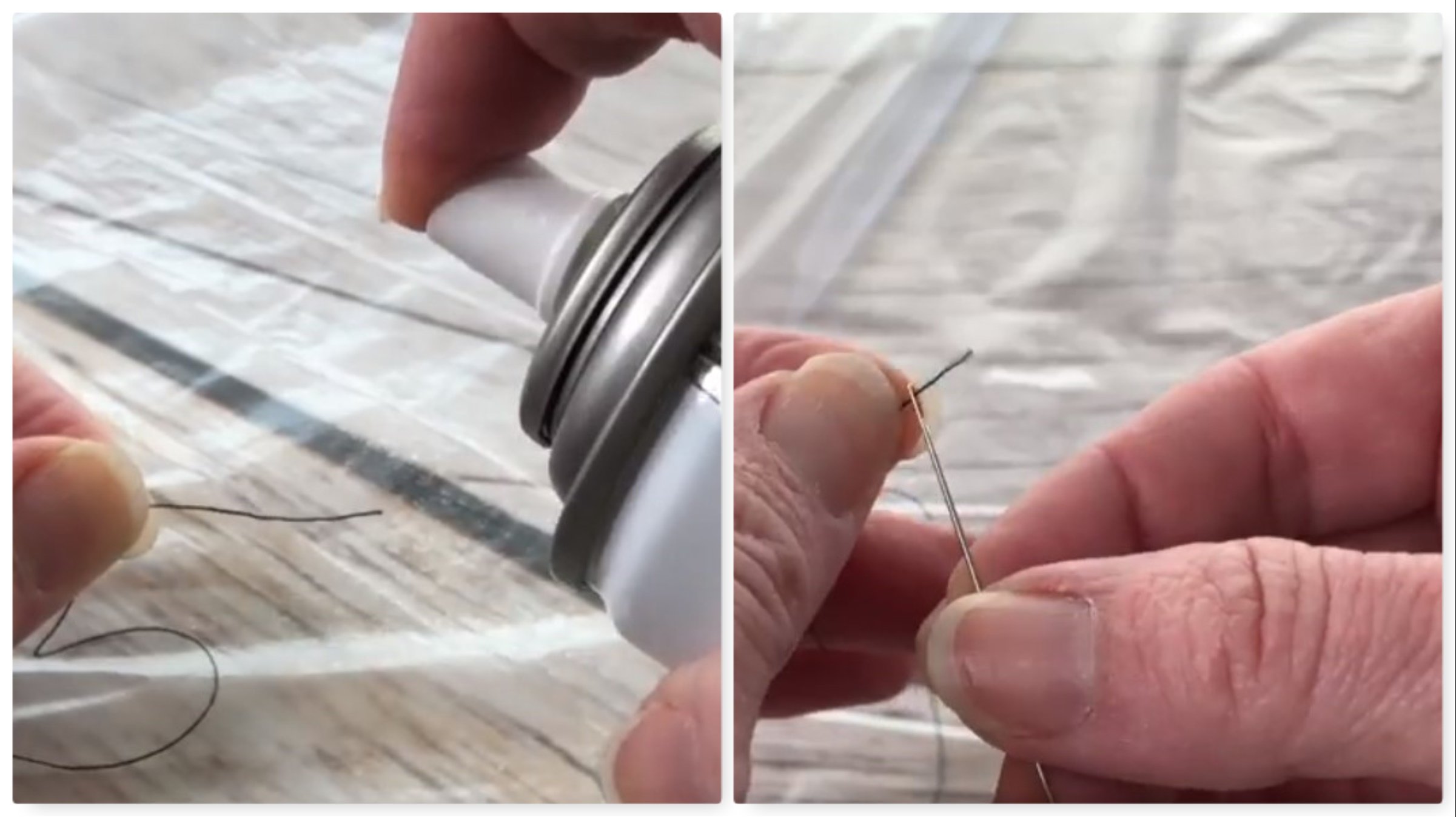 If you're having trouble getting a frayed thread into needle, there's no room for worry anymore! Grab your hairspray and spray the end of the thread. It instantly stiffens up, and running it through the eye of the needle is twice faster than usual!
Remove Stains from Clothes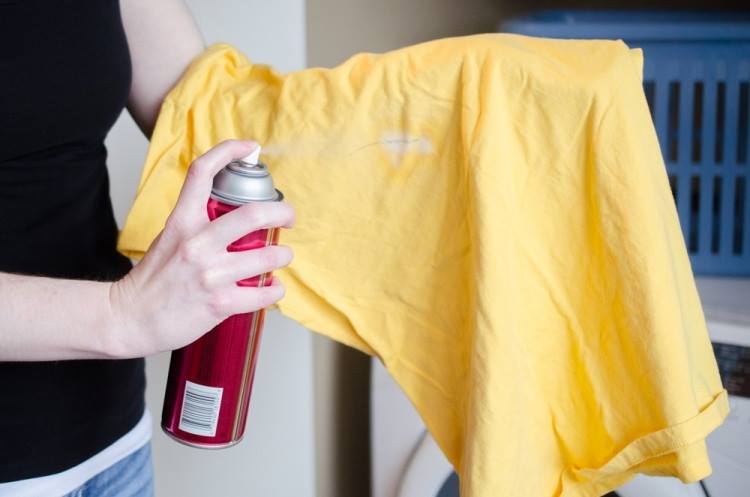 Are you worried over those uncanny ink or marker stains that did nothing more than just ruin your favorite top? This little issue can be easily solved—thanks to the invention of hairsprays! Spray some hairspray on the spot that needs to get cleared up and follow up by gently rubbing the wet area with a damp cloth.
No More Hassle Over Pet Hair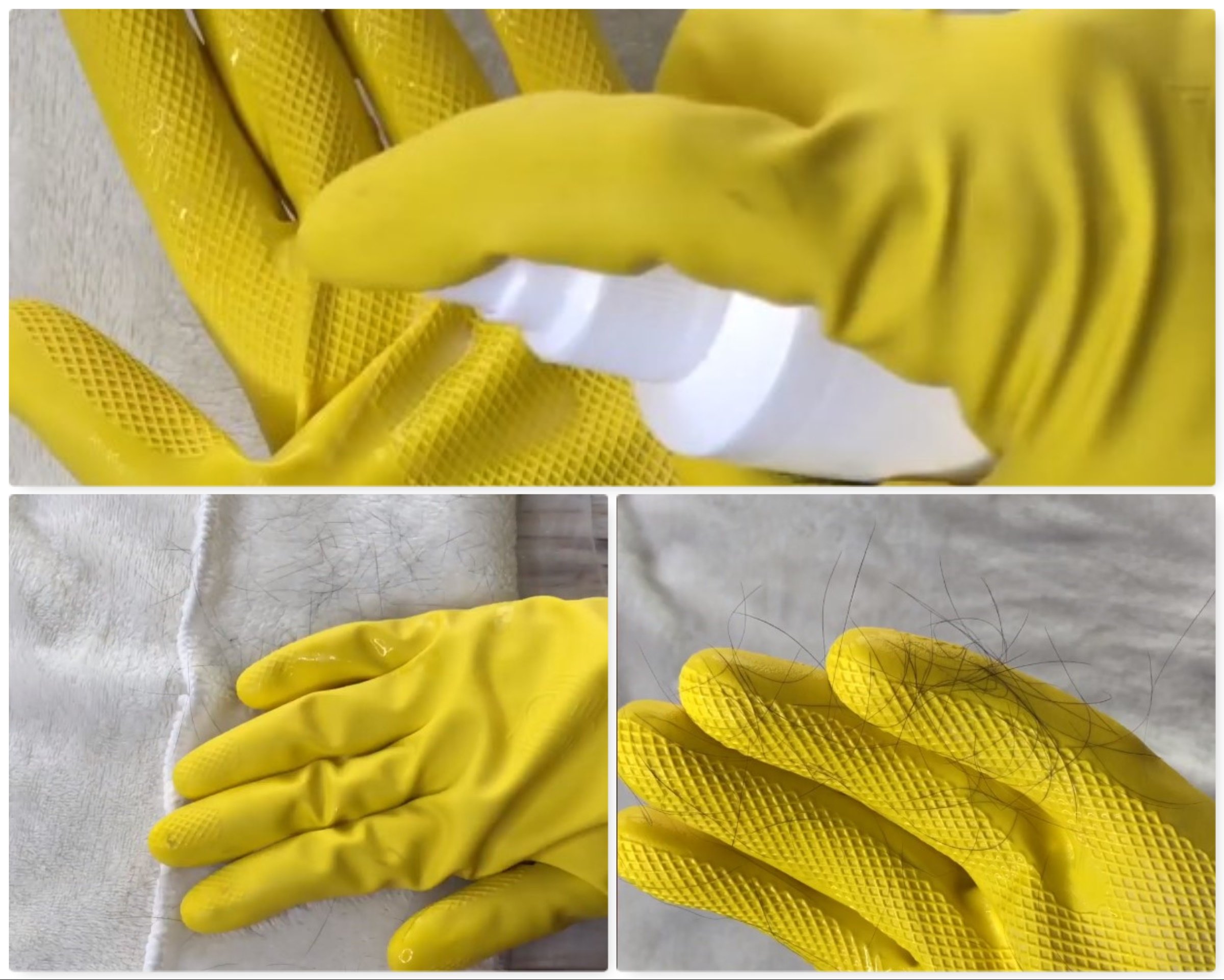 Whether it is upholstered furniture or your blanket, nothing gets spared when you have a pooch in your house! And all the hair he sheds around might just give you that 'OMG' moment. All you have to do is glove your hands, spray some hairspray on your palms, and rub on the areas where you spot your furry mate's messy hair. And in no time, all the mess is cleared up without a grin!
Tighten Shoelaces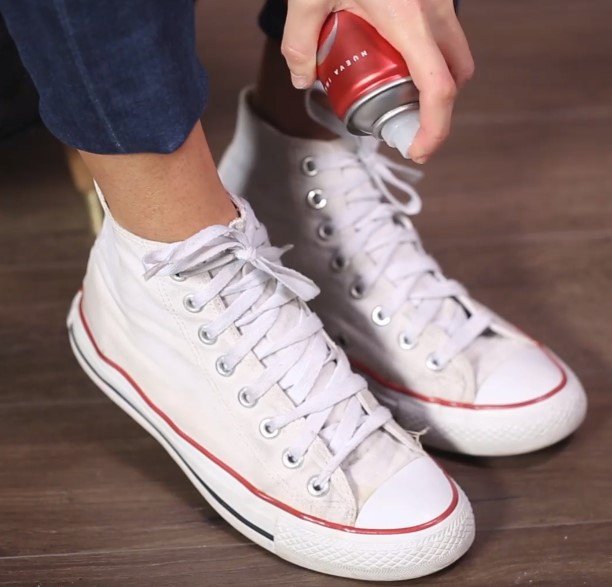 If you're worried about bending down all the time only to encounter untied shoelaces despite such tight knots, then your hairspray might be just the right amount of everything you need to combat this issue. After you tie your shoelaces, don't forget to dab some hairspray over the knots to keep them stiff and tied throughout the day.
Get Slip-Proof Shoes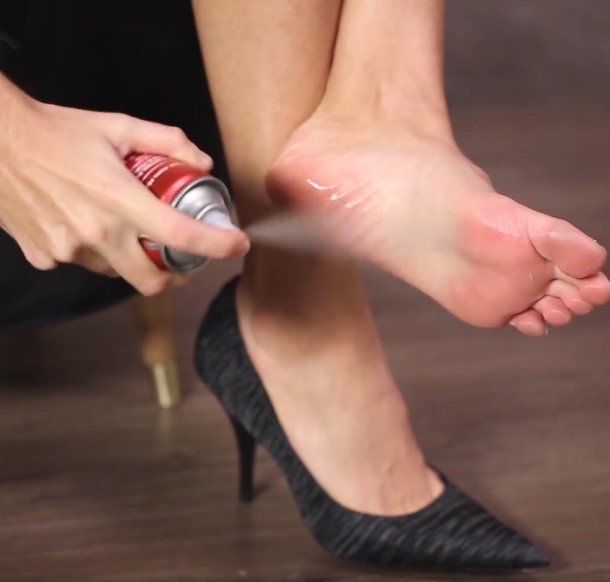 High-heeled footwear might look so staged and gorgeous on ramp walks and magazine cover pages! But frankly speaking, many folks confess how their feet slip every time they try to get into their favorite heels. The hack to overcome this issue is pretty simple—before wearing your shoes, spray some hairspray on your feet! The sticky underside of your feet grips onto your favorite heels without giving you the fear of slipping.
Keep Flowers Fresh for a Long Time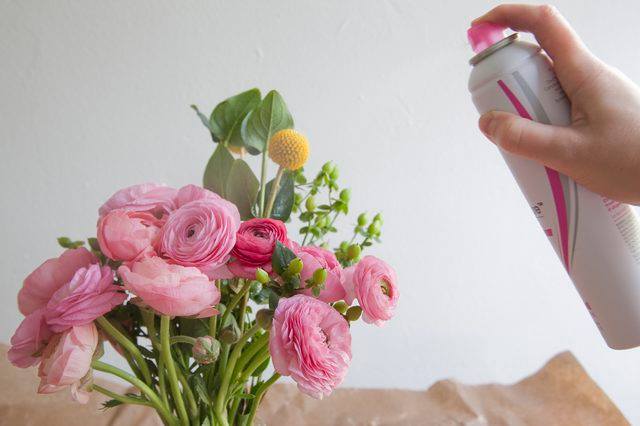 How can someone not love flowers?! Whether you received some as a gift or picked it from your garden, one thing for sure is—you want them to last longer. Though nothing can be done to defy nature's laws, you can, of course, prolong the life of your flowers by spraying some hairspray over them. This trick helps them last a bit longer than usual.
An Easy Way to Keep Bobby Pins in Place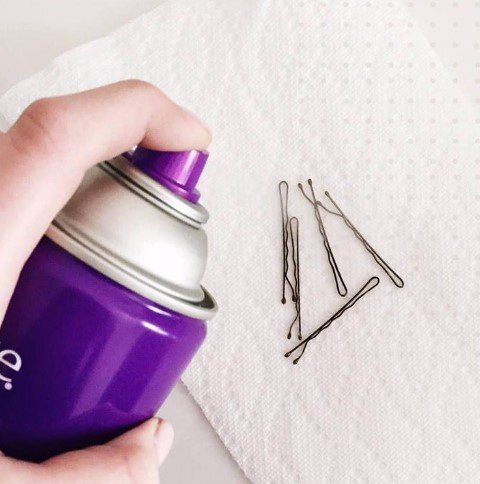 This hack is quite simple! If you're someone who hates hair messing around on your face despite locking them with bobby pins, then you've got to do one simple thing more. Coat your bobby pins with a layer of your hairspray. The sticky pins offer a better grip each time you style your hair.
Instant Shoe Shiner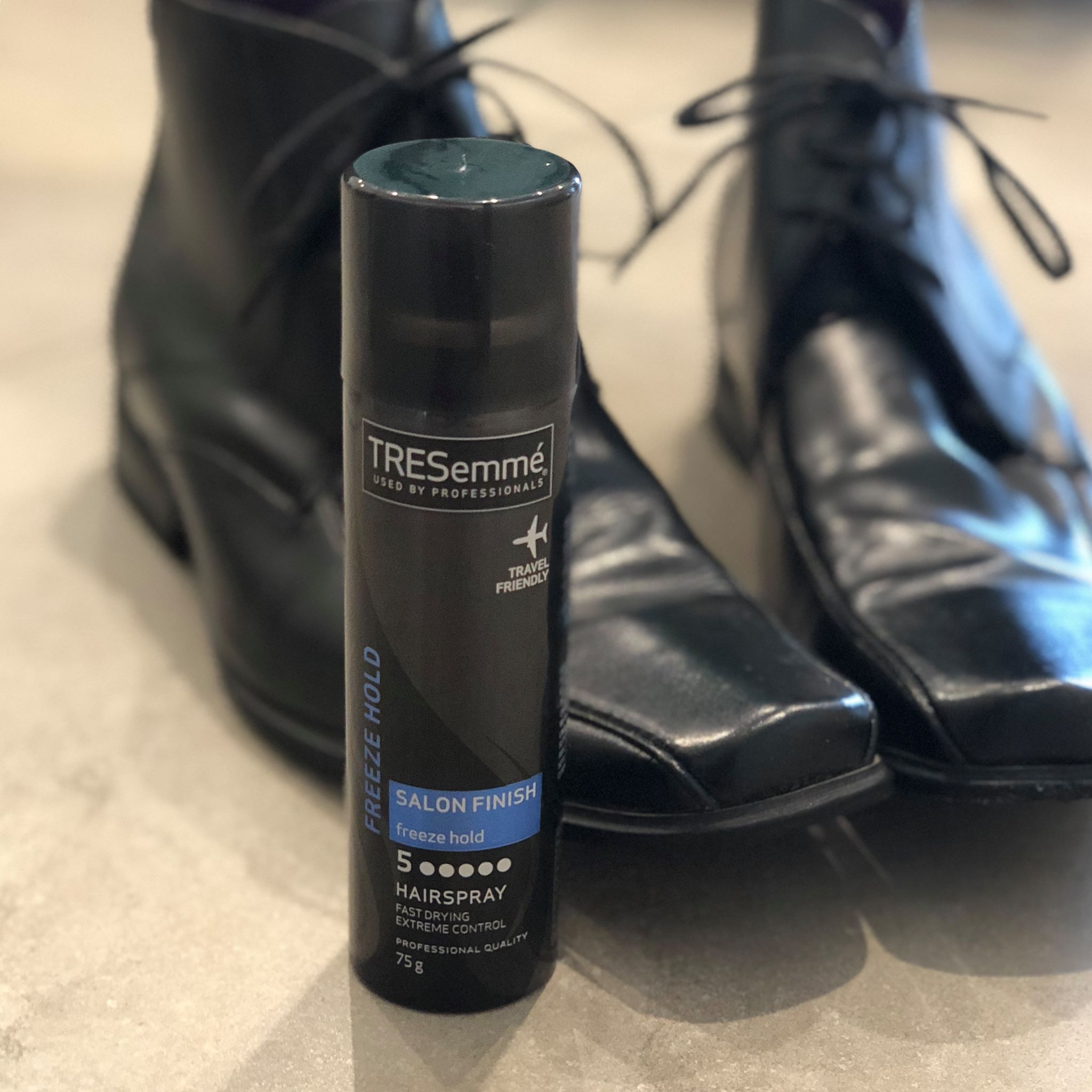 A pair of black shoes packs high-end fashion statements and some good shoe polish routines! But who said that you always need your black shoe polish to crown your pair of black shoes with luster? Follow this shoe shining trick—spray some hairspray on your boots after polishing them and wipe off the residue after it dries.
Avoid Static Charge on Your Clothes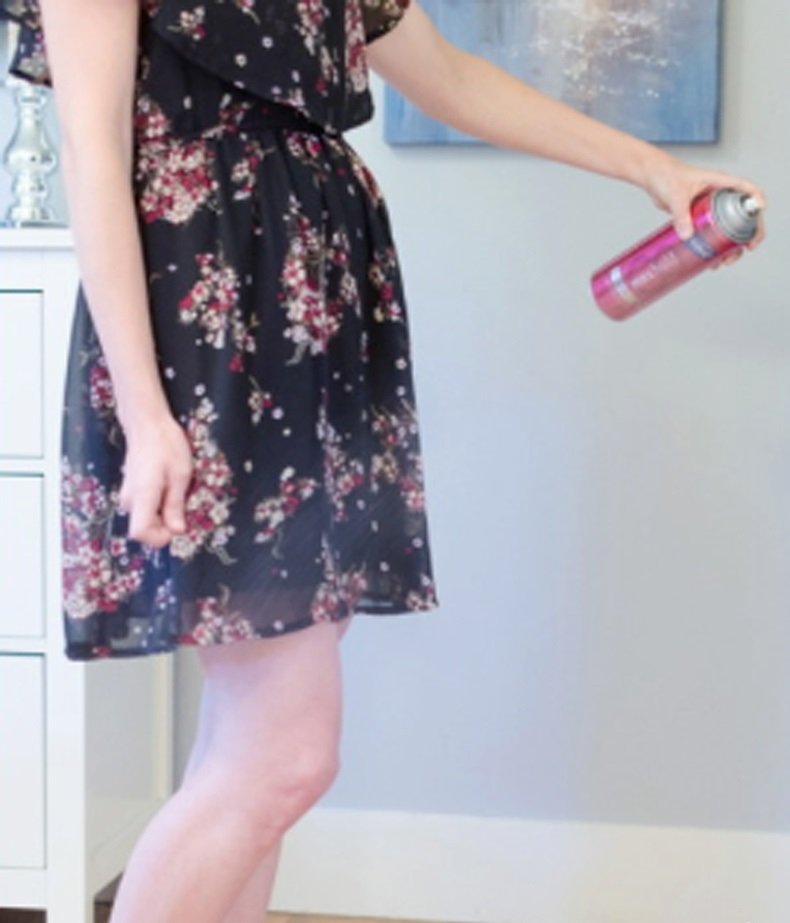 The electrostatic charge that builds up on clothes can be quite annoying at times, especially if the dress is your favorite piece you've planned for a special outing! After you're dressed up, don't forget to spray some hairspray like you were using a perfume! This simple trick keeps the electrostatic charge off your dress for quite a long time.
Dry Painted Nails Faster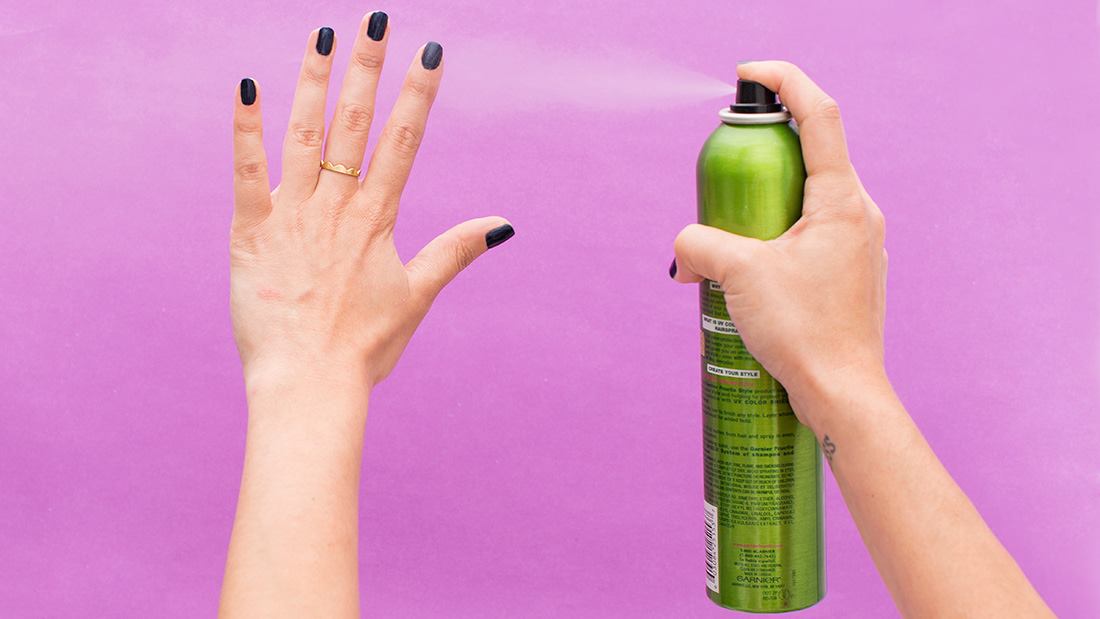 After painting the last fingernail, most of the ladies confess how impatient they get before their nail polish dries up. But if you're looking for an instant solution to dry your painted nails in no time, spray some hairspray on your fingernails and wait for a few seconds till the polish stiffens. Though hairspray doesn't completely dry them, it does offer a quick solution!
Seal Your Artwork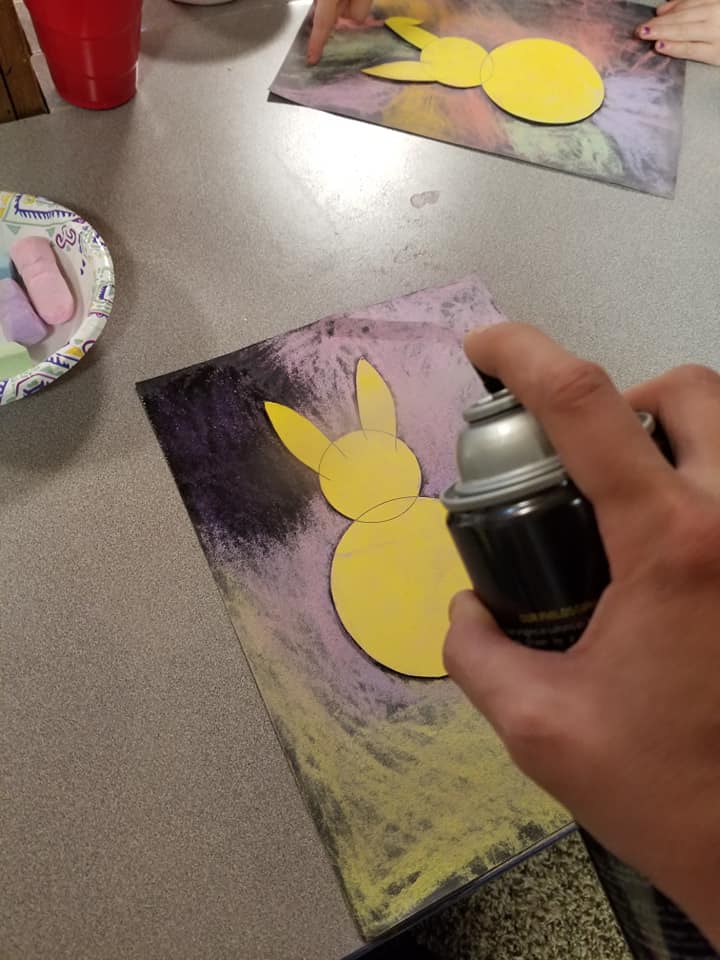 A fine mist of hairspray is all you need to seal your artwork, especially if it's one from your kid! This little trick works well on a variety of artwork such as pastel drawings, sketches, even unstable mediums such as pencil and chalk. Moreover, you can easily save some extra bucks on costly fixative solutions!
Groom Eyebrows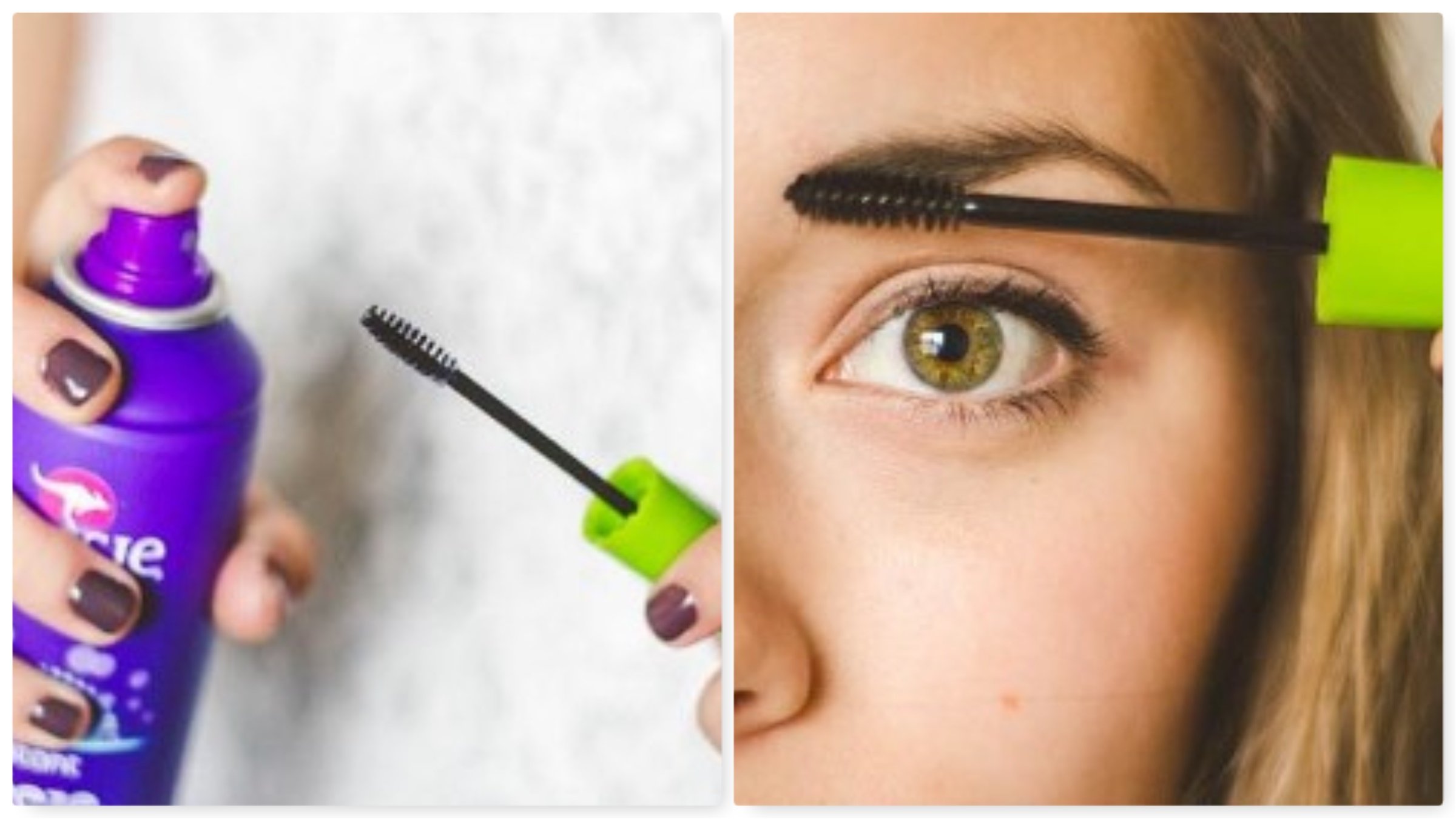 One of the most effortless ways to neaten your brows is to brush a dry mascara wand through them after dabbing some hairspray over it. This simple trick helps revitalize your eyebrows, making them seem thicker and gorgeous in one swipe.
Avoid Pantyhose Runs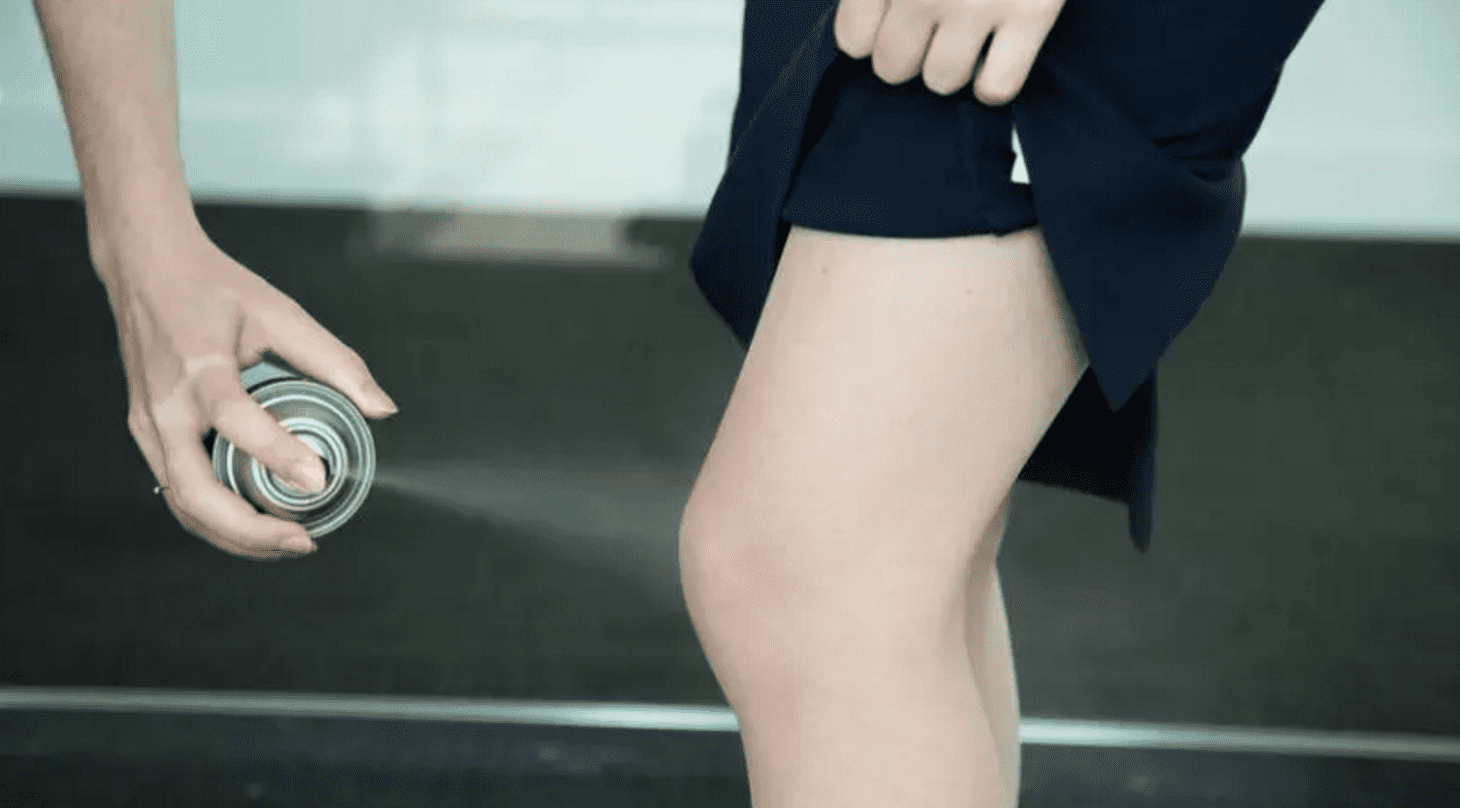 A simple trick to make your pantyhose last longer comes from your dressing table cabinet! Yes, spraying your nylon tights with hairspray once you've put them on helps reinforce the cloth's fibers, and paves the way for a run-free pair of stockings each time you wear them.
Fix Pant Zipper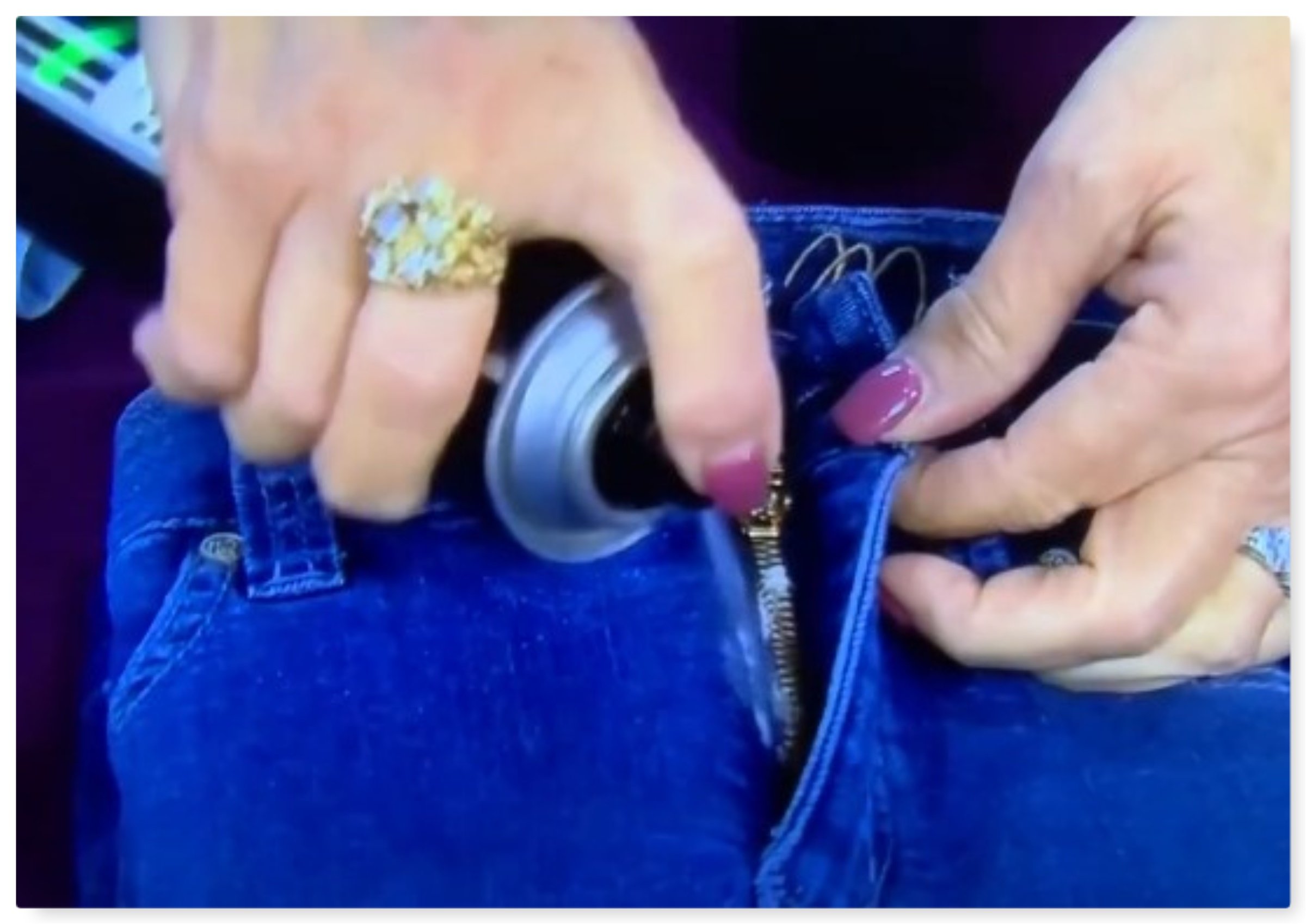 Spray some hairspray on your pant's zipper teeth, especially on occasions where it would just refuse to stay up. Coat some to the top inch or so of your zipper teeth. The trick here is to stop the zip from running down, and the sticky residue from your hairspray does the same thing by barricading the zip from loosening down.
No More Squeaky Doors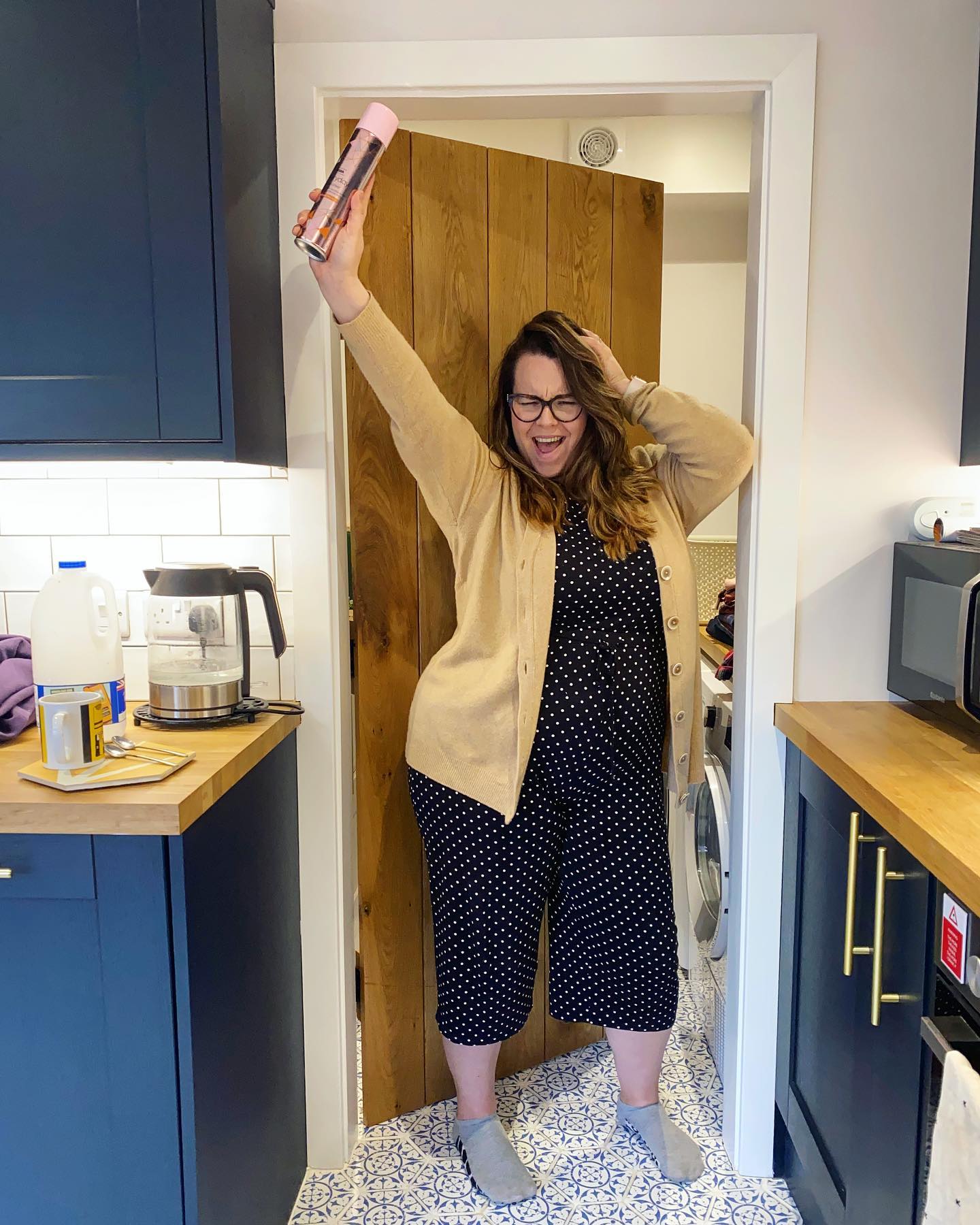 Doors might never remain the same, not until they begin to let out squeaky sounds every time you open and close them. The culprit is nothing more than a pair of rusted door hinges! But did you know that a few coats of hairspray on the hinges keep the shrilling noise at bay?!
It's quite astonishing that a simple beauty fixative packs som e amazing life hacks that make daily routines much easier! Which of these hairspray hacks are you planning to try? Let us know what you think in the comments section below! And please don't forget to share this article with your near and dear ones!
Sources: Home Hacks, Bright Side