7 Key Rules The Outlander Cast Has To Follow
A big-budget TV series like Outlander is never without a set of stringent etiquette! What you see on the screen might allure your perception into a world of fantasy and romance, but on the inside, there goes in quite a lot of ethics, imagination, and, of course, rules! So, are you ready to break your curiosity on the strict rules the Outlander cast must follow? What is that specific Outlander advice Sam and Cait would give themselves? How does it feel to wear classic outfits that make it almost impossible for you to move around? Wait no more—we've got you covered!
WHERE DID OUTLANDER STEM FROM?
In 2014, Starz premiered Outlander, a screened drama that fell right off from a novel penned by Diana Gabaldon. However, the historical drama is a millennial recipe of the retrograde on-screen depiction of an all-scenic 18th-century plot that defies easy categorization. The motion picture version of the book series centers on Claire Randall, a married military nurse who shakes her leg on a second honeymoon with her husband, Frank.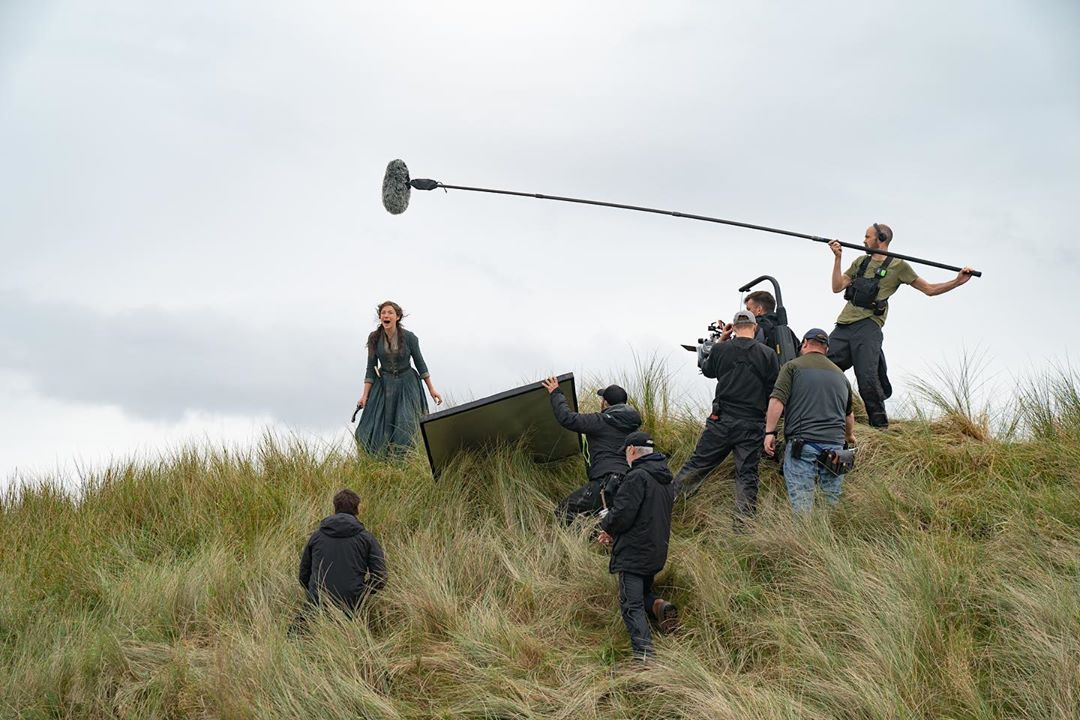 As you would have already enjoyed in the initial episodes, all this would be something spilled on the screen depicting the aftermath of WWII. How she transports back to the mid-1700s, the love that brews with Jamie Fraser, and everything else adds to the rest of the plot. However, the nutshell of the storyline has some fascinating facts cooked in its five-plus seasons! Before we get to Outlander's rules, take a look at some of the stunning origins of the hit series.
THERE WERE MORE PLANS BEFORE THE CAMERAS ROLLED ON DAY 1
Unlikely as it might seem unless you dig into Outlander's sci-fi aspects, the initial creative spark routes back to a book series. It was perhaps, the Outlander paperback version, the idea that struck author Diana Gabaldon while she was watching an episode of Doctor Who! However, before Outlander transitioned into a television series, it was actually going to be a feature-length movie.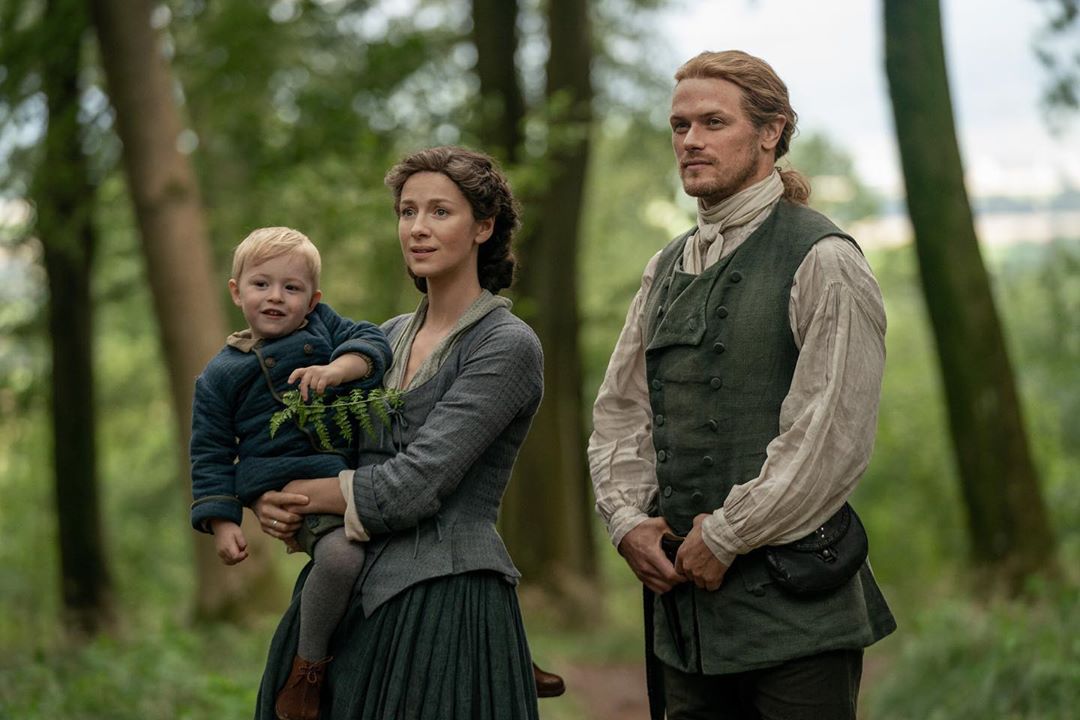 Can you believe this? The blockbuster TV drama was going to be penned for just a two hour something as a movie script! But you will be shocked to know that Liam Neeson and Sean Connery were the first contenders for Jamie's role when the talks about Outlander's silver-screen version was doing the rounds years back! 
CLAIRE WAS CAST JUST A FEW WEEKS BEFORE FILMING BEGAN
Though Balfe makes the pivotal figure in the cult series, it was only a few weeks before the filming began that Cait was offered the role of Claire. Before Outlander's days rose on the first peek of the shooting schedule, the crew had their minds fixed in finding the suitable face for Claire first and then Jamie.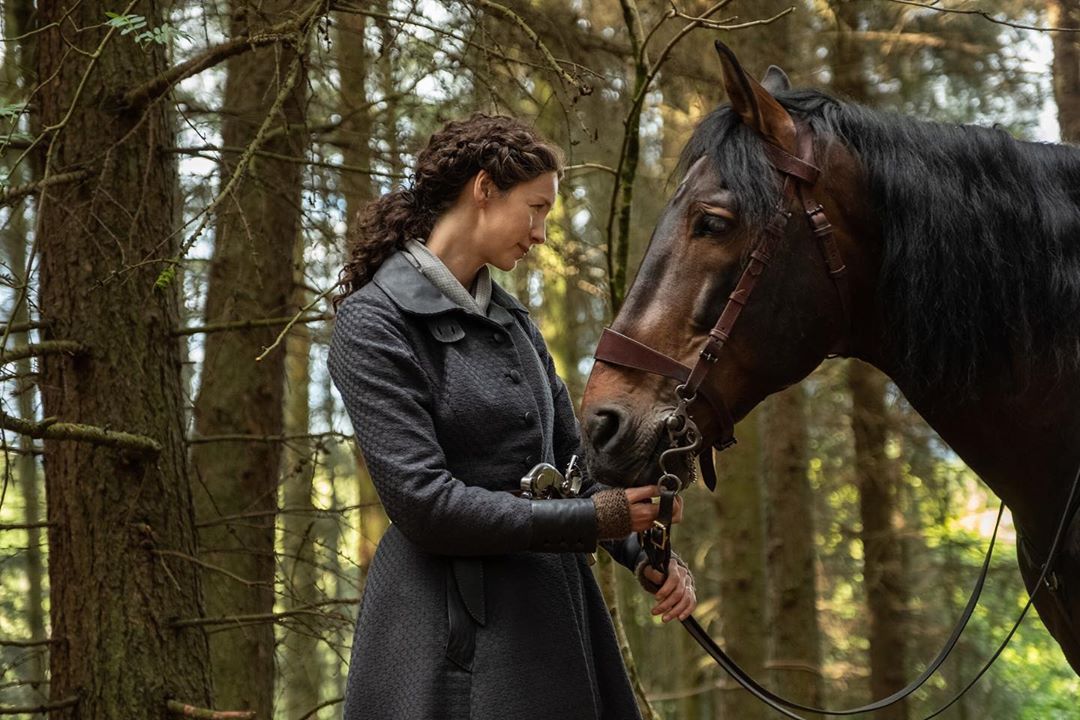 However, in reality, the tables turned upside down, and the makers found it quite difficult to find Claire. On the other hand, Sam came in early in the process, making it very easy for the makers to put him in the shoes of Jamie. And literally, he was the first character to be cast on Outlander! A lot of actresses, a lot of audition tape, and the search for really ineffable qualities led the makers to find their ideal Claire in Caitriona's tape!
THE COSTUMES SCULPT THE CHARACTERS
Putting it the other way round, the characters were made for the costumes! While the corsets and retrograde Scottish-style attires we see Outlander stars wearing allure us with the 18th-century style statement, they weren't anything comfortable. However, everything from those wicked corsets to whatnot most of the series' main actors have worn so far have helped them find and live their characters.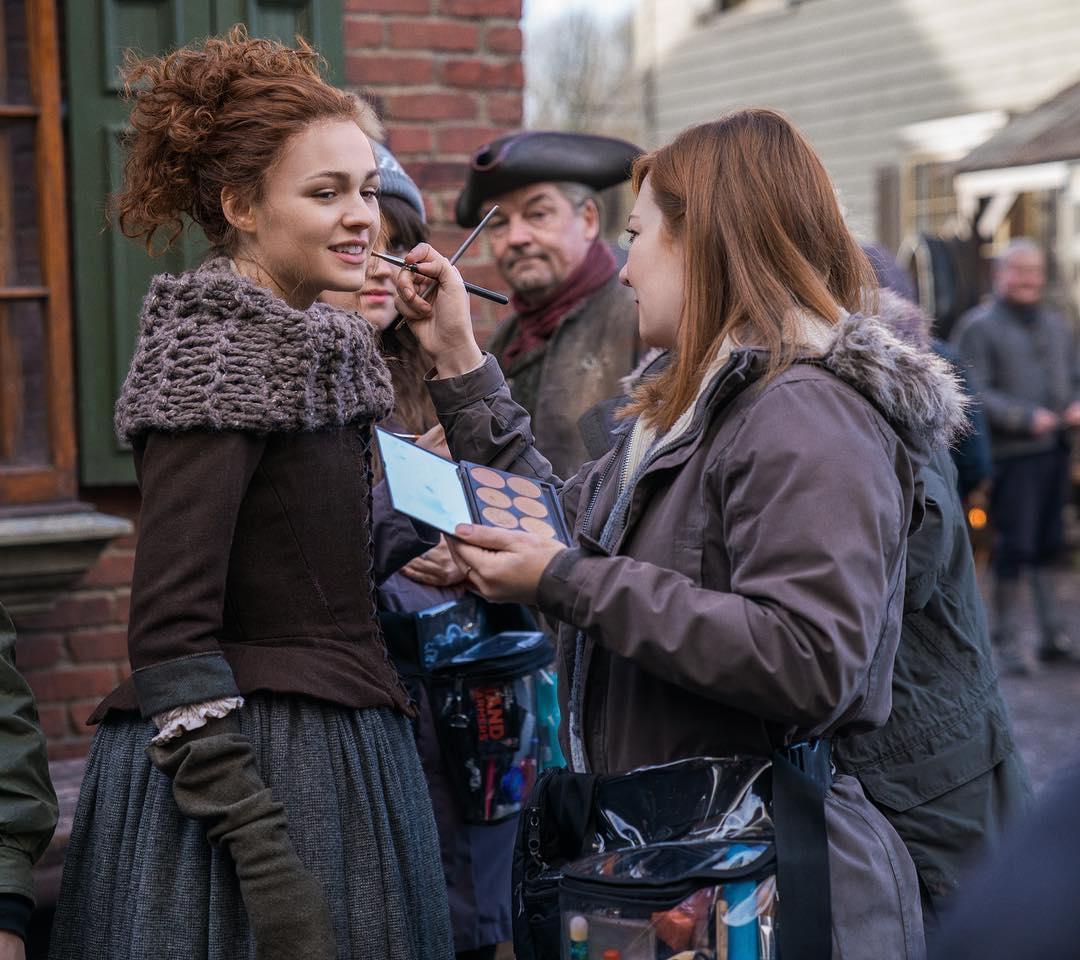 The clothes donned by Outlander's on-screen crew might look anything like bespoke and forgotten fashion fallen out from a fairyland, but genuinely speaking, these kinds of outfits added to the recipe that cooked the craze for the series year after year. To keep the look crisp and smelling of the 18th-century epoch, the makers used some mindful tactics and unique tricks with their retrospective outfits worn by the entire cast.
YOU CAN VISIT SOME OF THE LOCATIONS IN REAL LIFE!
The best part of a hit show would be when it can swipe your perception to the location where the scene you're watching was shot! Perhaps, that makes a great deal of personification for TV series that roll out and high for years and counting. Speaking of the Starz drama, well, you're not alone if you're saying that you've got mesmerized with the gorgeous backdrops, the gothic castles, and the rain-kissed lush green backdrops of Outlander! However, millions of fans tune in to their TVs just to sway along with the picturesque backdrops that pillar Outlander's main leads.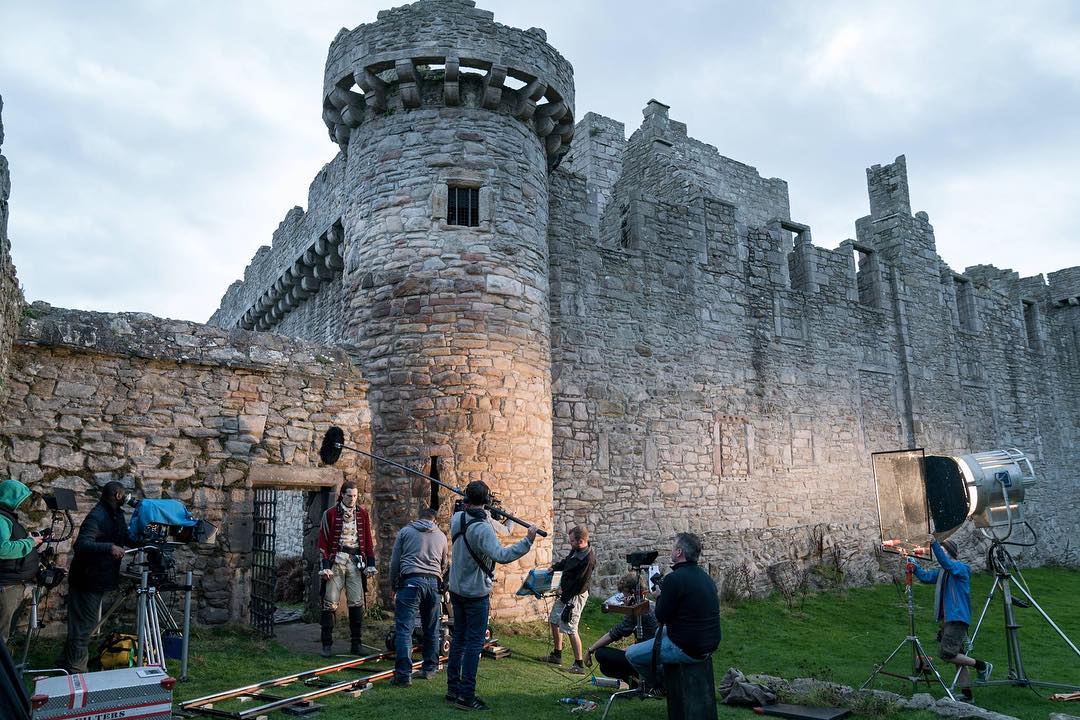 Moreover, to personify the show's massive success, VisitScotland has assembled a map to some of Outlander's real-life shooting locations. Some of these include Doune Castle, near Stirling, which portrays Castle Leoch. Then there is Blackness Castle in West Lothian, the one that plays the part of Fort William. However, Craigh na Dun, the prehistoric stone circle that pushes Claire back in time doesn't really exist! But if you still insist on seeing the area for yourself, you can pay a visit to Kinloch Rannoch!
THERE IS A REASON WHY ACTORS SPEAKING GAELIC ISN'T SUBTITLED
Traveling back to Outlander's initial days, preferably the first season, there are plenty of scenes where you might have come across a different language. Perhaps, most of the utterances are from scenes in which Claire hears Jamie and his fellow highlanders converse in their native Gaelic. The worst part for non-native Gaelic speakers is—there are no subtitles for their speech!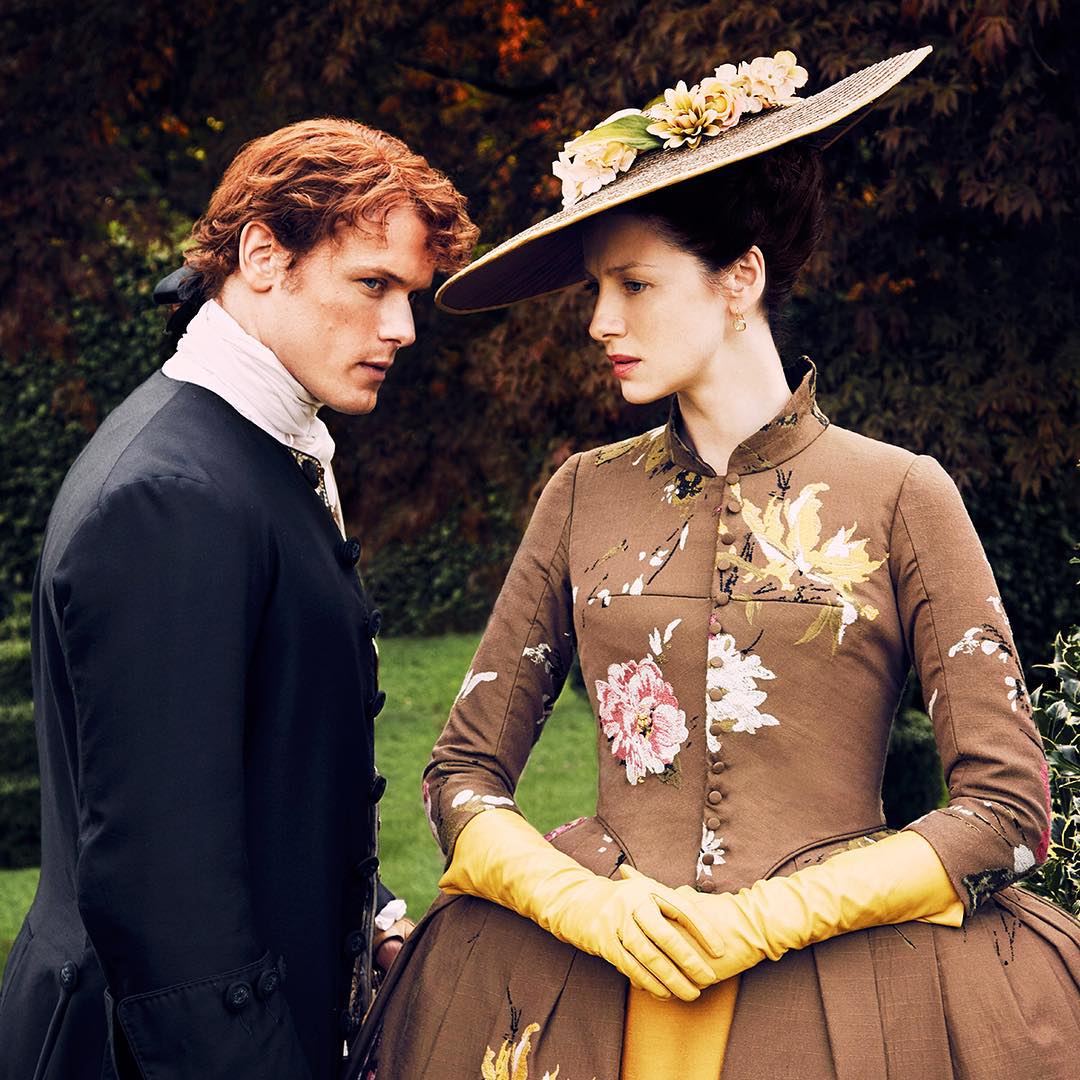 However, this was done on purpose—thanks to producer Ronald Moore! He wanted the audience to feel what it was like to be Claire—unable to understand what the Scottish men were saying about her! It's a feeling of curiosity that spins endless doubts in mind about what the other person is talking about you in a language that's far from your knowledge, and that's the kind of thing Moore wanted the audience to experience! With that, let's hop to the most important Outlander criteria—the rules none of its cast members are expected to break! starting with Rule No. 1...
THERE IS NO ESCAPE FROM LATE-NIGHT SHOOTS
Bagging a role in Outlander isn't always easy, and if you need to be one, then forget sleeping at night! Late-night shoots are a regular thing, and it's considered authentic to put up with the real night effect than opting for visual effects. In an interview with Variety, Sam and Cait were asked about the specific advice they would give themselves if they got back to the day before filming began.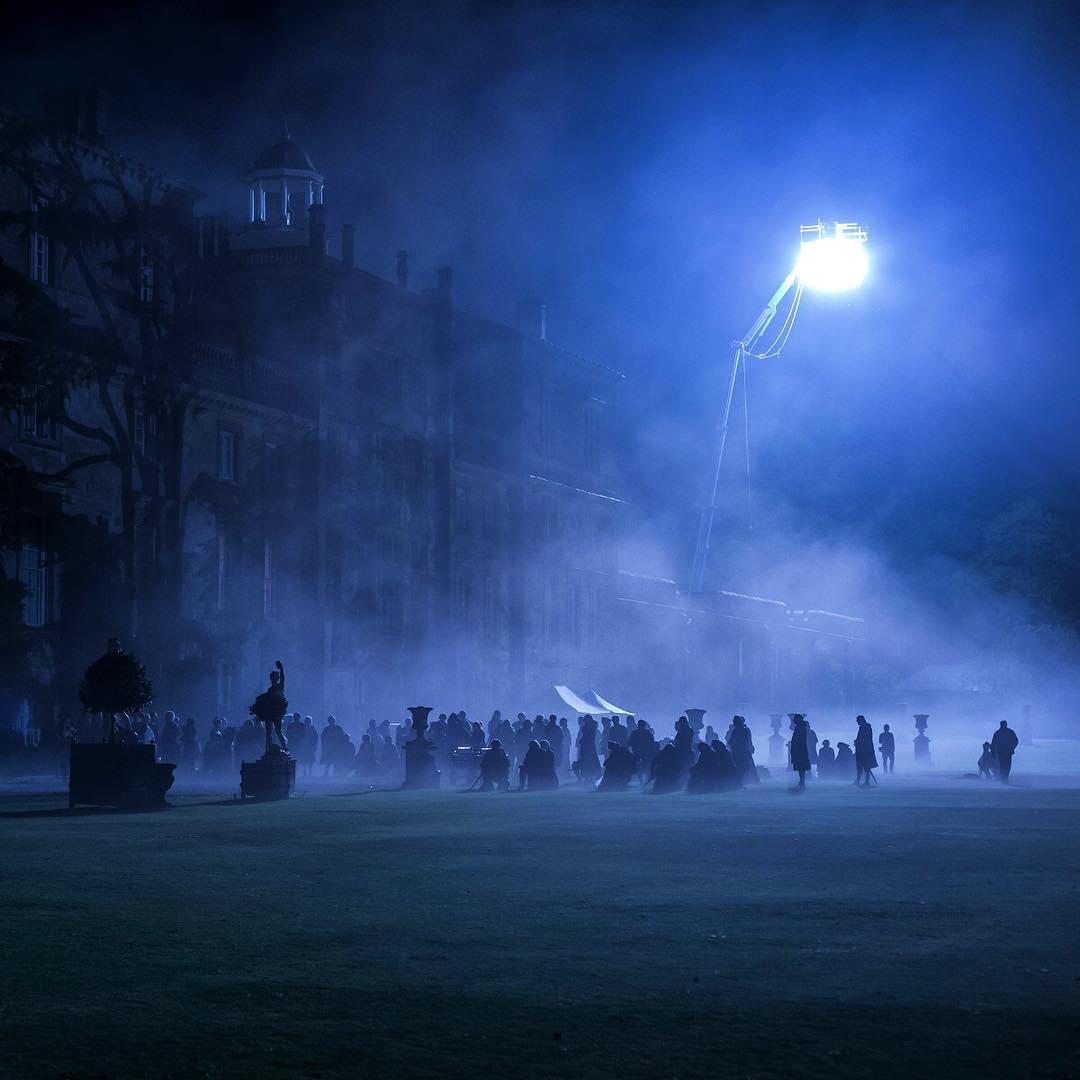 Without thinking twice, Sam and Cait replied: "Get some sleep! You are never going to sleep again." Filming at night might be fun during summer, but can you picture the Outlander cast in winter? That routes us to another rule the cast has learned to master over the years. 
WINTER IS JUST ANOTHER SEASON AND NOT A REASON TO SKIP SCHEDULE!
Imagine sudden showers, the skin-tingling breeze, and freezing temperatures! Then zoom your focus on the scenes shot in secluded locations with no electricity—that's quite some teeth-grinding moment! But being an Outlander star means you forget the cold and the temperature and everything else. Not just the stars, even the cameraman couldn't grip his camera owing to his frozen fingers!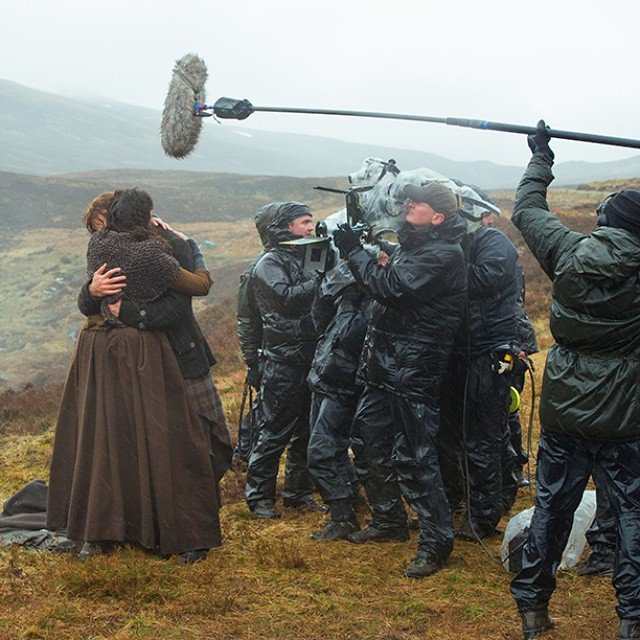 However, rules are rules, though! In an interview with Entertainment Weekly, the four leads take a trip down the memory lane along with co-producer, Maril Davis. What's the coldest day they've been on Outlander? For Davis, it's supposedly an earlier scene where Claire bids goodbye to Frank at the train station. Another day from Season 1, where Jamie and Claire picnic on a mountaintop is en route to this list. Coincidentally, this cold day marked Sam's birthday!
ALWAYS BE READY FOR LIP LOCKS
Call it steamy or scorching, Outlander's romantic scenes are here to stay in our minds, right?! However, these are just the right amount of everything that was penned down on the script, and the actors had no other choice than do it. However, they passed the romance scale with flying colors! Though the scenes were glamorous on-screen, both Sam and Cait have often admitted that such moments weren't easy to film.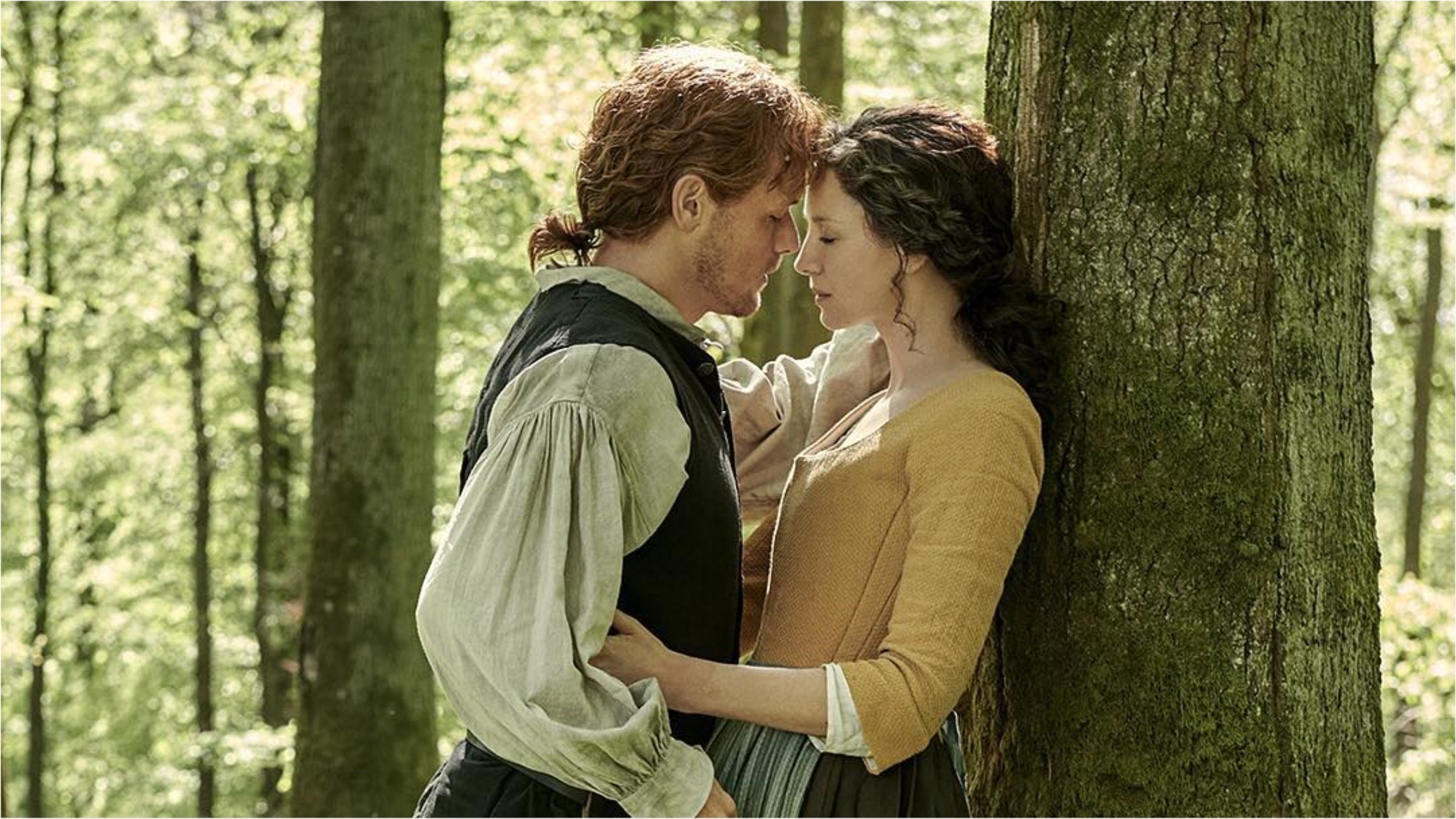 Sam shared his embarrassing moment, which shapeshifted into something funny, to be honest! He then had to narrate all this to someone who, in turn, put it over the intercom, and the whole crew knew it! It's incredible how they laugh about it all in retrospect, isn't it?!
FORGET MODERN CLOTHES
When the storyline falls right off from a novel that depicts lifestyle embalmed in the 18th century, forget the jeans, sheath dresses, and shorts! But yes, those costumes the Outlander stars got to wear were stunningly cool! But which one do you think is incredibly uncomfortable—the corset or the kilt? Hands down, it's the corset! Zips and Velcro didn't exist in the 18th century, and the costume designers were committed to authenticity.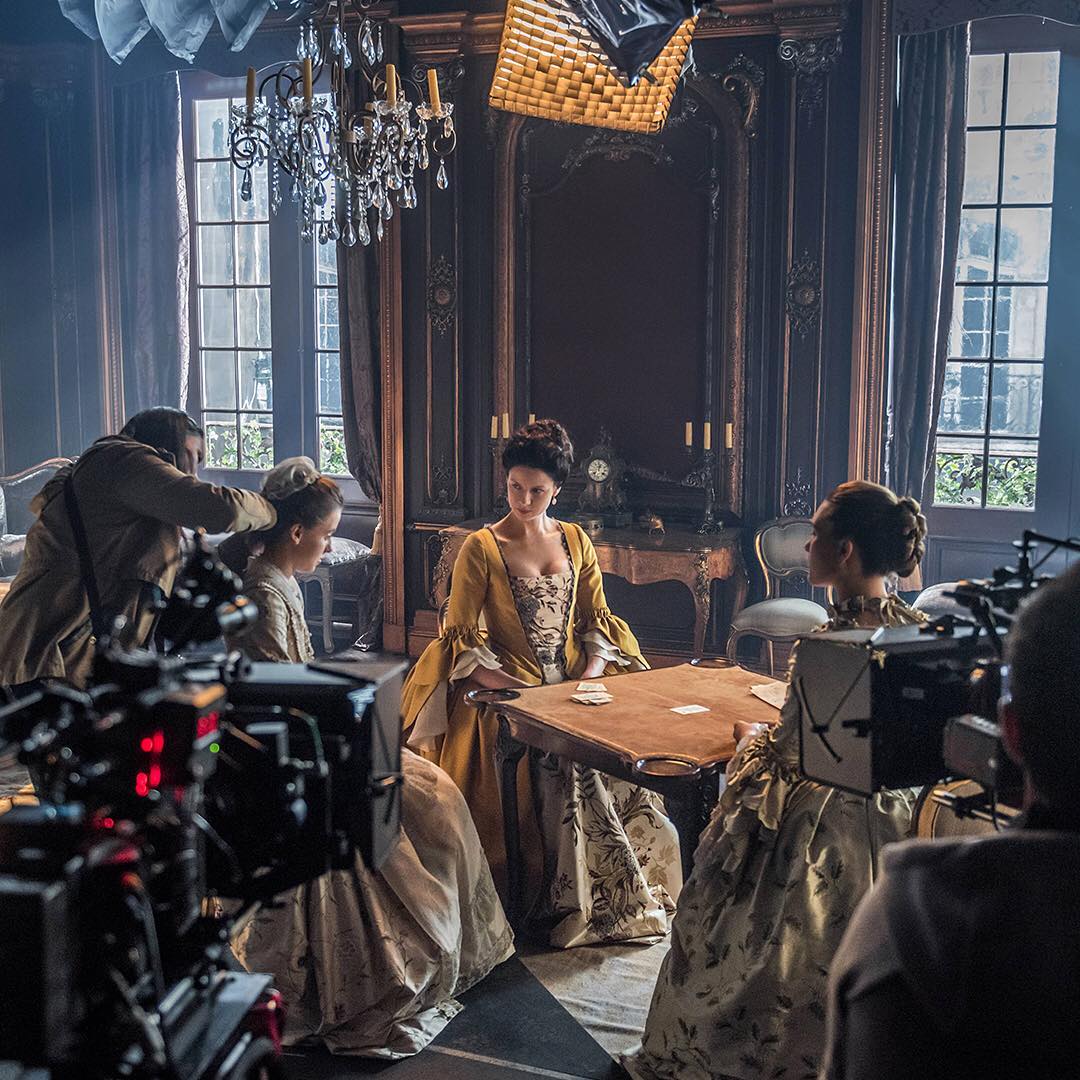 So, it is undoubtedly compulsory for all the ladies on set to wear corsets and breathe through those wickedly gorgeous outfits replicated from the retrograde era. And not just that, those days, these beautifully appealing corsets were spun to make it hard for women to fully breathe or emote. Now that casts light on how restricted women were back then. Once the Outlander ladies put them on, they would automatically time travel to the bygone epoch!
LIVE AND LOOK LIKE THE CHARACTER FROM HEAD TO TOE
Going deep into the 18th-century cult means giving away everything from what or perhaps, how you look! That includes an incredible and lavish head to toe makeover. Sophie Skelton fits this context perfectly—the gorgeous brunette she is, her character Brianna Fraser is a red-head. Initially, the hair and makeup team dyed Sophie's locks red, but it traversed as a short tale of disaster!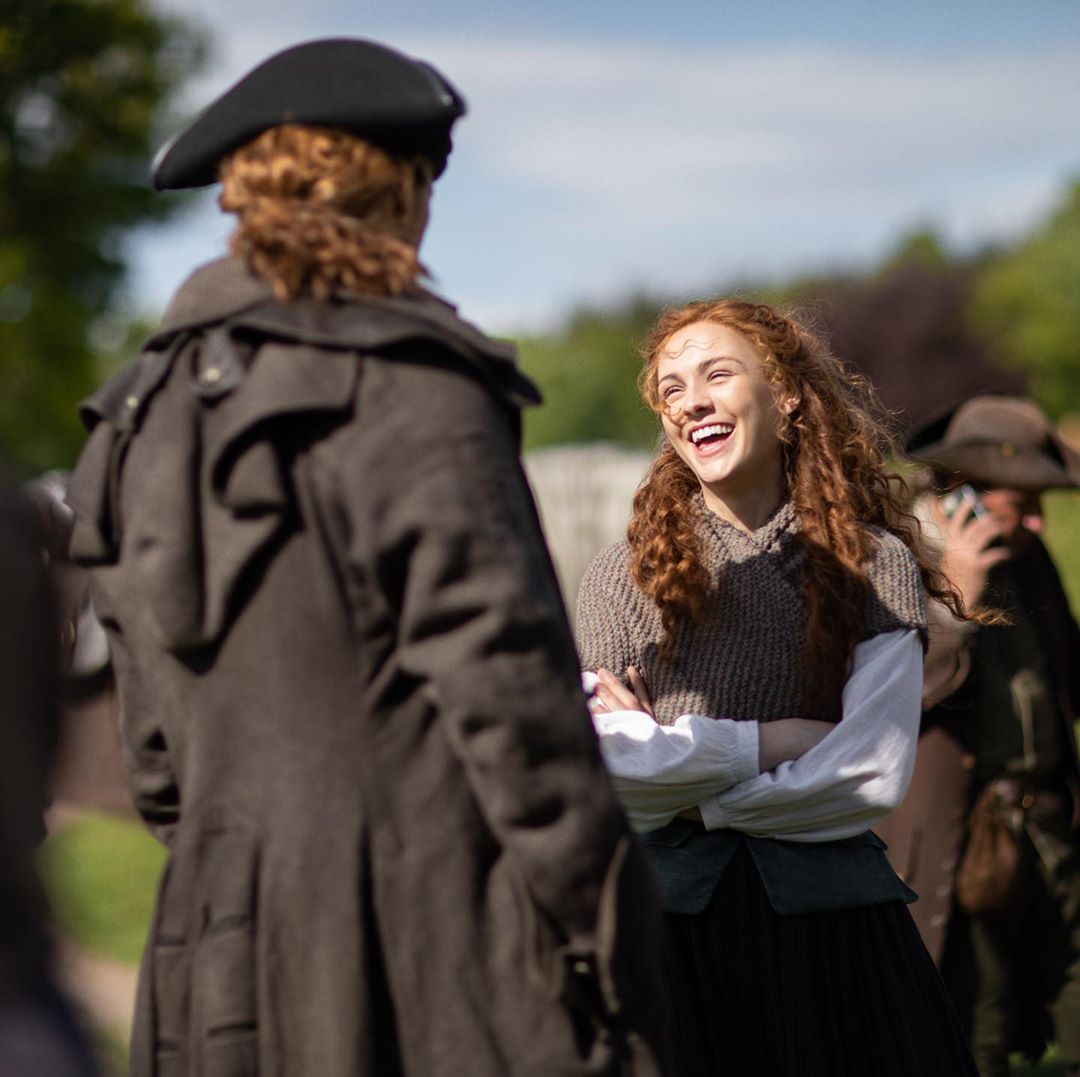 Shortly after the incident, the team decided to give her a red-headed look with a wig. Flipping the other side of the coin, Heughan's stunning transformation into Jamie wasn't quick. He had to sit for an hour and a half on the makeup chair to get his hair done in the wee hours of every morning! How sad is that! Like Sophie, Heughan's red-head story turned out to be a disaster after the dying process was horrific. Luckily, his makeover was given a twist in the later seasons—thanks to the red-head wig!
KEEP SOCIAL MEDIA ON YOUR FINGERTIPS
Though Outlander is based on an 18th-century storyline, the cast was still instrumental in promoting the series as much as possible. For this, they had to make an ardent use of social media! However, they were also expected to have their own official social media accounts for the same reason. The cast members also participate in the Q&A session with their fans, and it was a tactic the marketing team used to leverage each star's connection with social media following.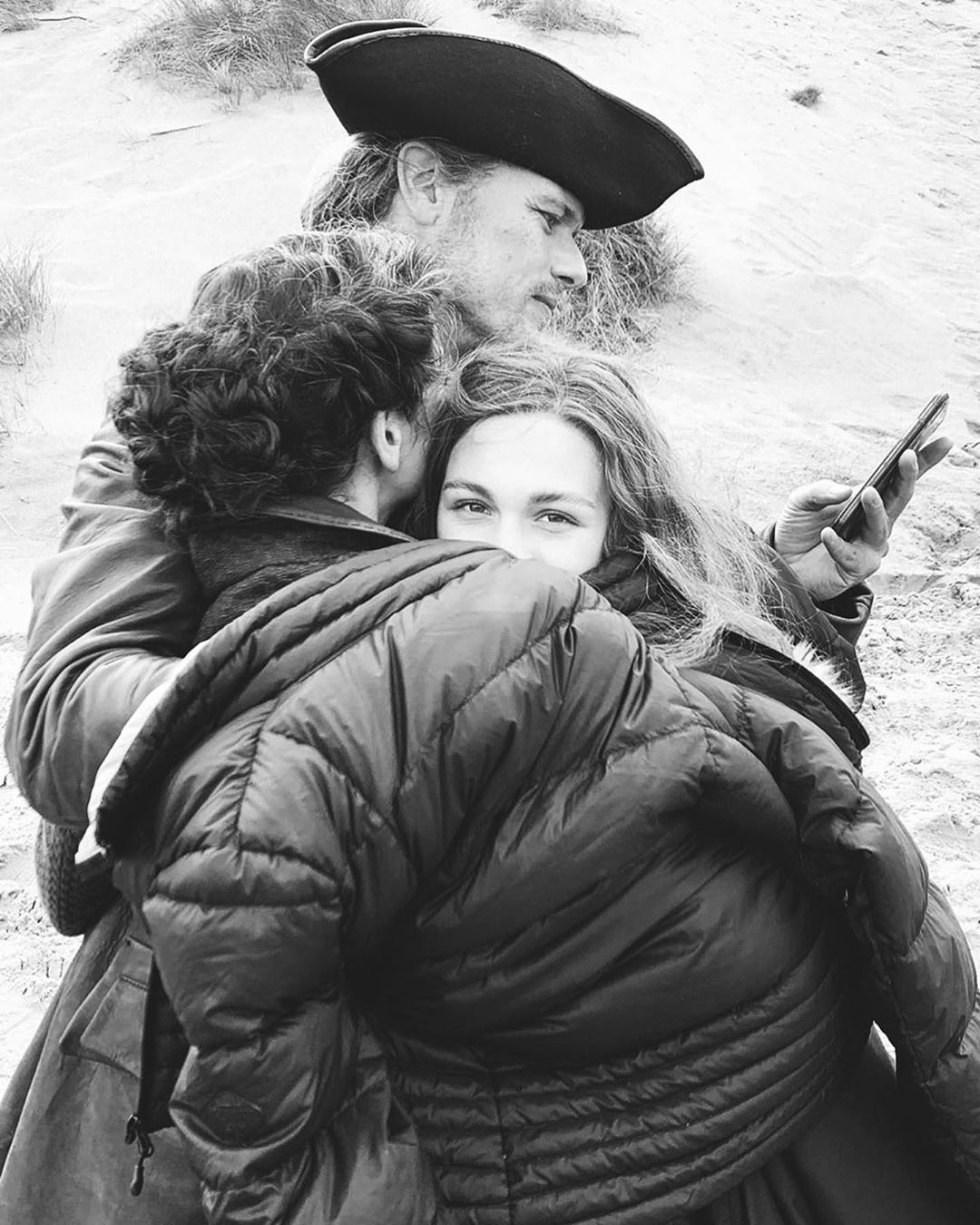 However, we're not sure if it's always a good thing for the actors themselves. Probably this is why Sam and Cait have decided not to breathe a serious sigh on social media comments. In an interview, Sam explains how it's next to impossible to please the different perspectives of people. Sadly, with social media, it's always that one ugly comment you still remember, and Outlander stars have learned the right thing from their bitter social media experiences.
READ THE CONTRACT TWICE BEFORE CLOSING THE DEAL
Did you know that Heughan and Balfe signed a seven-year contract before the camera rolled to shoot the first episode? However, both the stars were extremely grateful for how things at Outlander turned out, and they stood invested until the very end. But what happens when a lead gets sick on the set? With such tight filming schedules, this one thing can shapeshift into a stressful drawback.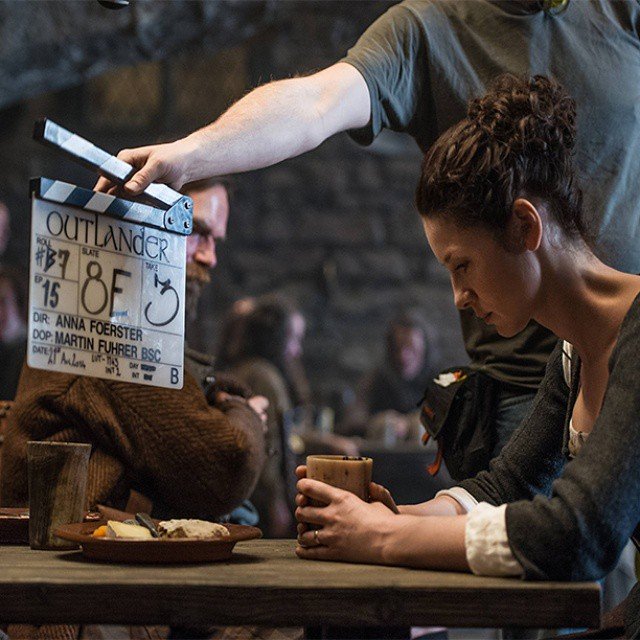 However, according to one of the set producers, Waldo, the showrunners always look at other scenes until the actor gets back into his shoes! Now that's reasonable. Yet, if you've watched the cast in panels or interviews, you might have noticed their vague response to avoid insider info. To be honest, this makes an integral part of their contract's terms and conditions. None of the actors are expected to share any sensitive or private details about the show. This means whatever goes on at those sets is to rest in peace in their minds forever!
By now, you might have reached to a point where you're clear about what went into making Outlander a blockbuster series! It was nothing but rules, rules, and rules! Yet, the leading stars walked away with their share of the limelight despite being shadowed by such strict protocols, day and night! If you were part of Outlander, which rule will you not hesitate to break?! Let us know what you think, and don't forget to share this article with all the Outlander fans you know!