Strange Public Transit Passengers
Public transit is an affordable way to get around the city. It saves you the cost of gas, insurance, and parking and runs often to make it a convenient fit for almost every commuter's schedule. You'll never know who you'll share a subway with or find in the seat next to you, but the gamble pays off for priceless photos. 
At Least He's Not Counting Sheep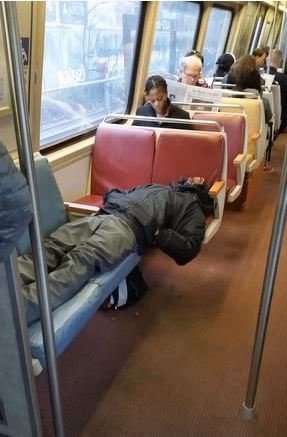 This man is having a long day and needed to rest up. Unfortunately, it means he takes up way more than just one seat! It's a public ride, not a living room! We hope on behalf of the other passengers he doesn't snore or sleepwalk! Wonder if he remembered to set the alarm not to miss his stop?
A Meal Prep Aficionado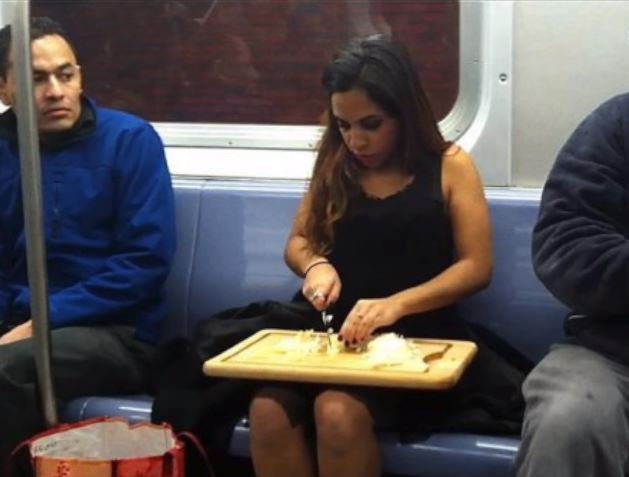 We hope those aren't onions on board or the whole train car is about to be in tears! We think we would be in shock and would hate for her to drop her dinner all over the floor with one wrong turn. Is anyone going to ask her to put the knife and cutting board away, or will she share her snack with new friends? 
Big Hair Don't Care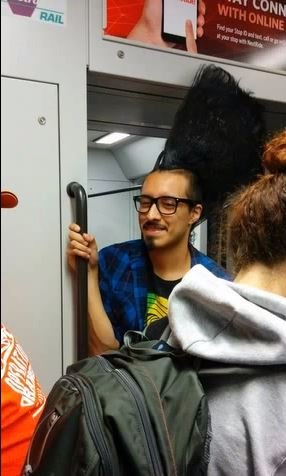 The big accomplishment is that he fits inside! The height of this hair is wild, and we can only imagine how much hair spray was used to hold the look! Staying true to his personality and with a massive smile, this guy would brighten our daily commute for sure! 
An Elf On The Move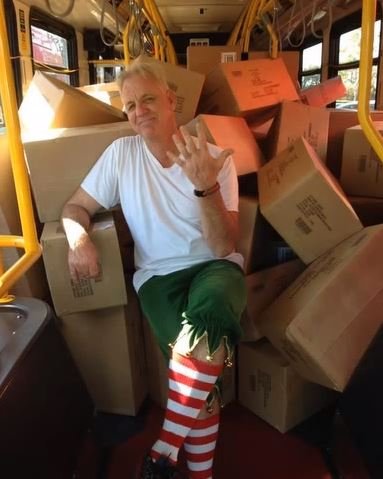 Whatever Santa wants, Santa gets, and sometimes the sleigh isn't available! Good thing this guy is saving Christmas and his dollars by bringing boxes back to the North Pole! Quick, whisper in his ear to check if you're on the nice list. Is this how they get all the coal into stockings?
This Bus Goes All The Way To Sesame Street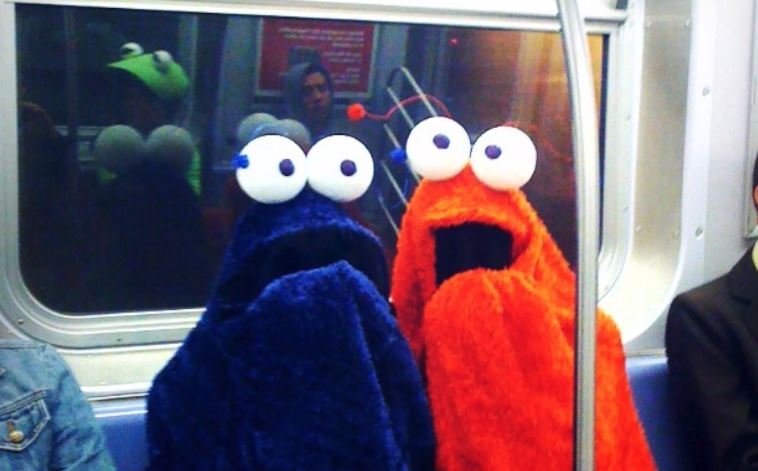 They are a long way from their neighborhood! Do you spot Kermit in the window? I wonder if Miss Piggy was taking the picture and if Big Bird was too tall for the subway? Hide your cookies from these monsters and watch out for Oscar the Grouch at the next stop!
We're All A Little Mad Here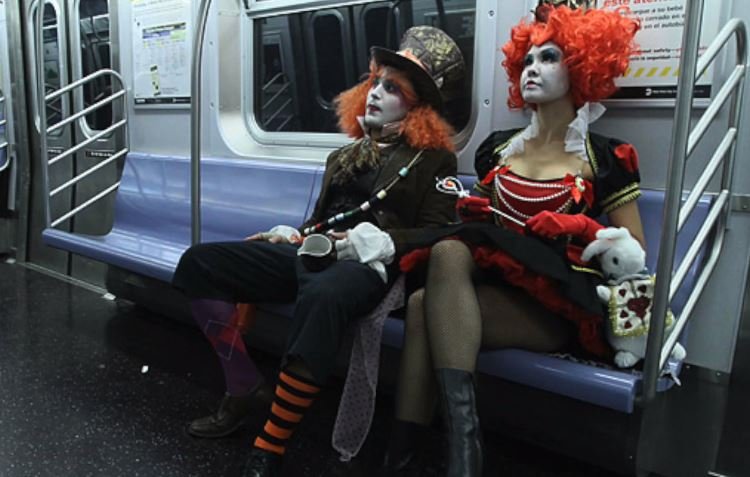 Somehow we don't think this is what the looking glass told them. Is The Mad Hatter on his way to a tea party? Are they trying to get back to Wonderland, or did they just escape to try an above ground cup of coffee?  Does this mean the Cheshire cat is hiding somewhere above or below? Whatever you do, don't take any cake, or she might try to take your head!
We See You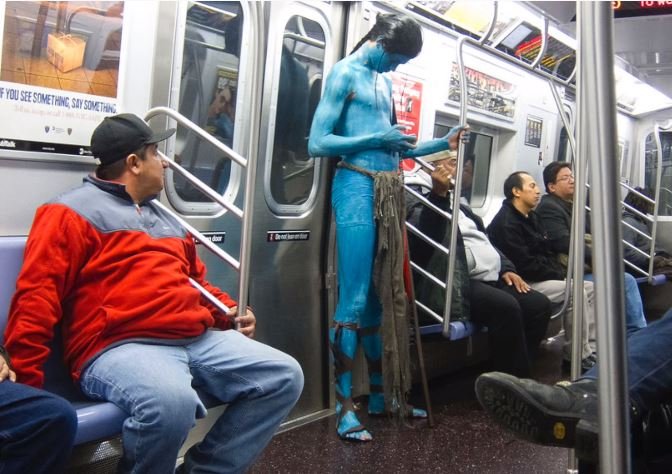 We can't help but see them, but it looks like they are keeping their eyes on their phone. Perhaps a message coming through from the lush jungle moon of Pandora? We see their true essence and hope they are a friend, not a foe on our journey. 
Drill Sergeant or Toy Soldier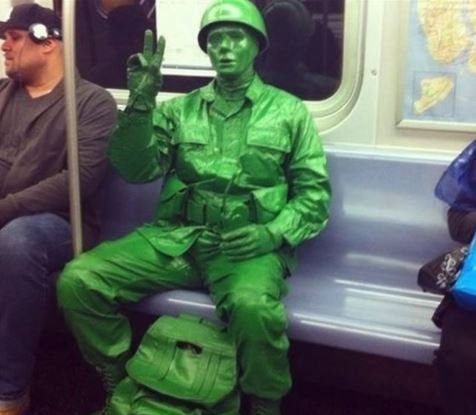 Attention! We're having Toy Story flashbacks and hope he keeps his weapons safely locked away. The commitment to the green is jaw-dropping, and we bet Andy would be impressed! Do you think he'll drop and give us twenty, or will we be expected to march single file off the train?
Any Excuse To Wear Glitter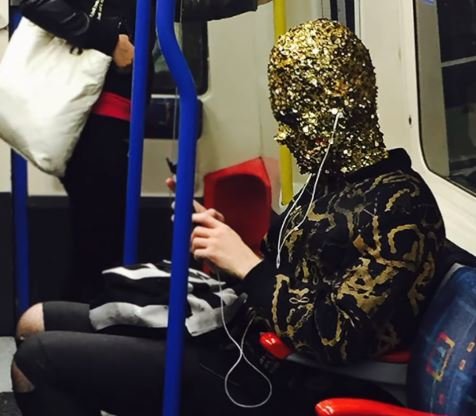 It never matters what day it is or hour; a face full of glitter is always appropriate! Is it black and gold, or is this another optical illusion? Do you think it's itchy or soft and glamorous on their skin? Maybe they took it from Lady Gaga's closet, but does that mean she's nearby? Who's really under that mask!
2020 Fashion Forward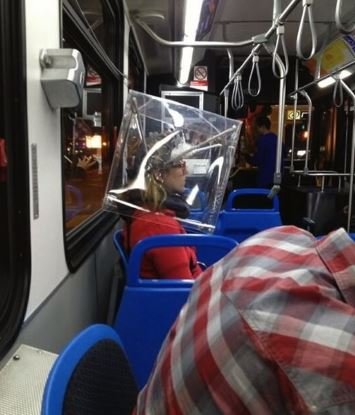 Did she have a look into the future when she made this purchase? This commuter was ready for 2020. A full-face look is commonplace now to prevent germs in public spaces. They are natural at social distancing too! We hope that look is environmentally friendly and reusable!
Where's The Rest Of The Team?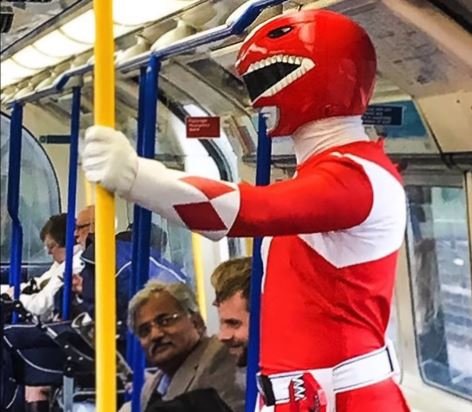 One Power Ranger alone isn't strong enough to fight the evil found on public transit! Do you think he knows "It's Morphin Time!" or is he waiting till his stop to reunite with the team? The world needs your powers; evil can be lurking behind every missed train signal! It's time to get back to business!
Your Friendly Neighborhood Spider-Man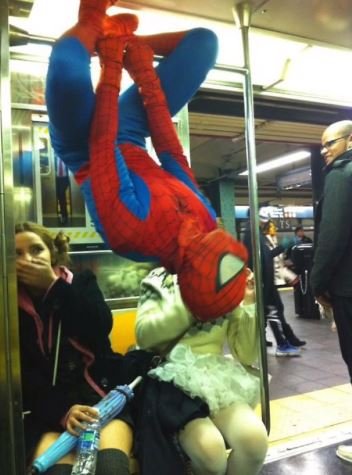 Peter Parker is known for his wisdom and showing up at the exact moment he's needed! Makes sense he would brighten your commute and hang around to keep you company! "With great power comes great responsibility," and we need all the help we can get to make sure we get to work on time!
May The Force Get You To Work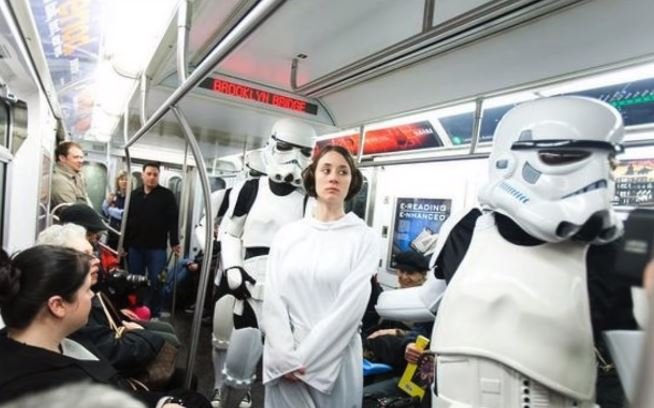 Terrible when your week starts off being trapped with the enemy! Darth Vader might be on this train to capture the Princess! I wonder if the Storm Troopers had a good weekend before getting back into carrying out orders? In what universe did she manage to get herself caught during rush hour! Was it a rescue mission, or have the forces joined together? Watch out for any lightsabers!
An Out Of This World Couple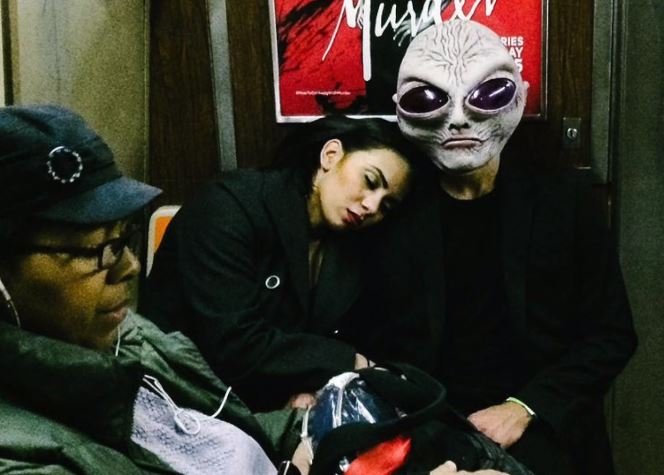 In a galaxy far far away, they both swiped right. Beauty is in the eye of the beholder and definitely not in vain for this couple. As she peacefully sleeps, we know no one is going to bug her with that bodyguard! Are intergalactic pillows better than earth pillows? We'll have to find out for ourselves when she wakes up!
A Flock Has Landed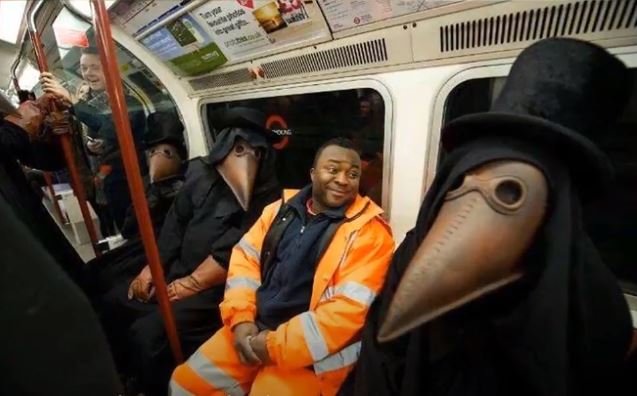 With the way 2020 is going, these doctors have the right idea! The beaked masks were thought to purify poisonous air, and at this point, we'll try anything to get out of quarantine! A fun fact is the original plague doctors from the 17th century had perfume in their beaks! We bet that's useful on a packed subway! 
Gotta Catch Em All!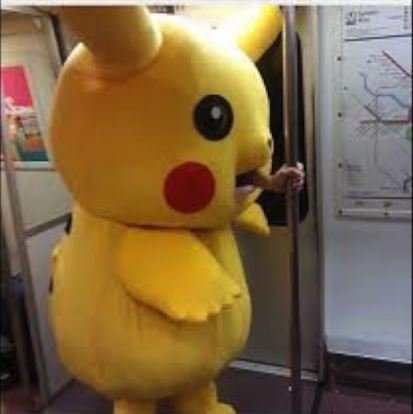 I choose you, Pikachu! A sturdy train companion, even it's a bit anatomically challenging. We're keeping our eyes open for any sightings of Mimikyu and hope Team Rocket can keep you safe! Hopefully, no one has a thunderstone in their pokemon, or this transformation will zap us all!
Snakes On A Train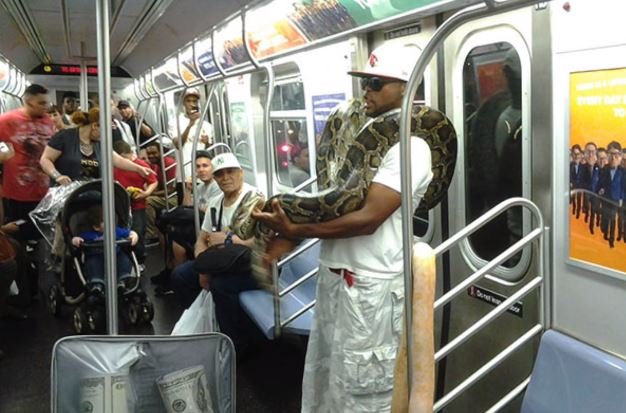 We never thought we would be saying this, but we have had it with these snakes on this train! Slither and slime away from our seat, and please stay with your friend by the door! What would you do if that opened up at your exit? Do you think you would be ready to stare into a snake charmer's eyes on a Monday?
The Circus Is In Town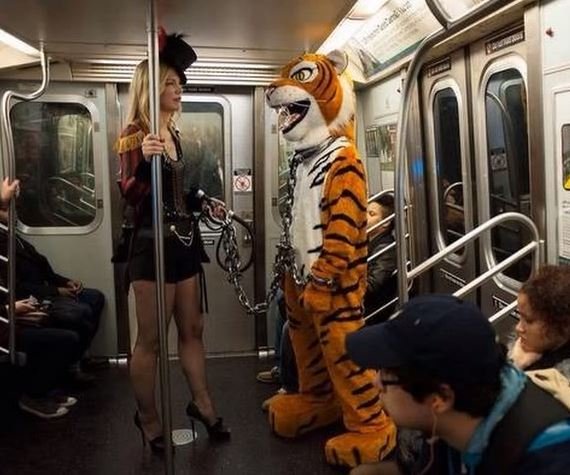 It looks like they might have missed their spot for the big top! Hopefully, they still make it in time to start the show! We think he looks like a pretty friendly Tiger; we can't help but wonder if the leash is necessary? 
No matter if you're from outer space or living in a three-dimensional jungle, we all need to get to work. Thank goodness for public transit to get our tigers, elves, and doctors to where they need to go! Good thing enough super hero's ride the train every day to keep the peace, or there would be some hairy situations! Have you seen one of these in your morning or evening commutes? Did you snap a selfie, or were you trying hard not to stare? Let us know in the comments and share it with your commuter companions!