Paralyzed Bride Shocks Guests And Walks Down The Aisle
A wedding is a celebration of love and this couple celebrated in style with a major surprise for the guests! Everything was picture perfect for this paralyzed bride on her wedding day, and she didn't want to miss a moment. As the music began and her parents stood next to her wheelchair, she made a brave decision. 
A Day Of Celebration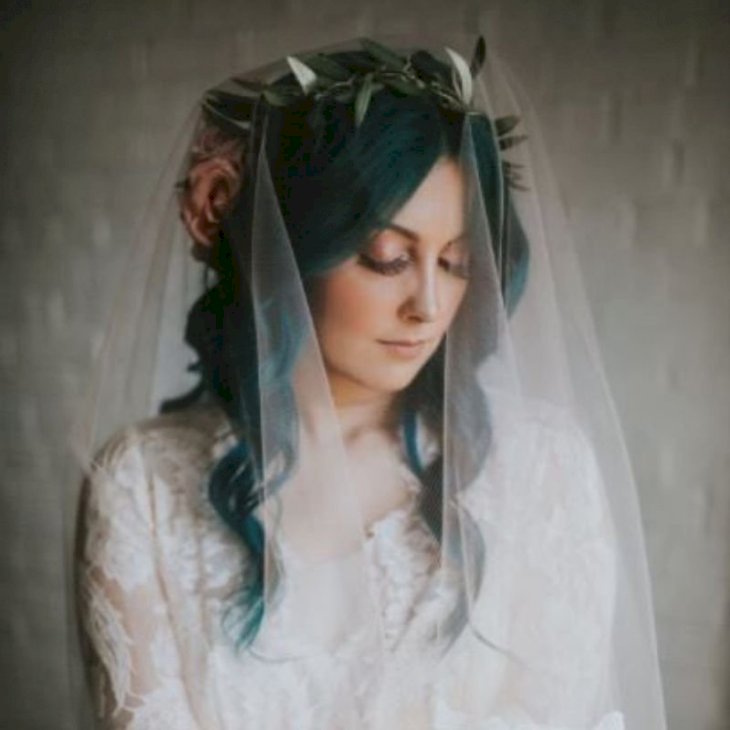 The date was set for August 2016, the invitations were mailed, and the dress was purchased but Jaquie knew only one thing could make this the best day of her life. She knew a wedding day was only going to happen once to the love of her life and she wanted one special moment to remember forever. Would she be able to stand and say her own vows?
A Bride With A Surprise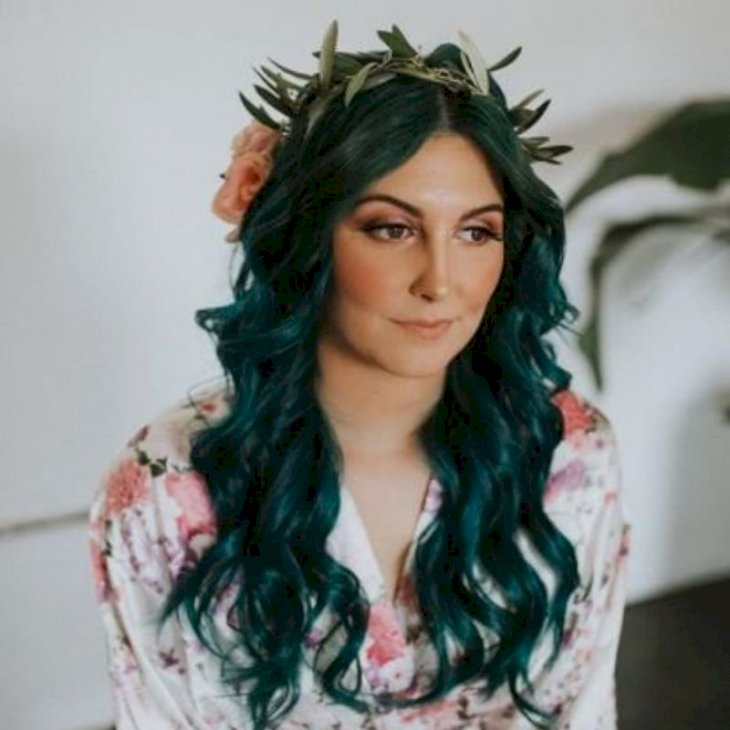 It was no secret that Jaquie was in a wheelchair. She had been in one since a swimming accident at 17. She had no shame in being in a wheelchair and was used to people giving her looks for her hair and the chair combination. On her wedding day, all eyes would be on her and her soon-to-be husband. What did she want the crowd to remember the most?
A Splash With  A Ripple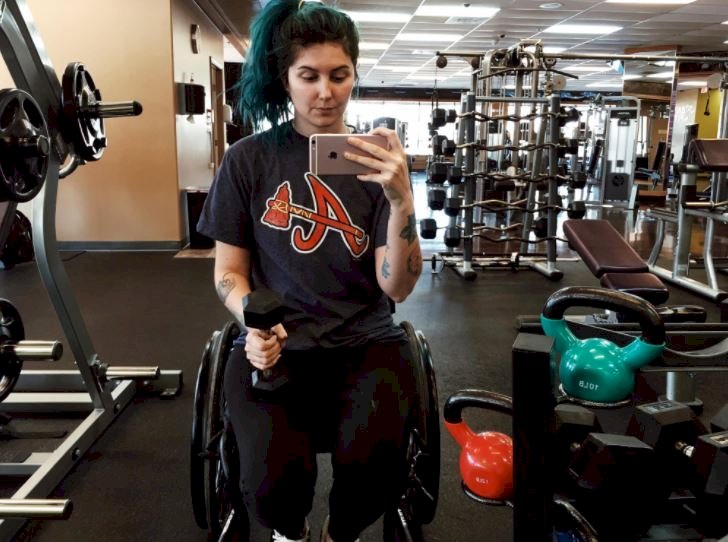 Jaquie sustained a major injury jumping into her friend's pool at only seventeen years old. At the top the prognosis was life-changing. Doctors never thought she would walk again but only a month later she began to prove them wrong! After six months she could move her legs but still had no feeling. She was prepared to fight for her future!
Physio Was The Way To Go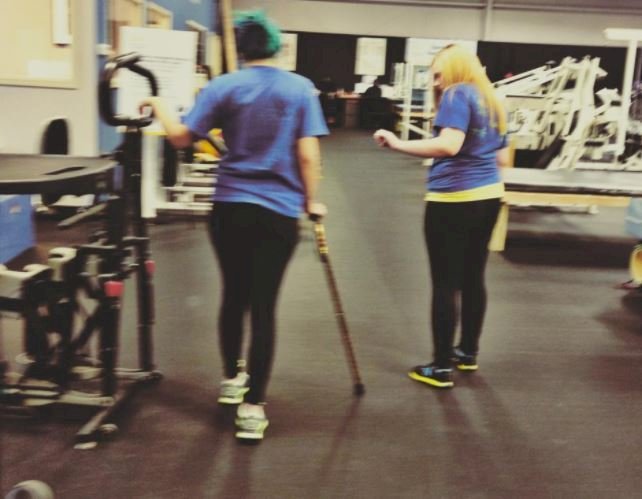 She began to have movement in her legs again within a month but it was going to be a long battle to recovery. Jaquie was working with physical trainers and also doing her own workouts constantly to develop strength throughout her entire body. They put her through vigorous exercise and cheered her on when she fell. This recovery was going to be mental and physical together. 
Hard Work Pays Off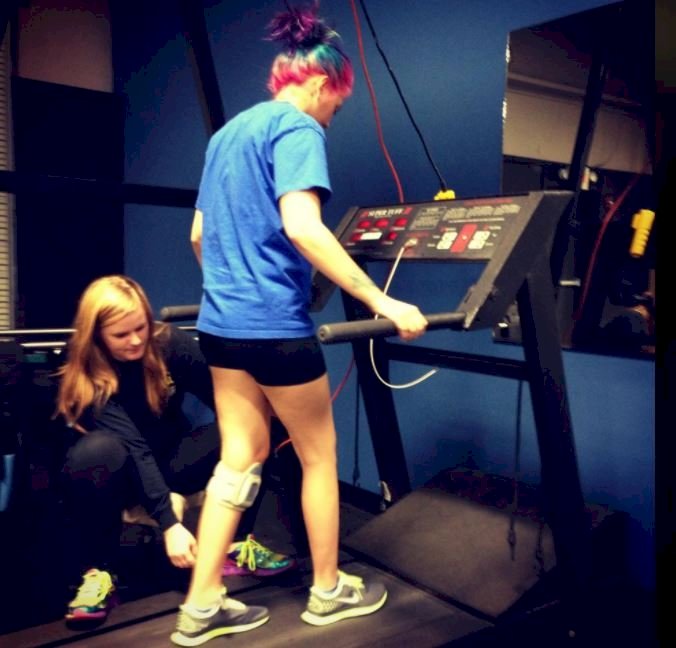 Jaquie never lost sight of one day getting out of her chair. She remembers trying to use a stationary bike but couldn't move her legs fast enough to keep the bike engaged. At that moment she had a choice. "I just kept pedaling. When the machine would go off, I would laugh and pedal again. It was hard at first but after I got past that first little bump, everything else was a lot easier."
No One Knew Just How Far She Had Come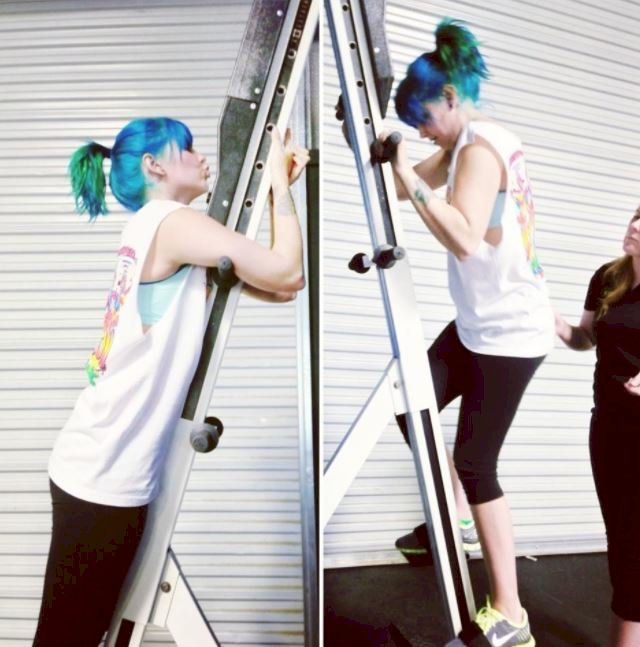 Jaquie has a very supportive fiancee, family, and friend group. Everyone constantly asked about how she was feeling and what different progress she had made. She would share she was feeling stronger but no one was aware of her ultimate goal. It was a day she was never going to forget and neither would anyone else in attendance.
Engagement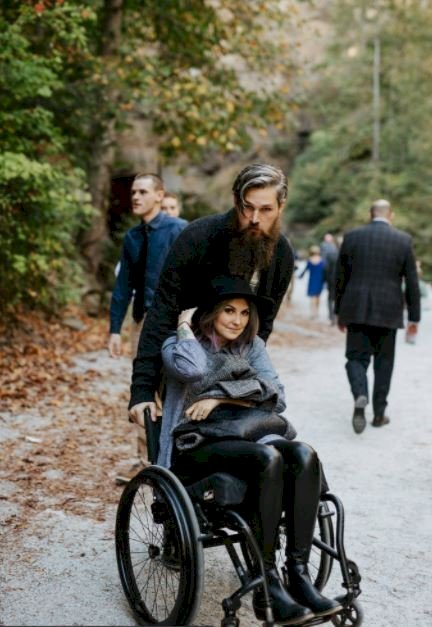 Jaquie and her long term boyfriend Andy got engaged in 2015. At that point, she was slowly walking around their house with his assistance and holding onto the walls. The engagement made her want to work even harder towards her goal of being able to stand for her wedding day. It wasn't Jaquie's body that was the big problem though, her blood sugar was so low that standing for longer than 30 minutes was dangerous for her health.
Fears For The Big Day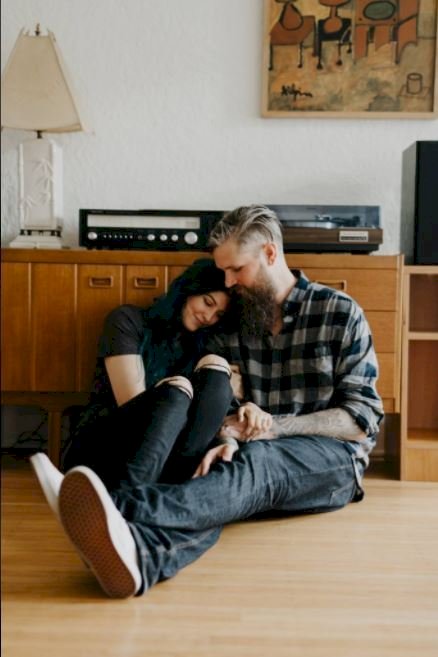 The spinal cord does a lot for our body and is beneficial for so many reasons, including one thing people constantly overlook, the connection to our body's blood sugar and regulation. With a damaged spinal cord, messages are not being sent through the body to adjust the constriction or widening of the blood vessels. Jaquie was getting stronger but she needed to get her body on the same page and keep her blood sugar regulated or she could pass out after the ceremony. 
At The Aisle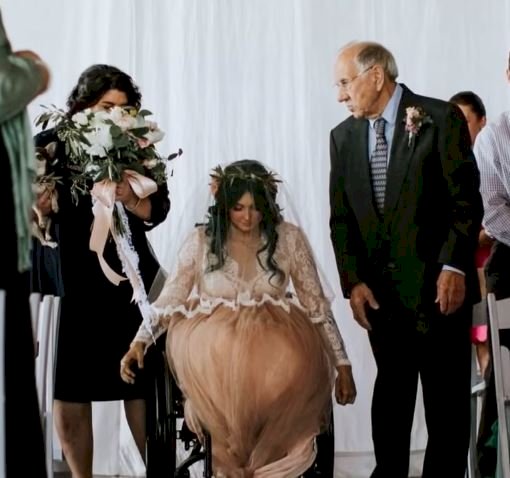 The moment was here. Jaquie wheeled to the head of the aisle and felt so nervous and anxious she was worried she wouldn't do it. This was a moment she had been working towards for eight years and the pressure almost felt unbearable. With the strength of her mother and her fiancee looking at her, she slowly got out of her chair.
Walking Towards Her Love& Future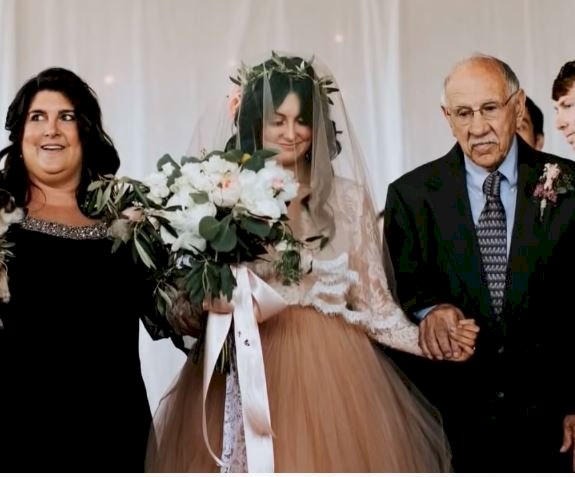 Her wedding guests could not believe what they were seeing. Jaquie had been able to stand but not walk such a long distance! Was it safe? As everyone began to hold their breath and gasp she put one foot in front of the other and began walking into her future. 
So Nervous Kept Eyes Down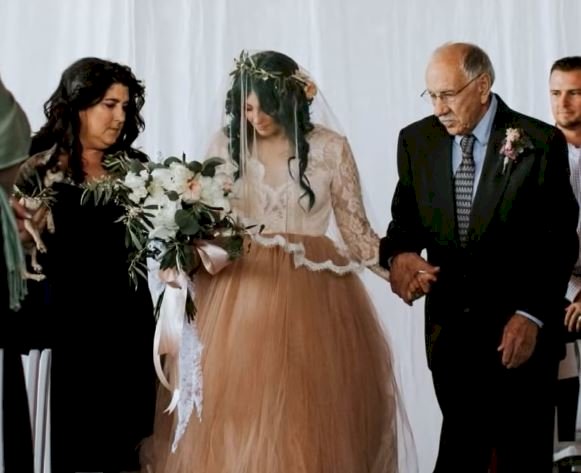 While wedding guests could not believe what they were seeing, Jaquie was more concerned with not falling. She had worked so hard towards this goal and the day was finally here! Her eyes were glued to her feet, praying she had the strength. "I was sick to my stomach with nerves and excitement. I looked down the entire time. I just remember thinking, 'This is it. I'm getting married!"
Groom Reaction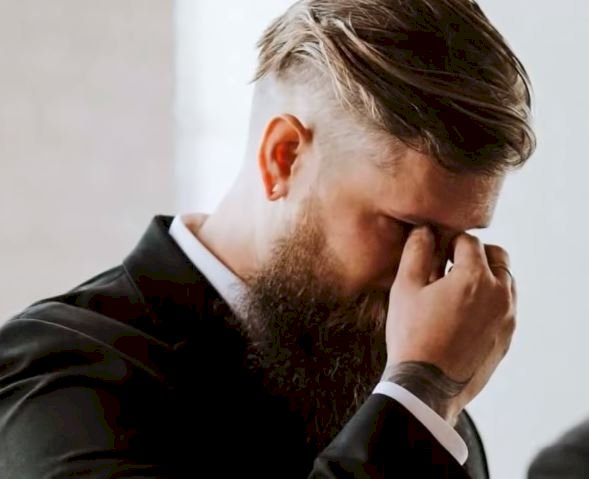 Even though Andy knew, the moment still took his breath away and made him emotional. Jaquie's recovery was his own recovery as he was with her every day encouraging her and wiping away tears of frustration. Jaquie knows her husband is her biggest supporter and he "just loved me for who I was from the very beginning. I couldn't ask for anything more than that."
First Dance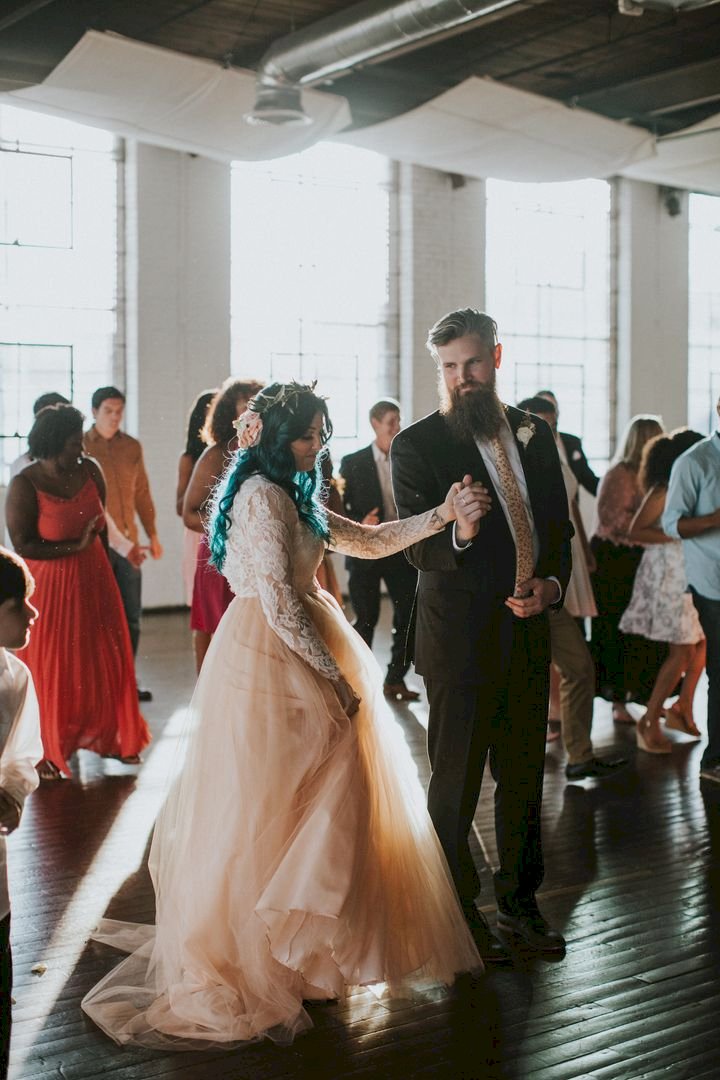 A traditional first dance happens at almost every wedding, but this was this long term couples first dance for their entire relationship. Due to not being able to stand for long amounts of time, Jaquie and Andy had never traditionally danced while standing. Jaquie remembers holding onto her new husband and feeling a level of happiness she had never felt. She felt like she was floating even though this was the longest time her feet had ever been on the ground!
Jaquie Had The Day She Dreamed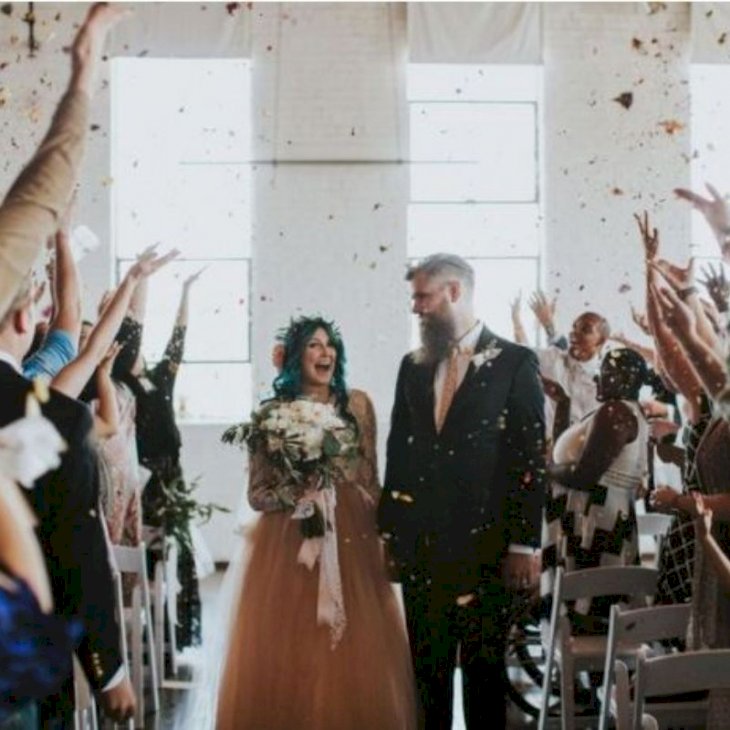 The biggest thing for Jaquie was she had a chance to feel normal and not be focused on her chair. After being with her chair for so long, the biggest wedding present Jaquie gave herself was being able to have the wedding she wanted without restrictions. The day was captured by dynamic duo Halie & Alec from the photography business Love Stories Co.  Neither photographer knew what was ahead and had to suppress their own surprise and reaction to continue to focus on taking pictures. We think they nailed it and this couple has photographs to last a lifetime.
September Is Spinal Cord Awareness Month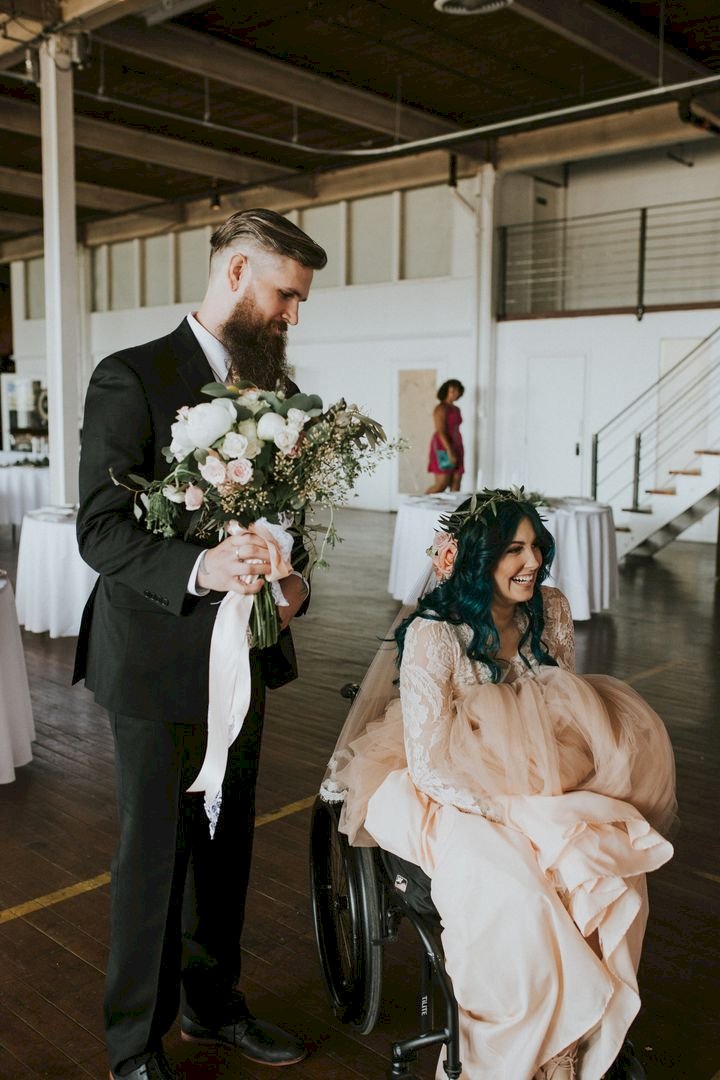 Did you know that Septemeber is Spinal Cord Awareness Month! There are two main categories of spinal cord injuries but each has three different subcategories. The two main categories are incomplete and complete, but incomplete covers about 60% of spinal cord injuries. A viral hashtag to spread awareness, #morethanmychair, allows people living with spinal cord injuries to show just how much they are capable of and change public perception. 
Redefining What Disability Looks Like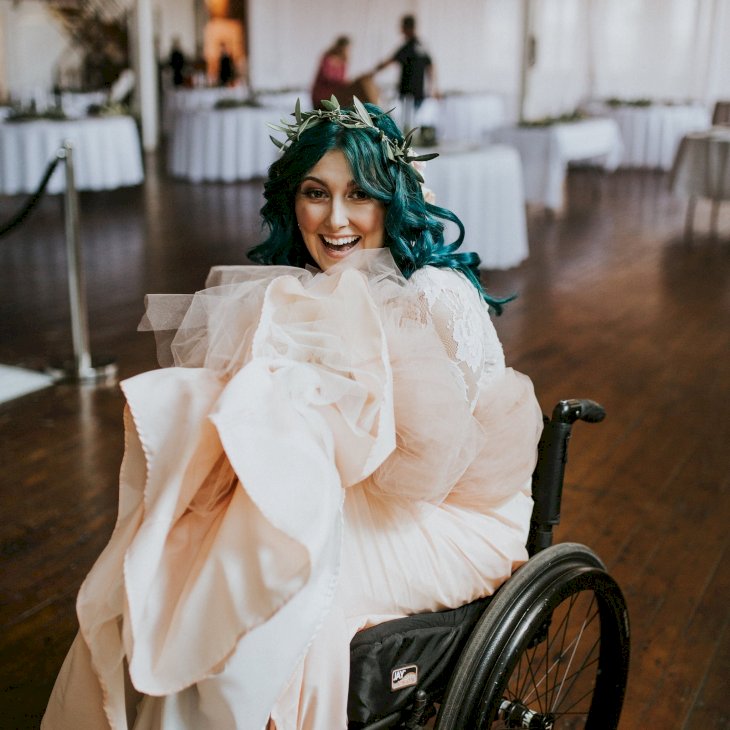 Society needs to see more strong women like Jaquie who show how much women with spinal cord injuries can accomplish. If anything they deserve more credit with the amount of hard work that goes into their journeys. Jaquie is an accomplished photographer, wife, and mother and lives her life every day to the fullest! 
From her multi-changing hair colors to the gorgeous pink wedding dress, this mama has it all! The happy couple is giving us serious relationship goals and we can't wait to see what the future has in store! When was a time you defied the odds and had to work towards a goal? Do you remember the frustration and perseverance? Share with your amazing support network and let them known Jaquie's amazing wedding day story!
ⓘ The information in this article is not intended or implied to be a substitute for professional medical advice, diagnosis or treatment. All content, including text, and images contained on, or available through this AMOMEDIA.COM is for general information purposes only. AMOMEDIA.COM does not take responsibility for any action taken as a result of reading this article. Before undertaking any course of treatment please consult with your healthcare provider.