Pregnant Woman Makes A Huge Mistake By Texting Wrong Number And Things Go Terribly Wrong
One of the greatest things about smartphones is the ability to take screenshots. You can exchange pictures with your friends about funny things you found on the internet and even share complete conversations with people. That's the case of this woman who received a message from an unknown number. 
An unknown number sent her a message to tell her she had gotten pregnant. Apparently, the recipient's boyfriend had cheated, gotten the woman pregnant and now refused to call her back. The recipient decided to play along and a funny conversation started.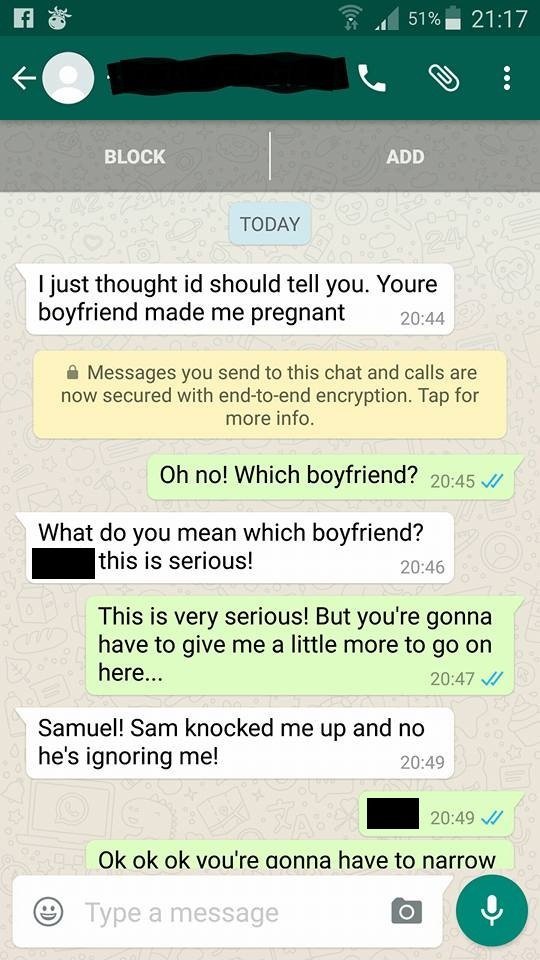 The man who got her pregnant is called Sam. Naturally, since the recipient wanted to mess with the unknown number, she decided to post a bunch of pictures of famous characters called Sam in order to 'narrow the boyfriend search.'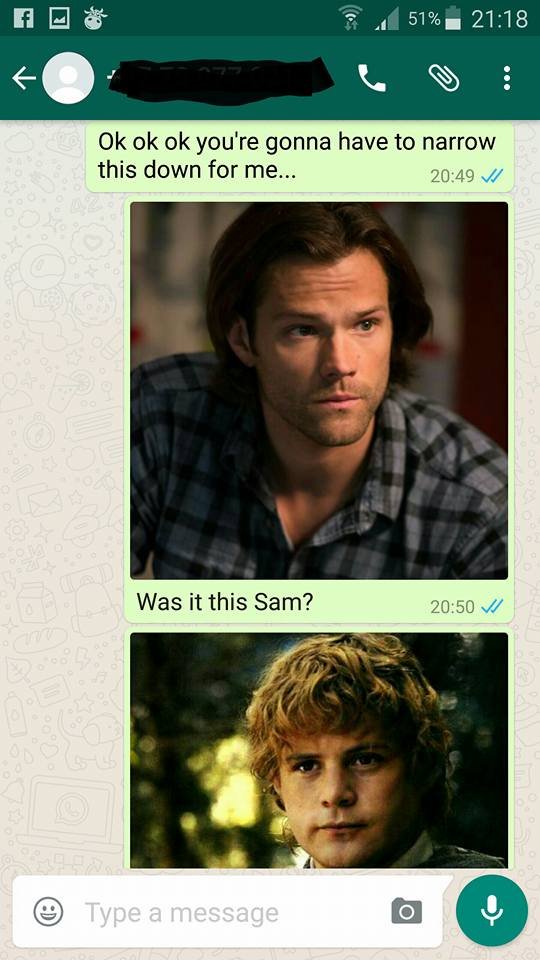 There's Sam from 'Supernatural,' Sam from 'The Lord of the Rings,' and Sam from 'Game of Thrones.' These are some of our favorite characters ever!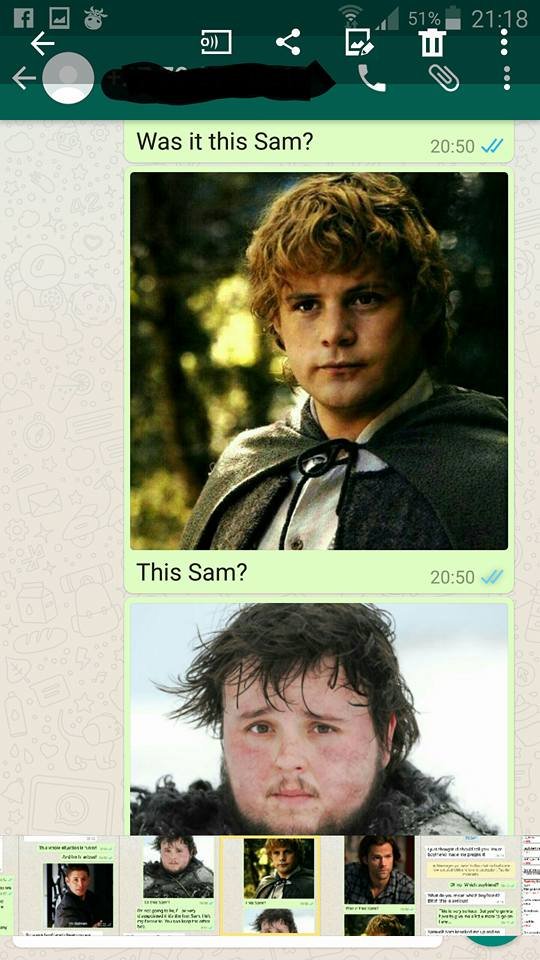 The recipient also has a favorite and it's Sam from 'Supernatural.' We definitely can't blame her. The unknown woman is clearly confused and getting more enraged!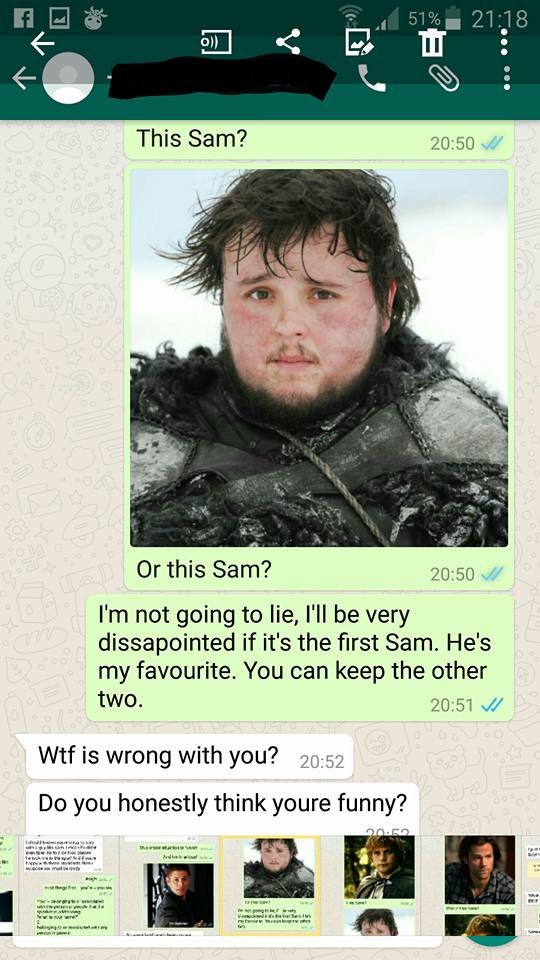 We also think the recipient is very funny considering that most of us would've have left that kind of message unanswered.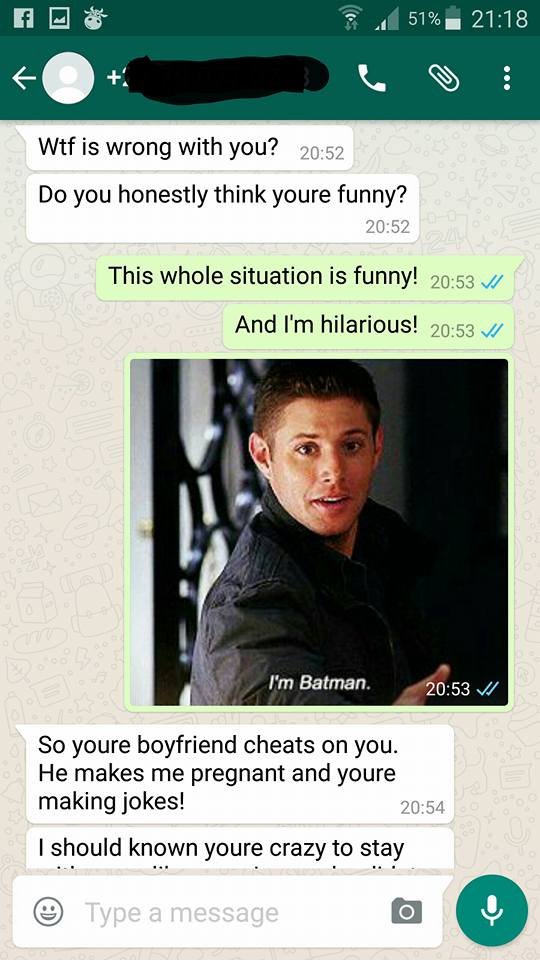 Finally, the recipient gets tired of the unknown woman's terrible grammar. She should really learn how to write considering she'll be a mother soon.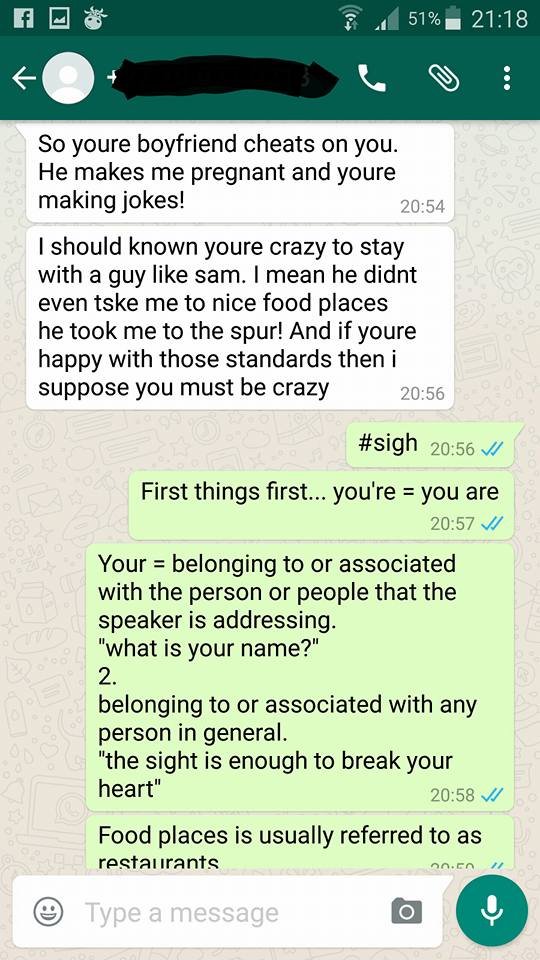 We can't stop laughing because this conversation is just too funny. Especially, when the recipient tells her that 'food places' are called restaurants.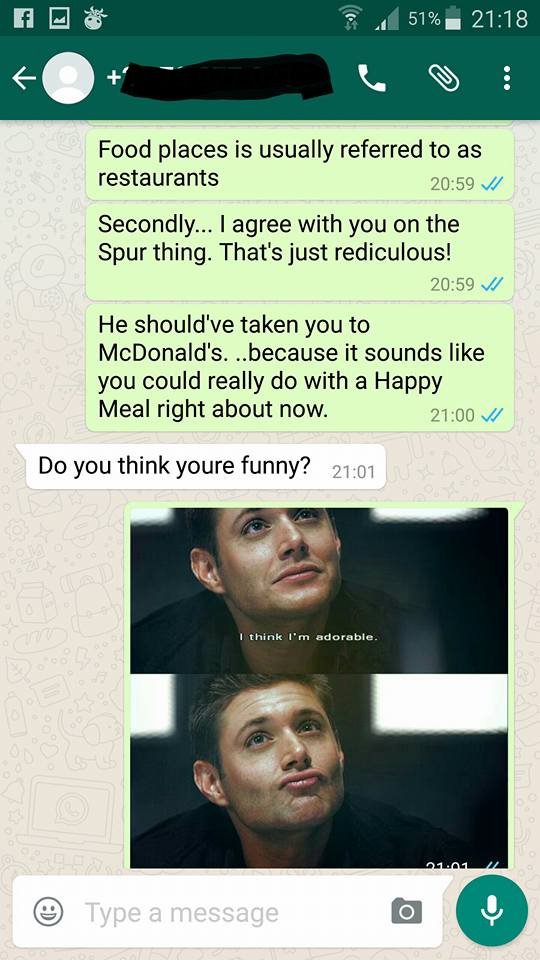 No one ever owns other people so we're not sure what the unknown woman means. And clearly, the recipient agrees because she continues the joke, adding more fuel to the fire.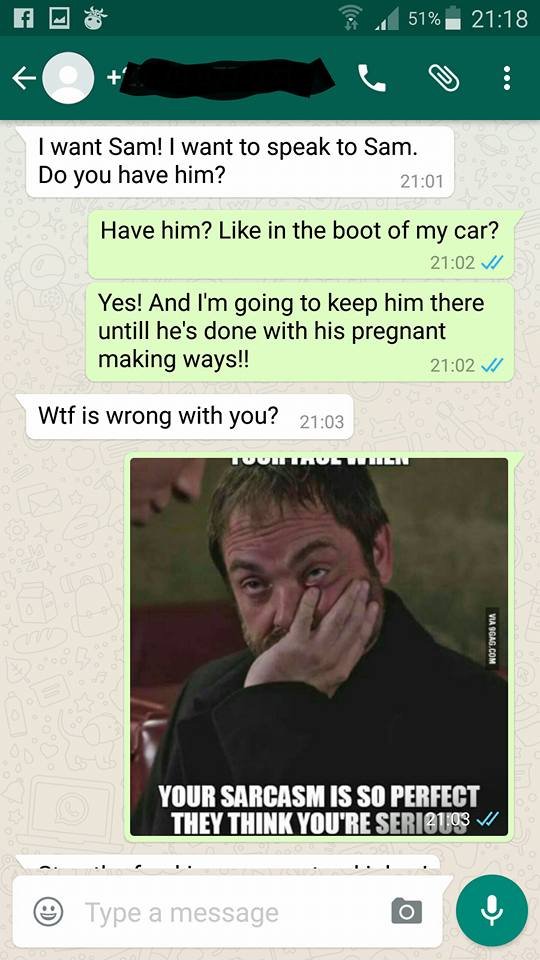 We love the recipient's use of memes for every occasion. We have all been in situations where people don't understand our witty sarcasm.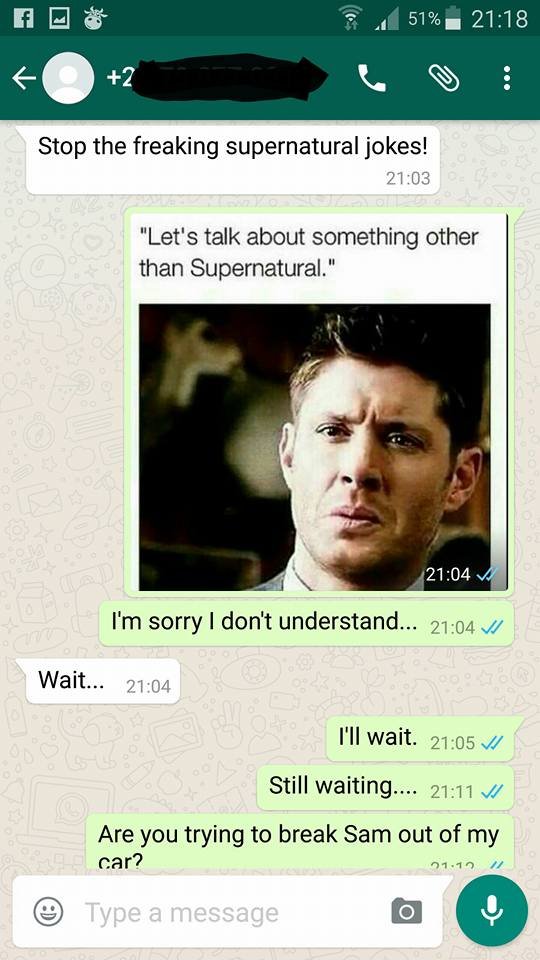 And now the unknown woman realizes her mistake. We're sad that it's going to end soon but luckily, the recipient decided to keep going.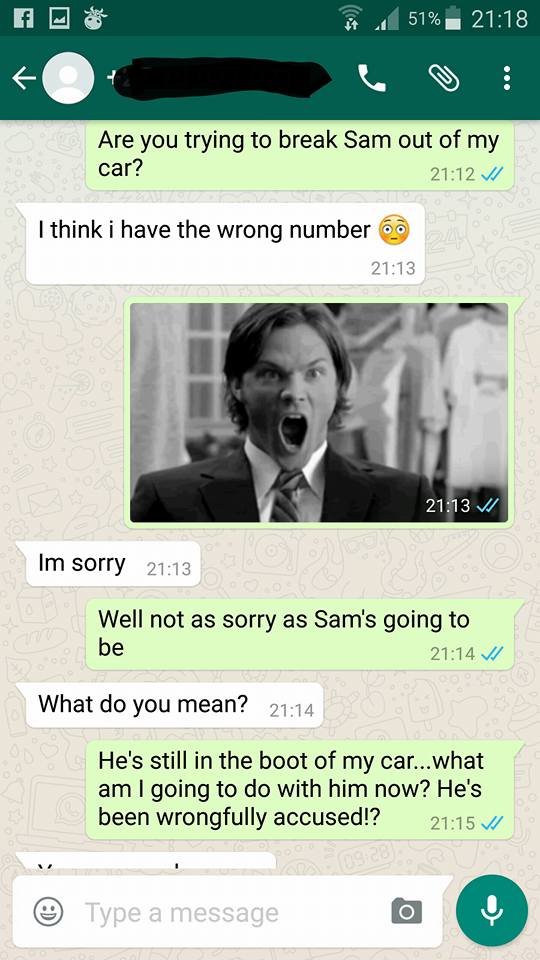 We have all texted the wrong number once before but we have never been caught in a conversation like this. Also, we hope that no one gets pregnant with someone else's boyfriend's baby.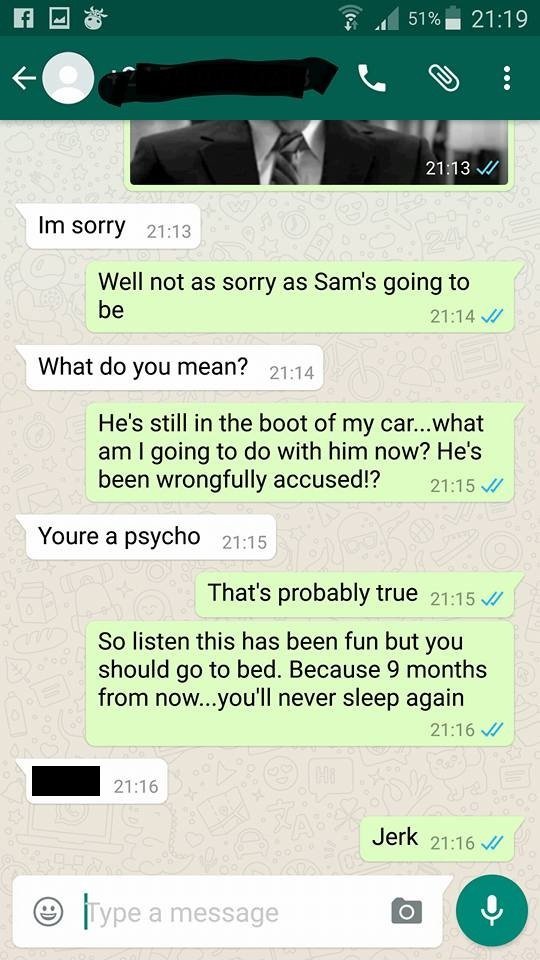 Well, it was definitely a fun ride. We couldn't stop laughing and we're sure a bunch of our readers want to try something like the next time they receive a text from an unknown source. The unknown woman should have been nicer and we hope that Sam's real girlfriend didn't have to deal with her. Yikes!