Chris Hemsworth Claims He Can Play Deadpool And Ryan Reynolds Perfectly Fires Back
Chris Hemsworth is an actor loved by all. He is the actor who portrays Thor in the big screen and people doesn't love him only for his talent but also for his kindness and of course, his attractiveness.
The dear Chris Hemsworth recently reached his 35 years old. According to Diply, he celebrated the special date alongside his wife and his children and that's when something really impressive happened. Something that was very dangerous in the beginning but that made everyone laugh later.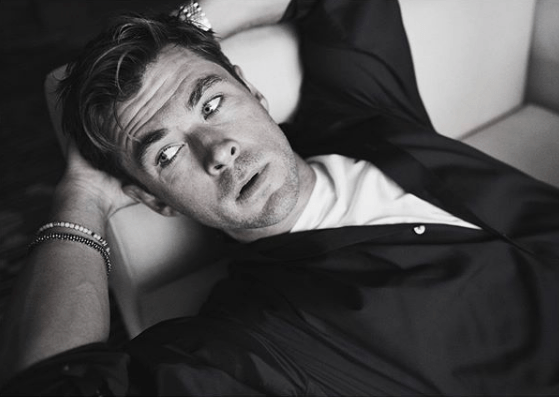 The god of Thunder was almost hurt by flames
And really, the family celebration of his 35th birthday almost ends in tragedy or at least that is what Chris Hemsworth told on his personal Instagram account where he has the amazing amount of almost 21 million of followers. Impressive, right?
The Australian actor, also known by his roles on movies like Star Trek, Ghostbusters and 12 Strong, lived an uncomfortable moment because of a 'sleight of hand' with his son.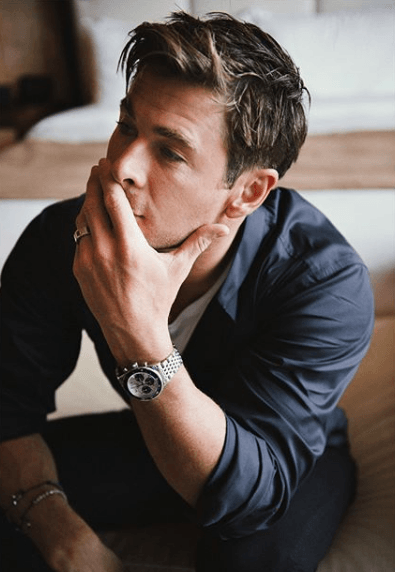 According to what he told on his Instagram profile, they were singing Happy Birthday with a cake in front and the candles lit, everything was fun and joy until his son hit him from the back, pushing toward the desert and causing his face to touch the candles.
"Immediately after this shot was taken my son viciously attacked me from behind (due to his ninja training) and slammed my face into the flaming candles."
Despite the accident, the actor took the incident with a lot of humor. After all, kids are just kids. He even jokingly said: "I'll now be playing Deadpool if @vancityreynolds pulls the pin #bestbirthdayever."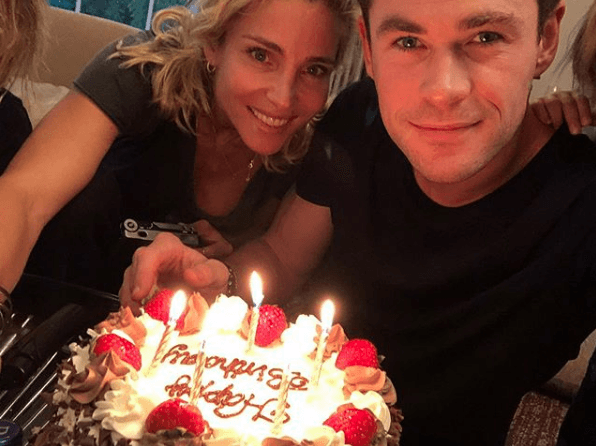 Ryan Reynolds joined into the game
The actor Ryan Reynolds who has the role of Deadpool, responded to Chris' comment with a really fun tweet at the best Reynold's style: "Weird. My daughter JUST stabbed me in the right eye. (She's not a ninja, but she IS a bit of a d***). Point is, We can finally trade roles... (Happy Birthday Bubba!)."
The actor referred to the moment in which the character of Hemsworth loses his eye on Thor: Ragnarok, after which he is forced to wear a patch.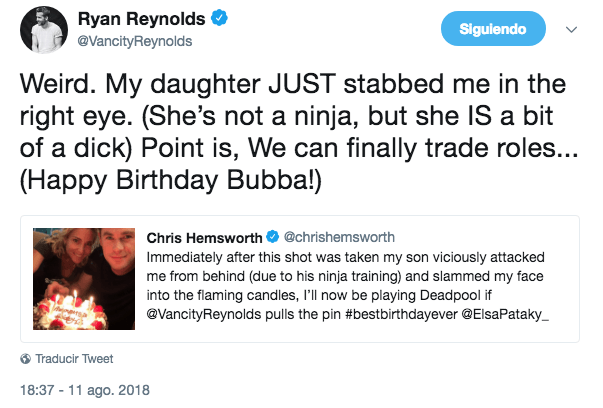 Reynolds tweet became viral really quick and it reached more than 80.000 retweets in just a few hours. Not for nothing, he is called "the King of Twitter" by many of his fans. He is always making funny and polemic tweets.
Chris' photo became viral
The photograph of Chris Hemsworth - published on Saturday afternoon - has almost four million likes on Instagram and tons of comments from people congratulating the actor and also laughing about the incident.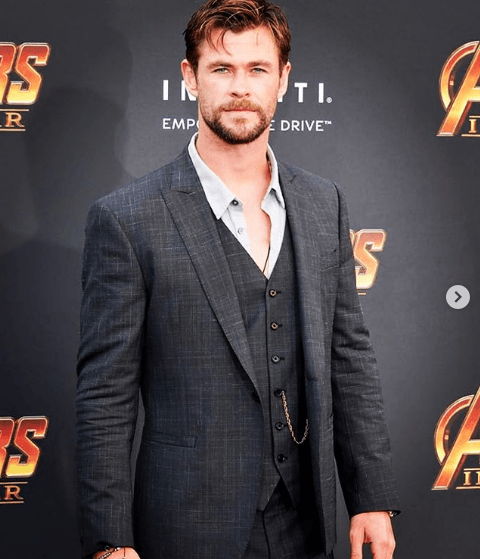 Of course, some of his followers were a bit worried, like this person who said "Ouch, is your face okay? Anyways Happy Birthday Chris!". Other of his followers commented: "Happy birthday, and I hope you weren't badly hurt. Stuff can be replaced - people, not so much...!" and of course he is right! We are sure that there is no one who can replace Thor- we mean, Chris Hemsworth!
Also, people left any type of kind comments like: "May every second of your life be as bright as the sun. Happy birthday, dear friend."
The actor also received congratulations from his colleagues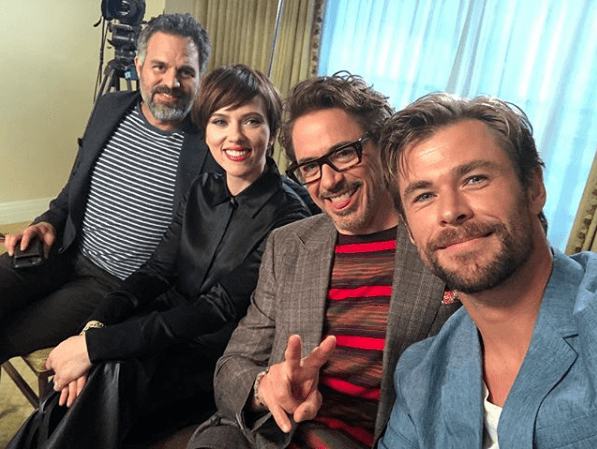 The recognized actress Elsa Pataky, Chris Hemsworth's wife, joined the congratulation on the same digital platform with a photograph that reaffirms that they are one of the funniest couples on the current scene: she sticking her tongue out and he trying to kiss her.
The actress also accompanied the image with the message "Congratulations to the oldest of my children. I love you madly. Let's always be kids."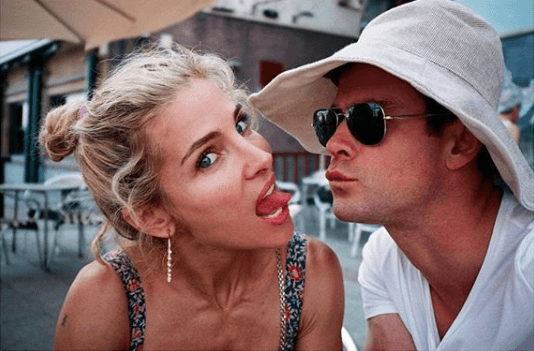 Also, many other celebrities congratulated the Australian actor on his special day, like Josh Brolin who plays Thanos on 'Avengers: Infinity War', Gal Gadot who plays Wonder Woman, Chris Pratt who is Starlord on Guardians of the Galaxy and Chadwick Boseman.
Boseman uploaded a picture of him with Hemsworth on Twitter and wrote a really funny caption: "Shoulda gone for his head, bro. It was literally right there. Just saying. Happy belated Born Day, @chrishemsworth!" - making a reference to the film Infinity War where Thor would have killed Thanos if he would have hit him in the right place.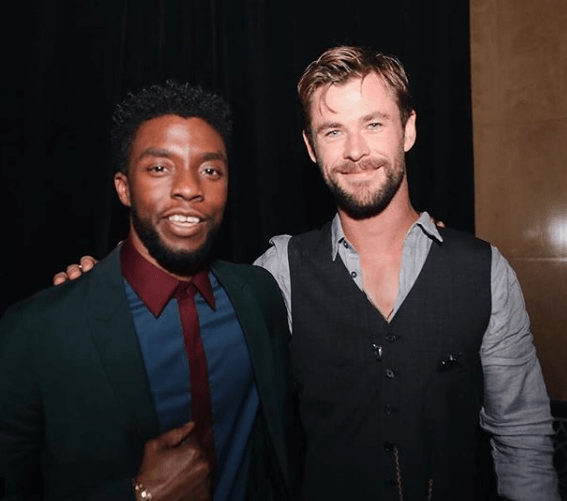 Among the other congratulations that the actor has received, is the one from Dwayne Johnson, best known as The Rock, which Hemsworth has not hesitated to share on his profile.
In the gym, the actor decided to sing a humorous song. "Happy birthday to Thor ... You're the best Chris and that's a fact, after Evans, Pine, and Pratt ... happy birthday Chris Hemsworth. By sending much love to you to the ohana!"
What is next for the actor?
Out of jokes, there are many who expect to see the Fox mutant in the Marvel Cinematic Universe after the big purchase.
However, the wishes of the followers do not assure anything and Reynolds himself has declared that he does not know what will happen in the future, he even said: "I really do not know anything... I think Disney bought Fox just to have it in his arsenal."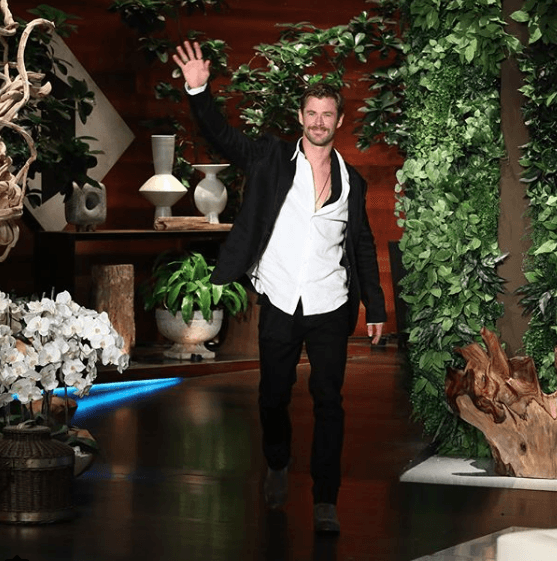 By now Chris Hemsworth is working on the new role of his new movie "Men in Black". The film is expected to maintain the plot from the original films- which continued in 2002 and then in 2012 - where Em (Tessa Thompson) will be a rookie who wants to prove herself by entering MIB in London, England.
There, Agent H (Hemsworth) will train her until they are involved in a strange murder that will make them travel around the world.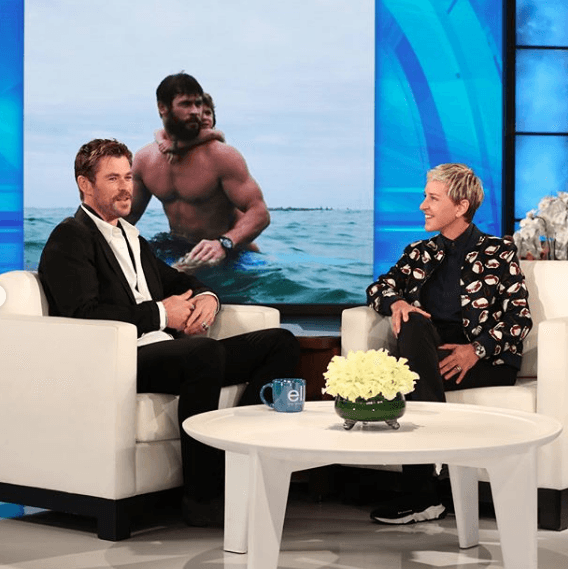 At the moment Chris Hemsworth is considered one of the most valuable actors of the industry and the number of fans he has it increments more every time.
Afterall, celebrities aren't just coworkers on their film productions but also friends in the real life. It is good to see how much they appreciate each other at the point they take some time from their agenda to congratulate their friends.