Stan Lee's Cameos: Worst To Best + Cameo for Avengers 4 Spoiler
Stan Lee, the mega-mind behind almost all significant Marvel characters, who has recently past away, has appeared in many of his amazing creations and has made brief appearances in MCU films, not to mention a few other non-MCU movies as well. So, without further ado, let's jump straight into the list we've dug out for you today to honor the great, legendary Stan The Man.  
42. Luke Cage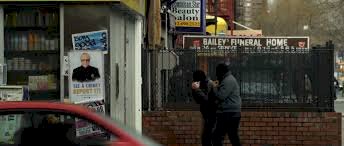 These are one of the "blink, and you'll miss it" moments where the Marvel Universe's NYC law enforcement is a 94-year-old man. This prominent moment, where Stan Lee plays a cop for his brief cameo, is not surprising, as he is the mastermind behind all these criminals and handling the streets is his forte. 
41. Man-Thing (2005)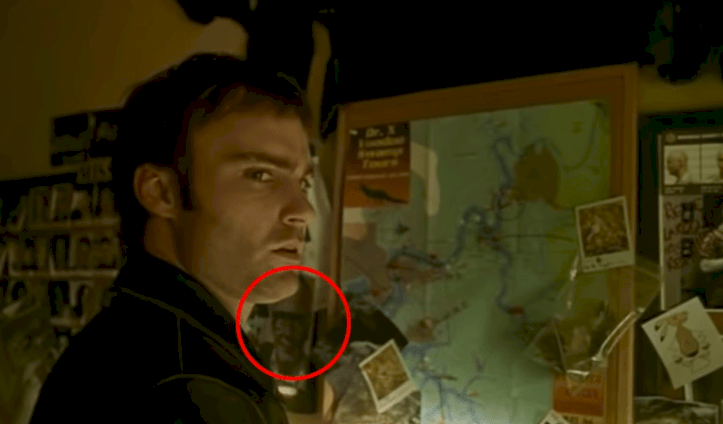 Fans were looking forward to seeing cameo's of Stan since the mid-2000s. Imagine driving 30-minutes to make a cameo in Man-Thing, then taking an 18-hour flight directly to your next scene. We don't blame him for missing this one, and that's why Stan's cameo was a brief glimpse in a photo on a bulletin board full of missing people. 
40. X-Men: The Last Stand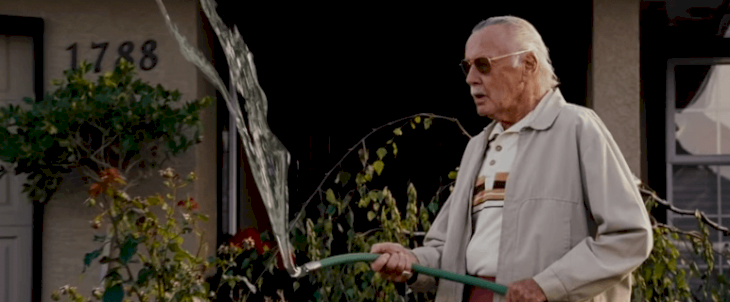 While it may seem pretty mandatory for Stan to do cameos in anything with a Marvel logo attached to it, this is not the case. He was spotted in many MCU films apart from Blade trilogy and only showed up in half of the movies in the X-Men franchise.
39. X-Men (2000)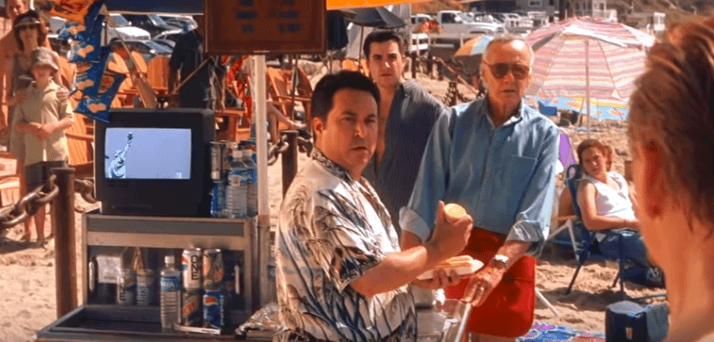 Stan Lee's first appearance in a cameo of the modern era of Marvel movies was not that interesting. These days, Stan's cameos have become a sort of mini-event within the movies themselves. You need to be on your guard for the hot dog vendor when watching X-Men 2000. There's no dialogue or crowd in this one.
38. Avengers (2012)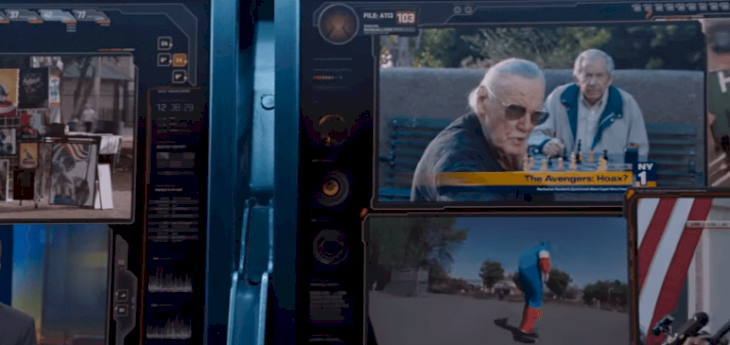 Stan doesn't make his appearance until the climax of the movie. In this cameo, he shows up in a news broadcast to dismiss the very idea of superheroes showing up in New York. Funny for a guy who, dare we to say, created this universe. Of course, when it comes to Stan, his work is effortless.  
37. Iron Man 3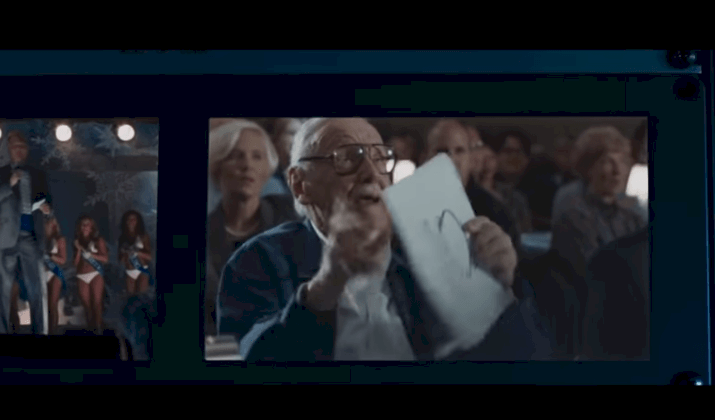 One of the gags that MCU movies are guilty of portraying Stan as a grubby old man. The scene is a rather fun piece of trivia and goes well alongside the casting. We see him judging a beauty contest where he gets so worked up that he scores the gorgeous lady a ten on the spot.
36. Hulk (2003)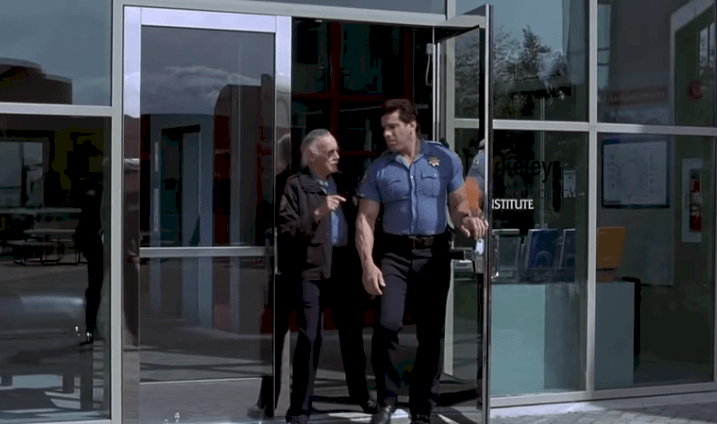 In Hulk, we see Stan's first speaking cameo, where he is alongside Lou Ferrigno as a security guard, who also portrayed the Hulk in the late 1970s TV adaptation. Why on earth would you hire an 81-year-old man to be your security guard? This brought up a lot of questions, but we'll never know the reason why they gave Stan that part. Besides, it looked like Stan and Lou had accidentally swapped shirts.
35. Amazing Spider-Man 2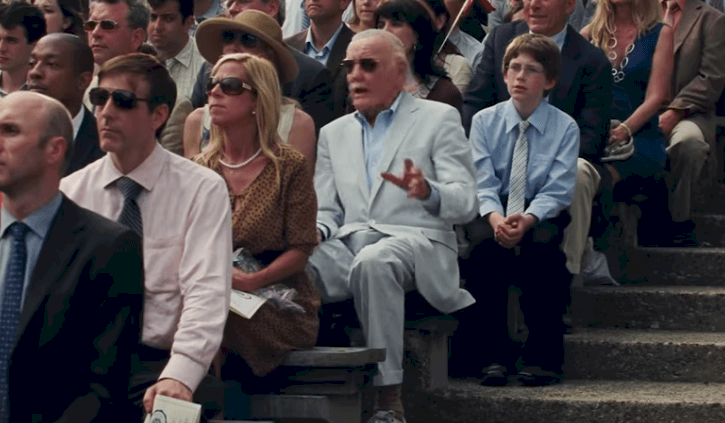 This cameo was built up entirely around Stan's dialogue, which was only to admit that he knew who Spider-Man was. It was clever but didn't quite work because it's obvious he knew who the Spidey was as he created him. 
34. Agent Carter
There is no need for justification when it comes to Lee's cameos. He can show up wherever and whenever he pleases. In this charming cameo, we see him as a pesky pedestrian who bums a newspaper off a visibly annoyed Howard Stark. This certainly screams "Hey, it's Stan Lee!". 
33. Guardians of the Galaxy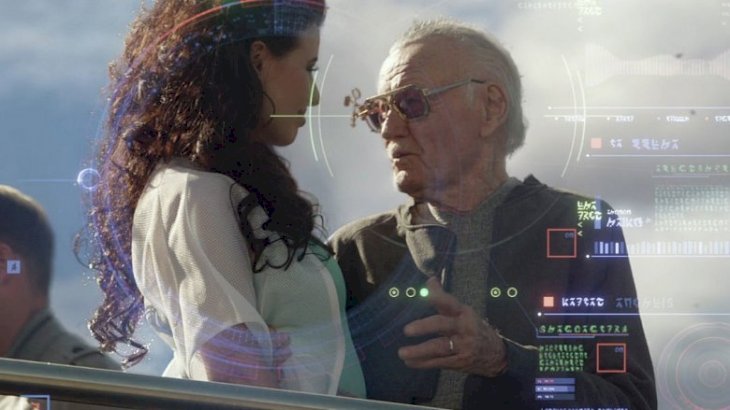 In this movie, Stan doesn't actually have any dialogue or at least nothing we can hear.  He's a victim of Rocket's running commentary so that completely overpowers Stan. He, however, does look super cool in his steampunkish glasses to play the part. 
32. Agents of S.H.I.E.L.D.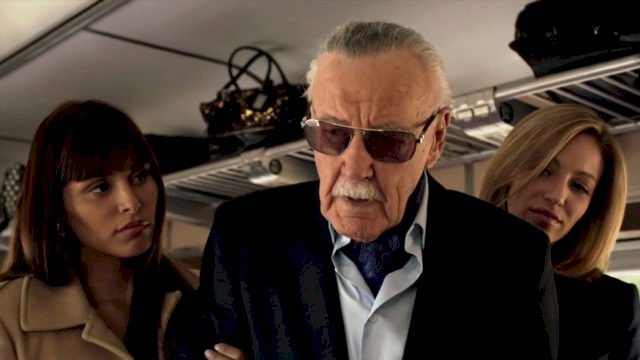 Stan has been known to have a beautiful female companion at his side, and in this cameo, he has two. You can see him on a train ride through the luxurious Italian countryside in episode 13 of the first season. This gag really seems to pay off because we can see how this could be Stan is in your average working day. 
31. Venom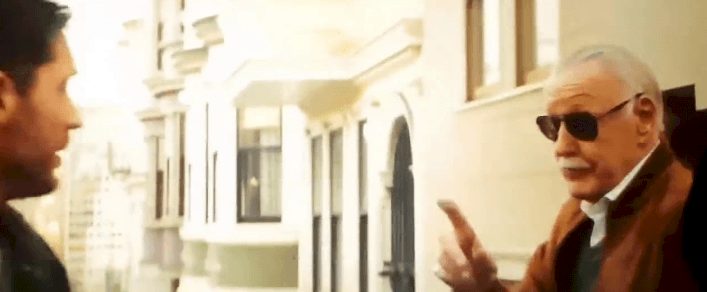 This one has the viewers in anticipation for an appearance of the mustached man, and when we finally see it, it's so brief that it could have been possibly cut had anyone ever noticed. If you look closely, he's one of the random guys on the street, as well as Eddie Brock and the slimy alien space cannibal living in his skin. 
30. Spider-Man (2002)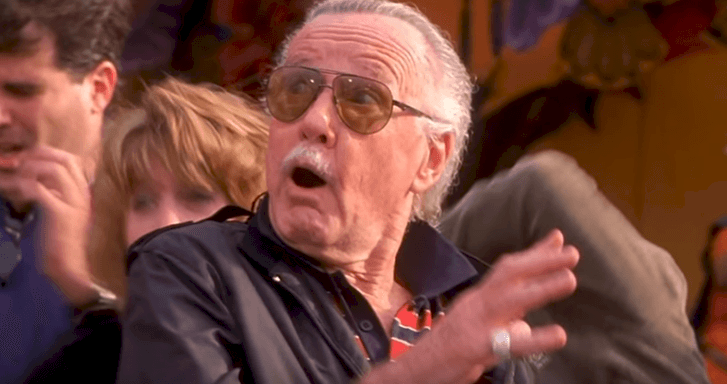 Sam Raimi gave Stan a different kind of cameo in this movie. Instead of him being in the background, he gets to be an actual hero himself. Remember when you watched the movie? You would recall how he saves a kid from danger when Green Goblin attacks. Nice one, Stan! 
29. Spider-Man 2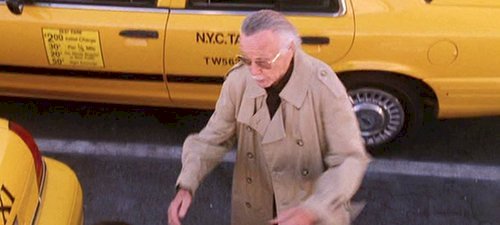 We aren't sure if this is better or worse, but we'll leave that up to you. Stan's first cameo in Spider-Man was almost exactly the same this time around where a heroic passer-by pulls someone out of danger during a supervillain attack. In this case, it's Doctor Octopus. What do you think about this one? 
28. Daredevil (2003)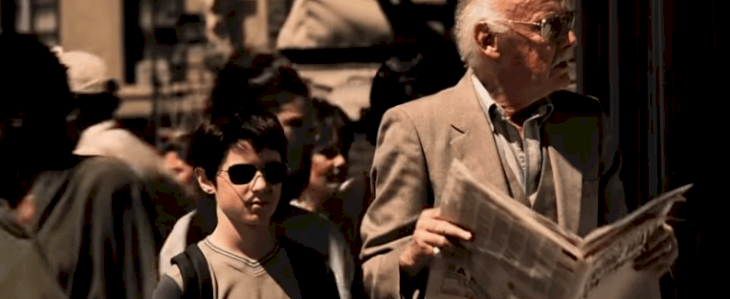 For a change, Stan's appearance adds a nice touch to this movie. You can see where Matt Murdock keeps a distracted Lee from stepping in front of a truck, despite his blindness. At least Stan was not stabbed in the eye with a pencil like Frank Miller's scene. 
27. Thor: The Dark World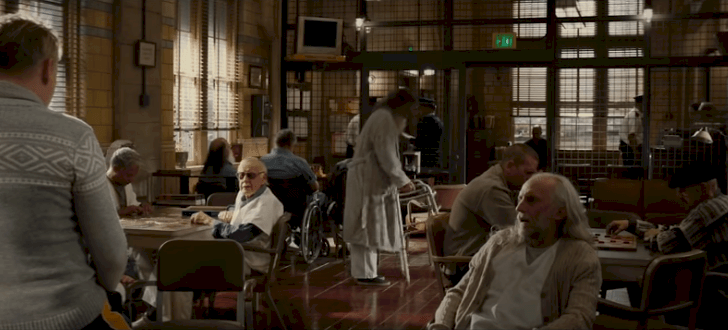 Here's another easy gag where Lee pops up as a patient in a mental institution. This is obviously one for a quick laugh but raises the question of how he got there in the first place. So as a "mental patient" he shouts out, "You don't understand, I've seen three different Spider-Men!" In the real world, that sounds insane. 
26. Spider-Man: Homecoming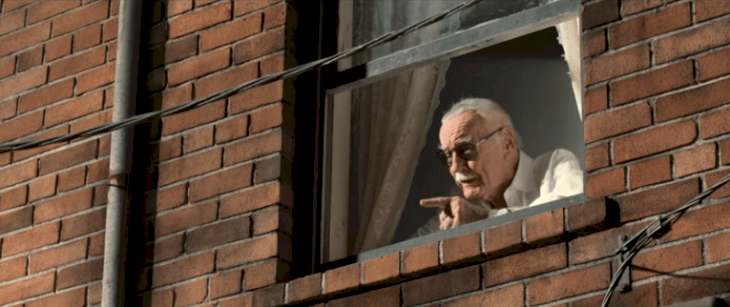 In the second part, you see Lee's appearance as an entire neighborhood gathers and yells at Spidey, which is honestly too much noise for that time of day. They soon stop and huddle together making conversation amongst themselves as Lee grins and says, "Don't make me come down there." This is an awesome moment.
25. Captain America: The First Avenger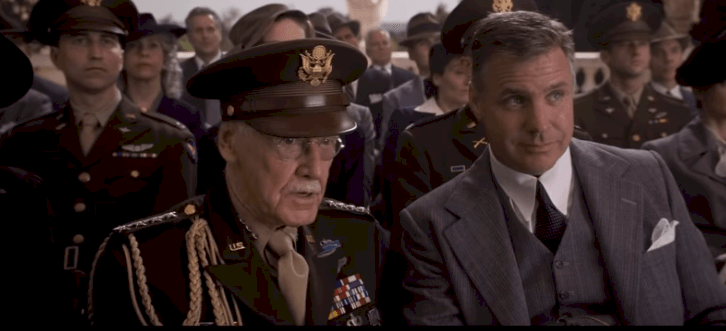 This is the cameo you'd want to see if you intend on explaining to someone what Stan Lee does in these movies. Although kind of cliché, it's a great setup for a comedy. When Captain America is introduced at an award ceremony, the leading one comes out and says, "I thought he'd be taller!" It's the archetype of the Stan Lee cameo.
24. Deadpool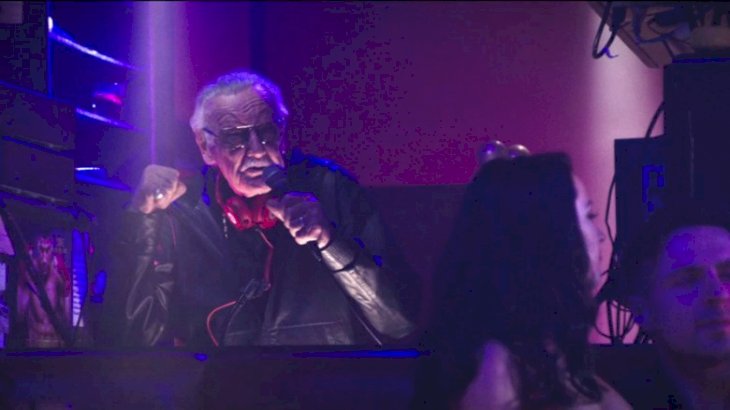 Here's another dirty old man cameo. Why? Because Marvel just loves portraying Stan that way, and he certainly had an excellent sense of humor! It seems that Stan plays the "watcher" in these movies, and here he's at a strip club playing the DJ of all things.  
23. Trial of the Incredible Hulk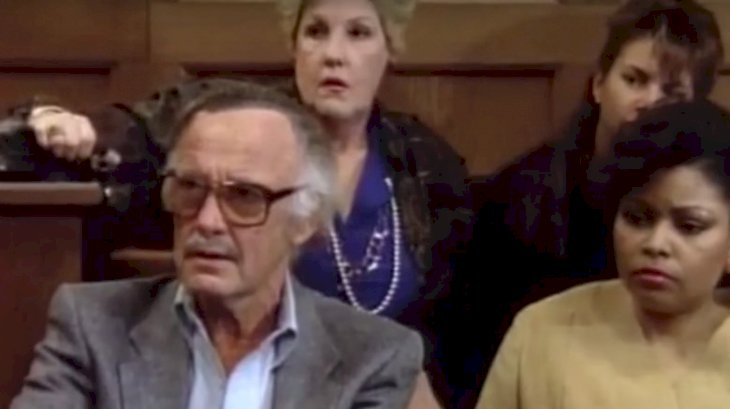 While we didn't see this on the big screen, Stan's earliest Marvel movie cameo was in 1989's Trial of the Incredible Hulk. This was a TV movie that aired on NBC. In this appearance, Stan was a jury foreman who presented Banner in the middle of a trial. 
22. Thor (2011)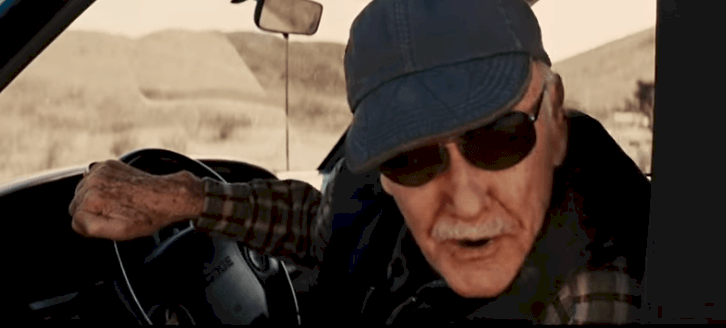 This portrayal of Stan is more goofy and comedic. Stan showed up as a redneck who tore his own pickup truck apart trying to drag Mjolnir out of a crater. One of Lee's best cameos ever! 
21. Spider-Man 3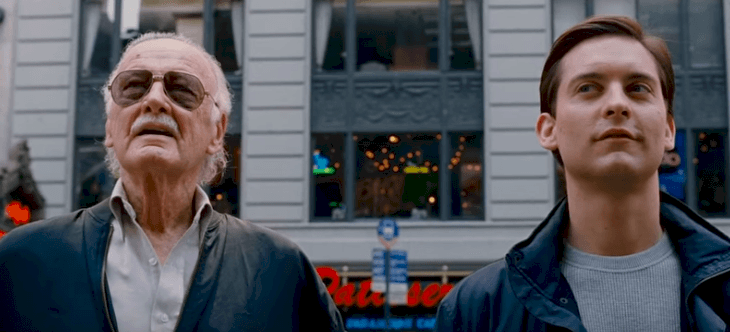 After the other two repetitive cameos, it seems the third one was drawn out a bit. While we always love him speaking in the role, with lines such as "nuff said", made things a bit strange. Have you ever questioned that perhaps Stan is the one helping save lives, as one man cannot make all the difference in the world? He may be there for a reason.
20. Avengers: Age of Ultron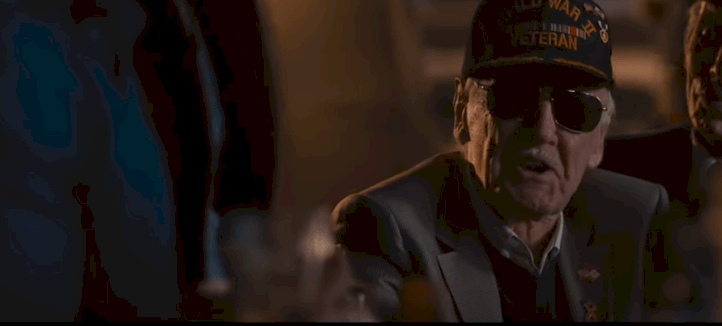 Casting Lee as a World War II veteran may have been the closest that the cameos ever got to reflect his real life because he was actually a veteran. He served in the Signal Corps and produced training manuals and occasional illustrated posters warning soldiers about the dangers of venereal disease. Way to go, Stan! 
19. Iron Man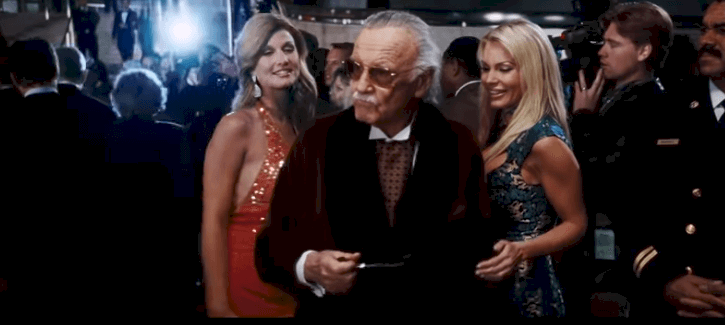 When you think about the buildups and payoffs in the entire MCU, the one thing that comes to mind is Stan's interactions with Tony Stark. The first encounter in Iron Man actually blends two recurring gags where Stan is an irascible ladies man, and Tony constantly confuses him with other people, in this case, a Playboy publisher. 
18. Iron Man 2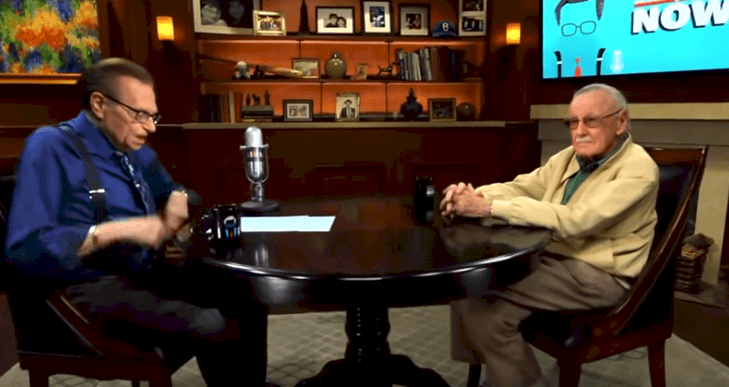 The second time around, Tony mistakens Stan for Larry King. Sure, they look alike, no disrespect, but we can understand how he could have made that error. This feisty, zesty senior has more life in him than many. Stan definitely had the personality to go with that energizer-bunny enthusiasm and charming personality.
17. Ant-Man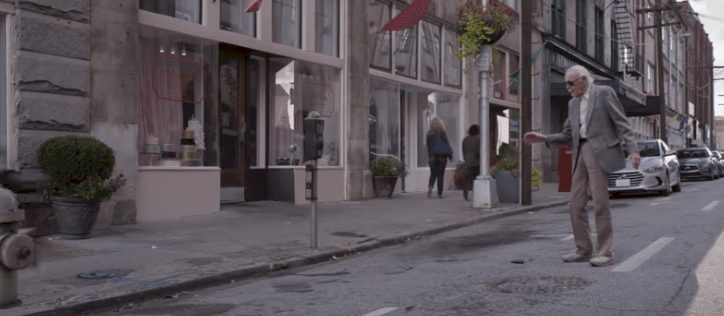 Lee's cameo in this film was a part of a wonderful comedic scene and without a doubt the best. It is sad though that we didn't get to hear him say the actual words, "Yeah, CRAZY stupid fine!" Perhaps we should use that as an excuse to watch the movie again and check out Stan's cameo.  
16. Captain America: The Winter Soldier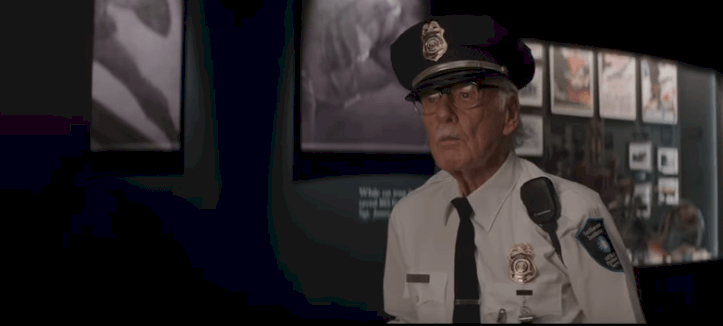 Some say there is a sort of instant sympathy you feel for Stan's characters when he plays cameos. He either gets clowned around or has bad luck with his pick-up trucks. They really meant to give his character a mushy outcome, but that's what made us love him more. 
15. Doctor Strange (2016)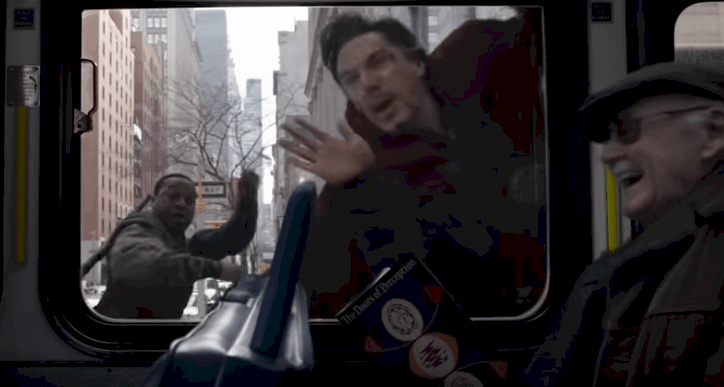 In this one, Lee appeared as a bus passenger who was engrossed in a book he was reading, being completely oblivious to the battles around him. The joke was that he was reading a copy of Aldous Huxley's The Doors of Perception, which is a memoir detailing the writer's experience of experiments with mescaline and other hallucinogenic chemicals. 
14. Avengers: Infinity War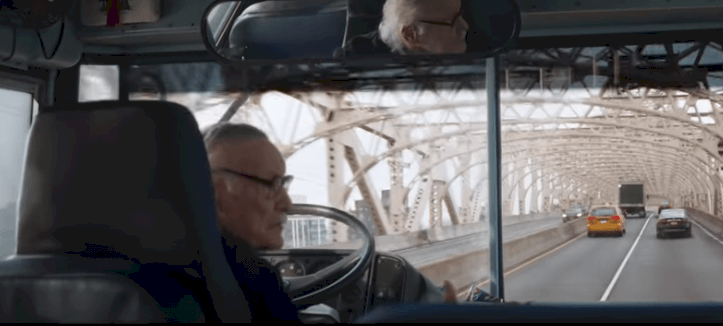 Now, this was not just brilliant, but original too! The filmmakers knew everyone would be paying attention to the epic interplanetary action where teams where battling Thanos. So they popped in our beloved grandpa when we didn't expect it. 
13. Thor: Ragnarok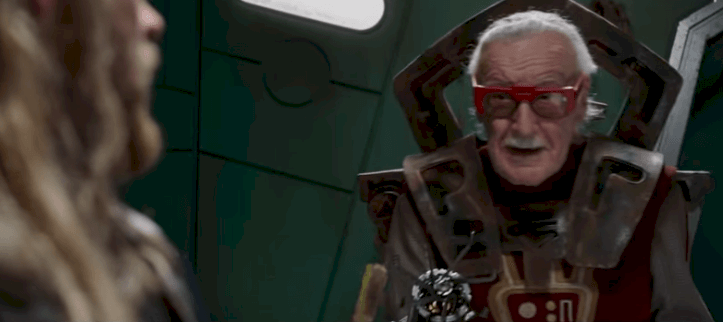 Were you paying attention to the meta-characters? If you were, and we hope you were, you'd had noticed that Stan's cameos got a little more cosmic as time went along. Not only did he appear in more out-there scenes, but his costume design also grew more in tune to fit the rest of the characters. 
12. The Incredible Hulk (2008)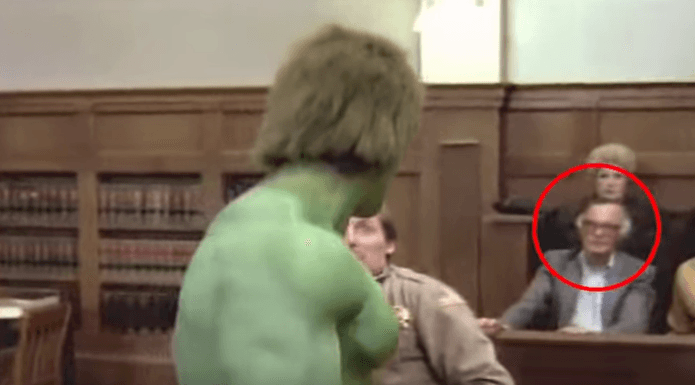 This is sadly the least-loved entry in the MCU, but it has one of Lee's best cameos. One of the poor hulked-out consumers that we saw, was Stan Lee when he drank Bruce Banner's blood that accidentally dripped into a soda while working at a bottling plant. 
11. X-Men: Apocalypse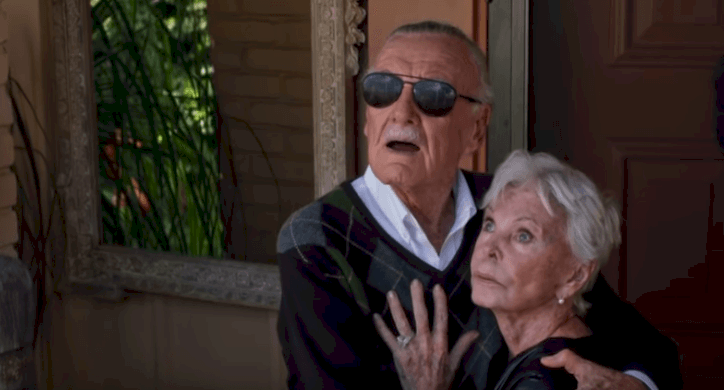 This cameo of Stan accomplished two goals at once. There was a lingering take on Stan's face for the epic crowd reaction and they added his signature sunglasses to show the missiles streaking through the sky. Behind the scenes was a bittersweet reasoning as it marked the time Stan appeared alongside his wife of nearly 69 years, Joan, who sadly passed away a year later after her role with Stan. 
10. The Princess Diaries 2: Royal Engagement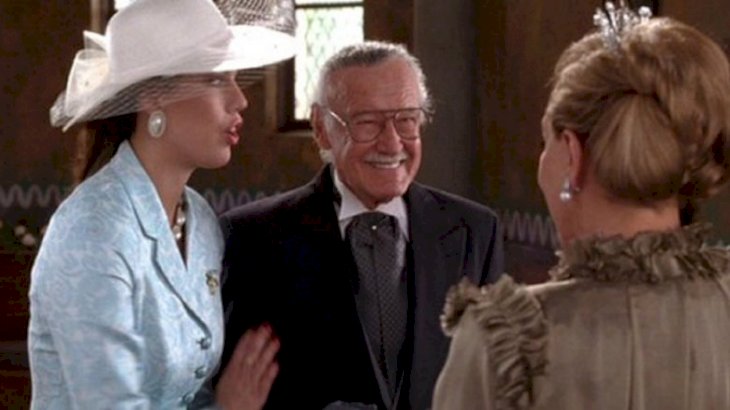 Princess Diaries was not based on the comic, but Stan was meant to show up in this one. So, thanks to a huge fan or good fortune to moviemakers, they successfully had him in cameo due to the footage that was made in the previous movie where the Avengers were snacking on an exceptionally delicious pear. Either way, there was no excuse. 
9. Fantastic Four (2005)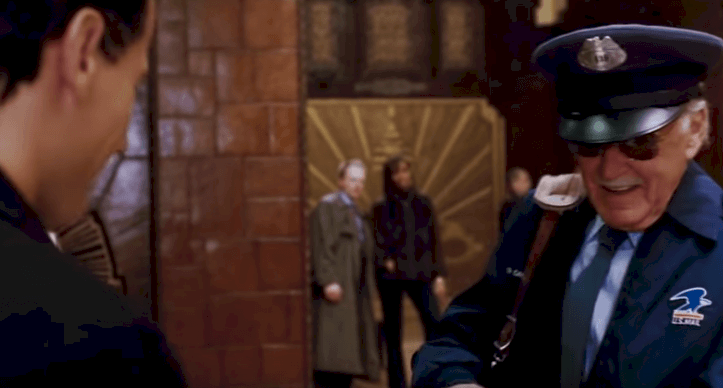 While most of Stan's appearances are bystanders or members of an ancient order, or where celestial being took over the universe, his cameo in 2005's Fantastic Four marked a huge difference. For the first time, Stan played an existing Marvel character that was actually co-created by him, Willie Lumpkin, the Fantastic Four's former mailman.
8. Big Hero 6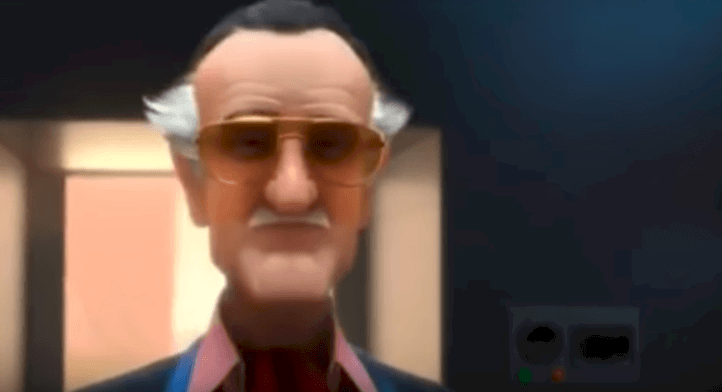 This certainly feels more like a Disney movie than Marvel, don't you think? The only thing that made a difference was when Stan showed up, in the end, to reveal that he had an entire weird room full of superhero artifacts that were bound to show up in the inevitable sequel. 
7. Captain America: Civil War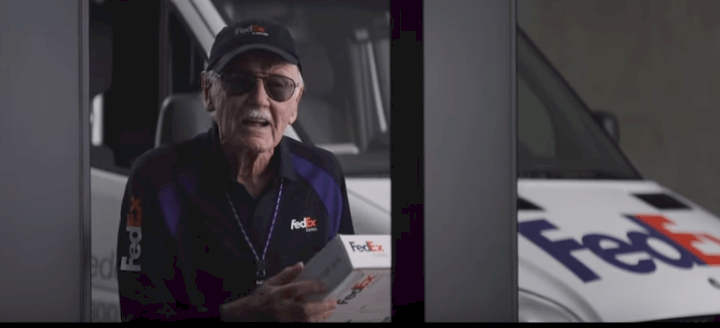 Now we finally get to see the payoff! After he got snubbed off twice by a man who kept mistaking him for others, Stan rolled up to the Avengers compound and asked for Tony "Stank". On the surface, this was just a delivery guy getting the name wrong, but humorous indeed! 
6. Black Panther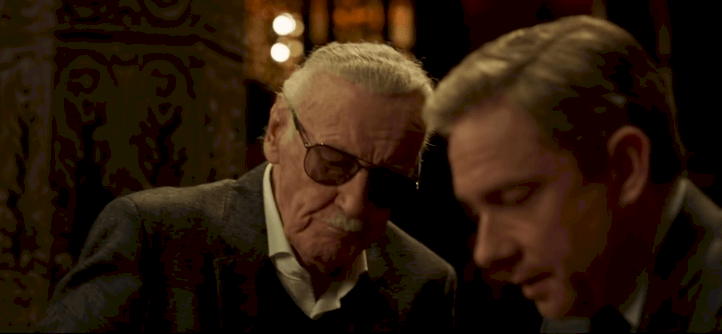 The person who rooted Stan's cameos to be part of the Seven Deadly Stans was definitely onto something. Stan showed up to pocket the king's winnings for safekeeping, which was a great punchline that helped break the tension right before the action really kicked into gear. 
5. Amazing Spider-Man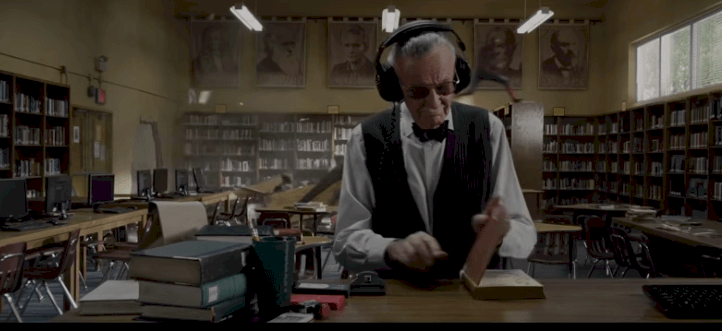 We know that a lot of Stan's cameos didn't really add to the movie itself, but were a nice insert to commemorate the creator and include a bit of spice and humor. He had some funny lines though, such as when he randomly referred some space-guy as a "pre-vert" as a punchline. We need those punchlines! 
4. Teen Titans Go! To the Movies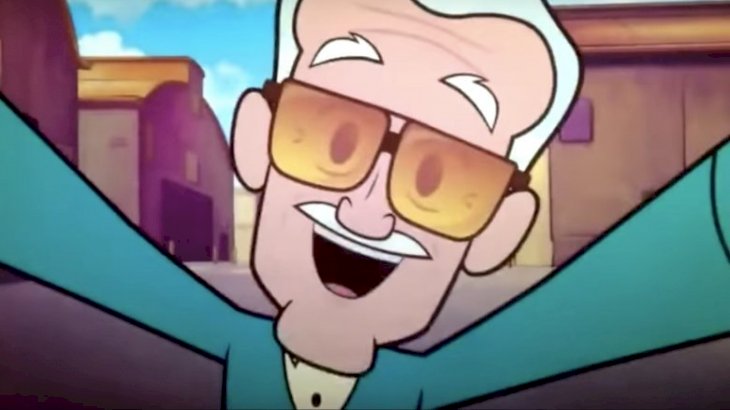 This may have been the most single wildest cameo's ever made, partly because it was so ridiculously elaborated. This is a superhero movie like none other and included a lot of jokes. Stan showed up as a janitor in the Warner Bros. back lot, and then things got funnier when he grinned directly at the camera, maneuvering around Robin to get a little extra screen time. Brilliant! 
3. Fantastic Four: Rise of the Silver Surfer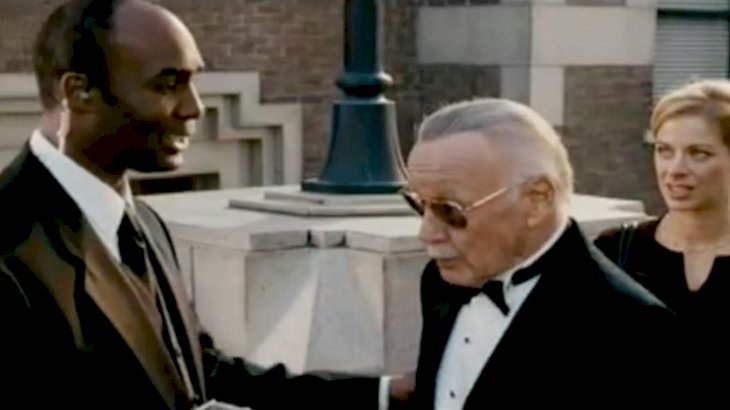 This movie is not remembered all that fondly by moviegoers, comics fans, or anyone else who sat through it. There was a cameo where Stan showed up in his typical fashion to find out he wasn't on the guest list. It's the only Marvel movie in which Stan actually identified himself as "Stan Lee". 
2. Ant-Man and the Wasp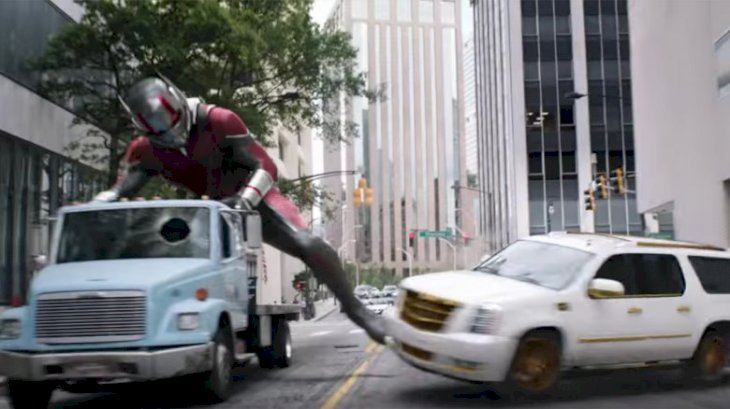 In this one, Stan's sedan was hit by Pym's particle disk that shrunk it to the size of a Hot Wheels car. He said, "The '60s were fun, but now I'm paying for it." Considering that Lee was the mastermind behind Ant-Man in 1962, it's probably the funniest and most ironic cameo ever!
1. Guardians of the Galaxy Vol. 2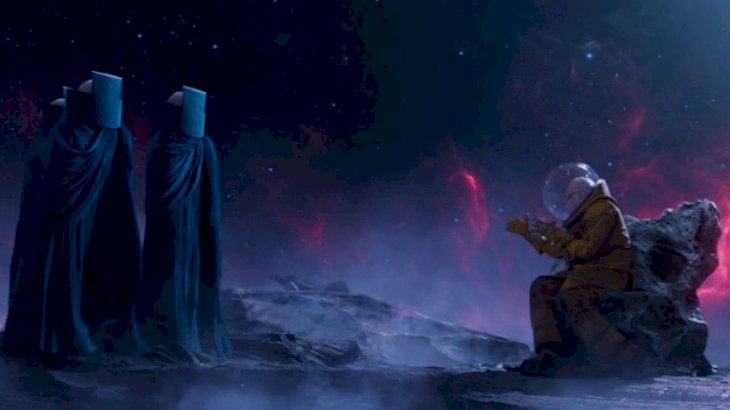 There has been one question through the entirety of the MCU, whether this world just happened to be populated with loads of people who looked identical to Stan Lee, or if the cameos meant something. The conclusion is that although Stan Lee may not have been a Watcher himself, he was their most reliable informant.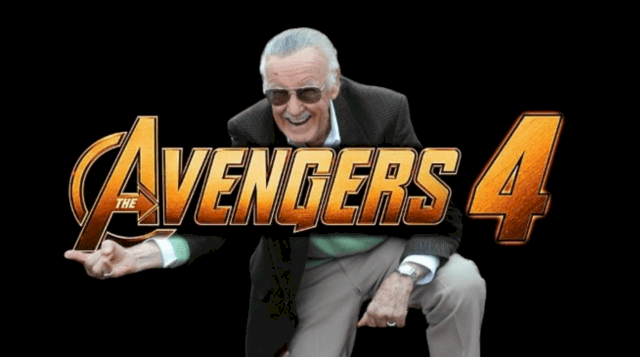 Wow! What an amazing list! We sure hope you enjoyed going through all of these with us because we had a great time putting it together for you. But don't think that Stan's journey across Marvel movies is over! According to company representatives, they managed to film his cameos for several more pictures, so we will definitely see Stan again. 
Here is what he'll be appearing in: Captain Marvel, Avengers 4 and Spider-Man: Far From Home, all coming in 2019, and don't forget about X-Men: Dark Phoenix and New Mutants from Fox.Remember to share this with your friends and family and keep up-to-date with us for more exciting updates and memorable moments in the MCU!