15 People That Knew Celebrities Way Before They Were Famous
During life, we ​​meet many people, and although some of them become doctors, professors, or journalists, some of them can become real celebrities. Then, after 10 or 15 years, you go back to see the photographs of your yearbook, and you realize that you studied with a future millionaire or a famous Hollywood actor. In this small list of images, you will see a series of readers who inadvertently shared their youth with world-renowned figures.
15. This girl's aunt realized after many years that she met Bradley Cooper in college, long before he was famous.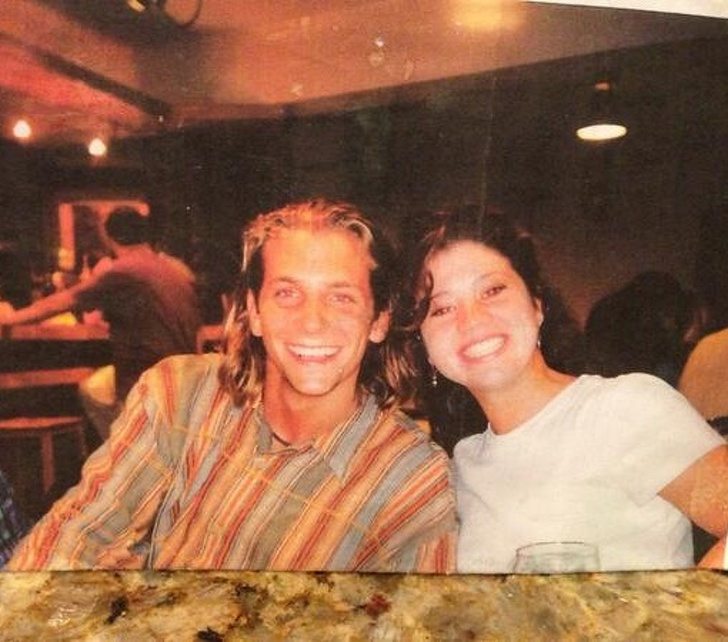 14. This girl's aunt went out with Ashton when she was young, and on the family albums, there are several pictures of him sharing with her family.
13. During high school, this girl's mother dated Adam Sandler. They even went to prom together!
12. The aunts on this list had excellent taste! This girl's aunt went out a couple of times with Leo and has several photographs with him at her house.
11. The mother of this girl always said that she dated Matt Le Blanc for a while, and after many years she managed to find a picture of them together.
10. This boy's mother dated Josh Hartnett during high school and did not even remember him until she saw him in a movie.
9. This girl's sister dated Usher for a long time in high school and forgot to tell her family about that!
8. A girl tells about the time in which her aunt went out with Jamie Fox, and the children of the family called him Uncle Jamie every time he went to visit her.
7. They do not seem to know who the yearbook is, but the simple fact that Ansel Elgort appears in it shows that someone had a remarkable youth.
6. This girl's mother decided to wait until she was older to confess that she secretly went out with John Legend when her daughter was ten years old.
5. It is always good to keep good friendships, much more in the case of this guy's uncle who is a very good friend of Queen Latifah.
4. And this girl's dad used to date Tisha Campbell, but she only recognized her as the girl from 'Martin.'
3. This girl's aunt went out with Jimmy Fallon, he went to her parents' wedding and was very close with her mother's family during that time.
2. Everyone on this list can boast of a celebrity, but this girl took the prize when she found Michelle Obama in her uncle's yearbook.
1. A friend of this girl went to high school with Zac Efron and had to take out his yearbook to prove it because she did not believe him.
Having a celebrity among your friends should be something exciting, and sure some of them are still in contact with their old friends from college and high school, however challenging their agendas are today. What famous person would you like to be friends with and why? Answer us in the comments and remember to share this article with all the people who need to see a more human side of celebrities.
Sources: Brightside
Related: