15+ Fantastic But Easy Kitchen Designs To Instantly Upgrade Your Kitchen
One of the favorite places of all households is the kitchen. It is a place where people can be creative; they can meet to chat, they eat, they play, and for many, it is the real heart of a house. Being creative in the kitchen, not only when preparing food, allows people to convert it in a cozy and exciting place where they feel comfortable while making everything work properly, as you can see in this list of creative ideas to improve that corner of your home.
25. Taking advantage of the narrow spaces between the different parts of your kitchen will allow you to store more products.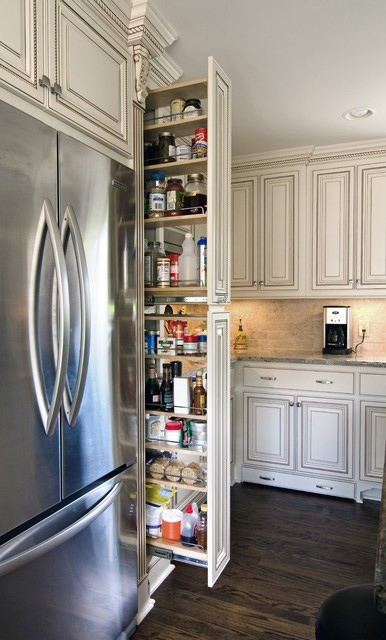 24. A series of hidden drawers will allow you to double your storage space by installing them in areas that you have not previously used.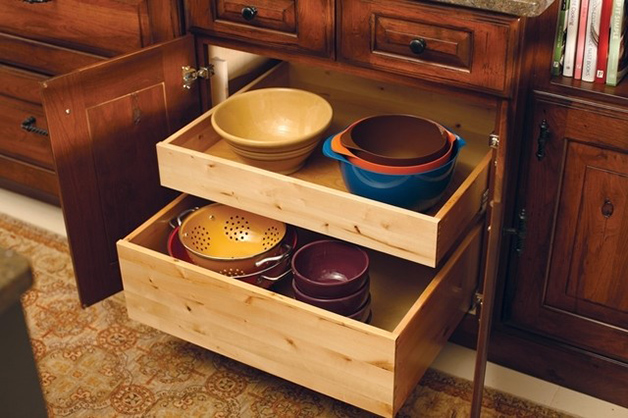 23. Organize your cabinets to have an area designed to store trash cans and make them available when you need them.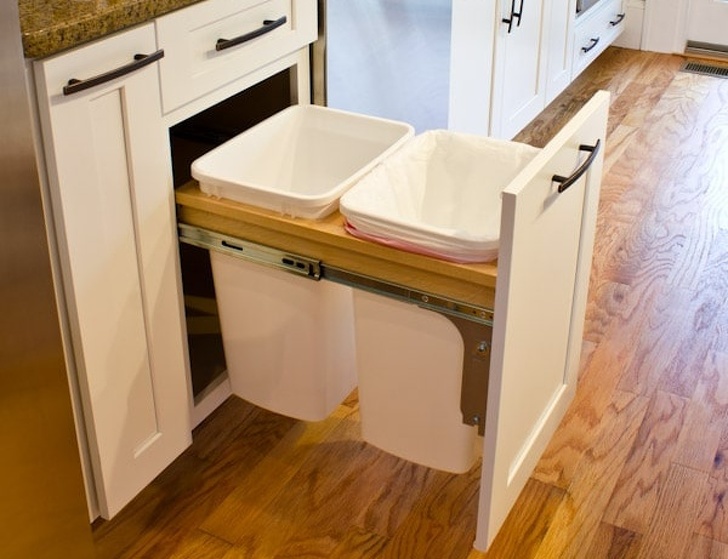 22. A circular kitchen sink that can incorporate a cutting board to take advantage of space and cook more quickly.
21. Integrating seats to the kitchen island allows you to create a cozy space for dinners or family gatherings.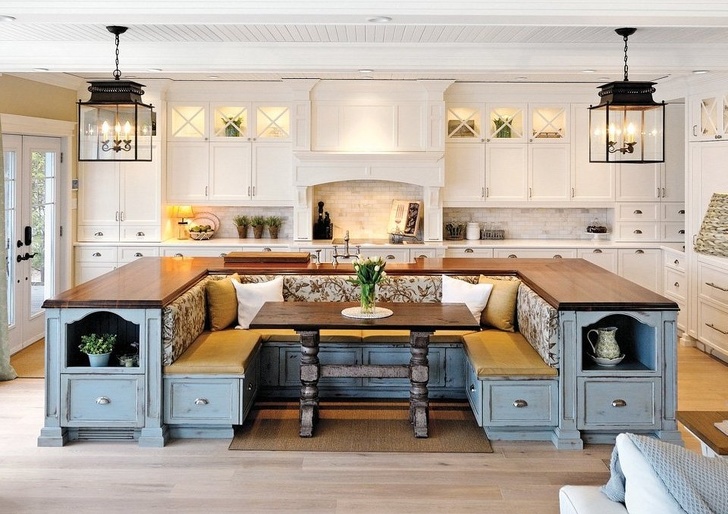 20. If your house is tiny, properly organizing your kitchen will allow you to save a lot of space and make it cozy.
19. Extendable shelves are a great idea to organize all your favorite spices and cans for easy access.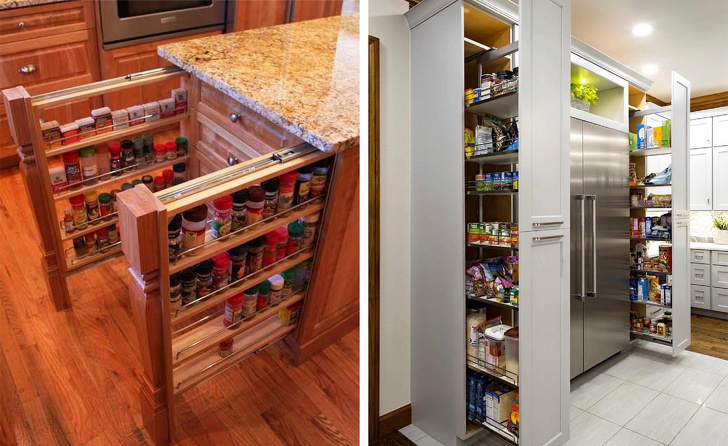 18. Another example of how to include trash cans as an ideal solution to keep the food preparation area tidy.
17. An elegant tap that can be extended to fill very tall or large pots that cannot be placed in the sink.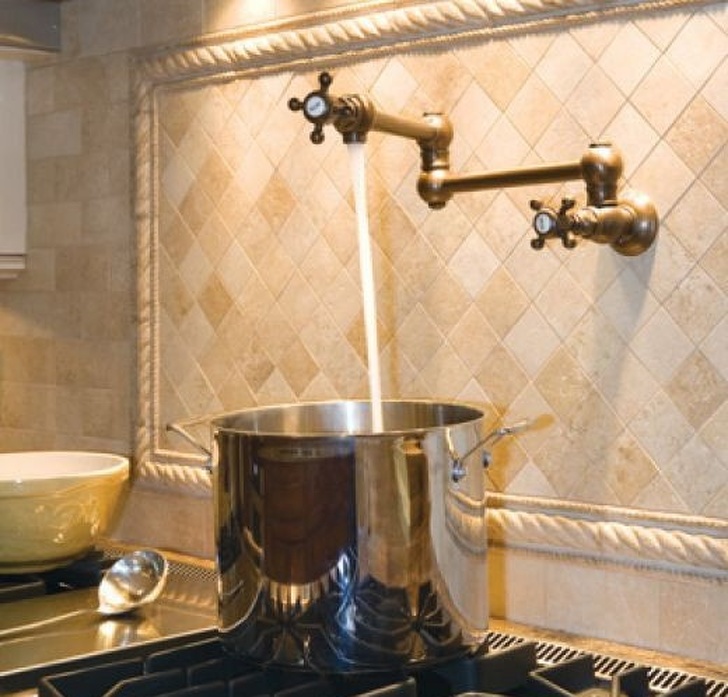 16. An excellent idea to design a specific space to store all the vegetables in one place and keep them fresh.
15. Take advantage of the corners of the cabinets with an idea like this will allow you to store many more things in your kitchen, avoiding clutter.
14. Minimalist chairs will look beautiful in your kitchen, as well as helping to take advantage of spaces and give you more freedom of movement in your home.
13. What do you think about this pop-up outlet? This prevents the outlets from being visible to the naked eye and maintains a more sober design without losing functionality.
12. Include in the design of your kitchen cabinets with curves and soft shapes that will give a more pleasant atmosphere to your home, and avoid accidents with the corners.
11. Include a feeding station for your pets in one of the unused spaces of your kitchen, giving your little friends a particular spot just for them.
10. By including unique drawers in the corners, you can take advantage of the space inside your home as much as possible in a creative way.
9. A sink with a built-in dishwasher will allow you to have everything in one place and organize after a delicious dinner.
8. This ice tray incorporated into your kitchen will give a more interesting style to your home and allow you to keep drinks cold for a special occasion.
7. A vast and spacious window is the best source of light you can have in your home and creates a delightful atmosphere in the kitchen.
6. This interesting idea allows you to drain your dishes and have beautiful natural decoration in your home without much effort.
5. Placing the outlets inside the kitchen drawers is a creative alternative to be able to charge your phone out of sight of your guests.
4. Using this design in the drawers will allow you to store all the necessary kitchen tools in one place.
3. A piece of valuable advice in the kitchen, and in your home, is to take advantage of the simplicity of the details to generate a cozy and pure atmosphere.
2. These creative interchangeable dividers allow you to store your dishes neatly and make sure that fragile things do not break.
1. This comfortable space next to the sink will allow you to store everything that needs to be washed before cooking, preventing them from falling to the ground in an oversight.
All these ideas are necessary to give a different touch to this vital area of ​​your home, facilitating your life and providing style, elegance, and practicality to your kitchen. Which of these ideas inspired you to renovate your kitchen? What would you change? Let us know in the comments section your opinions and do not forget to share this article with all your friends.
Sources: Brightside, Bright Eyed Baker
Related: