Strange Google Earth Images That Will Have You Doing a Double Take
Ever since Google Earth appeared in people's lives, it has become an internet sensation. Not only has the way we see the world changed, but it has allowed many people hungry for curiosity, and with much time in their hands, to travel the world from the comfort of their homes. These searches usually yield very typical results, but in some cases, you can find objects, places, and areas that surprise you, as you can detail in the following series of images that brings together some of the strangest discoveries of our planet.
40. RIVER OF BLOOD
This striking picture started first appeared online in 2007, and it soon went viral. While most people might believe that the red color part of the Lago Vermelho could be a glitch in the photo, the truth is that that side of the water was truly red for a crazy reason.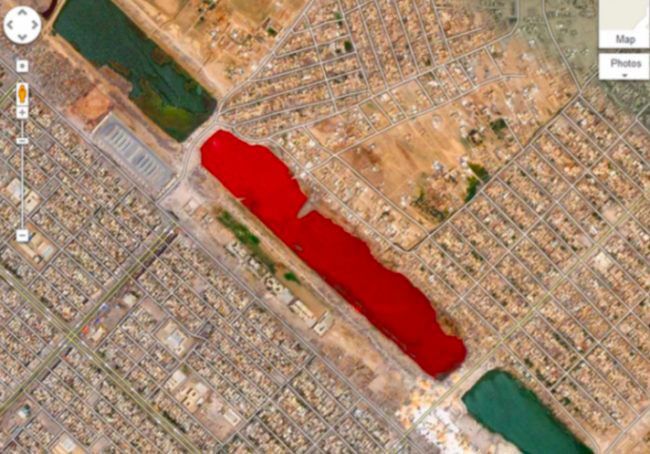 According to Time, a source from the site Boing Boing revealed that there were several slaughterhouses near the canal that would often discard blood in the body of water. However, those claims were never proven. Other people came up with theories ranging from sewage problems to pollution, and even weird algae in the lake. Luckily, it's not red anymore. 
39. WEIRD SYMBOLS IN MEXICO
Some might believe that the symbols are the work of aliens, but there's an actual explanation for these markings in the ground. They were created by the Scientology's Church of Spiritual Technology, as the rings are their actual logo, at least, according to The Washington Post.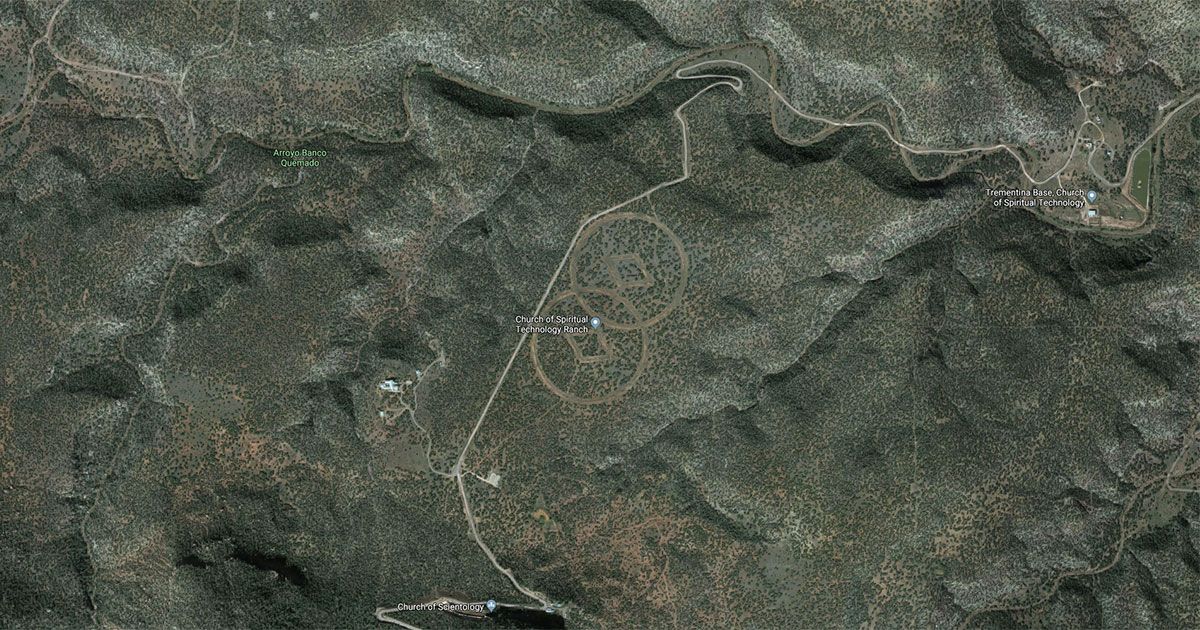 When the markings were first photographed, the institution tried to stop the story from breaking in the news, especially on the KRQE radio station. Apparently, former members of the church said that those symbols are the "return points" for time travelers of the church. They are allegedly trying to find more about L. Ron Hubbard's work.
38. BADLANDS GUARDIAN
Using Google Earth over Albert, Canada's Badlands can be a bit scary for many people. The terrain makes it seem like there are actual faces or depictions of people in the land, and it can be pretty frightening. Some actually look like drawings from Egyptian or Native American culture.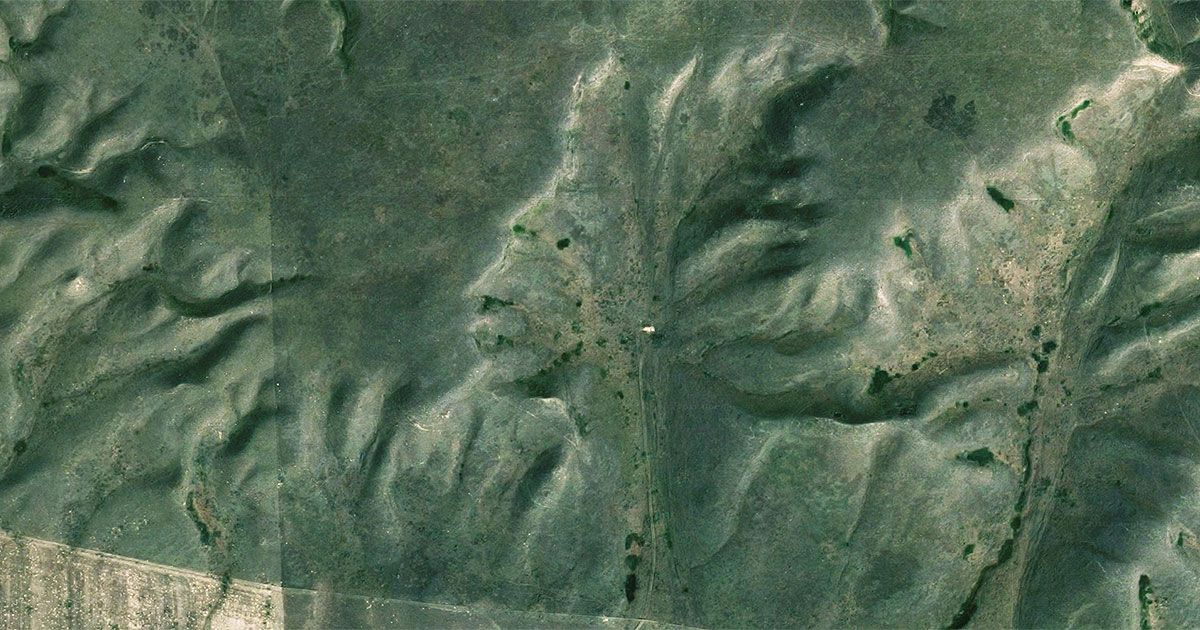 One was even playfully nicknamed "Badlands Guardian", but luckily, it is just a mountain ridge that coincidentally looks like a human. Although, some conspiracy theorists might say that it's also the work of aliens.
37. A SHIP IS DOWN
This image no longer appears on Google Earth, but it actually showed the SS Jassim Bolivian boat that crashed off the coast of Sudan back in December 2003. It was considered the biggest shipwreck ever seen on satellite imagining at the time.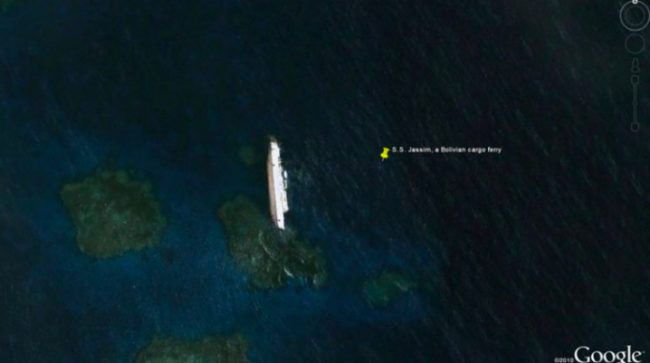 However, there have been other boat crashers on Google Earth, and people get a kick of finding them on their own. This technology might seem boring, but those that cannot travel definitely find ways to see the world from a new perspective.
36. COSTA CONCORDIA
This is another example of a shipwreck. The Concordia-class cruise ship hit a rock back in January 2012, and it caused a tear on the side of almost 160 feet. The ship sunk several hours later.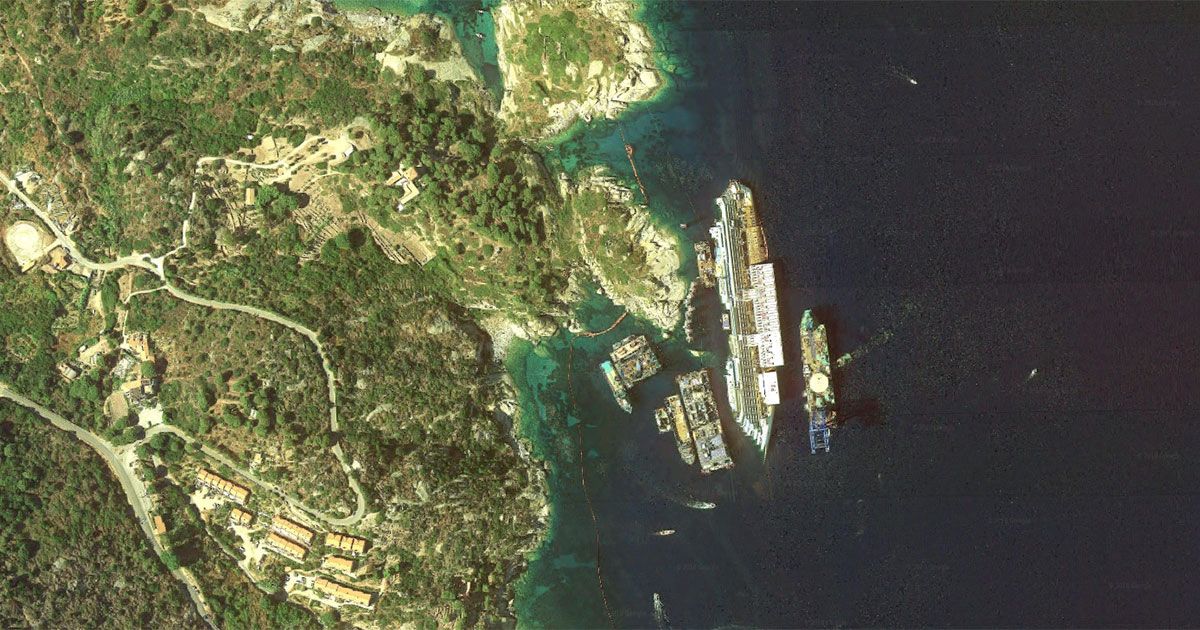 Unfortunately, 32 people died in the ensuing chaos and as of 2018, the ship could still be seen on Google Earth.
35. THE PENTAGRAM
It would be easy to believe that Satan worshippers are marking the ground for crazy rituals, but fortunately, this is not the case. This image shows the "Lisakovskaya Pentagramma", which is just the outline of a park and the roads around it.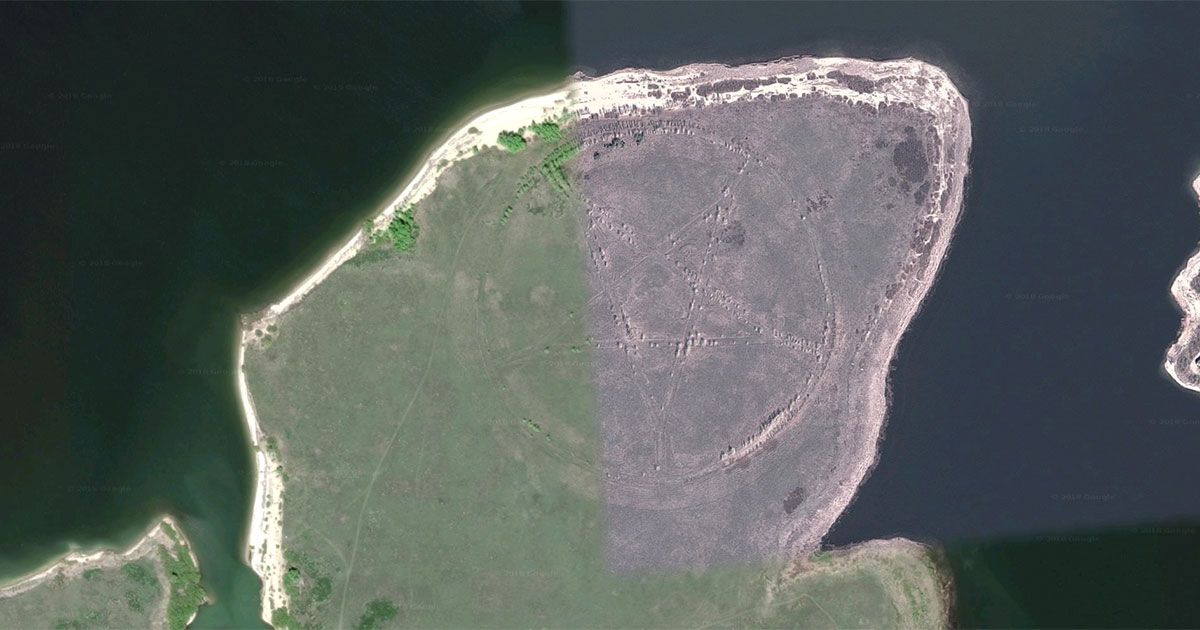 The original architect used a pentagram to design it, but there was nothing nefarious in his plans. In fact, pentagrams have been used by many cultures over history without having anything to do with Satan. Mesopotamians and Pythagoreans are just two examples. If you are ever in Tobol, Kazakhstan, you can visit the park.
34. THE LINES IN GOBI DESERT
In 2011, the location of several mystery lines was seen on Google Maps, and they were located in the Gobi Desert of China. It has been speculated for years that the Chinese use the terrain for weapon testing and other activities. What could they be?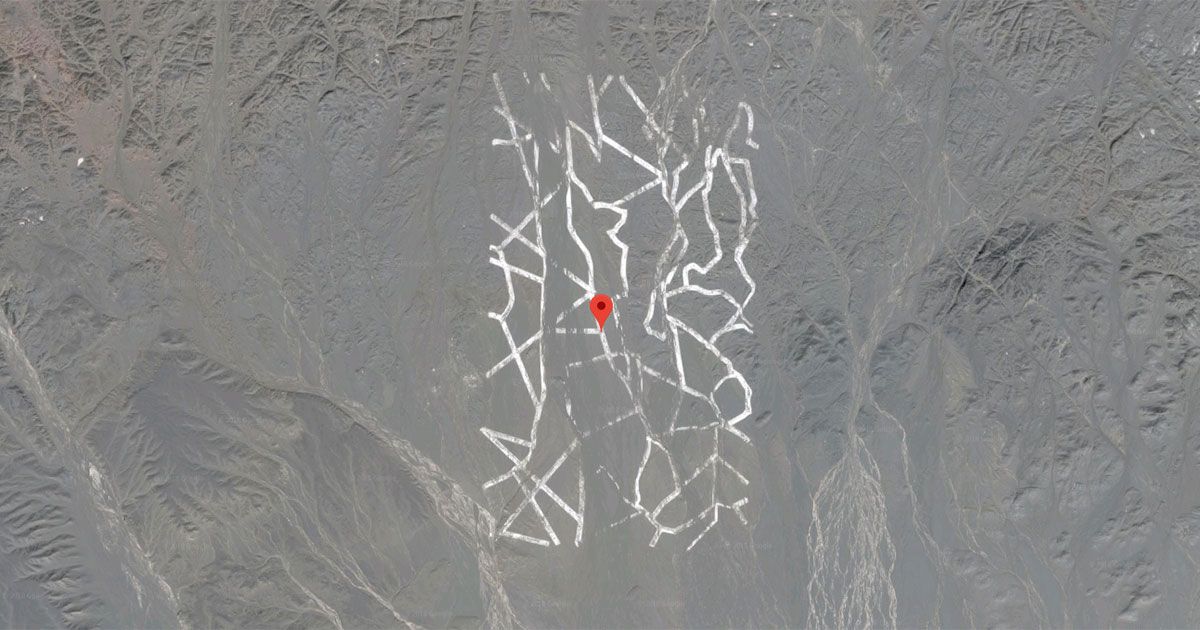 The lines themselves are not much to look at, but they measure 65 feet each. According to the Mars Space Flight Facility technician, Jonathon Hill, the lines are actually used to calibrate China's spy satellites.
33. THE PLACE WERE AIRPLANES DIE
This image might show a bunch of airplanes, and it looks like a busy airport, but it's definitely not that. In fact, it's the site where old aircraft are left discarded.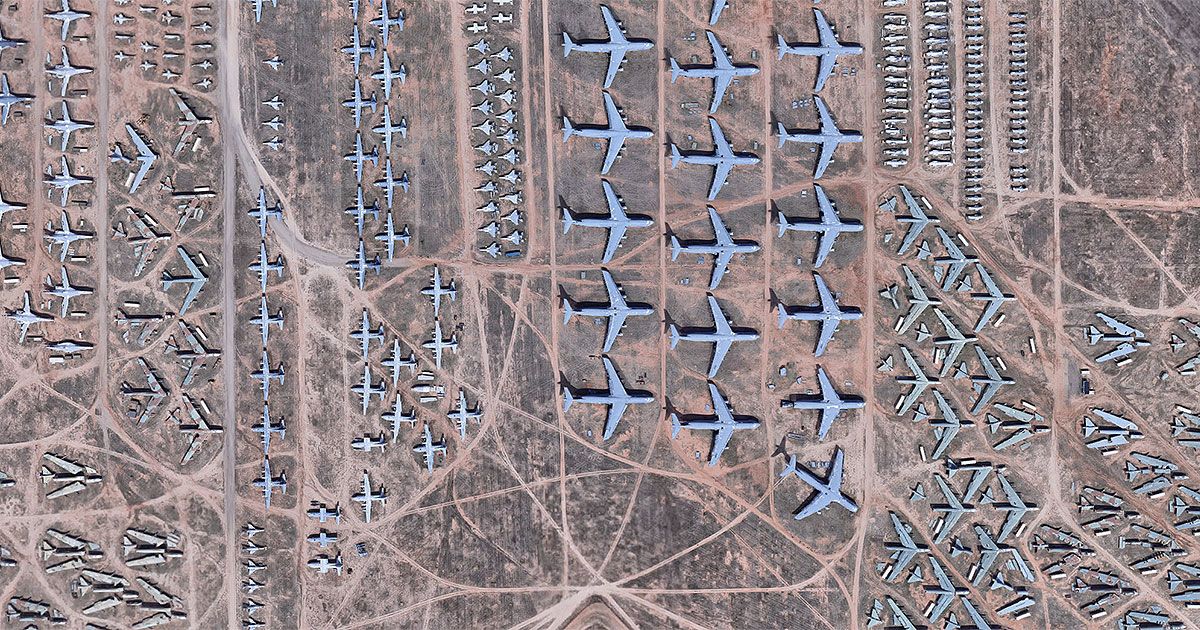 It's located in Tucson, Arizona, and known as the Davis-Monthan Air Force Base. The old planes can be salvaged for parts, and the photo even shows from pieces lying around.
32. NOTHING BETTER THAN A COKE
While this might like a clever Photoshopped picture proving that the Coca-Cola Company has a great marketing team, it's actually real. The logo is 50 meters tall and 120 meters wide.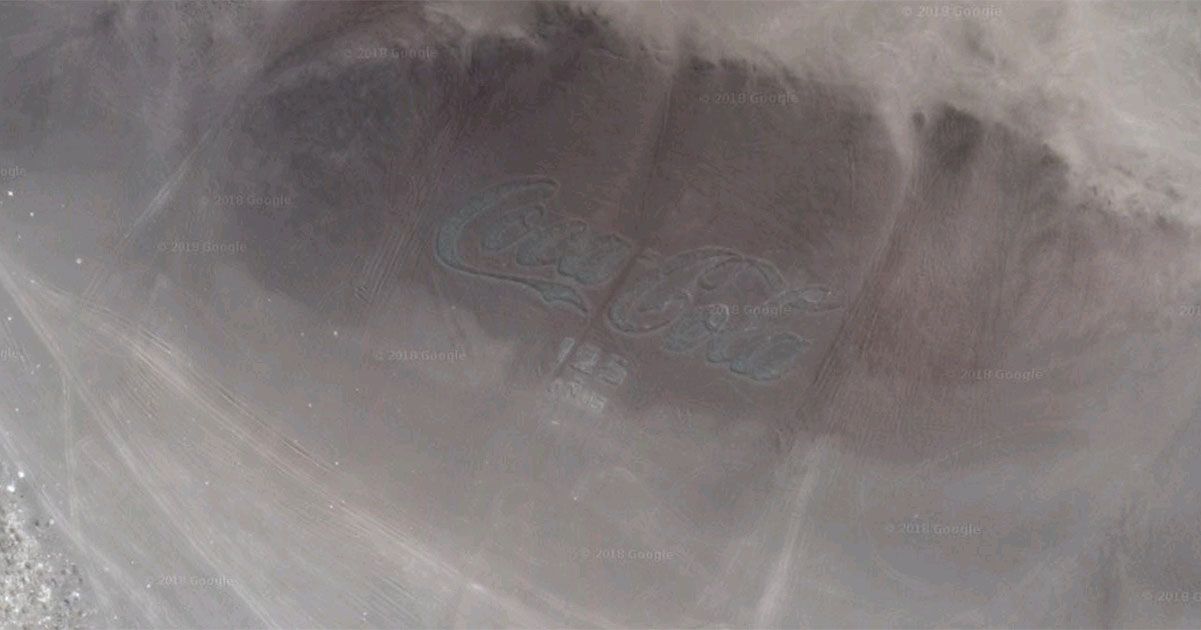 The enterprise made in celebration of their 100th anniversary, but now it should say "126 años" (126 years). You can find this impressive creation in the city of Arica in Chile, and it's made out of 70,000 empty Coke bottles.
31. DESERT BREATH
This might be proof that aliens are real, or maybe the Knight King is not dead after all. The weird spiral shapes were made by humans. It was a project from a group of Greek artists and finished in 1997. They called it the "Desert Breath".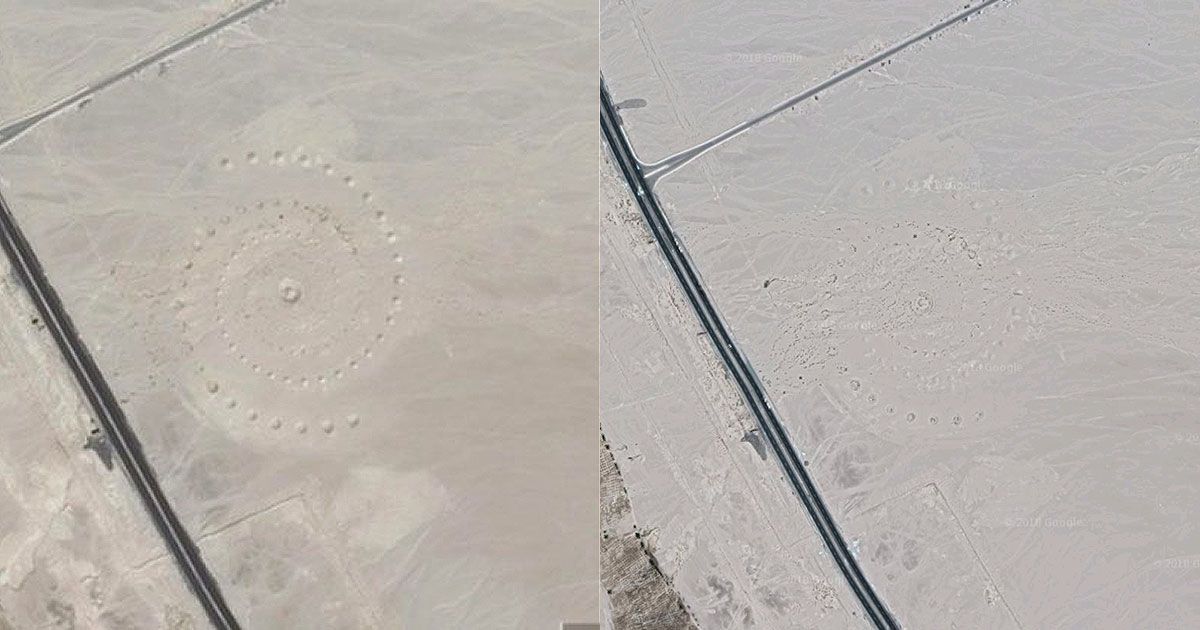 It expands over 25 acres of lands, and it's made out of 178 cones that differ in size as the spiral evolves. Unfortunately, due to erosion, the artwork has disappeared mostly as seen in the pictures on the right. It even had a pond in the middle at one point.
30. A STAR IN LAND
There's a village in the Netherlands called Bourtange, and this fortress in the shape of a star is called Fort Bourtange. It was finished in 1593.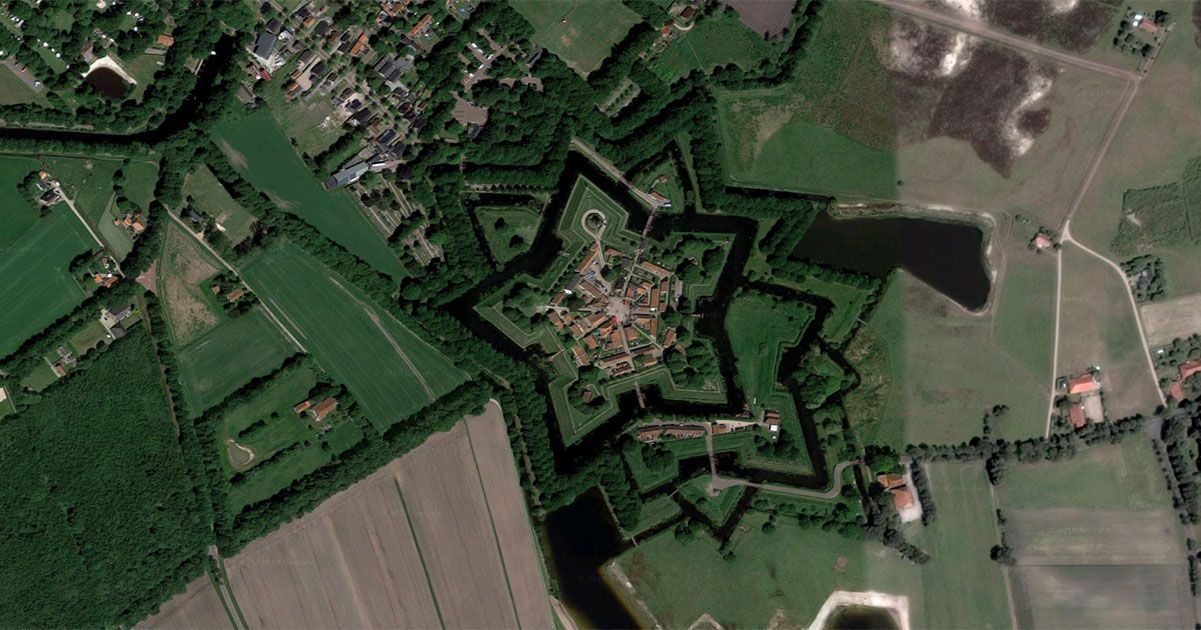 The original use of this structure was to control the passageway between Germany and the city of Groningen, and during the Eighty Years' War, the Spaniards were the ones in charge.
29. SHIPWRECKS IN IRAQ
Anyone searching through Iraq on Google Maps with a particular focus on the city of Basra might notice that there are a lot of capsized and crashed ships still visible. On the history of the land can explains this weird sighting.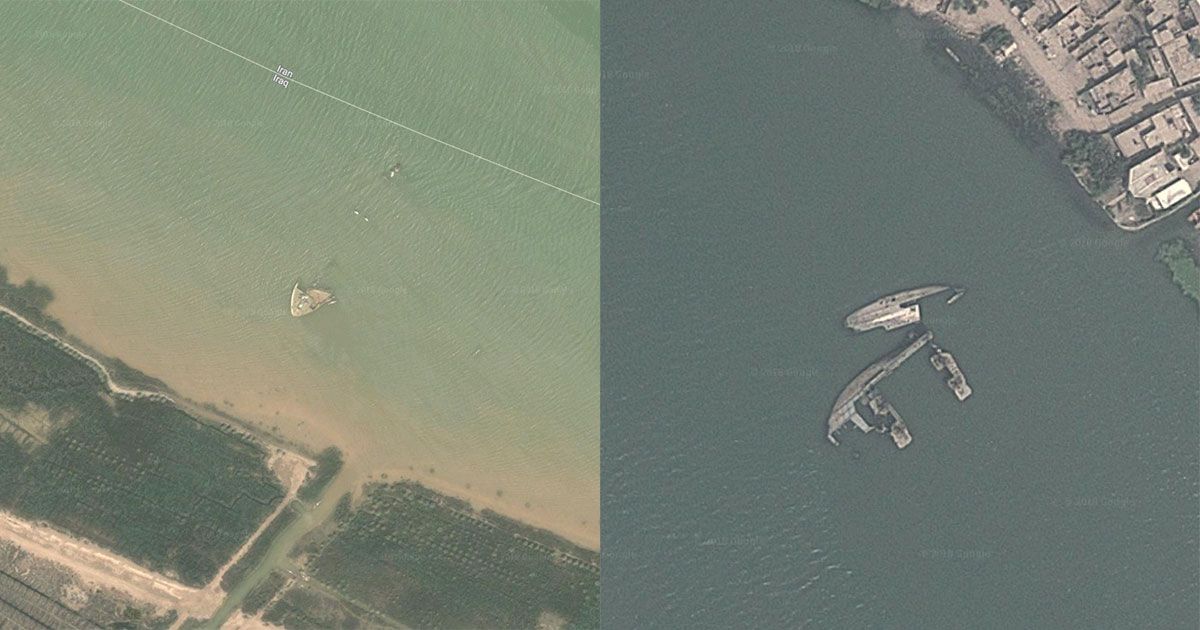 The waters of Shatt Al-Aarab are located in a region of many conflicts, and the ongoing fighting has continued to build their ship graveyard. The images still capture the boats today.
28. THE HUGE FIRE
On May 28, 2008, there was a big fire in Ontario, Canada. The Alma College in St. Thomas, was almost completely destroyed after it. Sadly, it couldn't be rebuilt as it was, and the Ontario Municipal Board wanted to tear it down to start from scratch.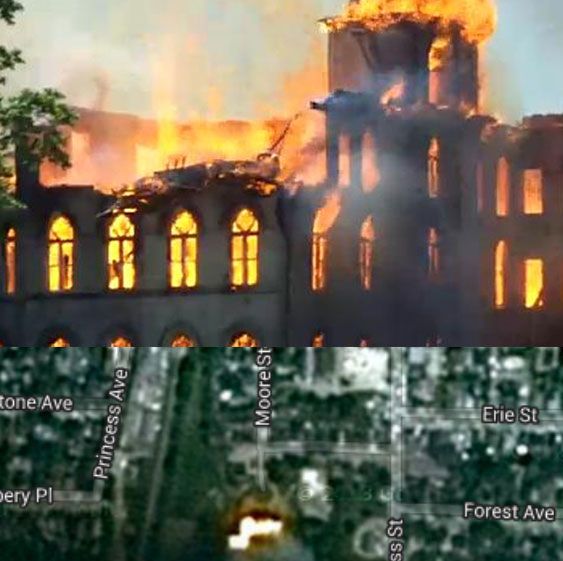 However, there were activists working to stop those plans. The fire was so quick that the structure caught flames in an impressive manner that allowed that crazy view from space.
27. TOO MANY ACCIDENTS
There many cars accident around the world in a given day, and it's not surprising that some of them appear on Google Earth.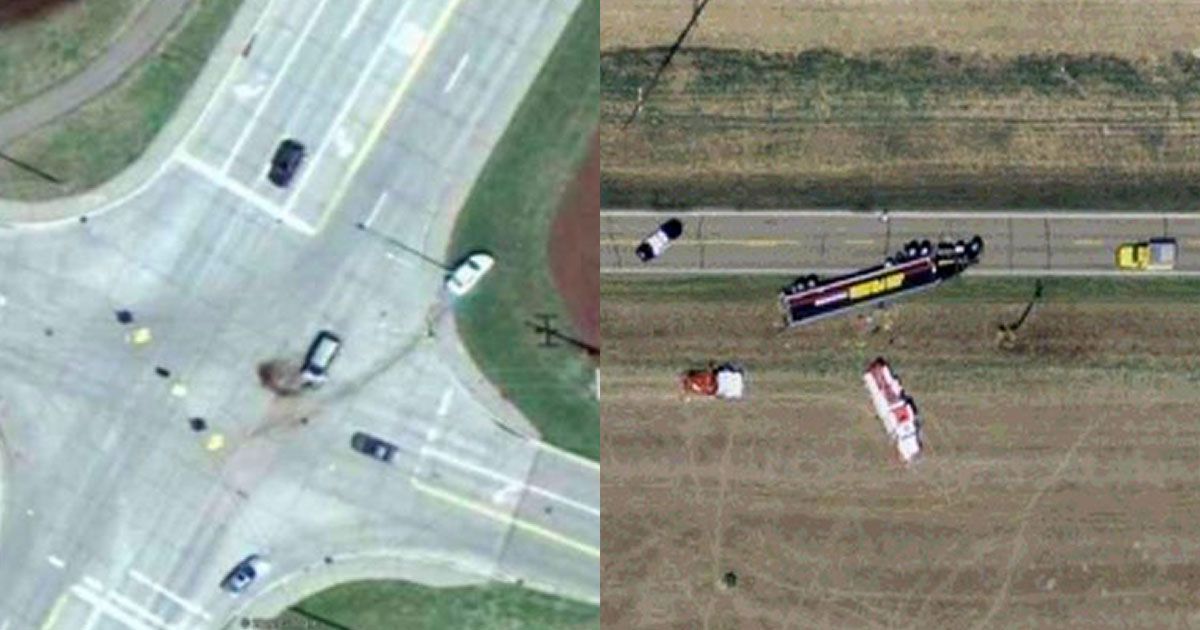 The image on the left shows a situation at an intersection in Michigan allegedly. Meanwhile, the one on the right depicts a huge upended truck, and it reportedly happened in 2007.
26. TIDAL WAVE
A user on Imgur uploaded a Google Earth shot of his hometown, and people were genuinely worried for the safety of the citizens. It seems like the ocean might cause a flood or there could be a tsunami at any moment.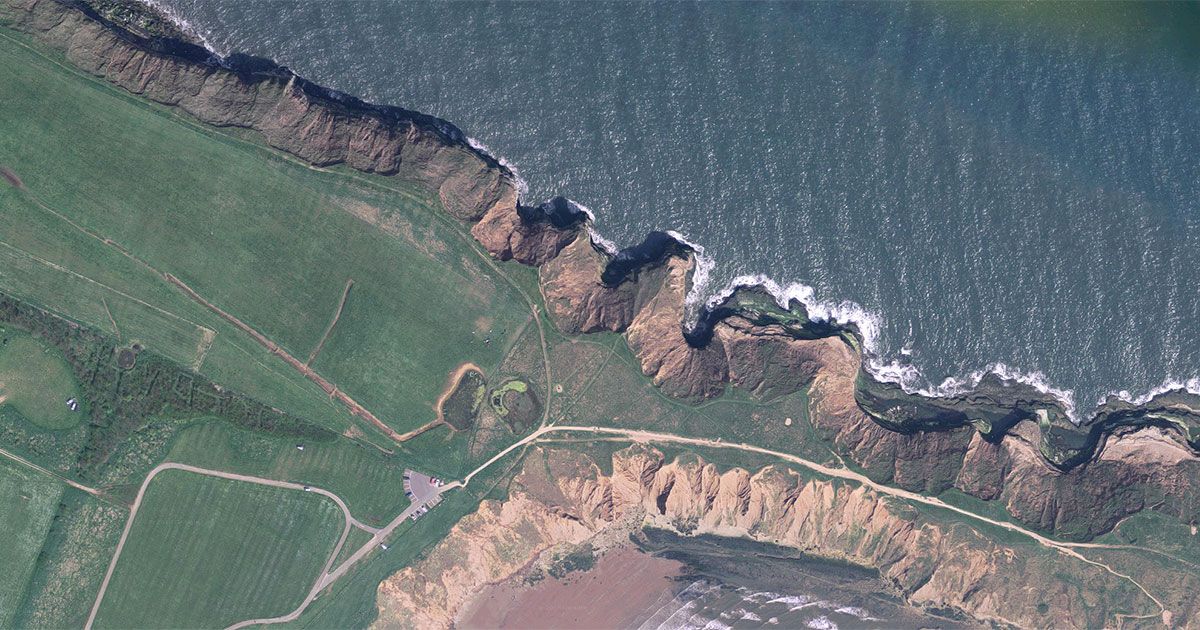 The town is not in any danger, though. The shadows make it seem like the water will overflow, but the waves are crashing against a high cliff in Filey, England.
25. THE NAZCA LINES
This is another example of what could be mistaken for the work of aliens. The lines are actually old geoglyphs, which measure 370 meters long. They come in the shapes of many animals such as a hummingbird, a condor, a monkey, and more.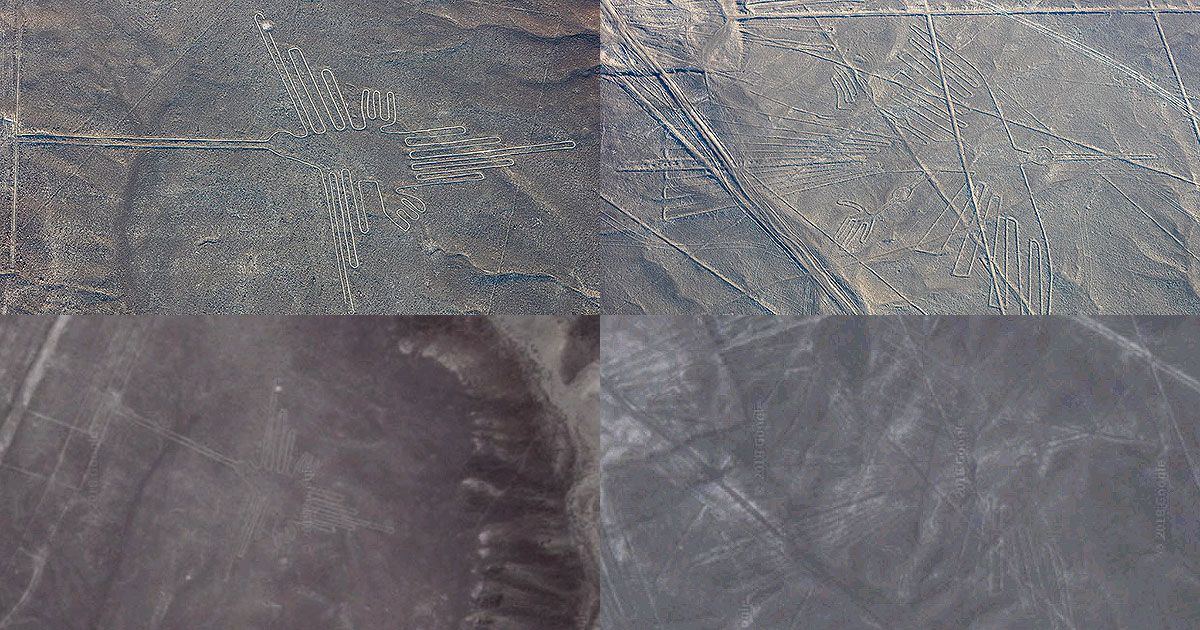 There are more than 70 zoomorphic figures all over that land. Unfortunately, it's not that easy to see these forms on Google Earth, but anyone can search for geoglyphs online to learn more about them.
24. A HUGE HOLE
This crater might seem liked some located on the moon, but it's on Earth. Just like the holes in the moon, this image shows a meteor crash. It is located about 37 miles east of Flagstaff, Arizona, and the measurements are unbelievable.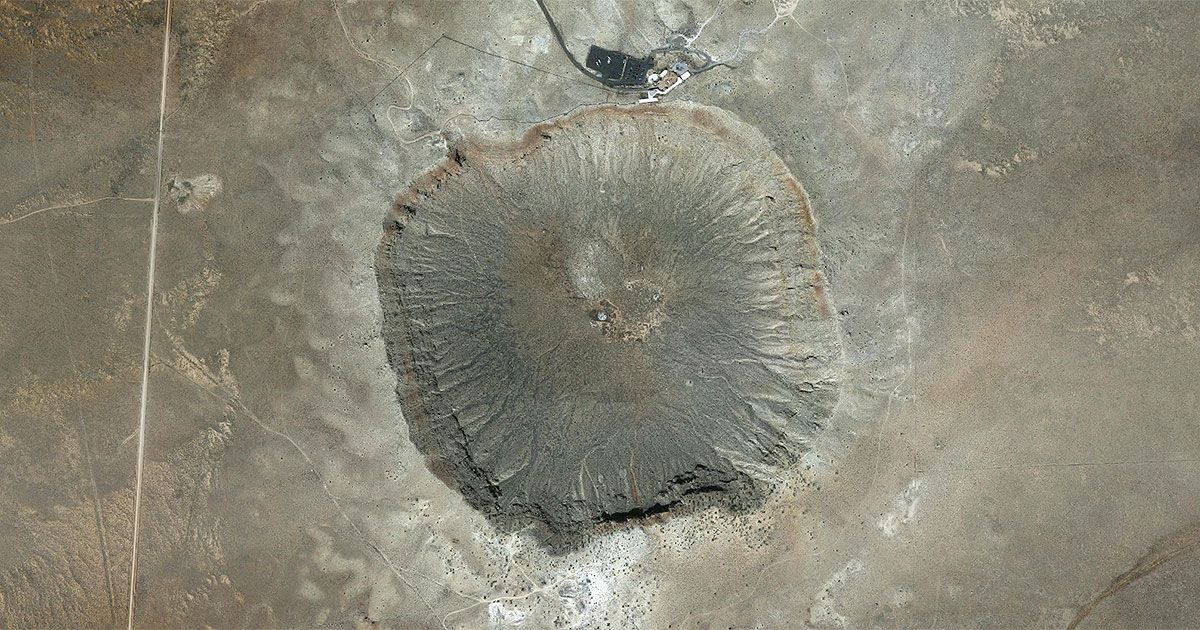 It has a diameter of 1,200 meters and 170 meters deep. Experts claim that the meteor that caused it was 50 meters wide and made out of nickel-iron. They also estimate that the collision happened more than 50,000 years ago during the Pleistocene era.
23. WHAT IS THIS?
Anyone would be flabbergasted by this site on their Google Maps dabbling. It looks like there is a lot of blood on the dock as if a man dragged the body of a dead person through to through in the sea. Luckily, nothing of the sort is going on.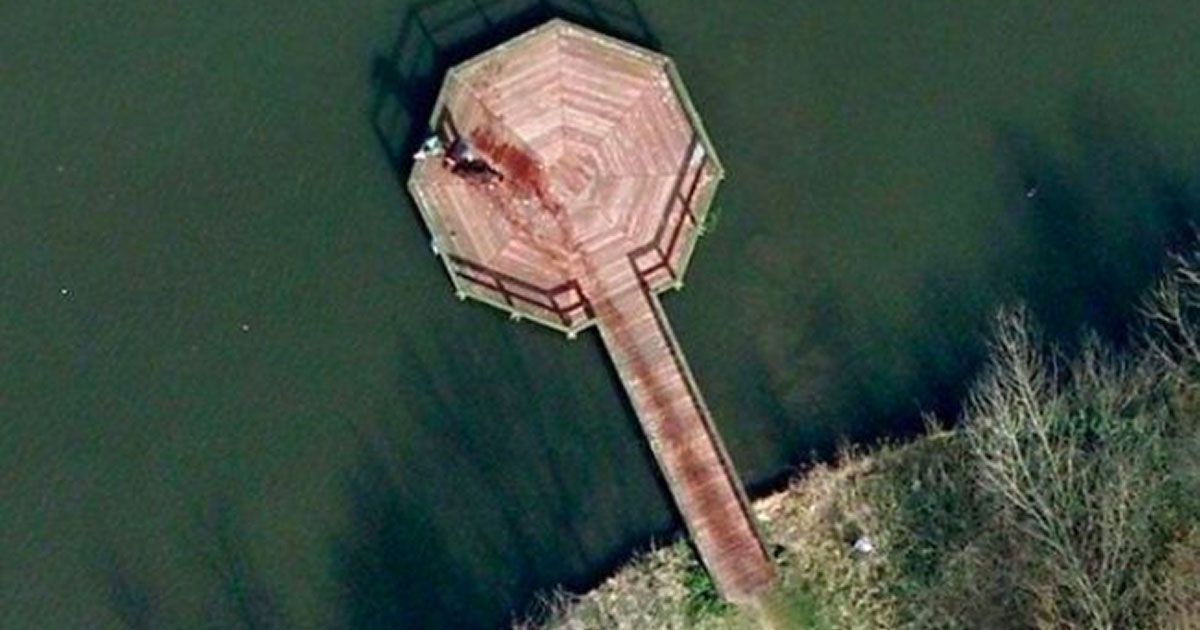 The image was first shared on social media in 2009, and the uploader said it was, in fact, a man trying to hide a murder. The police even got involved, but the claim was quickly discredited. They said that no one would dare try to hide their crimes during daylight, and the officers in the area said that there were no reports of a missing person. A theory says that it's just water.
22. THE STATUE
A couple of years ago, this weird gray statue that appears in the picture on the left was first seen at Hunters Hall Park in Scotland.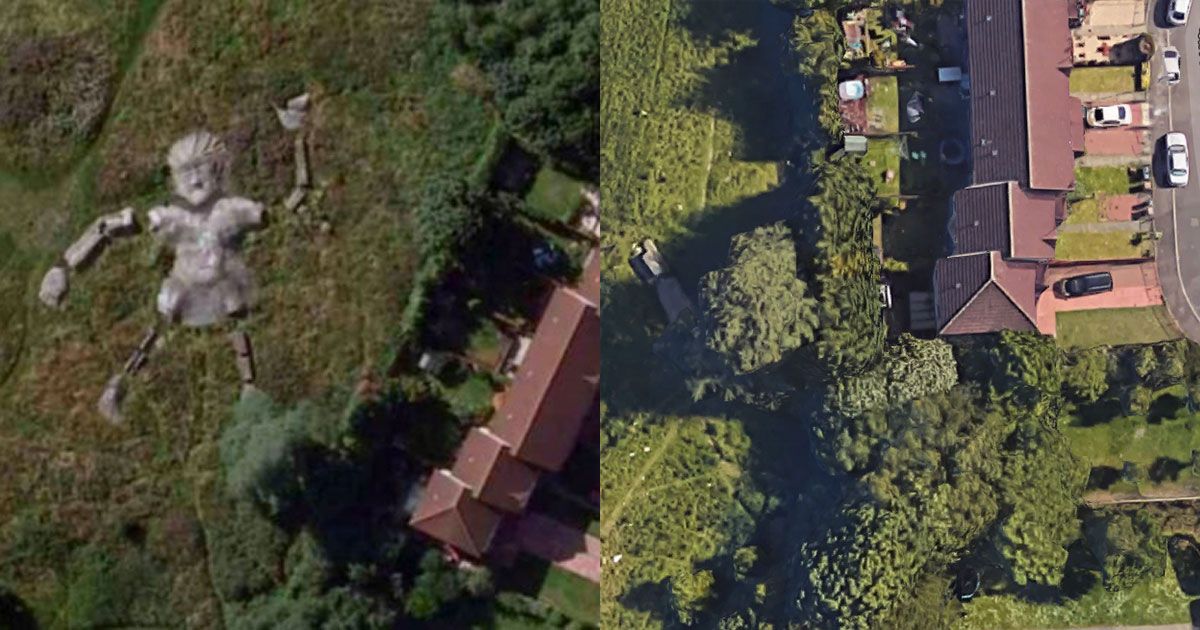 It was made in 1976 by Jimmy Boyle, a murderer who was still in jail at the time of construction. Sadly, the impressive statue, which was 100 feet tall, has been destroyed. There is still from concrete debris where it was originally erected, though.
21. THE COLORFUL POOL
This amazing vision is located in Yellowstone National Park in Wyoming, USA, and while it might seem like a great place to take a swim, it's actually very dangerous.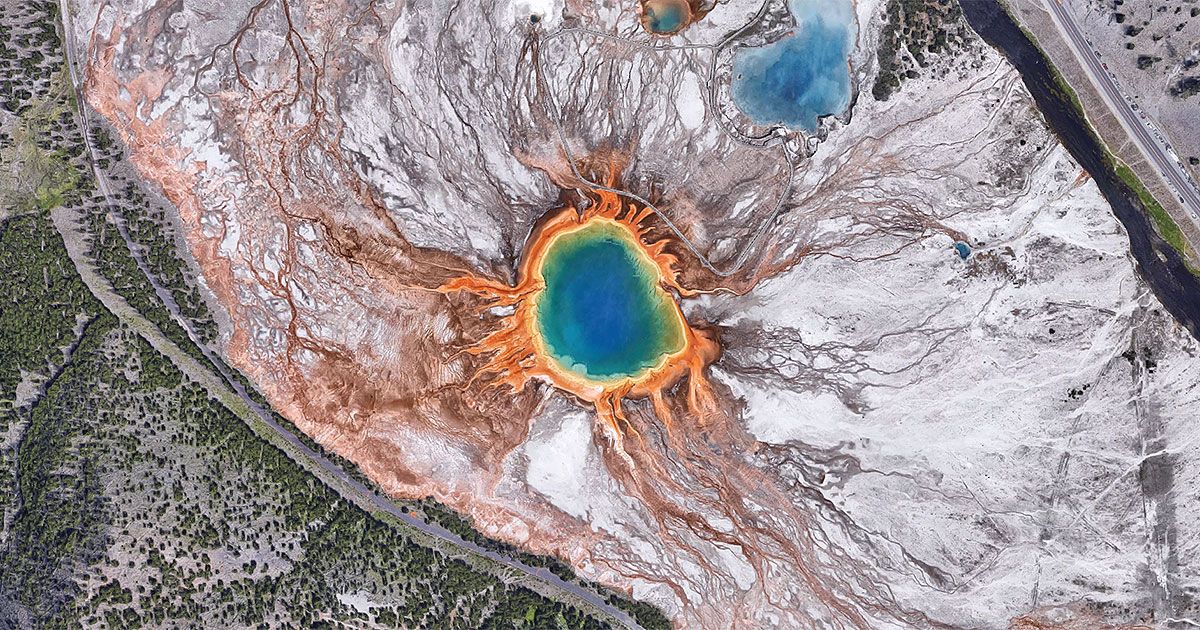 It's considered the largest hot spring in America, and the third biggest in the world. The colors are due to the chlorophyll to carotenoids ratio, and the temperatures can reach 160ºF. Some hot springs are perfect for relaxing, but this is not one.
20. POTASH PONDS
This pond in Utah, USA, was created by Intrepid Potash, Inc., and it is another place where no one should try to take a swim. The company is actually a fertilizer manufacturer, and the colors from potassium chloride and blue dye, which is used to evaporate the liquid rapidly.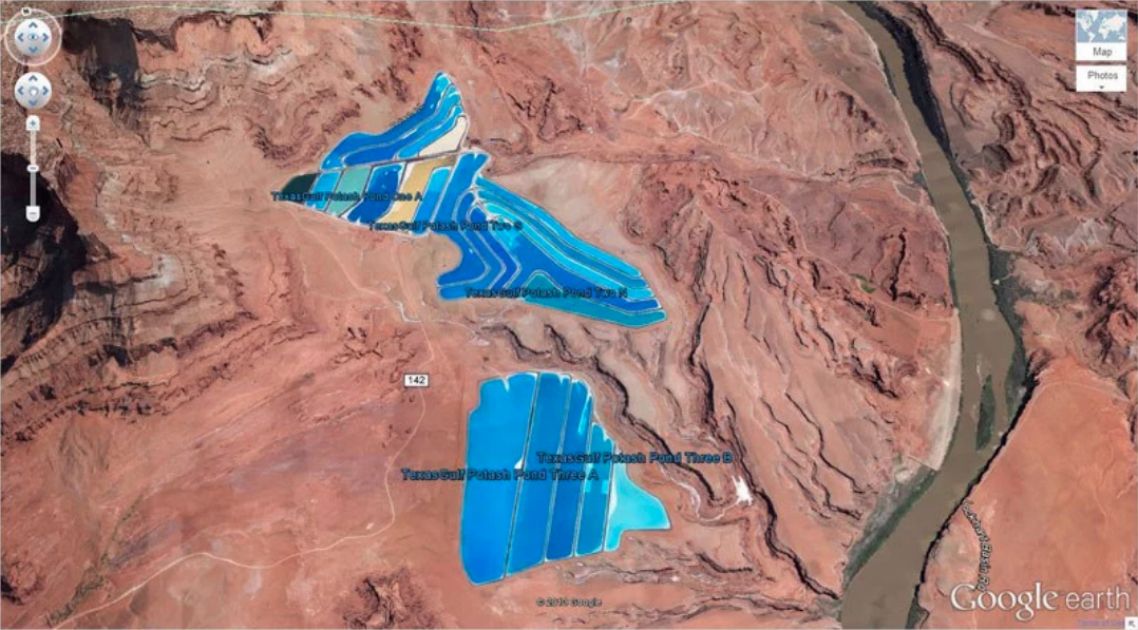 Potassium chloride is mined in that part of America, and they extract it when the pools are completely dried off.
19. THE NAZI BUILDING
This structure in California was actually offensive to many locals, but you might be surprised to learn that it is owned by the United States Navy. It was finished in the 1960s.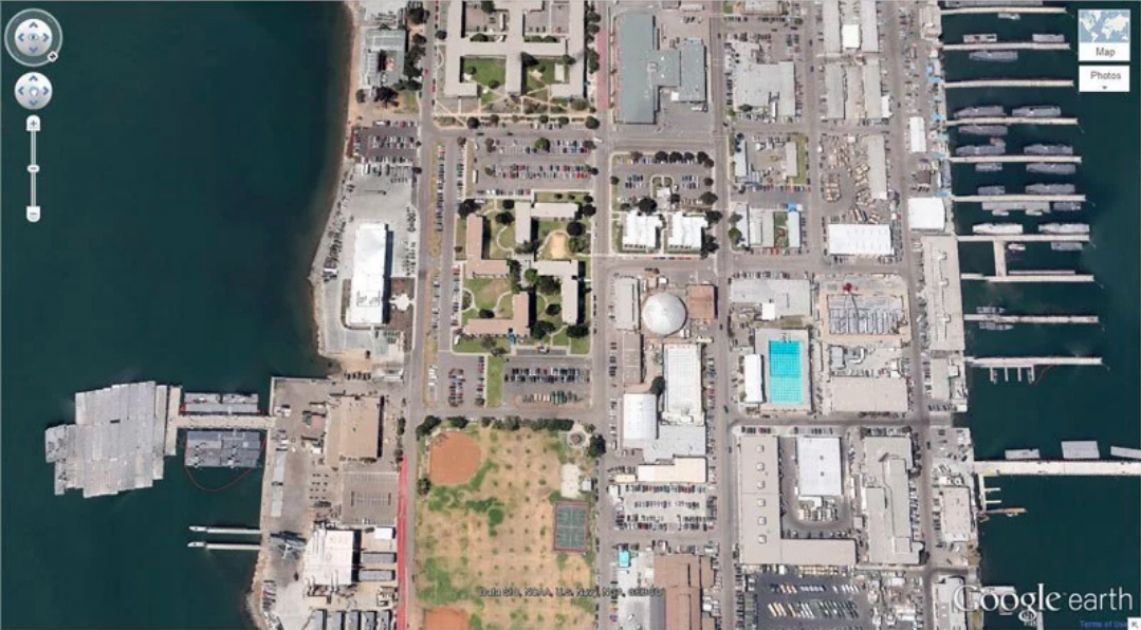 So many people complained about it that the government promised to change it. Unfortunately, they spent around $14 million in renovation and didn't do anything about the offensive shape that looks like the Nazi symbol.
18. SANDY ISLAND
The island was first seen by Captain James Cook in 1774, and it was spotted more than 100 years later by a whaling ship in 1876.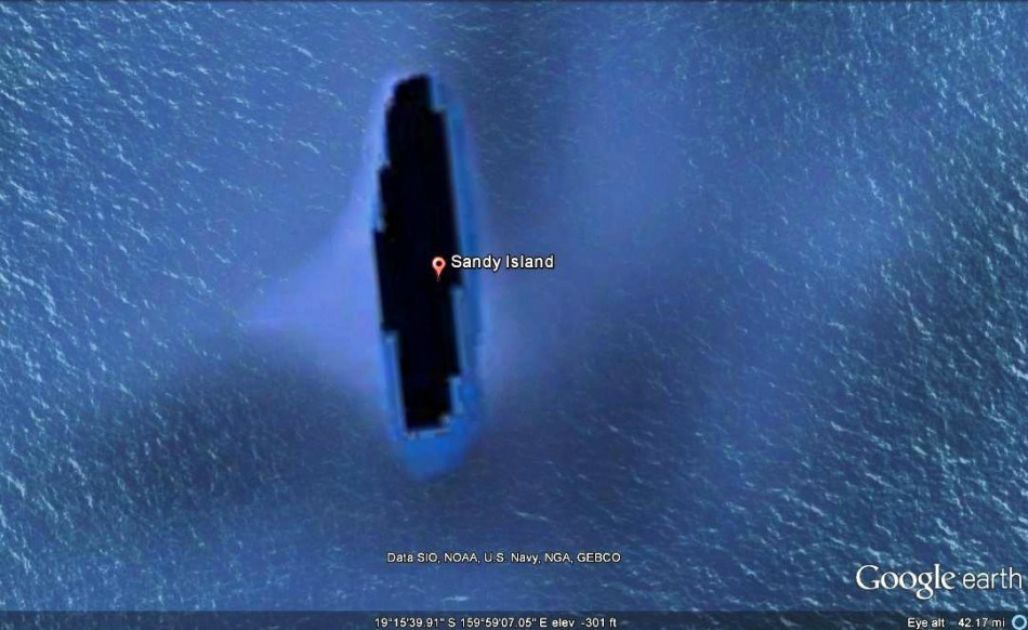 However, it doesn't exist at all, and it never did. This was proven in 2012 when an Australian research boat passed through where it was supposed to be located, and there wasn't anything. Could it be that it sank after another 100 years?
17. THE MOUTH IN THE DESERT
This oddly-shaped land formation is commonly known as "Lips in the Desert", and it's actually a kilometer in length. It is located close to Arawala, a tiny town in West Darfur.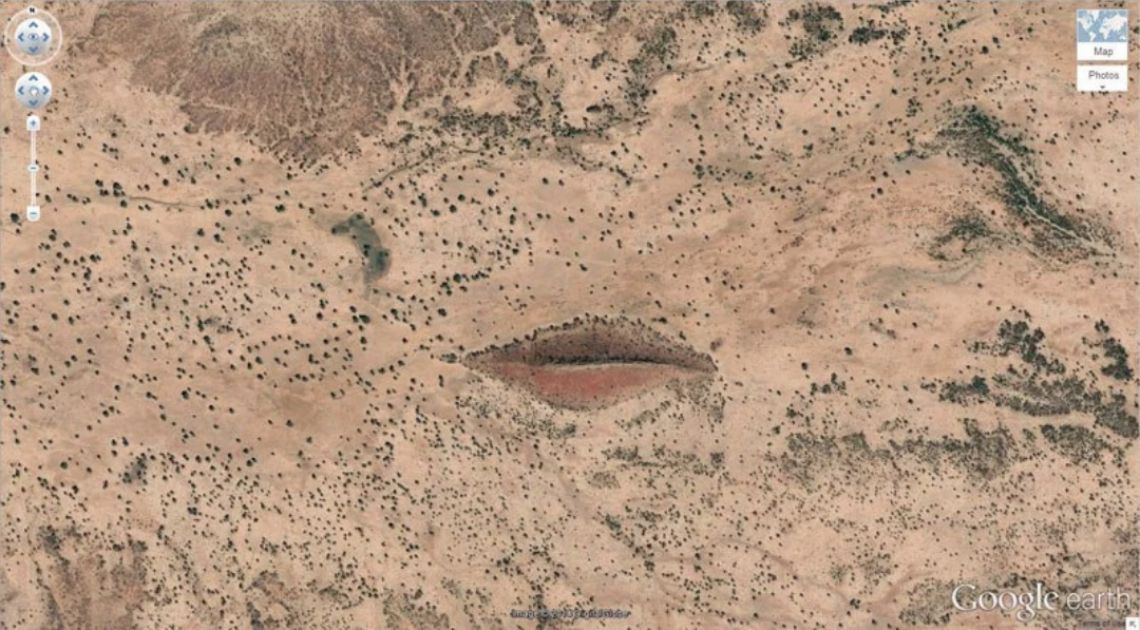 It looks like a mountain or a ridge, but no one can actually determine exactly what it is because of the location.
16. UTA FLIGHT 772 DESERT MEMORIAL
Located in the Sahara Desert, near Nigeria, this image shows the memorial of a flight explosion from 1989. UTA Flight 772 crashed in the desert and killed all the 170 people on board. The cause was a suitcase bomb placed by Congolese terrorists.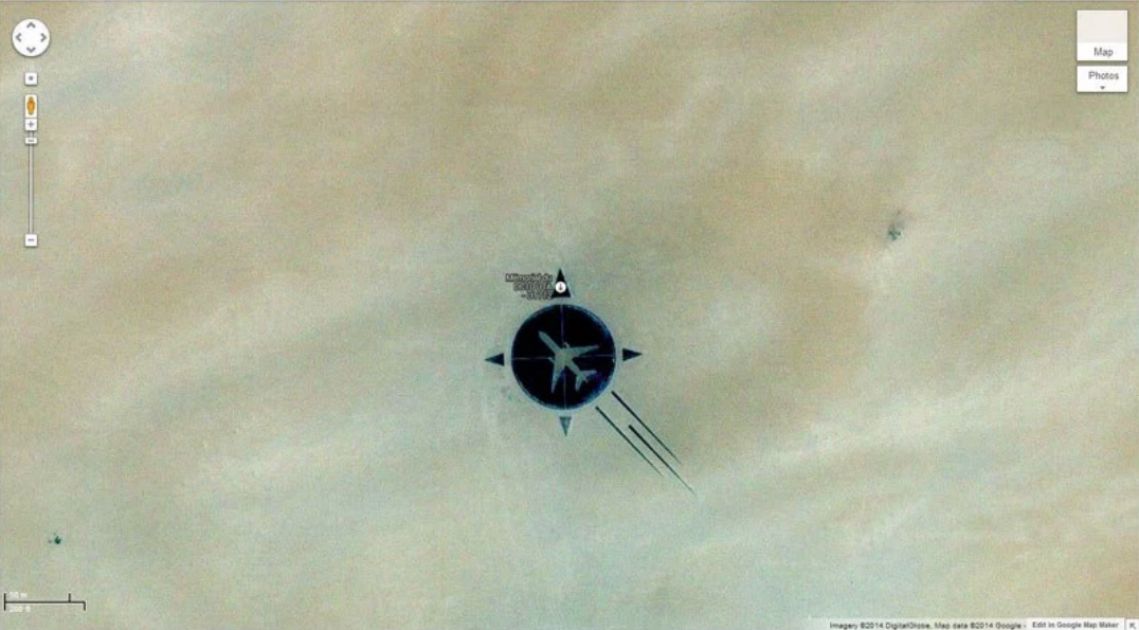 In 2007, the families of the victims erected a memorial made out of black rock and meant to be seen from outer space. 156 passengers and 14 crew members perished in a tragic manner due to conflict.
15. GEOGLYPHS IN KAZAKHSTAN
These are also called Nazca lines and consist of more than 50 figures in the terrain of northern Kazakhstan. There are squares, rings, and what looks like a swastika.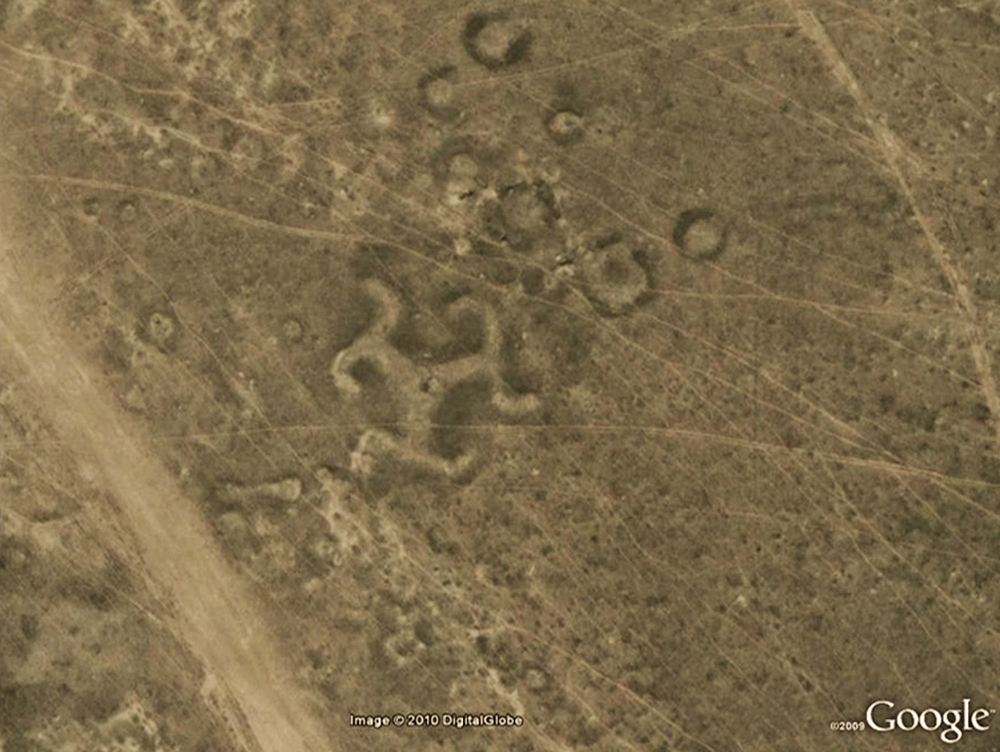 The geoglyphs are actually hard to see from the ground, but thanks to Google, they were first spotted. A team of experts from Kostanay University and Vilnius University in Lithuania has been researching them since their first discovery.
14. ISLAND INCEPTION
This image shows an island in a lake that is in the middle of a bigger island, which is in itself on an island. Therefore, it's an island within an island within an even larger island. It might sound a bit confusing, but it's actually real. The islet located in the tiny lake was spotted on the island of Volcano.
Volcano Island is located on a bigger body of water called Lake Taal, which is on the Philippine island of Luzon.
13. THE WHEELS
Shapes on the ground seem like a common sighting on Google Earth, and it is often hard to tell where they come from. Some could have been made by aliens, but it's hard to tell at this point.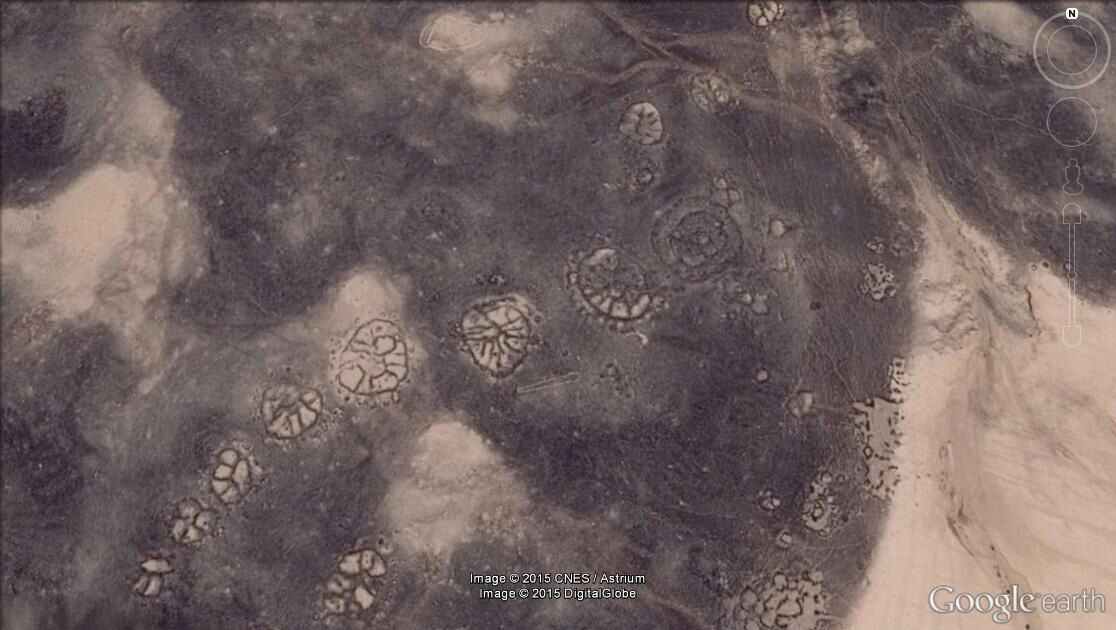 Some experts believe that these wheels could date back for more than 8,500 years. Could they have given man the idea for the wheel in the first place?
12. THE TARGET
Similarly to the previous image, this is another example of a wheel captured by Google Earth. However, this one, in particular, is found in the Middle East, and it definitely looks like a bullseye.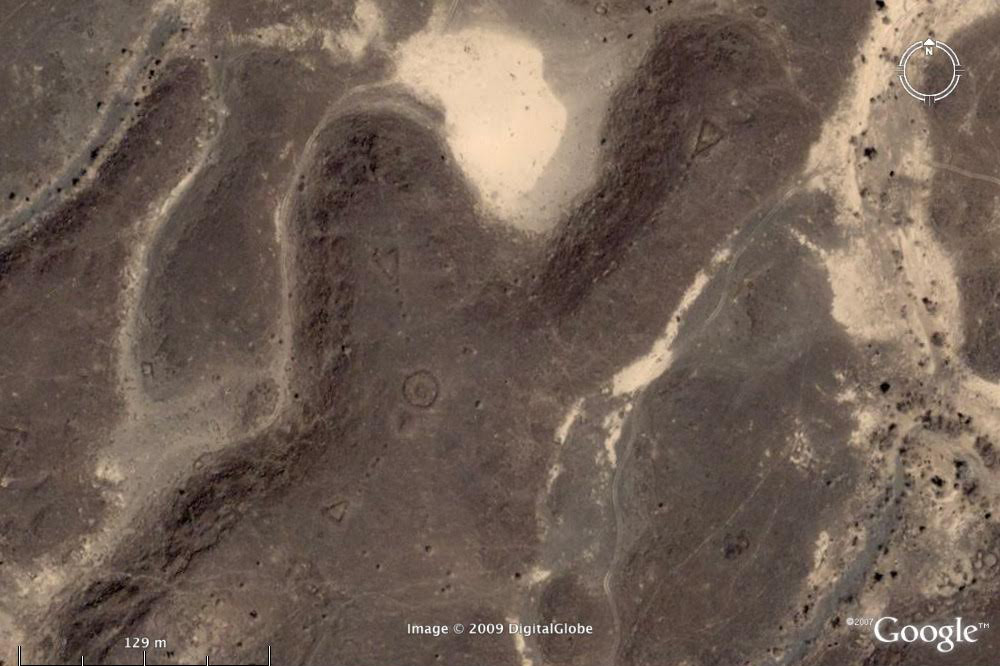 There are even 3 triangles that point towards the middle of the eye, and there are rocks that direct to it as well. It might have been the sight of some kind of experiment.
11. THE STRANGE PYRAMID
While Egypt is no stranger to pyramids, Google Earth has uncovered many new ones that people knew nothing about years earlier. In the past decade, there have many weird discoveries in that desert thanks to satellite images.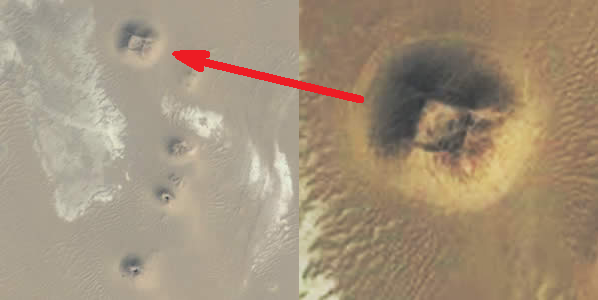 Some believe that these formations could be the infamous ancient labyrinth of Egypt, which was recorded by Greek historians, Herodotus and Strabo, more than 2,000 years ago. However, their information was lost in time, and no one has been able to definitely confirm it.
10. CREEPY LAUNCH SITES
Regarding scary sightings on Google Earth, there are many abandoned places to be found thanks to satellite technology. The USA had several locations for the launching of Nike missiles.
It is believed that the American had more than 300 locations for missile launches from 1954 to the 1970s, and it makes as they were still dealing with the Cold War.  
9. A LOT OF HOLES
Unfortunately, the Civil War in Syria has destroyed every single UNESCO World Heritage site in the country, and Google Earth has shown the tragic debris.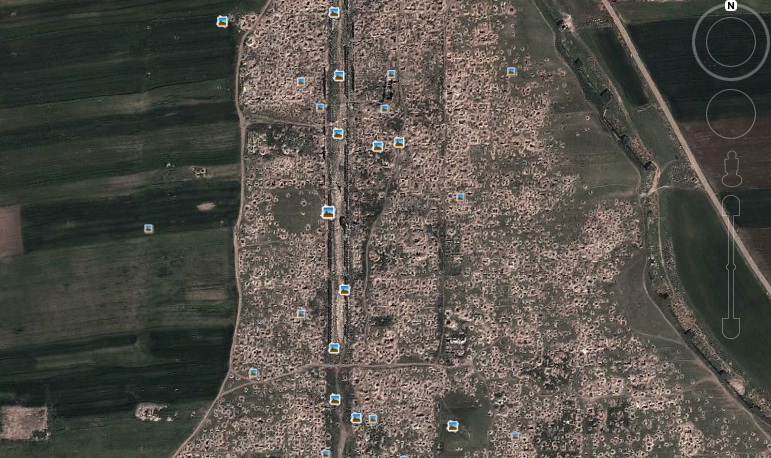 Additionally, satellite imagining also showed that these places had been looted for a while, even before the start of the conflict.
8. ARE THESE ANTS?
This image shows the Vulcan Throne located in the Grand Canyon in Arizona, USA, but these formations are actually created by ants. The insects in the northern rim of the canyon make nesting mounds as big as 120 centimeters across.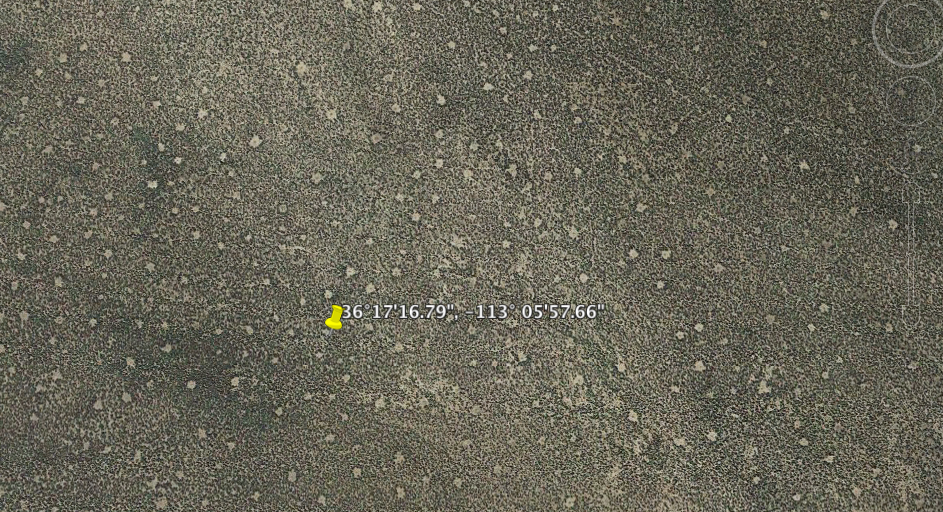 These dunes are surrounded by 10 square meters of ground, according to Amelia Carolina Sparavigna, who works as an image processing specialist at the Politecnico of Torino in Italy. 
7. ANOTHER ISLAND INCEPTION
While the many islands inside Luzon in the Philippines were pretty cool, they were not the largest of their kind. The biggest one is located in Canada, and it expands for around four acres.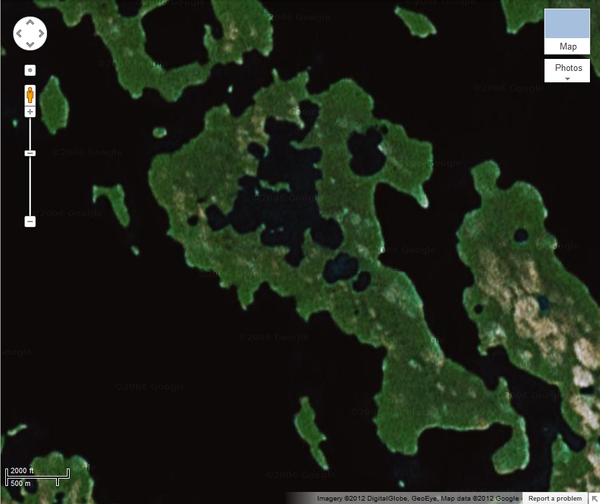 Victoria Island is in the tundra of northern Canada, near the Coronation Gulf, and it is also the world's eighth biggest island. Around 75 miles inland from the southern coast, you will find the "island inception".
6. A NARCISSIST ROYAL MEMBER
One member of Abu Dhabi's ruling family, Hamad bin Hamdan al Nahyan, decided that he wanted something special on the island of Al Futaisi.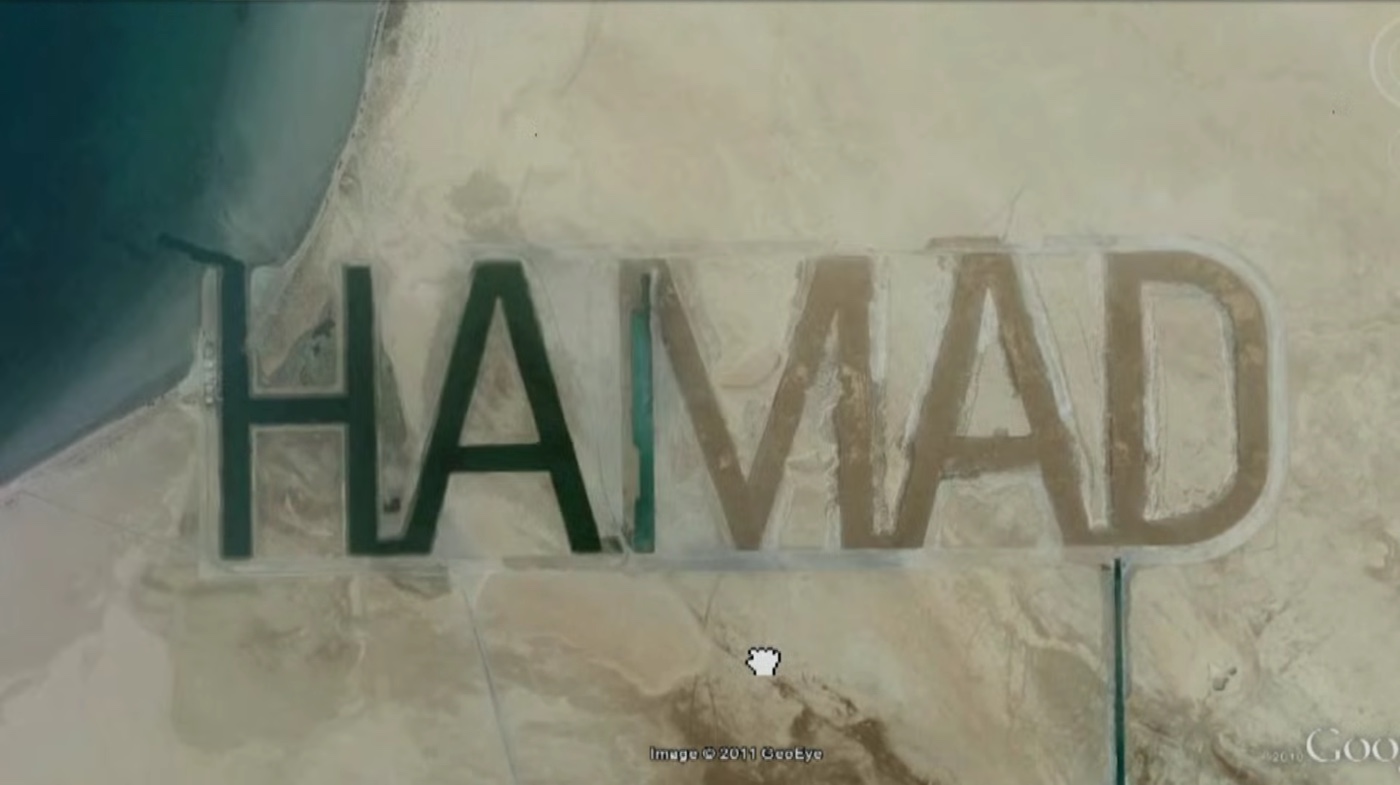 He is the owner of the island, which is located in the Persian Gulf, but it wasn't enough to own it, he had to add his name in the sands. The word "HAMAD" expands more than 2 miles in length, and it is half a mile tall. That is why it can be seen from space.
5. NATURE AT ITS BEST
It's hard to see people from Google Earth, or at least, detailing them, but technology has advanced so much that a herd of wild elephants was spotted in Chad.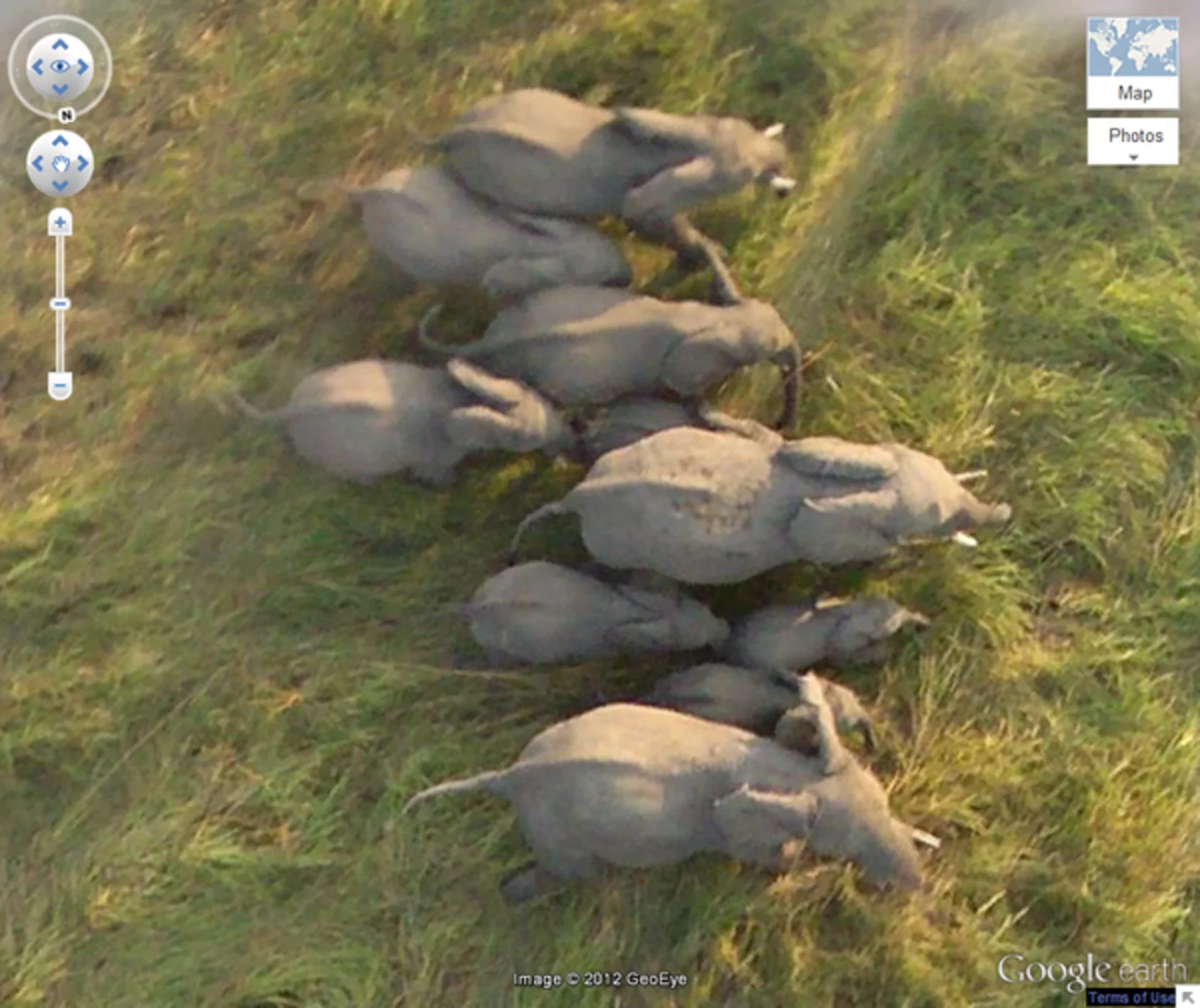 More specifically, this pack belongs to the Zakouma National Park, which expands through a large plain. Their government, as well as the EU, helped restore it after their civil war and poachers wreak havoc.
4. COMPETING FOR THE BEST ADVERTISEMENT
The Coca-Cola Company is not the only one that decided to create an ad so big it can be spotted from space. This concept is actually called "mapvertising", and it consists of making huge logos so that satellites can take pictures.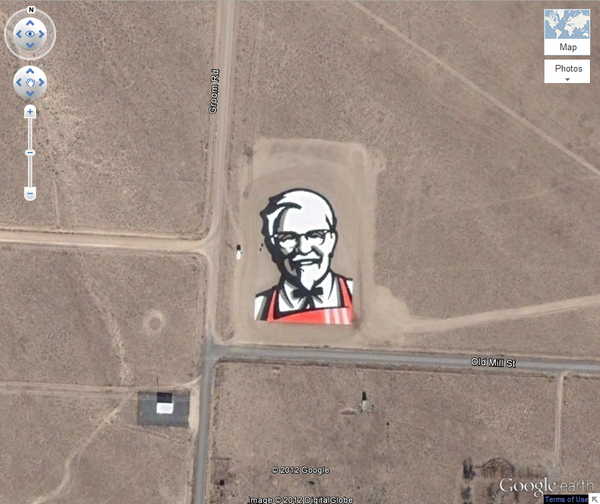 While the biggest Coke logo in the world can be found in Chile, a picture of Colonel Sanders from the fast-food chicken franchise KFC can be seen in Rachel, Nevada, and it was created in 2006. From the ground, it just seems like a bunch of red, white, and gray.
3. COULD IT FINALLY BE ALIENS?
We have been exploring several markings and sights that could be evidence of alien life on Earth, at least, that's what conspiracy theorists might say. However, since there is no concert proof and there are other more logical explanations, their claims are often laughed at.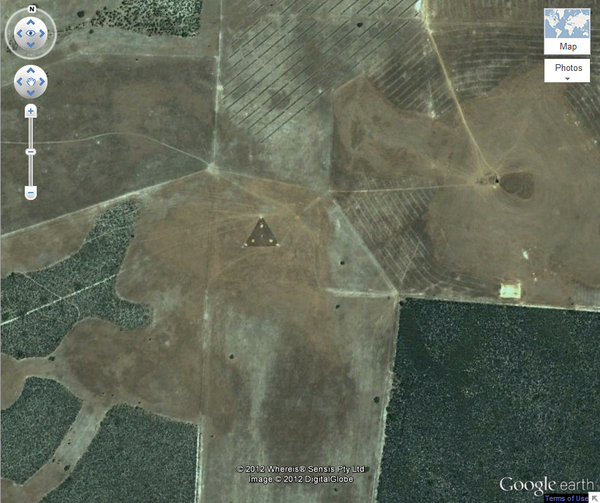 However, in Australia, at the coordinates 30°30'38.44″S 115°22'56.03″E, there's a weird triangle with bright lights in a field. It was first seen in 2007, and UFO experts said that it was, in fact, an alien ship caught while orbiting in the zone.
2. BUILDINGS IN CHINA
An ex-CIA said that he found weird structures in the Kashgar desert of China. These were part of the Xinjiang province, and the site showed several buildings, including a U-shaped one. Some of them are 350 feet long. Considering China's stand on satellite testing, people were quick to speculate about their spy technology.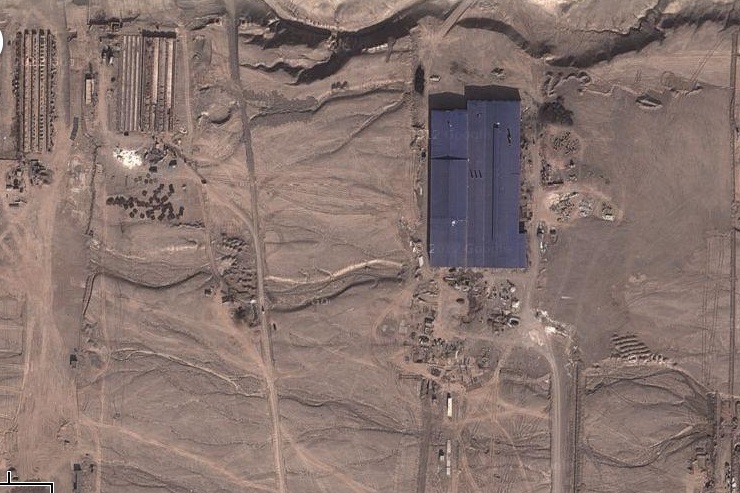 However, it is likely part of a project to develop the area into a major economic center, according to Stefan Geens, a geospatial blogger that spent in the region. He also revealed that it was meant to be similar to Shenzen, the city where major products are created.
1. MORE OF THE CHINESE STRUCTURE
This is another image of the buildings in the Kashgar desert, and Geens was quick to debunk the rumors of a possible secret operation by the Chinese government. Due to how fast these structures were created, it was only natural that people were suspicious.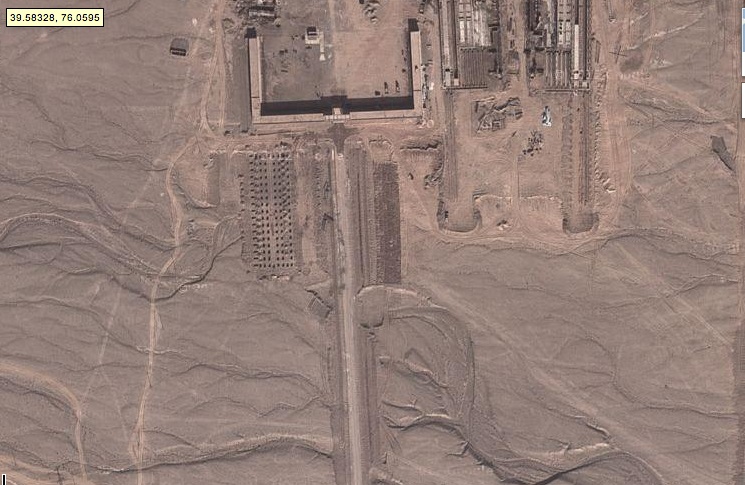 However, Geens said that the location would be the worst place to be a secret facility because it can be seen by any traveler, especially since 2010 when the city of Kashgar started an impressive economic growth. The site is even located near an airport.
Each of these images shows a little more about our world, and although some of them have a logical explanation, some still have the scientists intrigued, and the fanatics of the conspiracies excited in search of an extraordinary discovery. ¿ Which of these strange places impressed you the most? If you have discovered some other peculiar site in the world, share it with us in the comments and do not hesitate to show this article to all your friends.
Sources: Definition, Geeksmate
Related: