These High School Seniors Made Their Mark With These Hilarious Yearbook Entries
Most people use their quotes in the yearbook to offer others a few words of inspiration or to remember the years and experiences they had during their years of study. Other students decide that it is the perfect time to use their creativity and ingenuity to capture something memorable and unique, as we will see in this list of yearbook phrases that went down in history in a funny way.
49. Abbigail and Tory spent the last year sitting next to each other, devising the message that would allow them to leave a good legacy.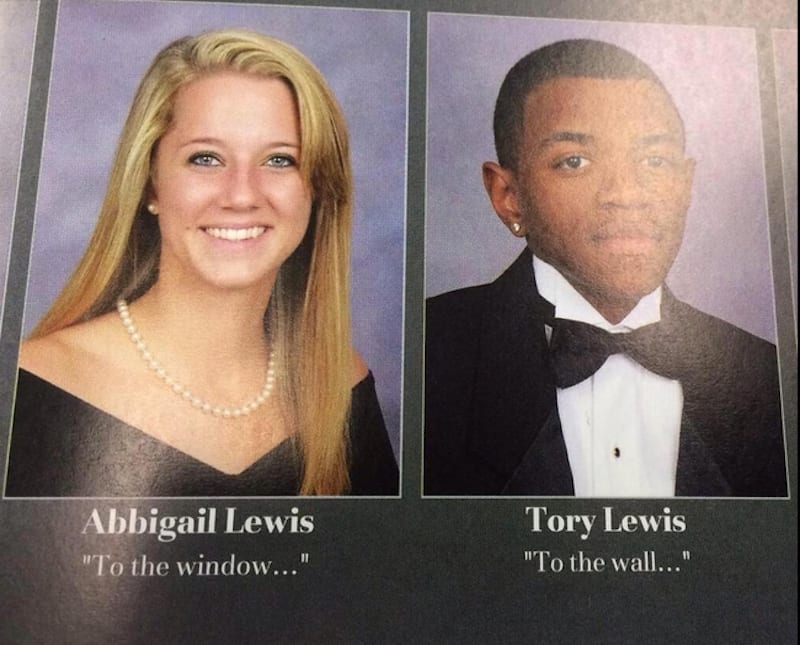 48. Makenzie Goluba just wanted to clear up the false rumors and proclaim her love for food, as well as her healthy eating habits.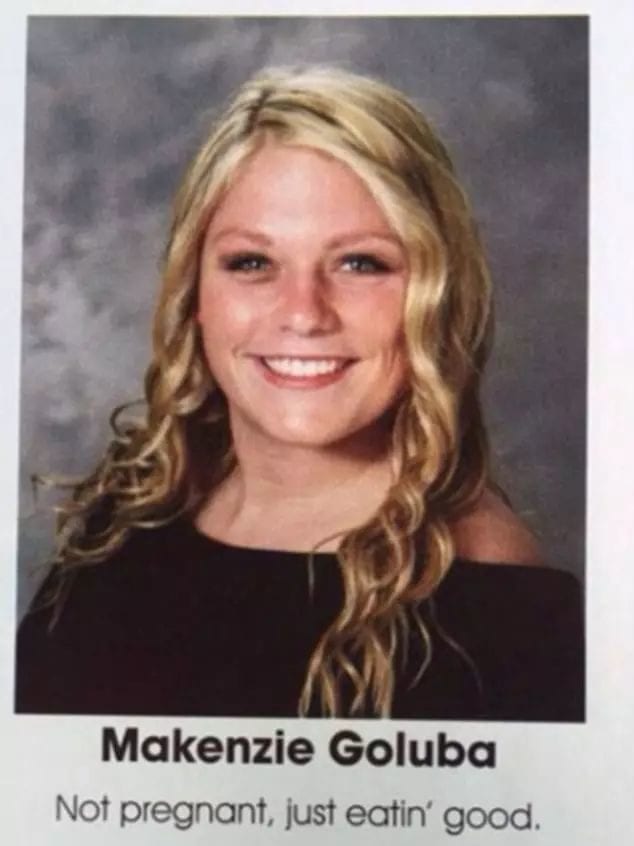 47. Zachary Chastain had a difficult school life being a teenage male single mother with no children.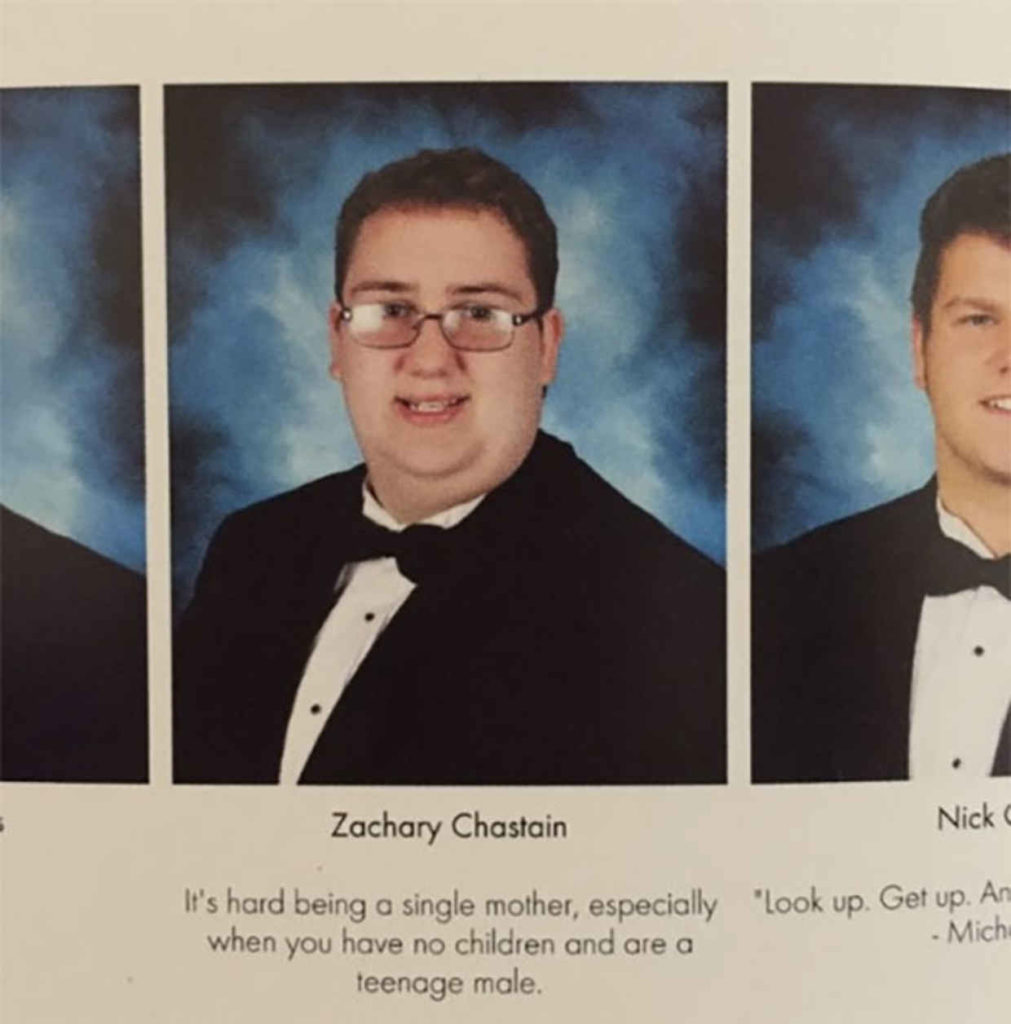 46. ​​Brandon and Tasha seem to have an entirely different vision of what "everyone" thinks. These two will have to agree not to agree.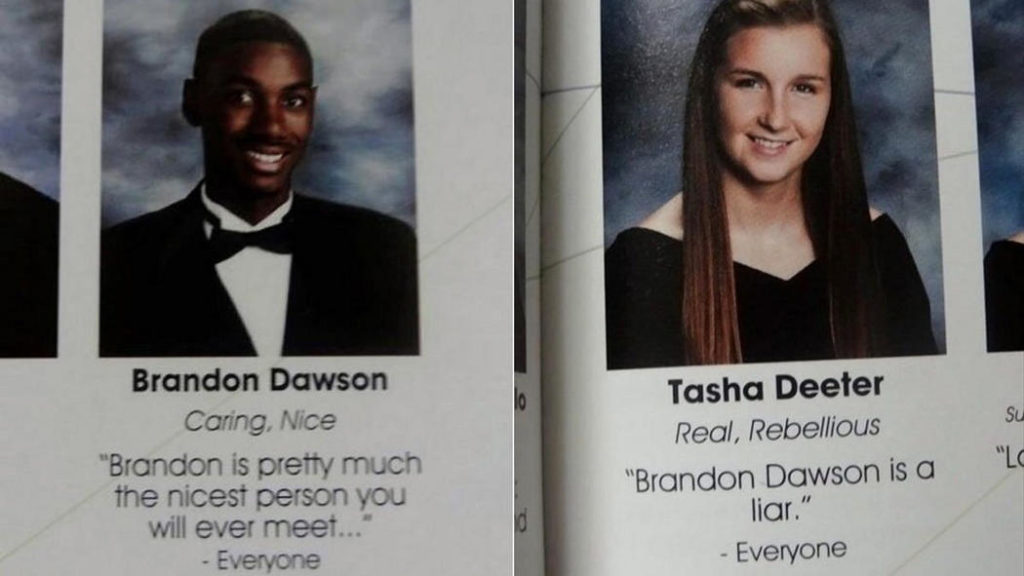 45. While her four years of high school were somewhat lonely, at least Morgan has a sense of humor about that and will be able to laugh in the years to come.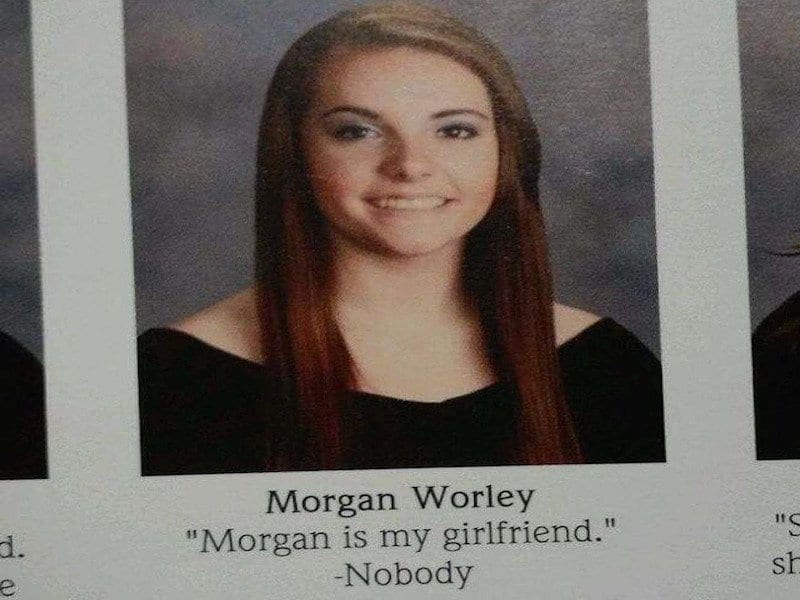 44. We hope that Maxwell has brought his positive outlook, his sense of humor and his wardrobe to college!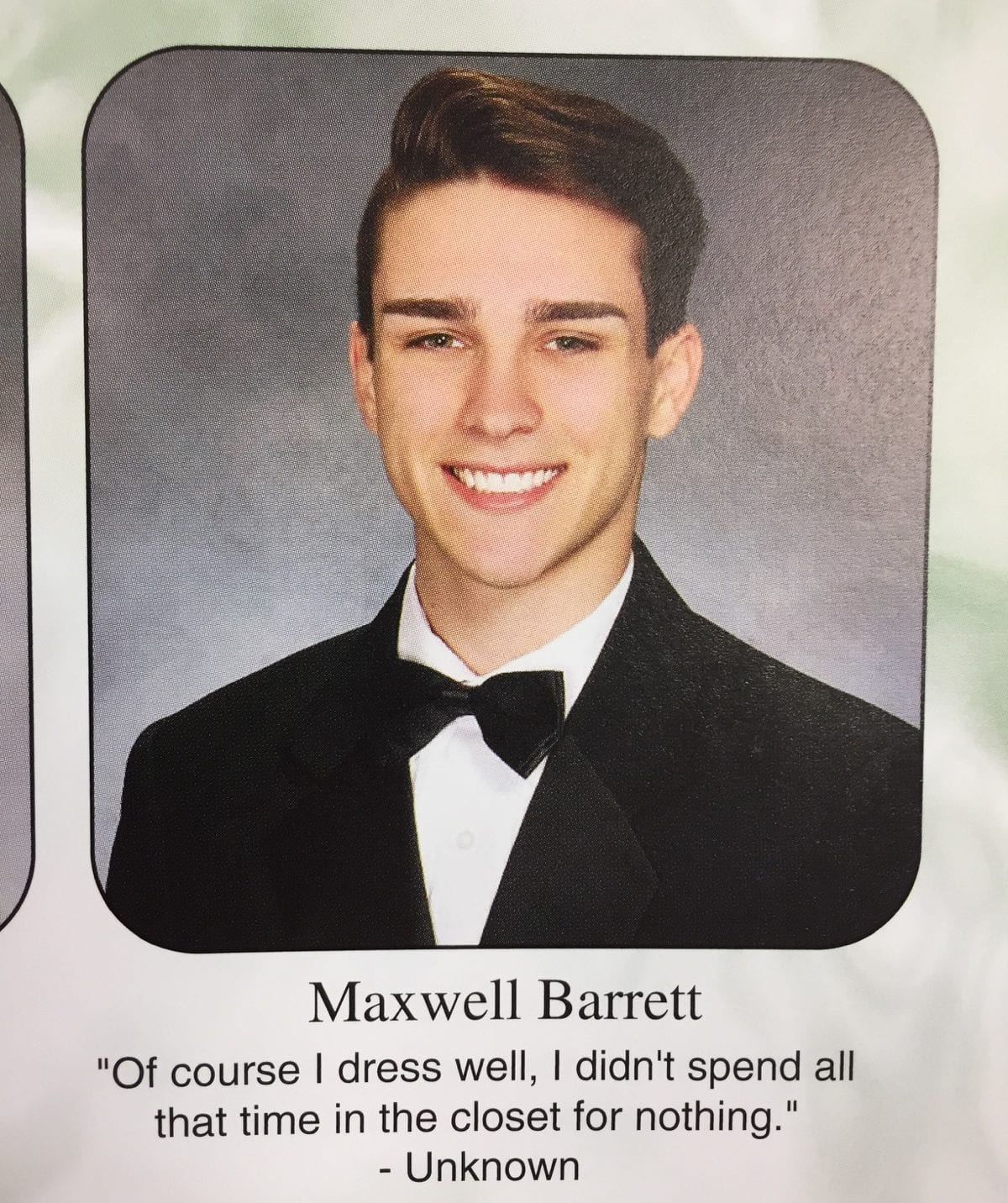 43. Kim Kardashian will always be considered one of the world's leading linguistic scholars.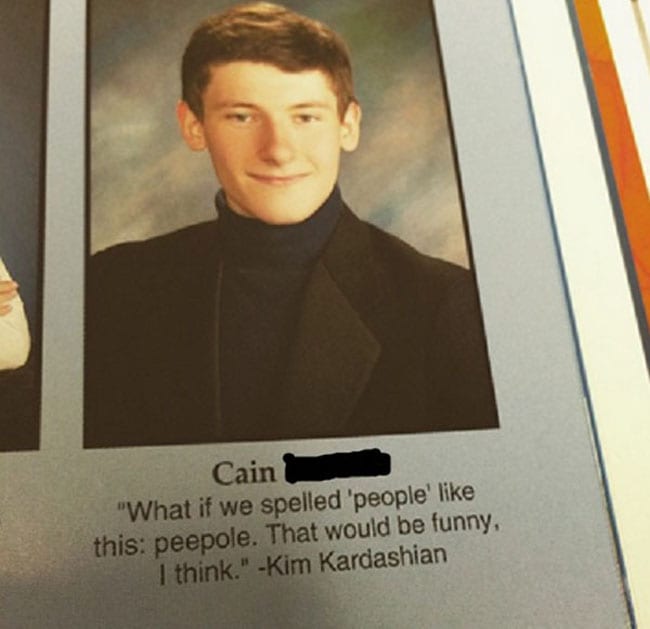 42. Finally it makes sense why this girl laughed so much during the days when she served pizza or beans.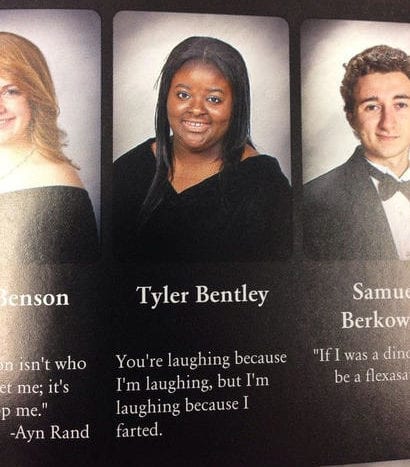 41. Here we have another smart duo of yearbook neighbors. They wanted to honor everyone's favorite Nickelodeon caricature with a memorable quote.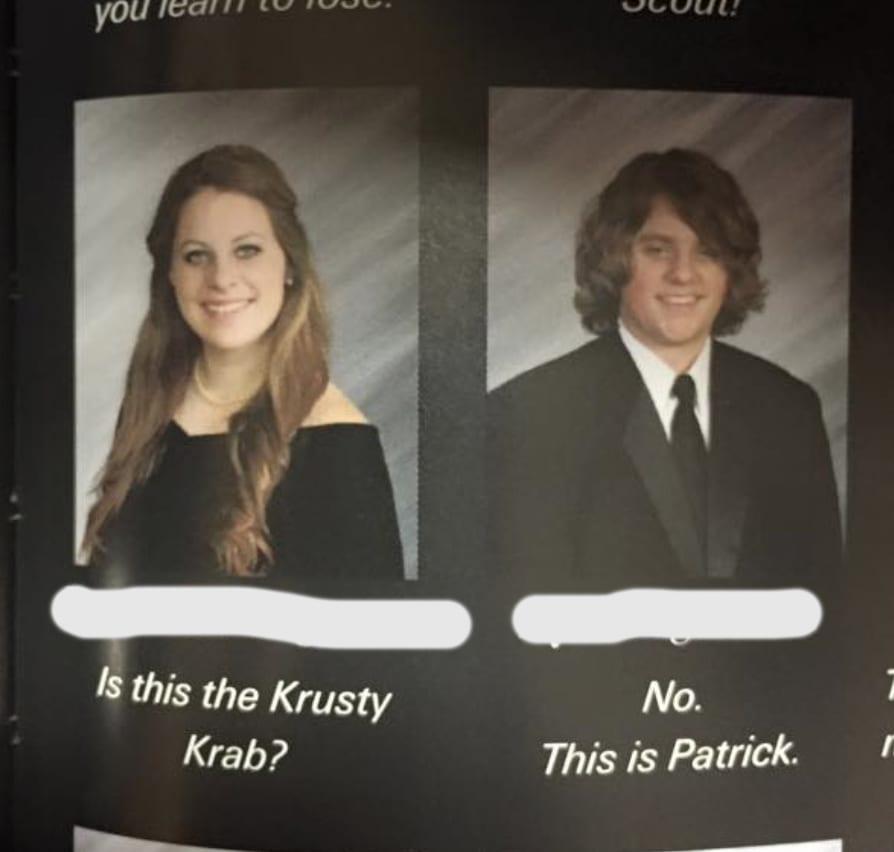 40. Hannah decided to quote her role model for her great wisdom and powerful lyrics, Missy "Misdemeanor" Elliot. "Real recognize real, right ?!"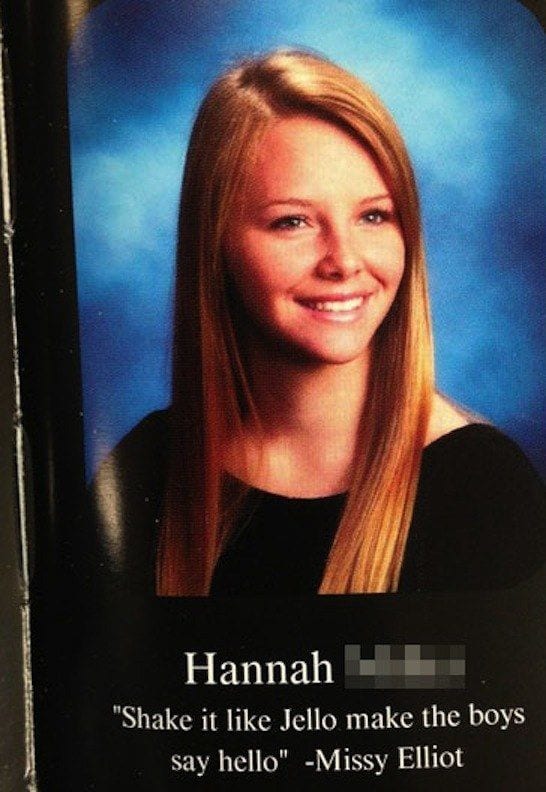 39. The jokes between twins will always be present. Katherine and Rebecca Henderson showed up in this hilarious demonstration why it's so amazing to be a twin.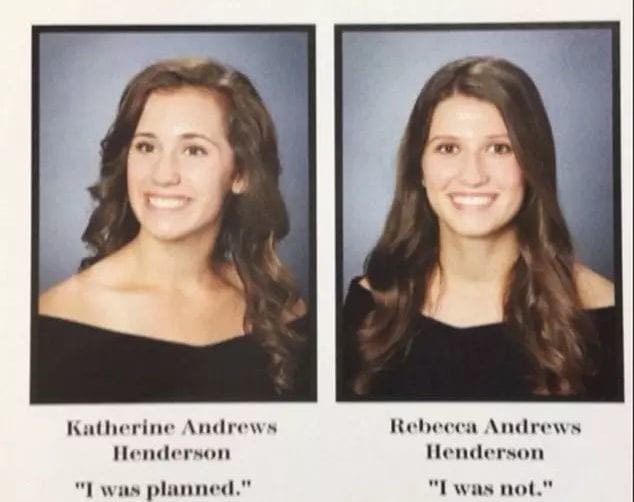 38. Garrett Syke is the perfect example of what it means to be proud of who you are. The thing about butterflies is a bit strange, but we'll call it a sign of self-admiration.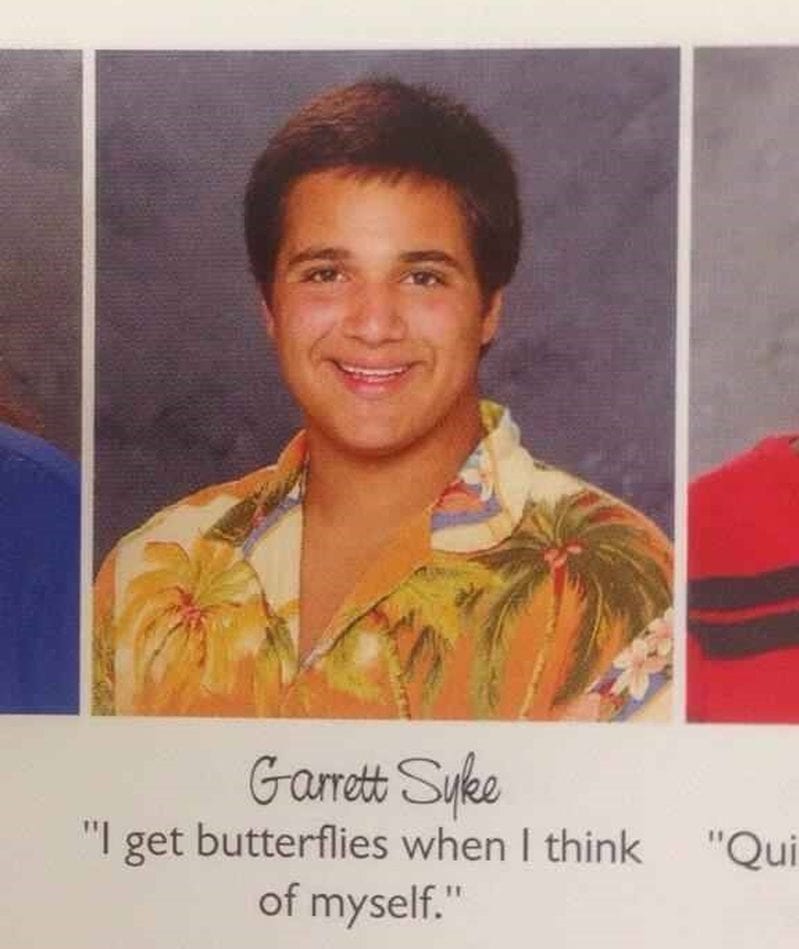 37. We do not doubt that Martin Luther King Junior probably ate, in fact, some incredibly delicious tacos at some point in his life, but this is not his most traditional quote.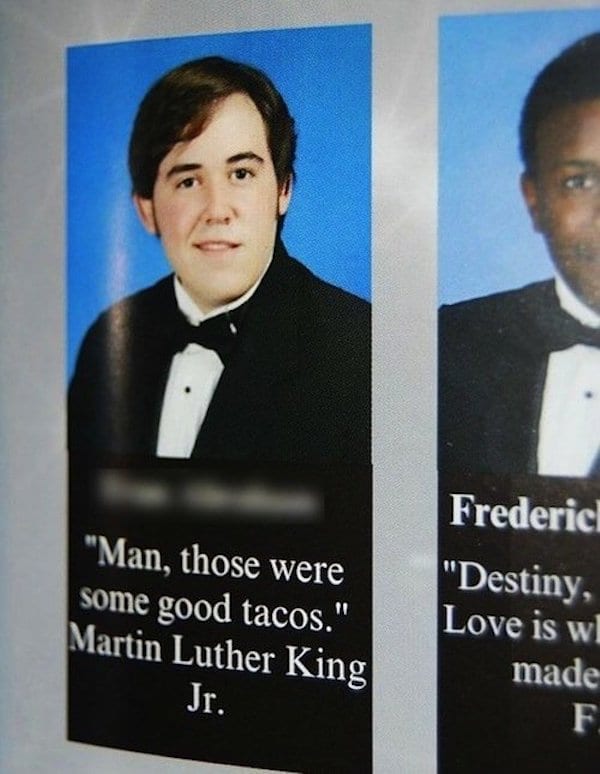 36. What he wants to do within the limits of his bathtub is only his business, but there is no need to share things like that with the rest of his classmates.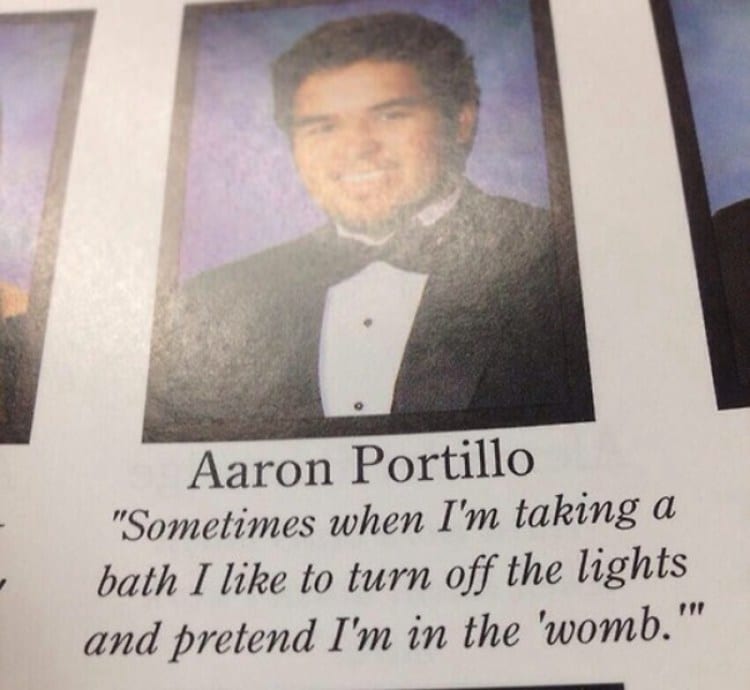 35. Good old Greg definitely had his fair share of success with the ladies during his reign at GHS and was never shy about it. We will remember him with love! 
34. Joanna's guide to success seems to be part of her life plan, and she must thank her heroine, Paris Hilton, for these incredible words of growth and improvement.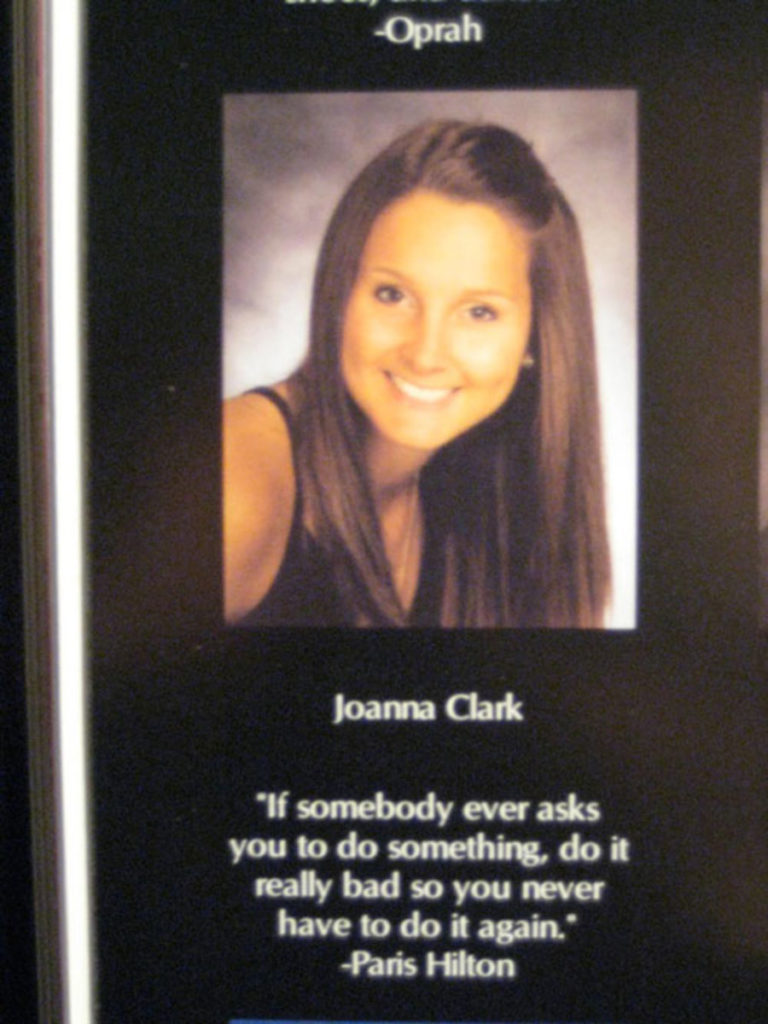 33. This gentleman used the quote of his yearbook to greet all the English teachers who have made him an intelligent and capable young man through his teachings, or lack of them.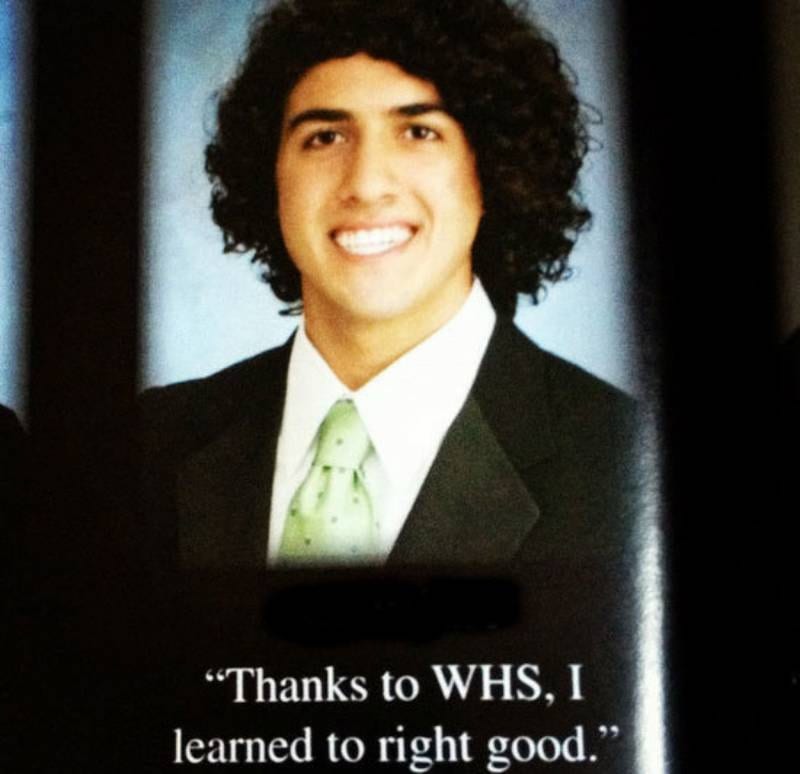 32. Mitchell Wieland decided to use his quote on the yearbook to give precious advice from his parents, adding his own personal touch for the new generations.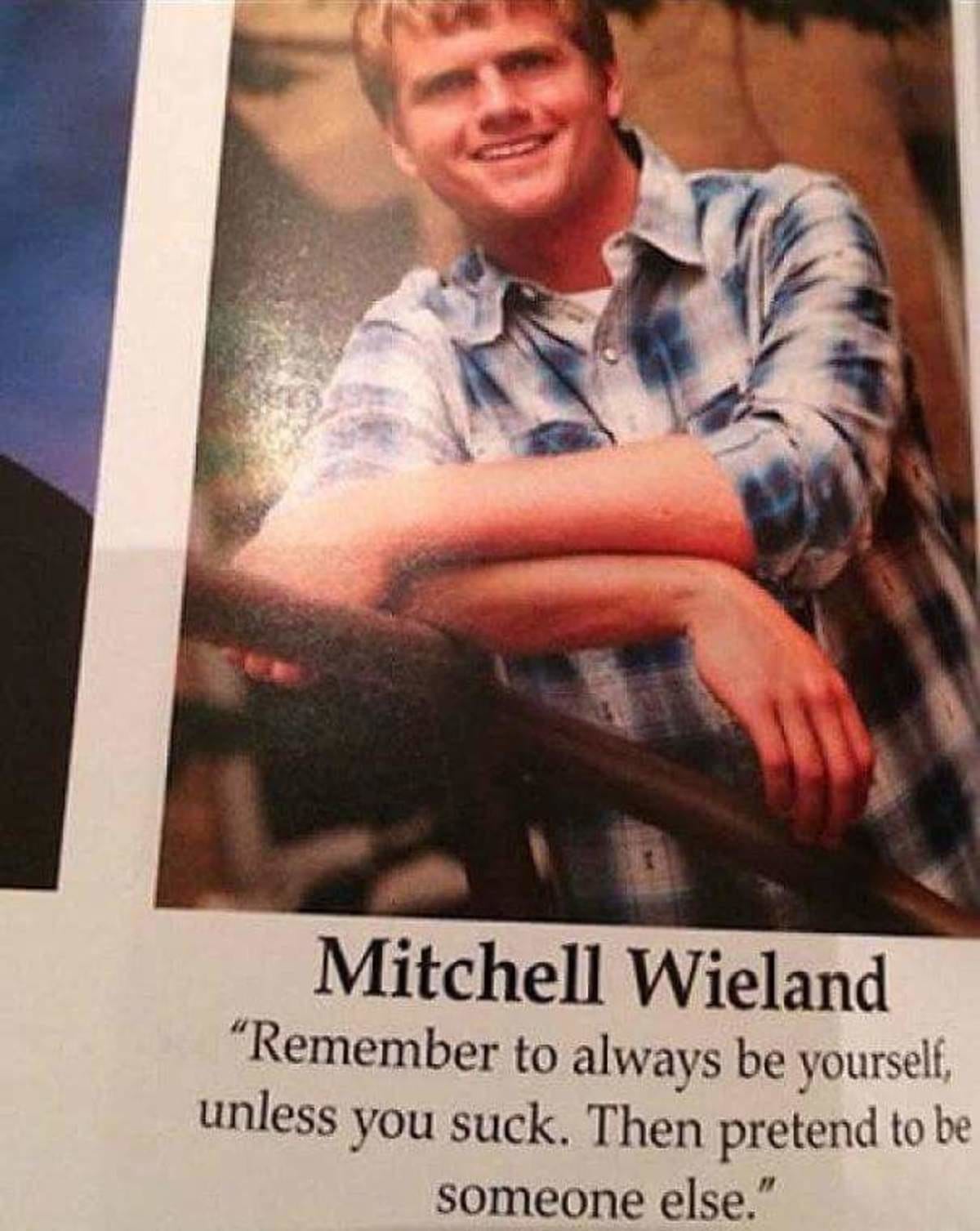 31. Lately, many people adopt one of the latest trends. Whether being vegan, vegetarian, paleo, or carbohydrate-free, but this guy decided to be honest about his decision.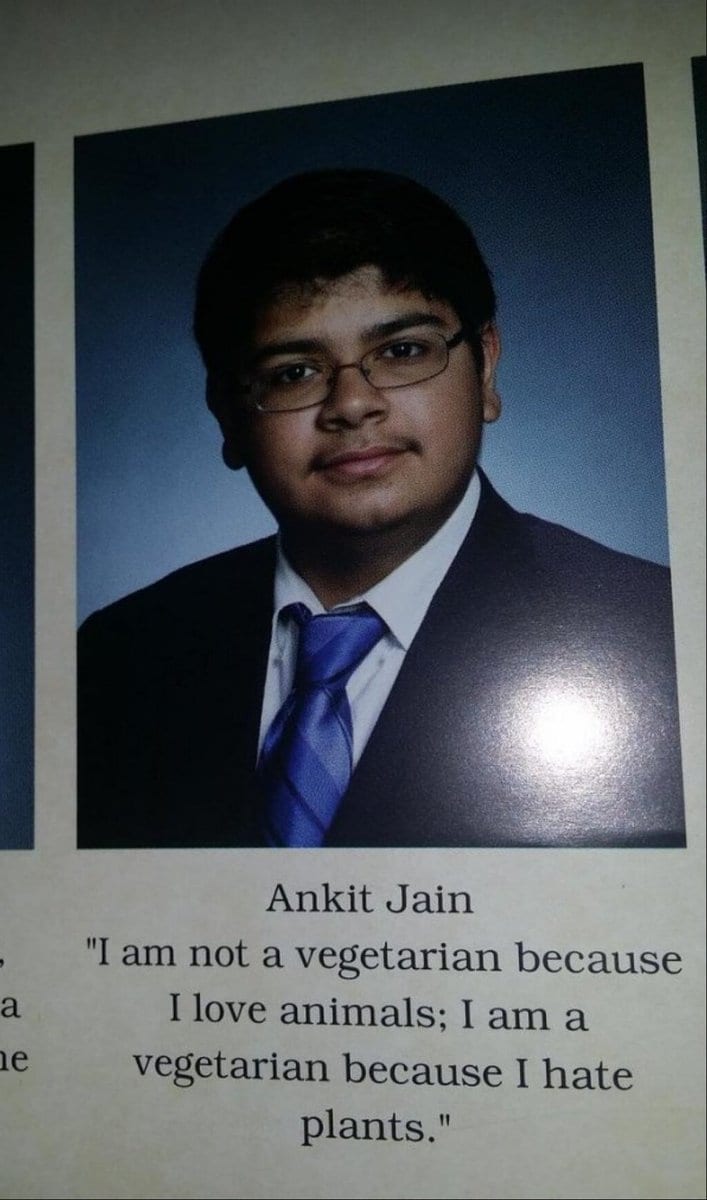 30. Jason Avina chose to use his yearbook quote as an opportunity to advocate for one of everyone's favorite breakfast foods, although we do not know what to do with this information.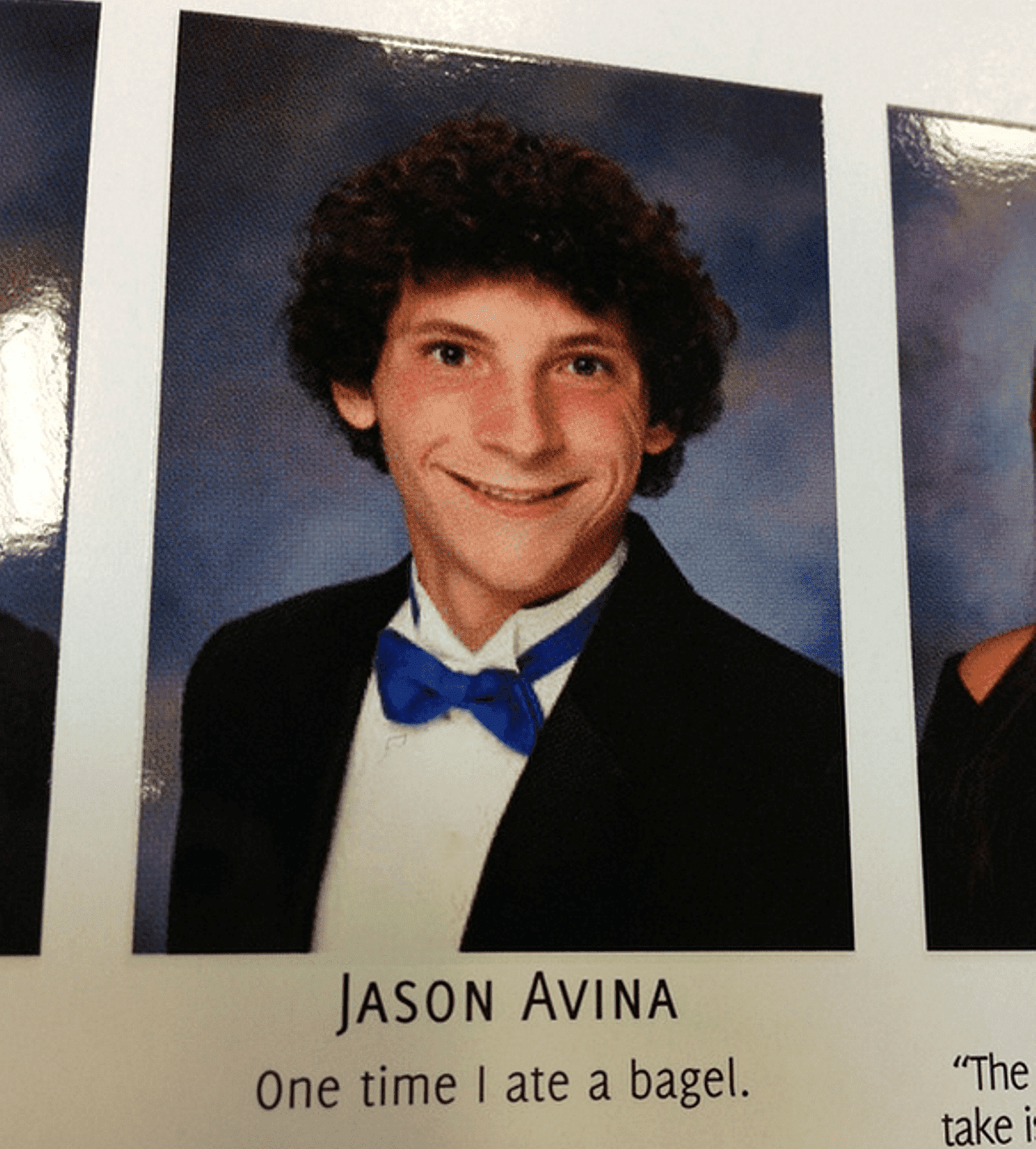 29. Alixandra García was known among other students as a hilarious friend, but she decided to clarify everyone's doubts through her quote in the yearbook.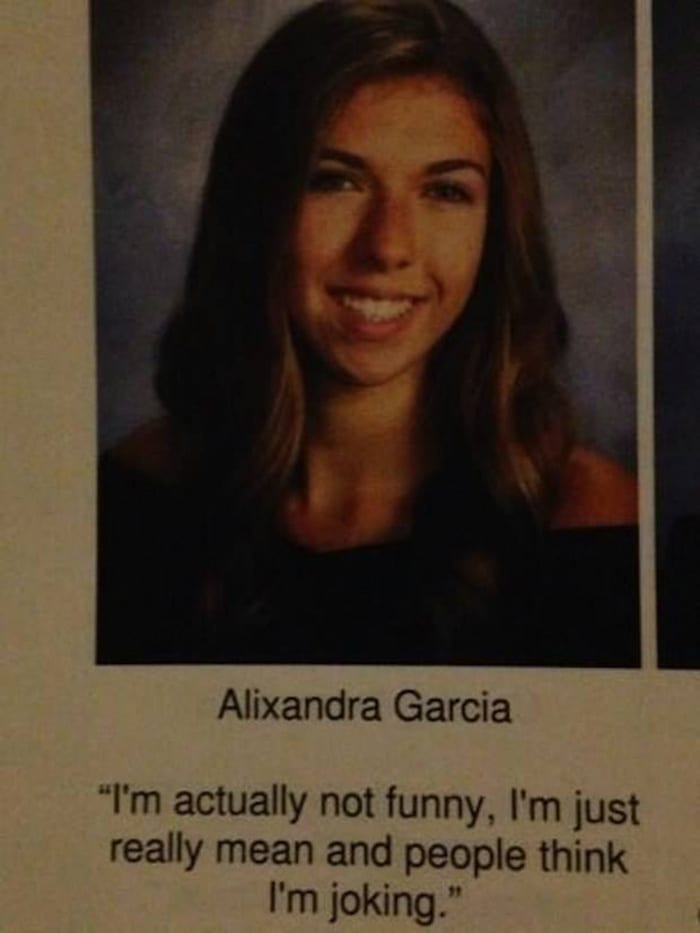 28. With one of the most profound quotes in the entire list, James Curtin decided to quote a man with wisdom beyond his years, the legend of R & B, Sisqo.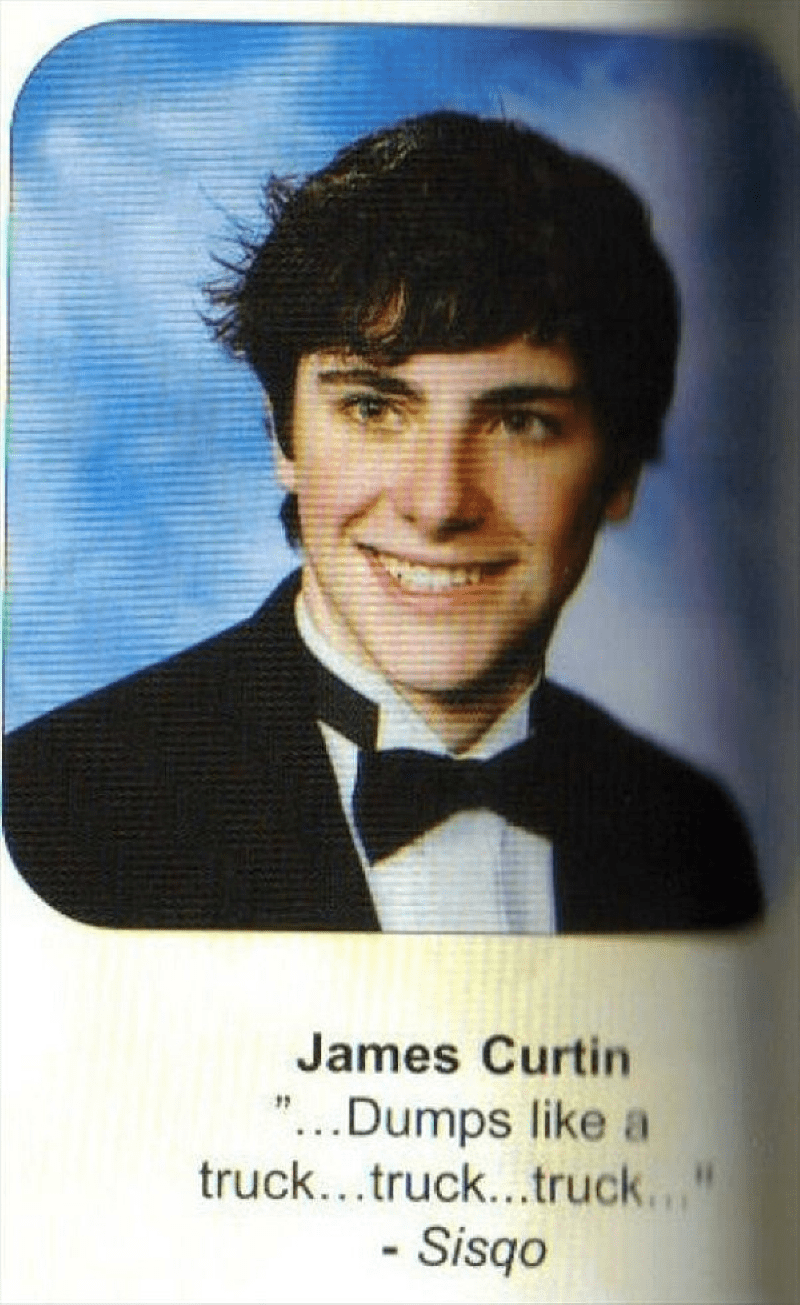 27. Madi is a true enthusiast and the kind of girl who refuses to let meaningless limitations prevent her from pursuing her dreams and making them come true.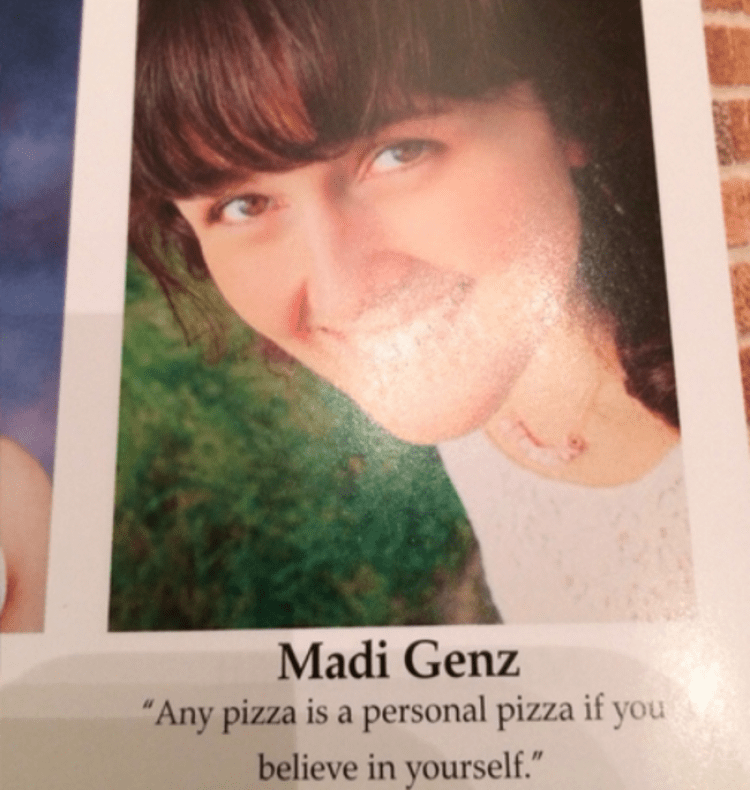 26. This powerful commentary was included along with two equally great photos, although a small spell check may have helped in this particular case.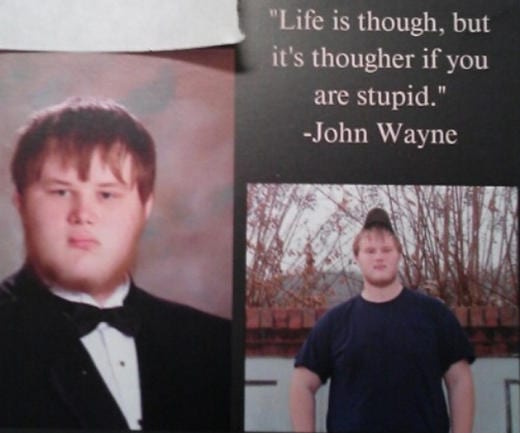 25. Something tells us that this guy could be a fan of 'The Office' because the clever quote from his yearbook is a word game inspired by one of Michael Scott's favorite quotes.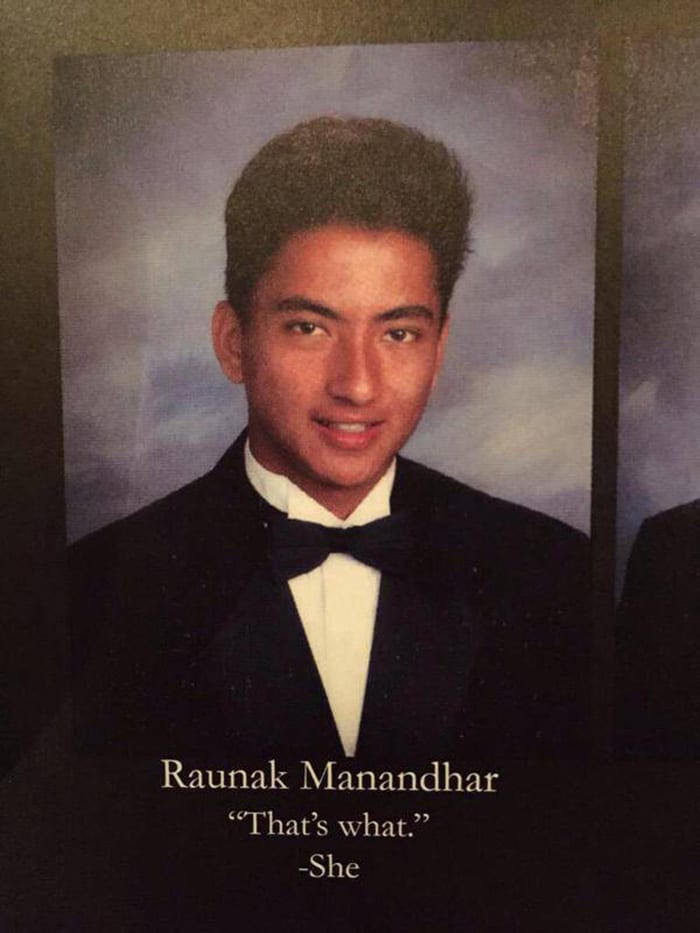 24. These yearbook neighbors were inspired by Will Ferrel's famous comedy film, 'Talladega Nights: The Ballad of Ricky Bobby.' It was worth convincing the photographer.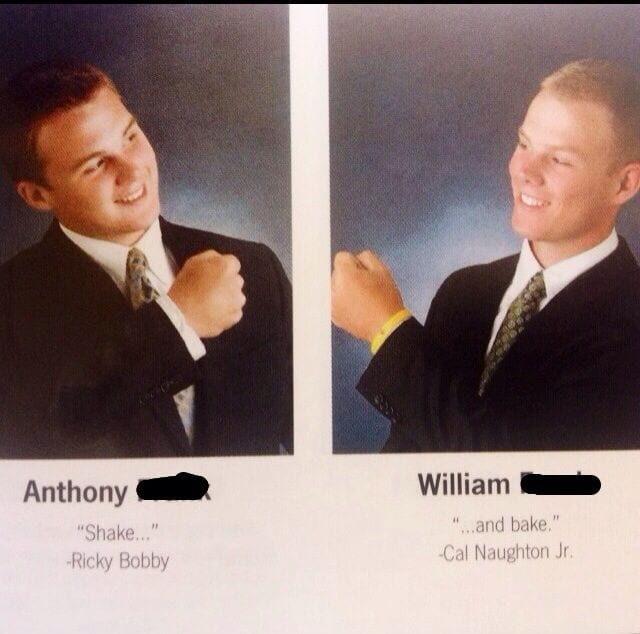 23. This boy took advantage of his name standing out among the others to recognize and embrace his Nigerian roots in the most hilarious way possible.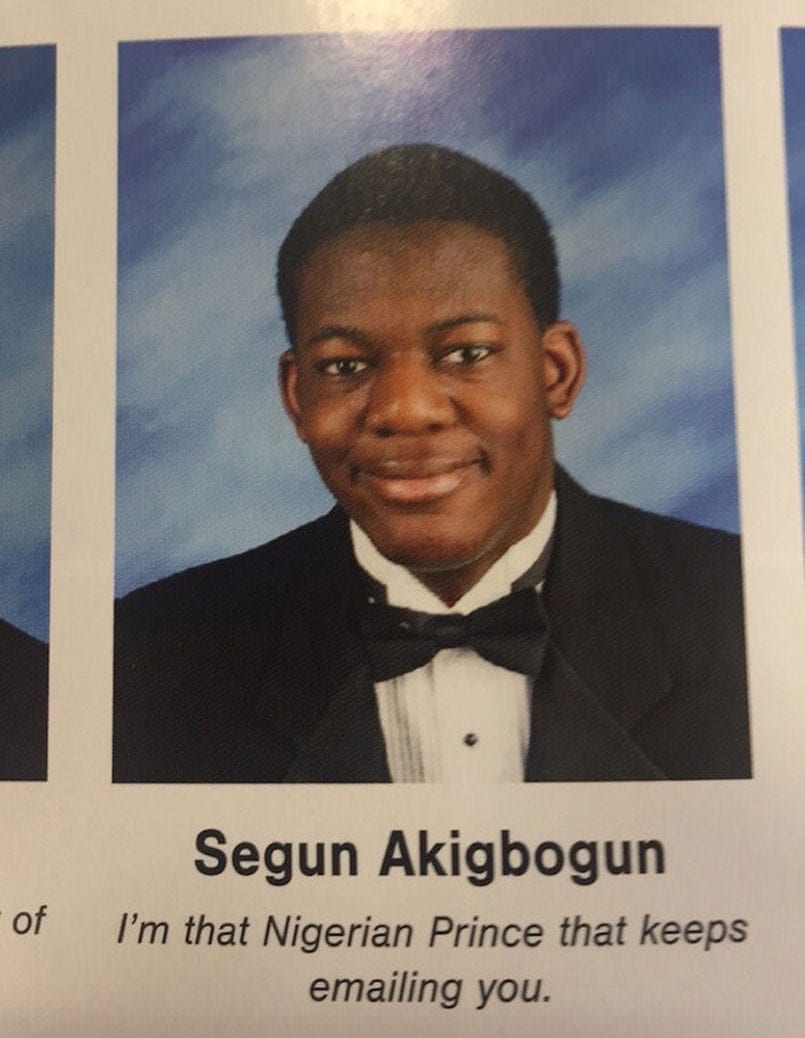 22. Yunosuke has the unique ability to turn any negative comment into a positive and beneficial learning experience thanks to his winner attitude.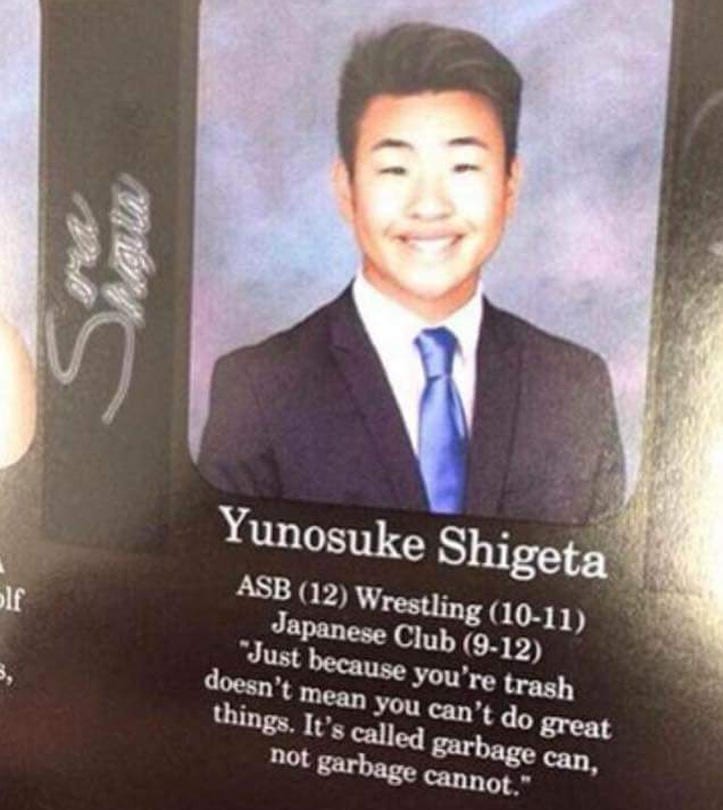 21. This student suffered for a long time due to his name, but he dedicated his last opportunity in the yearbook quote to be honest about his name.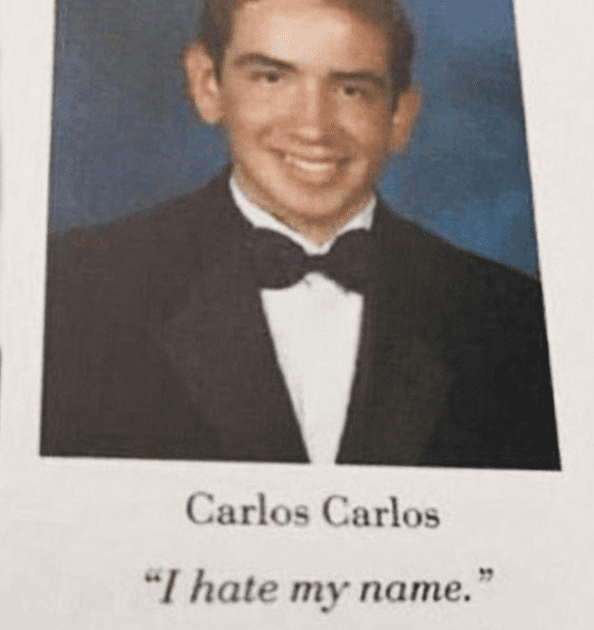 20. This student always knew how to make his teachers laugh, and this is why he could not stop at the last moment, making sure to have a hilarious quote.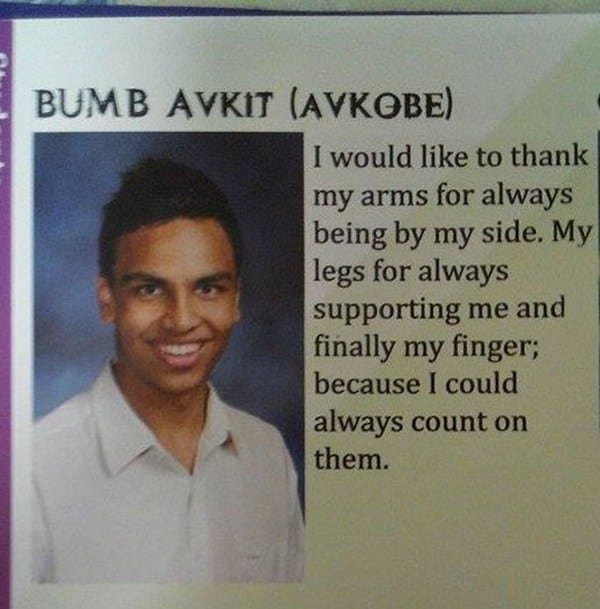 19. Agboke Toluwalope decided to use her yearbook to advocate for one of the main problems of African high school students across the country.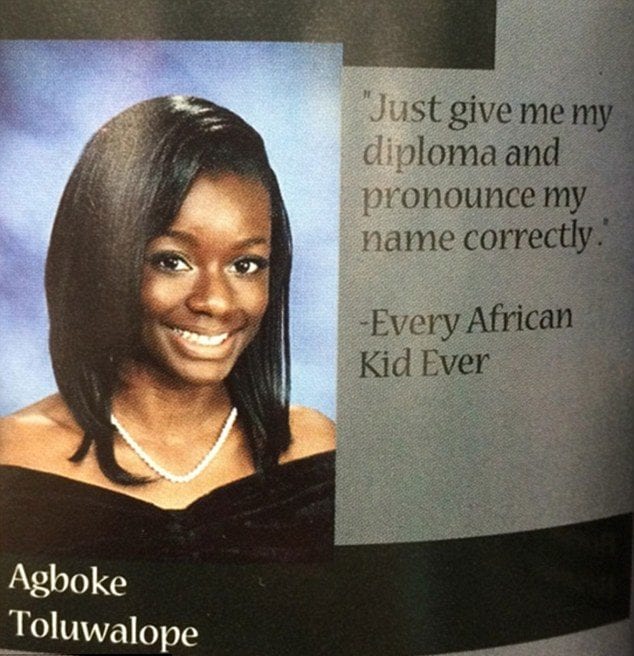 18. This girl decided to dedicate her quote in the yearbook to the person who inspired her to strive and succeed, graduating with honors and making sure she knew.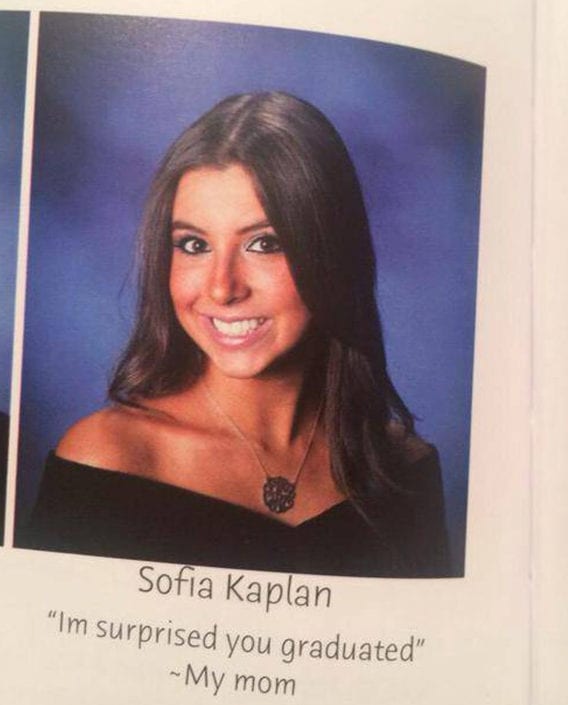 17. Keegan Large was the greatest ladies' man in his entire high school, so for his entry into the yearbook, Keegan chose to use his own motto as his quote.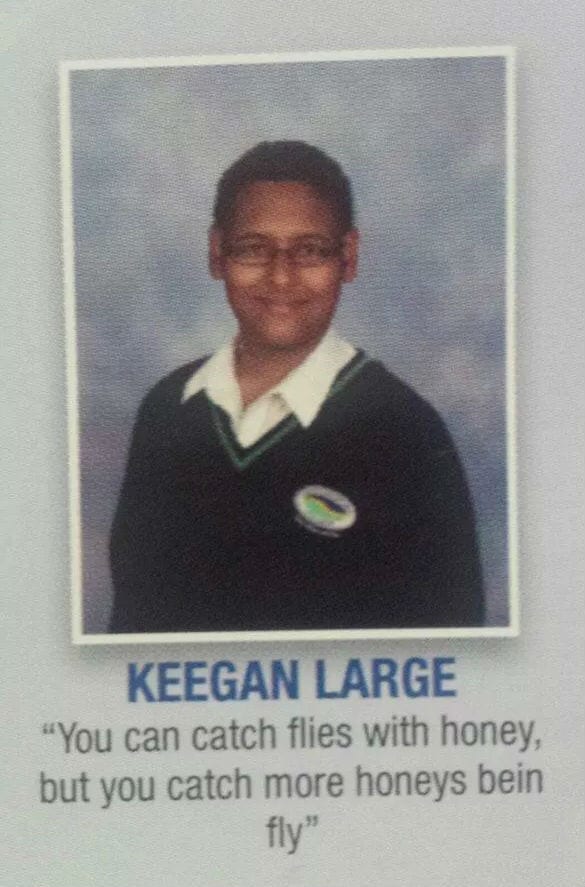 16. While others decided to use quotes from people like Steve Jobs or Albert Einstein, Jared went with this misspelled quote from his rap hero to make a recognition to his music.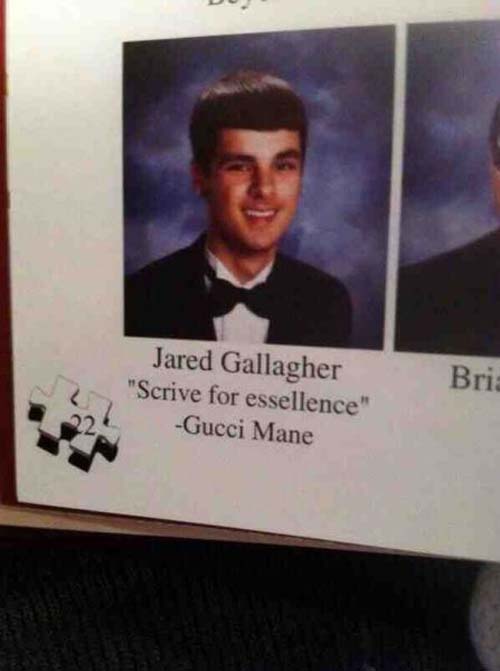 15. Marvin Biano took the opportunity to give a boost to his growing career as the next great superstar of hip-hop, so he did some self-promotion.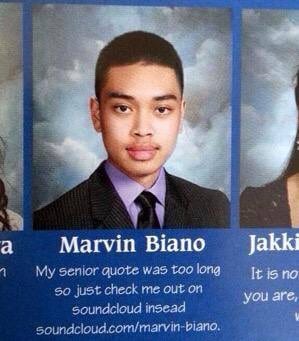 14. This girl was tired of being called a silly blonde, but it seems her words came to this yearbook entry without much thought of what she was saying.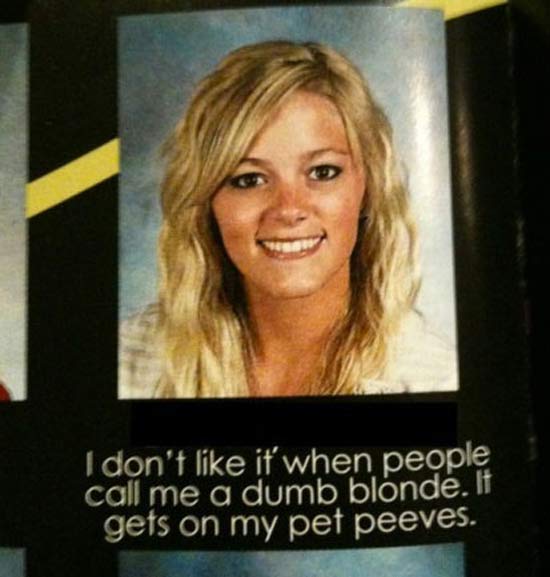 13. These best friends decided to use their entries in the yearbook to show their friendship through one of their favorite quotes from the great Barney Stinson in 'How I Met Your Mother.'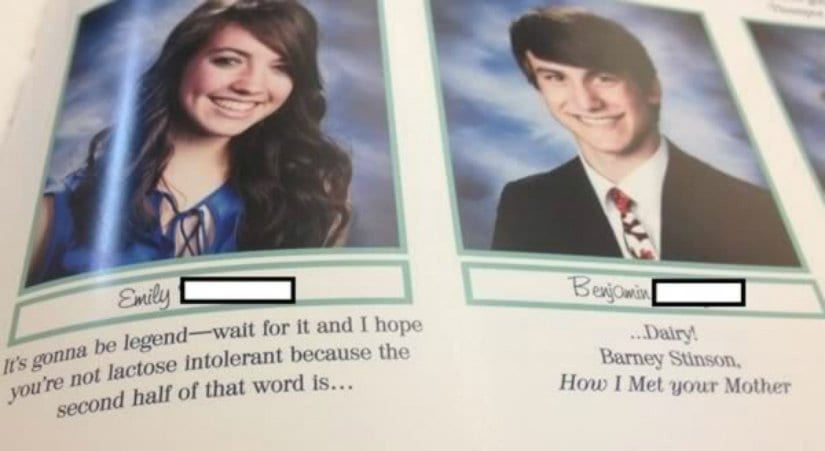 12. James Royel is a high school student who knows how to think outside the box and discovered that he could use more than words in his yearbook quote through this statement.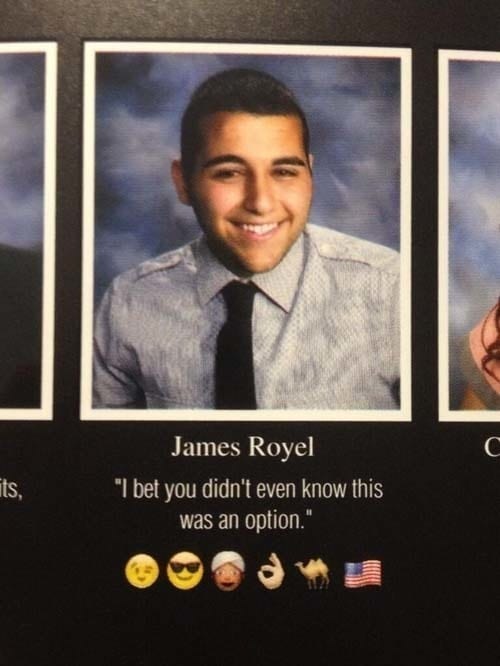 11. These triplets were always known for their funny inventions, so they could not miss the opportunity to do something epic for their last words as students.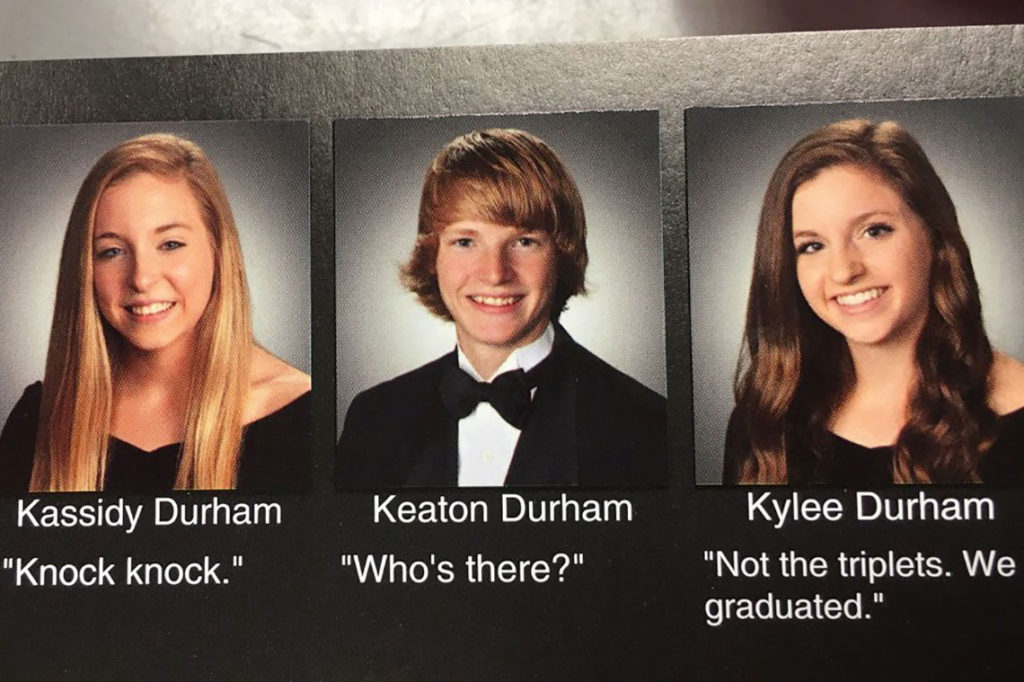 10. When the time came for Kelly to choose a yearbook phrase, she decided to go with a quote from one of the greatest musical geniuses of our generation, Kanye West.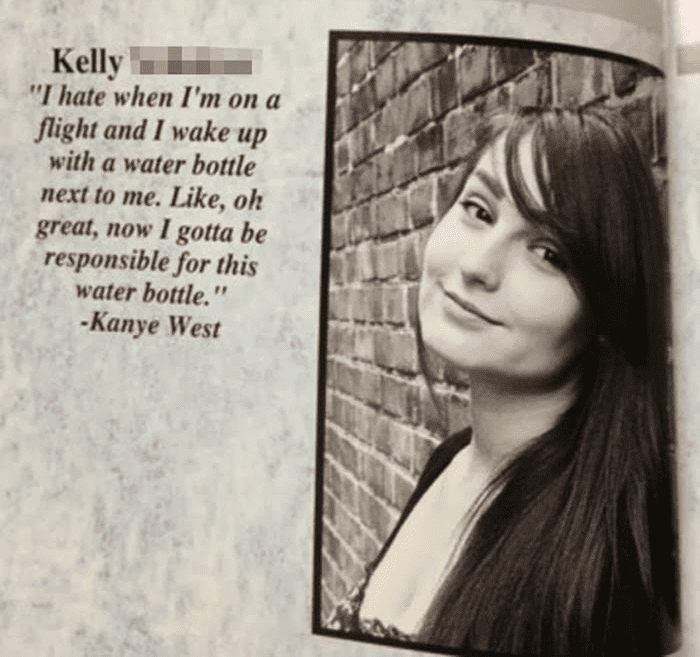 9. Jessica Enciso took the opportunity to start a movement that encourages people to enjoy more of their sleep hours to avoid heartbreak in a fun way.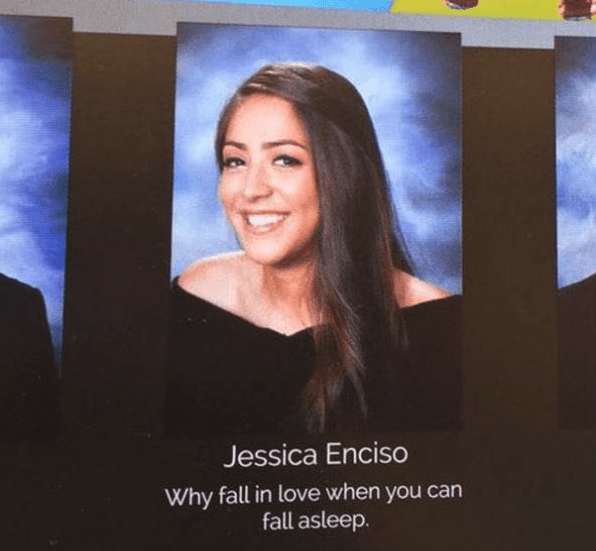 8. Will Faurot will never let his eye patch get in the way of his love life, so he used his yearbook quote to remind girls that he will always be available for them.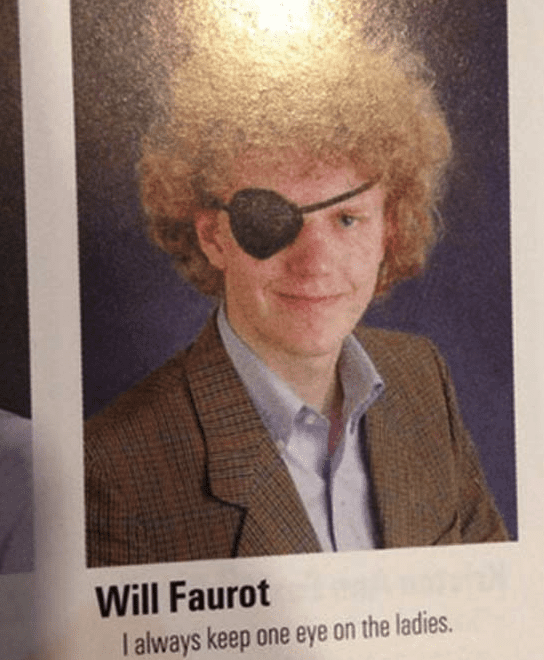 7. This girl learned that, as long as you finish something, it does not matter how close you are to failure. The only thing that matters to employers is that point in your resume.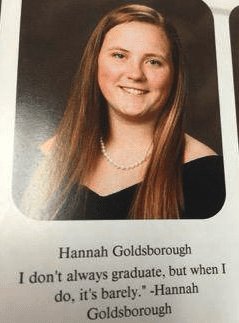 6. High school was difficult for these girls, but they took that last opportunity to make it clear to people, and their teachers, the reality about their name.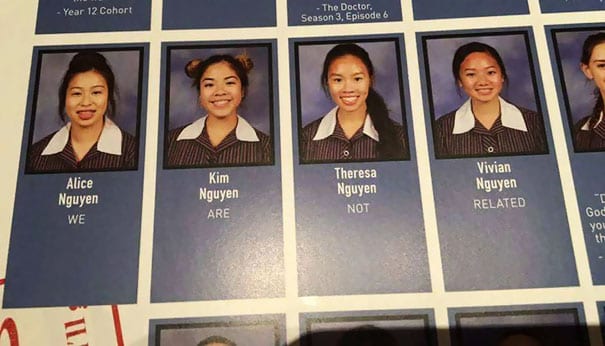 5. Aditya Tammana learned that life is not always fair when he tried to fight against the rules that established a limit of characters in the yearbook, but he did not achieve his goal.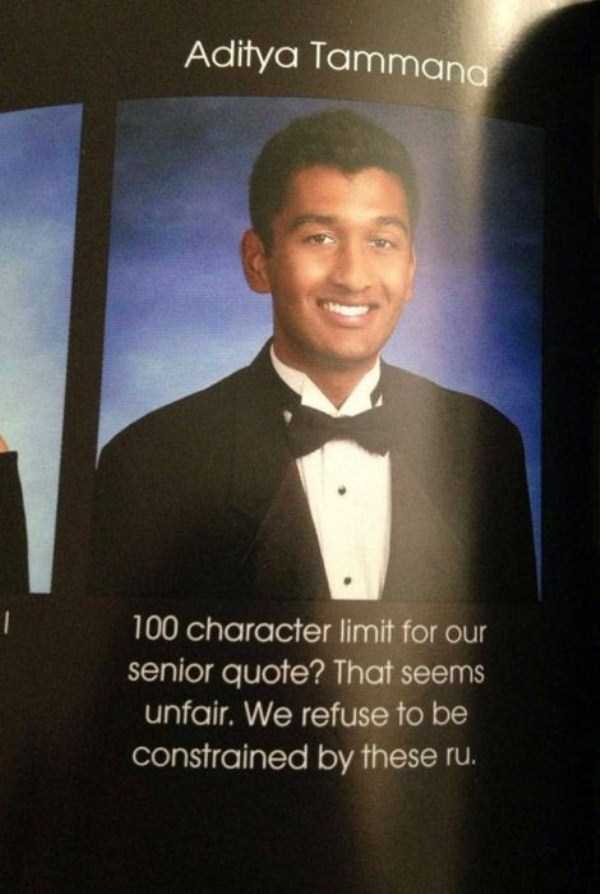 4. These players do not seem to remember the positions in which they played, so they decided to throw it to luck and exchange their positions just for the pleasure of laughing a little.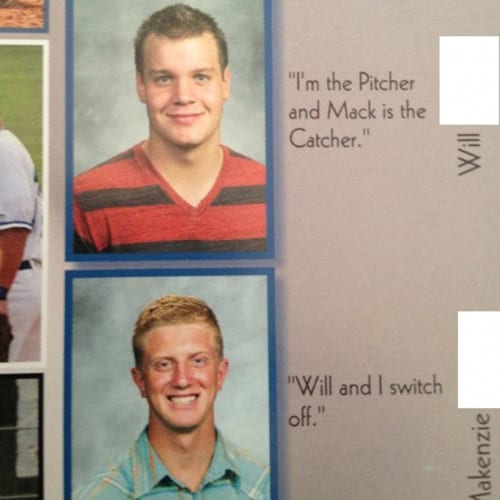 3. This girl always thought about the future, so she decided to dedicate her phrase in the yearbook to her future children as proof that she never lied to them about her beauty.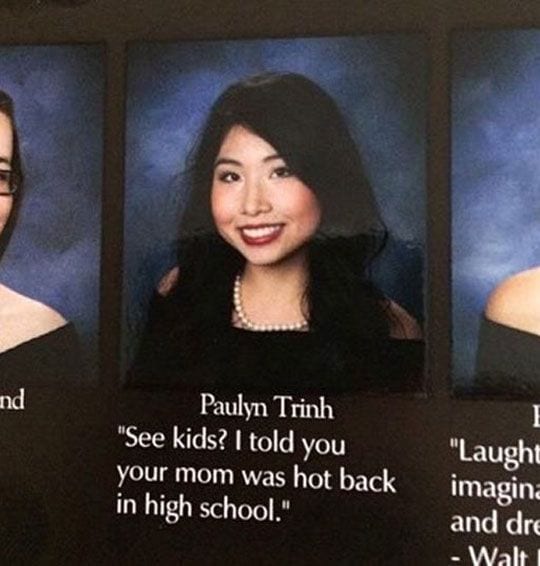 2. Hugh Vo is an athlete with his priorities in order. He devoted himself entirely to his incredible athletic career in high school and hoped to have a significant impact on the next level.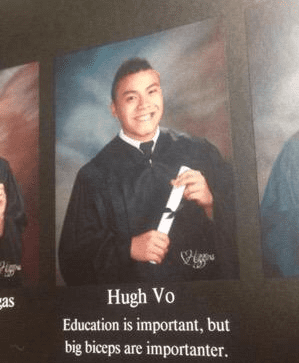 1. This boy's morning routine is a strange thing, but besides that, he wanted to let all the girls know the secret of why he never wears sweatpants at school.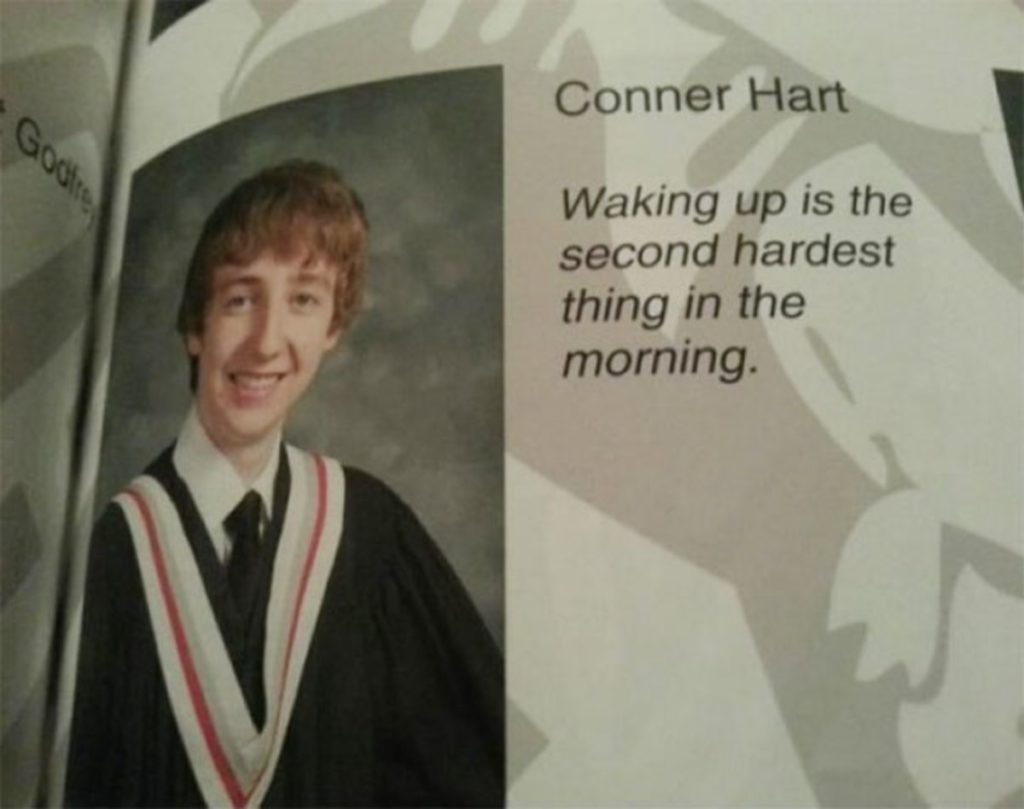 All these phrases are part of the history and personality of these guys, so they wanted to find a way to make their last student opportunity the most memorable moment possible. Which of these was your favorite? What was the quote you used in your yearbook? Do not hesitate to share your favorite phrases with us and remember to share this article with all your classmates.
Sources: Noteabley
Related: