These Hilarious Signs Just Can't Be Taken Seriously
When we go down the street, sometimes we see some interesting signal that guides us to some direction with its rules or guidelines. Many of them have direct messages that make us understand where we are or their purpose, but some of them are so ingenious that it is hard not to laugh a bit. The following list of signs brings together some of the most creative and ironic that we have seen to improve your day a little with some humor.
55. For some, the most essential thing is bacon, and this sign proves it. No matter the poems or the beautiful words, as long as there is bacon, everything will be fine.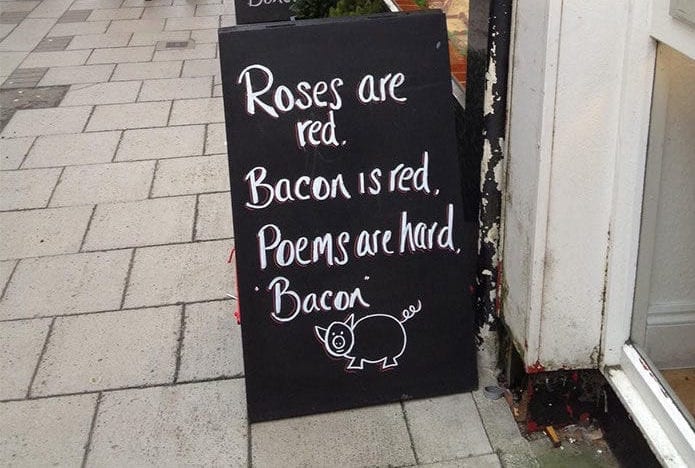 54. Everyone loves the opportunity to make a profit, but nothing in life is free. In this case, the word "free" catches our attention through an exciting marketing strategy.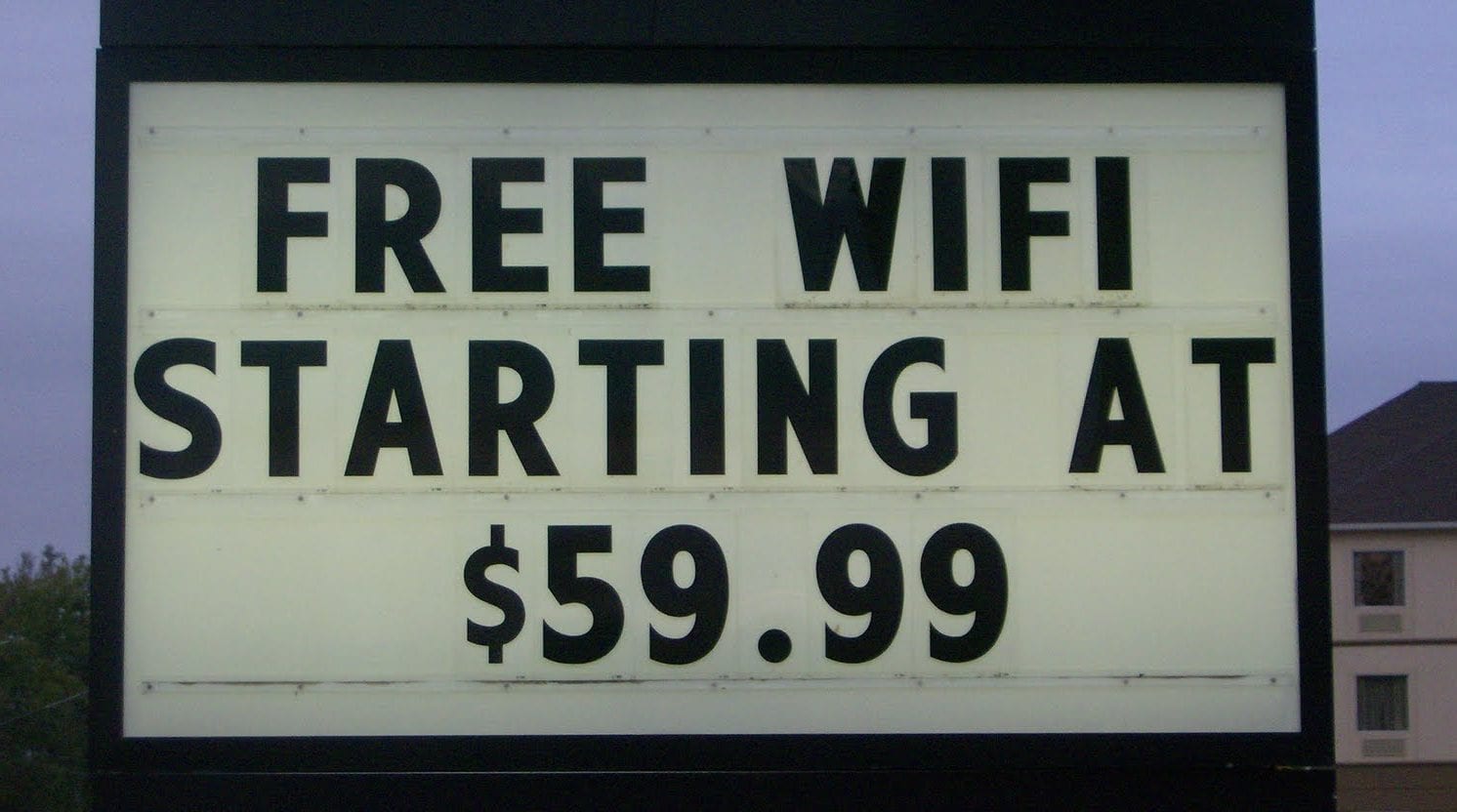 53. If you do not like cats, reading this ad will not change your mind. If they could answer the message, why would not they do it? Some cats are ruthless.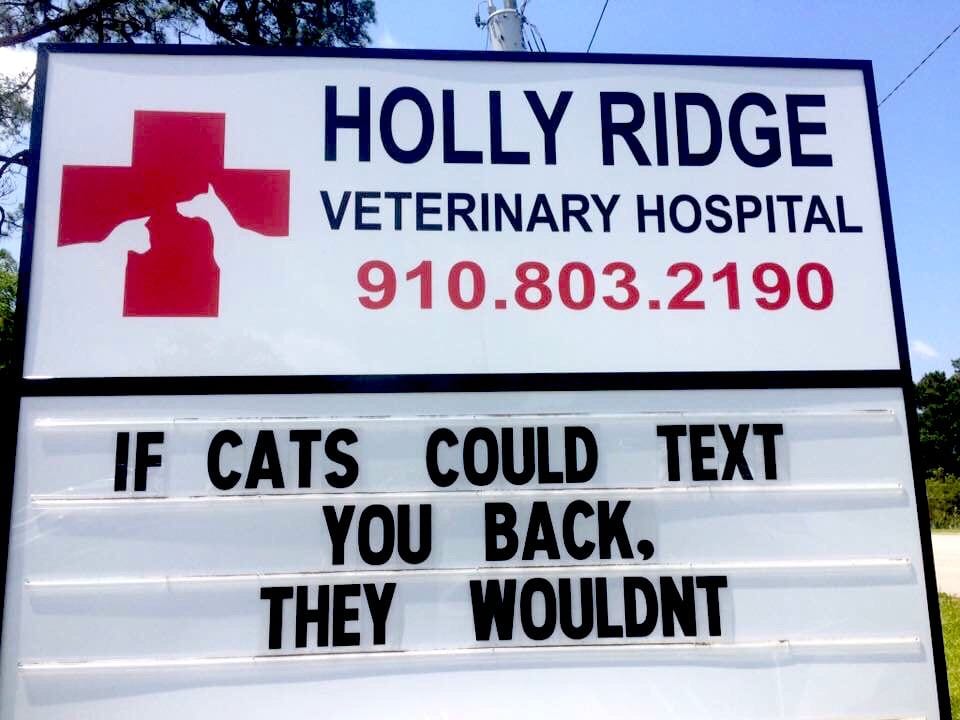 52. The Hokey Pokey was a contagious dance from which many people could not escape, but this announcement shows that people have not get over it, and it is still rooted in their lives.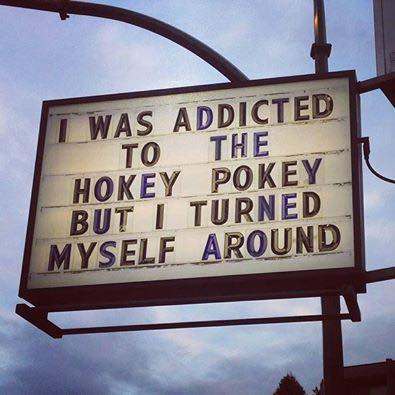 51. These indications are evident, if something does not work, try the following, and if none of the options works, the best thing is to go home and try another day.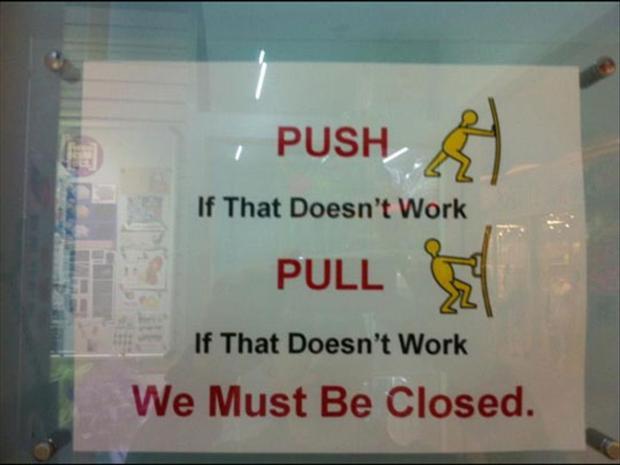 50. Offers will always get our attention, but not paying attention to the ads can make us fall into this creative marketing strategy in which we will not gain anything.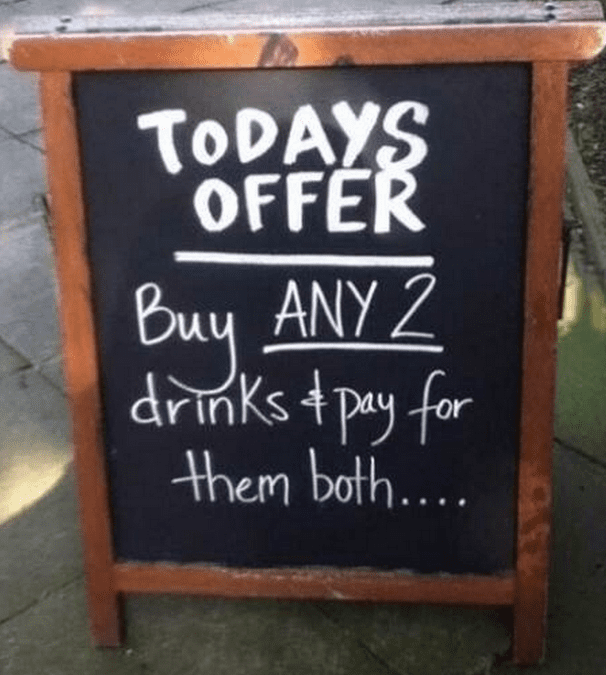 49. Some very rebellious people do not pay attention to the signs that surround them because they are wild, but this little bird wanted to show that nobody can decide about its life.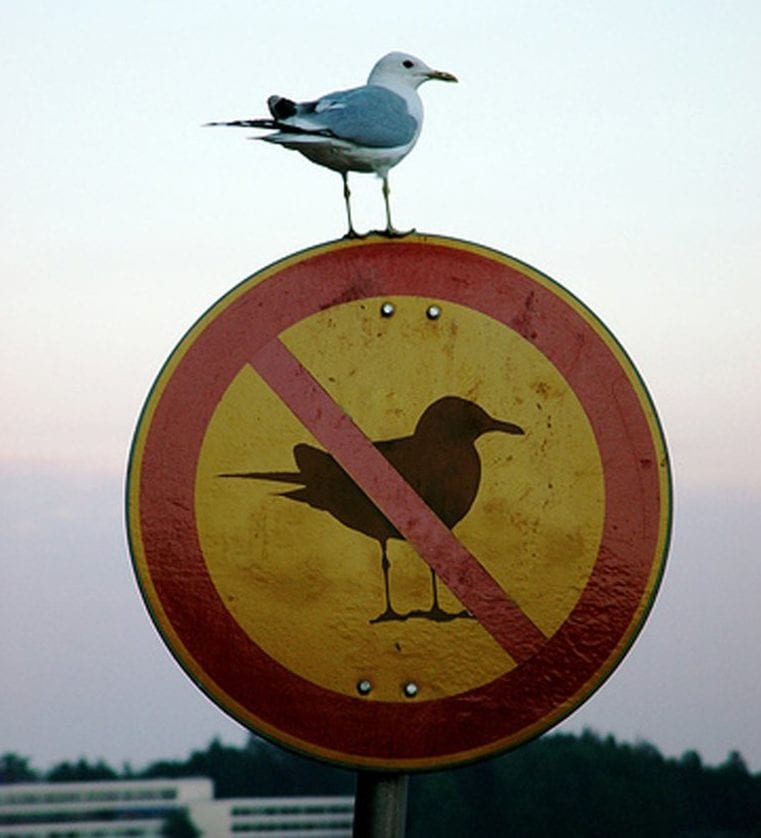 48. This message draws much attention, but only by getting close enough can we read the other poster in small letters and understand its purpose. What are we supposed to do then?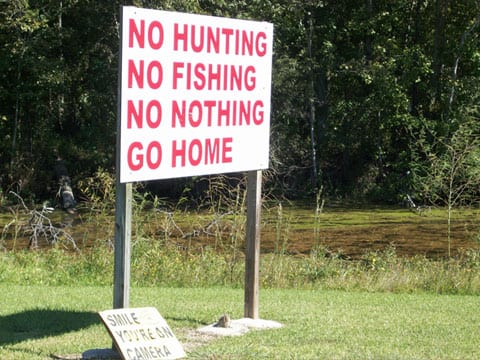 47. This signal can confuse people. Do I stop or go on? Which is the right answer? An indecisive person will spend hours turning around it.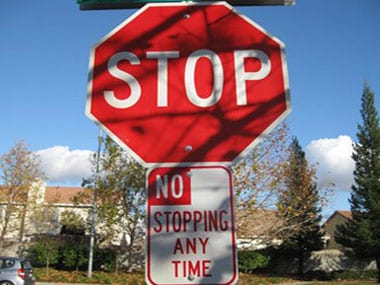 46. ​​In this technological era in which everything is advertised, using this kind of ads to give a message like this is very common. Everything for the safety of people on the street. 
45. On some occasions, we may find that warnings become a war of meaningless messages from which all people can take advantage.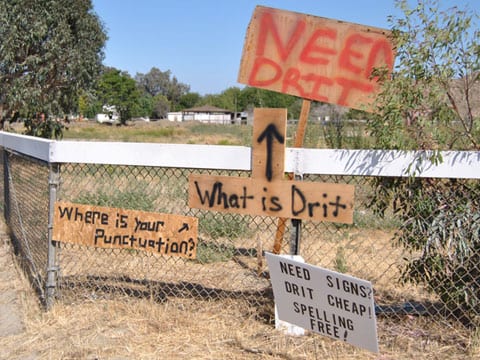 44. Word games will always delight us, so using them to make people laugh with witty phrases is one of the best uses that can be given to a poster.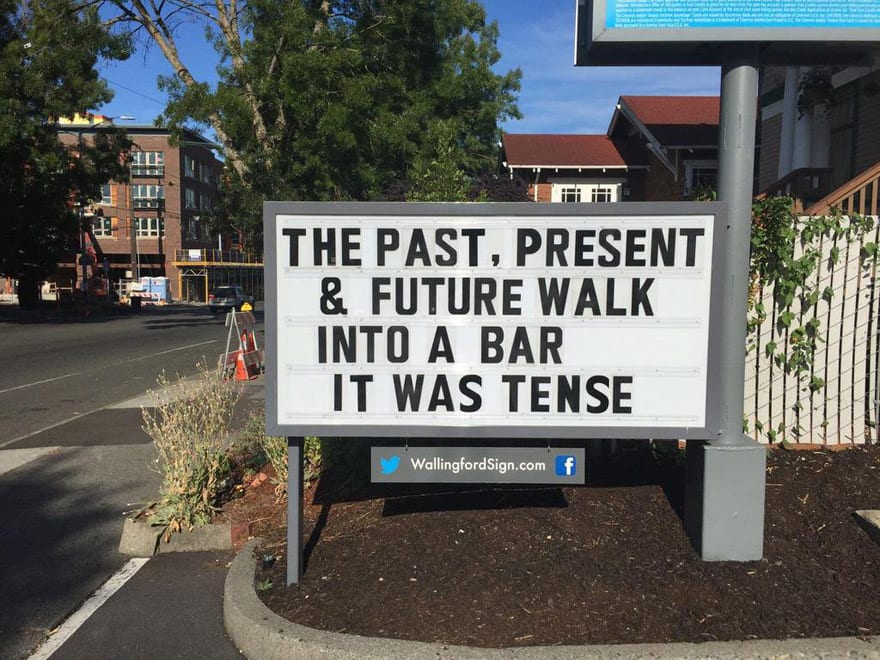 43. Does money grow on trees? It seems that the YWCA did not invest enough in the creativity behind this message and forgot where the paper we use comes from.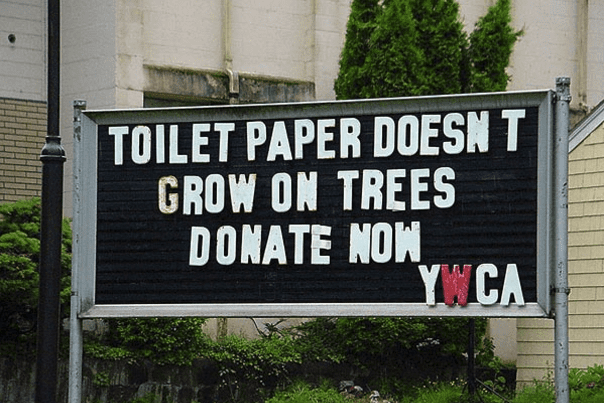 42. Using the horn of your car is usually restricted in certain areas to avoid excessive noise, but some situations warrant a lot of anger, and the horn is your best friend.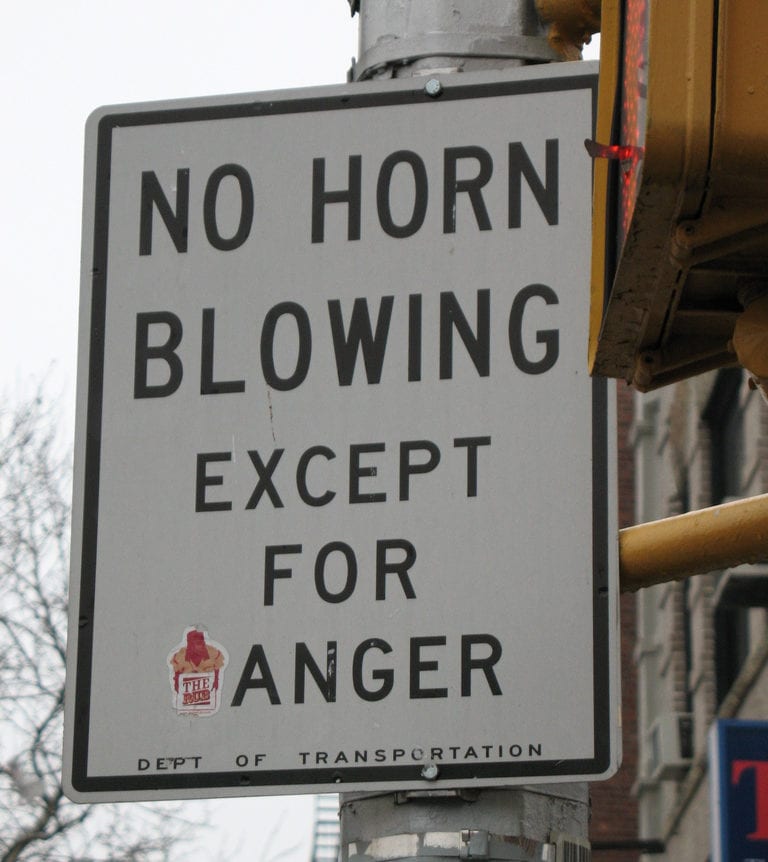 41. Visiting different countries and cities is a cultural experience in which you can discover the history and landscapes that make up this place. But some sites will only leave you with a feeling of emptiness.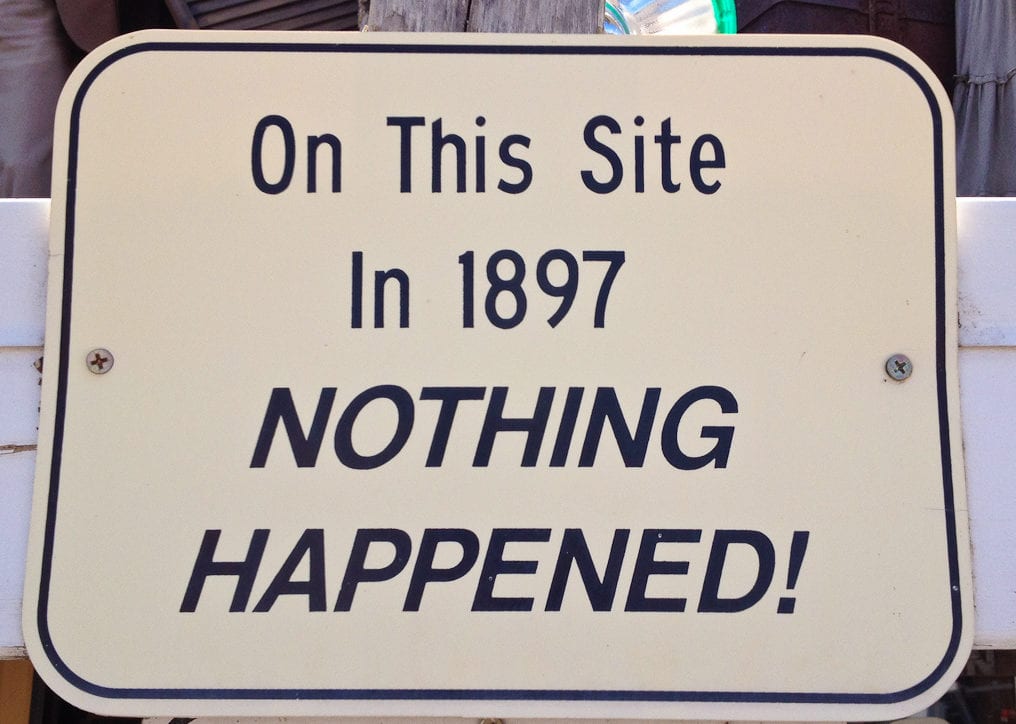 40. The creators of this announcement wanted to reflect that there is a slope ahead, but the word they used makes some drivers worry about their own mental health behind the wheel.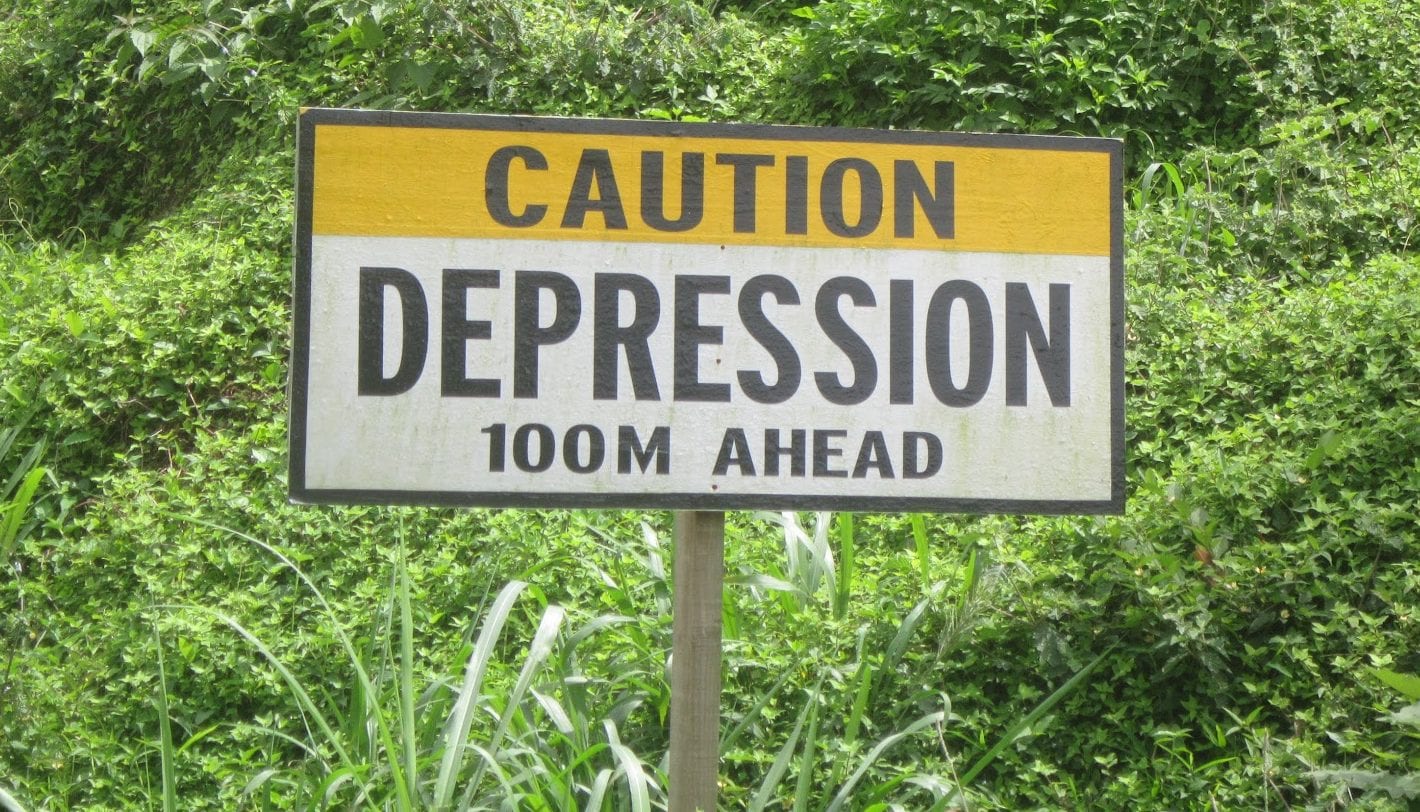 39. This announcement wanted to reflect that there is a bridge ahead, but it seemed more important to warn people that they could hurt themselves if they touched the sign. How many people will go only to cut themselves with it?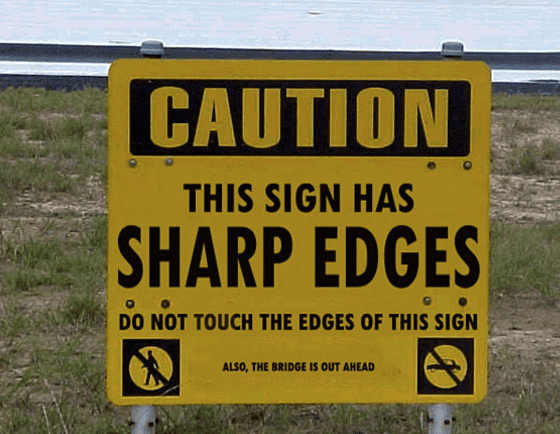 38. When you are going to make a signal, you must be very inventive with how you get the attention of the people. This signal has a brilliant approach to prevent people from trying to jump the fence.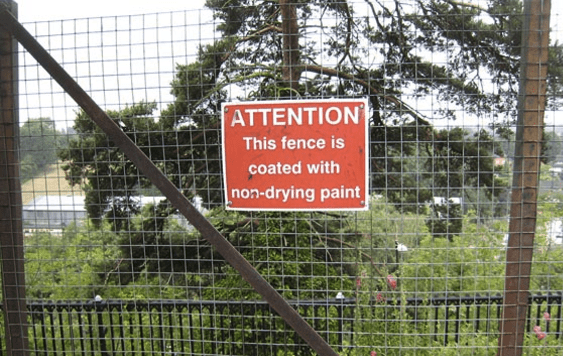 37. This is one of the most important announcements on this list, although we still do not understand very well the purpose of a signal that has no apparent purpose. Why do they put it?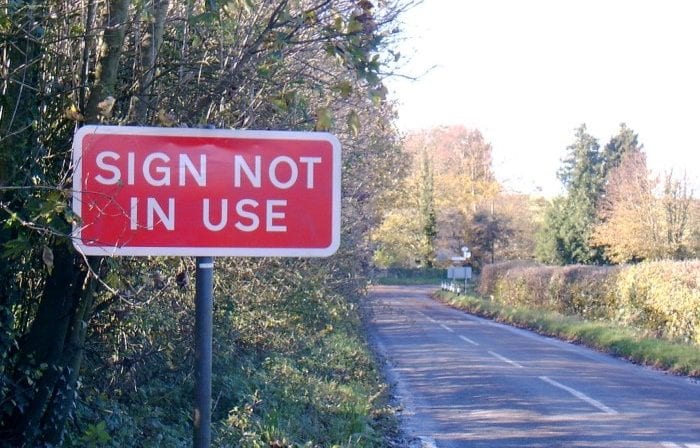 36. The workers in this store did exactly what their boss asked them to do, but it was probably their last day of work after writing this very creative message.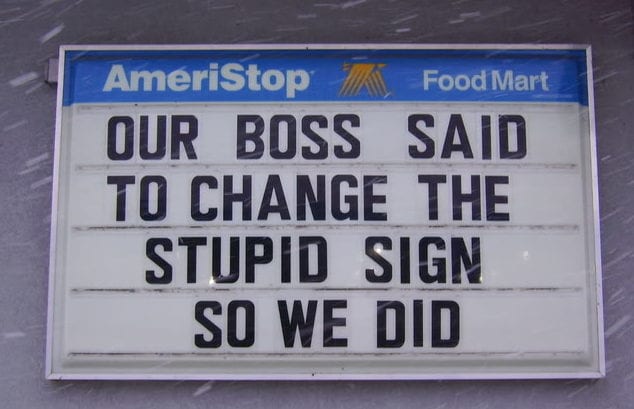 35. The announcement of this ice cream shop wanted to give a creative touch to the sensation of its customers after eating ice cream, but the message can be misinterpreted hilariously.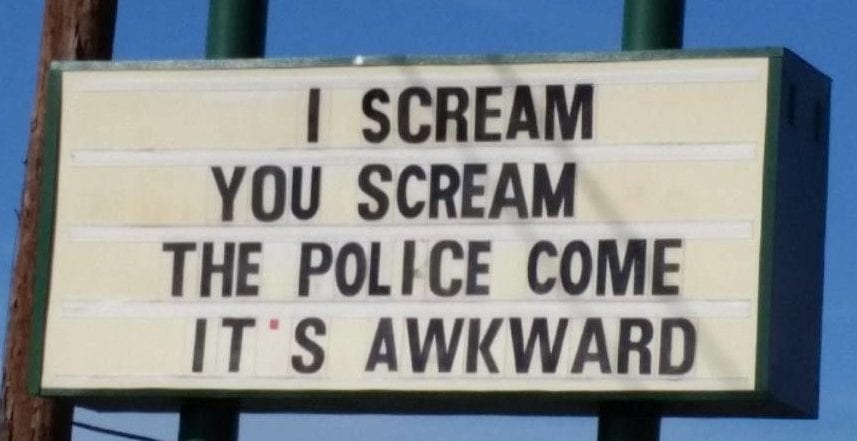 34. If you have plans to parade through these streets in your best heels after a party's night, know that this area is prone to damage your shoes. Was it something so important that they had to put a signal?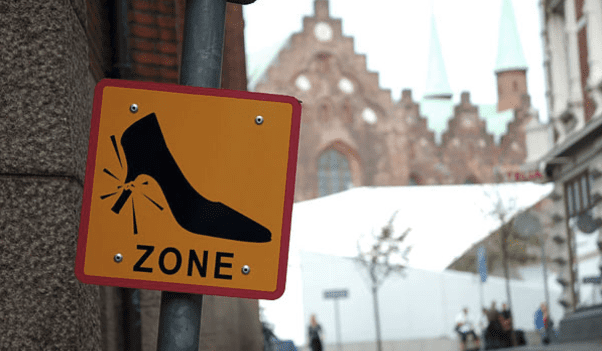 33. These words of wisdom explain to you in a strange and meaningless way what you should do if you encounter a mountain lion. It is essential to keep these tips in mind.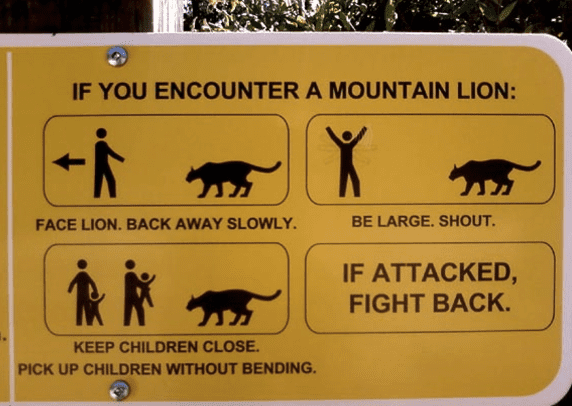 32. This is a special zombie-proof method, so do not forget always to have your vehicle's tank full. You never know when you have to flee from an undead epidemy.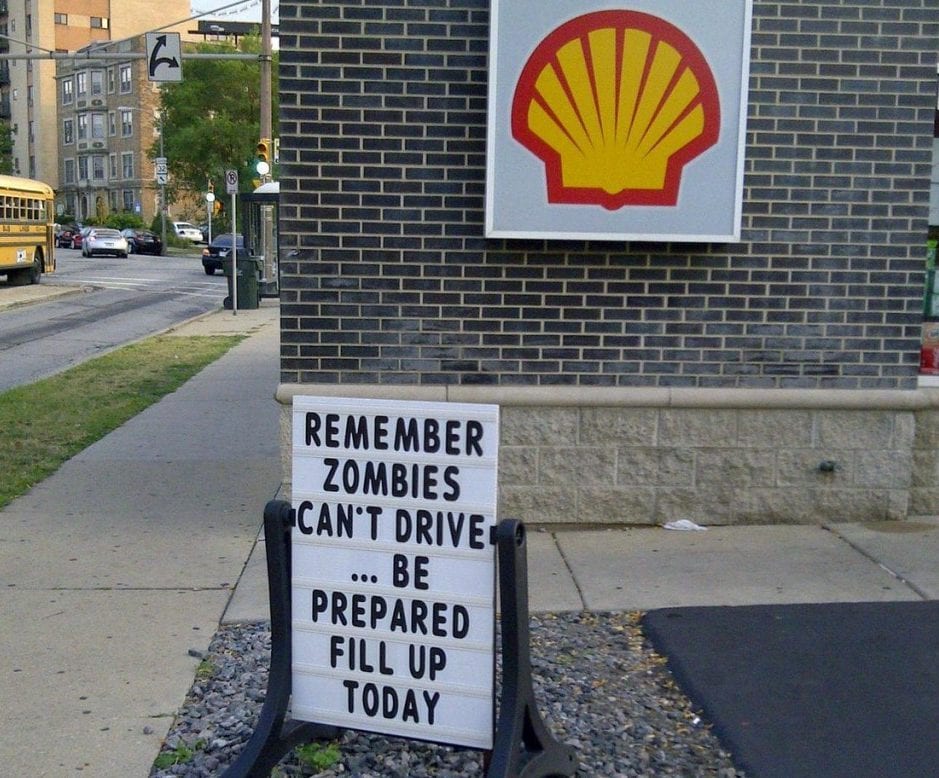 31. The platform of a train must be a free space for people to walk, so this train station has its own instructions for farewells.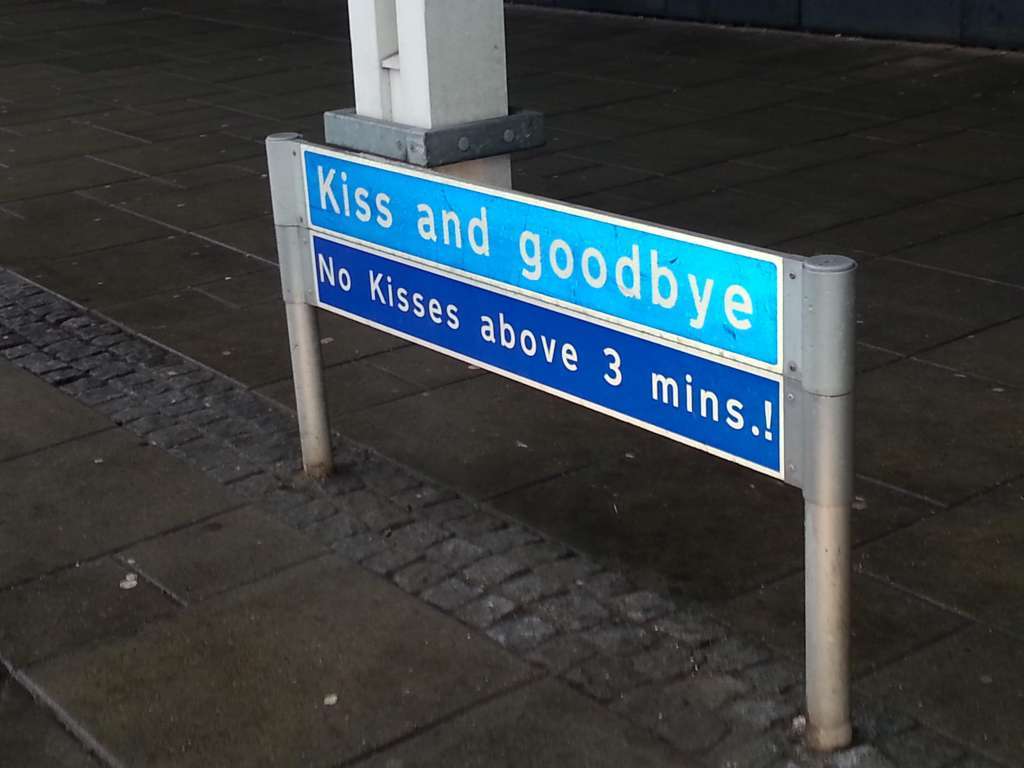 30. If a park should invest money in asking you to check under your car before starting the engine to avoid hurting a penguin, the best thing you can do is follow the instructions.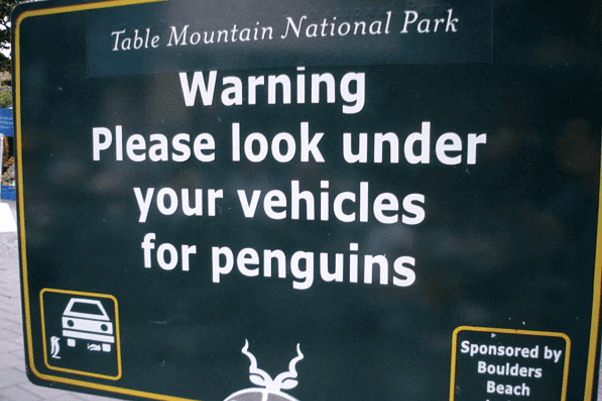 29. A signal to follow at all times. The worst place to be a good Samaritan and give a lift to a person is near a prison or a psychiatric correctional facility.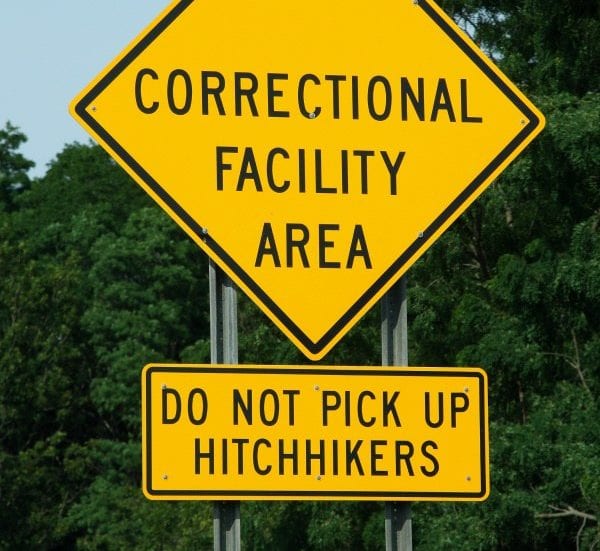 28. Although the police continuously monitor the parking lot, the best thing you can do is take care of your belongings. The police have better things to do.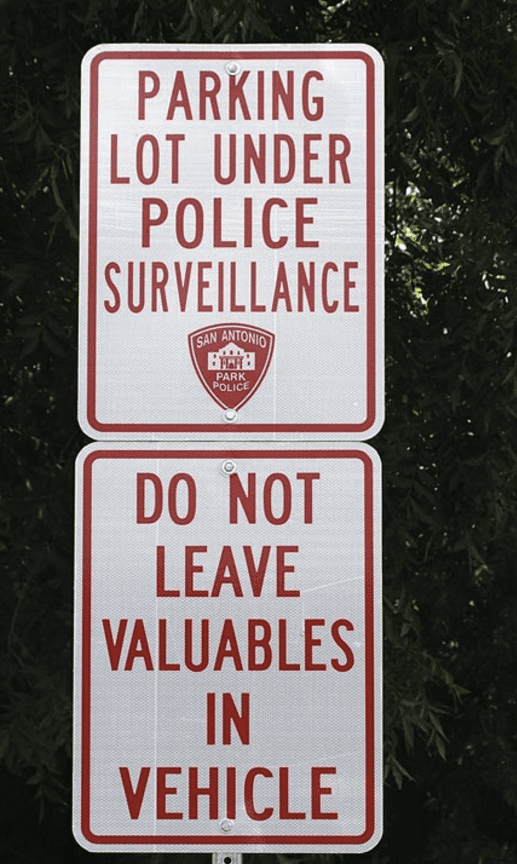 27. Feeding animals in zoos and safaris can cause problems with their diet and health, but this is the first time we hear about "management problems."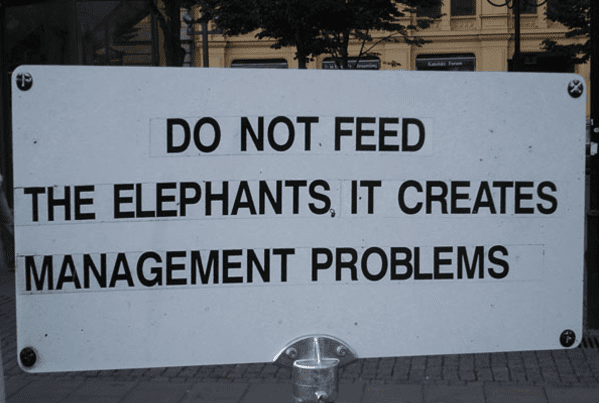 26. Animal activists take care of these creatures very seriously, so their first concern will always be them. Avoid falling so as not to cause problems to them.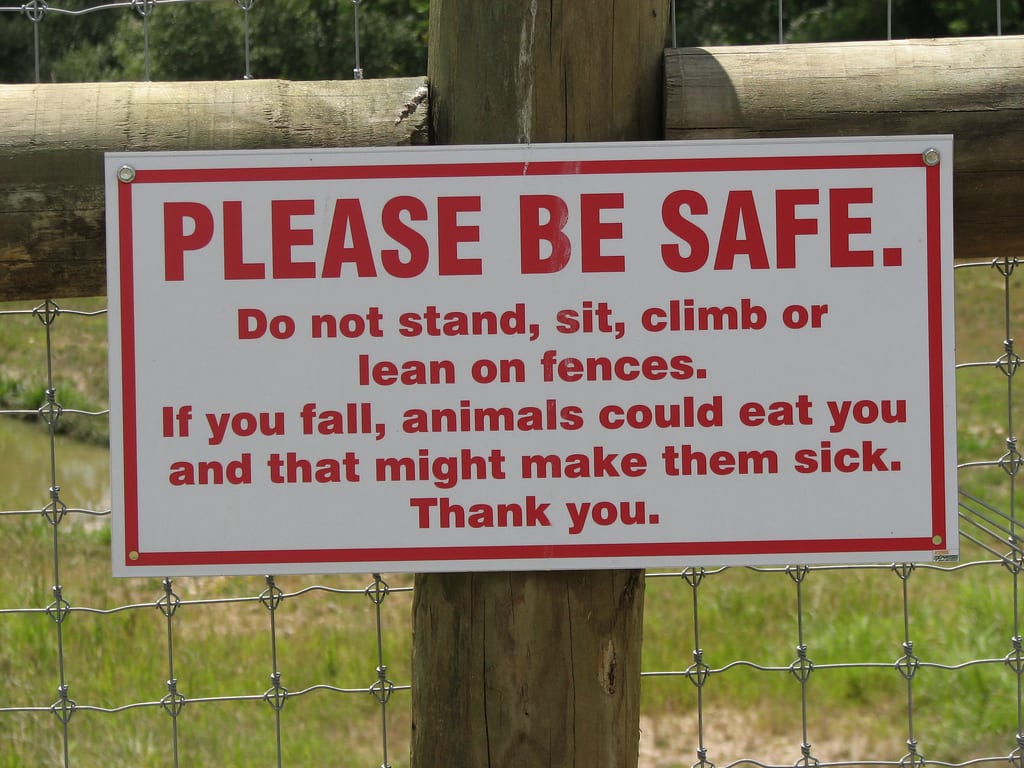 25. This subway has special restrictions about things that you should not do while you are a passenger. Between them, you must avoid at all costs to saw the adjoining seat.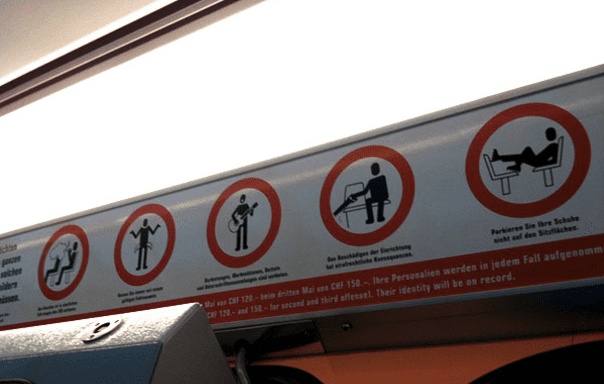 24. The government used this signal to try to make people understand that they should be more careful, but a group of them is too stubborn to understand the message correctly.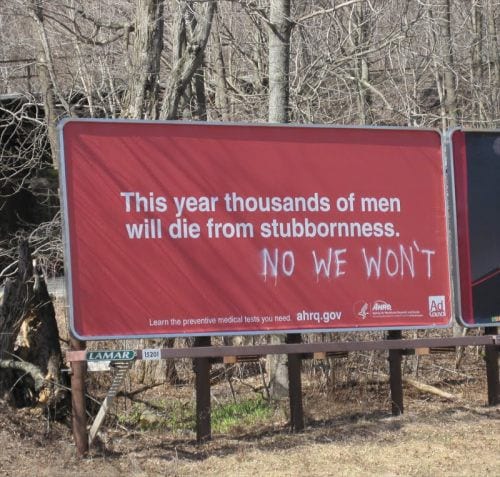 23. Many people have the horrible habit of urinating while they are inside the pool, so this public pool decided to leave the message very clear to its users.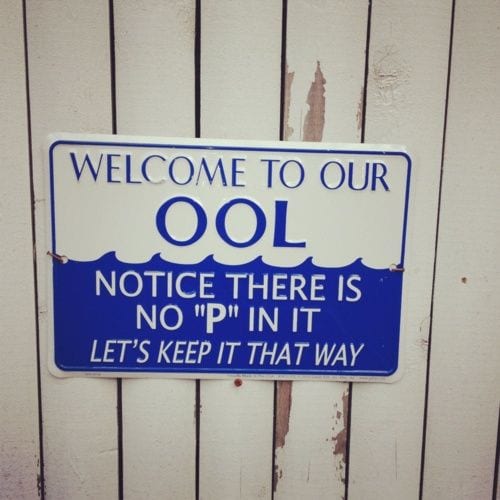 22. The regulations of this bar are very varied, and with this signal, they let their clients know the options they offer when it comes to escaping from their wives with grace and elegance.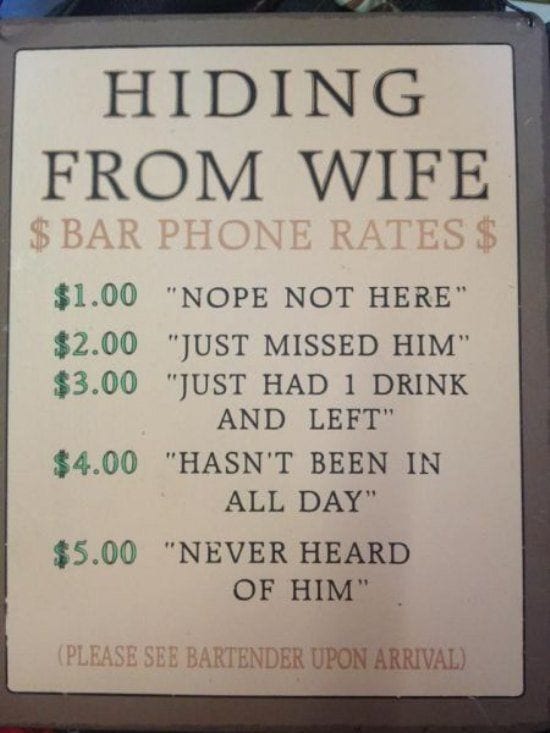 21. It is not necessary to have a graduate degree to work in the kitchen of a fast food restaurant, but their work standards should not be that low to use this advertisement.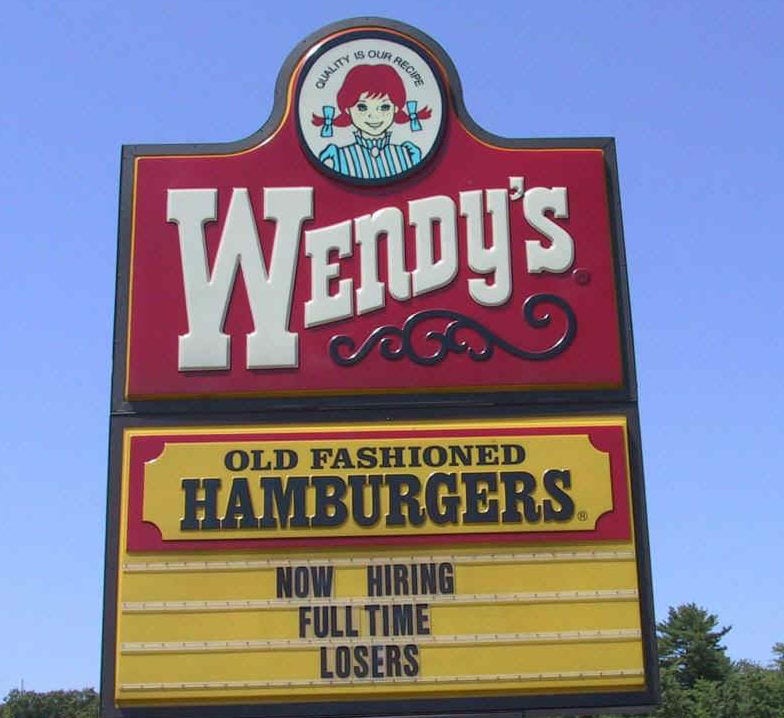 20. Sometimes we do not think correctly before placing an ad, and making an announcement that said that you would not make any announcement seems an obvious way to make a mistake.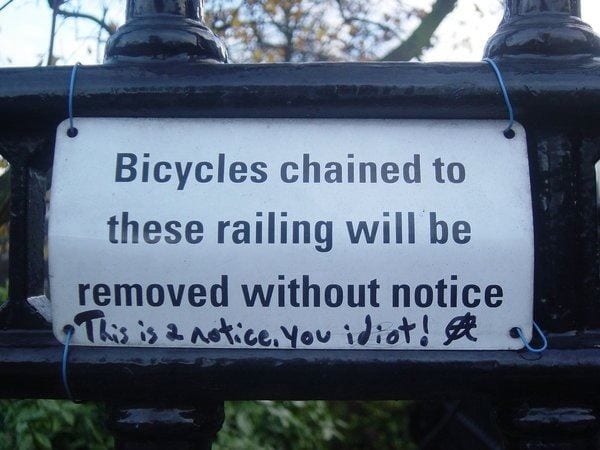 19. Subway is a company that knows very well how to promote its services, and using an original word game is just one of the things they do to trap their customers.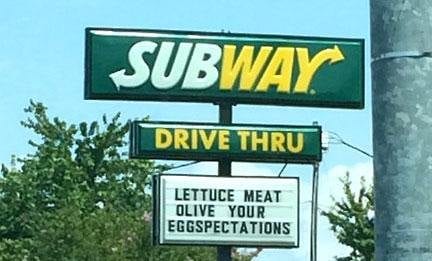 18. Sometimes, customers just want to complain to feel more powerful. In those cases, this location has a very creative solution to reduce the number of complaints.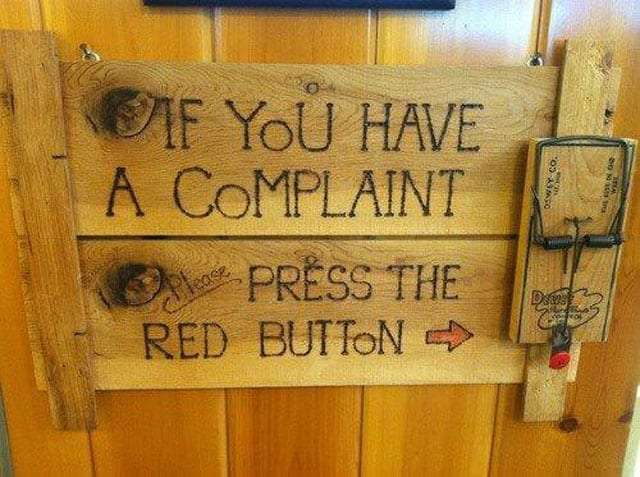 17. This company wanted to make it very clear to all parents what would happen if they found a child unattended. There is nothing better than a child full of caffeine and a new friend.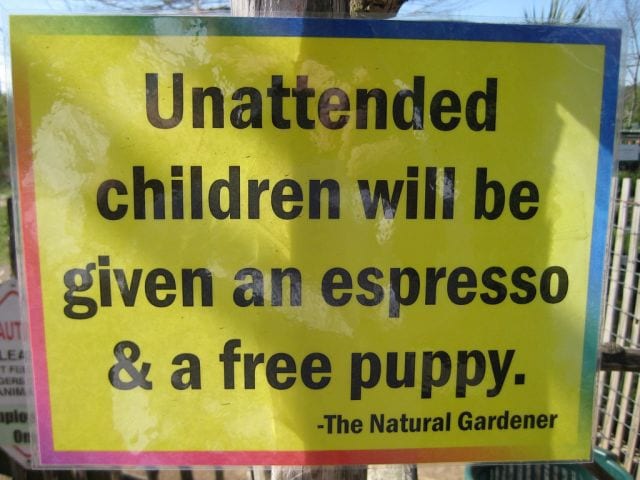 16. The bathroom of this place is prepared for every occasion. Although many do not believe in the existence of the aliens, if they go to this bar, they will feel welcome and at ease.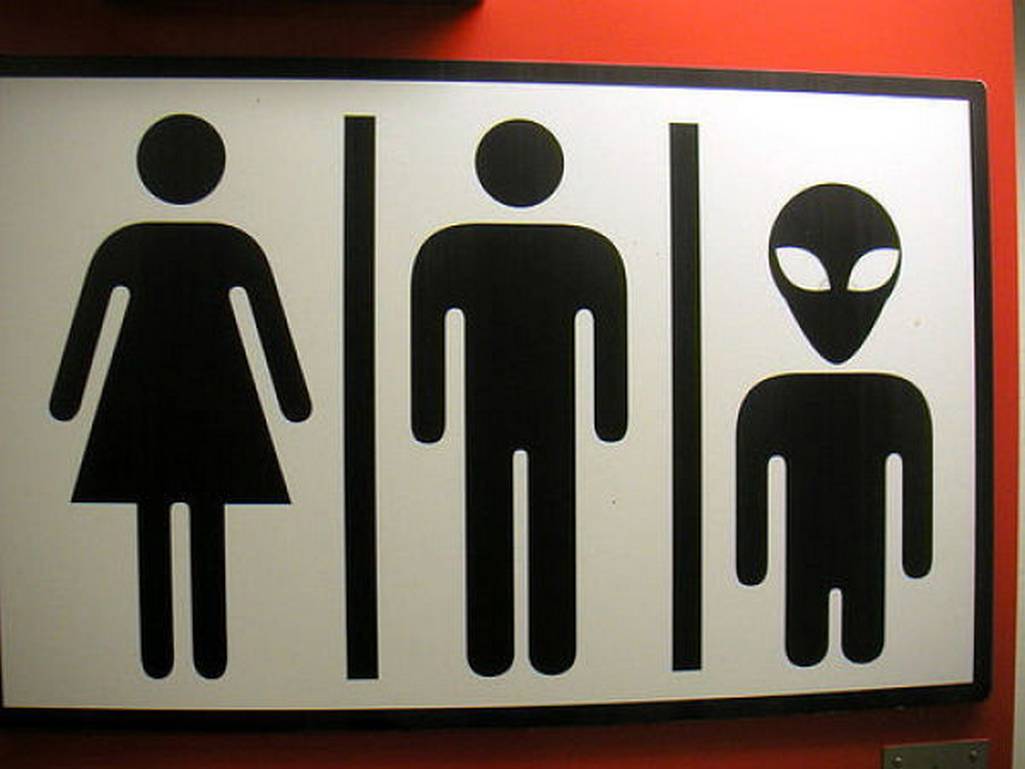 15. The importance of reading has never been denied, and the extinction of dinosaurs does not seem to be linked to this. But in case we are wrong, it is better to buy a new book.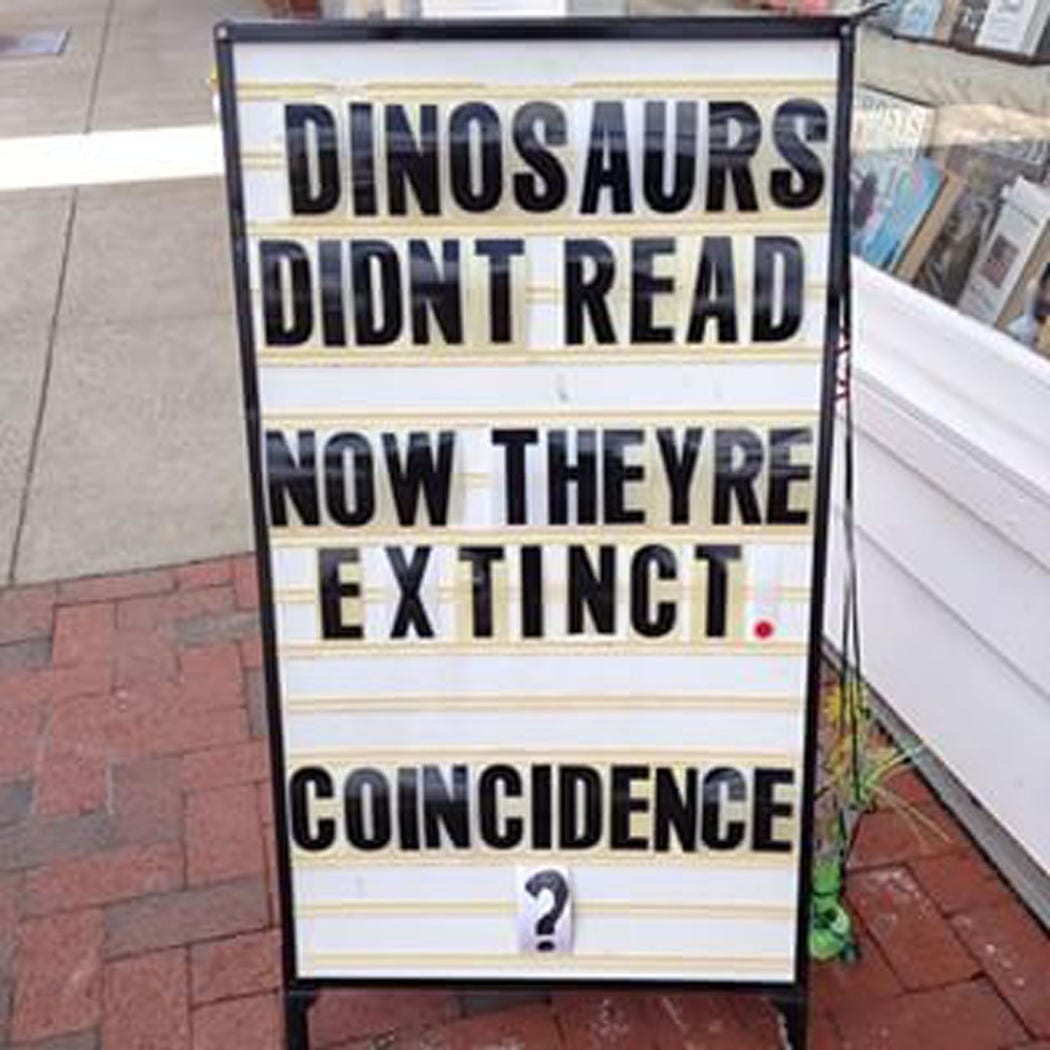 14. Likely, MSU's Residential and Hospitality Services did not perceive the seriousness of this announcement at the time it was placed. We just hope that nobody has taken it very seriously.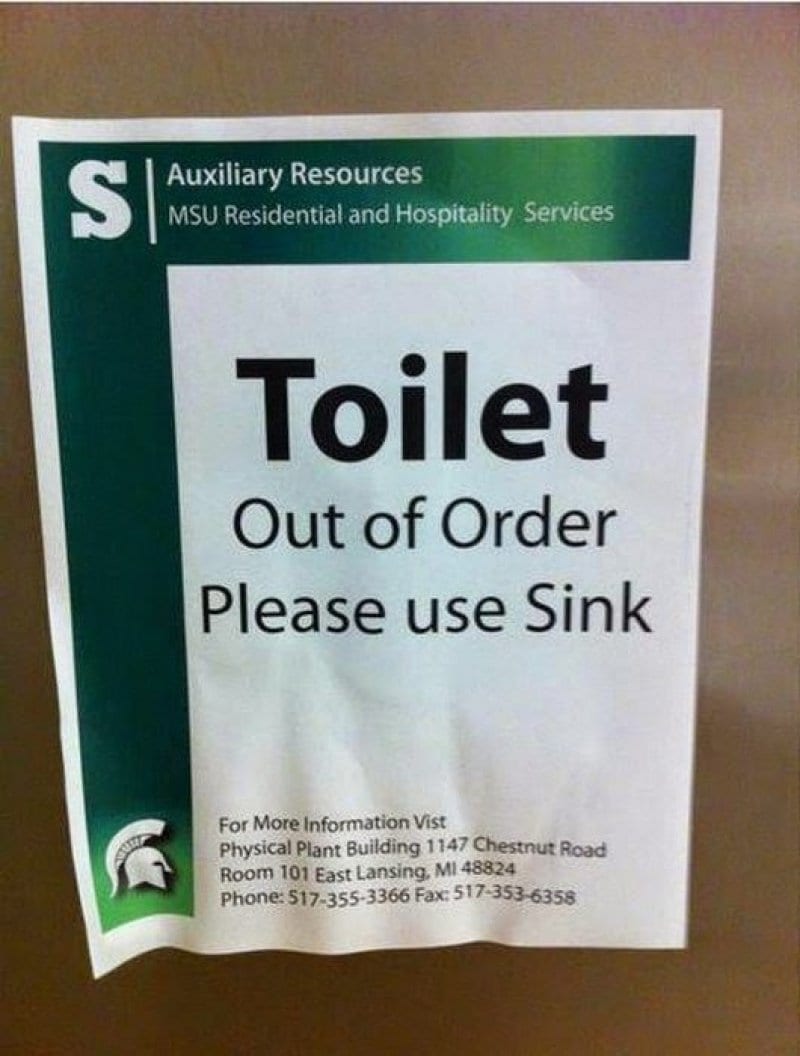 13. This coffee shop wanted to make it very clear that they did not use any of the new words that people use lately, but it seems somewhat discriminatory for multilingual people.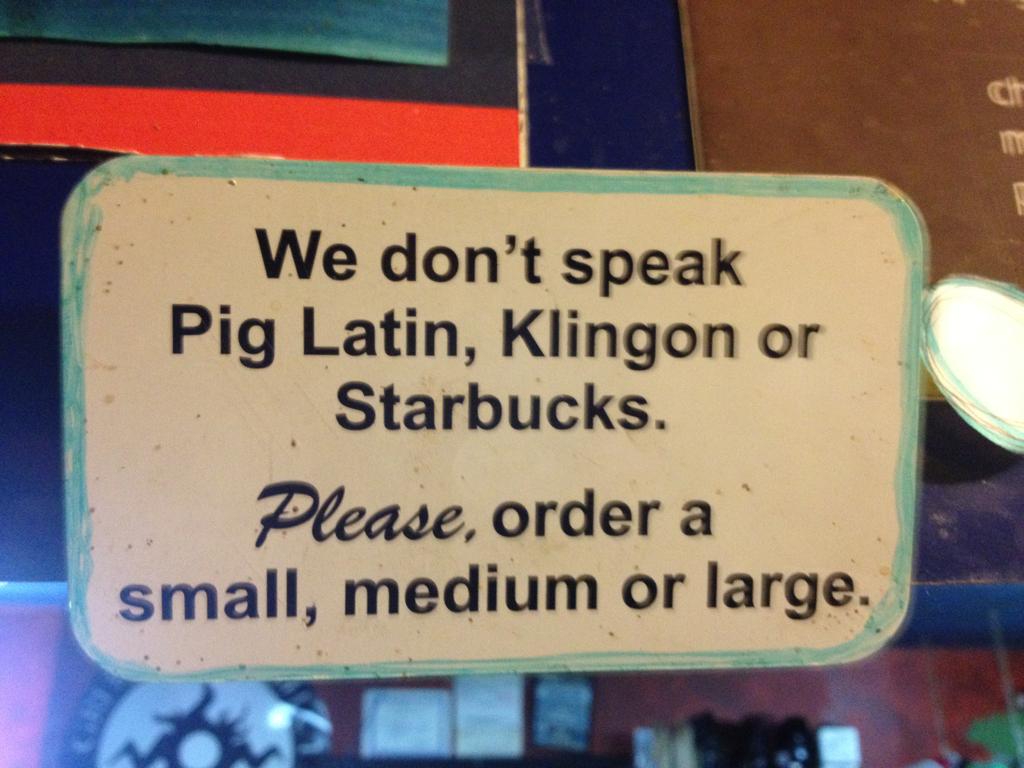 12. We do not know what kind of powers the person who placed this ad has, but you usually can not teleport a whole floor to another place without some magic.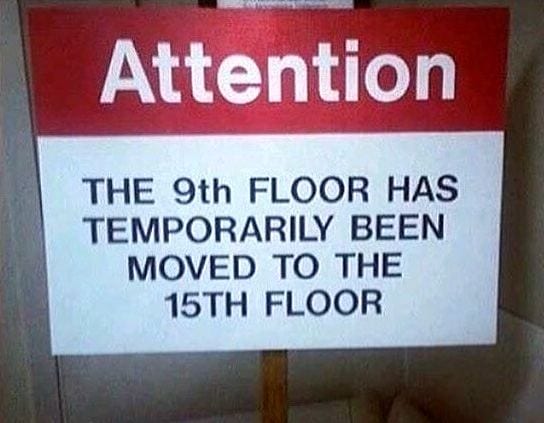 11. God has eyes everywhere, and this announcement wanted to make it very clear that, with new technologies, he can keep an eye on all people at all times and prevent them from commenting on any sin.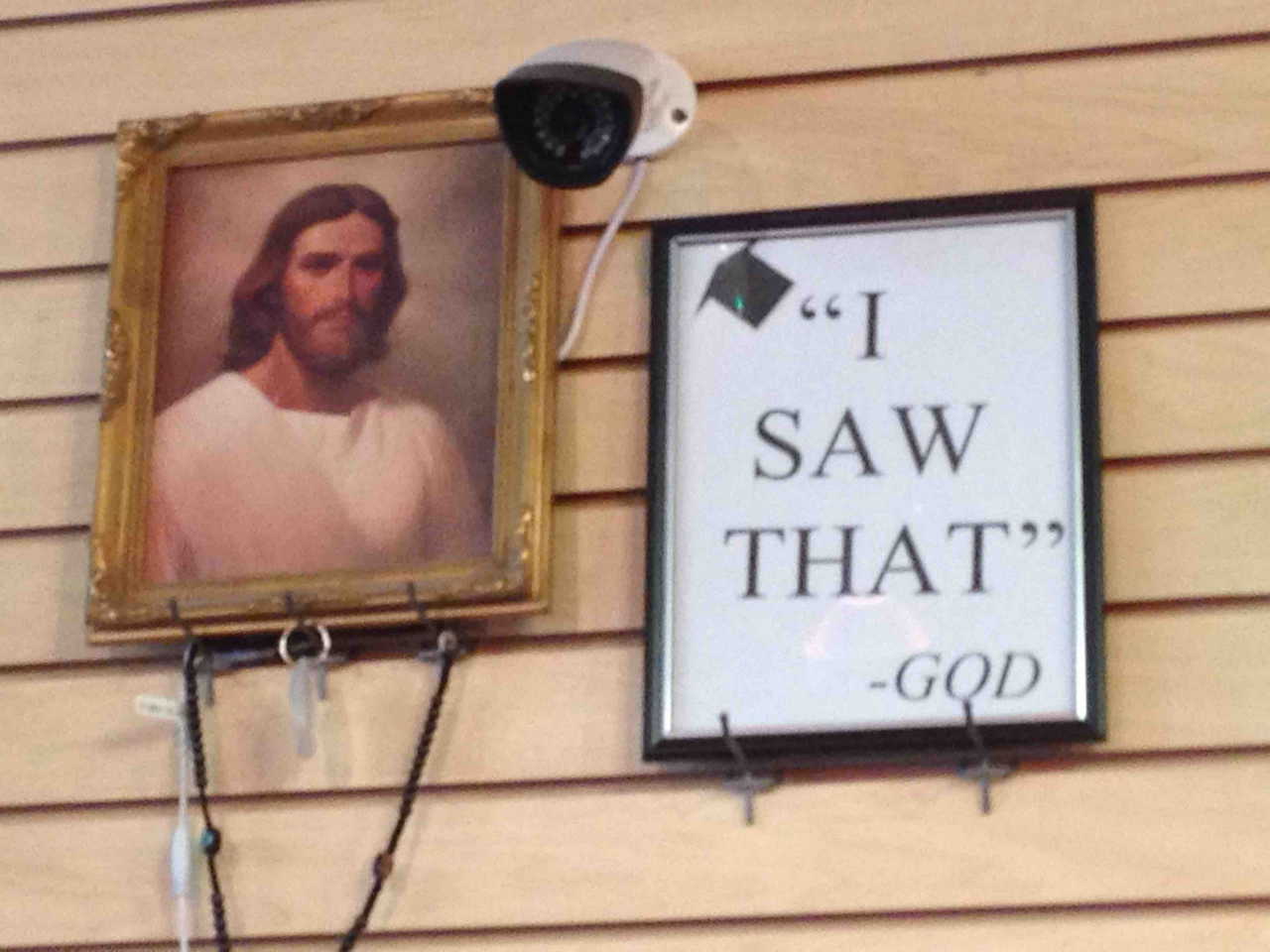 10. It is bizarre to hear about a spirit or demon that prefers to be inside a photocopier, but at least someone had the decency to warn his coworkers.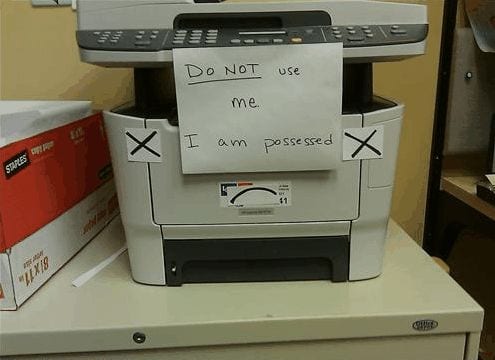 9. These are the ads that manage to entertain you for hours when you can not do more than wait for your food to arrive. Some philosophical karaoke to animate your afternoons.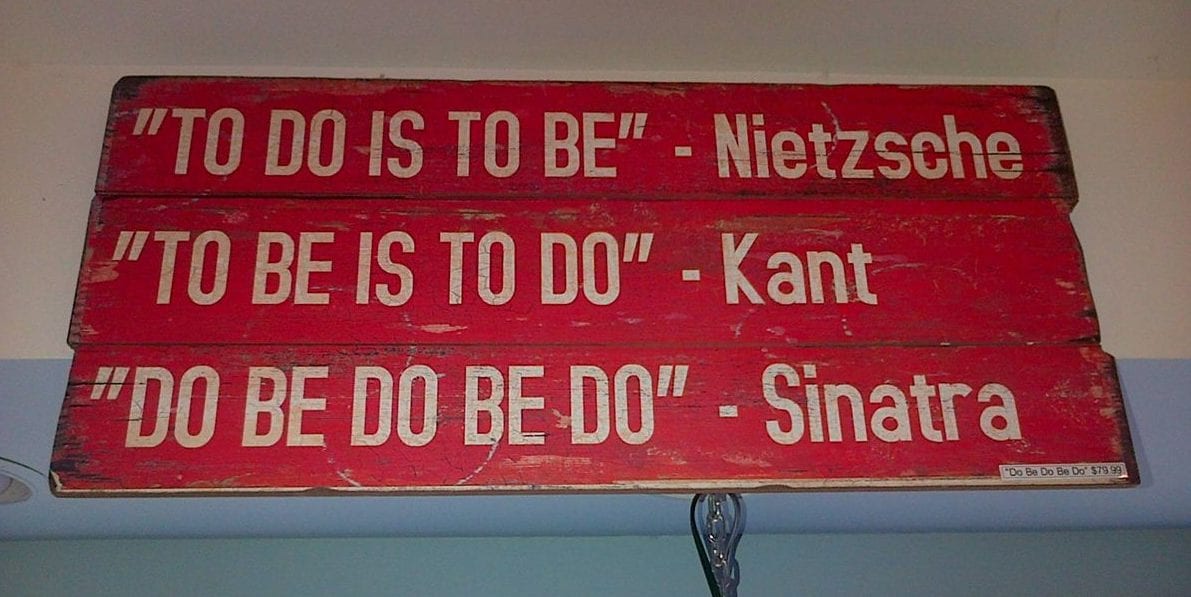 8. It seems a welcome signal, but at the same time, it warns people about what is coming. Who does not like to visit the chaos a bit and see all its tourist attractions?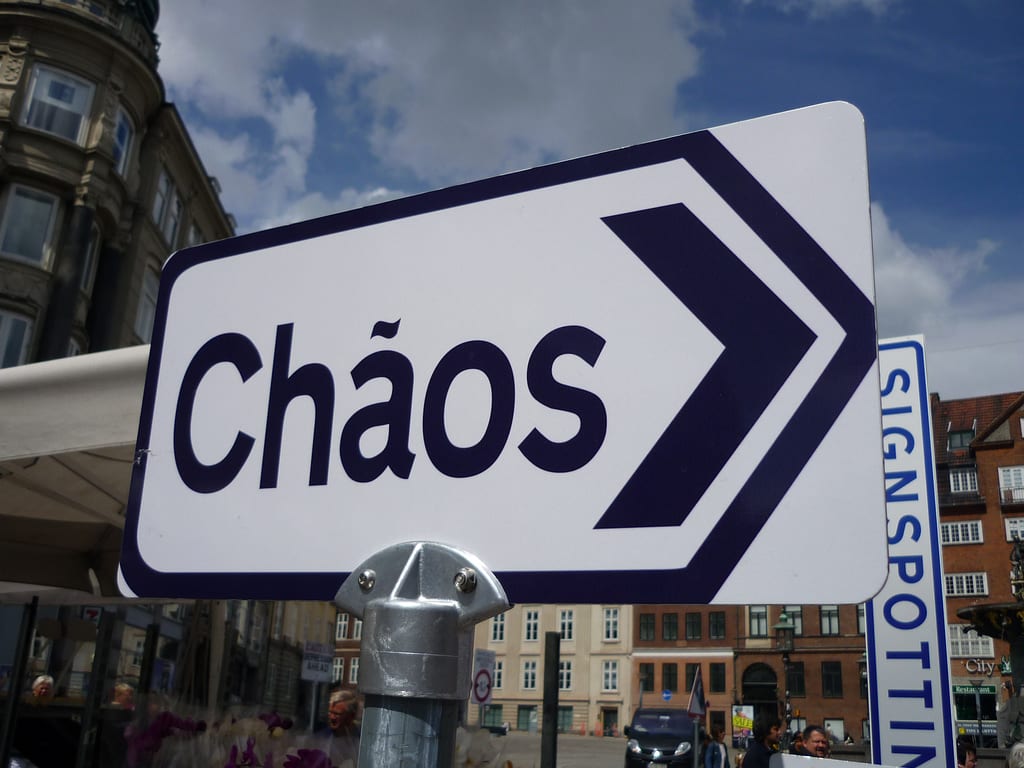 7. It is clear that they wanted to indicate the end of this metro line, but using the phrase "The End" on the poster makes us think of something intellectual. Will it be the end of the whole known universe?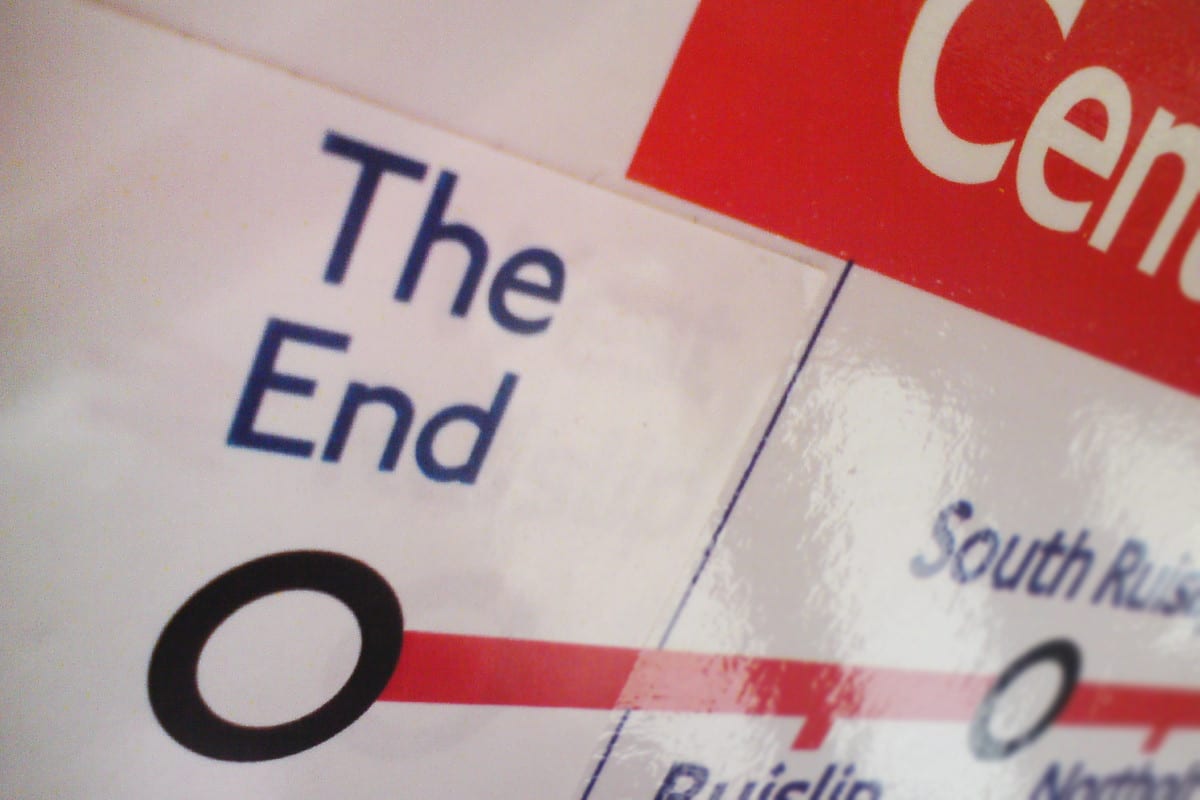 6. This is a short notice to notify people that the little gnome who counts the money is sick and did not get his cousin to replace him. Nothing out of the ordinary.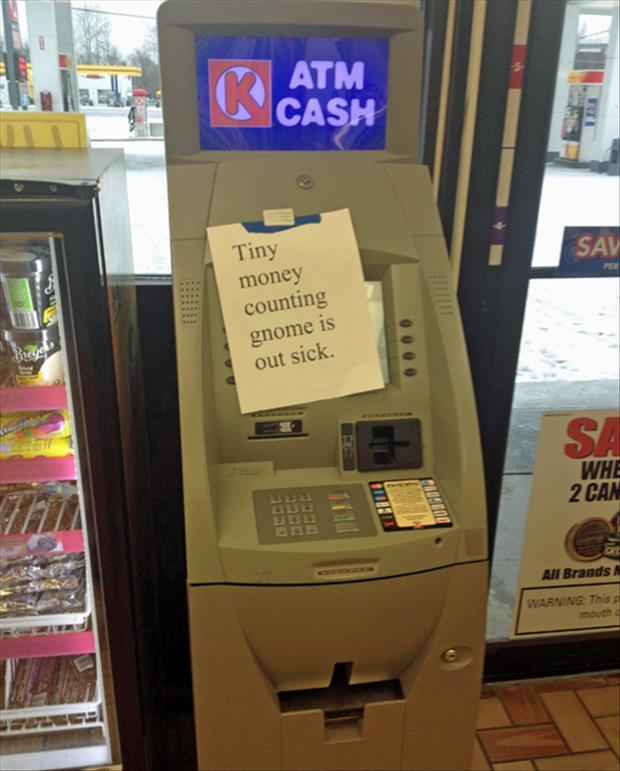 5. Using such a disgusting Disney reference to promote your products can make many families run away before they have to explain to their children what they are eating.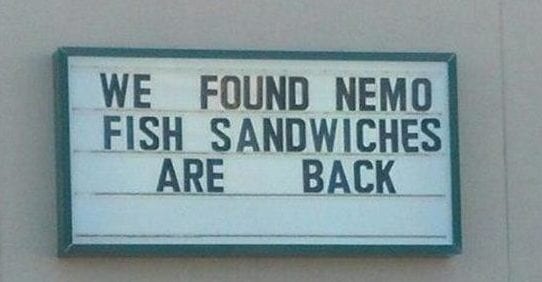 4. This church wanted to make it very clear to the person who stole them that he will need that AC in the place where he's going. Stealing is not well rewarded, and they must learn it in some way.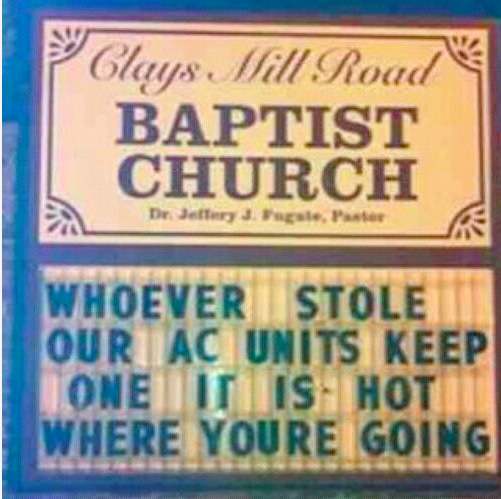 3. Without taking into account that Turkey City is a community in Clarion County, Pennsylvania, in the United States, it seems that the bird sanctuary has a limit for turkeys.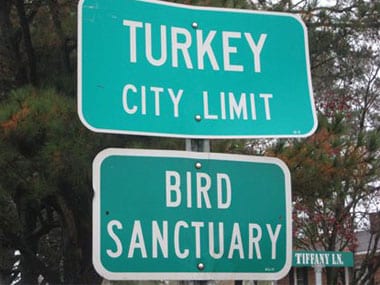 2. The number of incidents that this cemetery must have had to consider placing this poster must have been incredible. Who wants to play a hole with dead people? It must be chilling.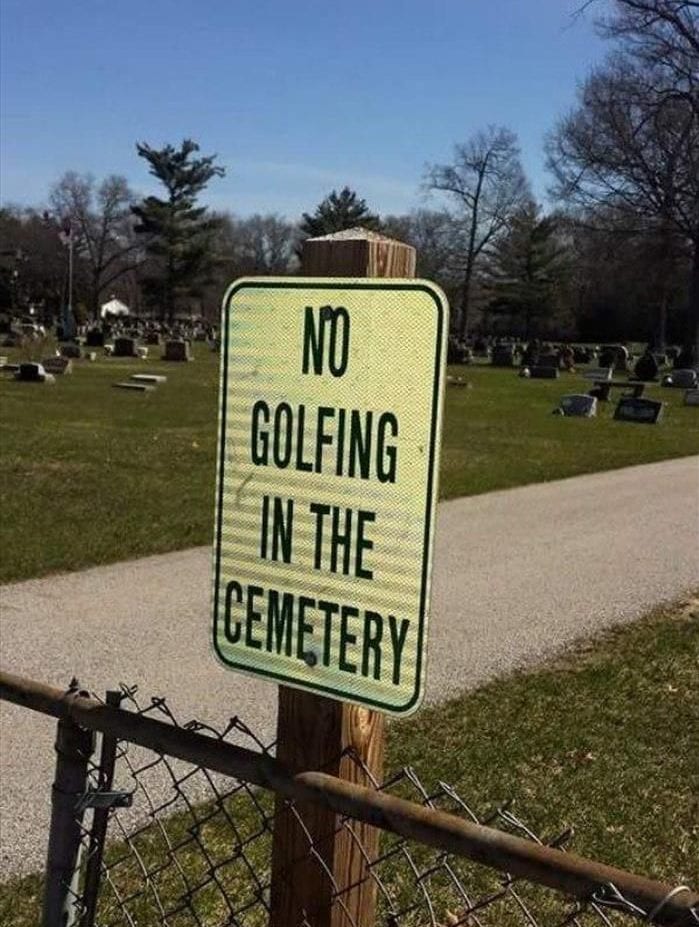 1. The parking lot of this medical center has a very tight time limit for a place where they perform surgeries. What kind of doctor operates a person in 5 minutes?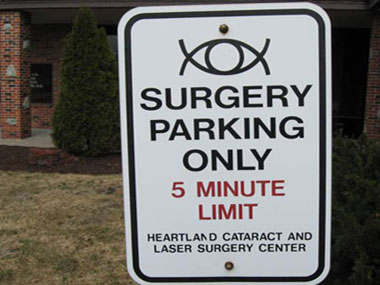 All these signals were intended for a specific purpose, but many of them were misinterpreted and became a source of laughter for many people who decided to share them through the networks so that others would laugh a little about human creativity. Have you seen any ads like these in your city? Do not hesitate to share some of them with us and show this article to all the people who need to laugh a little.
Sources: Ninja Journalist
Related: