Most Crazy Things You'll Ever See on the Road
The world is full of people who love some madness, and that is what makes our life so entertaining and different. At the least expected moment, something very crazy or out of the ordinary can happen in front of your eyes, and thanks to photography, many of these moments can be conserved for the enjoyment of the internet. The following list of images compiles some of the best moments of madness that some people have found so you can relax and laugh a little.
50. OLD-SCHOOL GPS
This photo is from one of Uber's best-rated drivers. However, it's a little different than drivers you have seen before, and there is a specific reason. Sometimes, people get lost, and they don't like to ask for directions from pedestrians nearby. Luckily, this car comes with a great GPS system.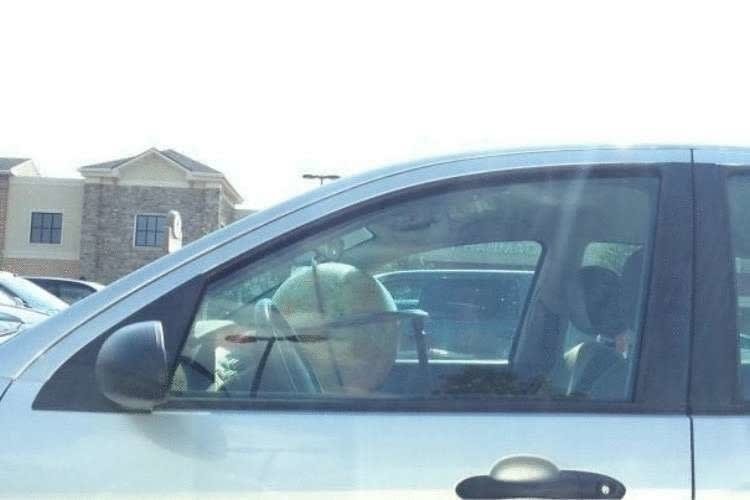 It might a bit old school, but it probably brought a smile to any customer that hops in the car. We don't think that the globe has Google Street view, though. 
49. THE DEVIL'S RIDE
You must have bizarre humor to drive a car like this. Everyone has felt a little evil at some point in their lives, and this car is the perfect ride for when you want revenge on an enemy. Aside from the flames and the horns that would make Lucifer proud, there's something even more fascinating.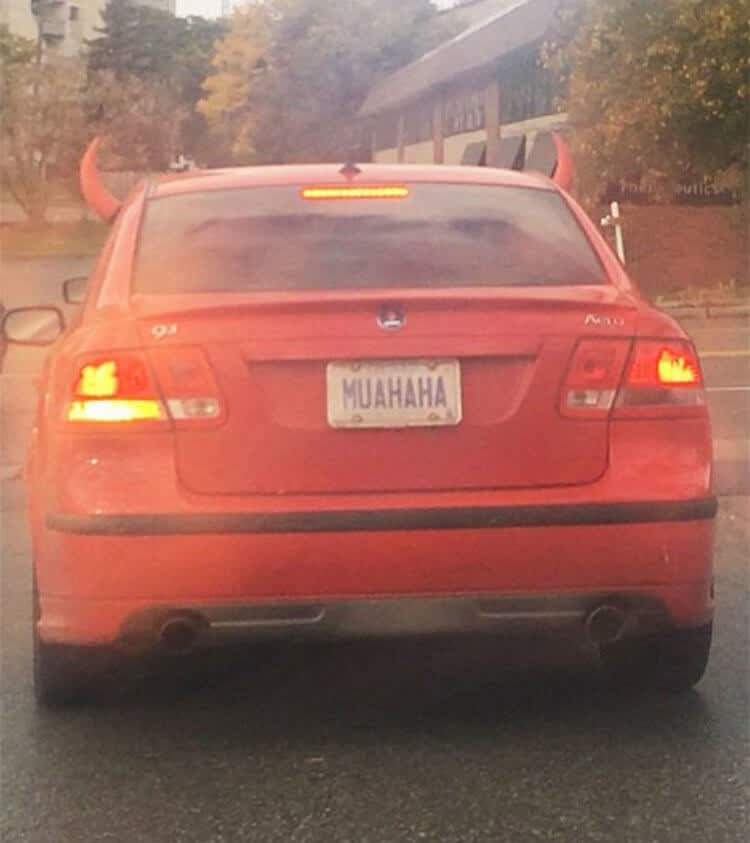 The license is basically the motto of every cartoon villain ever created. The fact that the image shows the back of the car is perfect to symbolize walking away after a day of mischief. 
48. IS IT REALLY A TRAIN?
This bus is not limited by what people think. It is convinced of being a train, and it showed on his journey. We wonder if the driver is the one that picks what appears in the sign, or if it's someone else entirely.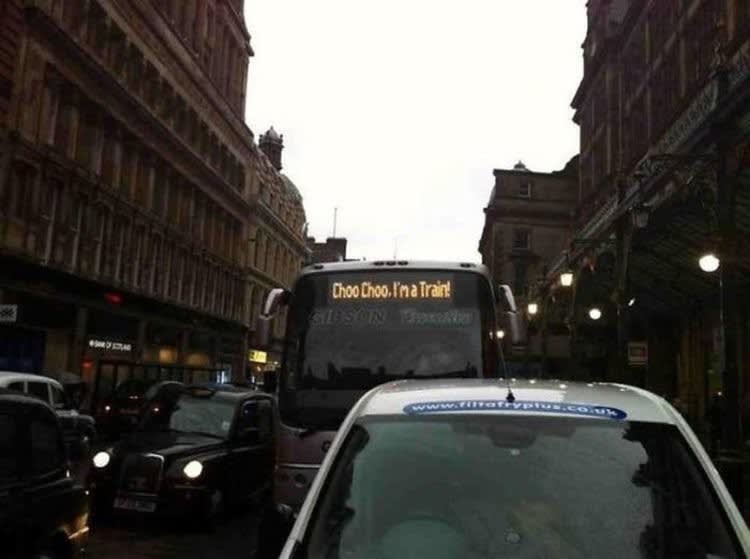 Either way, everyone knows that you have to move away when a train is coming clear, and the traffic on that English was too heavy for public transportation. 
47. CARELESS DRIVE
It's important to pay attention to roads when you drive, even if you want to get to your destination really quickly. However, this driver learned the hard that you cannot take your eyes off the road for even one second.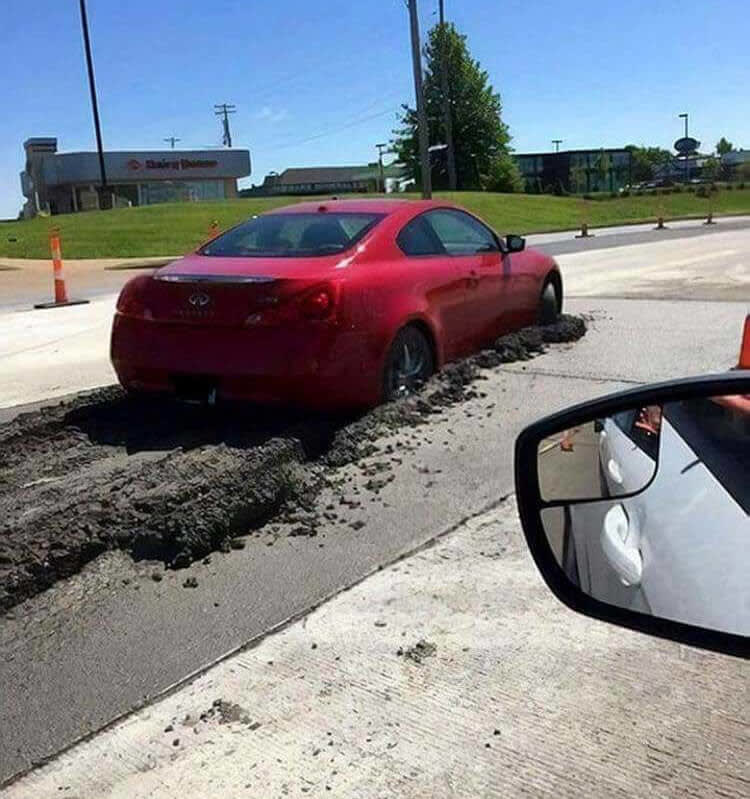 The car might be pretty fancy, but it was probably ruined after going over freshly paved cement. Furthermore, by the time workers get the car out, the cement will have dried on the shiny exterior. 
46. NEED FOR SPEED
It might seem like a stereotype, but boys definitely love their toys, and they start liking vehicles from a young age. This little baby was learning to drive too quickly, though, because the officer had to stop him from speeding.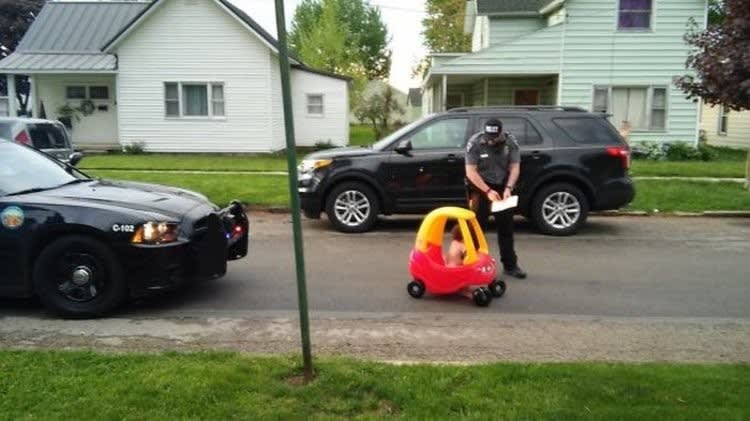 It looks like bad boys come in all shapes and sizes, especially when it comes to their rides. We wonder expensive that fine was, and his parents were probably not too happy about it. 
45. DESPICABLE ME
Illumination Pictures introduced the Minions to the world in their movie 'Despicable Me', which detailed the life of a villain - and his faithful helpers - and how he got to adopt three orphaned girls.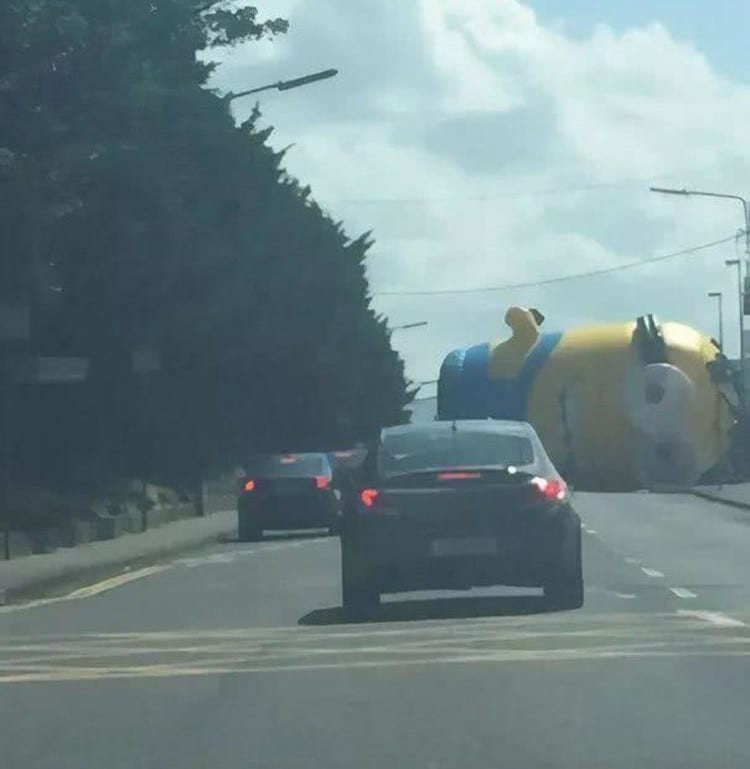 The Minions are loved by the masses, but no driver wants to see a giant figure of one blocking the road. That one, in particular, looks a bit scary, as if it were an experiment gone wrong. 
44. THE OG TOY STORY
Pixar's 'Toy Story' revolutionized the animated movie industry with amazing 3D computer graphics, unlike anything anyone has ever seen. 'Toy Story 4' was recently released, and older folks are still loving the tale of Andy's toys.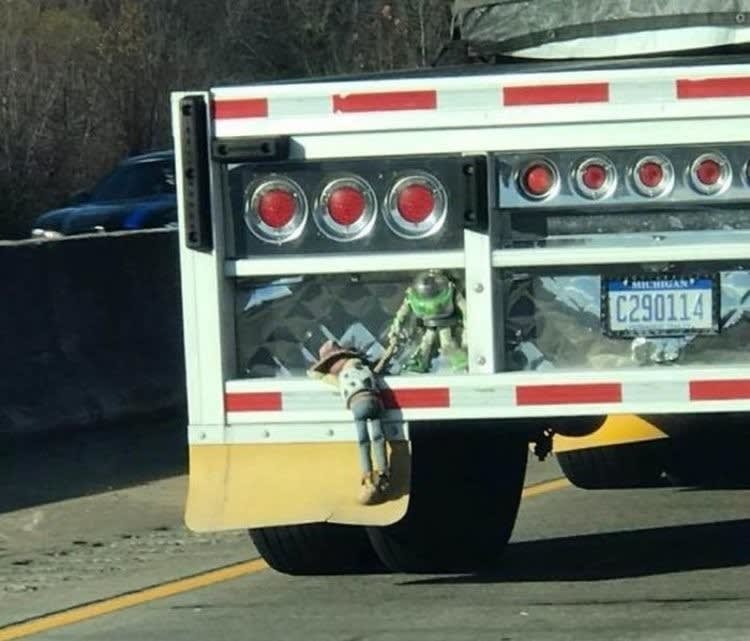 Truck drivers and other people have actually used Buzz and Woody to recreate the iconic scene, where they were trying to get to the moving truck and back to Andy after being lost for a long time. 
43. LEAVING THE GAS STATION TOO QUICKLY
While everyone might have their careless moments, or be in a situation where they have to get somewhere really fast, this one takes it a bit too far. How is this even possible?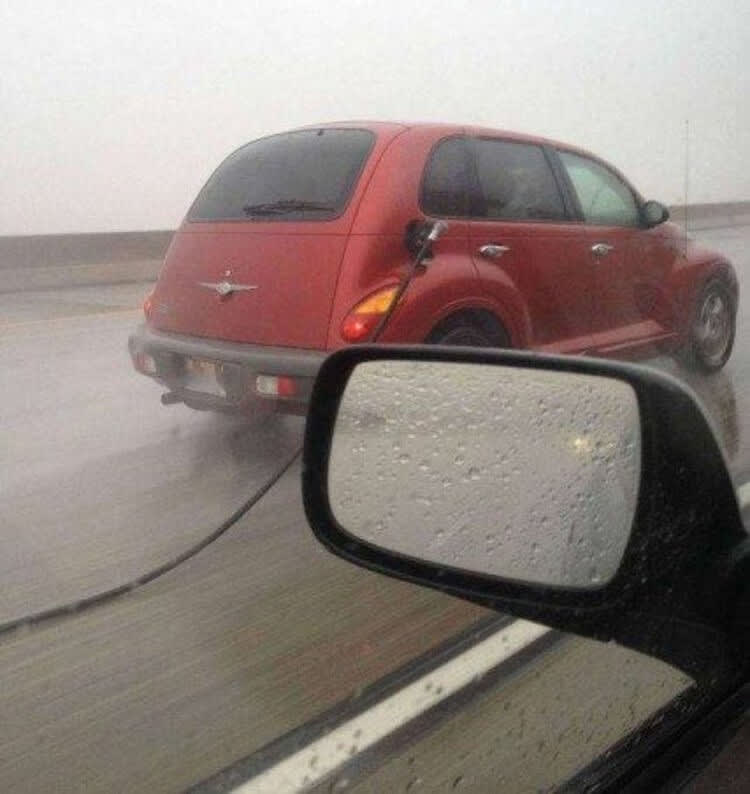 In American, most gas stations are self-service, but we cannot believe that this person placed the oil pump in and got in the car to go on their merry way. In that rainy road, it was probably more dangerous. 
42. DINOSAURS ARE BACK
'Jurassic Park' was a favorite of the 90s, and the remakes of this decade are just as great. People who drive through country roads have often encountered cows or other animals that get in their way. It's important to be diligent and stop to give animals time to cross to the other side.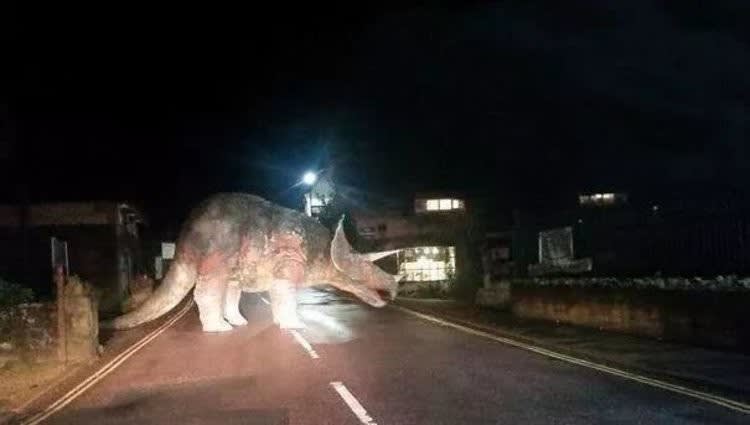 However, no one expects a dinosaur to appear in the middle of the night in the road. What kind of person purchased that huge figure and decided to leave it there? Crazy, but probably funny!
41. FAST FOOD
This image gives new meaning to the term fast food. In fact, it almost mixes elegant dining with the versatility of takeout as these men are clearly going somewhere, but also enjoying their time.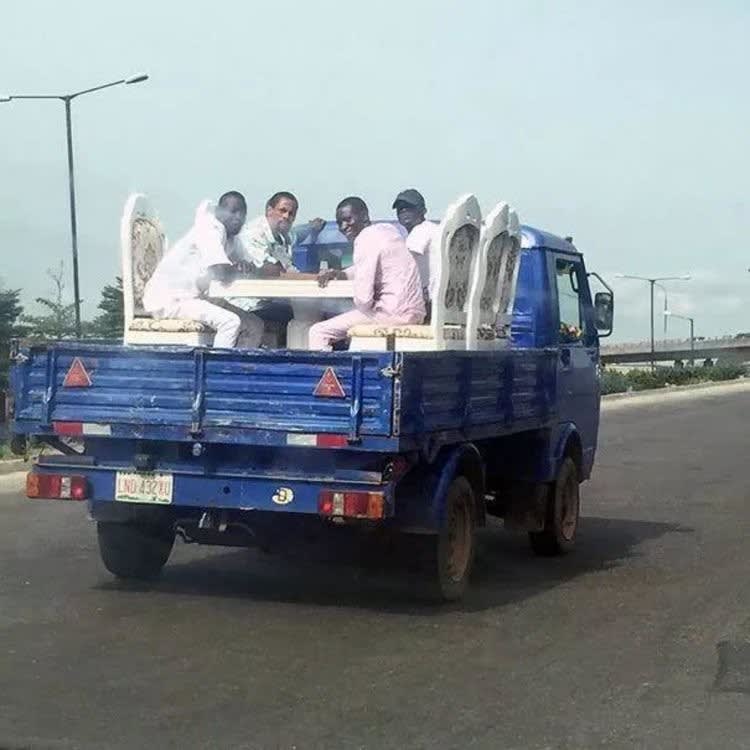 They might be moving the dining room table to a new house, but normally, they would pack in the truck differently. They took advantage of the funny circumstances, and we are glad. 
40. CARTOON SHOULDN'T BE IMITATED
While it might seem funny to recreate something from the Looney Tunes, like all the times where the Road Runner escaped from Wile E. Coyote, this is actually very dangerous.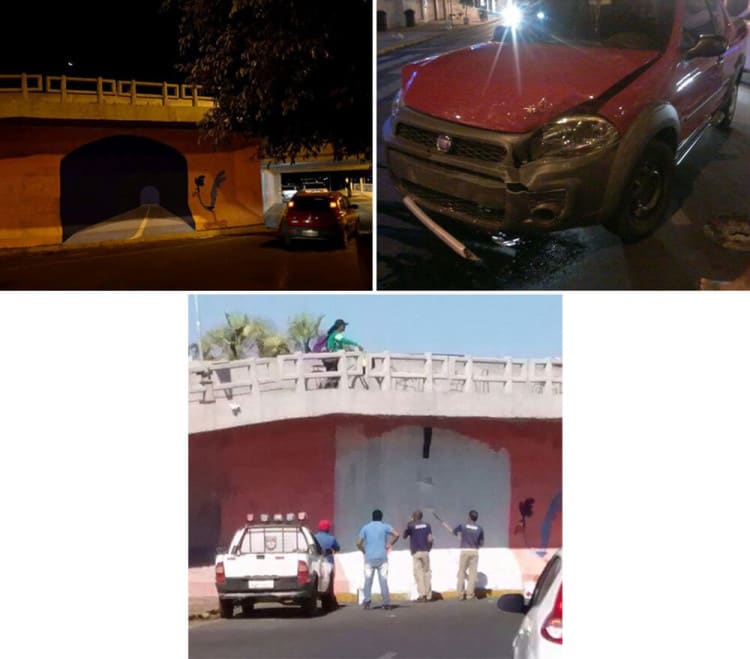 At night, if someone got lost, they might head straight for that fake tunnel, and it clearly happened. Honestly, it should be considered a crime because it looks like the car was totaled. That's all, folks!
39. IT'LL FIT FINE
We all love having big flat screens at home, but they can be a pain to carry from the store. Additionally, the delivery fees are often crazy expensive; so, many people decide to do the job themselves.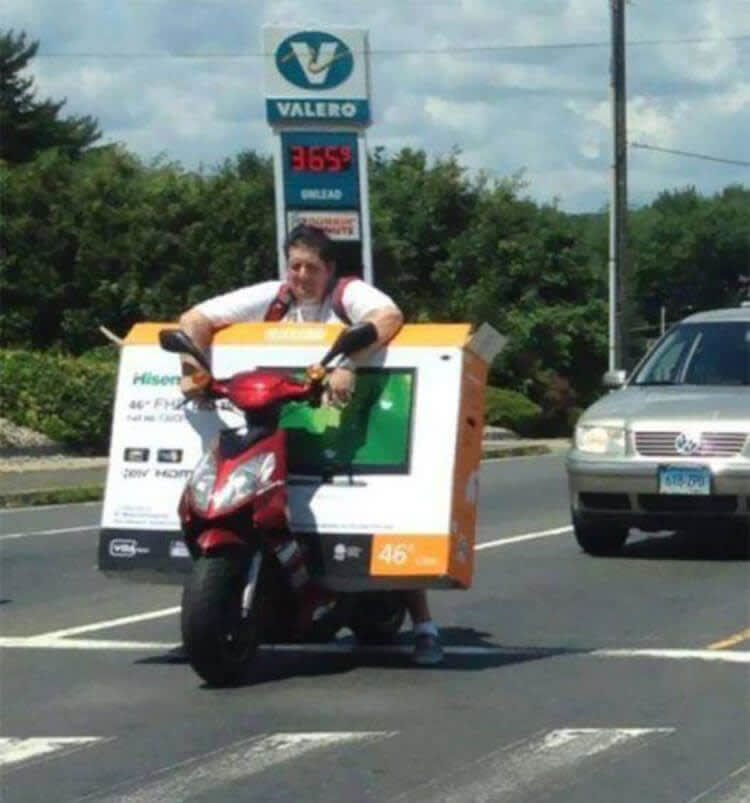 However, this is another example of recklessness on the road because there is no way that man drove properly while carrying that huge box. Flat screens might be light-weight, but everyone still needs to be careful. 
38. A BIT TICKLISH
During long road trips, some girls like to place their feet on the open windows and let the wind cool them down. However, there are plenty of other drivers on their path, and some surprises on the way.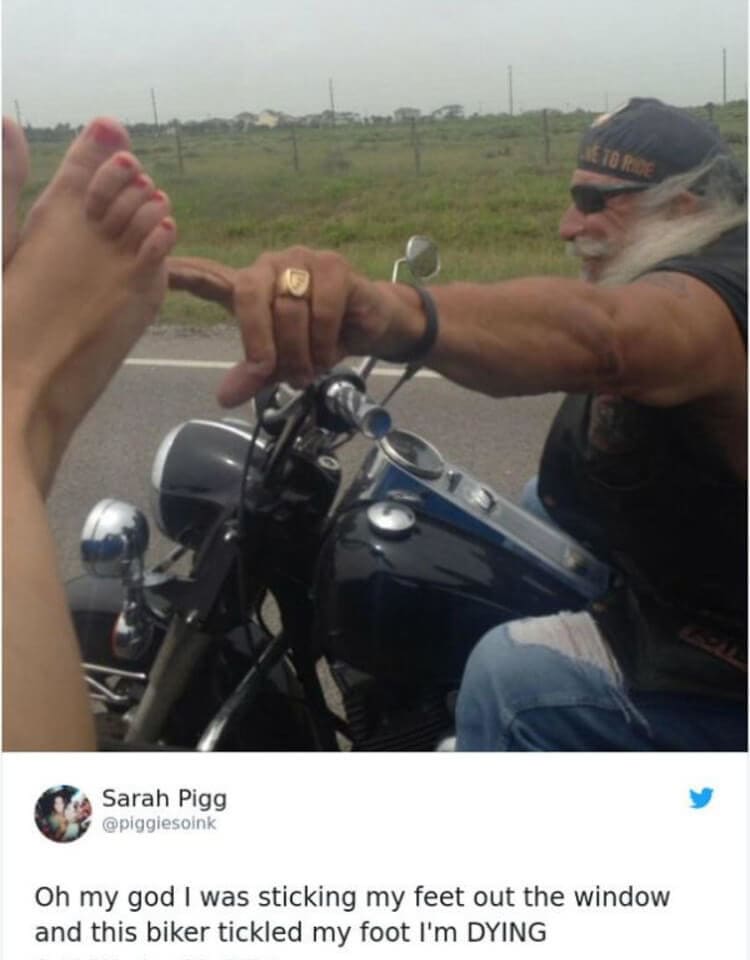 This biker was clearly happy to see that girl driving with her feet out and took the opportunity to play a joke on her. Luckily, nothing went wrong, and everyone can laugh at that moment. 
37. FIXING THE BUMPER
Sometimes, a tiny crash can ruin someone's bumper, and it can be expensive to fix it. However, this driver found the perfect solution. He or she created this weird with some toys and figurines.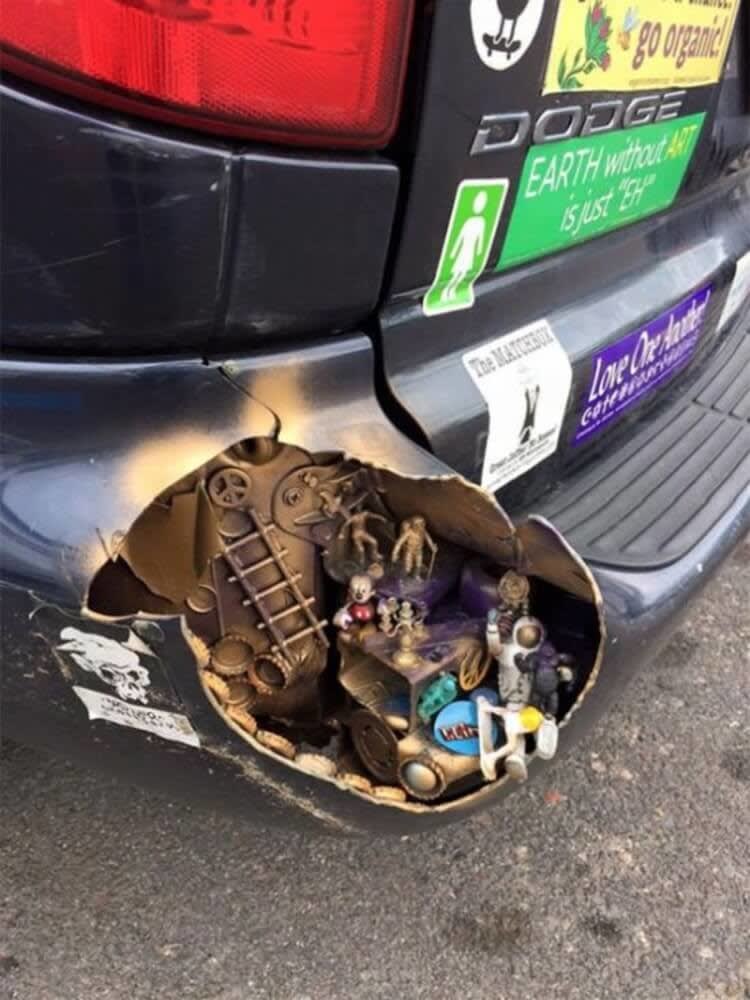 We don't if many people would enjoy doing something similar, but it was definitely creative. Also, someone found it so surprising that they just had to take a picture to post online.
36. NOT TOO TALL
It's hard to gauge how tall a truck really is, especially when it comes to going through low bridges, but the irony of this accident is an absolute work of art.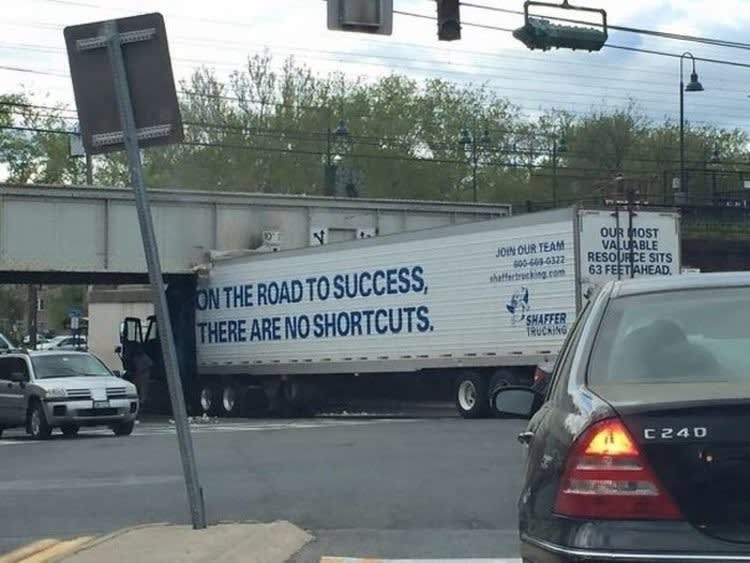 Clearly, the driver should have taken the message written on the back as a guide because there are no shortcuts on the way to success. 
35. TRAVELING WITH PALS
Some people might enjoy being alone on the road, but others need companionship to fully love it. Luckily, this biker found the best travel buddy and sat him down in the sidecar.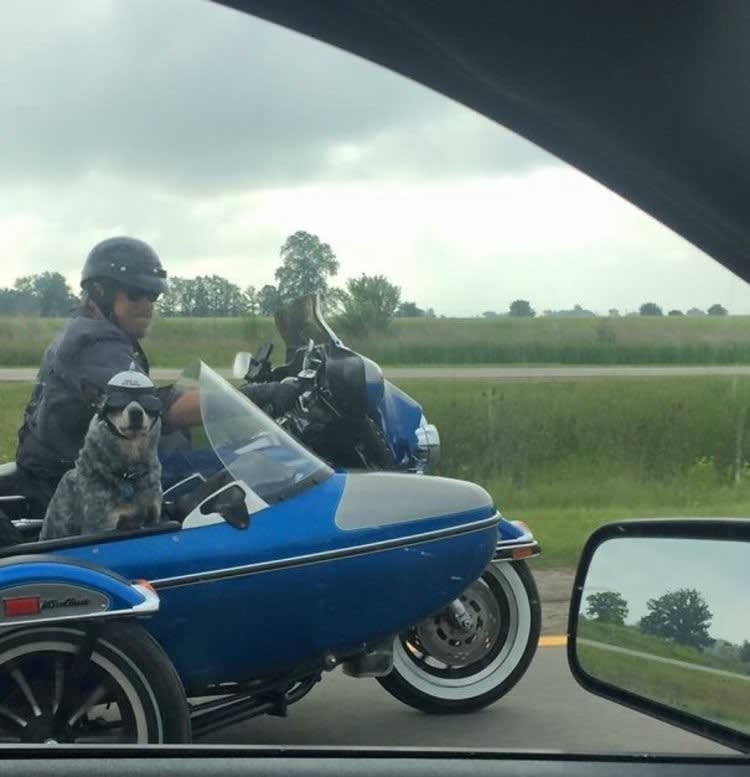 However, no one imagined that the dog would look even looker than the man on the bike, and they are both definitely the most awesome people on the road. 
34. CAREFUL WITH THE BRIDGE!
This image is another example of people who don't have the best depth perception. Additionally, this is a very clever piece of street art so that everyone understands that they must be careful when passing this bridge.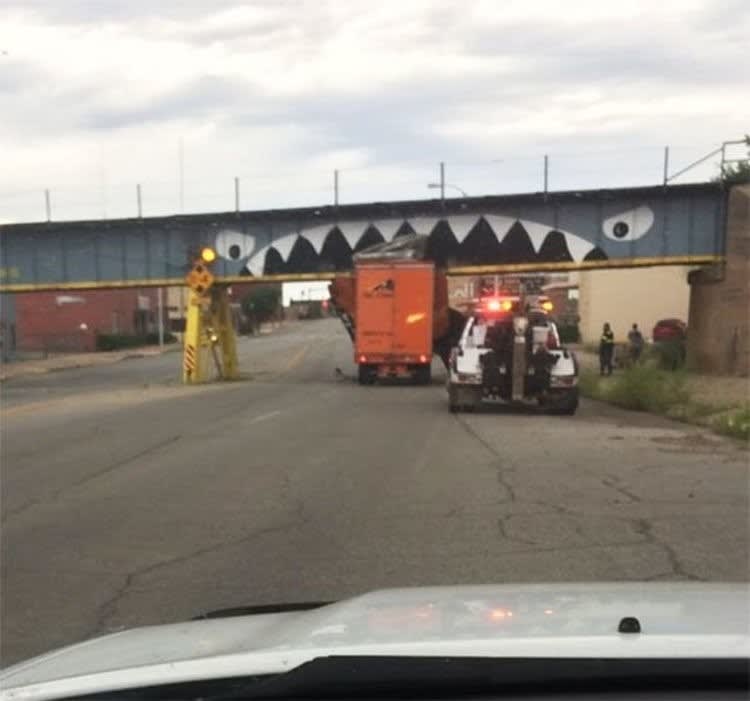 The warning should have been clear, but some people think they can take the easy way instead of the long turn. The truck driver probably learned his lesson. 
33. THE QUEEN OF TRUCKS
It's great when people use puns to have fun, especially on top of their cars, and this truck was clearly transporting rocks to a construction site, and the message on the back is absolutely perfect.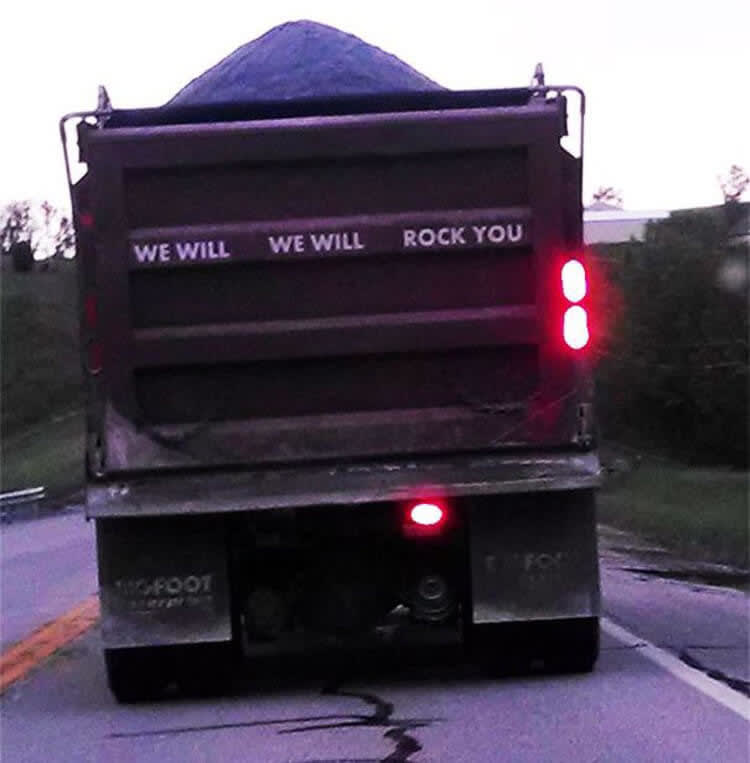 For those that don't know about the British band Queen, those are the lyrics of their song 'We Will Rock You', which doesn't exactly reference actually rocks, but it couldn't have been more clever. 
32. THE TRUTH
Most people hate seeing trucks on the road. They slow down traffic and if the drivers are not careful, they can cause tragic accidents in seconds. However, this truck feels like there is a simple solution to that problem.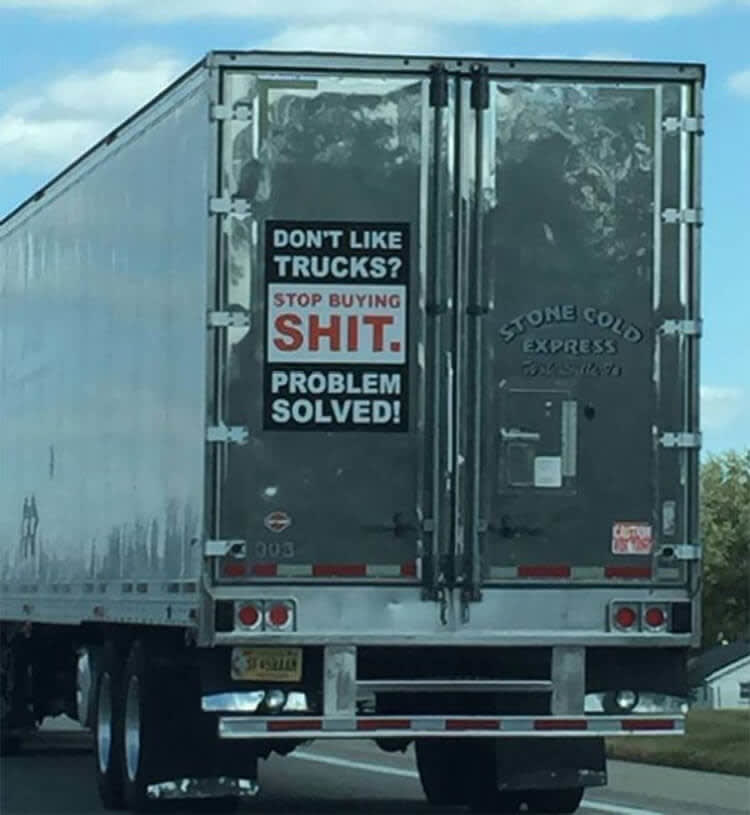 The sign says it all, in fact. But, people will never stop buying things because we love being consumers. Furthermore, we bet that any driver nearby that day thought the message was perfect. 
31. WHAT KIND OF ALIEN IS THIS?
UFO sightings have been reported for decades, but we are still not even close to finding out if there are other life-forms in the universe. Most people like to believe that they do exist, although we don't know what they look like.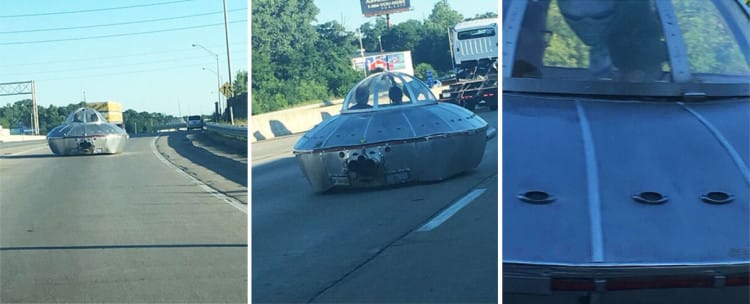 However, our technology is not advanced enough to make cars so similar to what we imagine as space ships. We wonder how long it took for these people to make that cool idea. 
30. THE PERFECT RIMS
We are all fans of a given show on television at some point. When we were children, cartoons were the norm, and even some adults still enjoy some animation programs. 'SpongeBob Squarepants' is particularly clever, and can be seen by any age group.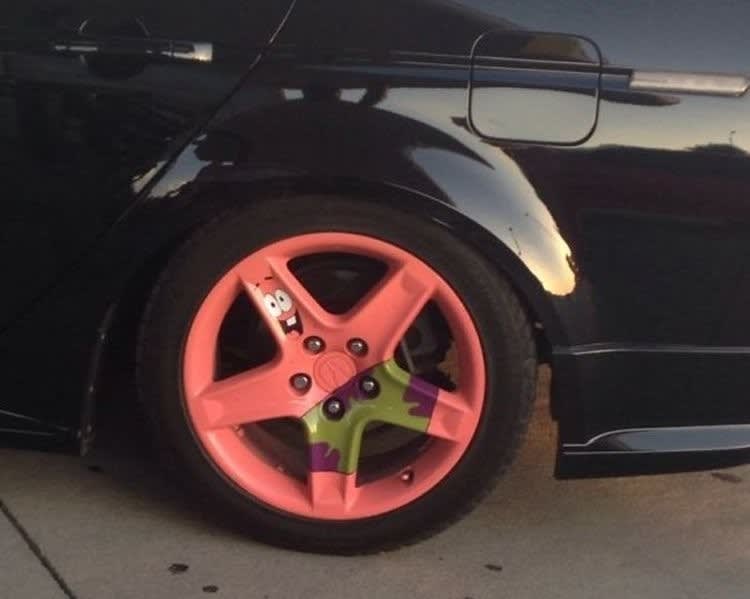 Patrick Star is one of the most iconic characters ever created. We all love the goofy best friend of the main character, and he fits perfectly with that five-point rims. 
29. CONFUSING ROAD SIGNS
It's important to follow the rules of the road, and if a truck has a sign specifically asking to be careful around it, everyone better pay attention. However, this driver encountered a weird coincidence that made his experience a bit troubling.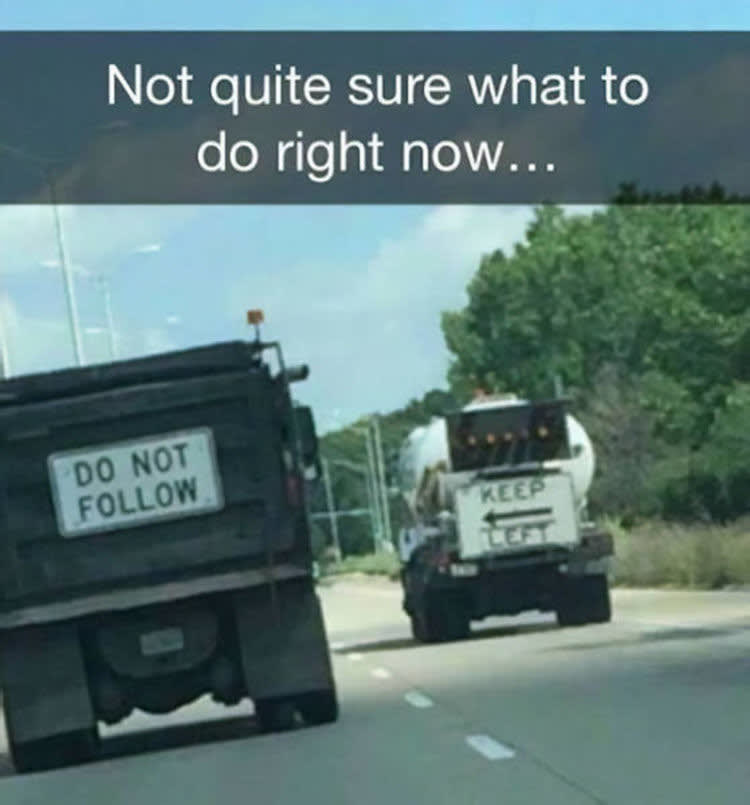 One sign tells it to remain on the left side, which implies falling behind the black truck, and the other says not to follow the black truck. What to do now?
28. THE PERFECT COSPLAY
We all love dressing up, and 'The Simpsons' is another animated show that is enjoyed by people of all ages. However, we have never seen such a perfect costume.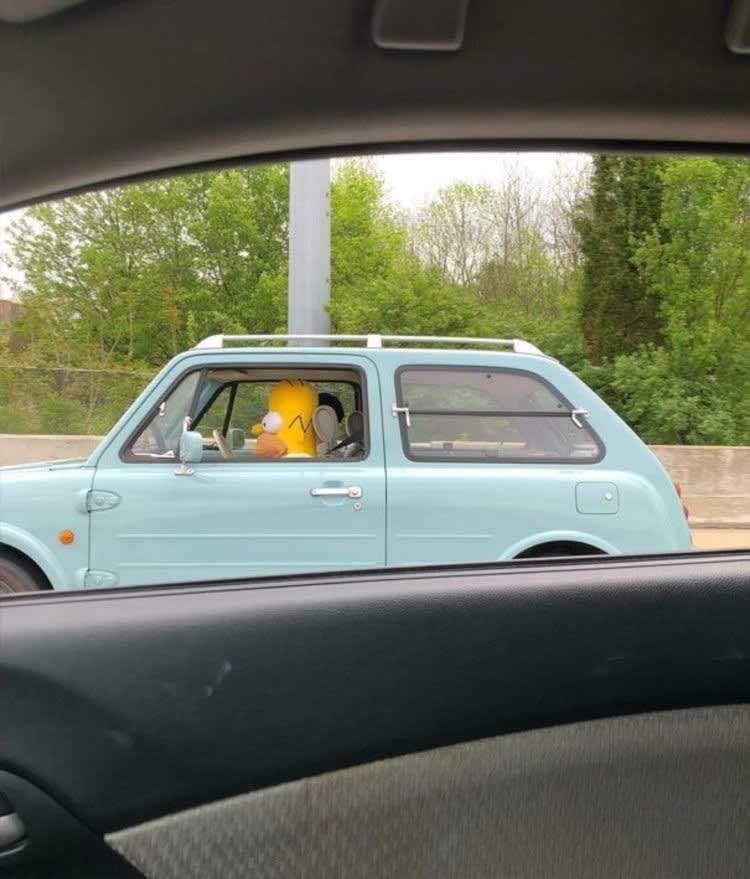 From the car to the Homer Simpson outfit, this person clearly won that year's Halloween, and we have to applaud him for his creativeness. All the other drivers probably laughed about it too. 
27. ANOTHER HOMAGE TO ANIMATION
'Pokemon' was an instant all over the world as soon as it premiered on television. People have liked anime for decades, but this was different, and the main character's favorite pocket monster was Pikachu.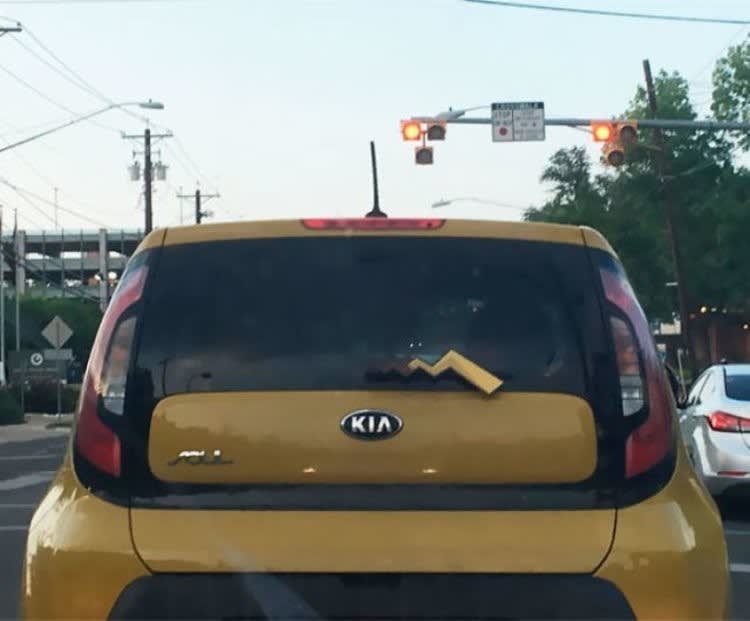 Pikachu became a legend instantly, and even Ryan Reynolds recently voiced him the new live-action film 'Detective Pikachu'. This driver took advantage of the color of his car to add a nice little detail.
26. ANYTHING IS ENTERTAINING IN TRAFFIC
Getting stuck in traffic is the worst, and sometimes, you just don't want to listen to music. Some people even lose their minds while waiting for the lines to move. Luckily, this person had the perfect solution.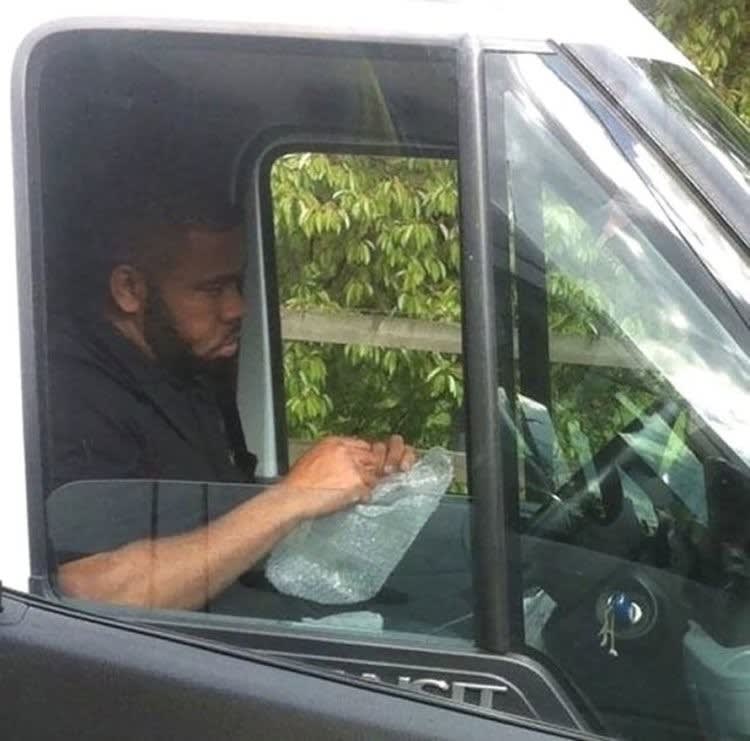 There is nothing more relaxing that popping some bubbles from wrapping paper, and it can definitely help with road rage. We totally recommend it for long commutes. 
25. WARNING SIGN
When pulling over, it's important to leave something to warn other drivers so that no accidents occur unexpectedly. Normally, some cars are equipped with an orange triangle for that purpose. There are many alternatives as well.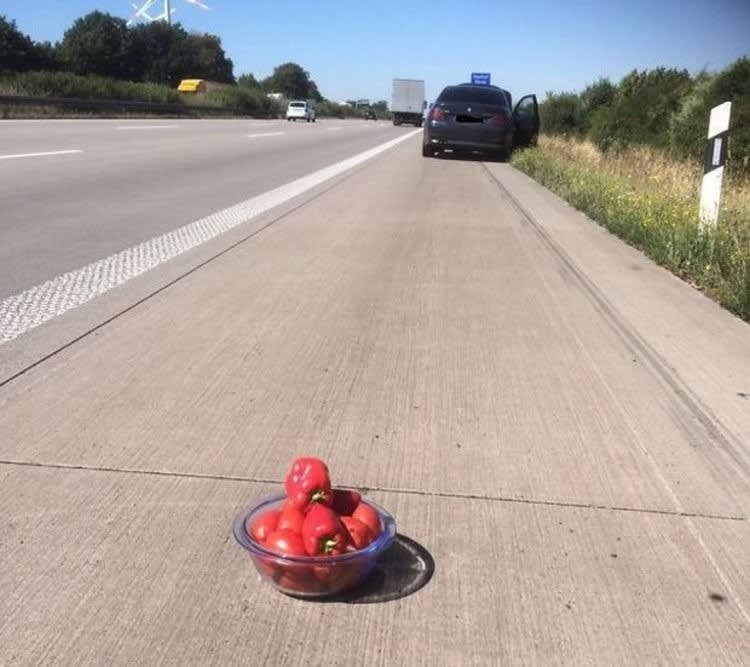 However, no one would be expecting to see a bowl of tomatoes and red bell peppers to warn them off the side of the road. It's just weird. These people just had a bowl of those in the car?
24. HOW MUCH CAN FIT ON A BIKE?
This is another image that portrays people trying to take shortcuts and not pay for proper delivery service. The previous flat screen was one thing, but these boys went beyond that.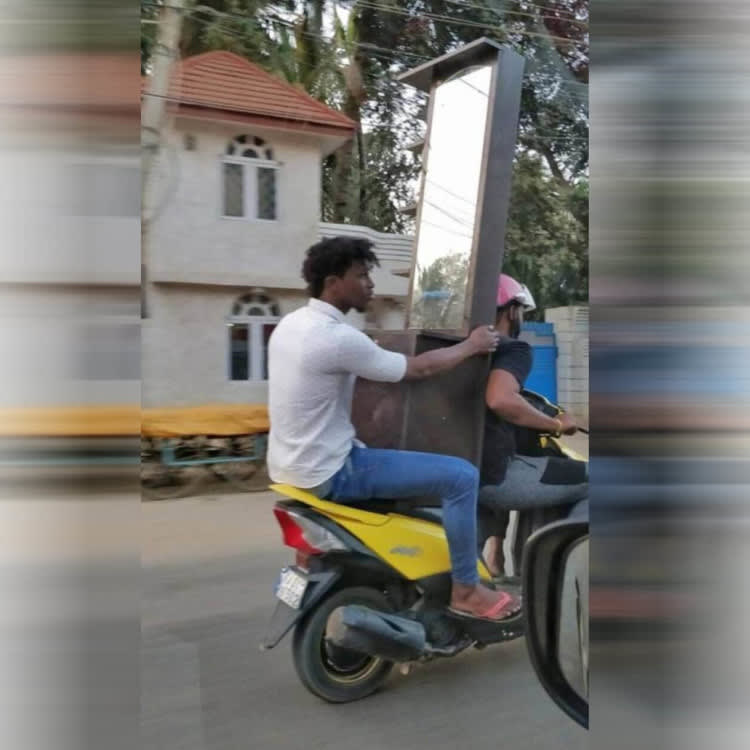 The bike can barely hold two people at once, and they decided to transport that vanity and mirror set. That's just weird, and we just hope that nothing bad happened on their way. 
23. PETS LOVE THE WINDOW
While it is not uncommon to see a dog on a car, as they normally like the windows down and the air in their face, seeing other kinds of animals is a bit more difficult.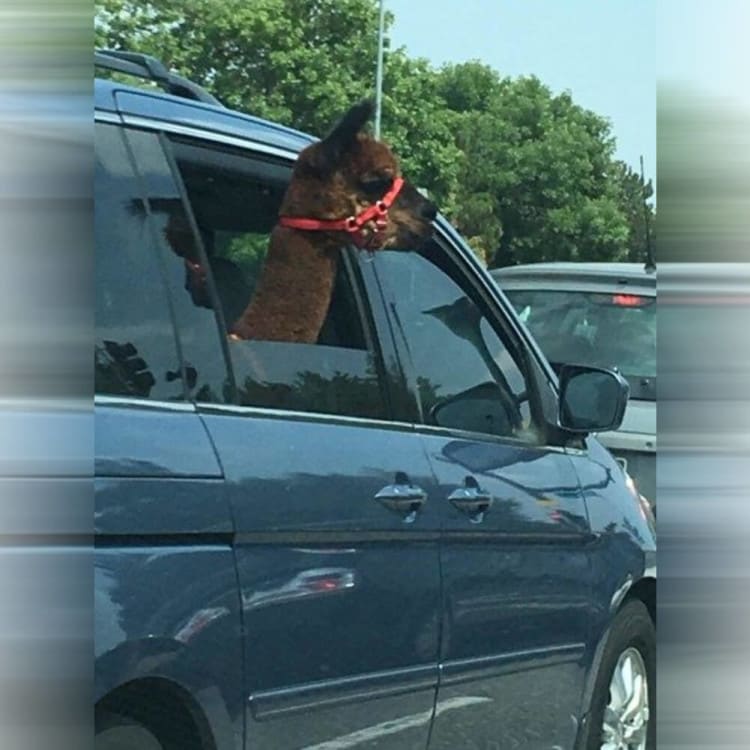 No one expects to see a llama or an alpaca acting like a normal pet in the family, but some people do have them in their homes. However, this picture might be from Peru, where they are more common. 
22. A GOOD ENTREPRENEUR
Once again, this is another image that shows traffic can be annoying, but there are many ways to escape boredom. However, this driver found a better way to pass the time and earn some money as well.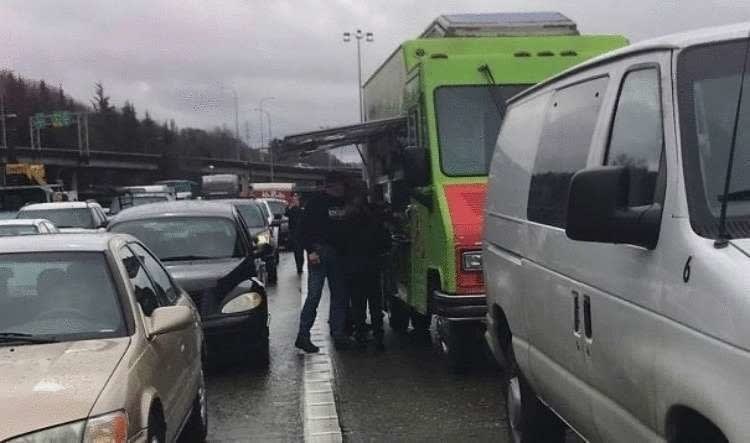 The lines must have been at a complete standstill because the food truck decided to open for business as if it were parked somewhere. Luckily, there were many customers ready to pay for from grub to kill time. 
21. VAMPIRES BEWARE!
It is important to keep a safe distanced from trucks, especially those carrying heavy materials, but this is an unexpected sight that needed a closer look. Wood is used in many businesses to make everyday objects and even houses.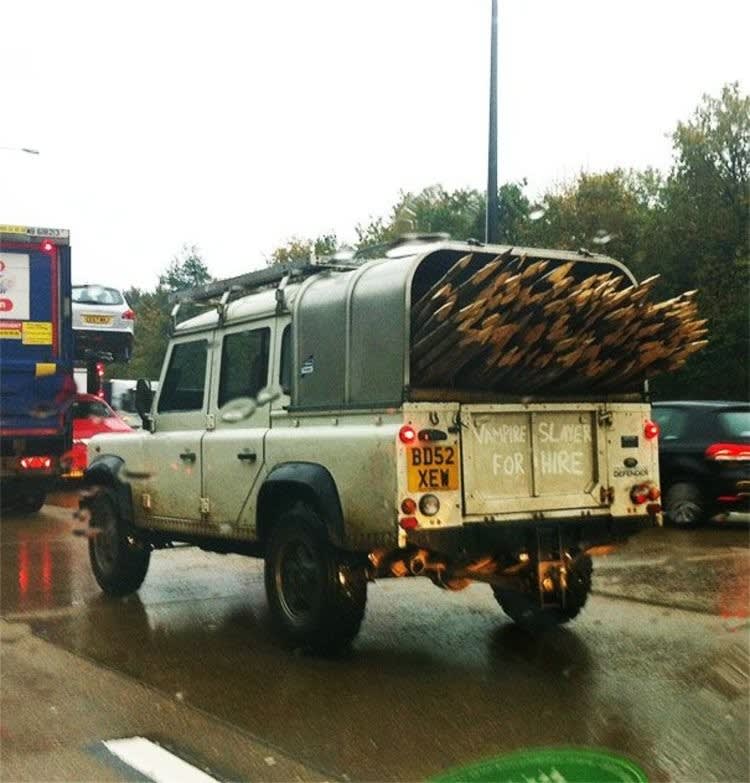 However, these look like giant pencils or even giant stakes that can be used to kill a huge vampire. Luckily, someone decided to make a message out of the dirt in the truck explaining their services. 
20. BIKERS LOVE CHICKS
It's no secret that some men buy motorcycles to impress the ladies and having a beautiful woman on the back of your bike can be exhilarating. But, this image shows something that can be considered goofy or creepy.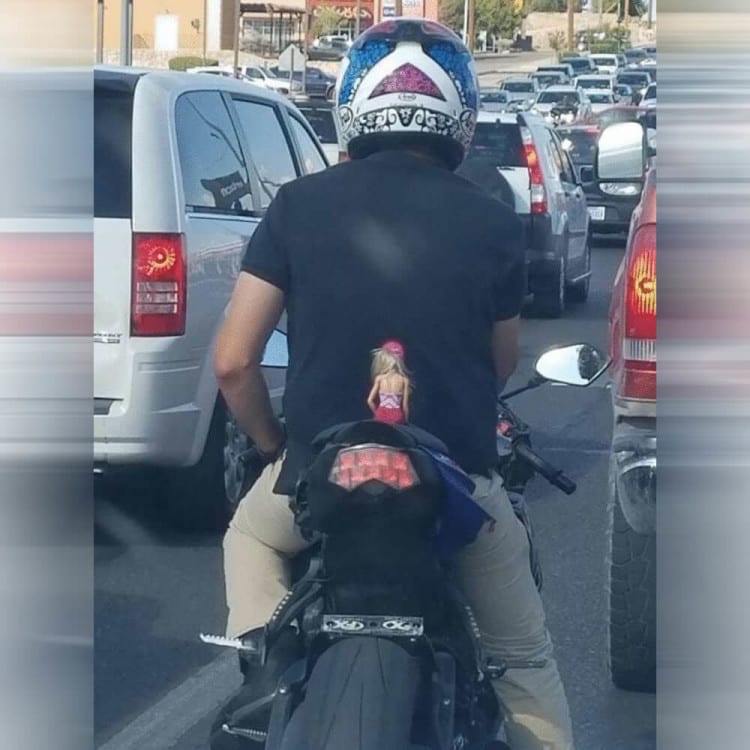 We might never know the full story behind his actions, but adding a Barbie doll to the back your bike as if it were a real passenger is rather odd. Also, was it his Barbie? Someone else's Barbie? There are so many questions!
19. HI, GANDALF!
In the early 2000s, 'Lord of the Rings' was the biggest franchise in Hollywood. Their movies won many Academy Awards, and it is filled with fantasy and magic. One of the most beloved characters was Gandalf, the wizard.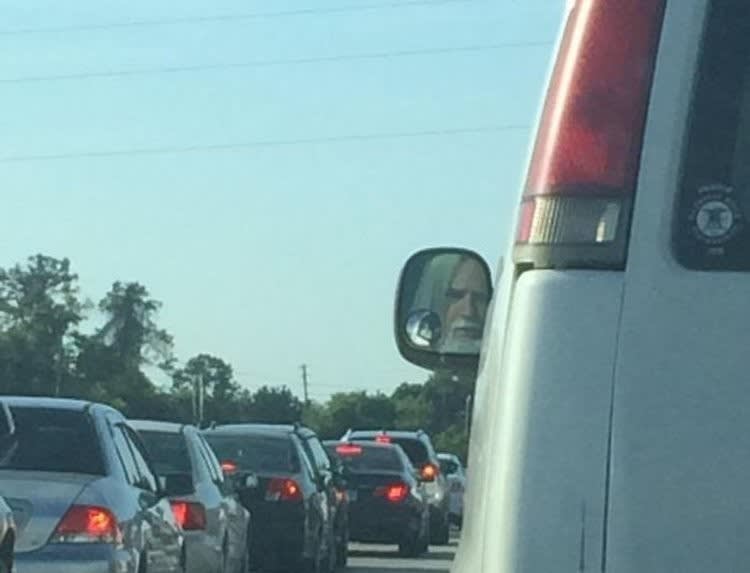 However, no one is able to see Gandalf in everyday life, and we wonder what happened to his horse if he had to take his van for a drive. Have you ever seen a wizard in real life before?
18. RESPECT WORK HOURS
Road workers are often hated because they can cause traffic, but they are just doing their business as best they can under the circumstances. These particular group had a message for all the other drivers. 
They wanted everyone to know that their work was done, and they would be leaving right away. But, they delivered that message in a pretty sassy, passive-aggressive way. We love it!
17. TRUCK ON TRUCK
Delivering packages is very important to some people, and when you are a truck driver, you have to make sure that your cargo is safely attached to the back so that it doesn't fall on the way.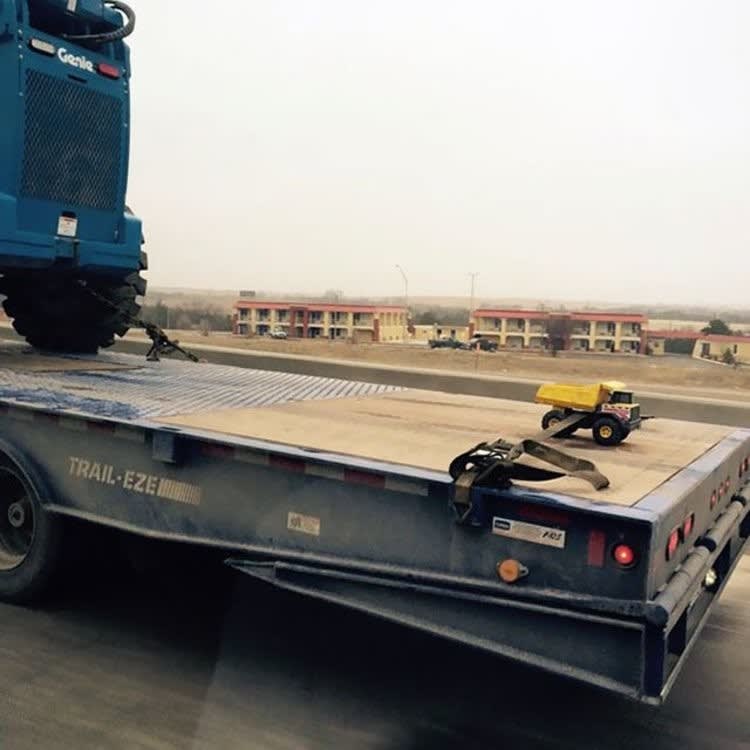 But, this driver might have taken it too far with the toy truck it was carrying. He probably did it to make other people on the road laugh, and we love this kind of humans. 
16. AIRY CAR
Nowadays, there are all kinds of cars for different tastes all over the world. But, some people like to make their own modifications for the road. Clearly, that driver wanted something a bit more airy than the original SUV.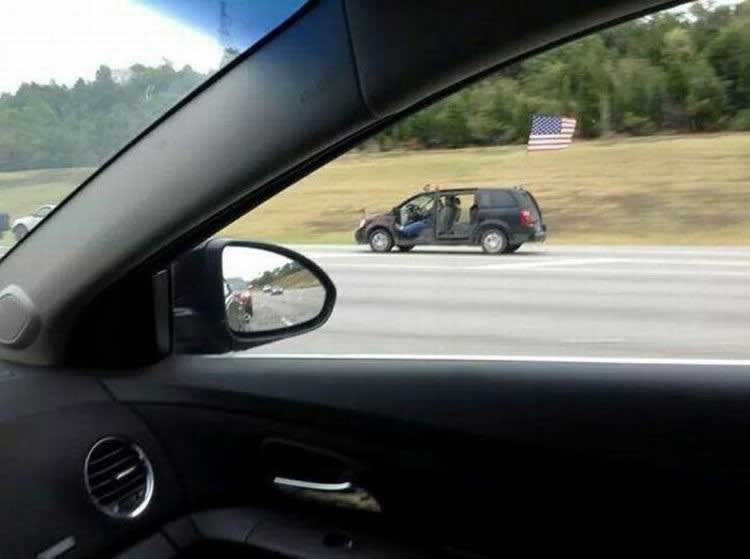 He might have a broken A/C too. Either way, it looks like he is having a relaxing time, and additionally, he is very patriotic. We wonder where he was going.
15. THE JOKE IS ON YOU
Here is the graphic example of the age-old question, "Why did the chicken cross the road?" But, there are still no answers other than "To get to the side."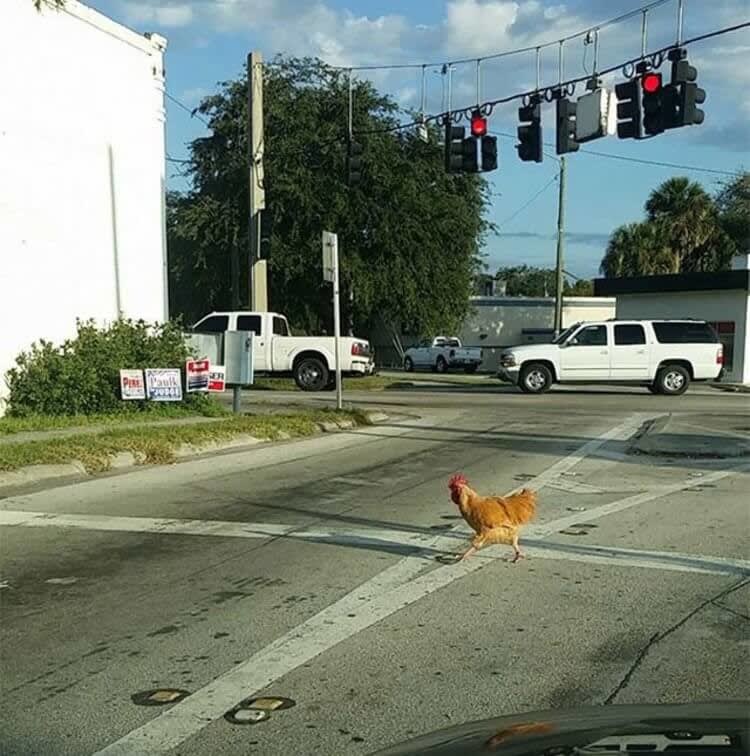 However, even if it is just a chicken you have to break for all animals, and it looks like this one had some important business on the other side of the street. 
14. AWARENESS!
This image is another example of people who are not aware of the size of their trucks. It's hard if you are a new driver, but you better be careful. It seems like this person was not even considering the height because the trunk is completely damaged.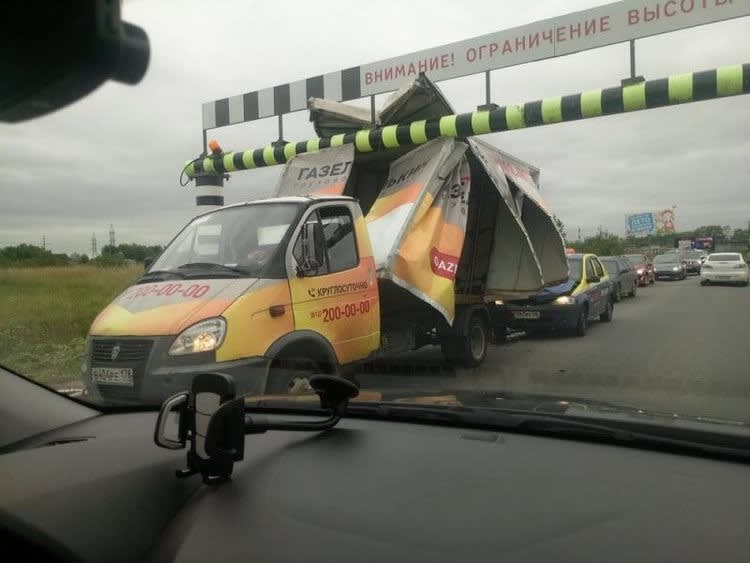 Aside from ruining your company's vehicle, that person ruined everyone's day with such carelessness. Driving is a privilege, not a right. Hopefully, only the van was damaged. 
13. NO A/C NEEDED
Having a convertible can be totally fun, but when the weather is bad, you have to cover it top. Otherwise, you can ruin the interior and get sick in the process. This driver clearly doesn't feel anything.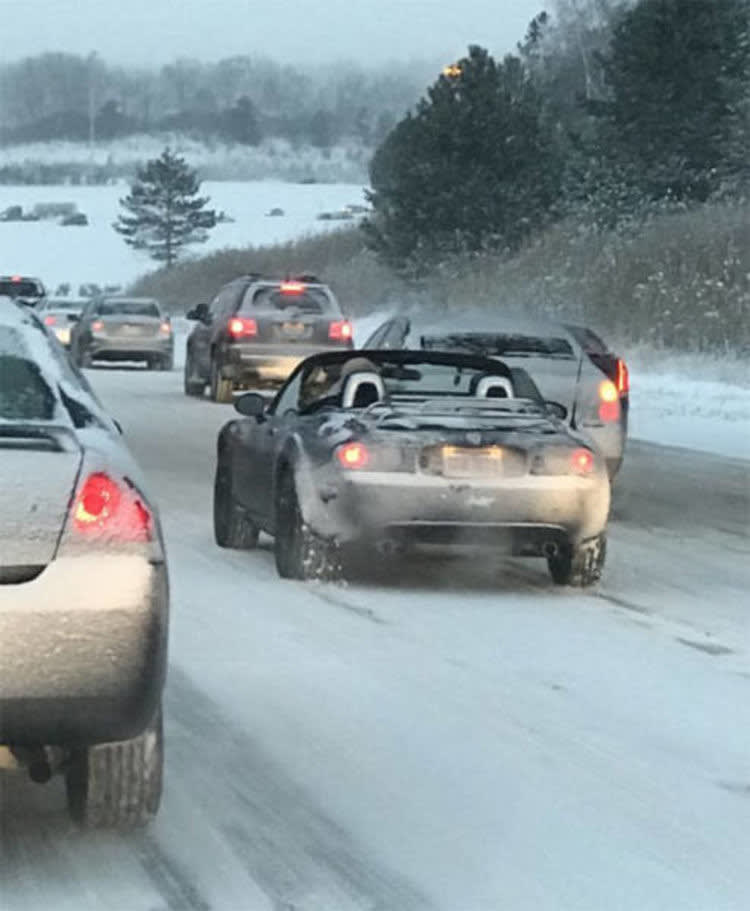 It looks really cold, and there's a chance that something might have been wrong with the cover. However, it seems pretty crazy to go out on that snowy day. 
12. TOO BIG
Some people are taller and bigger than average, but luckily, vehicles come in all sizes for specifics needs. But, convertibles and fast cars are usually tinier and not that comfortable.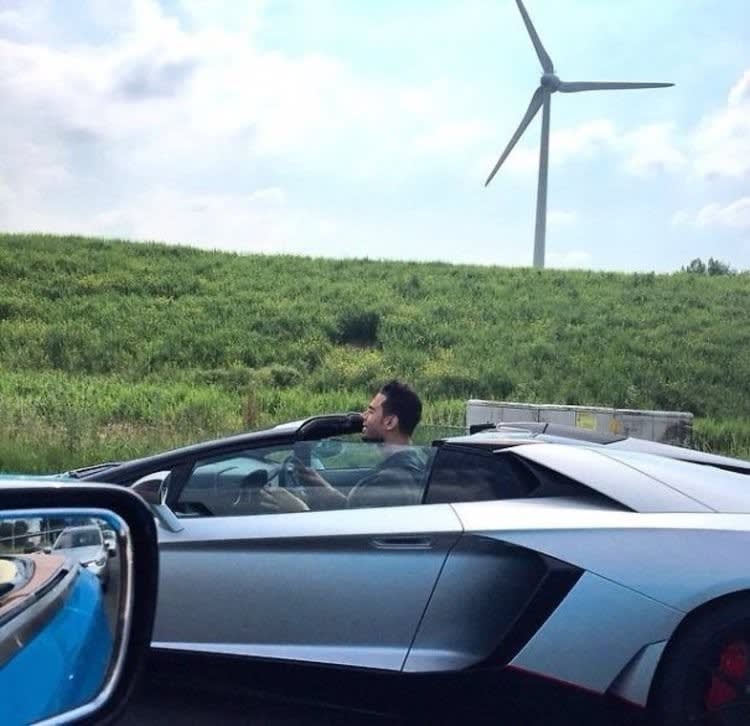 This owner found that out the hard way. Could it be that he cannot close the top of the car because of his height? He must have wanted the car too badly. 
11. TOO COOL FOR PROPER DRIVING
It looks like this kid gets stopped all the time because he even added a sticker with a clever message, and the police officer was impressed. It's important to respect all traffic laws, though.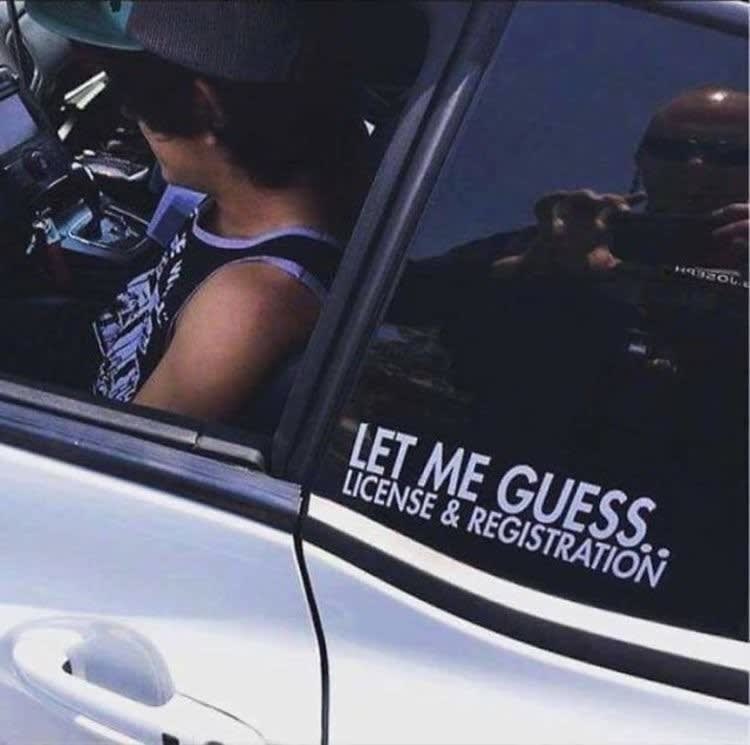 Being constantly stopped is not a laughing matter. Speeding and being reckless can actually cause accidents, and while we can laugh at the cleverness, it's not alright to condone it. 
10. THINGS WE CAN LAUGH AT
On the other hand, there are many funny things that drivers and passengers can do on the road that often entertain other people on the way. These kids had cool masks on, and they are hilarious.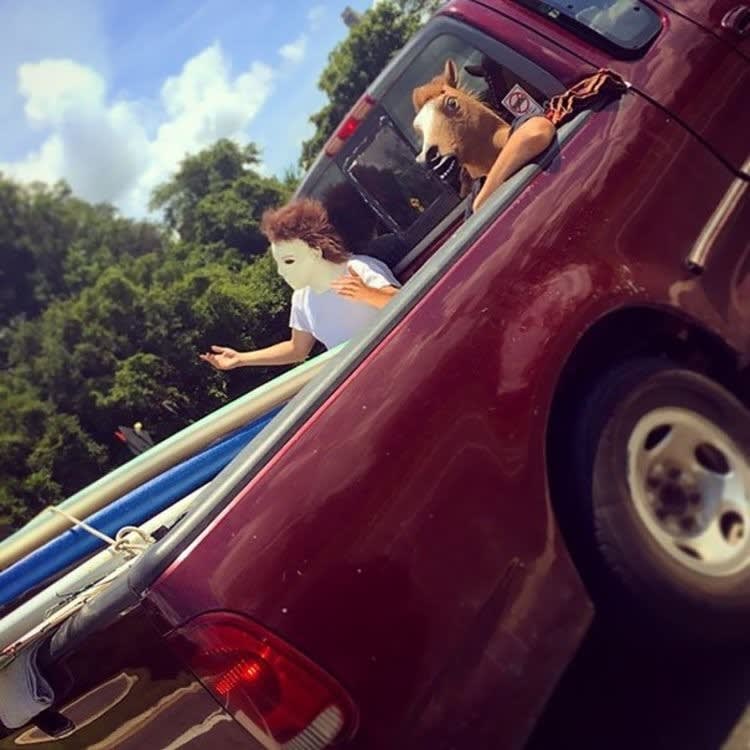 Who says it has to be Halloween to wear a costume? Clearly, these kids had the right idea, and everyone got to enjoy their playfulness. 
9. COMFORT OVER EVERYTHING
Some people like to be comfortable at all times, but we all have to run errands some times. They say that necessity is the mother of invention, and this guy had the right idea for a comfy vehicle.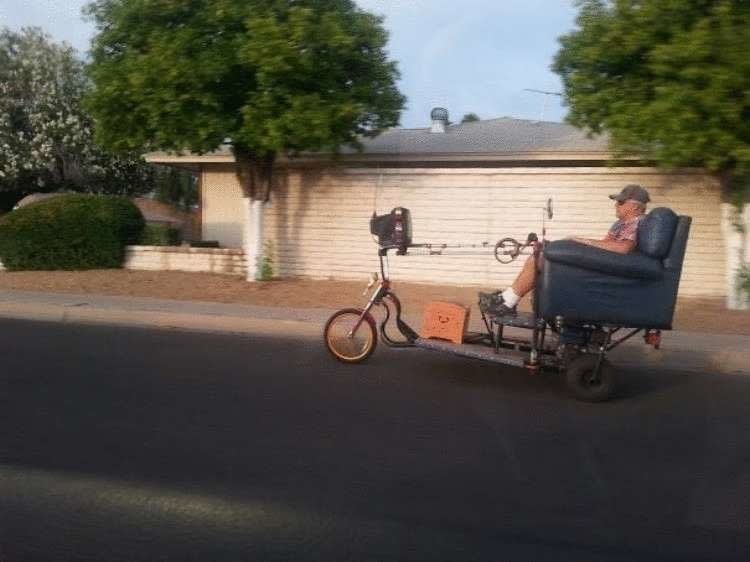 We wonder how he got the idea to make such a contraption, and if we can replicate somewhere. However, it should only be used in a tiny neighborhood. No long road trips for that bad boy. 
8. ONE-WAY ONLY
People are often too lazy to make more than one trip, especially when it comes to moving. But, if they have too much stuff, it's better to be safe than sorry.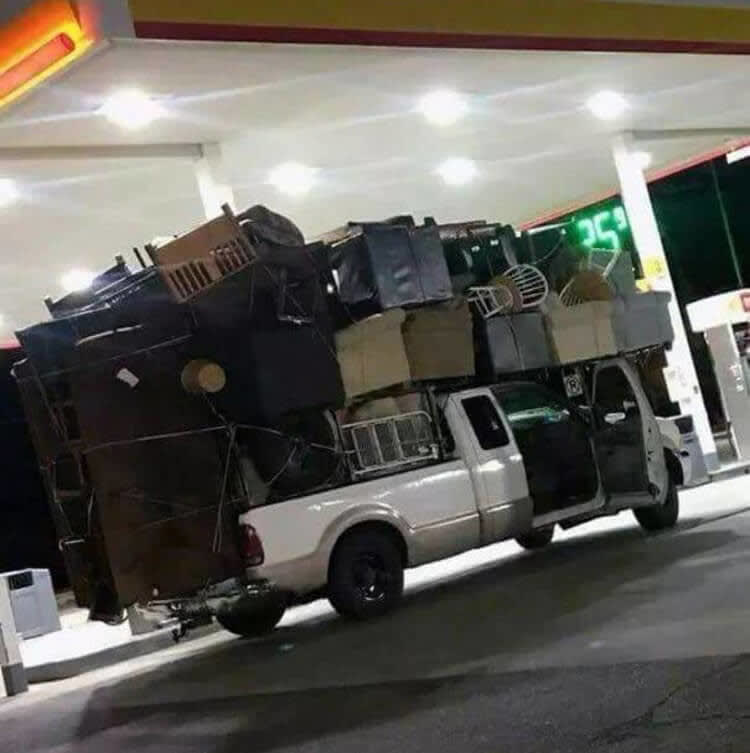 It hard to imagine how they drove that truck when the windshield was actually covered, but we hope no one was hurt in the process. On the other hand, what cop would allow them to just keep going?
7. ENTERTAINING RIDE
This picture shows another way that people entertain themselves on the road, and if your life is too complicated to practice your instrument, you have to do it on your commute.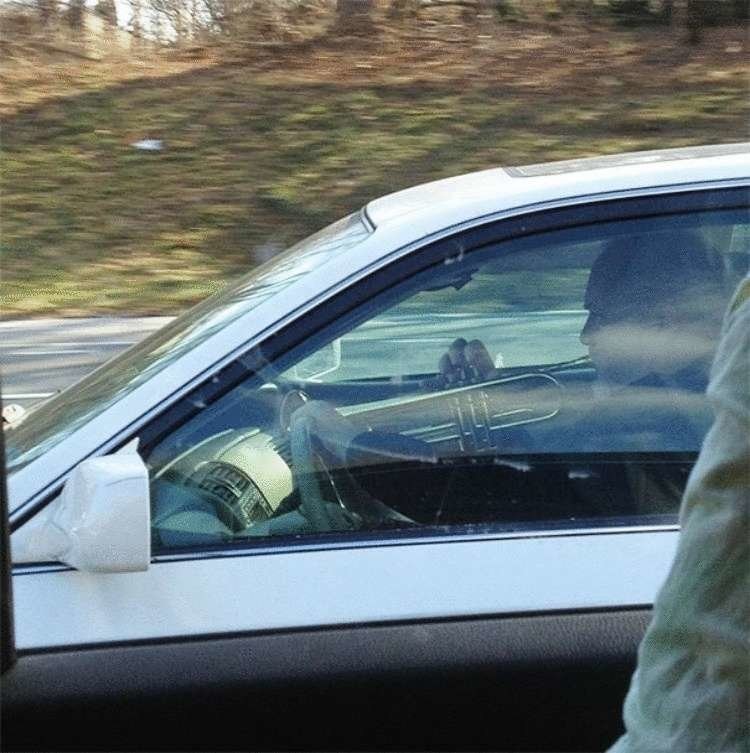 It's important to be diligent while learning new things, but road safety is also vital for everyone's sakes. Hopefully, they were at a stop light, and that man got to practice in peace. 
6. TWO JOBS
The work of sheriff does not seem to be enough for this person, so he decided to use an interesting marketing strategy to merge his two jobs. Being creative is the best way to earn more money.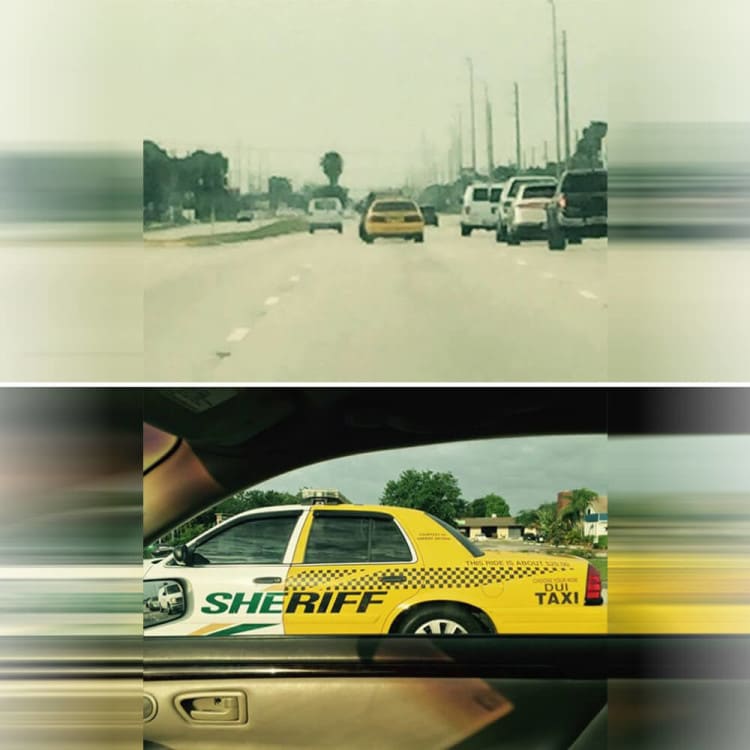 In any tough economy, it's important to capitalize on everything, and this sheriff makes sure that people are safe when they have been drinking and makes extra cash in the meantime as well. 
5. STYLISH GRANDFATHER
Remember when we mentioned that boys love their toys? This grandfather does not lose his roots or his memories, so he likes to hit the road with a lot of style and attitude.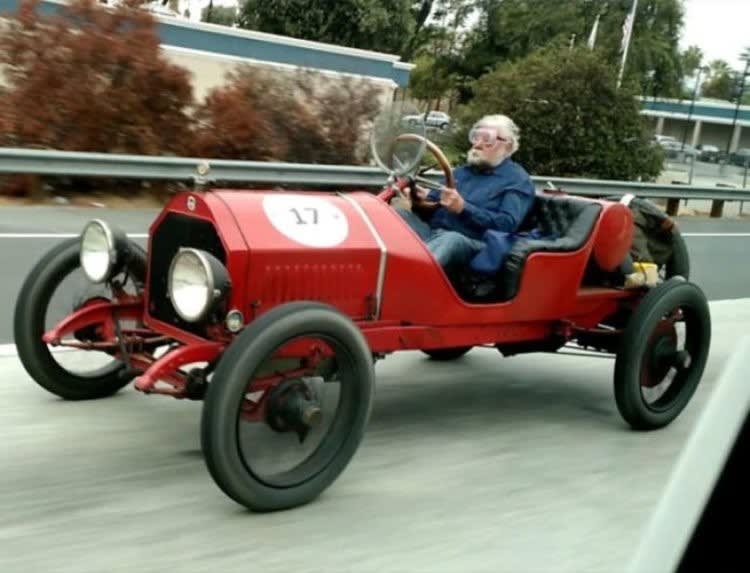 We wonder if he restored that old-school car himself, and how and how fast that vehicle can go. He looks like a pretty interesting person as well. 
4. WHERE IS BOB?
Humor is one of the most effective ways to send a message for people to drive safely. However, there is an important question in everyone's mind.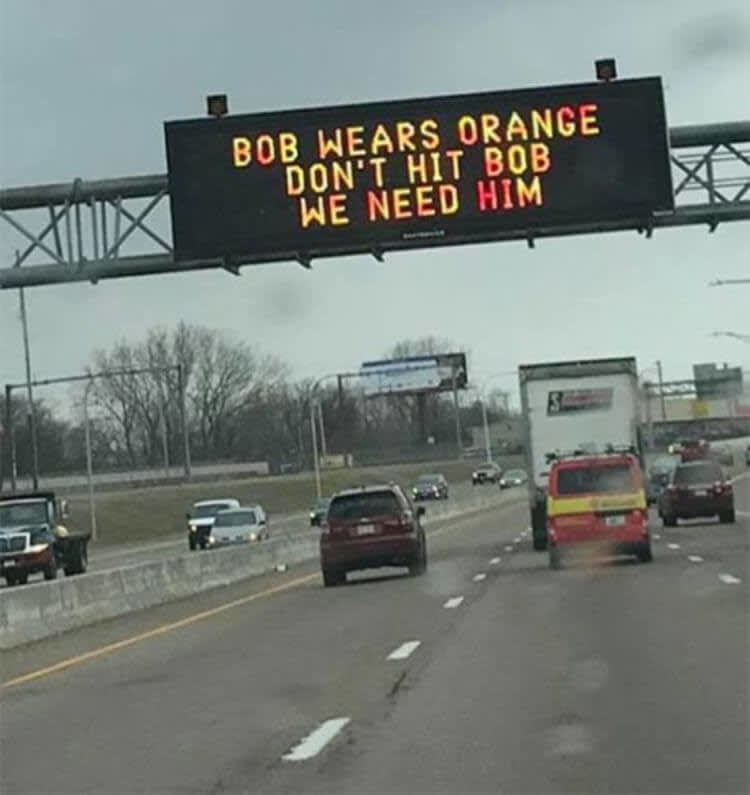 Is Bob some random name to make sure people are aware of others or is he someone specific? Where is Bob? Why is he wearing such a bold color? More questions that need answers.
3. ART IS DREAMING
Some people do not have the money to buy a sports car, but that does not stop them from living their dream in the most ingenious and creative way possible.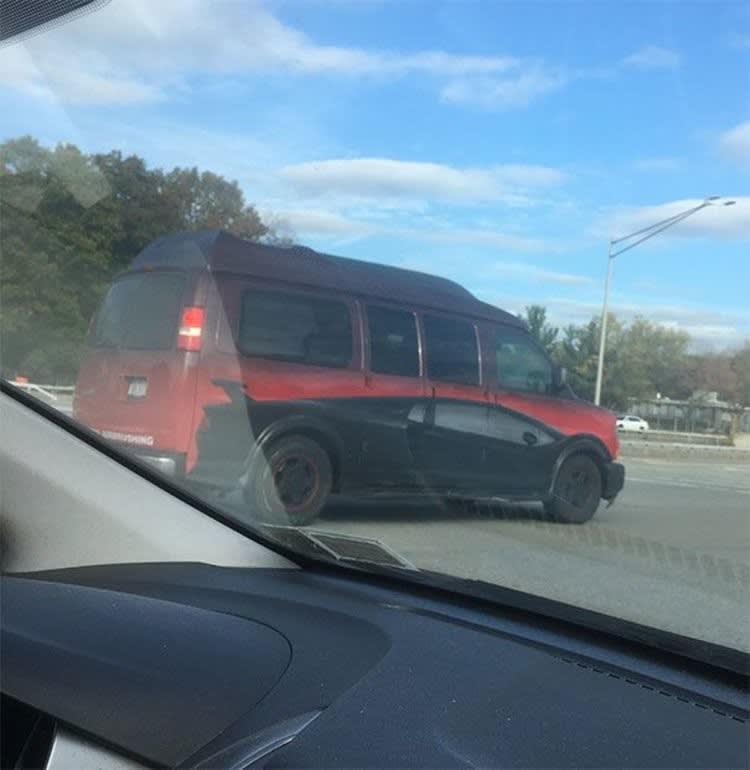 Sometimes, dreaming this big is actually a motivator to work even harder for the things we want. Dreaming is free, and hard work can reap amazing results. Let's keep going!
2. BALANCE IS KEY
While some people take many measures to ensure that their cargo doesn't fall from their cars, others take a more relaxed approach. These drivers were so sure that they placed the couch perfectly so that it wouldn't fall off the car.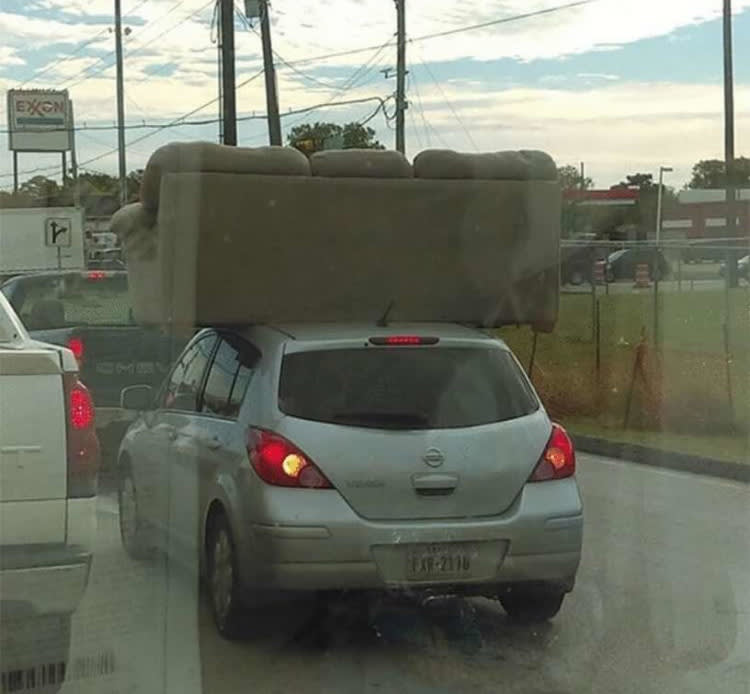 But, it doesn't seem like they are moving. Could it be that they were taking a vacation and had to take the sofa with them just in case? Some people ignite many questions that will never be answered. 
1. THE COOLEST FAMILY RIDES TOGETHER
These people have a lot of style, but there is nothing better than the face of the hairy friend who accompanies them and travels happily. But, everyone has to protect their eyes from the wind.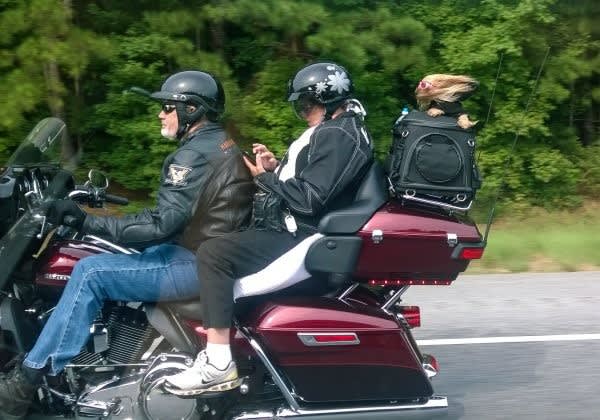 It must not have been the first they road with their doggie in tow because they are not worried that he will fall off the little carrier at any moment. Also, we love that they are all wearing matching leather jackets. 
All these images show us a very creative and fun side of life that we usually do not pay attention to, but that is always around us to make us smile a bit while we are on the road. Which of these images did you find most fun? Remember to leave us your comments and share this article with all your friends who love to travel and want to smile a little.
Sources: 247 Mirror
Related: