Revealing Historical Photos That Show The Past From A Different Angle
While we learn about history in school and read many subjects about different events, it's hard to really imagine anything without photographic proof of their existence. Luckily, the camera has been around for several decades now, and we have recorded the most incredibly powerful moments. Let's take a look at these images to remind us that life is bigger than ourselves. 
51. THE FIRST WOMAN AT THE BOSTON MARATHON
This is an image of Kathrine Switzer running in the Boston Marathon from 1967. She was the first woman to complete the race with a number, but race organizer Jock Semple can be seen trying to stop and take away her numbered bib. Luckily, he was actually pushed away by Kathrine's boyfriend, Thomas Miller, who was running beside her. Sadly, it took several more years – until 1972 – for women to be officially allowed at the marathon. While training for the race, Switzer's coach told her that it was too much for a "fragile women", but she did it carrying the number 261 with backing from the Syracuse Harriers athletic club.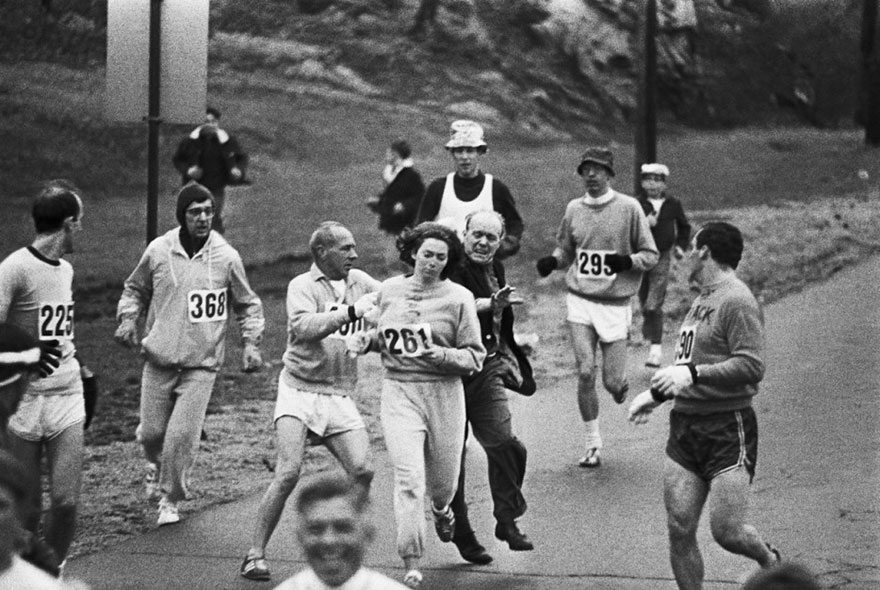 The runner was able to finish the whole circuit in 4 hours and 20 minutes, but she was behind the first woman to finish the race, Bobbi Gibb. Unfortunately, Gibb was not officially registered. The reason that she had number is because Switzer used "K.V. Switzer", although the runner cleared up that it wasn't to trick the organizers. It seems that she always used the gender-neutral abbreviation for a long time and even in college essays. Also, Kathrine said that her name was misspelled in her birth certificate; so, it became a habit.
Click 'Next Page' to see more of these historical marvels!