Rare Photos That Show True Old Wild West
It was a tough time to be alive in the Wild West during the 19th century. However, it was also an exciting and adventurous period in history. While it's true that the Wild West narratives have been laced with the myth about cowboys, gunfighters, and saloon madames, some events happened.
The era ended in 1895 and lasted for only 30 years as opposed to how it is portrayed in popular media. Beyond the exaggerations and fictitious additions, we have photos of the prominent persons and events that occurred in the Old Wild West. Here are amazing pictures of the Wild West that are still in existence: Enjoy!
Cowboys At A Saloon
Traditionally, cowboys were largely young men who generally tend to cattle, and perform other related tasks such as repairing buildings and fences, taking care of horses and others. Even though their dress code has been affiliated with fashion in this era, their clothing served a couple of purposes. The large hats with brims protect them from the sun, bandanas to help them with dust, and boots to aiding them in riding horses. While the workload of a cowboy is huge, and the average cowboy wage was about $25 to $40 per month in the West, it's nice seeing that they had the time to chill at a saloon.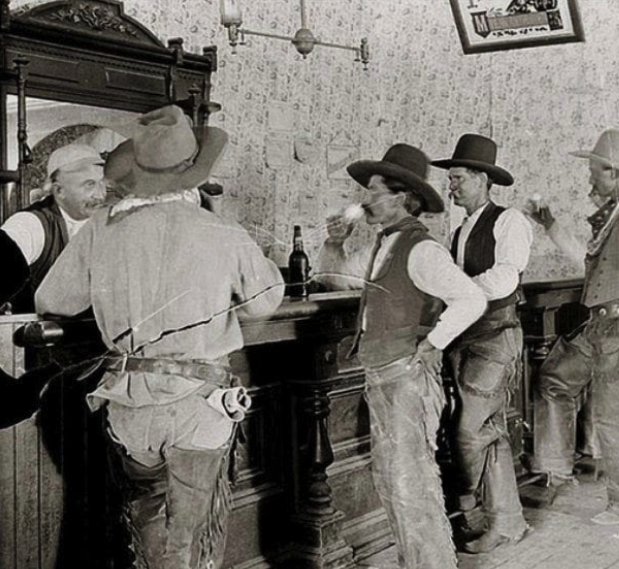 In this photograph, a group of cowboys is spotted drinking and engaging in discussions with the bartender. The saloon, which was also a place to relax and play poker, was located in Old Tascosa in Northern, Texas in 1907. Some saloons operated 24 hours per day, and seven days a week. The Cowboys were not the only one who regularly visited the saloon, other people such as soldiers, travelers, and lawyers made a stop by at the saloon too. 
Click 'Next Page' to see even more striking photos!