Hilarious And Bizarre Things Our Ancestors Thought Normal
If you believe people in this age are weird and do the most unimaginable things, then you need to catch a glimpse of the past. Trust us; your mind will be completely blown away. We'd be taking a stroll down memory lane to find just how normal our ancestors thought they were, and how they engaged in the most unimaginable things. Brace yourself as you are about to read 30 of the most dangerous, hilarious, and bizarre stuff done in the past.
33. Water Breast Massager
The importance of breast massage cannot be overemphasized. It has various health benefits such as preventing cancer, get rid of sore muscles, enhance better breastfeeding experience, among others. It is known that engaging in breast massage as often as you can endows on you many benefits, both medical and physical. The use of water pressure for massaging is known as Hydromassage. It has been in use for over many years, and the act can be traced to ancient Greece and Romans. Just like us, people in the past knew the importance of water massage.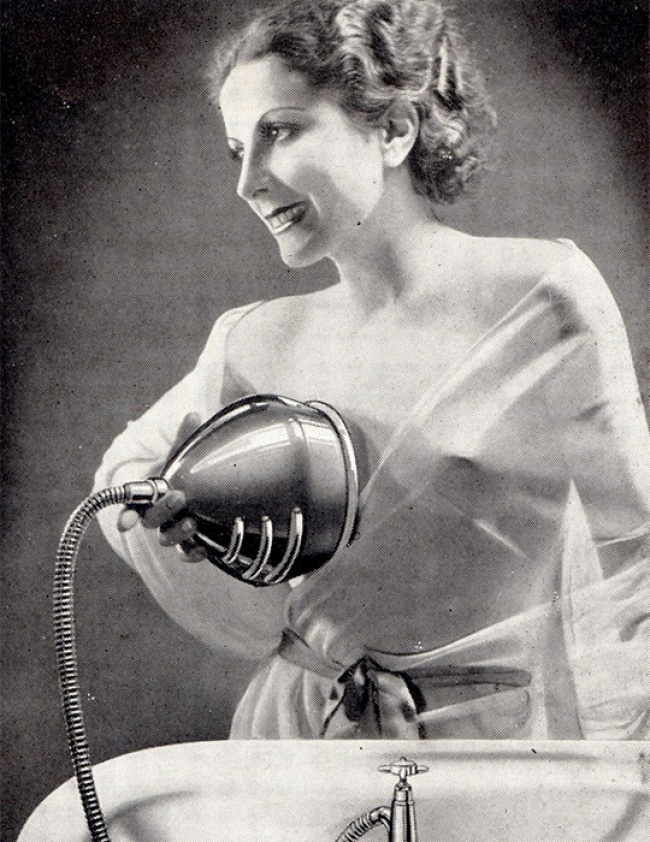 Notably, the method was introduced to women not only for having a great time but for breast enhancement. This probably led to the invention of the water massage device. The device was purported to help women attain a rounder and firmer breast. All they needed was to purchase the equipment and fix it on their breast. The woman in the picture above seems to be having a good time. However, we aren't sure if the device worked for them. Well, 1930 is a long time ago, and if the device is no longer exist, it probably didn't produce the expected result.
32. Disney's Caveman for the 1964 New York World's Fair 
The 1964/1965 New York World's Fair was launched on April 22, 1964. It was a World's Fair that attracted over 140 pavilions, 80 nations, 110 restaurants, 24 US states, and more than 45 firms to create exhibits or entertainment at Flushing Meadows, Corona Park in Queens, New York City. The huge fair extended over 646 acres on half the park. There were many with pools or fountains and an amusement park who had rides close to the lake.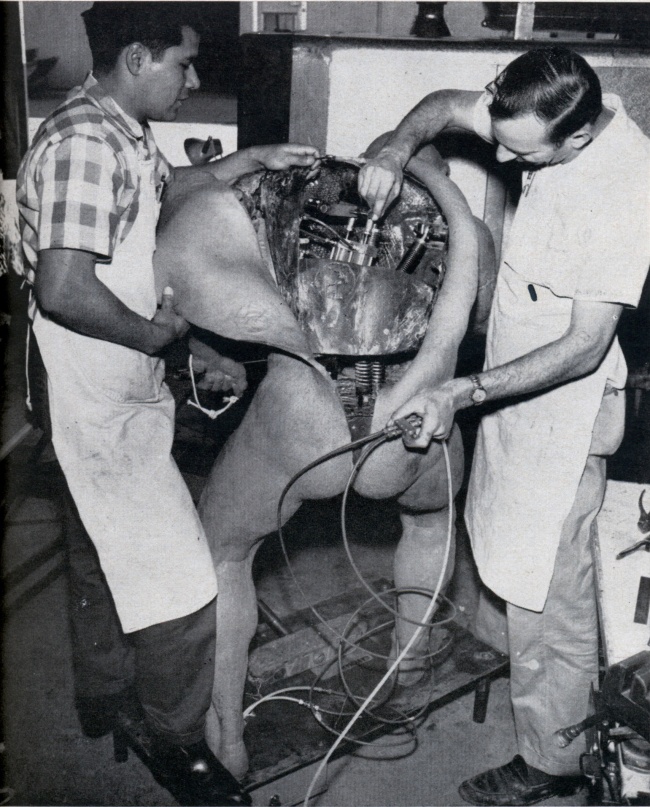 That period was a huge one for the Walt Disney company, and the Fair highlighted four remarkable attractions, produced by Walt Disney and his innovative crew. They introduced a novel and advanced form of animation, which was called "Audio-Animatronics technology." The above picture is from "Popular Science." It shows workers at Walt Disney Studios working on an automated cave dweller in preparation for the World Fair.
31. Black Nannies in the 19th Century
This was a horrific time in our history. While slavery was officially abolished in 1865, black people were often still treated with less respect. This is most often with poor ones, especially women who had to take up domestic jobs to support their family. Many of them take care of houses, provide child care services, engage in errands, and generally get involved with other domestic tasks for white households. Their pay was often so little compared to the duties they perform that it could barely put food on their table.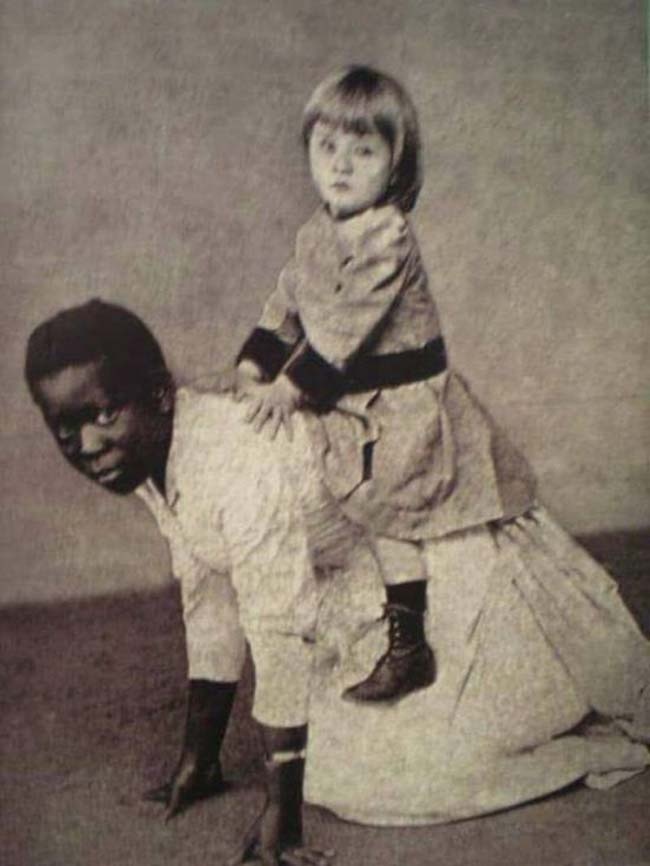 Apart from this fact, many of these workers were treated poorly. The above picture depicts a white child riding on the back of a nanny. We know it's haunting, but it was a pretty standard thing back then. We are excited such days are over, as policies have been placed for black people to be treated equally in workplaces and everywhere in the country. We have come a long way.
30. Cocaine's Endorsed Pharmaceutical Use
Cocaine, which can also be referred to as coke, is a powerful stimulant mostly. It is used chiefly as a recreational drug. It is often snorted, inhaled through the nose, and injected into a vein. The many side effects of cocaine use include extreme feelings of happiness, increase in heart rate, enlarged pupils, and a loss of touch with reality. Results of the drug can start within five and ninety minutes. In the past, medical practitioners discovered medical uses of cocaine as opposed to its severe side effects.
About 100 years ago, cocaine was not regarded as a harmful or illegal substance. Instead, it was openly sold in pharmaceutical stores, and even without prescription from doctors. It was used to treat coughs, toothaches, and used during surgery to numb pain and reduce bleeding. Do you know what's worse? It even endorsed as a sedative for kids! We are glad this is no longer the case, as we all know the severe effect of cocaine and its use.
29. Kids Being Delivered Through The Mail
This is outrightly hilarious and unbelievable. However, it is true! At the start of the 20th century, Americans were legally allowed to send their kids through the mail. Yes, 'bail mail' actually existed. When the U.S Post Office Department --now known as U.S Postal Service -- first began conveying and distributing packages on January 1, 1913. Americans were thrilled with the novel service and began mailing different categories of items, including their babies and kids. The cost of mailing your kid was about 15 cents, only if your child's weight was not above the weight of a regular parcel.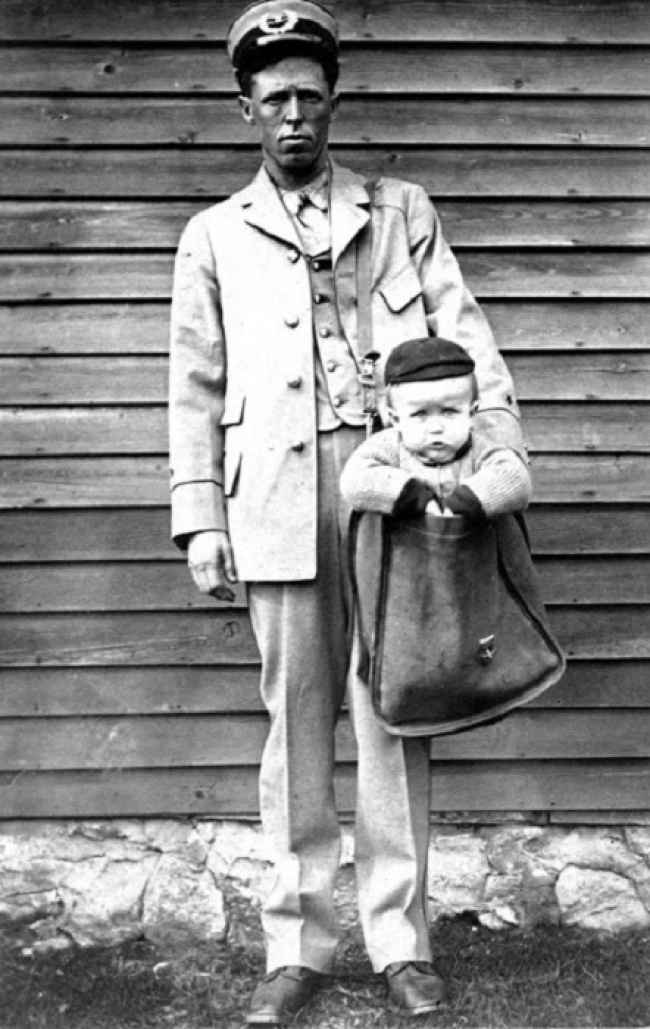 They were unique handling rules and regulations for packages that involved children. Also, only trustworthy postal workers were frequently requested by the child's parents or guardian. This puts their mind at rest that their child will successfully be delivered to the right destination. We do not know what the parents were thinking, but during that time traveling long distances was largely unaffordable by average Americans. So, sending their child through the mail made perfect sense to them!
28. Wired Baby Cages
We are guessing parenting must have been extra tough in the past. Your eyes aren't deceiving you, that is an infant hanging out of the window. The baby cages were invented in 1922. However, 'Gothamist' revealed that the idea was inspired by the book Dr.Luther Emmett had written. In the 1884 book,' The Care and Feeding of Children' Emmett highlighted the importance of babies being "aired." A couple of London communities started equipping windows with baby-sized cages for infants to stay in.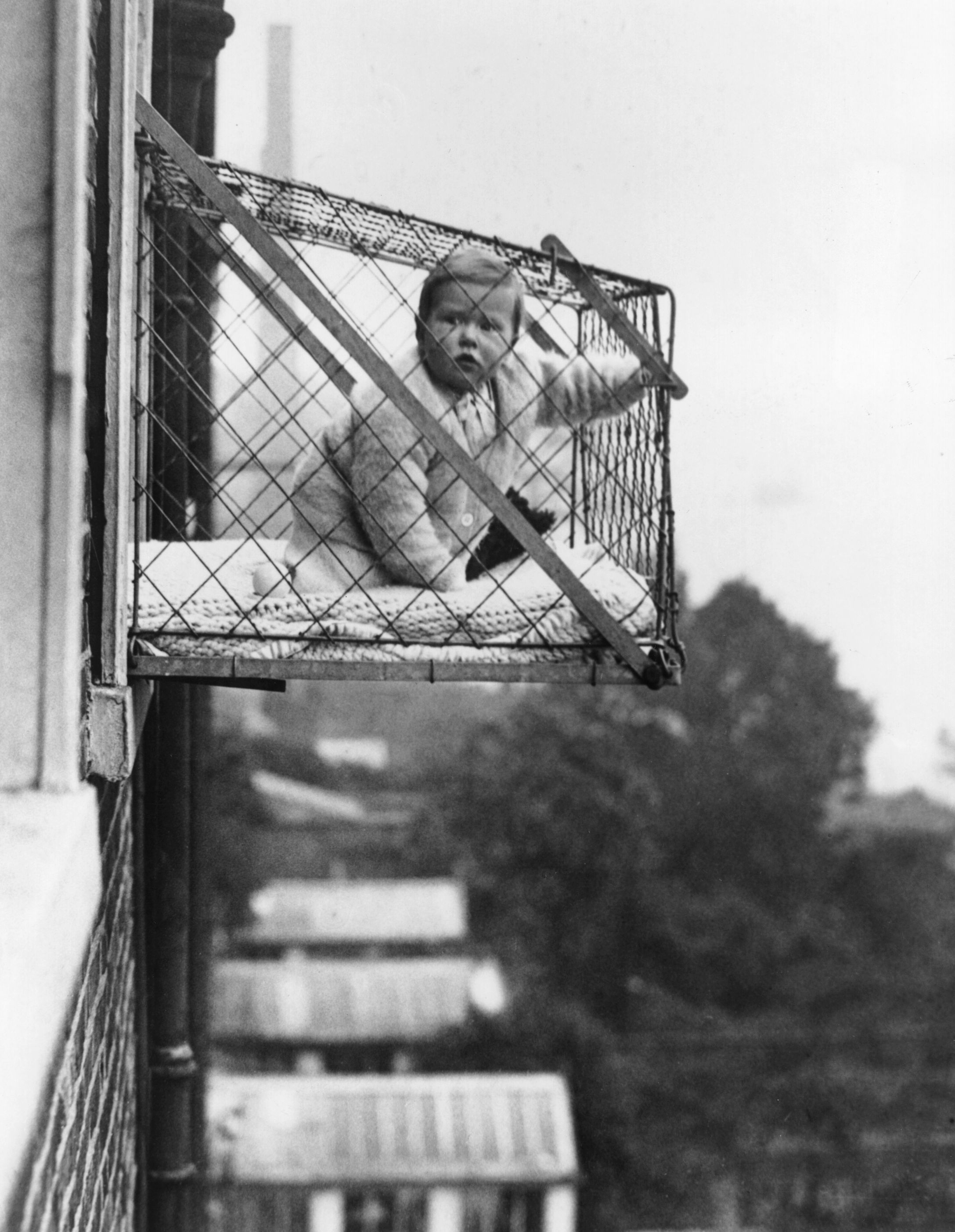 This was primarily due to the unavailability of homes with sufficient outdoor spaces. In the 1930s, wired baby cages became very prominent among British families. While mothers were engaged in domestic scores, their babies dangle out of the windows, receiving air. We are still wrapping our heads around how parents actually thought the cages were safe for their babies. We guess we might never find out.
27. Ornamental or Garden Hermits
Being rich affords you many weird luxuries, including ridiculous and inhumane ones. Garden hermits who are also referred to as ornamental hermits were people persuaded to live in houses intentionally built for them. They include hermitages, follies, grottoes, or rockeries. These buildings were found on the estates of wealthy land-owners, basically during the 18th century. Often, hermits' jobs were advertised with certain conditions and payment plans. A hermit would typically be urged to wear clothes like druids and stay permanently in the hermitages and its environment.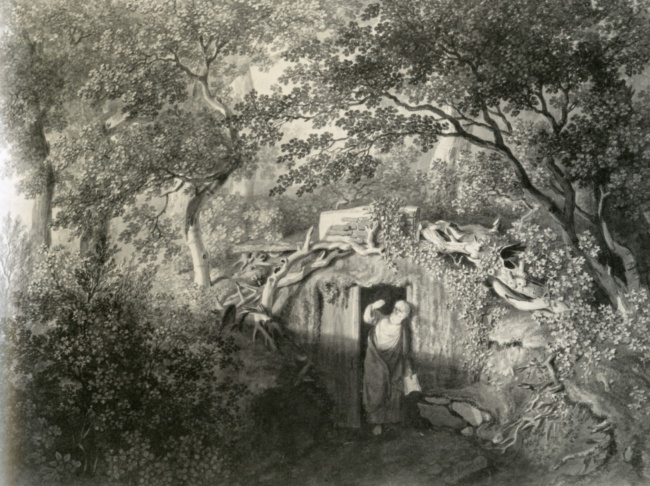 Food and water are often provided for them. They were usually seen as counselors that could be consulted for advice or as a source of entertainment. Having a garden hermit in those days gave wealthy people a sense of prestige among others. What's more intriguing is that these hermits were not allowed to engage in hygiene such as washing, changing clothes, cutting nails, and hairs. Their owners often showed them off to their visitors as part of their possession
26. Weird Medical Treatment Methods
We are thankful for progress and evolution in the medical field. Once upon a time, physicians engaged in bizarre treatment methods to cure various diseases and infections. Treatments that probably caused more harm than good to the human body. We cannot blame them, though, because they had little knowledge about the causes of diseases and how to cure them. Nonetheless, the therapeutic methods they employed are almost unimaginable.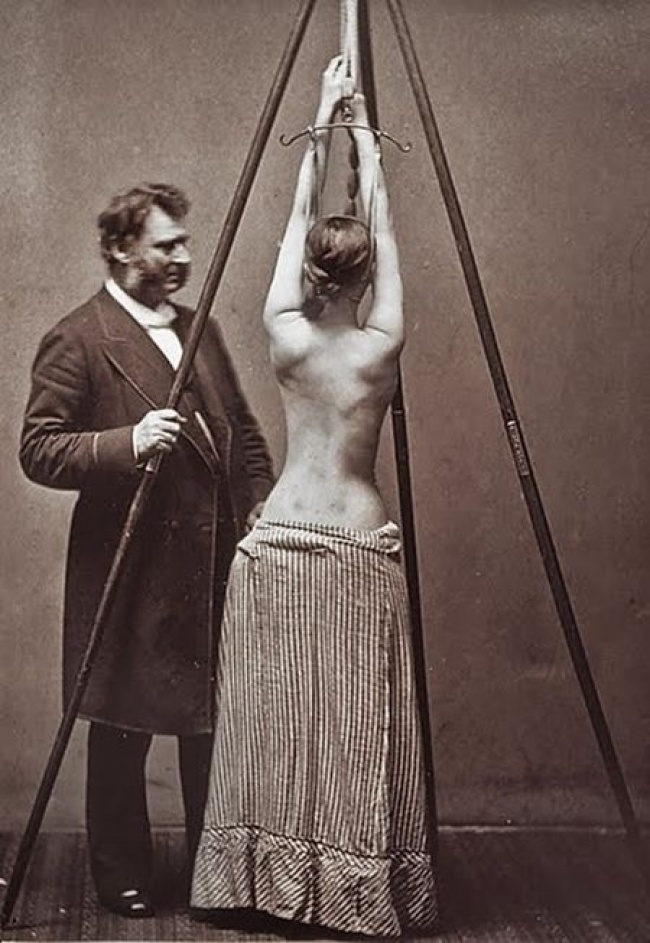 A notable one is trepanation—the act of drill holes in the skull of a living person as a means of curing illnesses such as headaches. That's not all, bloodletting —where doctors would cut open a vein and drain some of the essential fluids of the body.  Then there was, tongue-cutting in the 1800s when doctors believed performing the art would heal a patient who stammers. Other methods include electric shock treatment and lobotomy, among others. These methods were generally practiced by many physicians, even some of the most prominent ones such as Lewis Sayre. 
25. Atomic Toys For Kids
We all know about the adverse effect of being exposed to radiation through radioactive substances. However, in the 1950s, radiation was not such a big deal. In fact, it had a reputation for being safe that kids were allowed to play with them. So horrifying! A.C Gilbert, the man behind the Erector set, invented an educational toy known as Gilbert U-238 Atomic Energy Lab (a boring name for a toy) in 1951. Gilbert teamed up with physicists at M.I.T to develop the toy.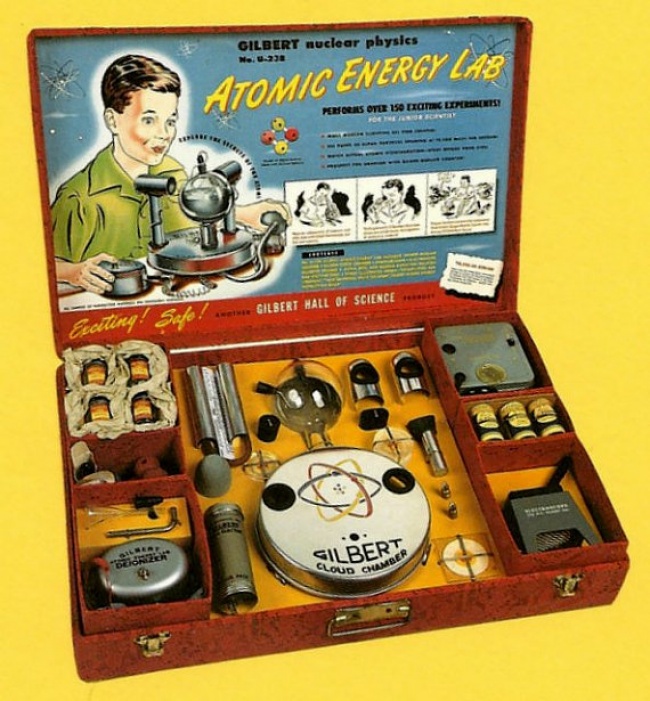 At the time, the atomic energy lab was unofficially approved by the U.S government, who believed it would help kids in their knowledge of nuclear energy. The lab had a Geiger-Muller radiation counter, a spinthariscope, a Wilson cloud chamber, and real samples of polonium and uranium in small quantities. Also, it came along with a comic book to aid kids in knowing how to split an atom. We doubt if many 90's kids had access to this toy because it was expensive. It was sold at $49.50, which is equivalent to $300 in today's dollars. That is a good thing!
24. Humans Displayed In Zoos
Human zoos, which can also be called ethnological expositions, were generally a public display of humans in zoos. We wondered how these humans felt being exhibited at a zoo for the amusement of fellow humans like them. This largely took place in the 19th, 20th and 21st century. These humans were supposedly exhibited in their natural state.   The exhibitions commonly highlighted the cultural distinctions between Europeans who had Western civilization and non-European races or with other Europeans who practiced a lifestyle considered more unrefined.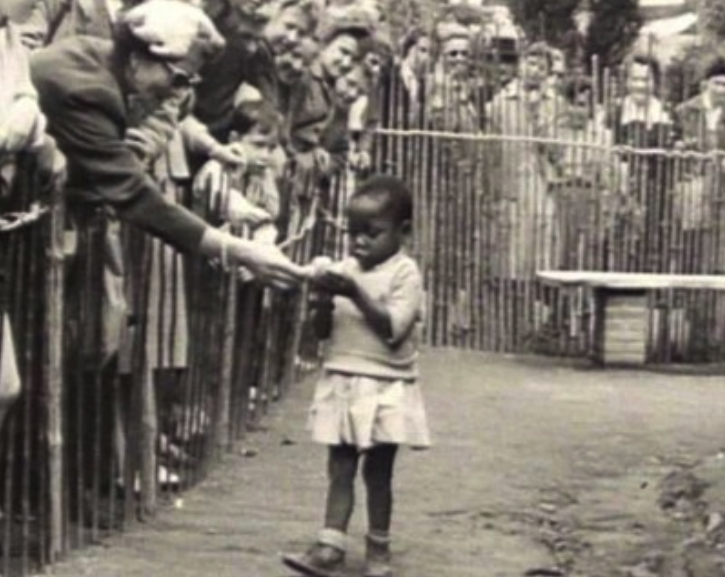 In simple words, these human zoos were used to show the superiority of other races to people from Asia and Africa, taking its root in Darwin's theory. Human zoos are now widely deemed derogatory and racist, and such practices are no longer done. In the above picture, you can spot a little black girl being displayed at the Belgian human zoo in 1958. 
23. Awful Treatment And Display of Psychiatric Patients
Psychiatry had a dark and gloomy past, but we are grateful for those awful days are gone. The horrible and inhumane history of mental health treatment is proof of how far psychiatry has come. According to narratives, psychiatric hospitals in the past were no haven for people suffering from mental illnesses. There were terrifying methods in place used to keep the patients in check, such as hydrotherapy— where patients were forcefully submerged in water, and terrible mechanical restraints. However, apart from these, the patients were mistreated.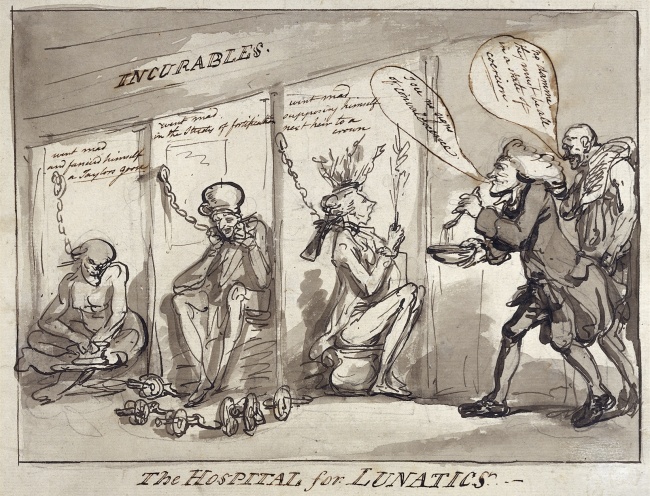 The hospital staff rarely fed them; even the living conditions were not great. Often, the members of the patients pay these psychiatric hospitals a considerable amount of money to take care of them. Yet, they were frequently treated poorly. That's not all; asylum owners began accepting a certain sum of money to allow visitors to amuse themselves with the displays of mentally disabled victims. They could even tap them with sticks. Thanks, gracious, this is now a thing of the past.
22. Collection of Human Body Parts As Trophies
The picture above is that of an American sailor posing proudly with the skull of a Japanese soldier during World War II. This confirms that even soldiers relished in bringing home their foe's skull. Human trophy collecting is an old practice that involves the procurement of human remains. Primarily, the intention behind the practice is to express dominance over the departed or to pay homage to the dead.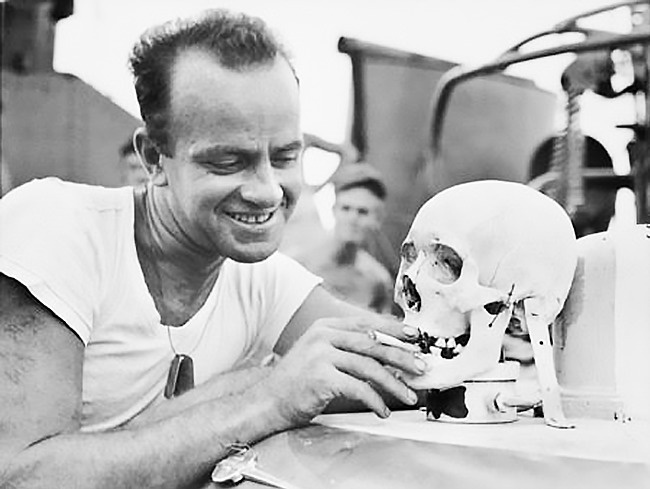 The former include scalp-removal or making necklaces of human ears or teeth, while an example of the latter is veneration of the relics of saints. Apart from these, it can also be done to affirm one's triumph in battle or to boast about one's supremacy. In this era, it is reasonable to regard those who are fascinated with collecting human parts as crazy. However, the fact that it was a normal thing in the past is quite disturbing. 
21. Pregnant Women Should Smoke —According to Doctor's Recommendation
This is inconceivable! While we now know how dangerous smoking is not just for pregnant women, but for everyone. In the past, smoking was encouraged by medical practitioners even for pregnant women. Premature birth, sudden infant death syndrome, birth defects, and other health problems are the effects of smoking on the fetus. Back in the 1940s and 1950s, pregnancy books suggested that women smoke about four cigarettes in a day. Furthermore, doctors advised pregnant women not to give up smoking.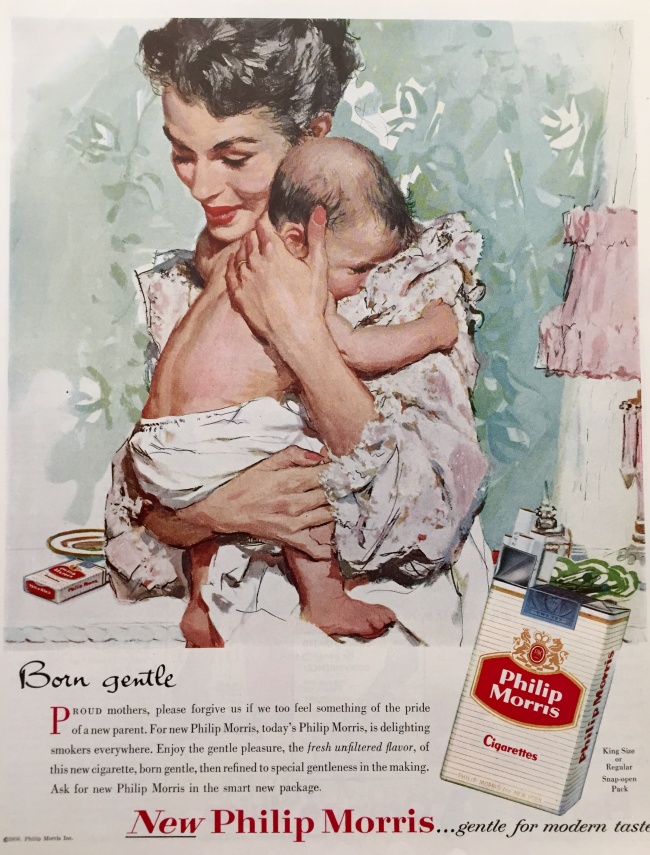 Cigarettes were prescribed to pregnant women to help to monitor weight gain, cure constipation, and to soothe their nerves. Thanks to the Surgeon's General report in 1964 on smoking and its harmful health consequences, doctors and the general public were eventually made conversant of the hazards of cigarette smoking. Later on, they began discouraging people from engaging in it. We are glad that season is over now! 
20. Mercury -The Universal Drug
For many decades in the past, mercury has been used as a medicine to heal diseases and typhoid fever. In the 1800s  century, Americans became conversant with the potency of the mercury to cure lots of conditions. Due to this, it replaced other well-established drugs and was widely used. Notably, as far back as the 16th century, mercury was administered to treat syphilis. Syphilis is a sexually transmitted disease that could lead to heart disease, brain damage, or even death if left untreated.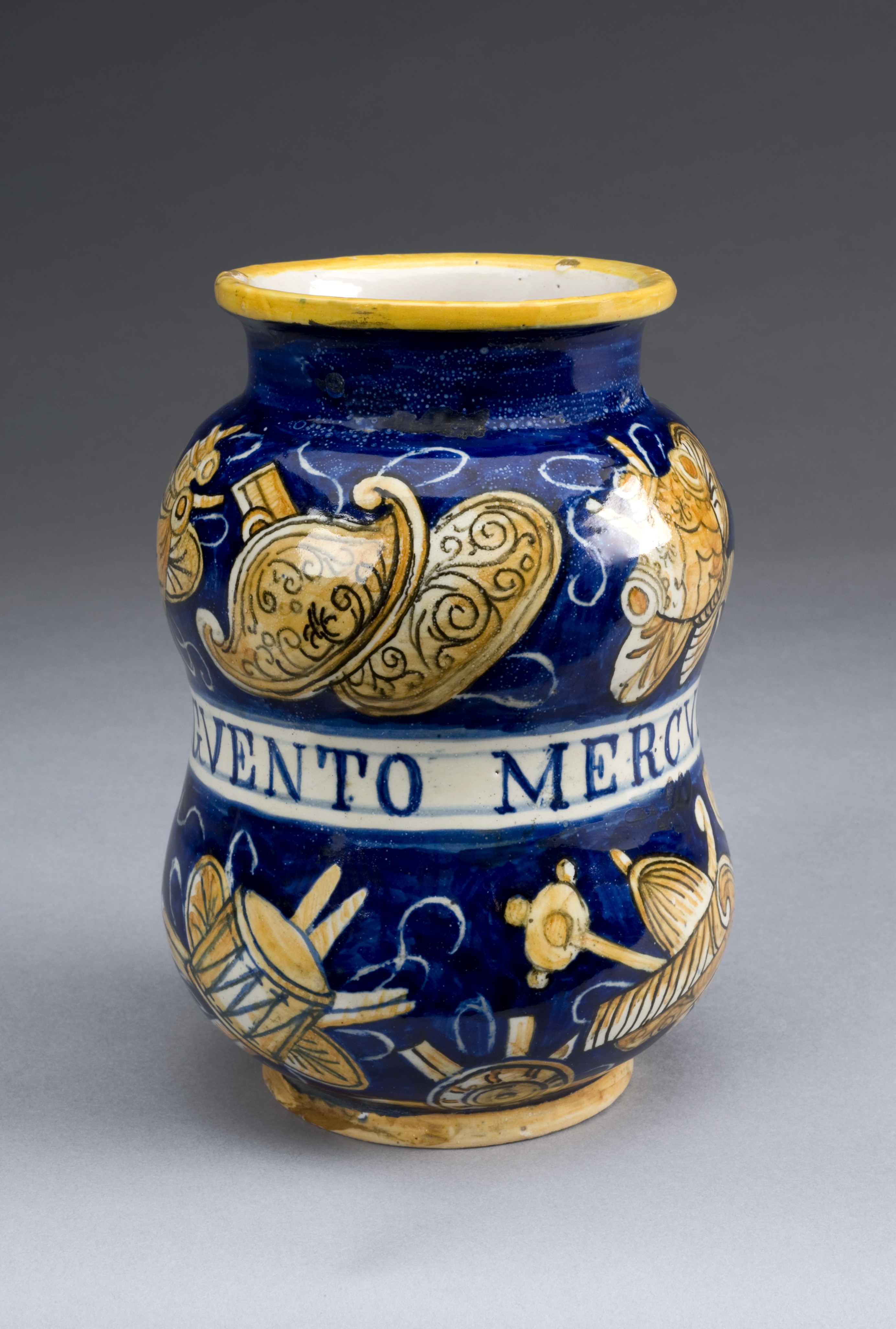 Up to the 20th-century era, it was still used as a cure for the bacterial infection. However, in the 1940s, it was known that Penicillin was not only more effective for syphilis but generally safer for patients. Mercury was eventually stopped. Exposure to mercury – even little quantity – may lead to severe health problems. It can adversely affect the immune system, digestive and nervous systems, and the skin, eyes, kidneys, and lungs.
19. Molten Metal Toy
Now, we are back to A.C Gilbert again. While Gilbert is to be praised for inventing amazing toys that could teach kids about complex science, it is sad that the most important thing was not put into place; the kids' safety! Apart from his atomic toy,  Gilbert is credited with creating Kaster Kit Jr. The play set involved a child experimenting with hot lead pellets; the lead is heated to melting point and then poured into molds.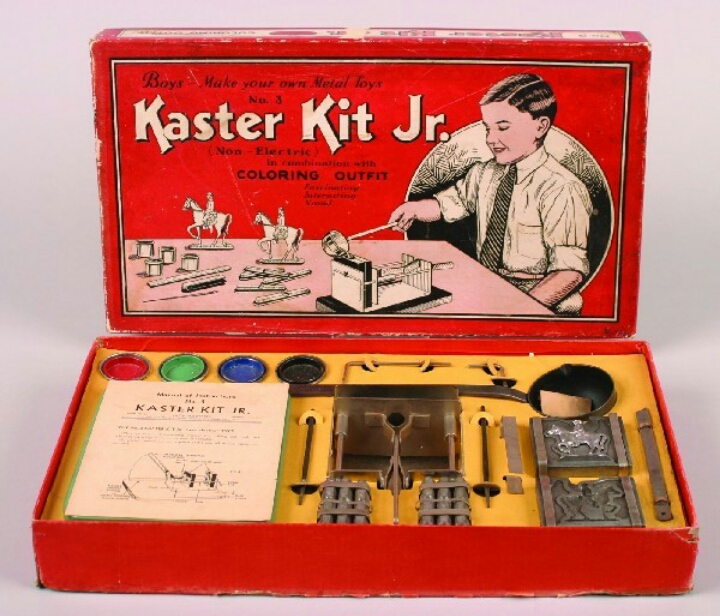 The cast includes supplies for creating soldiers, battleships, airplanes, cannons and horses, and other things. It is noteworthy to know that the melting point of lead is 621°F. We are certain a couple of kids got hurt and probably landed into hospitals while handling hot lead. A machine was later included with the toys in new models that performed the pouring. However, the toy remained dangerous for kids. We wonder if parents ever had reservations about these playsets.
18. Biphasic Sleep; Two Sleeping Phase 
Sleep is a natural and recurring process our body engages in to obtain rest. While we have physicians have advised us to sleep for at least 6 to 8 hours per day, we were never told about two sleeping phases. It's okay if the idea of two sleeping steps is strange to you, but it was the norm many years ago. According to history, there is usually a brief sleep break between 2 a.m -3 a.m when people wake up to pray, have sex or study.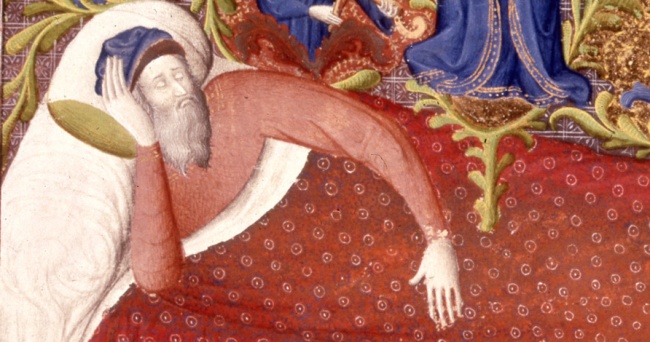 Laurent Joubert -the French physician specifically recommended sex for couples because they are deemed to enjoy it better during the period. Fundamentally, Europeans who lived in the Middle Ages practiced what is now known as biphasic sleep. The first sleep began at sunset and lasted until around midnight or more. People then stay awake for about 2-3 hours before going back to bed. Then they'd sleep until sunrise. Would you love to adopt this sleeping style or stick to the normal sleeping routine?
17. Human Alarm Clocks 
There are two types of humans in the world; those whose alarm clock never gets to wake them up, and the ones who promptly wake up at the sound of their alarms. Well, some of us are just in the middle; and that makes three categories of humans in the world. You should know that the idea of an alarm clock had existed for several years before the invention was ever brought to life. Just like us, ancient people also had issues with waking up on time.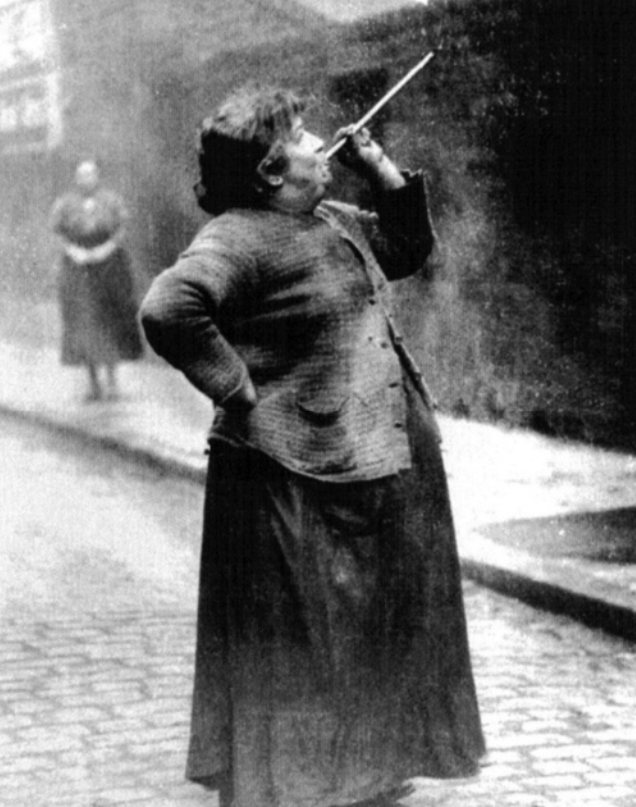 So, they employed the help of a human alarm clock! The profession thrived right from the 18th century to the 1950s. Their duty was to wake people up; they tapped their client's window with sticks. Sometimes, they hit them with peashooters. People in this profession were called the knocker-uppers. It's uncertain who wakes them up, but it is generally believed that they do not sleep the night before work.
16. Boys in Fine Dresses
In the 18th century, there was no exact thing as boys' clothing. This means that they were no gender-distinctive cloth for small boys. In American and European colonies, babies were adorned in long dresses. Even the moment the boy starts to walk, his clothing remains quite similar to that of girl's and women's clothing. Little boys didn't wear trousers in the past. In fact, it was the custom for boys between the ages of 4 to 8 years old to wear dresses.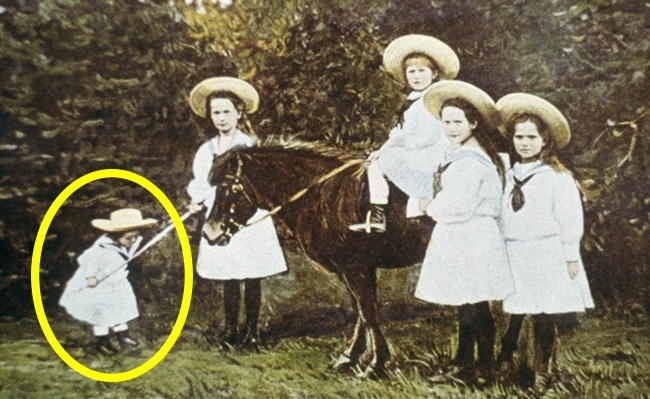 This might be because clothing items were generally expensive, and babies could quickly grow into gowns than trousers. Even the royal family adopted this style. The photograph above shows Alexei, the son of Russian Emperor Nicholas II wearing a cloth barely different from that of his sisters. Since dresses weren't solely for girls from the start, should boys go back to wearing dresses?
15. Ancient High Heels -Chopines
Perhaps, this was the inspiration behind high heels. Chopines, also known as zoccolis or pianelles, were famous in the 15th, 16th, and 17th centuries. They are platform shoes worn by women. Initially, it was used as an overshoe or clog to protect dress and shoes from the mud. Chopines were worn by noble ladies (courtesans and patricians) from the year 1400 to 1700.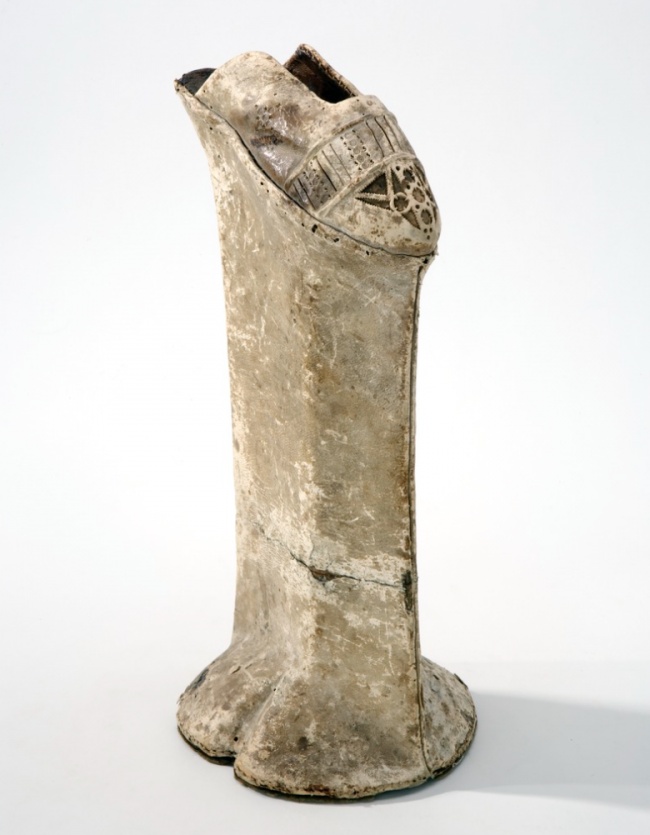 The higher the chopine, the more generous and wealthy the wearer is perceived to be. Chopines were popularly worn in Venice by both courtesans and patrician women from c. 1400 to 1700. The chopines worn by ladies mostly complemented the dress or the shoe of the wearer. As disclosed by some scholars, chopines gave women an uneven gait and made them unstable as they walked. It was also made known that women from distinguished homes had two servants who served as their support when they rock the chopines. 
14. Bad Hygiene
In medieval times, in some regions, people were convinced that water was the source of man's illnesses. They believed that water could convey diseases to the body via the pores in the skin. They even referred to lice as "the pearls of God." The people were not only concerned about water itself. They noticed that their pores became wider after having a bath, which caused infections loaded in the air to gain access to their body. Even royals seem to have agreed with the fact in the past.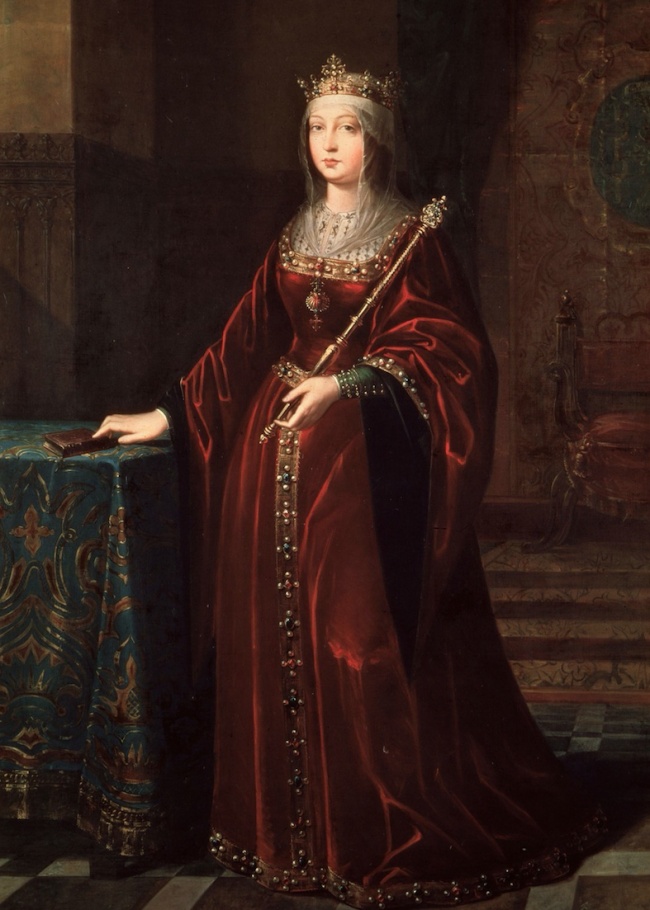 Notably, King Louis XIV was advised to stop bathing to maintain perfect health conditionThe King boasted that he had only had his bath twice in his lifetime. Also, Isabella of Castille bragged about the same thing just like King Louis. She too had only engaged in bathing twice in her life; the day she was given birth to, and before her marriage. As reported by history, a cavalier once commented about the Queen's dirty nails and hands, and she replied: "Oh, if only you could see my feet!" No, no one would love to see your feet, Your Majesty.
13. Snapping With the Dead
Losing a close friend or family member is a tragic and horrible event. One way or the other, we desire for their memories never to leave us. We hold on to their pictures, favorite materials, or even clothes while we cry soberly. Way back in the 19th-century, people took real photos of the dead to keep their memories not only in their heart but in their head. Post-mortem photography could also be called memorial portraiture or a mourning portrait. It involves the act of capturing the recently deceased with other humans.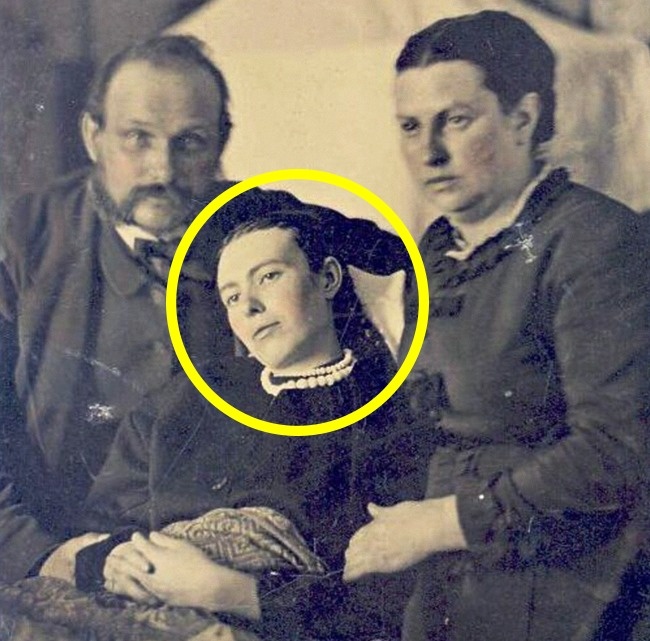 Many cultures are well familiar with this practice in the past, but it is prevalent in Europe and America. This mourning act continued until it fazed out.  While this is their way of grieving, we cannot help but find it bizarre. What's more creepy is that the dead body is made to appear alive in these photos. They were placed in a natural position with eyes drawn on their closed eyelids. The picture above depicts this.
12. Radioactive Cosmetics And Food Products
When Marie and Pierre Curie discovered radium in 1898, it attracted a huge deal of interest from scientists. And sooner than later, radioactive materials were not only used for medical treatments but cosmetic products. A couple of companies began producing cosmetic products that contained radioactive materials. Since the discovery of radium occurred in France, these products were quite common in the country than others. Furthermore, some radioactive materials were also put into food and drinks as they were mixed with radium and thorium.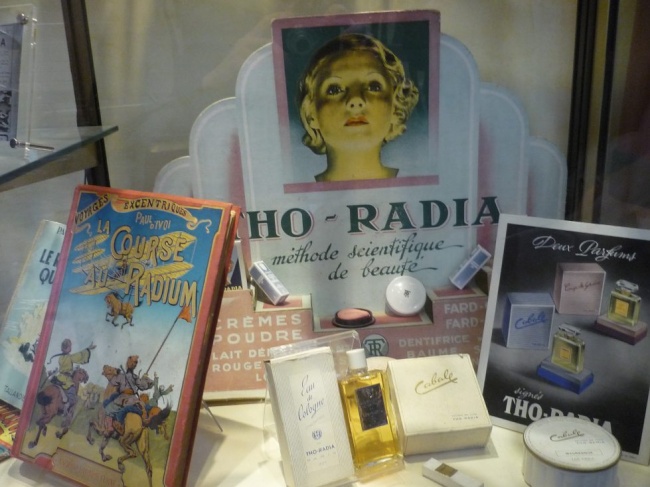 There were also some cosmetic companies in England that employed the use of radium, but we cannot affirm if it was the same in the U.S. In that era, people were regularly exposed to radiation through the food and drink they consume, and beauty products. Knowing the deadly effect radiation could have on anyone, this is horrifying! Even back in the days, evident cases of these effects happened. Athlete Eben Byers' death was one of those cases. Byer drank a high dose of radium-based medicine known as Radithor; this led to his death. The Wall Street Journal reported the occurrence with the headline stating: "The Radium Water Worked Fine Until His Jaw Came Off."
11. Heroin As Cough Syrup
Who would have imagined that heroin was used to treat coughs?! One hundred years ago, there were heroin tablets, water-soluble heroin salts, heroin gels, and even cough syrup covered with heroin readily available everywhere. From young kids to older adults, the use of heroin for health care was administered to all. It all began in 1898, when Heinrich Dreser, who worked for the Bayer pharmaceutical company, discovered the potential of a variation of morphine. Diacetylmorphine was initially synthesized by Charles Romley Wright -a London chemist in 1874.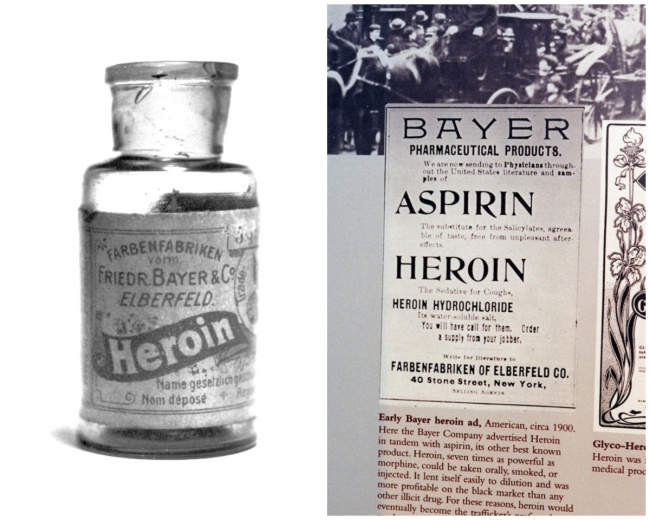 Even though Wright hadn't mainly found advantages to his work, he took it through a series of tests, and came to a deadly conclusion- heroin was good for everyone! He proclaimed that the substance was non-addictive and it was a perfect substitute for morphine. What led to it being largely used in the treatment of cough, tuberculosis, and pneumonia; it was tagged as an efficient cure for lungs and respiratory illnesses. In 1924, the use of the substance was stopped after it was known that it converts to morphine in the liver. However, its legal use continued in Germany until 1971.
10. Inflight Smoking was Normal
Imagine boarding an airplane, and you found passengers freely smoking and even half of the crew members doing the same. We bet you'd run out before the plane takes off. Well, in the past, this was completely normal. About 50 or 60 years, smoking was not perceived as a bad habit. So, it was okay for passengers to engage in it even during flights. Ralph Nader, who was an advocate, was among the first to request for a smoking ban on airlines while the United Airlines was the first to have a nonsmoking section, in 1971.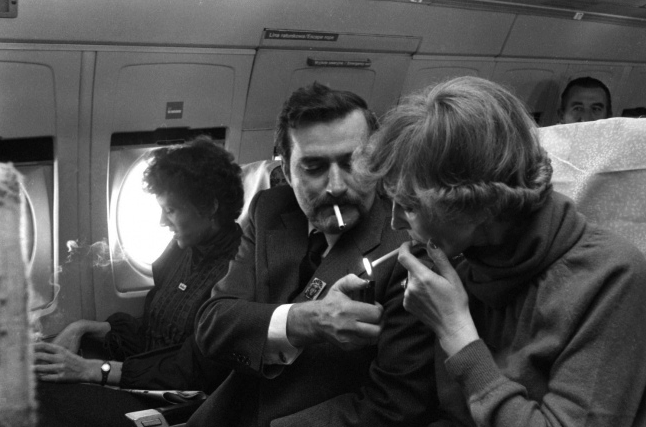 Today, smoking lit cigarettes or anything that produces smoke or flame is banned in most airlines. However, some countries are yet to implement such bans. An example is Iran. Now, passengers discovered to be smoking on non-smoking flights could be arrested and detained after landing. The passenger would also face a fine. Due to strict security measures that don't condone smoking, a trip may be diverted or experience a scheduled landing to escort the passenger who smoked from the plane.
 9. Bathing Machines For Intended Swimmers
Every invention surely serves a need. The bathing machine was quite famous from the 18th century until the 20th century. The device had roofs and walled wooden carts which enabled it to be rolled into the sea. The doors at each end also had curtains. The machine allowed people to change out of their usual apparel into a swimwear, before jumping into the ocean to swim.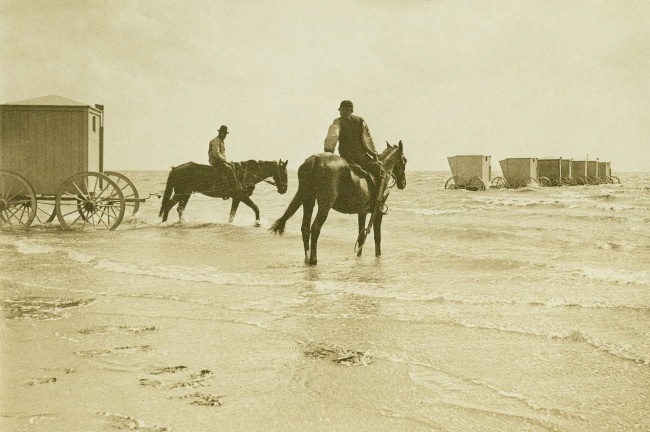 Bathing machines were regarded as part of the etiquette for sea-bathing. It was strictly enforced upon women than men. Nonetheless, both men and women used it. Notably, in Britain, men and women were often separated so that they would not catch a glimpse of each other in their bathing wears. You should know that this bathing suits would be considered modest by today's standard. However, they were not suitable to be seen in the public in the past.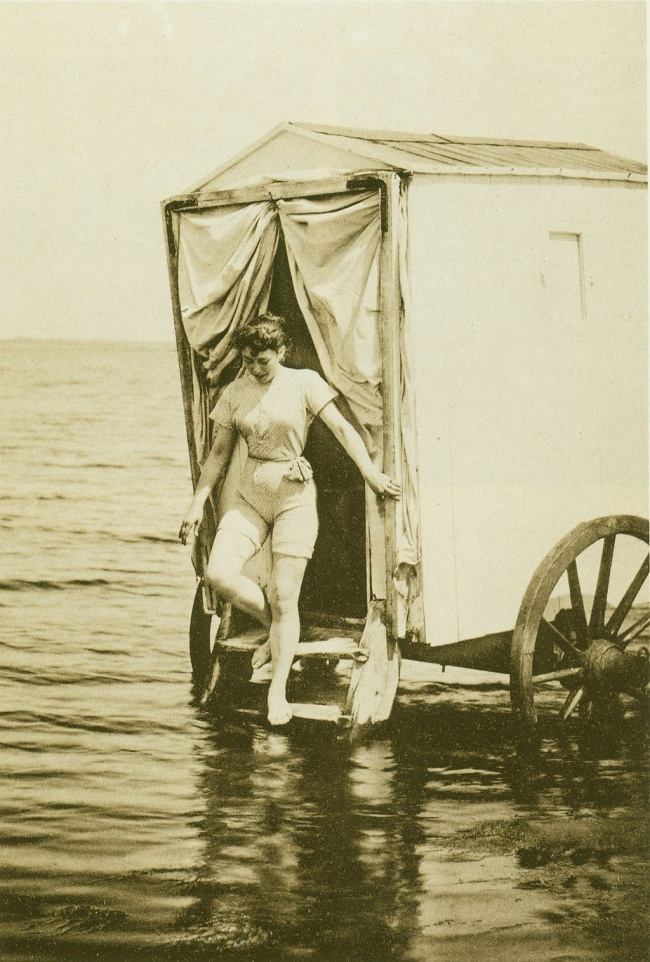 8. Rocks for Anal Cleansing
Almost everyone has been stuck in a toilet realizing that they had gone out of toilet paper. We bet in this case, many would think of alternative ways to clean their anal. However, we are sure that no matter how hard the situation was, no one ever thought to use rocks! Anal hygiene was paramount in the olden days. Before the invention of toilet paper, materials such as leaves, sheep wool, clothes, sponges, corn cobs, mud, snow, stones, sticks, and even water were used for anal cleansing.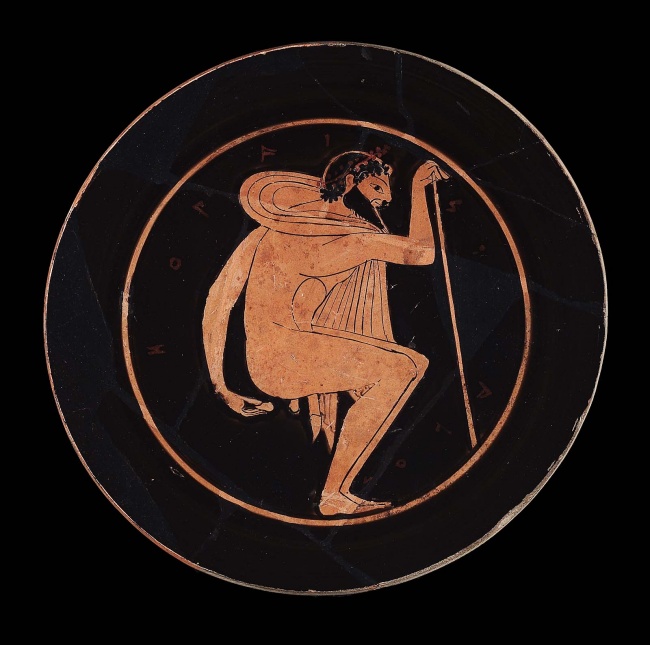 However, we are completely blown away by the fact that the Ancient Greeks used rocks, pebbles, or shards of pottery for anal hygiene. Yes, you read it right! Till date, some countries primarily prefer the use of water for cleaning their anal than toilet paper. Just in case you run out of toilet paper and other related alternatives, we'd recommend water for you. You are welcome.
7. Pigeons For Advertisement 
Coca-Cola, or Coke, is famously known as a carbonated soft drink manufactured by The Coca-Cola Company. For a company to have existed for about 133 years shows that its advertising game is tight. Coca-cola has been involved in various advertisement since the company was launched. However, a notable one we find amusing is the one that involved the use of pigeons. Quite creative, we must confess. Venice is famous for a large number of pigeons who inhabit the place.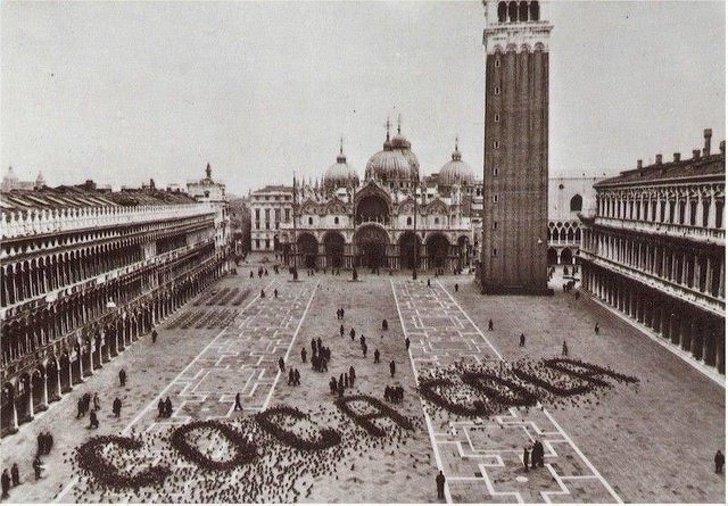 In a bid to control the birds, local authorities banned tourists from feeding the birds on St. Mark's Square. This is a bit understandable. Well, in 1960, Coca-Cola used the pigeons for advertisement. They spread the seeds in a systematic manner so that when the pigeons flew to consume them, they formed a huge Coca-Cola inscription. Well, the pigeons are forever engraved in the history of the company. However, we are uncertain about how customers received the advertisement, or if it increased Coca-Cola's sales.
6. Mark Twain and Nikola Tesla Profound Friendship
It's incredible how two icons of 19th and early 20th centuries, ended up being great friends. First, they are both specialized in different fields; Tesla was a scientist, while Twain was an author. Furthermore, Twain lived in Europe, while Tesla's abode was in New York. Yet, these two maintained a strong relationship with each other until death. It was known that in the 1870s when Tesla was young, he suffered from a bout of serious illness before he moved to the U.S. His condition was so severe, that doctors doubted if he'd survive. During this period, there was little Tesla could do, so he resorted into reading books from the local library. That was when he got to read about Twain's works. Tesla was captivated by the books and confessed that it aided his recovery.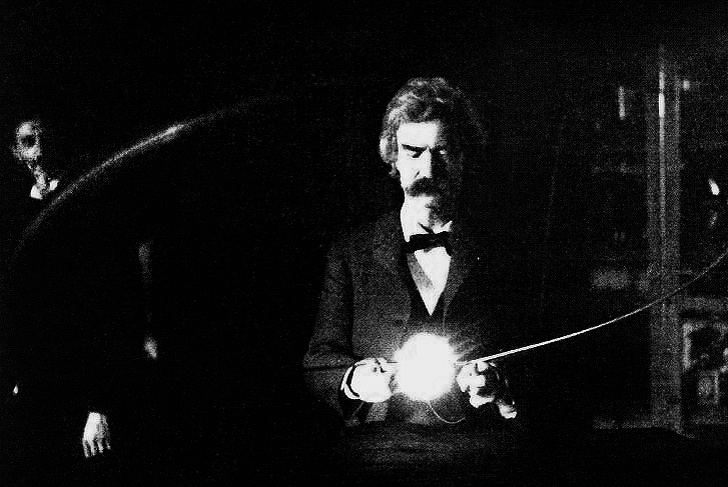 Twenty-five years later, they met. It was narrated that when Tesla recounted his account of how Twain's book had helped him, he was at the verge of tears. The two later became friends in the 1890s. Even though they were far apart, Twain frequently visited New York to greet his friend. The picture above probably happened during one of those visits. In the photo, Twain is seen in Tesla's lab holding his friend's experimental vacuum lamp. Also, Twain once tried testing Tesla's electric current, but the experiment ended badly, and he fell sick. 
5. Girls As Ice Delivers
We'd call these young women' Ice girls.' When World War I began, women were in charge of men's work. Most men had stopped working so they could fight in the war. To ensure productivity continually at the time, the majority of the work done by men were taken over by women. This period was life-altering for many women ad they discovered that they practically handle the heavy work primarily done by men. Delivering ice was one of those jobs; many thought only men could.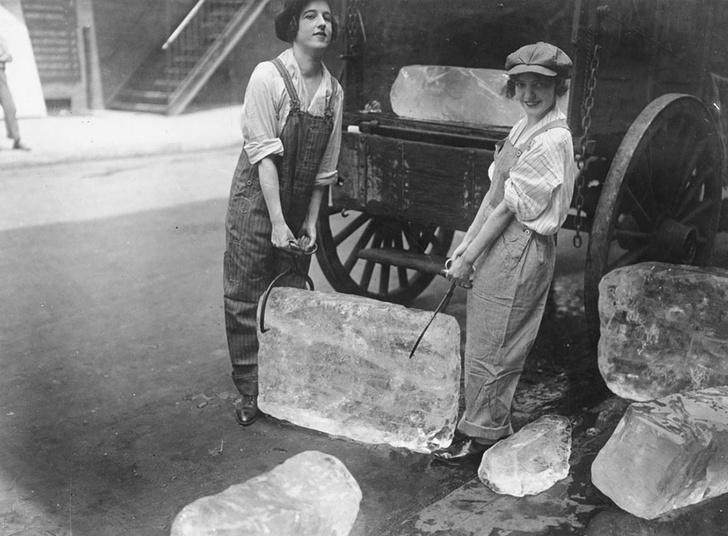 However, things change when the ice girls began delivering ice. They did it just as the men did, and helped provide income for their families. The above picture was taken in 1918, and the women in it seem to be happy doing their job. Other women during this period performed in different capacities and realized they could handle heavy work done by men well. While we do not have the ice girls in our era, women have proven to be just as efficient as many when it comes to undertaking tasks!
4. Autoped
Right from the start, humans have been burdened with making life easier for themselves. This has lead to loads of inventions that have evolved over the years. One of such designs is the autoped. The picture above, which was taken in 1916 shows a woman standing on an Autoped.  An Autoped is an early version of a motor scooter or motorized scooter. It was built by the Autoped Company of Long Island City, New York in 1915. It was manufactured from that year to 1921.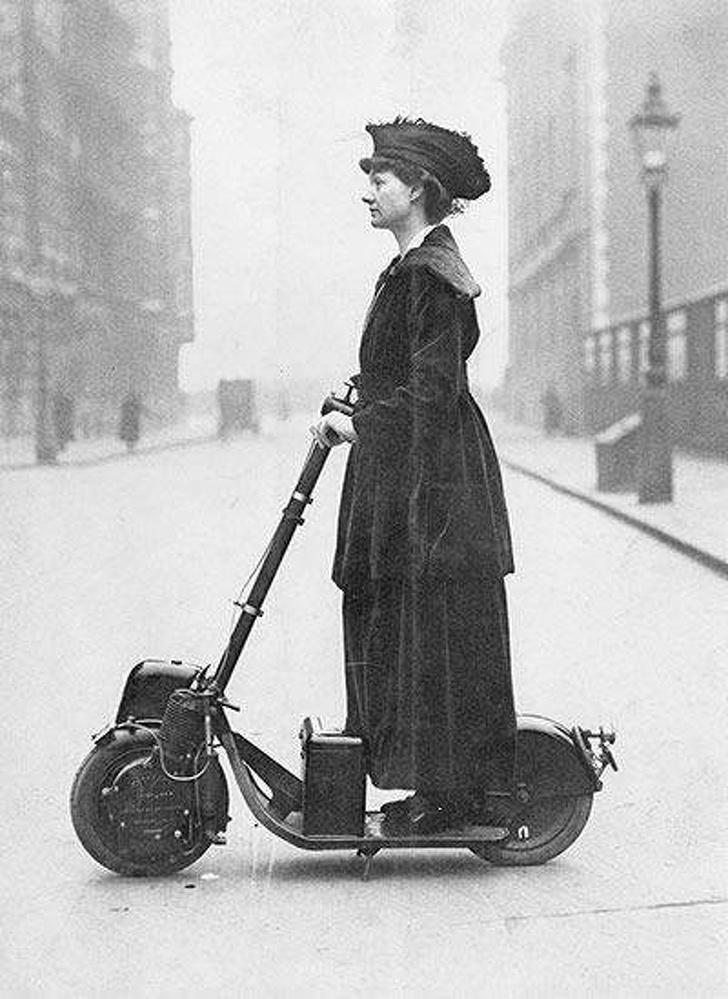 The driver of the autoped stood on a platform which had 10-inch tires. The device is operated by employing the handlebars and steering column, thrusting them forward to engage the clutch to function. Also, there is a lever found on the handlebar which could be used to control the throttle. The bike came alongside with a headlamp and tail lamp, a Klaxon horn, and a toolbox. Though outdated, the autoped looks cool; it's something we would love to try out.
3. Thylacines Existed
Ever seen or heard of an animal named Thylacine? Sadly, thylacines were among some of the animals we didn't get to see and meet because they went extinct long ago. The animal evolved about 4 million years ago and was one of the largest known carnivorous. The picture above is that of the last known live thylacine. The animal was captured and displayed at a Zoo in 1933. Due to the presence of stripes on its lower back, the animal is often referred to as 'Tasmanian tiger.'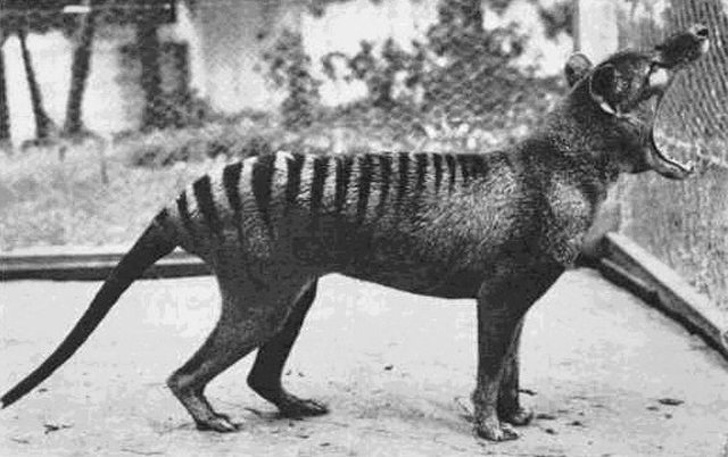 Also, thylacines were also called 'Tasmanian wolf' because they share similar characteristics with wolves. Thylacines' first homes were in Tasmania, New Guinea, and the Australian mainland. The animal is generally known to be shy and nocturnal. Extreme hunting fueled by bounties was especially blamed for its extinction. However, other factors such as disease outbreaks, and even human invasion into its habitat contributed to its extinction.
2. Alcohol Prohibition In U.S
These men in the photograph sure looked pleased, gulping down a large amount of alcohol into their throat. They had every reason to celebrate. Imagine living in a society where alcohol was banned; unimaginable! Well, these people had to live through this era. In the 19th century, Americans were endowed with concerns about the side effects of alcohol. So, a movement to prohibit its production, sales, and transportation was launched. In the late 19th century, these movements became powerful and kept on demanding for national liquor ban.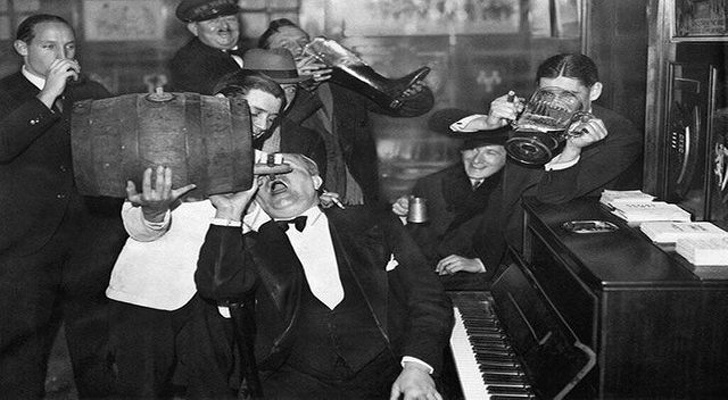 Their effort paid off, in December 1917, the 18th Amendment, making illegal the "manufacture, sale, or transportation of intoxicating liquors for beverage purposes," was passed by Congress. A three-fourths majority supported the 18th Amendment in the states on January 29, 1919. Later on, the prohibition of alcohol became effective on January 29, 1920. So from 1920 to 1933, alcohol's sales, distribution, and production was illegal in the states. 
1. Bulletproof Vests Test
We are puzzled by this! While the invention of the bulletproof was an amazing one, the method the tests were carried out wasn't so impressive. We would like to believe that they were several other ways to have tested the bulletproof vests that shouldn't involve humans being the test subjects. The creation of the first bulletproof can be credited to Kazimierz Żegleń. He was a Polish engineer, born in 1869 close to Tarnopol. According to records, in 1893, following the assassination of Carter Harrison, Sr., the mayor of Chicago, he was motivated to create a bulletproof vest. After the event, he invented the first bulletproof vest for commercial purposes.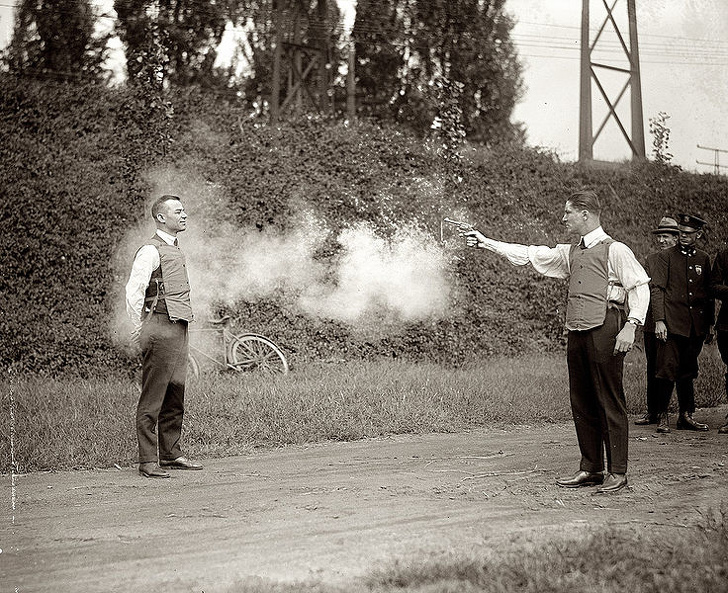 Later on, in 1897, he teamed up with Jan Szczepanik and improved the vest. Szczepanik was the inventor of the initial industrial bulletproof armor. Alfonso XIII, the King of Spain's life, was saved by it. His carriage was covered with the bulletproof armor when a bomb exploded close to it. Żegleń had a couple of failed invention of the vest before he finally got it right. We hope he didn't test those on humans.
As horrifying and surprising some of these facts from the past are, they are equally fascinating. Much more, we are very grateful we have moved past the era and have gained more insightful knowledge about ourselves and our environment. What do you think about these facts? Which one of them surprised you the most? Which one fascinated you the most? Let us know in the comment section. We bet you found this article interesting, be a good friend, and share it with your buddies for a good laugh. 
Source: Brightside, Scribol, Brightside, Brightside, Brightside
Get More Related Articles Here: