Incredible Blockbuster Movie Mistakes
Have you ever thought about how much time goes into making a film? Once everyone has gone through all the hassle of getting ready for filming, there's still so much work to be done! The Costume department, in particular, has a large and important role in the movie process. Film-makers rely on their research and an eye for detail to ensure that the end result is as believable as possible. If the costumers don't get the time period quite right, it can be pretty embarrassing! They also have to rely on hair and makeup to do their job properly, and on the director and camera people to be sure that everything goes smoothly on set. You might even remember a Starbucks cup and water bottle making their debuts in the final season of Game of Thrones. All the fans were talking about it, because of course, we didn't think they had plastic or coffee chains in Westeros. Who knows? Maybe they have McCafe and Dunkin Donuts too! If you're curious about some of the other "oops!" moments in big blockbusters, we've got the lowdown here for you. 
Indiana Jones: Raiders of the Lost Ark
There are so many films set in a different time period, and usually, these movies have a lot of extras to create a certain scene. Everyone knows the Indiana Jones films, not least because of the swoon-worthy Harrison Ford as the famous adventurer and archaeologist. The film is set in both Peru and Egypt in the 1930s, so the costuming is typical for this period. It was the very first Indiana Jones film and was released in 1981. Incredibly, it was nominated for eight Academy Awards and is one of the most successful films of all time. So many people have watched it, but only a few picked up on the mistake in this shot!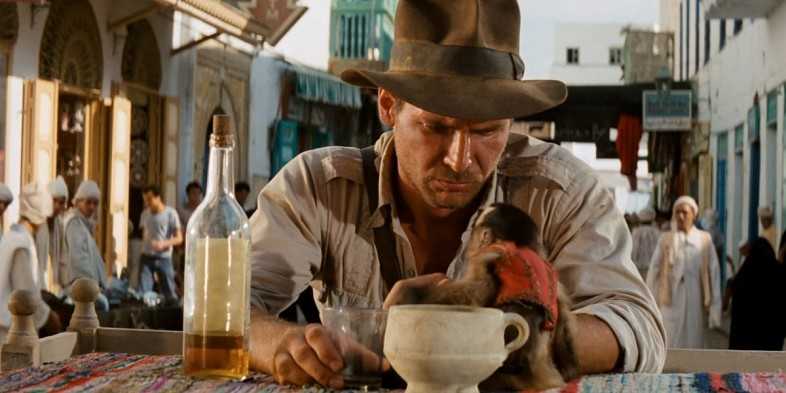 In this image, our beloved "Indie" is drowning his sorrows. We won't tell you why, because it's a huge spoiler! It looks like he's pretty upset about something though; so much so that he hasn't noticed the guy on the far left of him in a very unusual outfit indeed. In 1936, jeans did exist but were mostly only worn in America. It seems like this guy didn't get the memo. While jeans did exist at the time, it would have been very rare to see someone wearing them in Cairo at this time. Fortunately, most of the audience was too busy feeling sorry for Harrison Ford to even notice!
Click 'Next Page' to check out some of the most cringe-worthy Hollywood movie mistakes of all time!