20+ Photos That Prove The Royals Are Just Like Us
Have you ever seen the Queen or any of the royal family looking less than perfect? We hadn't either - until now! Their flawless presentation in public and in the media might have fooled you into thinking that our regal idols aren't quite like us - but we've compiled over 20+ photos to prove that they're just as human as we are! 
From heartwarming and goofy to flat-out scandalous, these images are bound to change your mind about the British aristocracy. Scroll through to find out who was caught bleary-eyed in the wee hours on a wild night out, and which prince was spotted with his head in a shark's mouth! Just like the picture-perfect idea we have of our favourite royal family, not everything is quite what it seems. Here are our top 20+ favourite pictures that show the royals are just like us.
1. They Get Their Heels Stuck
If you've ever worn heels out and about, you'll know just how difficult it can be when walking near grates or difficult surfaces. Kate Middleton wears them at nearly every public engagement, and it's no surprise that she runs into a little trouble every now and then just like we do!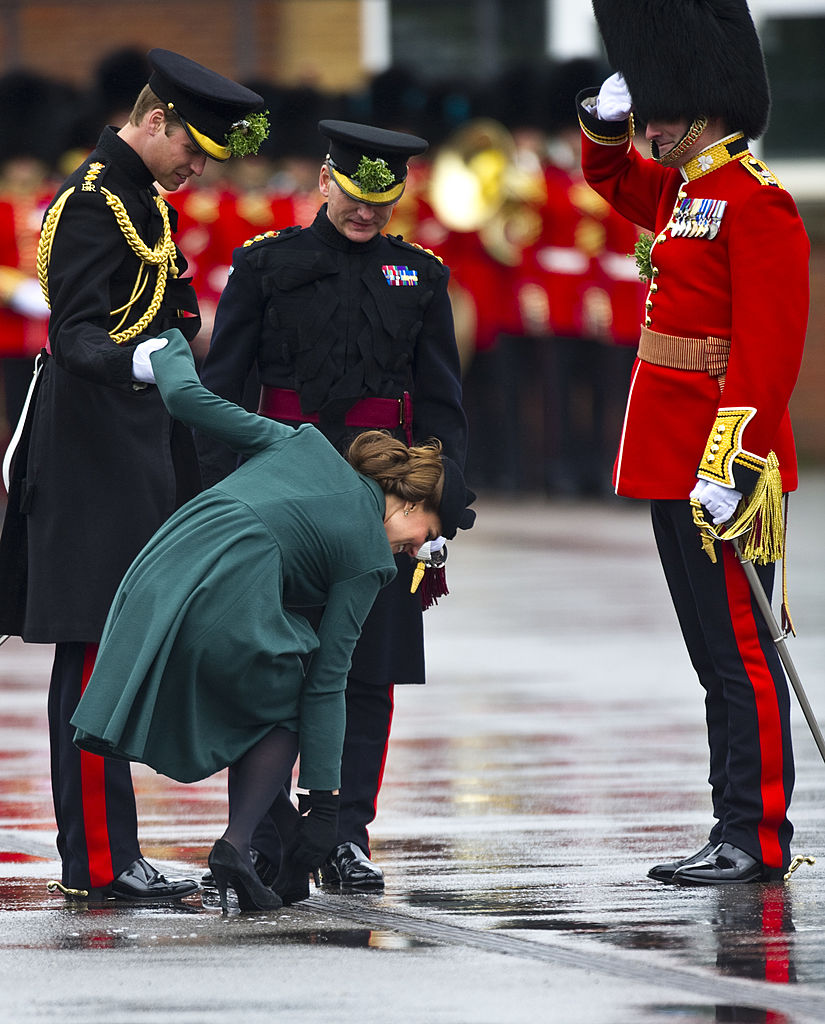 At a recent parade, Kate's heel slipped into a grate, and she was forced to stop and enlist the help of her handsome husband Prince William to get it out! Poor Kate - those heels can be pesky sometimes! Click 'Next Page' to see what the Royal life is really like from behind the scenes.
2. They Get Sleepy at Long Events
A large part of the aristocrats' daily life is attending public events and ceremonies, and we're sure that it isn't easy to look so fresh and bright all the time. It's impressive that they manage to attend so many engagements, and it comes as no surprise that some of these are a little boring for our favourite regal family.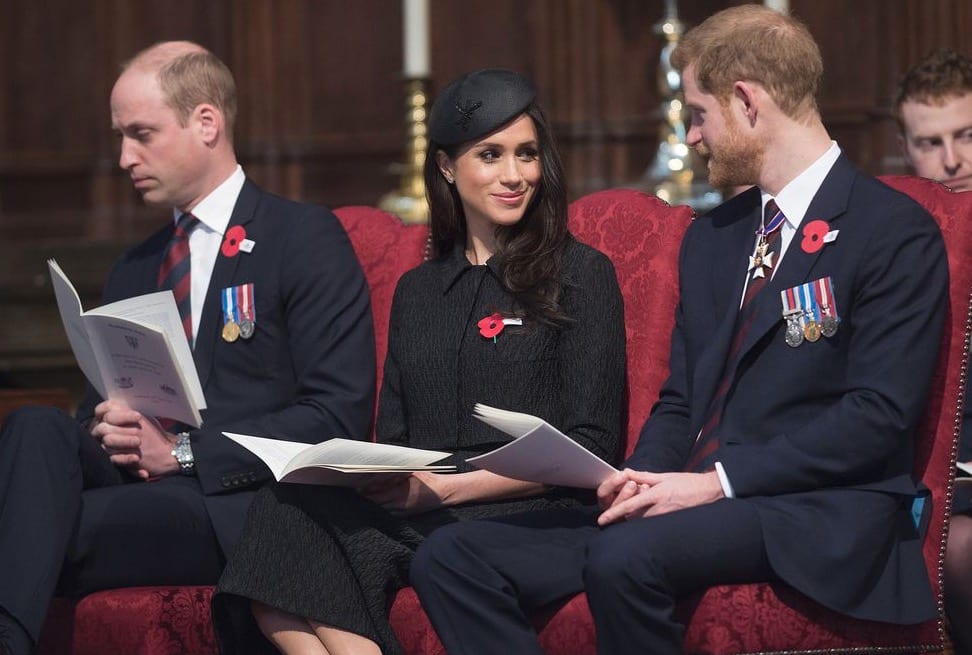 At a ceremony soon after the birth of baby number three, Prince William is here seen staring off into space - no doubt thinking about the sleep he's looking forward to later on! We can definitely empathize with you Wills, it's surely not easy having to sit through ceremony after ceremony with a newborn in the house!
3. They Have Snowball Fights Too
If you've ever been in the snow with your friends and family, you know how tempting it is to start a good old-fashioned snowball fight by throwing the first one! Kate and Wills are pictured here horsing about in the snow - although the Prince doesn't look so pleased!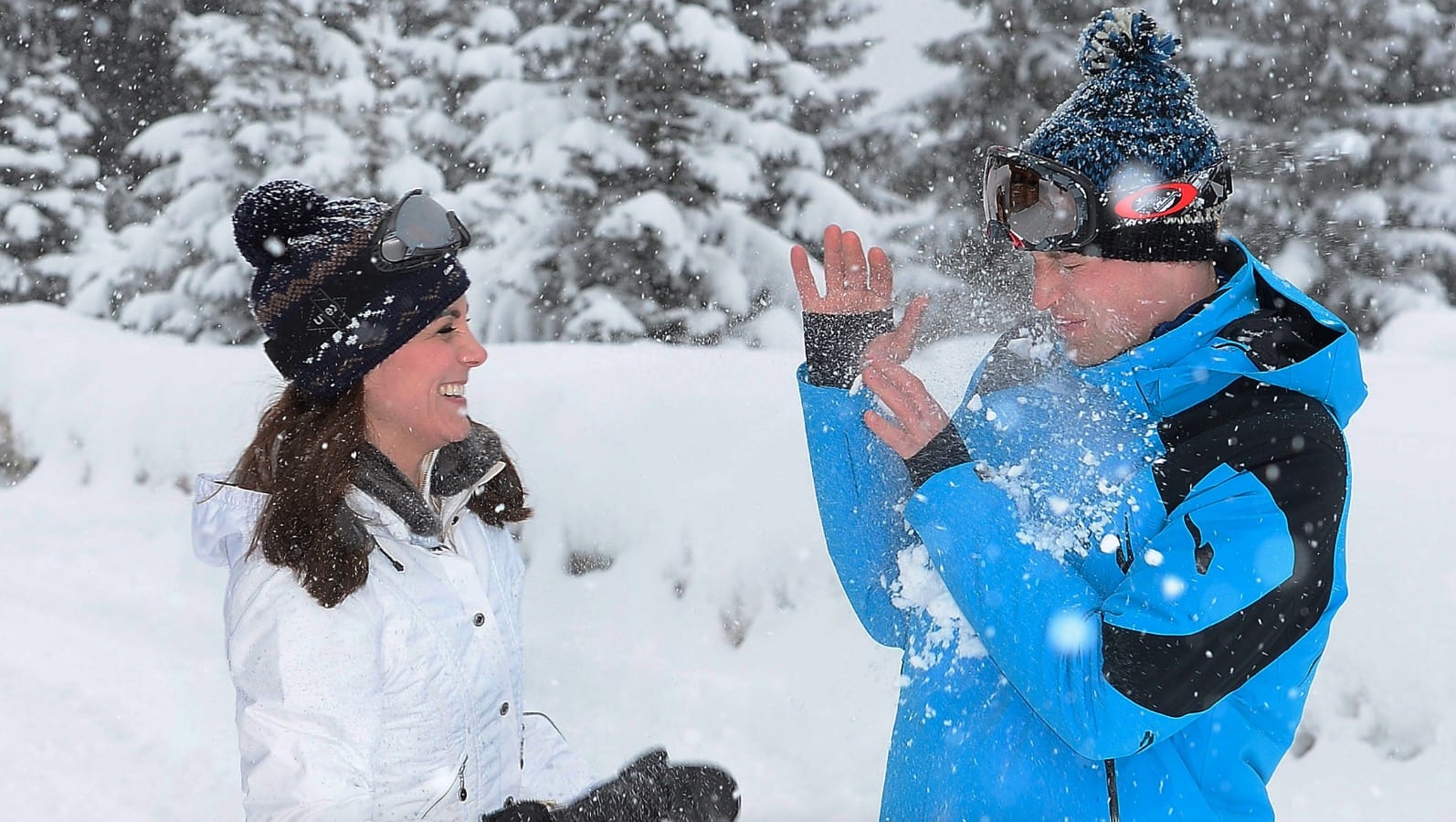 We love seeing William and Kate, who often seem so serious, having a little fun and being candid - everyone needs to blow off some steam once in a while! It looks like they had a great laugh in the snow.
4. They Also Have Sibling Rivalries
Anyone with a brother or sister knows that a little rivalry between siblings is a healthy part of growing up. This doesn't stop once you reach adulthood though, and over the years we've caught a rare glimpse of William and Harry's own competitive streaks when they're together.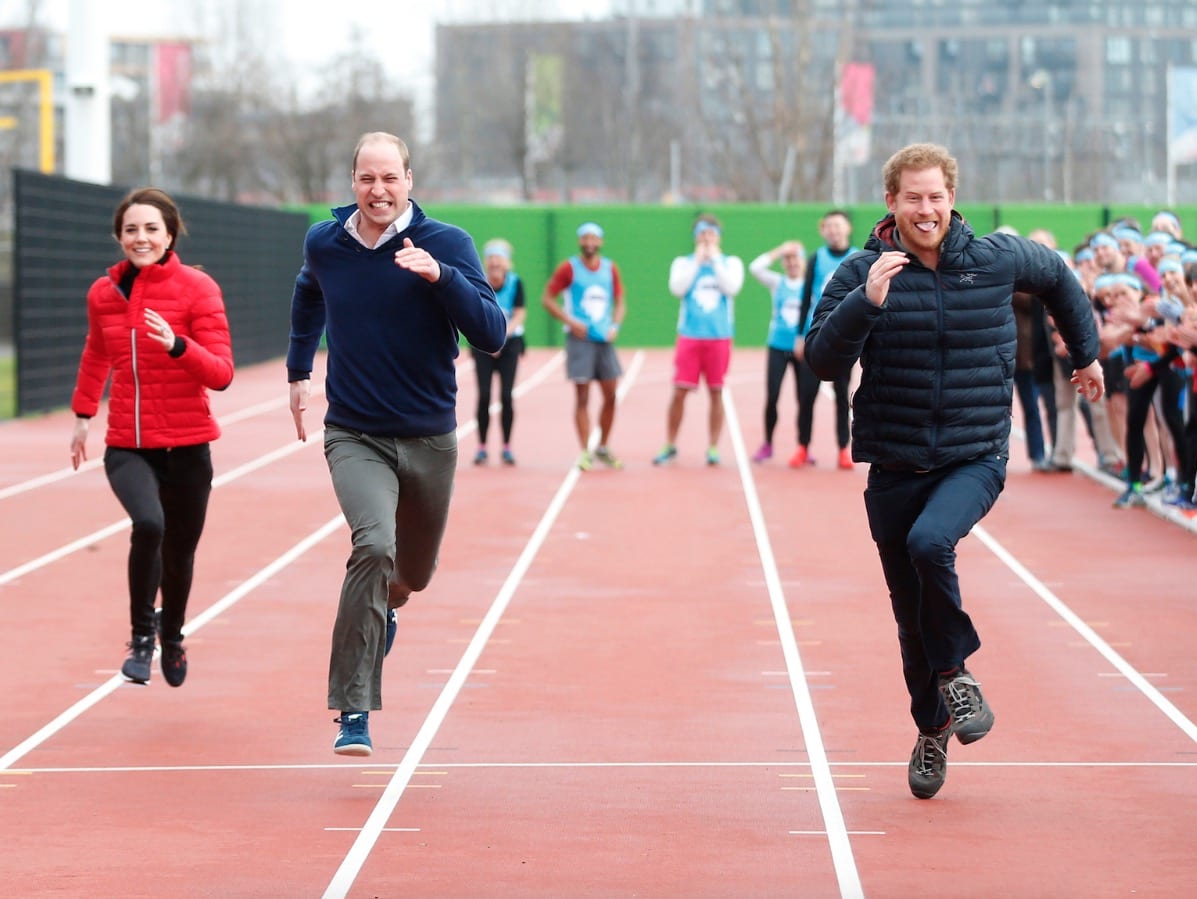 In this candid photo, the two boys (now grown men!) are seen running flat-out in a bid to beat each other on the racetrack. Harry might not be next in line for the throne, but it looks like he's definitely winning in the fitness stakes! 
5. They Pull Faces At Kids
At the 2017 Invictus games in Toronto, Harry was spotted pulling playful faces at two-year-old Emily Henson when she tried to steal some of his popcorn while he was deep in conversation with a pal. The adorable little Emily is the daughter of Harry's friend, Paralympian David Henson.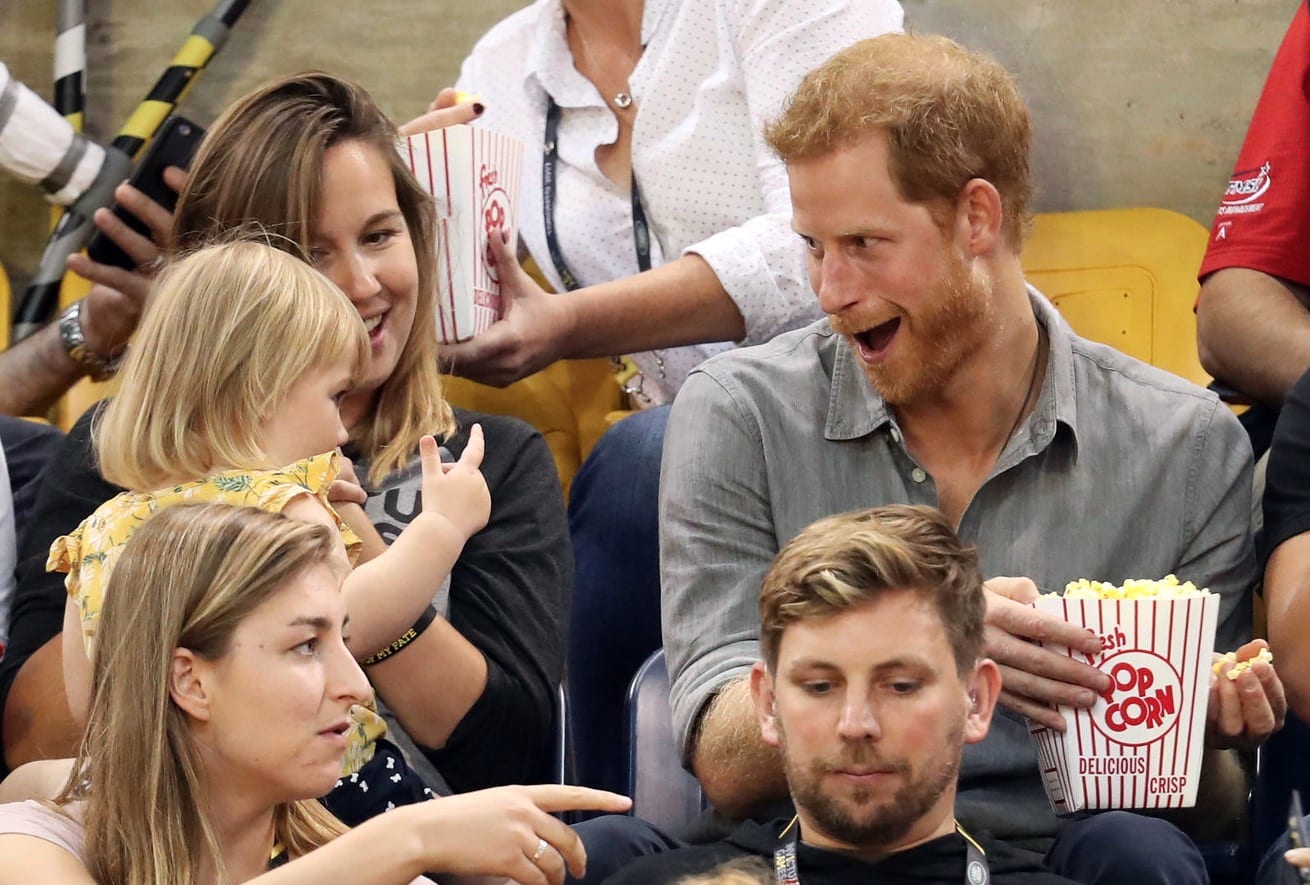 The prince is pictured here making funny faces at the toddler to entertain her while they watch the volleyball - what a sweet exchange! We love seeing Harry horsing around with kids, and can't wait to see the shenanigans he gets up to with baby Archie in the coming years.
6. They Also Pulled Faces When They Were Kids
Prince Harry has always had a cheeky streak, as we've seen from the previous picture, so it comes as no surprise that he's always been a bit of a face-puller when it comes to being out in public. We're sure that it would have been tough for Diana trying to keep two boys under control while living such a public life!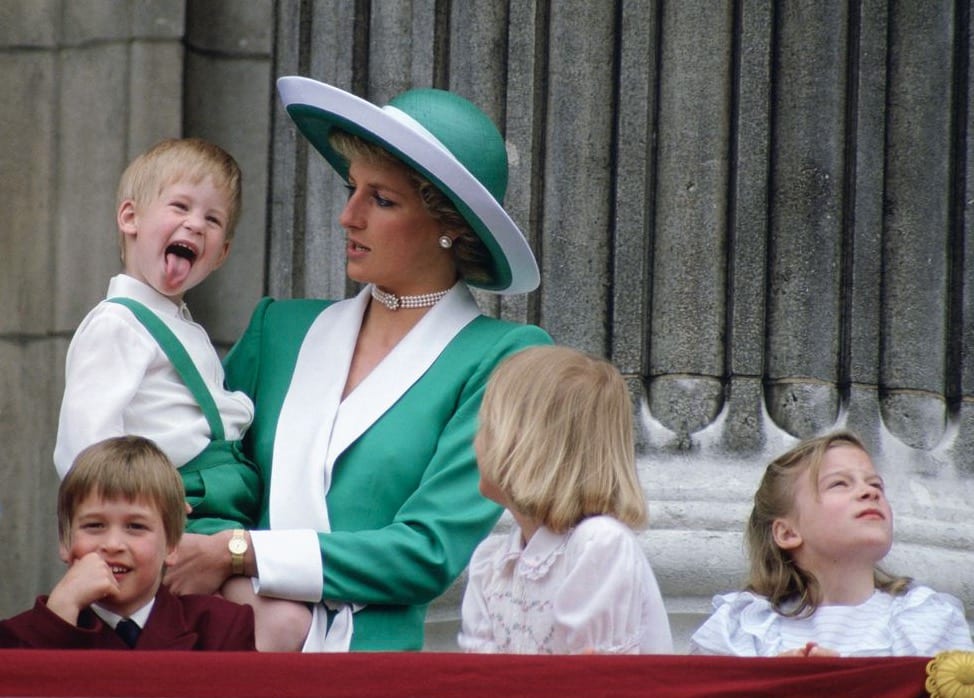 The young prince here pokes his tongue out at cameras and reporters as a young boy in his mother's arms during a television appearance. Diana doesn't look too pleased - but we're simply delighted with this cute little photo of Harry as a youngster.
7. They Goof Around in Public
The Prince of Wales, like his son William, is known more for his serious side than his goofy exploits, but there's no doubt in our minds that he likes to horse around just like his sons every now and then.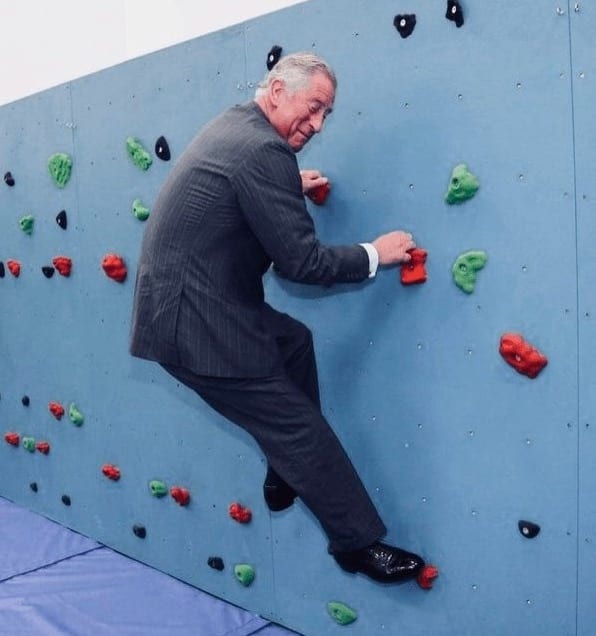 At a Diamond Jubilee visit to New Jersey in 2012, Charles threw caution to the wind and got up on the rock climbing wall with Army Cadet Force members after opening a new building. Perhaps he's wishing he was in his workout gear instead?
8. They Lose Their Footing!
Sophie Wessex and Prince Edward attended the Royal Ascot races in 2017 alongside William and Kate, and hilarity ensued when Sophie lost her footing and fell into Kate as they were getting out of their horse-drawn carriage. As you can see, Kate looks surprised, but the surprise soon turned to giggles as the two regal pals composed themselves again.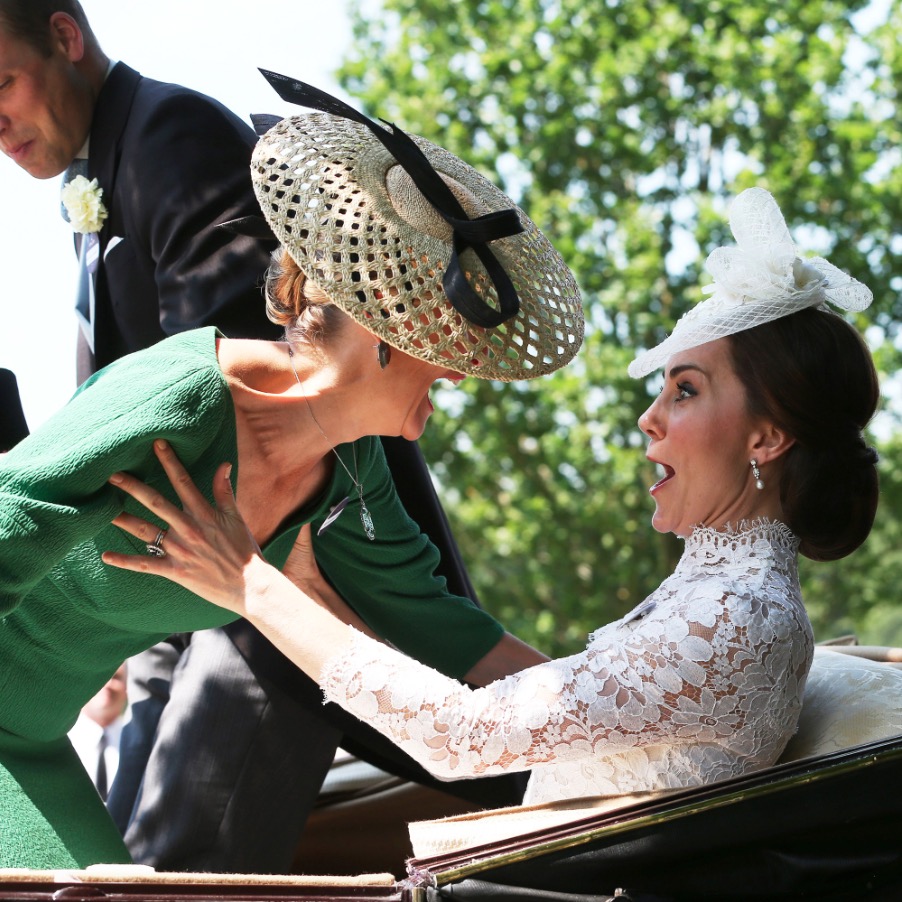 At such a serious event it's lovely to see these two women enjoying themselves outside of the confines of the palace, and it's surely not easy to stay balanced in an old-fashioned carriage like this! 
9. Their Children Have Tantrums
It's rare to see William and Kate's gorgeous children stepping a foot out of line, but travelling across the world and having to attend public engagements in foreign countries takes its toll on their little princess and princes. While Prince George was excited to have a look around a helicopter in Hamburg in 2017, his little sister was less than impressed.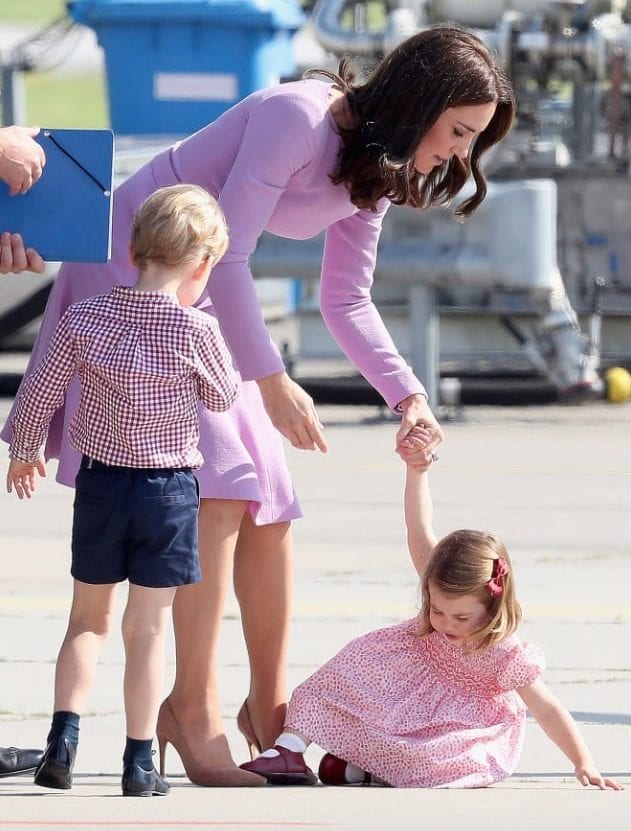 A two-year-old Princess Charlotte threw a temper tantrum on the tarmac in Germany, and we see Kate trying to comfort and reason with her daughter here in this picture. The adorable little royal is still a total sweetie even when she's upset though, which is not something that can be said of every child!
10. They Horse About With Children
On their first overseas trip since being married in 2018, Meghan and Harry were spotted in Dublin having a playful time indeed with Irish kids on the sports field. There were high-fives all round, and one boy even tugged Harry's beard!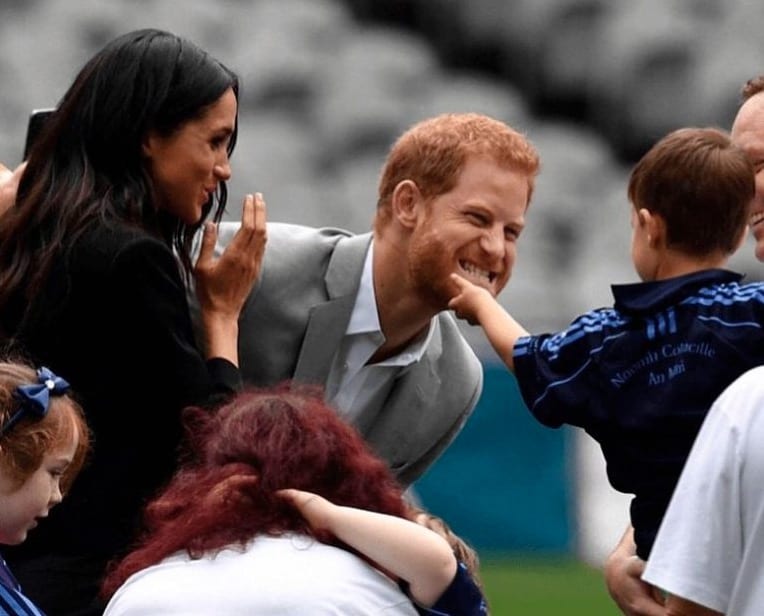 Harry didn't seem to mind, however, which is a testimony to his easy-going nature and his natural ability to make children laugh. Are you as excited as we are to see the shenanigans he gets up to with Archie as he grows up?
11. They're Harry Potter Fans
It's hard not to be spellbound by J.K. Rowling's epic Harry Potter series, and while not everyone has read the books, many of us have seen the films! It looks like William and Kate may also be fans of the franchise, as they're seen here casting spells on one another at a studio tour in 2013.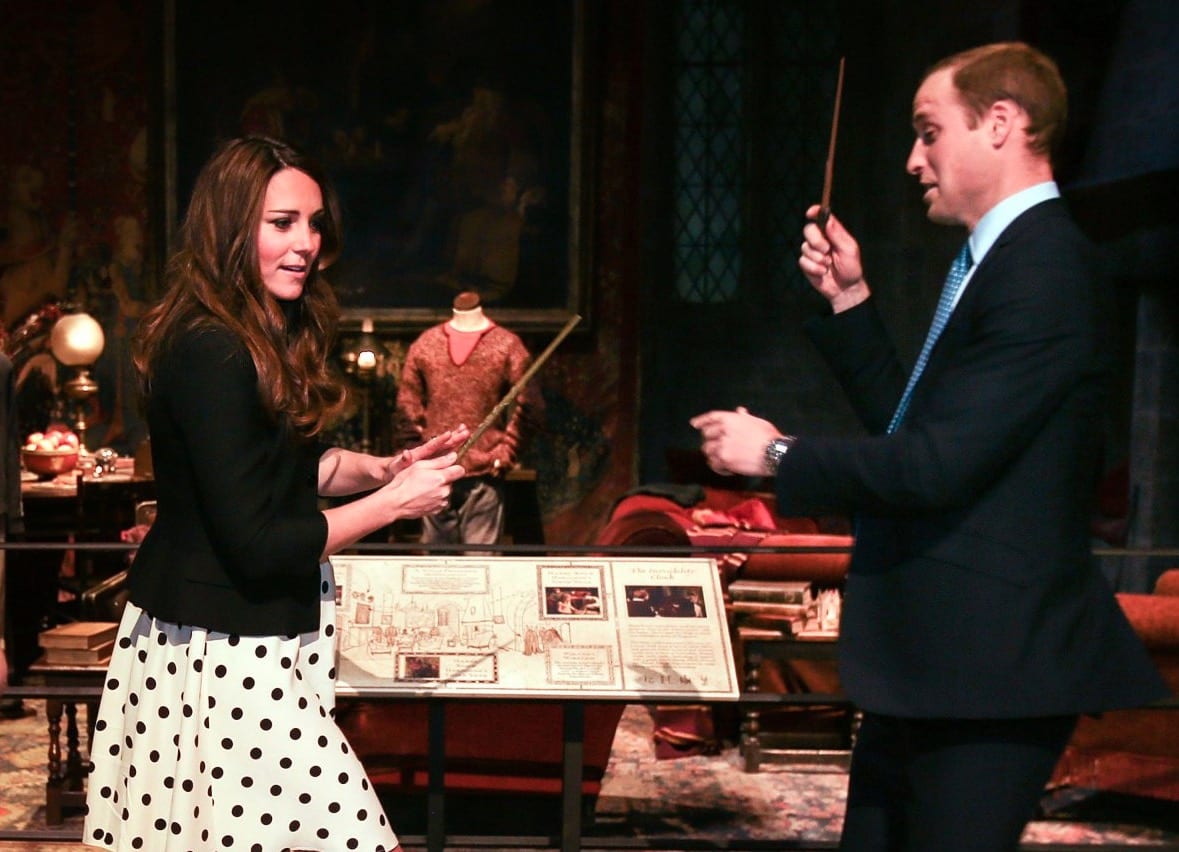 We'd love to know what their wands are made out of, and what kinds of spells they're casting on one another! It's lovely to see the pair enjoying themselves together and spending quality time - surely a rare occurrence with their busy schedules.
12. They're Shocked Sometimes Too
In 2013, Kate got a big shock at the London Natural History Museum while going to see a new David Attenborough screening. While Attenborough has more recently become outspoken about climate change, we can't think what might have caused Kate to be so surprised on this occasion!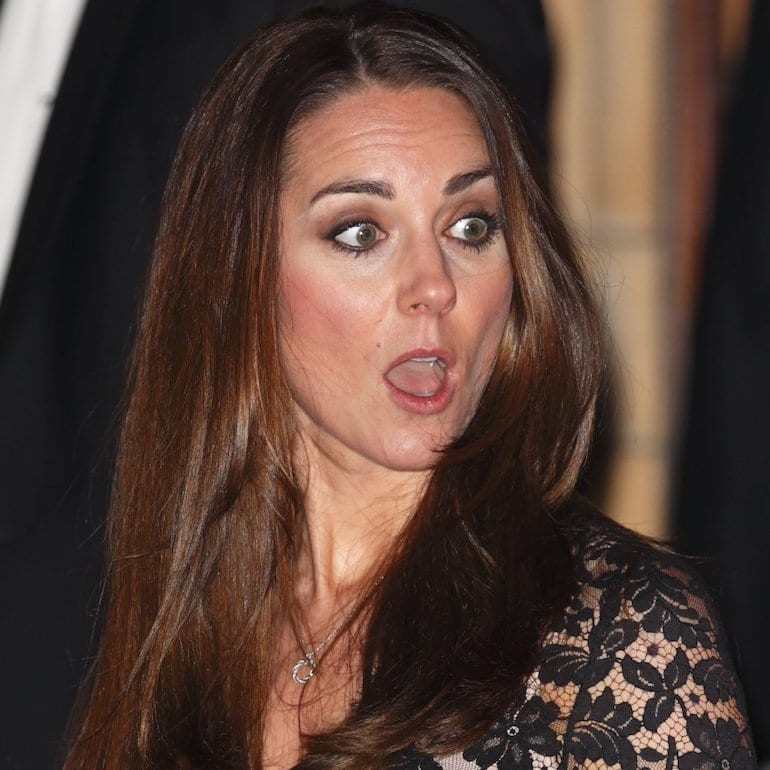 What do you think it was that she saw? Maybe William was honoring the time-old family tradition by poking his tongue out at David Attenborough!
13. They Have Wild Nights Out
Anyone who has ever been to college or university knows that late nights of studying are often followed by even later nights of drinking and partying. While Harry is more notoriously known for his exploits in bars and clubs, it's William and Kate that were snapped here looking a little worse for wear in the taxi home from a big night out!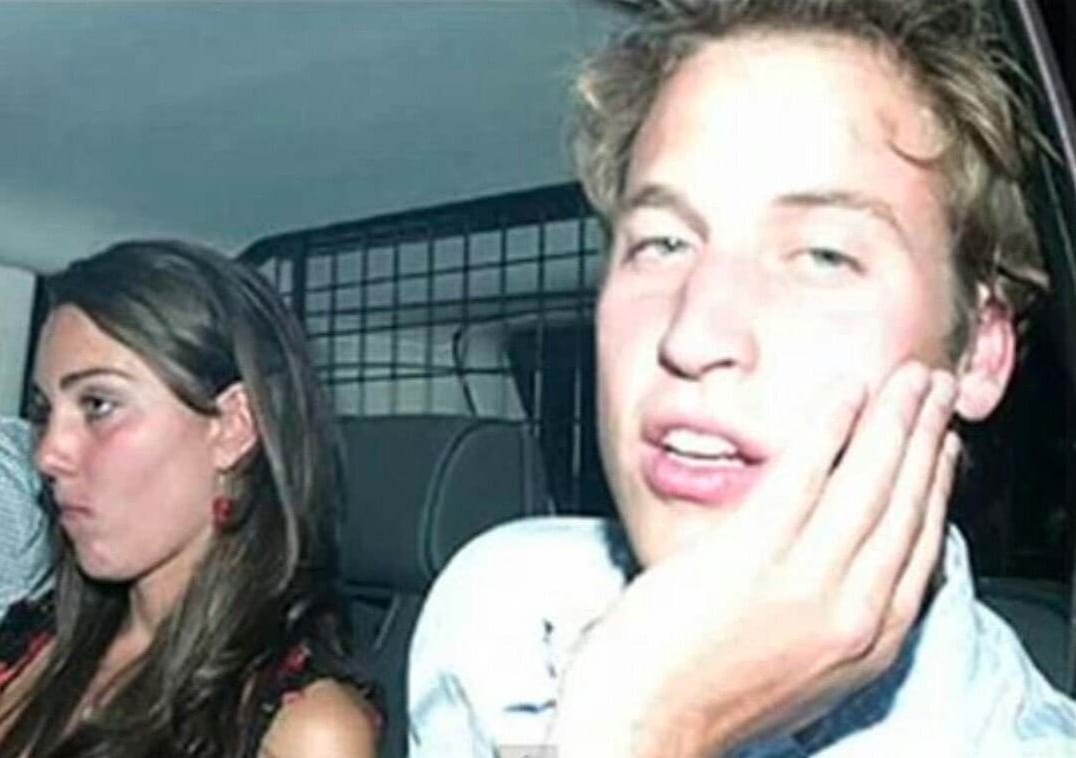 Can you blame them, though? Everyone has to blow off a little steam once in a while, and the royals are no exception! Seeing the couple in this candid snap during their university days reminds us that they're only human, and that even the royals don't always look pristine (especially in the wee hours of the morning!).
14. They Pass Their Habits On
Just as the young Prince Harry was spotted with Diana at a public engagement making faces at the press, little Princess Charlotte was also caught on camera cheekily poking her tongue out en route to the Royal Wedding in 2018.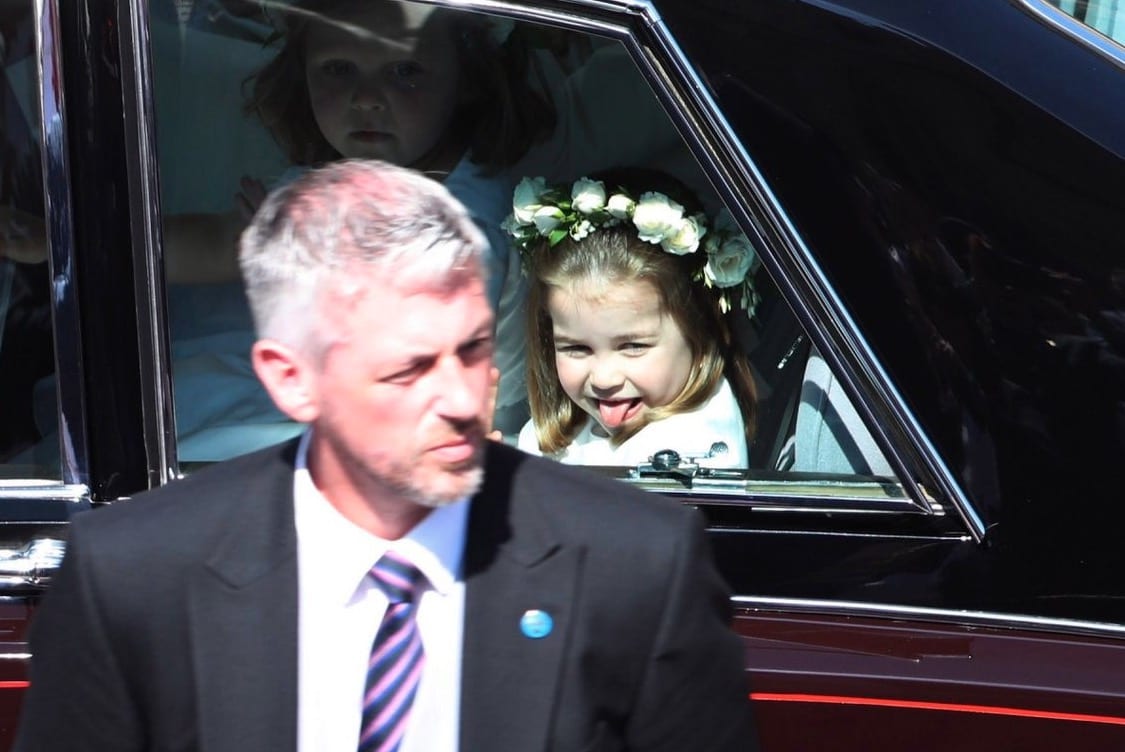 Surely she's learned from the best in the business: uncle Harry himself of course! We love seeing Charlotte's cheekier side, and her antics always make us giggle. Isn't she just your favorite little princess?
15. They Catch Snowflakes On Their Tongues
If you've ever been caught out in the snow when it starts floating down from the sky, you know how tempting it is to try and catch a snowflake on your tongue! The usually prim and proper Queen is pictured here with her tongue out.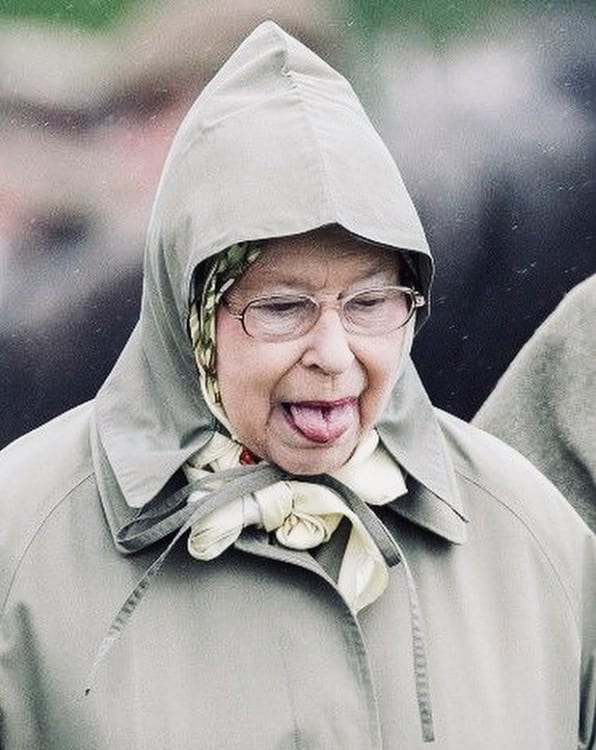 Maybe this is where Harry gets it from? Either way, seeing the Queen a little less composed than usual warms our hearts. It's rare to see her break character, so this photo is a particularly neat one!
16. They're Horrified Sometimes Too
Queen Lizzie is known for her perfect composure and even demeanor, but in 2003 while at the Guards Polo Club, she wasn't quite as cool, calm and collected. Two Eton schoolboys offered her scones, but the Queen didn't look so pleased!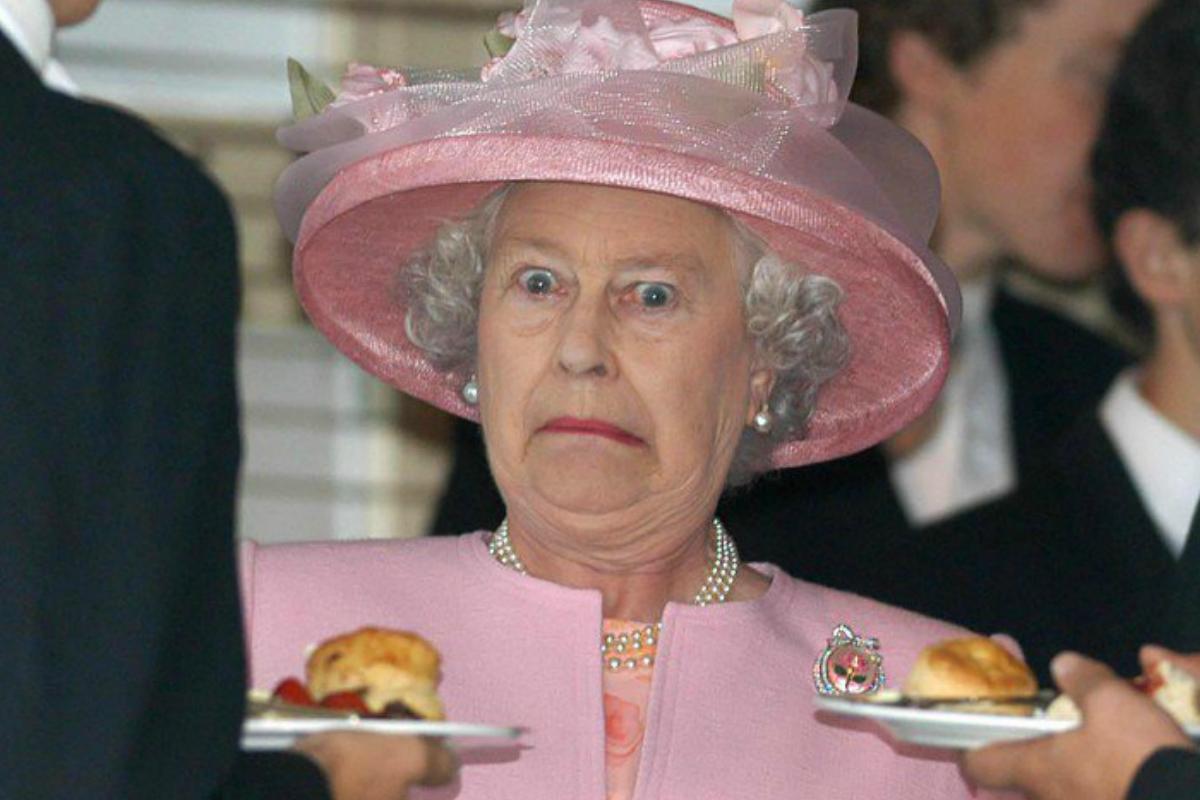 We can only wonder what caused her horrified expression! Perhaps the jam isn't quite up to the royal standard! What do you think?
17. They Love Cupcakes
Rain or shine, everyone loves cupcakes! Prince Harry is seen here handing out the delicious morsels to Christchurch University students, as he traveled to New Zealand in 2015 to talk to their Student Volunteer Army.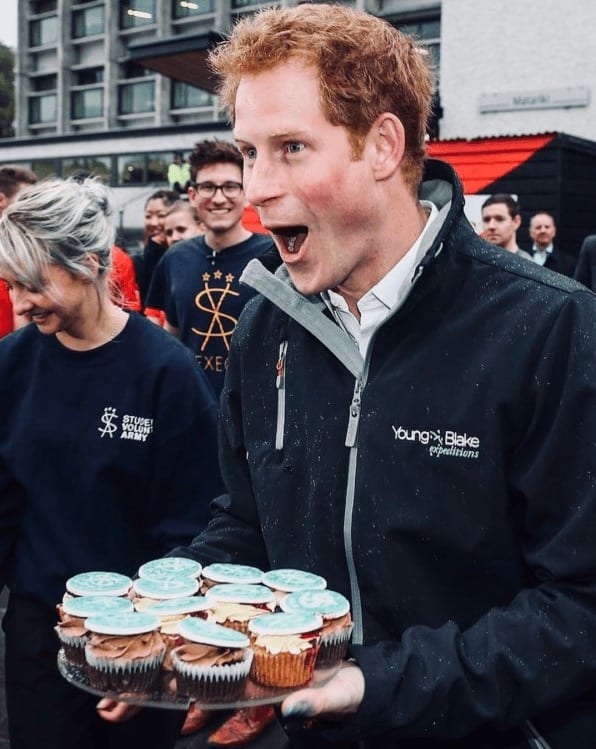 Not everyone got cupcakes, however - one student is rumored to have cheekily asked for the flowers in his hand instead. Much to her surprise, he obliged! The ever-charming prince told his audience that "community comes first," and tried his hand at a little gardening with the students. There are so many reasons to love this cheeky prince!
18. They Enjoy Ice Cream
If there's anything people love more than cupcakes, it has to be ice cream. Unfortunately, it proves difficult to eat gracefully, which Camilla, the Duchess of Cornwall, is seen discovering here!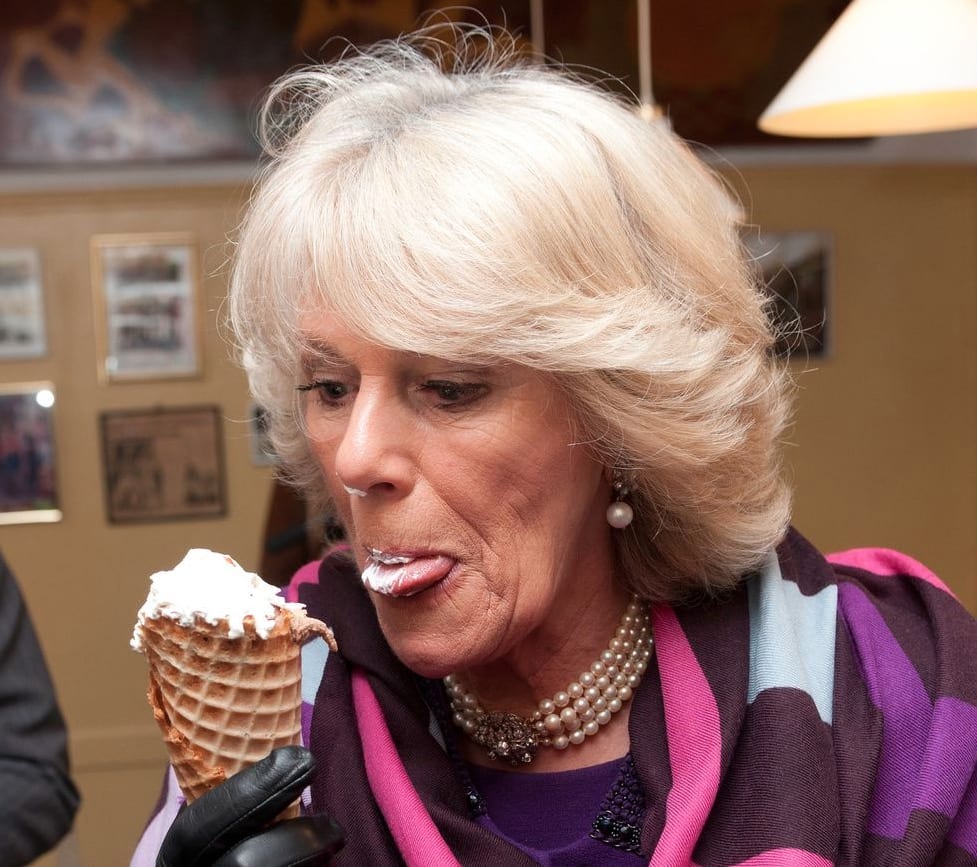 Candidly eating ice cream seems like a far cry from the perfect image we have of Camilla at Charles' side, so we're happy to see her throwing caution to the wind and enjoying herself a bit. Do you think that Charles will tell her about the spot she's missed on her nose?
19. They're Silly With Their Friends
Our favorite cheeky prince is up to his antics again! While we don't usually see Harry looking less than perfectly dapper, here he is taking some time out with a friend and showing his playful side. We're sure he and Meghan have lots of giggles together! Can't you just hear the silly motorbike noise he's making? What a character!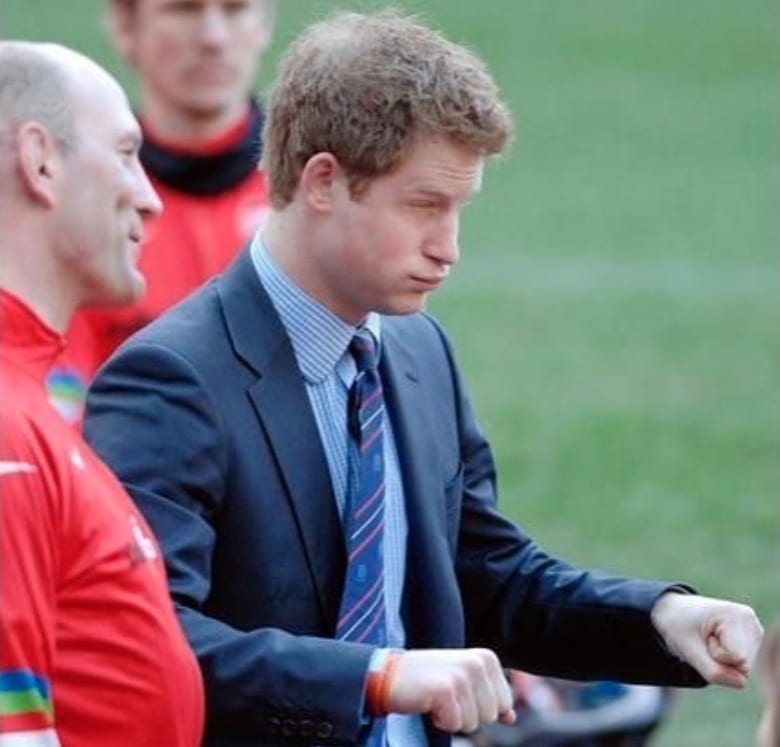 20. They Aren't Always Camera-Ready
While we're used to seeing the royal family looking prim and proper, every now and then we get to see them looking a little more natural in front of the camera. It seems that children bring out the best in this family of aristocrats!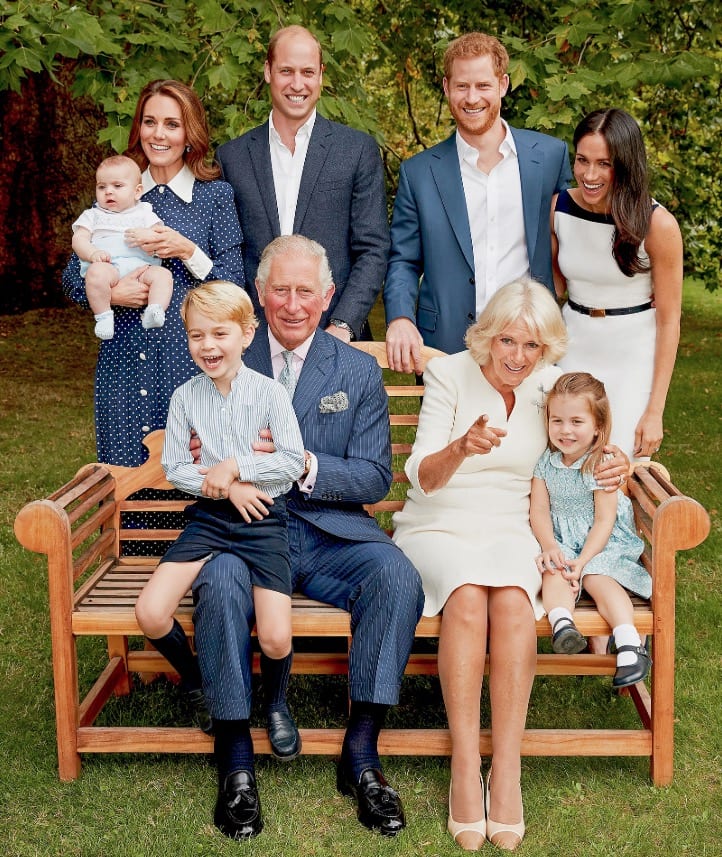 Here we see three generations of royalty not quite ready for the click of the shutter. It truly does make us love them even more though - some of the most cherished family photos are sometimes candid rather than posed.
21. They're Down-to-Earth on holiday
One of the best parts about being overseas is learning about a new culture, but if you want to truly embrace it sometimes you have to look a little silly! On a trip to Mexico in 2014 we see Charles having a great time with some of the locals as he learns the traditional Mexican clog dance.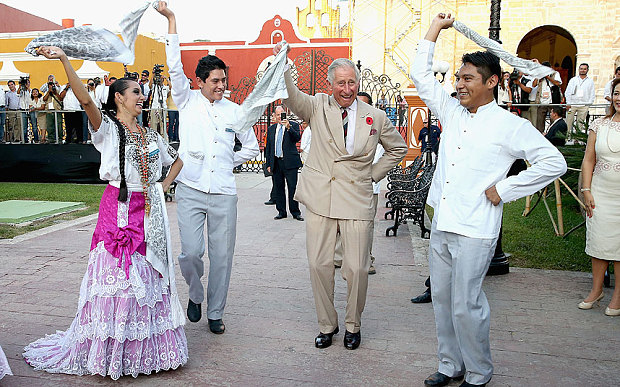 Charles looks like he's having a marvelous time, and the dancers he was with were rumored to be surprised by the Prince's smooth moves. Carlos Javier Zamorano, one of the dancers teaching Charles said that "if he had more time to practice he would be very good." You go Charles!
22. They Tease Each Other
Siblings love to wind each other up, and it seems like William and Harry are no exception. In 2010 in Botswana, the two princes are seen here having a great laugh as Harry points a snake's head towards William!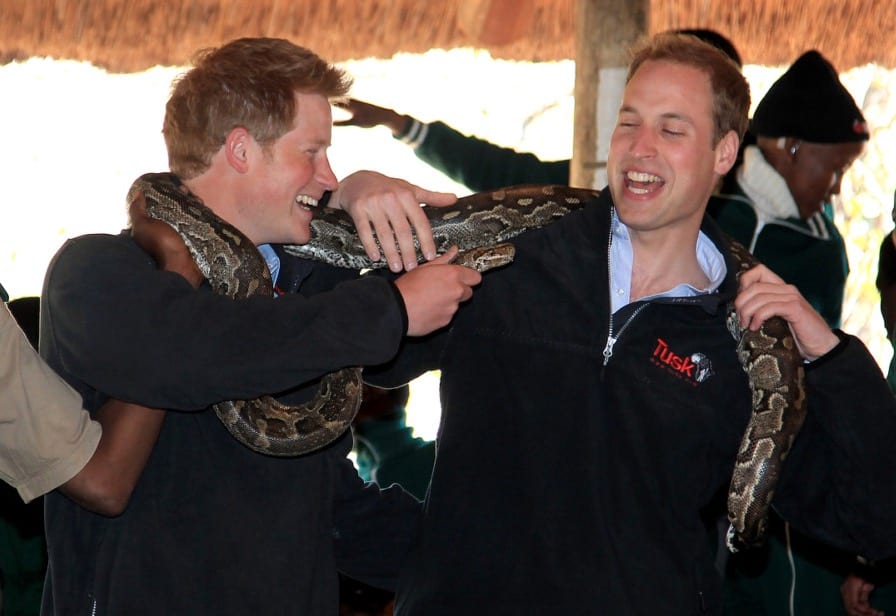 The brothers look like they're enjoying themselves together, which we always love to see. But we're not sure we'd be so brave! Do you think you'd look this happy with a snake around your neck? 
23. They Play Sports Together
We've already seen William, Harry and Kate racing each other, so we've seen a little of their sportier sides. Are they any good at cricket though? In 2014, William tried his hand at bowling for Kate, but it looks like he may have pitched a little too hard!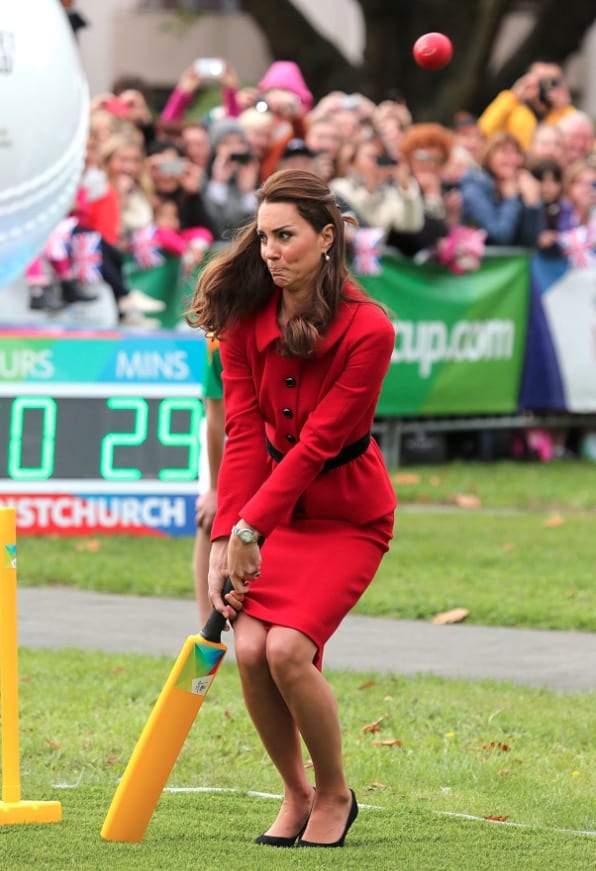 It seems the prince caught his wife by surprise with this throw. In saying that, it can't be easy for Kate to play cricket in heels and a pencil skirt. Maybe the prince needs to work on his bowling skills! 
24. They're Silly on the Sports Field
Would you put your head inside a shark's mouth? Prince Harry did exactly that on a trip to Durban in South Africa in 2015. It's not quite what you think though, as the shark just so happened to be a rugby mascot, rather than a terrifying ocean predator!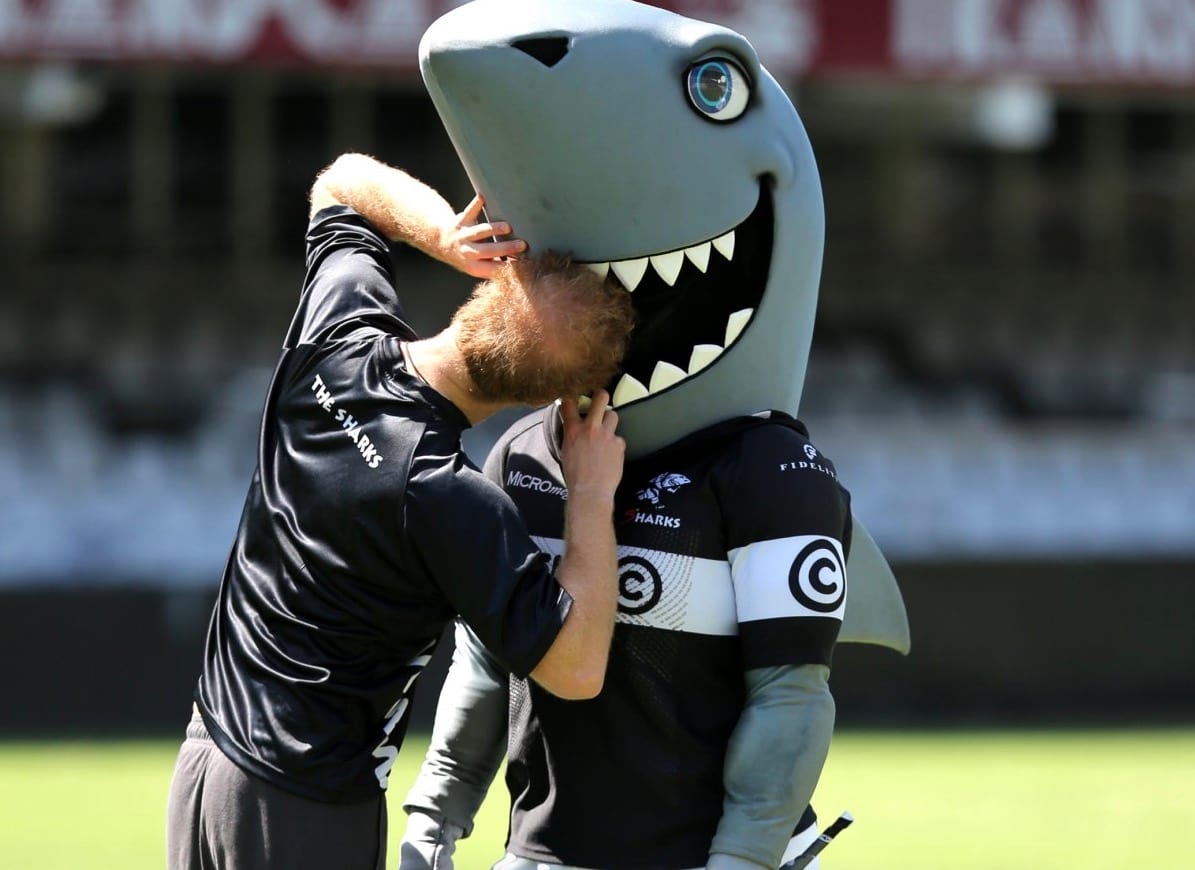 The person inside the mascot suit must have gotten a big surprise when the youngest of Charles' two sons popped his head inside the costume to say g'day! Harry keeps showing us more and more of his playful and we're living for it.
25. They're Cheeky as Children
Prince George seems to have picked up one of his uncle's cheeky little habits of poking tongues at the media, but he's so cute that he surely gets away with it. The little prince made everyone giggle here as he pulled a funny face out the window.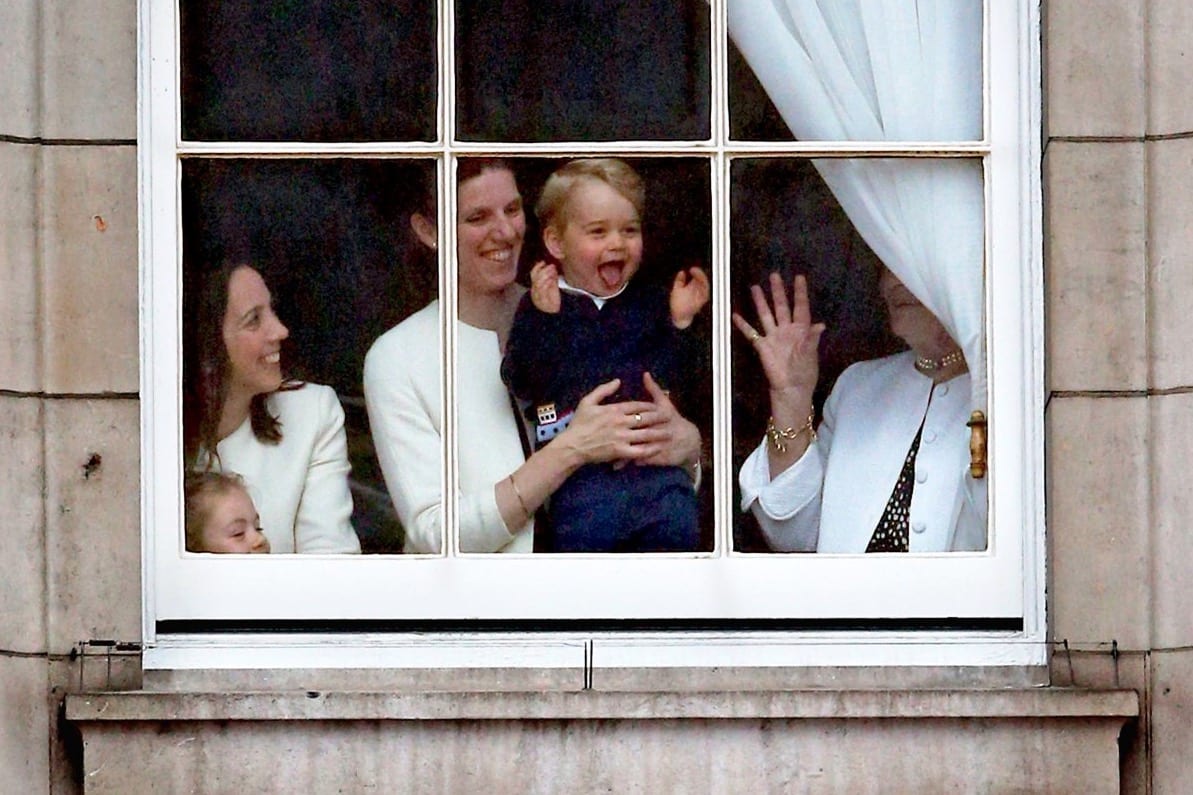 George is such a cutie and we love seeing these candid photos of him hamming it up for the cameras. If we had people taking photos of us all day, we're sure we'd be tempted to poke our tongues out once in a while too!
26. They Do the Mexican Wave
If you go to see a game of sport and don't participate in a Mexican wave, did you really even go to the game? The princes are seen here in their younger days joining in the spirit by starting off a Mexican wave. It looks like the two brothers are having a right royal laugh together at the game. It just goes to show that even princes need to let some steam off once in a while!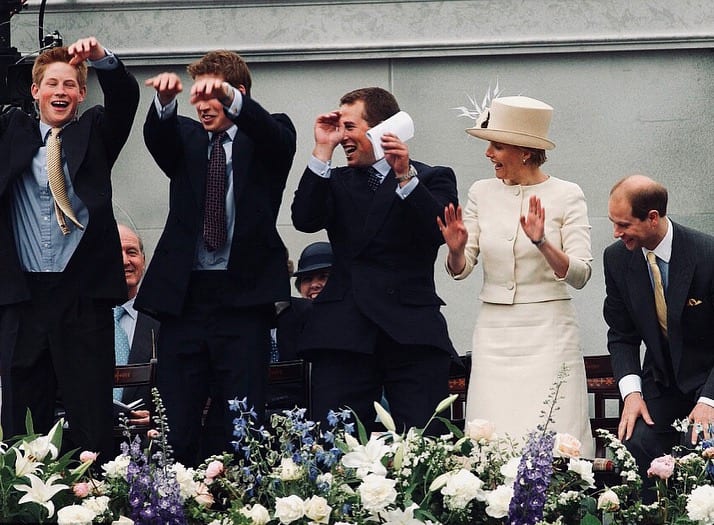 27. Their Mums Wipe Their Faces Too
How embarrassing is it when you're out in public and your mum starts trying to wipe something off your face? Little Prince George knows this all too well, as he's pictured here with Kate as she tidies him up after ice cream.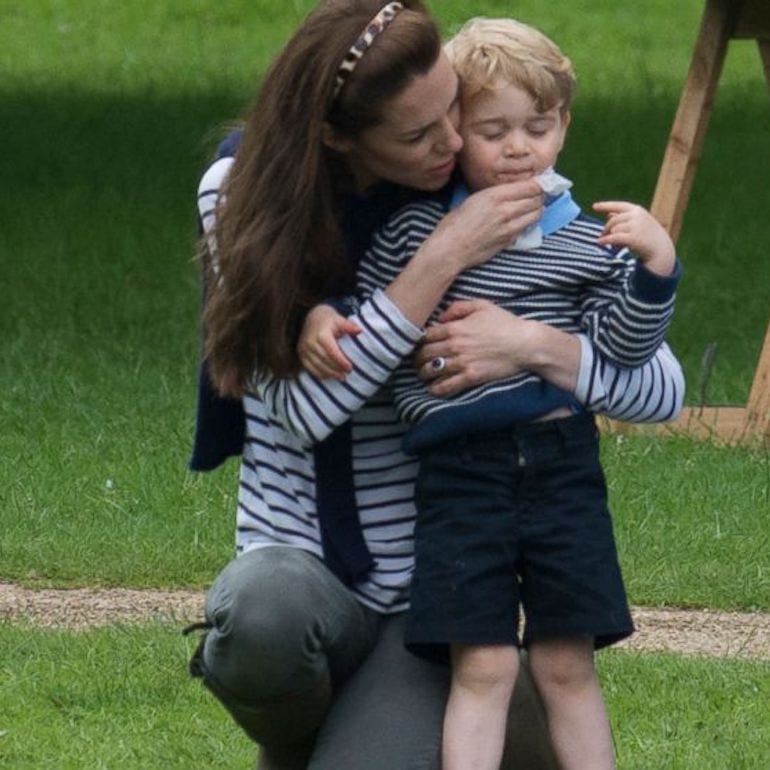 Maybe Camilla should enlist Kate's help next time she tucks into ice cream! It just goes to show that even Princes get their faces dirty sometimes. While we treasure these photos now, we'll love them, even more, when he's all grown up. 
28. They Get Caught By Surprise
At the Sandringham Flower Show in 2015, Charles and Camilla got to meet a bald eagle named Zephyr. Unfortunately, the bird took off a little too quickly for the royals' liking, and they both got a big surprise as he suddenly took to the skies!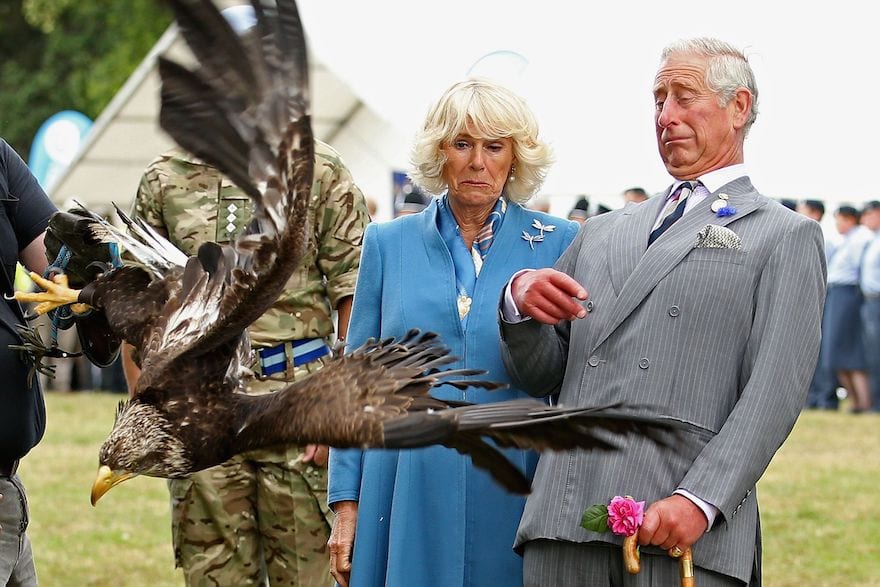 While Harry and William seem at ease with predators as scary as snakes, their dad and Camilla might not be quite so used to being in close proximity to dangerous creatures. It must be tough having to put on a brave face all the time!
29. They Dance at Friends' Weddings
We already know that the men of the royal family like a good boogie - after all, Charles seemed right at home trying his hand at the Mexican clog dance. His grandson George also seems to enjoy cutting loose on the dance floor, as he's pictured here at the wedding of Sophie Carter.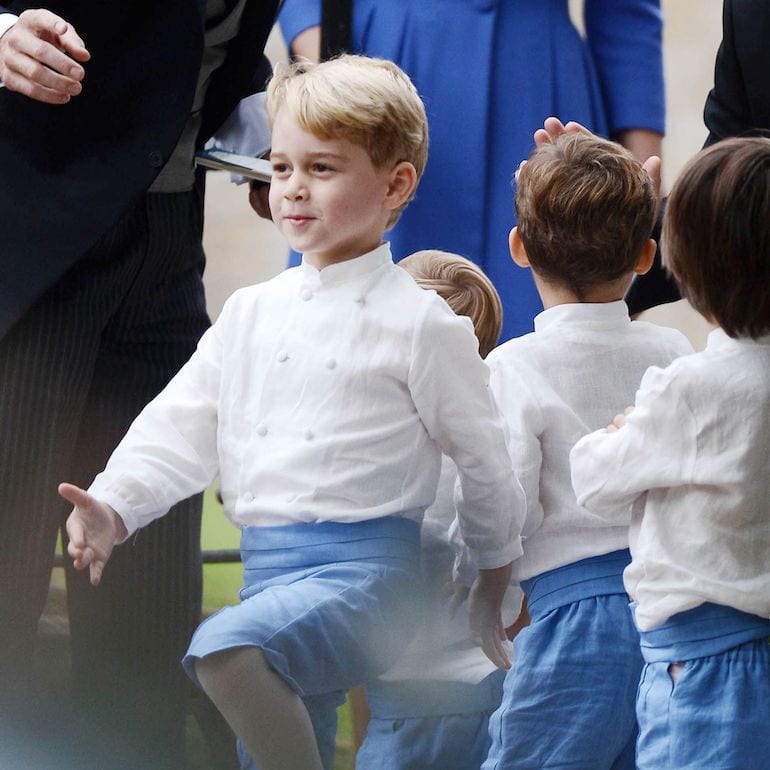 Prince George is quickly becoming our favourite little royal, and we're enjoying seeing his personality develop as he grows up. Don't you just love his adorable antics?
30. They Have Awkward High School Crushes
High school can be a difficult time for any teenager, especially when it comes to dating! In this throwback from Kate's school days, Kate is pictured playing Eliza in My Fair Lady, alongside her crush Andrew Alexander as he plays Freddie.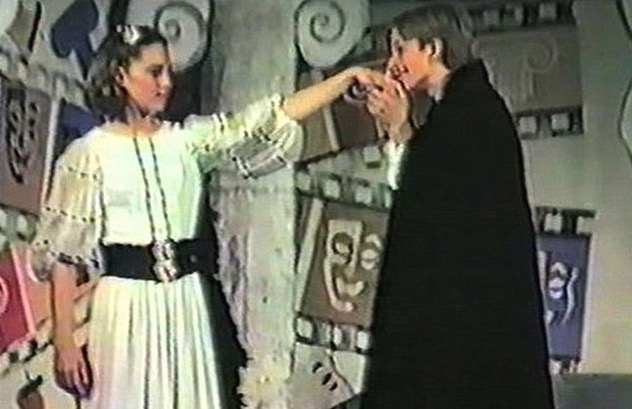 Alexander has since gone on to play Sir John Bullock in Downton Abbey, which seems fitting for the crush of someone who may become Queen one day! Of course, Kate never told Andrew of her infatuation with him, and thank goodness - we much prefer her as the Duchess of Cambridge.
31. They Love Bubbles Too
Can't get enough of adorable candid photos of Prince George? Not to worry, because there are plenty more pictures of the young prince enjoying his childhood like any other normal kid. Here he is captivated by bubbles!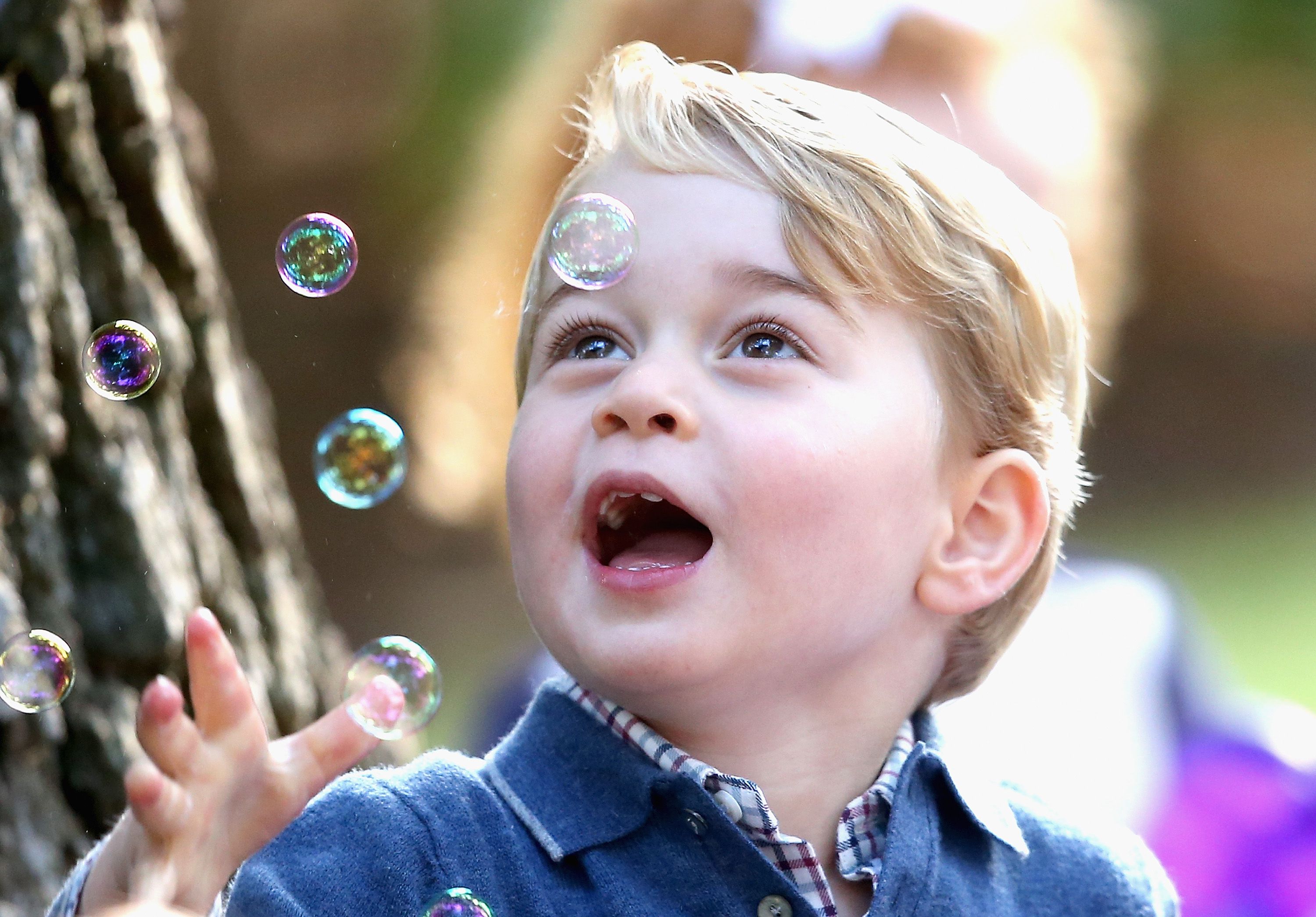 The sense of wonder that children have is so heart-warming, especially when those children are as cute as little George! We love seeing these gorgeous images of them playfully enjoying themselves.
32. They Have PDA Moments
While the royal couples very rarely show outward displays of public affection, it's natural for them to show one another their love when they're enjoying themselves. In this gorgeous photo, the ever-beautiful Kate is seen beaming while her and William share a cuddle at a sporting event.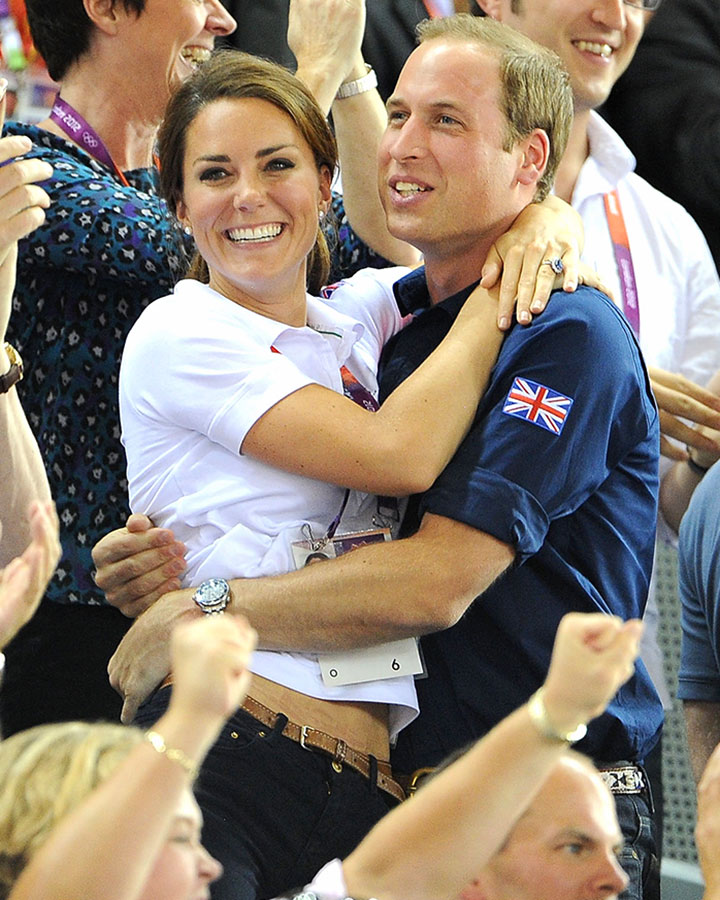 Kate and William look ecstatic, and we are reminded that they're just like us in this super cute photo of the young couple in love. We love seeing the royals looking candid like this!
33. They Get Embarrassed By Their Parents
We're sure that Kate has her work cut out for her with three little aristocrats to keep under control! Charlotte and George are proving to be right little characters, and it can't be easy making sure the young ones are looking prim and proper 24/7.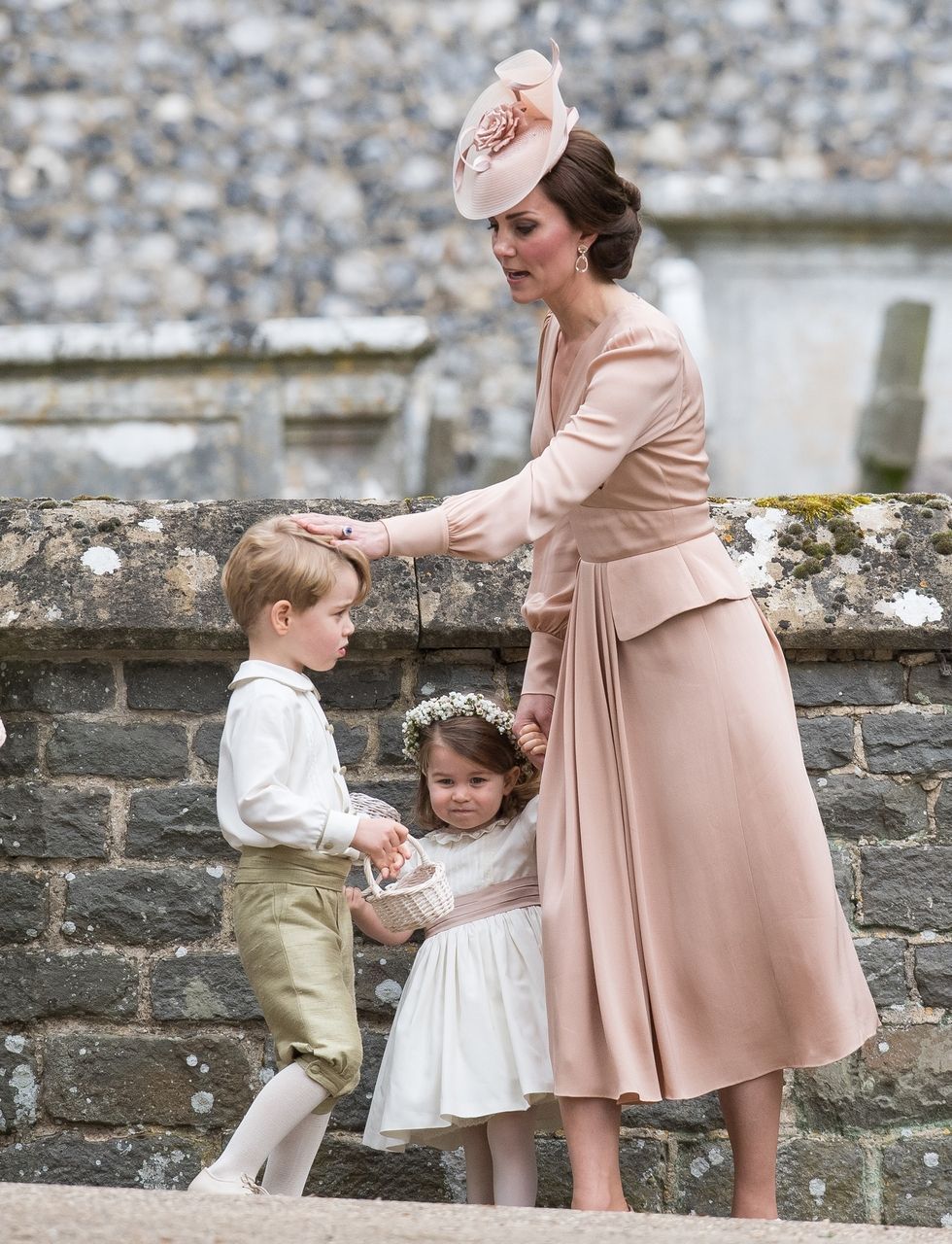 In this picture, Kate holds Charlotte's hand while making sure George is well-presented. She clearly has a lot of love for her children, even if the little prince looks less than pleased to be preened and fussed over by his mum.
34. They Take Selfies
While a selfie might not be the most proper way to take a photo, the royals are definitely partial to posing for pictures with fans. Having so many fans of the millennial generation, it's really no surprise that they get snapped in a selfie every now and then!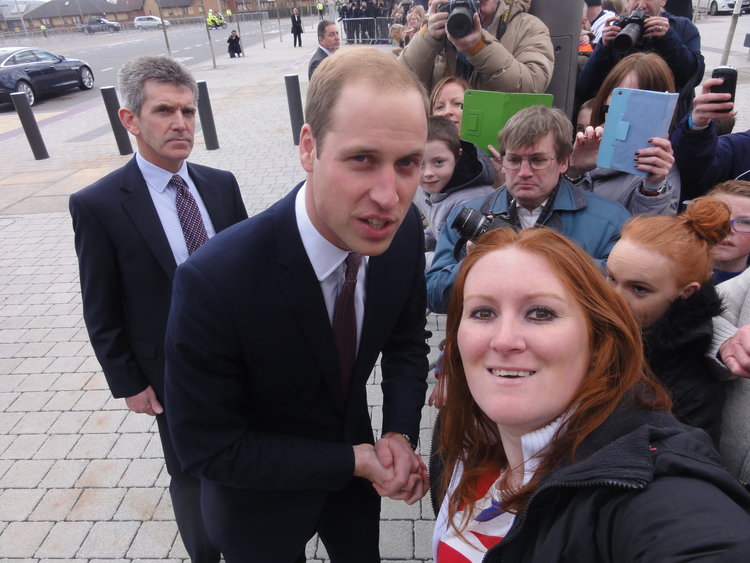 This lucky fan managed to snag a photo with William as he walked by! We can't help but be a little jealous - how about you?
35. They Go to Theme Parks
One of the highlights of a holiday for many children is visiting a theme park and taking a thrilling ride on a rollercoaster! In this fun throwback picture, the two princes are seen enjoying themselves together as they hurtle through the air.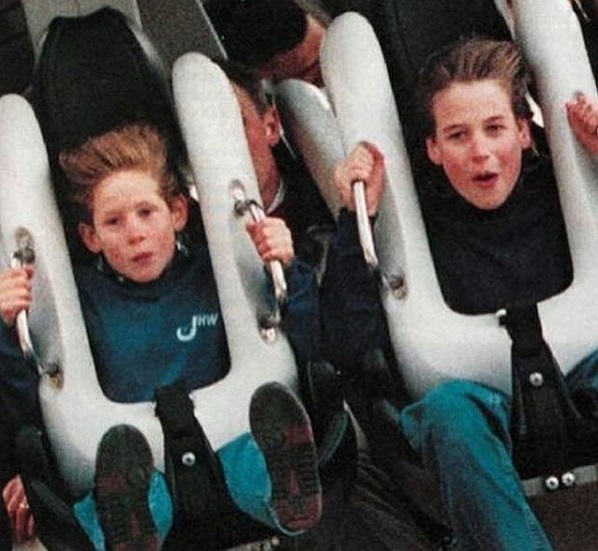 Just as we enjoy seeing photos of Will and Kate's gorgeous kids enjoying their childhoods, we love to see these old pics of the two brothers growing up just like you and I. These memories must be even more precious for the princes now that their dearly-loved mother has passed on.
36. They Fall Over on Roller Skates
We've seen how Will and Kate like a good night out in previous photos, and we're reminded again that the Duchess is just like us in that she likes to let her hair down. While this picture was taken in her slightly younger days, she still seems to enjoy a bit of silliness now and then!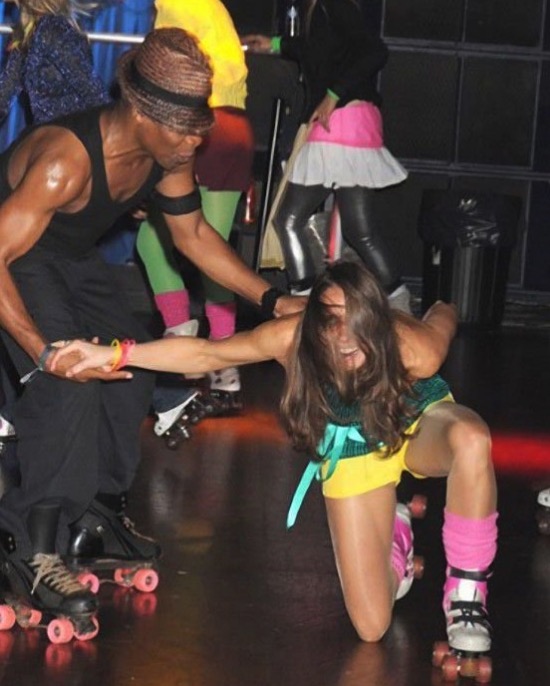 If you've ever tried to wear roller-skates, you know how pesky they can be! We don't blame Kate for falling over. Good on her for having a go!
37. They're Just As Curious As We Are
We already knew that Harry had a cheeky streak, but this adorable photo captures a funny little moment of curiosity when he was just a boy. Harry is seen here having a peek under his father Charles' kilt to check if he was wearing it like a true Scotsman!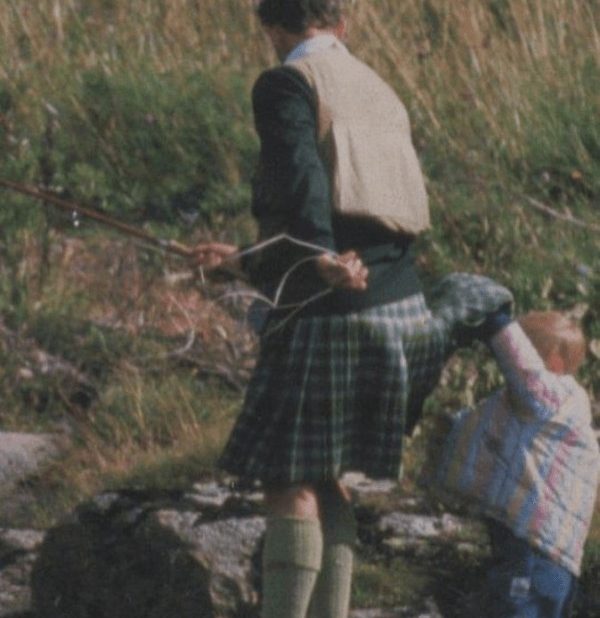 This picture of Harry as a youngster made us giggle the most, as everyone always wonders when they see a man in a kilt! We bet Charles was just as surprised as Harry after this one was taken!
So as you can see, the royals really are just normal human beings like us. They get embarrassed by their parents, they horse about and poke their tongues out, and they love to let their hair down. If you want to see more content like this, check out some of the related articles!