20+ Pictures That Take A Look At History
Photography is the perfect way to revisit old memories and remember everything that happened long ago. We couldn't be more grateful that someone came up with a method of capturing the best moments, and here are some pictures that might make you take a second look. You might even see a few weapons. Let's take a look!
29. NORMA JEANE
This lady in this picture might seem very familiar, but no one knows her by her real name Norma Jeane. She was famous as Marilyn Monroe, but this photo was shot in 1943 when she was just 17 years old. Monroe is still regarded as one of the most beautiful women in history and a sex symbol. Her life was split, though.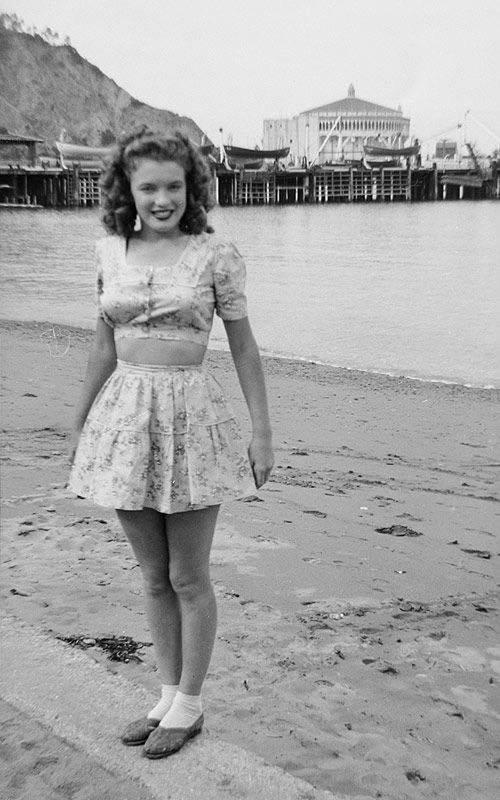 She was rich but had a troubled relationship with many male suitors. Most believe that she was too co-dependent on men, and despite her beloved looks, Marilyn allegedly suffered from low self-esteem. On the outside, she pretended to be outgoing but was terribly shy in reality. In fact, she actually had a stutter due to her crippling shyness. Speech lessons helped, but she never lost it.
28. THEATER IN LIBYA
This is an image of 2,000-year-old theater in Libya that was built in ancient-Roman style. It is located in Leptis Magna, Sabratha, Libya right near the Mediterranean coast. The theater initially served as a trading location for the Phoenicians, but it was later part of the Roman Empire. The statues located inside were built during the 2nd and 3rd centuries A.D.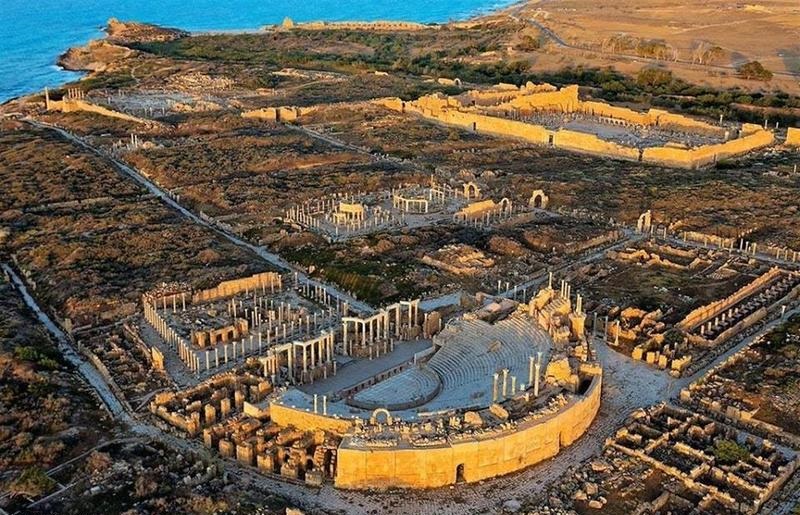 Leptis Magna was an important city during the rule of the Romans, but it sadly fell to the Vandals in 439. It became part of the Eastern Empire in 533. Unfortunately, it was conquered once again by the Muslims in c. 647, and then, left barren. Now, it's a city of ruins right along the coast of Wadi Lebda and the sea. Luckily, this theater is one of the best-preserved sights of the ancient Roman Empire.
27. HALLOWEEN FROM 100 YEARS AGO
This picture is from Halloween, and it might give insight into why most horror movies are based decades ago, instead of modern times. Things were just plain scarier in the past. Most Halloween nowadays will see a bunch of kids dressed up as the Avengers, but these children are actually goblins, and they knew that October 31st was supposed to be a fearsome event, not just a party.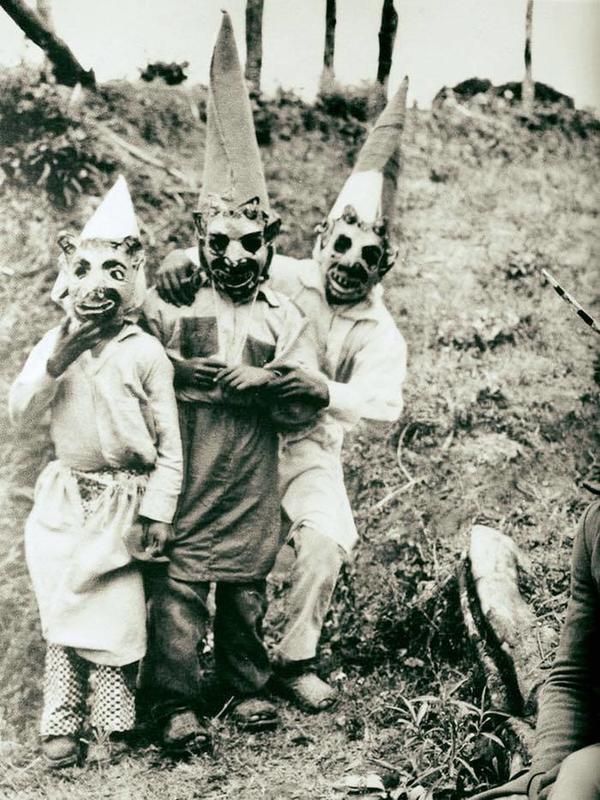 The history of Halloween goes back to the Celtic festival of Samhain (you pronounce it "sow-in"). The Celts who lived thousands of years ago in Ireland, the UK, and France, celebrated their New Year's on the first day of November. It was supposed to mark the end of summer and the harvest. It was the beginning of winter, which is a time where most people about death. They believed that the day before New Year's, the door that separates the world of the living and the dead opened up.
26. THE MEN WHO BUILT CHASE
This picture shows the 3,000 men who worked on the construction of the Chase Manhattan Bank in New York. It was taken in August 1964 and was 810 feet high. We have seen many pictures of construction workers doing their jobs from impressive heights, but this is another look at how many people are involved in the amazing structures we see all the time.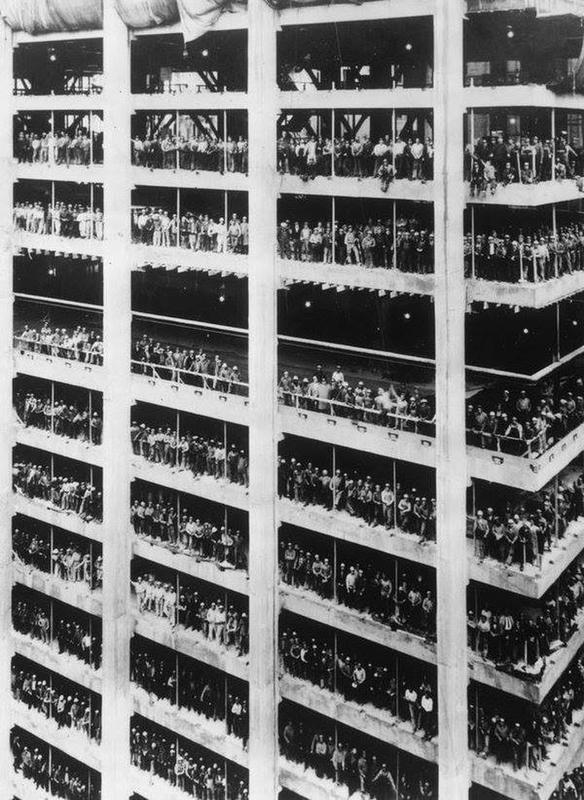 The Chase National Bank and the Manhattan Company joined their ventures in 1955, paving the way for this building and The Chase Manhattan Bank. However, it took them almost ten years to join the New York City skyline, which has always been famous. This picture was taken when they were almost finishing the construction. We cannot even imagine standing so close to the edge like these men.
25. ROBERT DE NIRO SR. AND JR.
This is a picture of Robert De Niro as a child with his father, Robert De Niro Sr. when he was just 24 years old in 1946. The famous actor was just 3 years old at the time, and you can already tell that he was going to be a bad boy. His first film was Brian De Palma's 'The Wedding Party' made in 1963, but it premiered in 1969.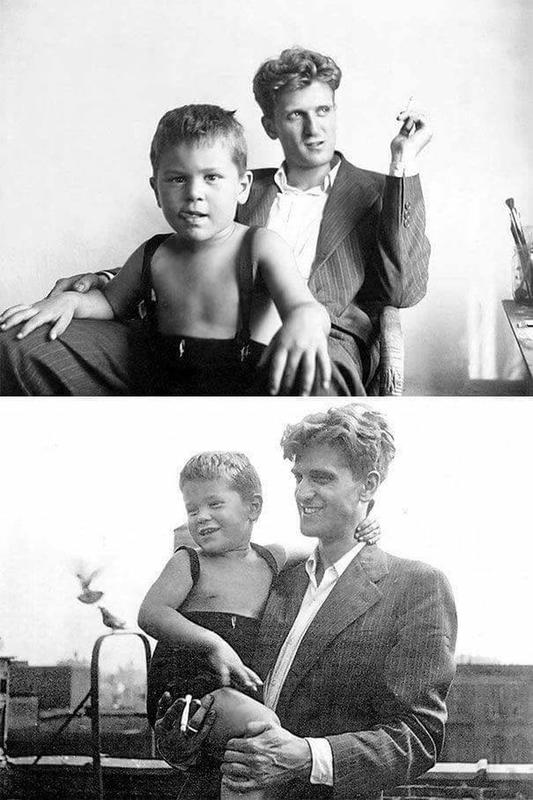 The role was pivotal because it helped build his friendship with Martin Scorsese, who launched him into stardom. You might remember seeing him in 1973 when he played Johnny Boy in 'Mean Streets', and in 1974, he got the role of Vito Corleone in 'The Godfather Part II'. The latter earned him his first Academy Award for Best Supporting Actor.
24. THE LAST MALE NORTHERN WHITE RHINO
This picture might open many people's eyes about climate change and the impact our actions have had on the world. Here is Sudan, the last male northern white rhino being protected by his carers from poachers. Unfortunately, he died in 2018 at the age of 45 due to failing health. People tried to get him to mate with the two female northern white rhinos at the Ol Pejeta Conservancy in Kenya but to no avail.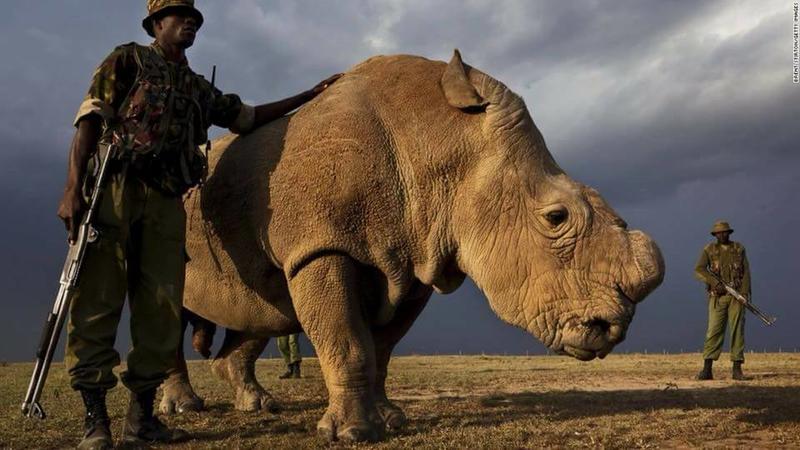 Sadly, his death marked the end of the species, and National Geographic photographer Ami Vitale had dedicated her life to documenting the decline of the rhinos. In an Instagram post, Vitale mourned the death of Sudan last year, writing, "Today, we are witnessing the extinction of a species that had survived for millions of years but could not survive mankind."
23. SHOE-MAKING IN THE 19TH CENTURY
This picture shows what it was like to make shoes in the 19 century. Up until then, the art of shoemaking was just handicraft, but things changed by the end of the century after the industrial revolution. Most of the shoes were now being made in factories with machines to great scales. However, we still have images like this to remember a time when things were a lot simpler.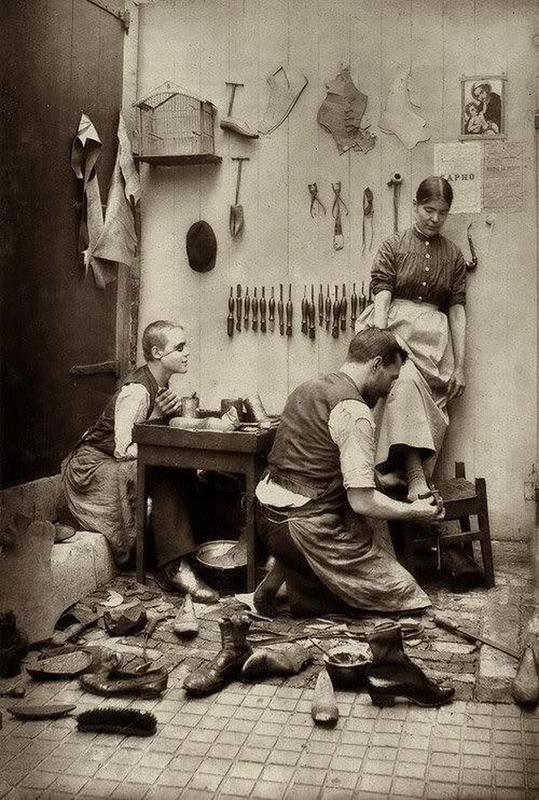 Shoes were made by hand long ago, and this is just a tiny peek into that time. The thing is that when mass-production wasn't involved, attention to detail was better. It was about quality and not quantity. Shoemakers were real craftsmen. They used leather, wood, and plants to make their footwear, and they would often add several layers to ensure a long-lasting shoe. There were more than 15 methods of making them.
22. MOTHER AND SON
This is a picture of a 140-year-old tortoise with her 5-day-old son. Aside from being exceedingly cute, it's crazy to imagine that these creatures live so much more than average humans. But, we have to admit that the first thing we noticed was how adorable the tiny turtle looks on top of his momma. Meanwhile, the mother is one of the ancient reptiles still alive today.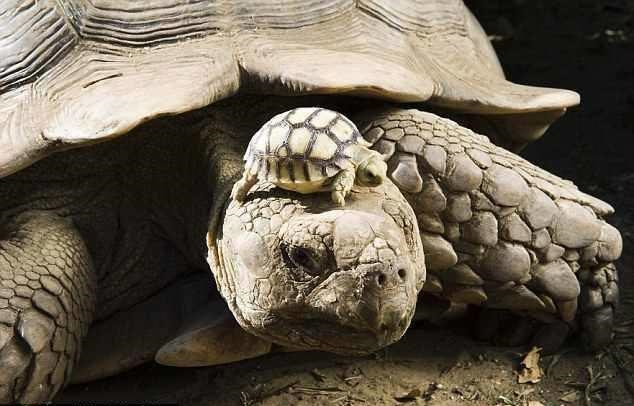 She is an Aldabra giant tortoise, a species that can live more than 150 years. However, there is one tortoise of the species named Adwaita that was documented as the longest-living of her kind with around 225 years. They are relaxed beings that hide from their attackers in their shell. Therefore, it's easy to see why they live so long.
21. GOING TO SCHOOL
This is an image of children crossing a river by pulley just outside Modena, Italy in 1959. There are no real explanations about this particular image, but they must have lived in a small town with no real roads or transportation system. However, it could also have been the best shortcut to the school. Education in Italy takes place between the ages of 6 and 16, and it's mandatory. The kids go through kindergarten (scuola dell'infanzia), primary school (scuola primaria or scuola elementare), lower secondary school (scuola secondaria di primo grado or scuola media inferiore), upper secondary school (scuola secondaria di secondo grado or scuola media superiore) and university (università).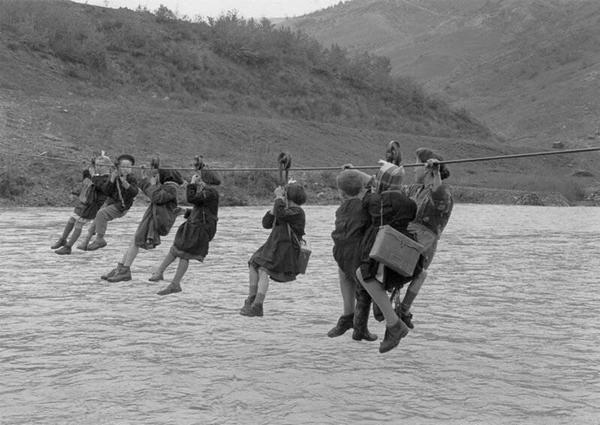 Luckily, education is free in the European country, and everyone who is a resident can receive this benefit. They have a private and public school system, but the quality of public schools is higher than private in certain aspects. The system has existed in 1859 when the Casati Act made education mandatory to increase literacy. Towns had control of primary education, provinces oversaw secondary education, and universities were handled by the State.
20. CHAMPAGNE BOTTLE FOUND IN SHIPWRECK
This is a picture of an unopened bottle of champagne found in the Baltic Sea. It's estimated to be around 200 years old. Talk about aging. In 2010, a group of researchers dove into the sea off the coast of Finland and discovered a shipwreck in the form of a trading schooner, which had many treasures including this finding.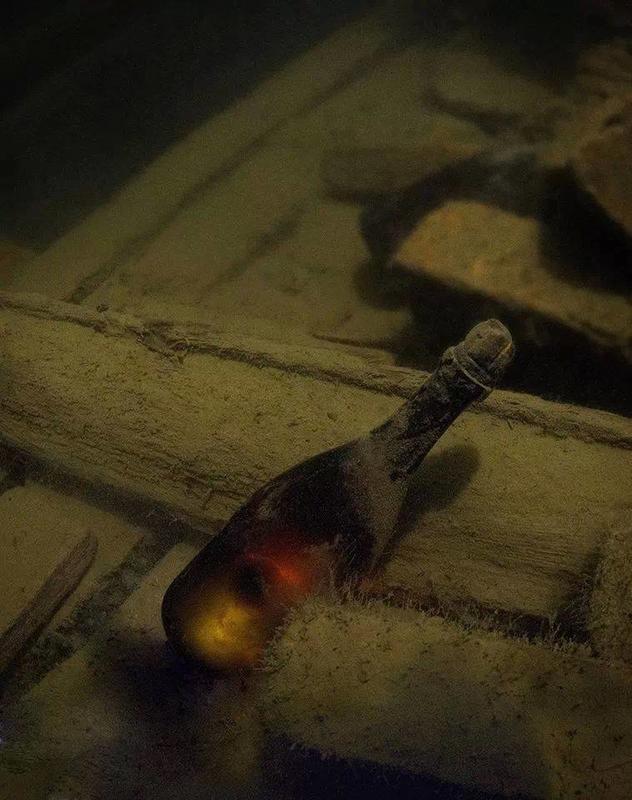 In fact, they found 168 bottles of French champagne that they brought to the surfaced, and they had been aged perfectly. Unfortunately, the government seized the bottles, which were probably valued at a lot of money. However, before they came along, the group of experts and their professor Philippe Jeandet got to taste a bit.
19. 1858 PHOTOGRAPHY EXHIBITION
This picture shows an exhibition of the Photographic Society of London in 1858, where they had a bunch of old photos and cameras to present. It was the first time in history that photographs were displayed in a museum at all, and they were using that section for the first time as well. It featured 1009 images and included 250 from the French branch, the Société française de photographie.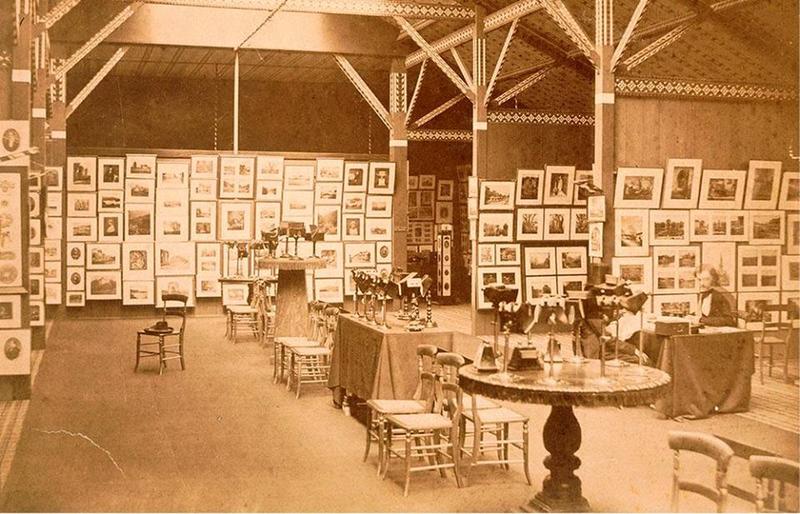 The organizers were the Photographic Society of London, and the Museum crew member, Charles Thurston Thompson, was the one who captured this image back in 1858. Therefore, this is the first photograph of the first photographic exhibition in a museum in history.
18. 1900s SOLDIERS
This is an image of soldiers from several countries in 1900. In order of appearance, they belonged to Britain, USA, Australia, India, Germany, France, Austria, Italy, and Japan. They were troops from the Eight-Nation Alliance, although Russia didn't appear. It was a military coalition between several countries that rose after the Boxer Rebellion in China.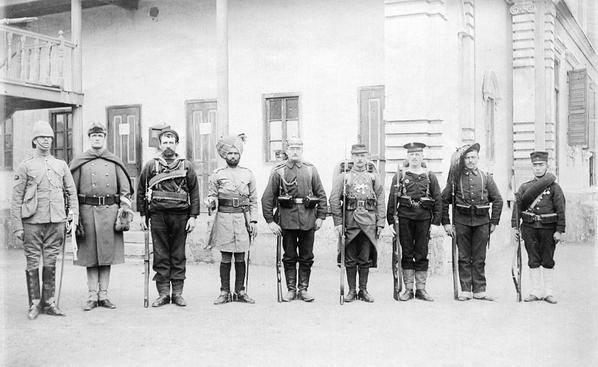 The eight countries were Japan, Russia, Britain, France, the United States, Germany, Italy, and Austria-Hungary. Several international delegations were kidnapped in Beijing by Boxers for the Qing rule in the summer of 1900. Therefore, armed forces were sent to aid in the "humanitarian intervention" and get people safely back to their countries.
17. TREEHOUSE CHAPEL
This is a picture of a chapel built in 1669 on a treehouse, and it's still active today. It's located in a village in France, and it has two chapels inside that are still visited currently. This oak tree called Quercus is estimated to be the oldest-standing tree in France, and it's also considered the strongest because it survived wars and rainstorms.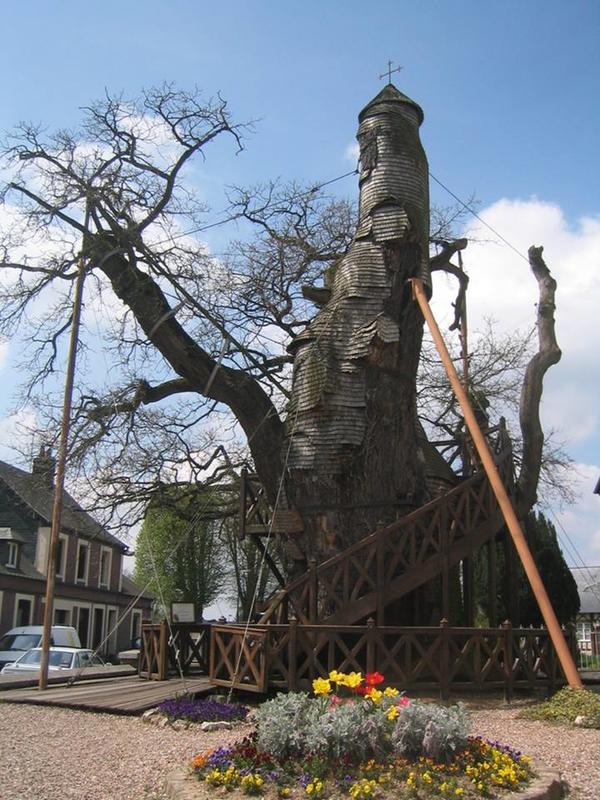 It also survived the fire that hollowed the center of the oak in the late 1600s. People thought that it was a sign from God, and so, they turned into a church. It's called the Chêne Chapelle, which means Oak Chapel, and it features several places to pray. Many people still go to the site all the time.
16. PORTABLE LEMONADE
This is an amazing shot of a boy in Berlin in 1931 selling his lemonade with a portable dispenser. It's not that kind of image you normally see from the 30s, but clearly, this kid was ahead of the game. Even children in the 50s still used a stand for their lemonade sales. Of course, you can see a bunch of these dispensers nowadays too.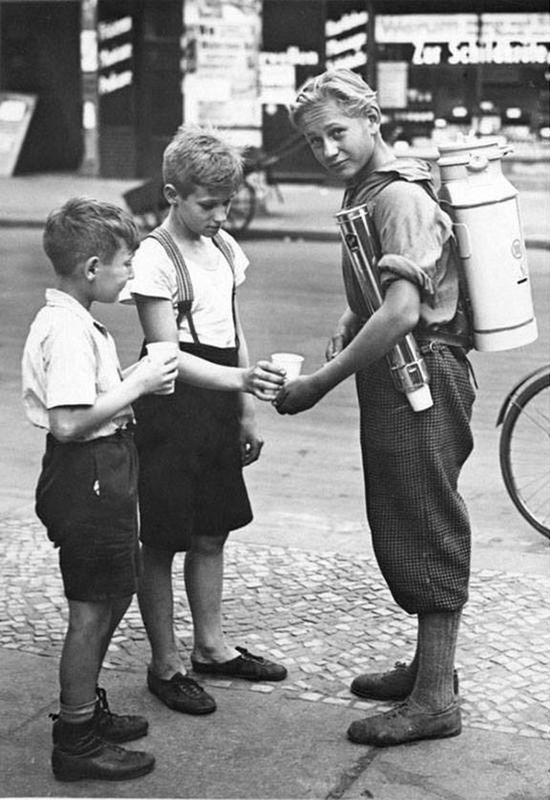 But, they are mostly used by local children who dream of being businessmen with their lemonade trade. However, even adults have worn them because brands like Fanta, Nestea, Red Bull, and many others have hired people to promote their drinks with one of these devices. Of course, they are updated, modern versions, but you might have seen them in clubs, concerts, and other populated events.
15. ALBERT EINSTEIN
This is a picture of Albert Einstein with a puppet of himself from 1931. He might be the world's greatest genius, but this picture might be a bit scary for some people. Apparently, the puppet was part of a theater production called Teatro Torito, and the famous mathematician went to see it. Allegedly, he enjoyed terribly.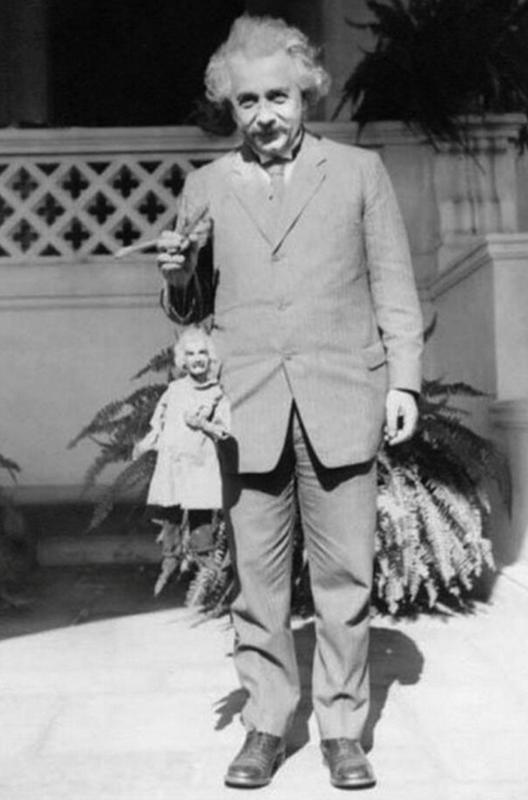 However, according to some stories, he apparently took a piece of paper and placed under the puppet's shirt, claiming, "The puppet wasn't fat enough!" He laughed about the whole, and this picture was kept by Yale Puppeteer Harry Burnett for the rest of his life.
14. THE 1920s
This is a picture from 1920, and it was taken by Italian Photographer, Domenico Riccardo Peretti Griva. He was one of the pioneers of the Italian pictorial movement from 1920 to 1950. He had a fondness for capturing nature and making portraits that struck emotions much like this one.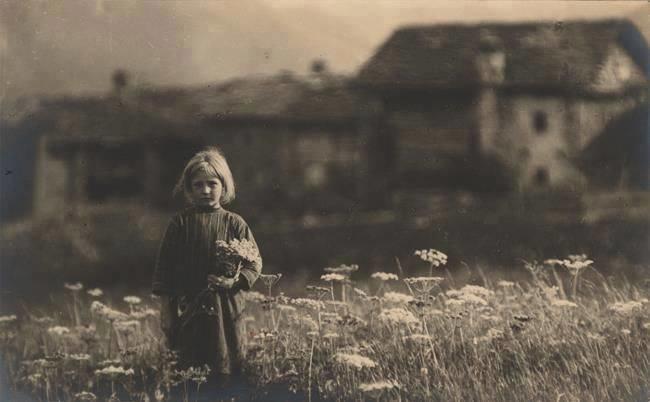 He was also a fan of the bromolian technique and would often retouch his creations by hand to make better blurry effects. He also enhanced the contrast, that helped make the feeling of this dreamy-looking masterpiece. Peretti Griva was born on November 28, 1882, in Coassolo Torinese, Italy. He died on July 12, 1962, in Turin, Italy
13. TRAIN WORKSHOP
This is a picture of a train workshop from 1935, and that's a Pacific train engine, a vintage steam one. Steam locomotives were made in Great Britain in the 19th century, and they used them as railway transportation until the 20th century. The trains move thanks to the steam created by burning coal, wood, or oil.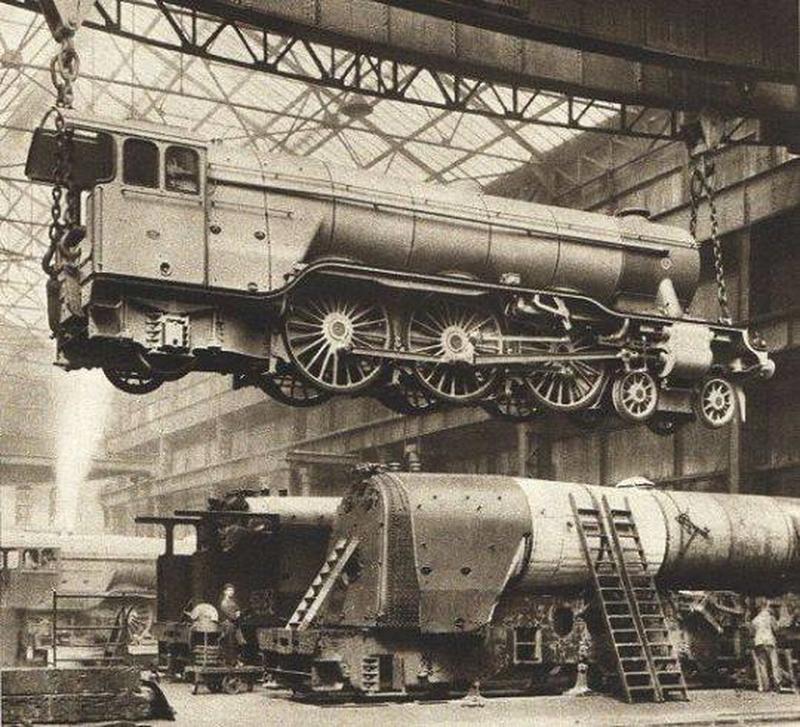 The steam rises up to move the pistons that are linked to the main wheels. The first steam engine was invented by army engineer Thomas Savery and was built in 1698. His design pulled water out of coals mines and was known as the Miner's Friend. It had a simple boiler, with valves on top, and the pipe led to the water in the mine.
12. ABRAHAM LINCOLN'S SON
This is a picture of Abraham Lincoln's son, Tad, who was known for being more than playful. He was Lincoln's fourth and youngest kid with his wife Mary Todd. His full name was Thomas Lincoln III, but they nicknamed "Tad" because his head was very big, and he was "as wiggly as a tadpole" as a baby. Tad had a wild side, wouldn't go to school, and ran around the White House when Lincoln was president.
He would often disturb meetings, would bring animals along, and ignored visitors to see his dad. Tad was the one most heartbroken when the former was murdered, but he in another theater and started yelling, "They killed Papa! They killed Papa". Unfortunately, he died at the age of 18 on July 15, 1871. Some reports stated that Tad said this after his father died:
"Pa is dead. I can hardly believe that I shall never see him again. I must learn to take care of myself now. Yes, Pa is dead, and I am only Tad Lincoln now, little Tad, like other little boys. I am not a president's son now. I won't have many presents anymore. Well, I will try and be a good boy, and will hope to go someday to Pa and brother Willie, in Heaven."
11. GRANDPA MAKING A CARD FOR GRANDMA
This is a picture of a 92-year-old man making a card for his 93-year-old wife for their 71st Anniversary. It was posted on Reddit by Weaksquare on April 13, 2017, and it soon went viral because it reminds people that love is still alive in the world. Even with such a simple gesture, this man proved that age is just a number and love never dies.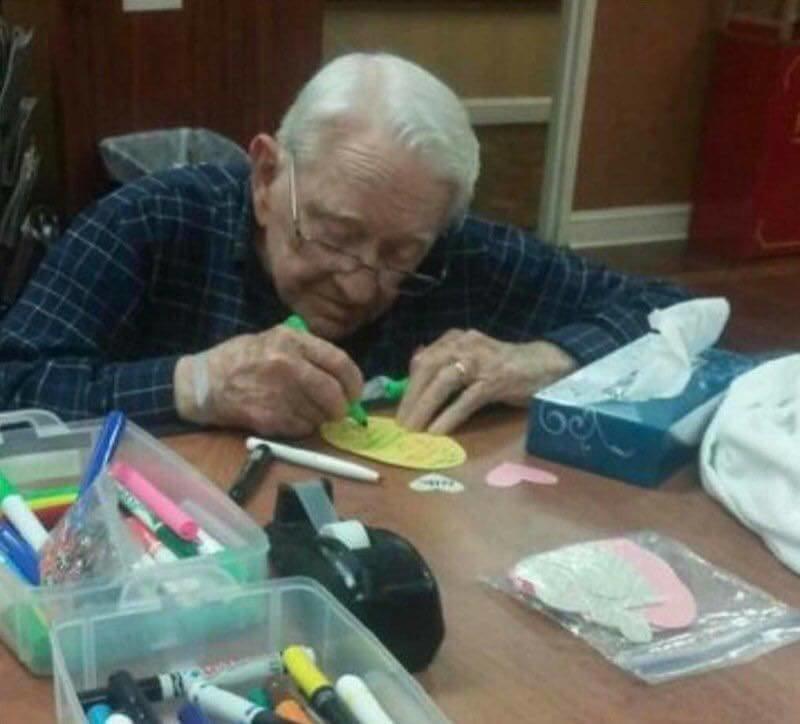 Interestingly, sending greetings cards is a practice that dates back to ancient China. The people would good wishes to others during the New Year, and the early Egyptians wrote their salutations on papyrus. Meanwhile, funny greeting cards became popular in the 40s and the 50s.
10. 1920s FASHION
This is a picture of some ladies showing off their pretty clothes from the 1920s. The decade was truly a turning point for fashion, especially after the end of World War One. It was finally a time where people could look brightly into the future, and be a little more relaxed regarding social rules. The stock market was booming, and women were starting to work.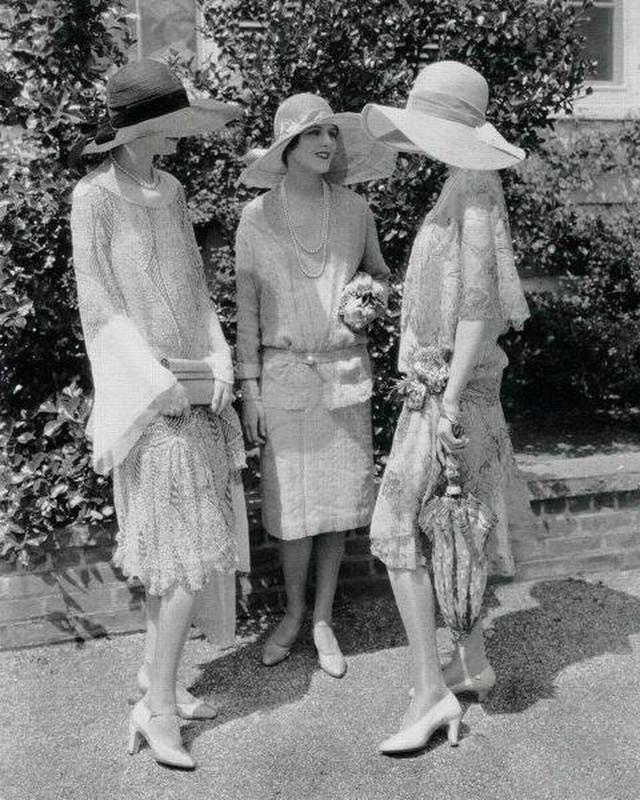 In fact, the number of women started careers was unprecedented, and the country was ignoring Prohibition, which made alcohol illegal. With every revolution, fashion shifts and adapts accordingly. One major trend of the era was "flapper", a term given to the girls because their clothes were loose-fitting. They longer wore corset or tight-fitted ensemble as they began to dress for comfort.
9. U.S.S. FRANKLIN FROM 1916
This is a picture of the U.S.S. Franklin, and it was taken in 1916. The ship was used for training, and there are other four ships with the same name for a total of 5. Additionally, there was also U.S.S. Franklin in the movie 'Star Trek Beyond' from 2016. Donald Canney recounts in his 'The Old Steam Navy Vol. 1' that the boat was constructed in 1853.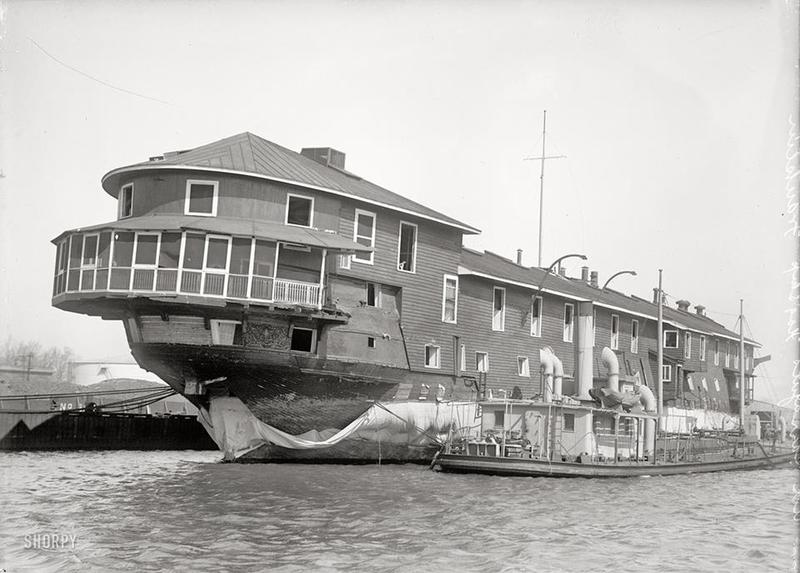 It was first used in 1864 and was the last traditional frigate with guns on two decks. It worked from 1867 to 1877. After that, the ship was used to receive the people at the Naval Training Station close to Norfolk, Virginia. It also featured some stores inside that were important for the station. It was sold in October 1915.
8. SHOES FROM MORE THAN 2,000 YEARS AGO
This is a picture of a shoe discovered on a bog body that is estimated to be more than 2,300 years old. They were on the feet of a man from Damendorf, Germany who died somewhere around 300 B.C. His corpse was found in the early 1900s at the See Moor in the village in Schleswig-Holstein. A bog body is a human corpse that was mummified by a peat bog.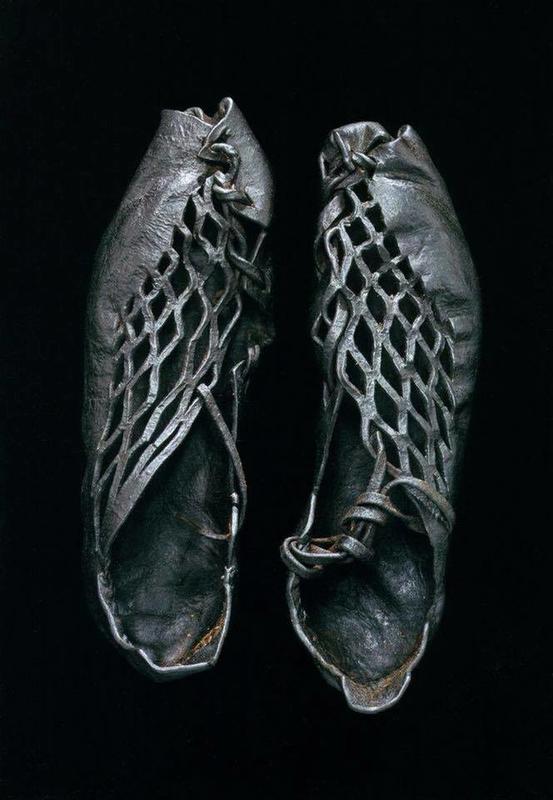 Peat is dead plant material, which normally accumulates in wetlands, also known as bogs. It has been known for some time that bogs preserved bodies in an amazing way, and the condition of these shoes is incredible. Unfortunately, the rest of the body only had hair, skin, nails, and other clothing such as a belt were well-maintained. The peat was heavy so the man's body was crushed a bit.
7. FRENCH DAGGER FROM THE 19TH CENTURY
This is the picture of a dagger that measures 42.5 cm, and it clearly features a skeleton at the hilt. It's dated back to 19th-century France. The skeleton is dressed in a robe, which normally signifies Death or the Grim Ripper. Meanwhile, the blade has two wires with floral decorations.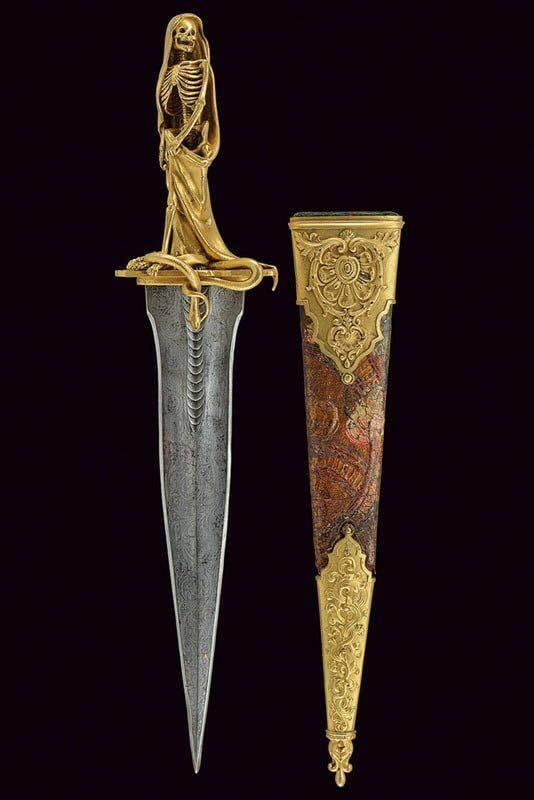 In the middle groove, you can see the crescent-moons that flowing down from the bronze hilt. Aside from the intricate design of the skeleton, you can also see that there is a snake on the hilt. Meanwhile, the wooden scabbard was covered in leather, which was painted by hand, and it also had a gilt brass mount.
6. A RAT CATCHER
This is a picture of a professional rat catcher, and it was considered a real job because they got money for every animal they found. They used to go down the sewers of Europe around 1904 looking for the vermin.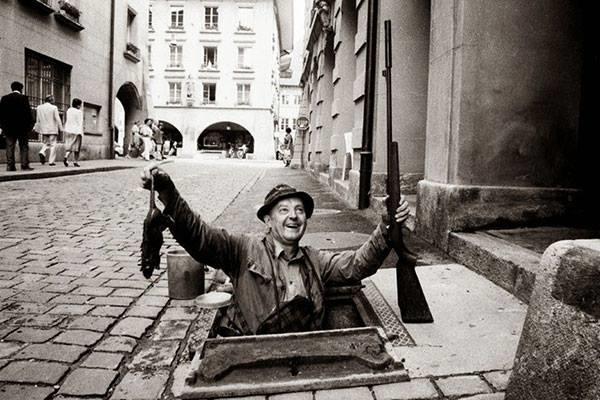 It was similar to pest control and vital for the people because preventing the growth of rat population also prevented diseases from spreading like the Black Plague. Additionally, they also helped prevent the contamination of foods in storage.
5. A TOOL FROM 1935
This might not seem very familiar, but it's a daily tool that, even today, we use every day. Yes, it's a stove from 1935. It looks completely different, and we have to be grateful for the advancements in technology. Many things have changed since the 30s in astounding ways, especially regarding home life. In the 30s, a new house cost around $3,450, and the rent was around $22 a month.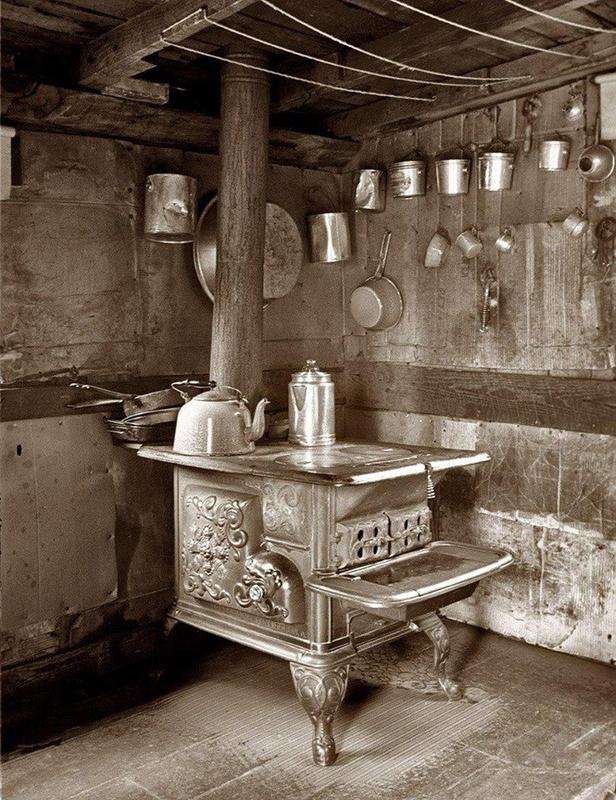 Meanwhile, you could buy bread for just 8 cents, and one pound of hamburger meat cost around 11 cents. That's just crazy, but of course, job salaries have also changed. So, it's not like everything was better back, although some would say that life was simpler. On the other hand, gas was 10 cents a gallon, and you could buy a car for $625.
4. OLD DATING APP
All kidding aside, it seems that this picture depicts exactly what men did in the 1800s when they needed to find a wife. It sounds completely insane now, but it was a common practice back then, and a bunch of women probably noticed the woodsmen of Montana thanks to this sign which they hanged in 1901.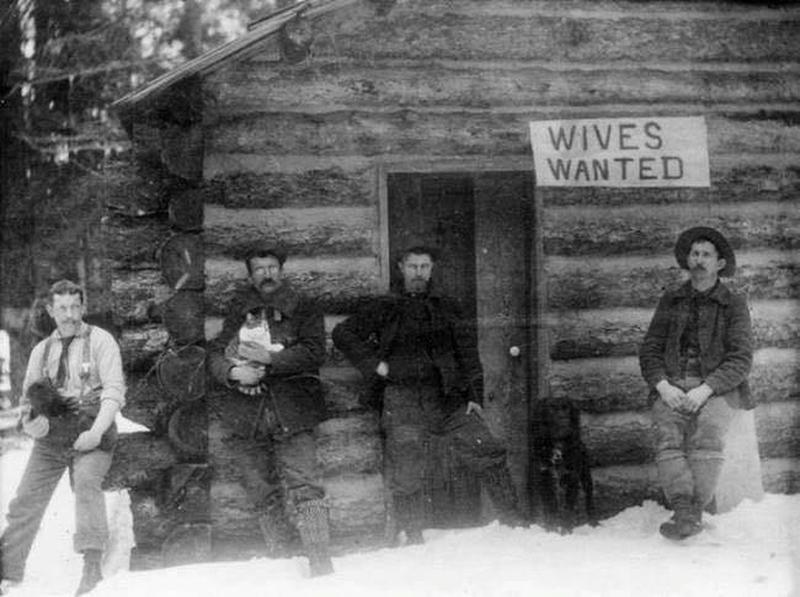 In fact, men would get really creative when they needed to find themselves a partner to start a family. They wrote to their relatives asking them to introduce to a special lady and more. However, the most common practice was posting marriage advertisements in the newspaper, which might be considered the original dating app method. Anyone who was interested replied to the ad, and they could meet up.
3. A DANISH PISTOL/AXE STOLEN BY SWEDEN
This picture shows an ax that is also as a pistol. It was taken as a war trophy by the Swedish during the 17th century. This hybrid weapon is known as a Flintlock pistol ax, and they were the most common arm used by pirates in the 18th century. It had a flint stone that needed to connect with the hammer to produce a spark that would lead to a gunshot.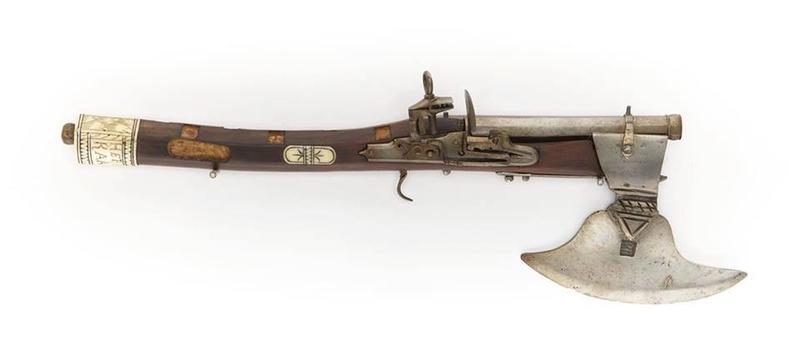 It was not the best weapon for a confrontation because it only released one shot at a time. It had to be manually reloaded each time. However, the ax was perfect during those moments because people could use it to defend themselves. Most of the time, the user would save their gunshot because trying to reload was so time-consuming, and they mostly used the ax during fights.
2. WOMEN FROM 1889
This picture shows women from 1889 who were wearing corsets like the one we see on TV shows, but they also had shotguns, which is not something we see very often. Unlike most of the images on this list, this one is particularly popular. It was the cover of the book 'Frontier Grit: The Unlikely True Stories of Daring Pioneer Women' by Marianne Monson.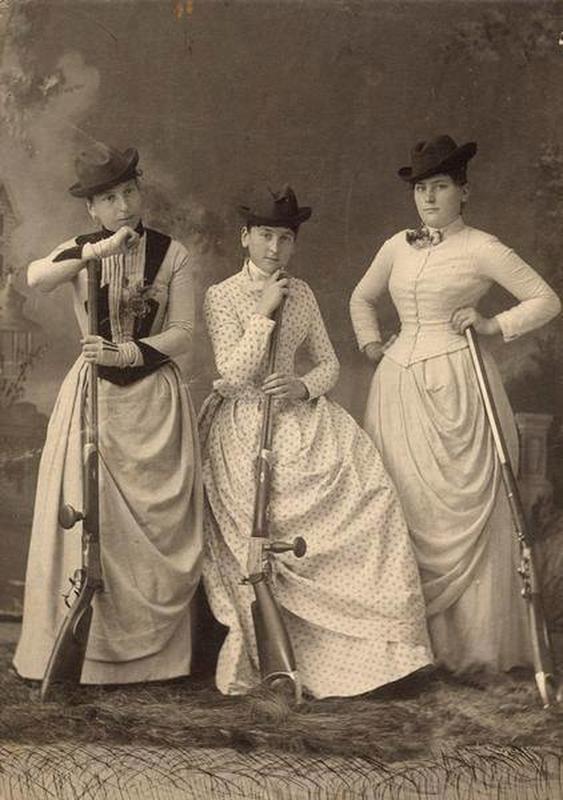 In the written work, you can find stories about a group of 12 women who were "called" to the West from all over the world. Some came from the East Coast, others from Europe and even New Zealand. Their tales are heartbreaking and filled with hardships that these brave women had to face, especially because they fought for their rights and other social endeavors.
1. DOUBLE-BARREL WHEELLOCK PISTOL FROM GERMANY
This is an image of a double-barreled wheellock pistol that measured 49.2 cm in length, weighed 2,5 kg, and the cal. of the barrel was 11.7 mm. It was made for Emperor Charles V of Germany in 1540. It's an incredible work of craftsmanship, even for a weapon. They made it in Munich, and the gunsmith was Peter Pack, who also made watches.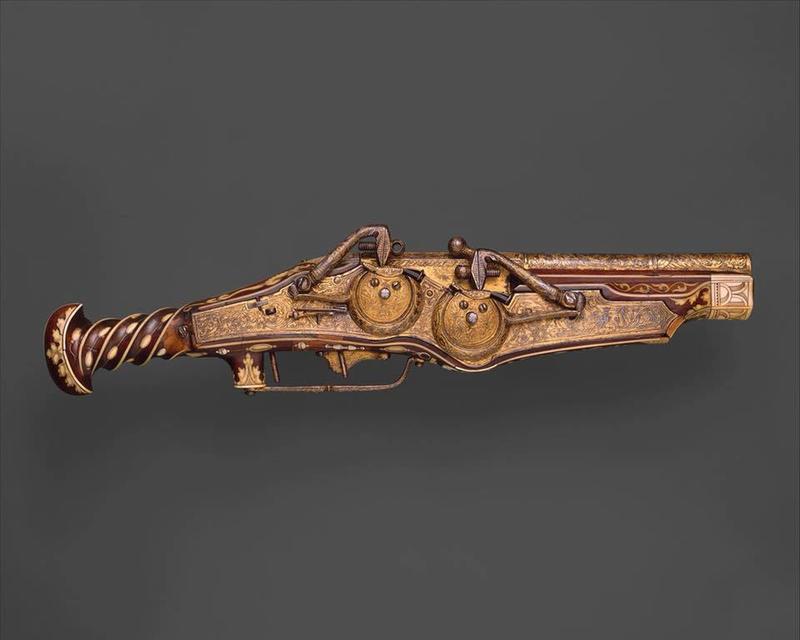 However, this particular pistol was one of Pack's first weapons. It might have two locks but they are triggered together and have separate ignitions for each barrel. The inscription "PLVS VLTRA" means "More Beyond". Meanwhile, the maker designed it with his personal symbols: the eagle with two heads and Hercules' columns.
These pictures really gave us a new perspective on life decades ago. Let us know which one was the most intriguing for you. If you liked this article, share it with your friends who love learning new things. See you next time!
Source: History Daily