Most Hilarious Ways To Answer When You Don't Know The Answer
Many people understand that to succeed in an exam; the most important thing is to be prepared and study everything necessary. Some people quickly absorb the lessons and can simply show up and get a good grade, but it is something that not everyone can do. Some of them struggle to do a good job, and that is the moment when creativity has to arise to help them achieve their goal.
Although there are people who prefer to leave a blank space when they do not know the answer, others show their skills and ingenuity. Some people take advantage of their intelligence, which is not the same as memory, to think of other types of answers that help them move forward. The following list shows a group of people who live "out-of-the-box" and responded according to their ingenuity.
Match the answers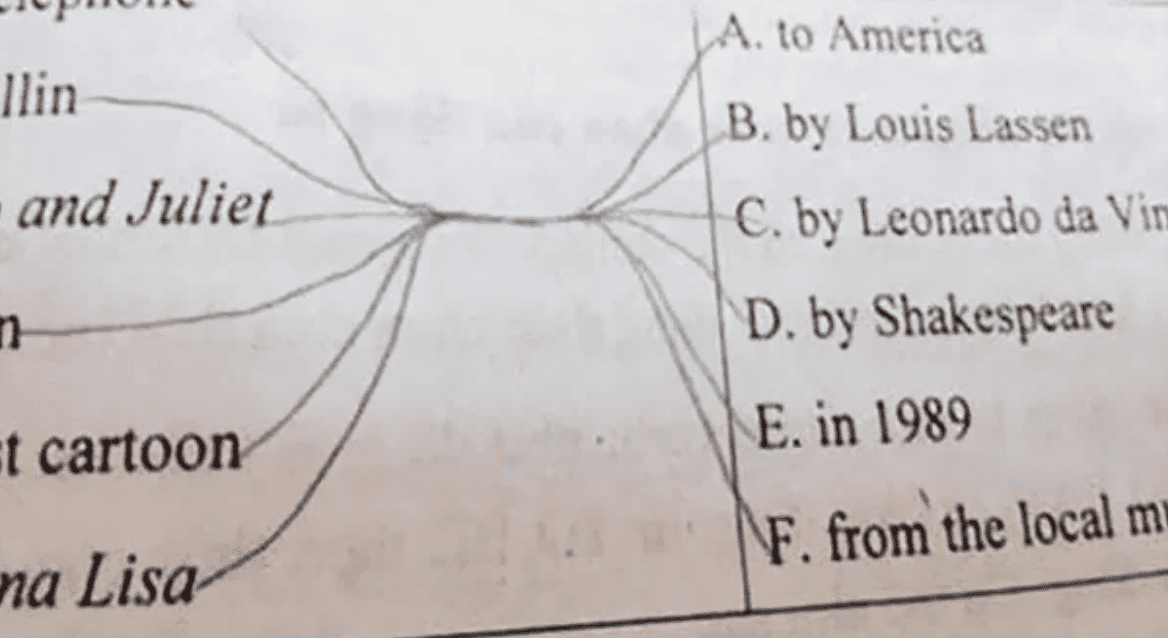 Everything in this life leads to everything else, at least according to the boy who answered this question so interestingly. If you find yourself in a situation where you don't know which answer to choose, the best thing you can do is pick them all at the same time. You can fight your teacher to defend how you answered that question, but you will likely lose that battle. Teachers are brilliant when it comes to refuting an answer.
"Freedom of Press."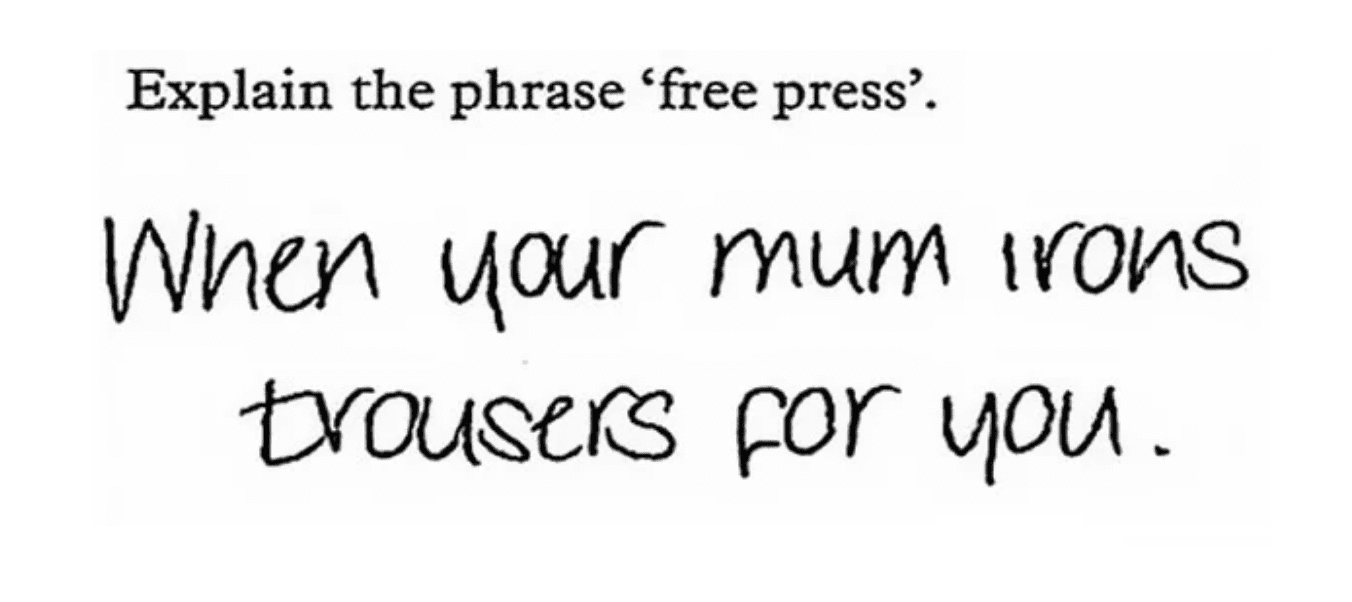 Having Freedom of Press is essential for our current society because it allows us to express ourselves freely about what we think or feel. Peoples' opinions are critical, so they must have the possibility of communicating it to others, even if they are wrong. This boy seems to have misunderstood the question and associated the phrase with his mother. He thought of every occasion in which he needed an ironed shirt for a party.
Where does your knowledge come from?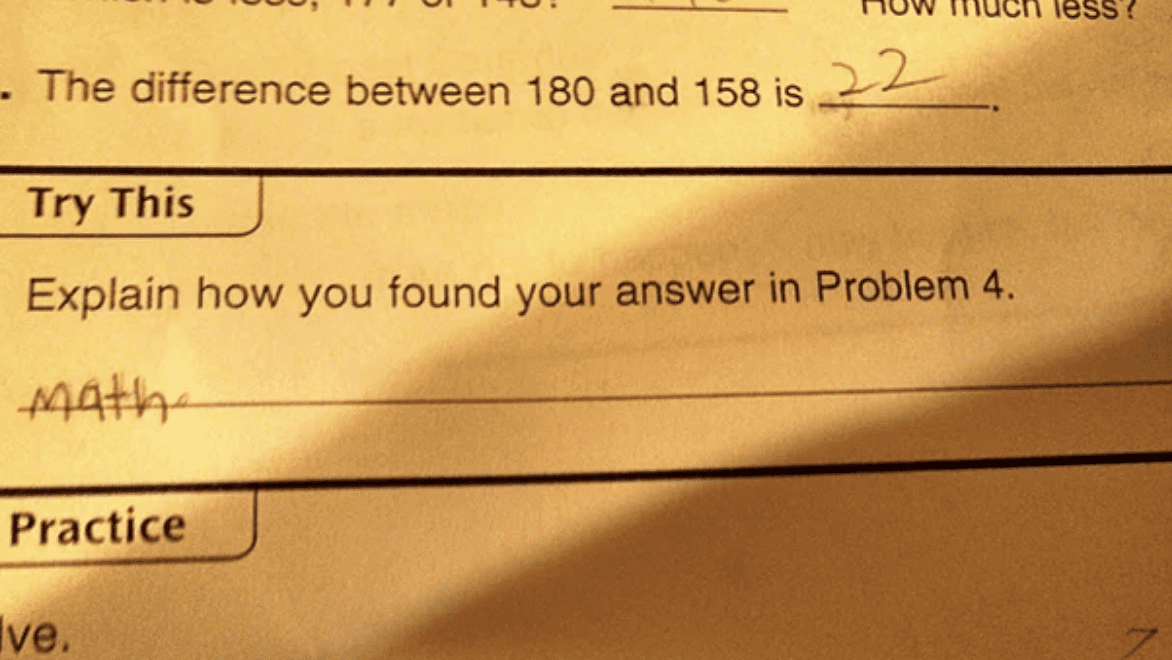 It is necessary to know and learn about a subject thoroughly that you can explain it to other people who need that knowledge. It is not enough to know the answer to a question; you should be able to explain how you came to that answer. Although sometimes the answer can be a bit complicated, at other times it is enough to say where you learned how to do it. In this case, the answer is straightforward and thoroughly explains from where this boy's intelligence comes: Mathematics.
A victory is a victory!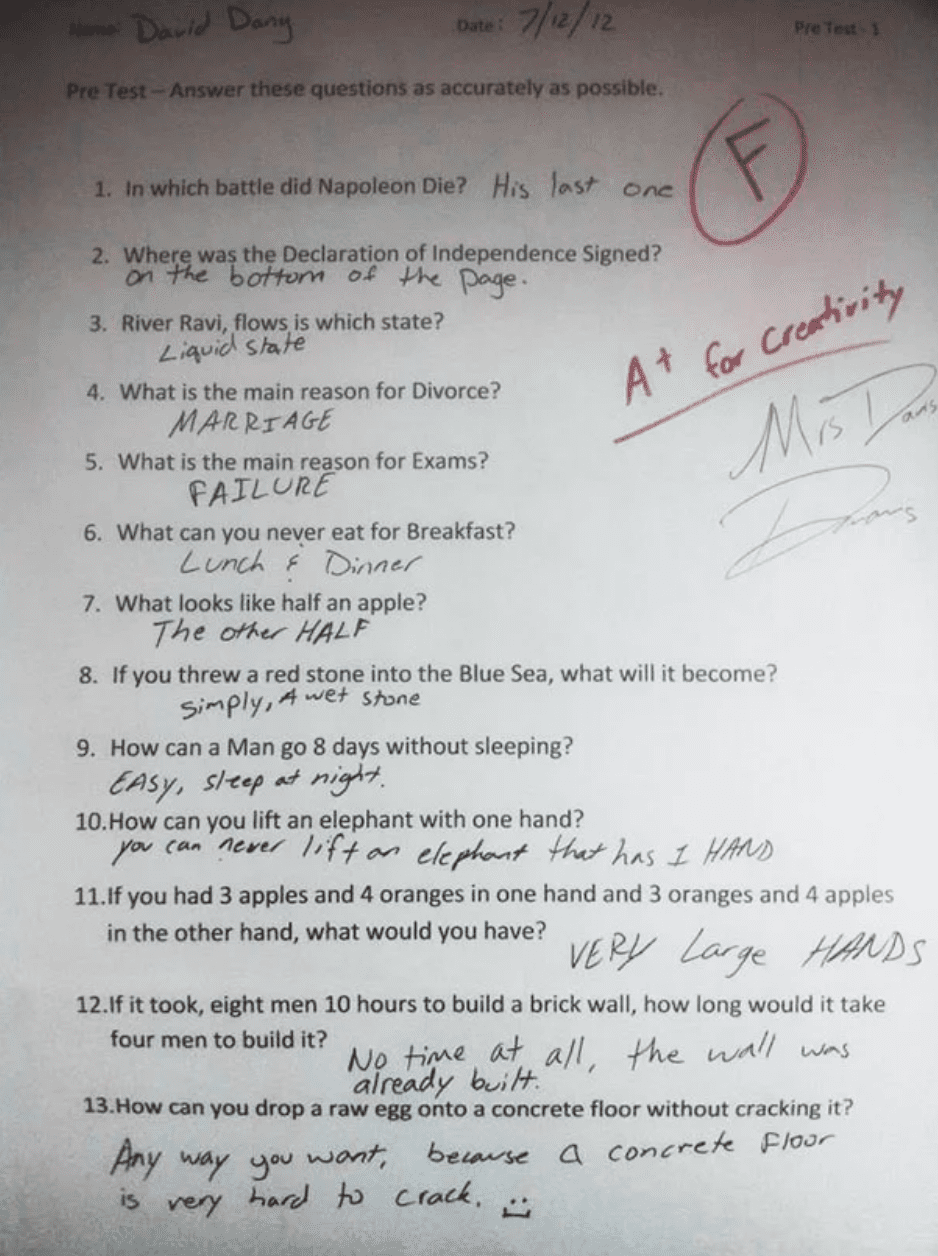 There are occasions in life when you must lose to win, and this image is a concrete example of how you can do it. Even if you don't know any of the answers on an exam, you should do your best to remember what you studied and try to pass it. When your memory doesn't help you, the best thing you can do is try to solve it creatively. This guy proved to be a very ingenious person and got his prize, but that didn't stop him from failing the exam.
This guy is technically correct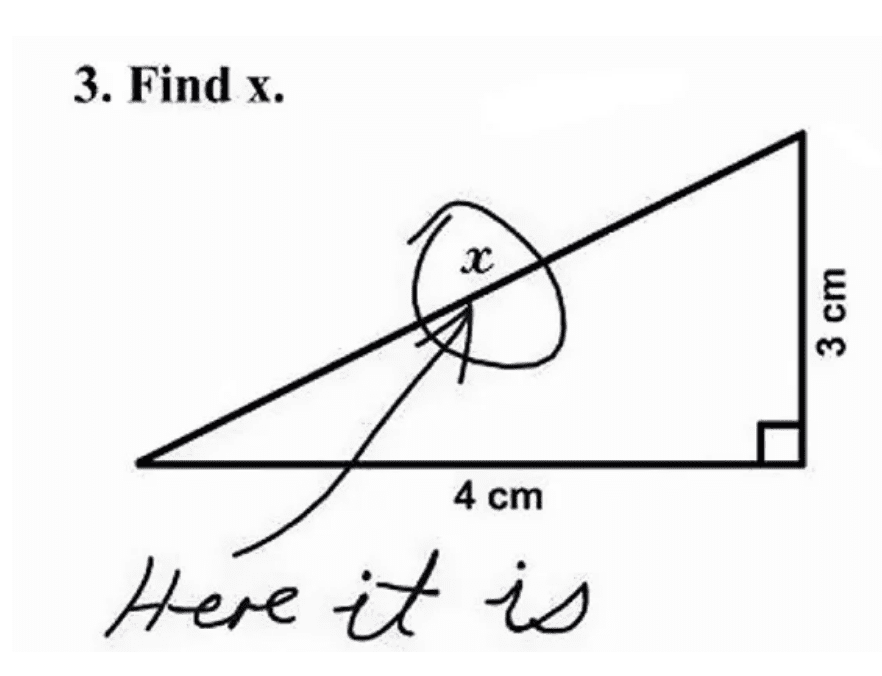 When you ask a question on a test, you should do everything possible to explain it clearly and avoid leaving room for interpretation. It is clear that the purpose of this teacher was to perform all necessary mathematical calculations, but a student saw it differently. Technically, he is correct because the teacher only asked them to find the "x," but the way he did it is not quite right. It differs a bit from the purpose of the exam he was taking.
A strong child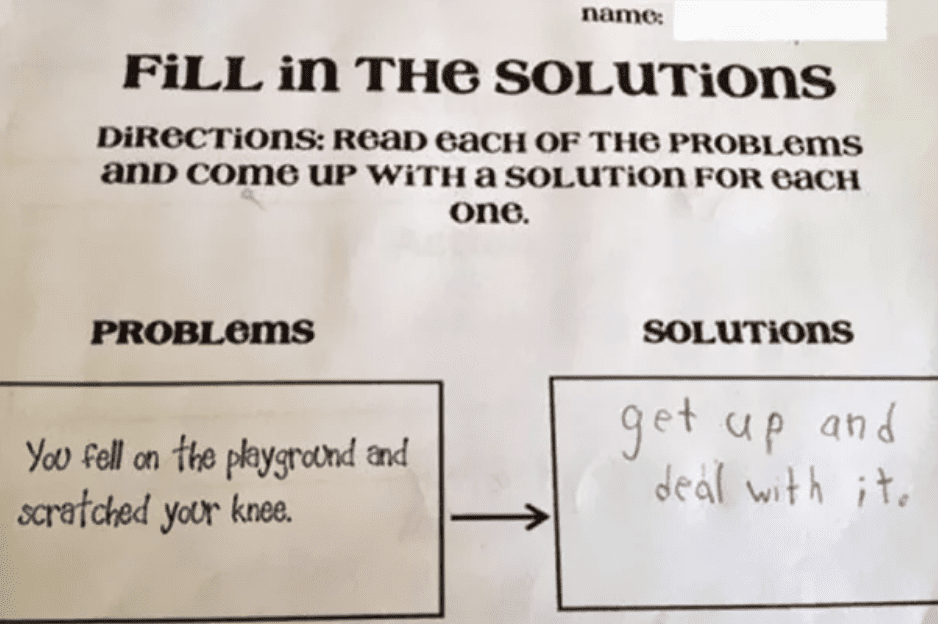 A child's responses will always have the potential to surprise us or make us laugh because their way of thinking differs significantly from ours. When children face a problem, they tend to be very creative in finding the ideal solution. Many children would cry and run to their parents or teachers to heal their wound. But the child of this answer does not waste time with those things and takes care of his problems. He gets up and moves on like an adult.
Jesus is always the answer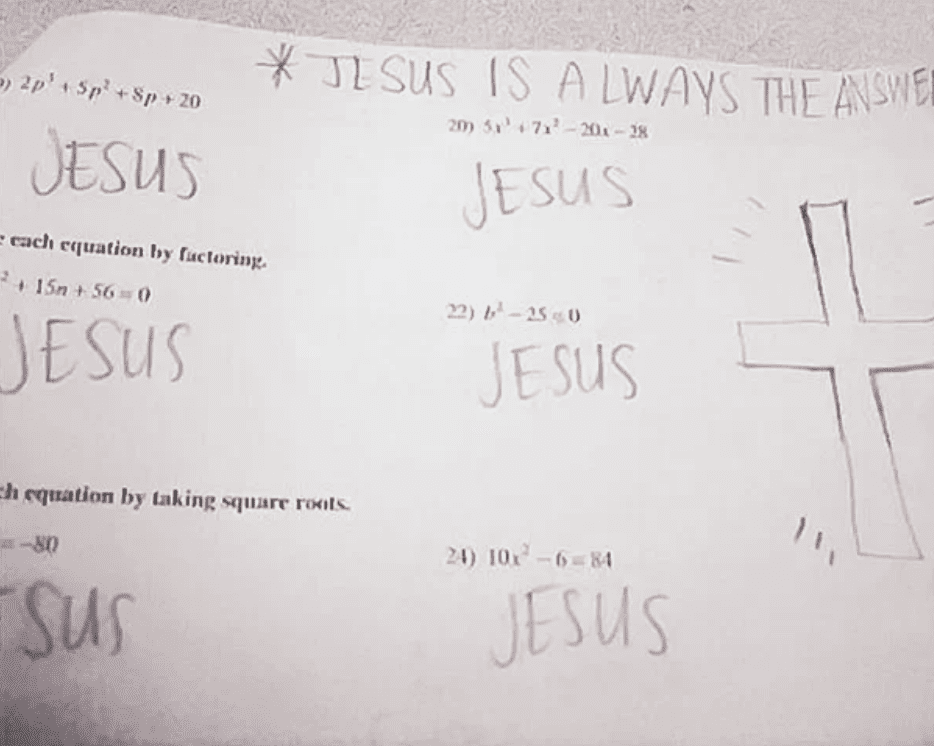 Some people are very devoted to their faith, and it is admirable that they can believe so fervently in that, but their faith will not solve everything. Even if you study in the most Catholic school in the world and your teacher is a fanatic, Jesus is not the answer to everything. The boy on this test decided to entrust himself to his faith and resolve everything through his belief, but his teacher did not see it as funny. Faith moves mountains but does not solve math tests.
What do you think about?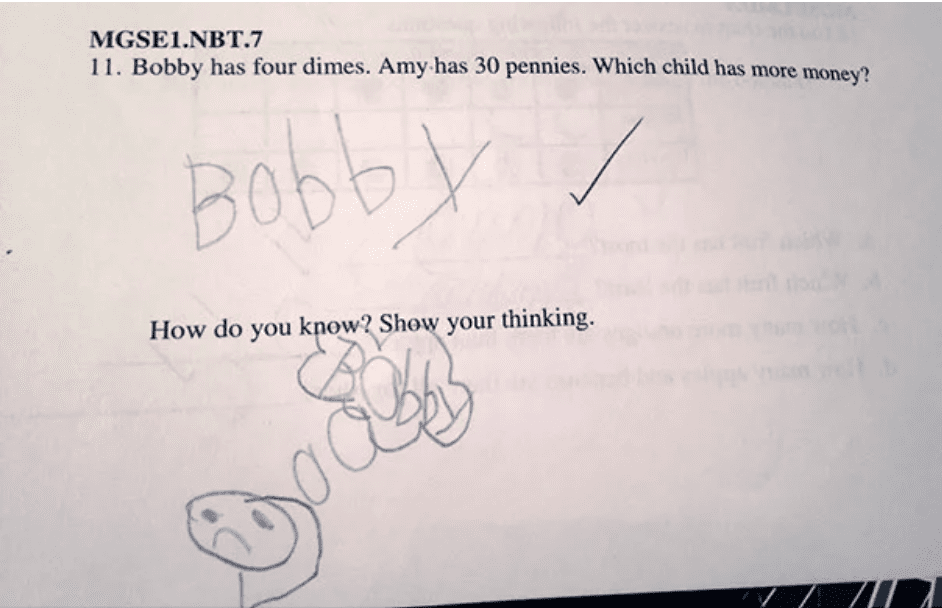 Again, all teachers' problems could be solved if they were much more specific in the way they pose the questions. The small gaps left in the exams allow students to develop too much creativity and respond in this way. The purpose of this teacher was for students to demonstrate how they arrived at the answer to the previous question, but this boy took the issue literally.
The ninja of extra points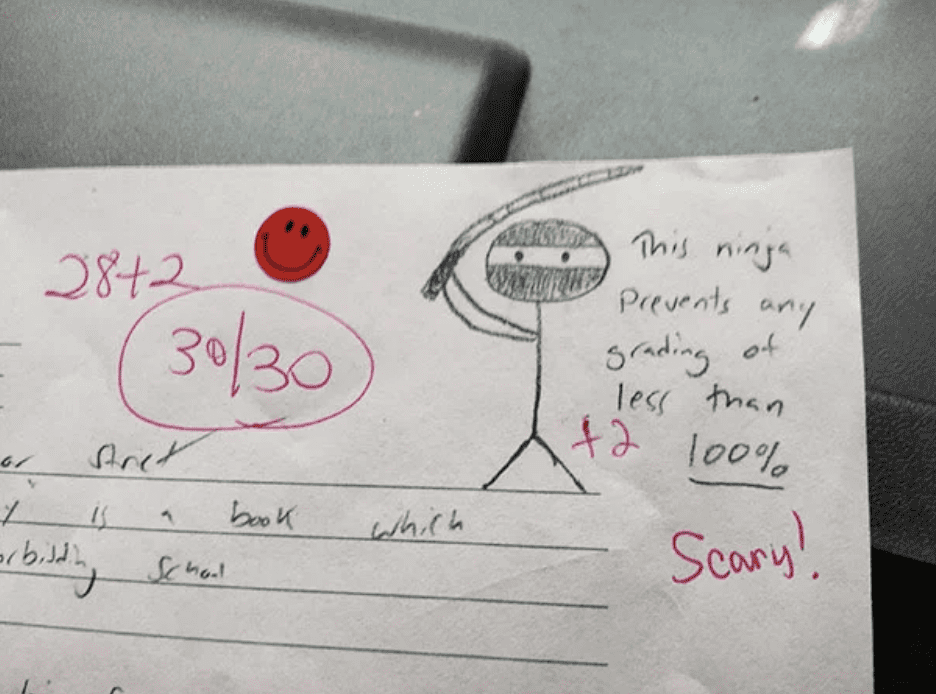 On infrequent occasions, meaningless responses can help you achieve your purpose. If we look carefully at this test, the boy already had a good score, but he wanted to appeal to his artistic gifts. Any other teacher, or in any different situation, would have ignored this little ninja, but as the boy showed that he also studied, he got his reward. A little ninja who protects the grade of the boys who study and is responsible for making sure they only get the maximum.
Nice try

This boy wanted to try to be smarter than his teacher responding in this way, but his intelligence did not cover the mathematical area. He did not get the answer right and showed that he doesn't know how to do it. Maybe he could have made his teacher laugh with this answer, but multiplying a couple of animals to get the right answer only works if you review your math skills before. This child's teacher needs to talk seriously with the math teacher at this school.
A bright boy!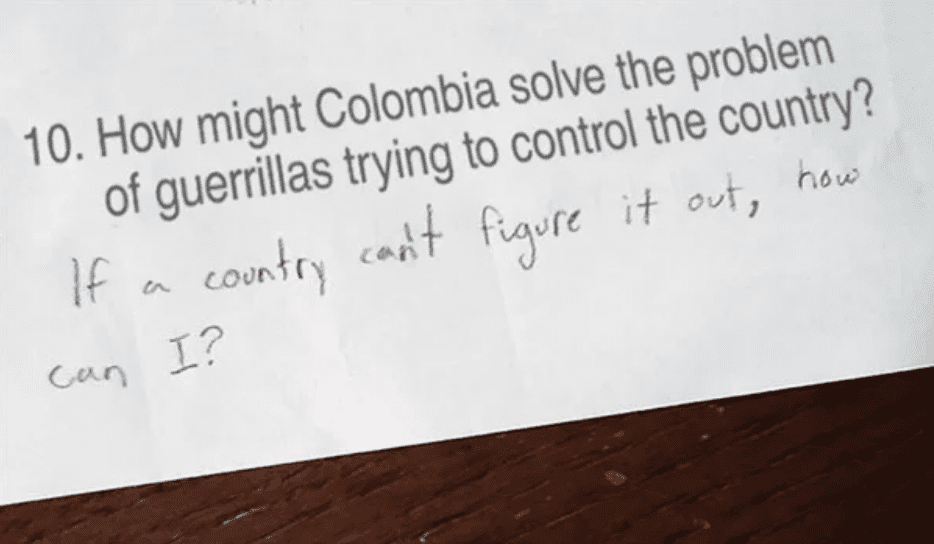 We do not understand how school teachers expect a child to answer these kinds of questions, but this boy did his best to explain his situation. There is no right answer to a subject like this one because it depends on many factors of which a child has no information. The response of this boy is brilliant because if an entire country has not solved it, how does his teacher expect him to do it?
Think fast!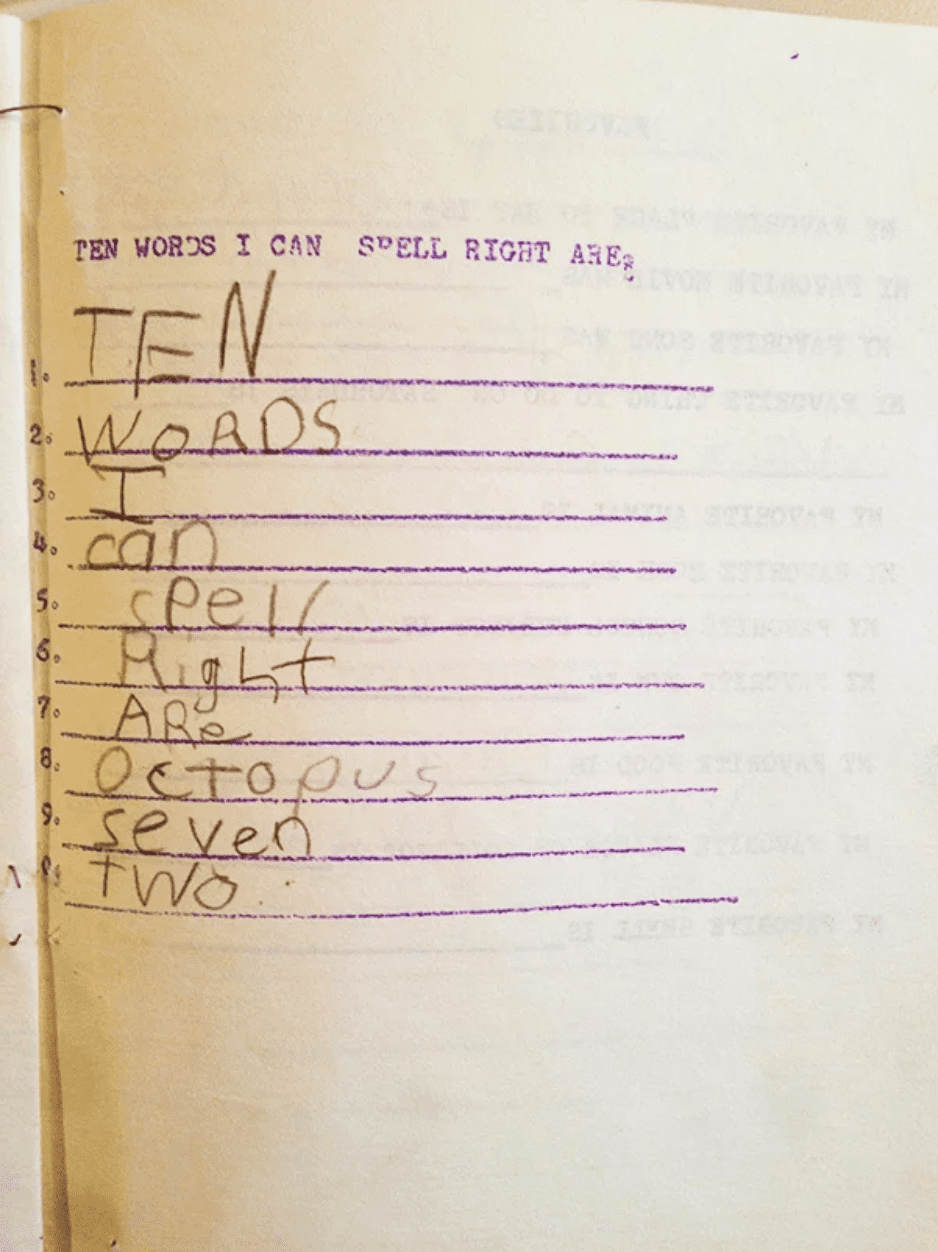 This question is focused on getting students to demonstrate their knowledge of other words, but this boy thought quickly and came up with an intelligent answer. Coincidentally, he knew the same words that appear in the question, but they are not the only ones he can use to answer. In case the teacher had any doubts about his knowledge, he added other very complicated words. Octopus is a perfect word that not everyone knows, and with it, he demonstrates its extensive repertoire of confusing words.
What kind of club is this?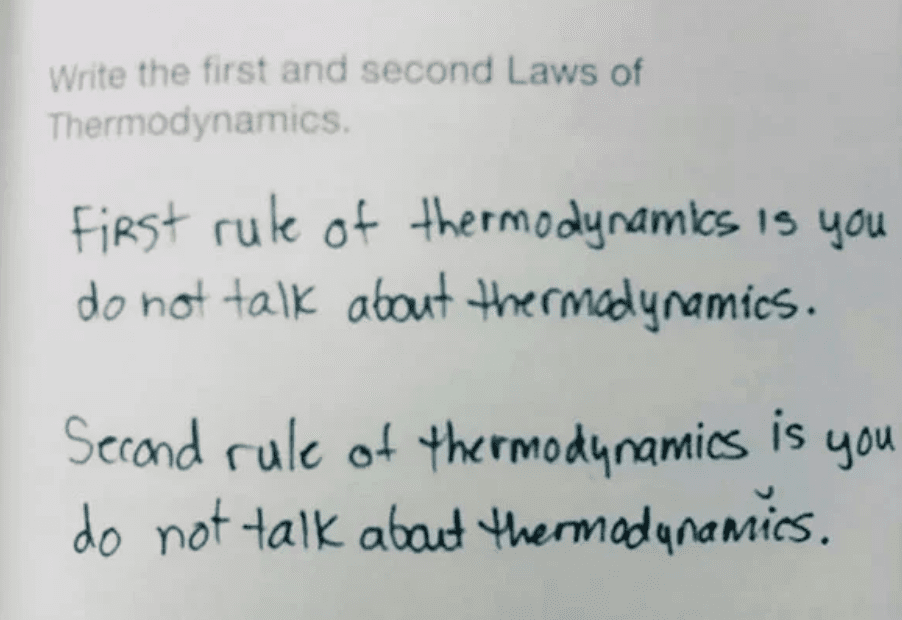 It is very likely that the teacher of this class will not have fun with this answer, no matter how passionate he is of the movie "Fight Club." Students were supposed to remember what they had learned in class about the laws of thermodynamics and their effects. Instead, they were only able to resort to the two primary rules of this movie and forgot that they were breaking them while commenting on them. Hopefully, they don't have too severe consequences for this.
This guy should go to college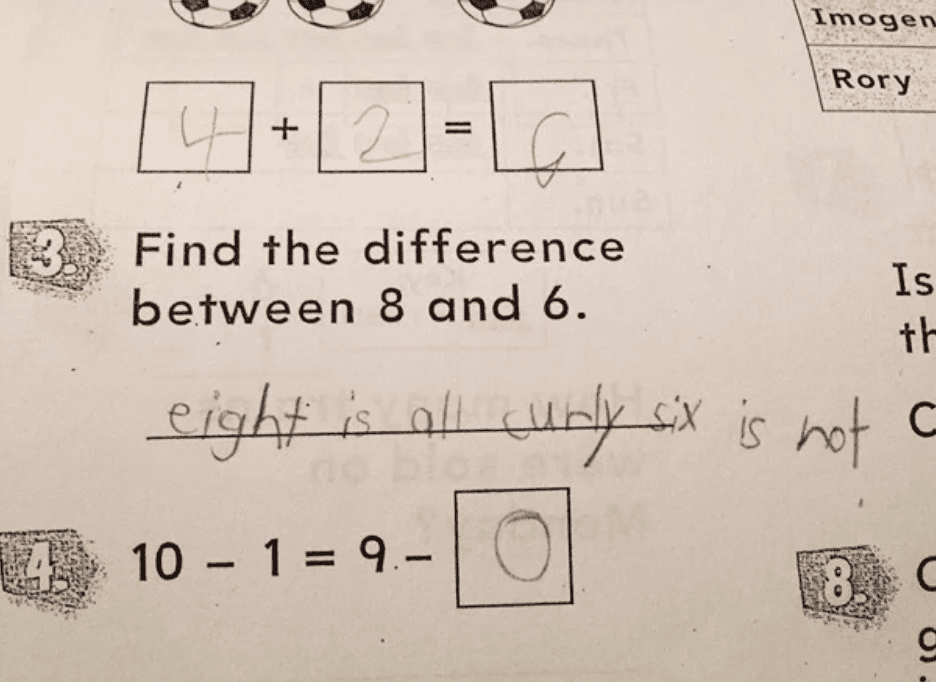 There is nothing more dangerous in school than a child who is intelligent but also very cunning because he can make teachers look ridiculous. This boy correctly answered the question and then gave his teacher a small class on how to answer correctly. This guy should go to college automatically, and his teacher should go to an ophthalmologist to check his eyes for not having noticed the difference before.
Art can reward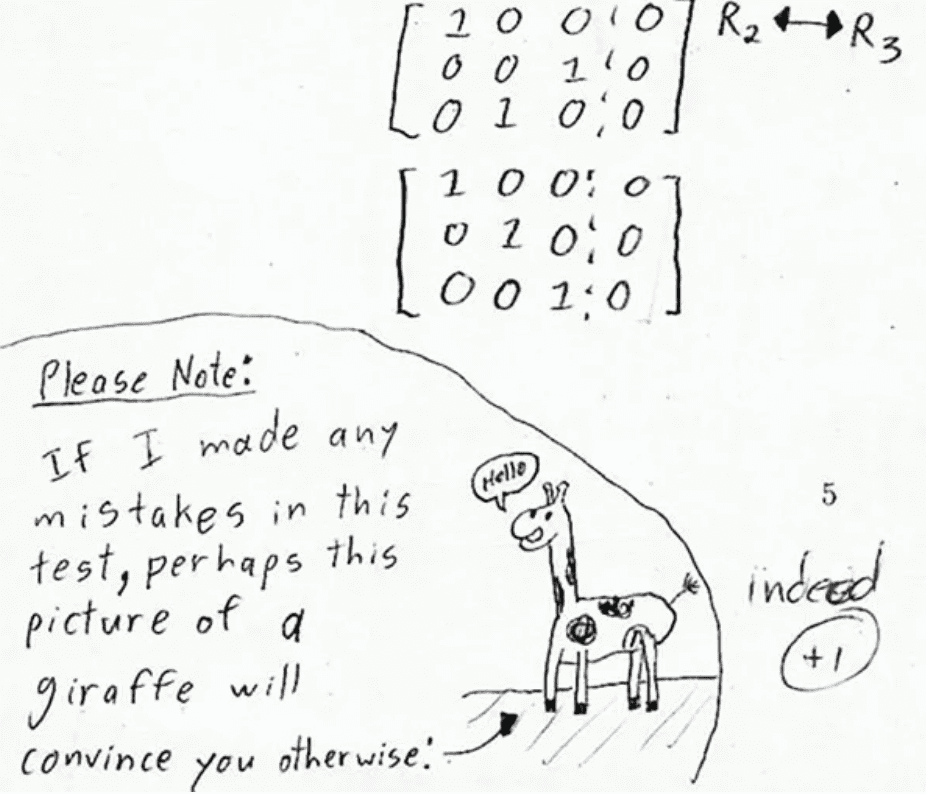 It's nice to see that some schools still value creativity and appreciate the artistic abilities of their students enough to celebrate them for them. Since it is not an art school, we cannot ask for a work of art, but his initial efforts are reasonable enough to earn some merit. This boy was aware that he could have failed the exam, so he included a magnificent giraffe to earn extra points with his teacher.
"Because I'm not an idiot."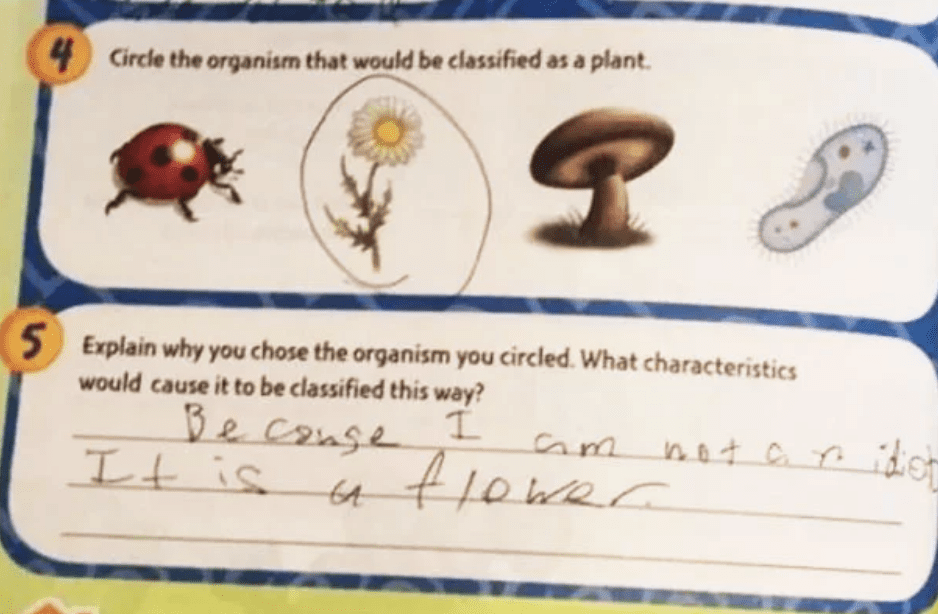 Testing students' knowledge through an exam is a teaching strategy widely used in every school in the world. But, there is a big difference between checking their understanding of something and questioning their intelligence. They needed to explain how they got to the previous answer, but a student was offended. Of course, it's a flower! You don't have to be Albert Einstein to realize that.
Getting what you deserve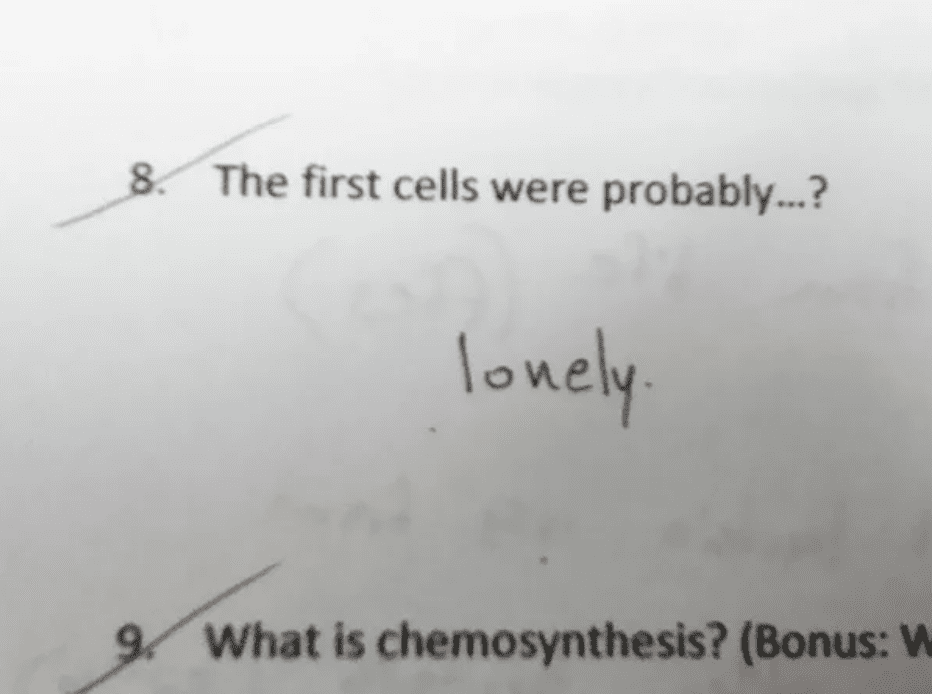 As we have seen in the other items, the questions should be explanatory enough so that students do not take advantage of them. A lazy and straightforward question will get the same type of response from students who just want to finish fast and go home. What kind of response did this teacher expect when asking this question? Sure, he ended up feeling like the first cells after reading this answer and realizing the severe mistake he had made.
This teacher has some style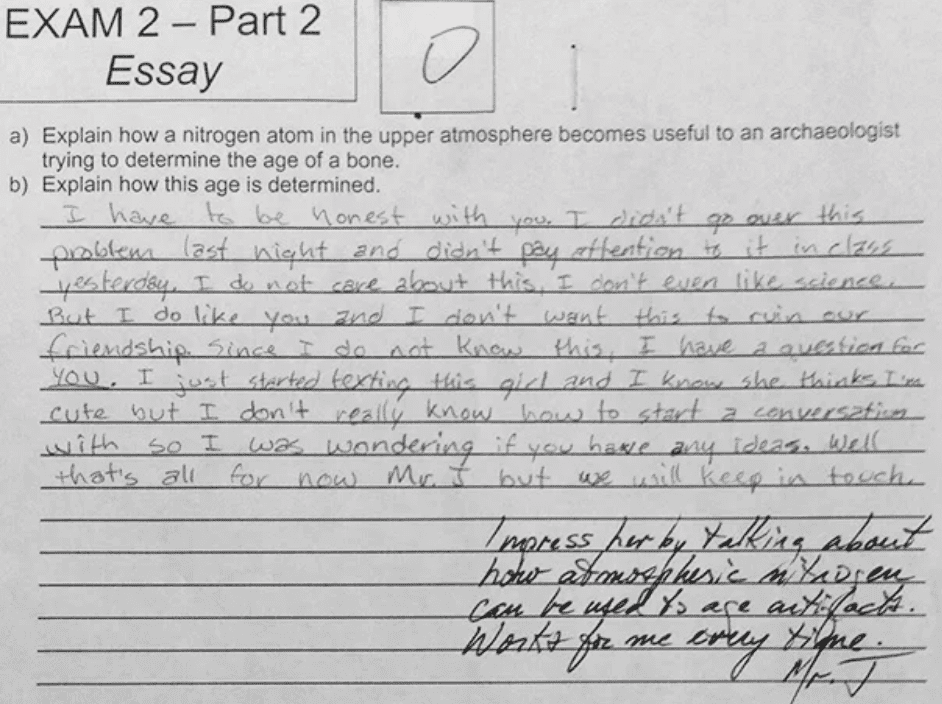 The answer to this question is one of the most honest you will see throughout this article, and that is why we must love the sincerity of this boy. This teacher must be an excellent person to have earned the trust and respect of his students in this way. The boy's response goes straight to the point and takes the opportunity to ask his teacher for advice about his problem. Although we don't know if his teacher's lesson would help him with that girl because she could be more intelligent than him.
Is it correct?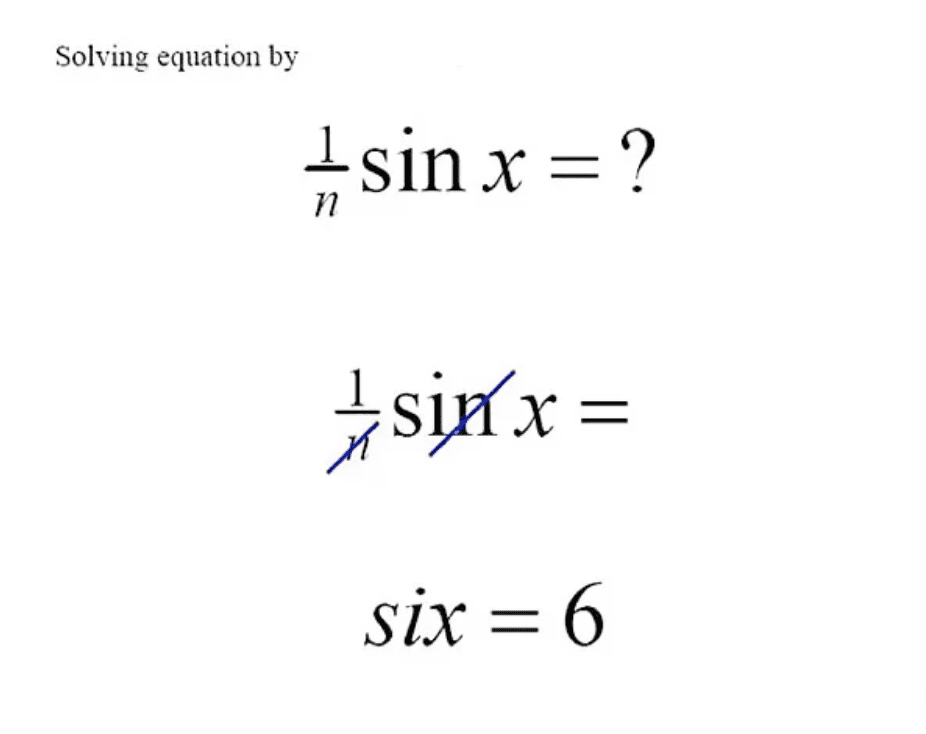 We don't know too much about math, but it seems that this boy's answer is correct because we don't see the teacher crossing it out. It is effortless to doubt the method he used to arrive at the right solution, but it seems that he accomplished his task. When mathematics reaches that point where letters and numbers mix, it is difficult to know precisely what is happening. Let's just hope that this guy's teacher doesn't evaluate the procedure.
From what subject is this exam?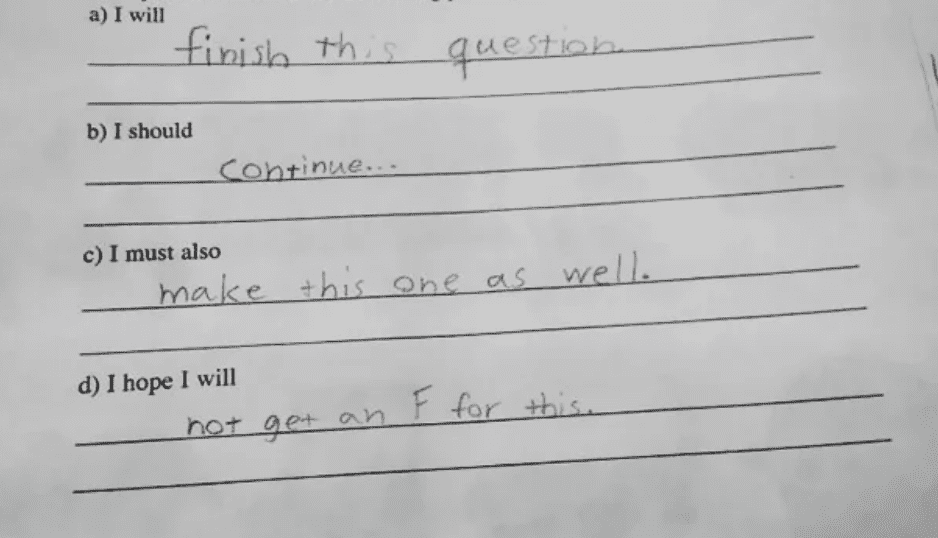 This particular case is difficult to determine because the questions make no sense, so maybe this guy is right, or not. It seems that the professor was applying a philosophy test, in which case, the answers of this boy could be correct. It may not be the most orthodox way to solve this test, but this student did everything necessary to answer the questions honestly. We also hope that he has not been disapproved for responding as any of us could have done.
This kid didn't even try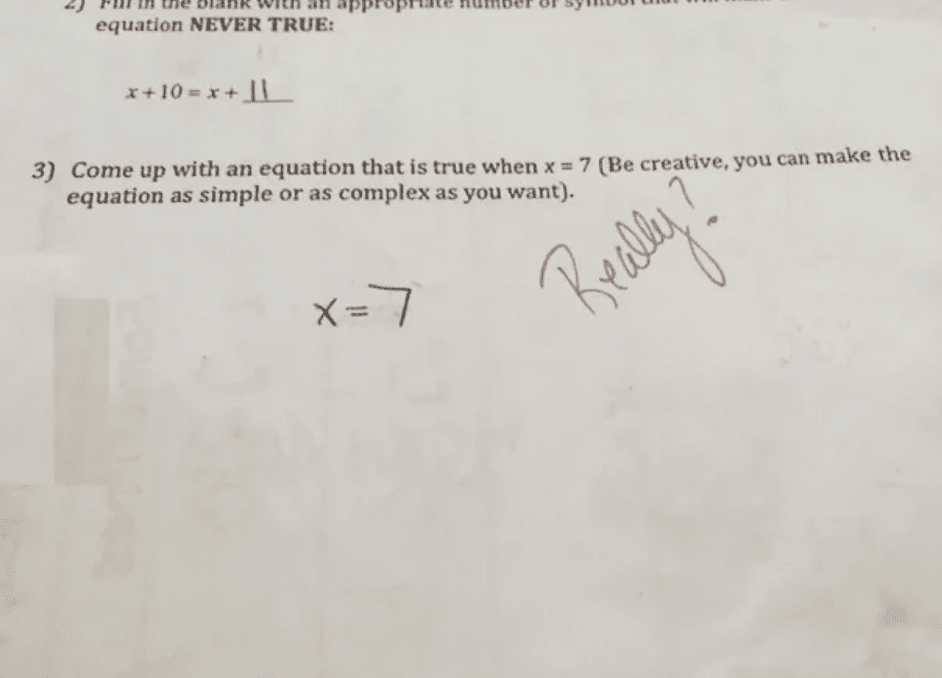 Today's teachers do their best to make exams simple but achieve their purpose of demonstrating student knowledge. Some of them encourage kids to be creative and find their own answers, but some people can't be motivated. The response of this boy shows so little effort that the teacher did not contain his surprise and had to ask him he had responded seriously: "Really?"
Explain your answer, please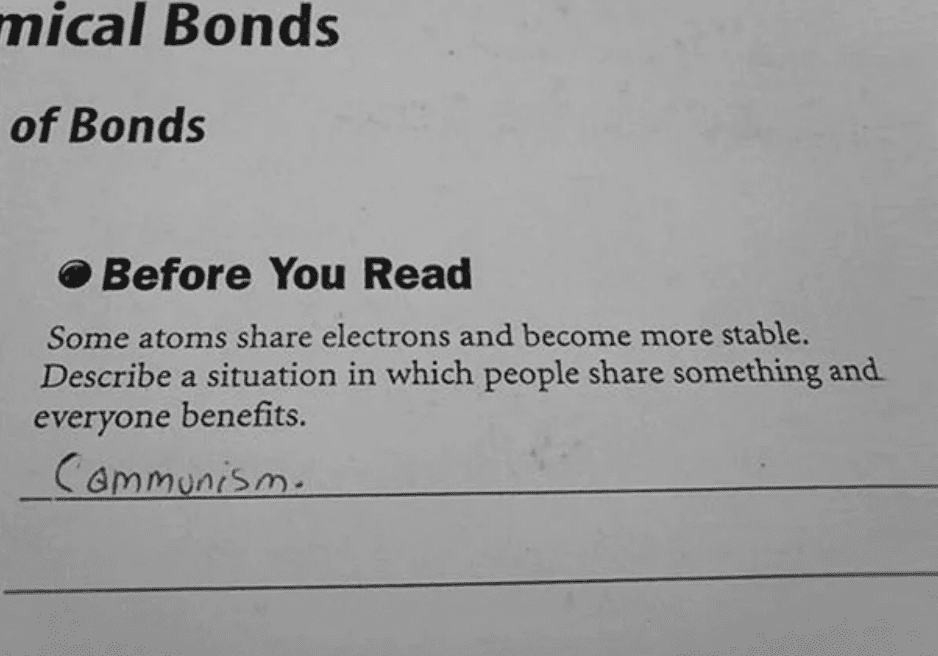 This teacher went out of his way to explain the question clearly, and even gave the students additional information to understand the context. It's a chemistry exam, so logically, the answers should be related to the topic, but this guy had other ideas in mind. His answer is not technically incorrect, but he needs to explain clearly why that ideological current is the right answer. Perhaps he intends to use the theme on the relationship between communism and chemistry for his thesis.
Disrespecting the teacher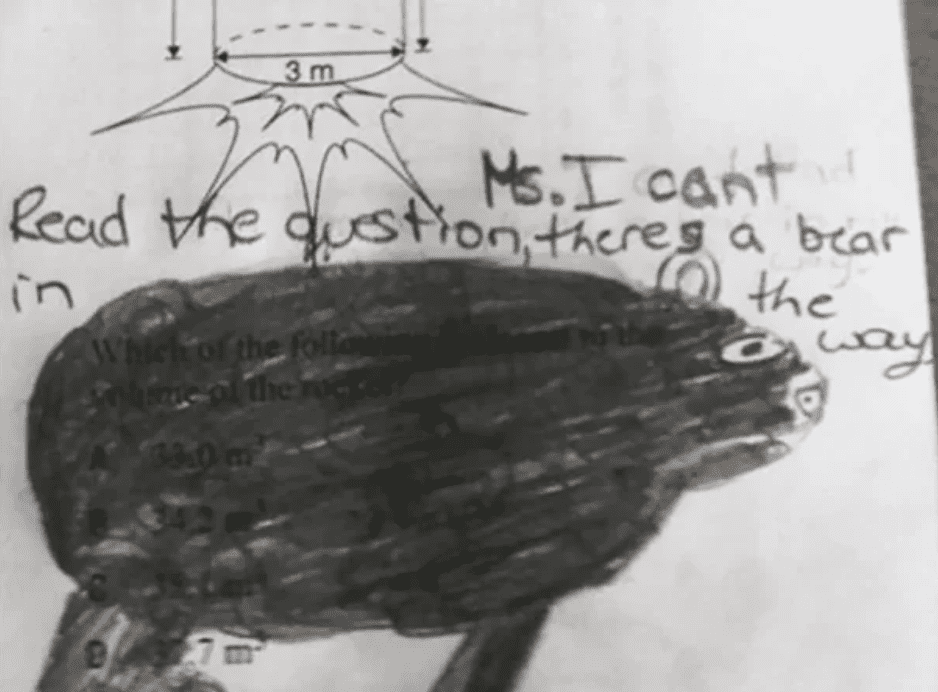 This time we can do nothing but defend the teacher because this boy showed a horrible disrespect towards him and the test. We can't even read the question to understand how complicated it was for this guy to do something like that. Despite being a very childish behavior, he clearly cannot see anything from the test because of that bear that "coincidentally" appeared. These kinds of responses deserve to fail and a visit to the principal's office.
Jokes Competition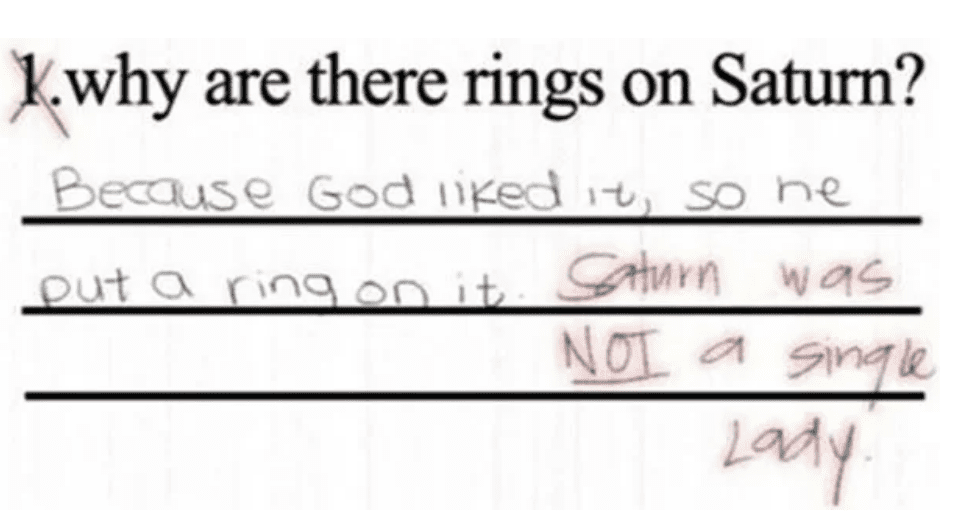 When you ask a question, and your students respond funnily, the best thing you can do is try to overcome them with a more ingenious answer. This boy failed the test, but his response was so creative that his teacher could not help but answer. The explanations of both only leave something very clear: Both are great Beyoncé fans and tried to overcome each other using the same song. All women would like to be Saturn sometime in their lives.
Merciless creatures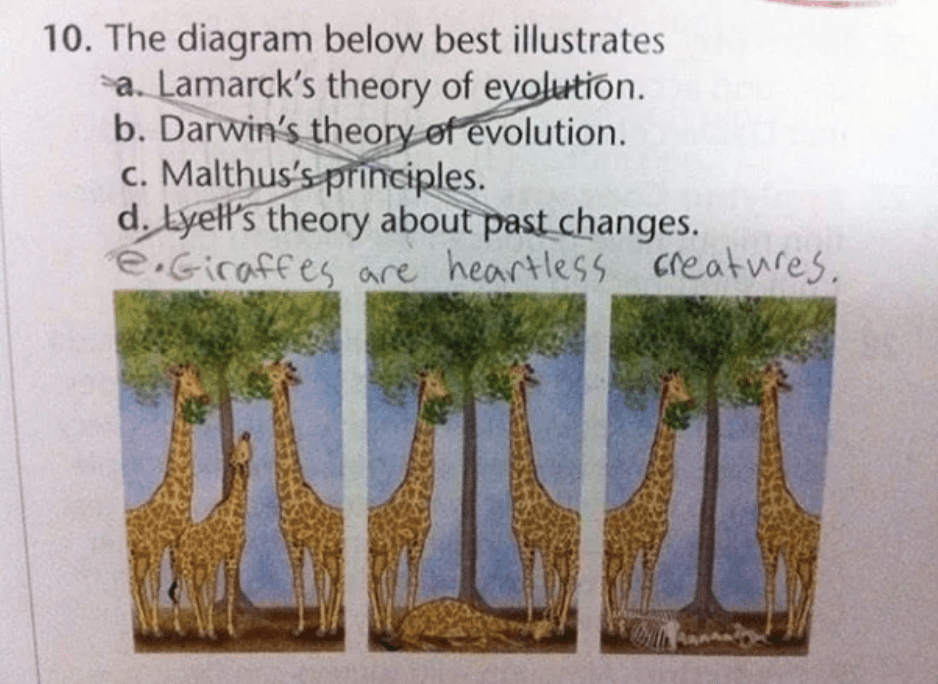 In some situations, the answers teachers provide to the selection exams are not appropriate, and you must use your ingenuity to create your own option. Ideally, the answer to the question should be one of the possible choices, but, even if you think so, the creativity of the students has no limit. This boy saw great injustice in this image and decided that the correct answer was to emphasize how merciless the giraffes can be.
An awesome teacher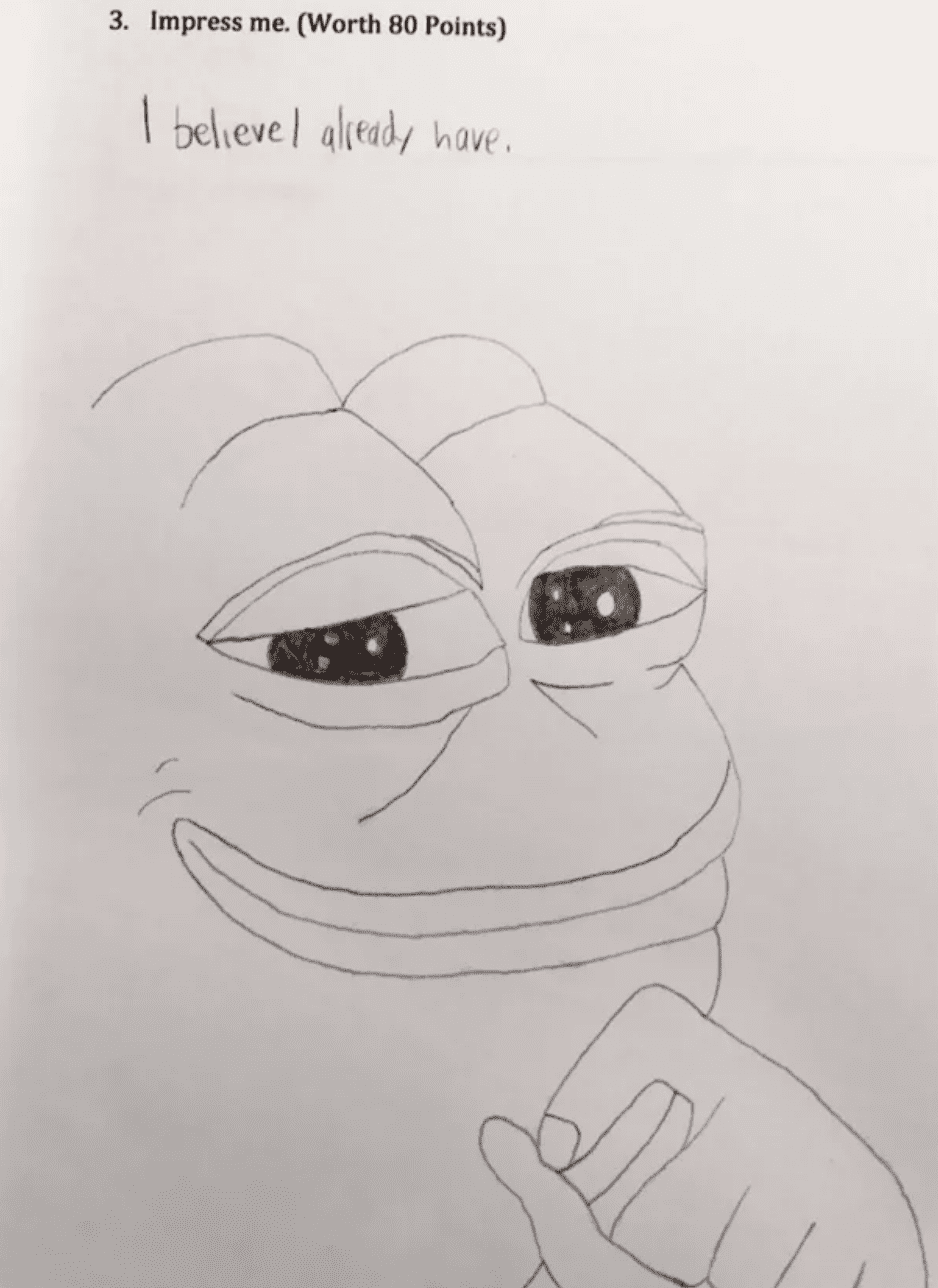 Allowing students to use their creativity to achieve something new and rewarding them for it is an exciting way to develop intelligence. Many more teachers should allow questions like these on their exams to give students greater freedom. Although students should take advantage of this opportunity to explore different possibilities, some abuse it. This particular boy has an ego that is too big, but it is also hilarious to see.
Hard water?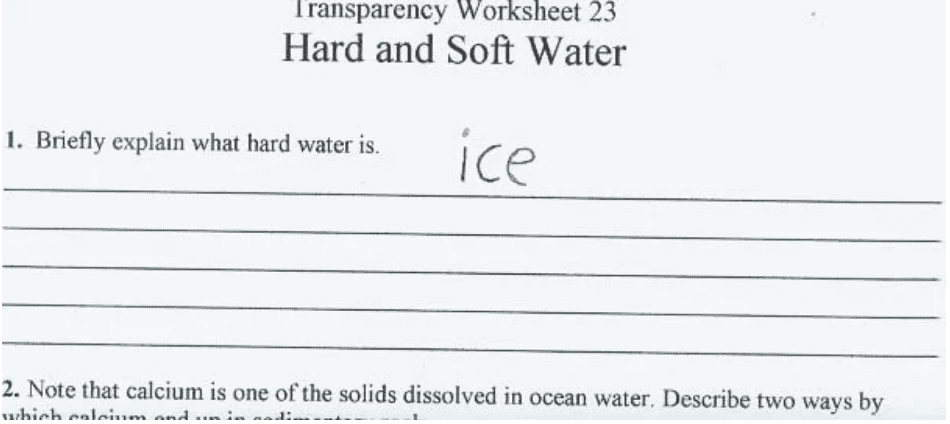 Although this boy's answer is technically correct, it is not exactly what this teacher would expect because it is not the subject of the exam. We are not very clear about the right answer, or how the two types of water differ, but neither does this boy. This boy was clearly not paying attention to the class and tried to be smarter than his teacher by responding logically. Hard water is ice, and soft water is steam?
Speaking of royalty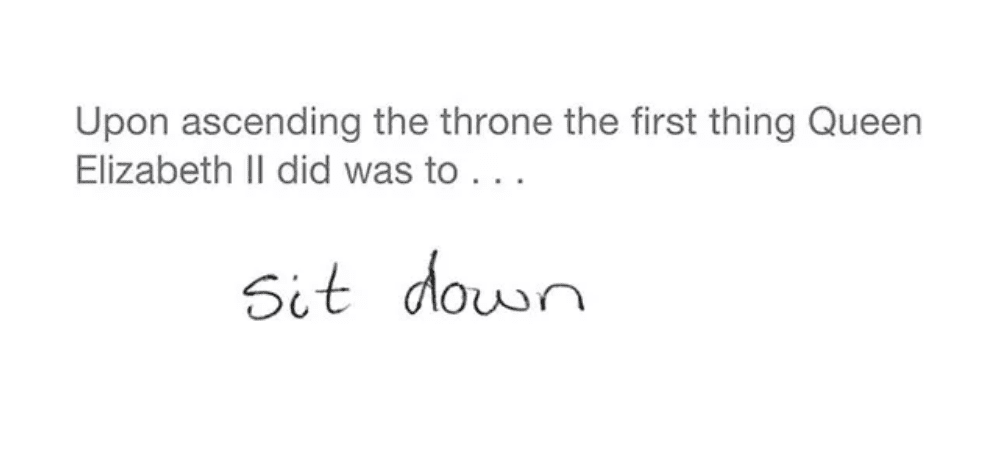 The teacher of this exam was thinking of a very different answer to this because it was a history and politics exam, but this student did not understand the question. We know, the first thing a queen does after she ascends the throne and gets her crown is to sit down, but the problem was not about that. This boy's response is brilliant and creative, but he will definitely not get his teacher to approve it this way. What was the second thing she did? Support her back and smile?
"Very funny, Peter."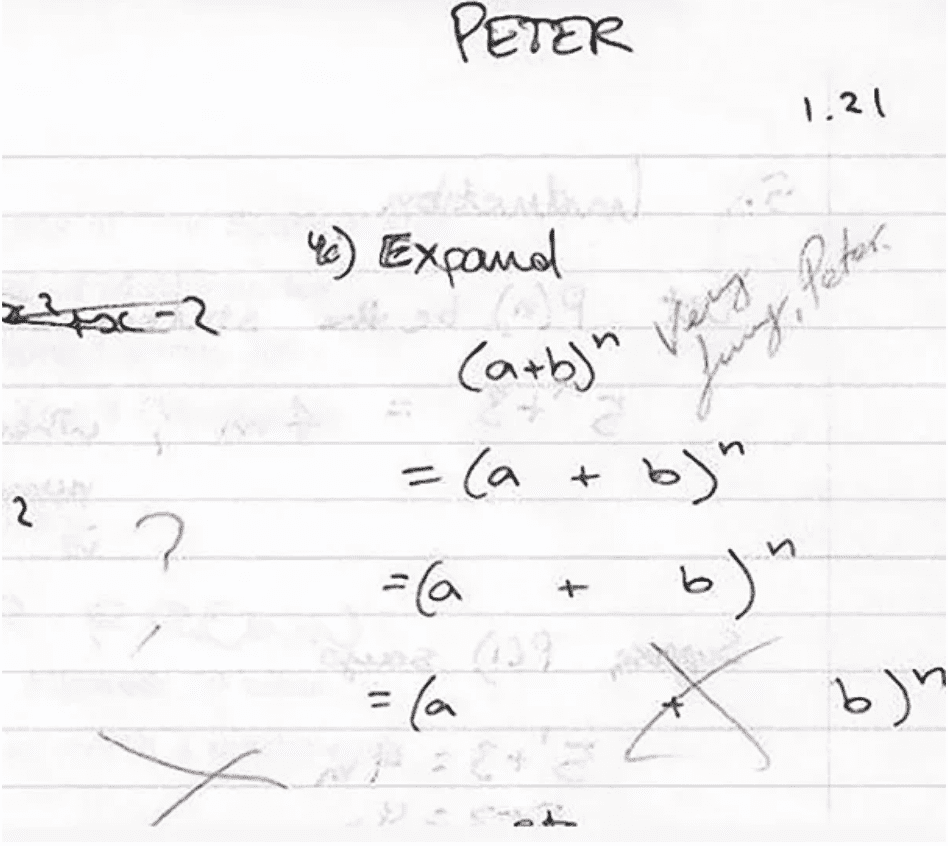 This teacher wanted her students to expand the equation to learn how to break them down and solve them quickly, but Peter had other things in mind. When she asks them to develop the problem, she doesn't mean adding more space between the letters that make it up, but nobody explained that to this student. Unfortunately, Peter failed his exam, but we must admit that it was a courageous attempt. It was somewhat awkward, and he needs to learn that he will not get very far with that attitude.
The most powerful force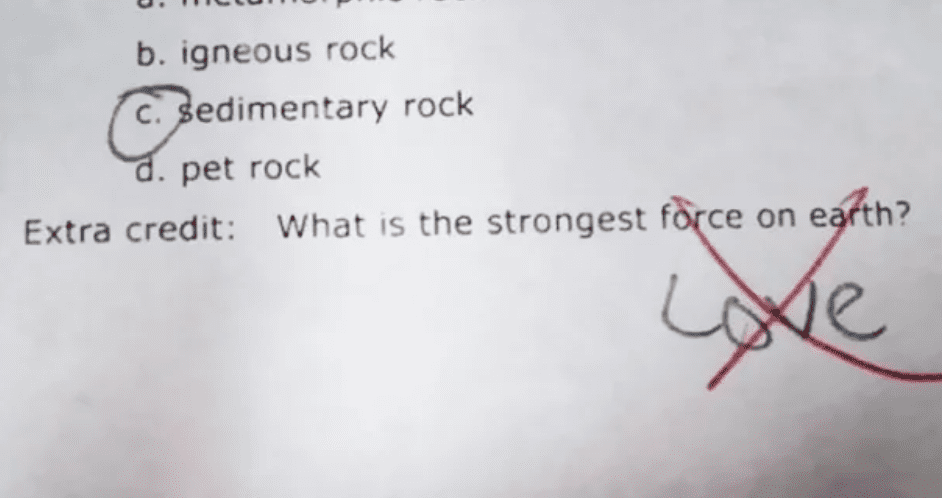 We all know the answer to this question thanks to our knowledge of music and literature, but it is not an answer that applies to a history test. Although we are one hundred percent sure that the answer is love, the teacher in this class disagrees with us. He may not understand the answer, and that is why he is still single at 42. But it is also possible that he was looking for a more appropriate option for the subject of the exam.
A sad and lonely plant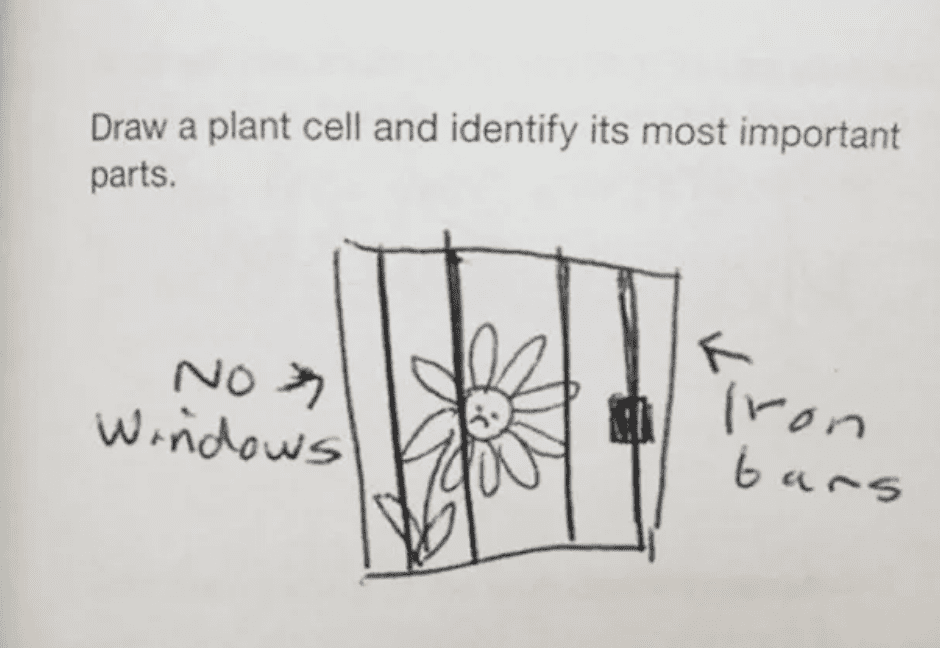 The professor who performed this test wanted to get an answer in which the plant cells could be appreciated and their elements recognized, but this boy interpreted it differently. The word is written in the same way, but it can be interpreted in other ways according to the context in which it is used. Also, there is a massive difference between a plant cell and a plant in a prison cell. Hopefully, this guy understands that after failing.
Literal Interpretation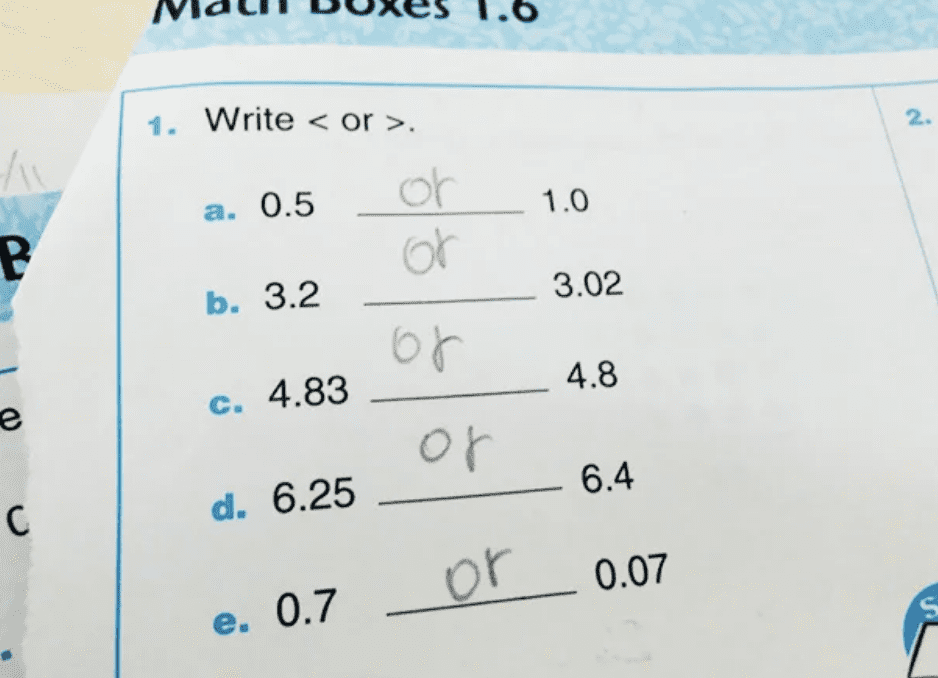 Children can rigorously understand things, especially when they are very young, and their answers can overcome us. The questions in this homework book are apparent, but it is simple for a child to misunderstand some things. This boy did what the problem said, and it is impossible to explain that he was wrong without him being able to refute it. Someone will have to rephrase the way he writes the housework.
How many ghosts are left?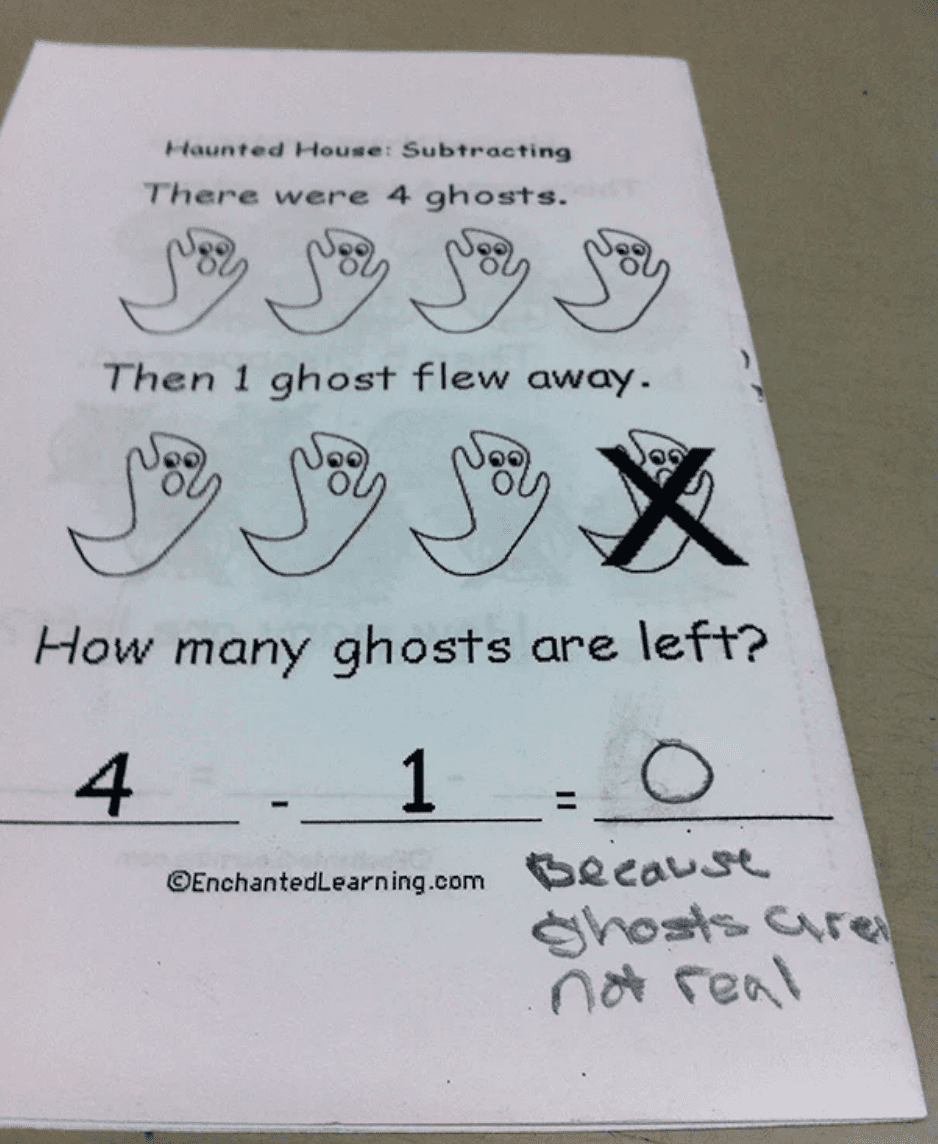 The purpose of this question is to reinforce children's math skills, but using ghosts was perhaps not the best way to do it in this case. The boy who answered this question learned since childhood that ghosts do not exist, and no mathematical problem will change his mind. His answer is correct according to his beliefs, but incorrect according to mathematics, what grade would you give him? It is difficult to fail him without a long talk with his parents.
Being smart is worth it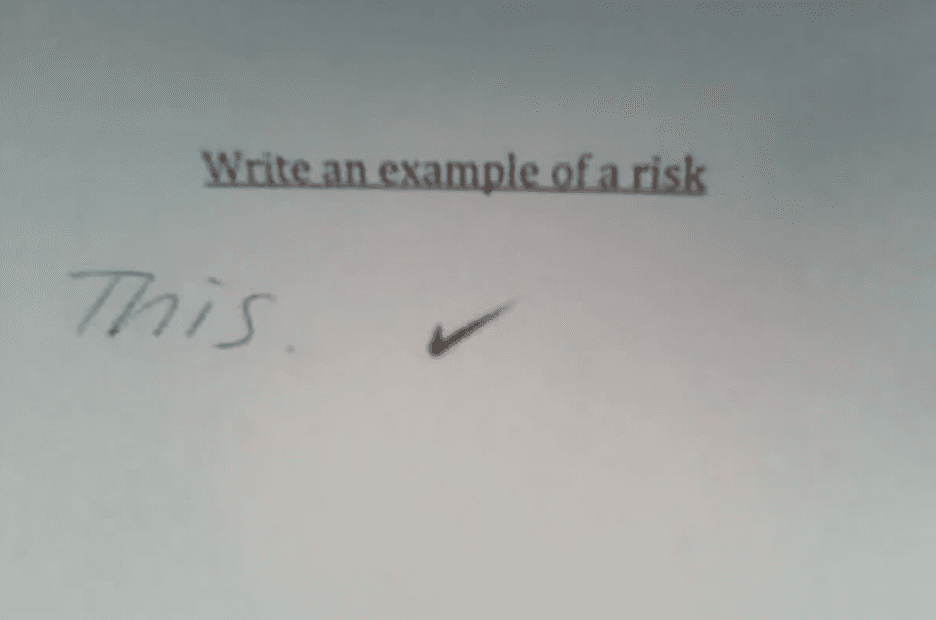 The question of this teacher is a bit risky also because some students could take advantage of it to make fun or take away relevance to what he seeks to achieve. Although many students could think and write about occupational hazards or street hazards, this boy wanted to risk his neck with his answer. By responding in this way, this student demonstrated a significant risk, and the teacher realized this and rewarded him for having understood the purpose of the exam.
Maybe it was damaged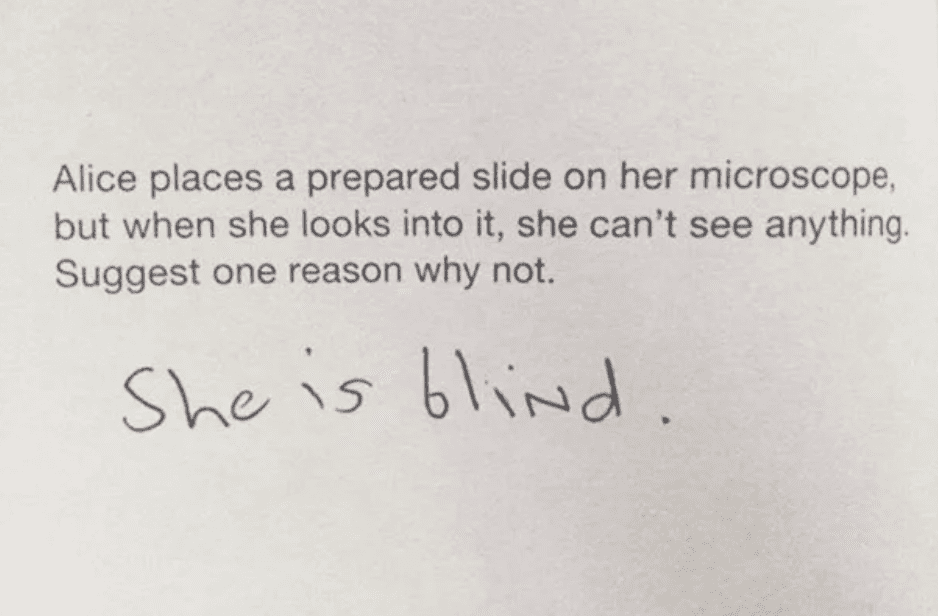 The idea of ​​this teacher was to evaluate how much knowledge his students had about how a microscope works. And, with this answer, this boy proved not to understand them at all. Although his answer is a possibility, the correct answer does not imply any kind of disability for the girl in question. He failed the test, but this answer can help his teacher to understand how teenagers' minds work. A more detailed question could have avoided this strange confusion.
Classification of living things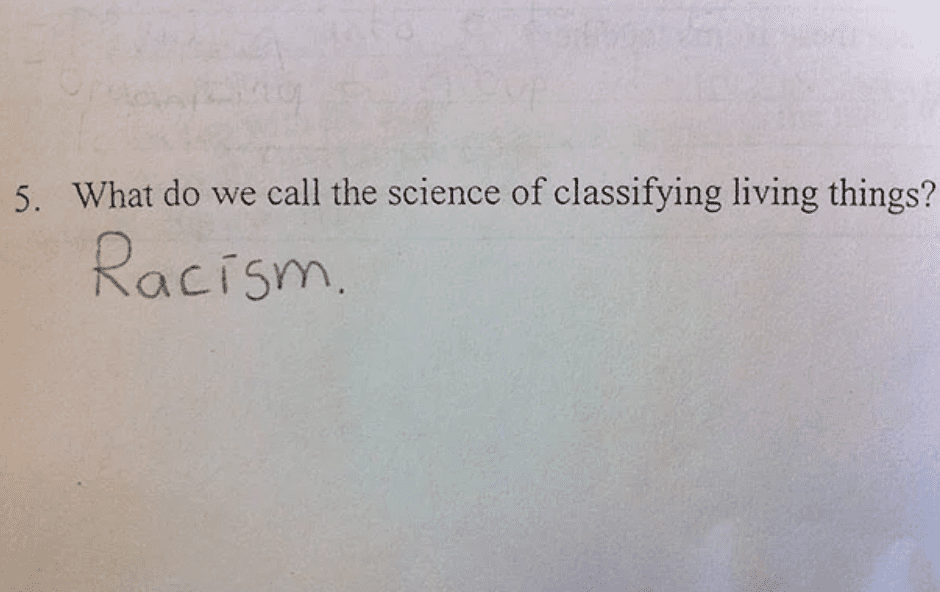 The teacher in this class wanted his students to answer Taxonomy, the science that classifies living beings, but this boy's answer is not entirely wrong. Despite not being related in any way to this biology test, it is a way in which people classify other people. It only remains to imagine what was going through this boy's mind when he answered this question by imagining that his teacher would interpret it the same way he did.
Someone had just seen 'Madagascar.'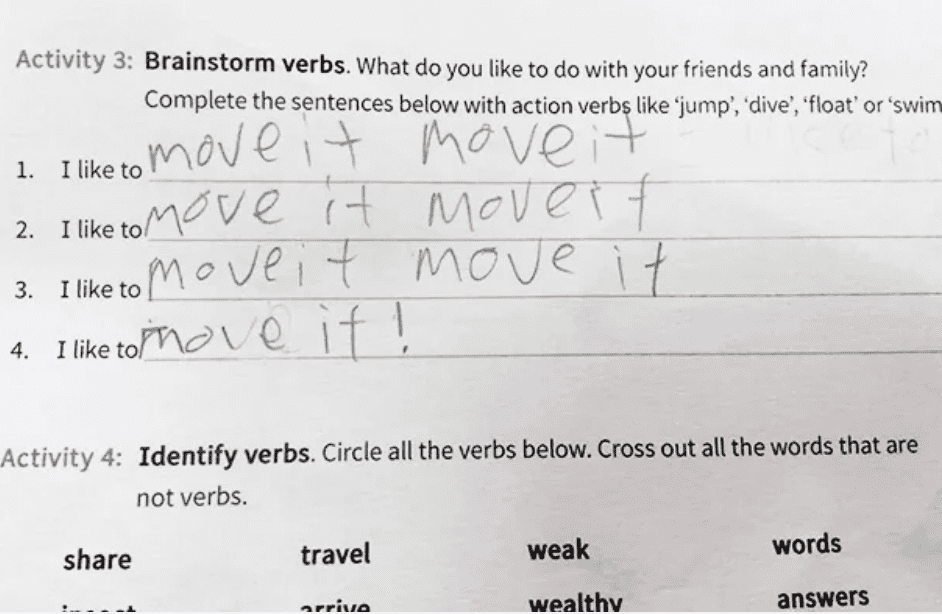 Movies and pop culture is another enemy of school teachers because today's children quickly absorb the lessons they see in the cinema. Although the question is very clear about the verbs he could use, this student could not get the song out of his mind. Also, it is so sticky that we bet that the teacher could not stop singing it in his mind after correcting this particular exam.
Another lazy question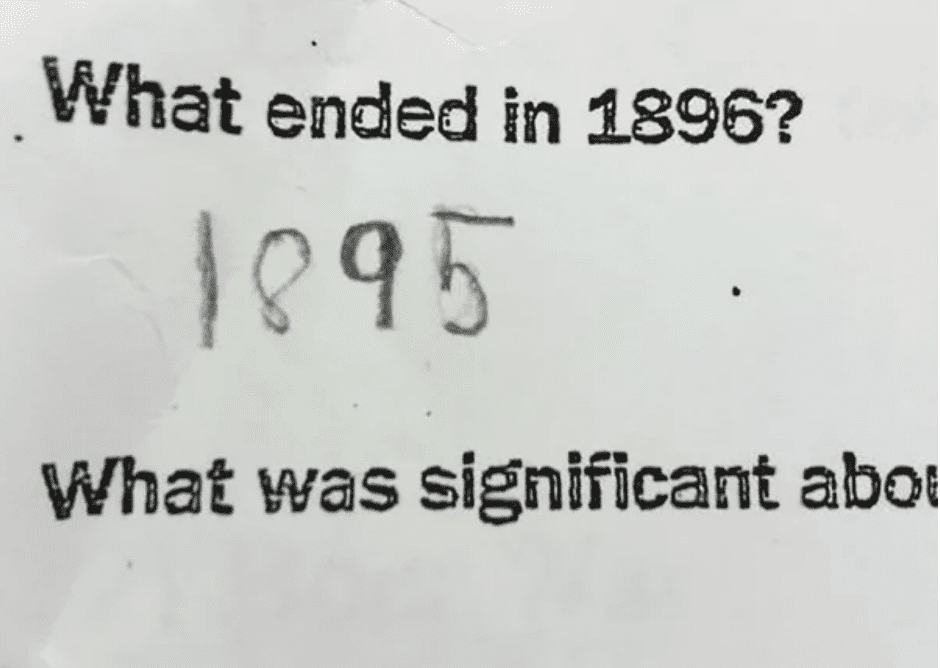 If you propose this class of problems to a group of students tired of the lessons, what kind of answer do you expect to get? If you leave so little information available so that students know correctly what you mean, they will respond in the same way. Although this creative boy failed that test, his answer is correct, so we could blame the teacher for his mistake instead of scolding the student. 1895 was a scorching year, sure that was his answer to the next question.
Forms have feelings
And they may also have names and be recognized as individuals in society, but we do not know if they are allowed to vote or have a social security number. Bob, Sam, or Alfred are proper names for these forms, but the professor probably expected his students to use the names by which everyone knows them. Again, this boy's answer is not entirely wrong because it was the teacher who asked him to baptize the geometric shapes.
Hopefully, Bob recovers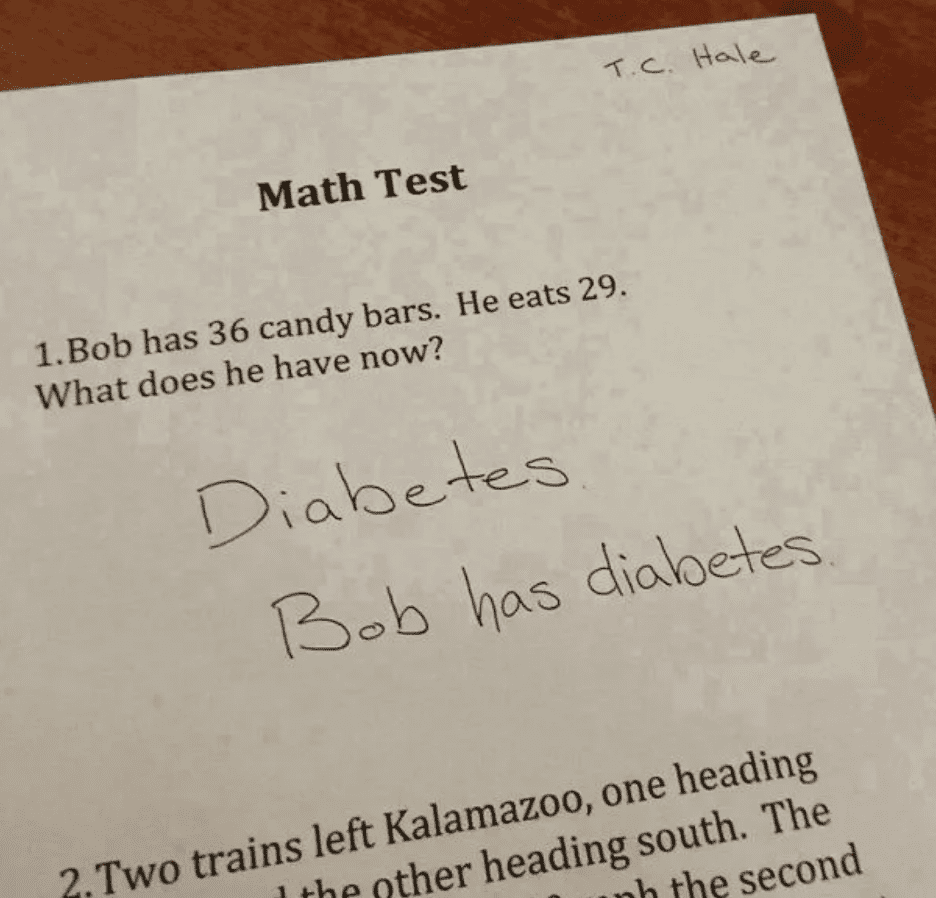 This question is an example of how answers can get out of control when students are too cunning and intelligent for their own good. The solution to this mathematical problem was related to the number of candy bars that remained, but there was another probable answer. After counting the candy that Bob had, this student realized the medical problem that Bob suffered and sincerely answered the question. The teacher should go to jail for abusing Bob that way.
An animal-loving child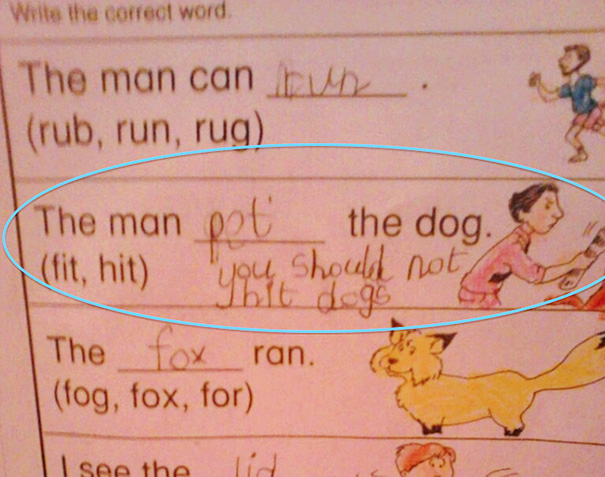 Teachers must take into account all possibilities when writing questions for their students, or they may end up being taught by them. The boys in this class were presented with two possible answers to the problem, but one of them disagreed. In addition to placing his option, this boy decided to teach the teacher a lesson so that he learns that he should not hit the dogs under any circumstances. He deserves an A +.
Fulfilling the role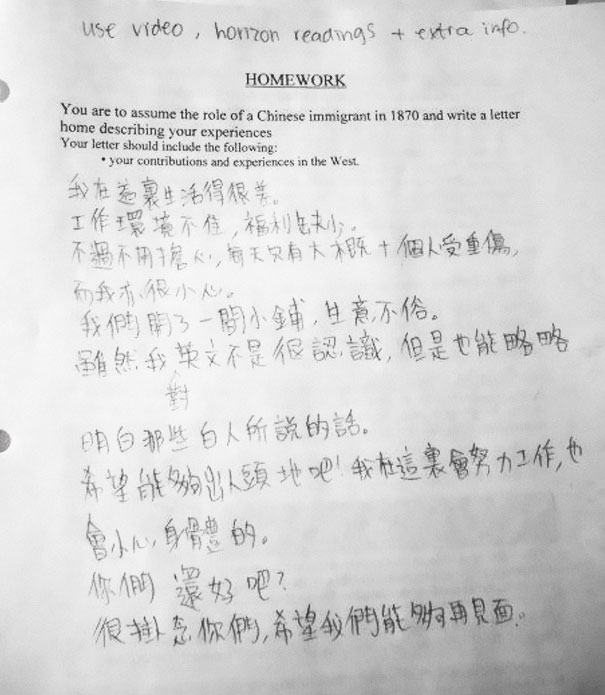 The question is obvious and specific; students must assume the role of an 1870 Chinese immigrant and write a letter in which they would write to their family. We must take into account several aspects: If you are a Chinese immigrant who has just arrived, you do not know how to speak English, and if you write home, your family members will not understand anything of this language. This boy's answer is undoubtedly perfect and fulfills everything requested by the teacher. Besides, it seems that he knows how to write in Chinese fluently.
You have to be honest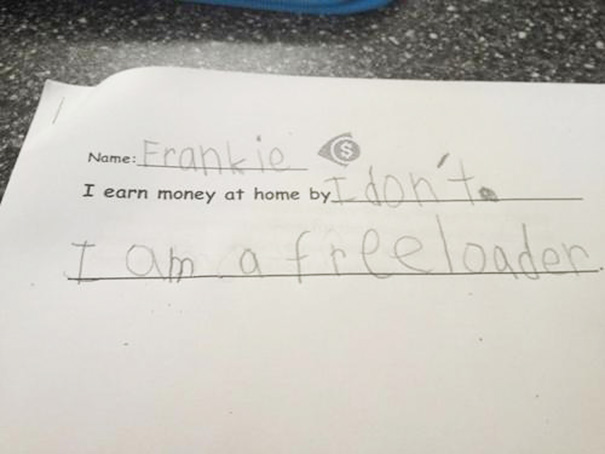 The sincerity of children may become too sweet, but some of them are so honest and direct that they make us laugh with their occurrences. Frankie is a frank boy who is aware of his position in his home; he is a freeloader who does nothing to help. His teacher should appreciate this guy's sense of humor and give him points at least for being honest enough about how much he likes to do nothing.
Almost correct

The question of this biology test was clear enough for the whole class, but this boy did not know the answer and did his best to get rid of it. His response, although too vague, would not be wrong if he had remembered the difference between adultery and adulthood. No child should leave childhood to become an adulterer, and they should learn this both at home and at school. Hopefully, this guy learns it as soon as possible.
Only half of the credits

Although the question of this test had no bad intention and only sought to answer that question, a student felt it was necessary to give his opinion. Biologically speaking, it is entirely possible, but this boy's answer is a sharp no, and his explanation is very logical. Despite being wrong, the teacher had to admit that he was a bit right and gave him half of the credits for trying to provide a response adapted to reality.
It is not completely wrong

Although the answer this teacher was looking for was likely different, the student who answered this question is not totally wrong. Mariah Carey is a singer capable of reaching octaves that seem almost impossible and delight us with her vocal ability. It is a great answer, but unfortunately, it is not enough for the teacher to approve it. Maybe the teacher needs to hear a little more from Carey to realize his mistake.
Tony is not to blame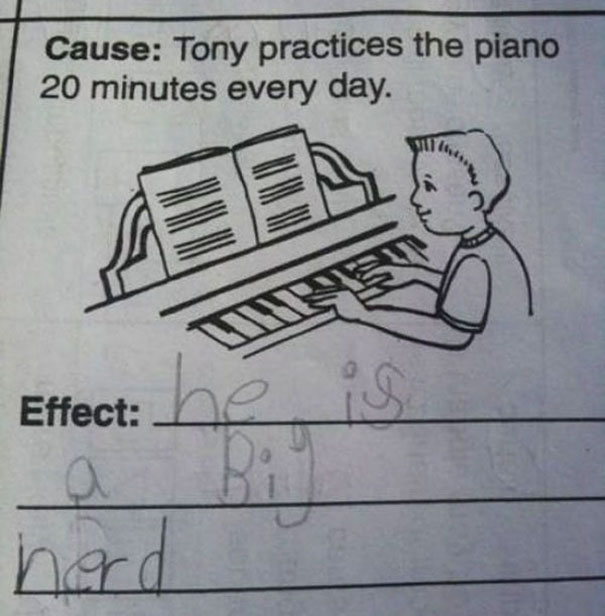 The teacher who designed this test wanted to use Tony as an example of perseverance and dedication, but one of the students interpreted it the wrong way. Practicing with the piano 20 minutes a day does not make you a great nerd, and this guy should learn not to mess with other people. The most significant difference is that Tony could be a great pianist, while the student of this answer will be disapproved until he changes his way of thinking.
Wait. What?

The question of this teacher has absolutely nothing wrong, and we might even think that it is evident and precise, but something went wrong in this test. This boy's response made things take a very unexpected and strange turn. It's a very creative way to develop a story to escape a question that you don't know how to answer, but he even took his teacher by surprise. A talk with his parents could clarify where he got these ideas.
You should get at least a partial credit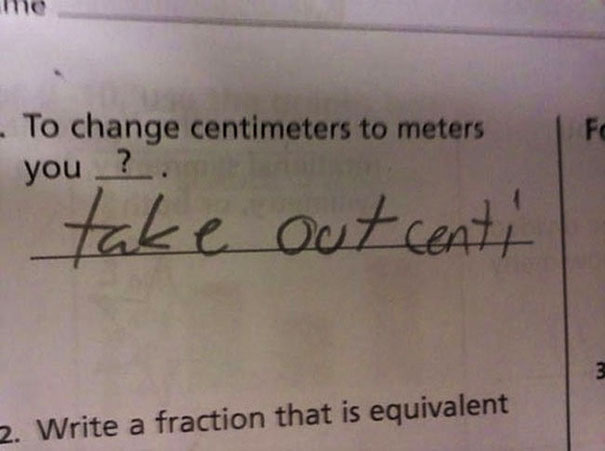 This student took the question quite literally while trying to find an answer that would help him pass his exam without having to work too hard. Technically, this boy is not wrong, but this teacher wanted a more scientific explanation of how to achieve the desired result. His method is valid, but very difficult to apply in real life. Hopefully, this teacher has a good sense of humor, and the student will not have to visit the principal's office for trying to be funny in class.
Lady Gaga?

The student who answered this question was not kind to the singer when using it as an example of what a hermaphrodite is. Besides, he has not been paying attention to biology classes and therefore, does not know how to answer this question correctly. He earned an F on his exam for trying to be funny, and an insult from his classmates who love Lady Gaga. A student from the 90s would have used Marilyn Manson as an answer, but that's another story.
It's too much!

We can notice in this exam that the professor was not happy with the answers that this student placed in his test, and the last ones broke his patience. Although the answers can make us laugh a bit for what they are, that won't get a tired teacher to approve them. This student needs to review his biology lessons several times, and he probably needs to repeat several of these tests before his teacher allows him to pass.
An accurate answer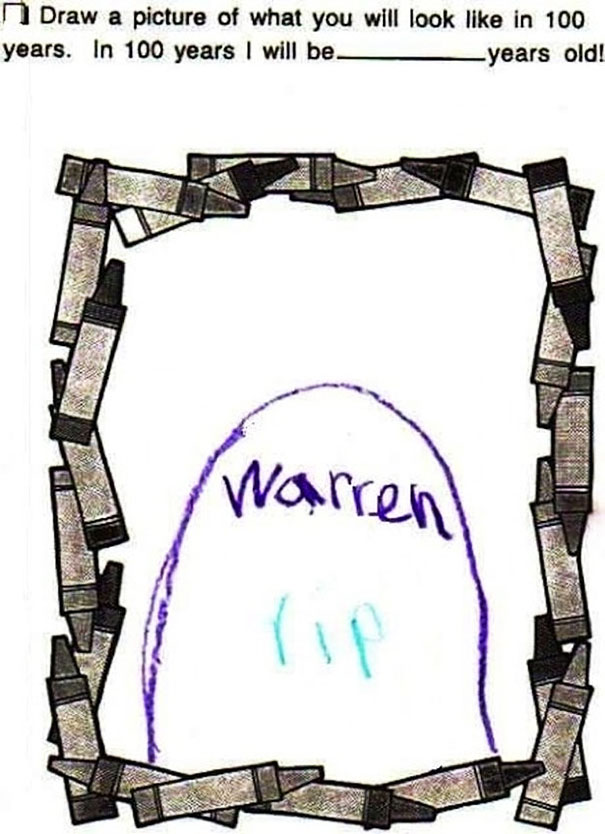 The question of this test was intended for students to think about the future and their goals, but 100 years is a slightly exaggerated number for a child to interpret. This boy responded in a sincere and precise way because he does not intend to live more than 100 years; it is possible, but not probable. His drawing shows where most of us will be if we reach that age, so we could ensure that your answer is correct.
Look! A walrus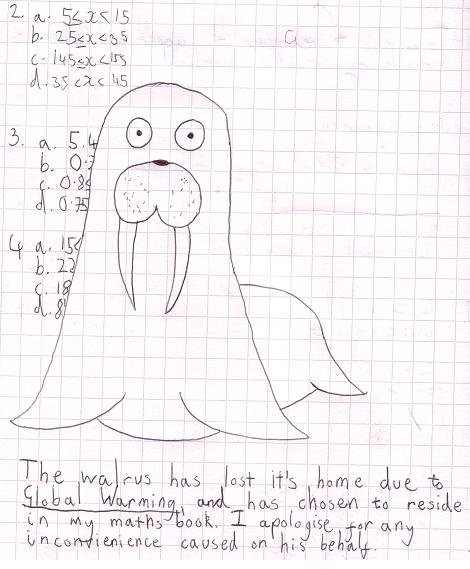 The artistic skills of this boy make it challenging to put a bad mark on him, but his math teacher doesn't think the same. This funny student tried to distract his teacher with a curious walrus that appeared "casually" to cover his math homework. It is terribly adorable, and he should have at least one B+ for the effort, but his teacher will decide this. At least he should give him some credits for offering that sad walrus a home.
You are not wrong

The question of this history test was related to the history of each of these characters, but not being more specific, students can let their minds fly. This boy's answer is not entirely wrong, although it is something that depends a lot on personal perception. Those are not names that you hear very often on the street, so this student should receive at least some points for detailing something obvious, but correct.
How good!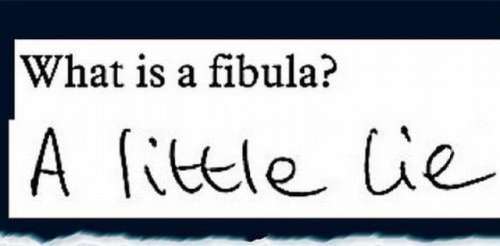 This guy's answer is so bright that he should pass this exam just for that. He may not have paid attention in anatomy classes and should repeat the entire course, but we must admit that this guy has a talent for something. Maybe he should consider a career as a writer or comedian; perhaps they would appreciate his undeniable talent. We would love to see how far he can get with jokes like these and a sense of humor so creative and particular.
All these answers teach us that times have changed very quickly and that today's children are much smarter than they should. Their ingenious and bold solutions remind us that sometimes it is adults who forget how to interpret life correctly. Which of these answers did you enjoy the most? Have you ever responded in this way to a test? Remember to leave us your comments and share these answers with all your high school friends.
Sources: Spotlight Stories